Lexus IS300 Coilover Guide
We review the most popular Lexus IS300 coilovers available on the market today, from budget to pro. This is the ultimate IS300 coilover guide.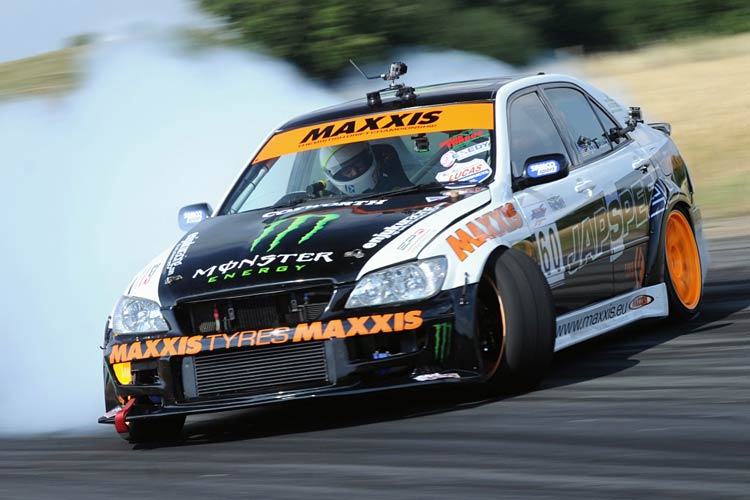 ---
In a hurry? Here is our IS300 Coilover summary
| Budget Choice | Drifted Choice | Premium Choice |
| --- | --- | --- |
| | | |
| BC Racing BR Series IS300 Coilovers | HKS Hipermax IV GT IS300 Coilovers | KW Variant 3 IS300 Coilovers |
| 🔥🔥🔥🔥🔥 | 🔥🔥🔥🔥🔥 | 🔥🔥🔥🔥🔥 |
| Buy Now | Buy Now | Buy Now |
Back in 2001, Lexus veered away from their typical focus on luxury cars and targeted the younger generation as their first real sports sedan entered the market - the IS300.
Chief engineer on the project, Nobuaki Katayama decided that the car should fit his own personal dynamic driving style. Throughout his career, the Japanese engineer was best known for his work on two Toyota legends, the Toyota Supra, and the AE86. We think you'll agree that's certainly not a bad resume!
Needless to say, the IS300 turned out to be an incredible all-around package combining an adequate amount of power with a car which was great in the twisties and also provided more than enough comfort to keep the older generation happy.
Most of the younger generation which the IS appealed to struggled to make their salary fit their automotive desires at the time of release, but in the present day, the IS300 is at an extremely affordable price point.
With owners now having the opportunity to make the car they'd dreamed of building, tuning companies are releasing the best possible products to the market to get the most out of the chassis.
Sure, the stock suspension is good enough for basic everyday use, but what if you want to throw down the car at the track and get it sideways, hit up an autocross or even just go for a canyon run?
Whether you're into stance, looking for more refined handling, hitting the track or purely want the adjustability that coilovers have to offer, we've created this guide just for you.
---
Let's take a look at our Lexus IS300 coilover selection
To read more about any of these products simply click on the coilover name or photo.
Our comment: Tein bring their latest kit which is insanely good value for money to the market. At this price point, you may assume that they're cheaply made. However, Tein managed to reduce their costs by making these a sealed structure, meaning they are not rebuildable. Don't let this put you off as rebuilds often cost as much as replacing! These are fantastic quality and made in Yokohama, Japan, with a typical JDM eye for quality.
Despite being more road orientated, this is also a capable track coilover featuring an impressive amount of adjustment. For the money, you're going to struggle to get a better all-rounder than this.
These are also compatible with Tein's awesome EDFC system which allows you to adjust the damping electronically inside the car.
Manufacturer description: "FLEX Z inherits all the features and quality of STREET FLEX but the adoption of new platform allows its price to be set at amazingly low range ($800 to $1,050). FLEX Z, of course, maintains the long-favored "Made in Yokohama" quality. Ride height adjustable shock absorber, fully loaded with TEIN's comprehensive technology, is now more affordable prices than ever."
"Its smooth stroke movement makes it possible to follow rough and bumpy road surfaces quite well, offering supple ride at low speed and stable ride at high speed. Full-length ride height adjustment system, used for FLEX Z, enables adjustment of ride height by adjusting the case length, without changing the damper stroke length and/or spring pre-load. This has the advantage that the change in ride quality is kept minimal when the height is adjusted. This system not only makes it possible to maintain good balance between the low-down appearance and ride comfor, but also provides more setting choices for sport driving as well."
---
Manufacturer: KW
Levels of damping adjustment: 14
Construction type: Monotube
Spring rate front: Progressive spring (listed as 515lbs/in)
Spring rate rear: Progressive spring (listed as 455lbs/in)
Fitment: Lexus IS300
Value for money:

🔥🔥🔥🔥🔥

Purchase link: Buy your KW V3 coilover kit at Vivid Racing
Our comment: Despite being one of the more expensive options on our list, they say that quality comes at a price and the KW coilover kit certainly lives up to that.
IS300 owners have been stunned by this offering from KW for some time and the ability to provide great road comfort whilst also setting impressive lap times on the track leaves no questions on why owners are so impressed.
Since these are a stainless steel construction, you won't have to worry about corrosion. Should you have any issues, KW also offers one of the best warranties out there.
Manufacturer description: "Ready for a driving experience as unique as your car? A KW Suspensions Variant 3 coilover set offer you the independent compression and rebound damping setup you need."
"The new Variant 3 is state-of-the-art technology for the skilled and experienced driver. The separate and independent compression and rebound Dampening options allow a truly individual driving set-up. These unique systems with the 3 individually adjustable components, allows for adjustment of the compression of the damper in the low-speed range, while the highspeed set-up, so decisive for driving comfort has been preset by our engineers."
---
Manufacturer: ARK
Levels of damping adjustment: 16
Construction type: Monotube
Spring rate front: 12kg/mm
Spring rate rear: 10kg/mm
Fitment: Lexus IS300
Value for money:

🔥🔥🔥🔥

Purchase link: Buy ARK DT-P coilovers at Enjuku Racing
Our comment: ARK have entered the market with two coilover variants, the DT-P, which are mostly track-focused alongside the ST-P series which is street-orientated.
Created from the Team ARK motorsports division alongside Formula Drift experience, the DT-P system is a great option if you intend to hit the track. We've heard great things about these coilovers and ARK's customer service which makes these an even more appealing offering.
Manufacturer description: "ARK Performance DT-P monotube coilover systems are fully adjustable with 16 levels of dampening to fit your street or track needs. Our suspension systems are engineered and designed based on knowledge from our Team ARK Racing motorsports division and Formula Drift experience. The DT-P system offers pillow ball top mounts which are more performance oriented and allow for better adjustment of camber. "
---
Manufacturer: RS-R
Levels of damping adjustment: 36
Construction type: Monotube
Spring rate front: 10kg/mm
Spring rate rear: 8.3kg/mm
Fitment: Lexus IS300
Value for money:

🔥🔥🔥🔥

Purchase link: Buy RS-R Sports*i coilovers here
Our comment: RS*R have brought a fantastic offering to the market with a unique approach. Quality and comfort have been their main goal and they've undoubtedly achieved that. If you're after the handling advantages of a coilover but want to maintain a comfortable ride, these are an excellent high-quality choice.
Manufacturer description: "Spirited weekend track drives do not have to sacrifice daily driving comfort or performance. Designed for the performance enthusiast in mind, the RS-R Sports-I coilover system provides a comfortable ride for everyday use, yet is sufficient enough for those effervescent track days."
"Why spend all day at the track dialing in your suspension when you should be on the track enjoying the experience. Damper and camber adjustments should not be a definitive factor, nor should you spend all day adjusting your suspension settings at the track. Drive to the track, on the track and drive home in comfort. Enjoy driving again with the RS-R Sports-I coilovers."
---
Manufacturer: BC Racing
Levels of damping adjustment: 30
Construction type: Monotube
Spring rate front: 12kg/mm
Spring rate rear: 10kg/mm
Fitment: Lexus IS300
Value for money:

🔥🔥🔥🔥🔥

Purchase link: Buy BC Racing BR IS300 coilovers at Enjuku Racing
Our comment: BC Racing offer what could quite possibly be the best budget coilover kit available. If you're planning to spend less than $1k, this all-round kit could well be the perfect choice for you.
BC offers various springs with this setup, including Swift Springs which will make these feel even more impressive. If you're looking for lows, they also offer an 'extreme low' option. Speak with Enjuku about your needs and we have no doubt they'll be happy to help you out.
These offer a firm, but not crashy ride which is still ideal for street use and are still capable when you head to the track. BC also offer their higher-end ER series ER Series coilovers which are a competitor for the KW V3's if you're intending to do mostly track use.
Manufacturer description: "The BR model is perfect for street driving and occasional road course duty. With easily accessible adjustment knobs for fine-tuning your compression/rebound and separately adjustable ride height, having a performance coilover system couldn't be any easier. You choose how low or high you want your vehicle, no preset ride height here, and our patented concave lower locking ring keeps it locked in."
"All of our systems come with pillowball mounts to provide the most feedback possible from your suspension and to sharpen your steering response. BC's available front and rear camber plates also allow you to get the perfect alignment setup without compromise. All this while providing a strong, attractive looking coilover system."
---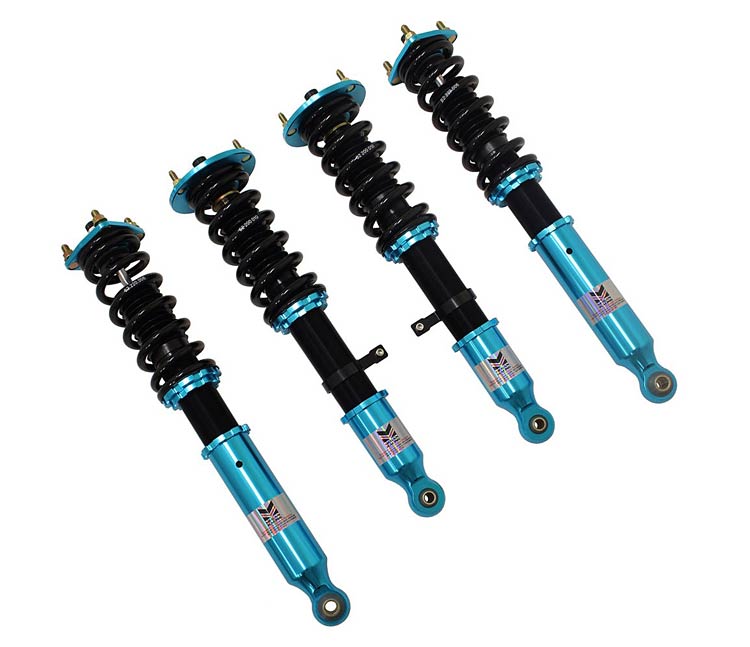 Manufacturer: Megan Racing
Levels of damping adjustment: 15
Construction type: Monotube
Spring rate front: 10kg/mm
Spring rate rear: 6kg/mm
Fitment: Lexus IS300
Value for money:

🔥🔥🔥

Purchase link: Buy Megan Racing EZII Coilovers at Enjuku Racing
Our comment: This entry-level option may suit those on a budget who are purely looking to improve their ride height and handling. We found that the build quality and finish was reflected in the price and would personally recommend forking out that little bit extra to purchase the BC Racing BR or Tein Flex Z coilovers which are the best of the low-range offerings.
Manufacturer description: "Megan Racing EZII Series coilover system is aimed towards the more budget oriented enthusiast to offer the most basic essentials from an after-market coil-over setup, yet makes no compromises for quality and performance."
---
Our comment: Legendary Japanese tuning company HKS bring their hand with a justified-price higher-end offering (which is currently on a substantial discount!) This option combines fantastic ride comfort which is close to stock (even when slammed) with the addition of fantastic handling alongside the typical quality you would expect from HKS.
These are an extremely popular choice among IS300 owners and a serious competitor for the KW V3's. It may just boil down to personal preference as to which suits you best, especially if you're keen to maintain the JDM aspect on your car.
Manufacturer description: "The new Max IV is a sporty suspension. Gives you an awesome sporty drive with great control and a comfortable ride on the street."
"It's perfect for daily street driving that gives you style and performance. You and your passenger can have a comfortable ride even with a low-down. Mono tube dampers allow for more accurate and stable control and adjustment of dampening. Lower ride height and centre of gravity gives a more stable ride."
---
Manufacturer: Fortune Auto 500
Levels of damping adjustment: 24
Construction type: Monotube
Spring rate front: 12kg/mm
Spring rate rear: 8kg/mm
Fitment: Lexus IS300
Value for money:

🔥🔥🔥🔥

Purchase link: Buy Fortune Auto 500 Coilovers from Enjuku Racing
Our comment: Fortune Auto have these attention-grabbing coilovers on offer, with fantastic quality and a lower-end price to match. These are soft and smooth for daily driving and also a capable coilover for occasional track use.
With the ability to upgrade to 2-way remote canisters or swift springs, this could be a great option if you want a daily driving coilover now with something more track-orientated later on without having to purchase brand new.
Manufacturer description: "Research on the racetrack has helped us develop the Fortune Auto 500 Series into a great all-around shock absorber. Using high-quality components that meet our strict standards allows us to optimize comfort, reliability, and longevity."
"At Fortune Auto, we approach the science of suspension with a mentality of customization that has raised the industry's standards of performance."
---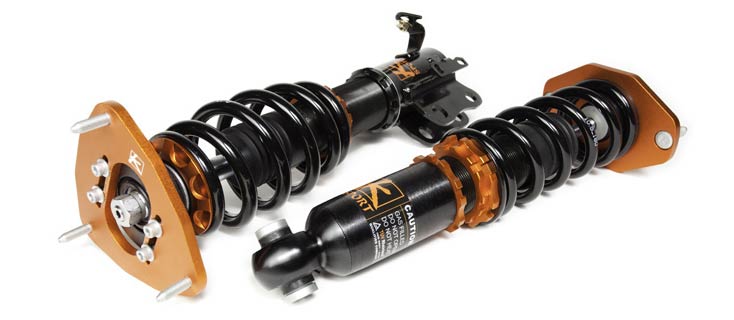 Our comment: K-Sport has been in the coilover game for a long time now and have built up a decent reputation amongst owners. They are known for being on the firmer side even when fully adjusted, so if you're looking for a soft setup, these might not be for you.
Given that they fall into the BC Racing and Tein price bracket, with those having a higher satisfaction rate and known for being better all-round, we'd personally opt for those.
Manufacturer description: "Ksport Kontrol Pro Fully Adjustable Coilover Kits provide the ultimate in suspension technology for your vehicle, both on the street or at the track. 36 levels of damping adjustment allow fine tuning of the damper to suit both handling and comfort needs. The damping adjustment alters compression and rebound simultaneously, for more effective and user-friendly setup changes."
"The Ksport Kontrol Pro Coilover system has been designed with professional road racing in mind, offering extremely high value and performance for any application."
---
Our comment: Stepping into the higher end of the suspension market, APEXi bring you their upper-range N1 Evolution coilovers. Despite the serious price tag, these are undoubtedly a fantastic choice for those who are looking for a great coilover system which is more track-orientated than street.
For the price, we would be looking at comparing these to KW V3's and the HKS Hipermax above, both of which have far more feedback with very little negative to say about them from owners. If you're hoping to go with these but your budget doesn't allow, we recommend checking out their cheaper 'EXV' option too.
Manufacturer description: "The N1 Evolution is the newest generation of our track engineered flagship N1 suspension. All N1 dampers feature large piston, monotube design using a threaded base for height adjustments without compromising shock or spring travel."
"Every year, we gather incredible amounts of suspension data from our direct involvement in many different racing series. This specialized data goes directly into our sports parts development to provide the customer with the same cutting-edge suspension technology we use on all of our race vehicles."
---
Manufacturer: Stance
Levels of damping adjustment: 15
Construction type: Monotube
Spring rate front: 16kg/mm
Spring rate rear: 10kg/mm
Fitment: Lexus IS300
Value for money:

🔥🔥🔥🔥

Purchase link: Buy Stance XR1 Coilovers from Enjuku Racing
Our comment: Stance brings you their premium coilover offering, which is great for owners who are looking for low ride height with good adjustability while still maintaining great handling.
Despite being slightly firmer than stock, it's not a crashy ride and if frame-laying is your thing, comfort probably isn't at the top of your list! With the option of swift springs available, we'd highly recommend opting for these. If you're intending to track the car there are better options out there, but for daily driving, this is a great, affordable option.
Manufacturer description: "The XR1 is our flagship line. It features 15-way damping adjustable monotube shocks, which allows the driver to fine-tune the handling and ride. A separate lower bracket allows the ride height to be adjusted without sacrificing stroke. "
"Spherical bearings are used to give the driver greater feedback. Inverted monotube shocks are utilized on strut types for greater rigidity and heat dissipation. Camber adjustable upper mounts are used on strut types."
---
Our winner
Our winner is the highly acclaimed HKS Hipermax IV GT coilovers.
It was a close call between the superb KW V3's and the HKS Hipermax. With HKS's great price point, these are a serious bargain for those who are looking for a great all-rounder whether you're throwing the car sideways, perfecting your lap times or carving a canyon road.
For those with a mid-range budget who are looking to get the best lap times available, we have no doubt that the HKS Hipermax IV's will be perfect for your needs. KW also offer a ridiculously good alternative which made for a close call, if you require corrosion protection, these may well be your top choice.
Runner-up
Another set of coilovers which really stood out during our research of this article were our budget-offering – BC Racing BR's. At under $1k, we struggle to believe you will be able to find a better coilover out there for the money. With the additional option of the upgraded swift springs available, we have no doubt that the BR's will be perfect for your needs on a lower budget.
Thank you for reading our Lexus IS300 coilover guide!
Looking for more power for your IS300? Try our IS300 turbo kit guide.
You can also check out our Lexus IS300 Body Kit Guide here.
Get to know the Lexus LFA's mighty V10 in our 1LR-GUE engine guide.
If you enjoyed this article then please share it with the sharing buttons at the side and the bottom of your screen.
Photography credits
We thank the following entities for use of their photography in this article: