Ultimate Subaru BRZ Supercharger Guide
We review the most popular Subaru BRZ supercharger kits available on the market today. This is the ultimate BRZ supercharger kit guide.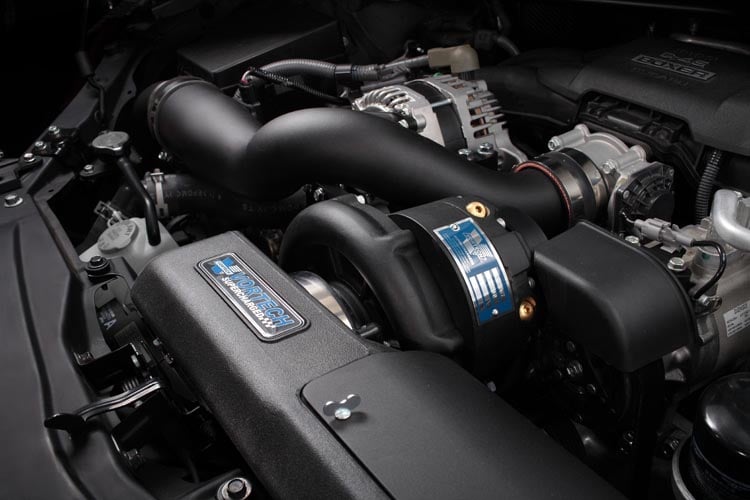 ---
In a hurry? Here is our BRZ Supercharger summary
| Budget Choice | Drifted Choice | Premium Choice |
| --- | --- | --- |
| | | |
| Kraftwerks Supercharger System | HKS GT Supercharger System V3 | Edelbrock E-Force Kit |
| 🔥🔥🔥 | 🔥🔥🔥🔥🔥 | 🔥🔥🔥🔥 |
| Buy Now | Buy Now | Buy Now |
Stunning looks are gifted from the factory with the Subaru BRZ and the aftermarket tuning scene is currently at its peak with more parts available from huge manufacturers than ever to give your car that unique added touch.
There's no doubt that the BRZ is already an incredible all-rounder in stock form, but we all know it's missing that much needed power under the hood to keep up with big-power cars on the street or the track.
Forced induction could be the ultimate answer to turn your BRZ from a great car into the perfect car and we have some awesome offerings to help you achieve that.
In our ultimate Subaru BRZ supercharger guide, we'll show you the best choices for converting your 4U-GSE engine into a supercharged weapon for the street or the track!
Forced induction
Over time, the BRZ tuning scene has flourished and there is more selection available than ever. This means that our options have now been tried and tested long term for reliability.
We've written this guide to help you narrow down the difficult decisions when it comes to supercharging your BRZ and find the perfect kit for your needs.
You may have already decided that supercharging suits you best, however if you prefer a sudden surge of power and turbo noises, we also recommend checking out our BRZ turbo kit article too!
Let's take a look at our BRZ supercharger kits
To read more about any of these products simply click on the supercharger kit name or photo.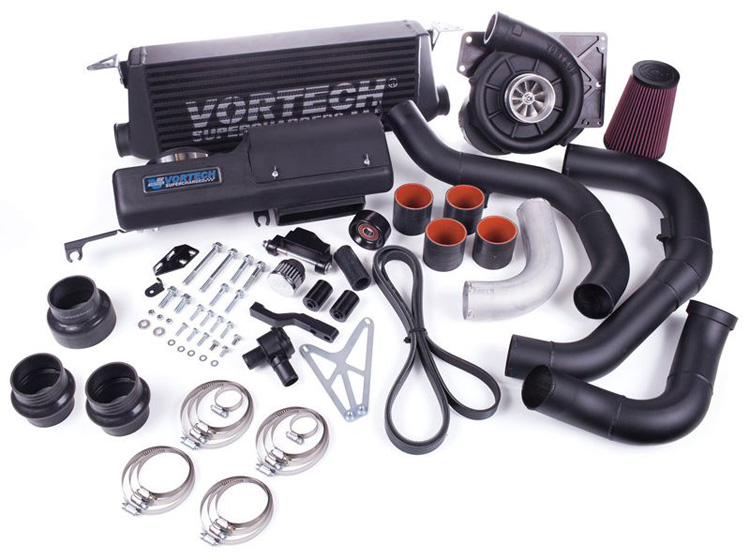 Our comment: US-based Vortech are very well known in the supercharging game for delivering high quality and awesome looking superchargers, their BRZ kit is certainly no exception. Part of the plan with this kit was to make it as easy as possible to install, even with inexperienced mechanics being capable with the right tools.
This kit is most noticeable in the higher RPM's, with many drivers finding it most practical for track rather than street use. Owners have often achieved over 300hp at 9psi with the required supporting mods.
If you do opt to use this kit on the street in the US, you'll undoubtedly be glad to hear the this kit has CARB certification.
Manufacturer description: "The fun-to-drive car is back, and the FT86 platform is the most exciting thing to come along in years! However, most people believe there is one thing missing… more power! With a legendary history of improved performance through efficient boost, the team of Engineers at Vortech have designed a kit that makes these great cars even more enjoyable to drive."
"Design, detail and execution exceed OEM standards for a look you will be excited to show off at the car show or the track. Boost your Scion FR-S/Subaru BRZ to the next level of performance with the new centrifugal supercharging system from Vortech."
---
Our comment: Sprintex bring you the first Twin Screw setup on our list, this means that you will see boost in the lower RPM's compared to a centrifugal supercharger. This is an ideal option for a road car as it means that you're likely to use the power delivery more frequently.
Owners have reported that the kit runs fantastically well when tuned and run on E85 and it's undoubtedly one of the more popular offerings on our list. If you're looking for a fast road setup with CARB certification, this may well be the kit for you!
Manufacturer description: "SPRINTEX TWIN SCREW SUPERCHARGER (formerly Innovate Supercharger) – The twin screw (positive displacement) supercharger for the Scion FR-S and Subaru BRZ provides unrivaled low and mid range torque while still providing impressive peak power. The proprietary internal design of the supercharger offers exceptional isentropic efficiency when compared to other supercharger and turbocharger designs and only requires servicing every 30,000 miles!."
---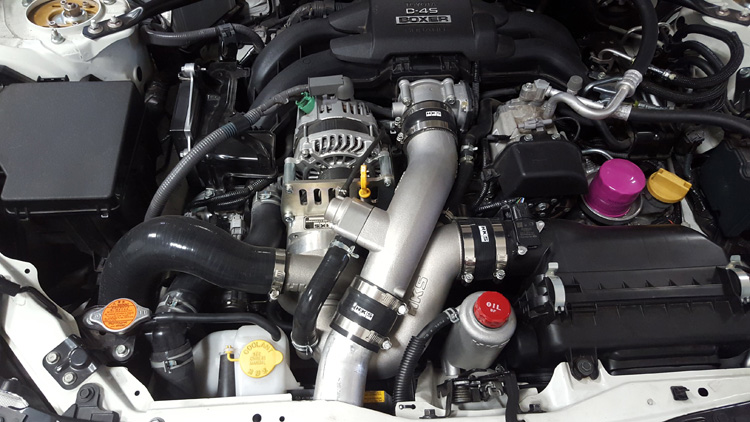 Our comment: This Japanese tuning house undoubtedly needs no introduction, HKS present the third revision of their hugely popular BRZ supercharger kit.
With the latest revision now featuring some drastic changes mainly focused around increased airflow, owners have seen around 320hp on E85 and 250hp on 91 octane with paired HKS intake, headers and exhaust.
This kit has been tried and tested on daily driven cars for long periods with great results. We would recommend opting for the reasonably-priced optional Flash Tuner which allows you to run varied maps for different fuel types. Want to run 91 octane on the street and E85 at the track? This could well be the perfect choice!
Manufacturer description: "The popular FR-S/BRZ Supercharger Kit from HKS is back with V3, and now, it makes even more power. The new kit features a revised inlet pipe with a larger inside diameter, a larger supercharger pulley, and it no longer has the restrictor plate. These changes optimize the airflow and allow for a slower spinning, but more efficient airflow."
"The new larger pulley creates a reduction in supercharger speed, which along with the less restrictive air flow, allows for a larger volume of air as well as cooler intake temperatures which creates more power. The new V3 kit is available with an optional Flash Editor with pre programmed tunes for 91 octane and E85."
---
Our comment: Another popular offering is the second twin-screw supercharger on our list, this time from Edelbrock. This is one of the best looking and well thought-out kits out there, which is quite possibly the closest to an OEM-look you will get which also comes with fantastic reliability.
Much like our previous twin screw option, this kit delivers increased low down power delivery which makes it great for street use, along with it's CARB certification it's definitely a strong contender for a street car.
Manufacturer description: "This all-new E-Force Supercharger system is designed exclusively for the FA20/4U-GSE engine. It's unique inverted design features long runners that allow for maximum flow at high rpm, while retaining great daily driving characteristics. It has been designed from the ground-up and utilizes the Eaton® 1320 TVS rotor assembly for maximum efficiency in a compact package. As with all E-Force superchargers, this system features an efficient high flow inlet configuration that results in a shorter, less restrictive intake path for improved air flow and performance."
"To cool the incoming air, is a large dual pass air-to-water intercooler and heat exchanger. All of these features help the E-Force deliver dramatically improved performance, especially in the mid-range, where power dips have been eliminated for a smooth linear power curve. Lastly, the supercharger assembly is finished with a durable black powder coating with red accents for a unique look that will let everybody know your car is E-Force powered!"
---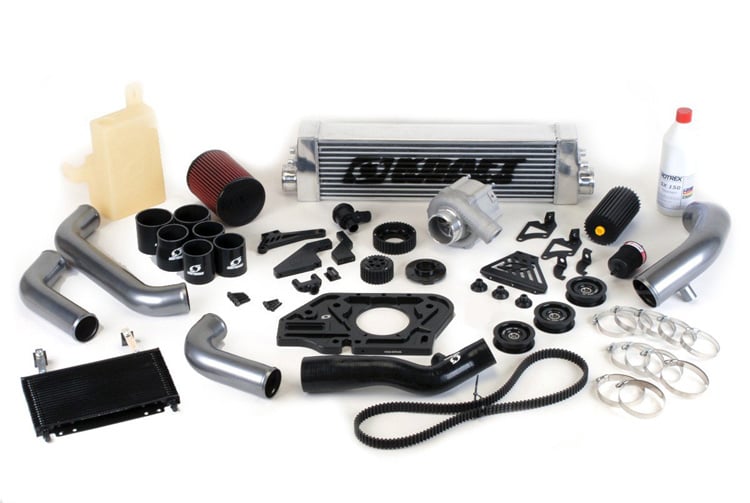 Our comment: Kraftwerks bring you the most reasonably priced offering on our list. The initial quality of the kit doesn't reflect the reasonable price as it's both good looking and good quality. Despite having CARB certification, we found this to be more of a track setup than street.
Although this all sounds great, poor fitment and belt reliability issues have left it with a lower score. We recommend searching for your own opinions in case an updated version is released to fix this, in which case it could be a great value kit!
Manufacturer description: "Kraftwerks is pleased to announce the release of a brand new intercooled supercharger system for the new Subaru BRZ and Scion FR-S. At the heart of the new system is the Rotrex C30-94, which is the same supercharger used in the extremely successful Kraftwerks 2006-2013 Honda Civic Si system."
"At 9psi of boost pressure, the supercharger system produced an impressive +90whp on 91-octane through the OEM headers and exhaust, and +125whp on E85 through Skunk2 headers and exhaust. More impressive is the linear power curve throughout the entire power band due to the patented traction drive technology, which transmits power through friction forces between its rolling elements."
---
Our winner
Our winner is the HKS GT Supercharger System V3
To pick our winner from this choice of BRZ supercharger kits we looked at a number of criteria; ease of installation, power levels, upgrade potential and price point.
Based on these criteria we have chosen the HKS GT Supercharger System V3 to be our winner.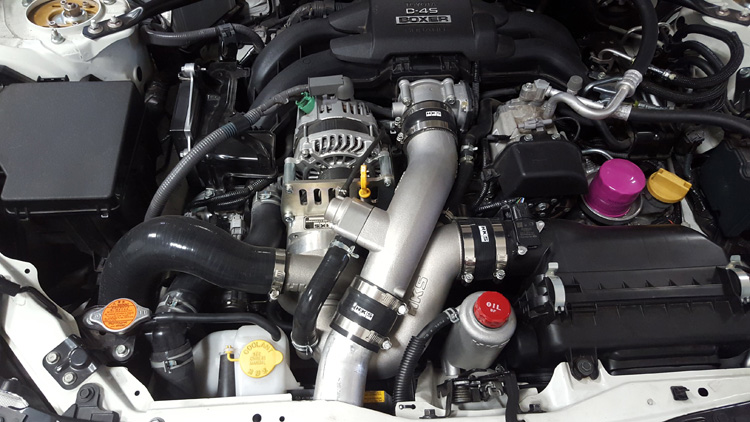 As an all-rounder, we couldn't help but feel that the HKS GT Supercharger System V3 was the best option available for your BRZ. Despite already being a great kit, the optional Flash Tuner made this hard to beat as we love the ability to switch between tunes for different uses.
All five options undoubtedly have their positives and if you're looking for a specific need such as low down power on a daily driver, alternative options may well suit your needs better.
We highly recommend that further research is done based on our guide. There are often additional parts, tunes or upgrades for base-level supercharger kits that may be either vital or purely suit your preferences.
Photography credits
legacy.vortechsuperchargers.com/page.php?id=30190
dsportmag.com/the-cars/project/boost-test-innovate-brzfr-s-twin-screw-supercharger/2/
modbargains.com/frs-brz-vortech-supercharger-4TF218-014L-4TF218-114L.htm
ft86speedfactory.com/hks-gt-v3-supercharger-system-with-ecu-tuning-2013-ft86.html#.Wmcj6qi68uU
youtube.com/watch?v=I46b_vzMdW0
ft86speedfactory.com/kraftwerks-supercharger-system-w-out-tuning-2013-ft86.html
Thank you for reading our BRZ supercharger kit guide
If you enjoyed this article then please share it with the sharing buttons at the side and the bottom of your screen.
Looking for a supercharger for your Toyota GT86? Our GT86 Supercharger guide is written just for you.
Please remember to subscribe or follow us on Feedly for free updates.