EVENT: Formula DRIFT Title Fight: The House of Drift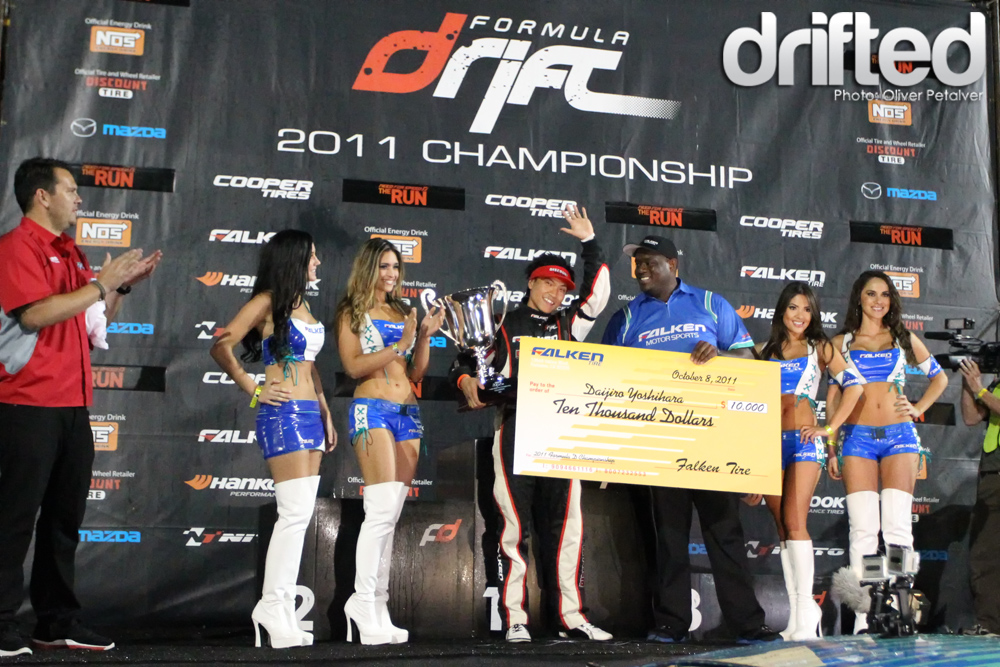 The final round of Formula DRIFT was held at Irwindale Speedway or "The House of Drift" as many of you fans know. Japanese drifter Daijiro Yoshihara won his first FD championship after 8 years of professional drifting. Yoshihara, piloting the Discount Tire/Falken Tire Nissan S13, was also Triple Crowned. This last event was the biggest in Formula DRIFT history to date and was the most exciting. In what seemed like a Hollywood script, points leader Yoshihara was taken out during the Top 16. That left the championship open to Justin Pawlak, Darren McNamara, or Chris Forsberg. Most people thought Pawlak had an easy road to the championship until he crashed into the wall during the Great 8. All that was needed was for either Forsberg or McNamara to win the event in order to win the 2011 championship.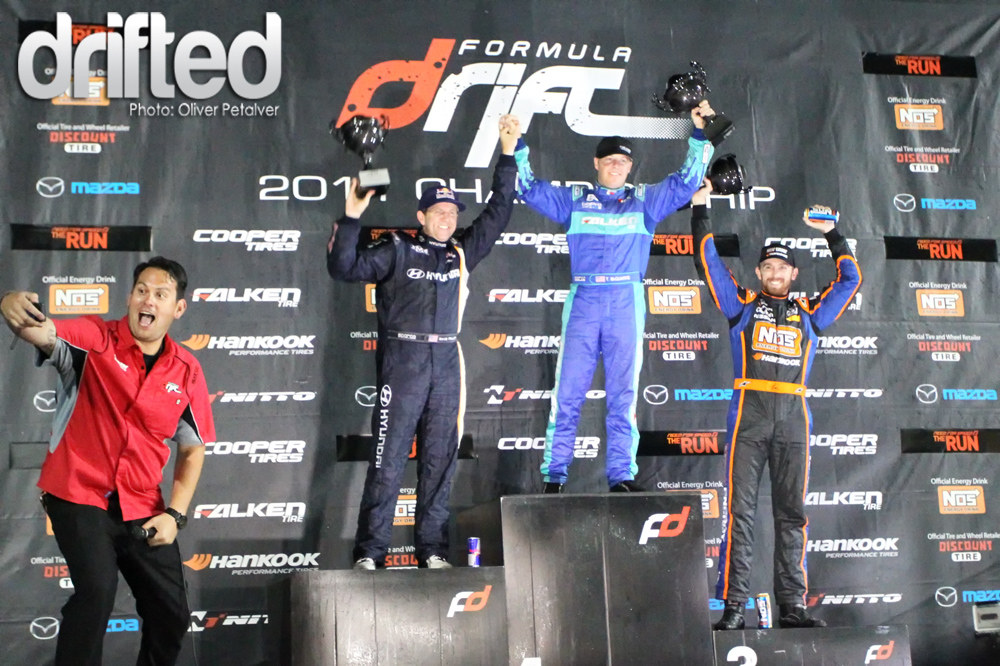 However, Tyler McQuarrie and Rhys Millen took the opportunity away by placing 1st and 2nd on the podium. Funny how FD announcer Jarod DeAnda is taking a photo of himself during the ceremony! His expression is classic!
Justin Pawlak, in the Falken Tire Ford Mustang, battles Darren McNamara (Saturn Sky) during the Great 8. It's no surprise that a Falken Tire driver was pitted against a teammate, especially during the whole season. The Falken Team pretty much dominated the season with Yoshihara in first, Justin Pawlak in second, and Darren McNamara in fourth.
Chris Forsberg (NOS Energy Drink Nissan 370Z) placed third overall this season.
Darren McNamara made it to the Final Four where he was defeated by fellow Falken teammate Tyler McQuarrie.
Eric O'Sullivan, piloting the Mobil 1/Gardella Racing Pontiac Solstice, was unable to qualify for this event.
The other Mobil 1/Gardella Racing driver, Ryan Tuerck, qualified in fourth with a score of 86.1 but was defeated by Rhys Millen during the Great 8.
Robbie Nishida (Bridges Racing Nissan S13) defeated Robbie Mertzanis and Conrad Grunewald to meet Forsberg in the Great 8. Nishida was unable to move on to the Final Four.
Taka Aoko made it to the Top 32 but was defeated by Ken Gushi.
Rookie Walker Wilkerson made it to the Top 32 but was defeated by McNamara since he crashed into the wall.
Luke Lonberger (Blue 808/Hankook Tire Chevrolet Camaro) hits an obstacle during practice prior to the Top 32 competition.
FD Asia driver Emannuel "Dio" Amandio goes over last minute checks while waiting to qualify. He ended up qualifying in 24th but lost to Conrad Grunewald in the Top 32.
D1GP champion Toshiki Yoshioka drives the Retaks Racing/Cooper Tire Nissan S13.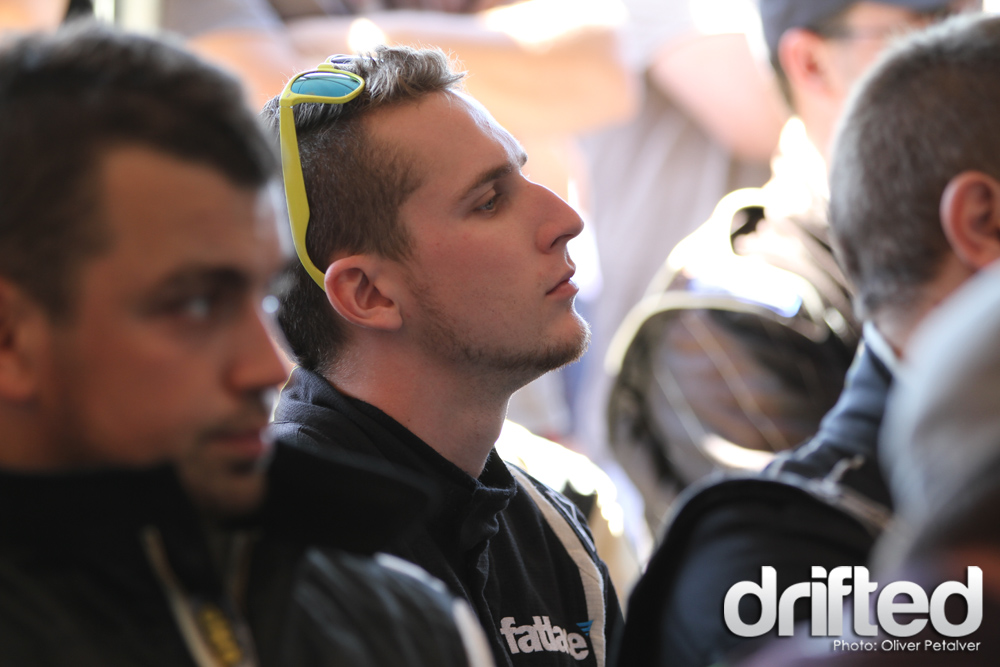 Best looking car for the 2011 season goes to Matt Field and his trademark highlighter yellow Nissan.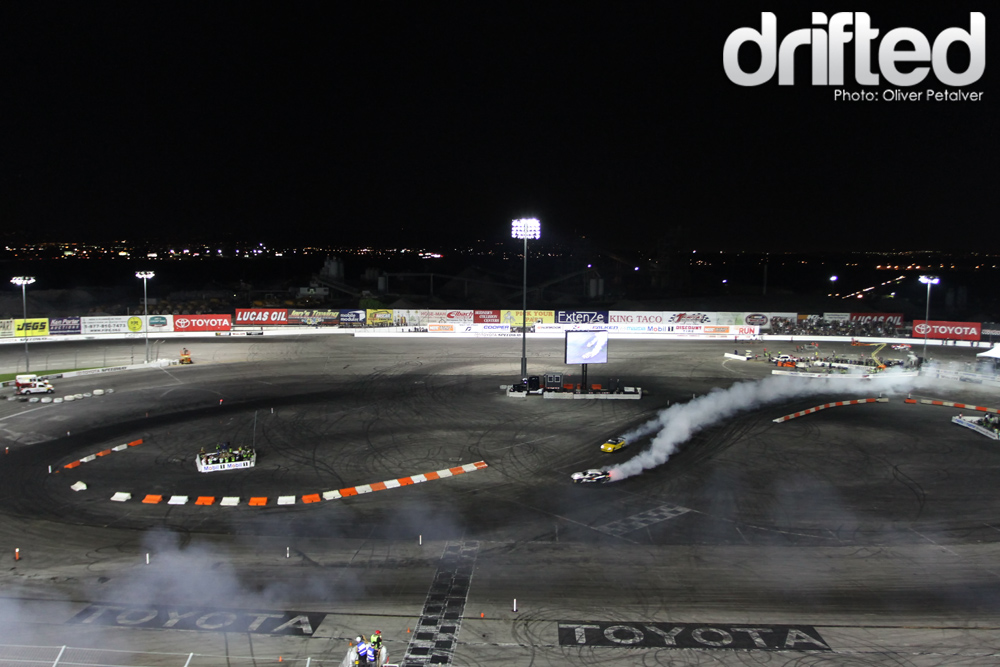 Formula DRIFT unveiled a new track layout this year for better entertainment value.
I've seen Rookie Ryan Kado display some crazy angle during the season. Look out for him during the 2012 season.
Another rookie, Pat Cyr, made it to the Top 32 but was unable to move on to the next round.
Kenneth Moen's BK Racing Nissan 350Z was another casualty of the infamous inner bank wall.
Matt Waldin, in the Helix Energy Drink Nissan 350Z, failed to qualify at this event.
Ken Gushi (Team RS*R/Hankook Scion TC) took out Points Leader Daijiro Yoshihara during the Top 16 leaving fans with their jaws dropped.
Charles Ng (Evasive Motorsports/Nitto TIre Mazda RX7 FC) qualified #31 & was defeated by Justing Pawlak in the Top 32.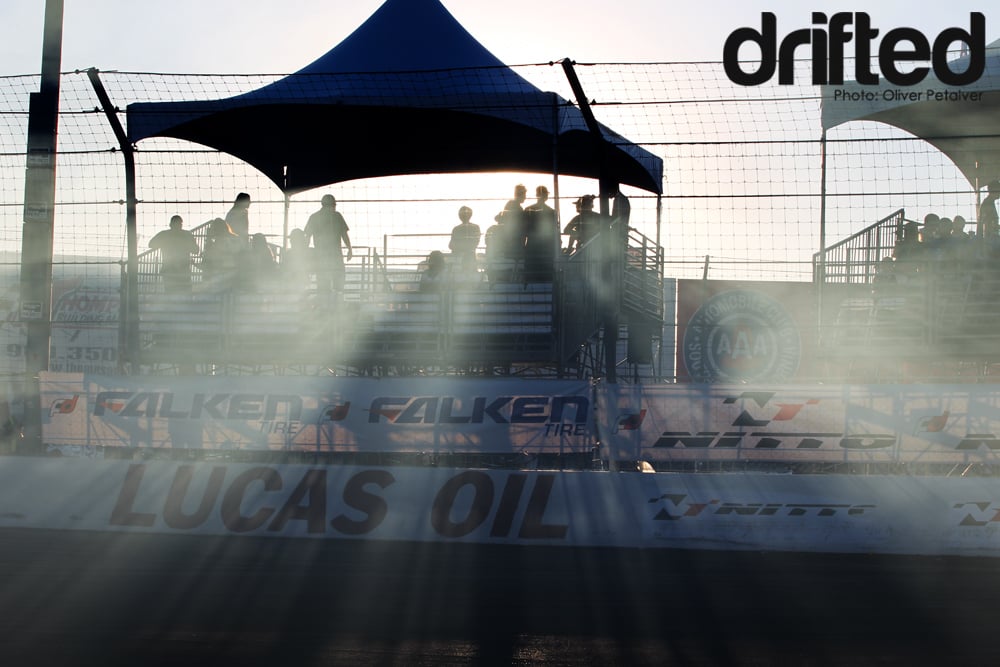 When the smoke clears from 2011, what will we see in the 2012 Formula DRIFT season? Will another team pick up Tyler McQuarrie? Or will his contract be extended? New cars. New livery. New faces. We definitely can't wait!
For more information, visit www.formuladrift.com
::Oliver Petalver