EVENT: The British Drift Championship Final Round: Part II: Super Pro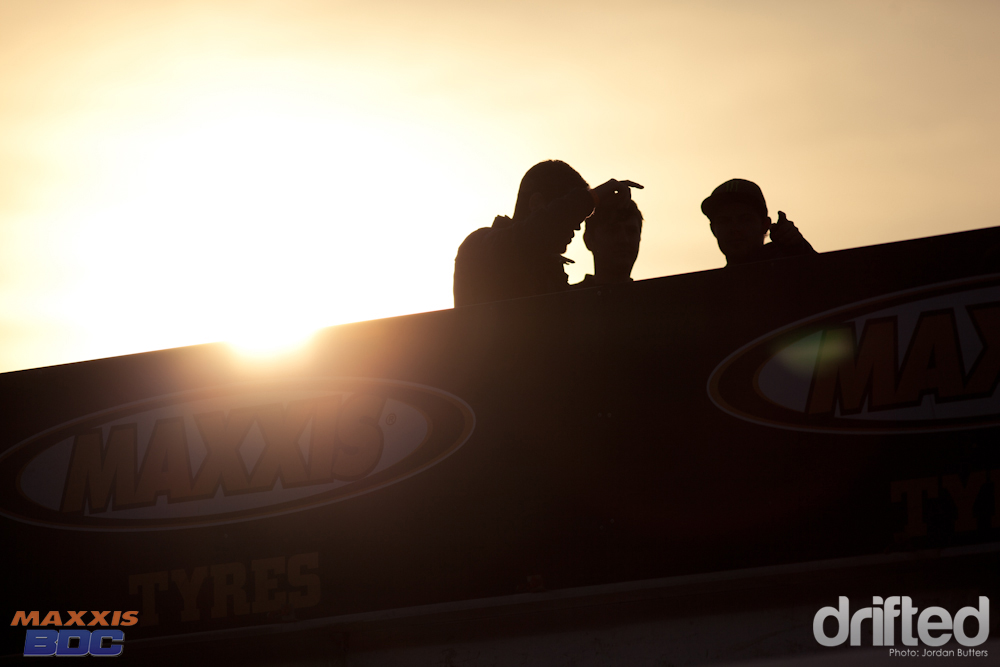 With the Semi Pro and Pro Classes settled in the 2011 Maxxis Tyres British Drift Championship it's time to settle the all important Super Pro class. As the sun started to drop over the Nissan Factory in Sunderland it was time for business, down to the nitty gritty, game-face time. All bets were off and everyone was going hard for the win.
The giant wind farm that surrounds the Nissan Factory was too good an opportunity to miss doing another cinemagraph! Both Paul Cheshire and Danni Murphy above suffered uncharacteristically early exits in the Pro Class. Would there be any more upsets in the Super Pros?
One man with everything to play for was Mark Luney in the SATS Cosworth Supra.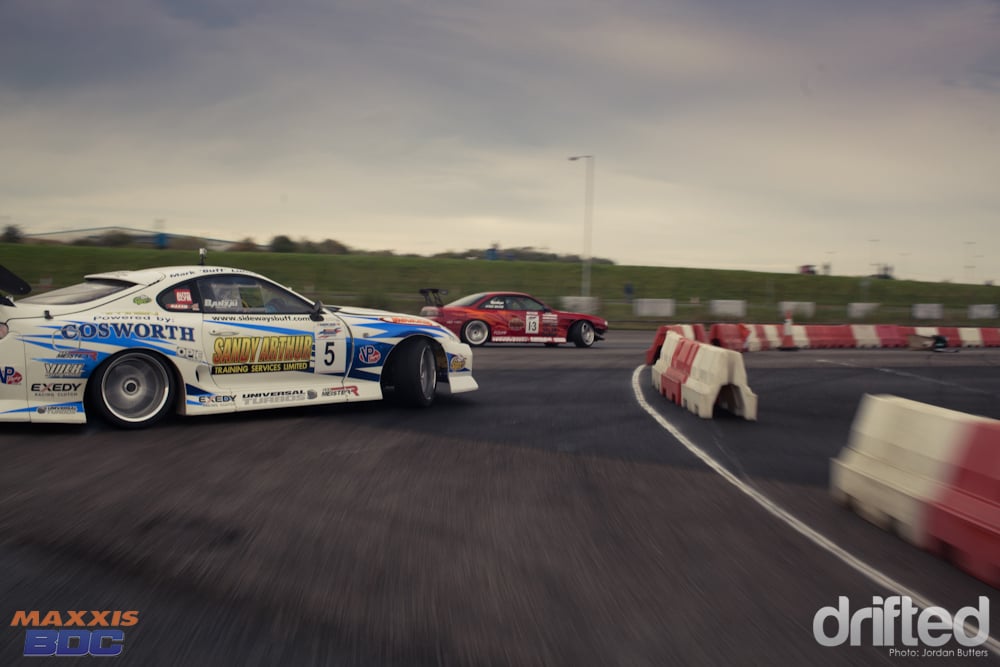 Mark sat in 2nd position behind Team Falken UK's Matt Carter going into the event. The maths was stacked against him with the points difference, but a win at the event could see him with a chance, pending on Matt's performance.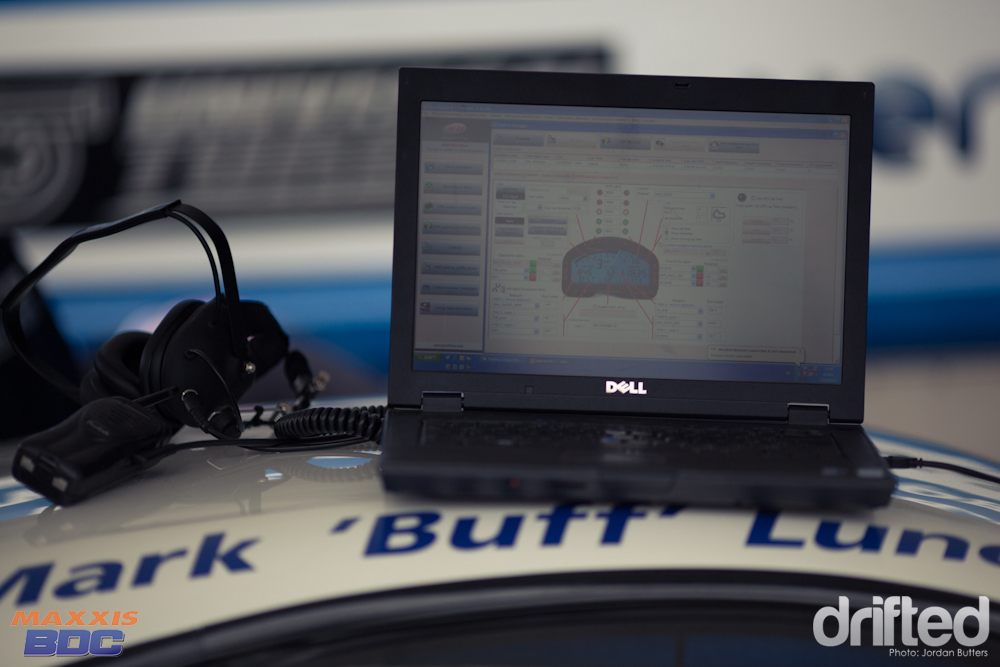 The SATS Cosworth team had squeezed over 1000bhp out of the 2JZ engine for the Finals. More than enough to induce some low level Maxxis cloud cover over the North of England!
Team Japspeed's Paul Smith had a lot to play for too, sitting within the Top 8 of the table going into the final. The 1JZ engine in his S15 does a great job of reducing the MA-Z1 drift tyres to smithereens.
Steve Moore chases down David Waterworth above. Steve uncharacteristically didn't qualify for Sunday's Top 16 event.
Following two strong performances at Teesside and Knockhill it just goes to show that anything can happen at this level of competition!
Wayne Keeber is in 3rd position going into the Final round.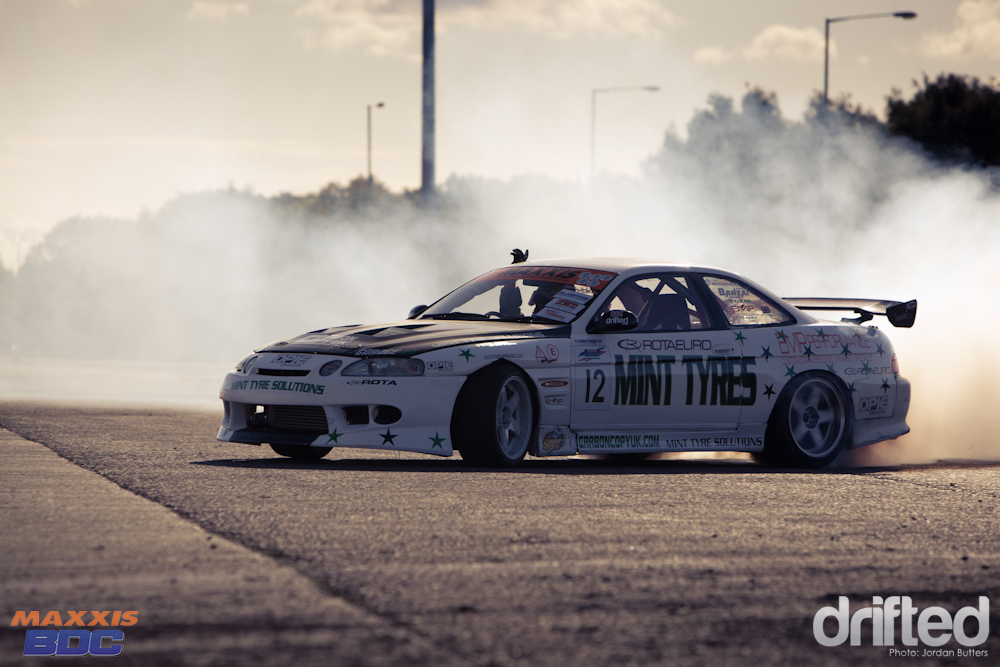 Although the title was out of his grasp he had an important 3rd place to defend by the end of the day.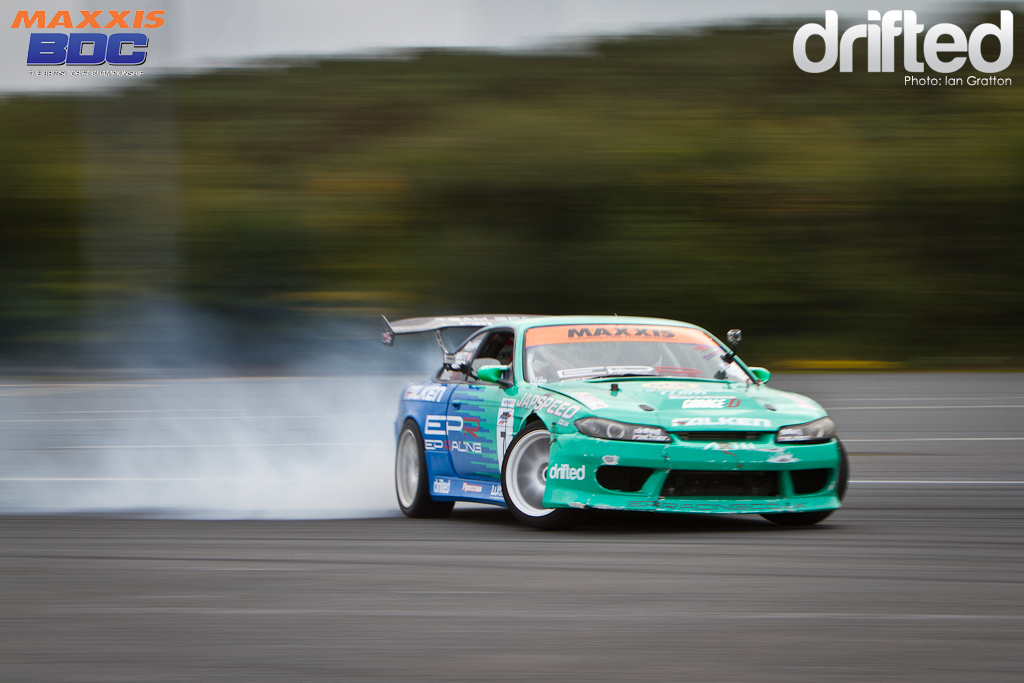 The man with everything to lose was Matt Carter. Everyone was trying to figure out exactly how far Matt had to progress to secure the championship.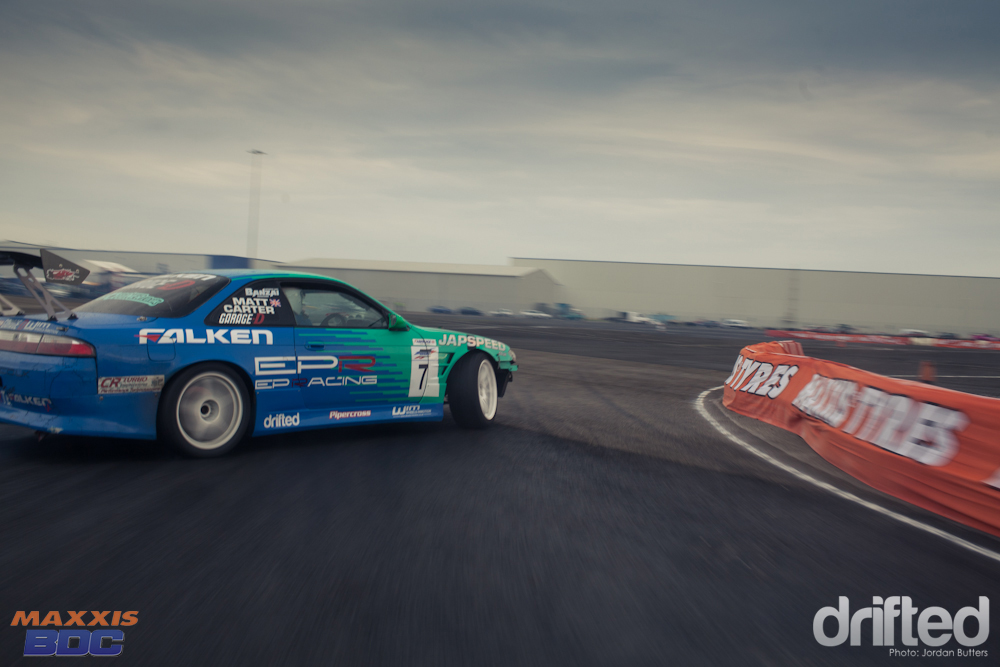 With a slipping clutch and having qualified 3rd going into the Top 16 the general consensus was a Top 8 finish would secure the title for him.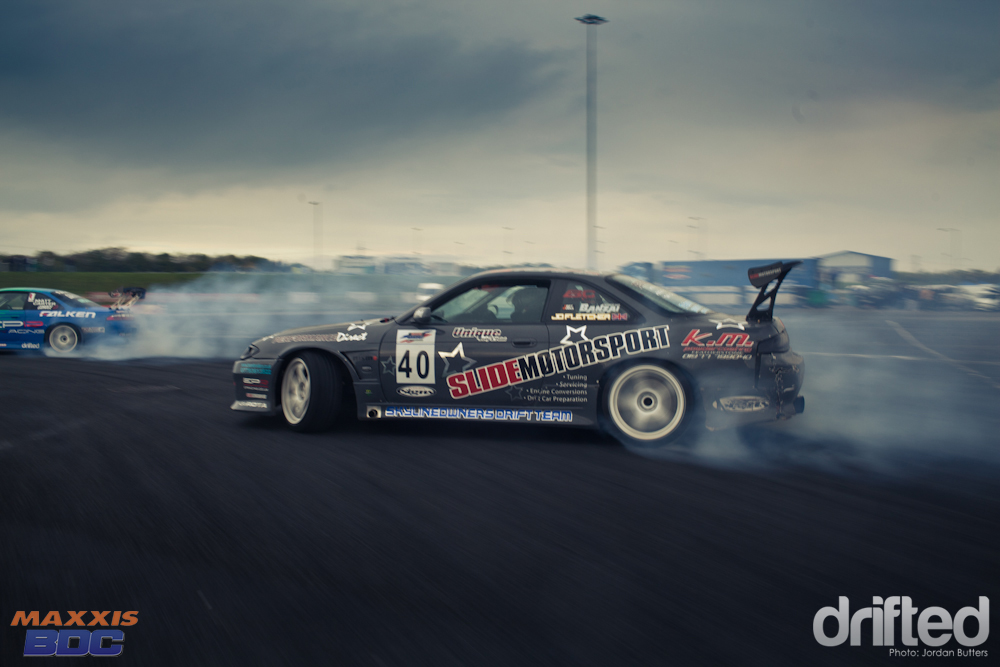 Matt was drawn against Jody Fletcher in the Top 16, but a mechanical fault with the Slide Motorsport S14.5 meant retirement was his only option. Matt Carter was awarded a bye into the Top 8, but was it enough?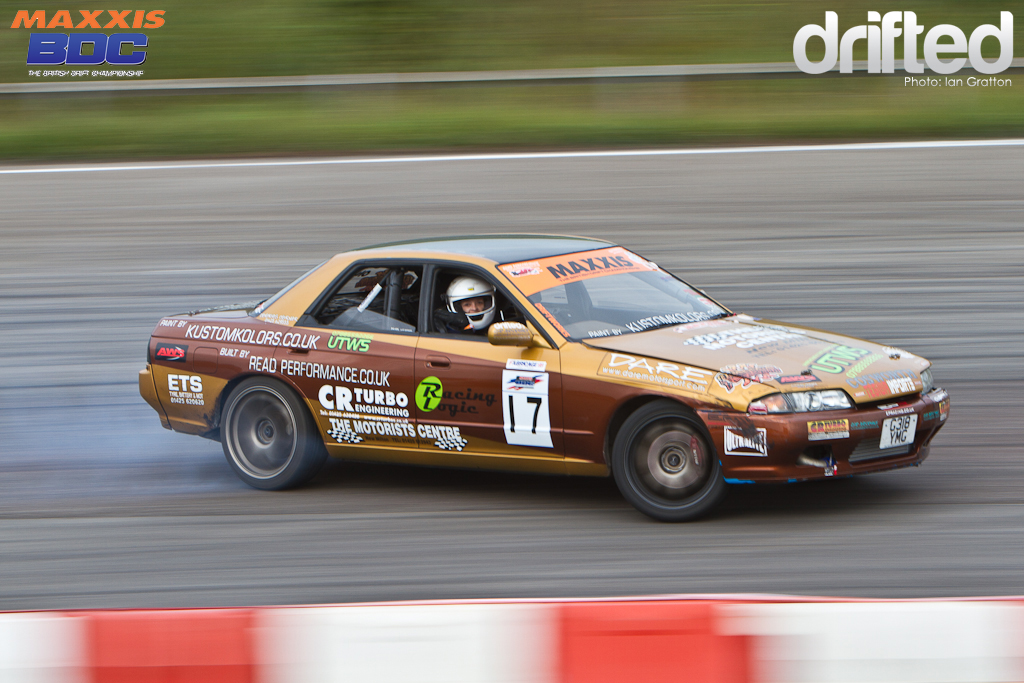 It's hard to believe it but Julie Robinson's 4 door R32 is still her daily driver! Can you imagine popping down to the shops in this, full cage, tuned RB engine purring and diff clunking and skipping away?!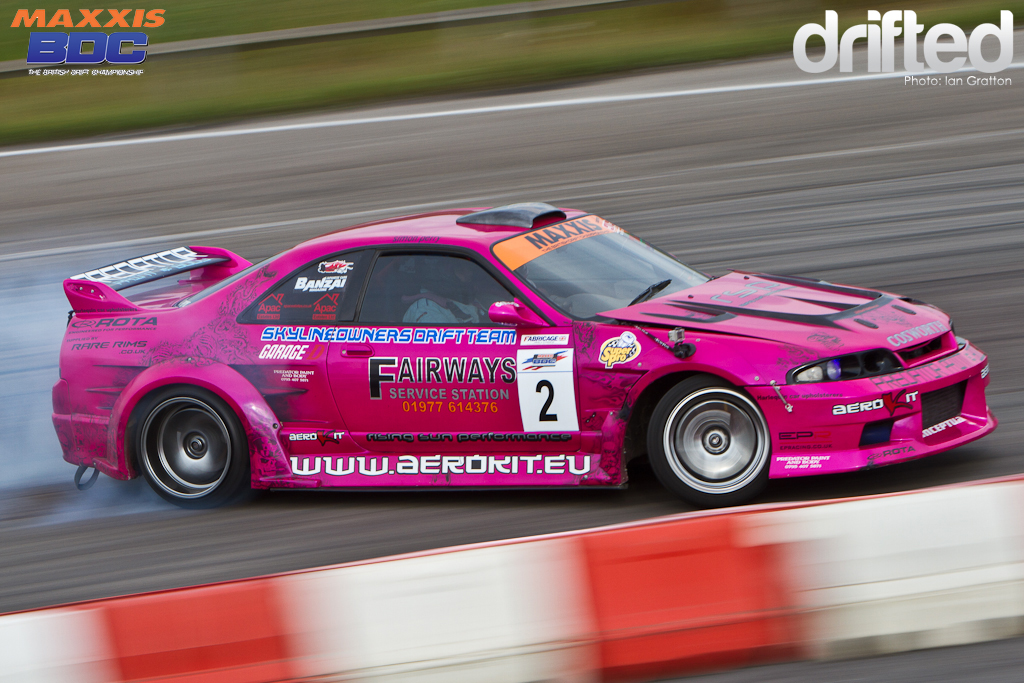 Simon Perry's R33 was rumoured to be running 800bhp at the Nissan track following a retune.
The smoke trails certainly gave us no reason to dispute this, the 'Pink Lady' was looking well.
Another driver who looks like he has found his form again is Stephen Biagioni in the 1JZ Japspeed Subaru.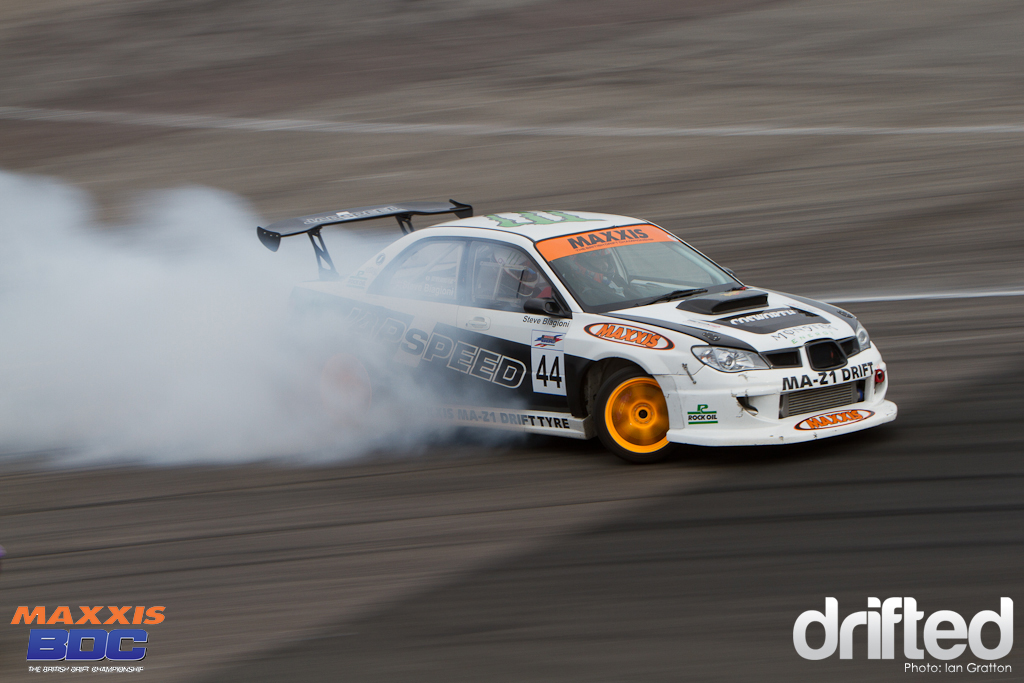 Two long years and tweaking and bags of seat time are paying their dues and the black and white Impreza is throwing some serious angles and lines.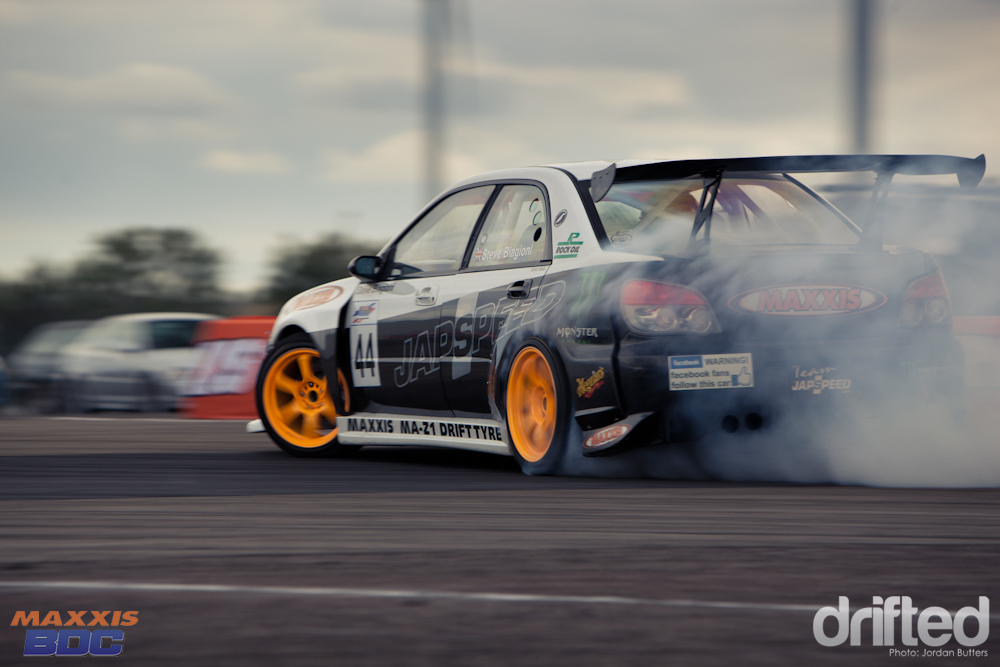 It's been a year of ups and downs with the car, remember the theft/M25 incident? Possibly one of the most bizarre experiences to go through for many fans and followers, and for the Japspeed team themselves!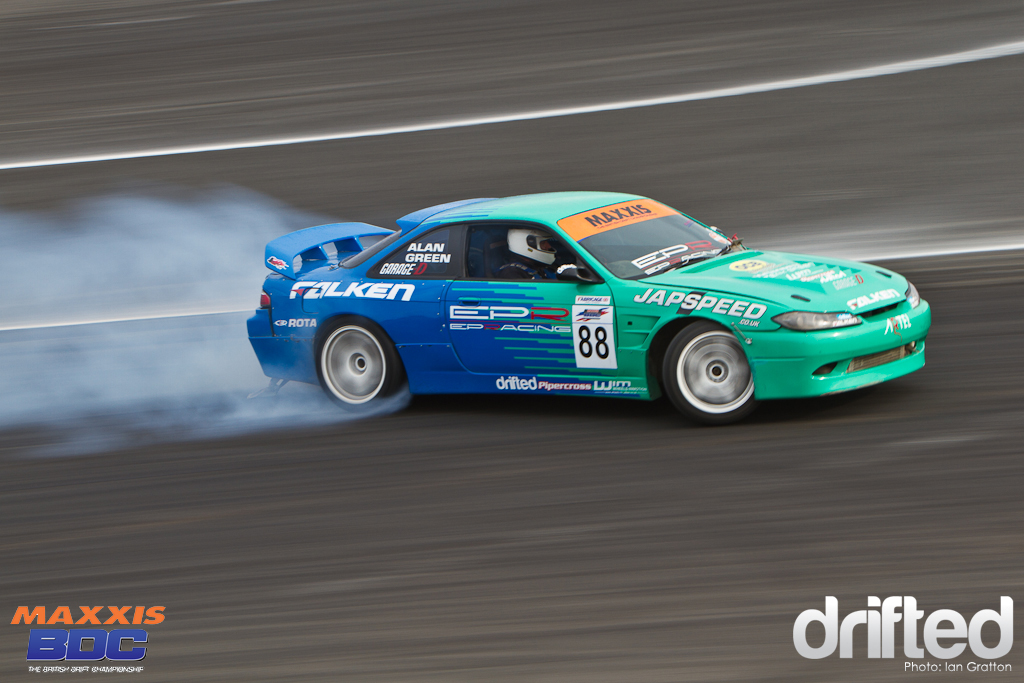 Alan Green's S14 has had a tough year. A full competition calendar in the BDC and a European tour isn't easy on a 12+ year old Nissan!
Alan runs a 450bhp Sr20 motor in the car and rumours have it that a new shell is on the card for 2012. Can't wait to see it!
The purple S13 of Ashley Stevens is always very camera-friendly. It's strange how some cars seem to come out better than others in photos. Ashley's car always 'pops' nicely.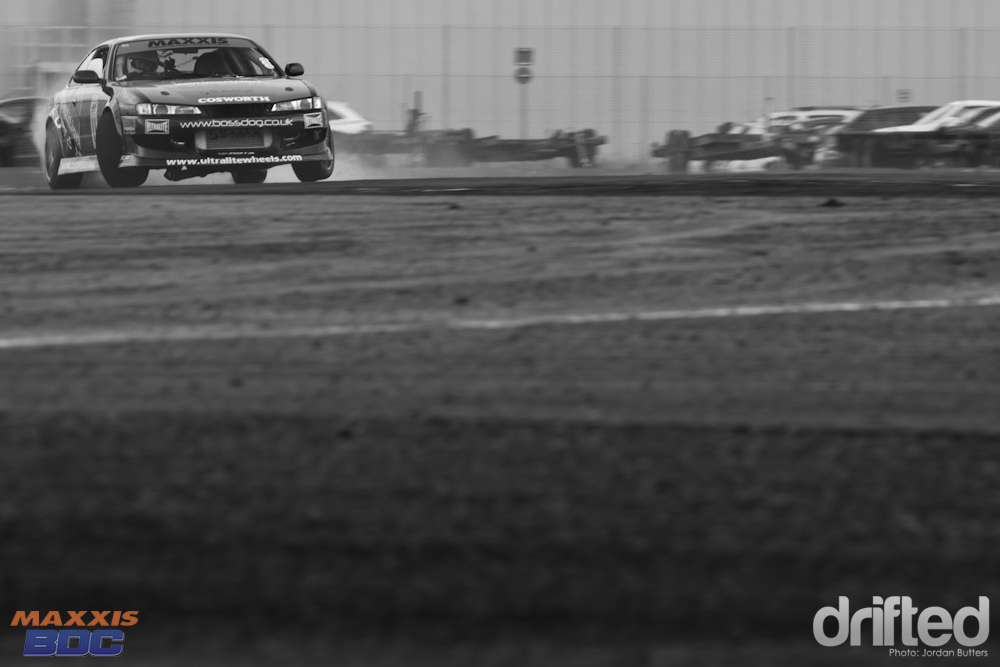 Daniel O'Brien made the grade and qualified for the Top 16, above his car squats down at the back under power and almost lifts the front inside wheel.
Top 3 Qualifiers
1st. Shane Lynch Japspeed V8 S15
2nd. Paul Smith Japspeed 1JZ S15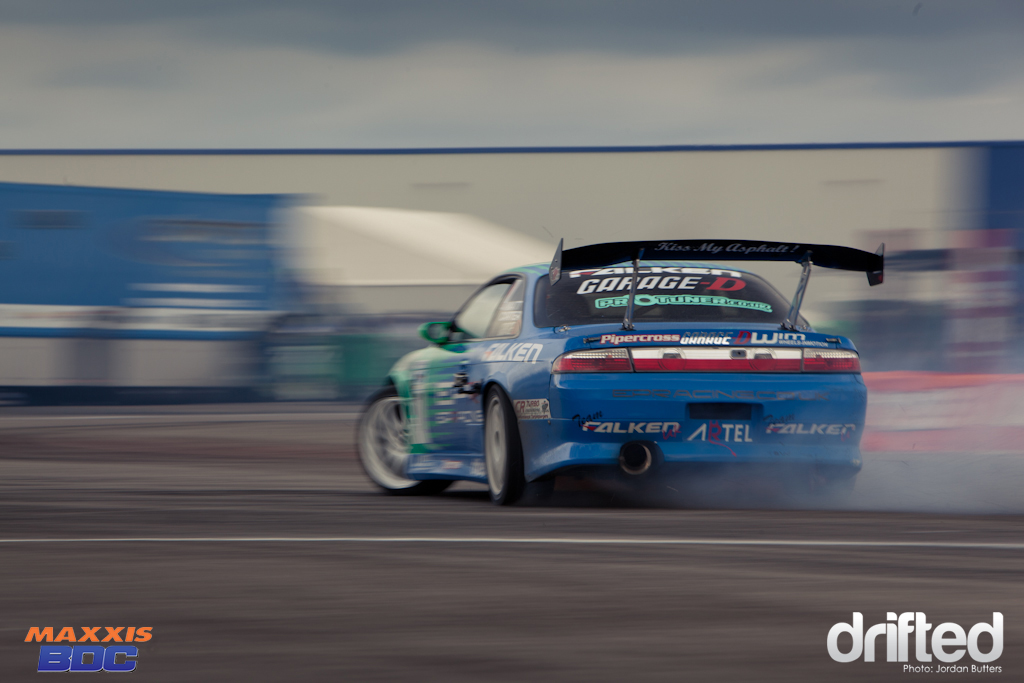 3rd. Matt Carter Falken 1JZ S14.5
Top 16
The first battle of the Top 16 was Simon Perry against Competition Clutch driver Gav Cummings.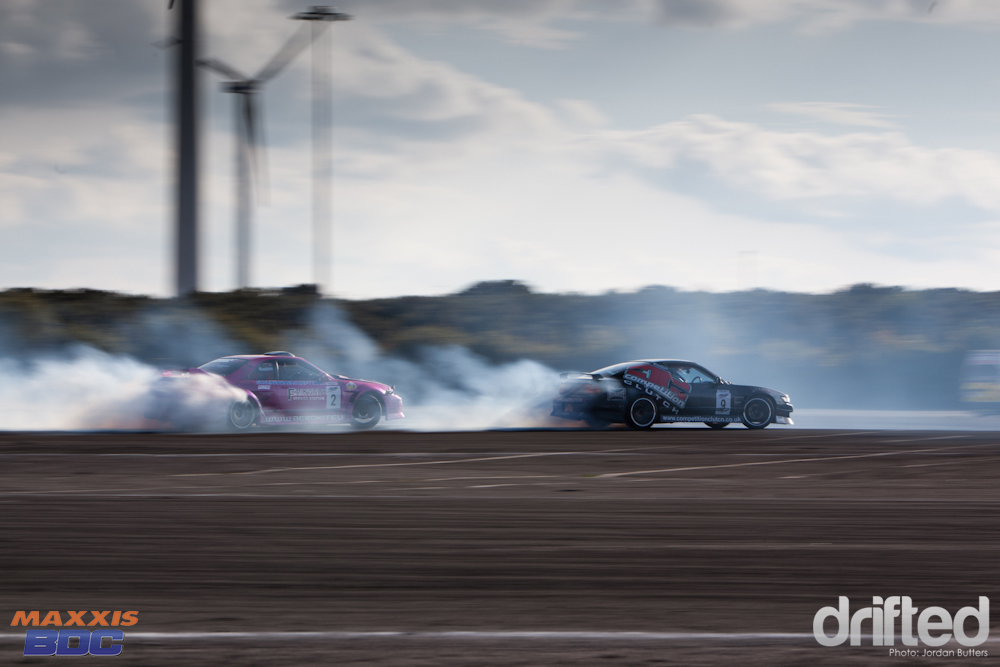 Simon in the bright pink R33 seizes upon an opportunity given when Gav makes a mistake in the first run, Simon takes the victory and moves on.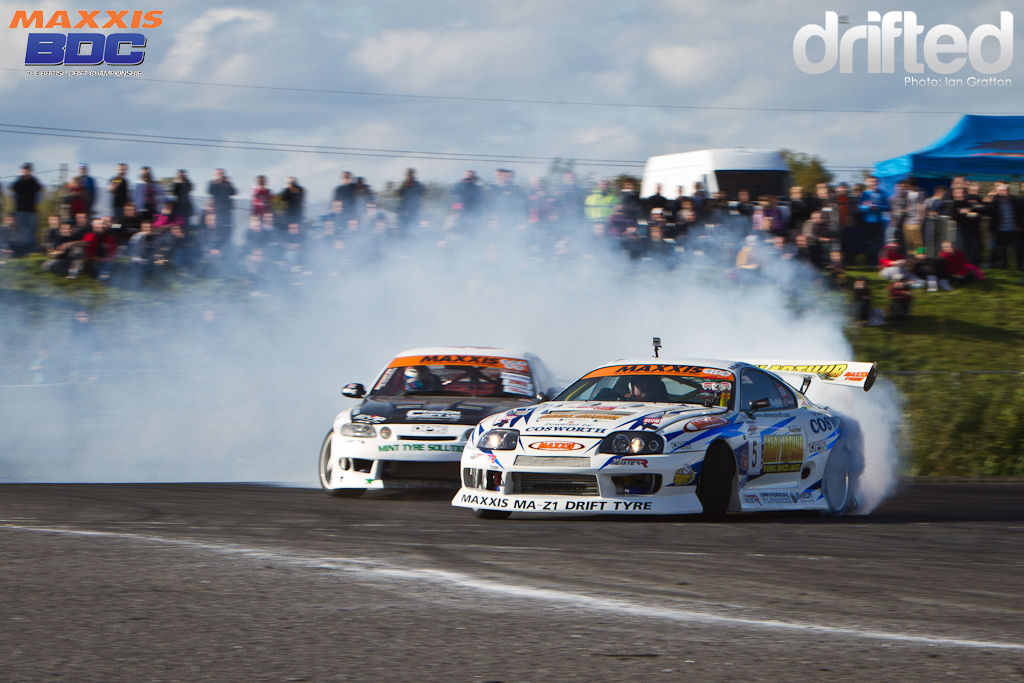 A battle that we usually expect to see nearing the finals is up as championship 2nd place Mark Luney in the SATS Cosworth Supra pairs off against 3rd place Wayne Keeber in the Mint Tyres Soarer.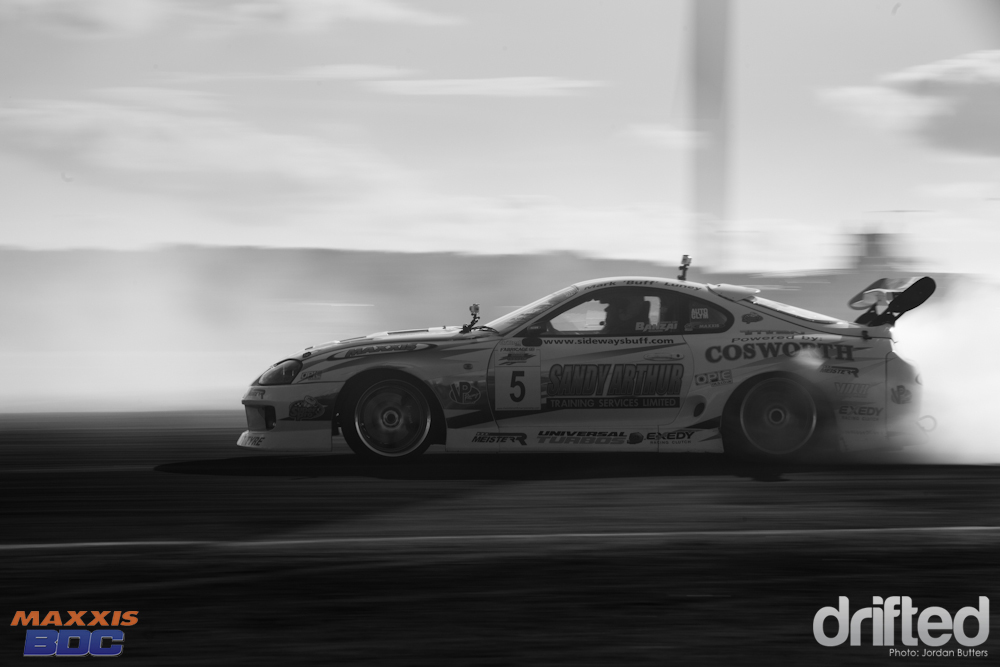 Luney comes out of the all Toyota battle victorious! An early exit for Wayne, where would this put him in the points?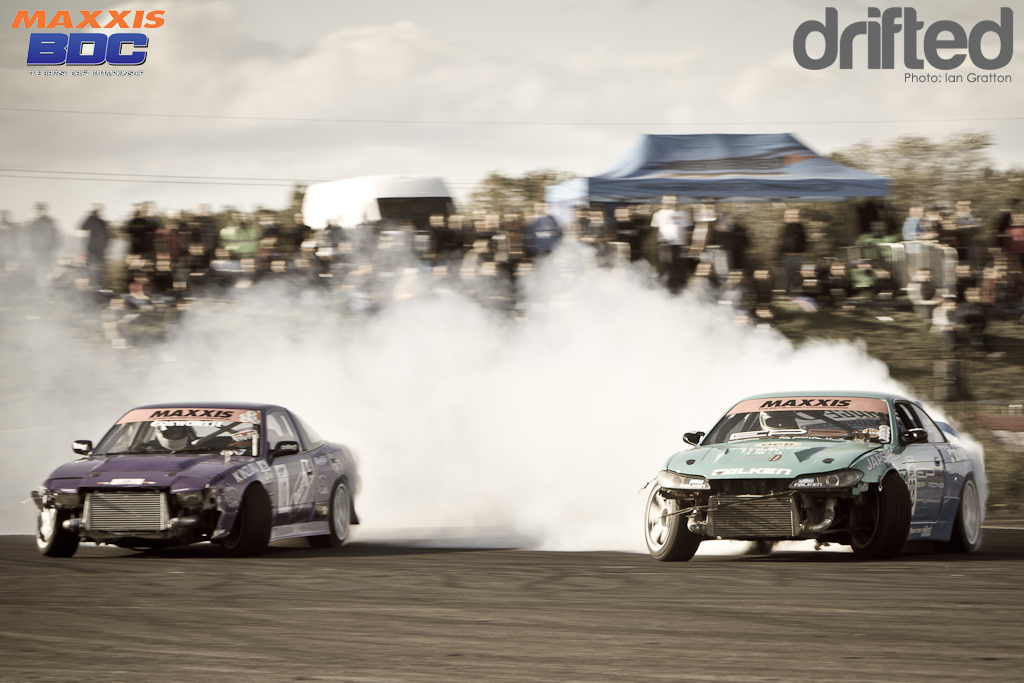 Mechanical issues had plagued Alan Green's Team Falken S14.5 and last minute manifold repairs in the pits saw him just get out on time to face Ashley Stevens.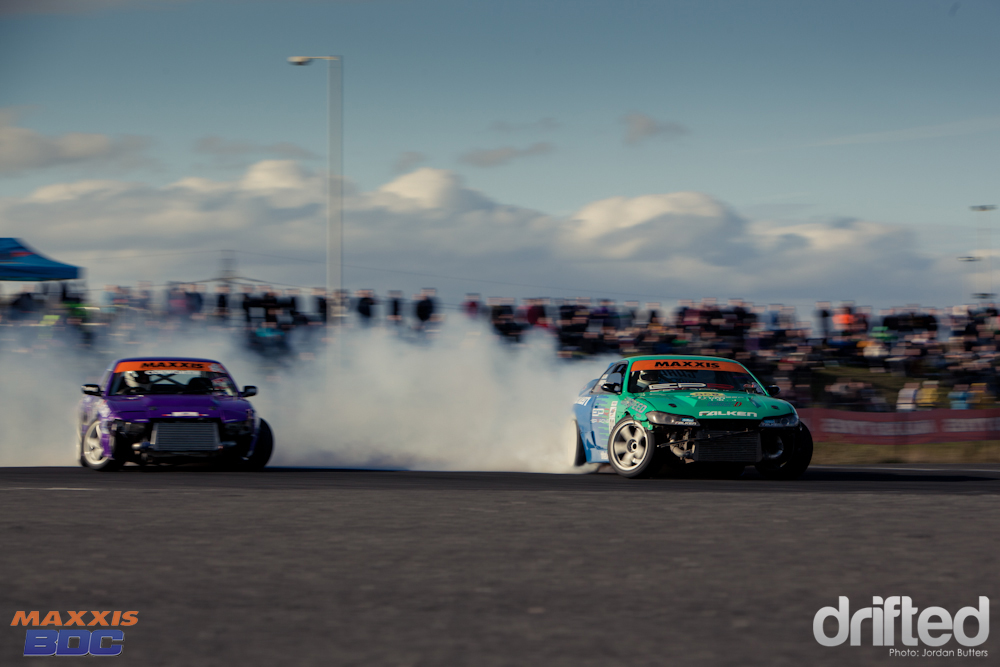 Alan's car still isn't right so a 5 minute rule is called. Ashley goes on to take the win and progression into the Great 8.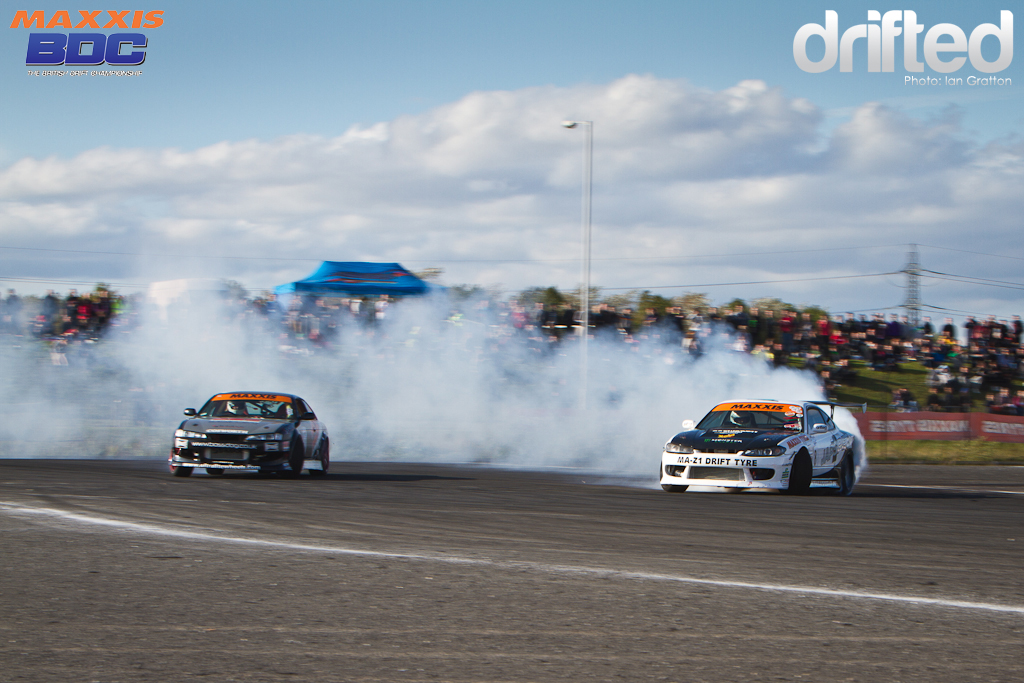 Paul 'Smokey' Smith in the Japspeed 1JZ S15 is up against the other Competition Clutch car of Dan O'Brien next. Paul takes the advantage on the first run by maintaining a gap.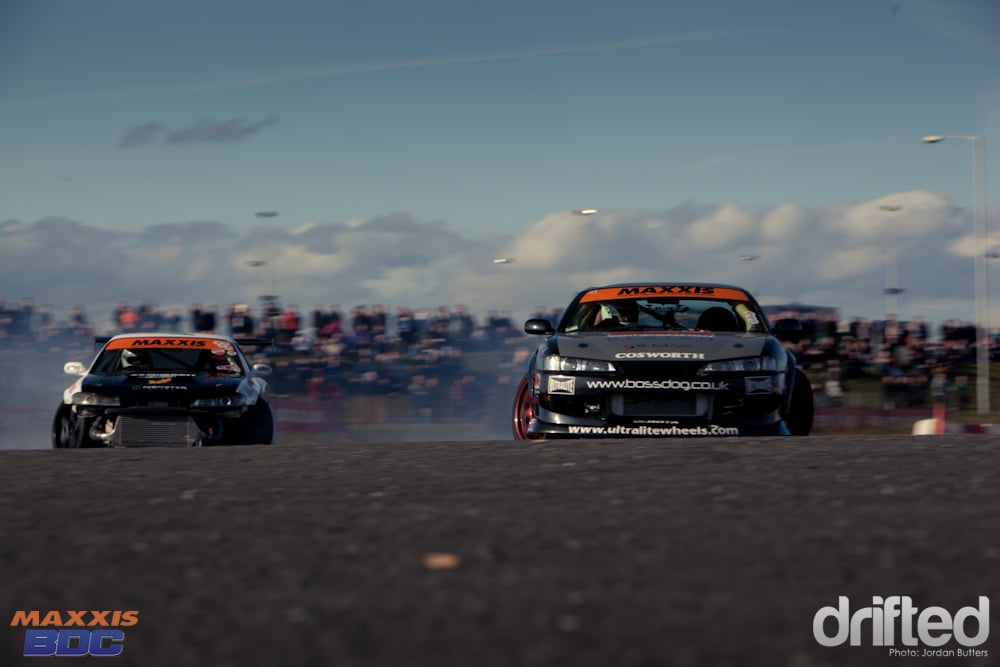 But uncharacteristically sends his car into a 360 in the second run, giving Dan O'Brien progression to the next stage.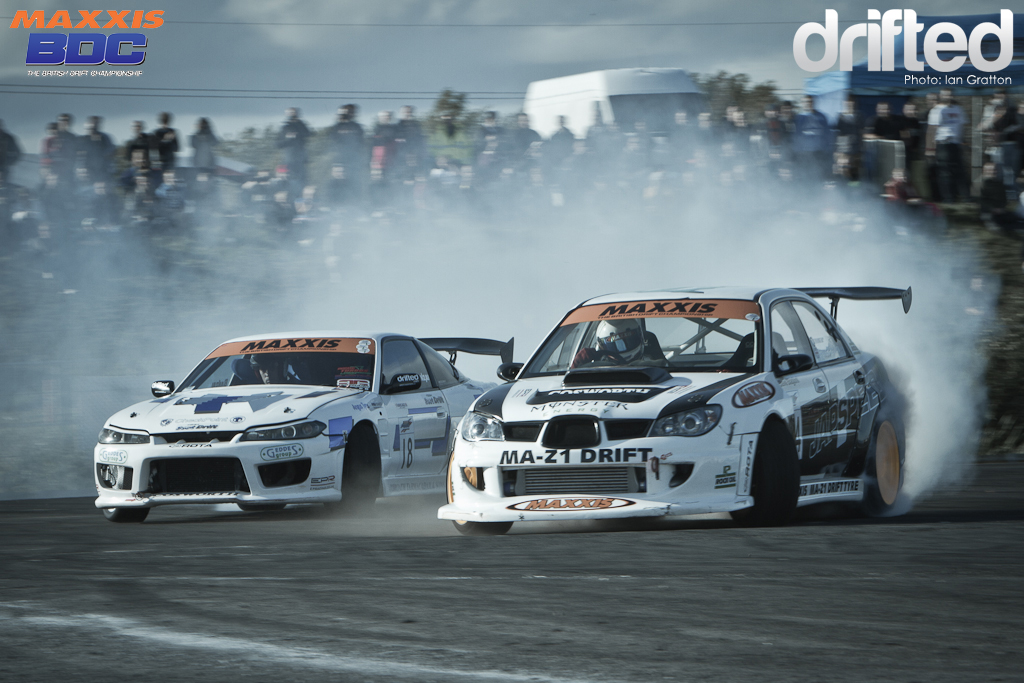 A close fought battle between Stephen 'Baggsy' Biagioni and David Waterworth next. Waterworth is fresh off a podium at Silverstone and is driving on form so takes the first run.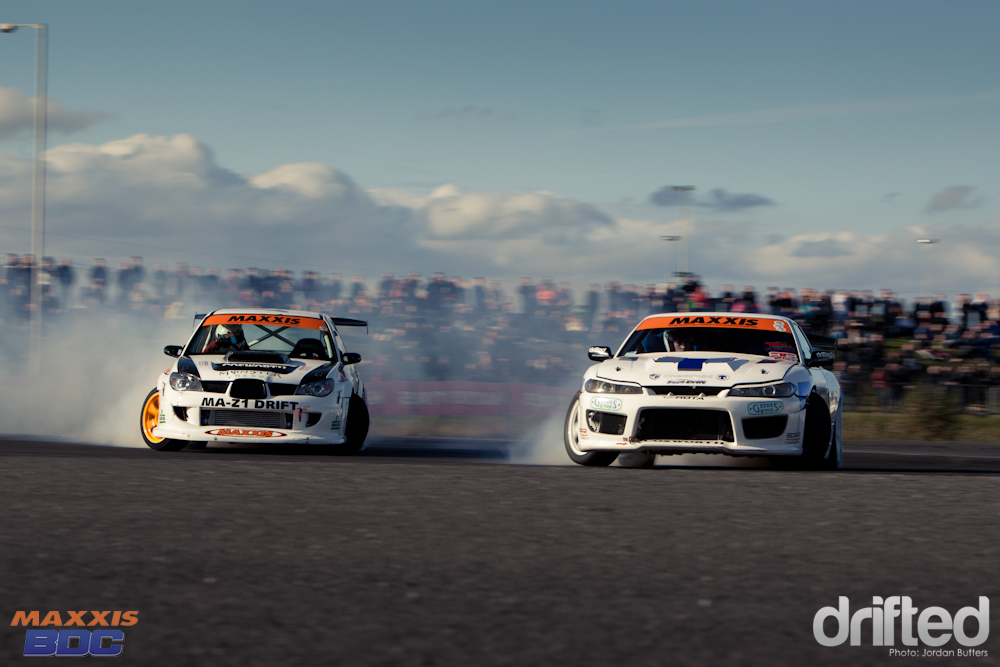 A run off-line in the second run sees David hand the advantage back to Baggsy and by a narrow margin the Japspeed Subaru makes it into the Great 8.
One of the funniest sights of the 2011 season greeted us when Julie Robinson went up against Ian Phillips' white LS3 R33 next. Julie completely wipes out the clipping point on the first corner, sending plastic barriers and Maxxis banners everywhere! Needless to say, Phillips goes on to the next round.
Great 8
An epic battle to kick off the Great 8 between Mark Luney and Simon Perry. Approximately 1800bhp tries it's hardest to spin the earth backwards as they launch towards the first corner.
Two very close battles ensue but Mark Luney is judges to have the advantage.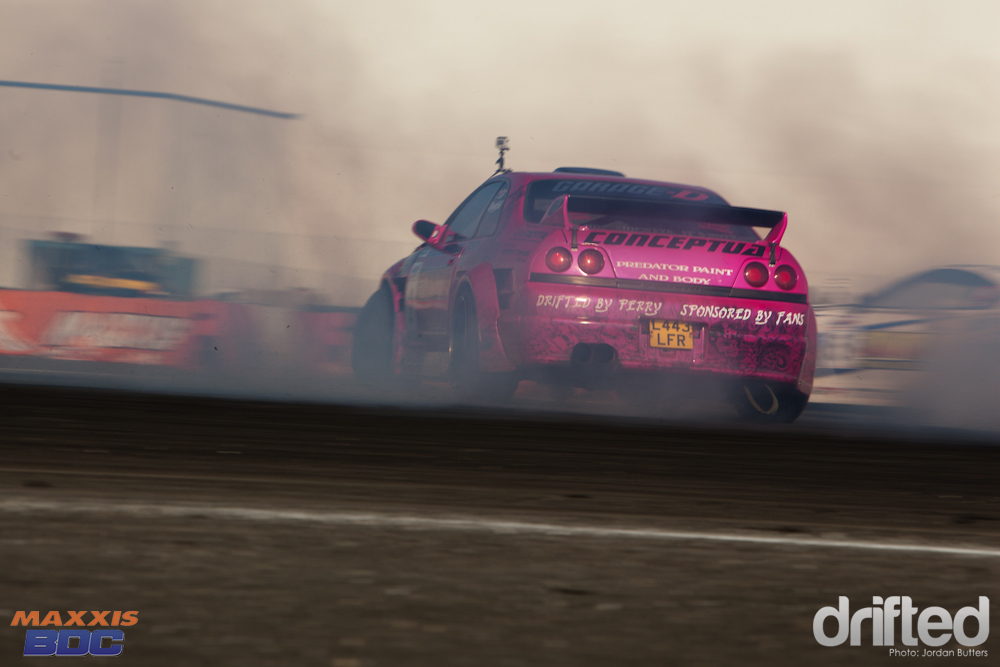 Perry can't do enough to pull it back, Mark Luney is in the Semi Finals!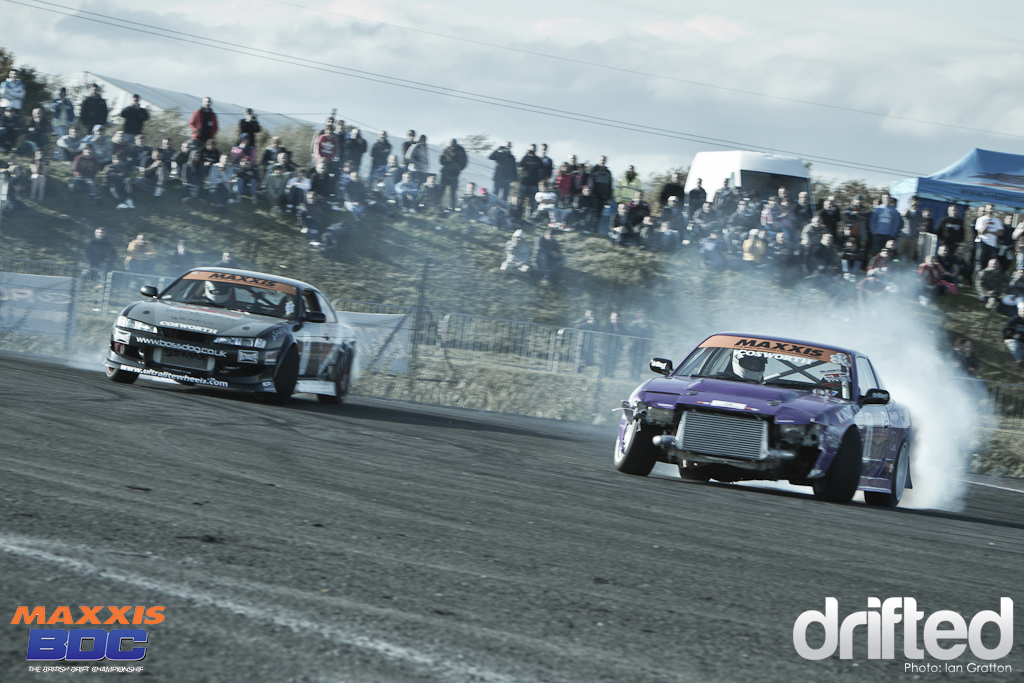 Ashley Stevens and Dan O'Brien step up, Ashley takes the lead run by storm but a mistake towards the end of the course gives Dan O'Brien a strong advantage.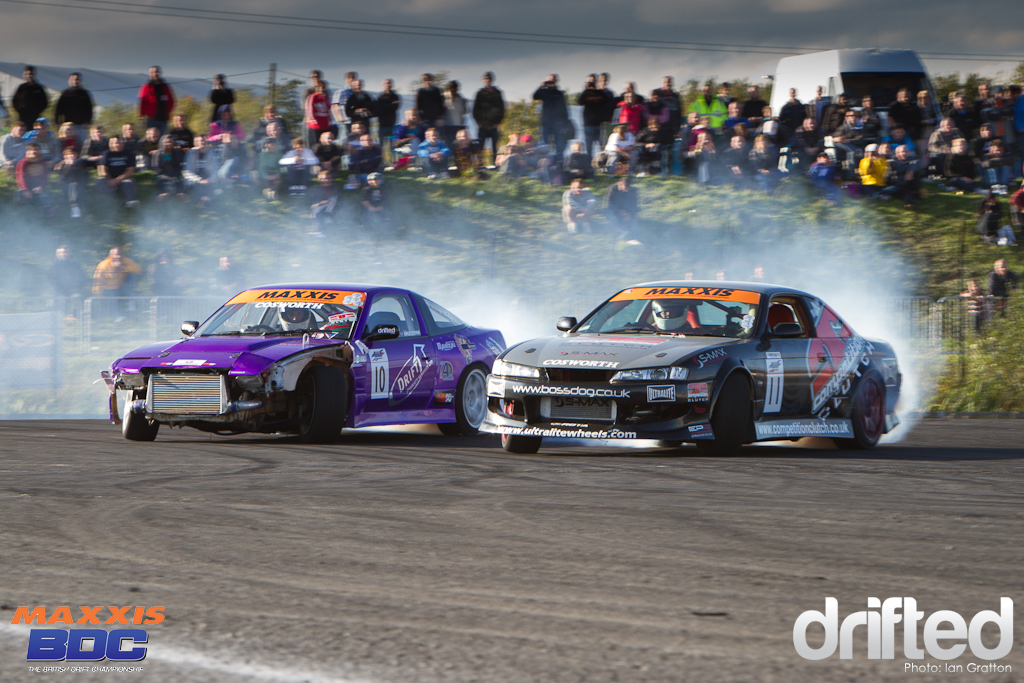 Ashley chases down Dan in the second run and sticks to his door throughout the course but he can't do enough to overcome the error in the lead run, Ashley is out and Dan O'Brien makes his first Semi Final of 2011!
With a slipping clutch Matt Carter of Team Falken limps his car to the start line to face off against an on-form Baggsy. It's an uphill battle at best for the Falken driver!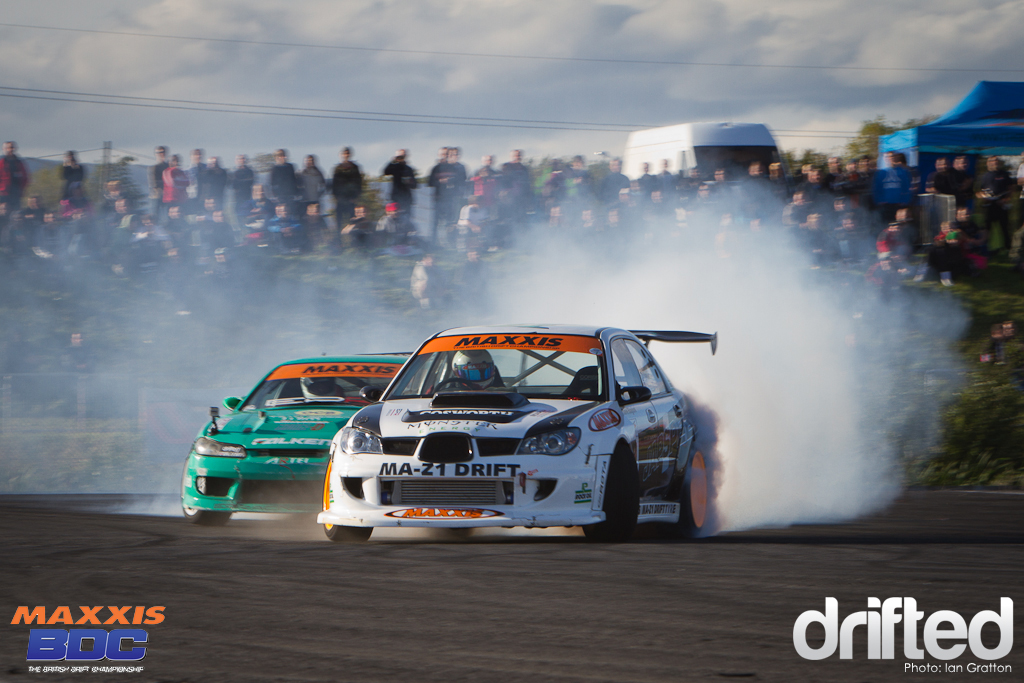 Matt can't match Baggsy's runs and for only the second time this season Matt Carter doesn't progress to the final stages. If the maths was right though he had done enough to secure the championship.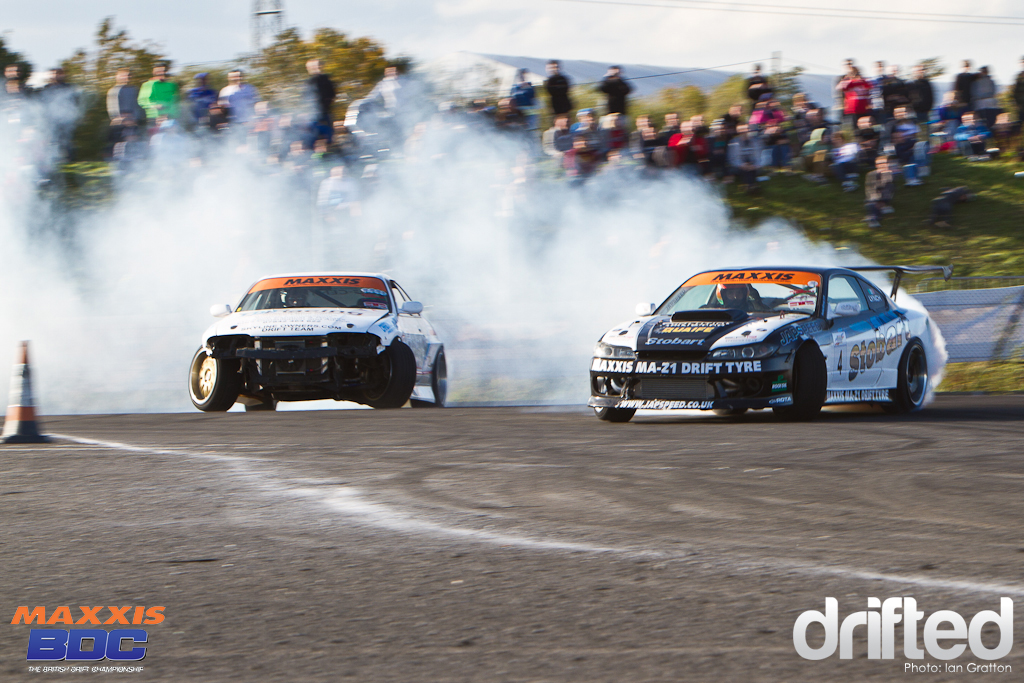 Not much could have been done to prepare Sunderland for the barrage of noise and thunder that they were about to receive as the twin-turbo Vh45DE of Shane Lynch's Japspeed S15 and the LS3 Corvette V8 in Ian Phillips' R33 faced off.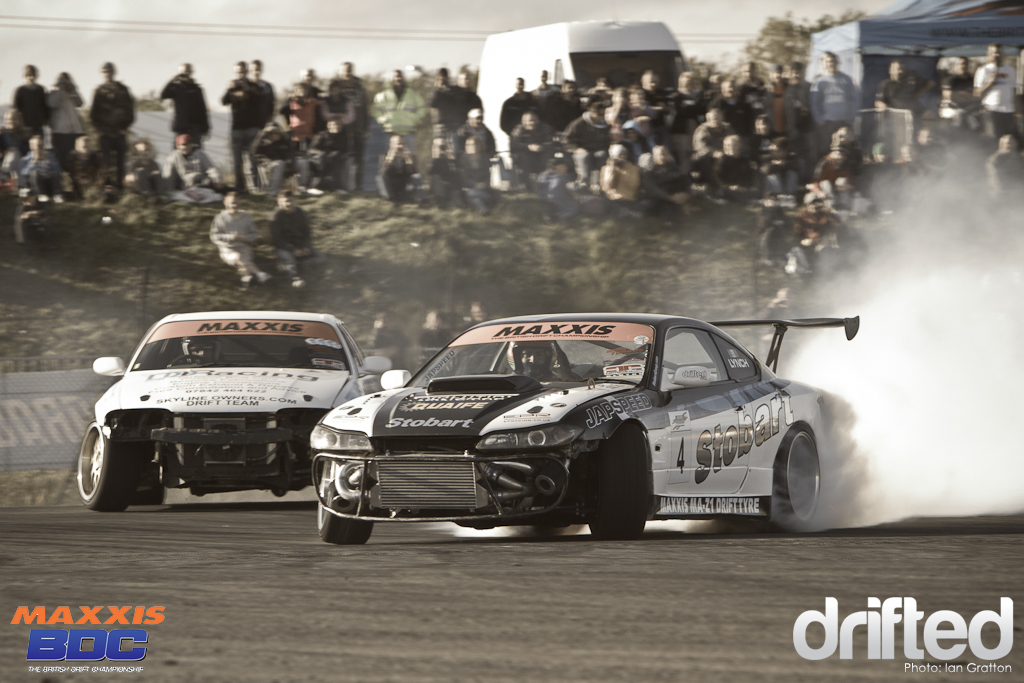 Ian plays a safe chase run against Shane, but throws a huge amount of angle into the corners.
Shane makes mistakes chasing down the Pro class driver Phillips and is marked down. Ian Phillips is in his first Super Pro Semi Final.
Semi Final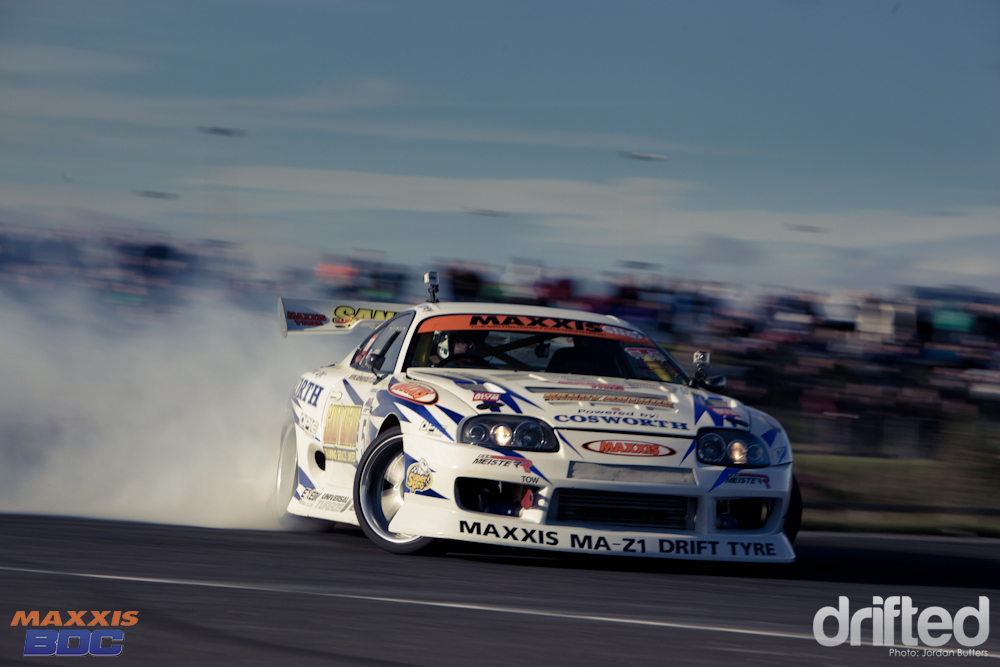 Mark Luney and Dan O'Brien kick off the Semi Finals. A David vs Goliath battle of epic proportions!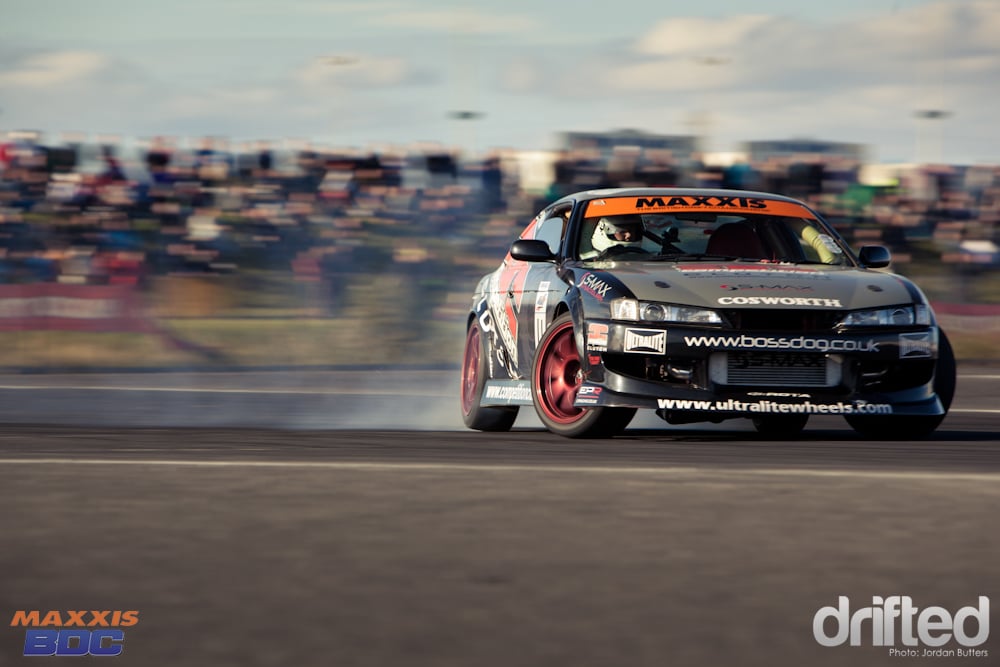 Dan does his best but Luney can't be beat and goes through, leaving Dan to fight it out for the 3rd place.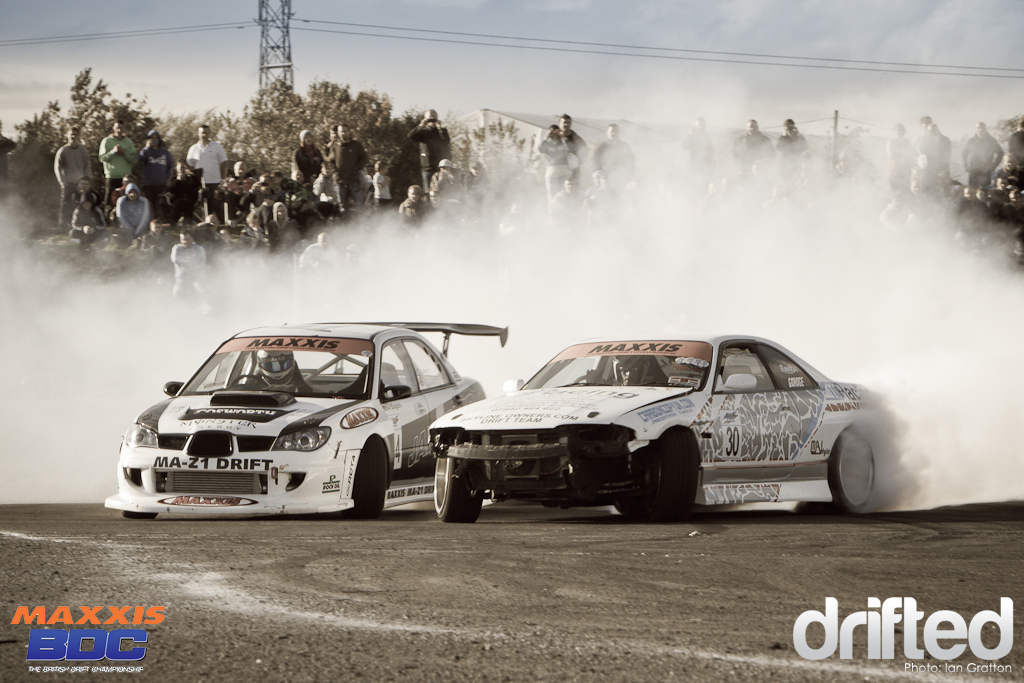 With one half of the Final decided it was time to decide the other. Ian Phillips, promoted from the Pro Class vs Baggsy in the Japspeed Impreza.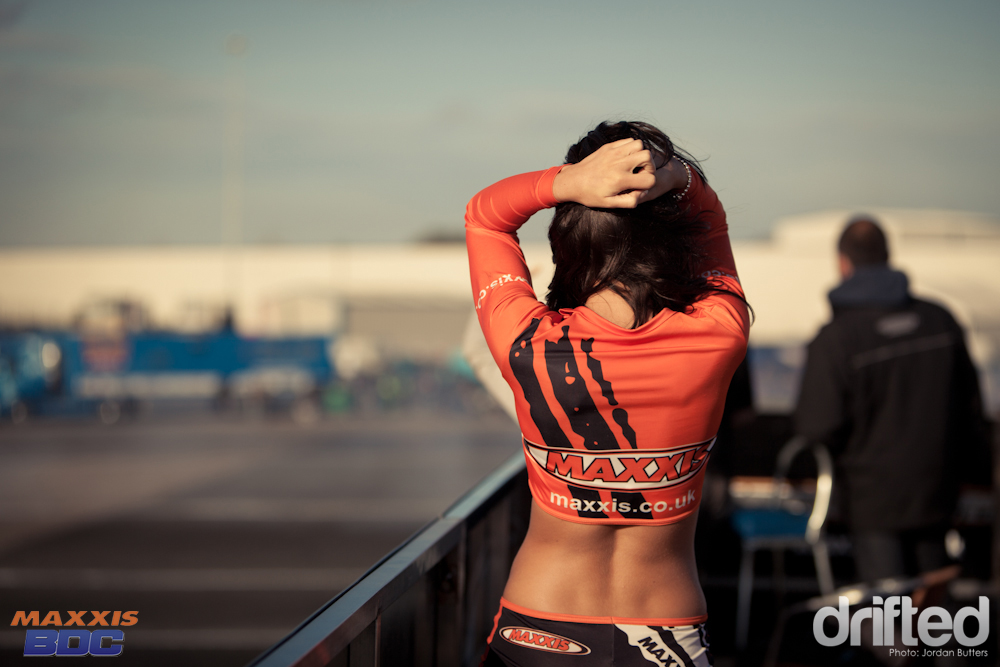 The tension was too much for some people as the drivers navigated the course on their first run. Things were close!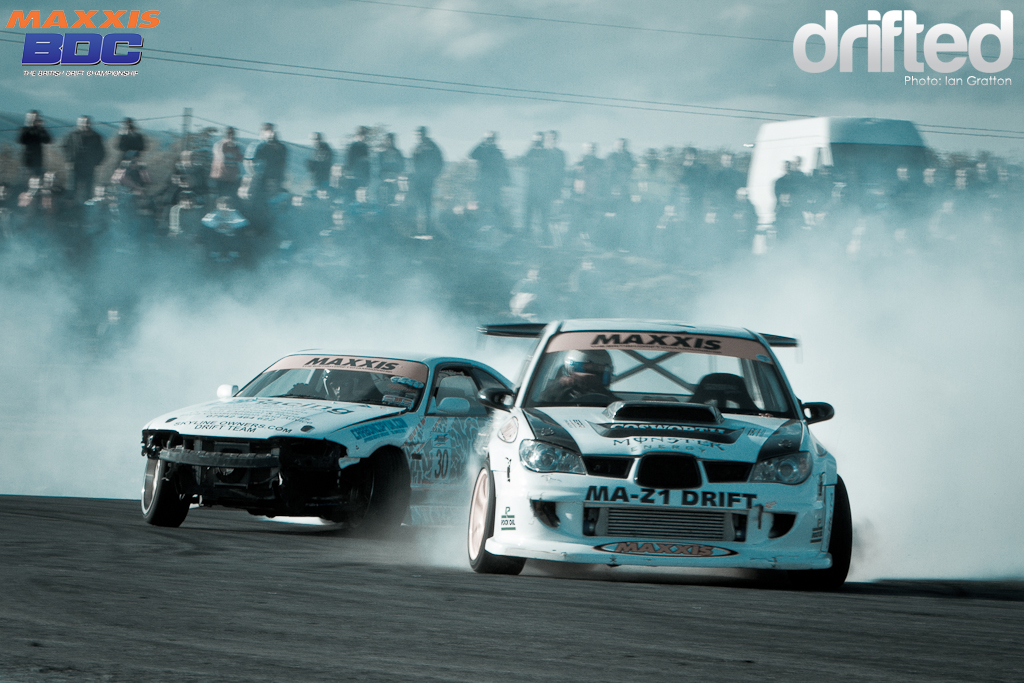 However no amount of angle could save him and the second run saw a mistake by Phillips and Baggsy into the Finals!
Much to the delight of the onlooking Maxxis girls.
3rd Place Playoff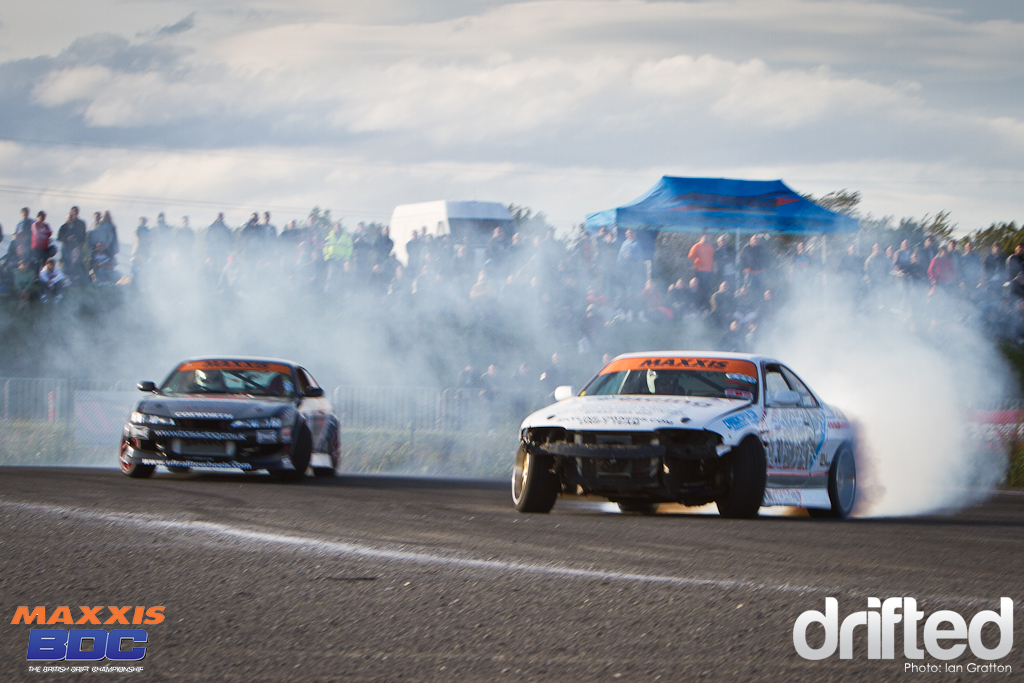 Before the Finals run we had to decide on 3rd place. Phillips vs O'Brien.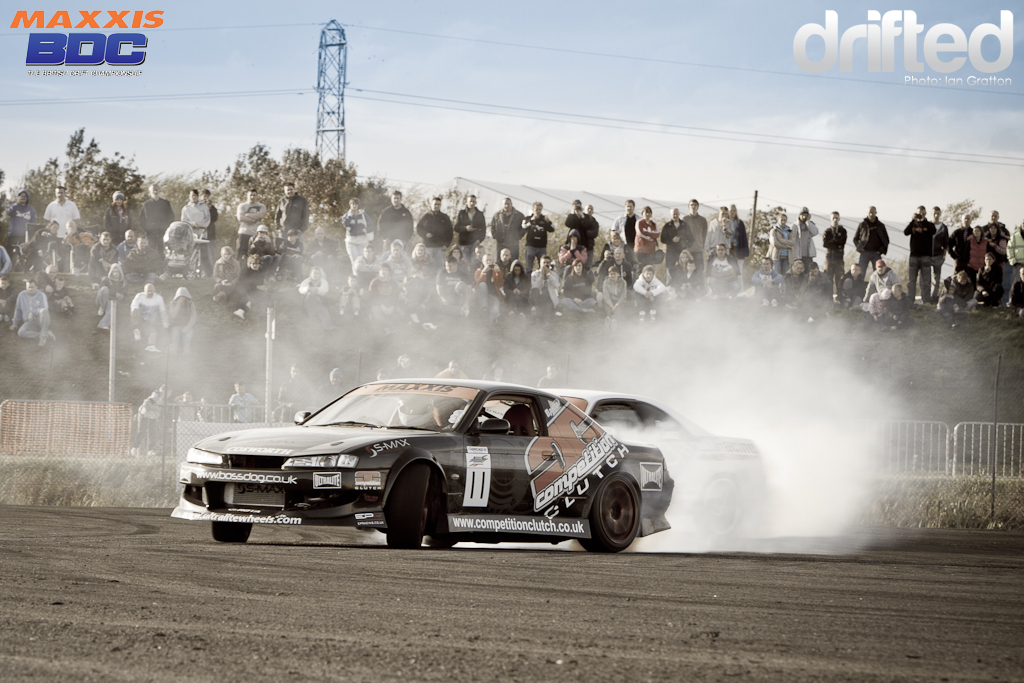 A huge advantage to Phillips in the first run means O'Brien can't do enough to claw it back. Ian Phillips takes 3rd place in the Super Pro Class!
Finals
The stage was set. Luney vs Baggsy. Mark Luney no stranger to Finals this year with a number of podiums under his belt and Stephen Biagioni chasing down an elusive podium after two difficult years of adjusting to the Japspeed 1JZ Subaru.
Luney leads. Masses of Maxxis MA-Z1 tyre smoke covers the crowd. Baggsy is chasing, but Luney has a gap and more angle. Advantage Luney.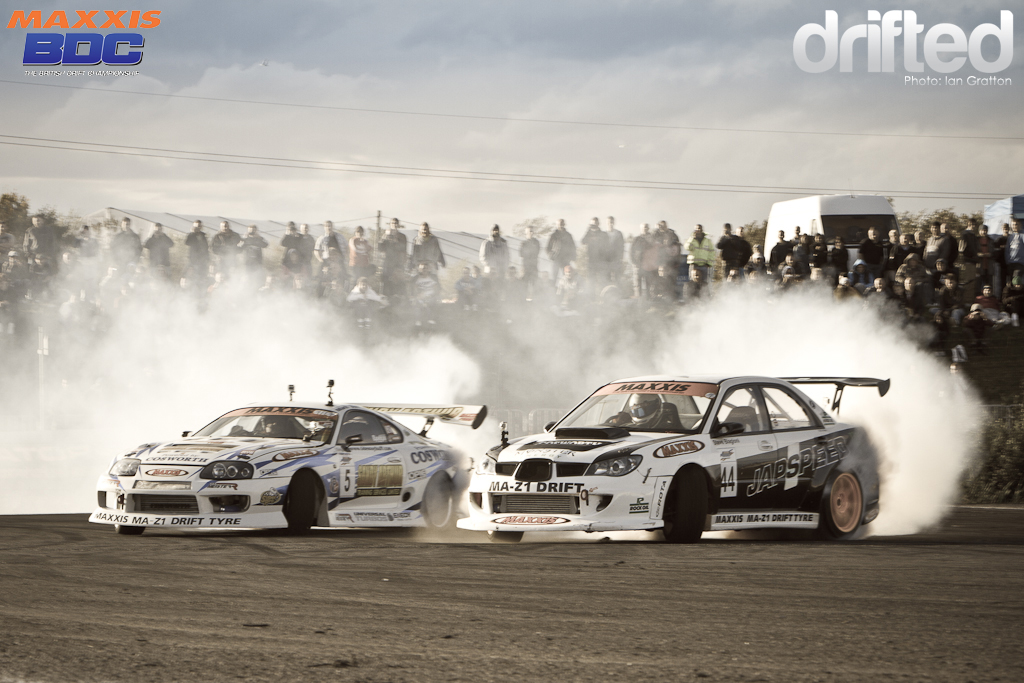 Baggsy leads and Luney is right on him. Baggsy's line is super clean and navigates the course well, Mark not far behind. The judges have a decision.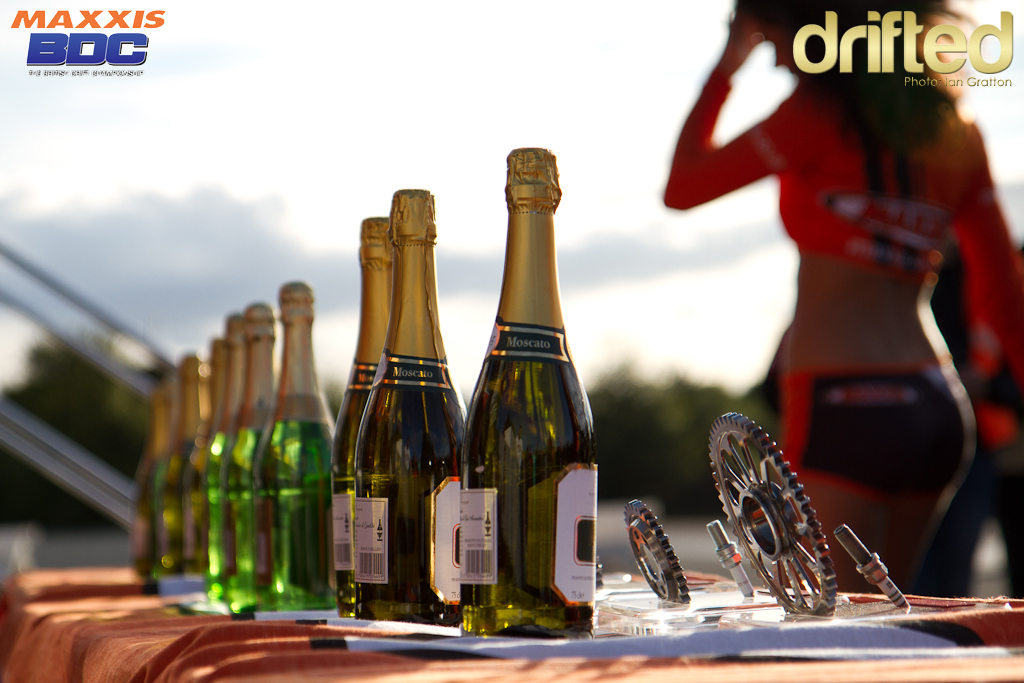 The trophies await. As a title sponsor for 2011 Cosworth have provided trophies made from part of an actual F1 engine for the winners. How cool is that?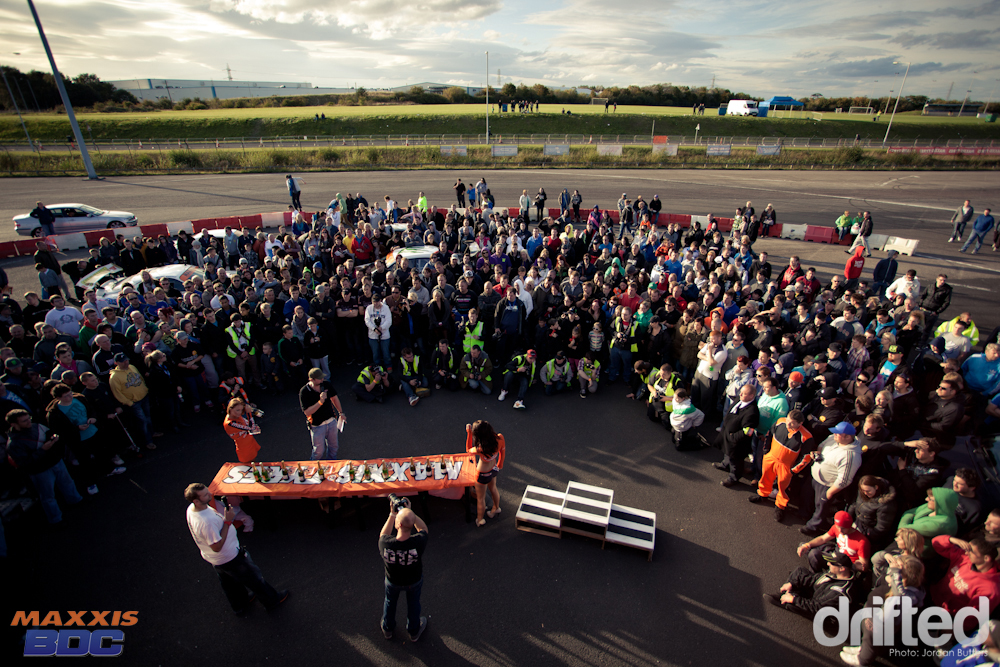 The crowd have had a long day watching us go from 84 driver across 3 classes down to just 6 podium places. The top 3 Super Pro drivers are about to be announced.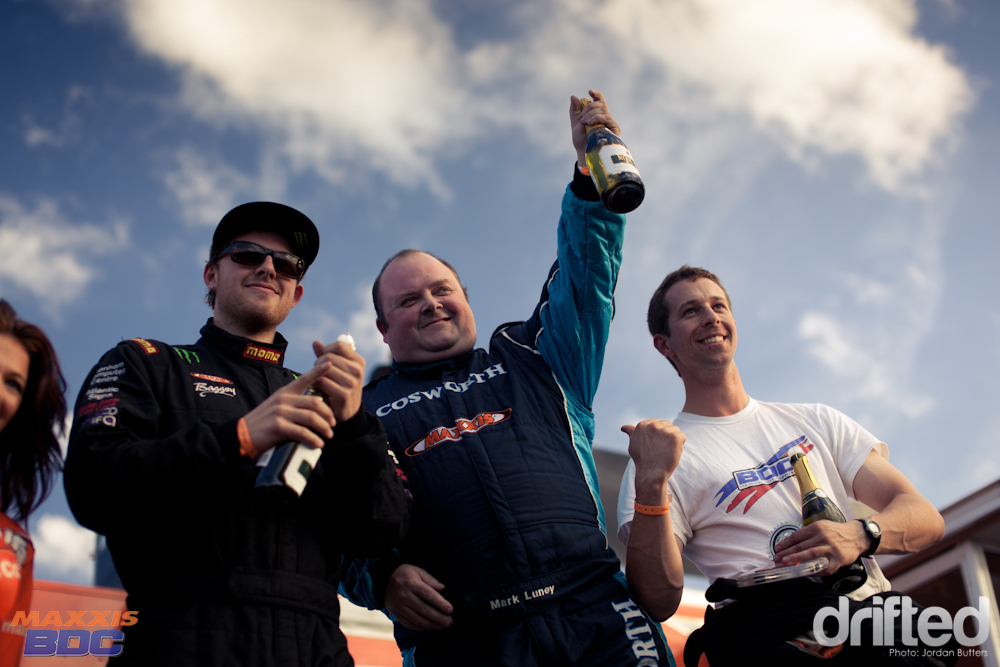 Mark Luney takes the win! Driving through an arm injury no less, amazing driving from him and support from the SATS Cosworth team. Baggsy takes second and Ian Phillips a great result with 3rd.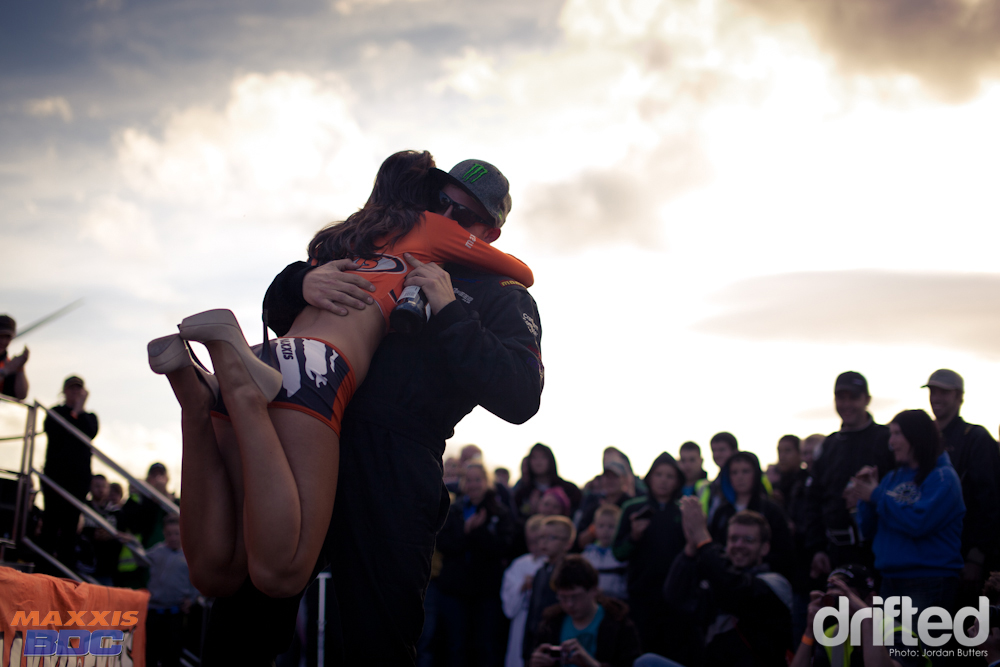 Stephen Biagioni is elated with his first podium in a long time! Looks like the Japspeed driver and car will be a formidable force in 2012.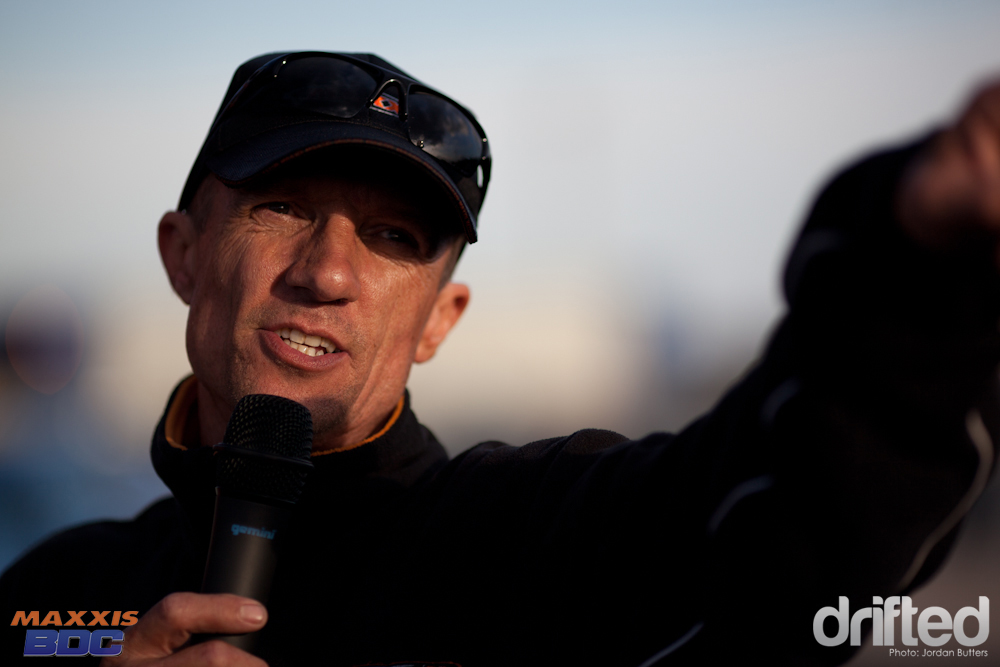 BDC Front man Mark 'Sweeps' Buckle puts in a heck of a lot of work in the UK and Europe to make drift events and drifting itself successful and popular. After much head scratching, checking and double checking, the championship results are in. The 2011 Maxxis Tyres British Drift Champion is…..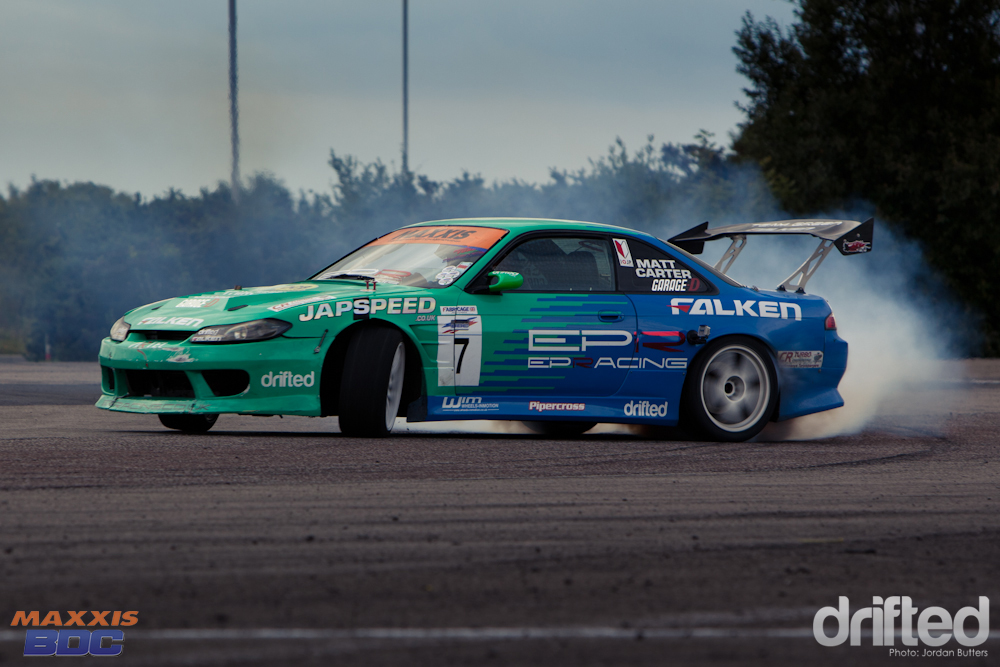 Team Falken UK's Matt Carter by a narrow 3 point margin! Mark Luney managing to take it right to the wire by winning the finals!
2011 has been an amazing season in the BDC, we've seen the level of driving increase from all drivers at every single round and we have to say it has been an absolute pleasure to take photos and write about the championship. The final Super Pro points standings and full gallery of all 3 classes can be found below. See you in 2012!
Super Professional Championship Points 2011
Position
Driver
Driver No
Points
1
Matt Carter
7
131
2
Mark Luney
5
128
3
Wayne Keeber
12
83
4
Shane Lynch
4
80
5
Simon Perry
2
77
6
Stephen Biagioni
44
74
7
Steve Moore
13
73
8
Paul Smith
8
72
8
David Waterworth
18
72
10
Ashley Stevens
10
48
11
Alan Green
88
42
12
Phil Morrison
1
35
13
Danny O'Brien
11
34
14
Shane O'Sullivan
25
33
15
Frederic Aasbo
43
30
16
Remmo Niezen
33
28
17
Declan Munnelly
3
27
18
Jody Fletcher
40
26
19
Julie Robinson
17
24
20
Dan Moorhead
22
20
21
Darren McNamara
34
18
22
Wesley Keating
48
16
22
Keith Hammond
19
16
22
Gavin Cummings
9
16
25
Steve Evans
20
14
26
Greg Cush
16
8
26
Christy Carpenter
57
8
26
Barry McCann
50
8
Constructors Championship
1st.      Team Japspeed 226 points
2nd.    Team Falken UK 224 points
3rd.     Mint Tyres Motorsport 193 points
Tags: BDC, British Drift Championship, Falken, Japspeed, Mark Luney, Matt Carter, Maxxis tyres, Nissan Factory, Sunderland, Super-Pro, Wayne Keeber
Subscribe to Drifted
If you like this article why not subscribe to Drifted and we will email you our freshest content for free!