Ultimate BMW E46 Coilover Guide
We review ten of the best BMW E46 coilovers available on the market today, to help you decide which is the perfect suspension upgrade for your car.
---
In a hurry? Here is our E46 coilover summary
| Budget Choice | Drifted Choice | Runner Up |
| --- | --- | --- |
| | | |
| BC Racing BR Series | KW Variant 3 Coilovers | Ohlins Road & Track Coilovers |
| 🔥🔥🔥🔥🔥 | 🔥🔥🔥🔥🔥 | 🔥🔥🔥🔥🔥 |
| Buy Now | Buy Now | Buy Now |
The E46 is the fourth generation of German manufacturer BMW's immensely popular 3-series range and the first cars began rolling out of the showroom in 1998.
It was immediately considered by many as the benchmark in its class with near-perfect weight distribution which allowed for fantastic handling.
Fast forward to today and you're left with an epic chassis which has stood the test of time and now reached a more affordable price-point than ever.
With E46's being available across the world, the tuning market naturally flocked to the chassis as suspension experts set out to refine something great into something that is near-perfect.
Whether you're looking to slam the car on its rails, create a track beast, throw the car sideways or just replace the tired original suspension, we've chosen some of the best kits on the market to help you decide which coilover kit is for you.
---
How to install BMW E46 coilover suspension
Speed Academy have just posted this comprehensive E46 coilover installation guide on their blog. Once you have picked up your ideal set of coilovers from the list below, I would encourage you to check out their guide. You may well be able to save yourself some cash on the fitting costs.
---
Let's take a look at our BMW E46 coilover selection
To read more about any of these products simply click on the coilover name or photo.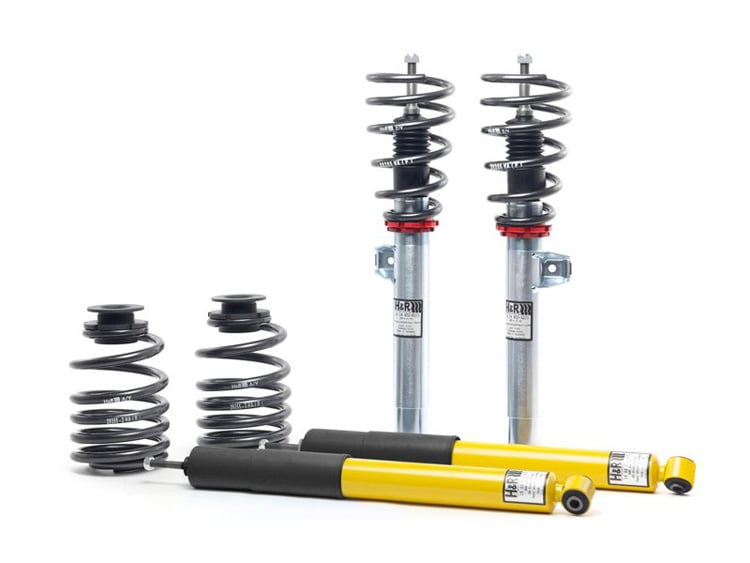 Our comment: H&R are one of the more well-known brands in the suspension world and their Street Performance offering for the E46 is for those who are looking for a street coilover to improve handling without a crashy ride.
Featuring front height adjustment from 0.5″-2.75″ and rear adjustment of 0.5-2.0″, these will provide both great handling and comfort however they won't allow dampening adjustment.
The H&R may well tick the boxes for many owners who want to lower their ride for street use, but we feel there's better options within the price range on our list.
Manufacturer description: "H&R coil overs are engineered for street use. Unlike traditional twin-tube shock absorbers, H&R Coil Overs feature a state-of-the-art mono-tube gas shock construction. Combined with the knowledge and skill of H&R's suspension engineers, the use of this state-of-the-art technology results in the best suspension product that you can buy for your vehicle."
"H&R is the originator of the true coil over system for the street and continues to lead the market with an extensive line of applications. Each shock is tuned with a progressive rate spring that is engineered from its inception to work with the shock's valving, creating a finely tuned suspension system. H&R Coil Overs are the suspension answer for everybody, from daily drivers to the serious tuner."
---
Manufacturer: KW
Levels of damping adjustment: 14
Construction type: Twin-tube
Spring rate front: Progressive
Spring rate rear: Progressive
Fitment: BMW E46
Value for money:
Purchase link: Buy your KW V3 coilover kit at Enjuku Racing
Our comment: Despite being one of the most expensive option on our list, they say that quality comes at a price and this 3-way KW coilover kit certainly lives up to that.
Quite possibly the best quality kit out there with stainless steel construction which won't rust, this could well be the best day-to-day option which can also perform insanely well at the track.
This kit is softer than the Clubsport offering from KW, which may suit you better on a daily basis however some owners have found it slightly soft on track. If this is the case, KW's Clubsport offering below may well be the perfect answer for your needs.
Manufacturer description: "State-of-the-art technology from motor sports for more performance on the road. The separate and independently adjustable rebound- and compression damping allows for an individual suspension setup for different uses and preferences."
"The unique patented system with its two-stage valves allows a rebound damping adjustment (comfort) and a compression adjustment (driving dynamics) in the low-speed range while the high-speed range which controls the driving safety, is fixed."
---
Manufacturer: KW
Levels of damping adjustment: 12 (Rebound 16)
Construction type: Twin-tube
Spring rate front: Progressive
Spring rate rear: Progressive
Fitment: BMW E46
Value for money:
Purchase link: Buy your KW Clubsport coilover kit here
Our comment: If you're going all out with your E46 build and you'll be spending more time on the track than the road, this is undobutedly worth considering.
Designed in Germany and set up on the Nordschleife using track-day tyres, these will undoubtedly help you achieve the most from your suspension setup and shave off valuable seconds on your lap times.
Manufacturer description: "The KW Clubsport coilovers provide the ability to adjust for different track surfaces, sharp turns and abrupt elevation changes. The KW Clubsport is in its home environment on the famous twists and turns of the 20.8 km long Nürburgring Nordschleife circuit."
"The adjustable top mounts coupled with the independently adjustable rebound and compression dampening technology individual set up adjustments according to vehicle load, tire characteristics and different track conditions. Clubsports meets all needs for the road and the race track guaranteeing excellent handling, best performance, great agility and fantastic lap times."
---
Manufacturer: Megan Racing
Levels of damping adjustment: 32
Construction type: Monotube
Spring rate front: 7kg/mm
Spring rate rear: 8kg/mm
Fitment: BMW E46
Value for money:
Purchase link: Buy the Megan Racing coilover kit here
Our comment: Megan Racing have been well known in the Japanese tuning scene for quite some time and they've decided to try their hand at the German tuning market with this budget offering.
Made in Taiwan, there are strong rumours that these are made by the same people that make some of the well-known JDM coilovers at an improved price.
Designed for the street but with beginner-level track driving also in mind, these may well be an ideal budget offering for those who are looking for their first coilover kit.
Got an M3? You can buy the M3 version here.
Manufacturer description: "The Euro Street Series is Megan's new Luxury Package based off of their Street-Series coil-over line-up using similar specifications and design, but offering a more conservative spring and damper setup for a more comfortable ride, yet still providing a sporty feel and control."
"Megan Racing Coil-Over Dampers are the ultimate upgrade to your track or street car. Featuring 32 levels of damper force adjustment, separate spring perch height and shock length adjustment allowing you to retain full suspension stroke and to fine tune your suspension characteristics."
---
Manufacturer: BC Racing
Levels of damping adjustment: 30
Construction type: Monotube
Spring rate front: 8kg/mm
Spring rate rear: 12kg/mm
Fitment: BMW E46
Value for money:
Purchase link: Buy BC Racing ER at Enjuku Racing
Our comment: 'ER' stands for external reservoir, and that's what BC Racing brings you in their track-orientated flagship coilover setup.
Featuring separate compression and rebound adjustment, the ER series is highly regarded by those who are looking for a highly adjustable track-orientated setup with a mid-range budget.
With great quality for the price, these are undoubtedly one of the best value-for-money track orientated coilover setups available.
Manufacturer description: "BC Racing's premium coilovers are the external reservoir ER Series with separate compression and rebound damping adjustment."
"The ER Series coilovers bring with them the high quality and unique features seen on the BR and RM type but have the additional benefit of external reservoirs and the ability to allow the end user to individually adjust and set compression and rebound damping rates."
---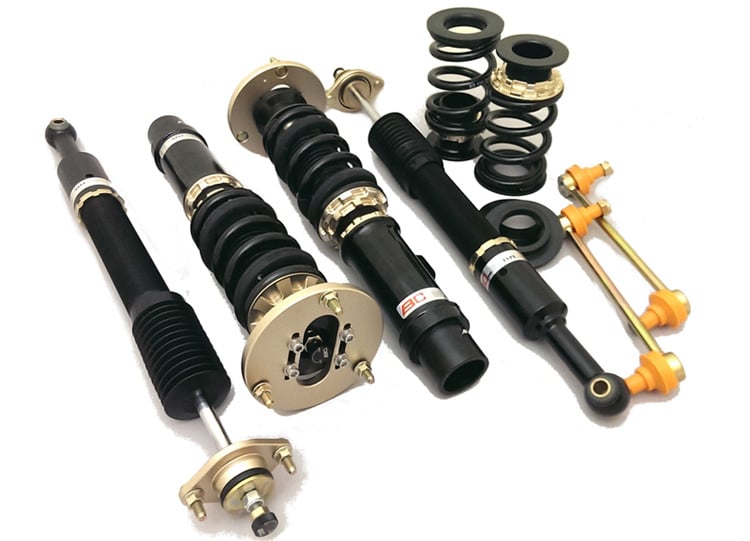 Manufacturer: BC Racing
Levels of damping adjustment: 30
Construction type: Monotube
Spring rate front: 8kg/mm
Spring rate rear: 10kg/mm
Fitment: BMW E46
Value for money:
Purchase link: Buy BC Racing BR here
Our comment: BC Racing offer a great option for those of you on a budget. If you're planning to spend less than $1k on a road set-up with occasional track, this all-round kit could well be the perfect choice for you.
Featuring great build quality for the price bracket, these offer a firm but not crashy ride which is still ideal for street use with great adjustability.
BC also offer their higher-end 'ER' series coilovers (above) which are their competitor for the KW V3's if you're intending to do mostly track use.
We've given these a 5 star Drifted rating over the 'ER' series as we feel that they are incredible value for money for a tried-and-tested budget setup.
Manufacturer description: "The BR Series Coilovers from BC Racing are the ultimate in street and track performance suspension. Their easily adjustable ride height, compression and rebound allow you to maximize the performance of your vehicle in just about any driving situation. "
"And if you want, the BR Series Coilovers can give you a pretty lengthy drop if you're going for the hellaflush or low-rider look, but they can also give you a more functional ride height if you want to rip around on the track."
---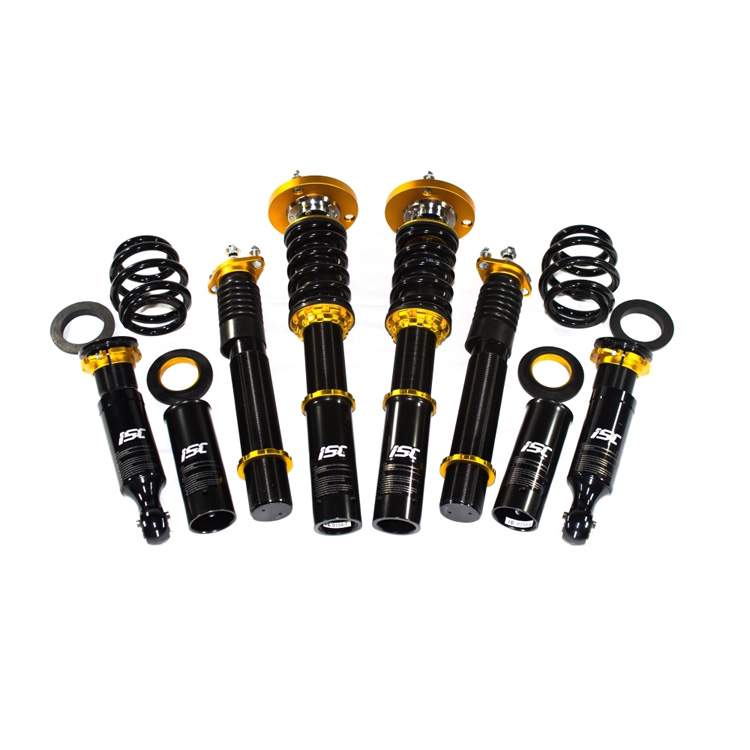 Our comment: ISC have been increasing in popularity within the budget market for some time and their N1 series is another great all-rounder. Despite being geared towards street, track and drift cars, we feel that you may want something a little more serious for intense track use.
With a great amount of adjustment available for the money, we would put these within the same bracket as the BC BR coilovers above. BR's are the more frequent choice, so if you're looking for the more tried and tested method within the price range, they may well be worth considering.
Manufacturer description: "The ISC N1 Coilover system is the optimum suspension tool for improved handling for your street, track, or drift car."
"This product is perfect for someone looking for performance, adjustability, and other high quality features in a package that will not break the bank. ISC coilovers are also 100% rebuildable!"
---
Manufacturer: Ohlins
Levels of damping adjustment: 20
Construction type: Monotube
Spring rate front: 343lbs/in
Spring rate rear: 400lbs/in
Fitment: BMW E46
Value for money:
Purchase link: Buy Ohlins Road & Track here
Our comment: The price tag may look a little intimidating, but our first choice is aimed at those serious drivers who also like to push their daily driver to its limits on the track.
Ohlins are one of the biggest suspension companies in the world and this is an incredible offering for FR-S owners. This setup quite possibly offers the best combination of road comfort and handling while also providing a serious set-up for cutting those valuable seconds off your lap time at the track.
On the road they'll feel firmer than stock but with their Dual Flow Valve technology it'll absorb the bumps well to ensure a smooth ride.
Manufacturer description: "This is the latest step in the Öhlins Racing automotive philosophy - Road & Track by Öhlins. A more than 30 year long tradition of high-end racing commitments and state-of-the-art solutions within advanced suspension technology is now available for street cars all over the world."
"The focus has been clear from the very beginning - superior road handling without sacrifi cing comfort in your day-to-day transports. The time of compromises are over! We have also added a clever light-weight design with a majority of the parts in aluminium and on top of that all shocks have suffered through vast corrosion tests according to ISO 9227. The end result is a 2-year limited warranty on all of our products - worldwide."
---
Our comment: Fortune Auto have these attention-grabbing coilovers on offer with fantastic quality and a mid-range price point. These are soft and smooth for daily driving and also a capable coilover for occasional track use.
With the ability to upgrade to 2-way remote canisters or swift springs, this could be a great option if you want a daily driving coilover now with something more track-orientated later on without having to purchase brand new.
Manufacturer description: "Fortune Auto engineers were tasked with a focused goal to make the Generation 5 500 Series dampers the best single adjustable system on the market at a very affordable price point."
"All systems are completely built in-house by our engineering staff in Richmond, Virginia. We insist on building bespoke suspension in order to offer the best quality control in the industry."
---
Manufacturer: Stance
Levels of damping adjustment: 15
Construction type: Monotube
Spring rate front: 9kg/mm
Spring rate rear: 10kg/mm
Fitment: BMW E46
Value for money:
Purchase link: Buy Stance XR1 Coilovers from Enjuku Racing
Our comment: Stance XR1 is the latest revision of the well-known Stance Super Sport line with many improvements including build and material quality.
Stance are always a great choice for those owners who are going for the slammed look with their build while retaining great handling. Stance have also focused heavily on corrosion and rust prevention with these coilovers, which is always extremely useful for road cars. There's nothing more annoying than seized coilovers!
Manufacturer description: "Stance XR1 Coilovers are made to perform and offer some of the best high end features with impeccable build quality. What makes Stance Coilovers different (and better!) is a special Inverted Monotube design that was originally designed for use in professional motorsports."
"Stance XR1 Coilovers have an Electrodeposition polymer coating that offers superior protection against rust, corrosion, salt and more. This is some of the best coasting we have seen on a coilover system!"
---
Our winner
Our winner is the KW Variant 3 coilover kit.
KW has an enviable reputation in the suspension market and these Variant 3 models are no exception. With high quality springs, progressive spring rates, plenty of adjustment, and the highest quality build materials then the other products in this guide, we are confident to recommend this coilover kit for your E46.
If you're looking for a more track orientated setup then the KW Clubsport could quite possibly be the answer to your needs. If you like the idea of what KW has to offer, and spend most of your time on the road then their V3 kit is undoubtedly worth considering.
For those who want to get the best possible performance from their E46, we have no doubt that the KW Variant 3 coilovers will be the best option for cutting down those lap times whilst avoiding a nagging girlfriend on the daily drive! There are some other serious contenders out there and the E46 selection is undoubtedly one of the more impressive on the tuning scene.
Budget winner
Another set of coilovers which blew us away during research were the budget-offering from BC Racing with their BR range. It's not often you find a coilover kit for under $1,000 which meets approval from such a huge range of owners. If you're on a budget and spend most of your time enjoying the E46 on the road, we have no doubt that these will be a great choice.
Thank you for reading our BMW E46 coilover guide!
If you enjoyed this article then please share it with the sharing buttons at the side and the bottom of your screen.
Ever wondered the difference between the M3 and M4? You can read our M3 Vs M4 guide.
Photography credits
We would like to thank the following sources for allowing us to use their imagery:
Please remember to subscribe or follow us on Feedly for free updates. If we have missed a great coilover set that you think is worthy of mention then drop it in the comments below.