Best Cars Of The 2000s Guide
There's no doubt that the 90s were one of the most exciting eras in automotive history, but the 2000s were hugely underrated. Let's take a look at some of our 12 favorite picks.
---
Introduction
While JDM fans quite rightly scream about how the nineties was the ultimate JDM era, the 'noughties' often seem to be forgotten about.
Sure, it's hard to compete with the likes of the NSX, the Supra, and the selection of Silvia's that the nineties gifted us with, but the 2000s still brought some incredible offerings.
As the world celebrated 'surviving' the Millenium bug (you almost forgot about that, huh?), automakers realized that not every computer across the world was suddenly a large doorstop. It would soon kick-off as the era of technology.
With the SUV "boom" commencing, America continued to push out gas-guzzlers such as the Hummer. Environmental concerns were seemingly a myth at the time, as cars and engines were quickly becoming bigger, but not necessarily better than ever before.
As gas prices reached less than buck-and-a-half for a gallon and very few economic restrictions enforced when it came to pollution concerns, it began as a fantastic era for petrolheads.
With the first flappy-paddle gearboxes surfacing into everyday road cars, fancy gadgets would make cars more stable and advanced than ever with various onboard electronic assistants – this started to divide enthusiasts.
While many were busy enjoying the first smartphones and watching The Fast and the Furious on your new laptop became the new norm, many purists saw the technology advancements as a step back in the motoring world.
As electronic steering, various driver assists, flappy paddles, and self-leveling dampers started rolling out of the showrooms and making amateur drivers feel like heroes, many believed that cars should stay with stick shifts, clutches, and a lack of traction at the rear wheels.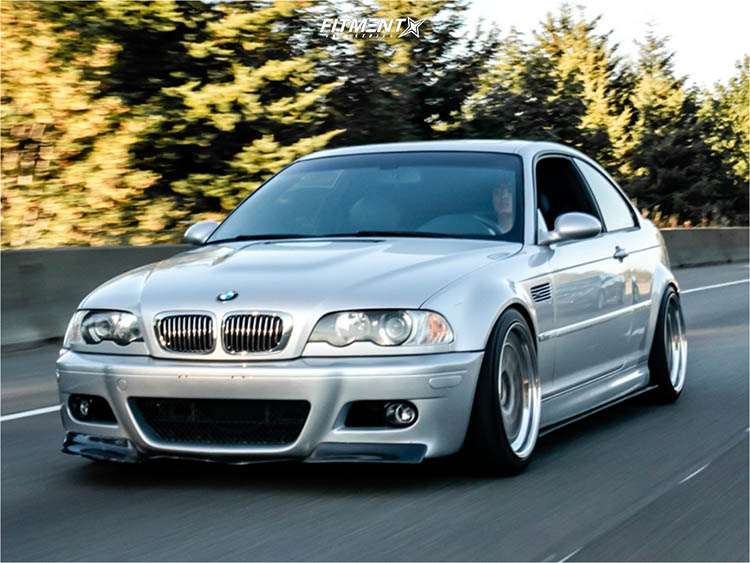 But, as the internet bubble started forming millionaires overnight and carbon fiber began replacing metal panels, the future was starting to become more transparent than ever before.
As people began to pour more and more money than ever into fancy cars and topping up their 8-liter SUV's every few hours, 2003 would soon roll around, and with it came an energy crisis.
Gas prices took a turn for worst, they would later go on to soar throughout the decade, and when the Great Recession hit America in 2008, many felt that it was time to swap out the V8 for the Prius.
With hybrids becoming increasingly sought-after, Americans would even begin to consider having a diesel on the driveway for the first time.
Although flappy paddles, electronic driver assists, and the Toyota Prius were starting to become the new norm in America, manufacturers were still pushing out some awe-inspiring cars - some of which weren't getting the recognition they deserved.
I mean, we surely can't forget that the 2000s were the first time that America started genuinely trying to compete with the world's best in the handling department, making cars that were capable of cornering correctly on-track for the first time.
But, as the US finally continued to focus on attempting to go around corners as fast as possible, some of the world's greatest supercars were being released in the background.
However, if you think this article will talk about the likes of the first-ever Bugatti Veyron, the Maserati MC12, Ferrari Enzo, and the Porsche Carrera GT like every other website on the internet - you'd be wrong.
We're keeping it real here at Drifted, and we're sticking with the cars that are affordable for everyday enthusiasts.
Many of the cars built in the noughties have reached rock bottom prices, and it's the perfect opportunity to cop yourself a real bargain.
Although some cars in our list are currently holding their value better than others, it's worth considering whether those cars will become an ideal investment for the future.
In this guide, we're going to take a look at the perfect affordable cars for motoring enthusiasts out there that want to drive them how they made to be driven.
Here are our favorites from what was arguably some of the motor industry's glory years before driver assists and fancy automatic gearboxes became the new norm.
We present to you our Top 12 (reasonably affordable) cars of the 2000s.
---
Honda S2000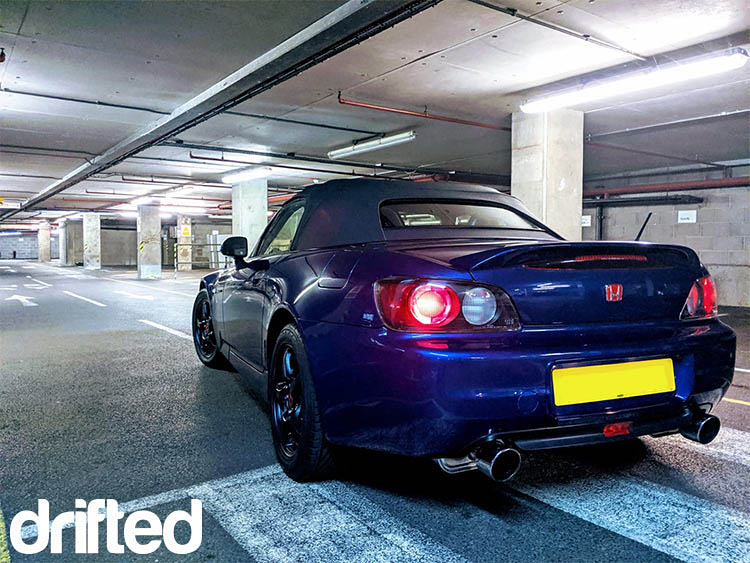 Engine size: 2.2L
Power output: 237-247 hp
Drivetrain configuration: RWD
There's no secret that we're huge fans of the S2000 here at Drifted, so much so that we've created a dedicated tuning category to this epic two-seater.
Honda's S2K combines an F1-inspired engine with a ridiculous 9,000rpm redline, a stick-shifter, and a limited-slip differential in the rear, along with top-down sideways fun.
Not only that, but weighing in at 2,800lb with 50/50 weight distribution, it's more than capable of keeping up with the best when it comes to the twisties.
The S2K is about as good as two-seater motoring gets in stock form, and with it only surviving ten years on the production line before Honda went back to being boring again, they're becoming highly sought-after.
If you're looking for a car that'll provide you with many years of reliable fun without breaking the bank when it comes to selling, the S2000 could well be a perfect choice.
For those of you that aren't too bothered about reliability, it's probably a good time to mention that they're also capable of achieving up to 700 horsepower.
---
BMW E46 M3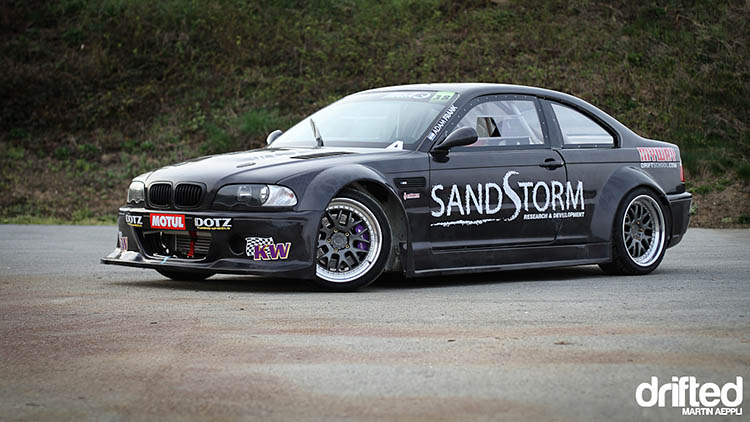 Engine size: 3.2L
Power output: 338 hp
Drivetrain configuration: RWD
The E36's better-looking younger sibling was one of the first production cars to introduce flappy-paddle gearboxes to the masses with its early 'SMG' system.
Many believe that the E46 M3 was the last of the 'true' M3's, which has left prices increasing over recent years.
In drift competitions, the E46 M3 has achieved success worldwide, with Michael Essa landing Formula Drift podiums, and a Championship winning 2JZ-powered E46 M3 conquering Europe.
Although the E90/E91/E92 M3 would be introduced soon after, for the 2007 model year, many believed that the V8, combined with DCT and various other electronics, meant that the M3 had lost its true spirit.
With that said, we feel that both the E46 and the E9x M3's are fantastic choices, especially if you can pick one up for a reasonable price.
---
Nissan 350Z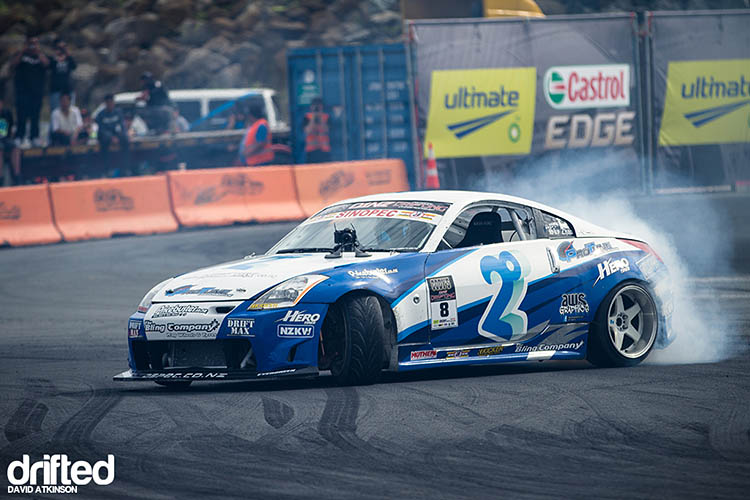 Engine size: 3.5L
Power output: 287 - 306 hp
Drivetrain configuration: RWD
Yep, you guessed, it the much-loved 350Z has made our list!
One of the most popular tuner cars to the present day, we've continued to receive tuning guide requests from 350Z owners to the present day, and there's certainly no shortage of upgrades out there.
Nissan's 350Z can be found on the market for some insanely low prices these days, and although they may lack grunt in the power department, a turbo or supercharger kit can transform them into a real track weapon.
Although the 370Z joined the party at the end of the 2000s, the 350Z has a special place in our hearts, and it'll provide the perfect base for a budget drift car build.
If the 350Z doesn't tickle your fancy, perhaps it's twin brother, the Infiniti G35 is more for you? We put them head-to-head in our G35 vs 350Z guide.
---
Lotus Elise
Engine size: 1.8L
Power output: 190 hp
Drivetrain configuration: RWD
Despite Europe enjoying the perfectly-balanced chassis since 1996, it wasn't until 2005 that the US got to appreciate what the British-made Lotus Elise has to offer.
Although 190 hp might not sound too impressive to many, the curb weight of 1,975lbs from the aluminum chassis might indicate how much fun can be had from these pocket rockets.
The Elise is one of the best-handling cars out there, and with a Toyota Celica DOHC four-pot under the hood, combined with the corrosion-resistant chassis, it's also built to last.
Sure, it's not going to make the perfect highway cruiser for family trips, but if you're looking to hit up the track or the canyons at the weekend, then we highly recommend taking one for a test drive.
---
Lexus IS300
Engine size: 3.0L
Power output: 215 hp
Drivetrain configuration: RWD
The IS300 is one of the best cheap drift cars out there.
Despite the bargain price-tag, the IS300 features a naturally-aspirated 2JZ under the hood. Although it's not quite the 2JZ-GTE, our turbo kit guide will show you how you can transform your bargain Lexus into a turbo-powered tire slayer.
On top of that, you also get the typical Lexus comforts to enjoy. Well, unless you strip it out and transform it into a rattly drift car, that is. We highly recommend this.
As one of the cheapest cars on our list, with the potential to achieve 400 WHP, the IS300 can become the perfect street sleeper.
---
Mercedes-Benz E55 AMG
Engine size: 5.4 L
Power output: 469 hp
Drivetrain configuration: RWD
It's not every day we feature Merc's here at Drifted, but this four-door sedan was a game-changer when it hit the market in 2003.
With luxurious, sensible styling, these were capable of smashing out over 205 mph on the highway once you'd removed the typically-German 155 mph limit.
It can cause a real upset at the lights with those that don't know about the E55 AMG's capabilities, venturing from 0-60 in 4.4 seconds.
They're capable of pulling off a pretty mean burnout, too.
If you're after a high-speed luxury cruiser from the 2000s, look no further.
---
Nissan GT-R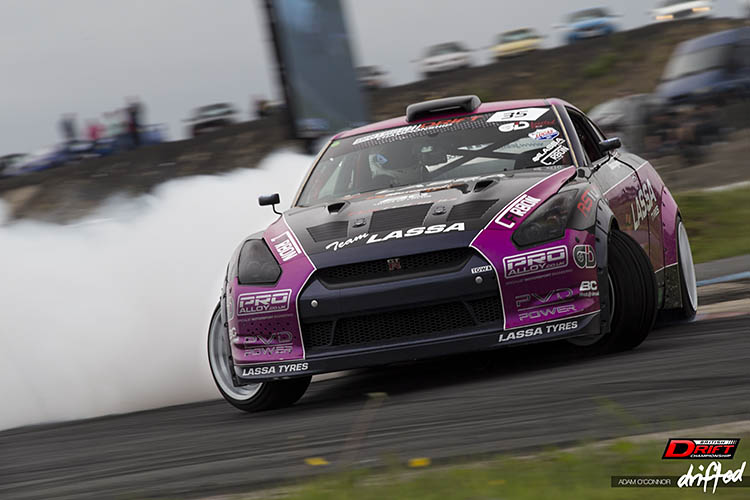 Engine size: 3.8L
Power output: 485-565 hp
Drivetrain configuration: AWD
Time flies, (much like the GTR,) and we can't believe that it's been on the market since 2007. It makes us feel old!
Although it's the first non-RWD car on our list, there's no question that the GTR has been an absolute gamechanger, especially in the drag racing scene.
Many believe that the R34 was the last true GT-R, but the VR38DETT's capabilities are endless, with some reaching an insane 3,000 hp.
As the GTR continues to set records on drag strips across the world today, there's no real question that it was one of the most impressive cars to hit the market in the 2000s.
Make sure you check out our GTR exhaust guide, as some of them are a real work of art.
---
Mazda RX-8
Engine size: 1.3L
Power output: 212 hp
Drivetrain configuration: RWD
Mazda's RX8 is another contender for the best drift car bargain in this list.
As Mazda fans begged for a successor to the legendary RX-7 FD, the RX8 received a mixed reaction.
Many thought Mazda had lost their minds with an unlikely suicide-door layout, but when it came to hitting the track, the RX8 left many doubters pleasantly surprised.
In the Car and Driver 2011 Best-Handling Car in America guide, the RX8 took third place, ahead of BMW's M3 and Nissan's GT-R.
If that's tempted you, and you've already started looking at prices, you're probably wondering why the hell they're so cheap.
Thankfully, we can answer that in one word - rotary.
That's right; many RX8 owners soon realized that the best and worst engine in the world, the Wankel, wasn't the ideal choice in a daily driver, and prices soon plummeted.
However, there are options out there. For instance, you could carry out a motor swap, or fit a turbo kit and wait for imminent failure.
Jokes aside, these are fantastic cars, and if you think you've got what it takes to maintain a rotary engine, then you're not going to get much better for your money than the awesome RX8.
---
Chevrolet Corvette (C6) Z06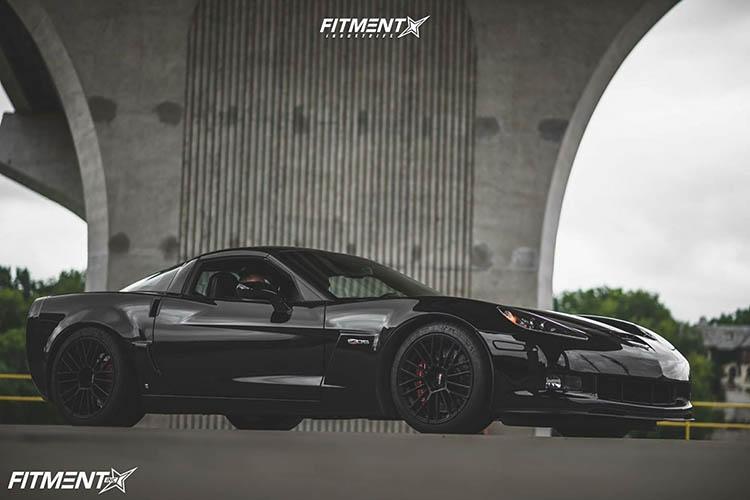 Engine size: 7.0L
Power output: 505 hp
Drivetrain configuration: RWD
'Merica finally made an effort in the 2000s, when it finally produced a car that was capable of going around corners!
As Chevy finally upped their game, the Z06 featured 35 horsepower, less weight (thanks to carbon fiber), and improved handling and grip over its predecessor, the ZR-1.
Around the same time, Dodge also began impressing with the Viper, and the US was finally capable of keeping up with the European sports cars when it arrived at the twisties.
Not only could it shift and hold its own in the corners, but it also looks pretty damn awesome, too.
As the 2000s came to an end, Corvette had one last trick up their sleeve as they launched the 638 hp, 6.2-liter supercharged V8 ZR1 to the market.
It may have had a $105,000 price tag, but it was an awe-inspiring piece of machinery that was capable of hitting 0-60 in just 3.3 seconds.
Combined with carbon-ceramic brakes, magnetorheological dampers, and racetrack-ready stability-control, Corvette was keen to prove that the Z06 wasn't a one-hit-wonder, and they did so in style.
---
Mazda Miata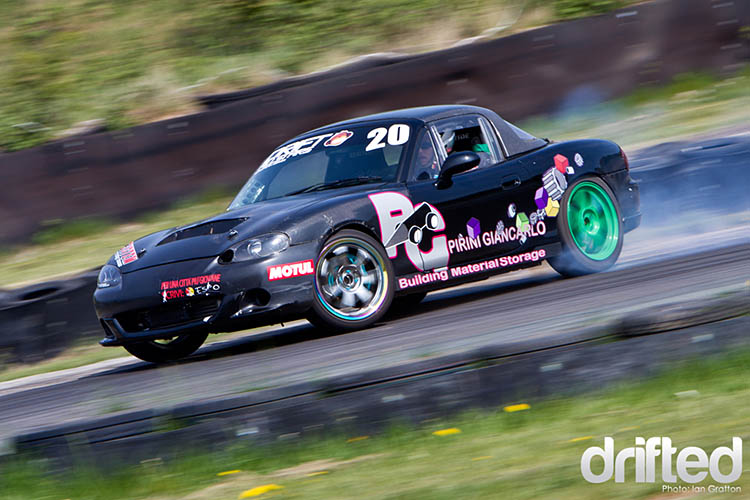 Engine size: 1.8L
Power output: 140-143 bhp
Drivetrain configuration: RWD
Another Drifted fan-favorite that we couldn't leave off our list - Mazda's Miata (NB.)
After providing bargain-hunting petrolheads with low-powered, two-seater roof-down fun since 1989 with their NA model, they upped their game for the NB.
With the initial kinks ironed out, many believe that the NB was the finest Miata, with the direction changing slightly with its successor, the NC, onwards.
Although many enthusiasts were disappointed to see the previous generation's pop-up headlights disappear, they were relieved that the NB still had fantastic tuning potential.
Get yourself a cheap Miata, and we guarantee there are few things more fun in life than strapping on a turbo or supercharger kit.
Sure, you'll get branded a hairdresser everywhere you go, but it's worth it for the top-down sideways fun that this superb chassis provides.
---
Mitsubishi Lancer Evolution IX
Engine size: 2.0L
Power output: 286-366 hp
Drivetrain configuration: AWD
The ninth-generation of the Evo family was about as impressive as you would be able to get for under $35,000.
With its high-revving 4G53 2-liter turbo, it's capable of hitting 0-60mph in 5.5 seconds.
Although the US only received the 286 hp variant, European versions of the Evo IX would reach up to 366 hp with the MR FQ-360, but only 200 of these models were ever produced.
The Evo IX would later shoot to fame in The Fast and the Furious: Tokyo Drift, as Han taught Sean Boswell how to drift.
If you're looking for a reasonably-priced AWD, the Evo IX should be a definite contender.
---
Ford Mustang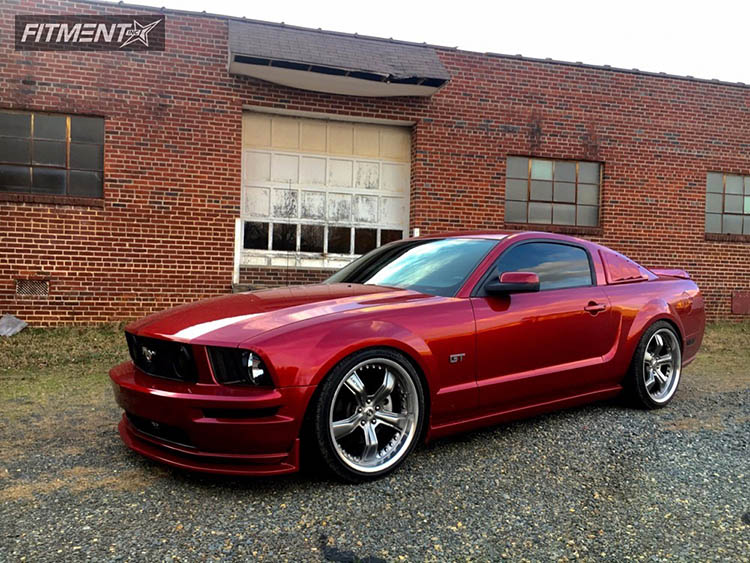 Engine size: 4.6L
Power output: 300 hp
Drivetrain configuration: RWD
We often get criticized for not giving the Mustang the love it deserves here at Drifted, and we can't deny that it's had an impressive history in the Formula Drift Championship with Vaughn Gittin Jr behind the wheel.
Ford would head back to the first-ever Mustang's styling to get ideas for the fifth-generation, and it certainly proved popular with enthusiasts.
The American manufacturer made the car more affordable than ever by scrapping their plans to install independent rear suspension for this generation, making it even more appealing to those looking for a deal.
If you think it's time to grab yourself a Mustang, we highly recommend opting for the V8 GT model. The six-cylinder base alternative doesn't stand a chance of contending with the sound of the roaring V8, which never gets old!
So, there we have it! We hope that we've covered your favorite cars of the 2000s in this guide.
Thank you for reading our Best Cars of the 2000s guide.
If you enjoyed this article, please share it with the buttons at the bottom of your screen. If you've found this information useful, then please take a moment to share it with other automotive enthusiasts. We appreciate your support.
---
Photography credits
We thank the following entities for the use of their photography in this article: