Everything You Need To Know About Sara Haro
Sara Haro rose to fame as the underdog female drifter that went up against the worldwide elite in a near-stock V6 Ford Mustang Netflix's Hyperdrive series. We explore Sara's many talents in this guide.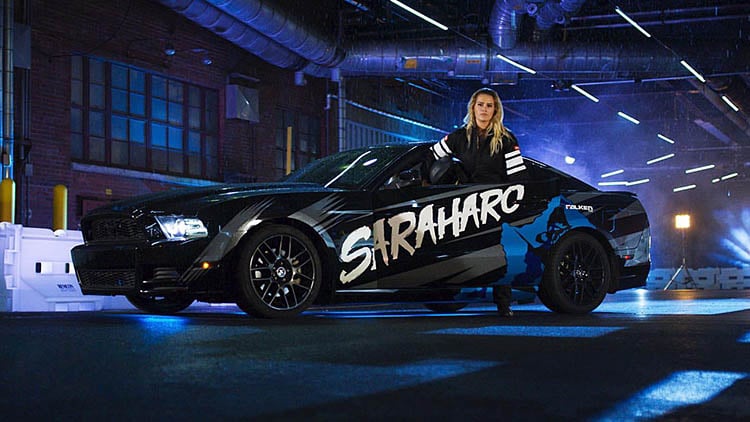 ---
Introduction
Sara Haro began building up her online presence on Instagram before her Netflix TV appearance, where she was approached by Hyperdrive thanks to a #driftchick hashtag on her Instagram account.
Little did she know at that time, but that simple hashtag would soon enable her to achieve worldwide stardom, as Hyperdrive became one of the most-watched racing series' in history with a variety of intimidating and challenging obstacles courses.
As 28 drivers from across the globe competed for the title, Sara Haro proudly wore the "Underdog" label, mostly due to her near-stock V6 Mustang facing some of the best-prepared drift and race cars imaginable in the competition.
Among the six female contestants on the show was Brittany Williams in her Nissan 350Z and South Africa's Stacey Lee May, behind the wheel of her cherished BMW E30.
Successful German competition drifter Corinna Graff also competed in a BMW-engined Mercedes E500, alongside Sherry Kamiya in her Onevia S13, and Japan's Kisaragi Awano in her 98 Toyota MarkII JZX110.
Before the show, very few people knew of Sara Haro's history, and it came as a surprise to many to hear that she's a big rig truck driver.
After learning the art of drifting in 2014, she's been continuing to impress with her talent along the way, and we're going to be taking a look at everything you could want to know about her life, career, and what her current and future plans have in store.
---
Sara Haro Facts, Bio & FAQ
Although many fans initially thought Sara was born in Sweden, she was born in Tampa, Florida, USA.
Sara Haro Age
Sara was born on 10/24/1995 and is currently 25-years-old.
At just two-and-a-half years old, Sara moved to Sweden, where she would grow up with her mother in her hometown, Östergötland, before becoming a graduate of Vretagymnasiet (Vreta College), Linköping.
Sara Haro's Work & Education
After showing a clear interest in all things motor-related, Sara opted to study transport at College, which would soon lead to her landing the unlikely role as a big-rig truck driver in Sweden and working as a track marshal in her spare time.
As time progressed, Sara would become increasingly involved in the modeling industry alongside an increasing involvement in the motorsport world, which would soon enable her to achieve worldwide popularity.
In the present day, she has continued as a truck driver for Blacklidge Emulsions, who have since also become the main sponsor of her professional race career.
Alongside drifting, she's also been getting involved in stunt driving, as well as racing Radical SR3's.
When she's not behind the wheel of her drift car, big rigs, racing Radical's, or stunt driving, you'll likely find her pursuing her actress and modeling career.
There's certainly no question that she's a lady of many talents!
If you want to see more about women in motorsport, then check out our Cristy Lee article.
Sara Haro's Mother
It's clear from Sara's social media posts that she's exceptionally close to her mother.
Despite no longer living in Sweden, she posted a video of them both getting dolled up for New Year's Eve.
Is Sara Haro Married?
With her busy lifestyle, it comes as no surprise that Sara is not yet married and doesn't have any kids. She chooses to keep her relationships on the down-low, and it would appear that she's not currently in a relationship.
Form an orderly queue, guys!
Sara Haro's Interests & Hobbies
Sara has stated that her main interests growing up included friends, family, living life to the fullest, cars, racing, photography, fashion, modeling, and makeup.
Her ambitious intentions have allowed her to continually strive to improve, even in the most challenging situations, which was clear to see as she stood her own against some of the worlds' best drivers.
She's also got a little-known talent for post-shower singing!
Sara Haro's Goals
There's no question that Sara is an inspiring role model to females that are looking to get involved in the automotive and motorsport industries.
On her website, she states, "Hard work, dedication, sportsmanship – that is Sara Haro Drift", and we certainly can't disagree.
There's no doubt she gave 100% commitment and dedication behind the wheel of her underdog Mustang in Hyperdrive.
Talking of which, let's revisit her experience on the Netflix show that revealed Sara to the world.
---
Sara Haro on Hyperdrive
Hyperdrive was a unique concept launched in 2019 for Netflix over ten episodes, with a selection of elite racers competing against various hand-picked drivers that were keen to prove their ability, such as Sara Haro.
Think Ninja Warrior on steroids, with epic cars and drivers in-place of athletes.
Sara's invitation to the series came as a surprise after she was approached by the Hyperdrive team thanks to a simple #driftchick hashtag on her Instagram account.
"They saw I was a truck driver, thought that was different and reached out saying, "Hey, you should apply to be on our Netflix show", Sara stated.
"I went through the application process and two weeks before the show started they told me I was on".
With its worldwide contestant roster spanning from Europe to Japan, 28 competitors fought against the clock against a grueling set of obstacles.
Although there were a handful of street racers, drag racers, and a random rich dude in a Lamborghini Huracán, it was the drifters that reigned supreme throughout the series.
With various obstacles and targets, alongside strict time limits to test their skills, each episode represented new challenges to push the drivers to and beyond their limits.
If you didn't nail the set task to perfection, you would likely incur a time penalty, potentially seeing competitors leave the competition throughout a series of intense knockout rounds.
Among the contestants were drifters from Europe's King of Nations series, who headed to a 100-acre parking lot in upstate New York to show off their skills; Hyperdrive provided fantastic entertainment and had many surprises in store along the way.
Alongside Sara, notable American drivers battling it out for the title were Brittany Williams, Jordan Martin, and Fielding Shredder.
Representing Brazil was Formula Drift competitors Diego Higa and João Barion, and Stacey Lee May showed what South Africa was capable of, bringing an incredible story with a heartbreaking ending.
Fearless King of Europe star Axel François represented France alongside Poland's former Queen of Europe Champion Karolina Pilarczyk.
German husband-and-wife team Alexander and Corinna Gräff competed against each other, with a terrifying ending for Queen of Europe driver Corinna.
Two Japanese competitors – Atsushi Taniguchi and Kisaragi Awano also joined the fun, providing some incredible entertainment along the way.
For Sara, it was a dream come true, and with her best friend, Tiffany (also known as Bun Bun), standing by as her spotter, she confidently proved that the underdogs have what it takes to hang with the Championship contenders.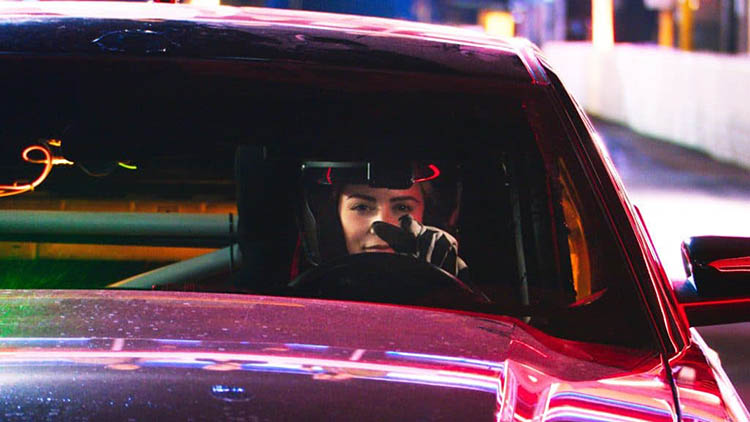 With the first four episodes being qualifying rounds, the three quickest drivers automatically advance, while the slowest three face elimination.
In the first qualifying round, named 'Ready to Launch', she placed in the middle of the pack in the sixth spot, with a two-second time penalty.
Keen to impress, Sara would push hard in the second qualifier, 'Roll the Dice'. Despite another two-second penalty, she blew away the doubters, landing the third-place spot behind Japan's Atsushi Taniguchi and Fielding Shredder.
As she advanced to the top twelve qualifiers, she would scrape through in the first knockout round in ninth position, which would eventually see Formula Drift driver Faruk Kugay eliminated from the knockouts.
In the next knockout stage, named 'Track Is Hot', Sara would, unfortunately, finish last, and after having to go head-to-head with French drifter Axel Francois, she would later be eliminated from the knockouts.
But, all hope was not lost, as Hyperdrive introduced a final opportunity to fight for the victory with their 'Chance at Redemption' wildcard feeder.
As Sara lined up against FD pilot Faruk Kugay, she went on to lay down an impressive victory to take the win.
In the final Wildcard round, she would face-up against a potential contender for the title, Fielding Shredder. With his impressive talent and high-powered Nissan 240SX S14, Shredder managed to squeeze his way to victory.
Sadly, with only one Wildcard spot up for grabs, it was the end of the road for Sara's efforts to clinch the Hyperdrive title.
Still, having made it so far in the competition against an incredibly experienced International field with a near-stock V6 Ford Mustang, she can certainly be incredibly proud of her achievements.
It would be Brazil's Diego Higa that took the series's victory. The two contenders who defeated Sara, Axel Francois, and Fielding Shredder, took second and third place on the podium.
A delighted Sara went on to say, "I was super surprised of what I was capable of, and surprised at my car, too. I felt like I handled it very well. I know for a fact that my trucking experience helped me with my vehicle — like how to handle turns".
"Hyperdrive was a once in a lifetime opportunity for everyone and we became like a little family: the show runners and producers, the people that made the track and individuals who handled the camera and sound were just an awesome group of people".
"I've learned that I'm capable of more than I think. I'm always very hard on myself thinking I should do everything better. When I was left with a group of people that were really, really good, I had to remind myself constantly that they're professionals. For example, the Brazilian competitors were ranked as Brazil's best drifters. Corinna is one of the top pro drifters in Germany, as compared to me, which I've never tried to drift before in my daily Mustang. So I had to remind myself: "Okay, you're actually doing really good for what your experience is with your car".
---
Sara Haro's V6 Ford Mustang - 'Black Pearl'
Wait… V6?
That's right - Sara's 2014 Ford Mustang featured the less-common 3.7 V6 Cyclone engine under the hood.
It was her daily driver up until she got the series invitation, after all!
The near-stock V6 is what made Sara's efforts so impressive. Against the international line-up of high-powered drift cars, the V6 Cyclone engine has just 305 hp and 280 lb/ft torque in stock form.
With her father handing Sara the Mustang's keys as a graduation gift, she had planned to export the car to Sweden before deciding to follow her dreams in America.
The Mustang was named 'Black Pearl' after Sara's summer visits to her father in Florida growing up, where she fell in love with the pirate ship from one of her favorite movies, Pirates of the Caribbean.
Upon noticing the car was all-black when gifted to her, she exclaimed, "It's the Black Pearl!"
When Sara got the Hyperdrive invitation, 'Black Pearl' was her only chance at competing in the series.
Given that she had to make Black Pearl meet the series requirements with the clock ticking, there was no time to waste with stripping the car out and fitting the essential race car safety equipment, such as a racing seat and roll cage.
After meeting the deadline, it was time to ship the car to New York, where she would later spend the next three-and-a-half weeks filming almost every evening.
'Black Pearl' Specs
During the Hyperdrive competition, Black Pearl had just about the most basic spec list that you could imagine for in a competition build, which included the following:
2014 Ford Mustang S197 3.7L V6
6-Speed Transmission
Silvers Coilovers
Drift Knuckles Unicorn kit (Angle kit)
Welded roll cage
It's no wonder that they titled her 'the underdog!'
Thankfully, the Black Pearl has now been treated to some power upgrades, thanks to the 'Mafia Special Sauce tune', which will give Sara a much-needed boost to continue competing with the V6 Mustang.
She then went straight to a drift event at Palm Beach International Raceway to show off her new-found power gains.
If you're keen to get behind the wheel of Sara's Mustang, this awesome Grand Theft Auto V mod provides the opportunity to show off your skills with the Black Pearl in GTA V.
---
What's Next for Sara Haro?
After spending the summer of 2020 traveling Europe to see her family, Sara also took the opportunity to meet up with the European members of the Hyperdrive family, such as the Graff's, and Axel Francois, and Alexandre Claudin.
Sara plans to compete in the Formula Drift series soon, and she's trying hard to get her name back out there to get sponsors on-board to fulfill her dreams to get the Black Pearl competition-ready.
As she's been getting more and more seat time, she's finally started drifting competitively, even if her first event didn't go quite as planned! (It happens to the best of us!)
But, the Black Pearl is no longer the only car on Sara's mind.
Ever the family girl, Sara has begun a truly unique build. Based on her Grandpa Götsta's rally racing experience in Sweden, Sara couldn't miss the opportunity to get her hands on an epic 1964 Volvo 122 Amazon.
We're praying this will be turned into an epic drift car!
Sara plans to make time for stunt driving alongside acting classes soon, hoping to land her a dream role in a movie, or commercials, eventually.
If you want to keep up to date on Sara's adventures, make sure you follow her on Instagram and YouTube.
Oh, and you definitely won't want to forget to follow her insane Volvo build Instagram page, too.
Sara has already inspired countless women to pursue their dreams in the automotive world, and we do not doubt that we'll be seeing much more of her incredible talents soon.
Make sure you keep your eyes peeled, as we're sure you'll see Sara at a track or TV screen near you soon!
So, there we have it! We hope that we've covered everything you could want to know about Sara Haro in this guide.
Want to get to know more awesome women in motorsport? Check out the 'All Girls Garage' star, Faye Hadey, here.
Thank you for reading our Sara Haro guide.
If you enjoyed this article, please share it with the buttons at the bottom of your screen. If you've found this information useful, then please take a moment to share it with other Sara Haro and Netflix enthusiasts. We appreciate your support.
---
Photography credits
We thank the following entities for the use of their photography in this article: