How To Drift In GTA5 – Complete Guide
Are you looking to refine or improve your GTA 5 drifting skills to evade the cops or show off to the homies? We cover everything there is to know in this comprehensive GTA 5 drift guide.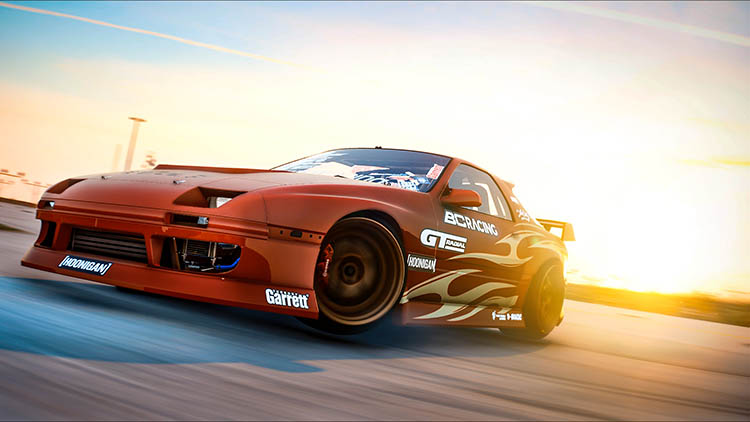 ---
Introduction
As you may have guessed (we'd be worried if you haven't), we're pretty big fans of drifting!
Luckily for the gamers out there, we also happen to spend far too much time playing GTA 5 and GTA Online.
Although GTA isn't going to be the first choice for the drift sim racing enthusiasts out there, you're likely to spend far more time driving in the game than you probably realize, so why not learn how to master the art of car control by learning how to throw it down sideways?
As much as we love spending our time tandeming with the homies on more intense simulator-based games, such as Assetto Corsa or Forza Motorsport, we've got hooked on GTA in recent years.
For those evenings and weekends where you want to chill on the couch and hit the streets with a controller, rather than getting serious with the sim rig, GTA provides the perfect opportunity.
You've probably seen the videos showcasing the true potential that GTA has to offer when it comes to drifting. If not, then let these Tokyo Drift vibes whet your appetite.
However, it's understandable that you've probably tried to replicate them, and you've been left with an almost-destroyed car and an equally damaged ego to match.
Don't worry – thankfully, it's brought you to us here at Drifted, and we're going to provide everything you'll need to know to improve your skills.
Although some of you may have mastered the art of high-speed driving, drifting is an entirely different animal, and you're going to have to put your patience to get the test with perfecting your talent.
Many people will be keen to tell you that drifting isn't possible in GTA V, which provides the perfect opportunity to prove them wrong.
With this guide, we'll get you confidently shredding the streets of Los Santos and impressing your homies in GTA Online in no time.
---
Understanding The Drifting Basics
When it comes to drifting, it's best to start with the basics.
We completely understand if you want to master the art right away, but drifting ability comes with knowledge and patience, so it's best to head back to basics to gain a thorough understanding.
When it comes to getting started, our favorite video comes from Blacksheep TV, where they'll get you behind the wheel of a replica Initial D-style AE86 - known as 'Futo' in the game.
With its low power and predictable handling, the Futo is the ideal place to get started. So, let's take a look at the video to gather an understanding of drifting in GTA 5:
After watching that, we have no doubt you're keen to start refining your skills. While most drift fans might be reaching for their wheel at this point, you may want to think again.
What's Best – Wheel, Keyboard, or Controller?
Although the wheel is usually the obvious choice here, things are a little different in GTA V. For example, in drifting simulator games, you don't typically have to think about getting caught up in a shootout while you're trying to drift into consideration!
Wheel
Where we'd typically recommend a wheel in this scenario, this isn't practical with GTA considering how in-depth the game is, and you'll soon need to use more buttons than a wheel provides. We certainly wouldn't want to be clutching a wheel during a gunfight!
Keyboard
Those of you who are keen PC gamers are probably waiting for us to say that a keyboard is the best choice, but it's simply not the most practical option for the game's non-driving aspects.
Controller
We've found the tried-and-tested controller method to be the best all-rounder when it comes to GTA 5 since it's practical enough when it comes to drifting but also more than capable when it comes to getting involved in a shootout.
Typically, we've found the Xbox controller to provide the best feel for drifting, and we often play Forza Horizon and Motorsport this way.
If you're struggling to get to grips with adapting to drifting on a controller, this guide is perfect for getting you up to scratch:
---
Getting Started With Drifting In GTA 5
Although drifting in GTA 5 isn't the most realistic compared to some games, the techniques you'll need to learn will be the same as drifting in the real-world.
For that reason, we highly recommend checking out our Drift 101 and How to Drift guides to gain a thorough understanding of drifting.
Learning the Basics of Car Control
Now that you've learned how to make an ideal drift build from the Futo and got to grips with the controller, you're on the right path to maximizing the drifting potential of GTA 5.
We recommend putting some time into grips with learning how the car is reacting and the movement/weight shift.
Learning to drift is often a slow process, but just doing some donuts, followed by figures of '8' in an empty parking lot, can provide you with much-improved car control.
It'll be challenging at first, but with trial and error, combined with an embarrassing amount of spins and crashes, your persistence will undoubtedly pay off as you get more confident with your drifting abilities.
Once you've put in the time and effort to learn the basic techniques, it'll feel hugely rewarding when you begin to gain a thorough understanding of car control, along with weight balance and counter-steering.
Best Places for Drifting in GTA 5
There are plenty of places to drift in GTA 5, and although an empty parking lot will be more than adequate when it comes to learning the basics, you'll soon want to progress and move on to the more challenging and rewarding areas.
This video will show you exactly where the best drifting spots are, along with refined drift lines for you to follow:
These GTA V drift spot locations provide a great mix of tight, tricky, and technical drift courses along with higher speed layouts.
If you've already mastered these drift spot locations, there's even more to be found in this video:
Thankfully, much like Forza Horizon 4, the open-world aspect of GTA 5 provides plenty of epic spots for drifting, you'll need to have to browse around a little in the game, and before you know it, you're likely to find an area that'll suit your style.
Best Drift Cars in GTA 5
Although we've dedicated a whole article to the Best Drift Cars in GTA 5, we'll highlight some of our favorites here.
Banshee 900R
Once you've mastered the basics, our favorite drift car in the game is the Banshee 900R.
Sure, it's going to provide a challenge for beginners, as it has a habit of trying to spin out, but once you master it, we feel it's the perfect combination of speed and style for the ultimate drift weapon.
It does cost a pretty penny – $105,000 for the Banshee, and then an additional $565,000 for the widebody upgrade, but we feel it's worth it.
Karin Futo
Ahh, the legendary Futo.
This car is the perfect starter car for beginners.
Yours for just $9,000, unless you can find it for free-roaming the streets. The Futo is the ultimate drift car bargain.
Although it might not provide the most impressive speeds, it's a stable and predictable platform for drifting, much like the Drift King's weapon of choice, the Toyota Corolla AE86 that the Futo replicates.
Dewbauchee Rapid GT
Many would argue that the Rapid GT is the best car in the game, and although it's one of our favorites, the Banshee provides that little extra excitement, in our opinion.
However, let's not forget that the Banshee is seriously expensive, and the Rapid GT is pocket change in comparison, at $132,000.
The Rapid GT is a fantastic drift car to have in your garage, and if you like its looks, it certainly won't disappoint when it comes to throwing it sideways.
Williard Faction
If you're after something a little different, look no further than the old-school-cool Williard Faction.
Although its looks aren't for everyone, you won't question its drifting capabilities.
We highly recommend another bargain if you've not got huge stacks of cash in the bank at just $36,000.
Worst Cars For Drifting in GTA 5
Some people will tell you that you can drift any car in the game – sorry, but no.
If you stick to the basic principle of a reasonably-powered, front-engine, rear-wheel-drive layout, then you're likely to pick a winner.
However, go beyond that, and you're likely to find cars that'll fall into the following categories.
AWD Cars
As an example, the Drift Tampa. Now, if you put 'drift' in the name, then it's undoubtedly going to be perfect for pulling off massive skids.
Wrong.
For some reason, Rockstar opted to make the Drift Tampa AWD, and although there are some real-world AWD drift cars, the Drift Tampa certainly wouldn't be competing with them. It's a no from us.
We highly recommend avoiding AWD cars in the game. Although games such as Forza will provide the ability to carry out AWD drifting, GTA will leave you disappointed in this regard.
Supercars
Unfortunately, this applies to most supercars, too. Although there are some epic exceptions to the rule, such as the Banshee 900R, most supercars are likely to be way too hard to control for maintaining a stable drift.
Even if you're the best drifter on the planet, the AWD and Supercar platforms aren't going to allow you to perform to the best of your abilities.
GTA 5 Drift Car Tuning
When it comes to drift car tuning in GTA V, it's certainly not as complicated as other games, but there are a few things that will need consideration.
For example, we pretty much always recommend cranking it up with the power mods such as the engine, turbo, transmission, suspension, chassis, etc.
Although body kits are optional and won't affect the car, adding a spoiler does provide a noticeable traction increase in the game, which we certainly don't want.
When it comes to tires, be sure to avoid the bulletproof tires. When stancing your drift car, you'll need to be able to shoot your tires to lower it, so this isn't ideal.
Unfortunately, if it's too late, and you've already fitted bulletproof tires to your ride, then we hate to be the bearer of bad news, but you're not able to swap them back. You'll have to sell the car and re-buy.
Yeah, we don't think it makes much sense either.
Some gamers believe that chrome wheels make the car slide better and that tire stickers and other minor mods will negatively impact the drifting ability. We'll let you be the judge of those since they're quite controversial.
For those of you that are after a step-by-step Futo drift tune, make sure you check out this video:
Can You Drift a Bike in GTA 5?
We're frequently asked if it's possible to drift the motorbikes in GTA 5, and the simple answer is - no, unfortunately.
Although you're likely to find some videos claiming to drift bikes in the stock game, we're sure you'll be disappointed when you see that it's nothing more than the equivalent of yanking the e-brake into a turn.
However, there are mods out there which integrate drifting bikes into the game, as showcased in this video:
If you're not sure what mods are or how to install them, we're covering that next.
Best GTA 5 Drift Mods
Console gamers won't be able to reap the benefits of GTA V mods, but they'll potentially open up a whole new realm of possibilities within GTA 5 for PC gamers.
The benefits are endless, and this applies to drifting, too.
If you're keen to see what mods have to offer, then make sure you head over to our comprehensive GTA 5 Mods Guide, which features all the latest updates.
For those keen to see the potential that mods can do to revolutionize the game, then take a look at what the GTA 5 REDUX upgrade has to offer.
Although this isn't specifically drift-oriented, you'll be able to see the visual potential, which brings GTA V's somewhat outdated graphics on-par with some of the latest games on the market.
The modding possibilities don't end there, either, and there are plenty of drifting-specific mods available to make the car far more drift-friendly.
There are even visual upgrades, such as smoke mods, which allow you to have realistic smoke clouds for the ultimate drifting satisfaction.
We all know that smoke clouds are a huge part of the excitement of drifting, and GTA V certainly doesn't make the most of this.
Check out the real smoke potential here:
Once you've carried out the visual upgrades, it's time to look at what other mods the game has to offer. Thankfully, when it comes to cars, there is just about every vehicle you can imagine.
Are you looking to skid Los Santos in a Nissan Silvia S15? Don't worry, we've got you covered. And, thankfully, the import laws don't apply here!
On top of just about every car imaginable and drift handling mods that you can download to go with them, specific mod packs such as JDM wheel packs, which will provide just about every drift wheel imaginable.
Mods undoubtedly maximize the potential that GTA V has to offer, but you'll need to be careful that you don't use them on GTA Online, as you risk getting your account banned from the servers.
For offline use, Rockstar has already stated that they're more than happy for gamers to use them, but remember to switch them off before heading online.
To make the most of mods, you may also want to consider a GPU upgrade for your PC. We've taken a look at the best choices on the market, whatever your budget.
---
How to Drift Like a Pro in GTA 5
Now that we've covered everything you could need to know when it comes to finding the ideal ride for your needs, tuning, and learning how to drift using the controller in GTA 5, it's time to refine your skills even further.
At this point, we highly recommend checking out our 'How to Drift' guide if you haven't already to ensure you've got a thorough understanding of the in-depth aspects of car control and drifting.
When it comes to moving on from the basics to achieving legendary drift status in the game, this video provides the perfect explanation:
Lowering Your Car
There's an essential cheat in the game to get the most out of your drift car, as ridiculous as it may seem.
You'll need to shoot the center of your wheel or into the gap between the tire and the fender, and this will drop your suspension in increments until you reach the desired ride height. You'll need to do this on all four corners of the car.
Step 1 - Initiation (Starting the drift)
Initiation is going from straight to sideways and can be achieved in several ways.
If you're trying to run the perfect line, then you'll want to achieve the best initiation possible.
E-Brake
In GTA V, you can either execute the initiation by pressing the e-brake button for around 1-1/2 seconds, which will bring the back end of the car out.
The e-brake method is more straightforward, but it will somewhat slow the car down, making it ideal for initiating lower-speed corners.
Dumping The Clutch
Since the e-brake slows the car down, dumping the clutch is the preferred method.
The video above shows you how to do this correctly, and it's the GTA equivalent of a clutch kick in our 'How to Drift' guides.
Although this trick works best at low speeds, it's sometimes possible to achieve it at higher speeds depending on the car, and it can also help with throttle control when you begin doing more significant longer drifts.
Power Over (Weight Transfer)
Although it's not too easy to do in GTA V, this is when you aggressively point the car in the direction of the corner you're entering while applying a significant amount of throttle.
Once the back end starts to come out, you'll quickly counter-steer into the opposite direction while maintaining or increasing the throttle control.
Learning how weight transfer works is also useful for maintaining longer drifts.
As with everything in drifting, practice makes perfect for the initiation, so spend some time learning the various techniques to find out which works best for you.
Step 2 - Maintaining the drift (Staying sideways)
Once you've learned how to initiate and you're able to get the car sideways, it's time to learn how to maintain the drift for as long as possible.
Now that the back end has stepped out, you're going to want to 'catch' the weight shift as soon as possible.
The easiest way to do this in GTA is to keep your throttle levels high and initiate using your chosen method, as demonstrated in the video above.
Once you want the car to straighten again, it's not the most realistic element of GTA, but you'll need to tap the e-brake repeatedly until it's back to the desired angle.
Simultaneously, you'll want to keep turning the controller left and right to juggle the weight shift.
If it feels as though the car is rotating too far and generating too much angle, then ease off the gas, or tap the e-brake until it returns to the correct position, also counter-steering to correct at the same time as necessary.
Maintaining the drift isn't too complicated in GTA once you get the hang of it, be confident and heavy with the throttle and use the clutch dumping/e-brake methods and steering to keep the car at the desired angle.
Step 3 – Transitioning (Switching direction)
As you continue to tap the e-brake when necessary, this will make the process a lot easier as you juggle the steering to achieve the desired angle when switching sides mid-drift.
Again, don't be scared to go heavy on the throttle during the transition.
You want to 'catch' the car's weight as it transitions, and the handbrake and steering will enable you to do so.
Again, this will take time to adapt to but be patient, and you'll soon reap the rewards.
Step 4 - Exiting the Drift
When you want to come out of the drift, allow the weight shift to bring the back end of the car to its desired position, along with full throttle, and give the e-brake several 'taps' until the car is back driving at the correct angle again.
Advanced Techniques
Once you've mastered the basics, you can move onto some of the more advanced drifting techniques in the game, such as backward entries, which are sure to test your limits in more ways than one!
---
Conclusion
It's vital to remember that practice, patience, and persistence are the key elements to learning how to drift, whether in real life or GTA.
Thankfully, drifting in GTA is a lot more simple than most games, and once you've eventually learned how to slide, you'll wonder how you ever struggled to do so.
At first, it can feel hugely unnatural compared to straight-line racing, and it's also going to feel pretty odd to those used to real-world drifting since it's not the most realistic.
We hope that our explanations combined with the fantastic contributions from some of the best gaming YouTubers have shown you everything you could need to know when it comes to learning how to do drift in GTA 5.
If we've missed anything off, don't hesitate to drop us a line and let us know what you'd like to see added.
For those serious about drifting, we highly recommend checking out what other (far more realistic) games, such as Assetto Corsa, Forza Horizon 4, and Forza Motorsport 7 have to offer.
Now that you've learned everything there is to know about drifting in GTA 5; it's time to head online and tandem with your buddies (Assuming you haven't installed any mods, of course!).
It's vital to remember that drifting is all about having fun. We guarantee you that after you've put the time and effort into learning how to drift, you're going to enjoy the driving aspect of GTA V more than ever, and we bet you won't want to leave your favorite drift car in the garage!
So, there we have it! We hope that we've covered everything you could want to know about drifting in GTA V in this guide.
Have you decided on what car to use on your first drift yet? You might wanna consider the Toyota Supra.
Thank you for reading our How to Drift in GTA 5 guide
If you enjoyed this article, please share it with the buttons at the bottom of your screen. If you've found this information useful, then please take a moment to share it with other GTA V and GTA Online enthusiasts. We appreciate your support.
If you're also into GTA RP, we have an awesome article that explains the meaning of VDM, OCC and RDM here.
---
Photography credits
We thank the following entities for the use of their photography in this article: