Ultimate GTA V Glitches Guide
Every game has its bugs, and GTA V is no exception. We'll be sharing our favorite glitches that you can use to your advantage in this guide.
---
Introduction
GTA V completely revolutionized the gaming industry upon release in 2013, but even what is arguably the most impressive game ever created doesn't come without minor flaws, and we'll be showing you how to use them to your advantage in this guide.
Although it's been more than seven years since the initial release, hardcore gamers are still spending countless hours in their efforts to expose the latest glitches in the game.
Given that GTA V has become one of the most popular games ever sold, it's no surprise that gaming enthusiasts are keen to exploit every opportunity to get one step ahead of their friends or maybe even enemies.
Whether you're looking to increase your bank balance, mod your rides for the minimum cost, maximize your weaponry/ammo, or looking utilize the sneakier glitches that many won't even notice, we've got you covered.
Since you've found your way here, we're going to guess you already know what glitches are.
Don't panic if that's not the case. We'll be explaining everything you need to know, whether you're a newbie or a seasoned gamer.
---
GTA V Glitches Explained
Given the complexity of modern-day video games, it's no surprise that there are sometimes bugs and glitches in impressive games, such as GTA V.
With the sheer size of the map and the sheer quantity of various tasks and other things you can do in the game, even an incredible studio like Rockstar Games can still leave some areas exposed, and gamers are eager to use those to their advantage.
Glitches provide many opportunities to exploit the game, which can provide many advantages, such as additional cash, vehicles and upgrades, weapons, and ammo, to name just a few.
Other times, glitches can be somewhat hilarious, triggering bugs that'll provide plenty of entertainment.
Put it this way – anything you can do in the game is potentially vulnerable to being exploited with a glitch.
What are the difference between glitches and mods?
There's an insanely impressive GTA V mod community out there, providing just about everything you could wish to see in GTA V.
Whether you're looking to drive with your favorite real-world drift car in the game or looking to improve the game's visual potential substantially, there's likely to be a mod out there to fulfill your desires.
With a mod, you intentionally download and install a package which you'll integrate into the game, which then modifies the game and allows you to play using the mod of choice.
On the other hand, glitches take advantage of the bugs in the game that Rockstar has either not noticed or don't feel are significant enough to patch.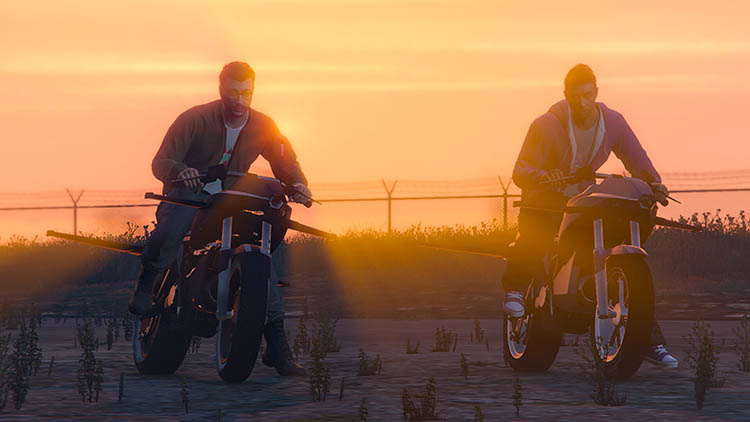 Glitches are more like the old-school gaming cheats, where you press a random button combination on your controller, and you're suddenly invincible!
Unlike mods, glitches don't require you to install anything or make any additions or alterations to the game code that Rockstar created. It's likely a flaw they haven't noticed.
Are glitches cross-platform?
Given that GTA V is not a cross-platform game, these glitches won't always work across the PC, Xbox, and PlayStation platforms.
We've tried to specify which platform they're likely to work best with, but some glitches will work on all platforms.
Do these glitches actually work?
We're doing our best to keep these glitches updated to ensure they work, but there's a good chance that Rockstar will release a patch as soon as possible on the significant glitches to stop gamers from exploiting the issues.
What happens when a glitch is fixed?
Some glitches have never been patched, while others have led to Rockstar bringing down the online servers immediately.
If you opt to use the glitches provided in this guide, you're accepting the risks of potentially being caught by Rockstar.
Sometimes, the glitch will stop working. However, other times, things can get a little more serious.
---
Will You Get Caught And Banned?
In the past, GTA V has had some major glitches in the game exposed, which has left GTA enthusiasts taking advantage of the opportunities as quickly as possible.
A well-known glitch was the 'Property Trade', glitch, in which case some gamers made just a couple of million, where others produced hundreds of millions within no time at all.
Rockstar soon came out to address the subject, and it wasn't good news.
When met with the question: "Why did I receive an alert when joining GTA Online saying that my character progress was reset?"
Rockstar stated, "Players found to be manipulating and abusing Property trade-ins to gain GTA$ illegitimately have had affected characters reset. As part of our ongoing efforts to maintain a healthy game environment for all players, anyone found to be abusing exploits and cheats to illegitimately gain GTA$ and in-game items may be subject to penalties including cash balance adjustments, character resets, suspensions and up to permanent bans as appropriate".
Although gamers who had used the glitch figured they'd got away with it, it took Rockstar up to two weeks to unleash the 'Character Reset' on those that had manipulated the game.
It was a similar story for those that took advantage of the 'Casino Chip Selling' glitch, where gamers found their funds removed and the characters reset.
The removal of funds and character resets' led to an uproar in the glitch community.
Although the exploiters did so at their own risk, those that took advantage of the glitch felt it's unfair that other hackers and modders have played the game online without getting caught.
With all things considered, should I use these glitches?
Since you're (hopefully) old enough to be playing GTA V, we would expect you to be able to decide whether or not you feel that glitches are worth the potential character reset that Rockstar could enforce.
Some gamers laugh if their character got reset and feel that the glitch was worth it for the enjoyment that came with it, while others are likely to be left devasted.
It's entirely up to you whether you think the risks are worth it.
If you're not too keen on the idea of having your character reset, but you want to stand out among the vast online community, then make sure you purchase the best drift cars in the game before perfecting your skills with our how to drift in GTA V guide.
You'll leave other gamers in awe without needing to use any glitches or cheats!
Alternatively, if drifting isn't your thing, then you can leave them in the dust with the fastest cars in the game instead.
Now that we've covered the potential issues that could arise – let's dive into our favorite GTA V glitches!
---
Our Favorite Working Glitches in GTA V
From minor bugs to huge money-makers, gamers have been exposing the games glitches since the day of release, and they're showing no signs of slowing down.
Although Rockstar may soon patch significant glitches with each update, we've put together this wide variety, which are all working at the time of posting.
If any have been patched, or you'd like us to add a glitch you've found in the game, then feel free to drop us a line.
Stock Arena War Wheel Color Changing Glitch (Without iFruit)
Credit: u/KlinefelterXXY on Reddit
With this mod, you can change the color of the stock rims on your Arena War vehicle.
Hate the stock yellow tint on the Apocalypse ZR380 wheels? This glitch will enable you to change them to any color you desire.
Using Arena Merge:
Merge the F1 rims to any vehicle where you're able to customize the rims
Change the rims to the desired color
Go to Wheels > Tires> Tire Design, and choose the Atomic logo
Hey, presto! You now have the stock rims in your chosen color
If you merge this to another car with stock rims, they'll also get the same color.
This useful yet straightforward glitch enables you to change the color of the F1 rims before changing them back to stock – a bug that is (hopefully) unlikely to upset Rockstar.
Apply F1 Wheels to (Almost) Any In-Game Car
Credit: u/Quelxaan on Reddit
For those who don't just want to change your stock wheel color and wish to fit the F1 wheels to (almost) any car in the game, this comprehensive walkthrough guide will be useful for you.
This one is quite long-winded, so we recommend checking out this video tutorial, which will make it far more straightforward.
Hide Your Cargo/Product From Other Lobby Users
Credit: u/soupa-hot-fire on Reddit
Although it's not the best quality, you can follow this video tutorial:
When doing VIP work, you cannot sell cargo, but during the work while the timer is active, no cargo is visible on the map to any other users in the lobby.
If you sell cargo during someone else's VIP work, your cargo will be hidden from the entire lobby.
Sound good? If you want to hide someone else's cargo in your lobby, follow these simple steps:
Begin VIP work
Don't complete the work
You won't be able to see anyone else's cargo, but no-one else in the lobby will be able to for the duration of the VIP work
This will block other users in the area where you're carrying out the VIP work from seeing the cargo
Solo Duplication Glitch
Credit: u/Thebandit1982 on Reddit
Although this glitch will cost quite a bit of money, you'll make around $800,000 upon completion. Don't be too surprised if Rockstar begins clamping down on it, though.
Requirements:
Custom plates
Arena
Future shock Issi
Regular Issi
Firstly, get into your stock Issi and upgrade it to a Future shock
Then, drive your fully-modded Future Shock Issi into the workshop
Change one item
Go to crew color
Now press the 'Home' button, and go back – the menu should now have disappeared
Exit your vehicle, and go to the Issi that isn't fully modded
Drive it out
Get out of the car before getting back in – the car should now be duplicated
Drive the new car into the workshop and put a custom plate on it (using iFruit or similar)
Due to it being a 'dirty dupe', both tags are the same, so make sure this gets changed, as it's likely to be picked up by Rockstar
Force save the game or go into the creator and load back into an invite-only session and make sure the vehicle hasn't reverted.
Solo RC to Car Merge Glitch
Credit: u/NightlyPowerYT on Reddit
Known to work on Xbox and PlayStation – this glitch enables you to put the RC bandito upgrades on normal cars in the game.
Be warned that this is likely to remove all upgrades to the merger vehicle.
Firstly, take the car you want to merge into the Arena Workshop
Exit this car
Get into the RC Bandito
Make an upgrade to the RC Bandito
Go to Respray > Primary Color > and hover over 'Crew Color'
Press the Xbox/PlayStation button twice
Enter the car inside the workshop, and hit the gas to drive it out
Exit the car and head back into Arena Workshop
The car is now merged with the RC Bandito upgrades
Modifications for Any Car (Including Locked)
Credit: u/chocoloteEgg on Reddit
This glitch is known to work on the Xbox and PlayStation.
Firstly, make sure the car is in the Arena Workshop
While in Arena Workshop, hover over the modifications you want
Press the PlayStation or Xbox button
To save the modification, buy something on the car and drive to Mobile Operations Center, or force-save
Once complete, if you then encounter another glitch/issue where you can't move your car, pull out your phone and to 'Snapmatic' to fix the issue.
There are many different variables that can be used with this glitch, so it's worth trying out different methods.
Solo Godmode Speedo Custom Glitch
Credit: u/aquadevida on Reddit
The latest return of the infamous God Mode glitch.
Enter the van inside of the Nightclub garage
Press 'Right' on D-Pad to enter the Workshop
Back out and select 'Exit Garage'
Immediately after you confirm to exit the garage, press (or spam) the home button on your controller
Then Press 'A' (on Xbox) to get back into GTA
Repeat this process until you spawn in
Test Godmode Speedo by dropping a mine and driving over it or shooting the van with an RPG
Save Spawn Cars From Contact Missions
Credit: u/rljenkins3 on Reddit
This glitch enables you to get a variety of cars that you wouldn't be able to get otherwise, but you can't save some vehicles, such as free roam super vehicles or CEO vehicles.
Begin the contact mission that has the vehicle you intend to store
Start the job (preferably one of the chasers missions but some Lamar missions and Simeon missions contain vehicles you can store as well)
Once the mission is loaded, retrieve the car that it says
Drive around in the car until the enemies start chasing you
When they do, make sure you kill the enemies (you cannot steal free-roam vehicles)
Steal the enemy's car, and drive it back to your garage before parking it in the front entrance
Stand in the blue circle and pull out a rocket before blowing up your character
Once you spawn, hope into the spawn chase car, and drive it into your garage.
Change Organization Name For Free (Avoid Paying $250k Fee)
Credit: u/Drew_Yt on Reddit
This simple glitch allows you to change your organization name on Securoserv for free. It may also work for the Motorcycle Club and is likely to work on all platforms.
You need to ensure that you have $250k in your account when using the glitch, but it won't take the money.
When you're in a session, register as CEO
Open the Interaction menu, then head to Securoserv CEO > Management
Click on 'Name' and change it to your personal preference
As soon as the text box closes, exit the game as quickly as possible before it takes the money
Load into a new session
If successful, you'll now have the same bank balance and the brand new name you requested.
Solo Free Car Customizations/Money Glitch
Credit: lvl7KEIGAN7lvl on Se7ensins Forums
Requirements:
Arena Workshop
The car that you intend to customize (for free)
Firstly, this only works with customizations that are visible when you hover over them.
It has been confirmed as working on Xbox, likely to work on other platforms too.
Drive the car you intend to carry out the free customizations on into Arena Workshop
Hover over the customization you wish to add
Press the 'Home' button on your controller
At this point, you'll get kicked out of the workshop
Go back into the workshop to keep adding more customizations
Repeat the 'hover over' and 'Home' button steps until you've carried out all of your desired upgrades
To save the customizations, purchase a plate before leaving the session
Once you've completed the upgrades, you're able to sell the car, which will be worth more than it was initially, and this is how you're able to make a profit using this glitch.
---
Conclusion
And that concludes our list of some of our favorite glitches that are still working in 2021 for GTA V.
Although some of these won't appeal to everyone, it's often the less significant glitches that aren't likely to be patched, or even worse, cause a character reset.
We enjoy using glitches to provide a helping hand in the game or to provide alterations that we feel Rockstar should've provided in the first place.
Of course, if you begin using the glitches to your advantage to start printing money, this may well flag up on their system, and when they roll out the next patch, you may be left exposed.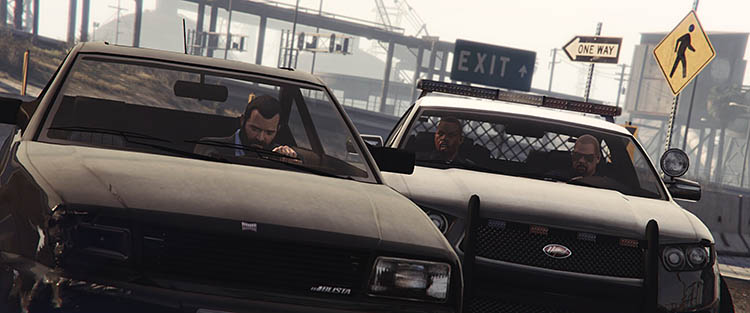 If you're not too bothered about the long-term impacts of having your character reset, then this isn't likely to be a big deal.
However, for those who have spent a lot of time and effort in the game, glitches may not be the ideal choice.
We feel that the mod community has far more to offer for offline play, but we don't recommend using mods online, as you're even more likely to get caught this way.
There are plenty of ways to enjoy the full potential of what GTA V has to offer, and we hope that these glitches provide you with many hours of entertainment.
So, there we have it! We hope that we've covered everything you could want to know about GTA V glitches in this guide.
If you're keen to learn everything there is to know about the game, then make sure you check out our bunker guide, private session guide, and all the info you could ever need about the legendary Terrorbyte!
Stuck at work or school and not able to play GTA V right now? Make sure you check out the completely free Grand Shift Auto game in the Drifted Arcade.
Thank you for reading our GTA V Glitches guide.
If you enjoyed this article, please share it with the buttons at the bottom of your screen. If you've found this information useful, then please take a moment to share it with other Grand Theft Auto enthusiasts. We appreciate your support.
---
Photography credits
We thank the following entities for the use of their photography in this article: