Is GTA Online Cross Platform? Answered!
In this guide, we'll explain everything you need to know if you're hoping to join your friends that are enjoying GTA Online on a different platform.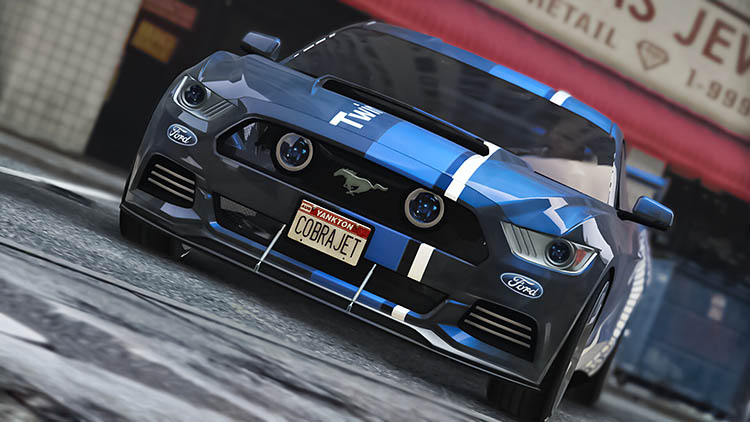 ---
Introduction
We'd forgive you for thinking that since it has now been over seven years since GTA V launched, that this, and GTA Online, are now seriously outdated.
However, you'd be very wrong.
Even in 2020, GTA Online continues to be one of the most significant money-makers in the gaming industry, with Rockstar Games reportedly generating over $700 million a year in shark card sales - and we're not talking about in-game money, either.
GTA V was a mind-blowing game at launch, but Rockstar's never-ending updates to the franchise have enabled its exponential growth to continue over the years, creating one of the undisputable greatest games of all time.
Combined with their smart marketing tactics, such as temporarily offering the PC game for free recently, which attracted so much attention it crashed the Epic Games Store, they've gone on to sell over 130 million copies worldwide.
To put that scale of sales in perspective, another popular Rockstar offering, Red Dead Redemption 2, has shifted 31 million units.
Only Tetris and Minecraft can top GTA V in the all-time video games sales rankings, but it's GTA Online that tops the online search rankings, with players eager to find out how to master the game.
Although the game has been an incredible success for Rockstar Games, very few gamers know that they spent a record-breaking $137 million during creation.
Since then, a further $128m has gone into marketing, bringing the total cost to over $265m.
As you can probably imagine, they soon earned back their losses. In fact, within the first three days of the game going on sale, they'd earned an eye-watering $1 billion in sales.
In the present day, total sales have now totaled more than $6 billion.
Seven years on, it continues to be one of the most popular and highest regarded games ever created. If you decide to join the masses, we've got no doubt that you'll get immediately hooked on the insane open-world experience that you never knew existed.
However, what if your buddies are playing Grand Theft Auto on the PC, but you have a PS4. Or, you own a PS4, and they have an Xbox One?
There are several potential variations here, but we're sure you get the idea.
We'll explain everything you could ever need to know about GTA Online when it comes to multi-platform gaming, and also help decide which platform is likely to be best for your needs.
---
Is GTA Online Cross-Platform?
Unfortunately, GTA Online is not cross-platform; this means that you won't be able to play online with friends or family if they're not using the same platform as you.
Therefore, you'll need to decide whether you wish to play the game on PC, Sony PS4, or Microsoft Xbox One.
Although you can also play GTA Online on both the PS3 and the Xbox 360, it's now extremely outdated on these consoles, and you're likely to venture around a ghost town with very few players.
If you're still on the previous-generation, then we still feel that it's always worthwhile to consider upgrading to the current generation if you're in a hurry for the next-gen to arrive.
However, if you're patient, it'll be a better investment to wait until GTA Online launches on the next-generation Xbox Series X and Sony PS5.
There are still no confirmed reports of Rockstar Games implementing cross-platform capabilities for next-gen, so make sure your buddies intend to go down the same route before you place your pre-order – just in case.
---
Will GTA Online Ever Be Cross-Platform?
Since the game is now seven-years-old, and Rockstar has not yet mentioned any plans of implementing cross-play capabilities, so feel that it's safe to conclude this as a 'no'.
If Rockstar had opted to implement this, they would've undoubtedly done so a long time ago.
Despite continuing to roll out GTA Online updates right the way through to the present day, the GTA 6 rumor mill continues to heat up.
Although there has not yet been any official confirmation, the successors' imminent launch is undoubtedly on the horizon.
Given their long-term plans, we highly doubt that it would be in the best interests of Rockstar to implement cross-platform to GTA Online, especially for the current-generation.
---
Why Isn't GTA Online Cross-Platform?
With games such as Fortnite and Rocket League introducing multi-platform opportunities, it's made many Grand Theft Auto fans question why the game hasn't followed suit.
Although it may seem like a valid question, as GTA Online has evolved throughout the years, the answer becomes increasingly apparent.
With the PC version becoming more expansive over the years, the PC game has received many additional add-ons that aren't available to console owners, which would, of course, cause a problem with cross-platform.
Not only that, but PC gamers also have the opportunity to carry out mods to the game, which aren't available to console users.
For this reason, may console players are delighted that the game isn't cross-platform, as they're happy knowing that there aren't any other rivals that are cheating with, which is often prevalent in the PC community.
Others claim that there would be unfair advantages, such as the auto-aim provided to console users and the keyboard and mouse option, which offers the ultimate precision for PC gamers.
Alongside these reasons, there are also higher framerates that are available to PC users.
As you can probably see, making the game cross-platform wouldn't be quite as simple as it seems on the surface.
If Rockstar wishes to implement the capabilities for future games, they'll need to consider the ways they can work around issues.
---
Which Platform is Best For GTA Online?
As you've probably guessed, it's wise to choose sooner rather than later the platform that's going to work best for your needs.
Although there are some advantages to PC gaming and others for console gaming, your first consideration is going to be to join in with what your buddies are currently using.
If your friends are already playing GTA Online, then due to the lack of cross-platform capabilities in the game, you'll want to go with the same option that they're already using.
However, if you haven't got friends that are interested in the game, then you've got the choice of PC, Xbox One, or PS4. We're ruling out Xbox 360 and PS3 since they're no longer updated.
Are you interested in how to create a private session with your friends? Head over to our GTA Online Private Session guide.
Let's break down the advantages and disadvantages of PC versus console gaming when it comes to Grand Theft Auto Online.
---
GTA Online – PC vs. Console
Several additional benefits have been provided to PC users, but not console users, over the years, which often makes serious gamers lean towards the PC option, especially if you already own a high-end PC.
Immediate features include the Rockstar Editor, and Director Mode, which essentially implements an editing suite into the game for those of you that are serious with your GTA movies.
Although it's a fun addition, for most gamers, this certainly isn't going to be a deciding factor.
There are many advantages when it comes to graphics, with a high-end PC enabling the game to stretch its legs and unleash its true potential.
However, if you're open to modding the game, which is often frowned upon when it comes to playing online, then you'll open a whole new realm of additional upgrades that aren't available to console users.
Best PC GTA Online Mods
If you're not keen on mods due to the risks of being banned from online servers, don't panic, as you can enjoy them in GTA V, before disabling them when you plan to go online.
Mods open a whole new realm in your GTA Online experience, and although they frequently get a negative rep for using them with the wrong intentions, they can make the single-player experience far more exciting.
We've compiled a shortlist of some of our favorite mods, which we highly recommend checking out.
We don't think we need to offer much more explanation here. NaturalVision makes the game look even more incredible than ever, and NaturalVision Evolved takes it one step further.
There are heaps of choices when it comes to improved graphics mods, but NaturalVision is definitely one of the best, and it'll undoubtedly make console owners jealous.
Have you ever wished that you could view the GTA world in VR? Thanks to this insane mod by LukeRoss00, you're able to do precisely that.
Well, assuming you already have a VR rig, that is! If you don't, it's a worthwhile investment, which can completely revolutionize your gaming experience.
Surely you didn't think we'd leave drifting out of this guide? PeppeProduction's awesome 'GTA5 Drift' allows you to tune, modify, and optimize your vehicle to provide the perfect drift setup.
This mod is a definite must-have for any GTA drifting fan!
There are many other mods, including speed mods, which will ensure you can achieve even higher speeds than we've listed in our comprehensive Fastest Cars In GTA Online guide.
If you weren't sure which platform to go with initially, then we're pretty sure that the modification capabilities would have swayed you towards considering PC gaming as an option.
However, as you may have guessed, high-end PC gaming comes at a cost, especially if you're looking to go down the fully-immersed VR route.
If you're wondering whether your PC will be capable of running GTA Online on the basic settings, here are the minimum system requirements to ensure smooth gameplay.
Processor – Intel Core 2 Q6600 @ 2.40GHz or AMD Phenom 9850 @ 2.5GHz
Memory – 4 GB RAM
Hard Drive – 40 GB HDD space
Graphics Card (NVIDIA) – NVIDIA 9800 GT 1GB
Graphics Card (AMD) – AMD HD 4870 1GB
However, if you're looking to modify the game and play at its full potential, then you'll want to consider upgrading to the recommended requirements, at least.
Processor – Intel Core i5-3470 or AMD X8 FX-8350
Memory – 8 GB RAM
Hard Drive – 40 GB HDD space
Graphics Card (NVIDIA) – NVIDIA GTX 660 2GB
Graphics Card (AMD) – AMD Radeon HD 7870 2GB
For those of you that are considering VR, you'll need to check out the specific requirements for the model that suits your needs.
GTA Online For Xbox One/PS4
Although you're not able to get the mods that the PC has to offer, console gaming provides a simple, convenient, and often cheaper way of playing GTA Online.
With the next-generation console release dates looming, current-generation consoles are undoubtedly going to continue dipping in price, which will provide a bargain opportunity for just about anyone to enjoy GTA.
There have been recent rumors circulating that Sony is offering $750m for GTA 6 exclusivity, but we think that this is extremely unlikely.
Rockstar would be shooting themselves in the foot if they eliminated the Xbox from their potential sales, and even more so when it comes to the PC.
When it comes to choosing whether you should get GTA Online for the Xbox or the Playstation in the current-generation, it all comes down to which platform your friends are currently playing on, as the minor differences between the two are almost irrelevant.
If you're undecided, it may be worth checking out exclusive games for that console, to see if anything else tickles your fancy.
---
Is GTA Online Still Worth Getting In 2020?
Without a doubt, it's still worth investing in the game in the present day.
Rockstar has continued to provide continuous updates throughout its seven-year lifespan, and they have even more updates in the pipeline.
Its capability of recently crashing the Epic Game Store, despite being seven-years-old, indeed tells a story about the popularity of this incredible game.
With the wide variety of tasks, missions, and general things to do in the game, especially if you're on the PC and can install additional mods, the possibilities are endless. We can guarantee there'll be so many things to do that you'll never get bored.
Despite Rockstar not updating GTA V's story mode, that alone will give you over 30 hours of gameplay before you even need to touch onto the limitless open-world Online aspect.
Although GTA 6 will undoubtedly surface in the coming years, we don't feel that it will make GTA V or GTA Online irrelevant for a long time yet.
So, pick up a copy, choose the same platform as your friends, and get online to start earning that much-needed cash so you can begin kicking their butt!
---
Thank you for reading our GTA Online Cross-Platform guide.
If you enjoyed this article, then please share it with the buttons at the side and bottom of your screen. If you've found this information useful, then please take a moment to share it with other Grand Theft Auto enthusiasts. We appreciate your support.
If you're keen to learn how you can generate passive income on GTA Online, we highly recommend taking a look at our in-depth GTA Online Bunker Guide.
Also, do check this out if you need to know more about VDM, OCC, and RDM and its meanings in GTA RP.
For all the Xbox fans out there, you'll want to check out our Forza articles, if you wish to find the fastest cars in the game, or improve your drifting skills, we've covered everything you need to know in our guides.
Looking for the best GPU for your racing games? Check out our favorite racing game GPUs!
---
Photography credits
We thank the following entities for the use of their photography in this article: