Forza Horizon 3 Vs 4 – Which Is Best?
Gamers often argue whether Forza Horizon 3 or 4 is the better game. In this guide, we put the two open-world racers head-to-head to conclude which game is the better choice for you.
---
Forza Horizon 3 vs 4 – Introduction
Since the launch of Forza Horizon 4 in 2018, racing game enthusiasts have continued to disagree about which game provides the ultimate experience in the Forza Horizon series.
We've created this guide to decide for yourself which one is likely to be the better game for you.
But first, let's take a step back.
If we zoom out and look at the bigger picture, it's crazy to see how much the gaming world has changed in recent decades.
For those born in the 80s or earlier, you would've witnessed the dramatic shift from the likes of Mario Kart and Ridge Racer, right the way through to the groundbreaking Gran Turismo series.
From there, arcade-style games such as Need For Speed came along and stole the limelight, bringing the serious circuit simulators to the streets for the ultimate racing buzz.
There's no question that NFS was an absolute revelation for the gaming industry, and they went on to prove that by going on to sell over 150 million copies.
These insane figures unsurprisingly caught the attention of Microsoft, who was controlling the PC gaming industry at the time.
They saw Sony dominating the gaming market with their standalone PlayStation consoles, and they decided they wanted their slice of the console-gaming pie.
Not only did Microsoft target Sony's console, but they brought Turn 10 Studios along for the battle as they set to topple the Gran Turismo series with their direct competitor - Forza Motorsport.
When FM hit the market in 2005, racing gamers across the globe would argue endlessly about whether Gran Turismo or Forza Motorsport was the better game.
As a matter of fact, they're still doing so in the present day.
However, as gamers screamed out for a more realistic take on the true arcade street-racers such as NFS, it was Microsoft that answered their calling, and Forza Horizon was born.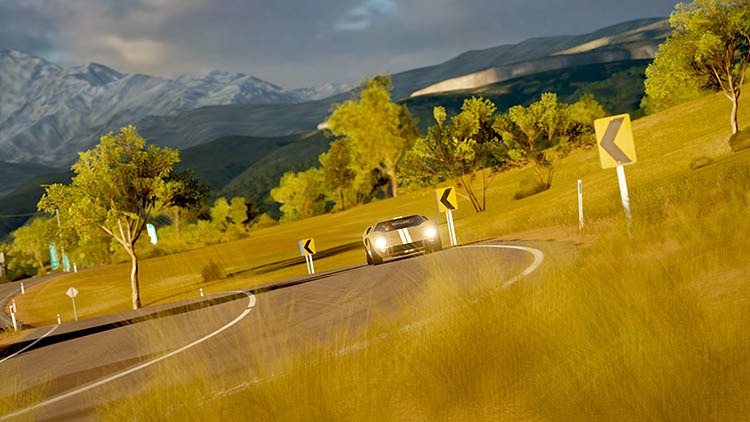 With the first installment in the Forza Horizon series hitting the shelves for Xbox 360 gamers in 2012, it was immediately apparent that something extraordinary had arrived.
From there, Turn 10 continued to roll out the ever-popular FM and FH games, and before we knew it, 2016 would see the next-generation Xbox One exclusive Forza Horizon 3 hit the market.
Set on the stunning streets of Southern Australia set the new benchmark for racing games, with both the graphics and the physics blowing gamers' minds across the globe.
As we fast forward to today, the latest game – Forza Horizon 4, is now the eleventh title in the 'Forza' series, which took the market by storm when it officially launched in 2018.
FH4 has gone on to smash the record books, with over twelve-million players exploring the phenomenal open-world driving experience as they tear up the humble B-roads of the British countryside.
With continual updates from Turn 10 since release, FH4 enthusiasts can get behind the wheel of the insane roster of over 690 cars in the game before carrying out just about every tuning upgrade imaginable.
From simple mods to extensive conversions, such as engine swaps, it's easy to see why so many automotive enthusiasts become hooked to the Horizon series.
As the updates to Horizon 4 continue to roll out, Microsoft has since opted to withdraw Forza Horizon 3 from sale in September 2020, which means that you're no longer available to buy it on the Xbox Storefront.
It was sad news for many gamers to see the hugely popular game reach the "end of life" status, leaving them reminiscing about their memories of the game.
As gamers left the dull and gloomy streets of the UK as they returned to sunny Australia to re-live their former memories, many wondered whether Forza Horizon 4 was indeed an improvement over its predecessor.
Despite Forza Motorsport 8 (which is simply named 'Forza Motorsport') recently being announced for Microsoft's next-gen Xbox Series X console, there's still little to go on when it comes to the Forza Horizon 5 release date.
The next-gen platform has left the rumor mill going crazy, with the bi-annual historical releases now seeing more significant gaps than ever.
We can only assume that this is good news since they'll have even more time to make the game more groundbreaking than ever before.
As we patiently await Forza Horizon 5 news, this presents the perfect time to explore the differences between the two games while also thinking about improvements that Turn 10 should consider including in the upcoming game in the series.
So, let's put the two most recent games in a head-to-head comparison to review the differences before concluding which one we feel is the winner.
---
Forza Horizon 3 vs 4 – Map & Location
With Horizon 3 set in Australia and Horizon 4 set in the UK, there were always going to be some controversial arguments either way when deciding which one provides the better map and location for driving.
Forza Horizon 3 - Australia
Australia. The home of Surfers Paradise, with long, sandy, golden beaches, and all the sun you could ever wish for.
However, once you head away from the beaches, you start to realize just how diverse Australia is, combining modern cities with farmlands, the Outback, and dense rainforests to match.
The summer feels that Horizon 3 provides blend flawlessly with the Aussie vibes, and it feels like a perfectly-executed festival experience.
From Test Drive Unlimited through to Outrun, the tried-and-tested 'summer' LA-feels work exceptionally well with this style of game, and Horizon 3 certainly didn't disappoint with the feel-good factor.
While the summer vibe execution blended nicely, it did feel as though something was missing when it came to the actual hooning experience that the Aussies are so well known for.
Sure, you can do burnouts anywhere you like to your heart's content, but when it came to having twisty, narrow touge-style roads, they'd more often than not end up being a dirt road.
As you've probably guessed, dirt roads and drift cars don't mix particularly well.
Although the lack of twisties might not sound like a big deal to many, when it comes to street racing, it can be a real gamechanger, which for us is the central aspect that was missing in Forza Horizon 3.
Other than this minor bug-bear, Horizon 3 provided an extremely pleasing all-around experience.
Forza Horizon 4 - Great Britain (UK)
Many Horizon fans were skeptical about the series hitting the UK.
After all, there's a reason many Brits emigrate to Australia, to get away from the dark, gloomy, and miserable months that the British countryside has to offer.
It's rare for Australians' to do things the other way around, but, Turn 10 bit the bullet and opted for Europe to be the next stop on the Horizon agenda.
Until now, the Horizon series had been about the parties and atmosphere that comes with the warm, summer months.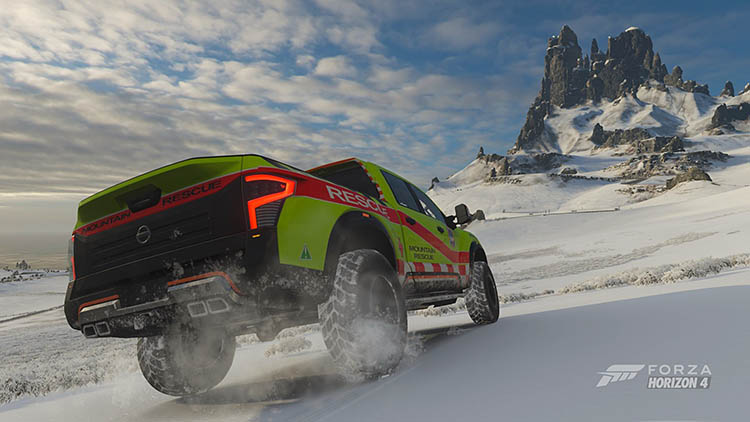 As Horizon 4 hits the shelves, many Brits are happy to see so many familiar locations, even if the much-loved drag racing Airstrip from Horizon 3 was missing in the process.
However, there seemed to be a common complaint – the location felt somewhat 'dull'. Well, it is the UK, after all!
But, jokes aside. Britain has a certain charm that many gamers used to the seemingly endless-summer months' pleasantries soon came to appreciate.
While Turn 10 could've taken the predictable route of heading to London, they instead took it to the lesser-known countryside, with endless miles of open fields and stunning scenery to smash your way through the destructible landscape.
With the finest views that Scotland, Wales, and the Cotswolds have to offer, you soon began to appreciate just how special some of the seasons are, like the strikingly glorious colors that Autumn has to offer that's never quite the same in the US and Australia.
Although it's a smaller map than the Australian one in Horizon 3, it's more compact, cramming so much into a small space, providing far more detail than the barren miles of desert in the Outback.
Not only that, but it finally has the twisty roads that the racers and drifters alike have been craving, and it has them in abundance. If there's one thing that the British countryside isn't missing, it's twisty roads and variation.
We felt that these much-loved twisties were among the main differences that made the Horizon 4 map perfect for drifters, especially when you reach the end of the countryside and meet the cobbled Edinburgh streets.
In our opinion, the map comes down to taste. Some people found the UK just too dark and depressing and found that it missed the summer flair that attracted them to these games in the first place.
Others found the UK roads to provide the perfect opportunity to show off their ultimate drift skills, even if it's perhaps not quite as good as Australia for the high-speed thrills.
One thing that we feel was missing from both games was mountain roads. We miss the touge, and we miss Fujimi Kaido.
This reason, among many others, is why so many Horizon fans are just hoping that the fifth game in the series will see the Horizon festival head to the motherland of drifting - Japan.
---
Forza Horizon 3 vs 4 – Graphics
First up, if you're opting to play either of these games on the Xbox One or future generation consoles, then system requirements are going to be irrelevant.
However, from a PC-gamer perspective, they're vital to ensuring that you get the best performance out of the game.
When it comes to the ideal specifications for both games, they're identical. So, if you're currently playing Forza Horizon 3, and considering transitioning over to 4, then, fortunately, you won't need to worry about upgrading any of your existing PC hardware.
Forza Horizon 3 & Forza Horizon 4 specifications (identical for both games) provided by Can You Run It?
Forza Horizon 3 & 4 – Minimum PC Requirements:
CPU: Intel i3-4170 @ 3.7Ghz OR Intel i5 750 @ 2.67Ghz

CPU SPEED: Info

RAM: 8 GB

OS: Windows 10 version 15063.0 or higher

VIDEO CARD: NVidia 650TI OR NVidia GT 740 OR AMD R7 250x

PIXEL SHADER: 5.0

VERTEX SHADER: 5.0

DEDICATED VIDEO RAM: 2 GB
Forza Horizon 3 & 4 – Recommended PC Requirements
CPU: Intel i7-3820 @ 3.6Ghz

CPU SPEED: Info

RAM: 12 GB

OS: Windows 10 version 15063.0 or higher

VIDEO CARD: NVidia GTX 970 OR NVidia GTX 1060 3GB OR AMD R9 290x OR AMD RX 470

PIXEL SHADER: 5.1

VERTEX SHADER: 5.1

DEDICATED VIDEO RAM: 4 GB
If you've got yourself a basic sim setup but realized that your PC isn't quite up to handling Horizon, we've written a guide on how to find the best GPU for your racing game needs, whatever your budget.
Graphics
There's no question that both games look spectacular, whether you're enjoying them on either the Xbox or PC.
For its time, the graphics in Forza Horizon 3 arguably blew every previous racing game out of the water and have remained up there with the very best.
When Horizon 4, it was as though they'd taken the incredible foundations of Horizon 3 before adding a subtle touch of refinement and perfection.
The lighting became more realistic than ever, with a significant "depth" over the flatter-look that Horizon 3 provided, which applies to both the cars and the environment.
At the same time, they also polished out the minor bugs and glitches that were apparent in 3, providing an overall polished feel with very few reported issues.
You're going to struggle to beat Horizon 4 when it comes to graphics to the present day, with insane car models, shadows, reflections, and even the weather and seasonal changes are just perfect.
Turn 10 blew it out of the park this time around, and we genuinely believe that they've tested the limits of what the Xbox One was capable of providing, especially when you consider the sheer scale of the map.
While both games look stunningly beautiful, it's Forza Horizon 4 that provides the icing on the cake for us.
At the same time, others still think that Horizon 3 is the better-looking game, and we're certainly not going to argue, as they're both fantastic in their own right.
For those of you that are interested to see a side-by-side comparison of the two games, make sure you check out this great video:
For those looking to get the most out of the stunning visuals that the Scottish highlands in Forza Horizon 4 have to offer, we took an in-depth look into playing the game in VR.
---
Forza Horizon 3 vs 4 – Physics
One of the Forza Horizon 3 aspects that divided opinions was the physics. Many gamers felt that it didn't have a realistic enough feel to the driving, especially when compared to Forza Motorsport.
It felt as though Turn 10 was intentionally trying to make the game more arcade-based than a simulator, and that's fair. After all, Horizon is the more fun and entertaining game of the two.
For some gamers, they took this one step too far with Horizon 3, and that it ended up being more of a 'smash the throttle, smash the brake' affair, rather than having the ability to handle the cars subtly, which could often make for a frustrating online experience.
Thankfully, Horizon 4 built on what Horizon 3 provided with its physics and made noticeable improvements to the cars' handling while still maintaining the 'fun' aspect that we expect from the Horizon series.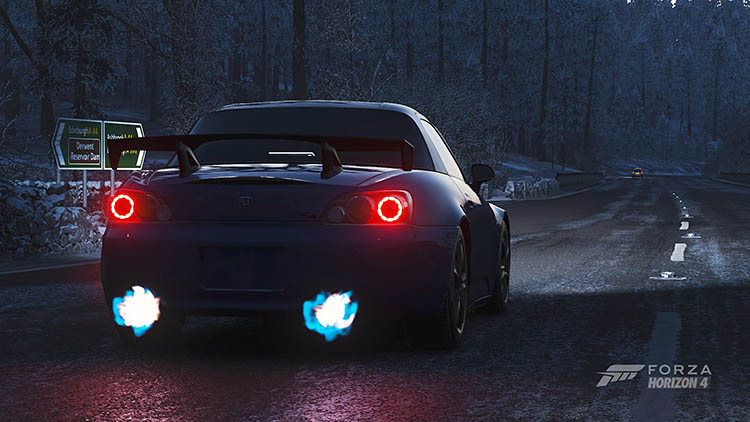 We feel that Turn 10 provided the perfect ratio of arcade and simulator this time around. It's not got the excessive arcade feel of Horizon 3 or the intense simulator feel of Forza Motorsport 7.
One of the significant additions to Forza Horizon 4 that was missing in 3 was the inclusion of 'drift suspension,' which also provided significant lock mods, which made a huge difference when it came to perfecting the art of drifting.
Horizon 3 also lacked when it came to a dashboard cam, which meant that you could only use the hood or cockpit views, which could feel a little odd if you were playing the game with a steering wheel setup.
Another enjoyable change to Horizon 4 was the amount of 'smashable' obstacles.
If you were to hit stone walls at speed, for example, you're able to delightfully plow your way through them, rather than getting stopped in your tracks.
We found that Forza Horizon 4 was an all-around more satisfying experience when playing with a steering wheel setup. From the range of views available to the depth of the force feedback.
---
Forza Horizon 3 vs 4 – Car Lists
When launched, Forza Horizon 3 came out with a great list of 350 cars, which was certainly far from a disappointment.
As the game aged like a fine wine, and Turn 10 began rolling out additional content, it eventually provided 524 cars in total before Microsoft ceased updates.
Forza 4, on the other hand, launched with an additional 100 cars, bringing the total number to a seriously impressive 450 to get to grips with.
If you thought that's decent, the complete car selection in the present day, with various DLC's and free additions, has racked up to an insane 723.
With an additional 200 cars, Forza Horizon 4 is the clear winner here, but we're sure that the 524 cars in Horizon 3 should keep you entertained for a while, too!
---
Forza Horizon 3 vs 4 - Earning (In-Game CR and Bonuses)
In-game earnings were another controversial subject among Horizon-lovers.
Where gamers were previously spoiled when it came to Horizon 3, you'd only have to load up the game to be gifted an insane amount of cash, barn finds, and supercars.
Before you knew it, you were able to keep up with the best in the races, and many were delighted to be given a shortcut to the big-time, and you wouldn't have to spend a penny of your real-world cash to do so.
When it comes to Forza Horizon 4, earning money is quite a bit trickier, and it takes time, knowledge, and experience. Many didn't have the patience, or perhaps talent, for this.
It's a tricky balance, as for some, they felt that Horizon 3 never gave them a challenge, where others thought they had to spend endless hours to reach the first steps in Horizon 4, and they felt that 'VIP' Edition owners who stumped up real-world cash got the upper hand.
However, once you get stuck into FH4, you'll realize it's not so bad, especially with the 'Wheelspin' additions and various money-making glitches available.
With tricks such as Farming Skill Points, it's easy to start earning the big bucks. Not sure what this method is, but keen to earn quick money? Check out the video below, or head to our Forza Horizon 4 money-making glitches guide.
Other ways of earning money later on in the game are with the highway race, enabling you to earn up to 1,000,000 CR per hour.
On top of that, there are also other legit tactics such as flipping cars at auction.
It doesn't sound quite so hard after all, right? With these hacks, you'll be the King of Edinburgh Castle in no time!
---
Forza Horizon 3 vs 4 – Conclusion
So, now that we've covered the significant changes between the two games, it's time to conclude which game is better.
As you can probably imagine, this is a pretty controversial subject, and we completely understand why gamers would prefer one over the other.
Although Horizon 4 is more polished and refined overall, there's no doubt that the British countryside has a more 'dark and gloomy' feel than the summer-vibes of the Australian beaches and city streets.
When it comes to a festival, feel we'd say that Horizon 3 hit the bullseye. As for Horizon 4? Not so much. It comes across a little serious, and with the gloominess to match, the rad surfer vibes seem to have been lost somewhere along the journey across the globe.
If you're not bothered about that, then we feel the map itself is superior in Horizon 4, particularly from a drifting perspective.
With its hairpins and a wide variety of twisties to keep you on your toes, the tight and twisty UK country roads have kept us entertained for countless hours, especially alongside the changing seasons.
When new games are released, especially so far into a franchise, they can often feel incredibly 'samey'. Still, we think that they've done an excellent job with avoiding this by providing opposites when it comes to location.
Let's not forget Horizon 4's drift suspension addition, which is an absolute gamechanger when it comes to throwing your drift cars down on the B-roads.
Horizon 4 is again the clear winner when it comes to car selection, but there's certainly not a lack of choice to keep you entertained in Horizon 3.
Simultaneously, many Horizon 3 bugs were ironed out, along with additional car views that the fans had been screaming out for, particularly those driving with sim setups.
Our final point is a relatively clear-cut decider that has emerged in recent months to hand a clear victory here.
As of September 2020, Microsoft opted to end support for Forza Horizon 3 and cease selling the game entirely, which will be a dealbreaker for many.
So, given that Forza Horizon 4 is still receiving game updates, and with no clear sight of Horizon 5 on the, erm, horizon, we feel Microsoft has made it an easy choice for those considering buying either game now.
Sure, it's still available to buy on Amazon and eBay, but you'll no longer be able to purchase the DLC content, so you're stuck with the game in its original form, which probably won't be as appealing to the masses.
Forza Horizon 3 is still a fantastic game and one that we'll frequently be revisiting thanks to already having both the game and the content, but those of you who didn't make the September 2020 cut-off are going to be a little stuck.
Horizon 4 also has a far more active online community, which is excellent for hooning with other gamers on the UK streets.
Either way, given that the maps and locations are so vastly different, we feel that there's plenty of reasons to enjoy both games if you're lucky enough to have them, but for us, Horizon 4 has plenty of reasons for taking the win, especially from a drifting standpoint.
With Horizon 4 available for cheaper than ever, it's a whole lotta game for the money!
So, there we have it! We hope that we've covered everything you could want to know about Forza Horizon 3 vs 4 in this guide.
Thank you for reading our Forza Horizon 3 vs 4 guide.
If you enjoyed this article, please share it with the buttons at the bottom of your screen. If you've found this information useful, then please take a moment to share it with other Forza Horizon and other racing game enthusiasts. We appreciate your support.
---
Photography credits
We thank the following entities for the use of their photography in this article: