Fielding Shredder – Everything You Need To Know
Hyperdrive competitor Fielding Shredder is best known for his wild antics and aggressive driving. We're checking out his story and 'that' 240SX.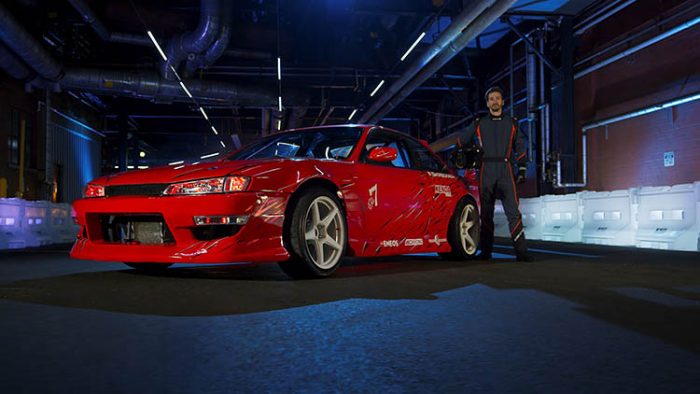 ---
Introduction
Fielding Shredder immediately stood out among the mishmash of the twenty-eight Hyperdrive competitors that had traveled from across the world to compete in the 100-acre New York parking lot.
From the moment he was unleashed from the start line, the Netflix world knew right away who Fielding Shredder was.
Starring among a lineup that consisted of pros through to amateurs with varying levels of ability from every motorsport discipline imaginable, his 2JZ Nissan 240SX brought the style, and his driving ability brought some badass craziness to the competition.
While many of the competitors were pretty tamed and reserved on their first attempts at the challenging custom-made obstacle course, there was no such reservation from Fielding.
Combining a sweet 2JZ 240SX build with style, aggression, and talent alongside good looks made him the top of the popularity contest for many.
He would soon prove that although aggressive driving isn't always the answer when it comes to winning – it certainly makes for the best entertainment!
Despite putting on the most incredible spectacle during the show, his sweet driving style often cost him vital time, causing various issues such as a lack of power with his 'no f**ks given' attitude as he floored it through the water.
As drifting fans, we loved witnessing his go hard or go home approach, and you knew that every time Fielding appeared, you were in for a wild ride!
With the Hyperdrive commentators quite rightly stating that Shredder "drives like a man possessed", he stood out among some of the most exciting competitors, such as Diego Higa, Axel Francois, and Atsushi Taniguchi throughout.
He may not have won the show, but he certainly caught the attention of drifting enthusiasts across the globe, which has helped further his YouTube and rally/stunt driving/race instructor careers in the process.
If you've not yet checked out Hyperdrive, you may have seen Fielding during his appearances at the likes of the Lone Star Drift events, where he rubs the doors of past and present Formula Drift champions.
In this guide, we'll take an in-depth look at everything you could need to know about the past, present, and future of Fielding Shredder.
We'll also be checking out his Nissan 240SX and what the future has in store for Fielding and his future projects.
---
Fielding Shredder Facts, Bio & FAQ
There's very little surfacing online regarding Fielding's personal life, which certainly isn't always a bad thing!
With many of the same questions repeatedly popping up, we'll do our best to answer them.
Fielding Shredder's Real Name
Erm, Fielding Shredder.
It may come as a surprise that Fielding Shredder is indeed his real name. Pretty apt for a drifter, huh?
We're not jealous at all - promise!
Fielding Shredder's Net Worth
Many Hyperdrive fans assume that the Hyperdrive competitors are wealthy, and if they weren't before the show, they must be afterward, right?
Unfortunately not. Hyperdrive contestants, including winner Diego Higa, earned no prize money for their appearances on the show, despite its popularity on Netflix.
Disappointingly, just traveling expenses and meals were covered for the drivers, with any damage incurred throughout the battles left for the drivers to pay themselves, despite taking time off from his three jobs to compete.
Thankfully, Fielding has backing from several sponsors, which helped with various issues, such as his turbocharger getting killed in his first attempt.
While other websites will pluck numbers out of thin air regarding Fielding Shredder's net worth, there's no official answer out there.
However, we can tell you that most of his spare money probably gets spent fixing up his 240SX after each outing!
Fielding Shredder's Age
At the time this article is published in 2021, Fielding Shredder is currently 36 years old.
Fielding Shredder's Girlfriend
Shredder's good looks have earned him increased popularity among the drifting female fanbase.
Although he often keeps his personal life secret, some hints of a special someone in Fielding's life as he gets a quarantine haircut.
Sorry, ladies - it looks like you've got some competition here!
Fielding Shredder's Family Life
Fielding Shredder grew up in Austin, Texas, and is the son of a fighter pilot who sadly passed away following a severe stroke.
He stated that his attitude to life mainly stems from his father, who was a big inspiration in his life.
---
Fielding Shredder on Hyperdrive
When Netflix released the first season of Hyperdrive in August 2019, Fielding was the first driver to appear on the custom-made American Ninja Warrior-inspired racetrack.
He set the tone from the outset with his driving style that would soon go on to earn him a massive fanbase throughout the series in his 2JZ-powered Nissan 240SX.
As the ten-episode series progressed, Shredder proved his worth on the trickiest of obstacles laid out for the competitors before eventually landing a well-deserved third place on the overall podium.
But, it was clear from the start that Fielding wasn't looking to collect any trophies during his time on the show.
He wanted to show the world what it meant to have an epic drifting style, throwing down backies and losing various body panels in the process – much to the delight of the true drifting fans out there.
As he continued to push the boundaries, he would later crash into a brick-built building on the course, which certainly left some questions regarding the safety of the layout, which we hope to see resolved for Season 2!
Thankfully, his safety equipment allowed him to come out unscathed as he continued his way in the competition.
His red Kouki S14, or what remained of it, wasn't short of battle scars by the end of the competition, though!
---
Fielding Shredder's Nissan 240SX S14
Although Fielding Shredder was popular both on and off the track thanks to his insane driving style, and friendly, down-to-earth attitude, his Toyota 2JZ-powered Nissan 240SX S14 also earned plenty of attention throughout the Hyperdrive series.
With more than 500-horsepower on tap, the car is certainly no slouch. While the Toyota Supra 2JZ powerplant is capable of far more, it wasn't necessary for navigating the tight and technical Hyperdrive layouts, allowing for minimal turbo spool and maximum power delivery and response.
It wasn't just on Hyperdrive that Shredder was keen to push his Kouki S14 to its limits either, as he stated: "Every time I repair it, I design it to be more impact-friendly".
"Once you bend the chassis, it's game over".
Although the Hyperdrive layout, especially with stunts such as the rail slide, undoubtedly pushed the S14 chassis to its limits, it's still battling it out at tracks across the US in the present day.
The primary purpose of keeping the power down in the 2JZ-powered S14 is so that Fielding can focus on reliability and getting maximum seat time at the track.
With increased power comes decreased reliability, which often plagues many drivers keen to push their power potential to the limit in drift competitions.
Despite this, it didn't stop a rather heated moment from occurring in the Hoonigan Burnyard!
Alongside the 500 hp 2JZ engine, Shredder uses a XONA Rotor turbo with a Tial Sport wastegate and BOV.
The safe and reliable engine tune has been provided by Trackstar Motorworks, which runs on E85 fuel. Despite the conservative tune-up, it's still more than capable at the track!
Alongside the sponsored Kenda Tires, he runs Enkei wheels, BC Racing coilovers, GKTech knuckles, and SPL parts arms.
Those of you looking to get behind the wheel of Fielding Shredders S14 can do so in the Torque Drift mobile drifting game.
Alternatively, if you have (extremely) deep pockets, then the man himself will happily build you a personal replica of his S14.
Alongside his well-known 240SX, Fielding Shredder is also preparing a second S14, which will be a rally car build. We can't wait to see that in action!
However, Fielding isn't only keen on 240SX's, as he has another Nissan that has been getting his attention recently.
Fielding Shredder's Nissan 350Z
That's right – even Fielding can't resist the temptations of the Nissan 350Z!
As one of the most sought-after cars on Drifted, many fans will be delighted to hear of his 350Z antics, which have been a recent development.
Sporting a similar, simple style to his S14, the 350Z has allowed Fielding to enjoy track time without worrying about the costs of the 240SX, throwing down over 100 trouble-free laps in a single weekend.
However, despite 350Z's being one of the most reliable drift cars out there, they too can be pushed to (or beyond) their limits.
---
Shredder Racing – Work & Career
Fielding began drifting over ten years ago, with more than six years since his first-ever competition.
Shredder has stated that his initial inspiration for getting into drifting was JDM legend Yoshinori Koguchi, in his black Nissan 180SX, which made Shredder desperate to get behind the wheel of a drift car.
From there, the rest is history, and he's since juggled four jobs at a time to follow his motorsport-based dreams.
But, it's not all bad, as one of those jobs is teaching aspiring drivers the art of rallying on a 140-acre ranch before heading to the next job at Circuit of the Americas, where he gets behind the wheel of a fleet of R8's at Audi's official driving school.
Sounds like a real ballache, huh?
After this, it's time to pick up the arc welder as he returns to fabricating various parts for 90s-era F1 and Indy race cars.
These awesome jobs, combined with his various sponsors, are what enables 'Shredder Racing' to continue living the life that many can only dream of, with a sprinkle of added drift events when time allows.
Shredder stated, "I'm an instructor at heart and have a passion for sharing any information I have about the automotive world".
"I love educating people regardless of what subject. Anything from what tires to run for a specific use to how to establish sponsorships with brands and companies. I'm happy to share any information I can from what I've learned throughout the years so the car community can grow and flourish as fast as possible!"
Unsurprisingly, his humble and down-to-earth attitude combined with his talent behind the wheel has gone down well over the years.
More recently, Fielding has also become a factory test driver for Toyota USA, getting behind the wheel for the media once again in the Supra advertisements that have been gracing TV screens across the US.
That's not all; he's also achieving fame on the YouTube scene, where he provides various videos, such as the best hydraulic handbrakes for aspiring drifters.
As well as being an instructor for grip racing, rally driving, and drifting, he's also obtained his Formula Drift Pro2 and SCCA Rally Competitor licenses.
Expect to see Fielding Shredd.. ing tires at an event near you soon! (Sorry – couldn't resist!)
---
What's Next for Fielding Shredder?
Since his appearance on Hyperdrive, Shredder has been juggling his various jobs while still taking time out to share time with his YouTube fanbase.
Whether you're looking for help on racing, drifting, rallying, or how to get sponsors in motorsport, Fielding will no doubt be more than happy to help you reach your goals.
With a host of fantastic sponsors behind him, such as Kenda Tires, Enkei wheels, Polydyn, Xona Rotor Turbo, and Tial Sport, we're hoping to see much more of him throughout the coming years.
Although it takes a lot of time and money, we hope to see Fielding compete in a Formula Drift Pro2 season, where he can hopefully join his tandem-buddy Adam LZ in the Pro-series eventually!
As well as Adam LZ, Shredder has been getting plenty of practice among some of the most incredible drivers in Formula Drift, such as Chelsea DeNofa and Matt Field, and we've got no doubt he'll be proving himself in competition shortly.
One thing for sure, Shredder will undoubtedly have plenty of adventures along the way, such as where he recently ran out of gas in his 240SX – and needed Luke Fink to push his bumper to the nearest gas station!
If you're keen to follow Fielding's future antics, there are a variety of ways you can keep up to date.
Firstly, his website is where fans can also purchase various products and apparel.
His YouTube, Instagram, and Facebook social media platforms frequently get updated with various helpful videos, as well as his exciting happenings along the way.
If you've enjoyed this article, make sure you check out some of our other recent articles covering various other celebrities, such as fellow Hyperdrive competitor Sara Haro, and All Girls Garage stars Cristy Lee, and Faye Hadley.
We've also checked out Formula Drift competitor Ryan Tuerck's story, which makes for highly recommend reading.
So, there we have it! We hope that we've covered everything you could want to know about Fielding Shredder in this guide.
Thank you for reading our Fielding Shredder guide.
If you enjoyed this article, please share it with the buttons at the bottom of your screen. If you've found this information useful, then please take a moment to share it with other Fielding Shredder, and Hyperdrive enthusiasts. We appreciate your support.
---
Photography credits
We thank the following entities for the use of their photography in this article: