Diego Higa – Everything You Need To Know
With many of you wanting to know more about Hyperdrive's "Baby-Faced Assassin", Diego Higa. We reveal everything you need to know in this guide.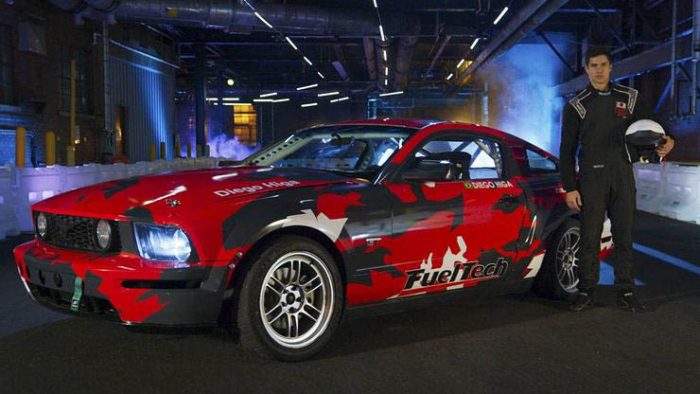 ---
Introduction
Having amassed over a million subscribers among his Instagram and YouTube followers, Diego Higa's success is unquestionable despite his young age.
Although he may be impressively popular and consistently putting out heaps of content for his eager fans, updates can be a little challenging to follow when you're not familiar with his native Portuguese tongue.
We've been aware of Diego Higa's talents way before his Hyperdrive appearance that earned him worldwide fame, and we're keen to provide all the information there is to know about this insanely talented young pilot.
Diego's first taste of worldwide exposure was his appearance at the King of Nations series, where he took on some of the world's best drifters and secured the second-place spot on the podium.
But it's Diego's earlier records that earned him his feared reputation in Brazil, having already become the most decorated drifter in his homeland, despite his young age.
With four consecutive titles in the Brazilian Drift Championship and an incredible six successive titles at SuperDrift Brasil, it's clear to see why the local heart-throb has become a true inspiration in Latin America.
Despite entering the show as an underdog that was little-known outside of South America at the time, the "Baby-Faced Assassin" would rock up to the insanely challenging Hyperdrive course in New York with few people knowing who he was.
Up against an impressive line-up, ranging from professional drift champions, dragsters, and exotic car racers, Diego set out to prove he had what it takes on the various custom-made Gymkhana-style layouts.
As the world watched on via the Netflix streaming service, 21-year-old Diego would soon cause a historic upset, defeating the 27 competitors from around the globe who pushed their cars to (and beyond) the limits in their failed efforts to beat him.
Alongside shooting to celebrity status with his Hyperdrive fame, one of the proudest moments was taking home the 2019 Golden Helmet of the Brazilian Automobile Confederation, which became the 38th trophy for his short-lived career.
It's easy to see why Diego Higa has become such an inspiration to many in his homeland, but we've got no doubt that the youngster's drifting career is just getting started.
We've compiled this guide for those of you that are keen to learn more about Diego Higa and what the exciting future has in store for Brazil's best-loved drifter.
---
Diego Higa Facts, Bio & FAQ
In this section, we'll be taking a look at the short-lived life so far for the Brazilian drifter, Diego Higa.
Diego Higa's Full Name
Diego Higa was born Diego Higa Rafael, but the baby-faced assassin rarely uses his full name.
Where is Diego Higa from?
Diego Higa was born in Santos, State of São Paulo, Brazil. He is of Brazilian nationality and typically speaks in his native Portuguese language.
How old is Diego Higa?
Currently 24-years-old, Diego Higa was born on March 24, 1997.
Diego Higa's Girlfriend
Although Diego Higa has had girlfriends, he's kept his dating life quiet in recent times.
Given his focus on his thriving career, he appears to be single at present.
Diego Higa's Father
The father of Diego, Neto Higa, became one of the most spoke-about spotters during the Hyperdrive series.
Owner of NSC Garage in Brazil, Neto has been the main sponsor and backer behind Diego's hugely successful career.
Keen to see his son clinch the title that he knew he could achieve on the show, Neto wasn't shy when it came to unlocking the full potential that Diego had to offer.
Although many felt that he came across as too assertive during the series, others felt that Diego might not have achieved the same success without Neto's assistance.
Since Neto is a former drifter himself, having shaped the sport in their homeland, and he certainly knows how to get the best out of young Diego's abilities.
Regardless of the fans' thoughts, no one can question that the pair made for a winning combination throughout the series, and Neto was overwhelmed with emotion to see his son lift the winning trophy.
Having supported his son's racing career from its humble beginnings, it's clear that Neto has played a significant role in his son's success.
---
Diego Higa on Hyperdrive
Many of Diego's fans will have had their initial introduction to the youngster from his appearance on the Netflix show Hyperdrive.
As 28 chosen drivers from various motorsport disciplines around the world arrived in New York, there would only be one winner.
Diego was just 21 at the time of filming, but combined with his father Neto as a talented spotter, the pair stunned the challenging competition to land the winning prize deservedly.
With Season 2 of Hyperdrive still to hit TV screens, Diego Higa remains the only champion to date.
Although it may not have come as a massive surprise to the pair, given Higa's successful history in drift competitions back home, it was a huge accomplishment to prove himself on the world stage.
As soft-spoken Diego destroyed the competition, he even face-off against his fellow Brazilian mentor Joao Barion, with the pair frequently meeting in the SuperDrift Brazil competition previously.
Famed for his crazy '65 Mustang build, Barion also received a highly-acclaimed reception during the series, with both drivers making appearances in Formula Drift following the show.
Although he remained humble as ever, it came down to a nail-biting finish, where Higa eventually proved that he's managed to surpass his mentor as he went on to clinch the Hyperdrive title.
Although Diego has also become best-known for being behind the wheel of a Ford Mustang - the 2006 GT, from his time on Hyperdrive, he's had the opportunity to own several drift cars over the years, which we'll be checking out next.
---
Diego Higa's Cars
Many would only have had the chance to see the 2006 Ford Mustang GT that gave Diego Higa the Hyperdrive crown, but despite his young age, he's still had the opportunity to compete in some fantastic cars.
Higa went up against some serious JDM weaponry in the Hyperdrive series, such as a 2JZ Nissan 240SX, alongside the 2JZ-powered Toyota Crown and Cresta.
There was also an LS-powered S14, a 1968 Dodge Charger, a Mercedez-Benz E500, and even a 1978 Bedford Viva van amongst the European competitors.
Higa put his faith in the Mustang for the competition, despite being best-known for his Nissan 350Z in his Brazilian competitions.
Prepped by his father, Neto's garage, he's continued to work on the 350Z in recent years, proving the 350Z still has what it takes by recently clocking 220 km/h.
We've also seen him drifting his Cadillac CTS on his social media in recent months.
And he continues to live with the high-life by getting behind the wheel of some impressive cars.
When he participated in the King of Nations series, where he took second place against some of the best drivers in the world at the incredible Mega Space circuit, he opted for an R34 Skyline.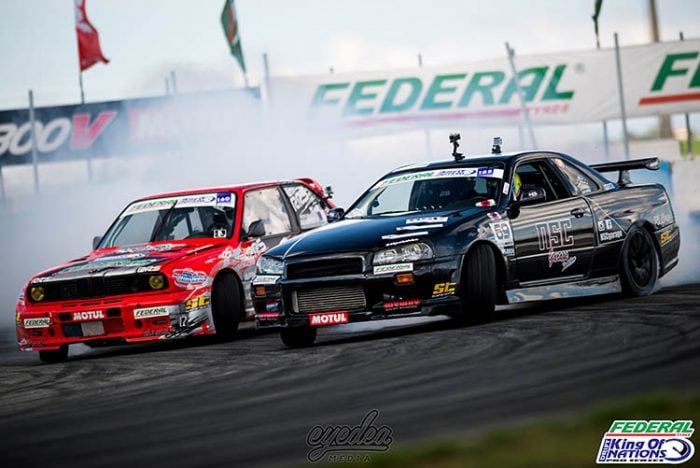 As well as this incredible line-up of cars, he also has a 2JZ-powered Toyota Supra. Although this is kept in almost-stock form as a streetcar, he unsurprisingly still can't resist pushing it to its limits.
If you're keen to get yourself behind the wheel of one of Diego Higa's competition cars, you can do so from the comfort of your own home with the ultimate drift simulator – Assetto Corsa.
By downloading the Nissan 350Z car file, you'll be able to install it into the game using the convenient content manager installer before shredding tires at the incredible Mega Space circuit.
---
Diego Higa's Career & Drift School
Many of you are likely not to have heard of Diego Higa before his Hyperdrive appearance, but the youngster had impressed South America for many years before having the chance to show the US what he had to offer.
At the age of 10, Diego began taking his BMW riding seriously.
Undoubtedly fueled by his father, Neto's motorsport legacy, he began driving at 13, where he'd follow in the footsteps of many talented drivers behind the wheel of go-karts.
With his dad, Neto, having lived in Japan, he formed a love of drifting, and Diego knew that he wanted to follow in his fathers' footsteps.
After selling his kart, Higa purchased his first car, an Omega Suprema, before realizing that the unlikely drift car was holding him back from achieving his true capabilities behind the wheel.
From there, the Nissan 350Z would become his weapon of choice, where he would go on to clinch his first title in 2015 at the SuperDrift Brasil championship in his first-ever year of competing.
Following this success, he would then take the title yet again in 2016, winning the Brazilian Drift Championship title in the same year and taking second place at the King of Nations event.
For 2017, he captured his third consecutive title at SuperDrift Brasil and secured a second successive Brazilian Drift Championship title.
It was the same story for 2018, where he yet again won both titles.
The ridiculousness didn't end there, either. For the 2019 season, Diego won his fifth consecutive SuperDrift title and fourth Brazilian title.
With these stunning victories, Diego would be crowned the most successful Brazilian Drift Champion of all time in 2019, despite his young age – receiving the coveted Golden Helmet from the Brazilian Automobile Confederation.
While he was on form to continue smashing these records, the COVID pandemic stopped his Brazilian Drift Championship streak.
Still, COVID didn't stop him from landing his sixth consecutive SuperDrift Brasil title.
Diego Higa continues to be the most impressive drifter in South America, and as he sets his sights on the US, we do not doubt that he'll soon begin proving his capabilities in the Formula Drift series.
Despite already housing more than 38 trophies in his display cabinet, many believe that Diego Higa is just getting started.
Unsurprisingly, Diego's success has made him hugely popular in his homeland, and he's been keen to teach the art of drifting over the past few years.
From a private circuit in the city of Registro, he runs the Diego Higa Drift School, where he'll teach aspiring drifters how to make the most of their abilities behind the wheel.
Using the 350Z training car, known as the "Zetto", he uses the reasonably-powered 280 hp 350Z tuned by his father's NSC Garage to help them refine their skills.
The private track is also the perfect place for Higa to record most of his popular YouTube videos, which despite going down a storm, won't make much sense for non-Portuguese speakers, unfortunately!
Alongside Diego's training academy, he also has reasonably-priced online training courses for those that wish to learn the art of drifting in their car or on a racing simulator.
Within his online drifting academy, you'll gain knowledge in the following sectors:
Drift History
Basic Techniques
Intermediate Techniques
Advanced Techniques
Competition rules
From basic to advanced skills, he's teamed up with his father Neto alongside Tiago Romano and Formula Drift judge Ryan Lanteigne for the ultimate package.
Although they appear to be in Portuguese only, we hope to see an English version available soon.
Diego's entrepreneurial spirit shines through as he's keen to teach Brazil's youngsters how they can follow in his footsteps, much like he has with both Joao Barion and his father, Neto.
---
What's Next for Diego Higa?
Having become the most successful drifter in Brazilian history, we're excited to see what the future has in store for Diego Higa.
The COVID pandemic has been challenging for everyone, but Diego has taken a sensible approach to improve himself, his cars, and social media presence during these difficult times.
Despite his drift school taking a hit, he's shifted his entrepreneurial focus with his online drift courses.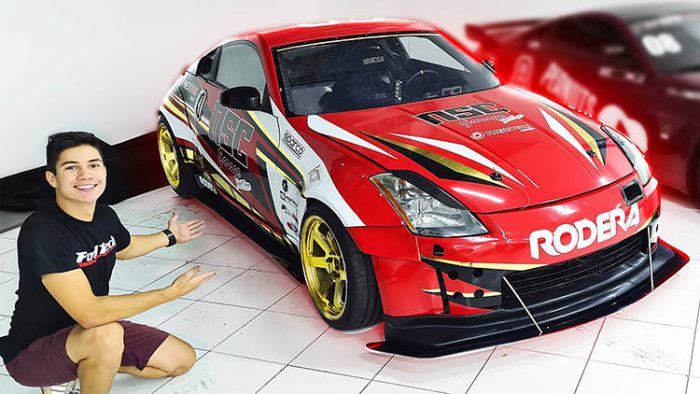 He's also using his time wisely with training on drift simulators such as Assetto Corsa.
With his endless title wins in both of the main championships in his homeland, it's undoubtedly time for Diego to explore new pastures and continue causing upsets further afield.
Proving his talents at the King of Nations Drift World Championship was a fantastic start to establishing himself on the world stage.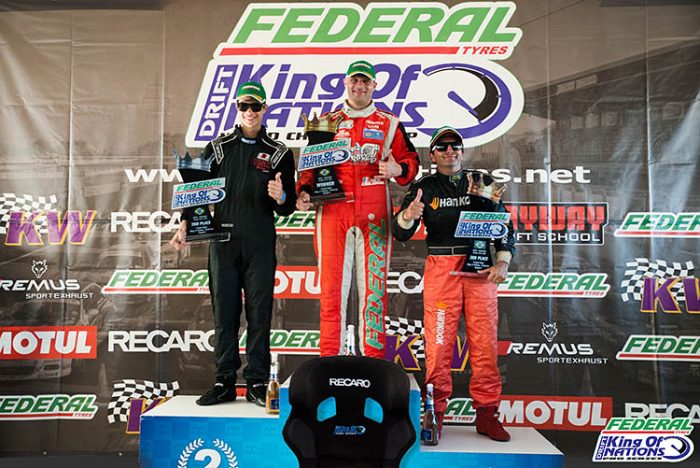 He's already set eyes on the Formula Drift Pro-2 series, where he'll hopefully soon be joining fellow-countryman and mentor Joao Barion, who has been competing in the Pro class.
We do not doubt that Diego Higa will soon move up into the Pro series once he hits the US, and we can't wait to witness his further success along the way.
Alongside his Formula Drift ambitions, we expect to see at least one competition car remain in Brazil, where he can alternate between both countries and continue kicking ass in his uniquely humble way in both!
---
Conclusion
When many saw Brazil's "Baby-Faced Assassin" on the start line of Hyperdrive, very few knew the incredibly successful career that this young drifter has already had.
Alongside winning the highly-acclaimed 2019 Golden Helmet from the Brazilian Automobile Confederation, he's also amassed more than 38 trophies during his short-lived career.
Backed by his drift-loving father, Neto, and with fellow competitor Joao Barion also supporting him, he's had the perfect start to drift.
Once the world returns to normal following the COVID pandemic, we feel he'll finally have the opportunity to shine on the world stage.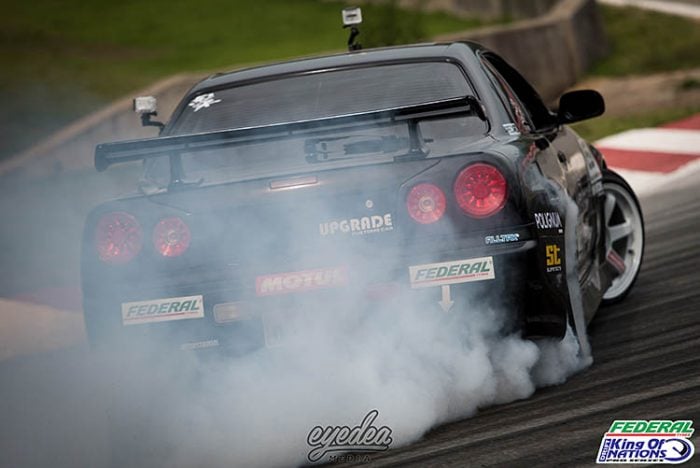 We've rarely witnessed the passion and determination that Diego Higa has. With his thriving social media presence and love of all things motorsport, we can't wait to see the exciting future that lies in wait.
Are you keen to follow Diego Higa's exciting and inspiring future antics? If so, make sure you follow his Instagram and YouTube channel.
If you're a fan of Hyperdrive, make sure you check out our Sara Haro and Fileding Shredder article.
Are you interested to know more about other drivers? Check out our Ryan Tuerck guide.
Those looking to find some more entertainment should head over to our Netflix Car Shows guide, where we check out the ultimate TV picks for petrolheads.
So, there we have it! We hope that we've covered everything you could want to know about Diego Higa in this guide.
Thank you for reading our Diego Higa guide.
If you enjoyed this article, please share it with the buttons at the bottom of your screen. If you've found this information useful, then please take a moment to share it with other Diego Higa, drifting, and Hyperdrive enthusiasts. We appreciate your support.
---
Photography credits
We thank the following entities for the use of their photography in this article: