Stadium Stunt Park Forza Horizon 5 Location
Hidden from the map, El Estadio Horizon has been transformed into the new location of the Stadium Stunt Park for Forza Horizon 5 – here's how to find it.
Whether you're into drift cars, racing, or simply enjoy doing challenges and tricks with your friends. In any case, Forza Horizon 5 has it all for you and much more.
In this article, we'll talk about one of the unique locations in FH5 – the El Estadio Horizon. This is the stadium's name located at the map's center.
Previously, you might have encountered this stadium as a green football field. However, now, it is also known as the Stadium Stunt Park.
The stadium stunt park in Forza Horizon 5 is a vast empty stadium where you can show off your stunt-making abilities by utilizing the insane obstacles it offers.
Landing tricks and completing challenges, such as daily or series challenges, are fun little activities that can bring you and your friends together so you all can experience the fun that the Stadium Stunt Park brings to the game.
Where Is The Stadium Stunt Park In Forza Horizon 5?
The stadium stunt park Forza Horizon 5 is a new configuration of the old football stadium.
This stadium has been updated to be a place of fun daily or series-based challenges for the players.
The FH5 stadium stunt park has all the requirements for being a great skatepark for cars. Ramps, pipes, and anything necessary for having maximum fun behind the wheel can be found here.
The stadium stunt park in FH5 is located east of Caldera, to the southwest of the city of Guanajuato.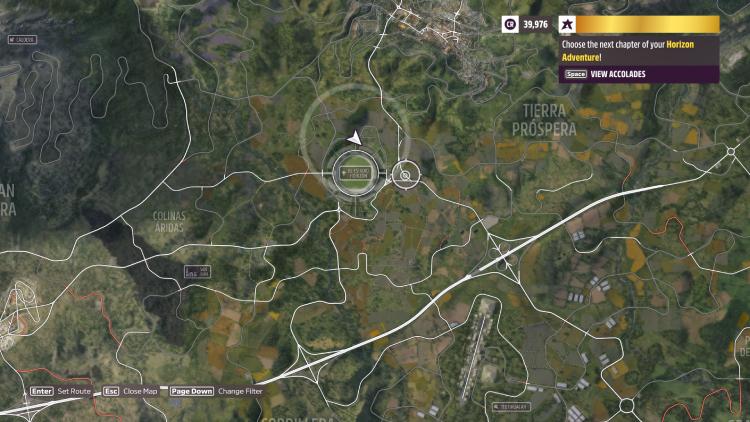 The El Estadio Horizon is the only stadium on the FH5 map, so you won't miss it if you open your map. It's right there in the middle of it.
If you're still strugging to find it, we recommend checking out this video:

Once you reach the stadium, you can enter from either of the 2 entrances and participate in the challenges, or take the opportunity to gain some serious skill points. You can do this solo or co-op mode.
What's In The FH5 Stadium Stunt Park?
Here you'll find a skate park designed for all of the vehicles included in FH5.
You can do challenges, hit the bowling pins, and earn points. The FH5 stadium stunt park is where you and your friends can challenge each other and show off your skills.
Many games in the racing category come across this theme, and some are built around the idea of stunts and challenges. But again, Forza Horizon 5 provides everything you would want to have for the ultimate buzz from a racing game.
Forza Horizon 5 PR Stunts
PR stunts are a feature in Forza Horizon 5 located at every Horizon outpost.
You might have noticed a random surveillance camera flashing at you as you're driving. Well, my friends, that's because you have been driving over the speed limit! (Sorry, not sorry. Right?!)
This surveillance camera's flash is the beginning of one of the PR challenges that allow you to set a record until the end of the specific trail shown on the map.
If you complete this challenge, reach the highest speed possible, and break the limit set by the challenge, you can complete it.
There are three different PR stunts to complete:
Speed: Finish a speed trap at a certain average speed within a specific time.
Skill: Acquire a certain number of skills and hold a specific chain for a specific time.
Photo: Take a photo using the in-game menu of your undamaged, clean car at a specific location.
Bear in mind that each stunt requires you to use a particular car.
Completing this challenge will grant you many points and allow you to purchase multiple items in the game, plus, it can give you discounts on fast traveling.
What Series Did The Stadium Stunt Park Get Introduced?
Series is the main theme of FH5. With the change of seasons, the events and challenges change, too.
The stadium stunt pack was released in series 5, featuring many other exciting challenges that you can complete alone or with friends to achieve the points and perhaps even set a record.
The Forza Horizon 5 stadium stunt park sometimes requires choosing a certain vehicle to overcome its challenges.
Sometimes you need to use a drift-tuned vehicle, and sometimes you need a powerful monster truck. Just keep on going and hit those bowling pins.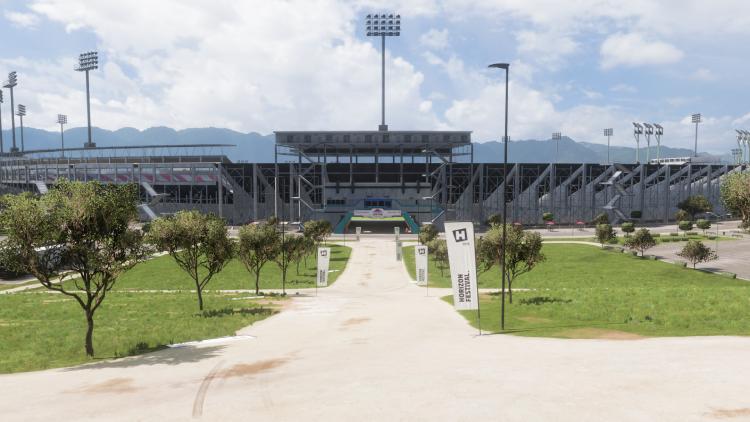 Conclusion
In this article, we showed you the way to the Forza Horizon 5 stadium stunt park, get any car you like and get on those ramps, and have the best of the different challenges.
If you like completing challenges and landing tricks, you'll also want to check out these completely free online games, which are available at Drifted – Madalin Stunt Cars 2 and Madalin Stunt Cars 3, and Paco Stunt Cars.