Rocket Bunny Silvia PS13 Feature
Whenever we hear the words 'Rocket Bunny' you cannot help but think of Anthony 'Scotty' Scott's Team Skylinepart.com SIL80, and this year its bigger and better than ever. 
Over the last 6 or so months, Scotty has rebuilt this world famous monster with reinforcement and weight saving in mind, almost everything is now space framed, polycarbonate, carbon fibre or fibreglass.
Want to learn more about Rocket Bunny aero? The 180sx Club's S13 Rocket Bunny feature was written just for you.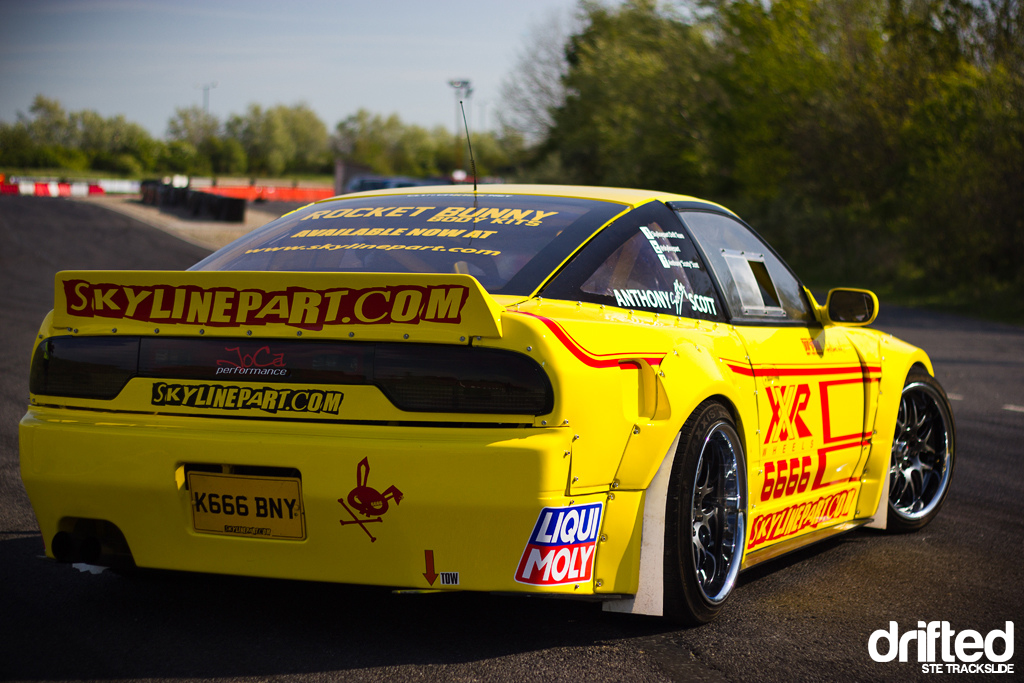 The main reason why it is now so wide is that not only is it rocking Rocket Bunny arch extensions, they are fitted on top of Rocket Bunny over fenders. This makes for a huge body and a very wide stance.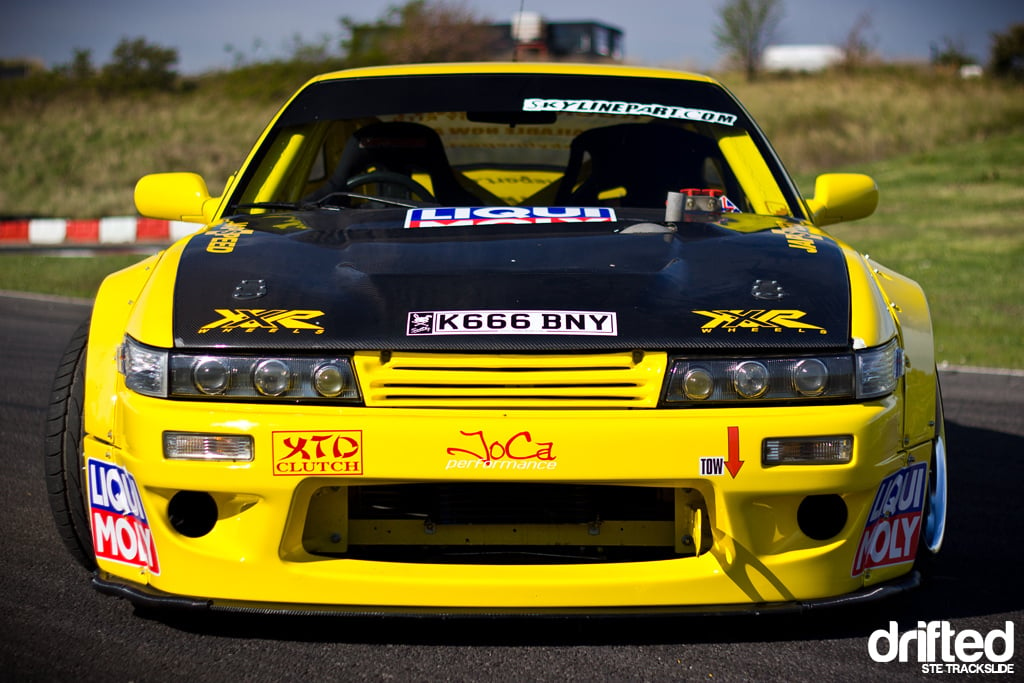 As you can see the numberplate is still present, it is hard to think of this car as road legal, it is without a question a hardcore machine with one thing in mind.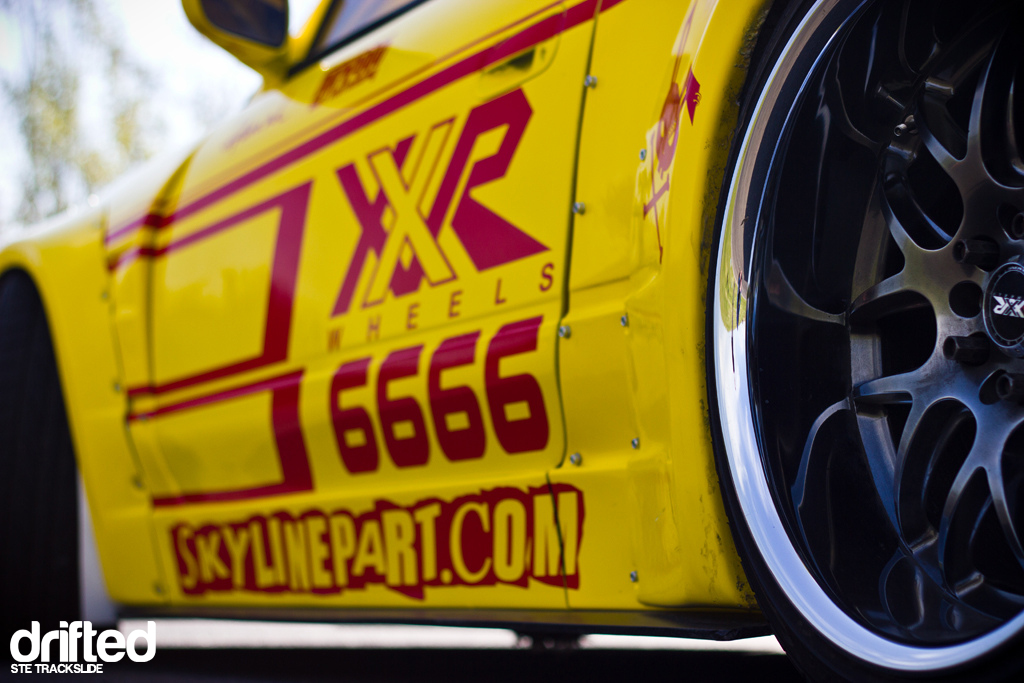 The gunmetal grey and chrome XXR alloys are a stunning new touch on this years build, just as we like them; nice and wide with plenty of dish. The addition of 60mm custom hubcentric spacers give a purposeful stance and a very wide track.
At the heart we have an already proven SR20DET producing around 400bhp. Scotty seems to have historically bad luck with engines, this unfortunately manifested itself during our shoot as he spun a big end shell at its debut this weekend at the Northern Drift Championship. A speedy rebuild is on the cards before its first event of the season at JDM Allstars next weekend.
Looking at the fuel filler cap gives you a realistic idea of just how much width the car has now acquired.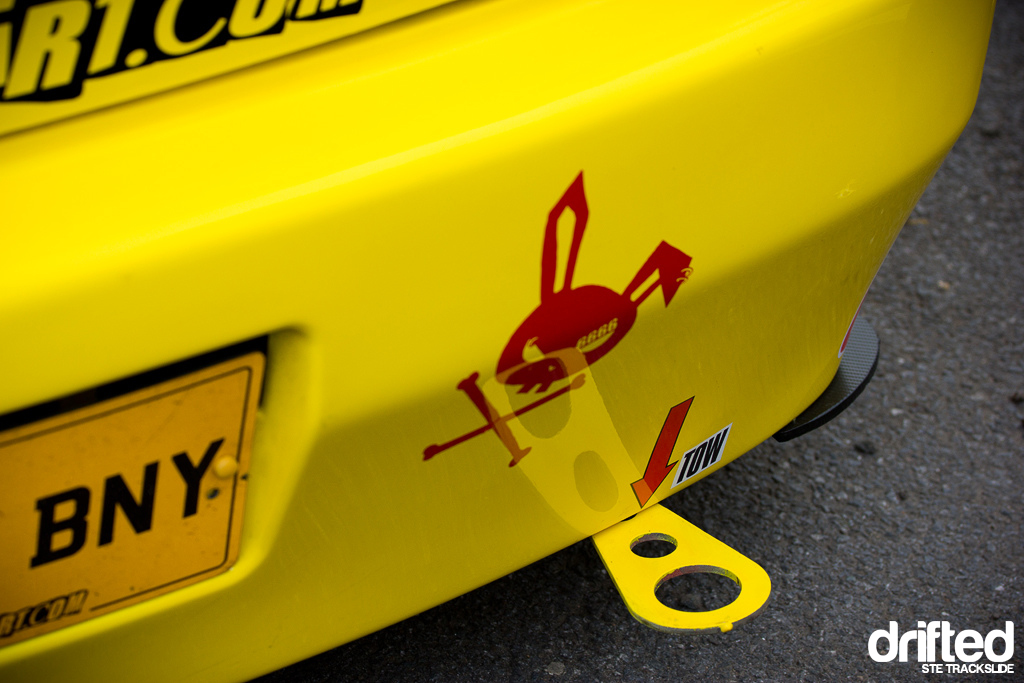 The famous 6666 Bunny can be seen here guarding the towing eye, The red and yellow is a good look for most, some may have their reservations about the colour but it is so vibrant in the sun, it will be hard to miss it on track.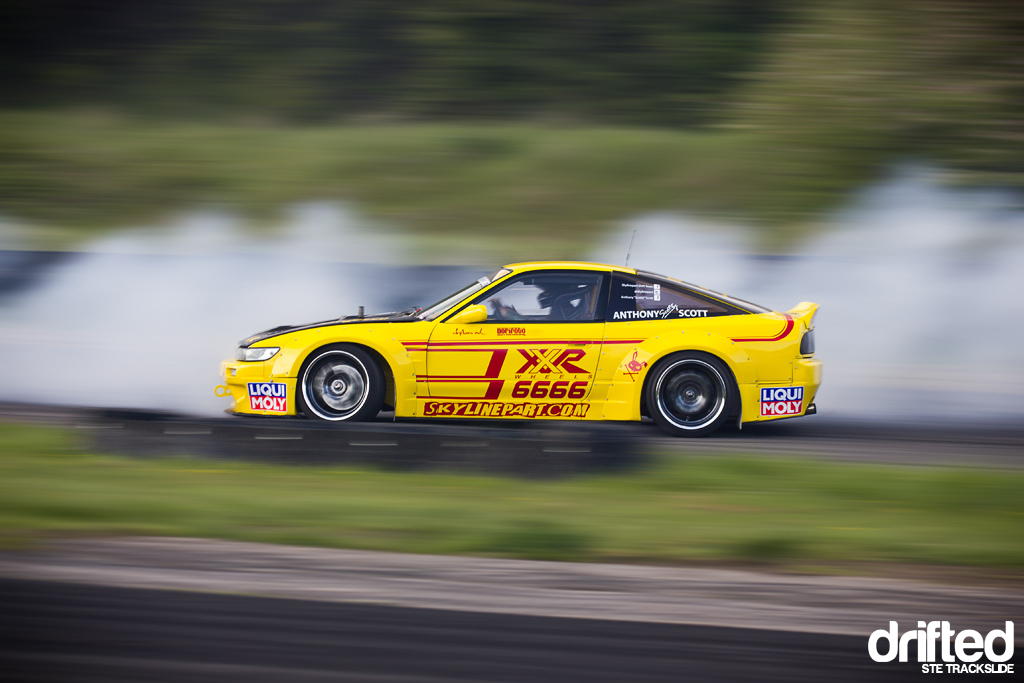 I managed to snap a couple of action pictures before the bottom end went, this being one of them. It certainly looks at home on the track giving lots of speed, smoke, angle and noise.
The interior is occupied by a pair of Driftworks embroidered bucket seats, serious seats for a serious car.
As we peel away the bodywork, you start to see some of the work completed on the main body. The rear end has basically been reproduced from scratch to improve chassis stability and rigidity, the inside of the rear bumper is now also reinforced with tubing to add strength. When removed, the bumper, rear lights and tyre guard also come off as pictured.
The front end is pretty much the same story as the back, a lot of space framing for strength, the front bumper is reinforced like the rear bumper and bolts on, it has the front lights and grill attached via the framing inside the bumper and they all come off as a whole.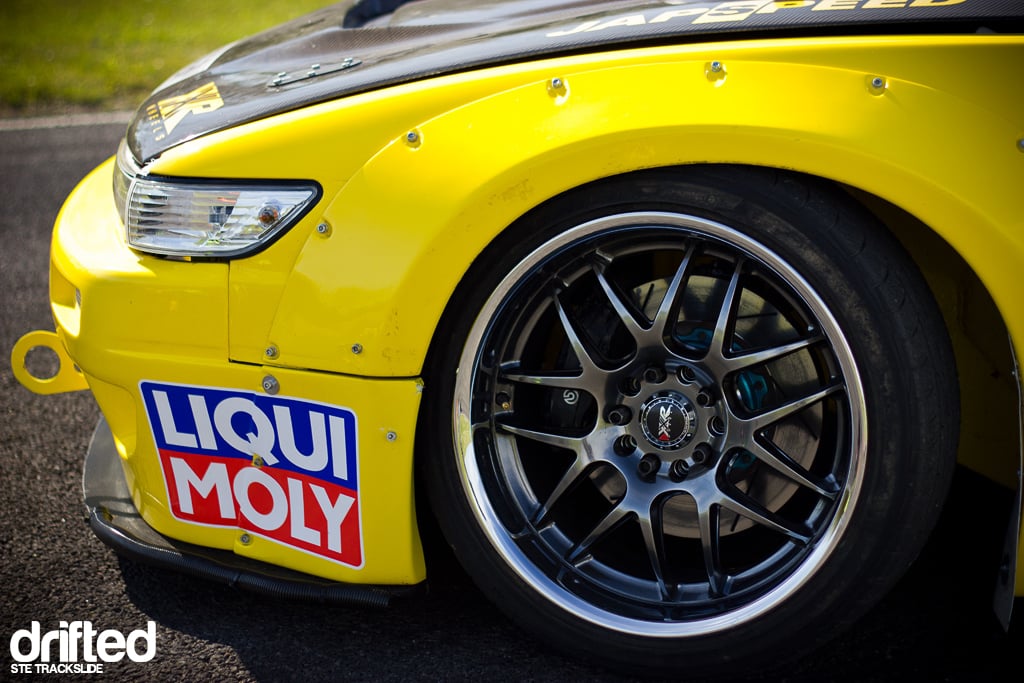 Another view of those awesome 18 inch XXR rims, I am personally a big fan of these wheels, as nice as they were a big improvement on the Ultralites he ran last year.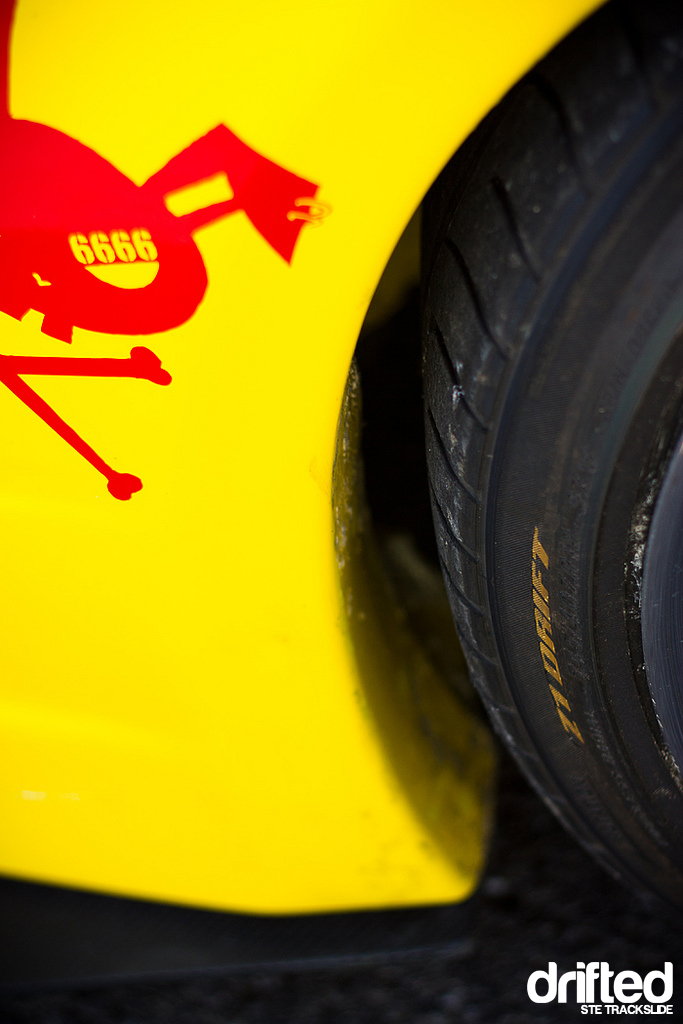 The reason behind all that grip and smoke, Maxxis MA-Z1 245/40/18 tyres, this rubber is specifically designed for drifting by Maxxis. It can be rather expensive though as Scotty doesn't just run these for competitions, he also uses them for practice days to maintain consistency.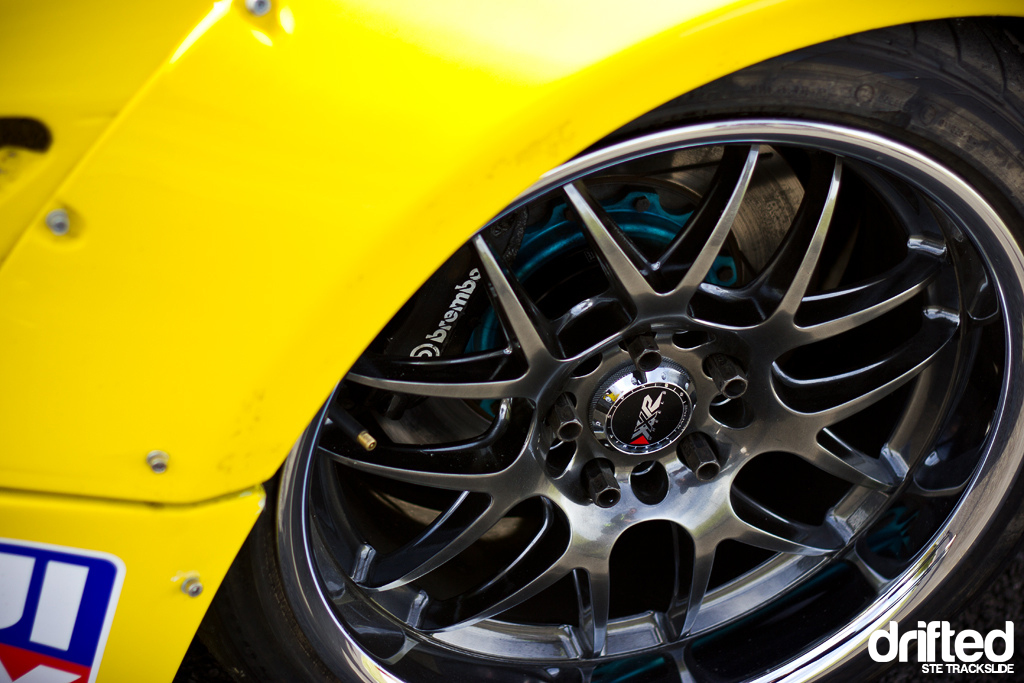 Behind those lovely wheels and equally as nice, are Brembo GTR 4 pot calipers squeezing 2 piece racing disks.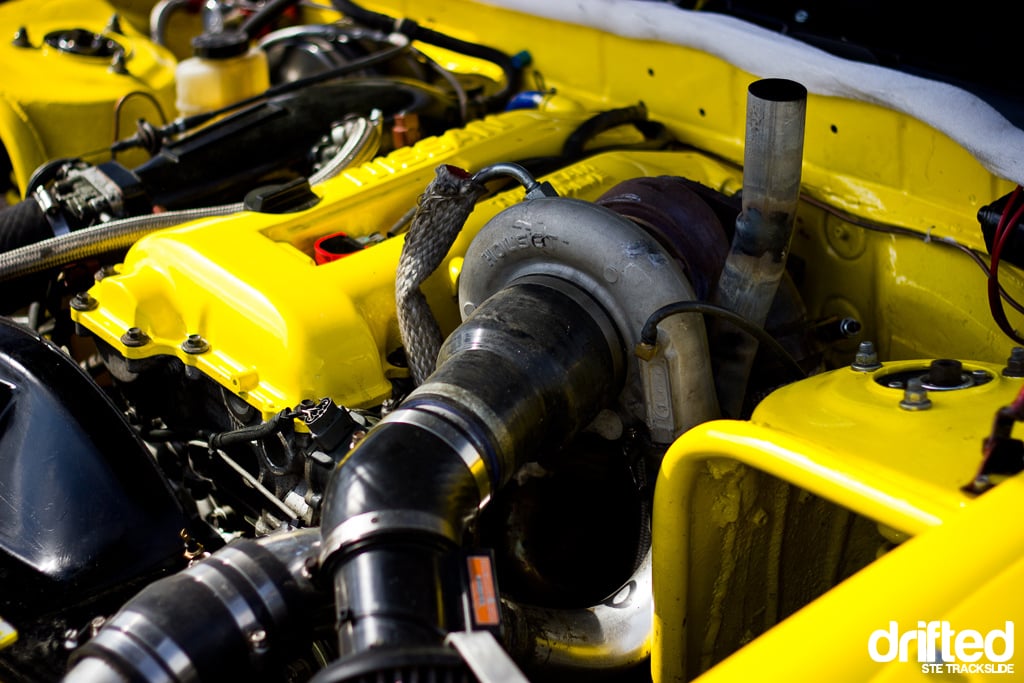 The Holset HX35 turbo now sporting a wastegate exiting through the bonnet, making for some awesome noise and bonnet flames.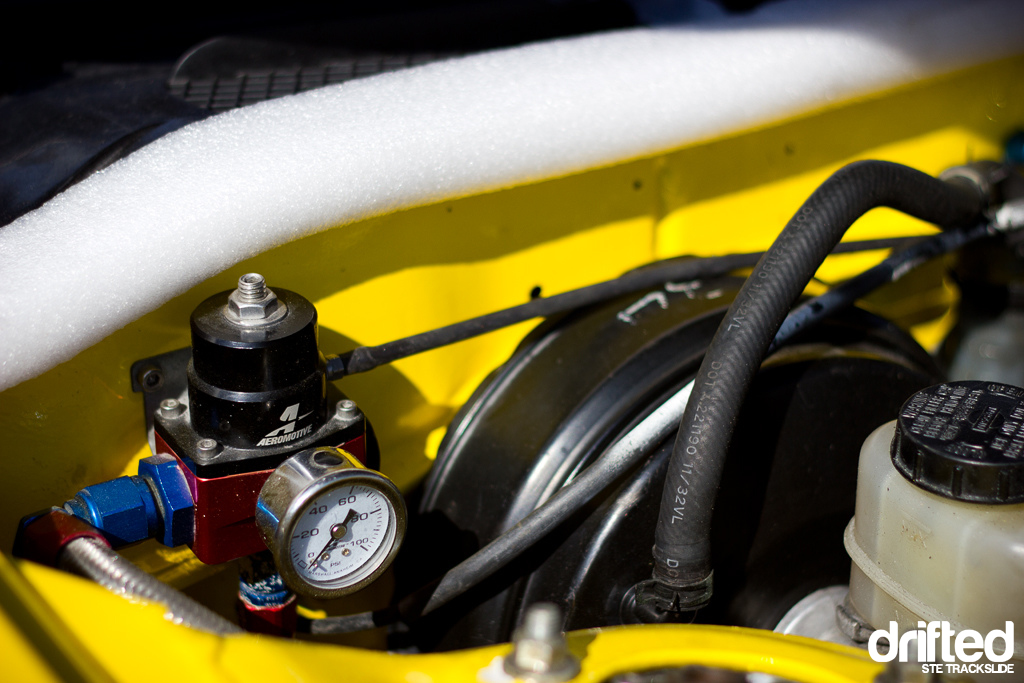 The adjustable Aeromotive fuel system is rated up to 1000bhp and provides plenty of fuel for that thirsty SR20DET.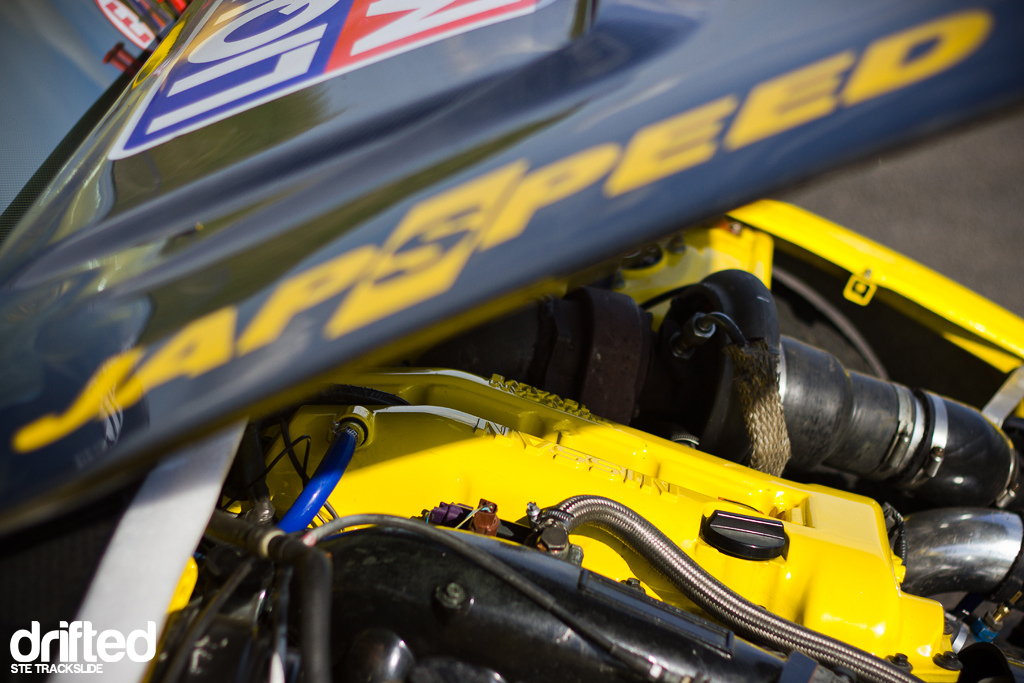 Another angle of that seriously clean engine and bay, it's such a shame that the bottom end has failed and it all has to come out again, the guys over at Skylinepart.com HQ will have their work cut out but I'm sure it will be ready in time.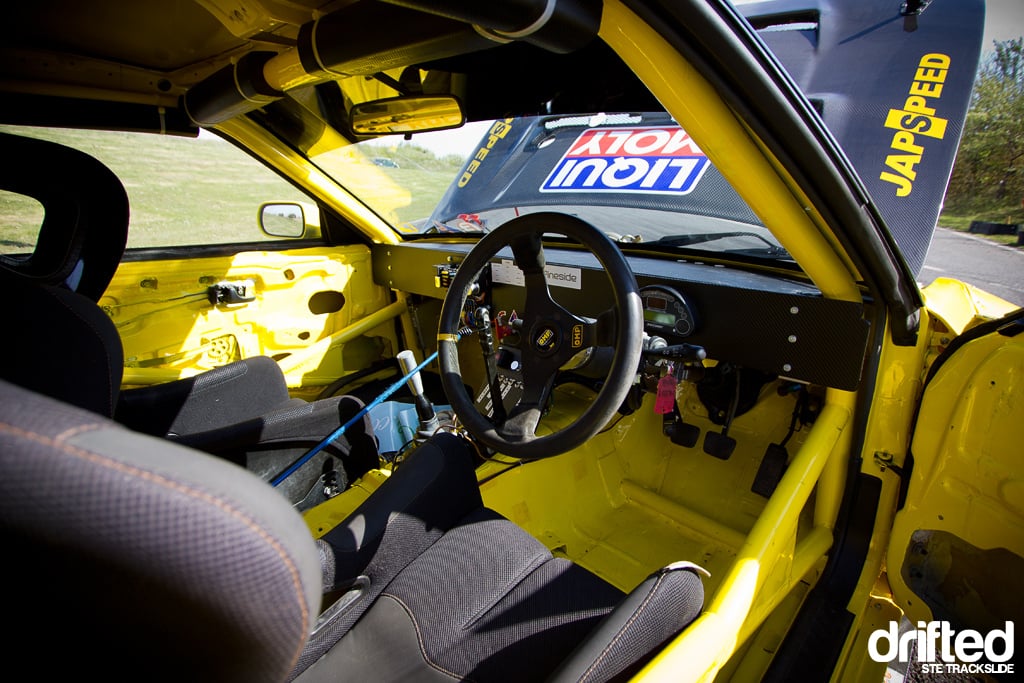 The interior is pretty much completely stripped, sporting an OMP racing steering wheel, a 4 point roll cage which was custom fabricated by Skylinepart.com and is a work of art, protecting the man behind the wheel very well. Carbon fibre makes an appearance here and there. The race dash cluster is from EBT and displays all the engine vitals Scotty will need to know.
These Driftworks bucket seats are the business, very supportive as this car really can throw you around inside if your not secured enough, getting in and out can be a bit of a mission, but that's better than bruises. Coupled with 4 point harnesses makes for a very snug fit.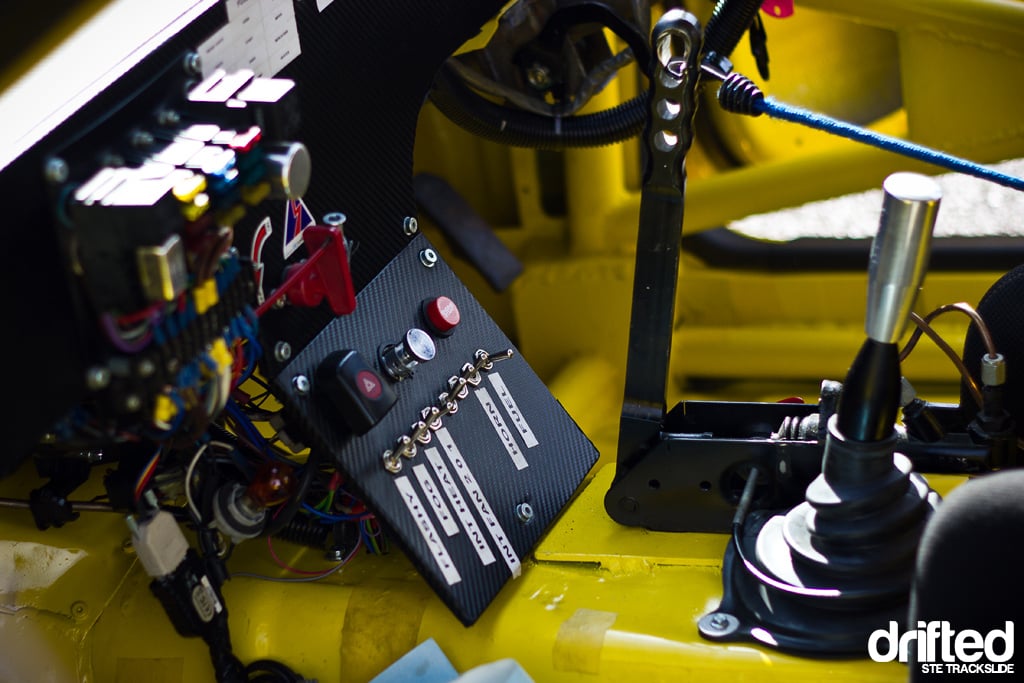 Hydraulic handbrakes are very useful for initiating drifts, not the best for a parked car but thats easily rectified with a good old bungie cord. The custom fuse box is on show in the interior for ease of access.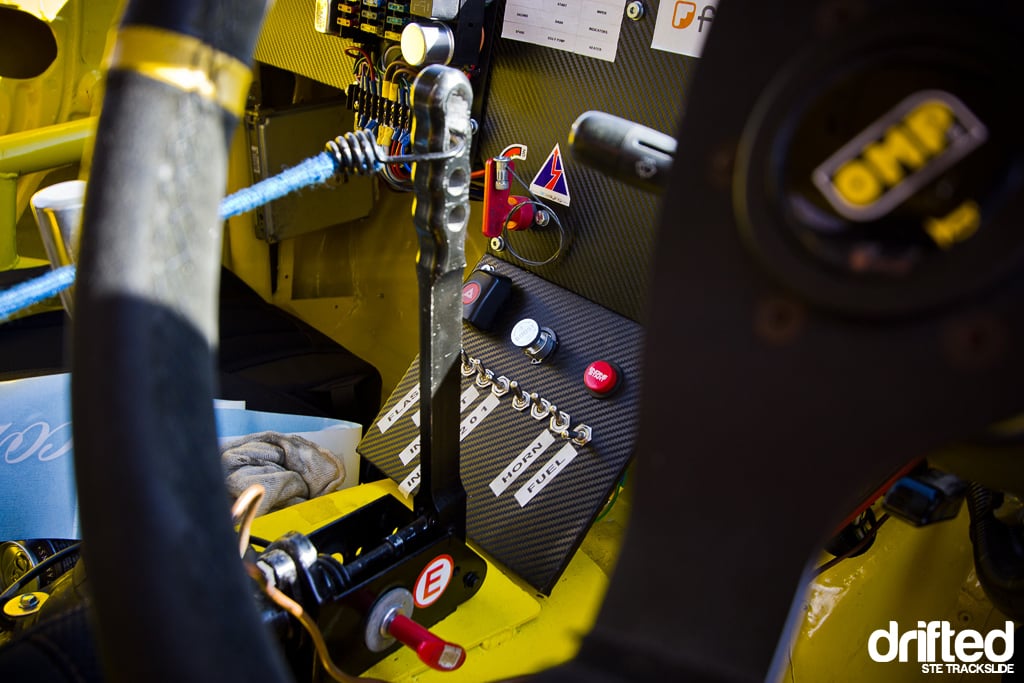 The switch panel has everything you need at your fingertips, carbon fibre and a start/stop button are nice touches. External pulls for fire extinguisher and engine kill all tucked away nicely.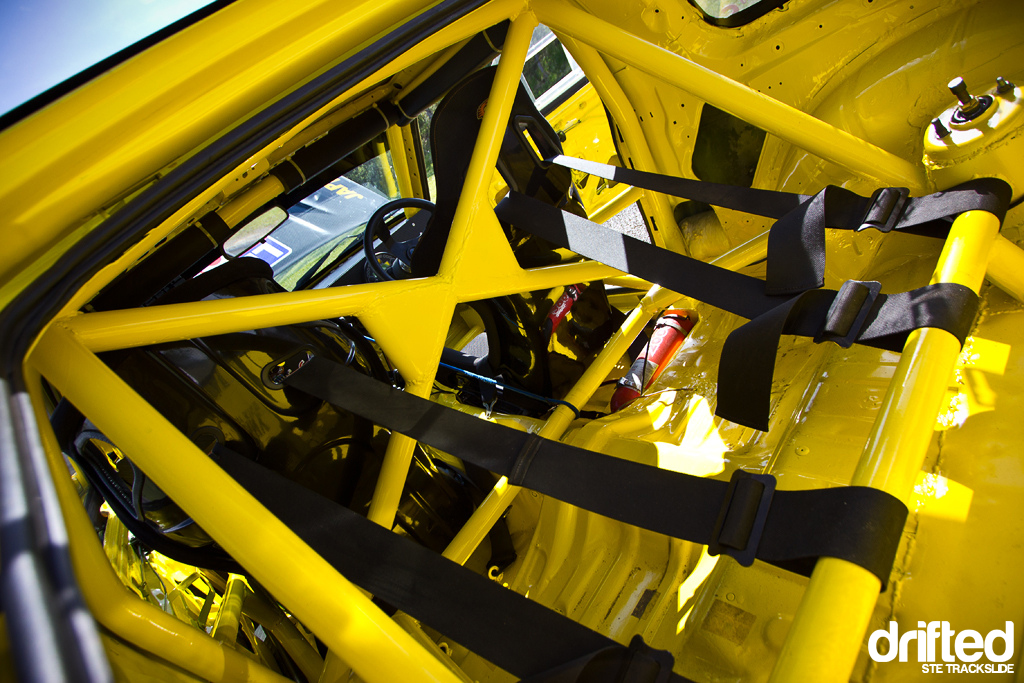 A very strong roll cage, it would take a serious knock to shift that, with all the reinforcement, Scottys 2012 Rocket Bunny is a very safe place to be.
With the exception of the reinforcement, this car has undergone some extreme weight saving, anything not needed for race regulations has be replaced with an improved, built from scratch version, or removed all together.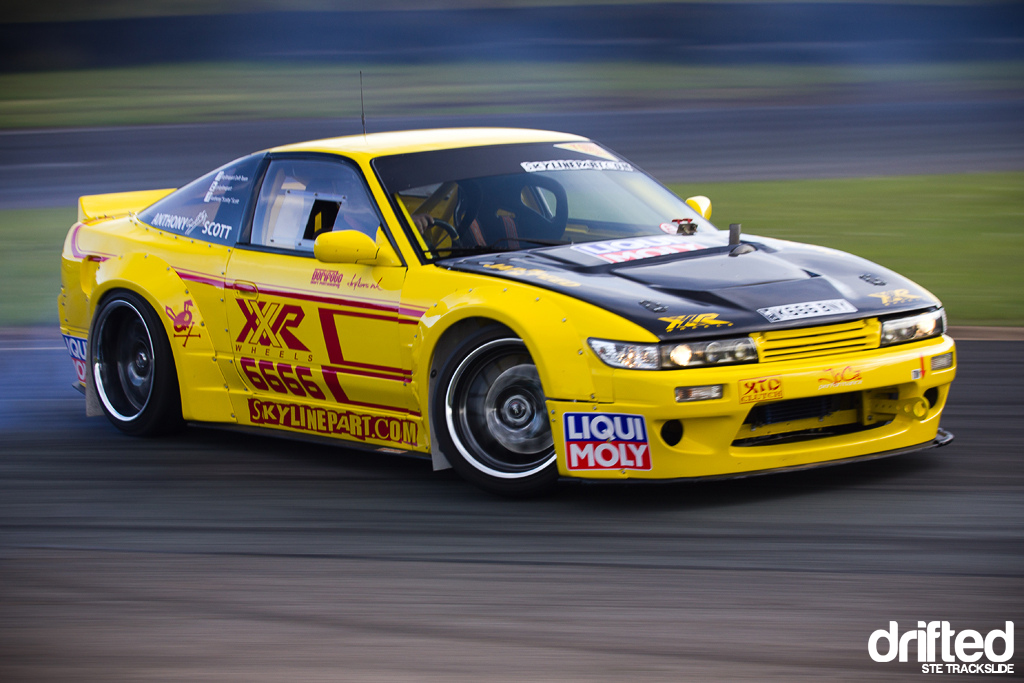 Seconds from disaster…I managed to capture this image literally 10 seconds before the engine started making a hideous knocking sound, most of us knew straight away that this was the dreaded death rattle, failure of the big end bearings.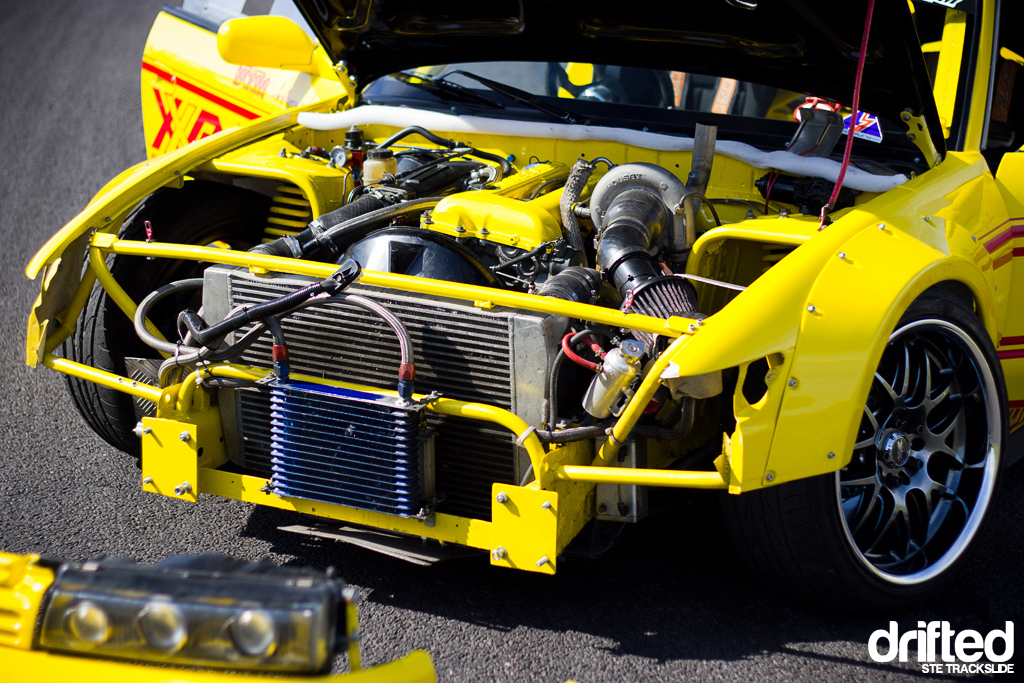 Intercooler protection, Scotty has built the front of the car around where the intercooler now lives, this angle also shows the frame work the front wings are fixed to.
Alot of fabrication and man hours put in but very much worth it for that outcome.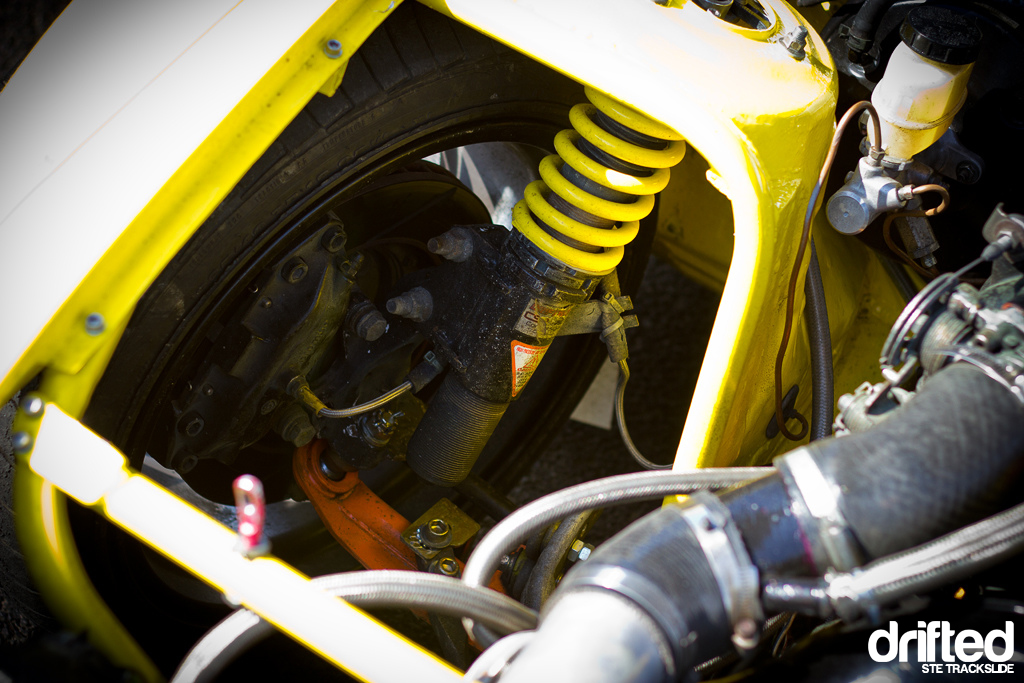 Clearance… For crazy lock, crazy clearance is needed, as you can see there has been alot of inner arch removed and strengthened with more steal tubing, this also adds to engine cooling.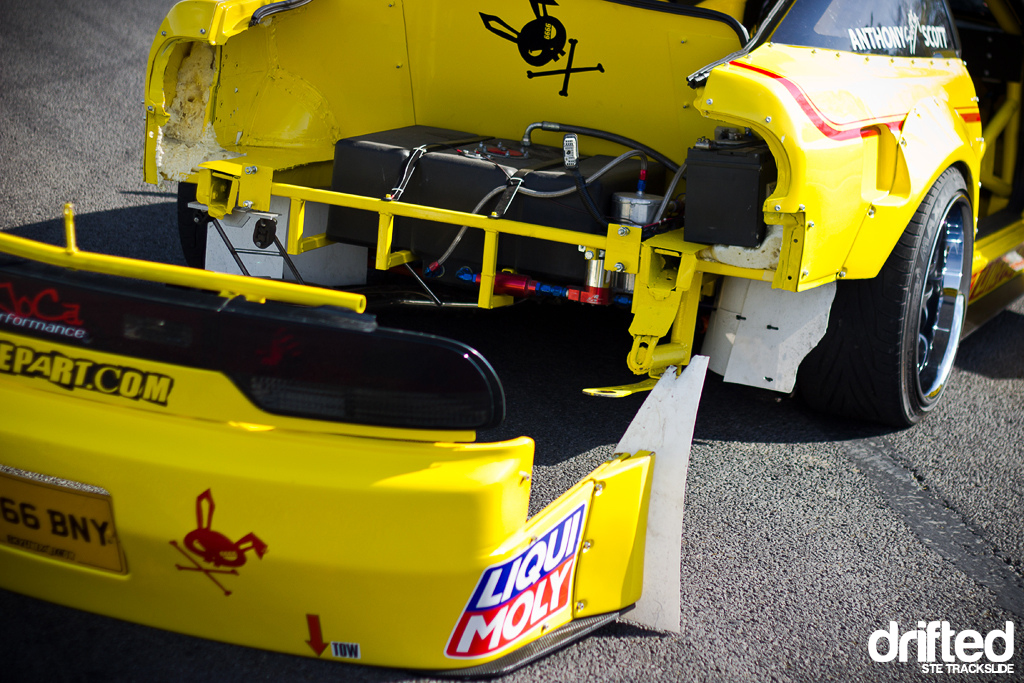 Race fuel tank accompanied by a swirl pot to deliver petrol in the bends, the white plastic mud guards wrap around the entire rear wheel well so the rear bumper doesn't fill up with shredded tyres and as the rear quarters, arches, bumper and boot lid are all fibreglass, they also protect these panels from damage during tyre delamination.
During the weight saving process, the Rocket Bunny was fitted with polycarbonate windows all round with the exception of the front windscreen, this not only dramatically saves weight as glass is very heavy, they have also lowered the centre of gravity making the car very stable during transitions from corner to corner.
Expect to see lots of fire from the wastegate poking out of the carbon fibre bonnet this year, it wasn't out for long this weekend but it was already spitting flames, I regrettably wasn't able to capture any on camera as I was on the other side of the track when I saw them.
Another flame producer in the form of a Japspeed Shotgun exhaust supplied by Scotty's new sponsor, Japspeed.
Anyone who has herd these shotguns know just how good they sound.
It was an absolute pleasure shooting this car, I've always been a fan of it and really think it's reached a peak, stunning from every angle, great on the track as let's not forget he can even drive it to the shops, what a car!
Full spec below:
Engine:
Fully forged & balanced SR20 DET (@ 400bhp & 360lb.ft)
Holset HX35 turbo
HKS Camshafts
SuperSpark coilpacks
Aeromotive fuel system (rated upto 1000bhp)
Custom intercooler and radiator
Japspeed Shotgun exaust
Transmission & Braking:
Transmission tunnel enlarged to give easier access to Nissan Skyline RB25 gearbox
Nissan Skyline RB25 diff case housing & Cusco GTR 2 way internals
1 peice prop shaft
Brembo GTR brakes
Chassis & Suspension:
Driftworks C2 fully adjustable coilover suspension
White line antiroll bars
Driftworks geomaster rear hub carriers
Driftworks front & rear adjustable arms
Nissan Skyline GTR drive shafts and hubs
JoCa Performance modified front hubs
Front and rear fabrication to loose weight, stiffen chassis and quick release to make easy access for working on
Bars added from cage to front struts and rear subframe also to stiffen chassis
Interior:
4 point rollcage custom fabricated by skylinepart.com
ETB race digidash (available though skylinepart.com)
Driftworks bucket seats with 4 point harnesses
Full custom electrics by skylinepart.com
Exterior:
50mm rear over fenders
30mm front wings
Full Rocket Bunny kit over the top
Fibreglass tailgate
Fibreglass doors
Polycarbonate windows all round except front screen
Carbon fibre bonnet
Custom carbon fibre skirt reinforcement strips
Wheels & tyres:
18×9.5 ET30 XXR front alloys
40mm front hubcentric spacers
18×10.5 ET10 XXR rear alloys
60mm rear hubcentrix spacers
Neuton XL 235/40/18 front tyres
Maxxis 245/40/18 MA-Z1 rear tyres
I hope you've enjoyed reading this as much as I have shooting it.