EVENT: Evergreen Drift ProAm Round 5
ProAm Round 5 and Grassroots Round 4 was hosted at Evergreen Speedway this past month, deciding who would be moving on next year and also the awarding of Formula Drift licenses. The game has changed in Washington and next year should be amazing as we here watch our fellow drifters on their pursuit to the Pro life.
The day started out with open practice as usual and lucky for us the weather decided to cooperate and didn't rain, a dry track is always a good track when it comes to competition, no matter how fun wet drifting can be.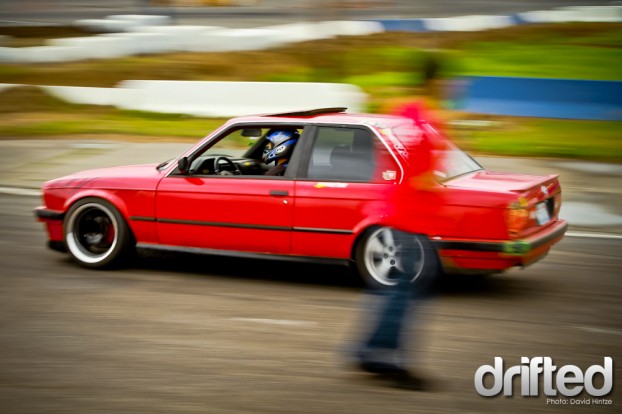 Every event seems to have at least one crash, and shortly after the event started one of the drivers slammed sideways into a pile of tires, throwing a slur of mud and goop toward the way of us media. I was lucky enough to be out of the way of the flying dirt.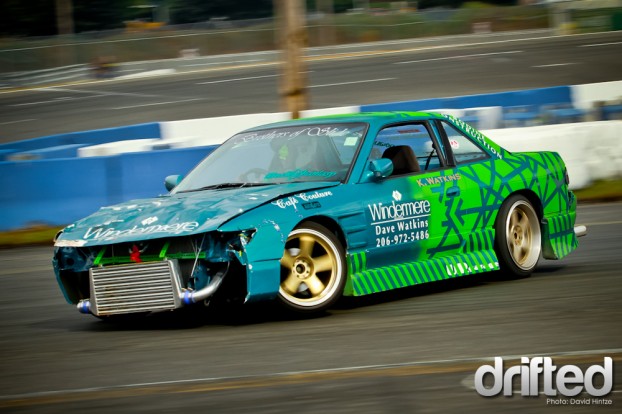 Kristian Watkins above coming around turn two, Only just saw this car this season, but im digging the paintjob.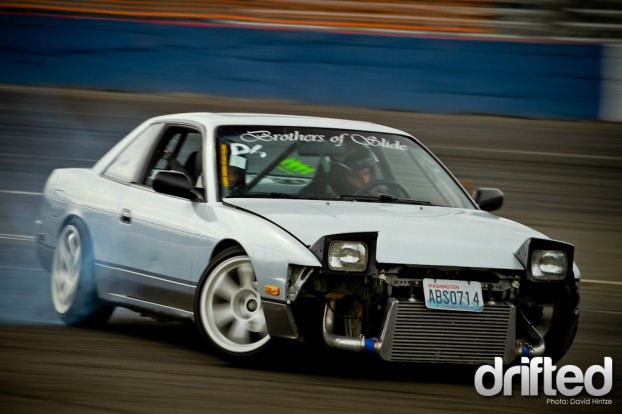 The only thing about grassroots is they keep spawning up like a free for all deathmatch, too many names to keep track of, but this guy J.R. Miller has been at it for quite a while and kills.
Another new car that I hadn't seen, I dont know why this angle makes him look like he's 60, but I can assure you he's not, however badass that might be.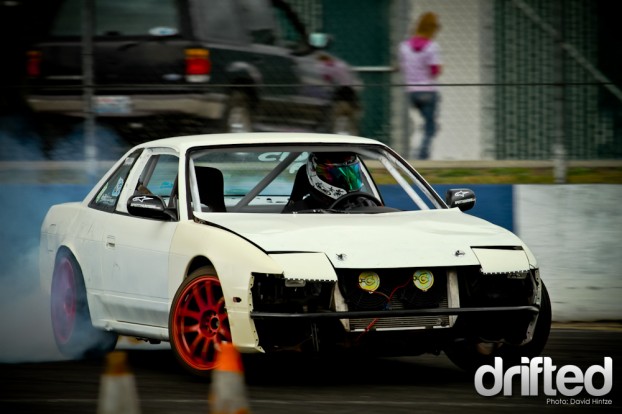 I met this guy recently, André Escalante, great guy. No window, no windshield, and drives his car like a beast. He was throwing crazy angles all over the place.
Joey Portelli above coming around the 3/8th during competition.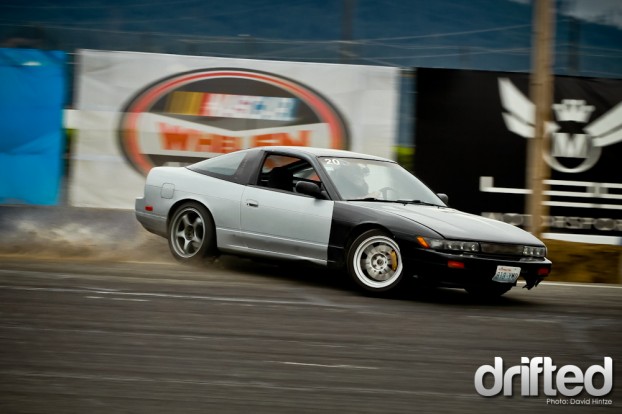 Julia OConnell, one of our few female drivers around here taking a high line on the 3/8th and throwing up some dirt for show.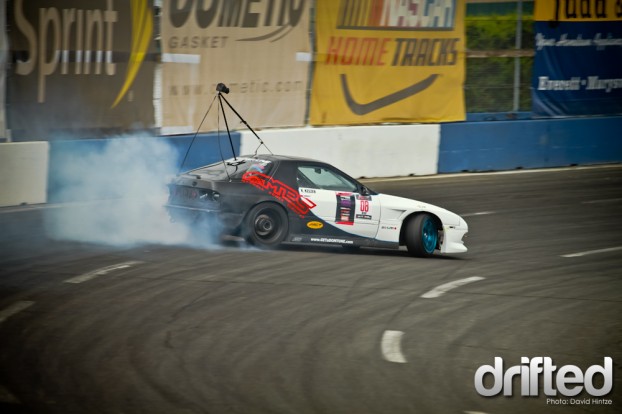 PROAM! and if you took a double take at that image above like a few other have, check again. Thats a camera on a tiny metal pole, secured to the car by 3 straps. Loren Haleston is the man behind the camera, risking his Canon 7D for some of the most interesting angles in drifting. Click his name and link up to his vimeo and watch the video.
Mike Philips drank some BeastMode soda that day or something, he was full of nonstop action the entire day. Just wait. Or scroll now.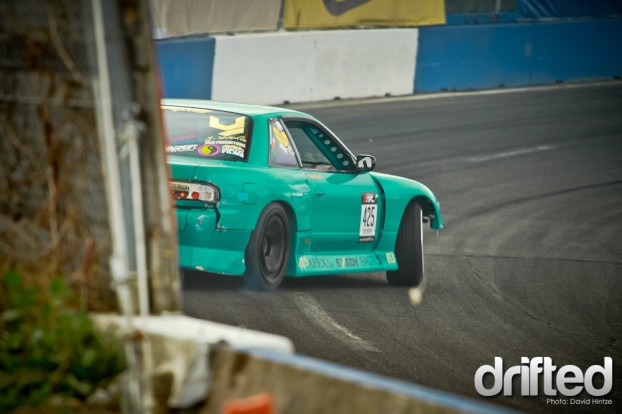 Roland Gallagher entering the 5/8th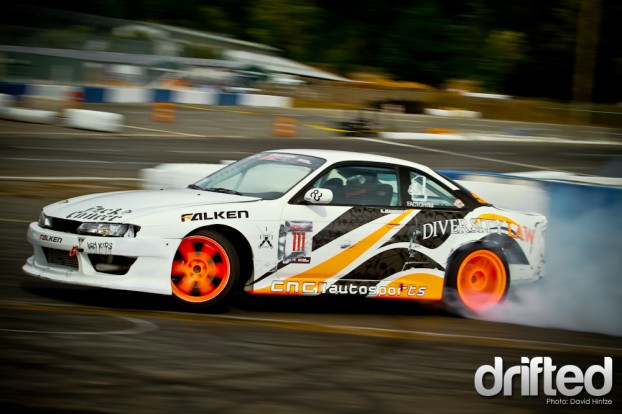 Chris Jeanneret back in action again after a few minor incidents, also did excellent that day.
Kory Keezer, I would call him the Mat Powers of Washington, crazy guy doing all kinds of crazy stuff like the above.
Drift Safari's Ian Fournier was down from Canada yet again to compete,
Erich Hagen, Doing his thing in his BMW, another of my favorite cars on the track.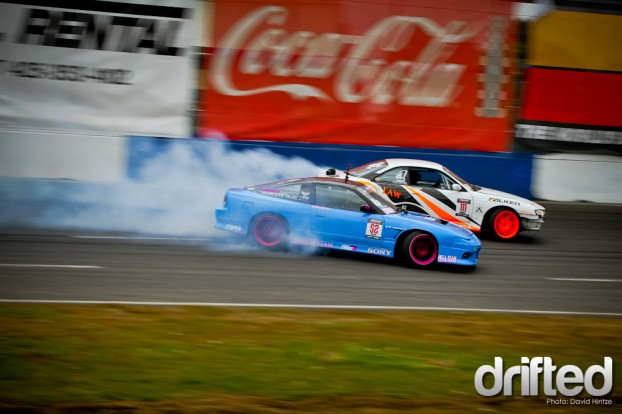 Mike and Chris going at it HARD, Chris is known for taking the upper line and going way high on the bank and Mike keeps a close trail.
And again when he went against Ian.
Rob Primo above.
The highlight of the event was these two, Roland and Ian. Judges must have called ONE MORE TIME at least 80 times before the winner was deciced.
Their execution of eash run was nearly identical and made for calling it hard.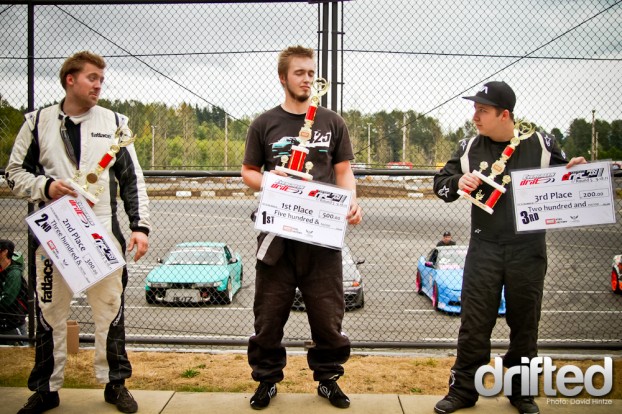 It was close but Roland placed first followed by Ian and Mike
Grassroots:
Champion – Rickey Henderson
2nd – Anthony Carreon
3rd – Marc Andre-Tatto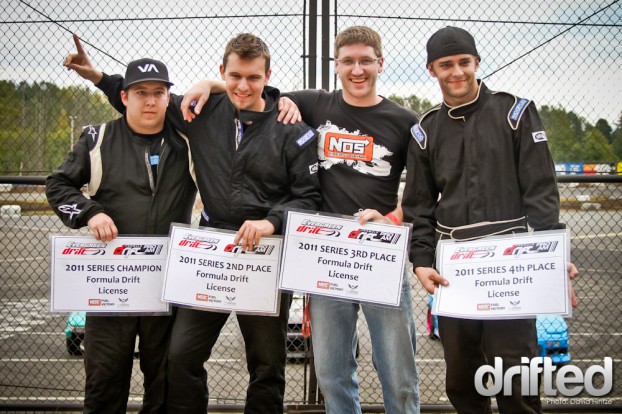 ProAm
Champion – Mike Phillips
2nd – Chris Jeanneret
3rd – Andrew Coomes
4th – Kory Keezer
Keep an eye out for these guys next year as they compete with the pros, Cant wait.
Peep the full gallery on my website and be sure to follow me on FaceBook for other updates.
www.GwagDesigns.com/proam2011round5
www.facebook.com/GDPhoto