EVENT: Prodrift 2011 Finale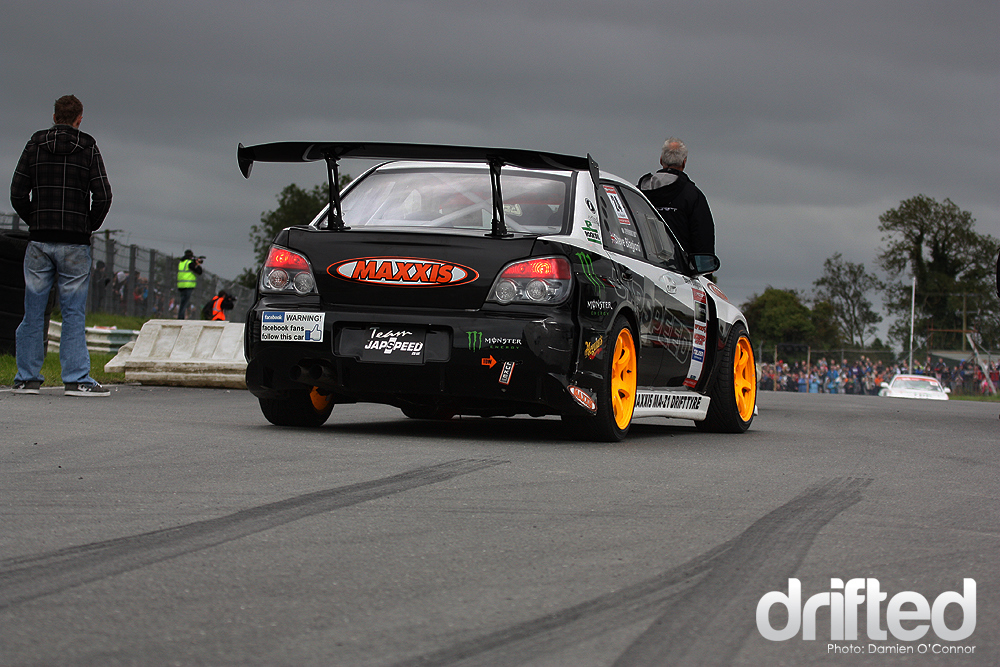 It's hard to believe we are here again, staring down the barrel of an ever closer cold dark winter. Another fast paced drift season in Ireland draws to a close in spectacular fashion, as International drivers draw record crowds to Kildare's Mondello Park. The final round of the Prodrift 2011 series would see no less than four Formula D drivers competing for a Top 16 position. Current leader, Dai Yoshihara, and second place Darren McNamara, the first of our Formula D drivers with internationally acclaimed Frederic Aasbo and home grown Prodrift success story Dean Kearney to follow.
Add to this some of the hottest UK teams, there would be a lot of big names going home early, on what has been one of the best received drifting events in Irish history. That's without mentioning James Deane and Nigel Colfer joining us, hot from some European action.
If one could draw any negative feedback, it would have to be in relation to the overall championship standings. With so much invitational talent on show, it is only inevitable that this will hugely impact on some drivers chances of winning or placing in the overall championship.
The brunt of that pressure must have fallen onto the shoulders of Alan Sinnott, however he put all pressures aside by coming out top in the Superlap, so he knew early in the day he had done enough to win the Pro Championship he has been chasing so passionately.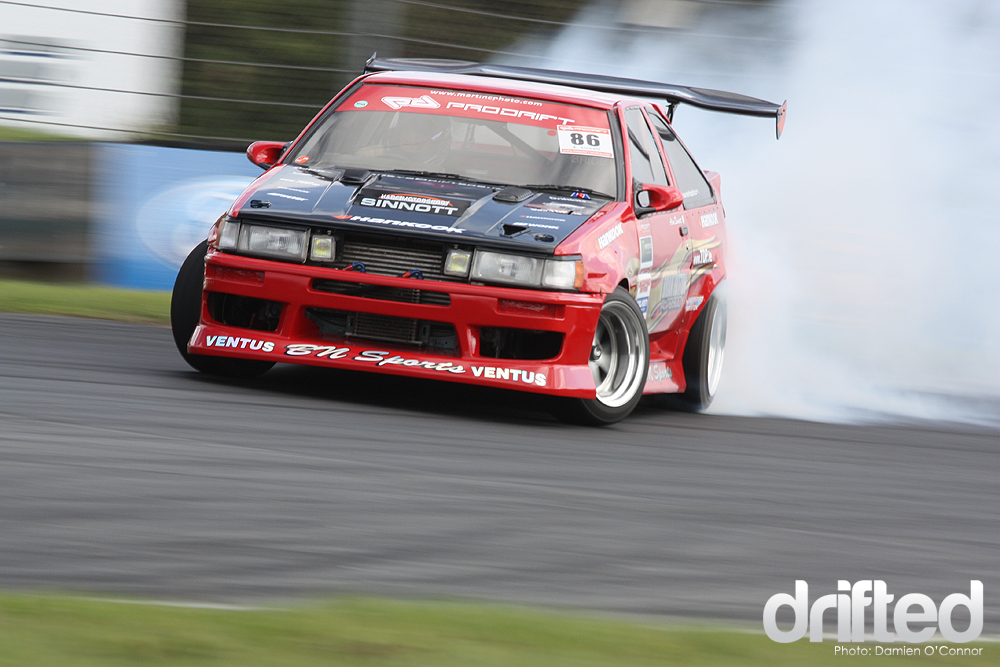 Alan Sinnott, Superlap and Pro Championship winner !
As usual a we take a little walk around the paddocks to get a feeling for the event ;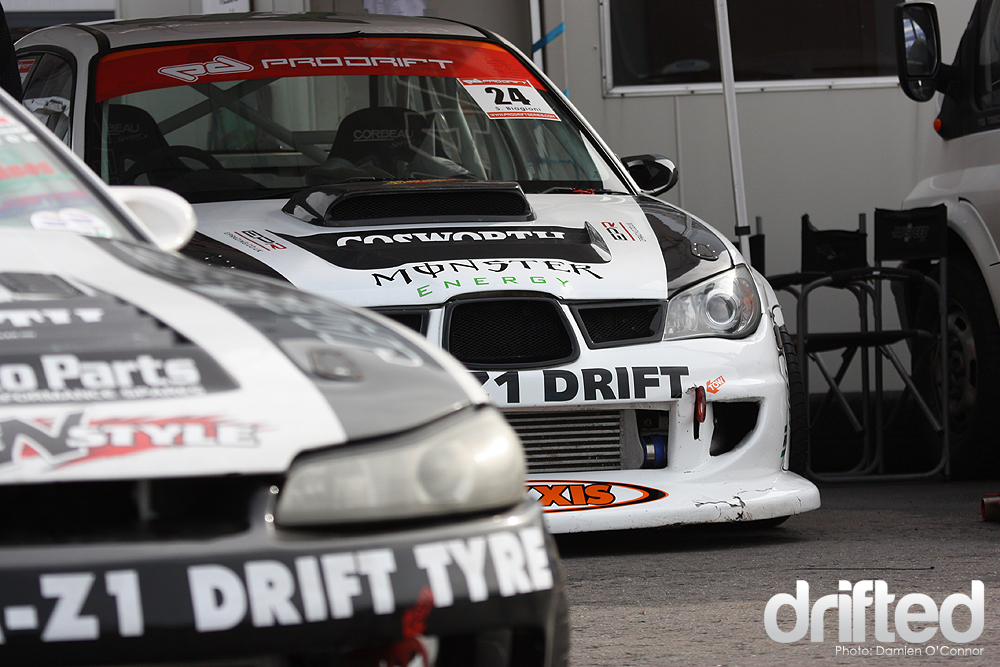 Shane O'Sullivan joined up with his UK colleagues from Team Japspeed for the first time on Irish soil this year.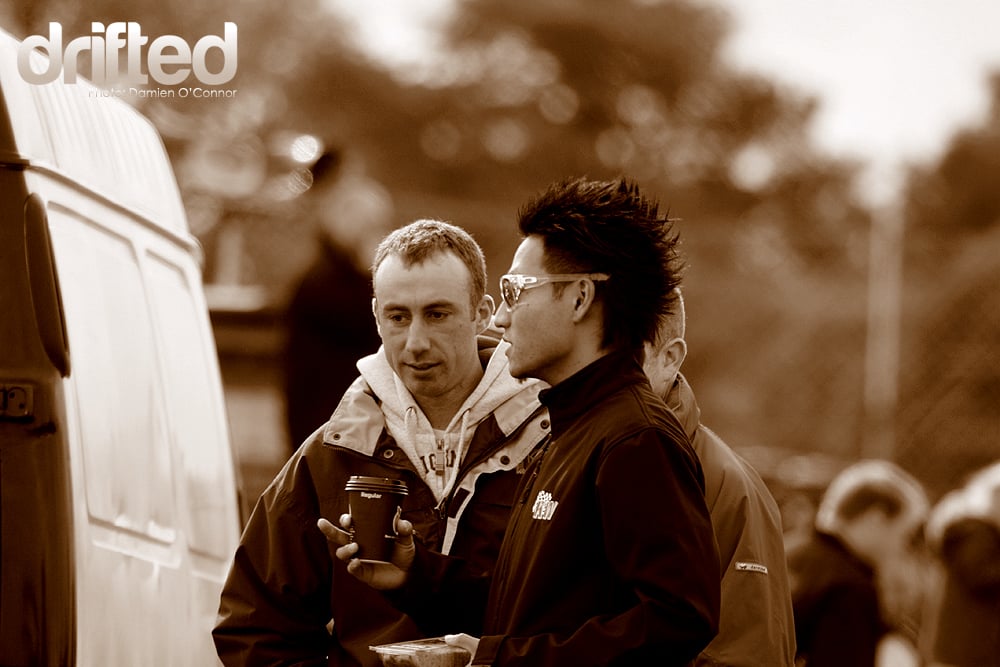 Alan Sinnott and Dai Yoshihara discuss some tactics.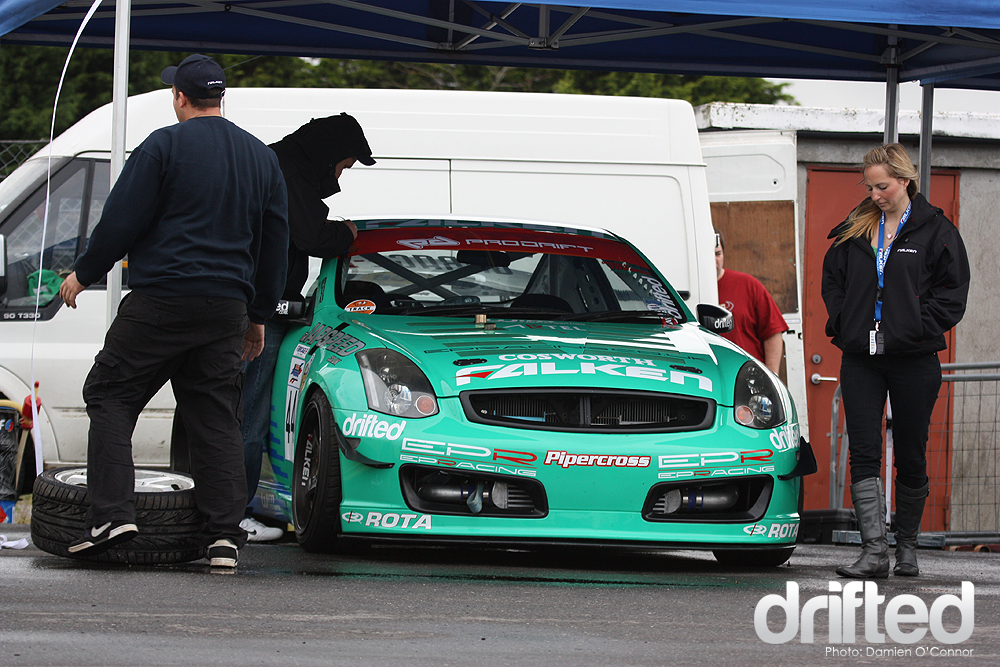 Team Falken check in.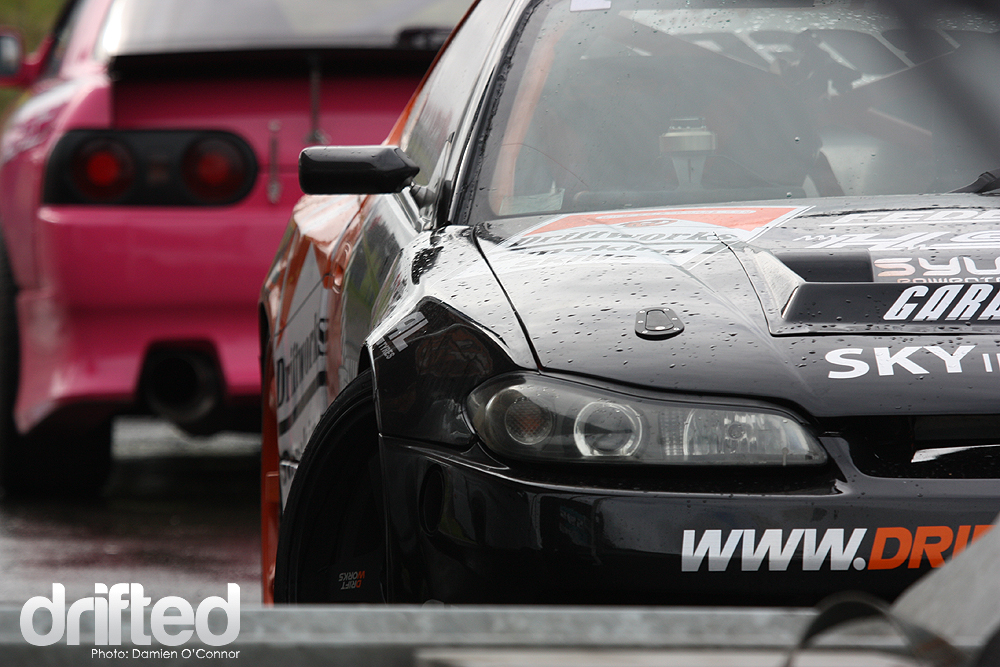 Phil Morrison's car drew big crowd's in the paddocks, myself included.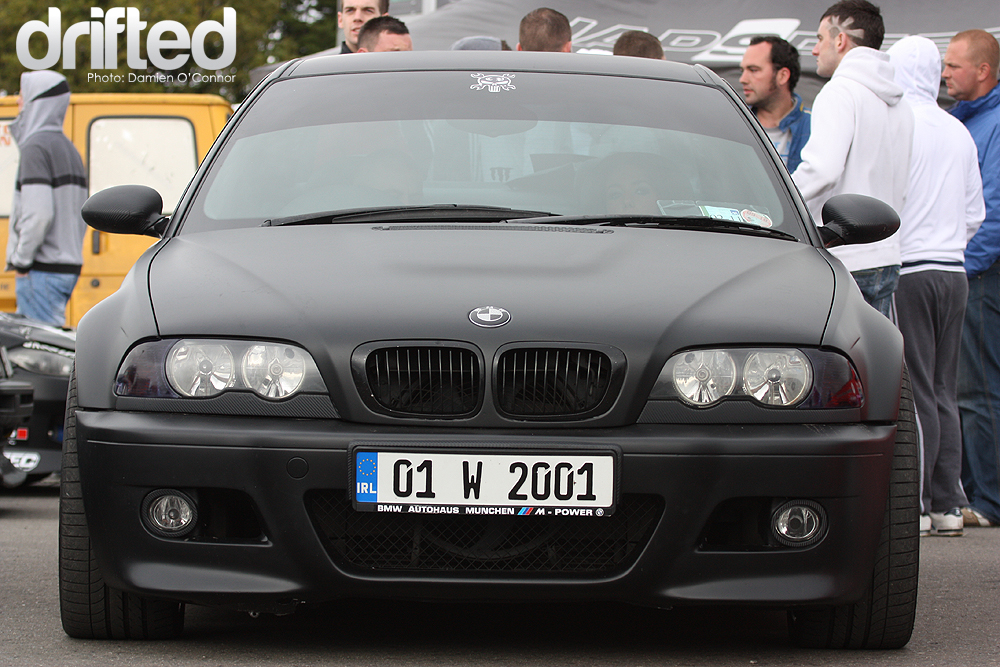 Jules Chambers doing what he does best, being noticed in this stealth mode Matt black vinyl-ed E46 M3. The exhaust note has one to rival the McCarthy brothers Barry's Motorsport cars.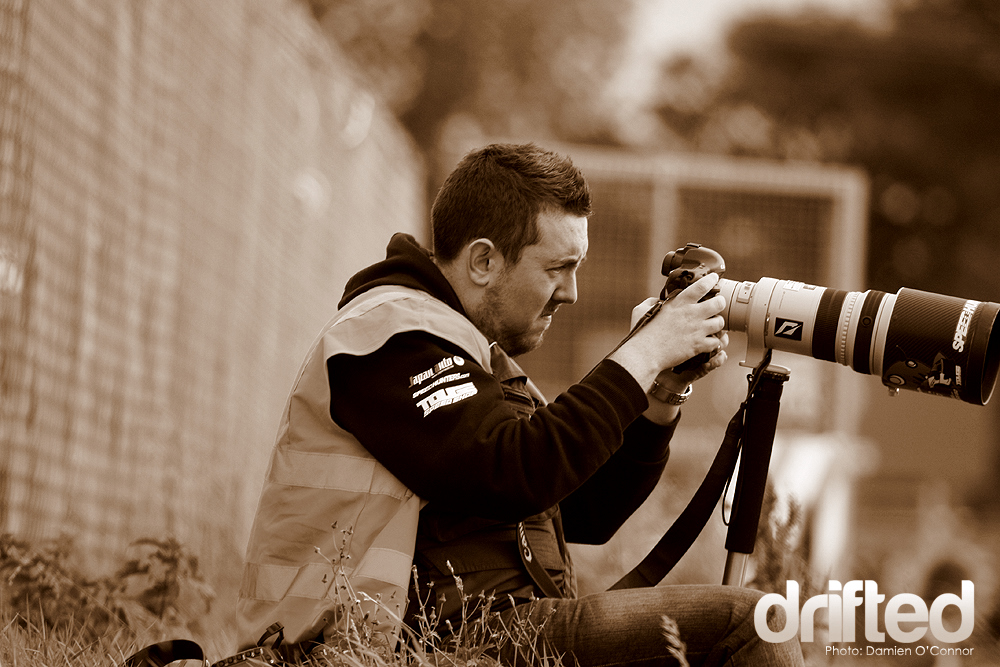 Speedhunters were in town; our very own Paddy McGrath.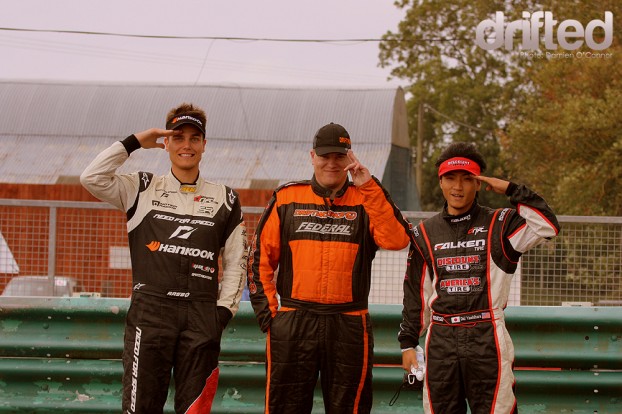 Freddie Aasbo, Phil Morrison and Dai Yohihara, salute 😉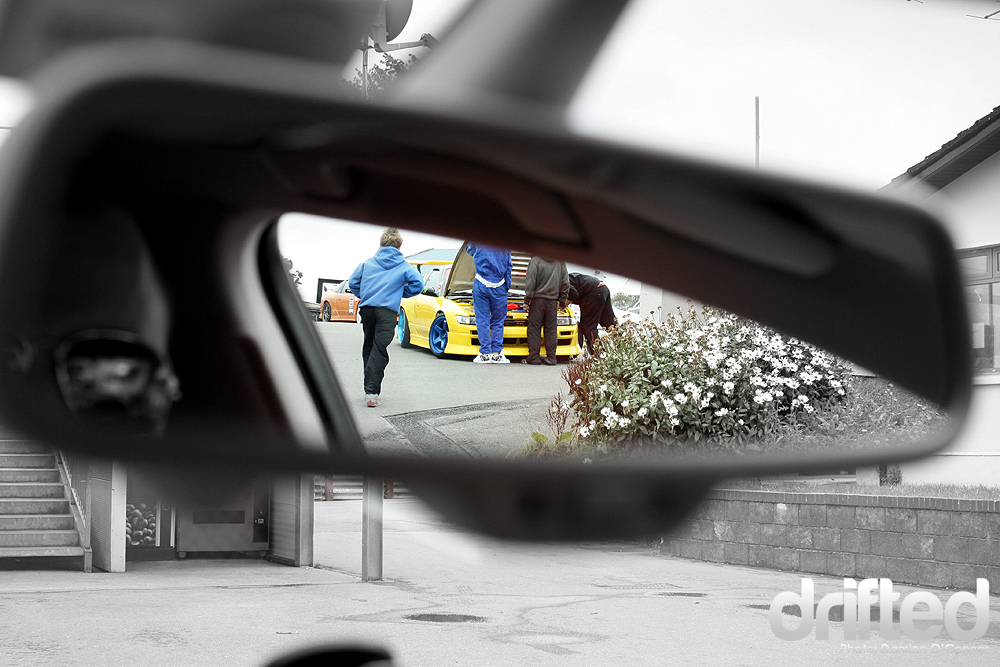 We like to catch the goings on from all angles.
Time for some action, let's have a look at some of the key battles;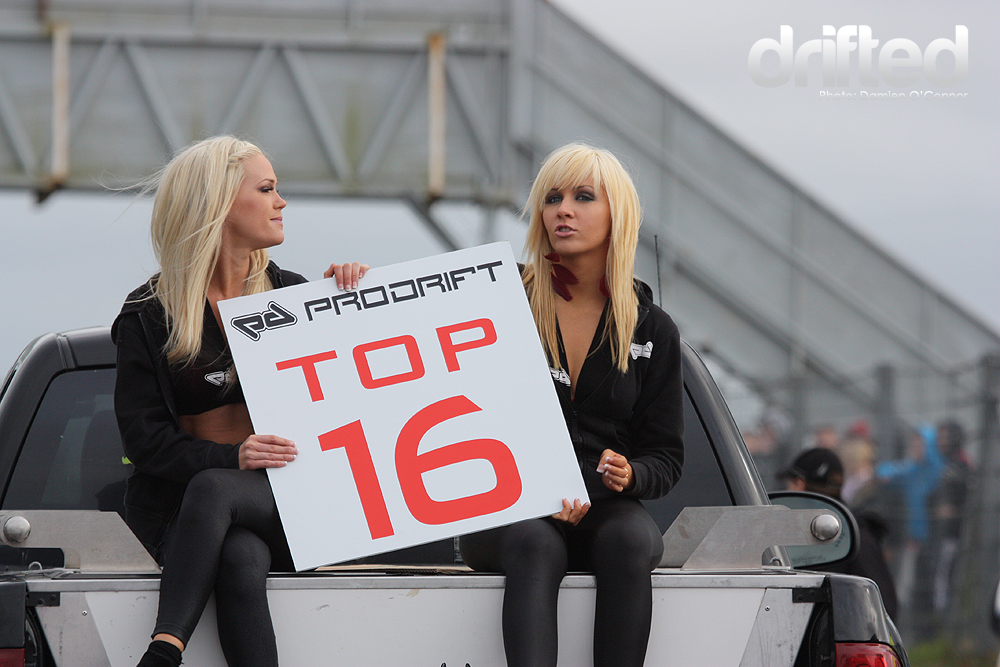 The Prodrift girls doing a sterling job as always, keeping us informed. Where would we be without them?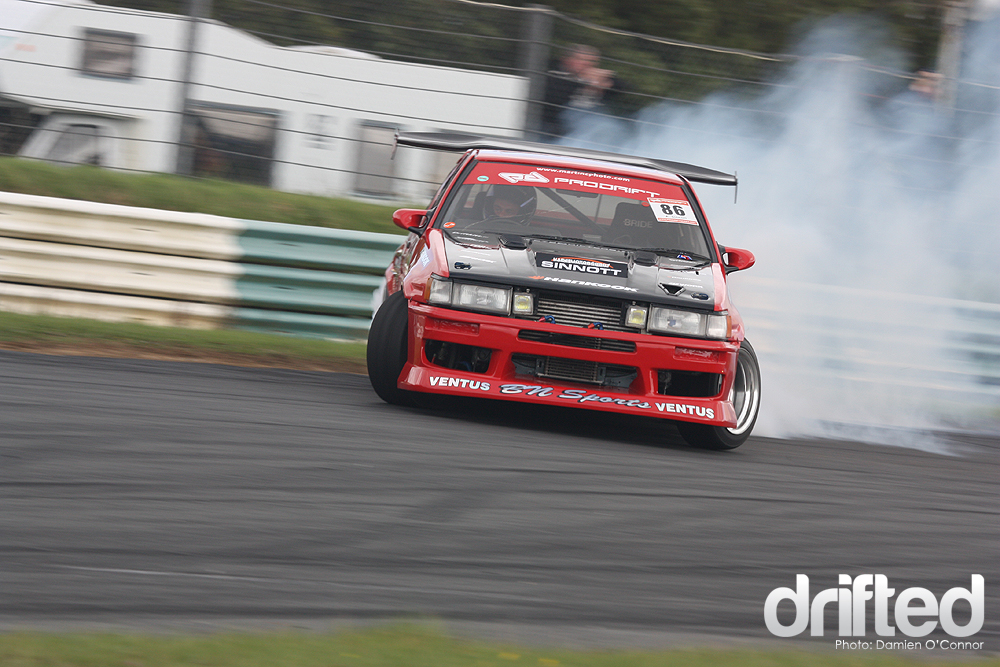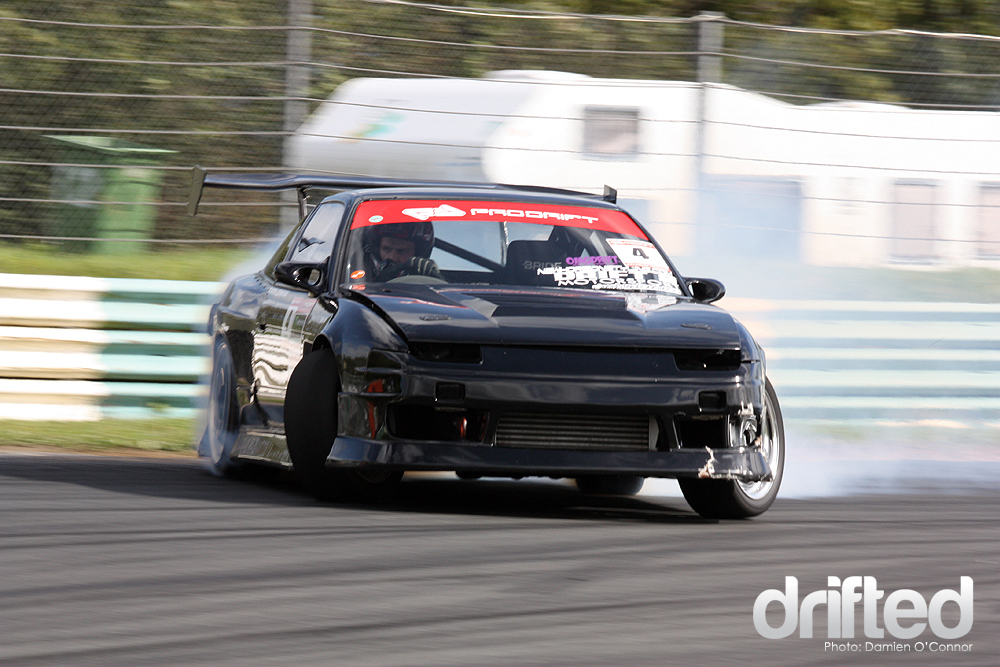 Gavin Lenihan made his intentions quite clear as he knocks out newly crowned Champion Alan Sinnott.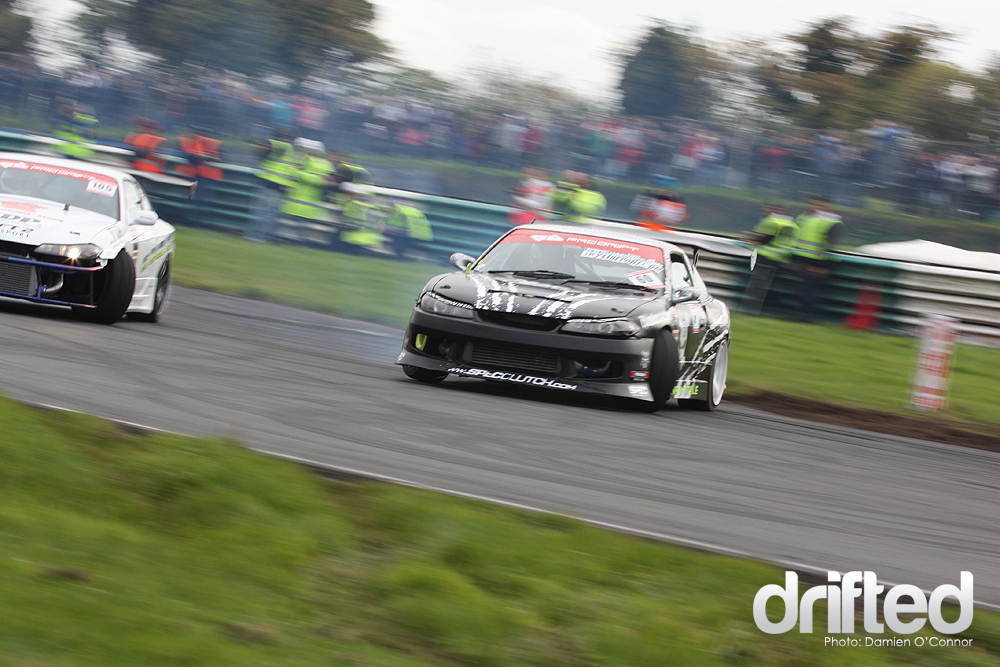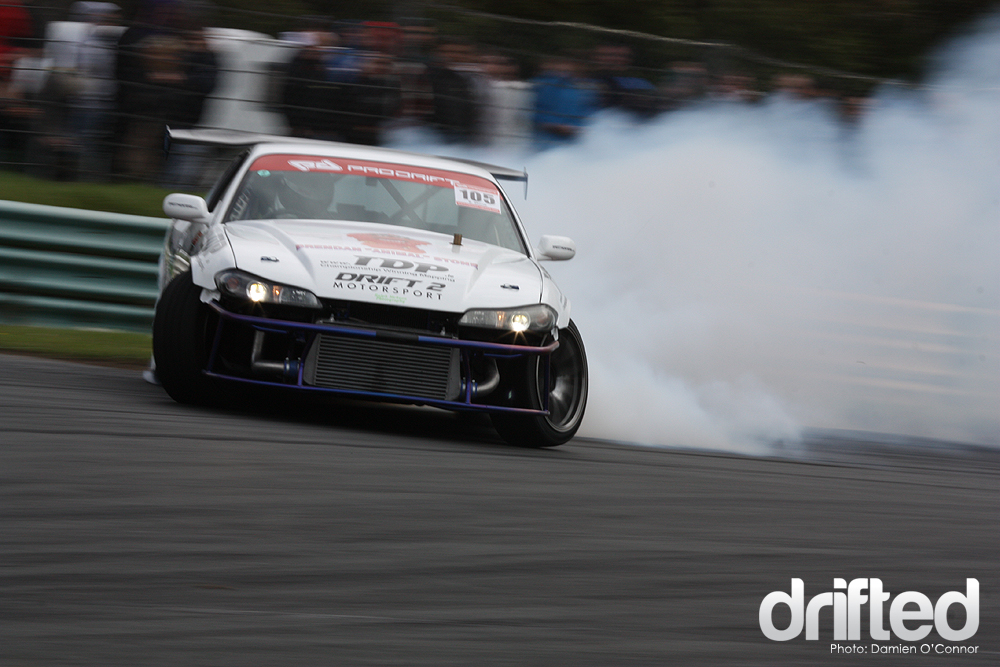 Nigel Colfer was one of the first major fatalities falling victim to Brednan Stone as above.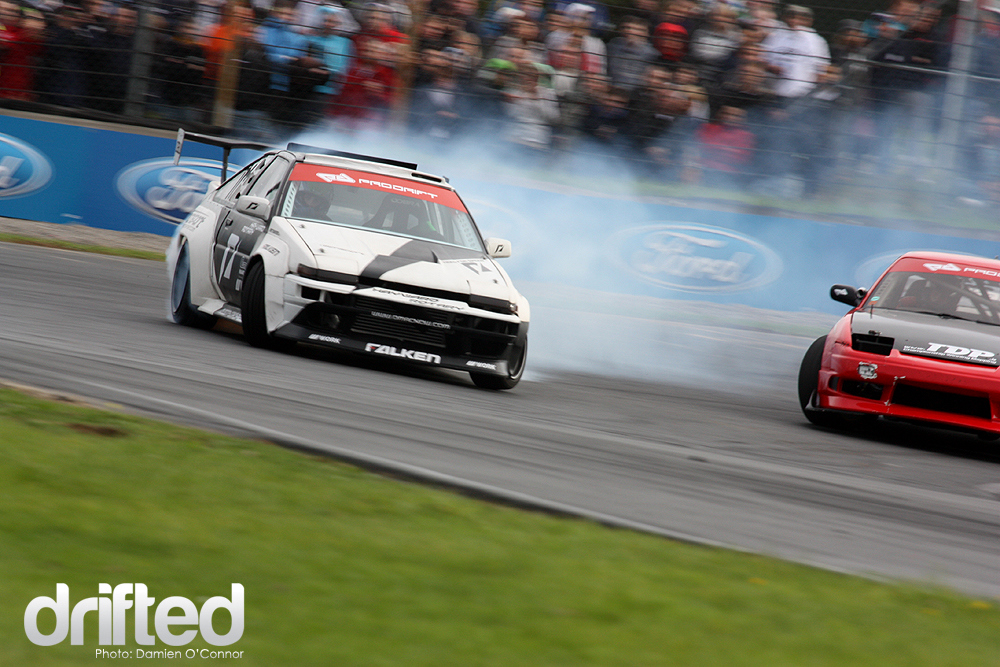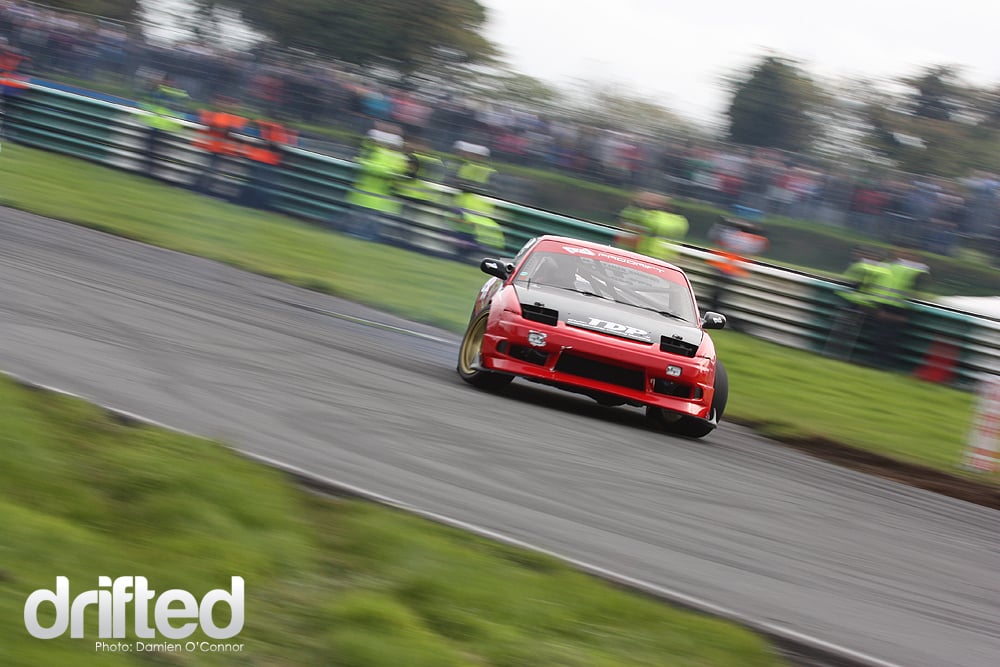 Another driver who made the lonely drive to load early was Damien Mulvey in his JZ powered S body. He knew he had a tough draw when he met Darren McNamara at the starting line.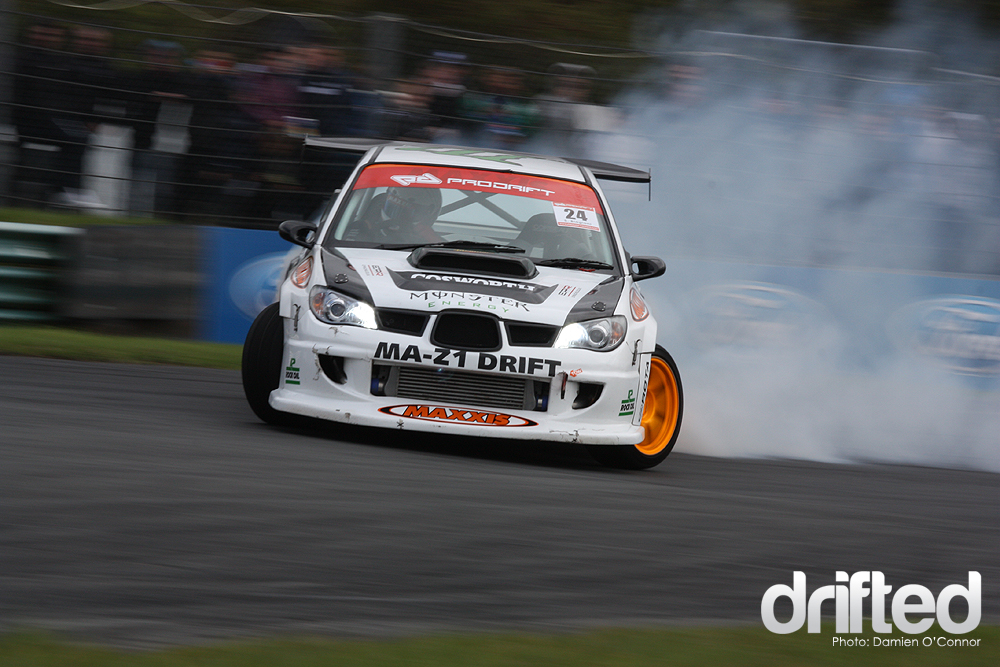 MG Crash Repairs and Team WKD driver Dan Moorehad would face Steve Biagioni of Team Japspeed, both drivers have drawn swords at previous events in the UK. It would be a battle to watch. Moorehead progressed, with Baggsy spining, spoiling the battle somewhat.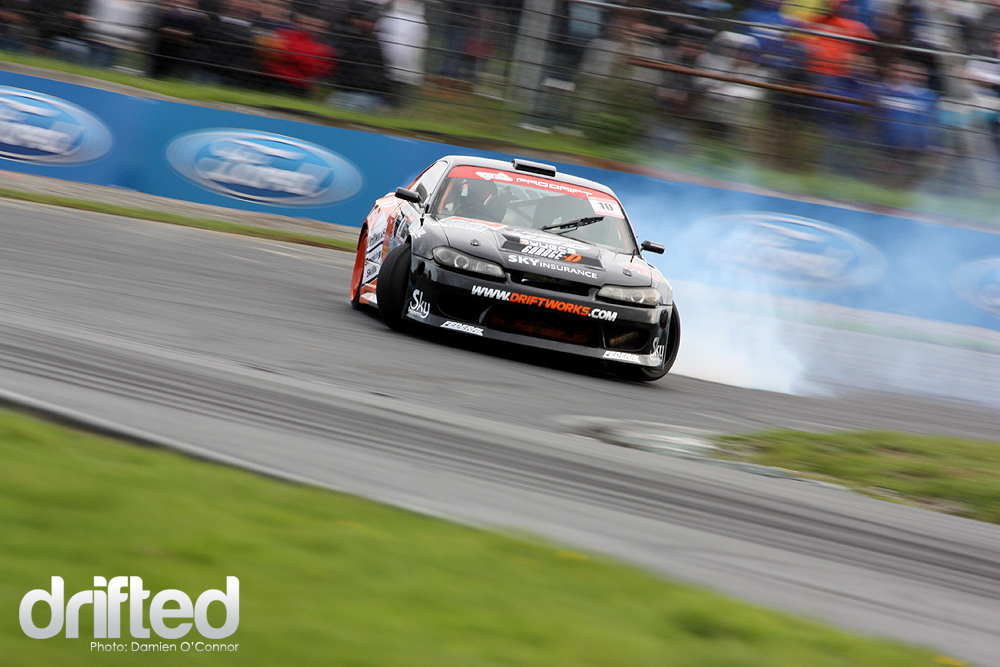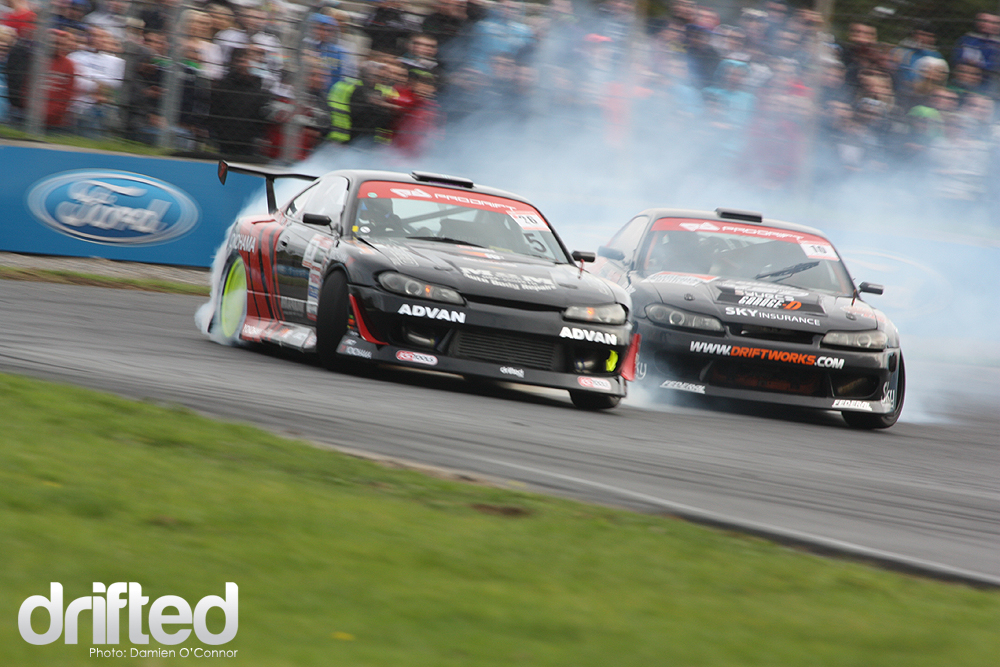 Over 5,000cc's of Toyota JZ goodness. I could listen to Christy Carpenter and Phil Morrison battle all day. Morrison progressed on this occasion after a repeat battle.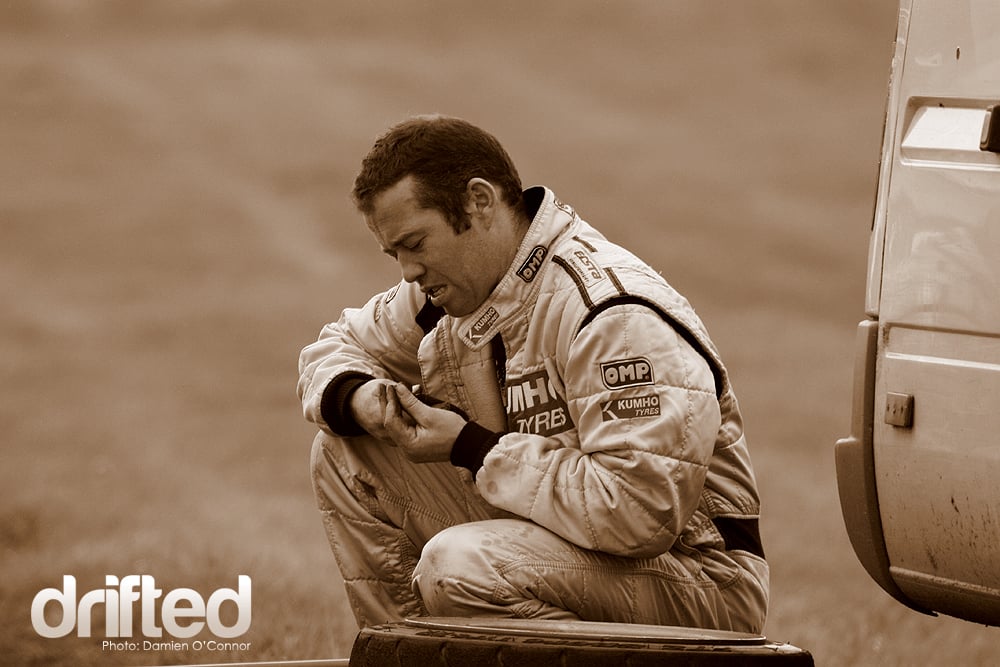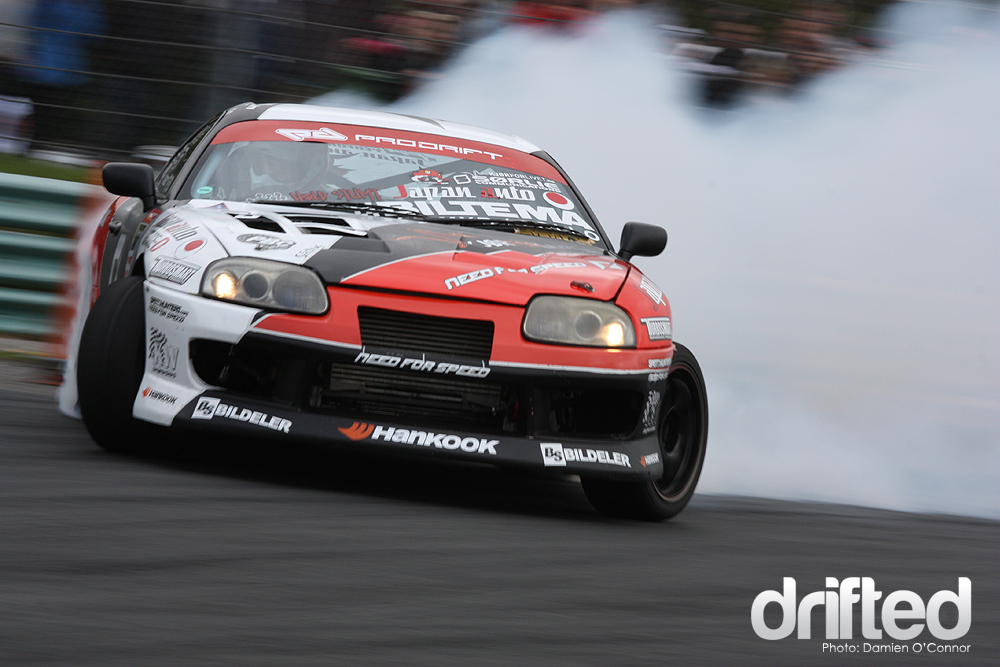 Prodrift veteran Mike Deane seem to have some mechanical issues directly before his battle. Freddie Aasbo stemmed any chance Deane may have had of progressing in their battle.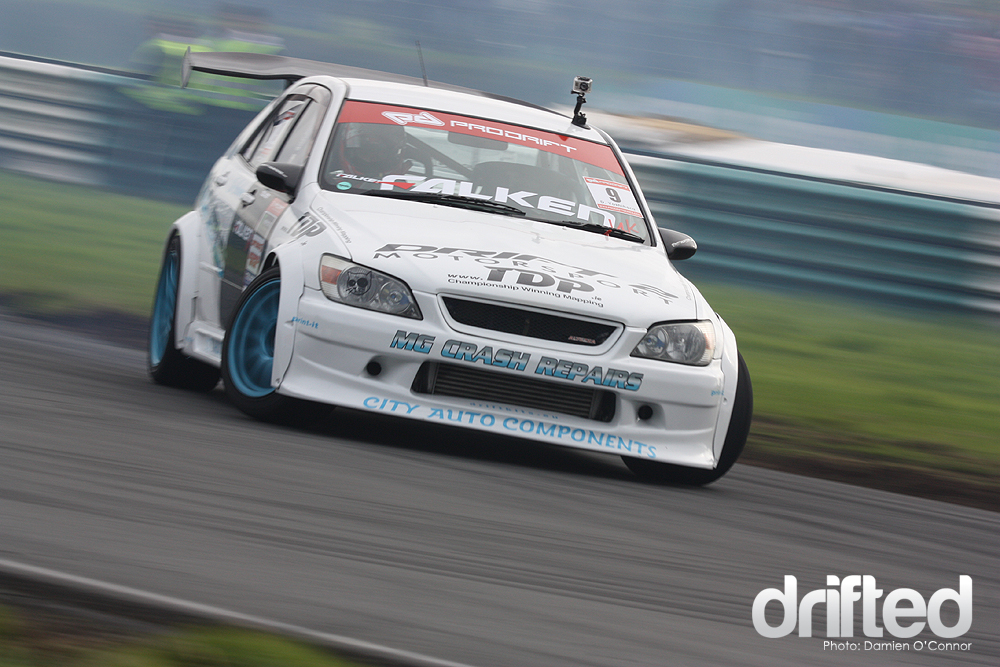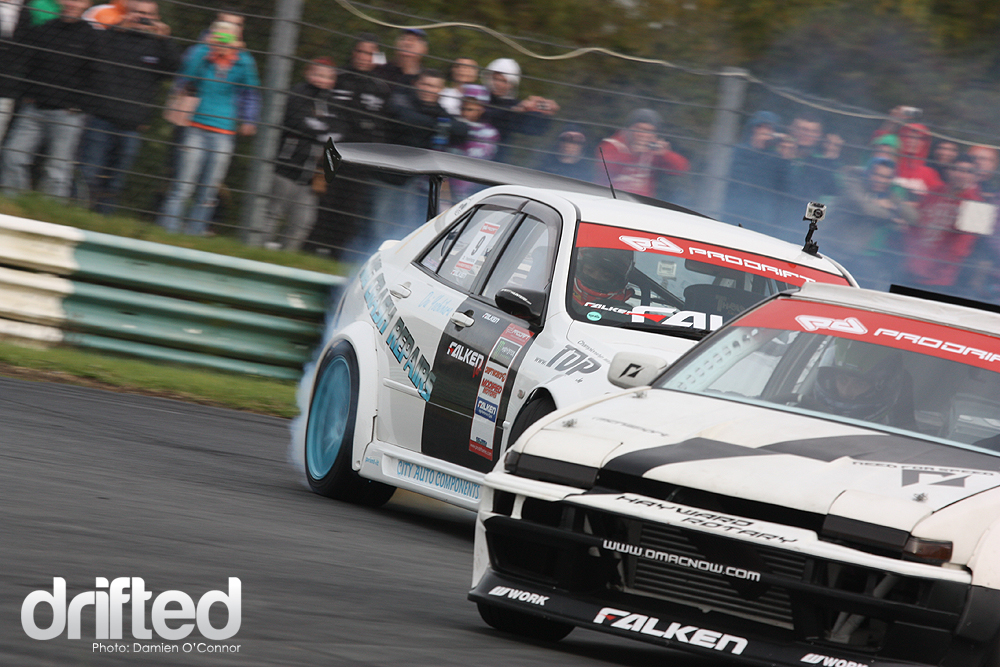 Dai Yoshihara in his borrowed MG Crash Repairs SR20 Altezza overcame Dean Kearney to earn his place against Darren McNamara in the top 8. Dai came in too hot on entry and dirt dropped. Dai does a great job to recover and continue his drift. McNamara as seen above drives the remainder of the course; the judges favour McNamara much to the crowds disapproval, feeling a re-run of the pair was justified for a Top 4 spot.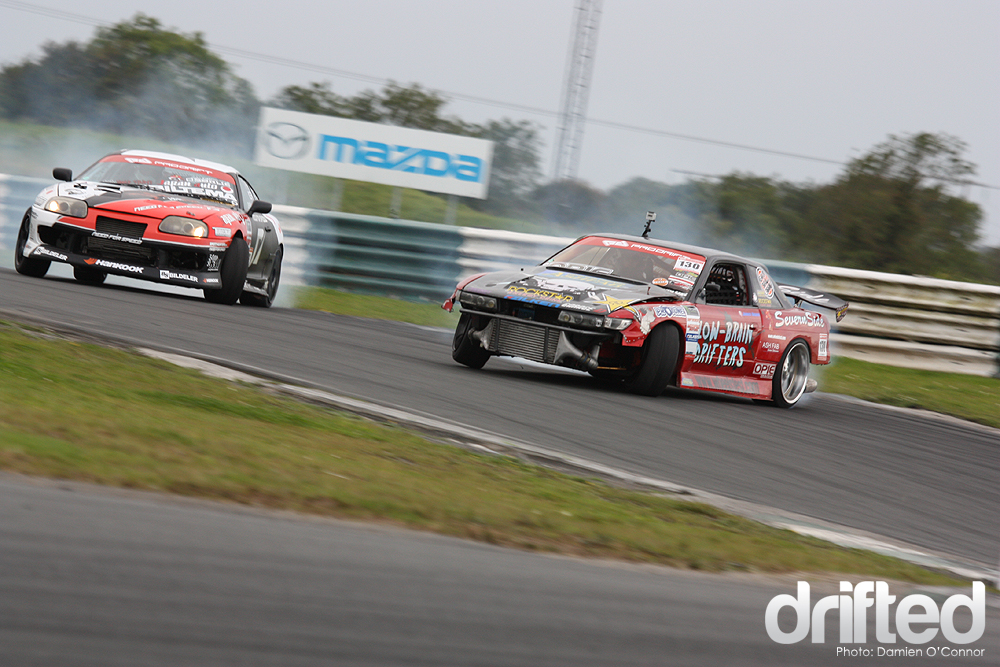 Crowd favourite Freddie Aasbo drifts wide on his chase battle, handing a top 4 position to James Deane.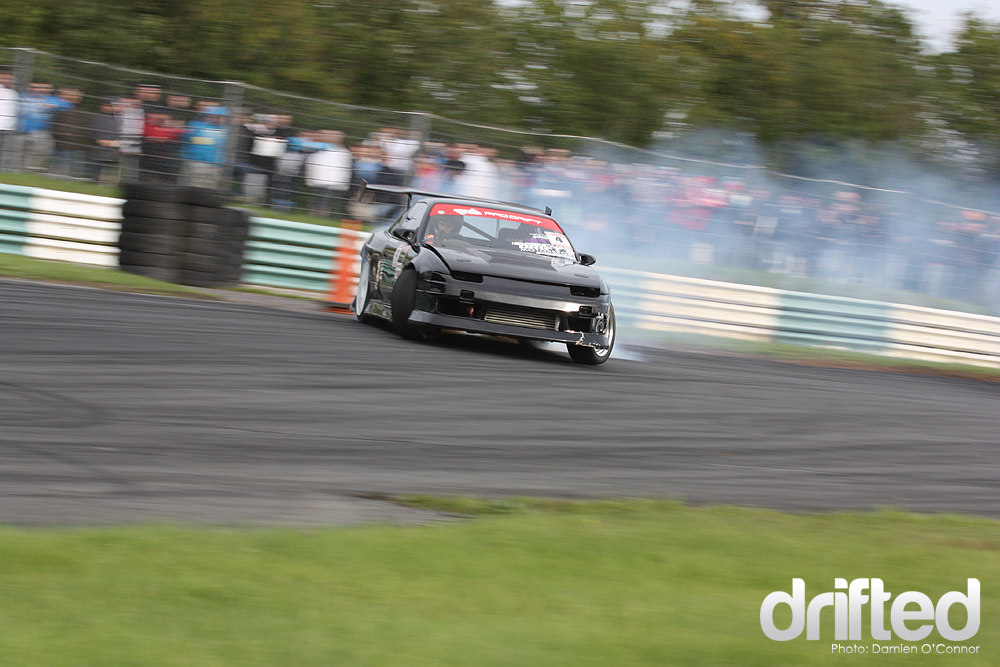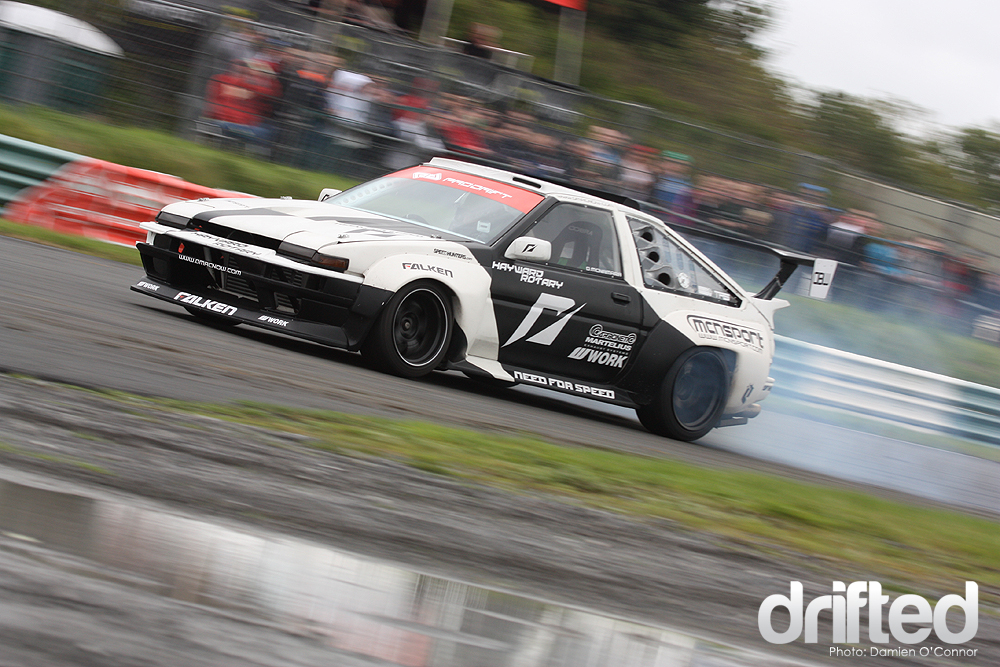 Gavin Lenihan's amazing run was brought to a swift end by Darren McNamara in his NFS rotary AE86 Corolla.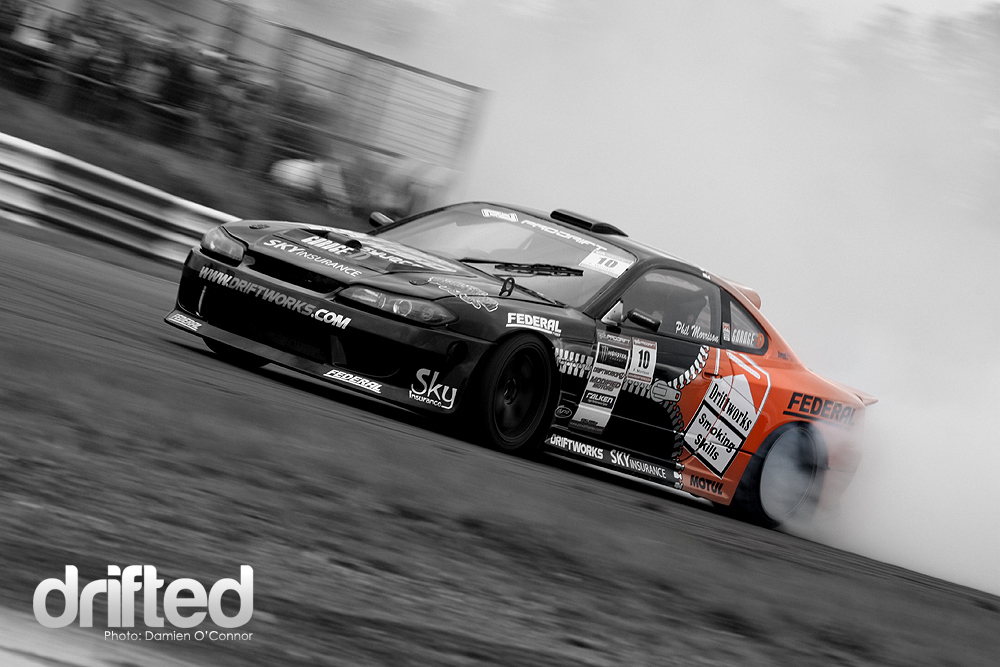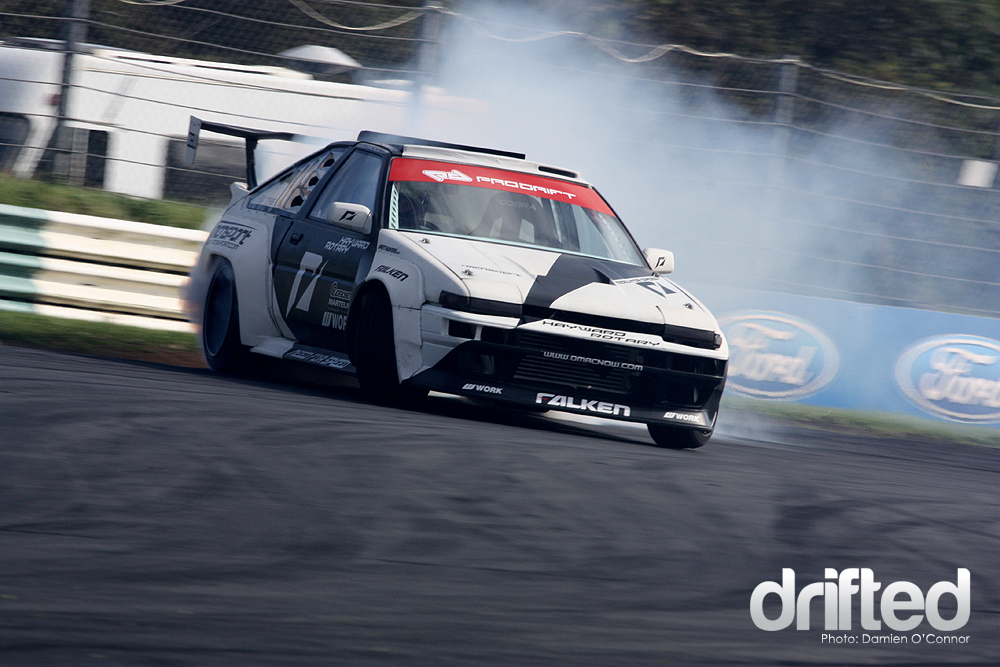 Not even Phil Morrison or the great D-Mac could stop James Deane on his route to success, the young Cork native surely destined for greatness at the highest world level.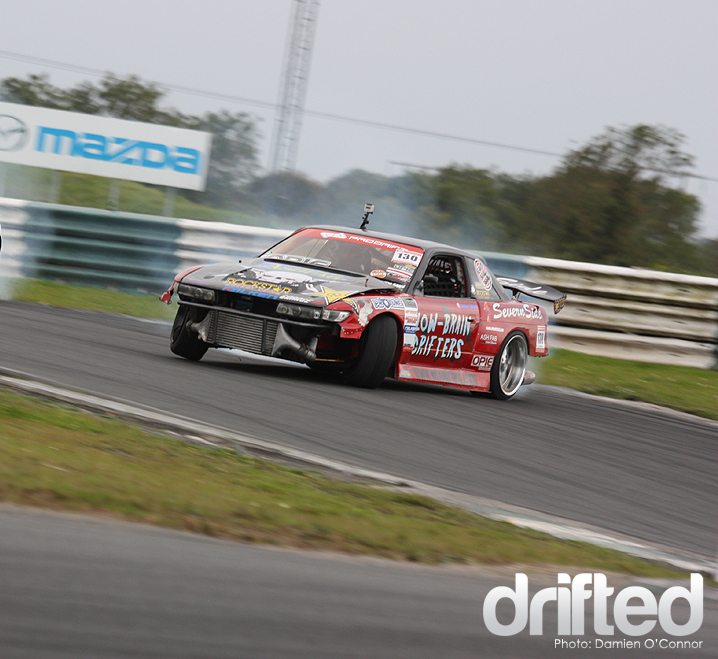 James Deane Prodrift Japfest 2011 winner.
On reflection, for me it was the most successful day of drifting on Irish soil. To be able to invite all of these international drivers and have home grown talent that can put it up their with the best, has to make you proud. Days like this can only be good for Irish drifting. Here's to hoping we'll see many more. I leave you with some of our gallery; as always I hope you enjoyed our coverage of the Prodrift Irish Series.