EVENT: Formula D Round 5: Throwdown: Part I
I swear I'm still picking bits of rubber out of my hair and ears after Round 5 of Formula D in Monroe, Washington. The stands at Evergreen Speedway were packed, and rightfully so, having a few Washington locals in the Pro line-up and of course the hella talented field of Pro-Am drivers also competing. With a combination of beautiful weather and a sellout crowd, the drivers had an opportunity to put on an amazing show and they did not disappoint. Some of the best driving I've seen all season from a large portion of the field.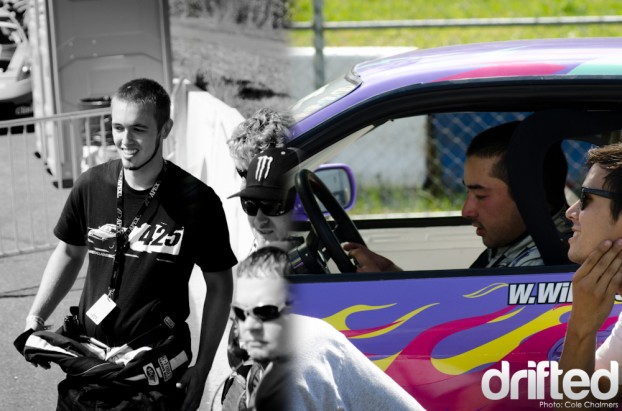 Two Washington locals and Team Instant Party Bros, Roland Gallagher and Walker Wilkerson, brought the heat to their hometown track, throwing down for their friends, family, and fans.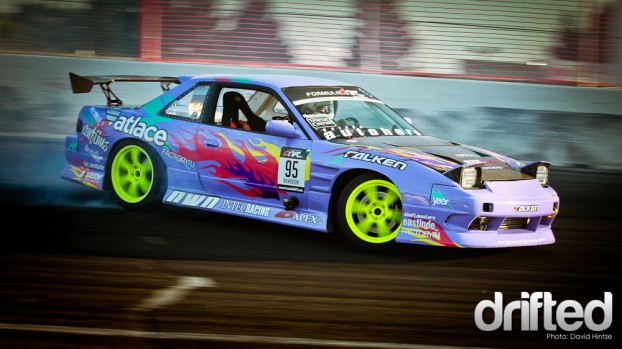 Both Roland and Walker made it to top 32. Unfortunately, even with the crowds behind them and their home track advantage, Roland was bumped out by Dean Kearney after kissing a wall and Walker fell to the hands of Darren McNamara. Both these guys are still winners in my mind though, being two of the few guys not hopping on the V8 train and I'm always impressed by their driving. On top of that, they are both super chill and should be getting way more attention and sponsors. I want to see both these guys on the podium real soon!
I was stoked to see fellow Canadian and four-door enthusiast, Alex Lee,  qualify for top 32. I was bummed that he didn't do to well at Long Beach due to car issues, so seeing him qualify top32, and then go on to beat out Alex Pfeiffer for a spot in the top16 in his Toyota Cresta. I'm pretty sure Alex is the only driver rocking 4 doors in Formula D currently, and if you know me, big cars are a big plus in my mind. Big things are on the way for Canada's 'Wonderkid', so watch out!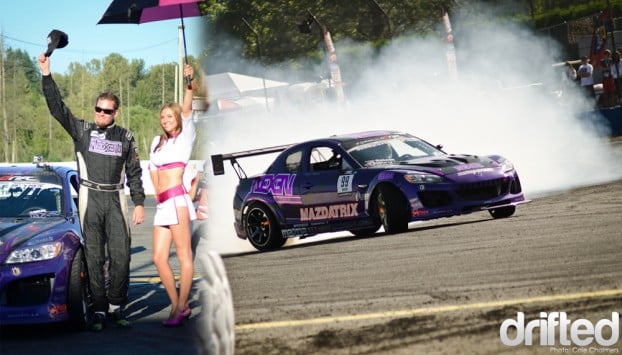 Kyle Mohan was killing it all weekend in the Nexen Tire Mazda Rx8. The guy was unstoppable. There was multiple times where cars made contact that looked like they were going to end in carnage, but Mohan would stay in it and keep it cool. That fearless driving put him into the top16 with ease.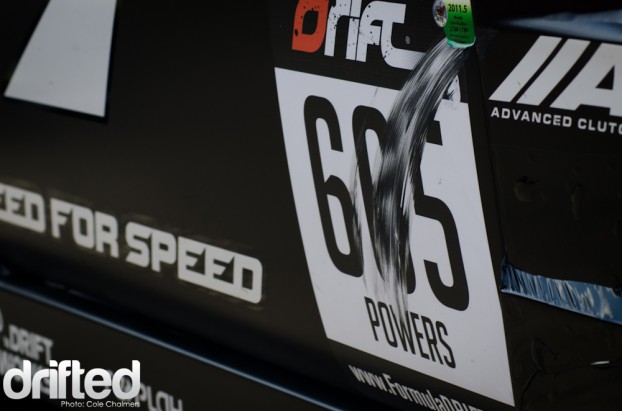 Speaking of getting close, Matt Powers car was showing signs of some intense battle action!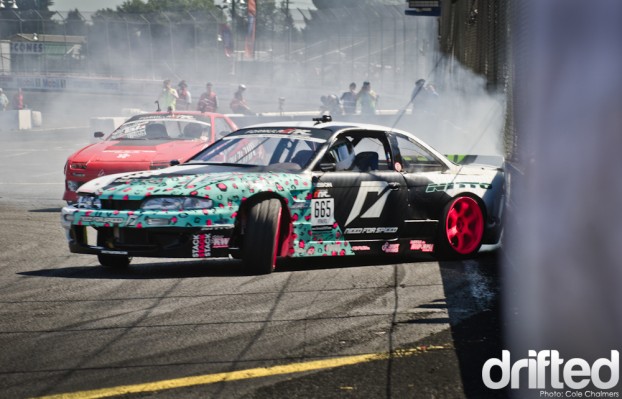 …And it would only get worse. Evergreen Speedway is notorious for its cement walls that just beg for wall tap….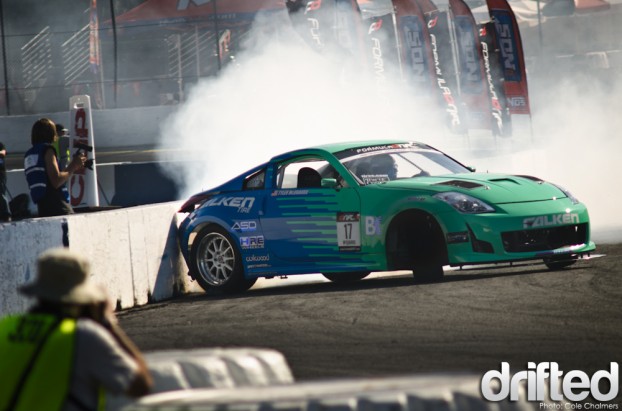 …after wall tap…
…after wall tap…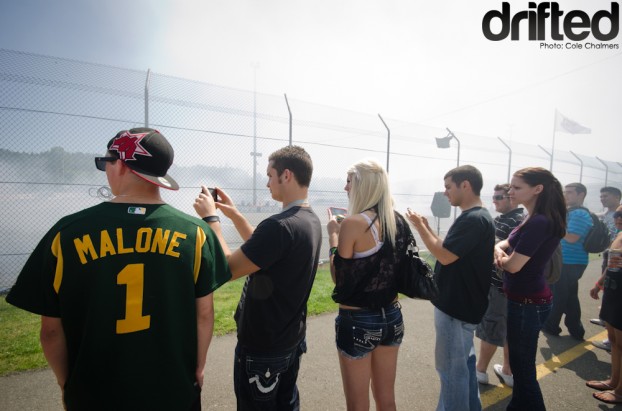 You know the final race in Fast in The Furious: Tokyo Drift? The Mustang/350z Battle down gangster mountain? And everyone on each corner has their cellphone out filming the race? Well the line of fans along the fence were very reminiscent  of that scene. I had a nice laugh to myself about it.
Team Fatlace driver, Matt Field, fought hard in his highlighter S14 to try and qualify for top 16 against Vaughn Gitten Jr. in the Falken Ford Mustang.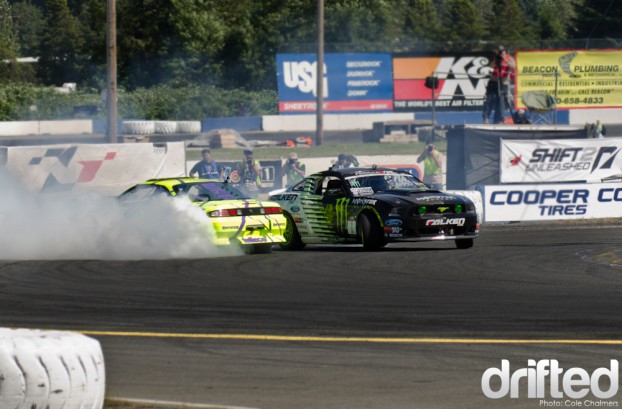 On his leading run, though, Matt pushed too hard and spun out and Jr. narrowly avoided what could have been a gnarly collision.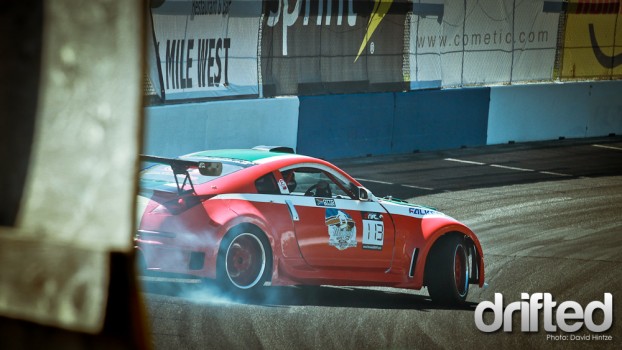 Otto Graven had some of the most impressive driving I saw all weekend. He stepped up huge at Evergreen! Otto's battles against Chris Forsberg were intense! It was run after run of door on door drifting.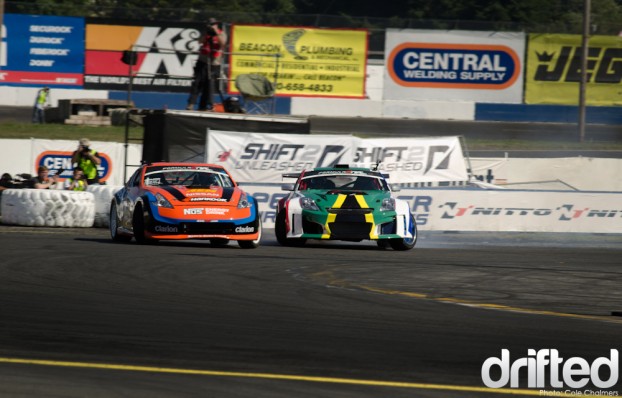 Despite Otto Graven's hard charging, Chris Forsberg was given the win after a One More Time battle and moved on to top 16.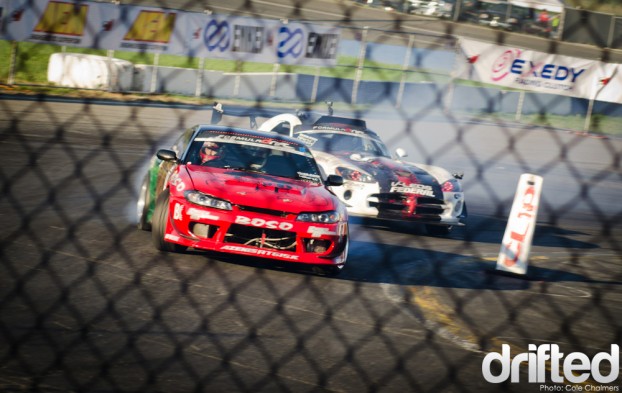 I was hoping to see Ross Petty take the BOSO S15 into the top 16 but Team Need For Speed Driver, Fredic Aasbo sent him packing.
Dai Yoshihara's consistant driving this year has put him in a position to take the points lead in the series. Dai beat out Jeff Jones to solidify his spot in top 16 against Matt Powers.
Here are the top 16 drivers and who they will be facing the following day :
Tyler McQuarrie – Alex Lee
Fredric Aasbo – Dean Kearney
Dai Yoshihara – Matt Powers
Aurimas Bakchis – Vaughn Gitten Jr.
Dennis Mertzanis – Chris Forsberg
Joon Maeng – Ryan Tuerck
Rhys Millan – Darren McNamara
Cyrus Martinez – Kyle Mohan
-Coverage of day two's intense battles will be posted up soon by David Hintze
Photos: David Hintze and Cole Chalmers
Words: Cole Chalmers