EVENT: Formula D ATL Qualifying Highlights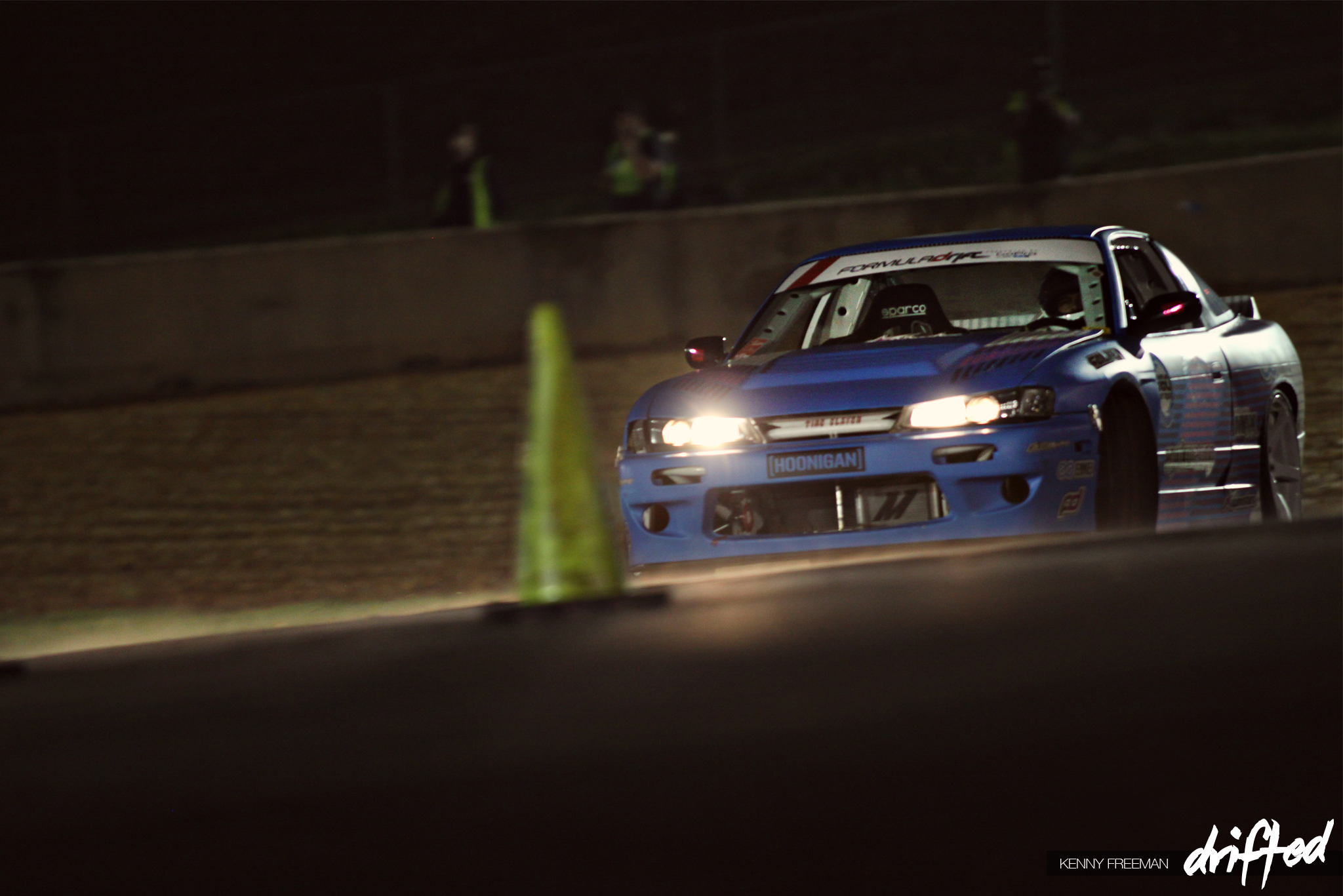 Formula Drift is growing every year, not only in popularity with the fans, but also in attendance for professional drivers from around the world competing on the premier stage. Road Atlanta was no exception, with a fierce crowd of 61 entries all eager to qualify for the main event's Top 32 bracket. Who would make it out ahead in the best of two run battle? Read on to find out.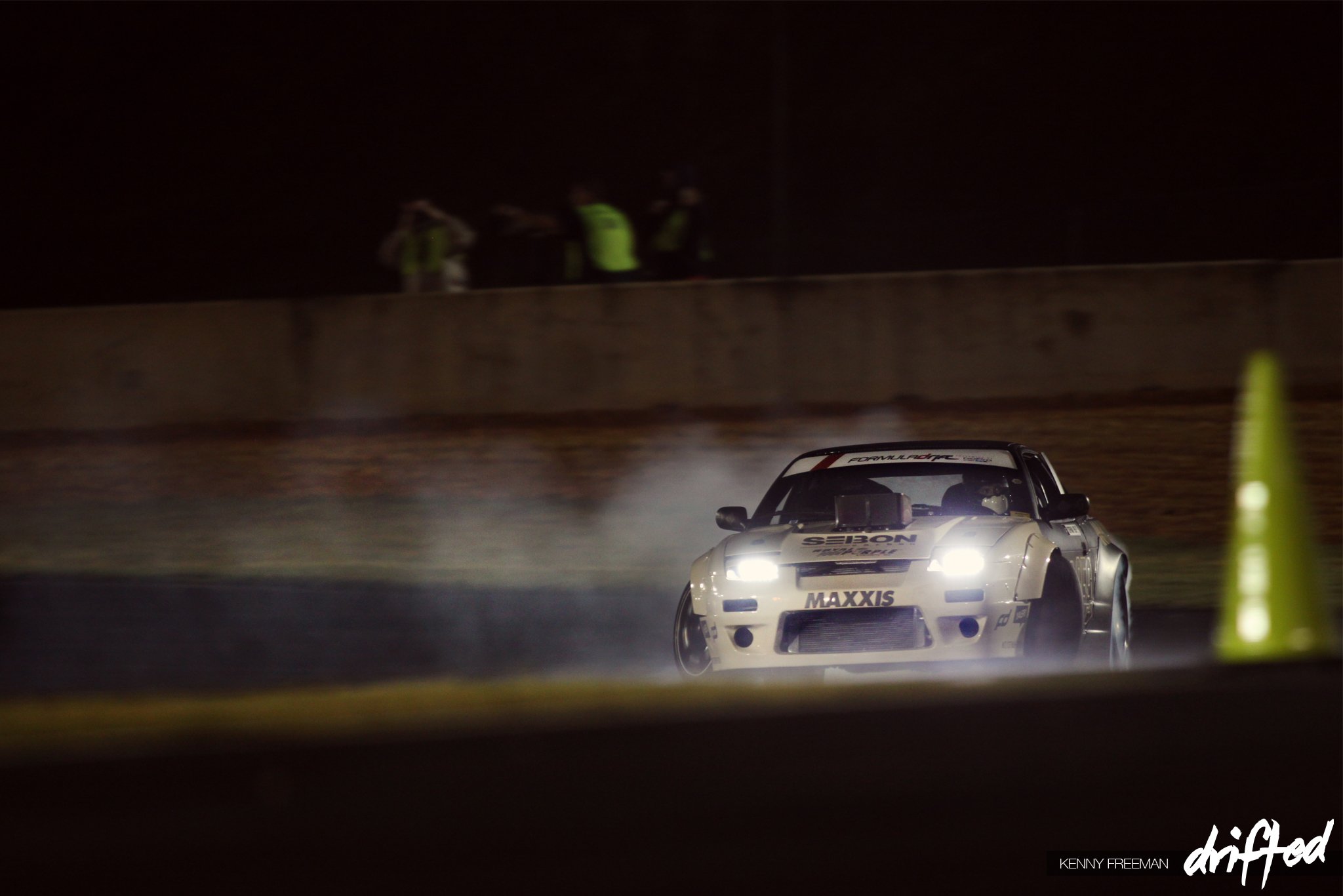 Matt Coffman may be a rookie in Formula D for 2014, but he is sharing a trailer with veteran Ryan Tuerck this season, and will surely pick up lots of pointers. He failed to qualify for Road Atlanta, but his S13 is showing good progress as he continues to tune the engine (now using a more traditional air filter above the hood, instead of the ITBs from Long Beach).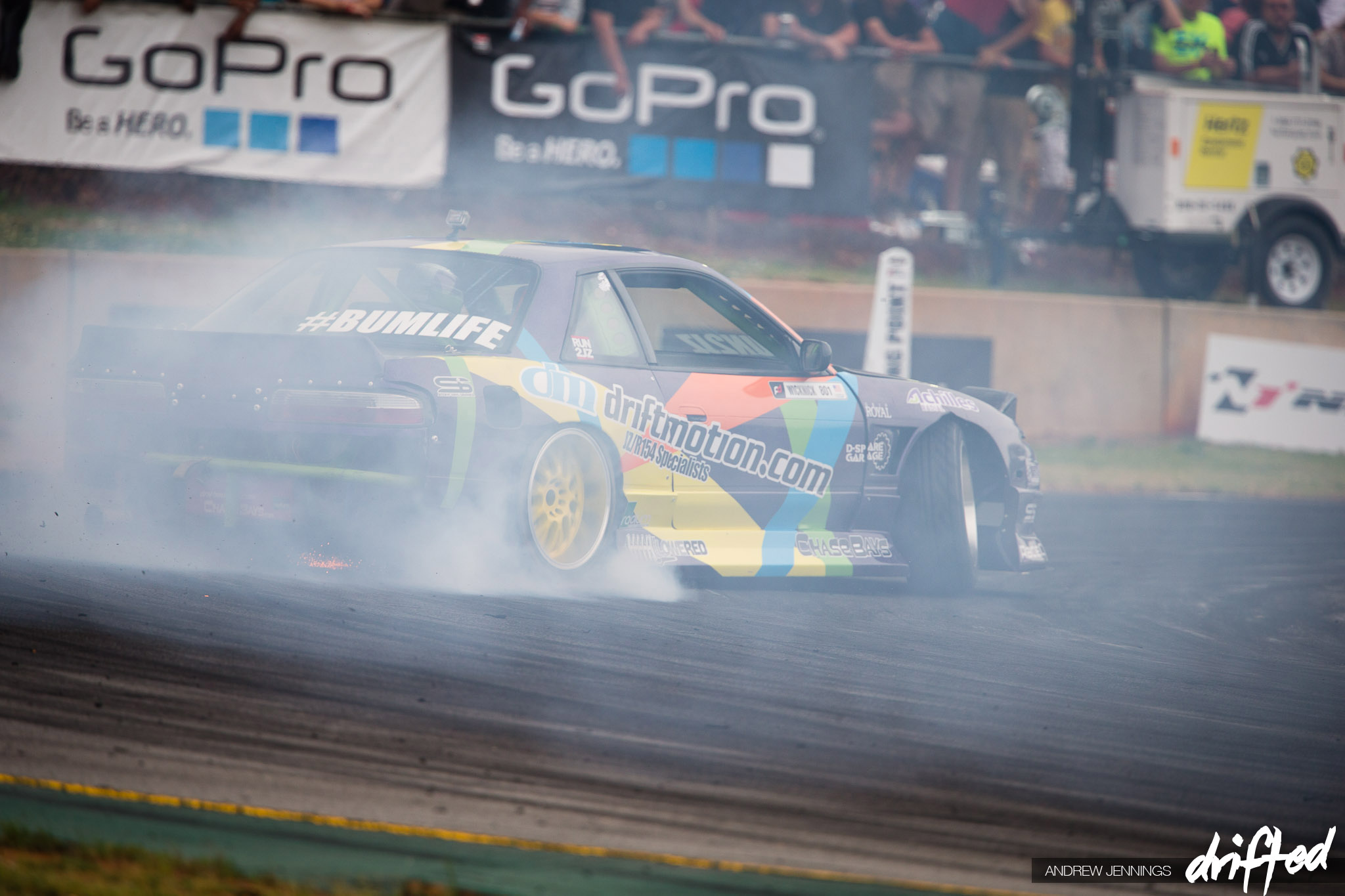 Brandon Wicknick in the Driftmotion D-Spare Nissan 2JZ S13 seemed to suffer from some mechanical issues. He failed to reach the start line for qualifying, and was not alone. Other notables, like Tony Angelo, didn't even get a shot at a judged run. Look for them to rebound in Miami Homestead at the end of this month.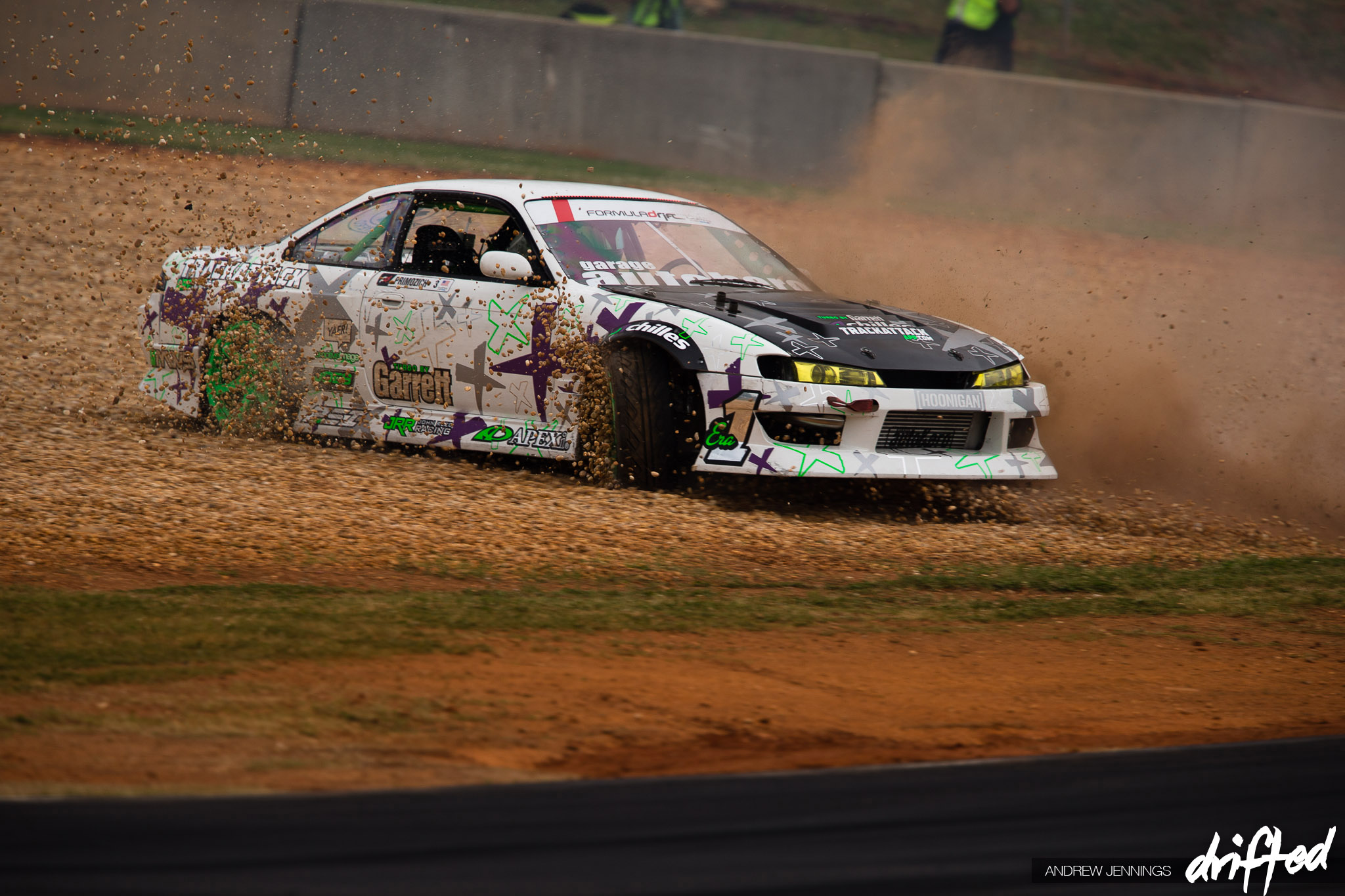 Even when the track was dry some drivers had a stint in the kitty litter. Rob Primozich was one of them, another rookie who is still getting to grips with the FD scene.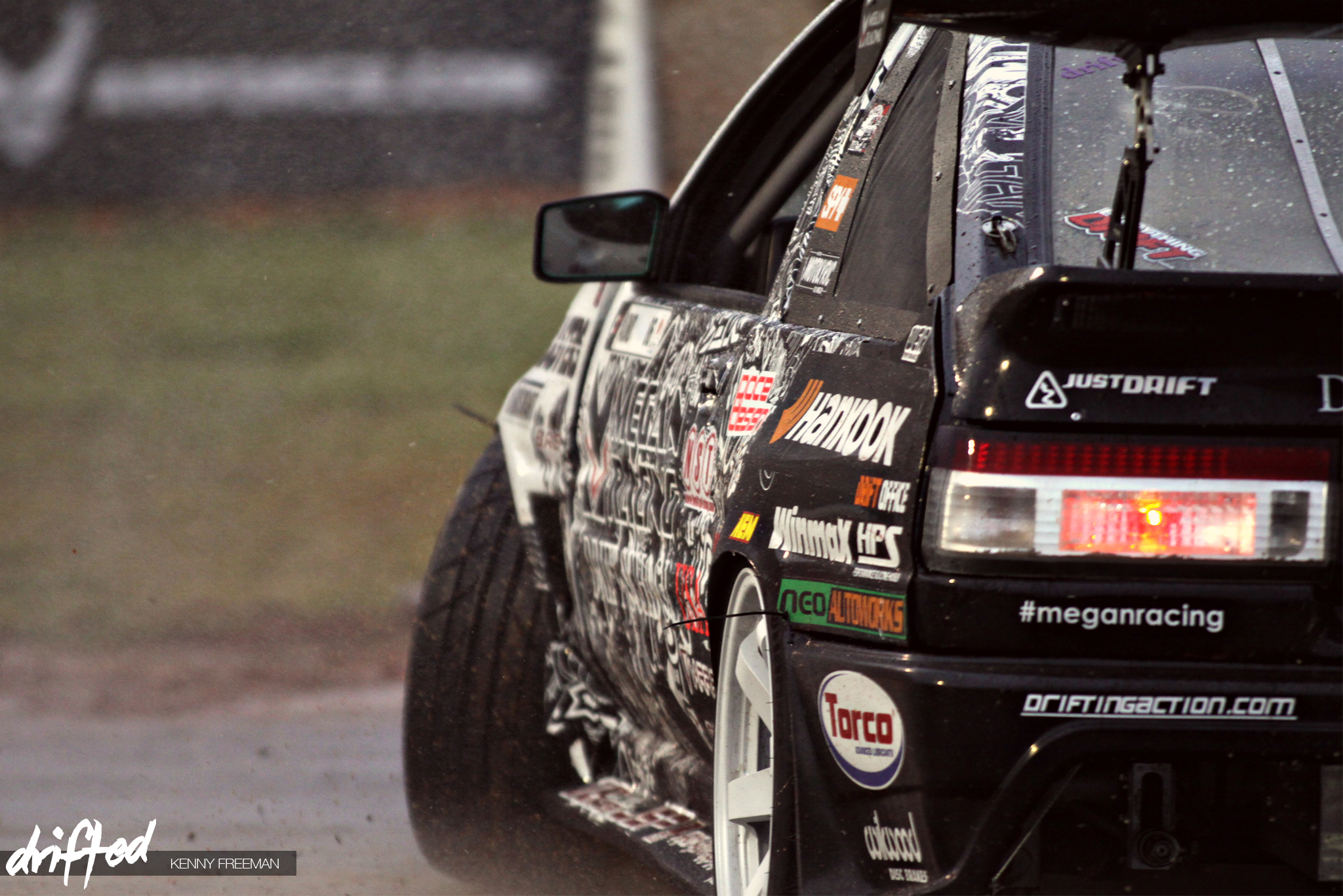 Another casualty of the fierce qualifying competition was Taka Aono. His Flying 86 looked good in practice, but was no match for some of the big boys when it counted.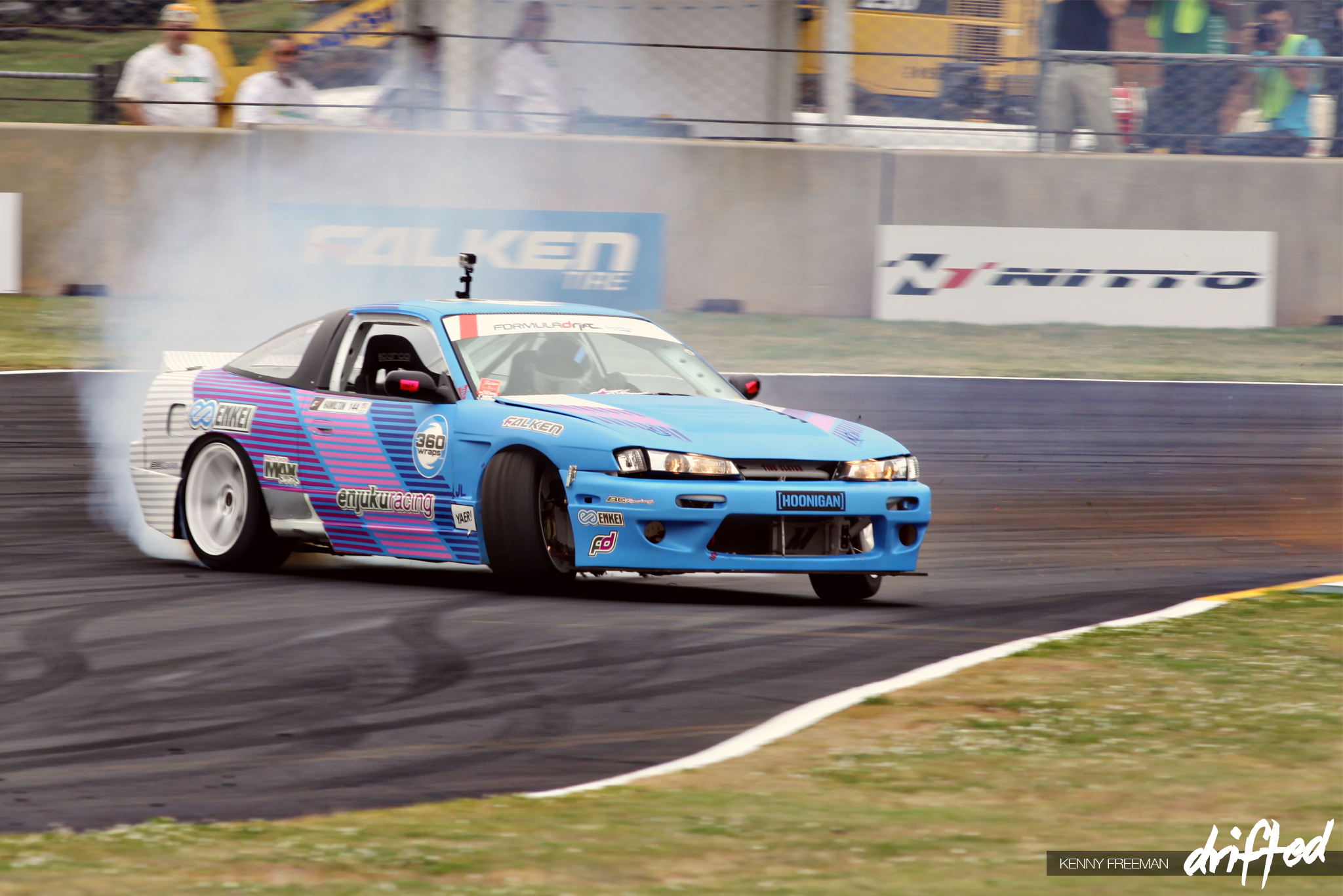 Nate Hamilton also looked good during practice as he enters his second full year of Formula D comeptition. Qualifying's wet conditions caught him out, and he was not able to make it through to the Top 32.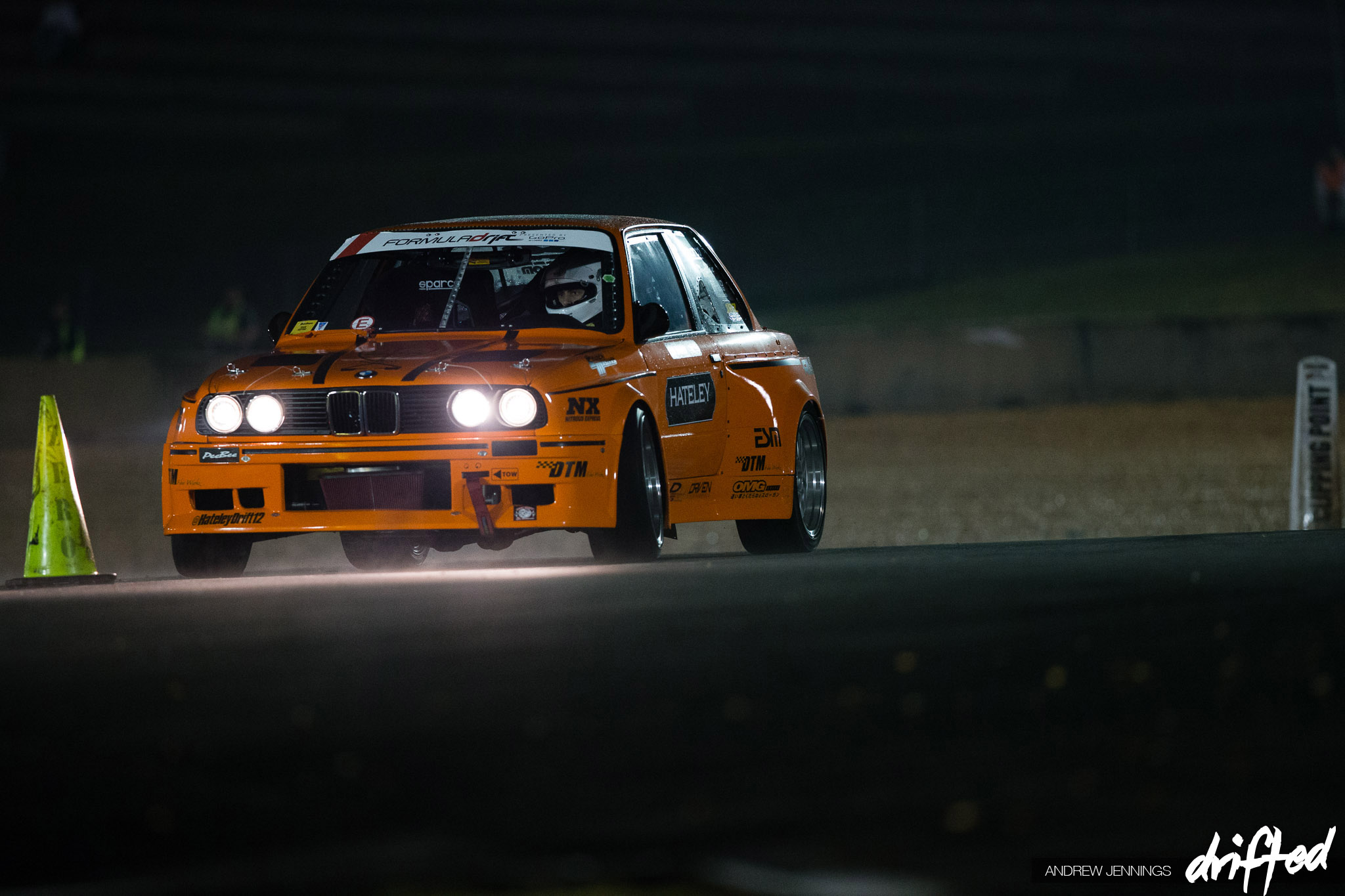 Michael Essa and Chelsea DeNofa are not the only BMWs on the grid for 2014. Andy Hateley has joined them in this retro orange one. Although he too failed to qualify, you have to give him some serious style points for bringing this knife to a gun fight.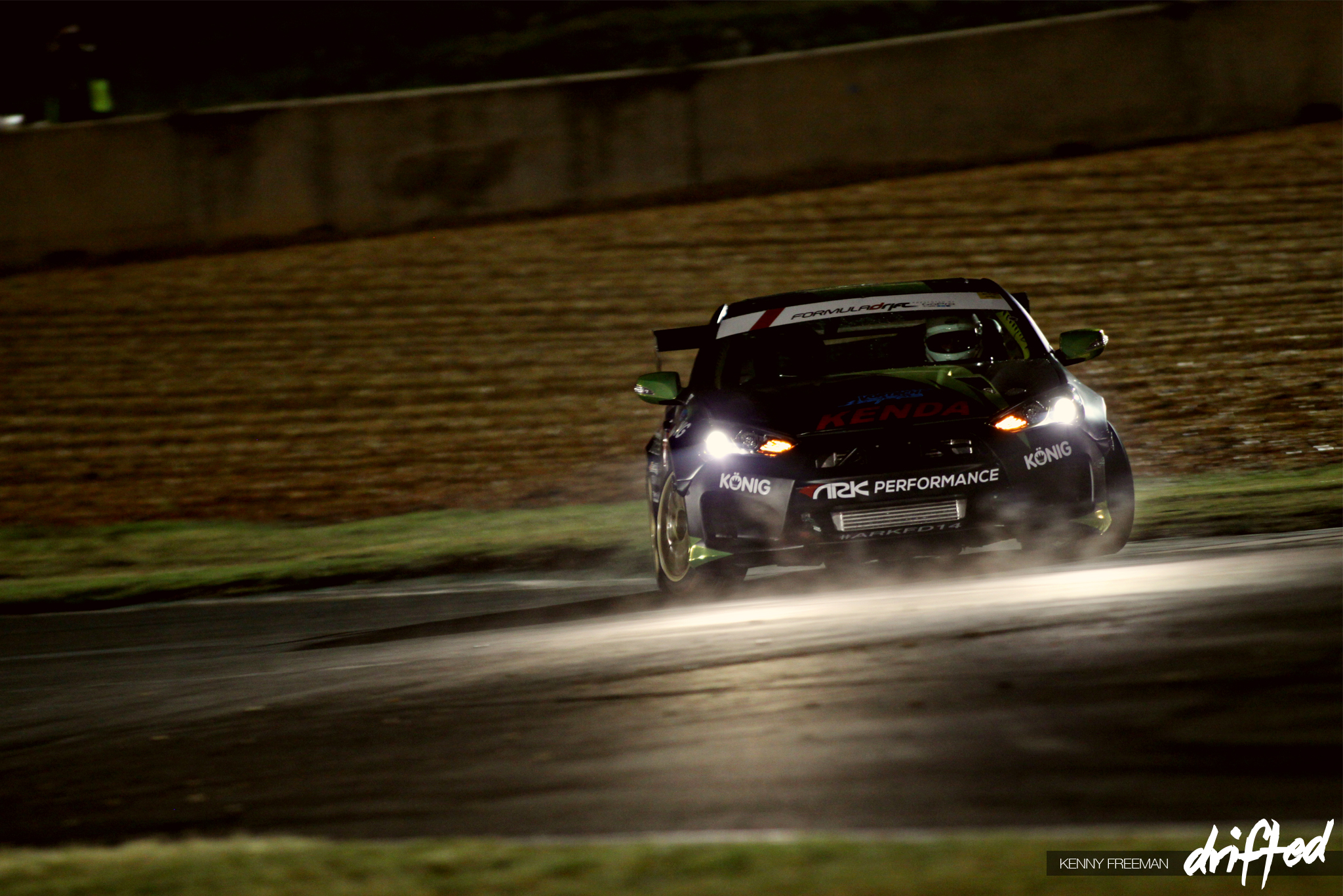 Dennis Mertzanis in the Ark Performance Hyundai Genesis Coupe had some off track moments during his judged runs, eventually trying to qualify without a rear clip, unusual for Road Atlanta which has very few walls close to the track. His antics did not win him favor with the judges, so he did not make it through either. So, who did make it to the Top 32 you ask?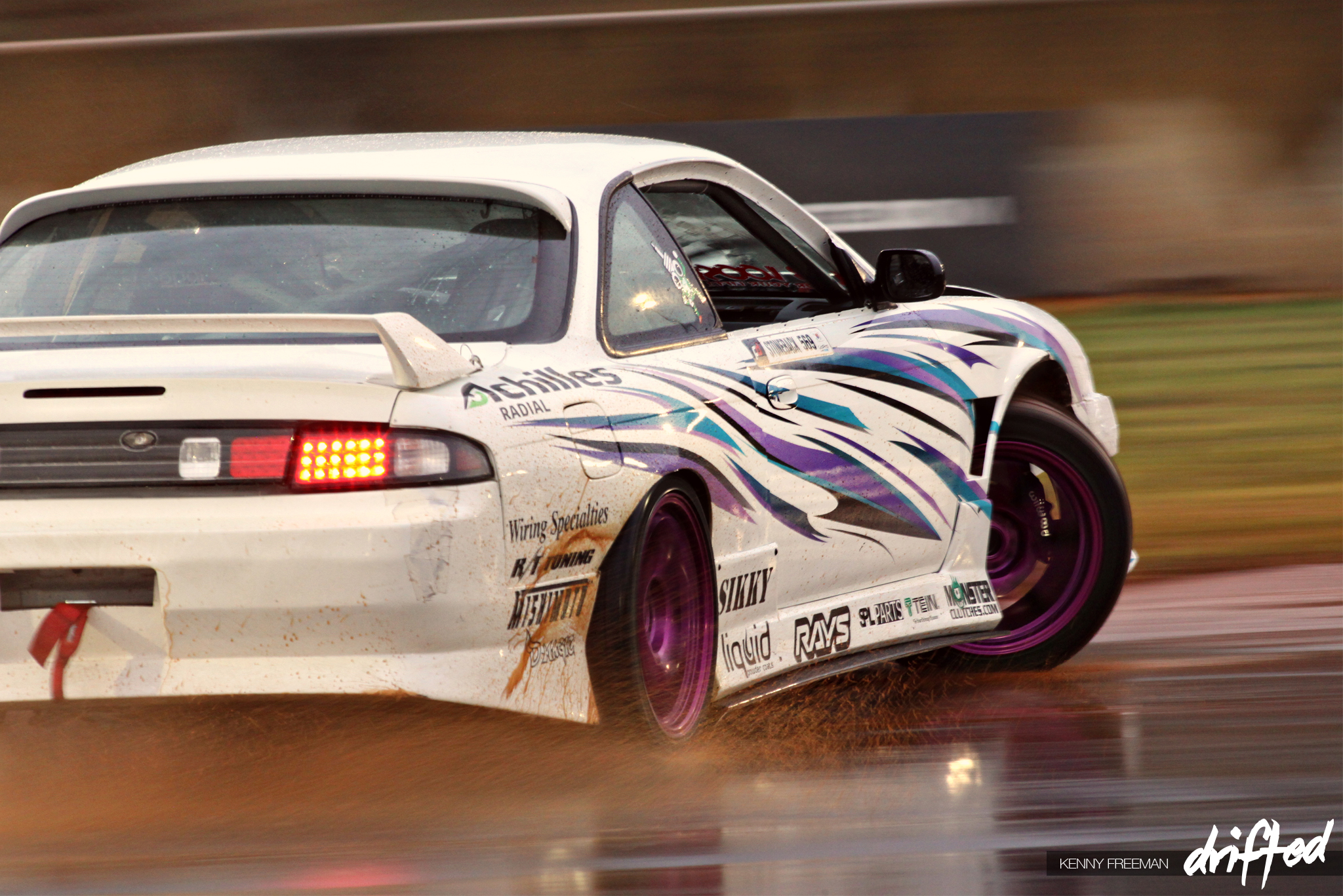 Getting back to the rookies, one of the S-chassis drivers rocking the Holley performance "rhino" intake was Geoff Stoneback. He put on a good show to make the cut in 30th position.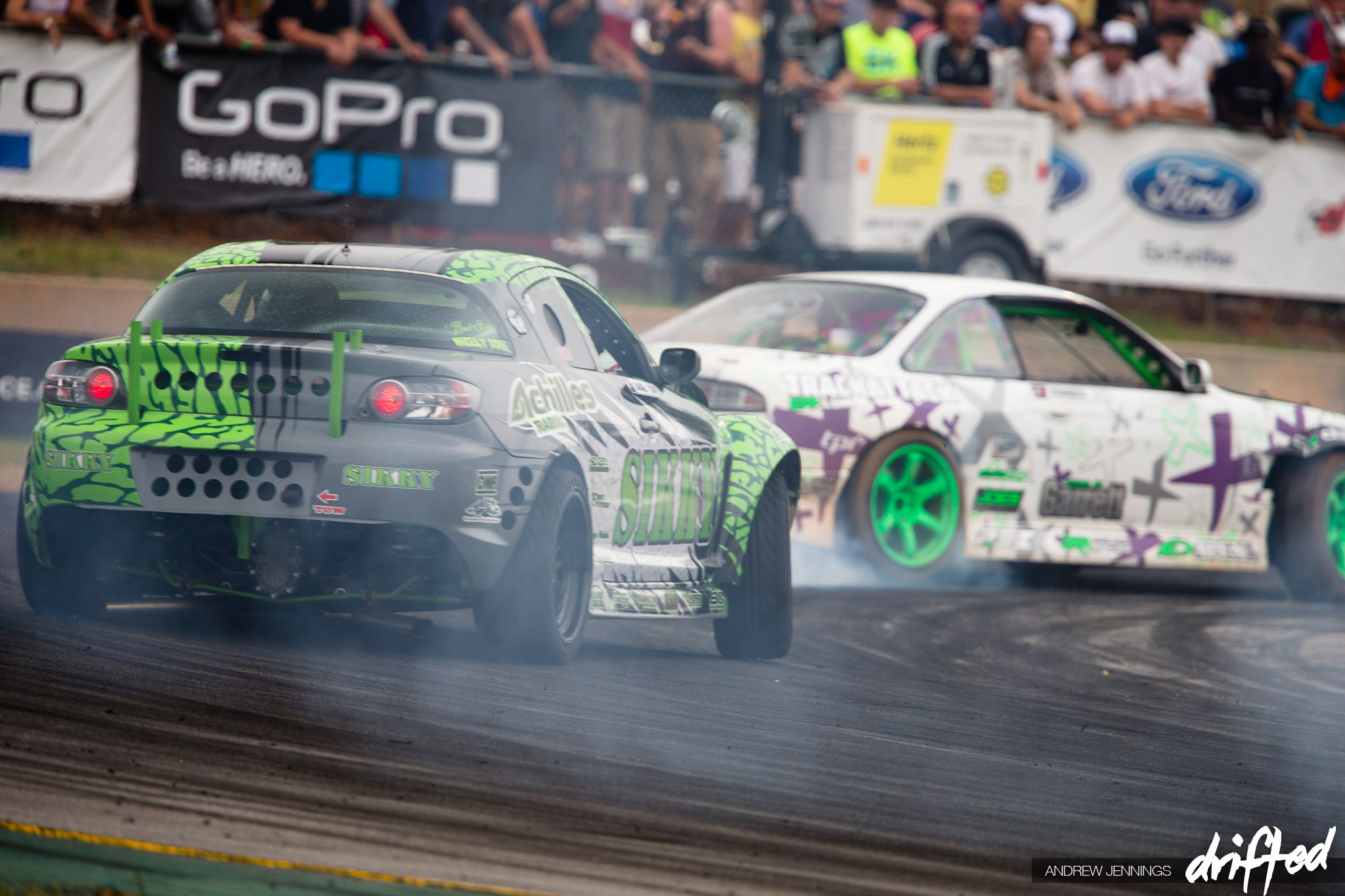 Sikky team driver Dan Savage showed that you don't always need a rotary to put a Mazda RX8 to good use. He layed down a solid run in difficult wet conditions to make it through in 28th (daytime practice session photo above).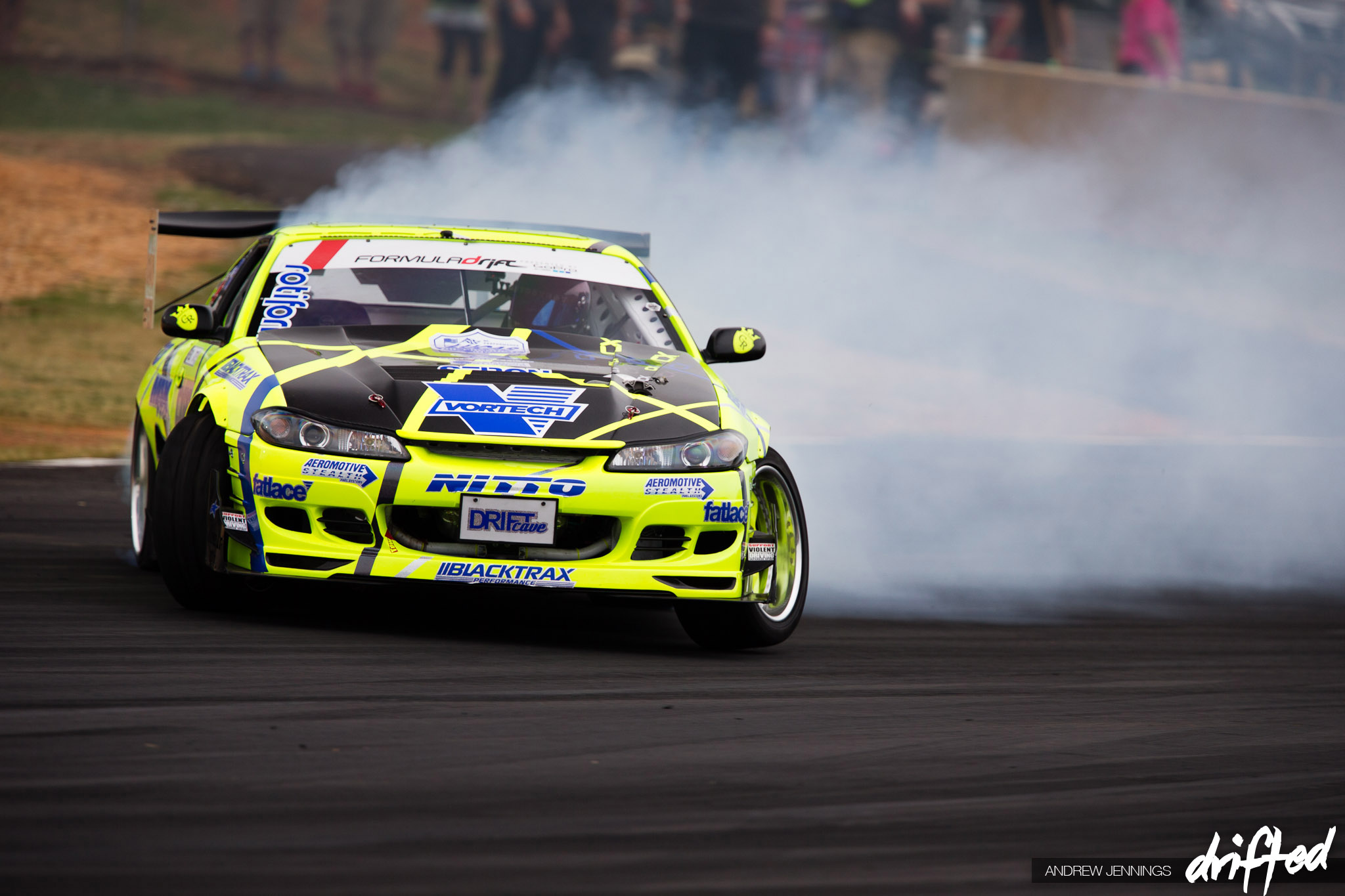 Matt Field told me that he had "fallen in love all over again" with his car after making the switch up to the S15 front end. Personally I've always loved Field's creativity when it comes to car design, and his driving wasn't too shabby either, qualifying 25th overall.
Dean Kearney managed to avoid the mechanical gremlins during the ATL weekend, piloting his ORACLE Lighting SRT Viper to 23rd.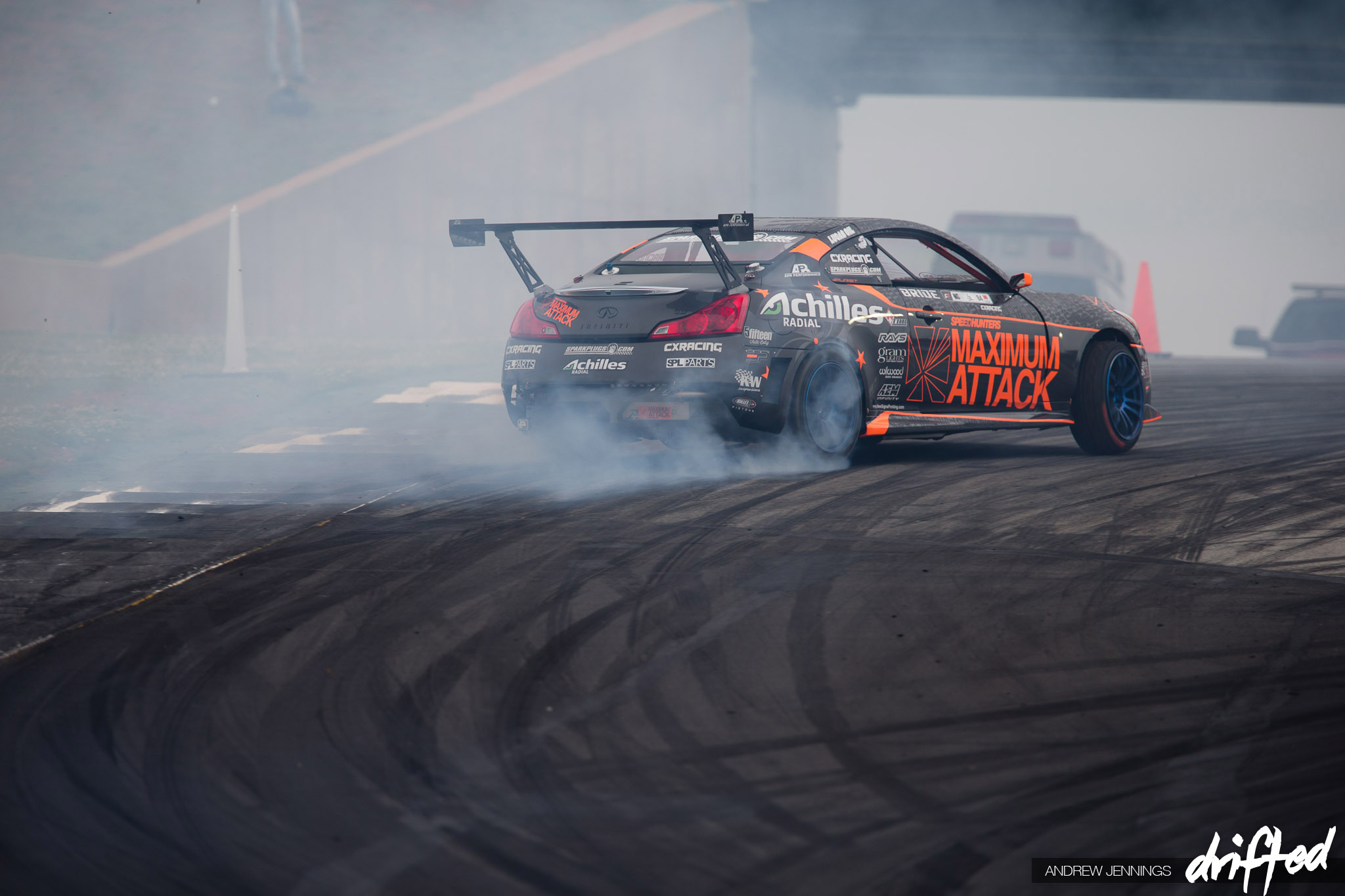 Charles Ng makes his glorious return to the sideways America drift series this year thanks to new sponsors Speedhunters and Achilles Radial. His Infiniti G37 (aka Q60) is still being tuned at each event, so keep an eye on him to improve as the year goes on. He qualified 21st.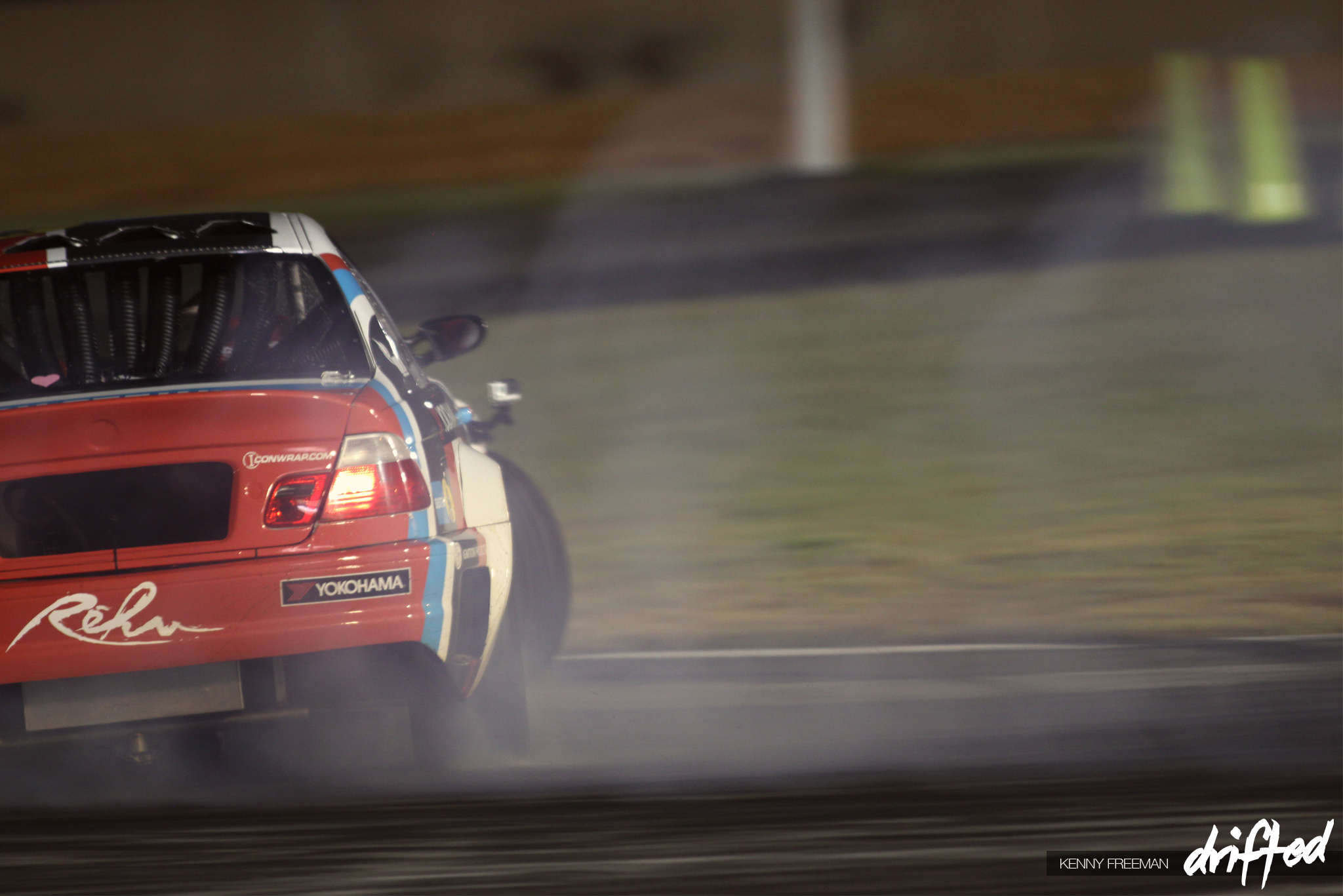 2013 Formula Drift Champion Michael Essa is not on pace to repeat his historic season from last year. He is quite a ways down from the top drivers, and only managed to qualify 20th for the show, missing out on some valuable points.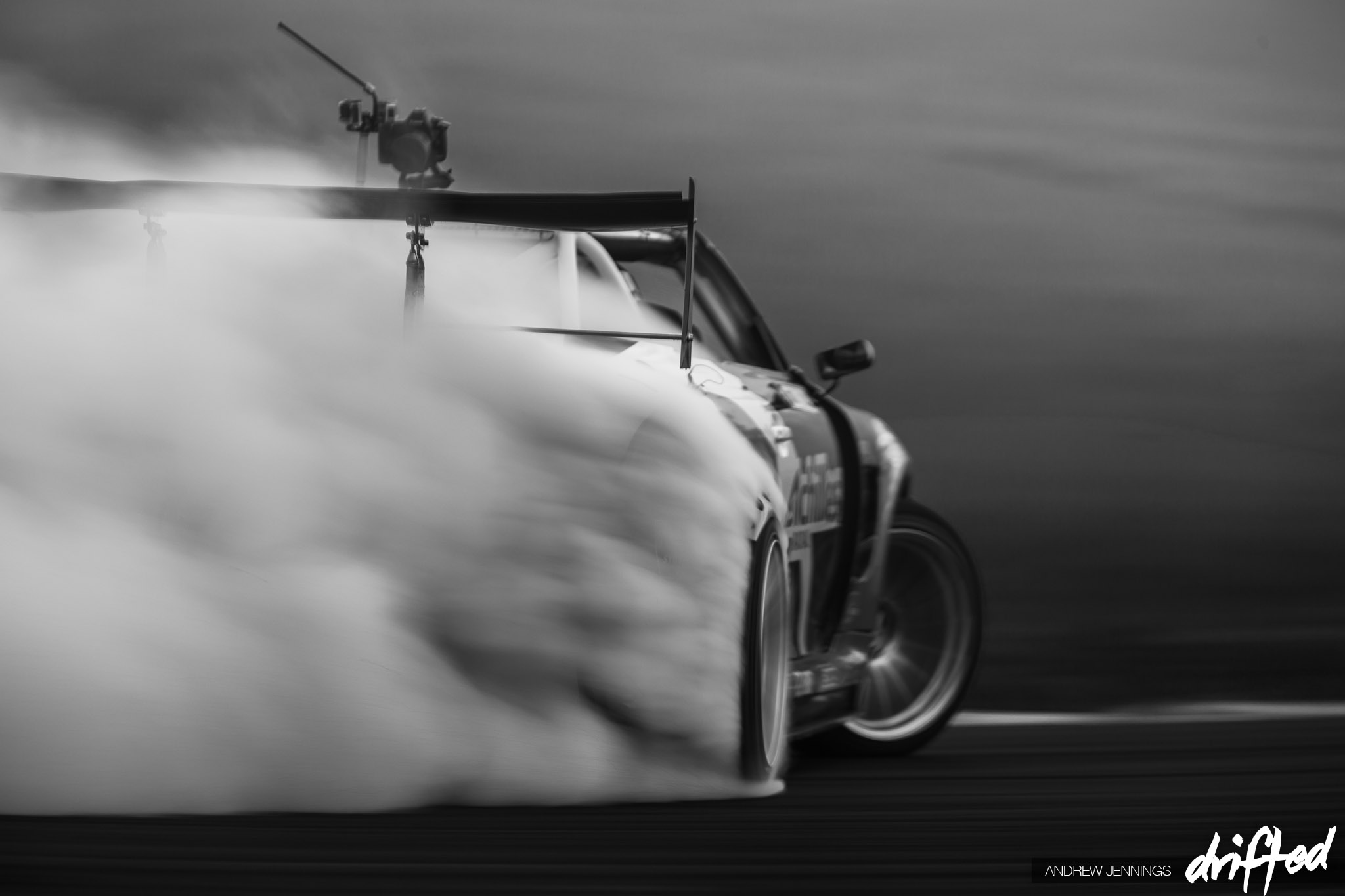 Similarly, Daigo Saito is now all but out of the running for a championship this year. He'll need to be a lot more aggressive if he wants to do better than the 16th place position he achieved at Road Atlanta.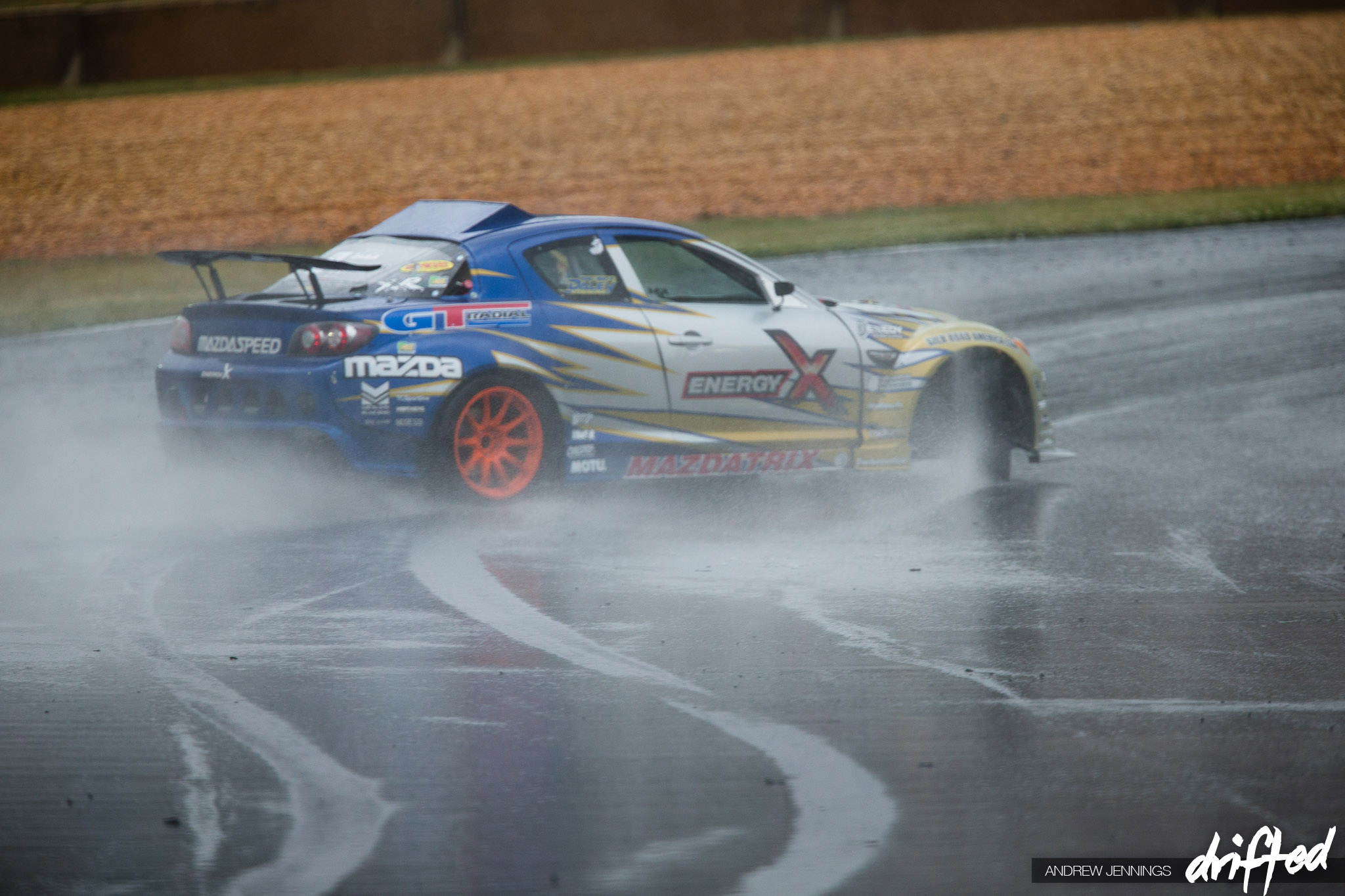 Kyle Mohan is running on a new set of tires this year after previous sponsor Nexen pulled out of the sport. The GT radials held up well in the tough, wet conditions, allowing him to qualify a solid 15th.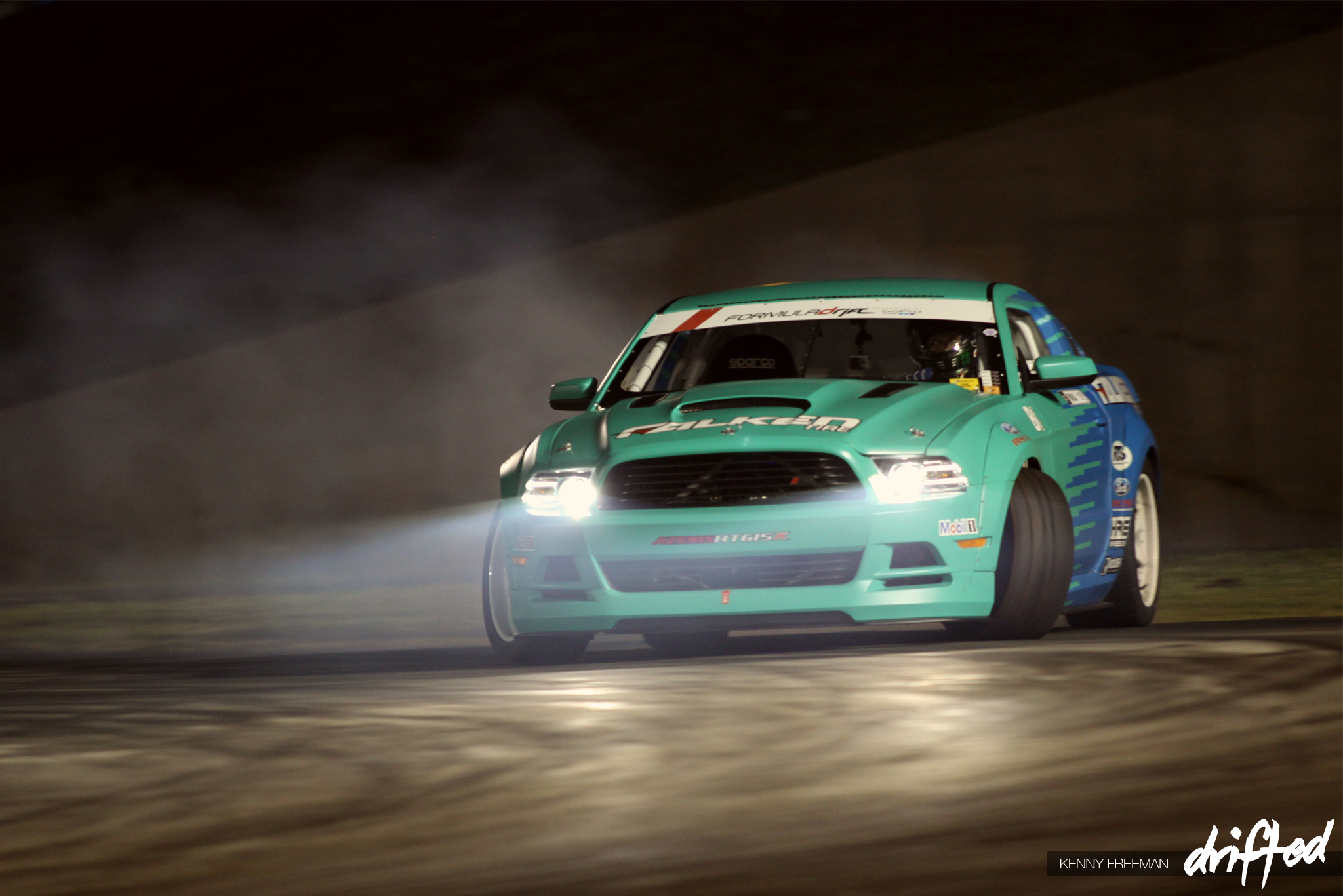 Justin Pawlak did well to handle the high horsepower and weight of his Falken Tire Ford Mustang through the rain on Friday night, qualifying in 14th, a position that would put him on the same side of the bracket as one former teammate…
It is important to note that Formula D has abandoned the "Knock Out" style qualifying that it debuted in 2013, and gone back to a 2-run qualifying that is more equal for all the drivers. Positions 1 thru 16 are no longer set on first runs, meaning that even a driver's second run can count towards the coveted Top 10 points paying positions.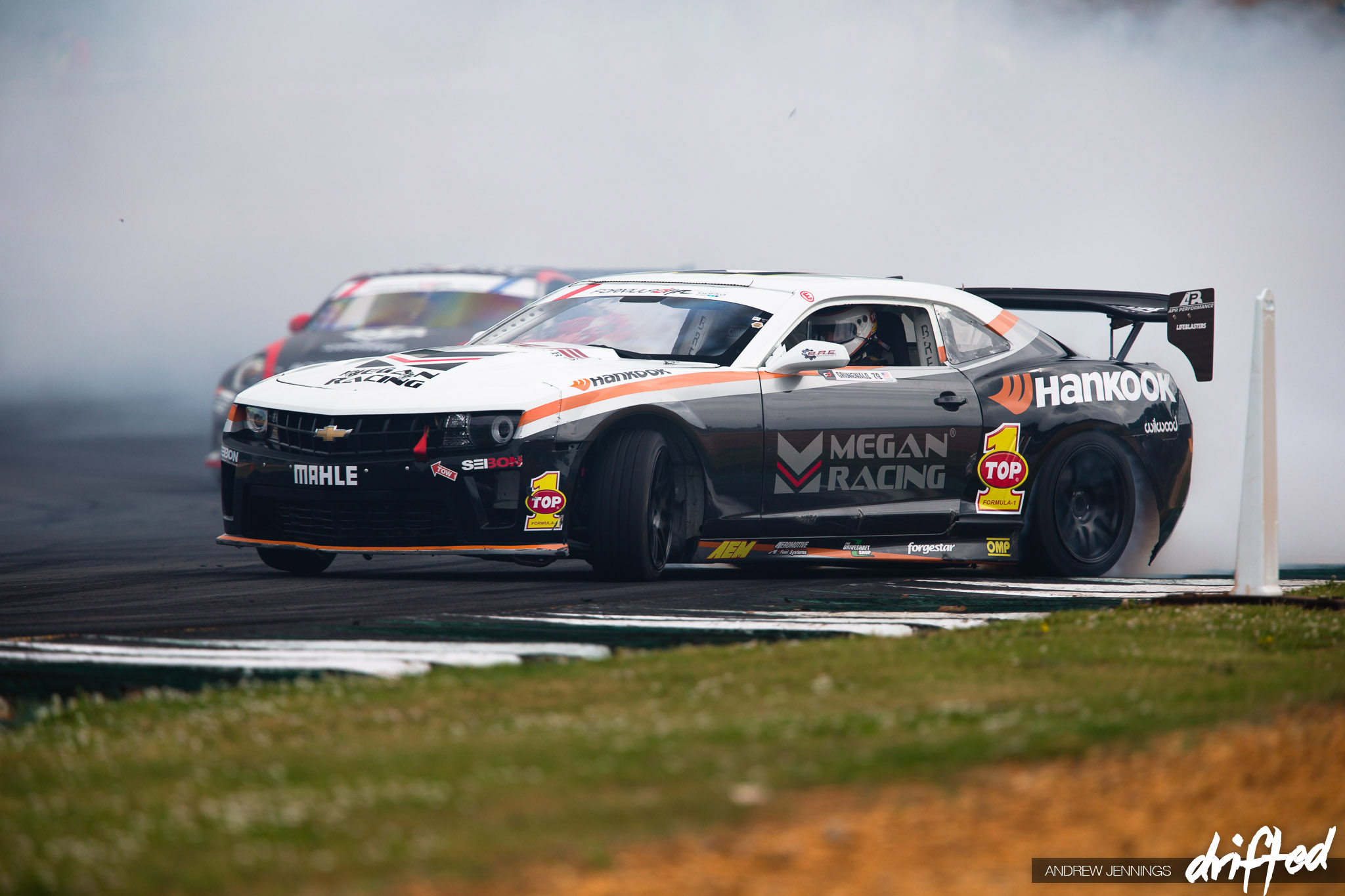 Conrad Grunewald undeniably has the most gangster entries at Road Atlanta. He was constantly pulling reverse slides into the lead left-hander, earning huge applause from the crowd, and enough points for ninth place on the grid.
If you thought the Nissan S-chassis cars had high horsepower, you might want to take another look at the new 86-chassis. Ken Gushi is running a sweet 1,000 hp this year, and put it to good use for qualifying, landing a solid seventh. It does help that he is running a 2JZ motor, but I don't think we're far away from seeing the four cyclinder crowd get up to the four-digit mark either.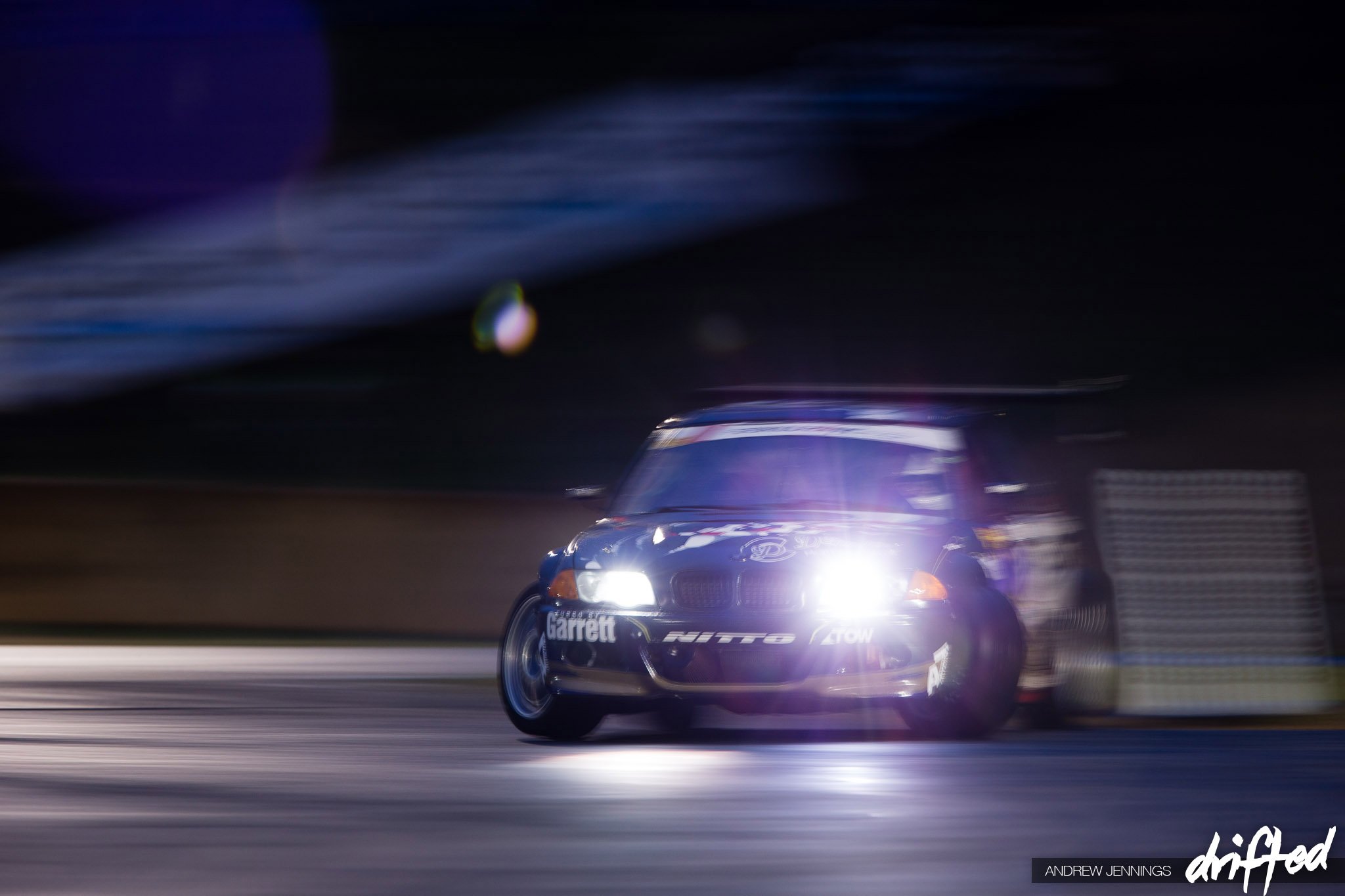 Chelsea DeNofa seemed to be running fine in the wet, controlling his BC Racing Nitto Tire 3-series sedan for the first qualifying run with relative ease. Something went wrong on his second lap however, and DeNofa lost it just before the uphill exit of the course, tagging the wall with his left rear. The car was in trouble, and the rear diff was out the next morning for repairs – nothing the team couldn't handle, allowing DeNofa to compete in the main event from sixth place in the bracket.
Long Beach round one winner Chris Forsberg has done well in Atlanta in past years, and 2014 was no exception. He qualified fifth, a position that would prove very important come Saturday's race. More on that in our Top 32 recap soon…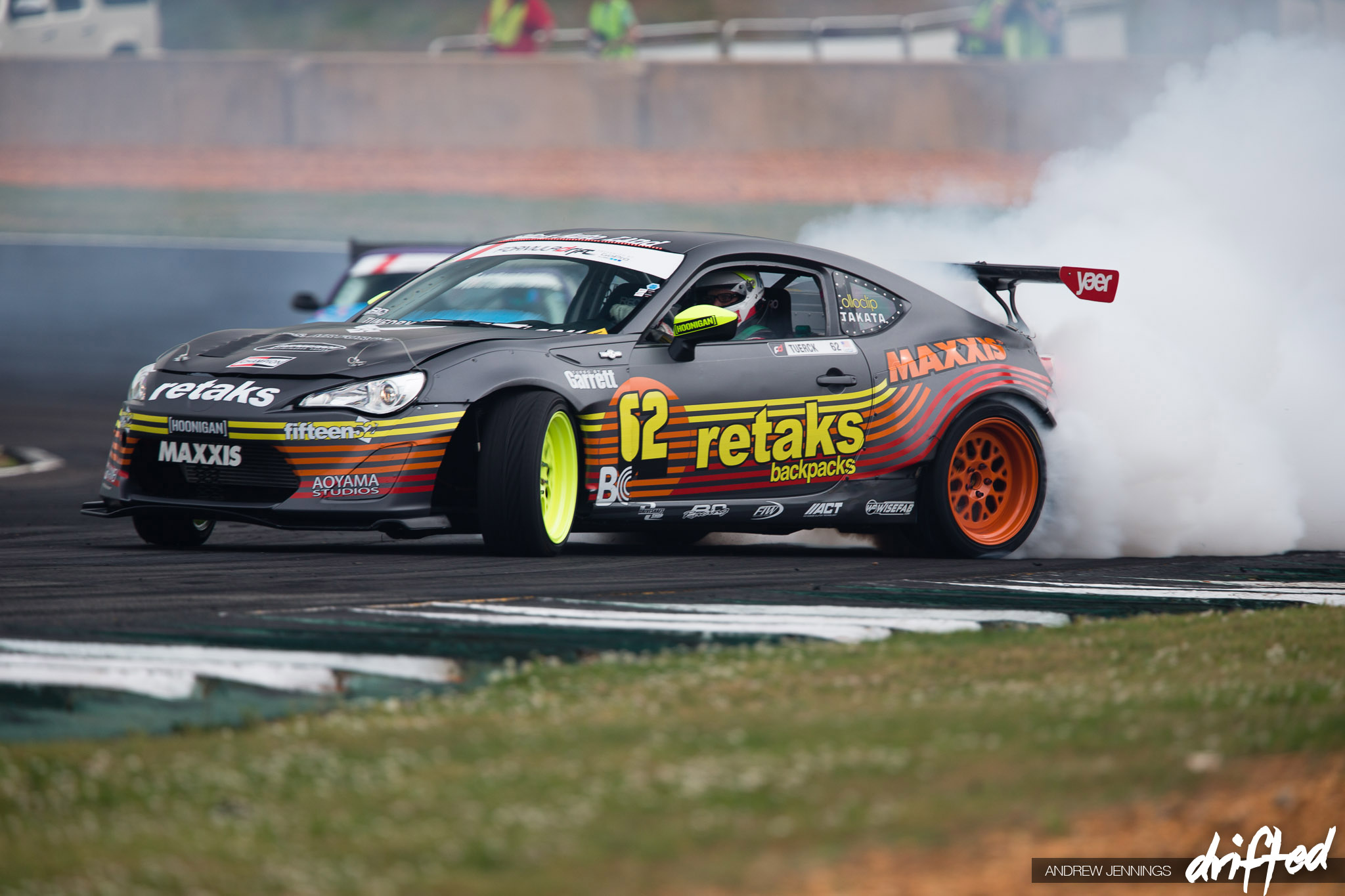 Forsberg's Drift Alliance buddy Ryan Tuerck may have been down on power due to some turbo issues, but it didn't stop him from putting up plenty of smoke clouds and guiding the Retaks Scion FR-S to fourth in qualifying.
Joon Maeng looked good in free practice in the dry, his S13 up to a mind-numbing 1,100 hp through the combination of both LS-power and supercharged boost. Unfortunately, the wet weather did not seem to suit him in Atlanta.
Did I mention it was rainy? Just before the start of qualifying, the heavens opened, not only wetting the tarmac, but leaving one serious puddle at the apex of the very first turn! Maeng gave it a good shot, but failed to qualify.
Vaughn Gittin Jr. did not mind the wet…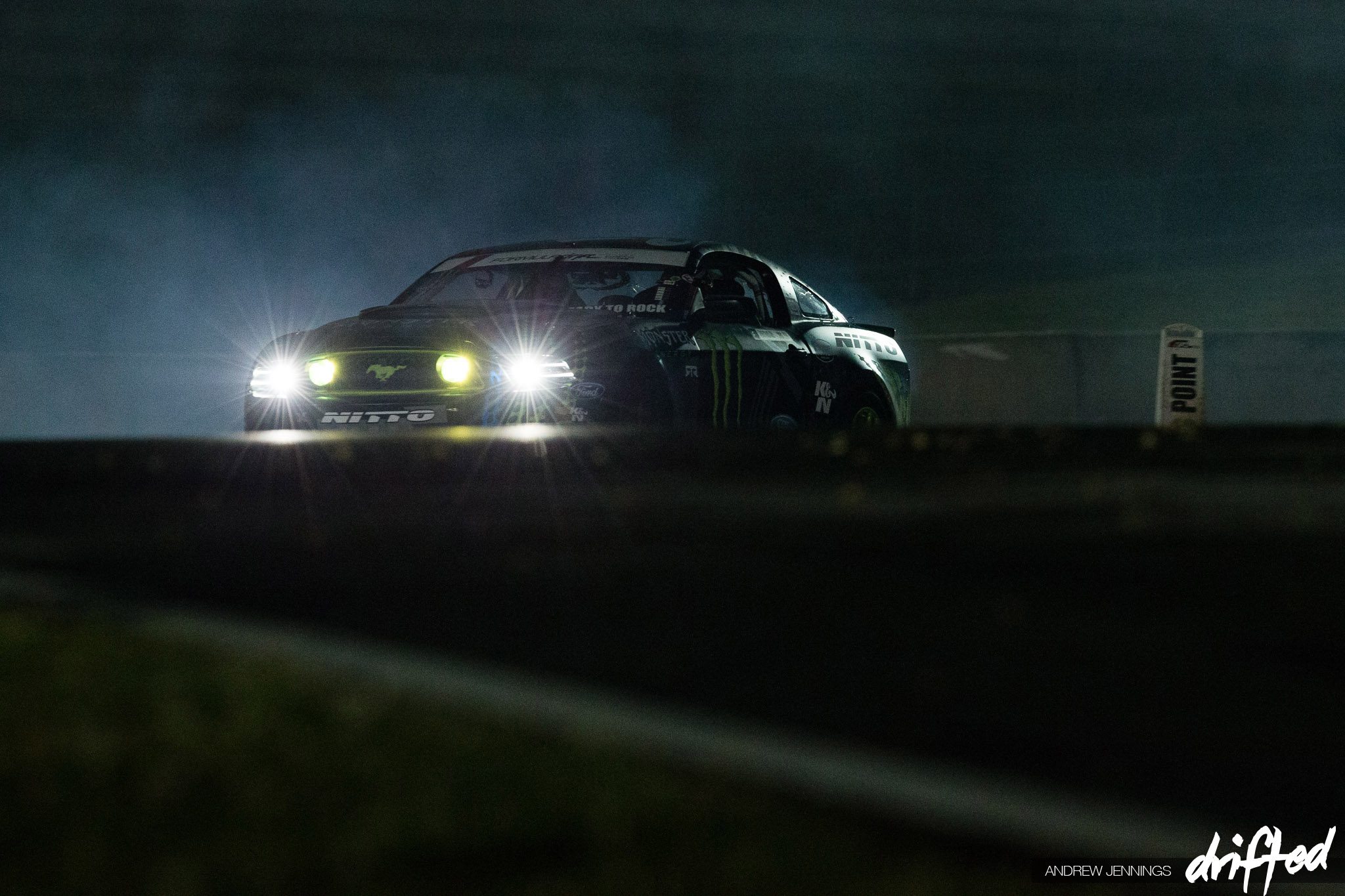 Or the darkness! He knows Road Atlanta like the back of his driving glove, putting on quite a display of power as the track began to form a dry line late in the evening. Gittin qualified third overall.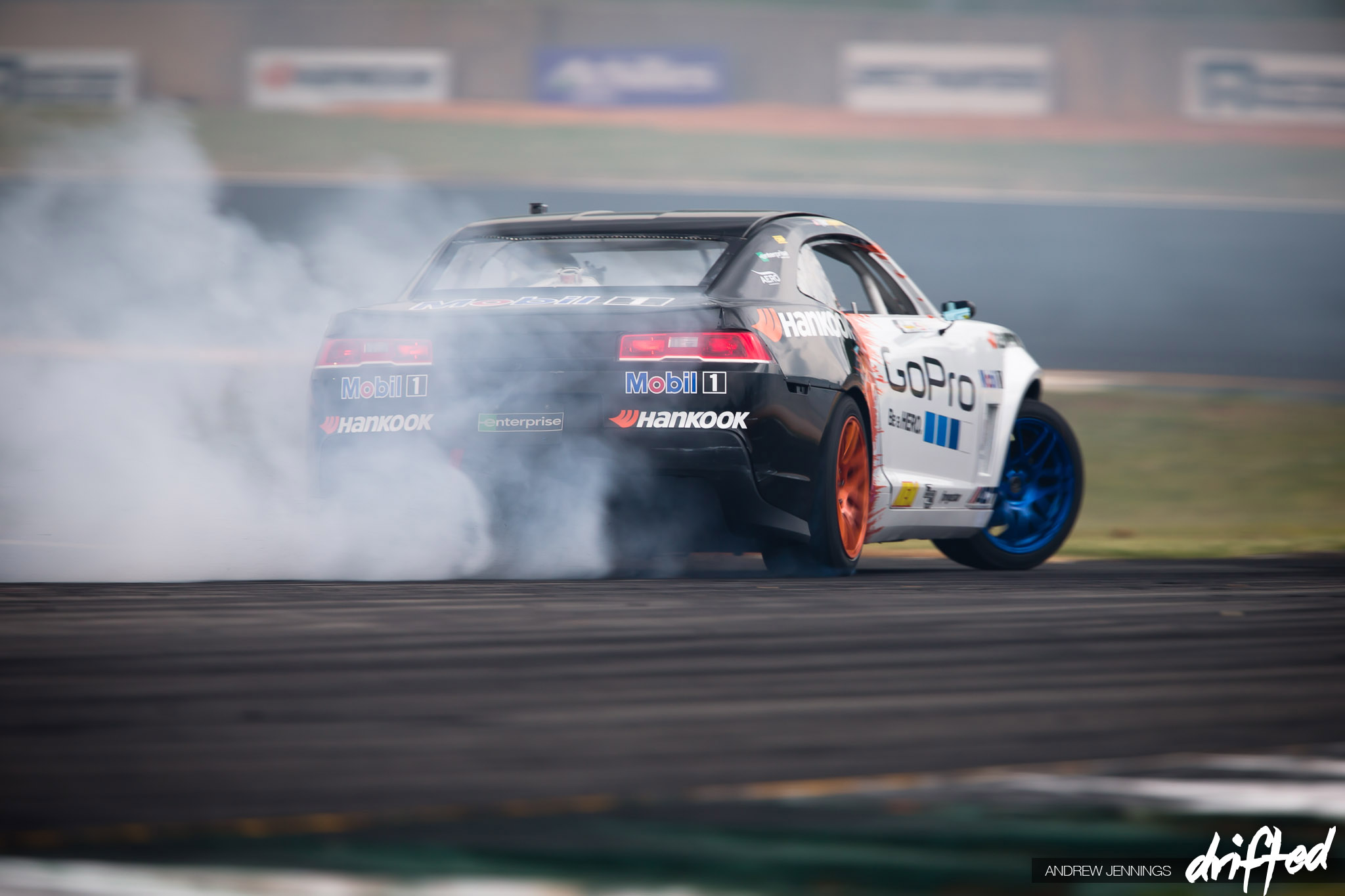 Tyler McQuarrie may not have had the sick entries of fellow Camaro driver Grunewald, but his angle through the rest of the course earned him honors with the one of the highest style scores, landing him second on the grid.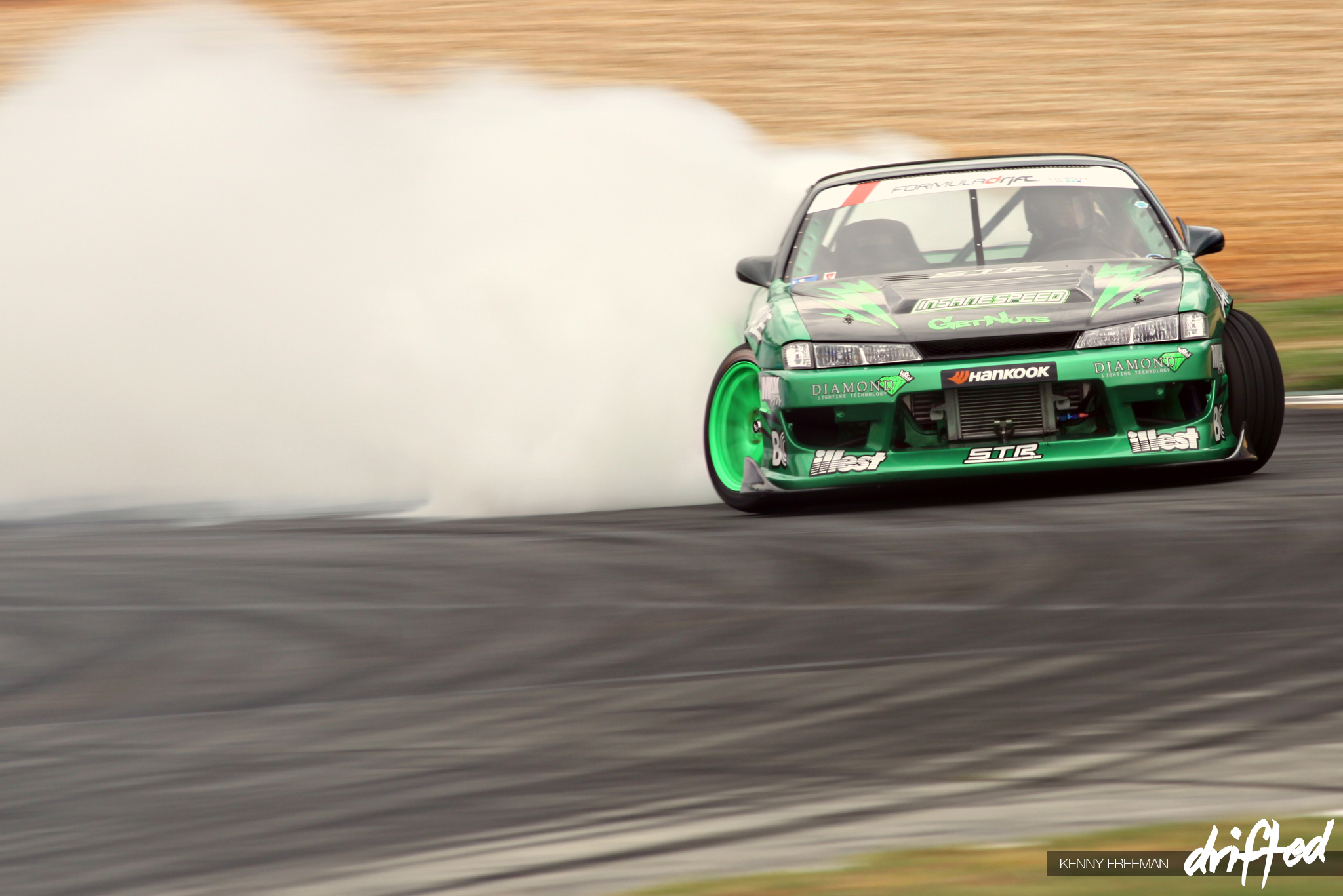 So who does that leave for first place in qualifying? None other than Forrest Wang, driver of the Get Nuts Lab STR Racing S14. Forrest has come a long way in one year of racing, and I have a feeling he's in for some top four finishes before the season is over. Congrats to Wang for taking top honors, and twelve championship points in the run for the Top 32 bracket!
For full qualifying results, visit the official Formula Drift blog here. Drifted's coverage of Formula Drift Road Atlanta will continue shortly with a rundown of the main event tandem battles. Don't miss it!
Special thanks to Kenny Freeman for contributing photos to this post! Check out his photography on Facebook for more!
Photos: Andrew Jennings & Kenny Freeman
Words: Andrew Jennings