EVENT: Irish Drift Championship 2014: Round 2
Last weekend saw the return of the Irish Drift Championship to a much loved and always popular round, Cork Marts, Fermoy, Co. Cork. The track is a purpose built, long and sweeping course lined for four walls and eight rear clipping points, allowing drivers to be on maximum throttle at every opportunity.
Fermoy has always been a treacherous track for all of the drivers, from the Rookie to Pro class, and this weekend would be no different. Ever changing weather conditions would be the talk among the paddock on Sunday following a wet and wild Saturday for the Semi-Pro competition, which had over 40 separate on-track incidents.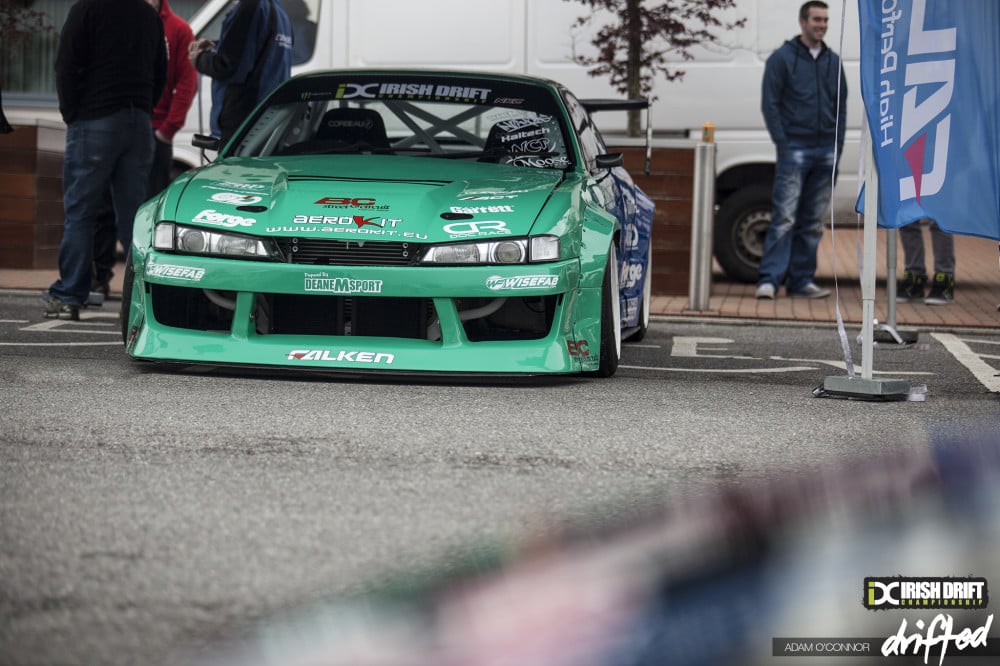 Fresh from Drift Allstars London and making his returning to Irish competition, James Deane was out for blood all weekend. After mechanical failure last weekend in London, James was out to give the 2JZ-powered Falken Tire S14 a full shakedown before the next Drift Allstars round in the Czech Republic at the end of June.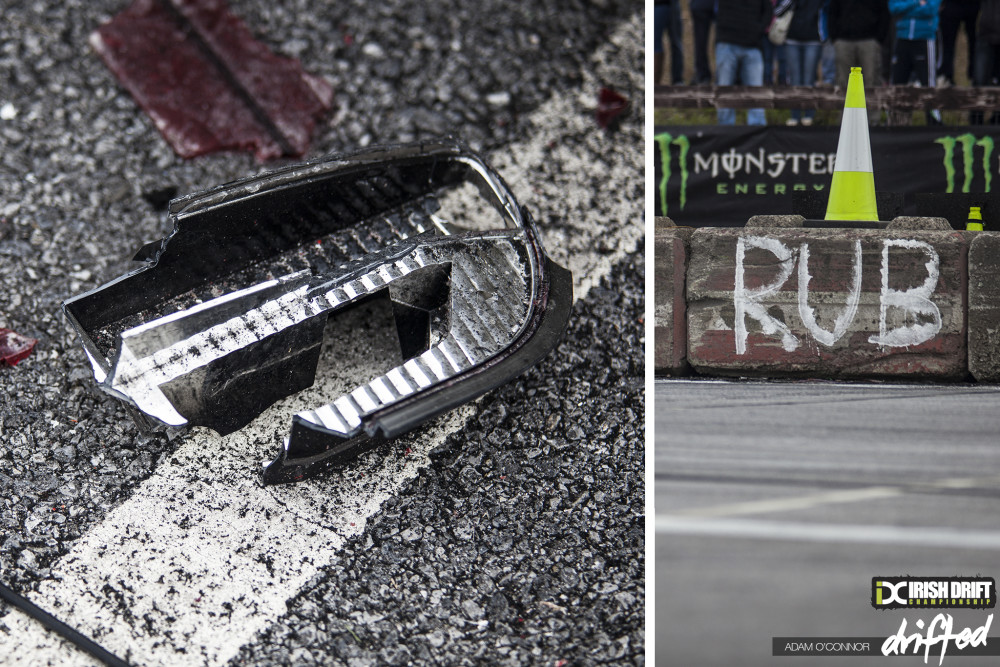 Saturday's Semi-Pro competition was an action-packed day with torrential rain reeking havoc on competitors and spectators alike. The walls of Fermoy have claimed numerous vehicles over the years, but each year more and more drivers come back to stake their claim on the Mart.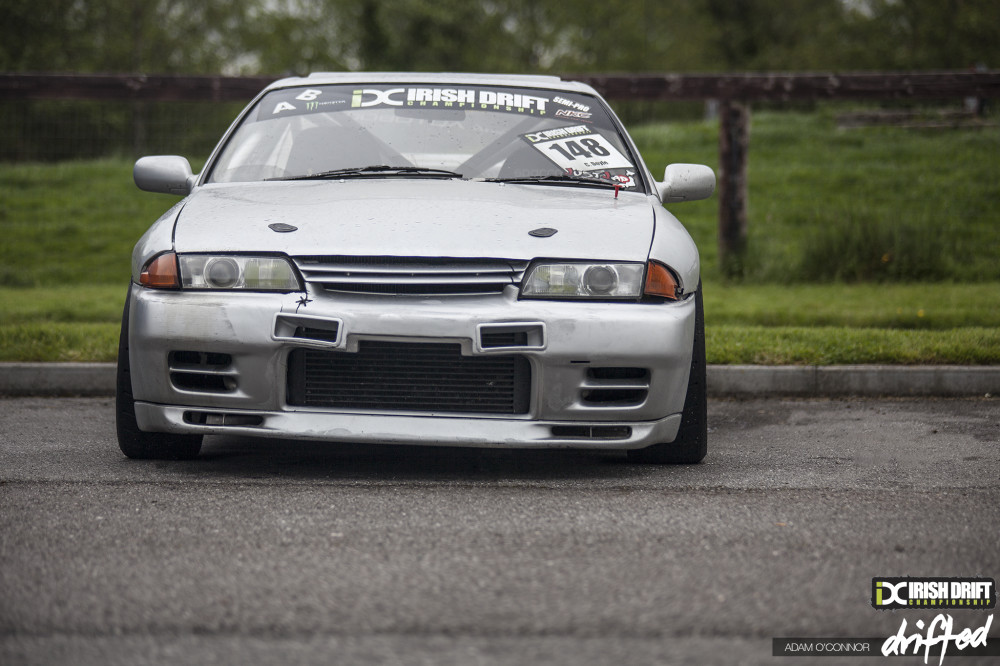 Semi-Pro Chris Doyle battled his way through the whole grid on Saturday for a chance to battle the best in the country on Sunday. Sadly, his R32 would have to sit on the sidelines after cracking 2 pistons. Chris is an immensely talented driver and is certainly one to watch at Round 3.
Sunday was a relax and recuperation day for Semi-Pro drivers who were still drying out their race-suits and cars from Saturday's action. Passenger rides and a Gymkhana style barrel sprint were organised for drivers to have some fun.  Anthony Galvin of CAC Motorsport's minty fresh orange 180sx is shown above, cooling down before the action.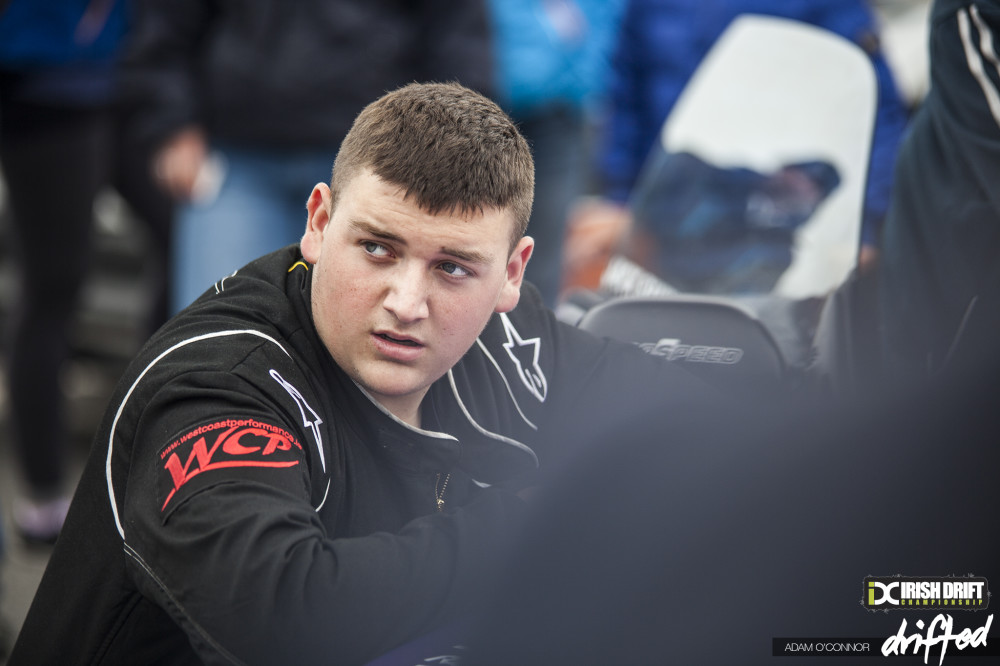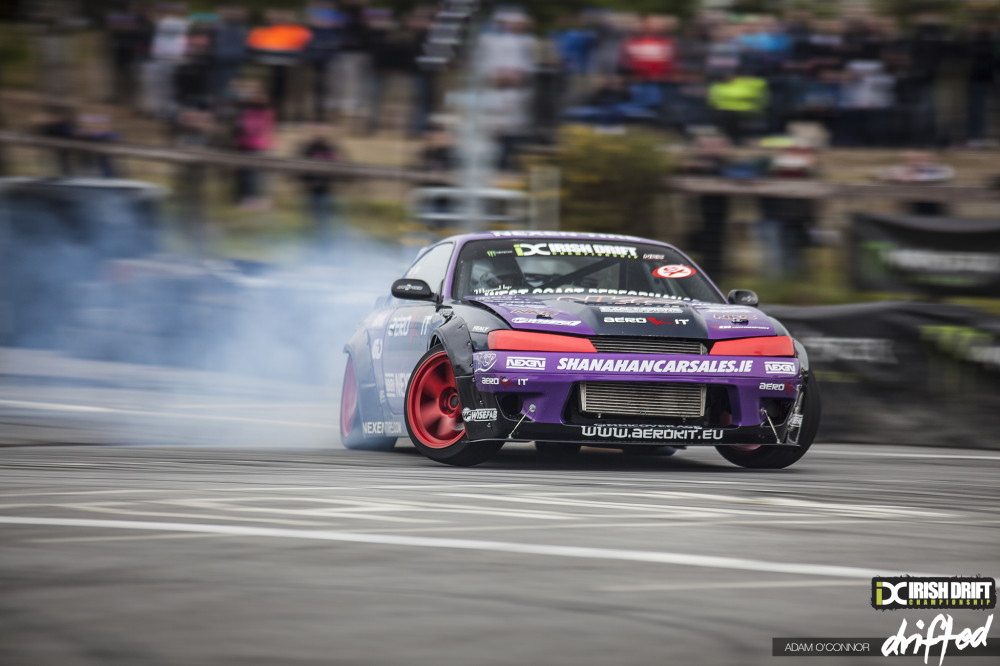 14-year-old Team Aerokit driver Jack Shanahan once again traded his school uniform for a race suit this weekend and was a man on a mission looking to show his home crowd that he is one to watch in Europe this season.
Martin Ffrench, a fan favourite from Waterford, was back in the driver's seat of the Nascar-powered V8 Low Brain Drifters PS13. The showman was out to put a smile on everybody's face with insane lock, big angle, and even bigger smoke.
Drift Allstars and Irish Drift Championship veteran Nigel Colfer was back on home soil with his Nexen Tire Aerokit 180sx , ready to do battle with Ireland's best after returning from London.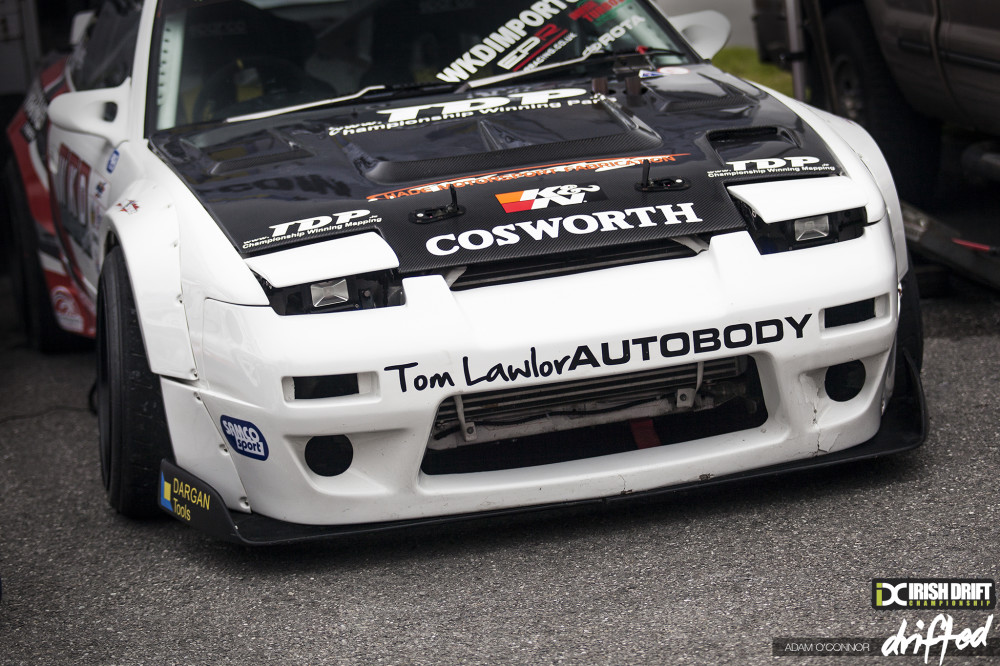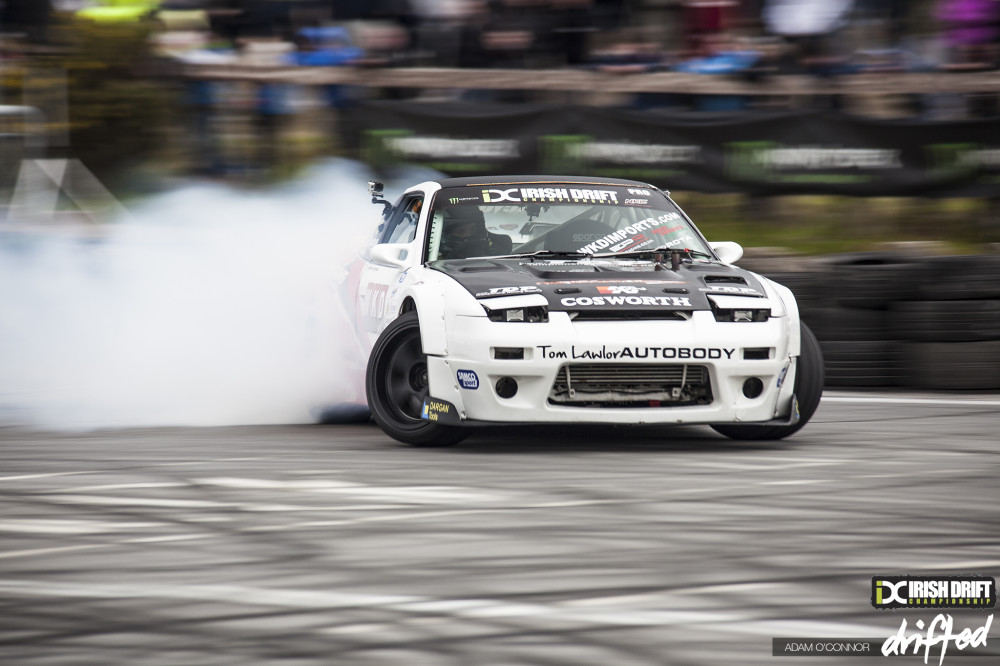 Wesley Keating of WKD Imports arrived to the track early Sunday morning after an all-night dyno session at Track Day Performance, where his Nissan went under the knife to make sure everything was running smoothly for Sunday's action. His Wez'Rocket Bunny 180SX is at the peek of technology within the drifting community, and can even be mapped over Wifi.
Round 1 winner and Championship leader coming to Cork, Paul "The Wall" Murphy was out to prove his nickname wasn't earned for nothing. The Marini Motorsport/MG Crash Repairs S14.5 was on course for greatness but sadly a blown turbo during the Top 16 would spell the end to Paul's weekend.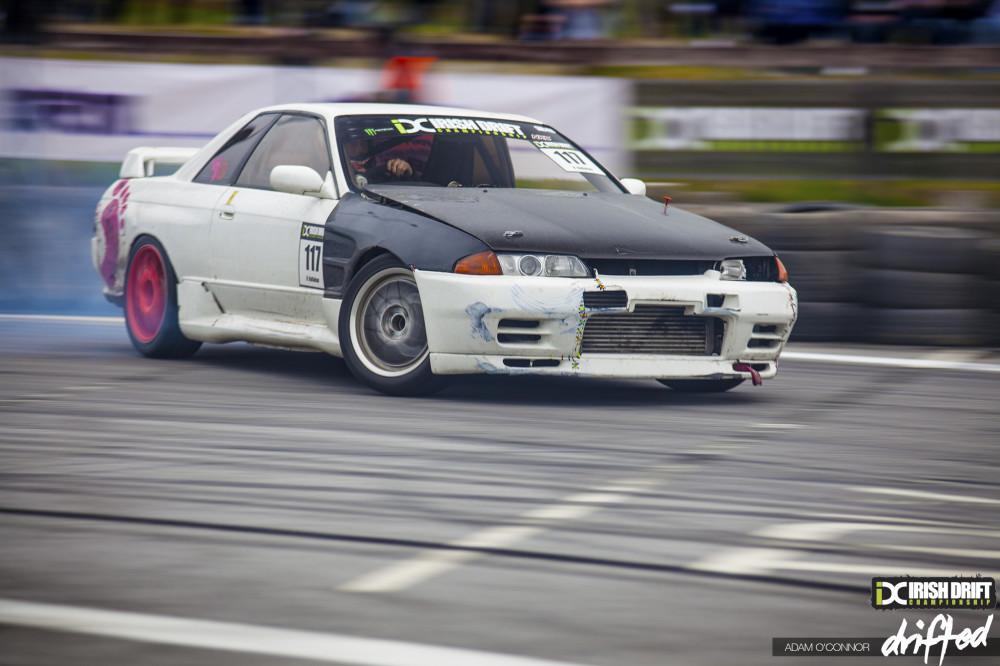 What do you do when you want go drifting and your own competition car isn't ready? Take your wife's car of course. That's what Nicky Hallahan did. It just so happens that the car in question is a fully kitted out Nissan Skyline R32. Nicky took the car to the podium Saturday and was out for more on Sunday.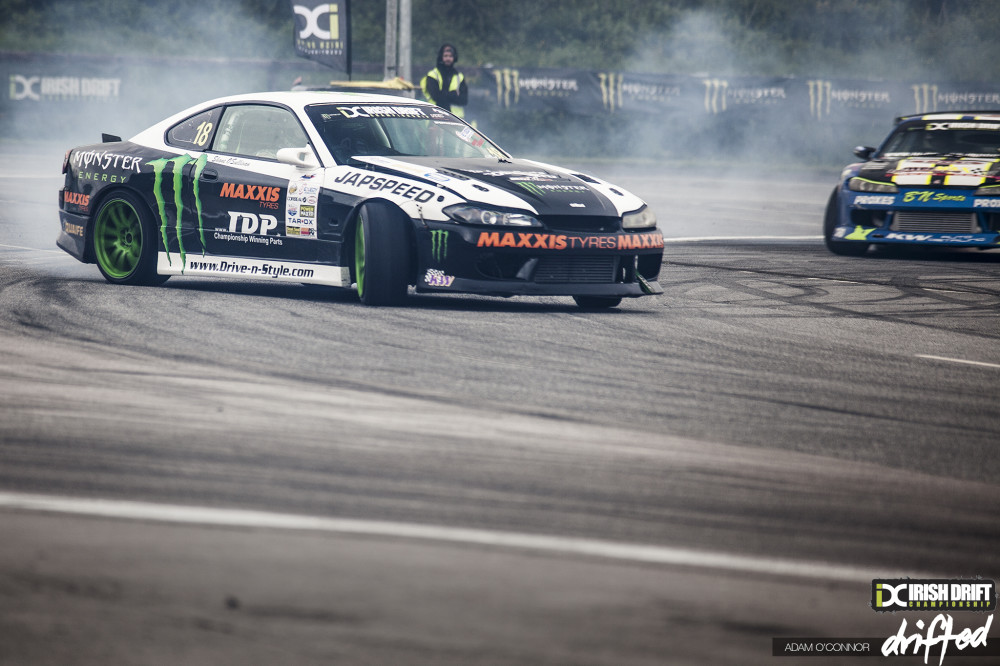 Team Japspeed driver Shane O'Sullivan joined Wesley Keating in the TDP garage the night before competition. Just hours before the event kicked off, the new RB25 heart of the S15 was out of the vehicle. Many long hours into the night with late night runs on the Dynapack meant that the Monster Energy S15 was ready for hours of abuse later that day.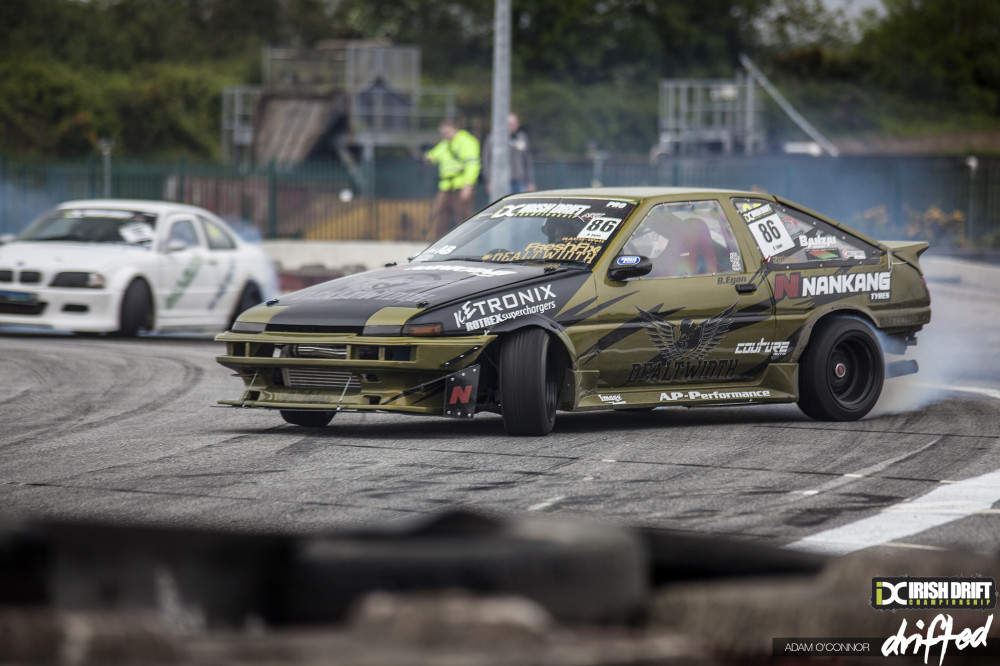 Four gearboxes in four weeks. Team Dealthwidth driver Brian Egan has suffered some hardship in recently but that didn't stop him from screaming his way around the Mart all weekend.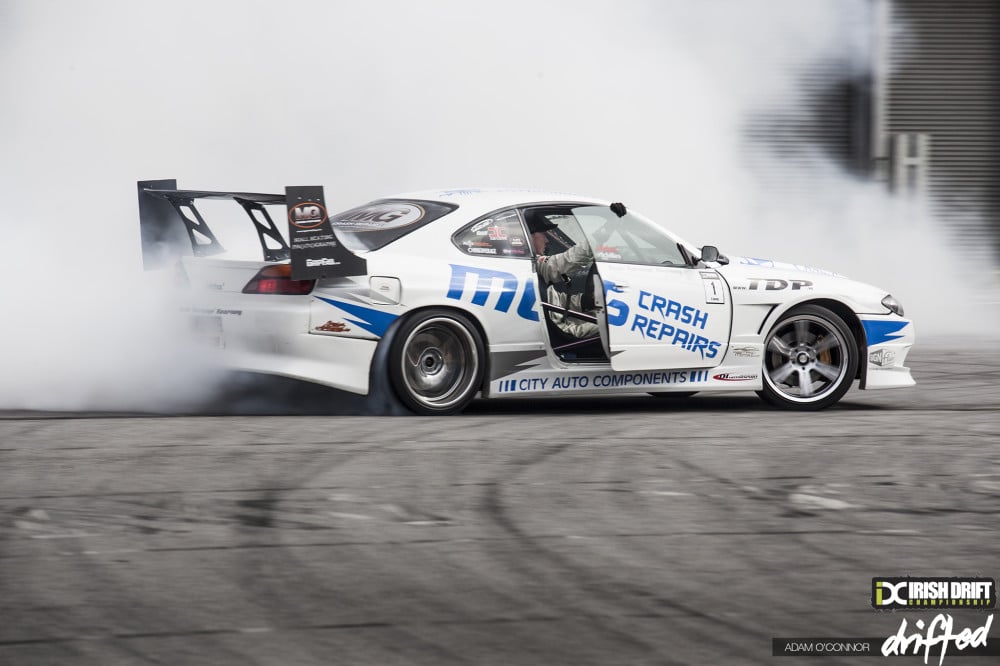 On to Qualifying. Team Bridges Racing Formula D driver Dean "Karnage" Kearney once again swapped his Oracle Lighting SRT Viper for the Team MG Crash Repairs S15. Dean laid down a solid 86.5 run securing him a spot in the Top 16.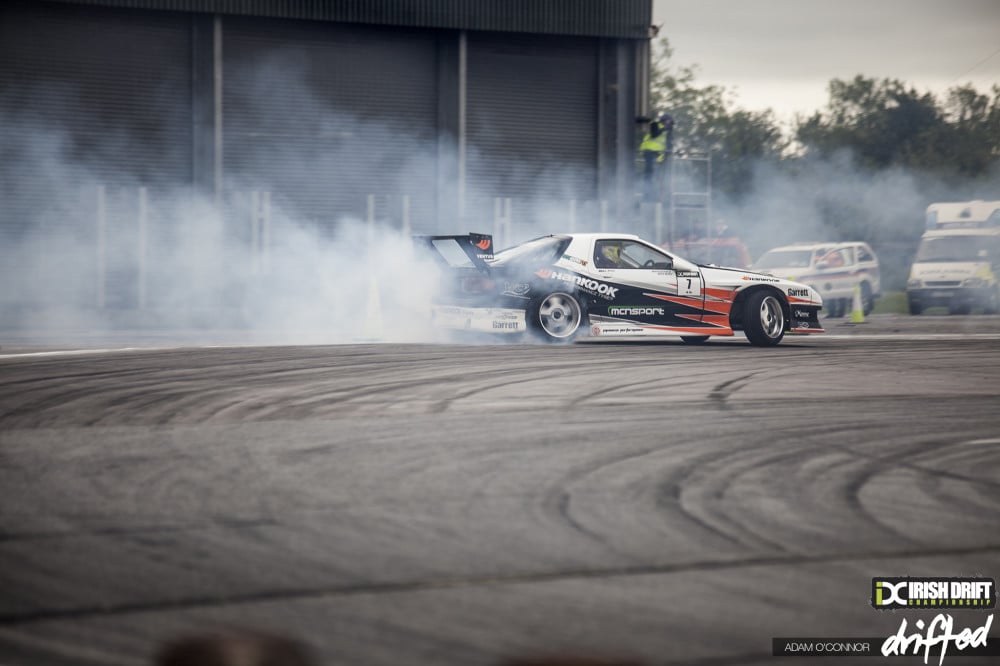 Team Hankook driver Mike Fitz put down two solid qualifying runs and has once again shown that he is one to watch this season.
Duane McKeever found himself in unfamiliar surroundings for qualification. At Round 1, Duane was behind the wheel of Richard Bradley's newly built S14. On Saturday night, McKeever's own 180SX was out of commission, needing to yet again ask for Bradley's help. Bradley graciously accepted, and McKeever shot himself up to P2 in qualifying with one of the fastest entry speeds of the day while nailing each clip.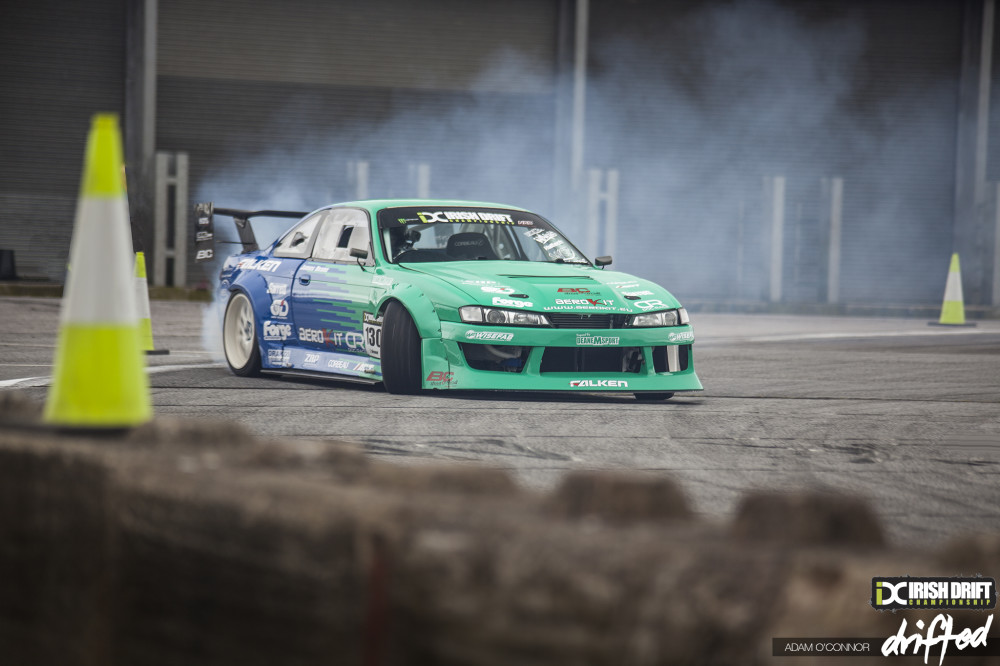 Duane was only eclipsed by one man. With the Falken Tire S14 running perfectly, James Deane was looking unstoppable. He put the pressure on with an unbelievable 94 on his first run causing everyone else to step up their game.
With Qualifying over, it was on to Superlap: One do or die lap to gain Championship points, and the spotlight was on Pro-class rookie Kevin O'Connell. Kevin had laid down the gauntlet of 27/30 points awarded from the 3 judges. Kevin's score would see off Adrian Walsh, Barry Leonard, Nigel Colfer, Mike Fitz, Dean Kearney, Paul Murphy, Shane O'Sullivan and Brian Egan.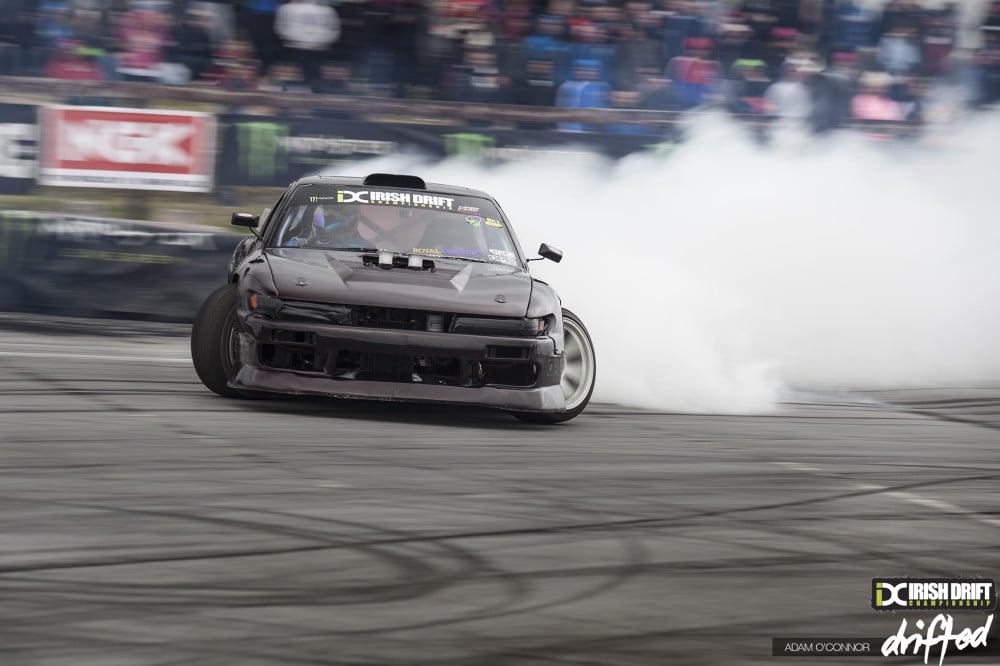 It would take a loud V8 and the heavy right foot of Martin Ffrench to move Kevin O'Connell from top spot and he did it in style.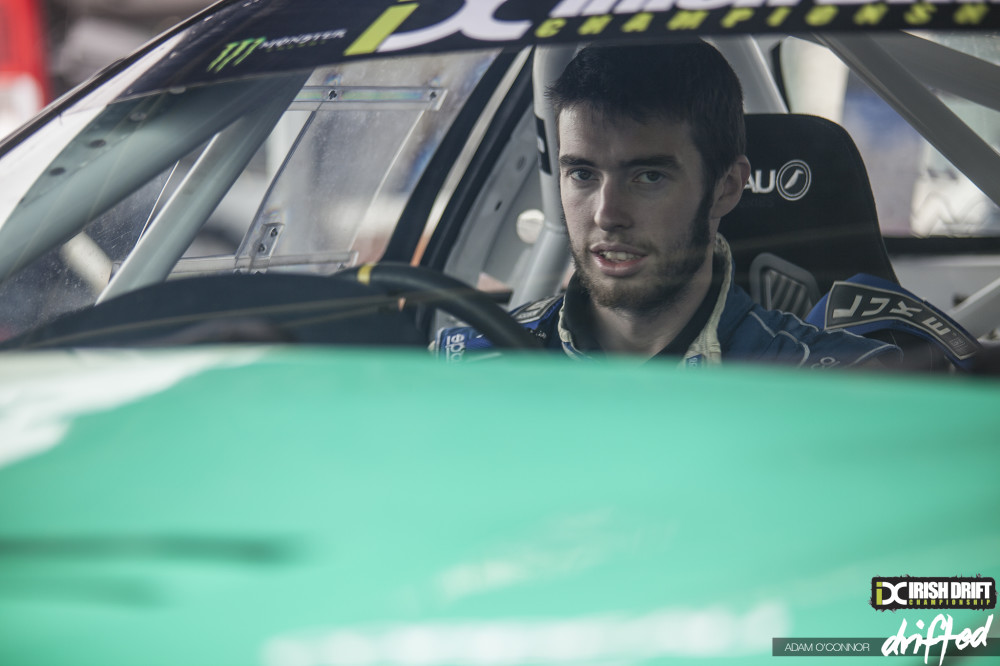 Being the top qualifier, Deane was up last. He knew the track, he knew the line, and he knew the score to beat.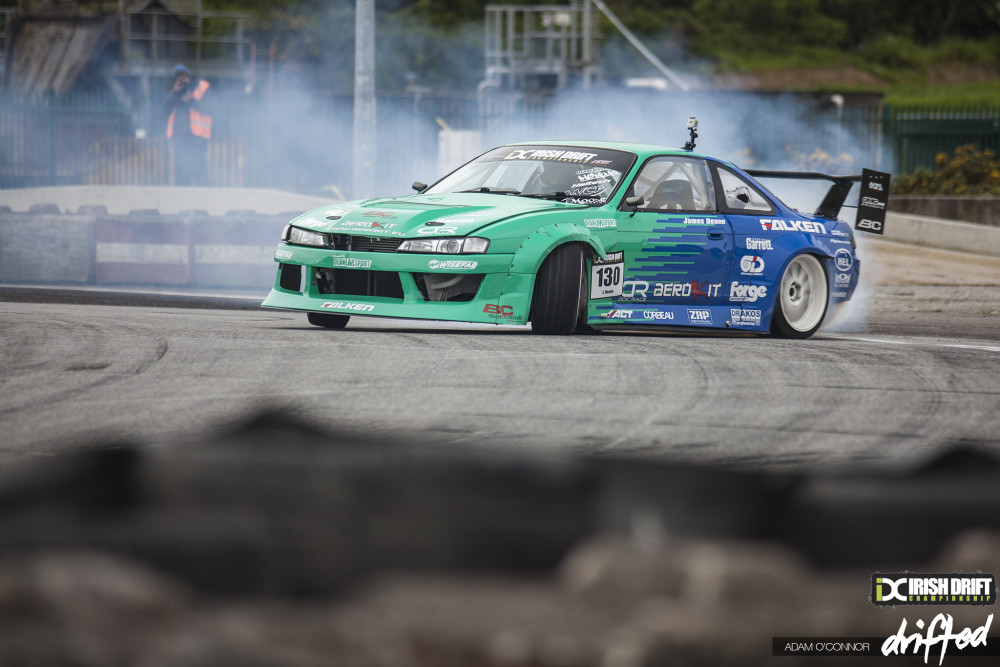 And of course, the King of Superlap did it again. He nailed each wall with millimetre precision and lit up the Falken Tires the whole way around, resulting in the perfect 30/30.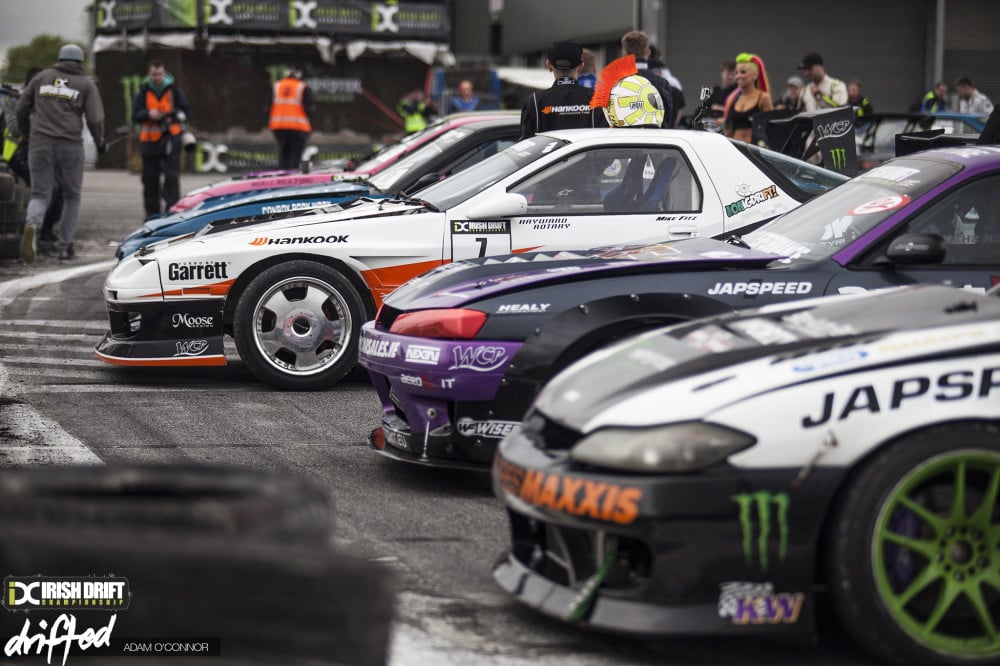 The Top 16 parade is always a good sight. Over 8000hp, lined up side by side just for your viewing pleasure.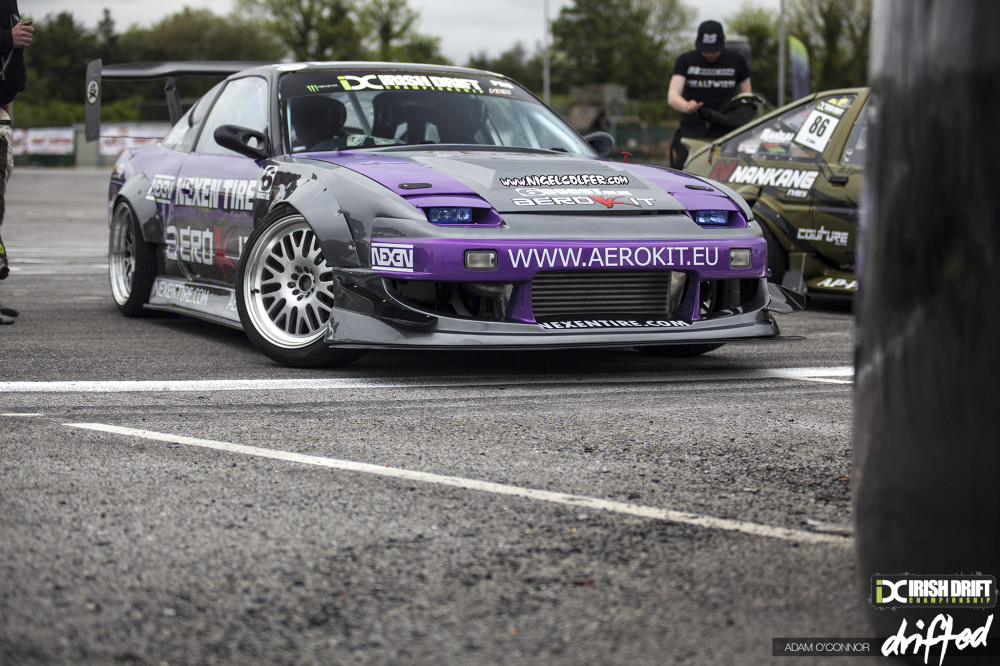 Nigel Colfer's pristinely prepared Team Aerokit 180SX sits pretty ahead of the twin battles.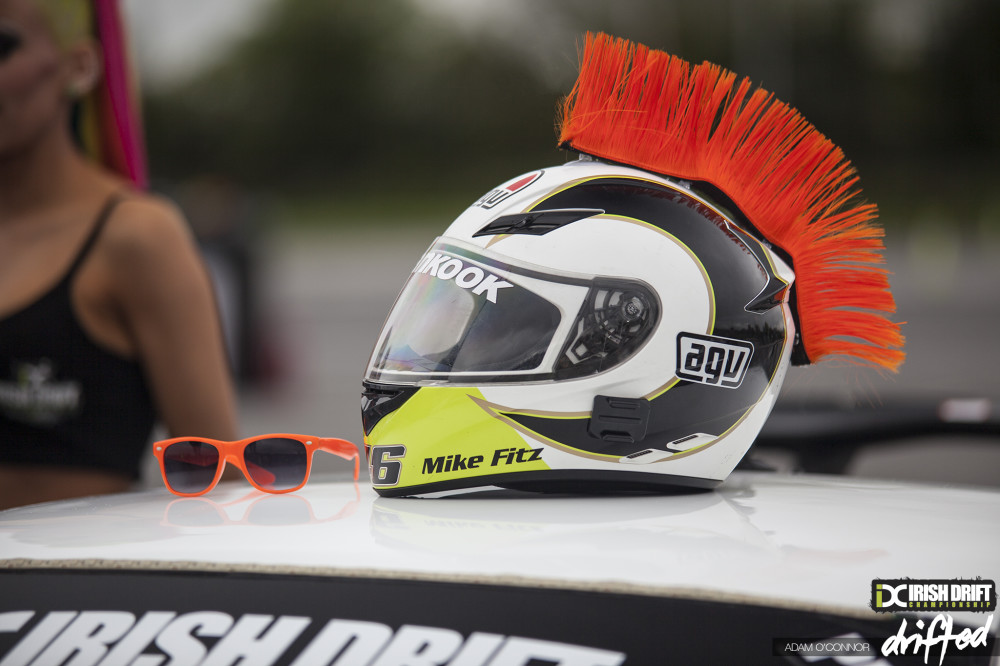 Team Hankook's Mike Fitz shows off his colourful side during the festivities.
ALL I DO IS WIN!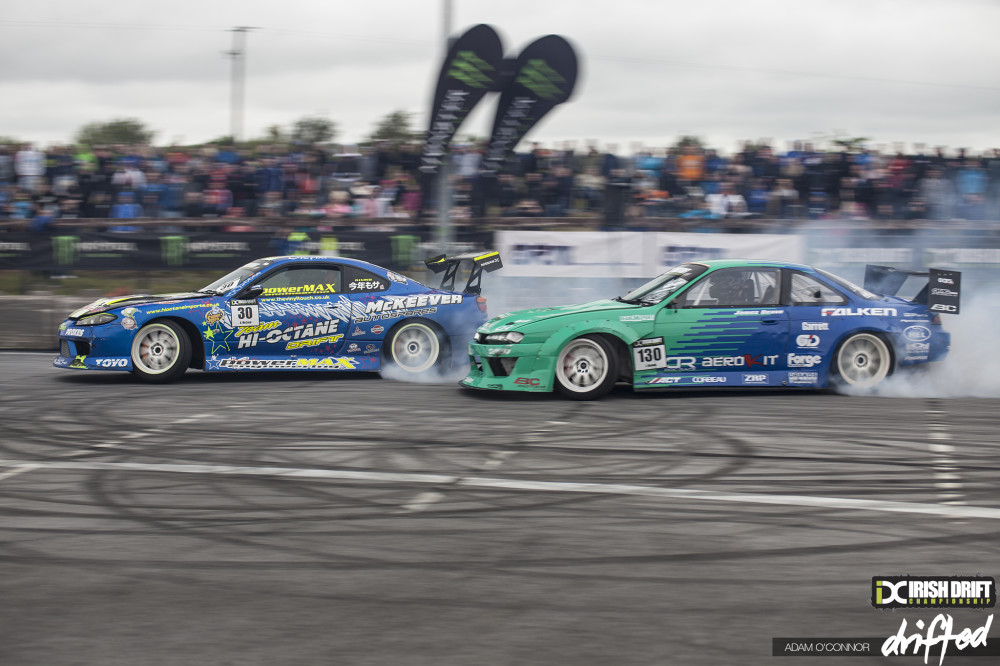 With the Top 16 under way, the battle of the S-bodies would kick off proceedings. Alan McCord would take on the James Deane in a great opener. Both drivers would execute flawless runs but it was the proximity of Deane on the back of the V8 S15 that would be the ultimate decider.
Next up would be the young gun and the old veteran, Jack Shanahan against Mike Fitz. One more time seemed the decider, until Jack rounded the slow sweeping turn at the fifth clip with the BM-powered down to three tyres. Amazingly, he kept it pinned and finished out the run as if nothing had happened, but Mike kept it tight to his rear quarter panel and got the win.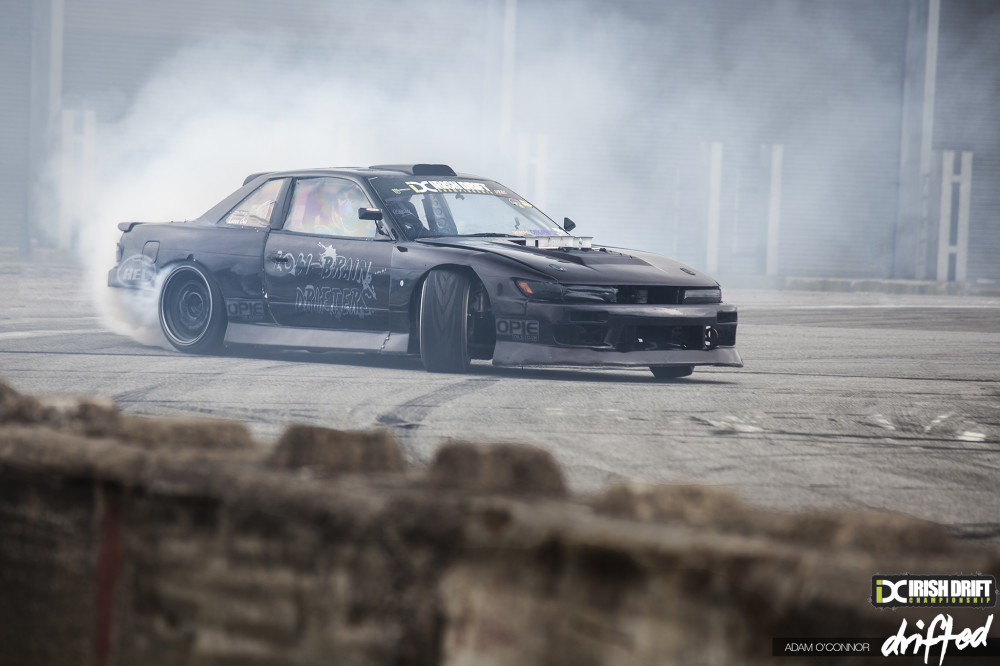 Two of Ireland's most experienced drifters, Martin Ffrench and Dean Kearney, faced off in a close battle that would see the Formula D driver advance. It would put an end to the Low Brain Drifters weekend, but we hope to see Ffrenchy back out in the PS13 on Irish soil soon.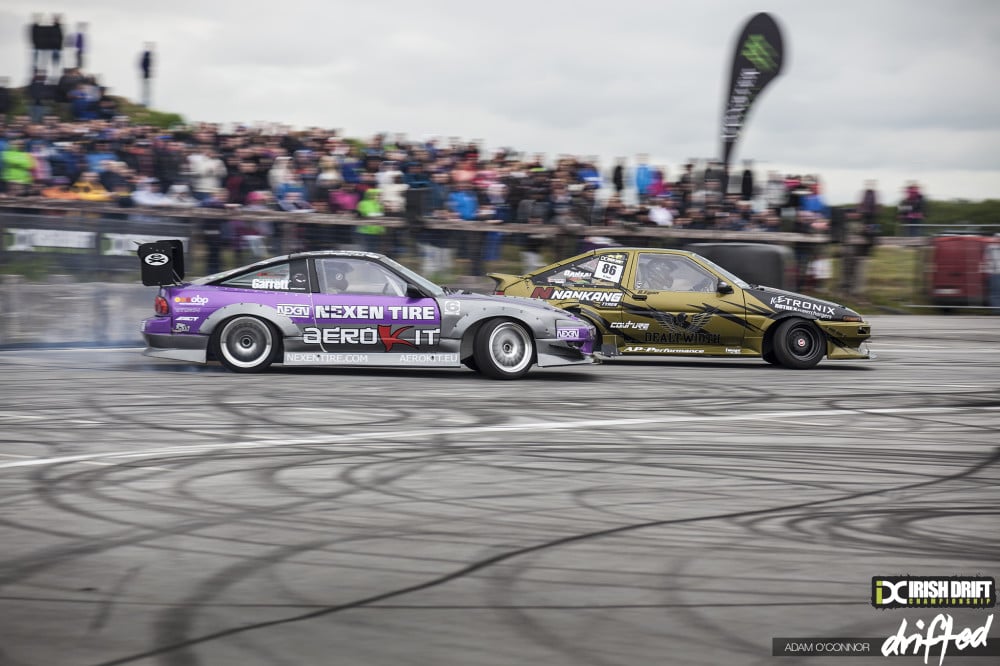 Nigel Colfer would take down Team Dealthwidth's Brian Egan on the way to the Top Four. The battles would end there for Brian but I'm sure he is more then pleased with how the gearbox held up over the weekend and will be back out for Round Three in four weeks time.
Next up was a battle of the brutes. Paul McCarthy is known as the "Giant Slayer" because he has beaten many of Ireland's best drivers on numerous occasions and all with minimal horsepower. The MC for the event, who is also head of the IDC, called Paul the "most under-rated driver" in Irish Drifting as he has the skill to mix it with the top but has not seen the success just yet.
James would be the winner of this battle, but there is no doubt Paul will be back in the 340bhp V8 BMW at the next round.
Duane McKeever (again!) found himself in a different cockpit for the tandem competition. He was down and out, walking around the pits after issues with Richard Bradley's car seemed to put him out of the action. Then, he was approached by Semi-Pro driver Alan Farrell, who at the time imagined McKeever would take it easy and see what happens. McKeever had other thoughts as he wall tapped and rubbed quarter-panels with every competitor he faced, all the way through to James Deane.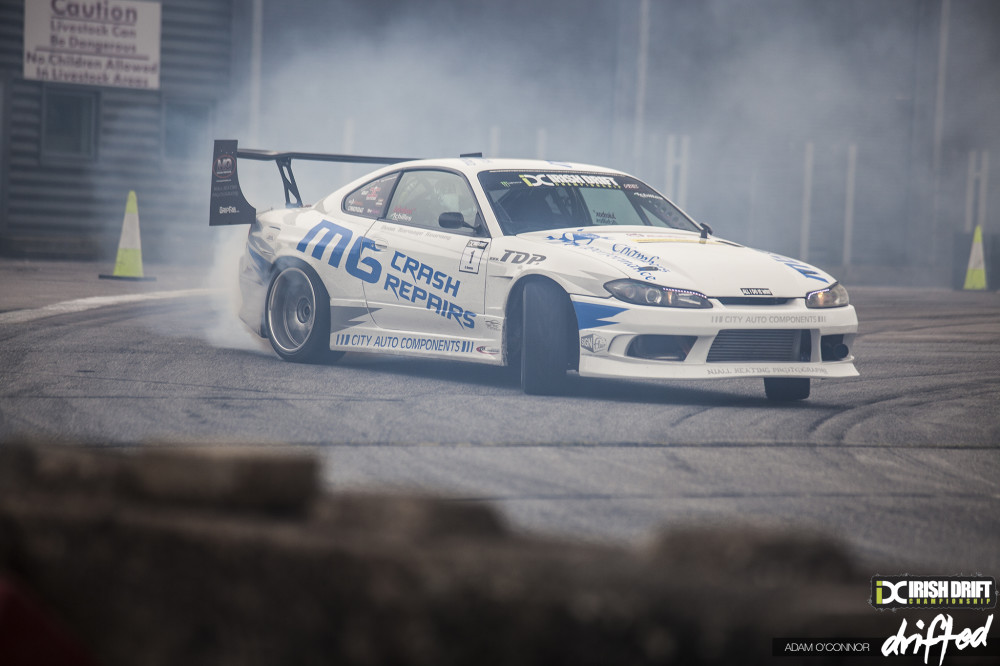 The battle of the S15s was up next. Dean Kearney in Team MG Crash Repairs S15 was defeated by Team Japspeed's Shane O'Sullivan. Dean got plenty of seat time this weekend before the next round of Formula Drift in Miami-Homestead, but sadly no race win.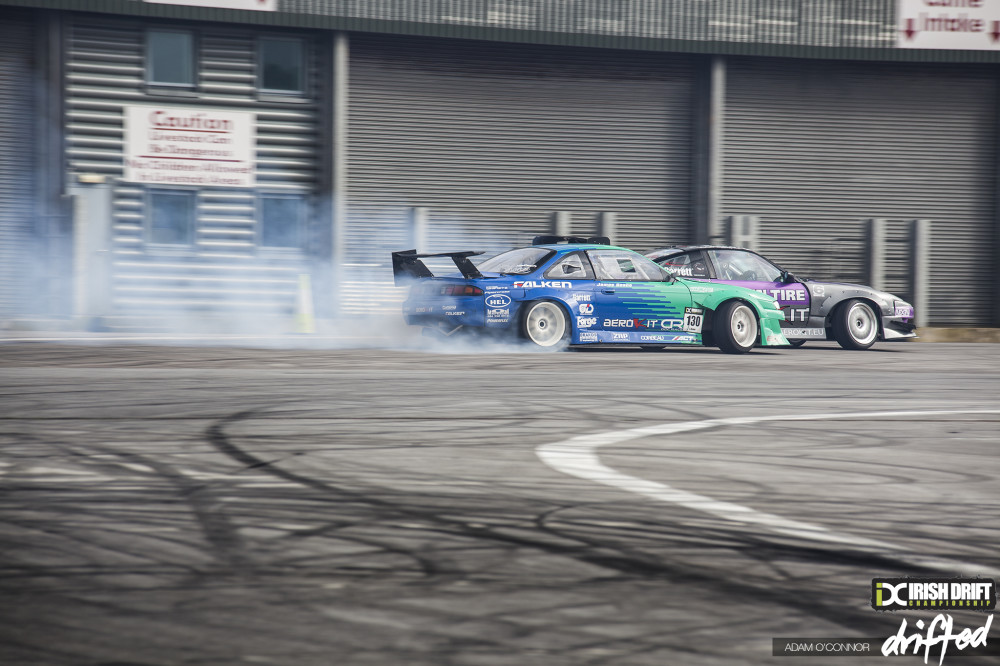 With the final four decided, it was time for the European heavyweights to go toe to toe. James Deane and Nigel Colfer both came to the Marts this weekend to do battle and get ready for Round 2 of Drift Allstars.
With two immense battles under their belts for the season, Deane would come out the victor this time. The pace and proximity he can maintain behind any driver is amazing.
The other half of the final four was made up of Duane McKeever and Shane O'Sullivan. Duane's determination and willingness seemed to be pushing him on and on. He had been through plenty of ups and downs over the weekend.
With the sunshine starting to break through the clouds, McKeever's nightmare would turn around, beating O'Sullivan to advance to the final. There, it would be time to meet old rival James Deane once again.
McKeever vs. Deane. They had both battled well throughout the day, and were deservedly in the Final.
The edge would go to whoever avoided cracking under the pressure. With Deane leading first, they initiated in perfect harmony, nailed clip two and three, but as they came to the teardrop, McKeever seemed to scrub speed and allowed Deane to power down the hill, creating the slightest of gaps. That gap would be the deciding factor, and it was the perfect run of the day.
It certainly wasn't the first time Deane had tasted the bubbly success of Irish Drifting and it certainly won't be the last. He came, he battled, he conquered.
It's the first silverware under the new Falken S14 chassis for the Cork man, and will certainly be a confidence booster heading off on his Europe tour with Drift Allstars glory waiting.
With two rounds covered and two different victors, we enter Round Three in Mondello Park in four weeks time with an open Championship. Who else will be brave enough to claim the silver trophy? Fermoy once again separated the men from the boys, with some people licking the wounds of a hard weekend, and some still tasting the champagne and rain.
Thanks for reading, and we'll see you in four weeks time at Mondello Park, Dublin!
Words & photos: Adam O'Connor