EVENT: British Drift Championship Round 1 – Part II – Super Pro Class
Following on from Part I of our British Drift Championship Round 1 coverage from Donington Park we move on to the new builds for 2011 and the Super Pro class.
The first round of a new season always brings the excitement of the unveiling of new builds, rebuilds, new paint schemes and sponsor reveals.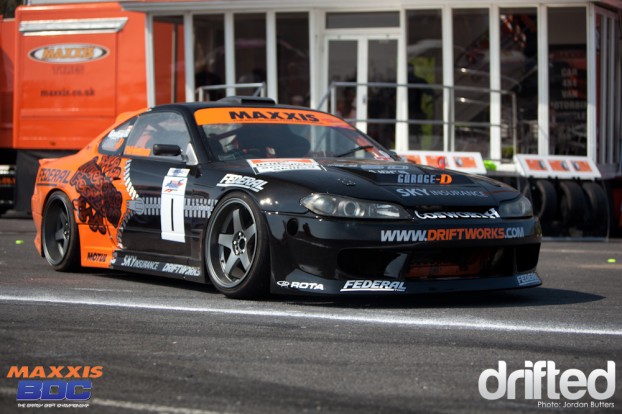 Never one to disappoint, the 2JZ DWS15 was sporting a new paint-scheme, designed by a Driftworks fan in a competition run on their popular web forum.  Pilot Phil Morrison took the 2010 championship win and so the majority of the car remained unchanged which is a refreshing change. It works well, leave it alone right?
A highly anticipated unveiling that didn't disappoint was that of Paul 'Polo' Cheshire's Team Falken G35 Skyline. Paul has an insane eye for detail and every nut and bolt one the G35 was finished to perfection. Unfortunately just before Friday's qualification session the clutch gave way meaning Paul had to run qualification in Danni Murphy's S14a, which he did qualifying 5th in the Pro Class. After a day of turbulent ups and downs for Polo he was coincidentally drawn to face Danni in the first runs and due to BDC ruling that the car you qualify in has to be the same car used in competition he was forced to concede the draw.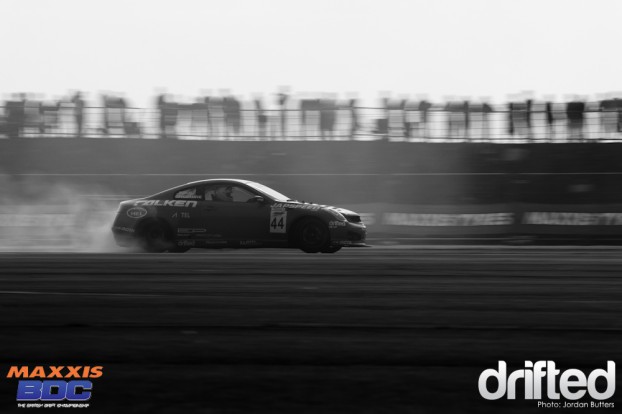 Not disheartened Polo pulled the clutch, sourced a new one overnight, fitted it and went out for morning practice the following day. Part for the cameras, part to get to grips with the car before Round 2.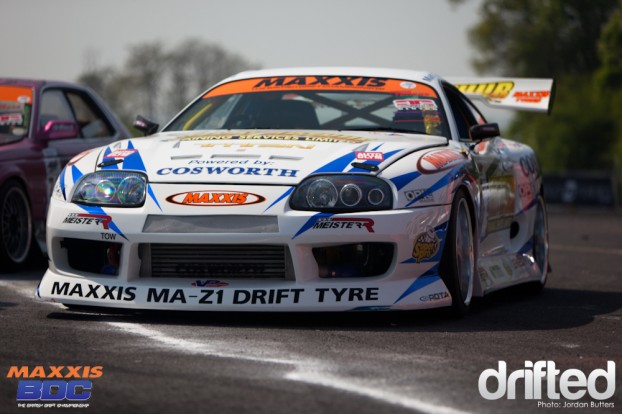 The SATS Supra was back in new livery, backed by Cosworth and MAXXIS Tyres and now running an insane 800bhp.
Behind Mark is the very well prepared SATS Cosworth support team, above Mark's spotter looks on and communicates to the driver and team via radio.
The work behind the scenes shows, this thing is a smoke machine and sounds like a jet on boost!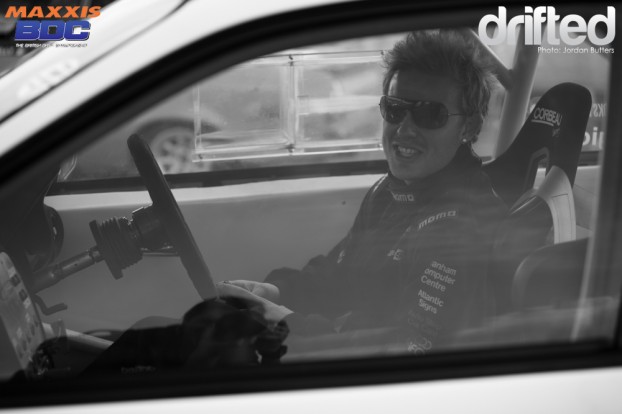 2009 Champion Steven 'Baggsy' Biagioni prepares for a run in his now-1JZ-powered Hawk-eye RWD Subaru Impreza. I asked him if he was texting his mum but apparently he was 'Tweeting' from the start line. Likely story.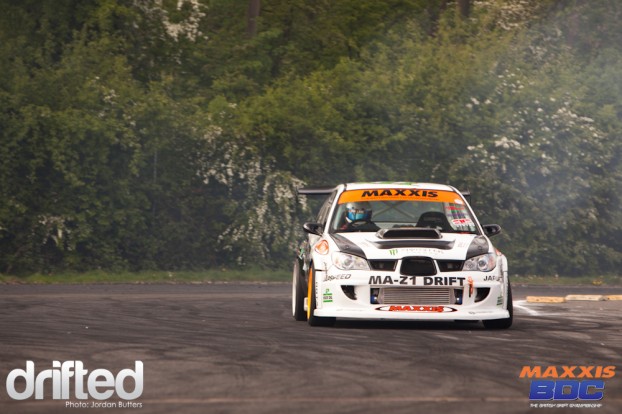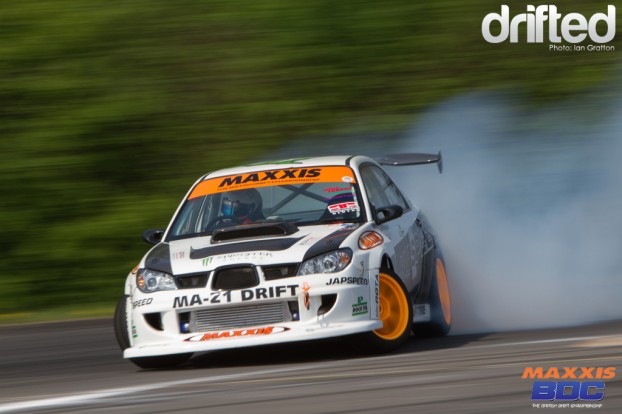 The new engine setup in the Subaru seems to really work well and Baggsy makes it as far as the Top 16 before he is ousted by Mark Luney in the SATS Supra.
Fellow Japspeed teammate Paul Smith's 1JZ S15 remains relatively untouched from the 2010 season, with the exception of a change of wheel colour. Paul has earned the nickname 'Smokey', as seen above, for his habit of leaving thick plumes of MAXXIS tyre smoke behind the S15.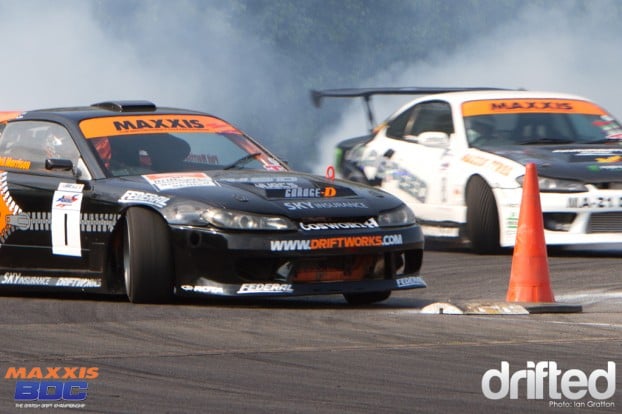 After despatching of Driftwork's Phil Morrison in the a closely fought Top 16 battle.
And attempting the smoke out Team Falken's Matt Carter in an all-1JZ battle in the Great 8….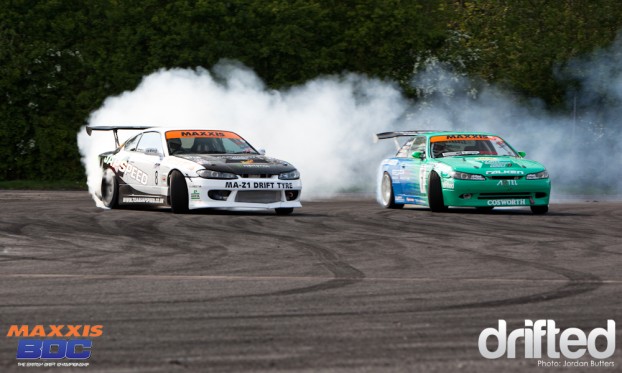 Paul was defeated by an on-form Carter who reeled the S15 in and headed up into the Top 4.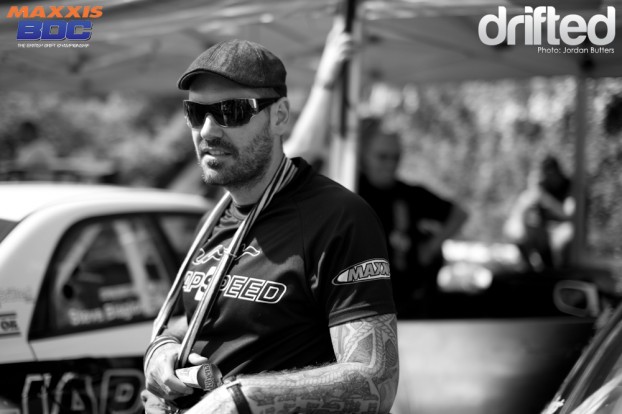 Speaking of Japspeed, Shane Lynch completes their 2011 line up in the Twin-turbo V8 S15 sporting an injured shoulder but driving through the ailment. Mechanically the car has been treated to a Quaife sequential gearbox and aesthetically a reworked colour scheme for 2011.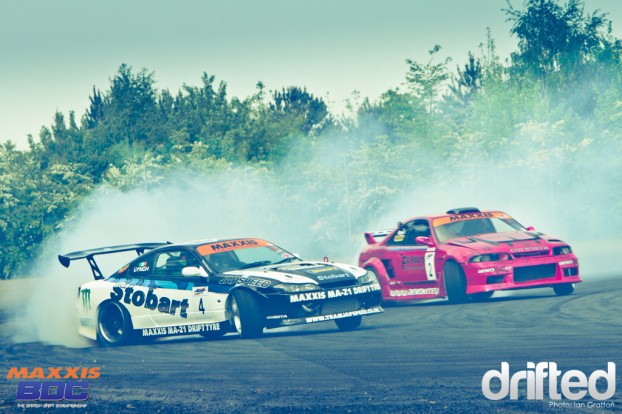 Shane faced Simon Perry's shock-pink Skyline which underwent a drastic last minute rework, remodel and respray just 4 days before the event. What is it with drifters leaving it until the last minute?! The detailing and vents on the rear arches allow for the smoke the escape the rear tyres without obstruction, a tactical as well as aesthetic move I'm thinking!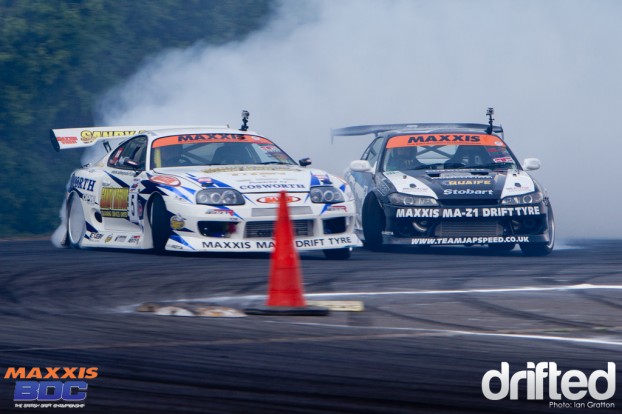 After going through against Perry, Shane faced an all MAXXIS battle in the Top 8 against Mark Luney's Supra, going One More Time three times before an error on the final bend ended his day.
As always in drifting, comradery between competitors is high, and Shane congratulates Mark on the win, or possibly warns him he'll get him next time?
Wayne Keeber in the Mint Tyres Motorsport Soarer was on point, creating a huge amount of smoke.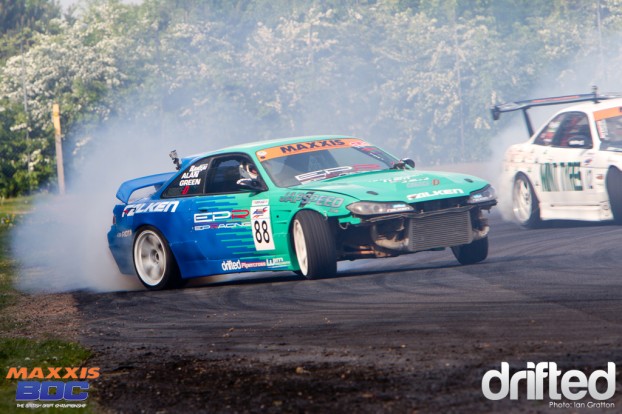 Despite putting up a good fight, Falken's Alan Green (promoted to run Super-Pro for this round based on his podium finish in Pro Class and his finishing position in 2010 ) was sent packing by Keeber in the Top 8.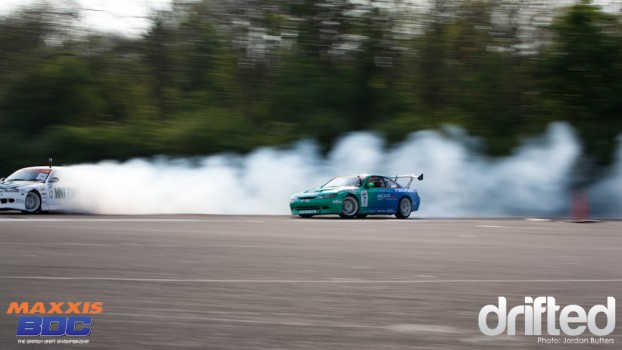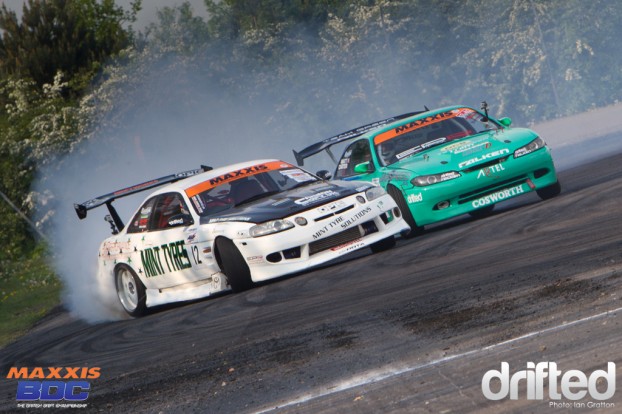 But revenge was sought by teammate Carter in the Semi-final, taking the win out from underneath Keeber.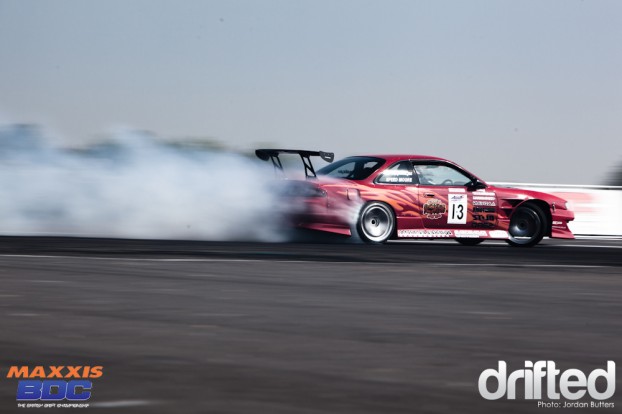 Steve Moore returns for 2011 in his Kouki S14 and looked at home in a car he now knows well. This well-set up car was imported a few years ago with a high specification and Steve (or 'Speed Moore' as his name-decal says) has refined and tweaked it to suit his needs.
Steve took out the mighty four-door Laurel of Sid Crowfoot in the Top 16, however fell to the speed and nimble transitions……
…..of Declan Munnelly's Morleysport Mk2 Escort in the Top 8. Declan pedals this little car flat out everywhere. I'd love to see something like this in, lets say, Formula D? Imagine the Escort chasing down a huge V8 Dodge Charger around Irwindale!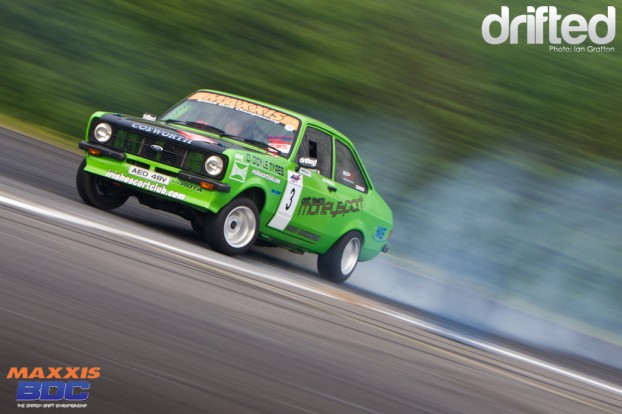 The size difference was apparent when paired up against the SATS Supra in the Semi-Final battle.
Despite a valiant effort the Escort could not keep up with the 800bhp Toyota and Declan narrowly misses out on a podium.
A seemingly unstoppable Luney faces off against Falken's Matt Carter in the final.
The MAXXIS girls look on from the podium as the SATS Cosworth Supra sweeps by. I'm sure Mark was focused on the track throughout the run though? Maybe.
After two close fought runs Carter could not better Luney on the day and for the second year running Mark Luney takes the win at Donington Park!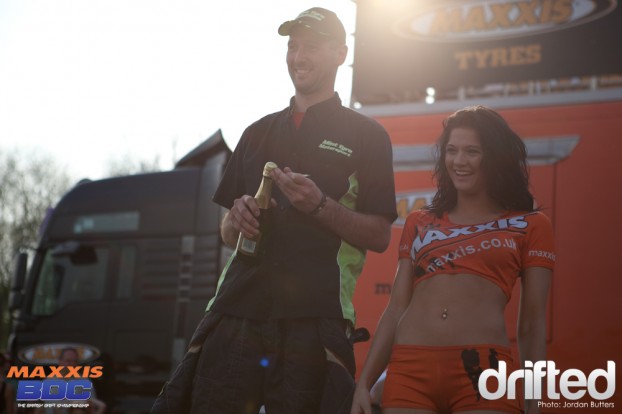 Wayne Keeber eagerly awaits the champagne celebration!
The soaking continues – this time directed towards Mark Luney – who gives as good as he gets.  He is likely glad of the champagne to cool him down after a busy day in the baking hot cockpit of the SATS Cosworth Supra battling his way though the top 16 with numerous one more times called.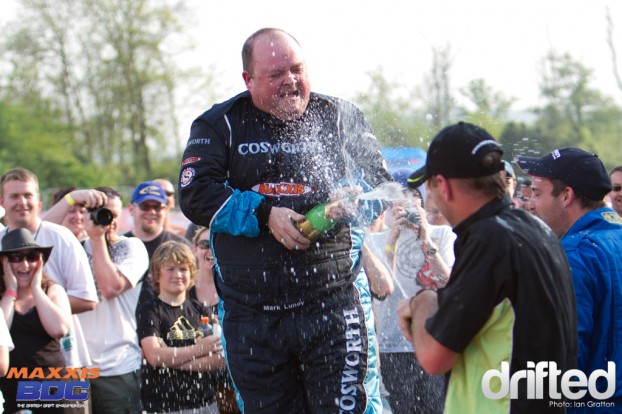 Final results for the Super-Pro class –
1st – Mark Luney – SATS Cosworth Toyota Supra
2nd – Matt Carter – Team Falken 1JZ Nissan S14
3rd – Wayne Keeber – Mint Tyres Toyota Soarer
The British Drift Championship returns on 20th May at Norfolk Arena, Kings Lynn for Round 2 and 22nd May at the same venue for the Team Triple Drift Contest! See www.thebritishdriftchampionship.com for more info
Tags: 2011, BDC, British Drift Championship, Donington Park, drifted, Drifting, Ian Gratton, Jord, Jordan Butters, Launchpad, Super-Pro
Subscribe to Drifted
If you like this article why not subscribe to Drifted and we will email you our freshest content for free!