EVENT: Dominican Drift Series – Round 1
Dominican? Who? What? Yes, here in the middle of the Sunny Caribbean we have drifting too!
Let me introduce my self, I'm Efrain Arias, editor in chief of www.boostiao.com, since 2005 drifting, slowly started growing but in 2009 made a BOOM with a big event with cars from Formula D making a demo (but more on that in another post).
Here's my recap of the Round 1 of the Dominican Drift Series held at the Mobil 1 Racerway (Autodromo Mobil1).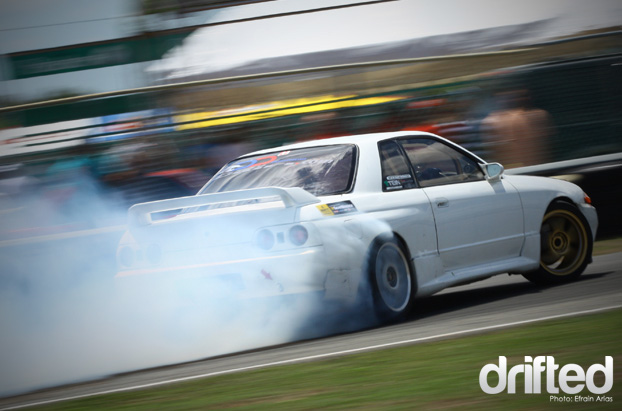 For this Round 1, I had the privilege to be one of the 3 main judges, this is not an easy task, even more if the level of drivers is getting better and better at every round. I was also a Judge on 2010's Round 3.
In the picture is Lucas Jimenez in his RB20 powered R32 from Frodo Garage, yes FRODO!, he's one of the most insane drivers of the series.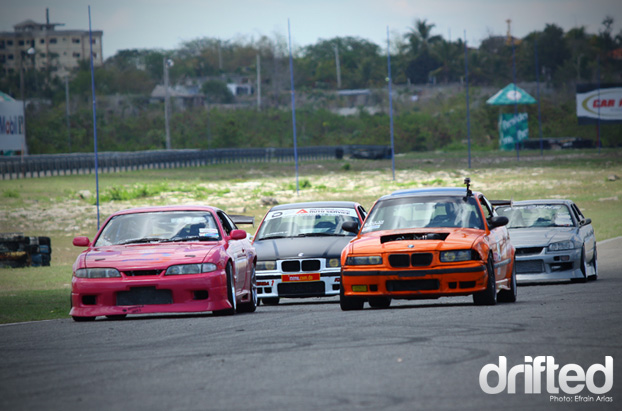 Since I had duties as a judge I ran out in the final practice session to take a couple of snaps.
Here you can see some of the cars. We have everything from European and Japanese. Best of both worlds?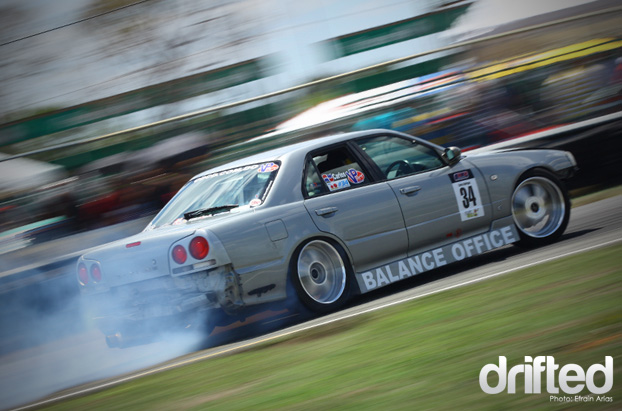 This is Carlos Rodriguez, one of the pioneers of Drifting in DR, around '05 he started in a RPS13 and look at him all grown up in this ER34, he was doing good until he met…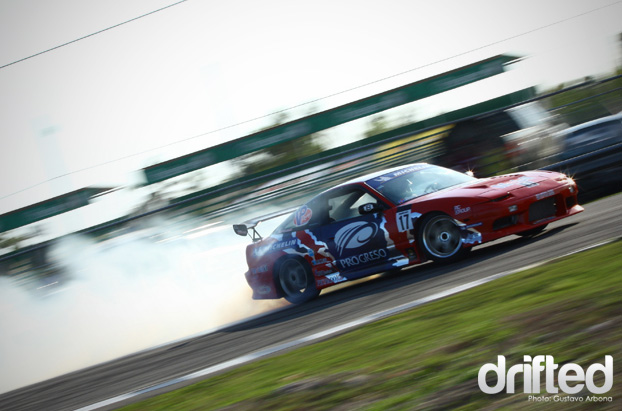 …the two time Dominican Drift Series Champion and #1 qualifier for the Round 1 Jhonnattan Castro and his S13, he knocked out Carlos in the second round of eliminations.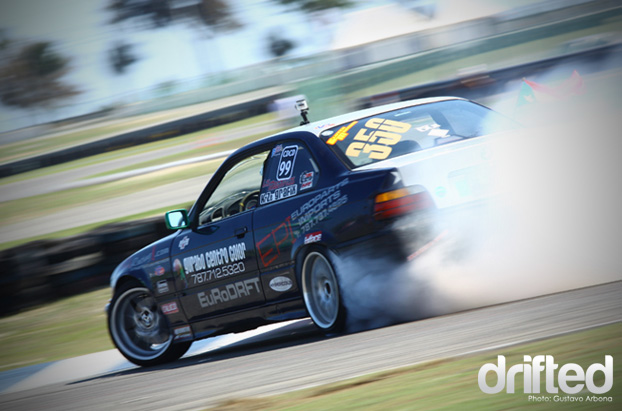 This round saw two new names in the Entry List. These guys took their cars on the ferry and brought them from Puerto Rico to compete in the local series (this shows how big this series is becoming).
Luis Lizardi and his E36 BMW Turbo put up a big show with great smoke and angle.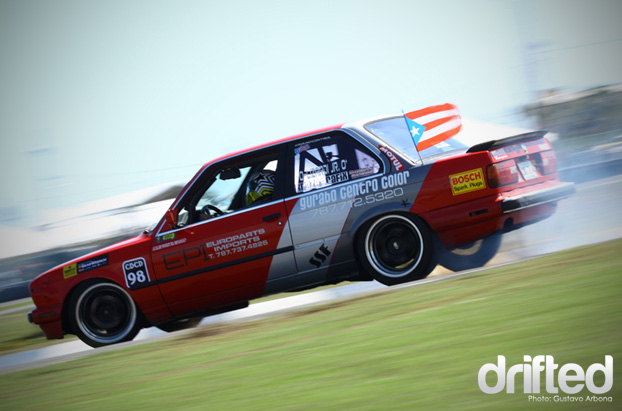 His brother Oscar Lizardi also put up a big show in his E30 Turbo.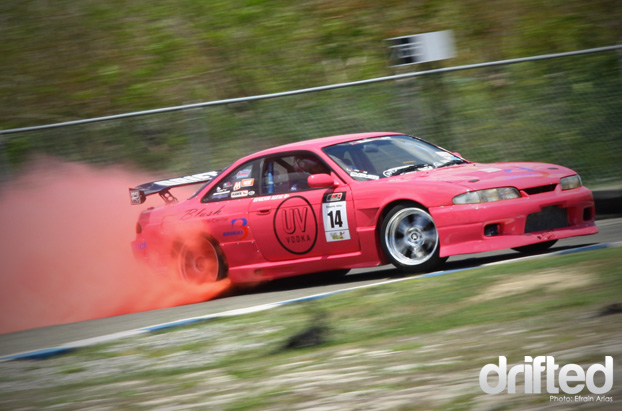 One of the favorites for this Round was Eugenio Alfau and the pink S14, unfortunately had a crash with another BMW after a spin that put an end to his show in the eliminations.
Oh and yes, that's red smoke.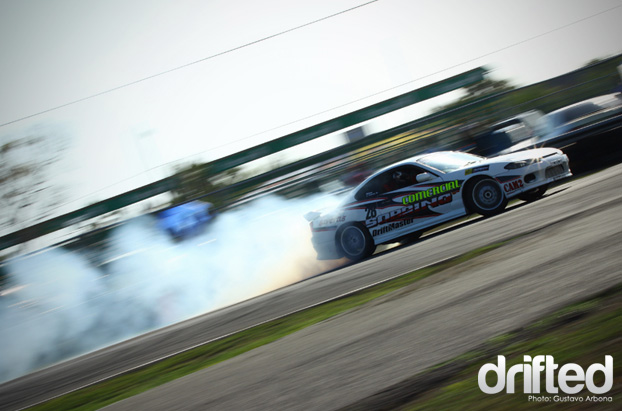 Jose Sobrino had a new car to play with this year, he used a S14 last year, and with that car he was able to catch the P2 in the 2010 championship. He was knocked out by Luis Lizardi.
For me, he's the most insane driver in this Series, once he gets used to the S15 things should be different.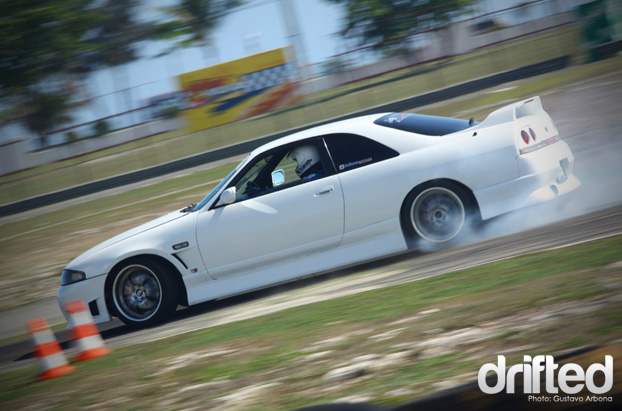 Yet another Skyline, an R33 RB25, Jarrentong De Leon, his driver, said that for some reason the car lost the alignment on the eliminations, bad luck eh?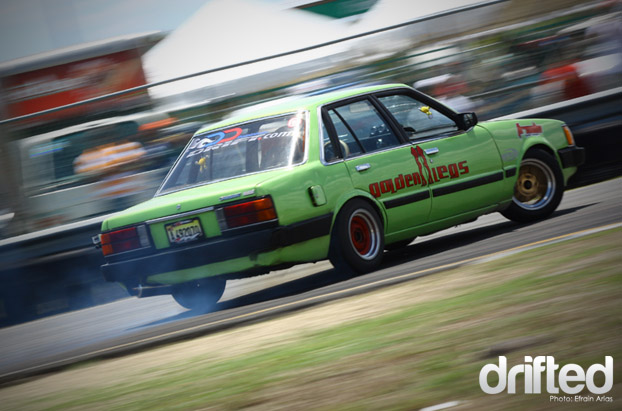 Trying to catch up with the big boys is another member of Frodo Garage, Nathanel Jimenez and his 4agez powered Charmant.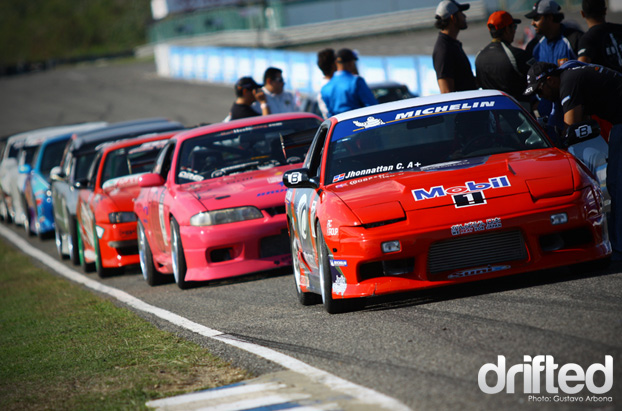 Jhonnattan Castro has only lost one time in the past two years, He's kinda 'Chris Forsberg', very technical and constant in all his runs. With his RPS13, he's been around long enough to be the one with more 'miles of experience' in the field.
Now that I noticed, the only one that's been able to beat him, is Eugenio and the pink S14 behind him in the photo.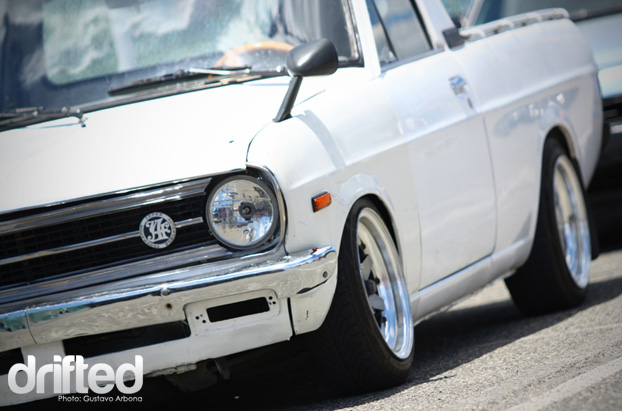 Taking a quick look at the cars on the pits, this Datsun is looking good…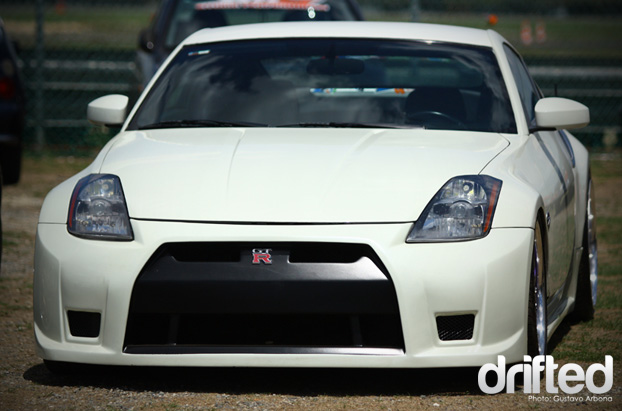 …you noticed? this is kinda small for a GTR front end? Is a 350Z with a GTR style bumper. Thoughts?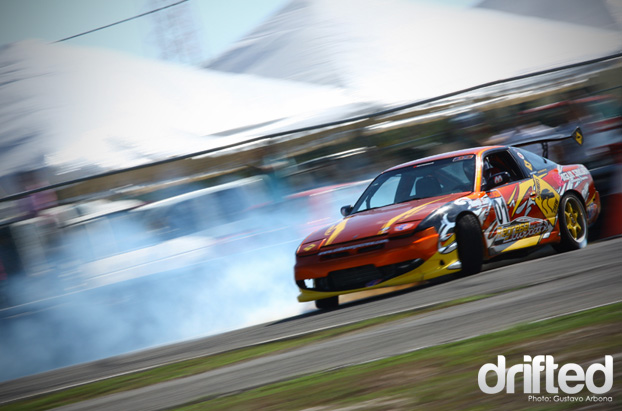 Back to the track for more action, the tandems on runs on were very exciting, this is Aldo Martinez showing us some angle.
Rick 'The Penguin" Hurtado is also one of the fan favorites, this is one of those guys that will be impossible to see with another car,  with his E36 M3 he has a long story of street racing before quitting the streets and taking it to the track. This year his using an M5 engine (not the v10, just forgot what model it is).
Oh and 'Penguin' is not because he is small, is for his big nose! Anyone remember the Penguin from Batman?! I'm sure he won't mind me saying that!
At the beginning of this post, I was talking about a Formula Drift demo on '09, well this is Casper Canul's Formula Drift Car, the car was sold and is now driven by Riandys Helena. The car had transmission problems all weekend, he's also one of the top drifters in DR.
The Castrol S14.5 is driven by Victor Madera, this car is evolving every time, started as a silver SR20 Silvia and now its a 450+whp RB25 monster.  With the RB25 now healthy, it just need some suspension dial in. Good luck on the next round Victor!.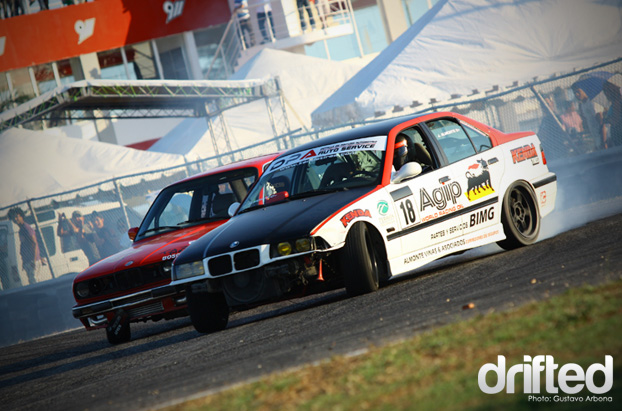 The Top 4 battles were very close, in the battle for the 3rd spot, Juan Almonte and his white E36 BMW beat fellow BMW driver, the Puertorican, Oscar Lizardi.
The Finals. The battle for the top spot was close! Both drivers were making very good runs and 2 OMT were needed to decide the winner…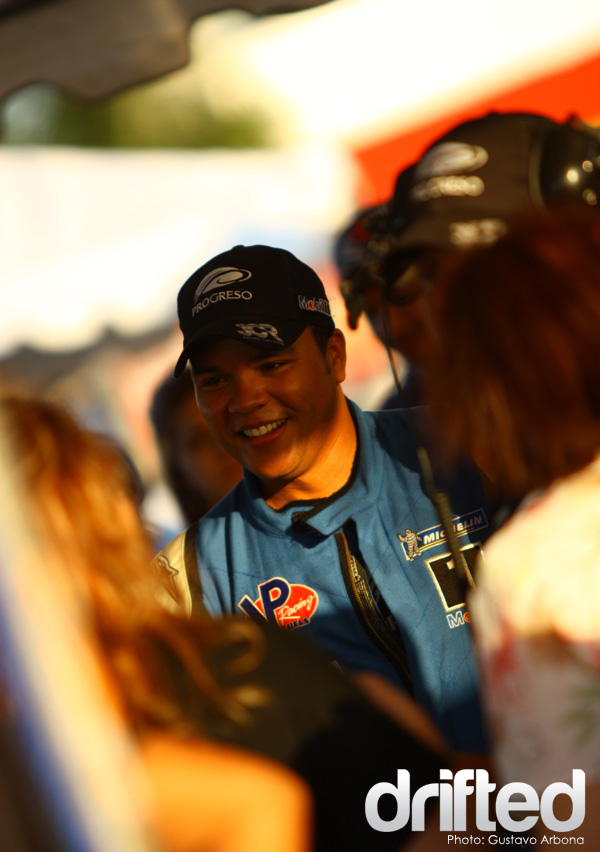 … in the end Jhonnattan Castro and his RPS13 was able to beat Luis Lizardi for the top honors.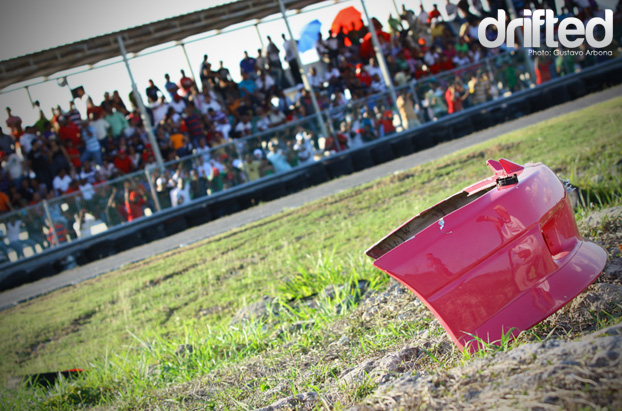 With a 'full house', nice variety of cars, accidents, close battles, big angles, insane entrys and lots of smoke, the Round 1 of the Dominican Drift Series is by far the best one I've seen in some time!
And Round 2 looks very promising with more cars coming along from Puerto Rico and other parts of Central America!
I'll try to do my best to keeping you guys updated on this Series.
– Efra