EVENT: Chasing Smoke: 2013 Maxxis British Drift Championship Round One: Lydden Hill
It's finally that time of year, the 2013 MAXXIS British Drift Championship is upon us.
We've been waiting anxiously for this event since the journey home from Knockhill in October 2012.…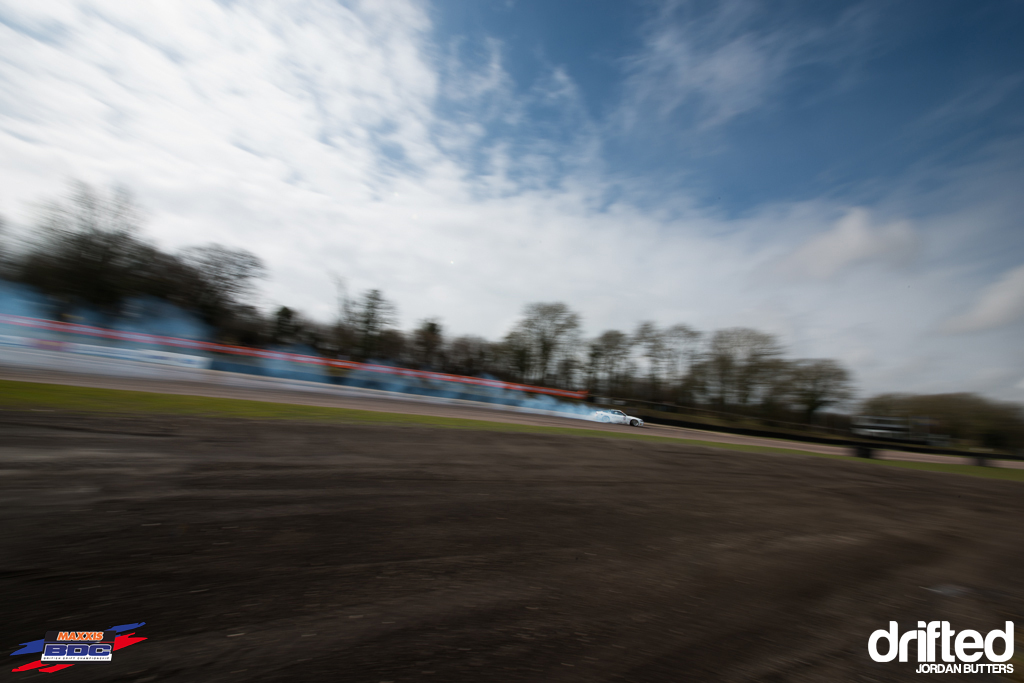 Although we'd been looking forward to it, we don't think anything could have prepared us for the events that unfolded this weekend…
A new season brings new drivers, new cars, new liveries and that awkward rustiness that sets in during the off-season.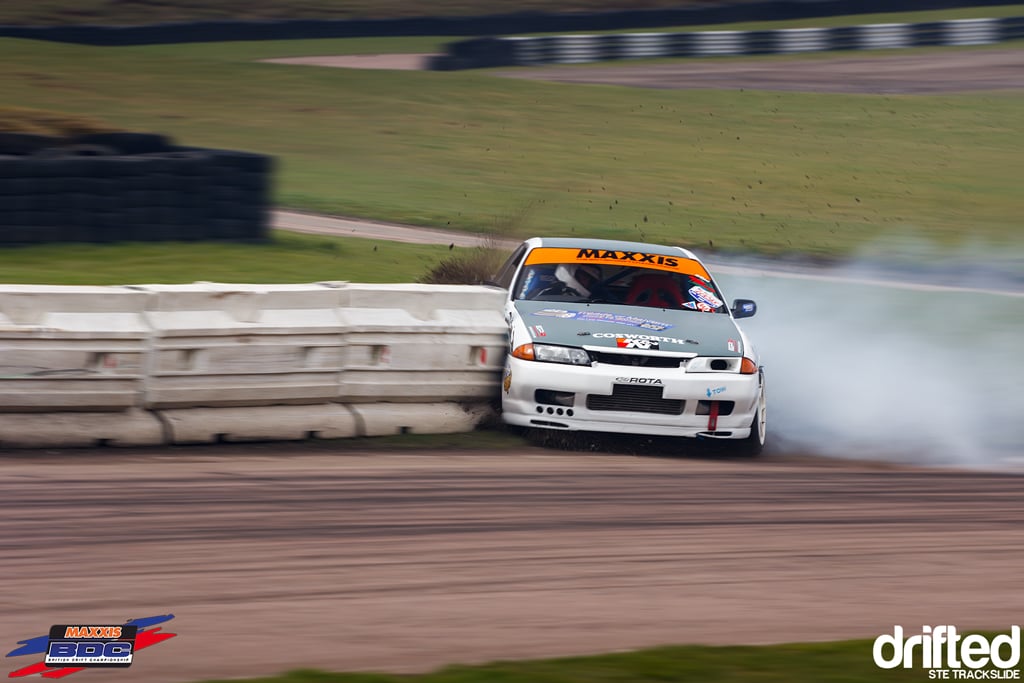 It wasn't long before it showed. Unfortunately Joe Birkett got it a little wrong in his R32 Skyline taking a pretty hard knock on the first entry wall, putting his car out of commission, we have no doubt he will be back though.
The other unforgiving thing about Lydden Hill are the gravel traps. Skim them and you might lose some paint, a bumper, skirt or overfender…
Go in harder and you face the embarrassment of awaiting the recovery crew.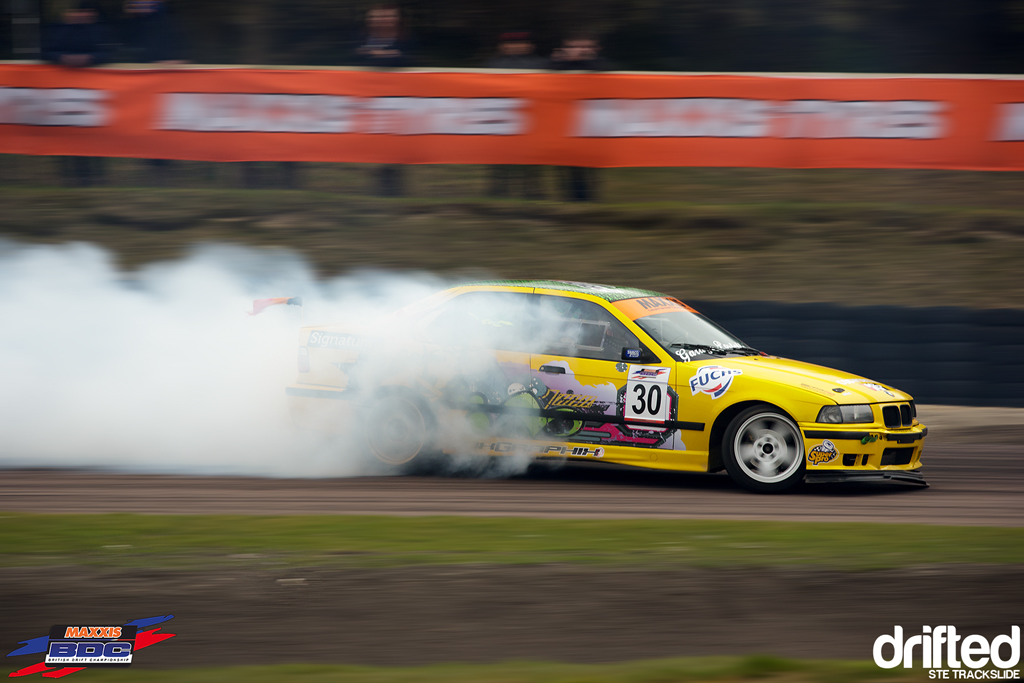 After a short while out there it was obvious that some of the guys had not lost their touch over the winter, the likes of Matt Campling, Martin Ffrench and Kevin Corsius were killing the first entries getting backwards pretty much on every initiation.
It was only practice and drivers usually drive abit more conservative during qualifying but hopefully this was a sign of good things to come.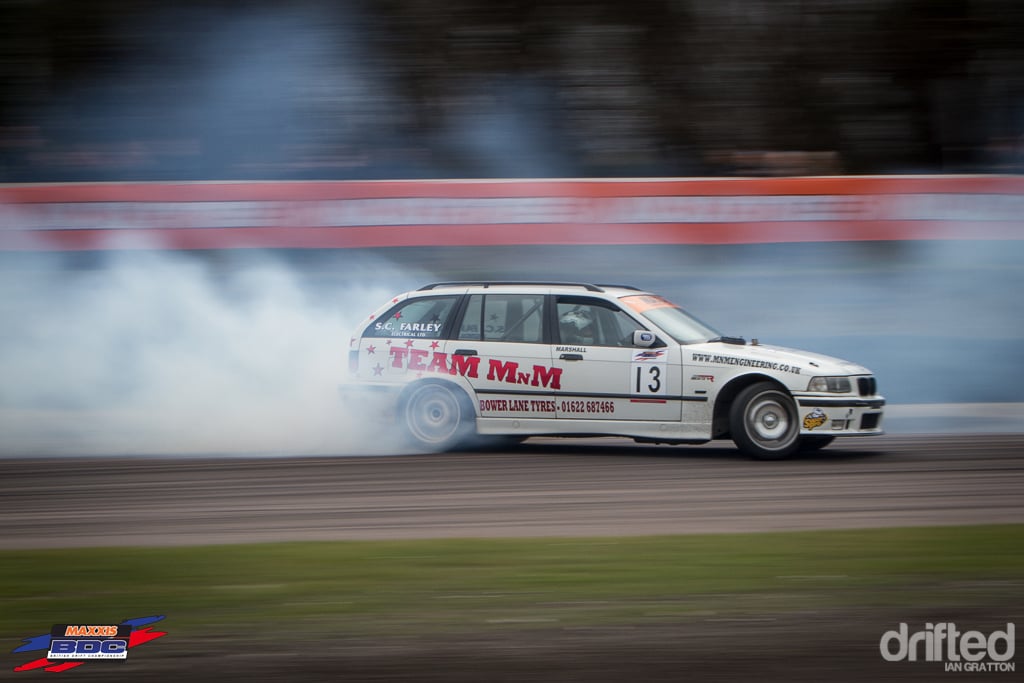 The attraction of drifting for many is the variety of machinery used. Driver skill is still the dominant factor, so run what you brung is very much the order of the day. Mike Marshall's E36 touring is now 2JZ-powered, turning it from family dog carrier into full competitive drift machine.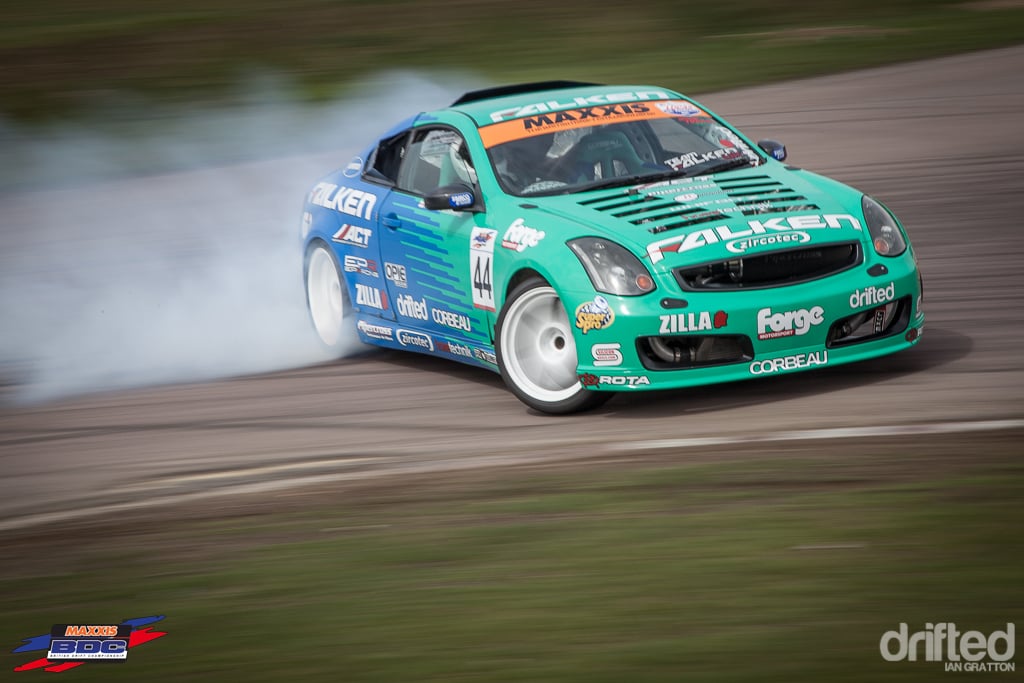 Paul Cheshire's Falken G35 Skyline returns for another season, with more power and a tickled livery. Looking good!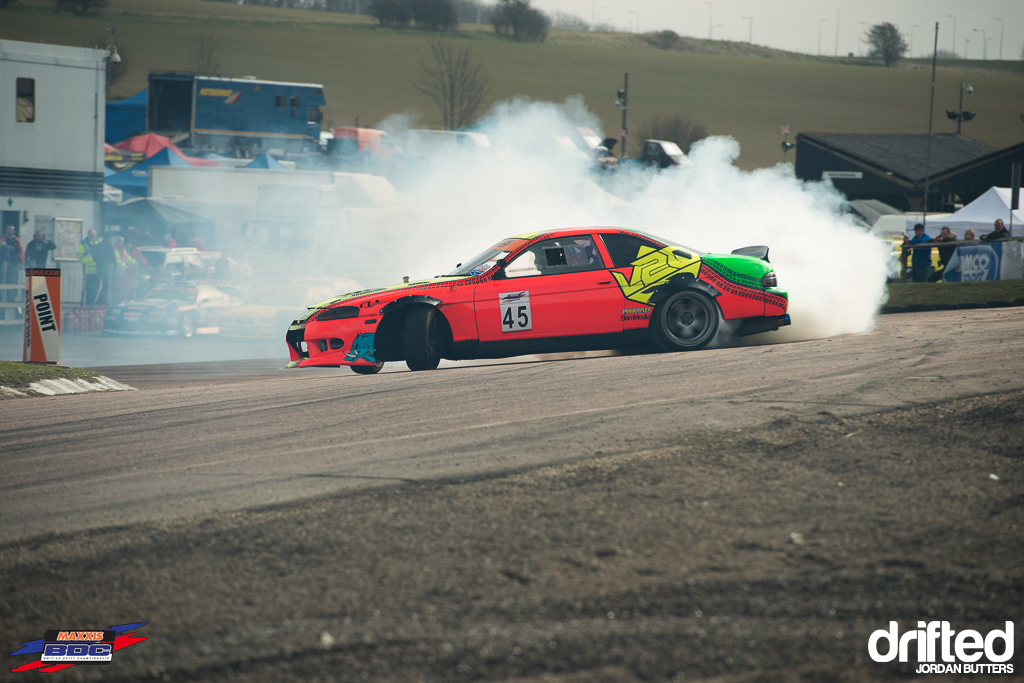 Our buddy Hugo Fernandes also returns to the BDC for 2013, flying over for each round from his native Portugal. His Toyota Soarer now part of the L2D team, and undergoing a change from its mean and moody black paint-job to possibly the brightest thing under the sun.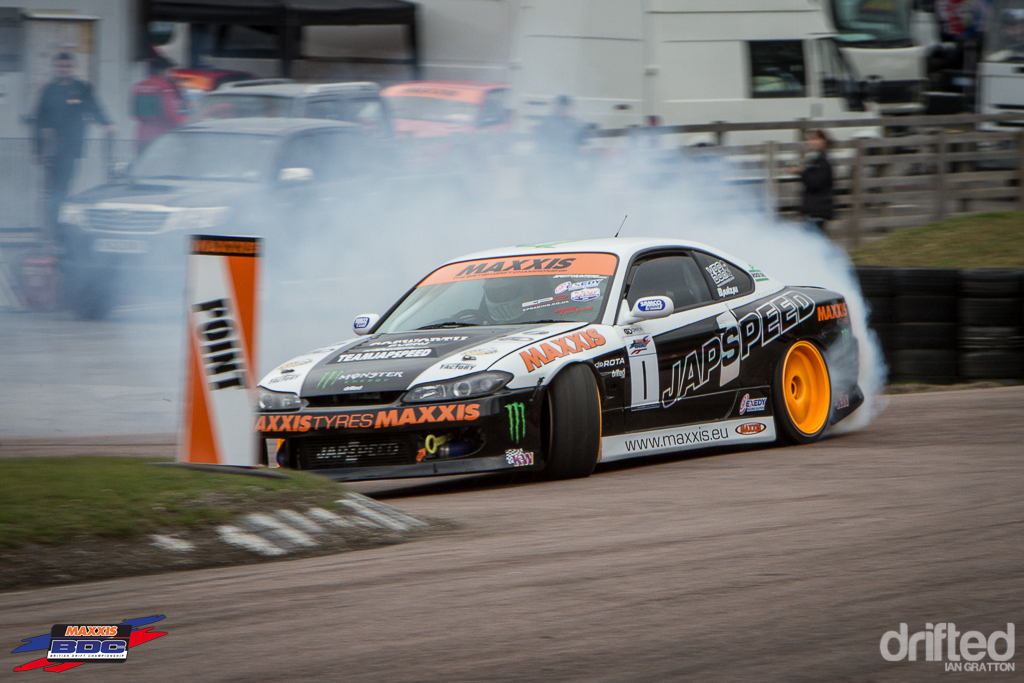 2012 British Drift Champion Paul Smith made the most of the off season, with subtle changes to his 1JZ S15. Most importantly he used the downtime to get in some seat-time, consistency is the name of the game and Paul has become one of the most consistent drivers in the championship.
Nathan Chiver's S13 is one of the most menacing-looking cars on the grid. It takes the right look to pull off the sil-80 conversion but this car does it with style. It's also packing an LS2 under the bonnet so, you know, it goes well too!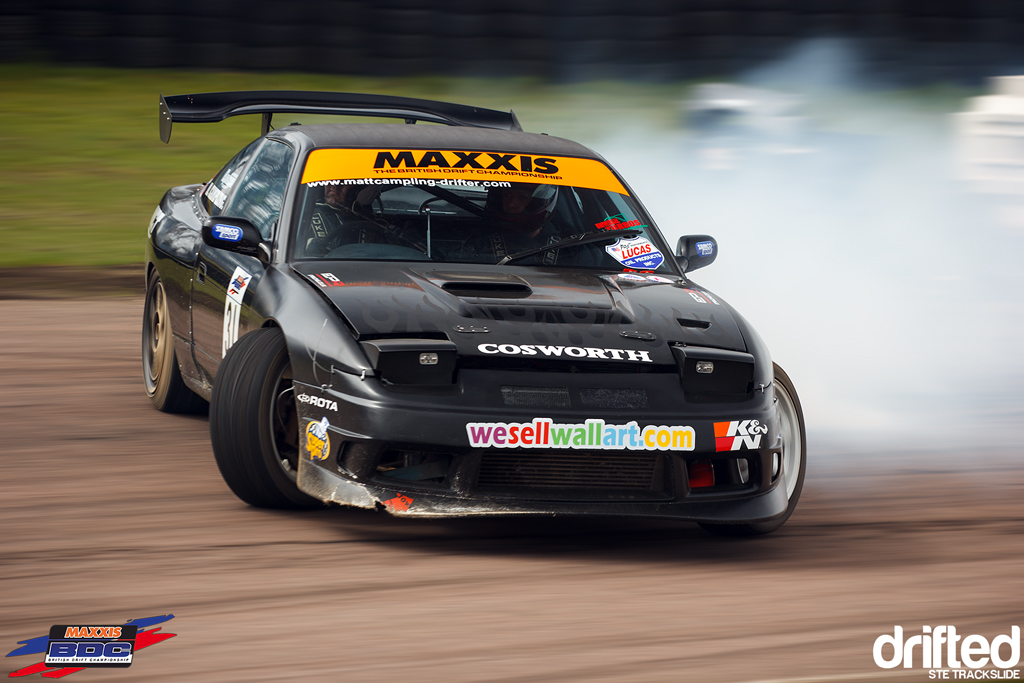 We'd seen Matt's S13 at Teesside Autodrome a few weeks earlier hitting some serious angle. It looks like he may have finally cured the setup issues he was having last year.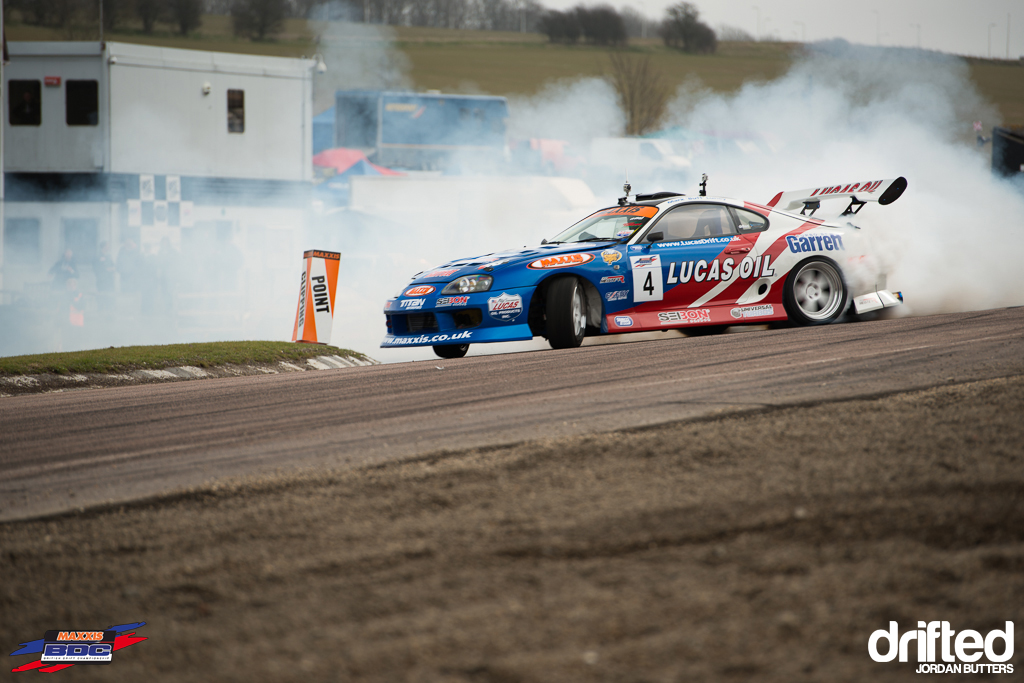 When the Super Pro class hit the track for practice the different in skill level was apparent.
Moreso than ever the Super Pro class really stood out as the pinnacle of European drifting. From the go everyone was absolutely on it.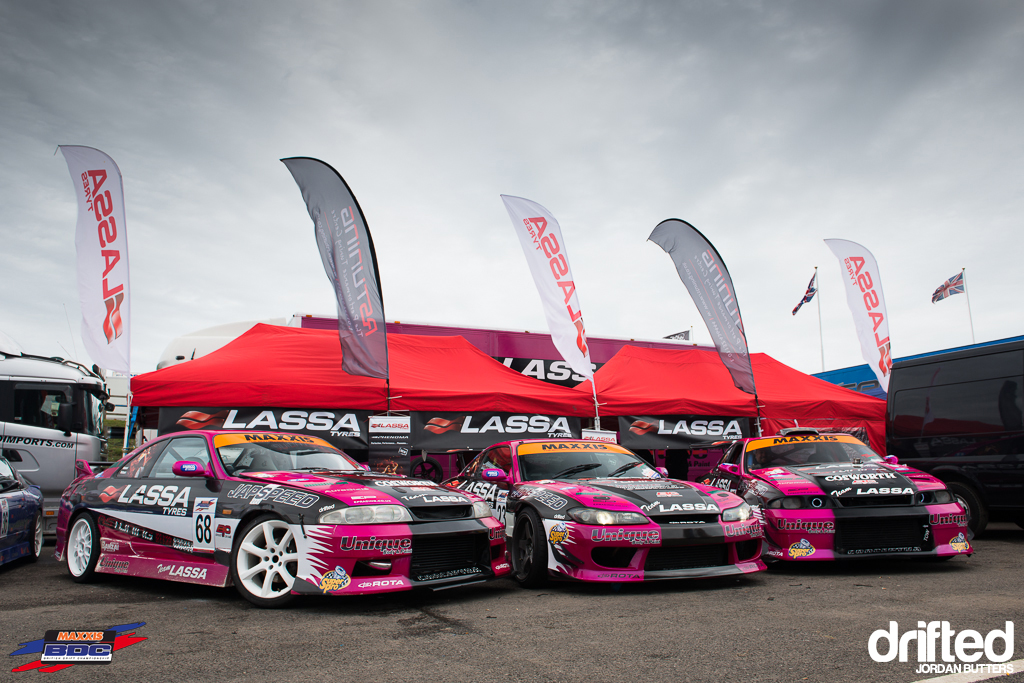 Teams stepped up the mark in terms of presentation too. The Lassa Tyres team were looking fully professional in the paddock…
…and out on track too.
Also worthy of a mention is Marc Huxley, for the last few years he had been in an car that was a personal favourite of ours, his awesome little SR20-powered Toyota Corolla KE70, and this year he has failed to disappoint on the cool factor rocking a V8 Volvo 240 estate like no other.
The fabrication that has gone into this car is insane, almost everyone we spoke to during the whole weekend were talking about it and we never heard a single bad word against it, people have mad-love for this extremely well presented classic.
The weather was no where near as bad as we was expecting, on the journey down we were checking all the usual weather apps and getting reports from the guys already at the track about what it was like, whether we'd be needing waterproofs or not and it actually looked quite promising, cloudy, but dry.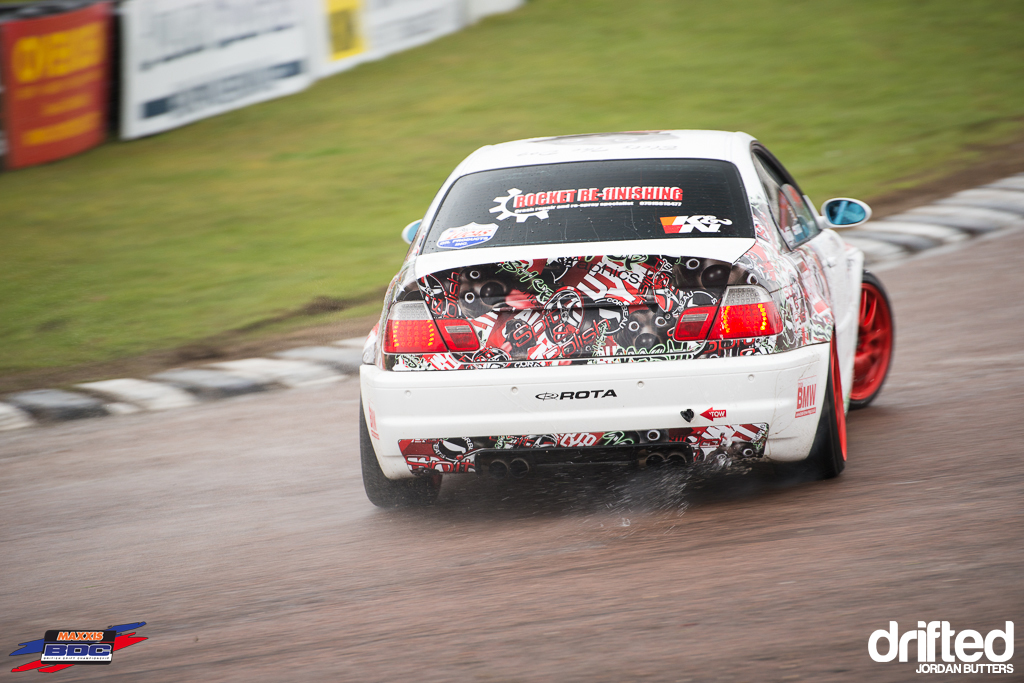 That was until the rain came of course, we're sure this sport is cursed…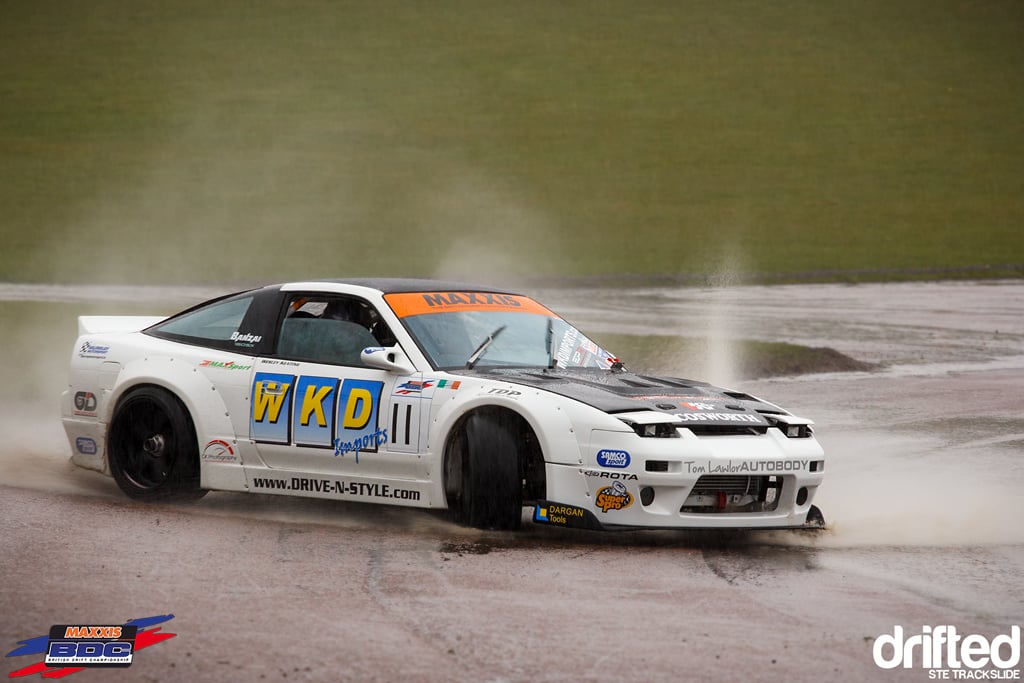 There are quite a few new cars and liveries this year, it was almost hard to keep up with who is who, but the level of standard far exceeds every year we've ever seen here with some of the finest cars to date, Wesley Keating of Team WKD now in a Rocket Bunny'd S13 which are always nice to see, we especially liked the centre-lock wheels.
The rain played havoc with the schedule causing slow runs and gravel trap offs during the Semi Pro and Pro qualifying taking us up to pretty much the end of the first day as there just wasn't enough time to run the Super Pro qualifying on the Saturday, therefore they would run first on Sunday but only having two runs each instead of the usual three.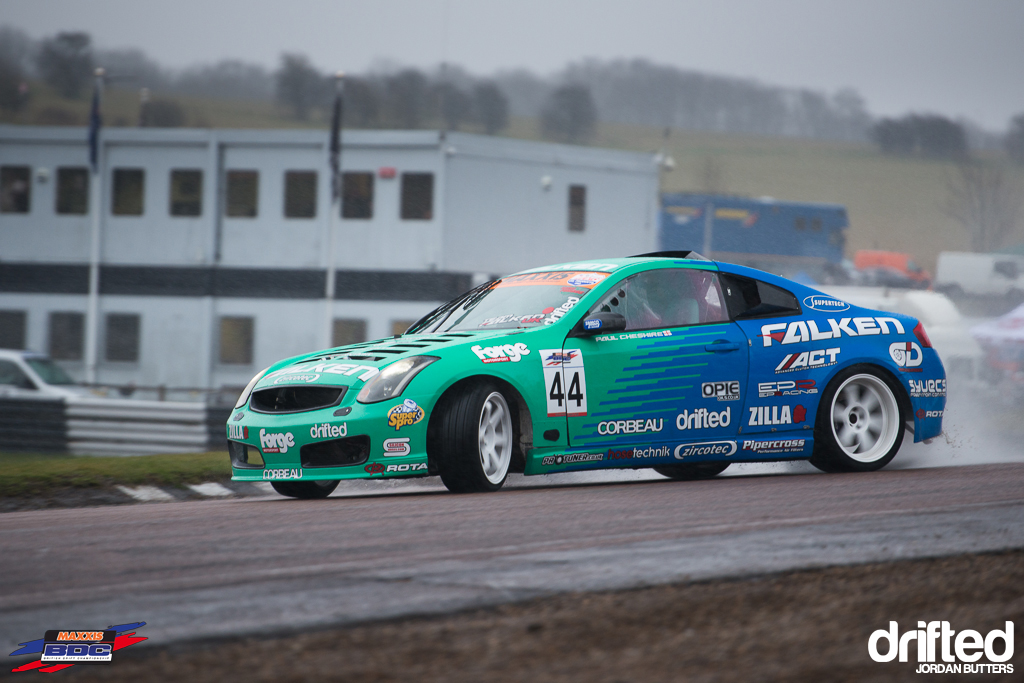 It's a shame that we didn't get to see some of the Semi- and Pro guys run in the dry. Paul Cheshire's Team Falken G35 certainly could have made more use of its 720bhp has it not been quite so slippery!
Mark Lappage  was enjoying the rain by the looks of things, after shooting this we decided to call it a day as we were completely soaked, so were our cameras.
Sunday morning was an early start, up at 6am to do some pit wandering while everyone was asleep and no spectators were around, the weather was at least looking like it could be a nice day, which was a huge improvement over how it was when we went to bed.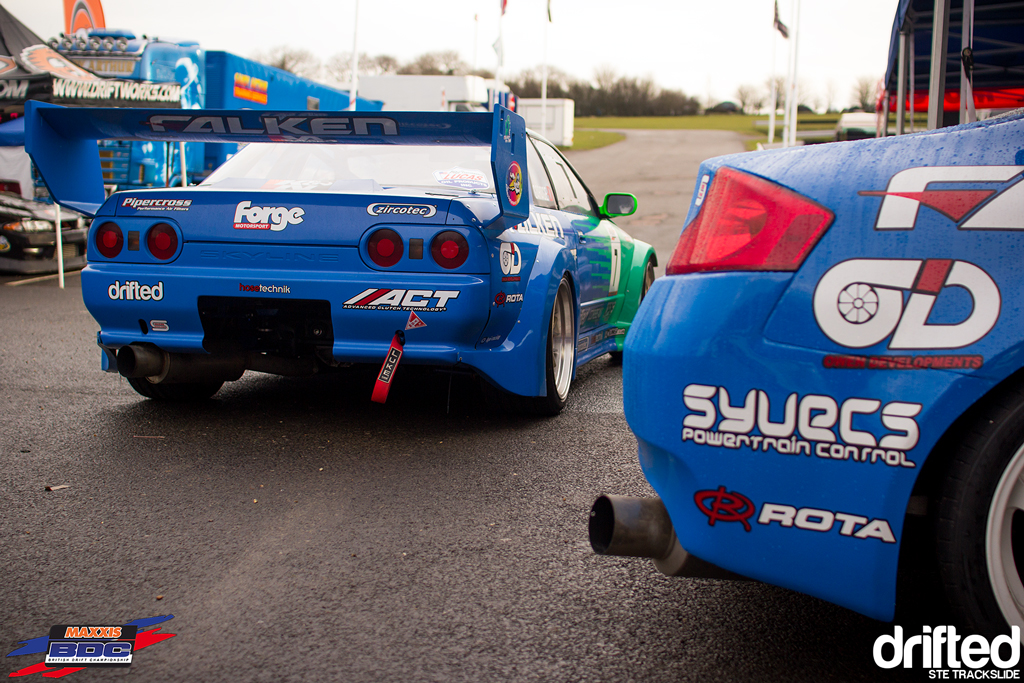 We had a good look around Team Falken's Super Pro Driver Matt Carter's fresh R32 build and have to say we like it, the quality is top notch and the wing is insane, we were unsure of the arches when we first saw the car being built but in the flesh, it's cool, almost an old DTM look and seriously wide.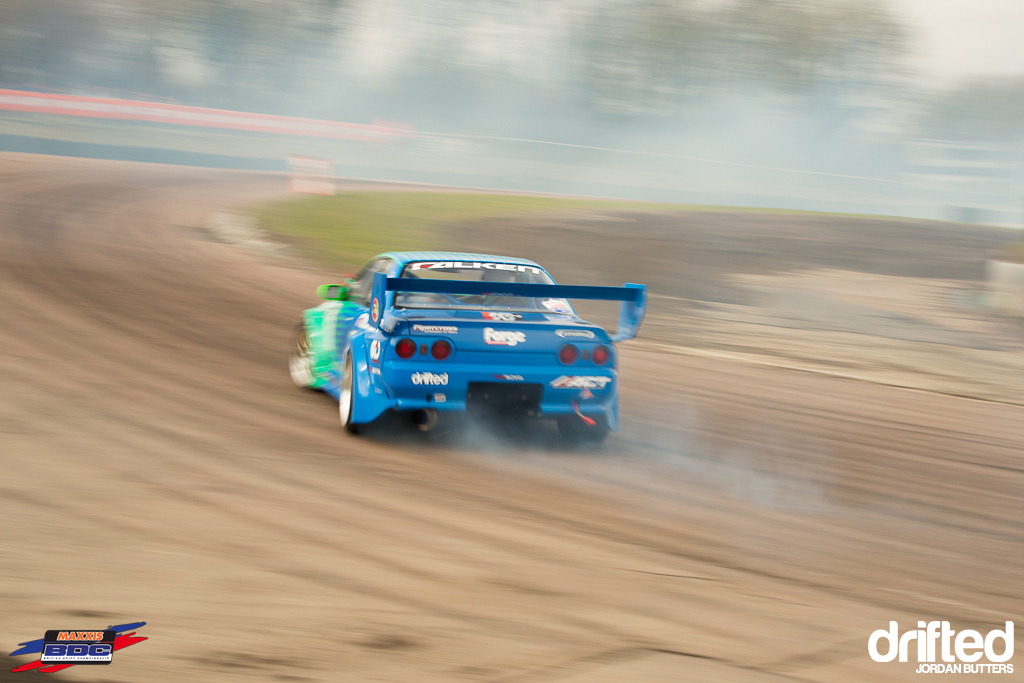 Did we mention the wing?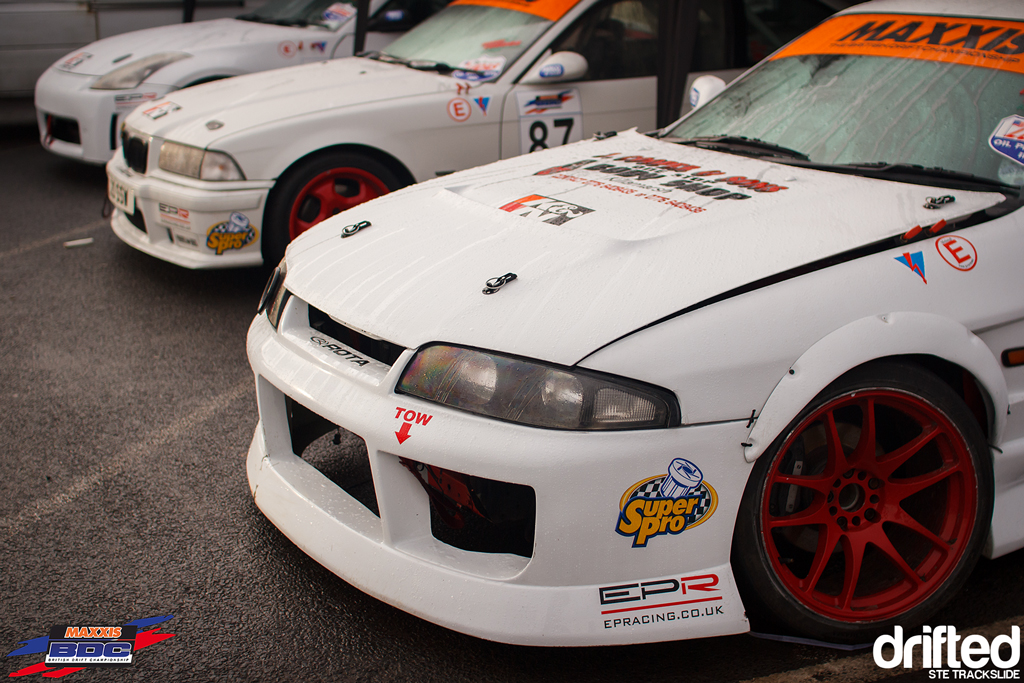 Slide Motorsport were here in force, running 3 cars which we're pretty sure are all V8 powered, Adam Simmons Had a little knock on the rear end the day before, damaging the rear bumper/quarter of his R33 Skyline but other than that, they were all very clean cars.
Gary Hughes R32 is looking just as clean as last year, with a livery that doesn't seem to get old, there were a few people up and about but we could count them on one hand…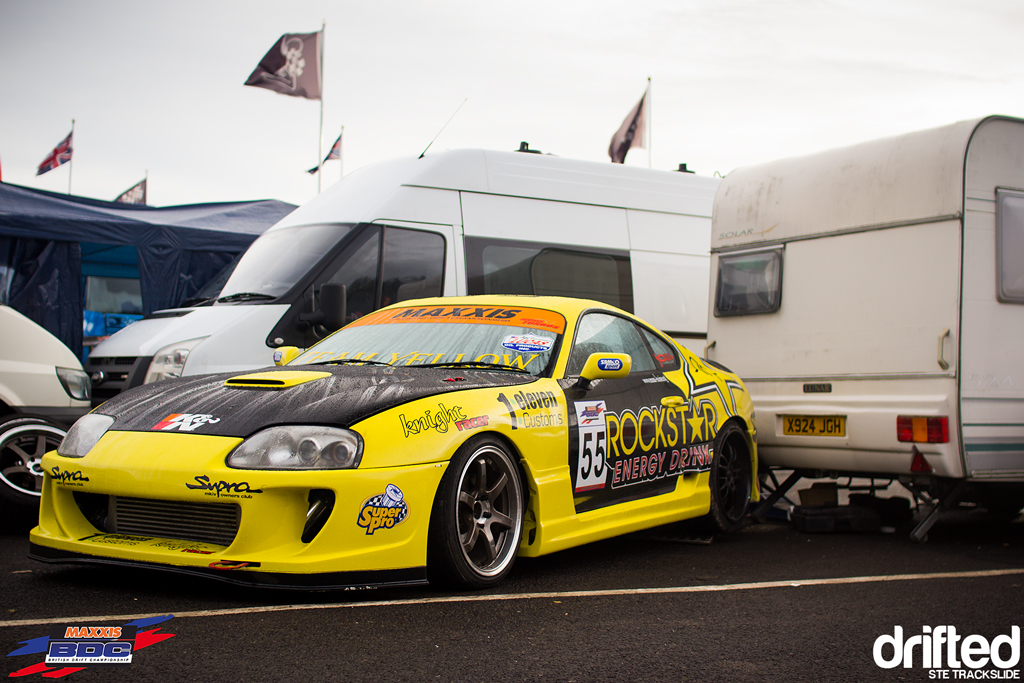 Another great livery this year and a major sponsorship deal scored for Ashley 'Wand' Willis and his Toyota Supra sporting the international Rockstar Energy Drink livery, very bright and hard to miss.
We're very pleased to see the Low Brains Drifters PS13 competing in the BDC this year in the hands of Martin Ffrench. Everything about it is OTT, with the Wisefab lock kit it can perform some very backwards entries, it has a Mosler V8 Le Mans engine with throttle bodies, it's an awesome car.
They were experiencing some power steering issues this weekend but Ffrenchy was still putting on a great show regardless. We expect great things from this car this year.
We finally got a chance to get up close to Hux's V8 Volvo 240, It's epic, the fact that Marc got this car built from a bare shell to a Super Pro class competition car in only 7 weeks is spectacular and it even stands up to close scrutiny. What a guy.
As time went by, more people started to surface, the sun started peeking out from behind the clouds and it looked like we were finally going to get some sun.
Before long it was time to make our way back to the track, it was dry, Super Pro qualifying time and they had some tyres to kill.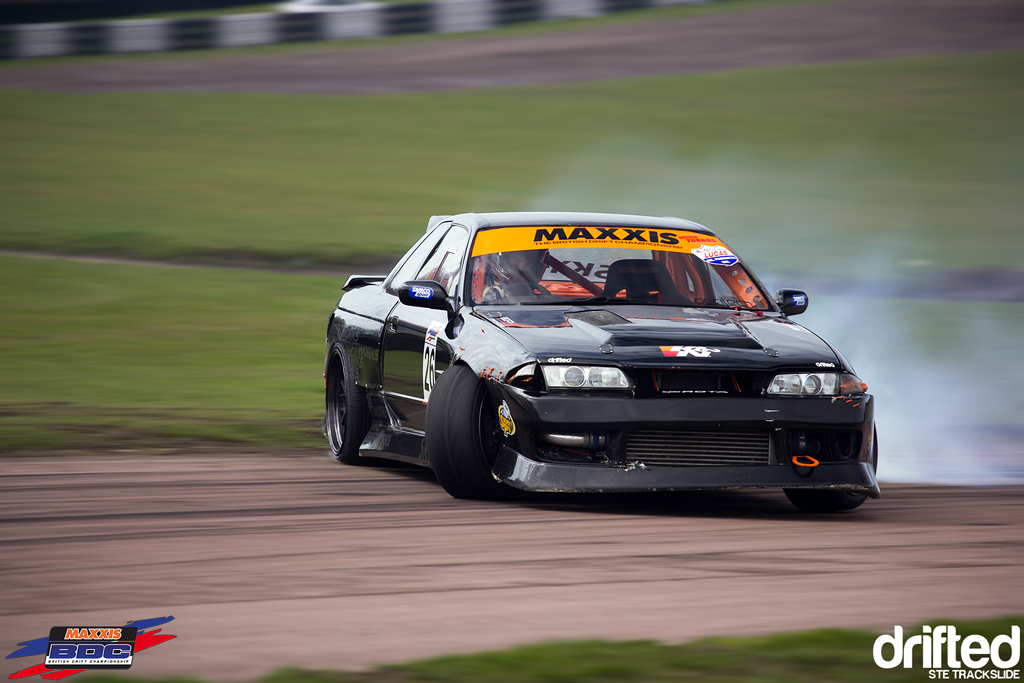 Super Pro qualifying. The drivers weren't pushing as hard as Saturday, but the level of skill was still very good, Phil Morrison in the Driftworks R32 getting plenty of angle.
Wesley Keating had some unfortunate clutch issues and dropped out during his qualifying runs, a real shame with the preparation that has gone into his car…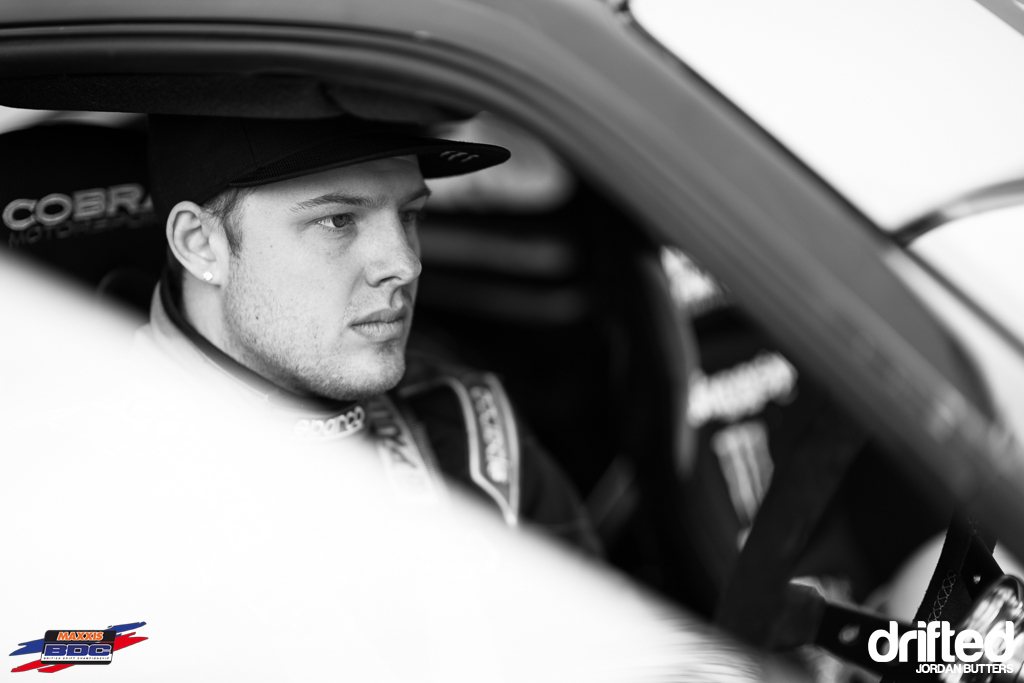 As far as drift events are concerned, we expect abit of carnage, it comes with the territory. Cars loose bumpers and tap walls/each other all the time, but sometimes things are a little more serious than that as Steve 'Baggsy' Biagioni found out while breaking in his new car for the season.
Alot of people are familiar with Baggsy and his world famous Japspeed Impreza, this season however he is no longer with Japspeed and is driving for Team Acorn in a freshly built S13. We're not sure of the cause, Baggsy seemed to initiate to flick the car the opposite way, but didn't seem to pull it back and the car hurtled towards the tyre wall…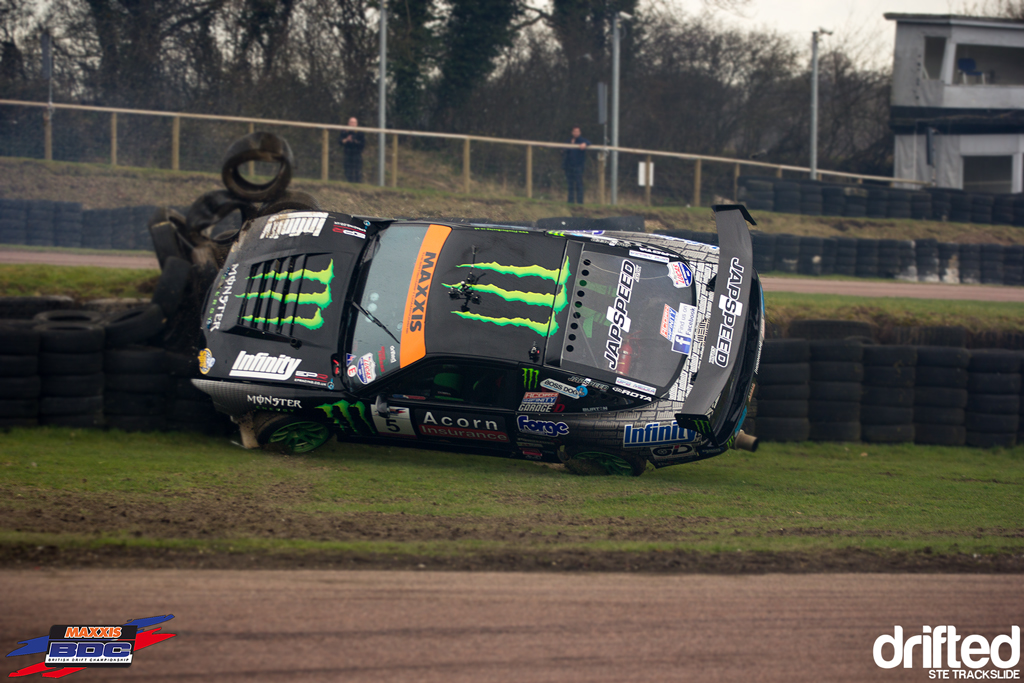 The crash was very hard to watch, not just because we know the guy, but because we never like to see things like this, torn between taking pictures and getting over to the car to help him out.
The Lydden Hill paramedics and emergency responce were on the top of their game arriving with Baggsy within seconds, the tyre wall seemed to take the majority of the impact, but was the main cause of the roll over as when the front wheels hit the wall, they ran up the lower tyres sending him over. Undoubtedly though the crash would have been alot more severe without the tyres there.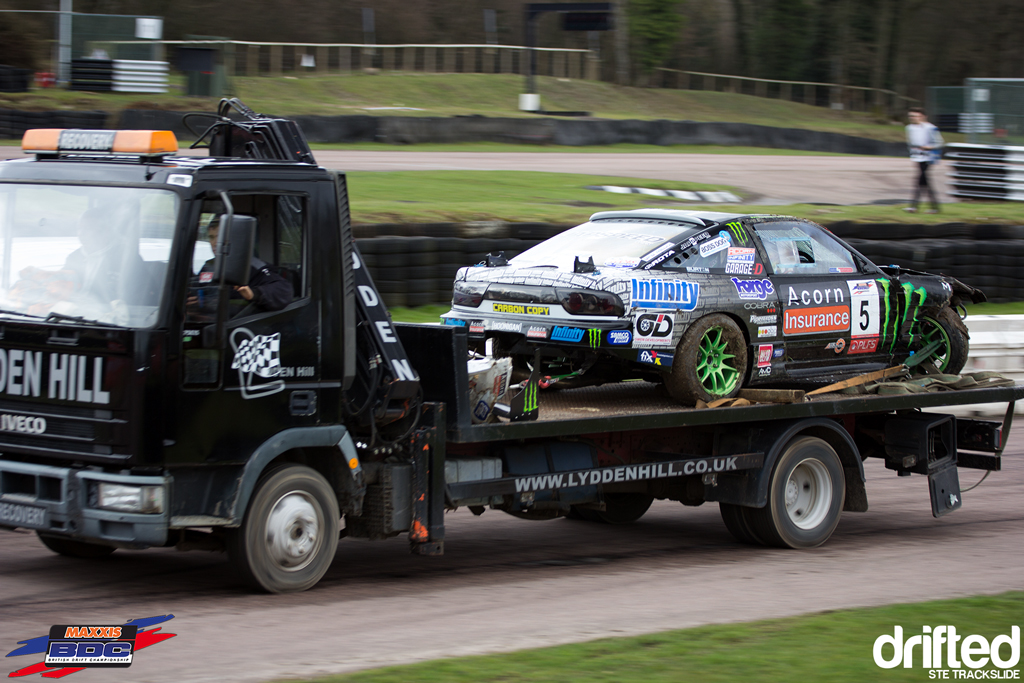 In a historic event, Baggsy had accomplished a first as far as the UK drift scene is concerned, a roll over. Thankfully Team Acorn had done a fantastic job putting this car together, all safety items stood up to the punishment and Baggsy emerged from the car, only to be greeted by a medical team and a stretcher, which was purely procedure. Once Baggsy was taken for further checks, the track was cleared and the action continued - Baggsy was fine, a little shaken and a little sore but he will be back.
After the crash you'd think the level of commitment to the first entry would not be as dedicated as before, but they seemed to be doing just fine.
The Lucas Oil Supra formally known as the SATS Cosworth Supra was having a few issues this weekend, blowing a bit of a hole in the cylinder head, but with a little bit of liquid metal and perseverance they were back on form. Good to see the BGW back too after running de-spoilered last year.
Moving on to the battles, there was a great standard of driving from all classes, some of the best we've seen. First up is the Semi Pro class results…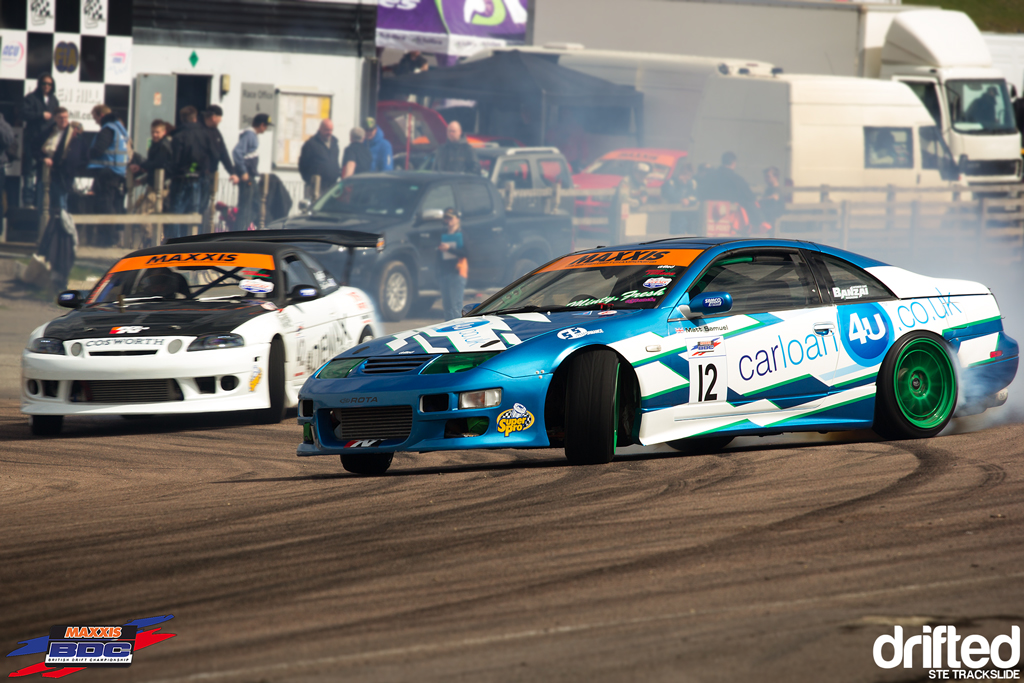 1st place – Matt Samuel in the Carloan4u Nissan 300zx.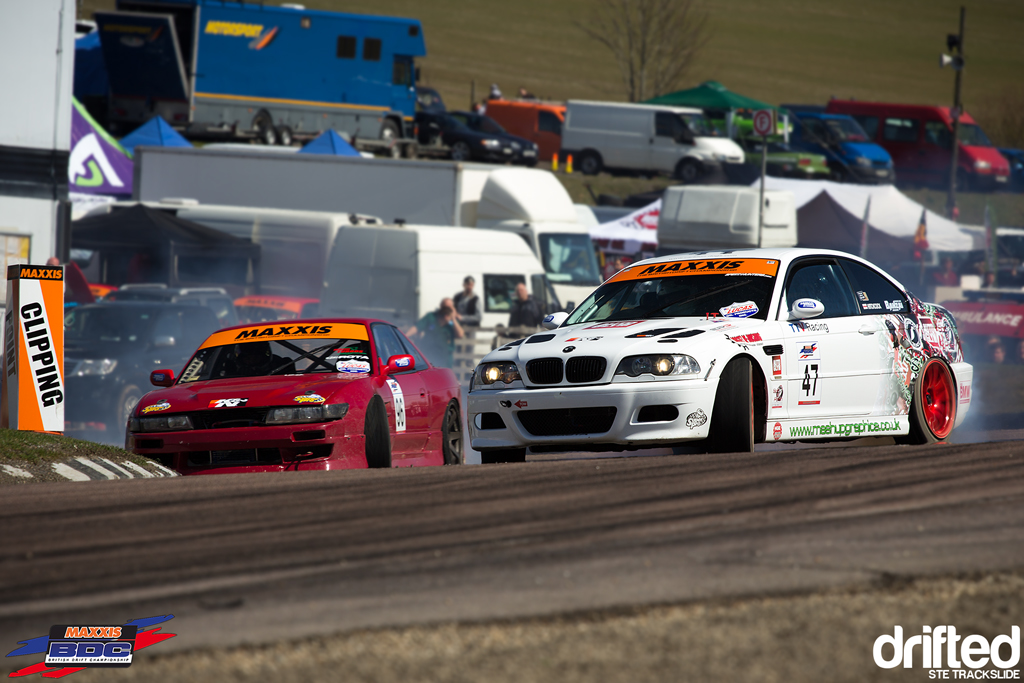 2nd place – Matt Hitchcock in the Auto-Glym BMW E46.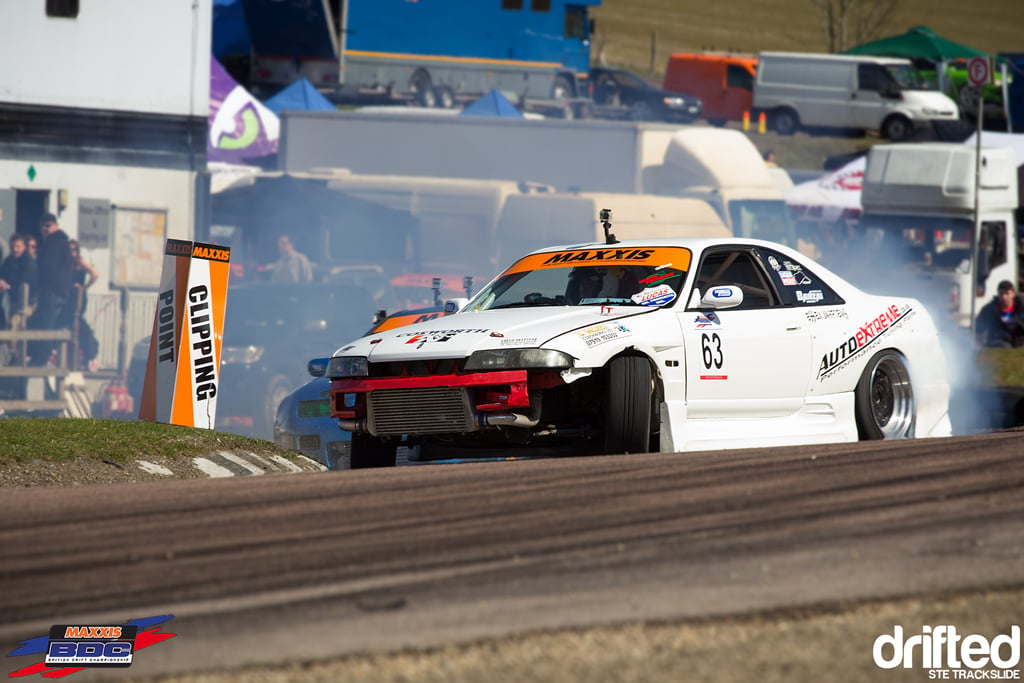 3rd place – Nick Statham in his White Nissan R33 Skyline at his first BDC event.
Pro Class now and again there was some great driving across the board…
1st place – Jay Green in his green Nissan S13.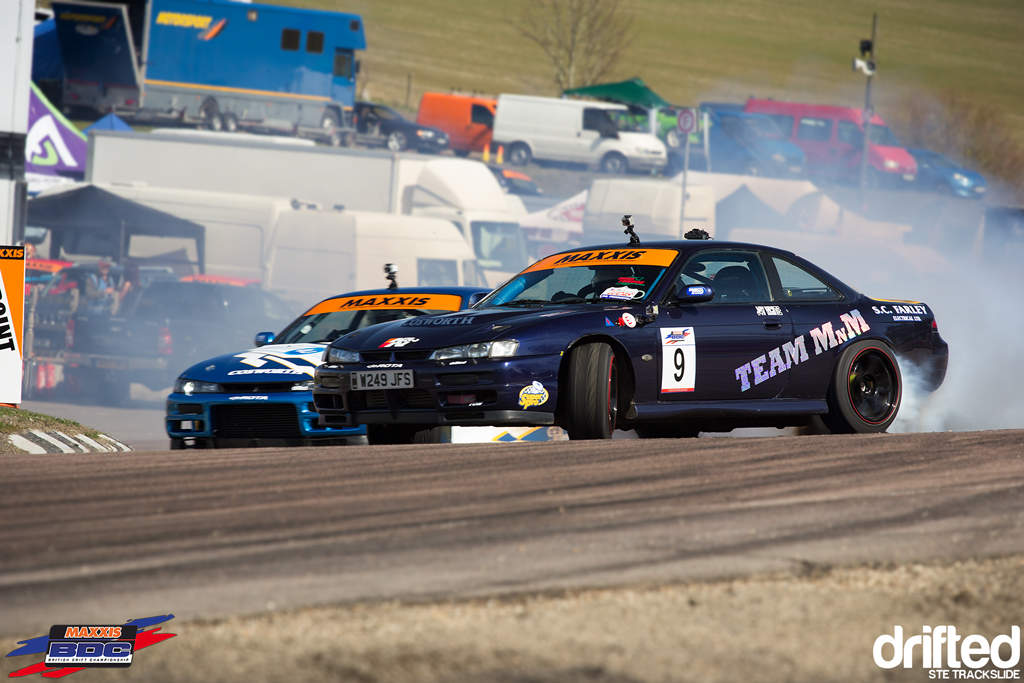 2nd place – Jay White in the Team MnM Nissan S14a.
3rd place – Chris Hawkins in his seriously clean S13.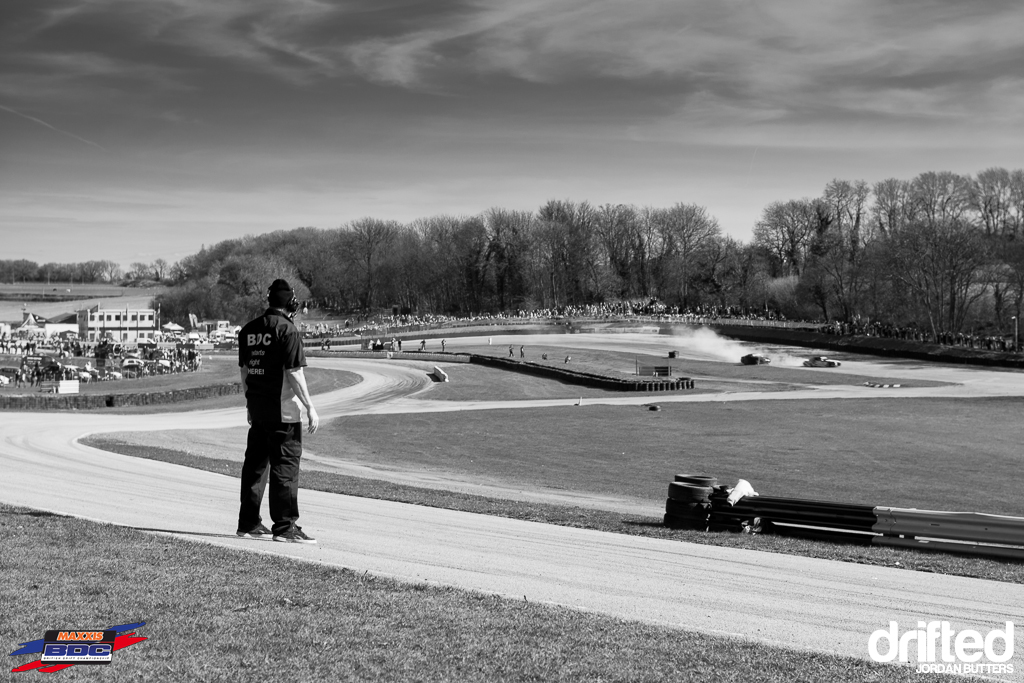 Super Pro Class brought some superb mad skills to the table with most of the drivers at the top of their game…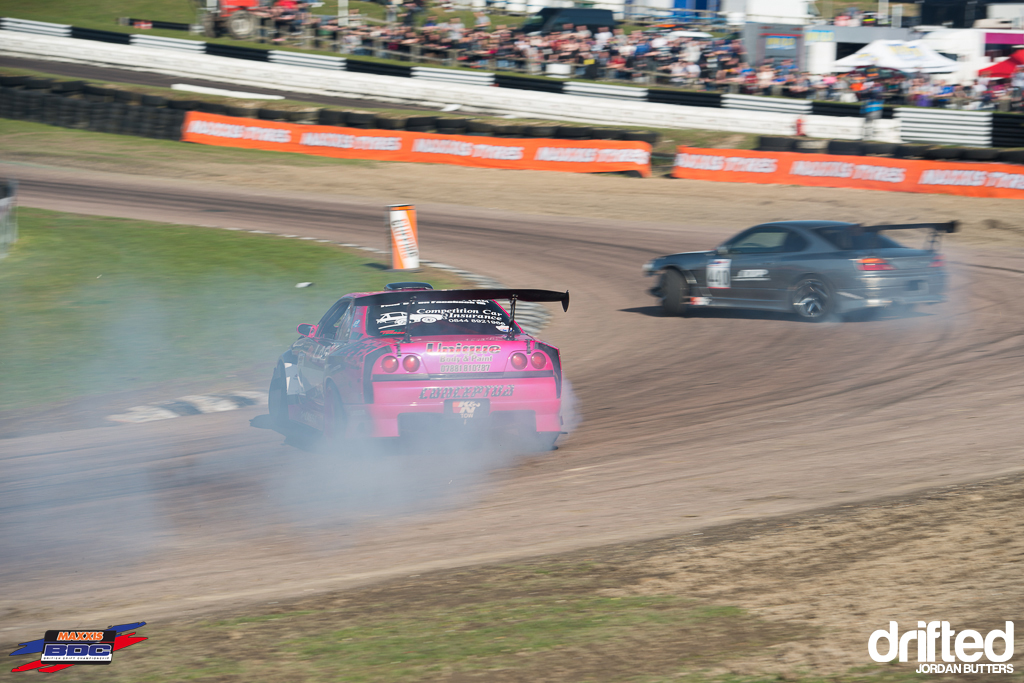 Simon Perry made light work of Mark Sinnott in the Top 16.
Whilst Driftworks' Phil Morrison and Wayne Keeber did the dance, Morrison progressing through.
Super Pro newcomer Christian Lewis took on seasoned veteran Steve Moore…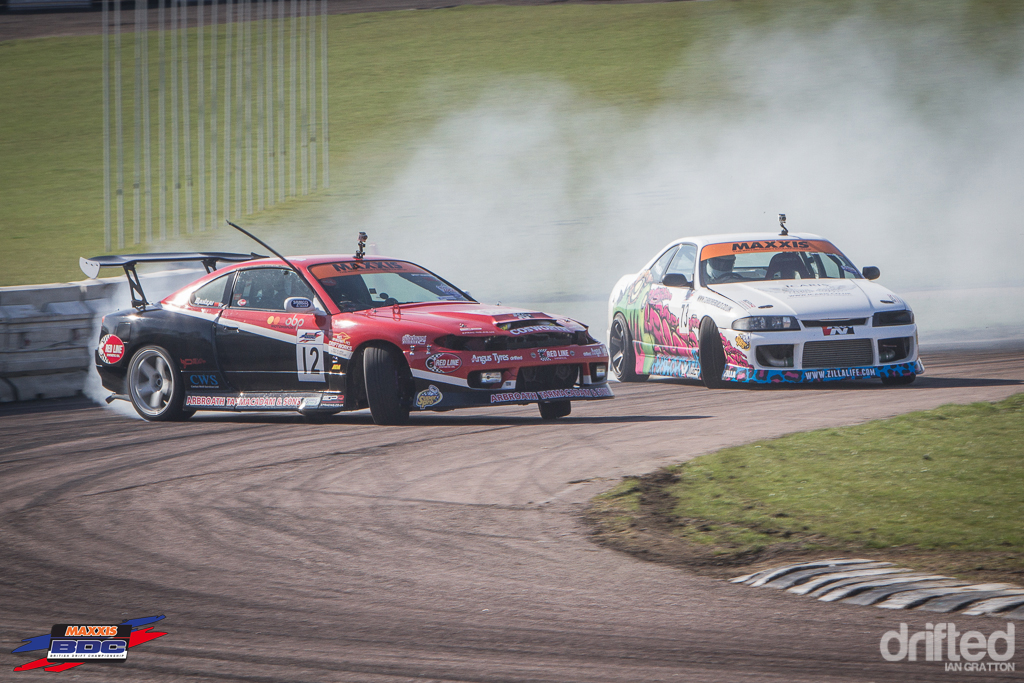 …and came out on top, before being dismissed by David Waterworth's Viper-powered S15.
And Mark Luney in the Lucas Oil Supra sent Jamie Kenyon packing.
In the top 8 current champion Paul Smith chased down Ciaron Sinnott and, true to form, Smith progressed.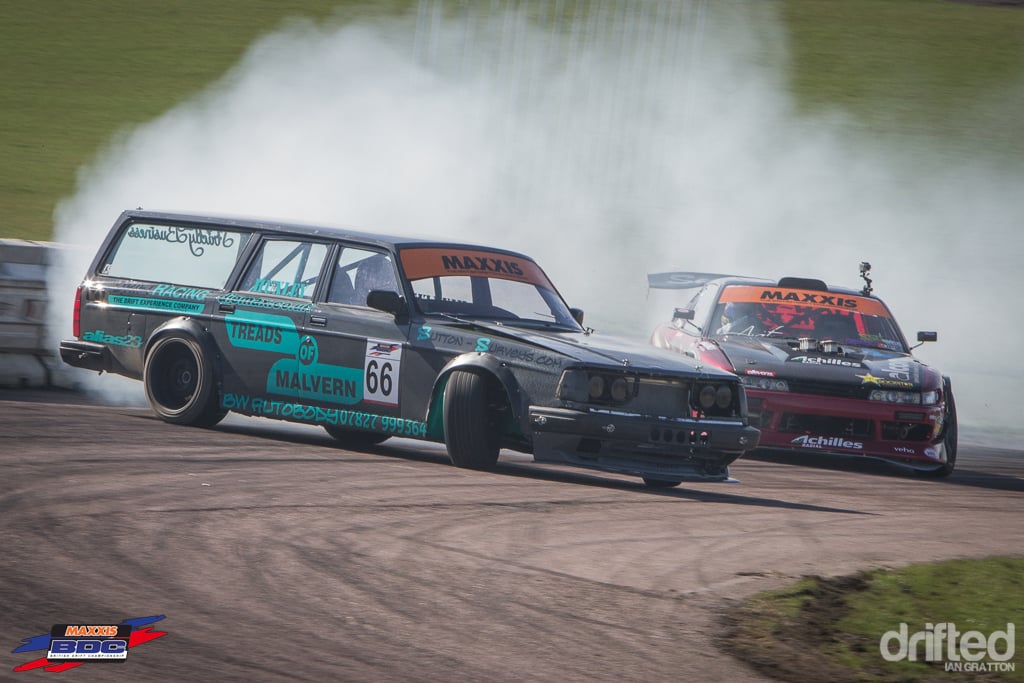 Hux headed off against Martin Ffrench in the Low Brain Mosler-engined PS13. Ffrench failed to leave room for Hux's huge wagon to transition, making contact and putting Hux through - an important consideration when chasing a car this big is the acres of room that it takes to swing its tail about!
Mark Luney then took on Hux in the Volvo and the Supra left the wagon in a cloud of smoke.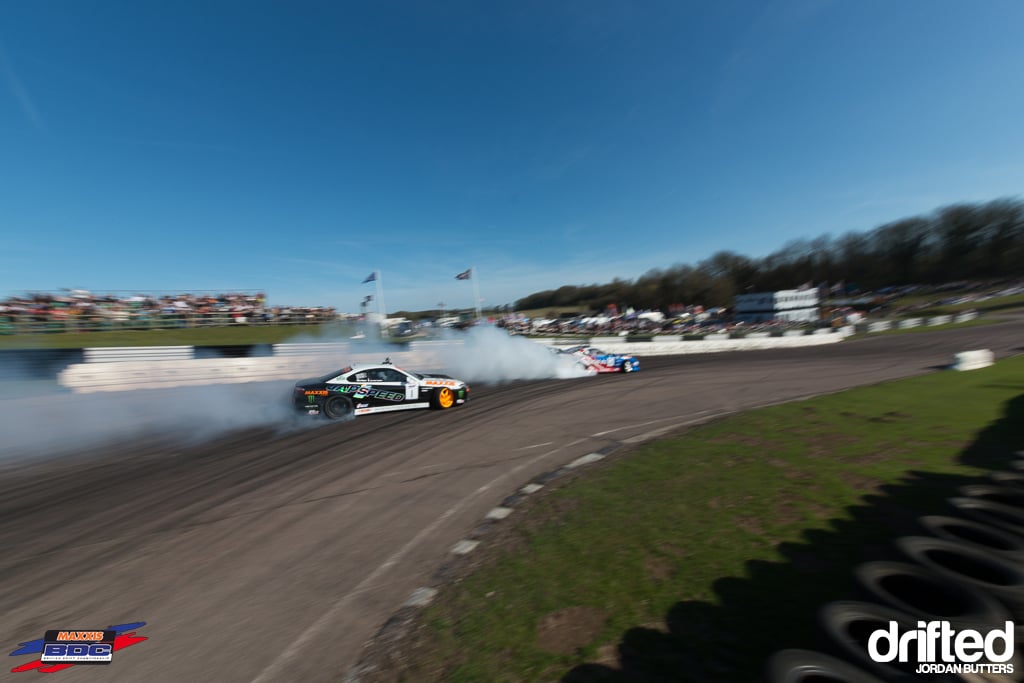 Before heading off against Japspeed's Paul Smith in the Semi Finals.
Smith taking the edge and booking himself a place on the podium.
In the other Semi Final Simon Perry took on David Waterworth's Viper-powered S15.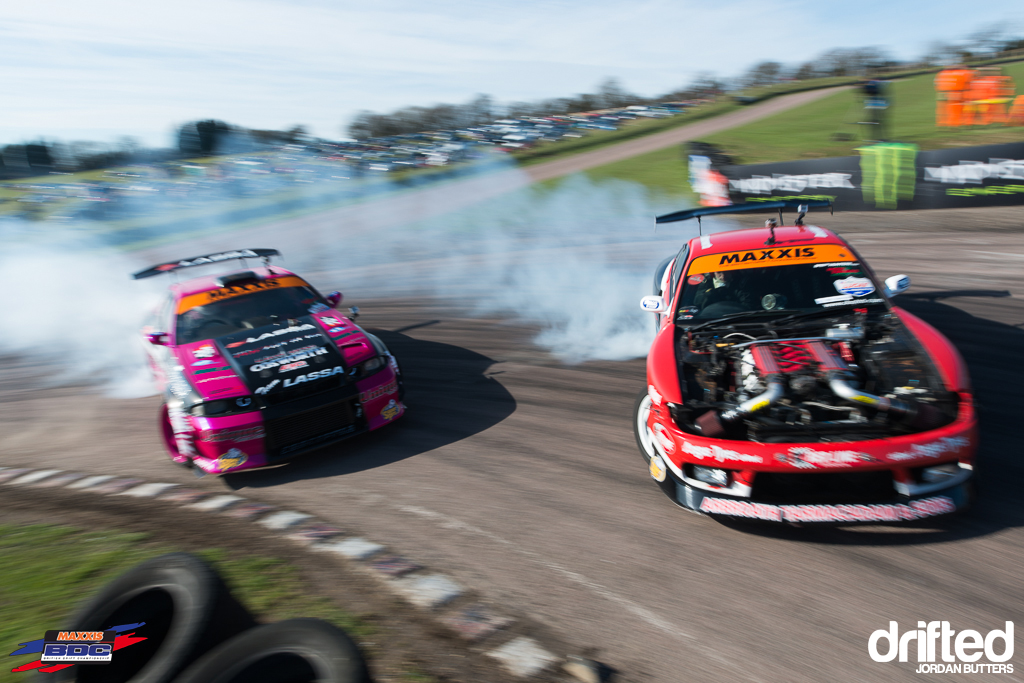 It was a closely-contested battle…
…but Waterworth conceded to face Luney in the battle for third place.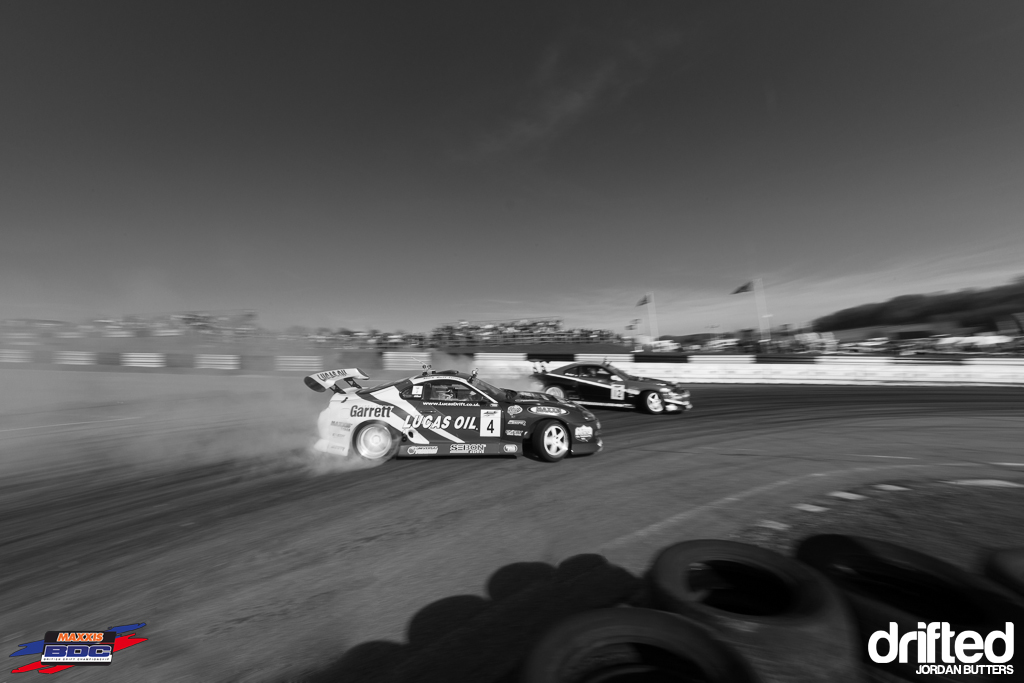 Which Waterworth won, bagging the lowest podium spot.
Final time – Simon Perry vs Paul Smith.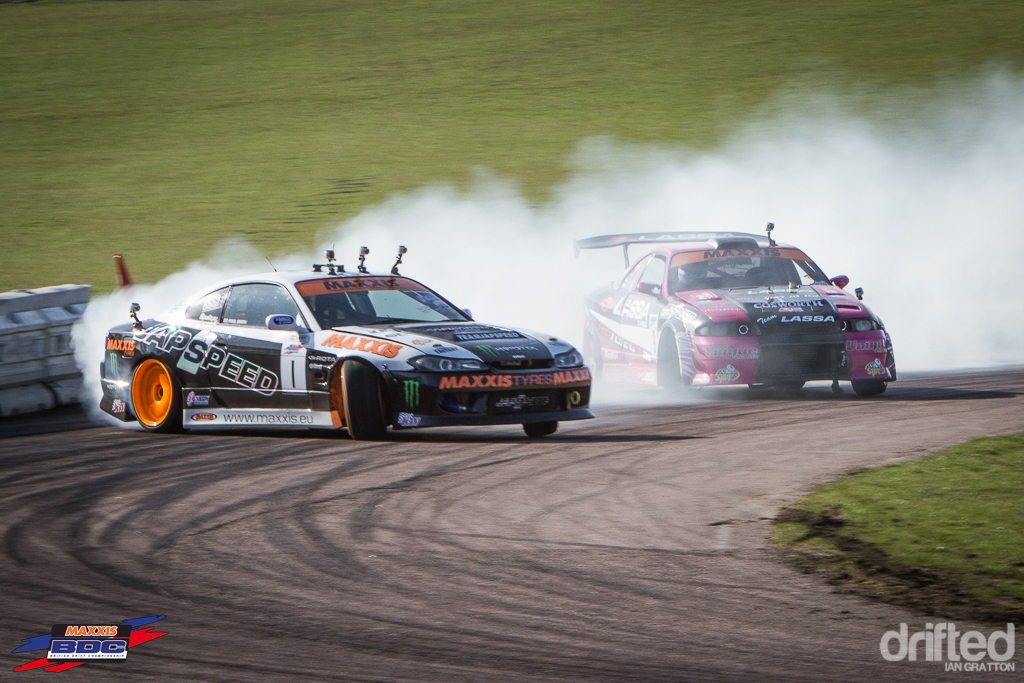 Two long-standing BDC competitors and both know for their consistency and aggression in battles.
A solid first run from both put it all down to the final battle.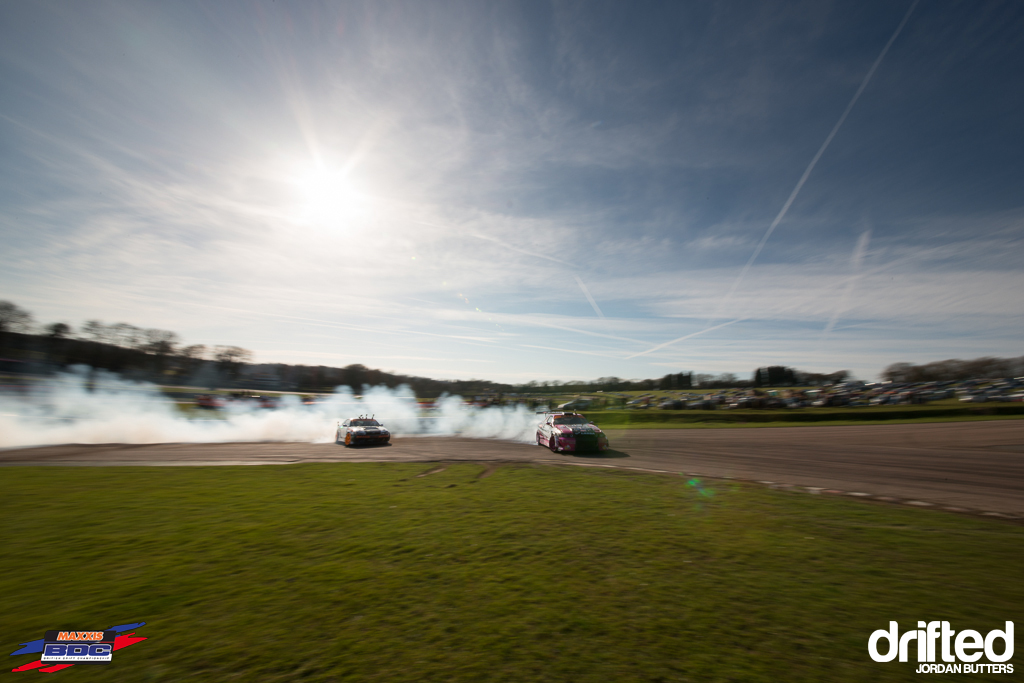 Perry led well but Smith chased better. The judges' minds were made up.
David Waterworth takes third with Simon Perry bagging second.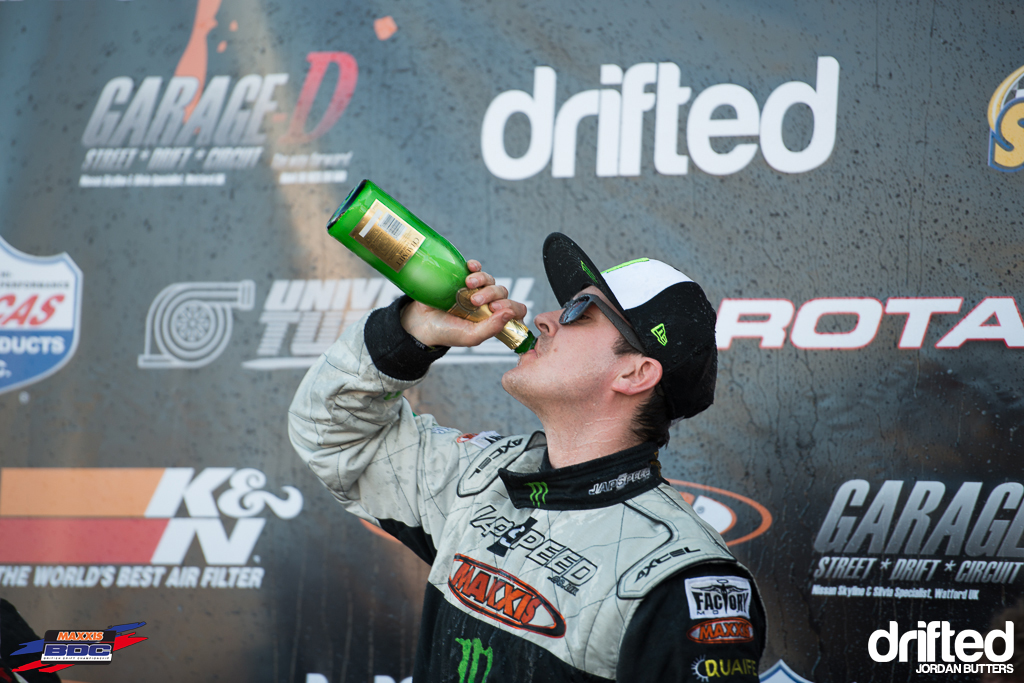 2012 British Drift Champion Paul Smith picks up where he left off and takes the win at round one!
And that, ladies and gentlemen, was the first round of the British Drift Championship 2013 at Lydden Hill.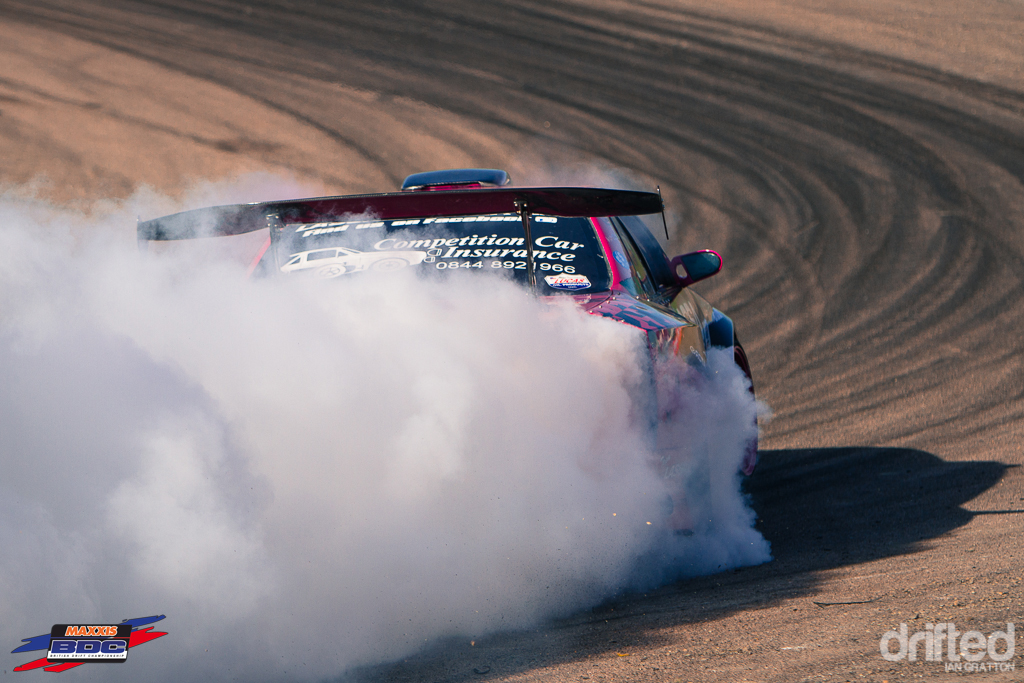 The second round of the 2013 championship sees a new venue throw into the array - Pembrey Circuit in South Wales on 8-9 June. For more information and to book tickets visit www.thebritishdriftchampionship.com
Photos: Ste Trackslide, Jordan Butters & Ian Gratton
Words: Ste Trackslide & Jordan Butters