EVENT: King of Europe Round 1: Austria
Every year, I'm especially looking forward to the very first big competition drift events, because that's when many new builds that were completed over the winter get revealed and properly drifted in anger for the first time. One such project that didn't only take one but actually two whole winters (plus the bit in between) was the S14a of Philippe "Dirt Drop Phil" Guillod. It was with him and two more drifters of the Driftteam Switzerland, Florian Zimmermann (Audi) and Patrick Gafner (BMW), that I made the trip to Greinbach in Austria for this year's King of Europe (KoE) Round 1.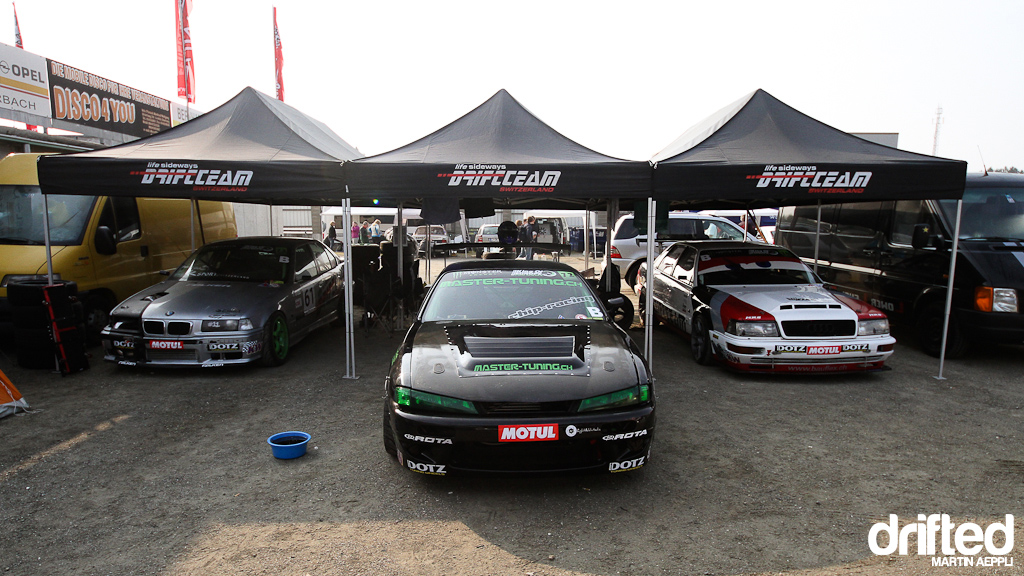 So after getting up at 5 am on friday morning, the following was the view I had for most of the day. Well, when I turned my head obviously.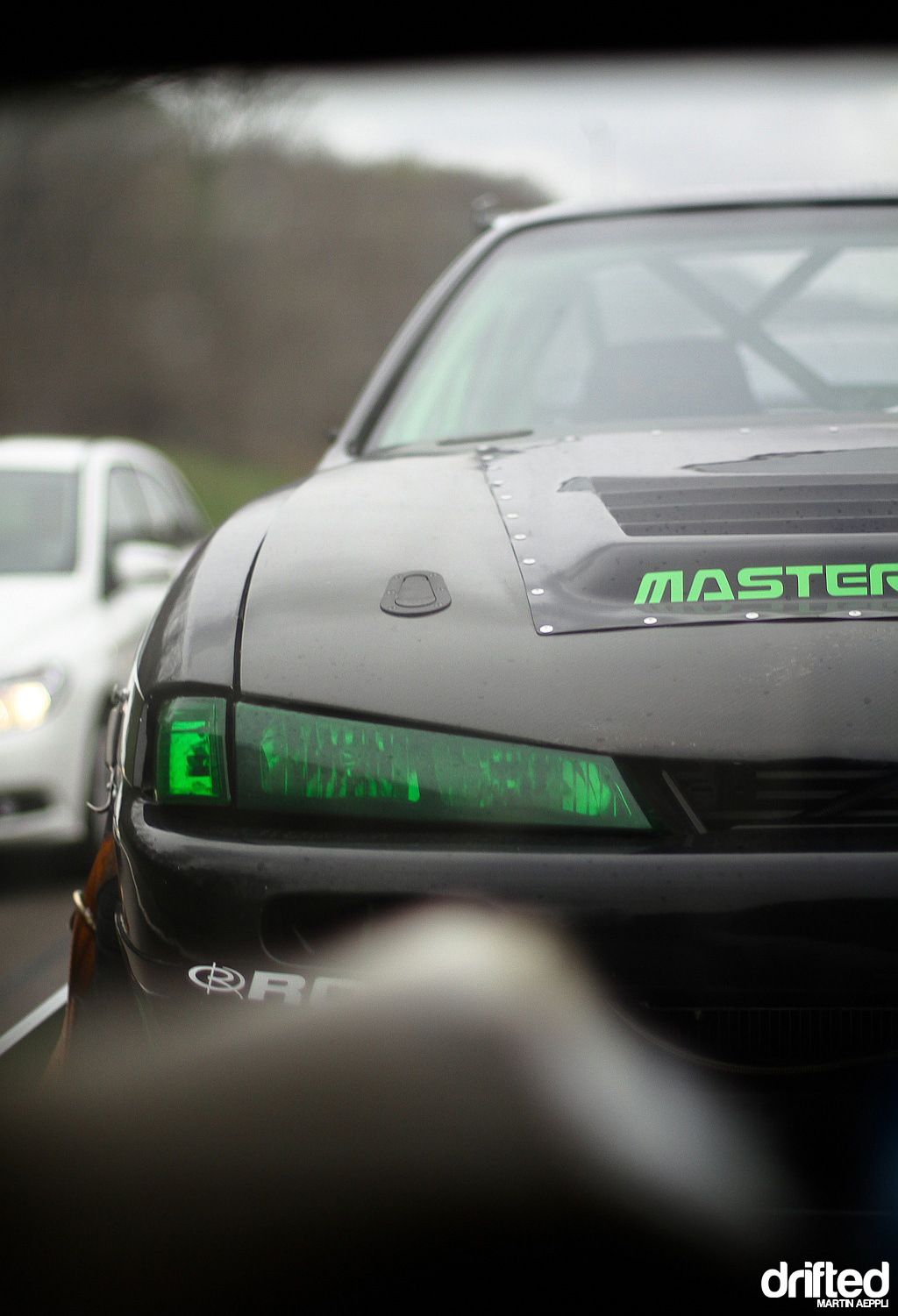 The view out front was mostly very wet, which didn't seem very promising. Thankfully though, the weather turned out to be way better than expected in Greinbach, in fact we had perfect conditions for the whole weekend.
While travelling there in your own car and sleeping in a hotel certainly has its advantages, the best way to experience a drift event in its entirety is to tag along with one of the teams and, if possible, sleep in the paddock. I have to admit that I haven't done it very often, but sitting in a hotel just isn't the same as having a barbeque with drifters next to their cars until late at night. This meant that, after technical inspection and setting up the tents (and what seemed like an entire second car's worth of spare parts that Phil had brought along), we produced some non-internal combustion.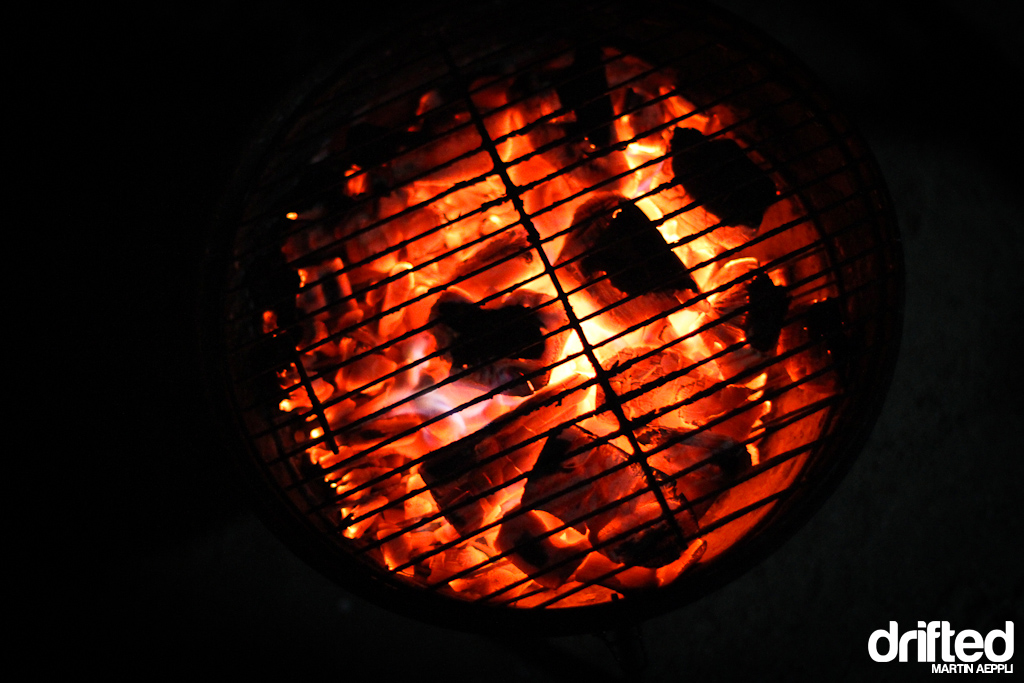 After no drinks whatsoever, I went to my very own hotel room on wheels, which looked remarkably like Phil's towing car.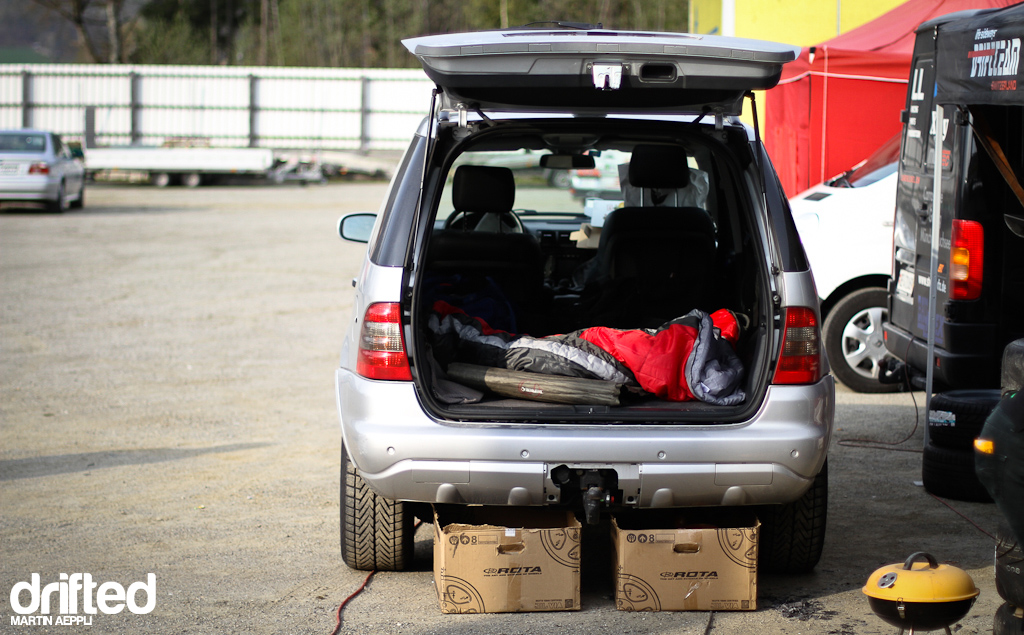 The next morning, the competition drift season finally got underway for me. Walking through the paddock right after getting up, it was clear that we had come to a professionally organized event, with different sponsors setting up booths, tents and shops. A sign for the high level of drifting that was to be expected were the 255 and 265 cross section semislick tires stacked next to many cars.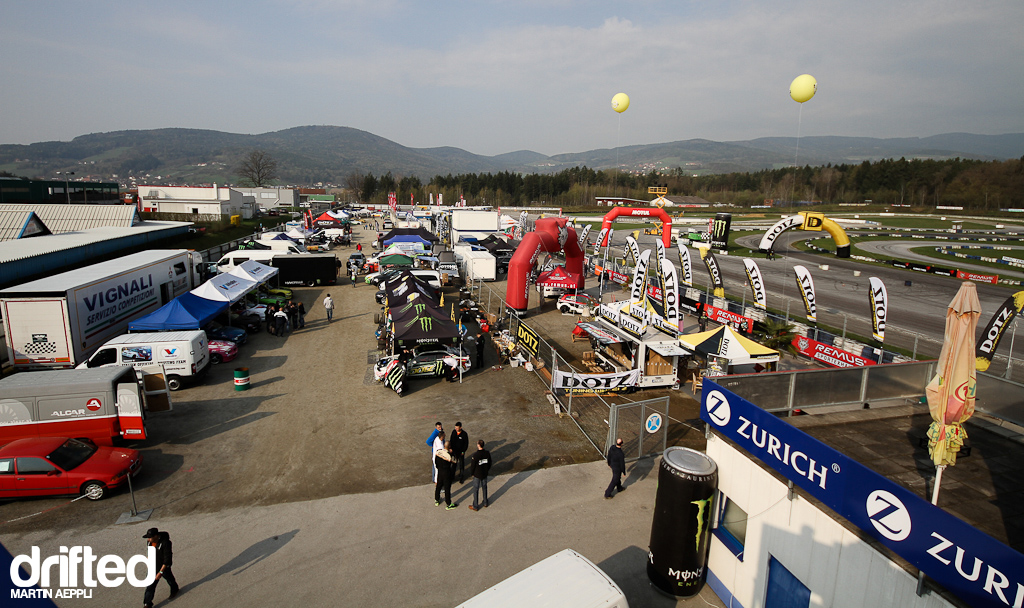 Due to no less than 64 drivers having signed up for the event, KoE had to pack a lot of drifting into a very tight schedule. In the end, 49 cars actually took part, which were divided into two groups that got about two hours of practice each. This relatively small amount of time for practice would have to be utilized as thoroughly as possible, especially as all of the drivers, except for two local austrian guys, had never been to this track before.
The layout selected turned out to be very challenging and technical. The drivers were to come through the Motul arch (see picture above) entering a seemingly endless, non constant radius left turn (going all the way around the outside on the right of the picture). They then were to slow down for an almost hairpin-tight left turn followed by a slower section in the infield, ending with a double-left through the Dotz branded arch. Saturday morning's briefing included a walk around the track to look at it in detail.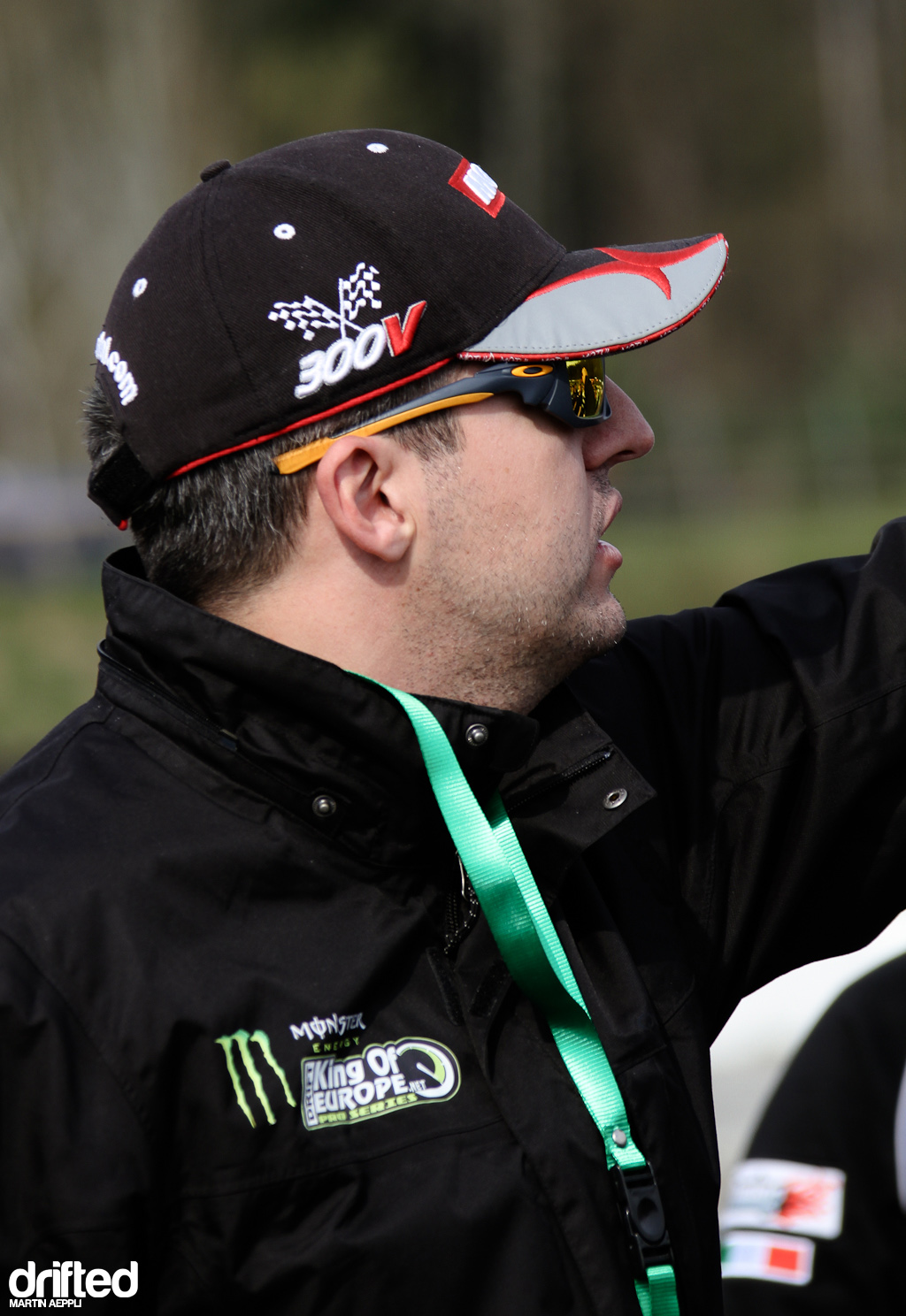 Mike Procureur, the director of operations of KoE, personally explained everything the drivers needed to know. Judging at KoE isn't only done by human judges but mainly by a telemetry system, that precisely logs each car's course, speed and angle. These parameters can therefore be judged very accurately, which is why getting the right line becomes even more important.
Phil looked very confident and eager to attack the challenging layout.
Uwe Sener from Sport Auto had some questions.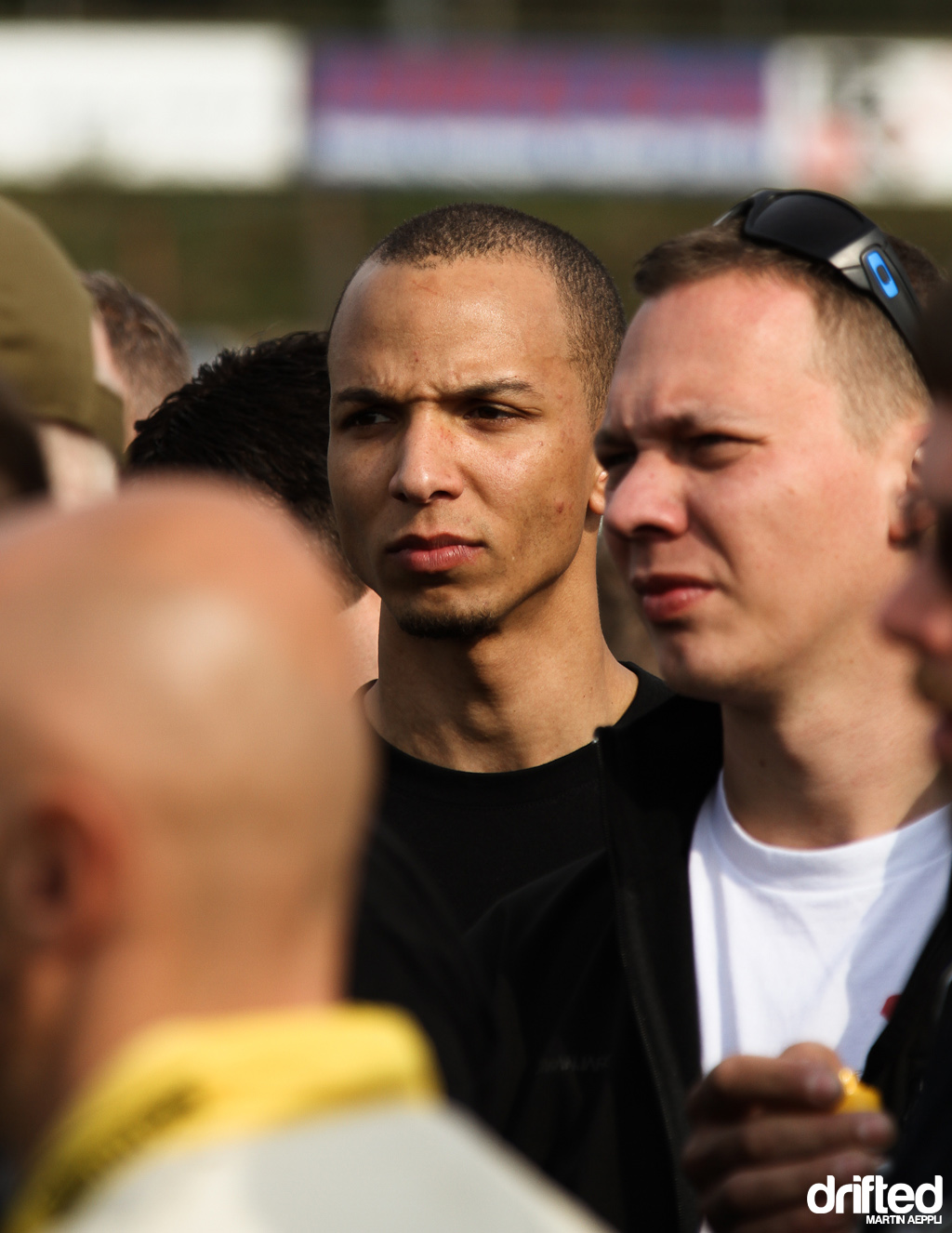 Eli of the Hountondji Driftbrothers apparently wasn't quite sure what to make of it. In the end though, of course, they all couldn't wait to go out and drift.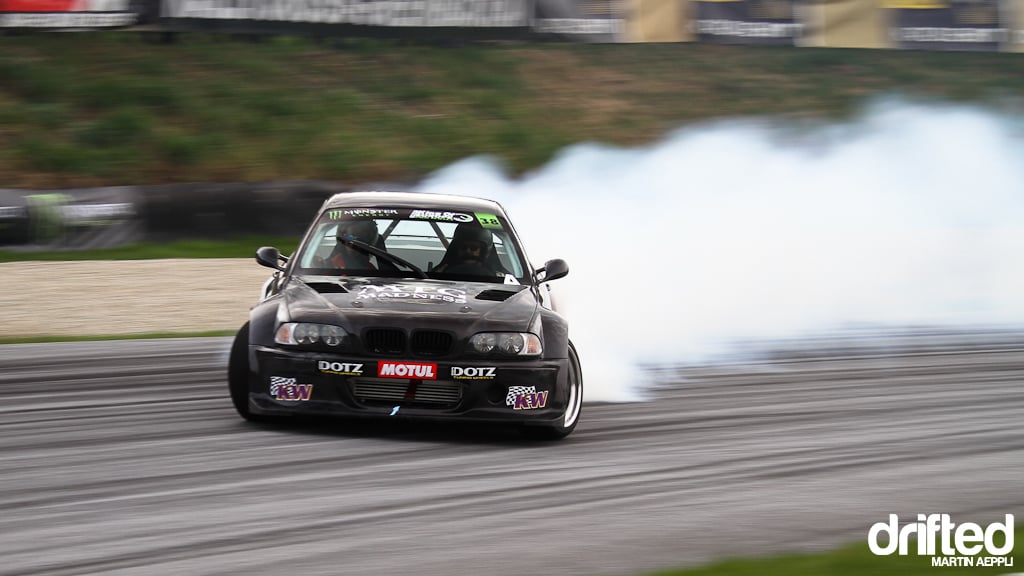 One car that caught my attention immediately was Adam Frank's Cartu Drifting BMW E46, mostly because it didn't sound like a BMW at all. The fact that it sounded distinctly like a certain 6-cylinder engine made by Toyota wasn't too unusual either, as there are quite a few BMW's with those in Europe nowadays. No, the unique part of its sound was caused by the car clearly running an Anti-Lag System (ALS), which I've never seen (or heard) before in a drift car. I'll be bringing you more info about this particular car in a special feature. The driving by Adam did the incredible sound justice too, getting second place in qualifying.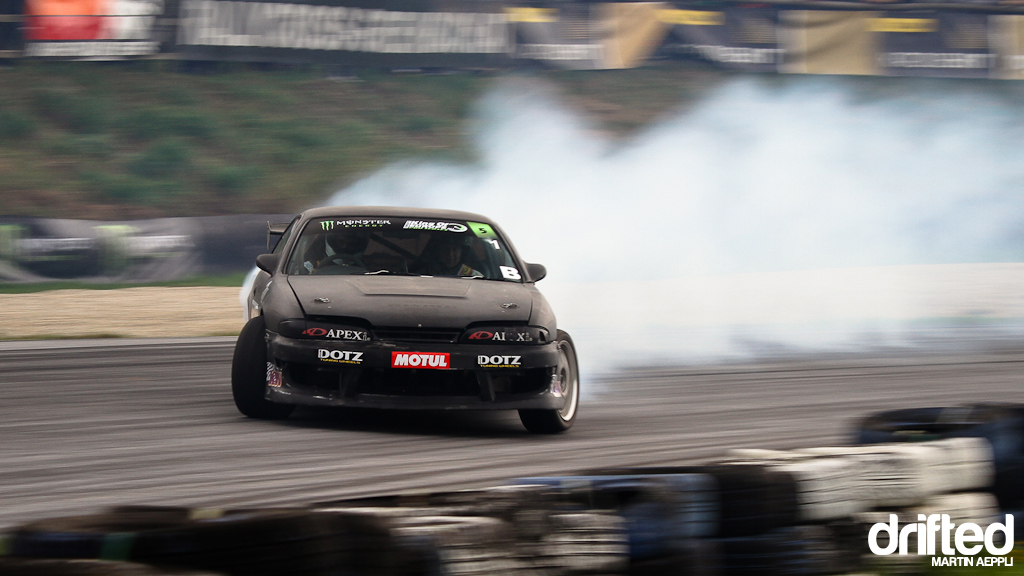 Another car that didn't sound like your everyday drift car was the S14 of Ciortan Calin. It clearly had twice the cylinder count that an S-Chassis originally has, but it sounded distinctly angrier than LS- or BMW-driven examples. Further investigation revealed that this was in fact the car running a 5.5L AMG V8 that I had heard rumors about. Ciortan wasn't yet quite up to the level of driving that he displayed in his mad E30 last year, but nevertheless qualified 18th.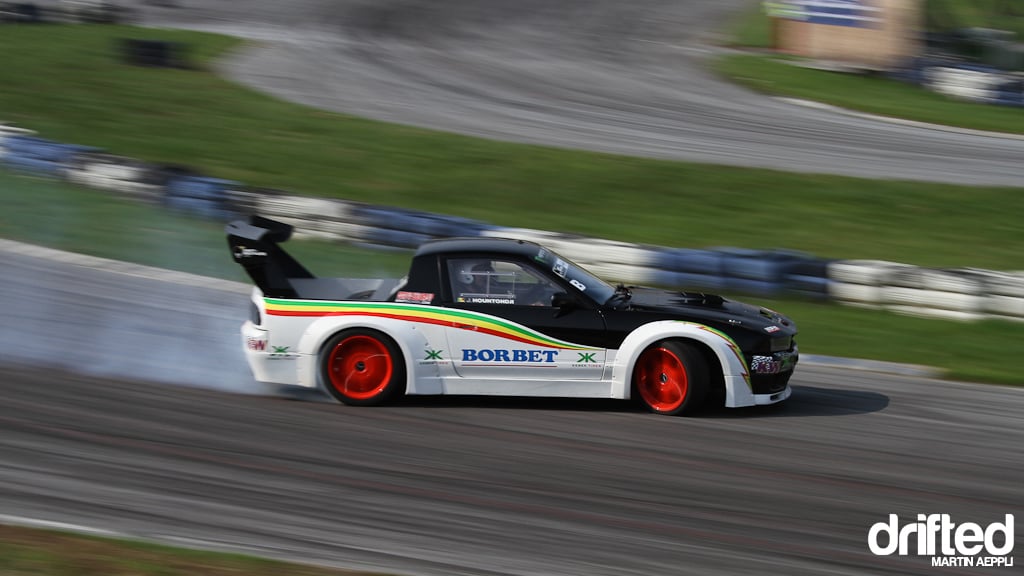 Continuing the uncommon car theme, we arrive at the Hountondji Driftbrothers. They have recently swapped an LS2 V8 into Joe Hountondji's Gallant-faced S13 pickup (yes, you read that correctly) which finally gives the car the power it needs. Joe got 15th place in qualifying with his brother Eli doing his very best in the 193hp E30, but on this track with that many competitors that simply wasn't enough for the Top 32.
Sorin Ene qualified 24th in his S14.
Charles Ng did a few very impressive runs in the morning but unfortunately, his S15's gearbox soon gave up.
Roman Kolesár in his supercharged E46 was smoky as usual, he got 20th place in qualifying.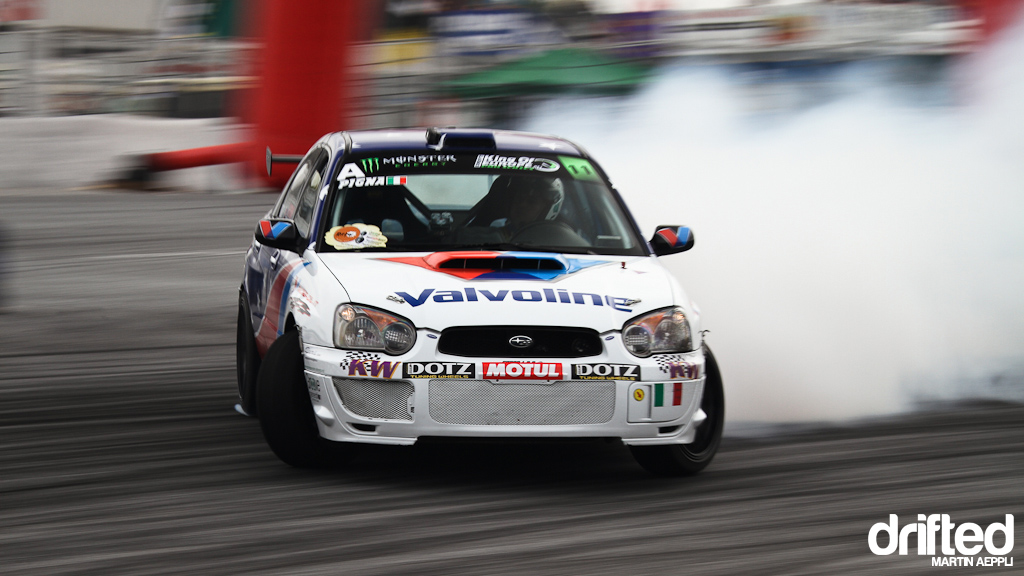 Pignanelli looked really good in his scooby, getting 16th in qualifying. I might be slightly biased here, as I drive a scooby myself and just love to seen one being drifted properly.
Arpad Enekes in the Sidewayz Crew Mustang that sounded almost as angry as the AMG-engined car.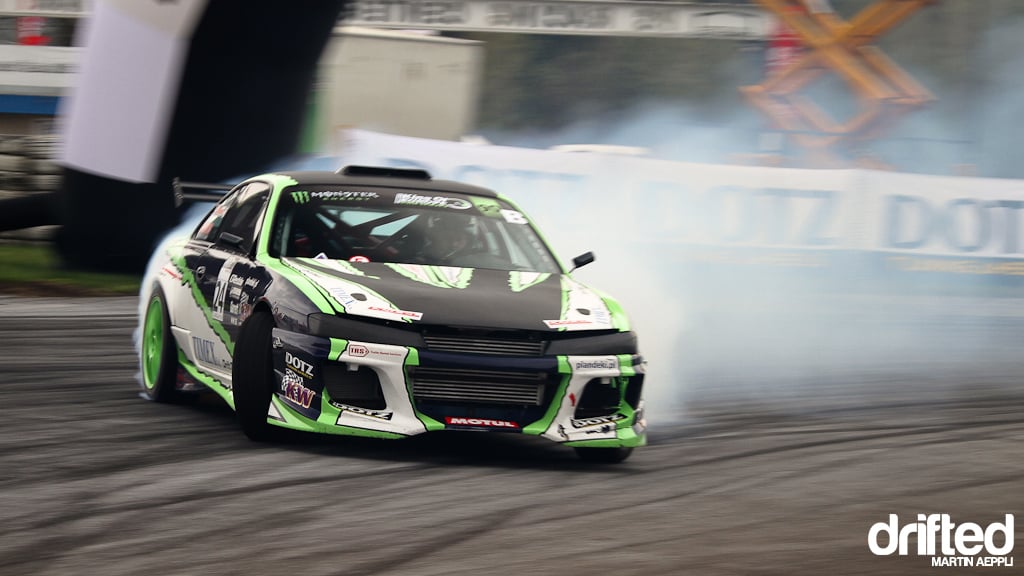 Michal Rzoska just got into the Top 32 in 31st place.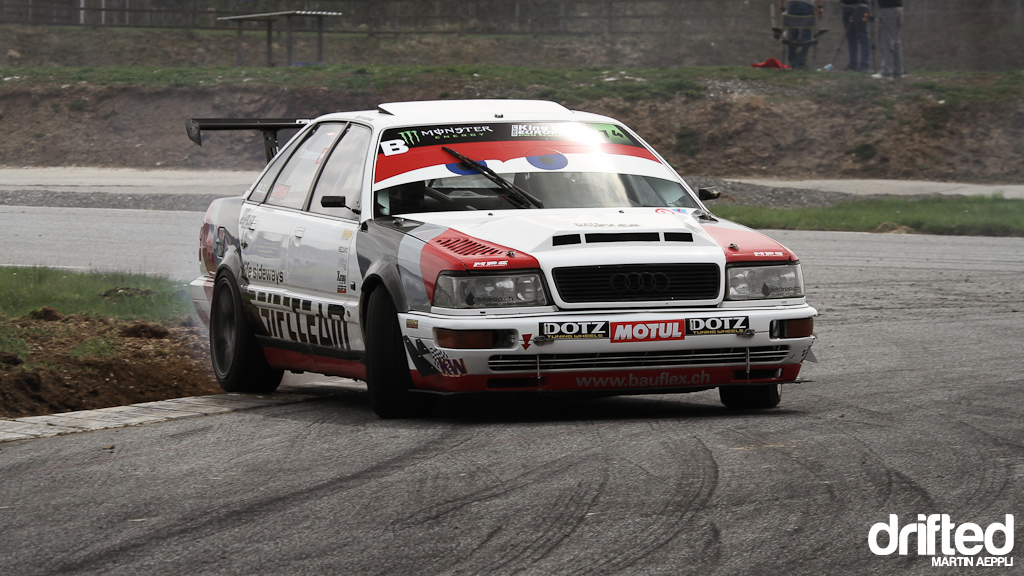 As I was told, KoE rules say that as long as one wheel is on the tarmac, you don't get any points deducted. Which meant that drivers, such as Florian Zimmermann in his Audi (above), sometimes displayed very precise driving but it's not that much of a problem if you go slightly wider. Except for the track's gardener, I guess.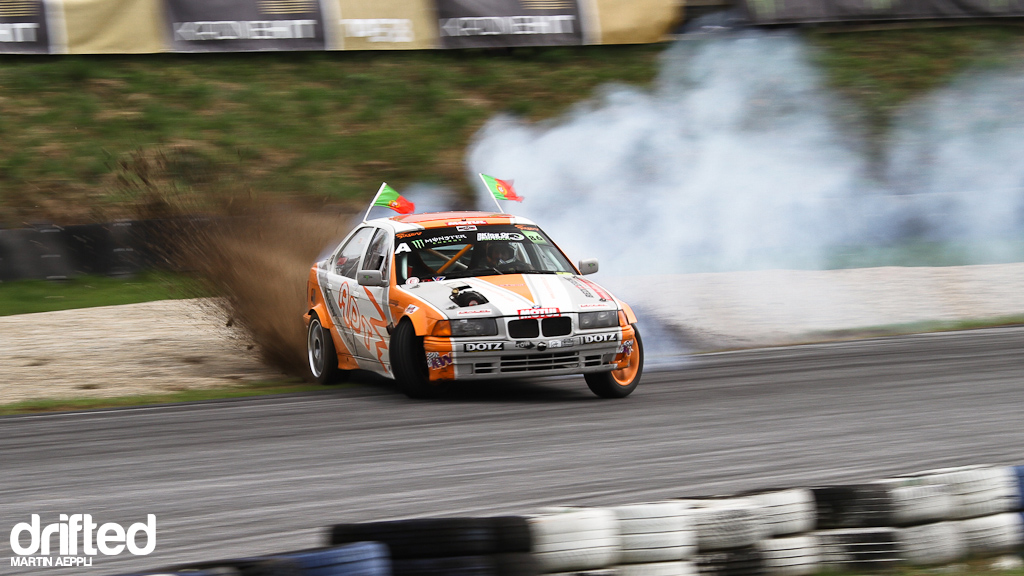 Vitor Mota made use of that rule once in turn one, but otherwise drove strongly, getting 14th in qualifying.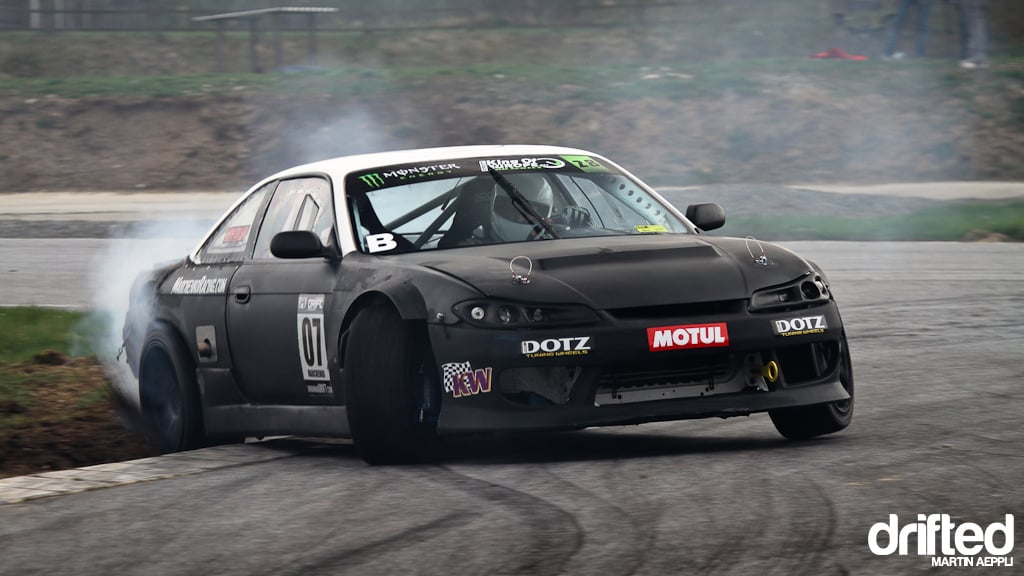 Vladymyr Marchenko in his S14.5 neatly put one wheel just on the outside of the track on this run, he finished a very strong 6th in qualifying.
It even happened to the very consistent Francesco Conti, who nevertheless won qualifying with a score of 94.2.
Whenever I have some spare time during a drift event, I like to go for walks through the paddock to check out how the teams are doing. As always at drift events, several cars had minor issues that had to be taken care of.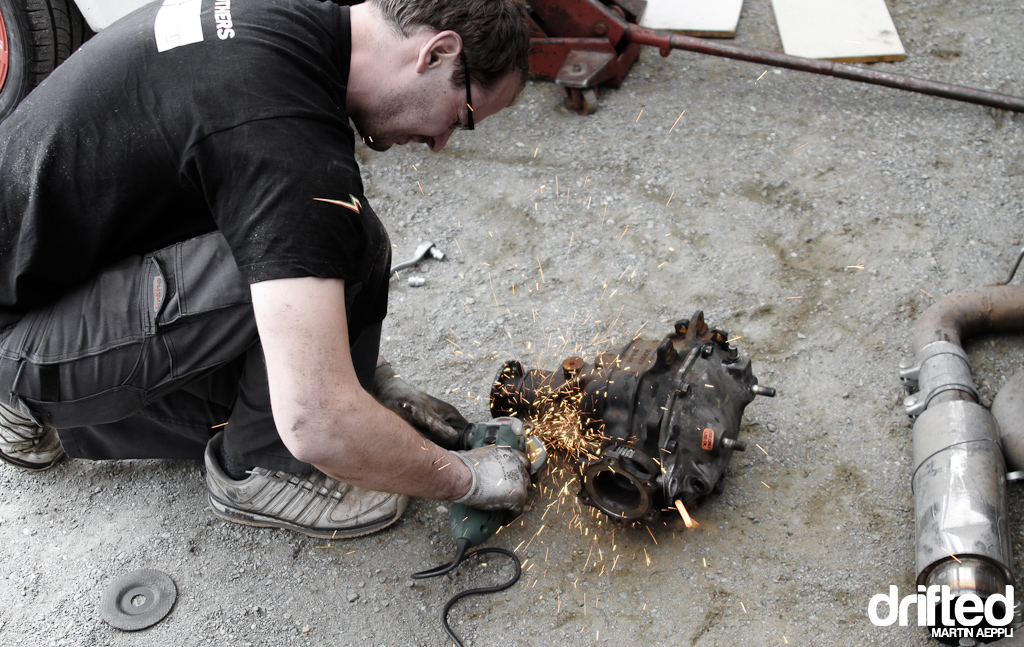 The Hountondji Driftbrothers were installing an R33 diff I had actually brought them from Speed Industries in Switzerland, which turned out to have slightly different mounting points to the one they had run previously, necessitating some adjustments.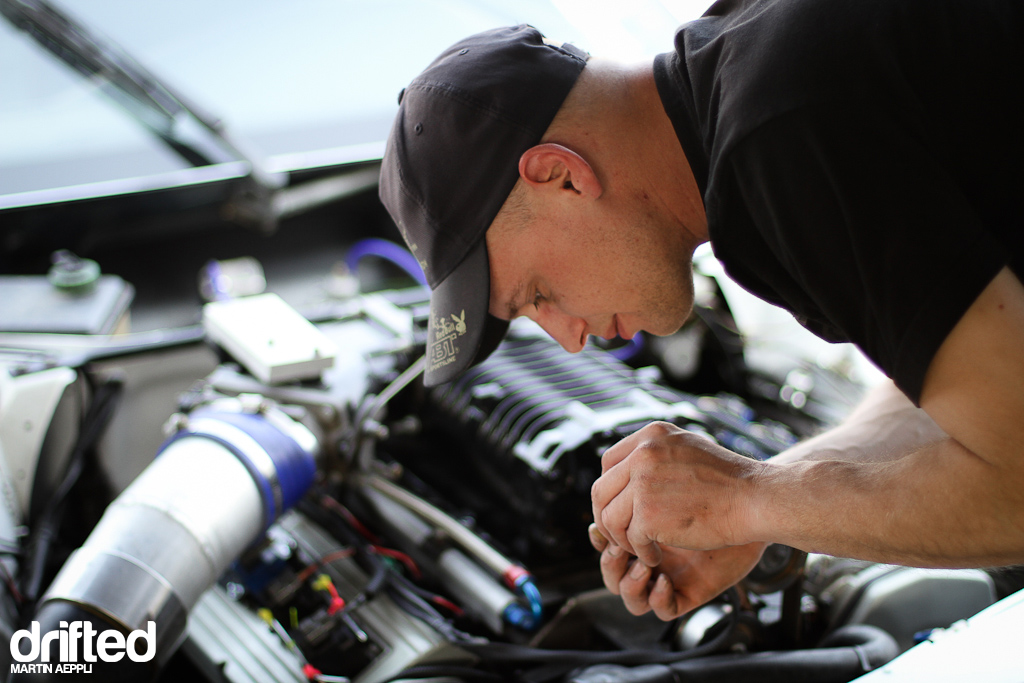 Florian Zimmermann in his V8 compressor Audi had slightly gone of track, ripping off his crank angle sensor (if I remember correctly). This he quickly fixed with the help of some super secret weapons grade binding agent (also known as "completely normal glue").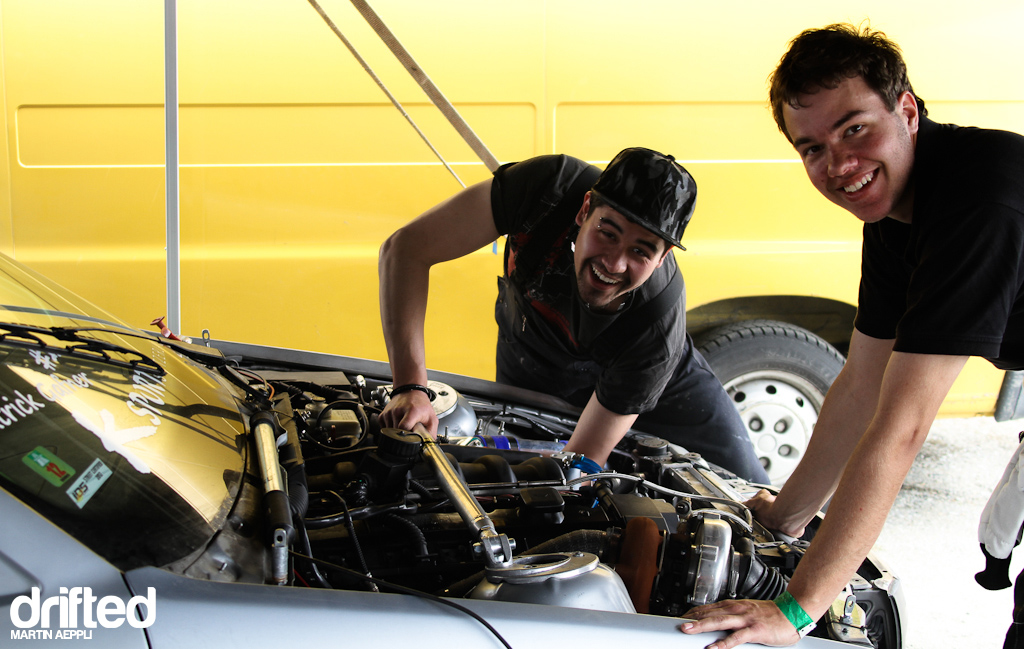 Patrick Gafner's E36 328 turbo, which had also gotten ready just in time for the event, actually caught on fire after only its third lap. But Patrick and his mate Manuel didn't seem too bummed about it.
I don't actually know what happened to the Precision Racing Corvette of Erik Pederson, but unfortunately it only did a few very impressive and smoky laps during practice and was then retired.
After another night in my 1-star hotel (it might have been only one, but at least it was a very big and German one), Sunday dawned even sunnier and hotter. There were once more a few training sessions during the morning, with the Top 32 battles commencing in the afternoon. Phil had qualified his completely new car in a very good 9th place with Florian also making the Top 32 in 26th place, so we were quite a happy team.
Even though they were all very busy getting their lines and setups right, many drifters still had time to give the occasional taxi ride. This is one of the things I really like about drift events. It's not a sport that's become too professional for all the people involved to become unapproachable. Yet.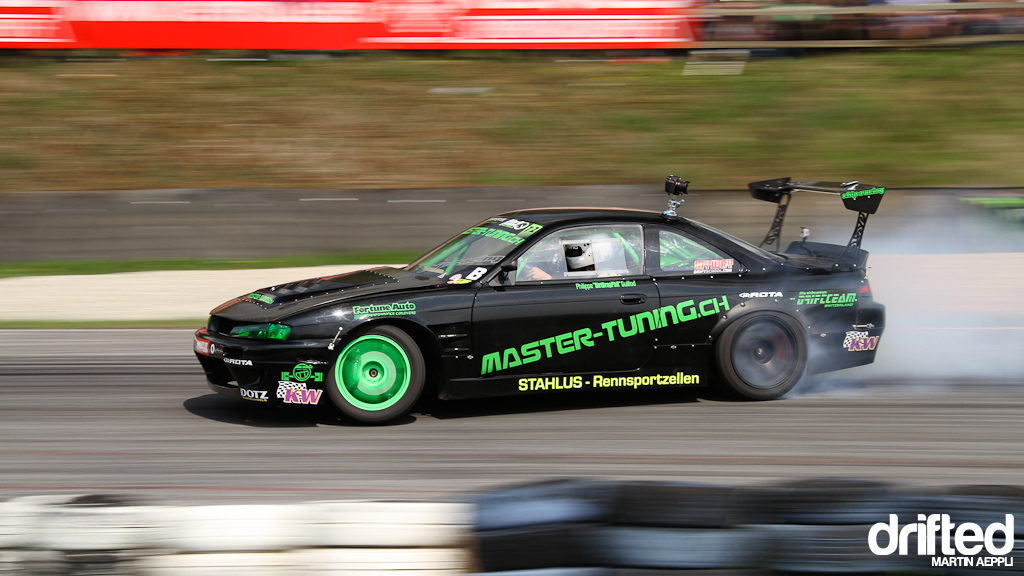 Phil won his first battle against Sorin Ene but then lost to last year's KoE champion Adam Kerenyi because he went, as he said himself, "too much all in" and had a slight off.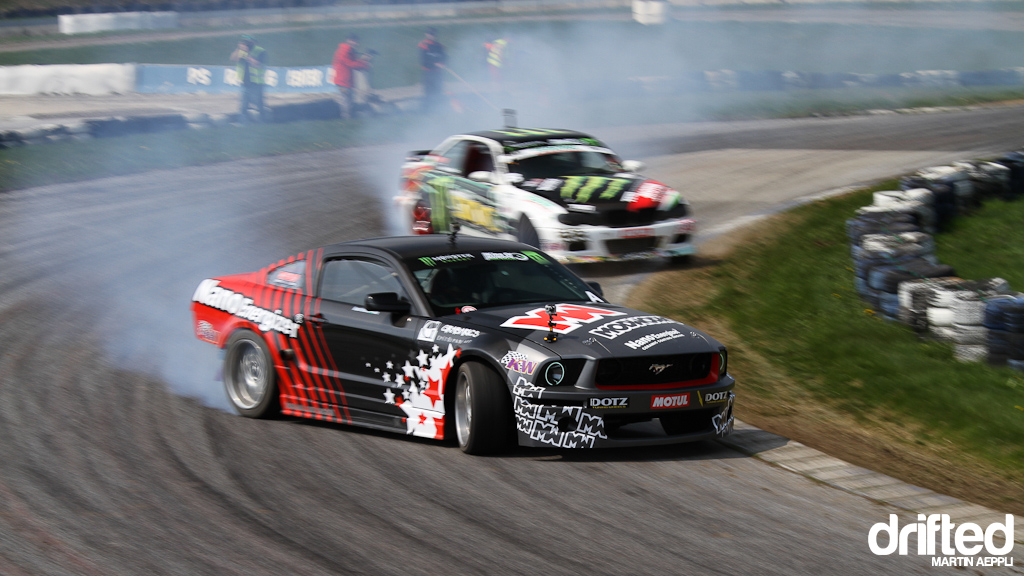 Due to the very fast and demanding first corner, the battles weren't as close as they normally are on other tracks. Adam Kerenyi, chasing the Sidewayz Crew Mustang in the above pic, was looking strong but unfortunately crashed later on.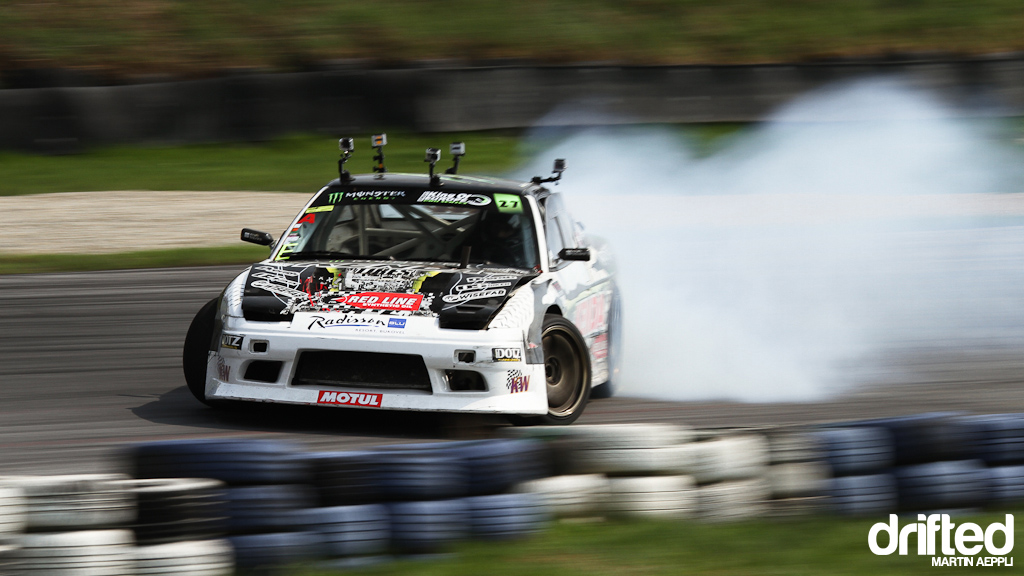 Dmitriy Illyuk was having turbocharger problems and therefore couldn't attack quite as madly as he usually does, he lost out in the top 8 against Adam Frank in the Cartu Drifting E46. Nevertheless, his no-compromise S13 SR20VET (VET stands for variable valve timing) was still one of the coolest cars at the event.
Adam looked very strong all the way through, for example beating the Hountondji Driftbrothers car in a close battle in the Top 16. Unfortunately, the Cartu E46's cooler later got hit by a piece of debris during one of the battles. The crew tried everything to fix the leaking cooler, but in the end they had to retire after they tied against the V8 E36 of Benjamin Boulbes in one of the semifinals, leaving them with an unfortunate 4th place finish.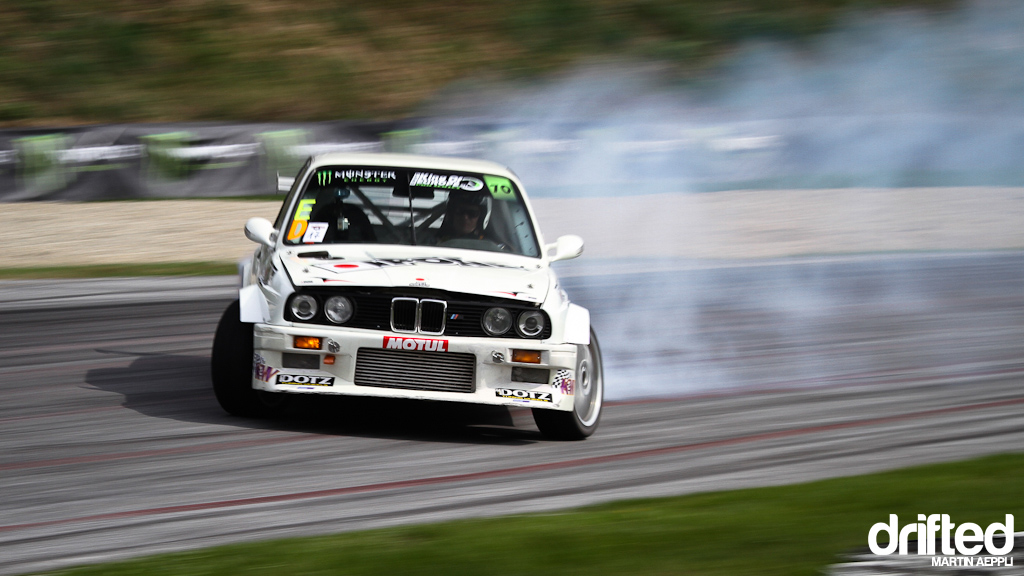 In the other semifinal, Francesco Conti won against Péter Lakatos in his E30 pickup.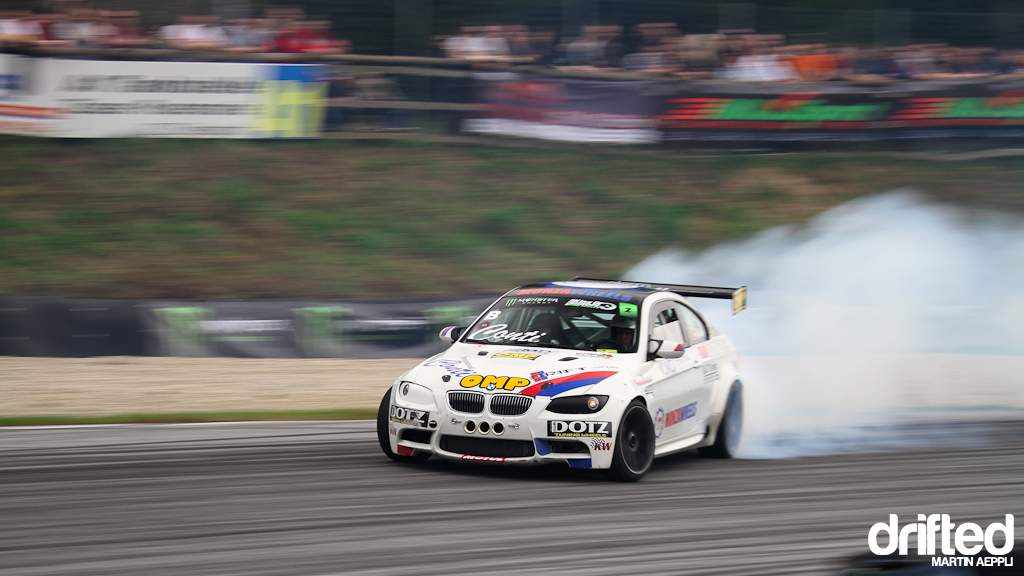 Finally it came down to a hard fought battle between the BMW's of Francesco Conti and Sebastien Boulbes. After a couple of very close first runs, Sebastien in the Boulbi Propuls car was able to win the "one more time"-run and was therefore declared the winner of KoE round 1!
After all it was definitely a very good drift event (except for the occasional fire). The very demanding track layout didn't make for the most smoky drifts and also presented a great challenge for us photographers, because there wasn't a turn where the cars just came through with steady angle and tons of smoke for you to take awesome pictures. But it was very interesting to see how the drifters approached a very tricky track that was completely new to almost all of them.
I'm definitely trying to make it to the KoE rounds 2 and 3 (France and Spain) in March to report from there again, also I have a few car features from Greinbach coming up, so please stay tuned!
Words & Photos: Martin Aeppli