EVENT: The Scorcher: 2013 Maxxis British Drift Championship Round Three
As we enter the British summer, round 3 of the British Drift Championship is upon us. Usually our summers are brutal, wet and unforgiving, but we lucked out this weekend with temperatures hitting record highs for the time of year. But it wasn't without consequence,  hot tarmac was taking its toll on tyres and the sun was testing the commitment of the people on track, it was very, very hot at Teesside Autodrome…
Friday morning was business as usual, we had three of the Drifted team shooting the event and after attending the media briefing we discussed what our plans were for the day to produce the best possible coverage.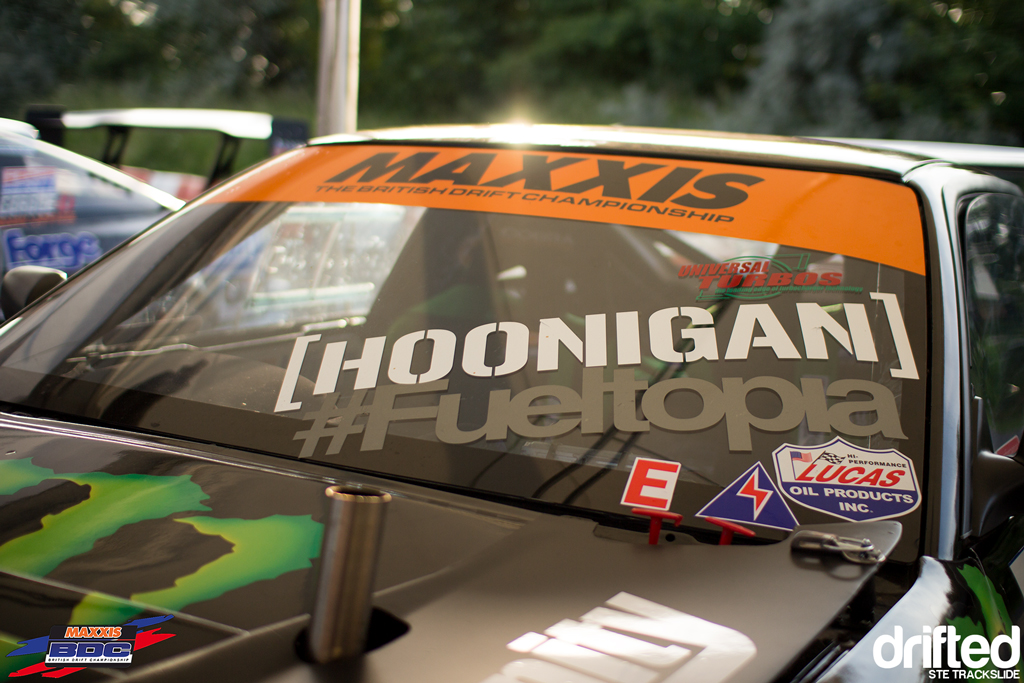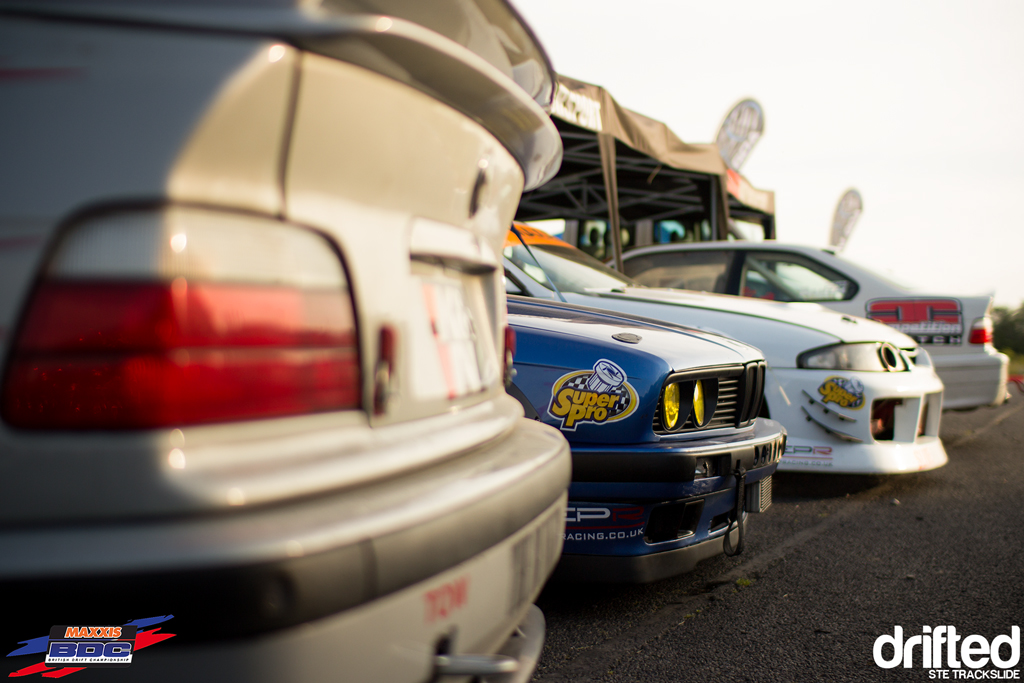 After a quick wander around the pits checking out some of the awesome spec'd cars people had prepared, it was quite clear how far some of the fabrication work has come in the BDC, Darren Rickaby's e30 V8 BMW is no exception, as the paint was still drying while it was at the track.
As media we were directly exposed to the blazing sun, however we were in shorts and t-shirts, the drivers on the other hand were in full Nomex race suits with helmet, in cars with no aircon, or blowers of any kind for that matter which makes for extreme heat. Phil Morrison had a temperature gauge  mounted to his roll cage, this showed a cockpit temperature of 60c+ degrees.
Different drivers coped with the heat in different ways. Team Japspeed's Paul Smith stays focused with his gaze locked onto the first corner.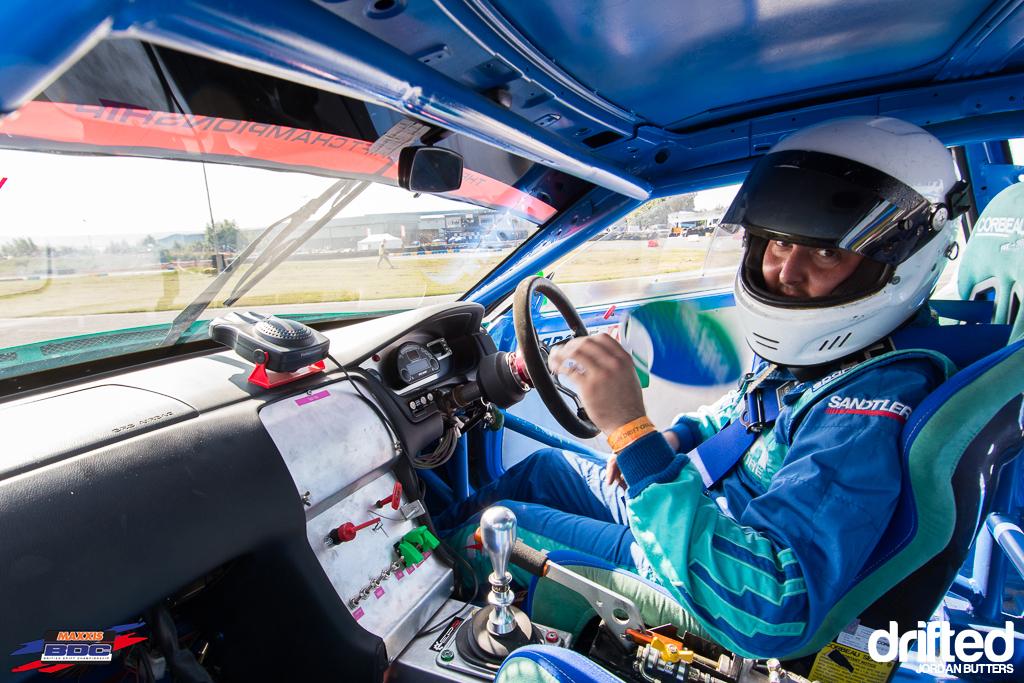 Team Falken's Matt Carter fans himself off using a handy Falken-branded hand fan.
Whereas Portuguese visitor Hugo Fernandes simply isn't bothered - in fact, he said it was pretty chilly.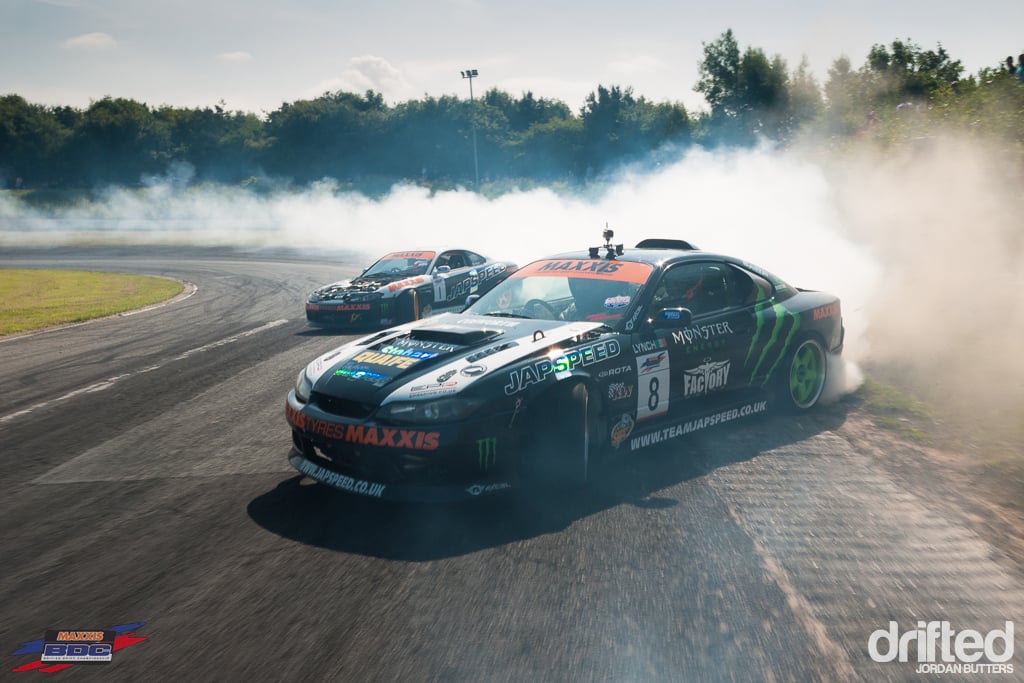 Practice time and the teams hit the track, Team Japspeed getting some twinning practice in nice and early.
Start-line marshall Malx keeps a watchful eye on proceedings.
And sends the cars barreling down towards the fast first initiation.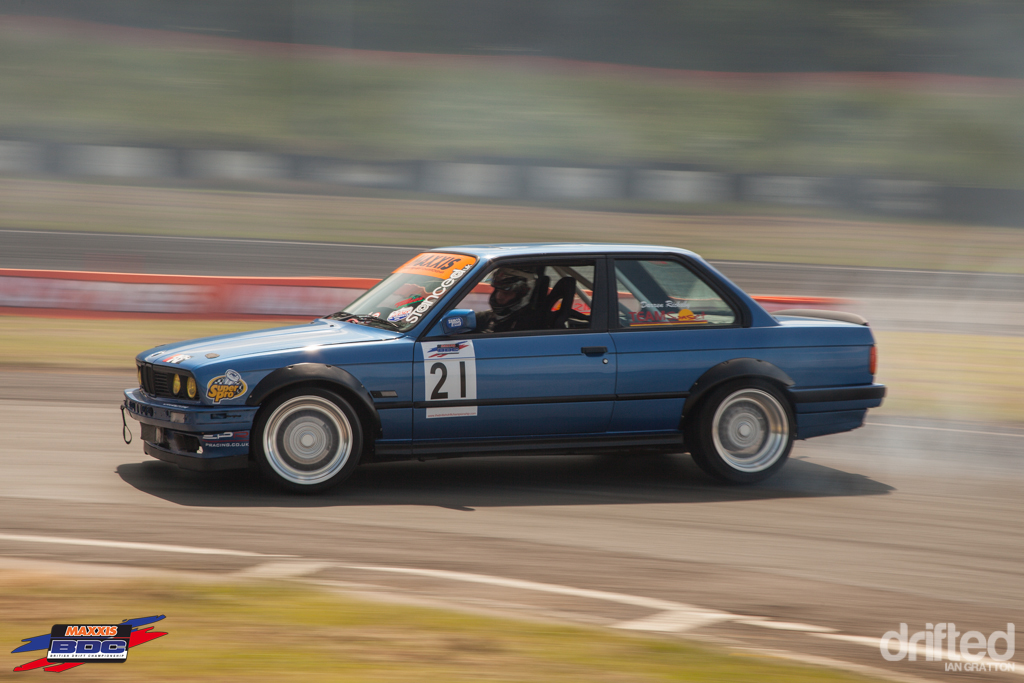 Local driver Darren Rickaby navigating the course, as he has done countless times before.
After a few teething issues, Adam Simmons has got his BMW V8-powered R33 running superbly this season.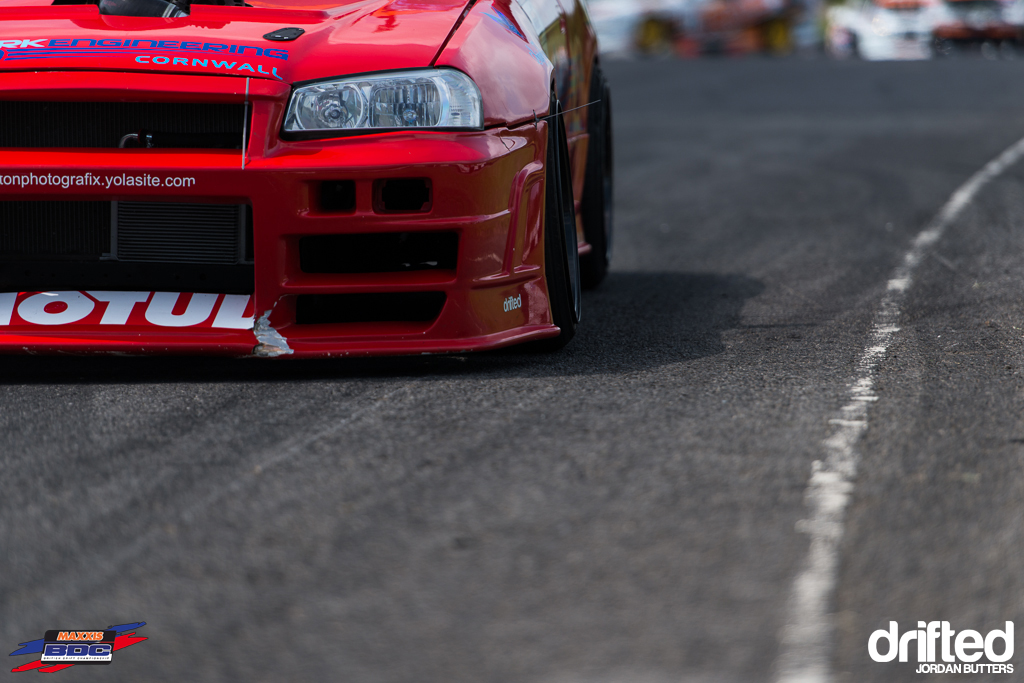 Hugo Fernandes' Soarer was running very well early on, lots of speed, smoke and angle, just how we like it.
Its usually a good idea to pay attention during the practice session as you can spot how the day is going to unfold, where drivers skill levels are at and what lines they're taking, however almost everyone seemed to be performing, there was plenty of grip out there after all. Brain Egan's little Corolla AE86 is pretty rapid, transitioning at break neck speeds, and we love this years livery too.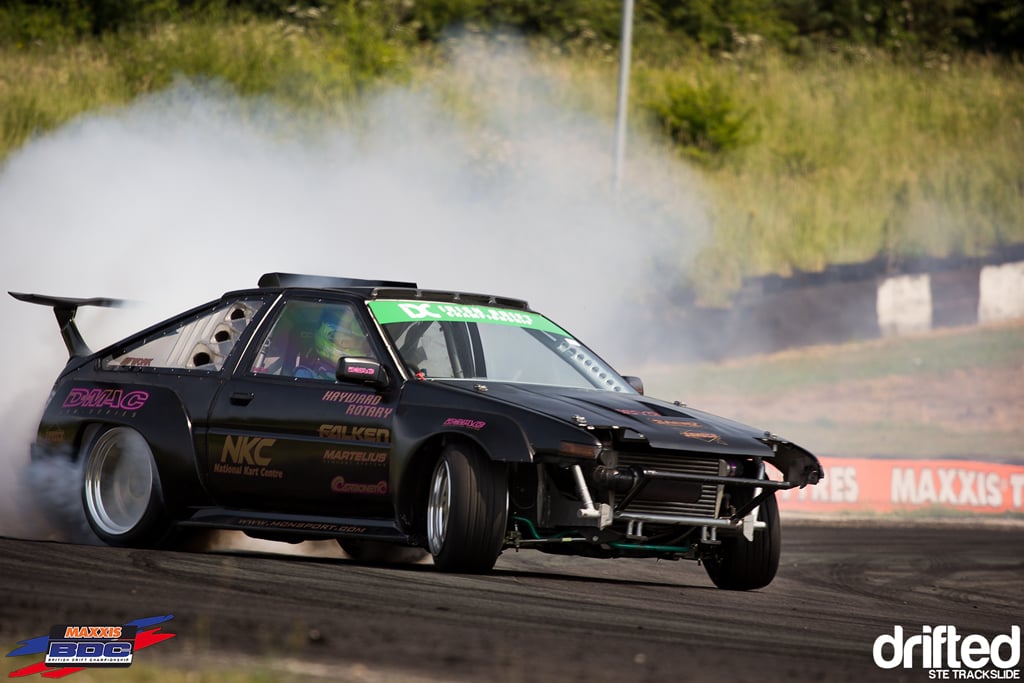 While on the subject of AE86's, how could we not mention Dmac's insane N2 kitted twin rotor? It sounds like a pod racer from Star Wars when idling, how cool is that?
Dmac also had his 240sx here too…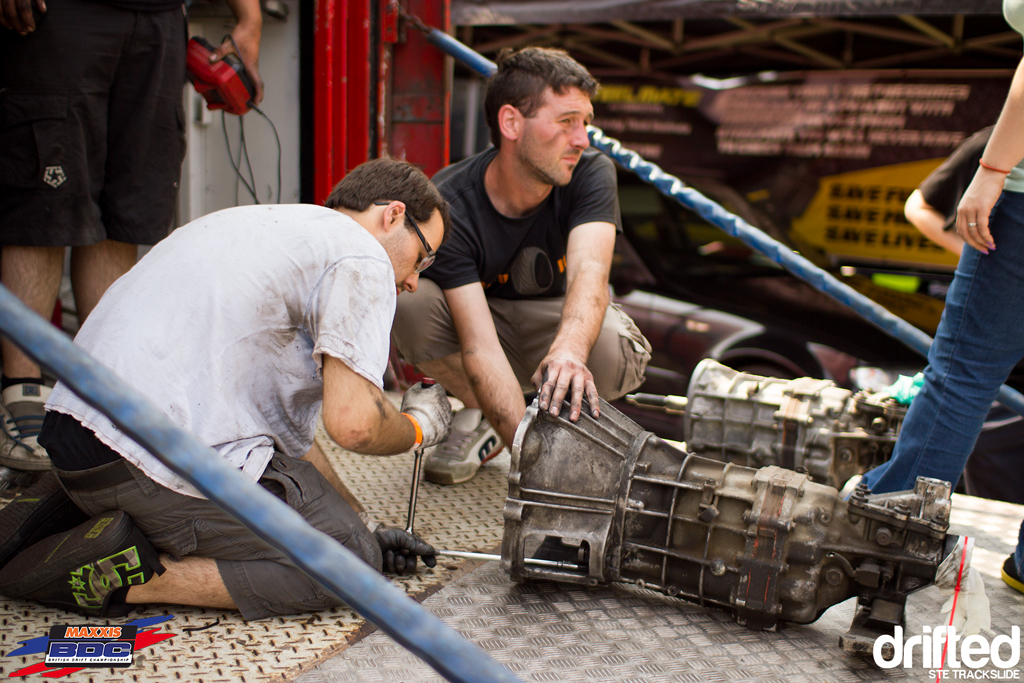 As the practice session came to an end, unfortunately Team Steelmate driver Wayne Keeber was hit with gearbox issues on the 1JZ powered Soarer, loosing third gear. This was a perfect example of how people help each other out, with Darran Dmac Macnamara offering the use of his pit truck so Wayne could try and replace his gearbox. we were stood there around 20 minutes and there must have been at least 5 people offering to lend a helping hand. They were against the clock though as Wayne needed to be back on track for qualifying in just a few hours.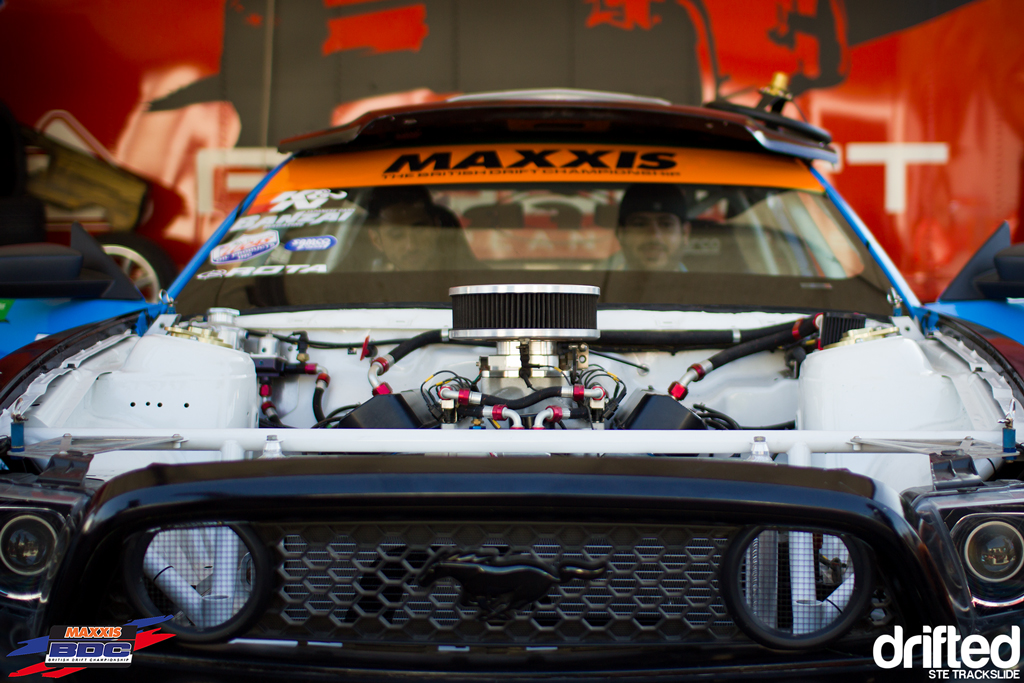 While in the pits we had to give this Mustang a look over, the V8 Ford Racing engine sounded like the end of the world and as far as presentation goes, its one of the cleanest competition drift cars we have seen, and very quick for a car weighs almost as much as a small country when standard. But its far from standard.
The inside is just as clean as the rest of the car…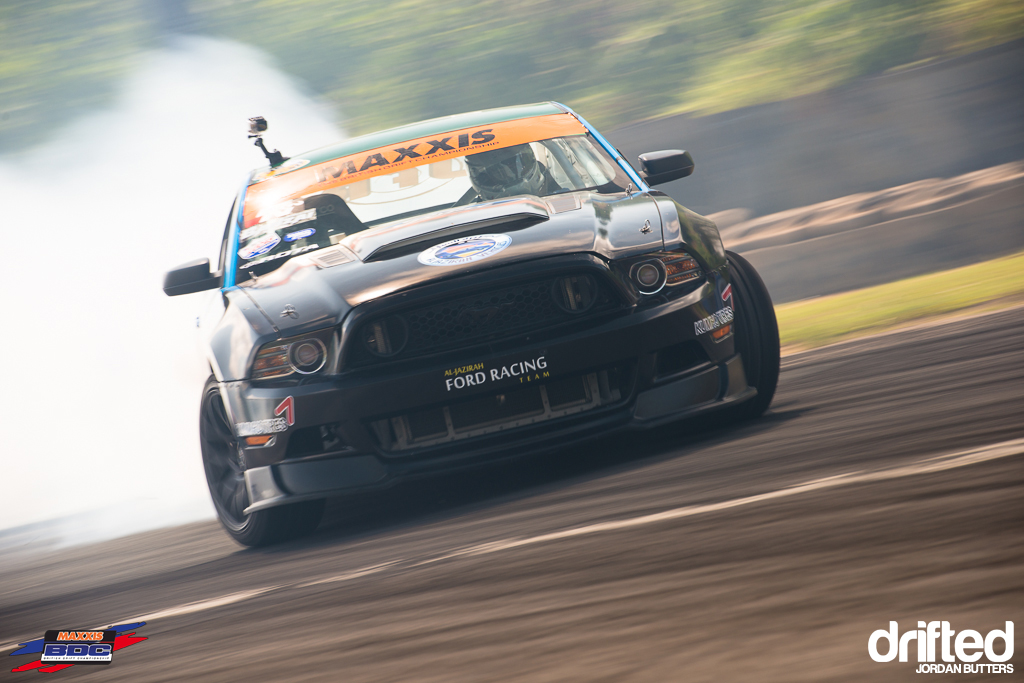 And it went incredibly well too!
Another heat contributor was the lack of wind, we were very grateful for all and any little breeze that came along, not only to cool us down but the smoke from those rear tyres tends to linger for quite a while with no wind.
It's impressive how this 60s/70s escort and its near tarmac rally suspension settings was up to the job of drifting, a true testament to the capability of what is now old tin by modern standards of car setup.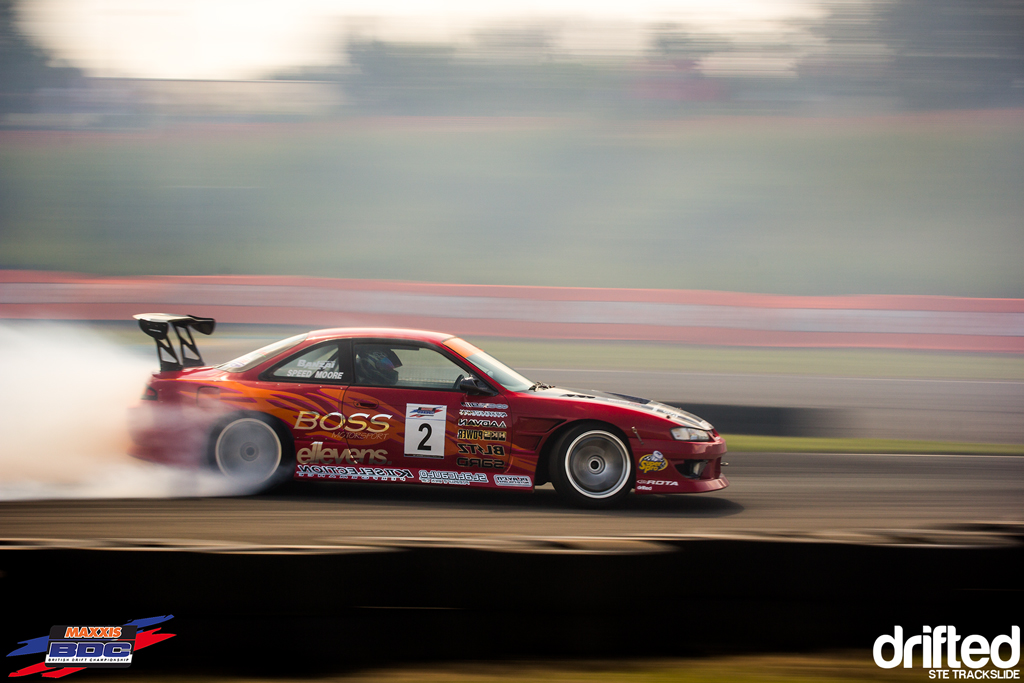 During qualifying there was some great driving, Steve Moore always seems to be in beast mode the second he hits the track, very fast and consistent, at this point in the day temperatures were around 26c, we were hot and burning on the track so the drivers must have been really feeling it in their race suits and already hot cars.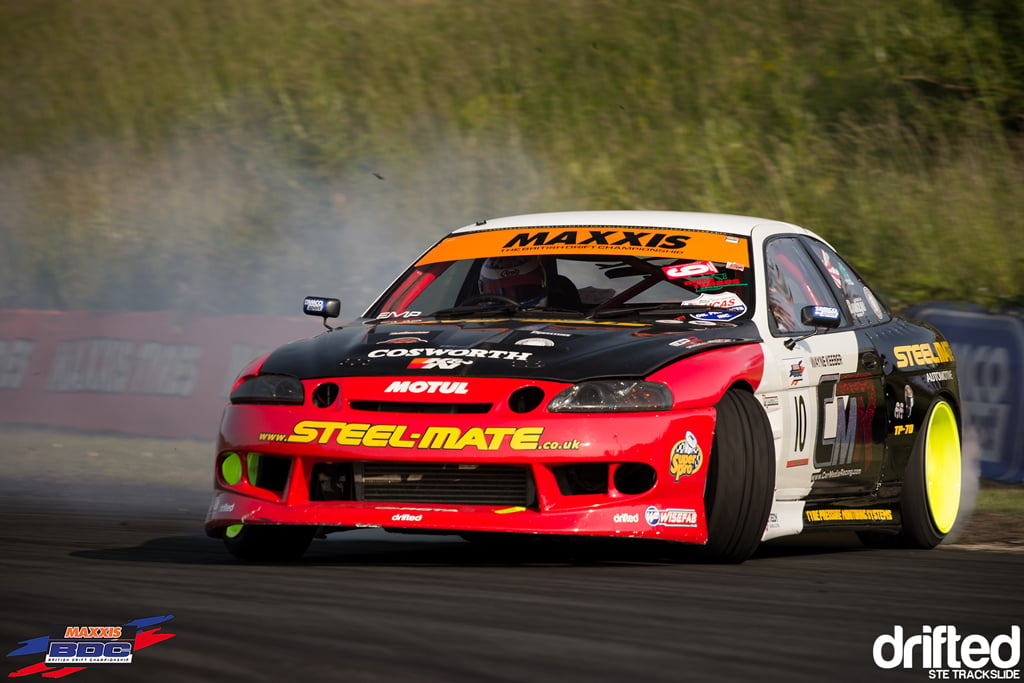 Wayne managed to get his gearbox replaced just in time for his qualifying run, and he qualified.
The weather was still blazing with that relentless sun. Water and sunscreen were both being used by the gallon, the track was black with sticky rubber and the committed crowd started rolling in for day 2 of this very warm event.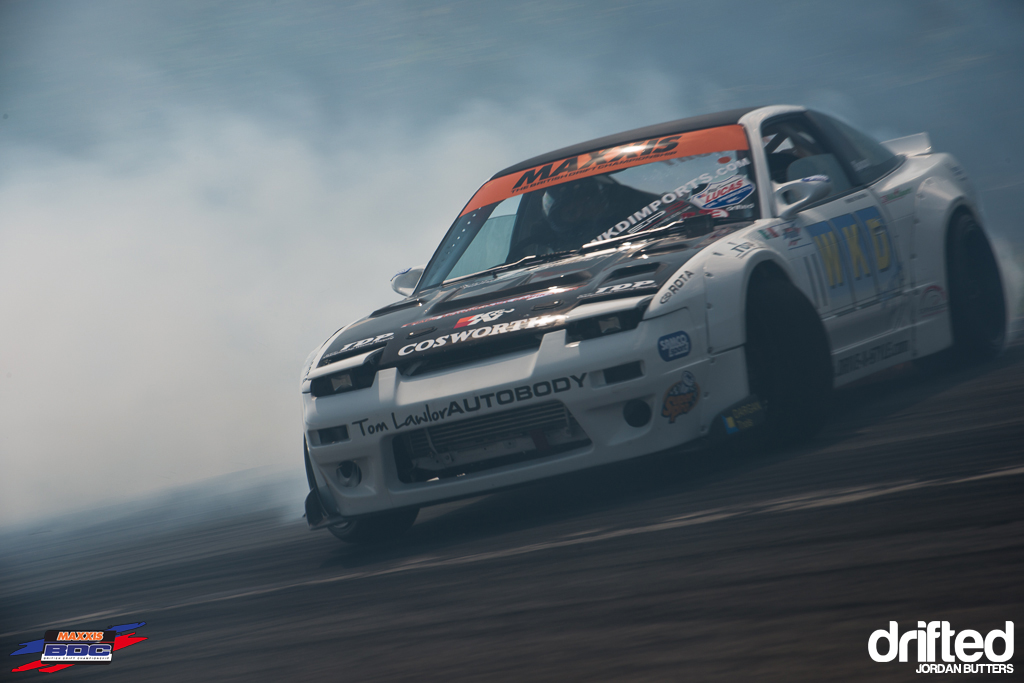 Teesside is hugely popular with drivers…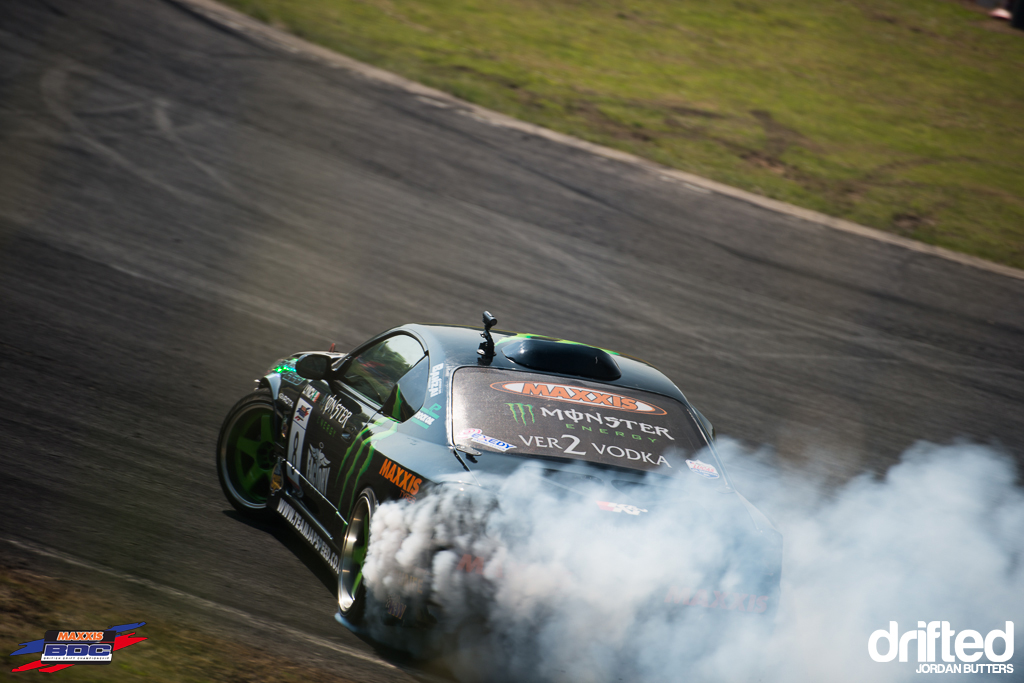 …and being a circuit that's welcomed drifting from day one, many of them are well-versed at navigating its curves.
It's also a big hit with fans too, spectators are able to get nice and close to the action, with a good view all around from the high banks.
It's a unique layout that's both suitably fast…
…yet allows for some real close-proximity drifting.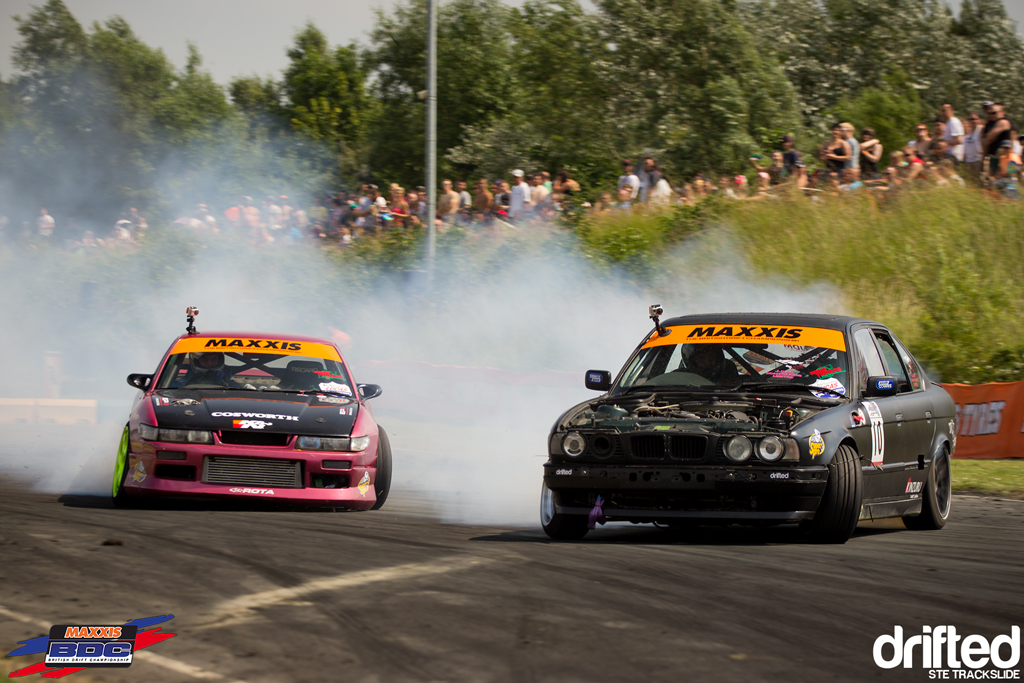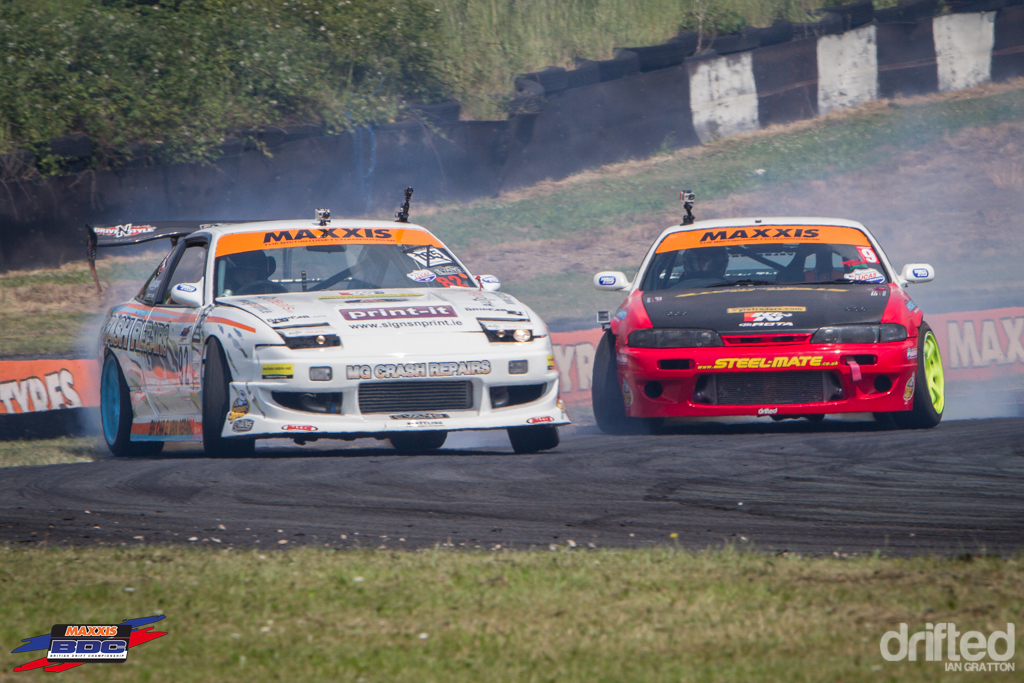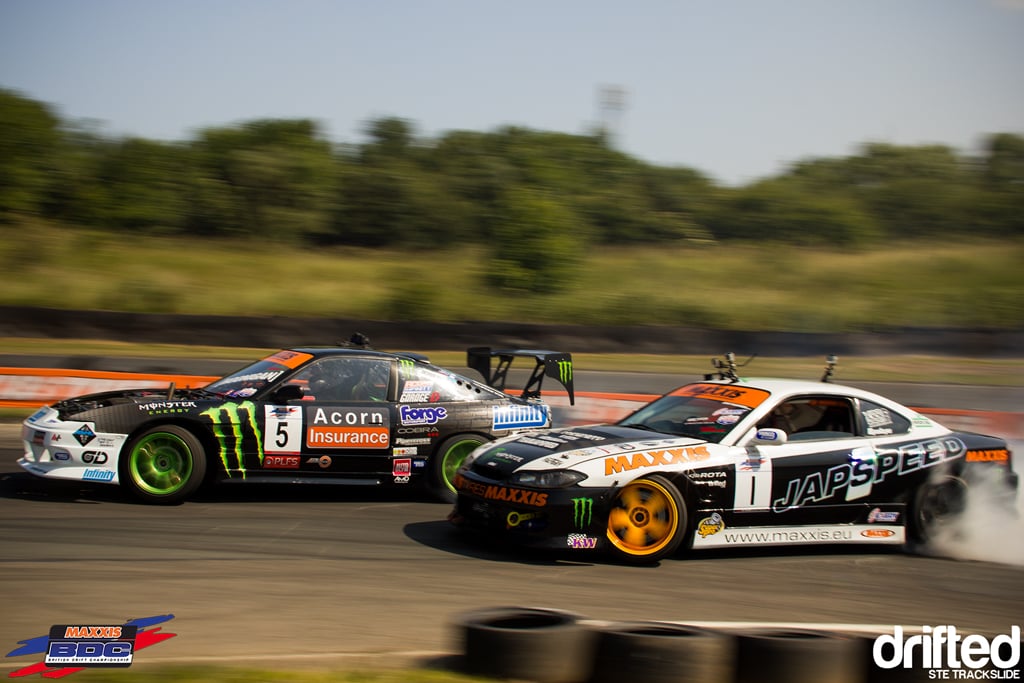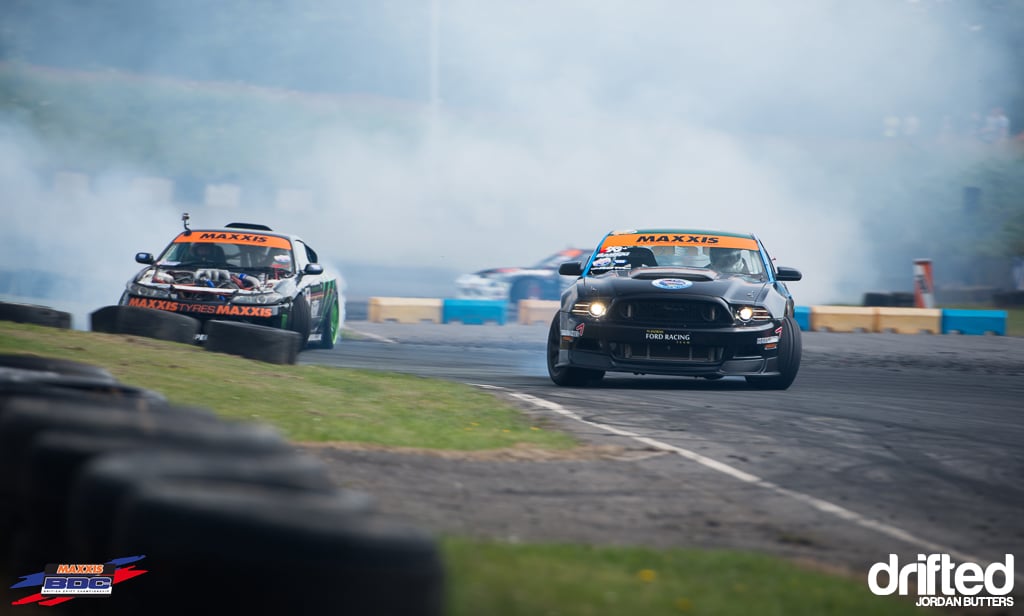 During the battle practice session we finally got to see the beast of a Mustang in action, the noise, that V8 really does sound like thunder, which might explain the distance Steve Moore is keeping here.
The Japspeed 1JZ Impreza piloted by Brett Castle would sadly have to drop out prematurely due to fueling issues which couldn't be rectified at the track.
The keyword this weekend was proximity, and we saw plenty of it in practice, you cant beat a good bit of door to door action at a drift event. There was a few 'trading paint' incidents but that is fine with us.
The battles were just as close as the practice runs, there were a lot of  'one more times', the judges really do have a hard job as we were staring at the runs all the way around the track and we couldn't call who had won most battles.
They were door to door, wing to quarter and bumper to bumper all day. A great show from the drivers.
Half time arrived just in the nick of time as BDC commentator Paul was starting to act a little weird… it must have been the heat.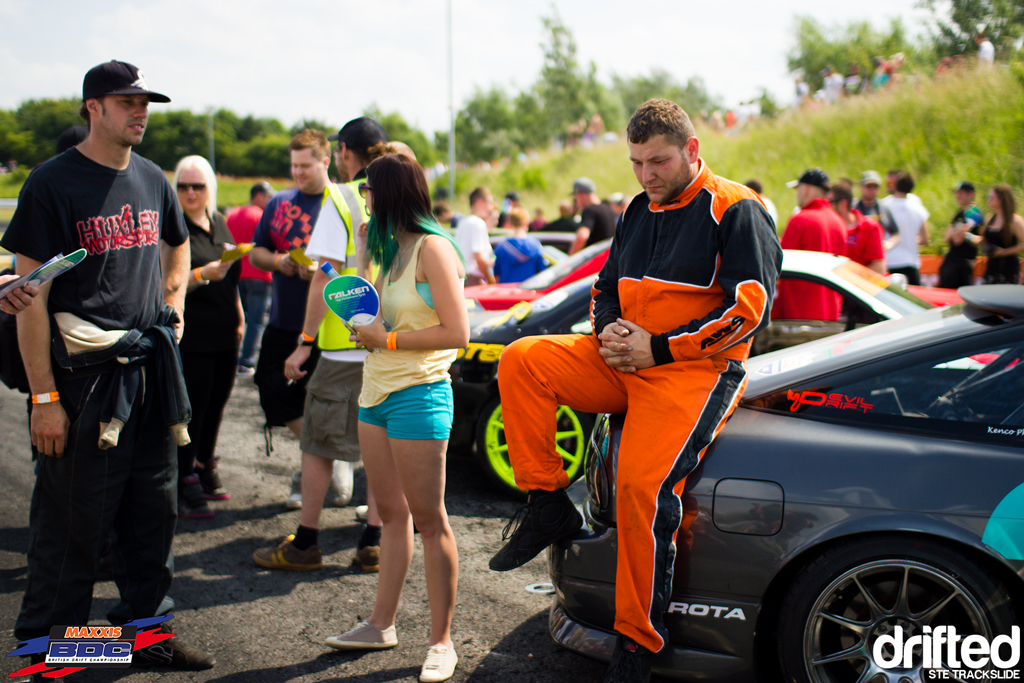 At halftime, spectators and fans are given the opportunity to come on track with the drivers and their cars for a meet and greet session, although Chris Hawkins seems to be in a state of meditation…
Slide Motorsport driver Ben Manuel was drawing a little crowd of his own, showing off his epic bike skills…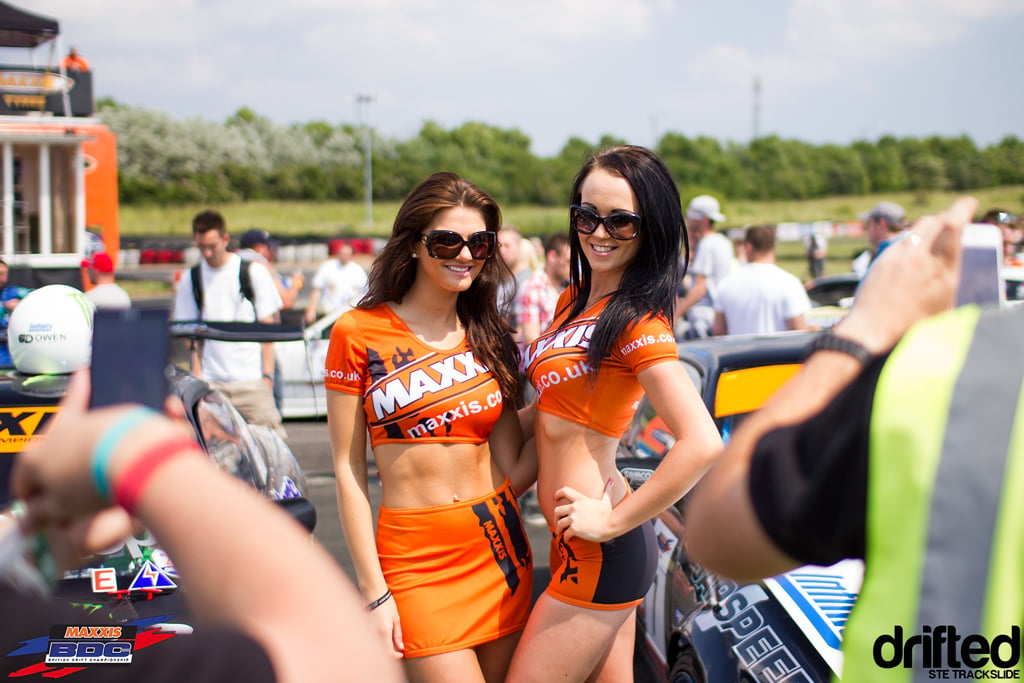 Ben wasn't the only one drawing a crowd, as usual Maxxis had sent over a couple of their lovely ladies.
Drivers posed with fans for pictures…
…autographs were signed…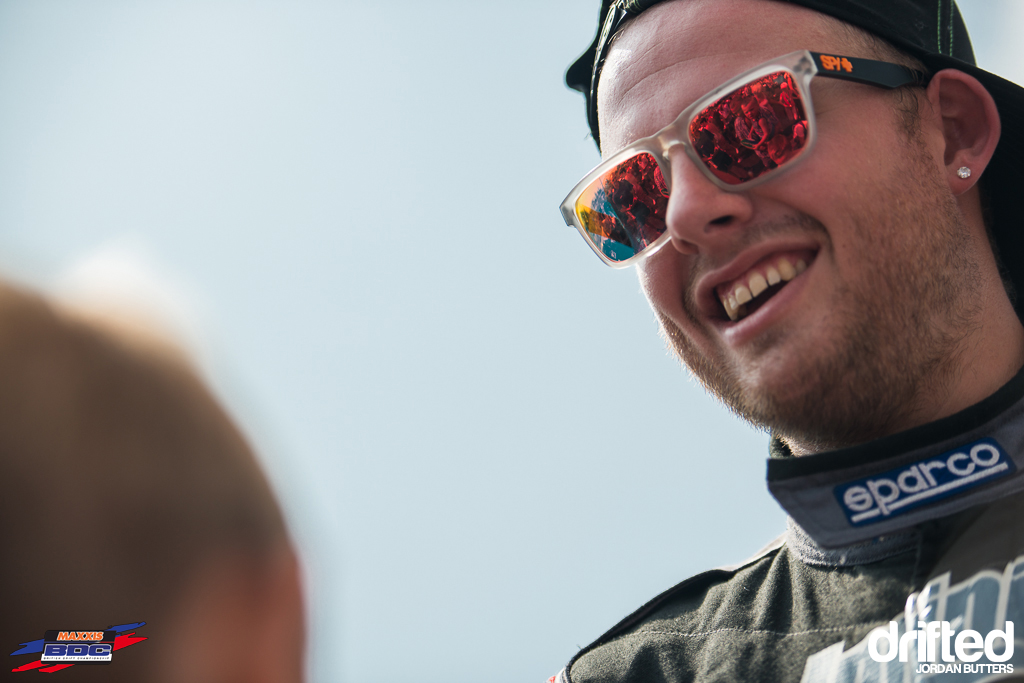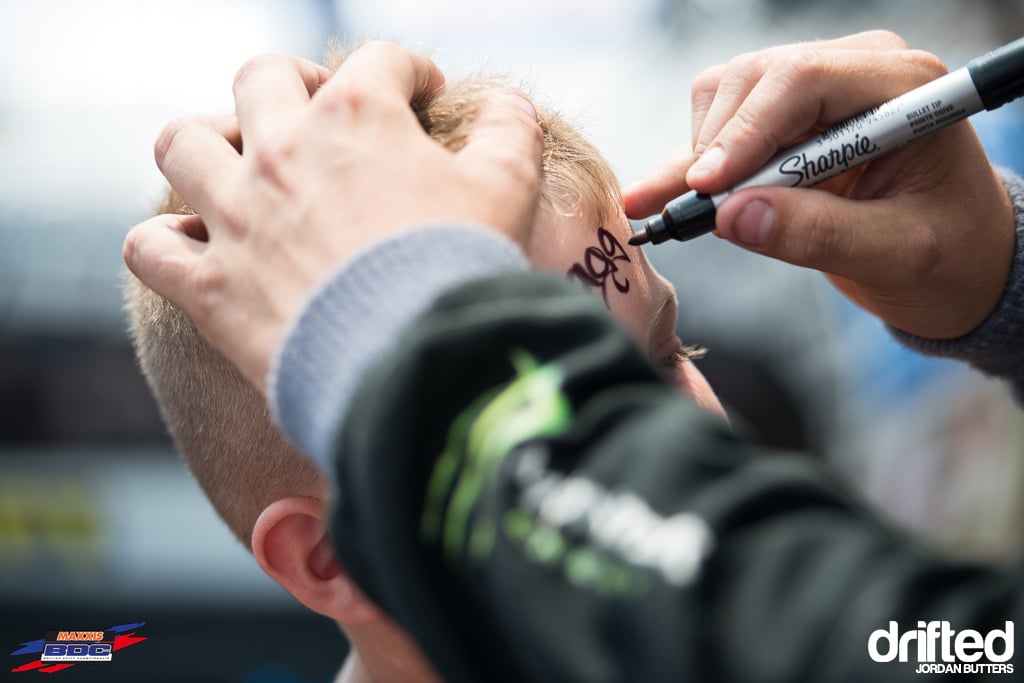 …where ever the fans wanted them…
…and the everyone took some down-time to chill out before the main event kicked off.
After the meet and greet it was time for the remainder of the Super Pro battles, which was full of more 'door to door' action. Two of the most popular cars in this series has to be Mark Huxley's BMW V8 powered Volvo 240 estate and David Waterworth's Dodge Viper V10 powered Silvia S15. Engine conversions are common in this game, but these two are at the extreme end of the scale. That Viper engine had to be shoehorned into the S15's engine bay.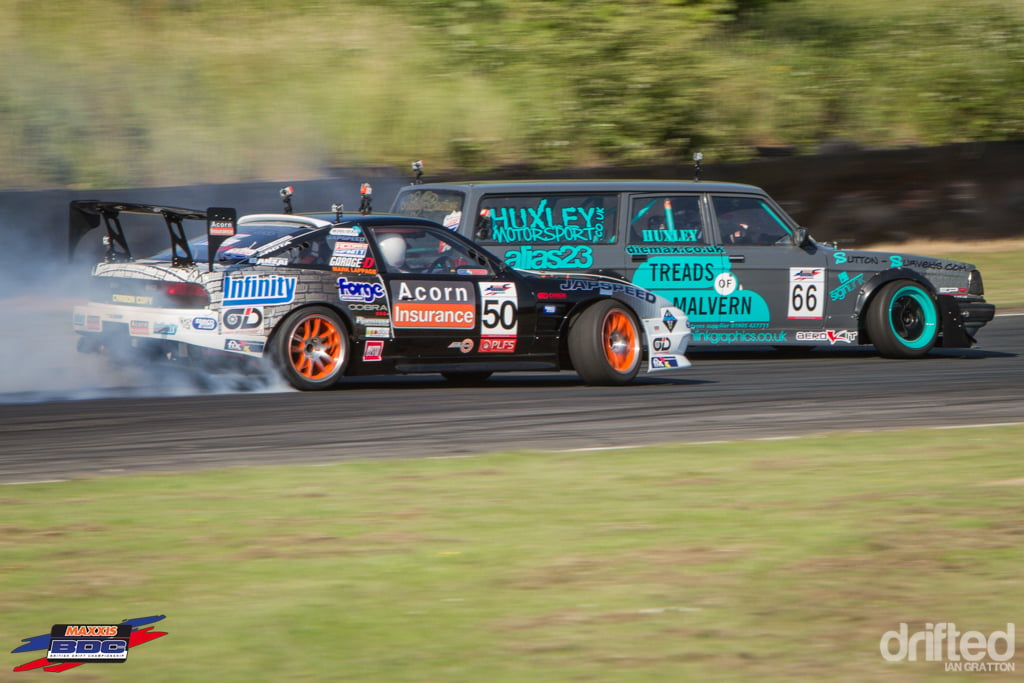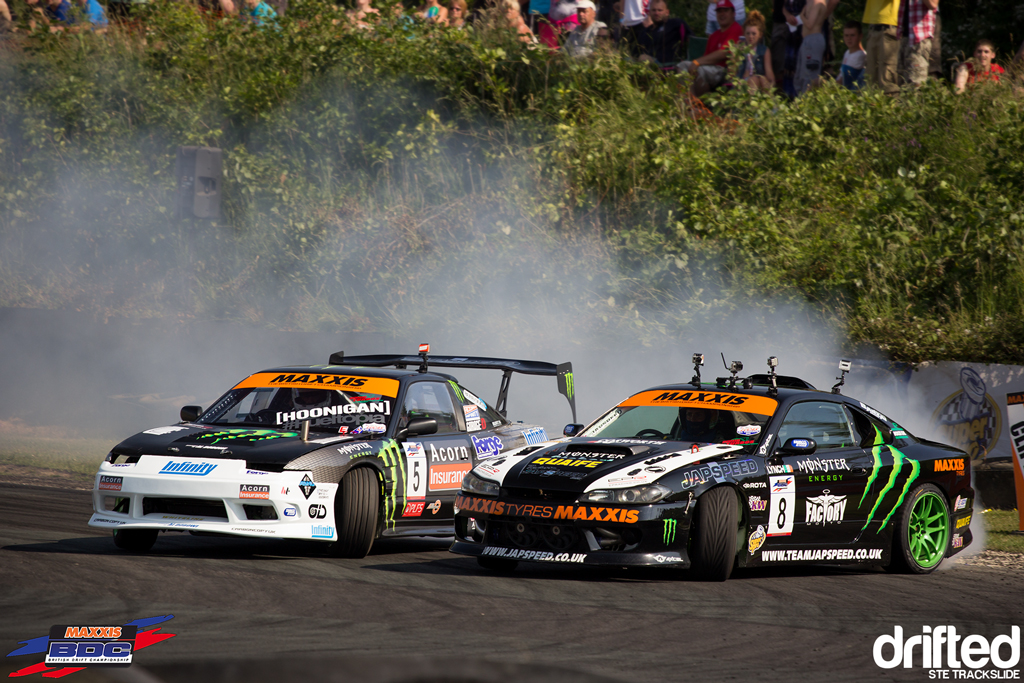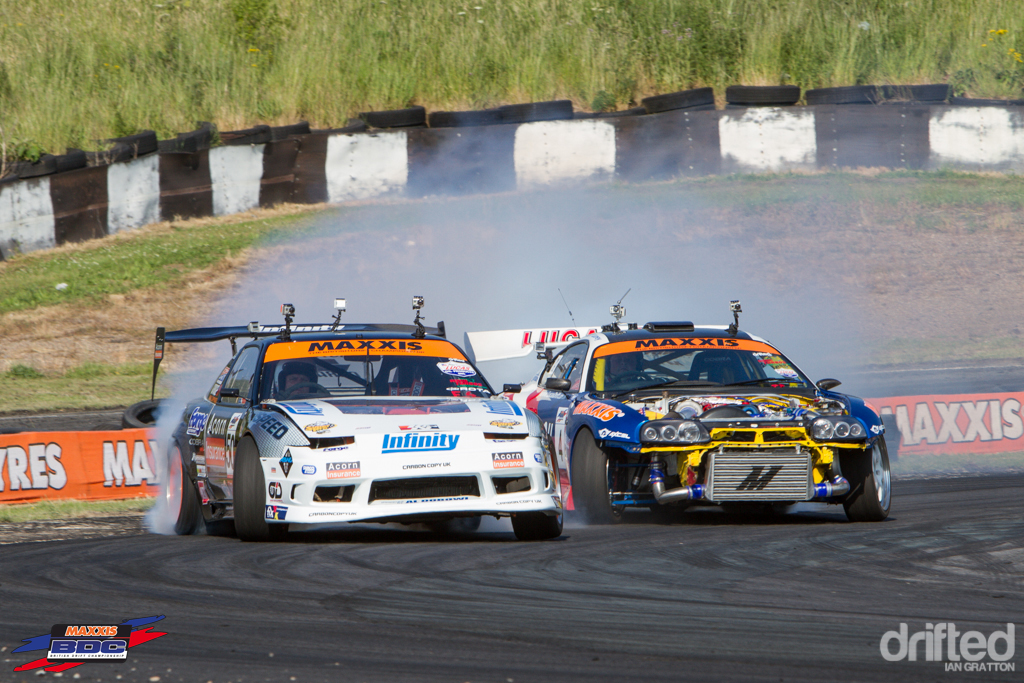 The Lucas Oil Supra was having a few issues with it's engine, we had heard Mark Luney was down on power and cylinders, though he still managed to keep up and get away from most of the other cars.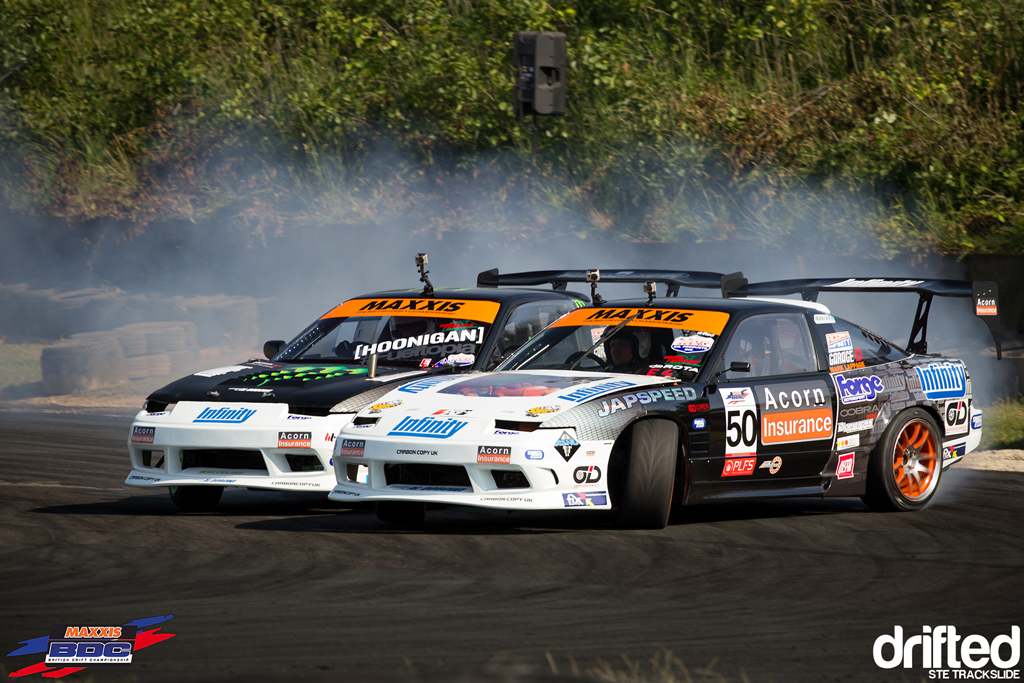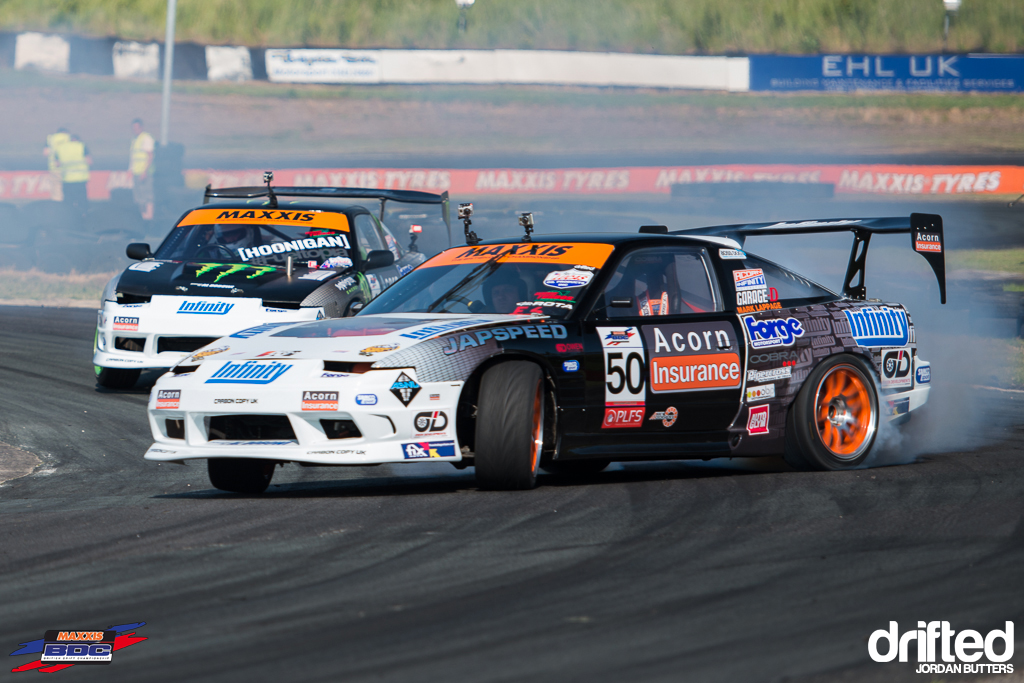 Steve Baggsy Biagioni and Mark Lappage were getting very close, great driving on both parts.
There are many ways we could describe this particular run, Battle of the buses, Clash of the wagons, whichever what you see it, it was certainly entertaining to watch these heavyweights hashing it out.
The drivers were all out to prove themselves under the watch eyes of the judges.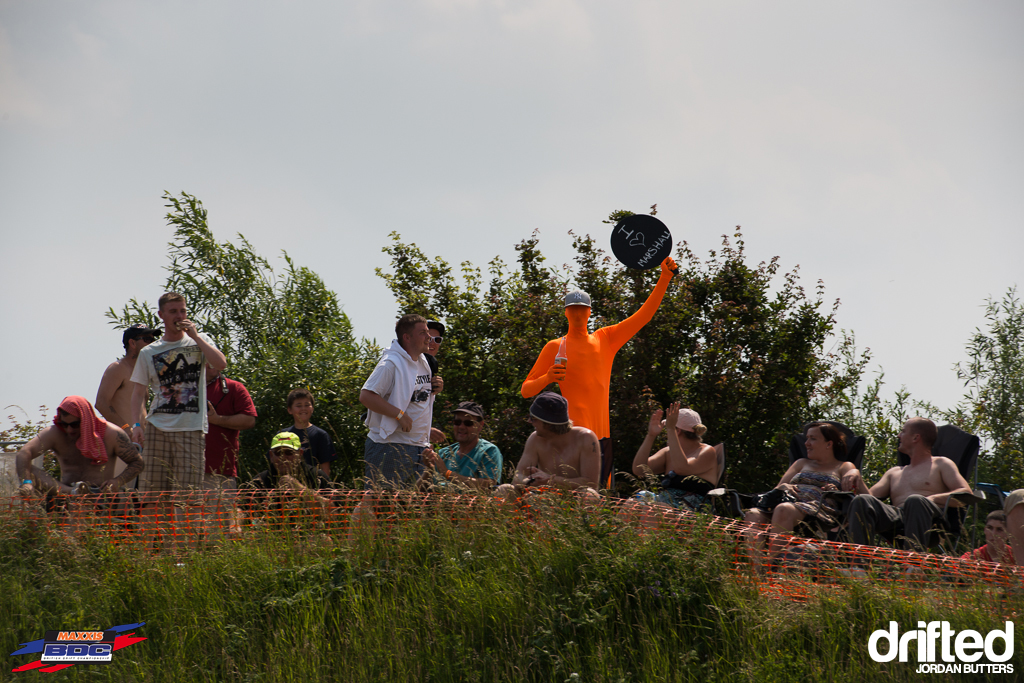 Which made for a great spectacle for the crowd…one of which let the sun go to his head it seemed.
As per standard at this year's BDC events, some big names fell early. D-Mac suffering car trouble in his rotary-powered AE86.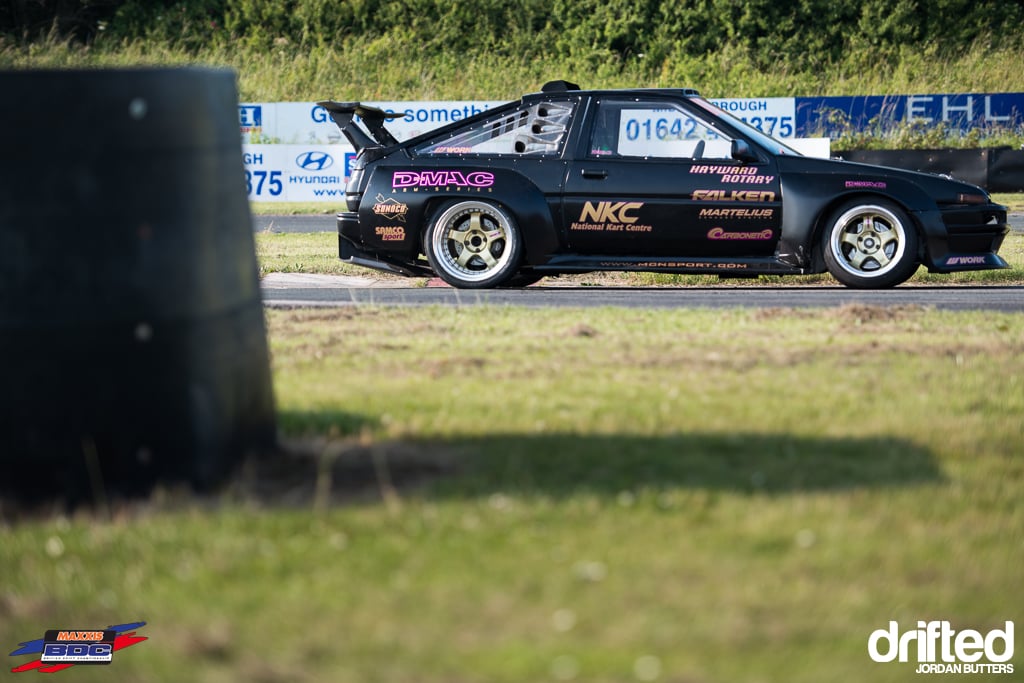 This masterpiece of machinery had to be abandoned in the centre of the circuit while the action continued.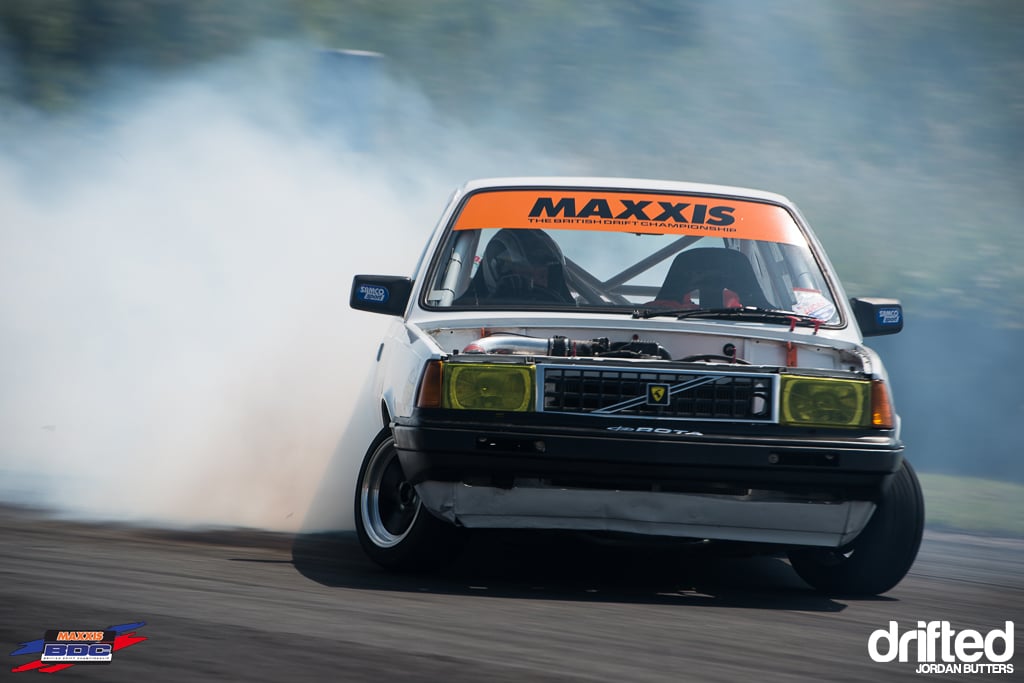 Whilst some considered underdogs charged on towards glory.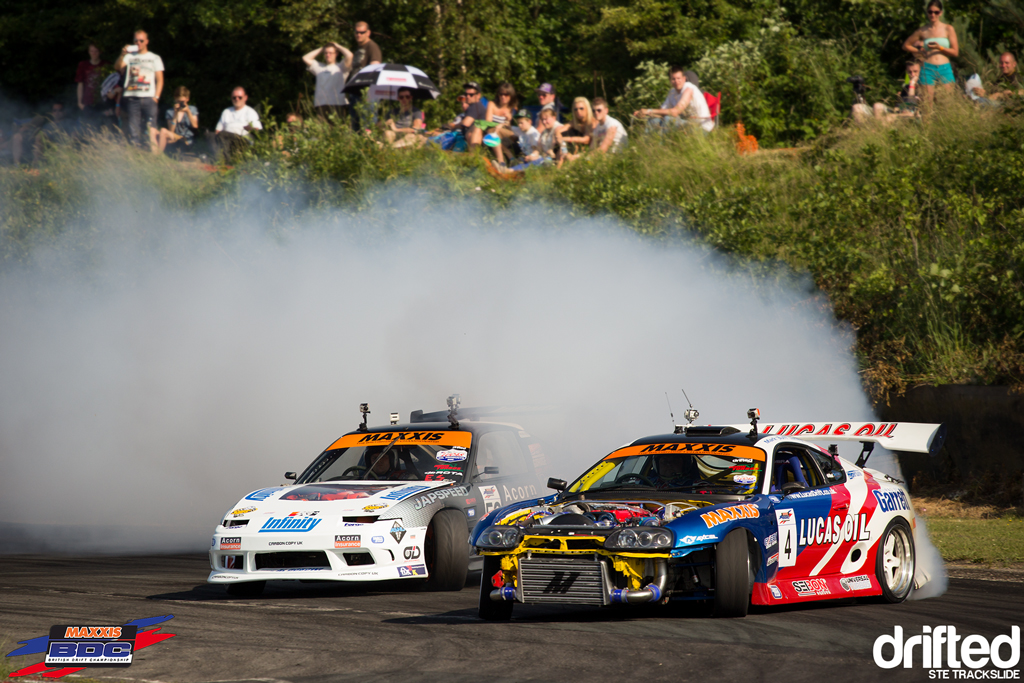 There was a great standard of driving from all classes, very close action.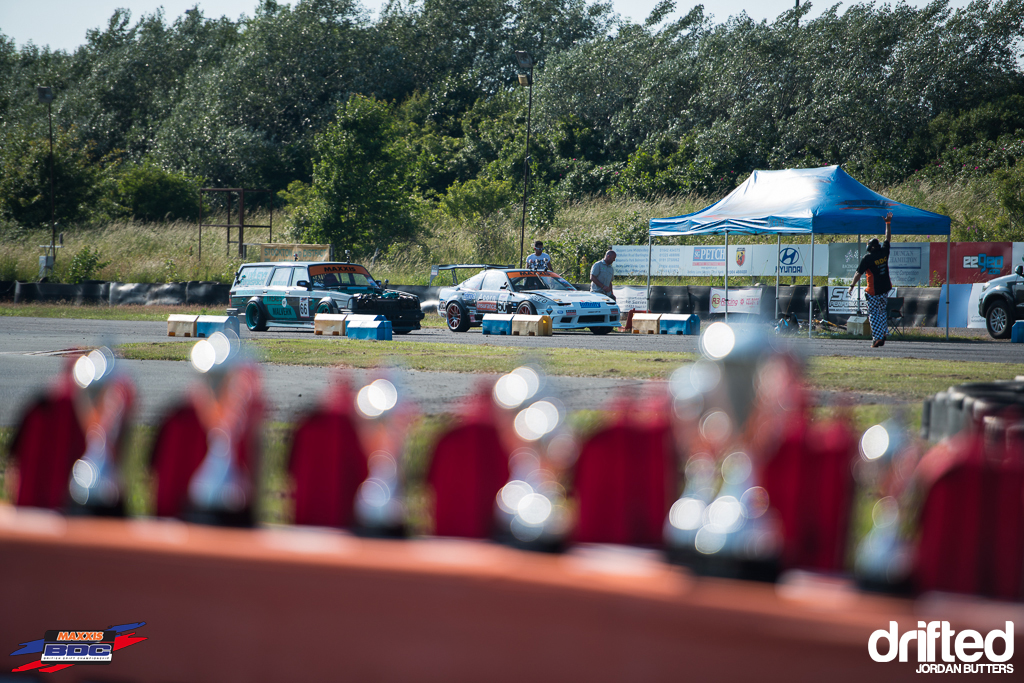 Now for the results…
Semi-Pro:
1st place – Adam Simmons in the Slide Motorsport V8 R33 Skyline.
2nd place – Tony Walker in the BMW supercharged V8 PS13.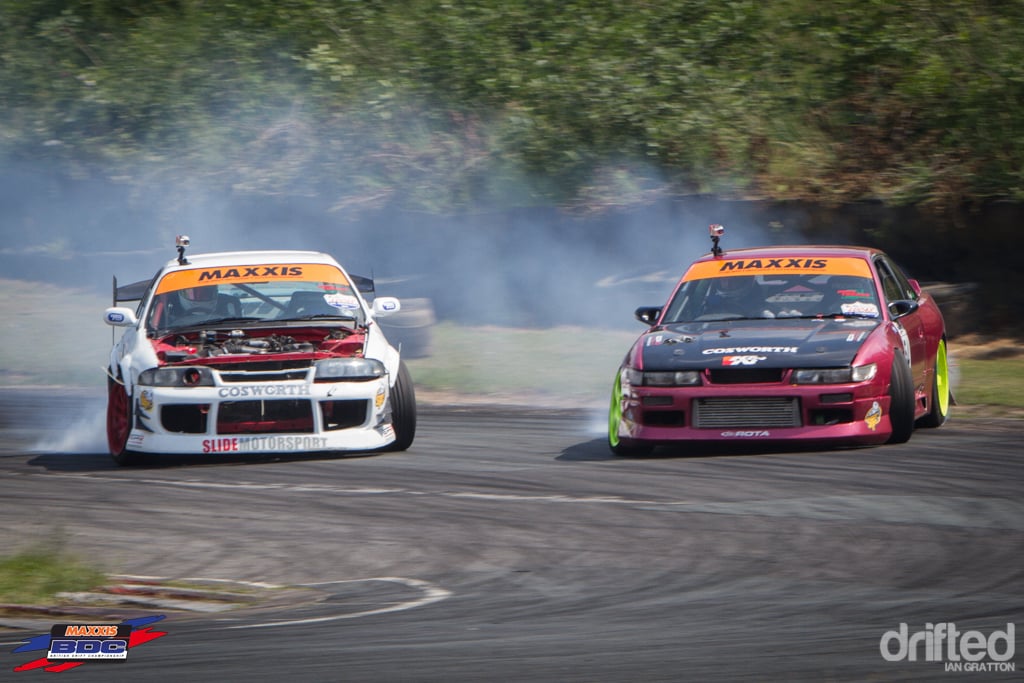 3rd place – Andy Arnott in the Learn to drift Nissan S14.
Pro:
1st place – Barry Hennesy in the MG Crash Repairs S13
2nd place – Paul Cheshire in the Falken Tyres G35.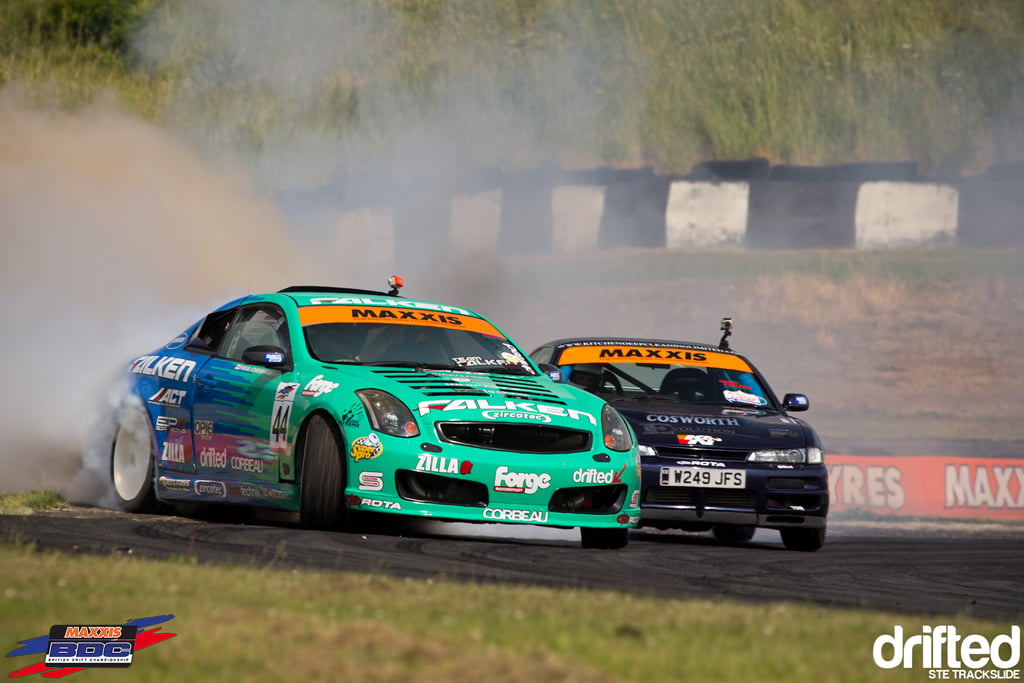 3rd place – Jay White in the blue Team MnM S14a.
Super-Pro:
1st place – Mark Lappage in the Acorn/Infinity S13.
2nd place – Marc Huxley in the BMW V8 powered Volvo 240 estate.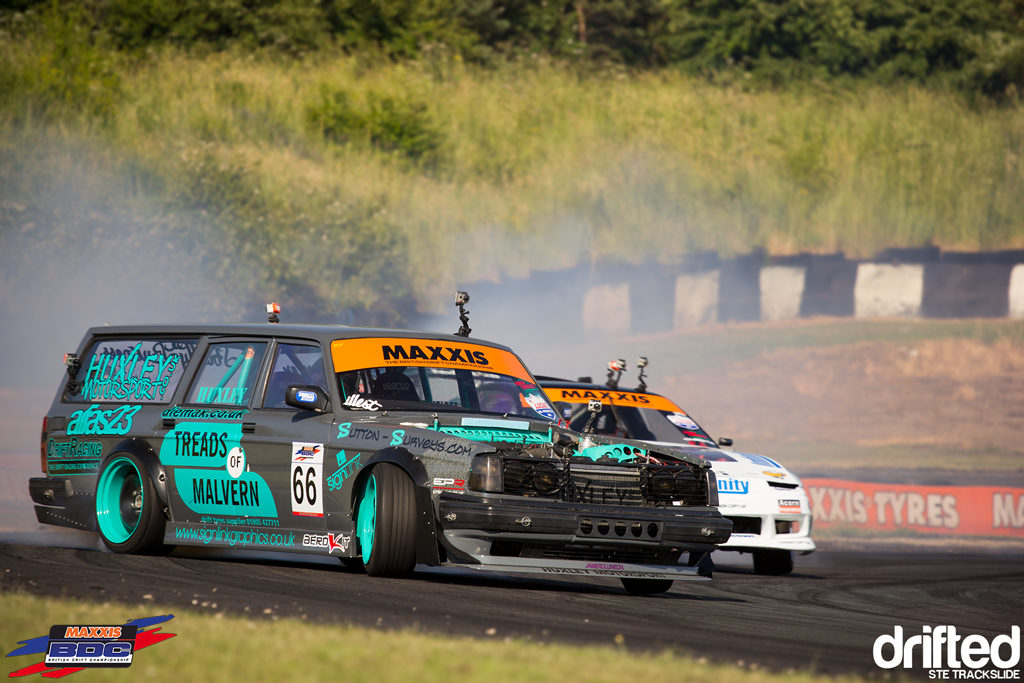 3rd place – Mike Marshall in the Team MnM 2JZ powered e36 estate.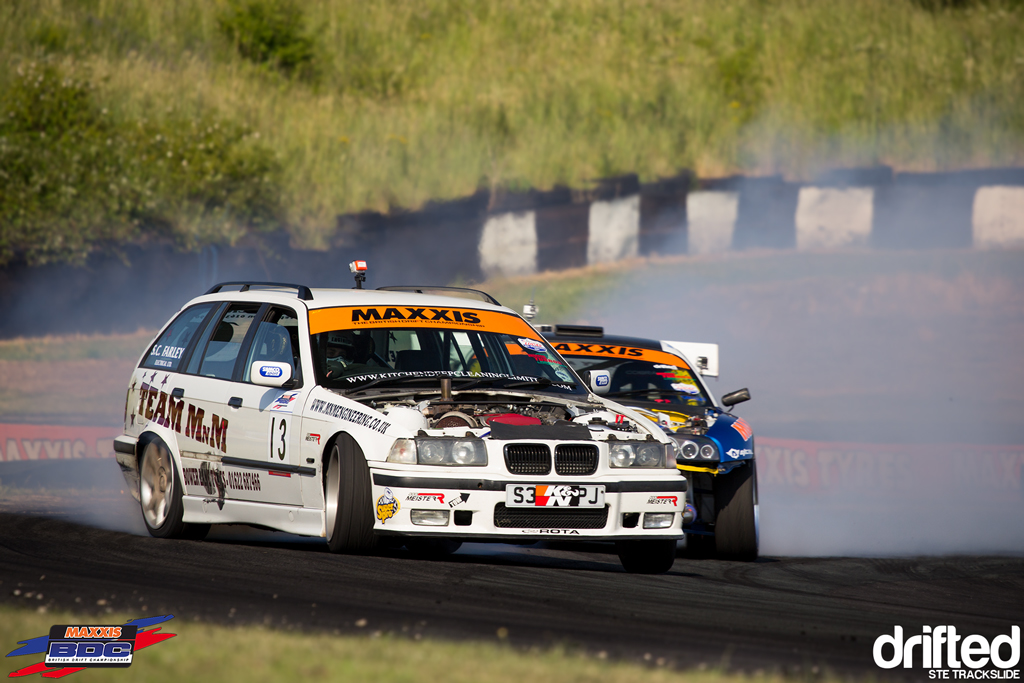 Team Constructors Winners: Team MnM
Hard Charger Award: Dan Firmager
Time to hand out shiny objects and squirt some champagne…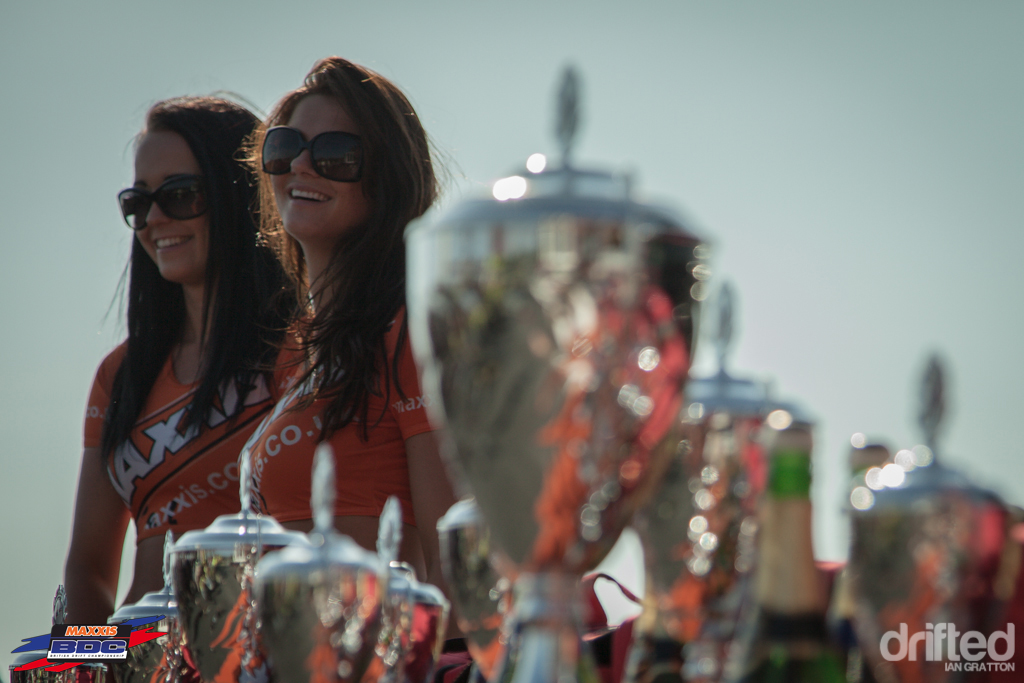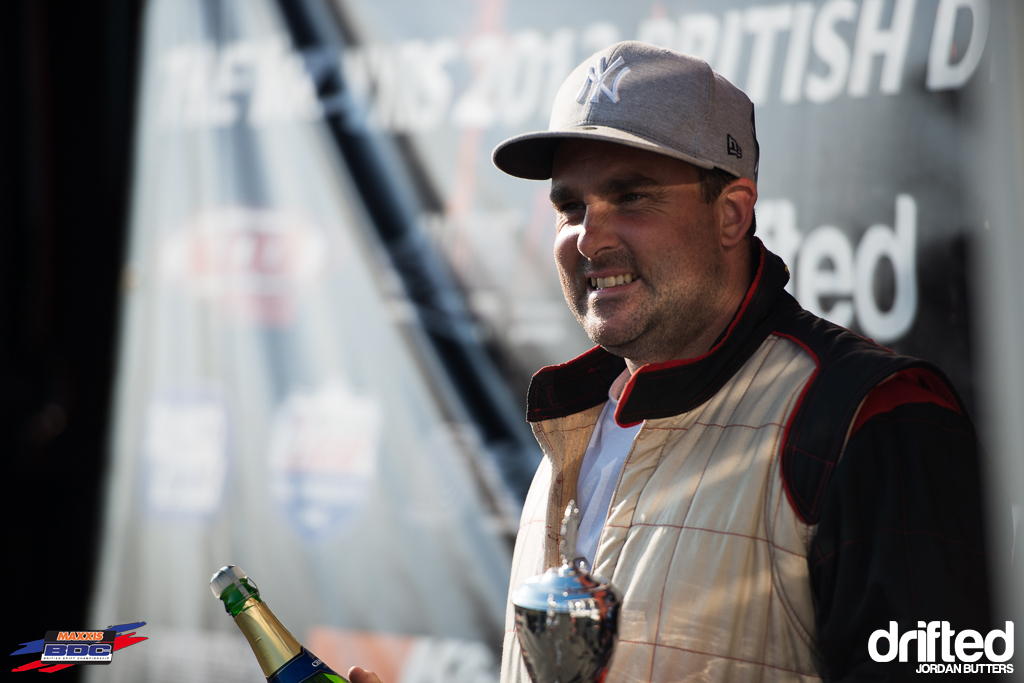 That's all from a sunny Teesside Autodrome. Stay tuned for our team event coverage coming very shortly…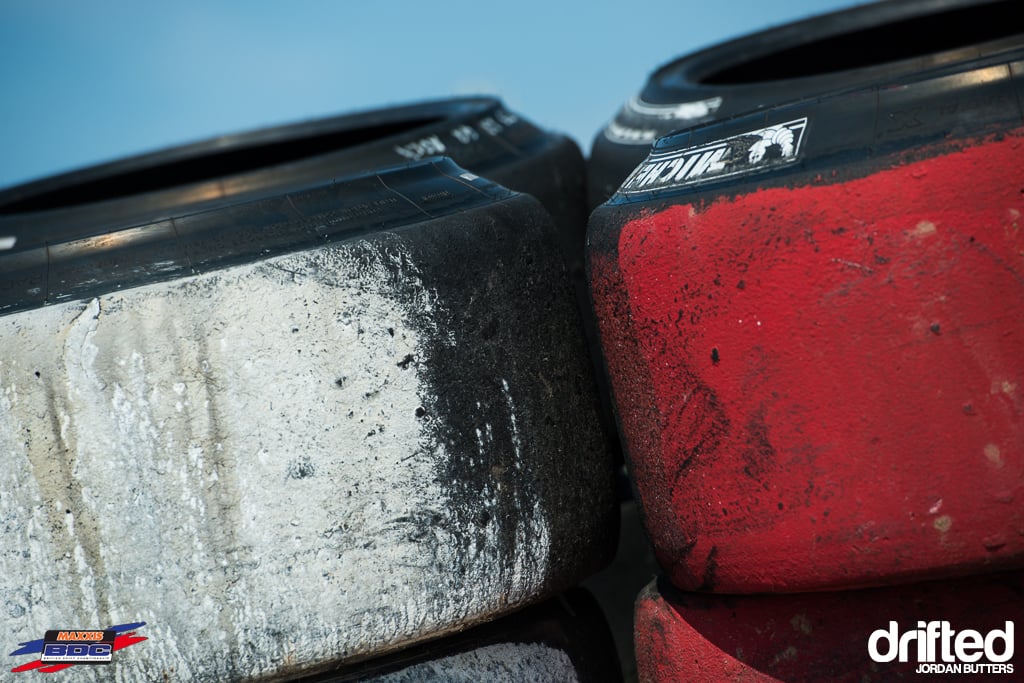 Words & pictures: Ste Trackslide, Ian Gratton & Jordan Butters