EVENT: D1NZ South Island Style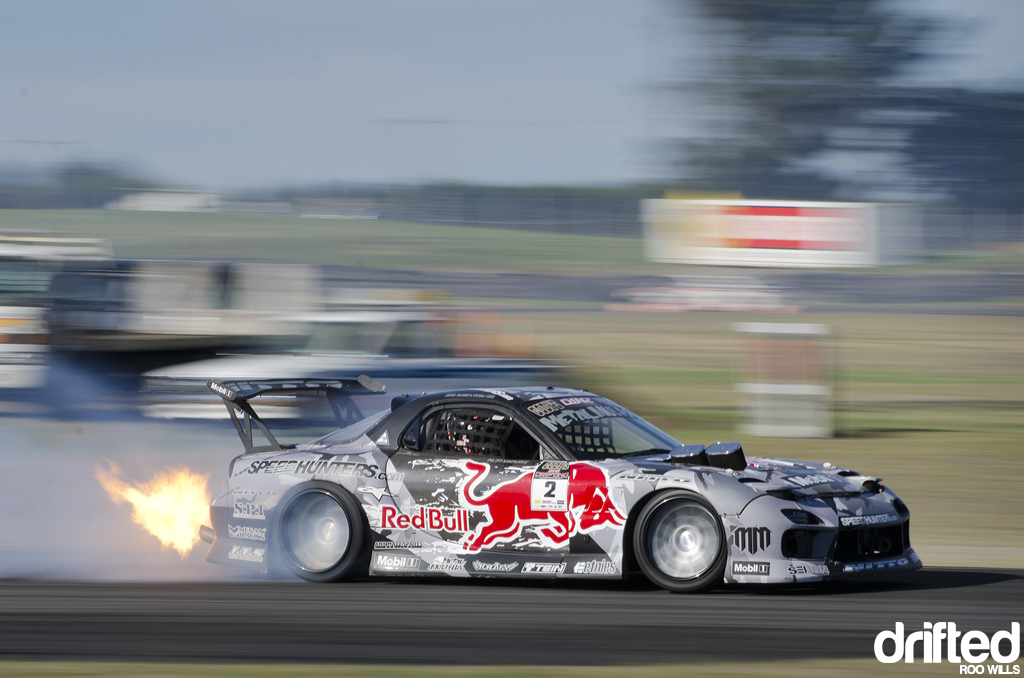 As some of you may know, our little corner of the world known as New Zealand, is comprised of two islands. Appropriately named the North & South Islands. The Cody's D1NZ National Drifting Championship spends most of its time in the North Island but every couple of years it heads south. To Christchurch, the largest city in the South Island.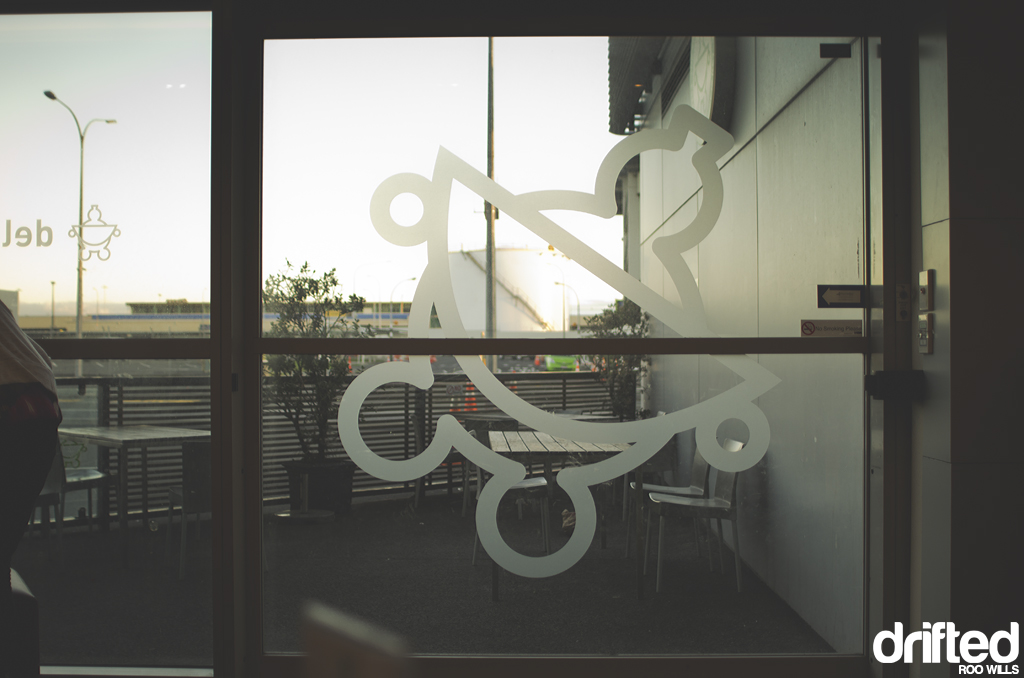 It's a big stretch for teams & drivers as they either have to tow their car up to 1,300km (including a ferry journey between the two islands) or pack the car and associated gear into a container which then travels down by boat. Luckily I don't have to worry about a car so I boarded a one-hour flight from Auckland to Christchurch eager to get back down south.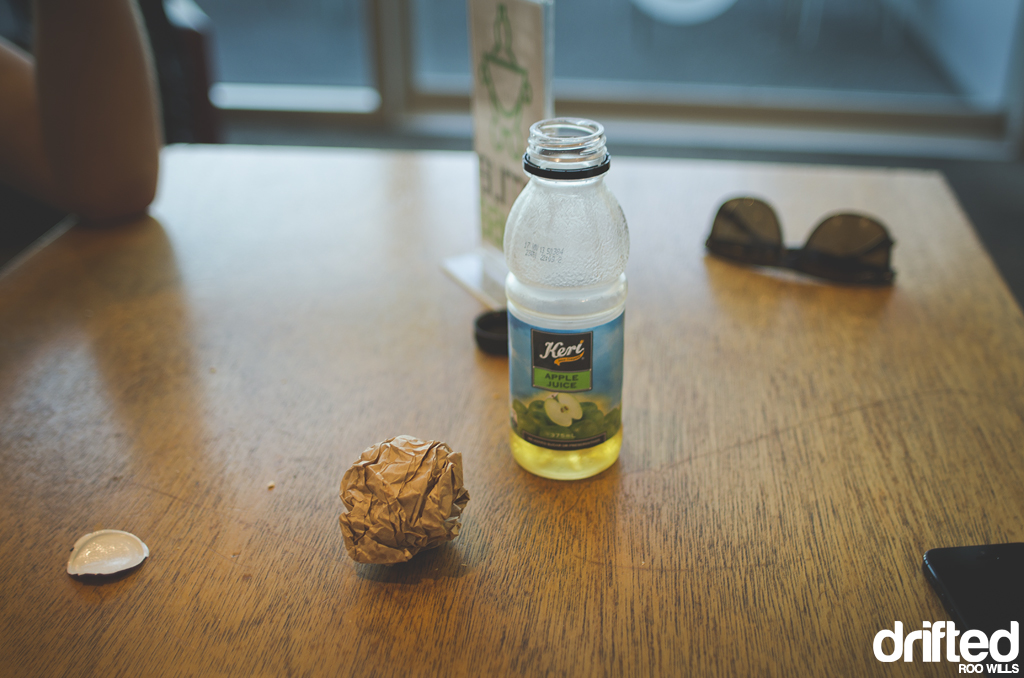 I chose to spend a few days in Christchurch, knowing that area was home to a few friends plus some newly finished cars I was keen to take a closer look at. I urge anyone who hasn't already, to head away on a weekend like this. Combing good people with top quality drifting and a lot of socializing made for an amazing weekend in a beautiful part of our country.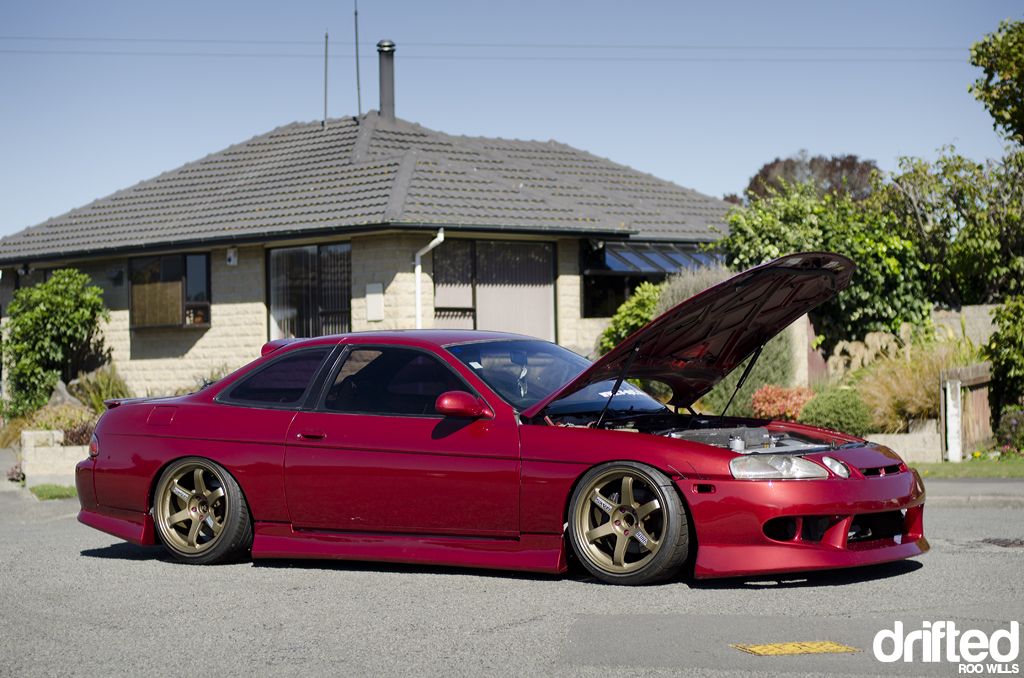 Once we landed I jumped straight on my phone to organize some cars to shoot. The first car I had the pleasure of capturing was Jono's JZZ30 Soarer, this thing is perfect. You don't see many Soarers in New Zealand so it was great to see one done so well.
Jono is panel beater so is a perfectionist by default. This is evident throughout the whole car – bright red, TE37's, Vertex and a soon to be tuned 2JZ. What more would you want?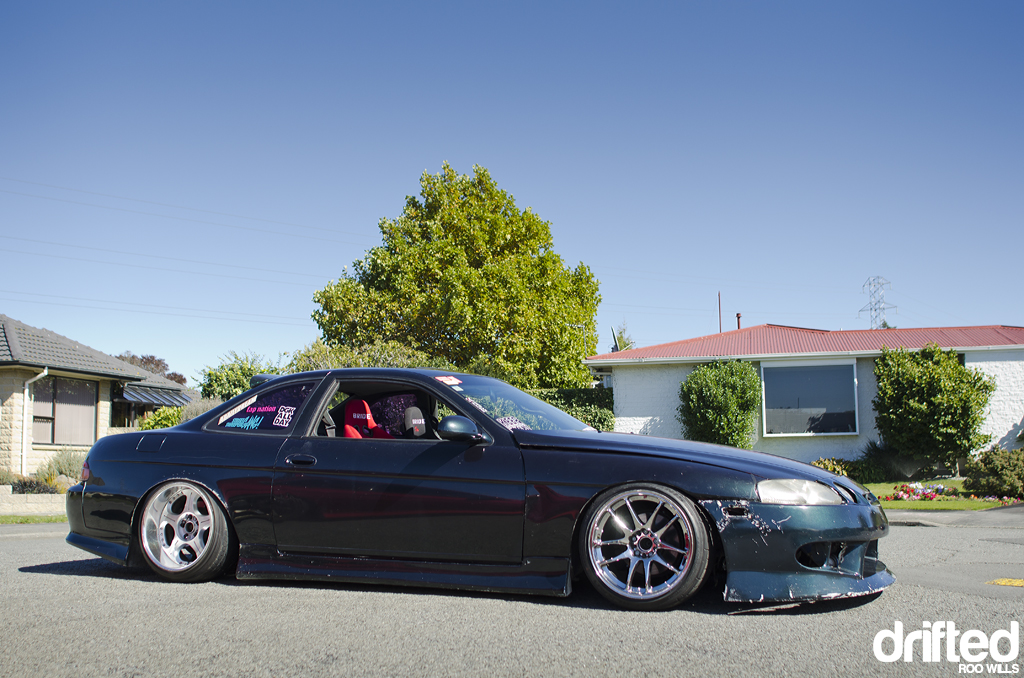 During our shoot Jono's friend Michael arrived in his Soarer, featuring chrome CR Kai's up front and timeless Veilside Andrew-D's on the back. It's super low too.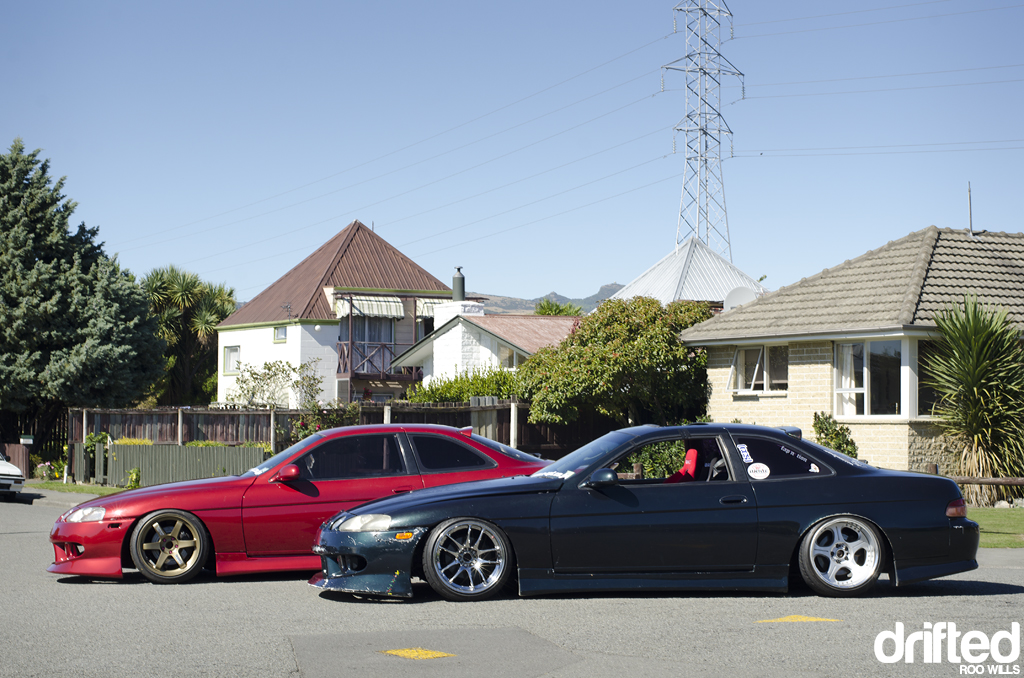 Two of New Zealand's coolest street cars? I think so.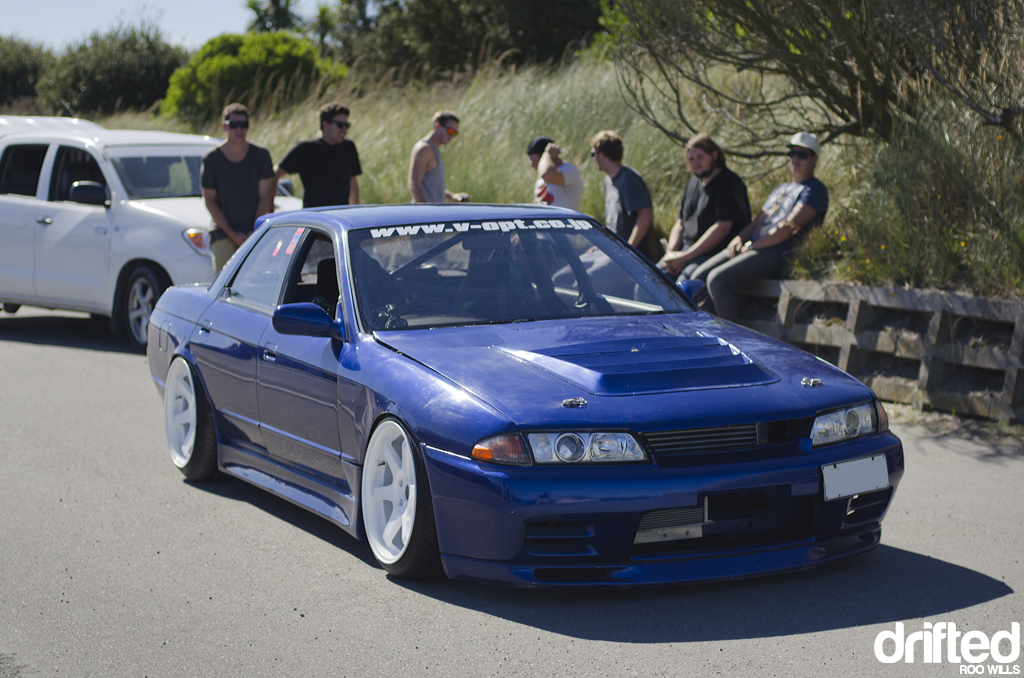 The next stop on our cool car tour of Christchurch lead us to Jonny Martin's R32 Skyline. After competing in a couple of Drift South Street Legal rounds Jonny decided to pull the car apart for a makeover and add a cage so he can compete with the big boys.
Unfortunately the car wasn't quite ready for D1NZ but Jonny was still able to take it for a small drive so I could get some photos. Expect to see this out on track soon!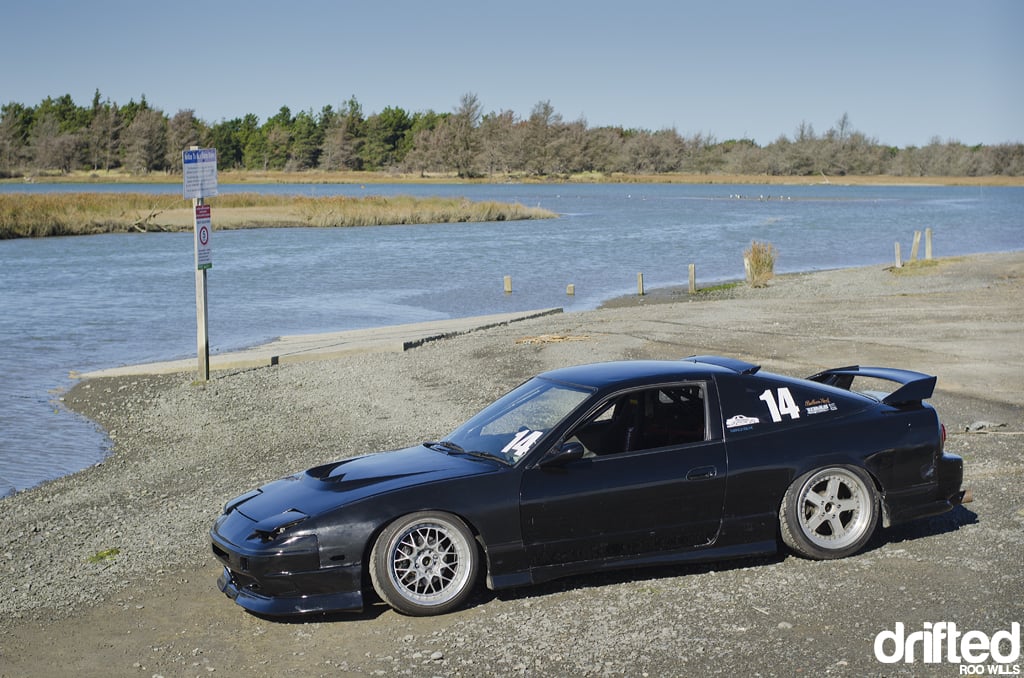 After getting up at 5am for our flight we were pretty run down by this point in the day but we had just enough time and energy for one more car. Enter Mark O'Hara and his black 180sx. Mark is a long term Drift South competitor and his car oozes Japan street car styling with an array of '90s 3 piece Japanese wheels and subtle URAS/Type X aero combo.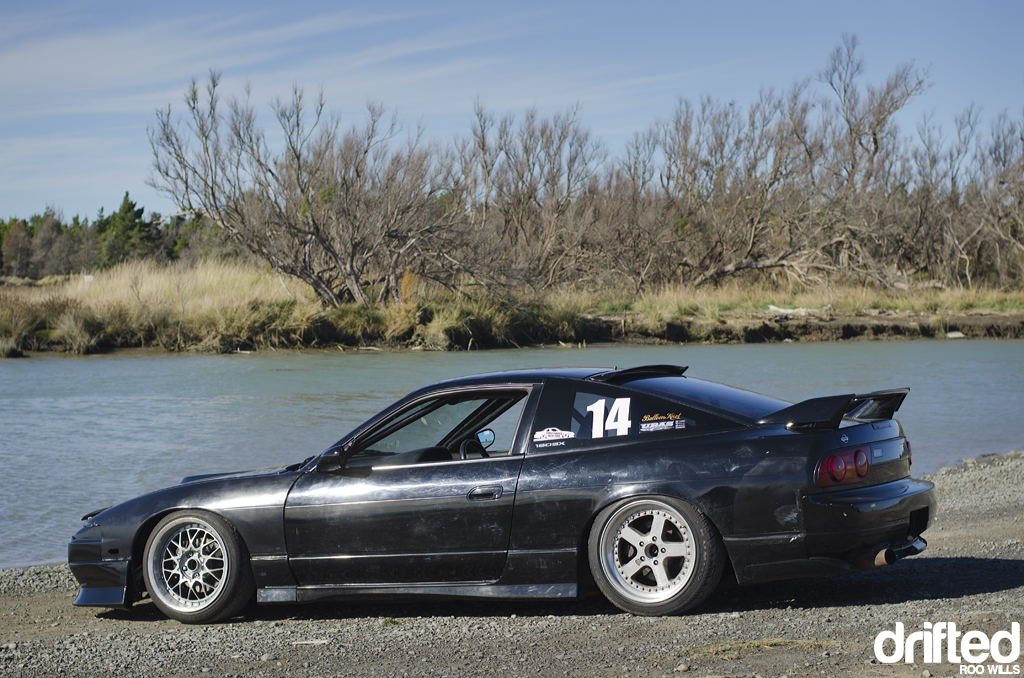 The other Christchurch boys informed me that Mark is the George Clooney of South Island drifting – cool, calm and collected.
Ruapuna Raceway, on the outskirts of Christchurch, is a glorious racetrack with an interesting mix of corners, elevation changes and great viewing for spectators. A lot of the North Island drivers really enjoying competing down here.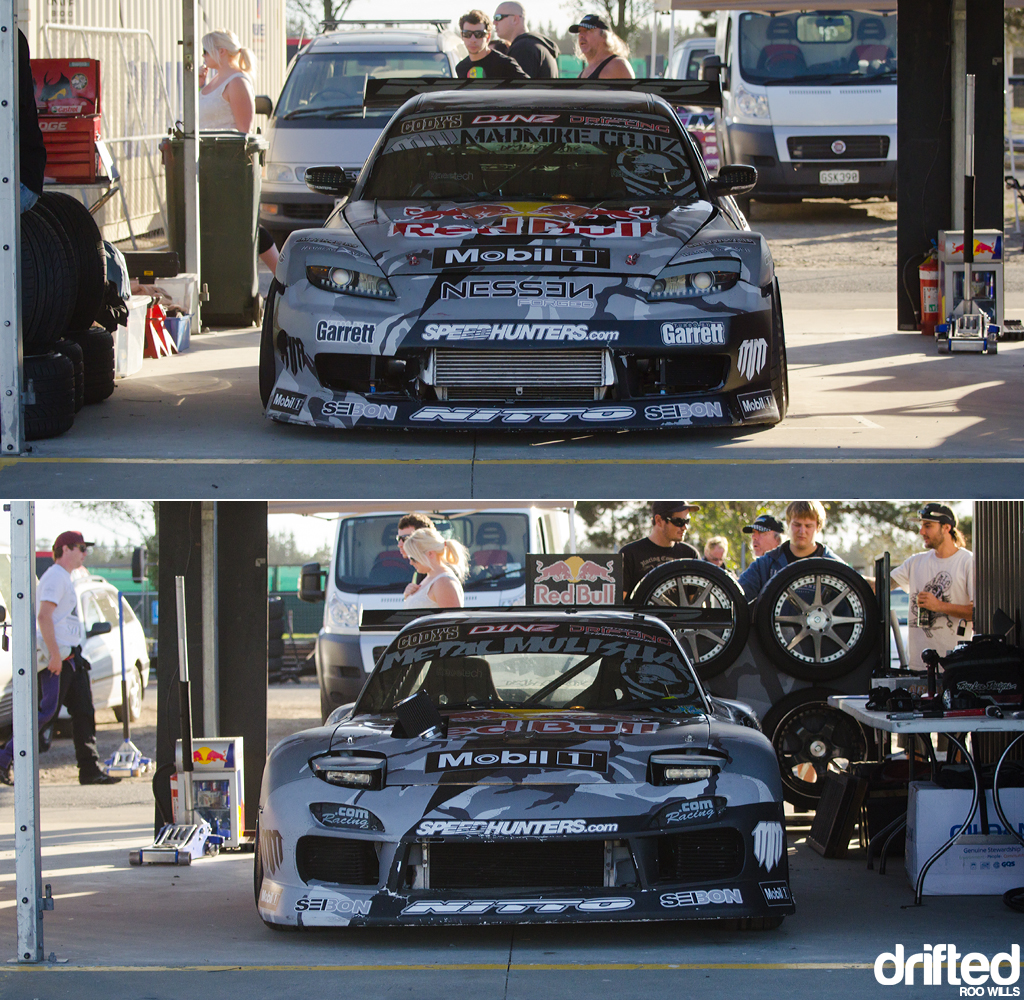 Mad Mike Whiddett was sitting in 3rd place leading into this round and wanted to dominate. So he came he prepared. And dominate he did, taking out first place in spectacular flame-spitting fashion.
He also debuted his new pit trolly/tool chest/wheel holder/thing that moves things. Yes, it is pretty damn cool.
The S13 Silvia platform is still popular and competitive (as outlined by Dai Yoshihara once again) and Bruce's Achilles Radial sponsored S-chassis is super tidy. It is nice to take photos of well presented drift cars.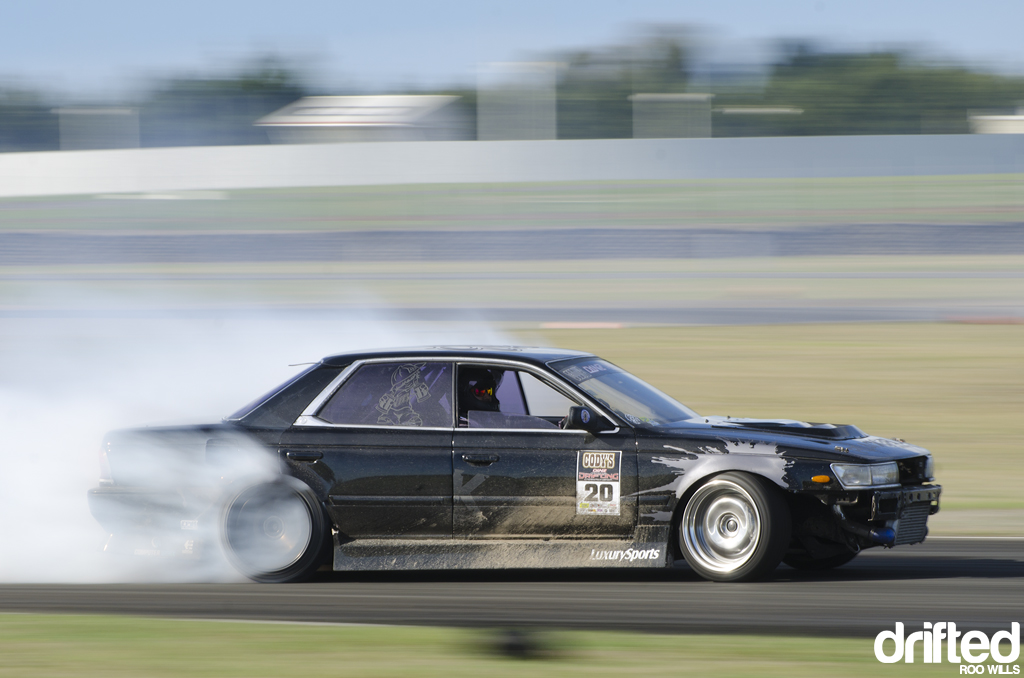 This track is fast. And is suited to fast cars. Gary Tenana's C33 Laurel is fast –  and generates more smoke than an '80s coal train.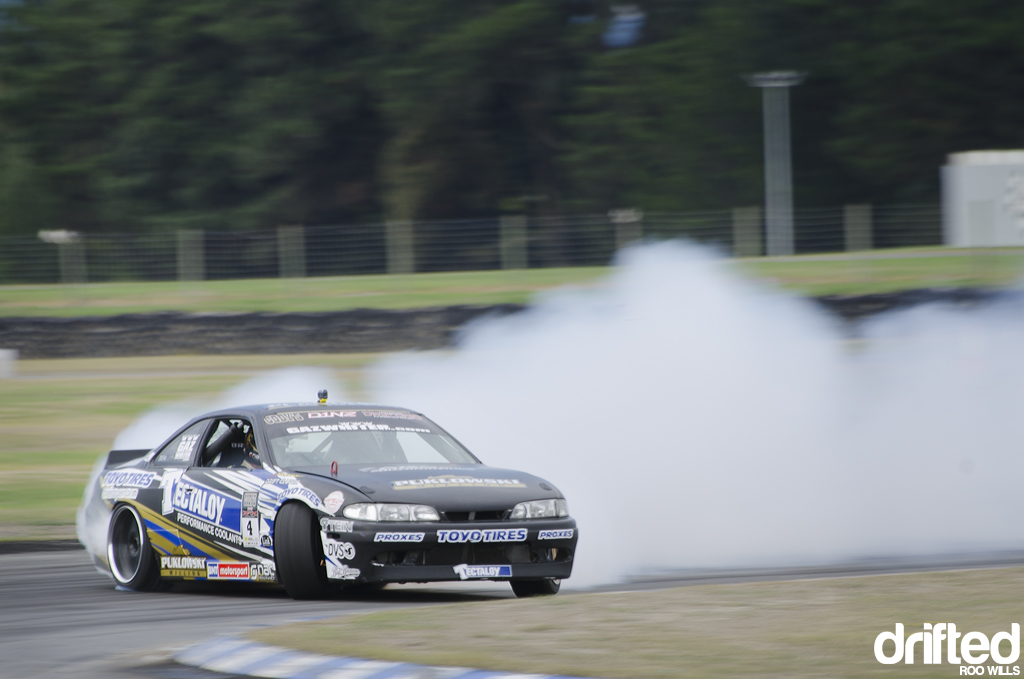 Three time D1NZ Champion Gaz Whiter has had an unlucky season so far with breakages, an engine failure and a big crash at round 3. Unfortunately even with a brand new LS7 from the States, Gaz's luck continued to run low as it imploded part way round the circuit leaving pieces of aluminum everywhere.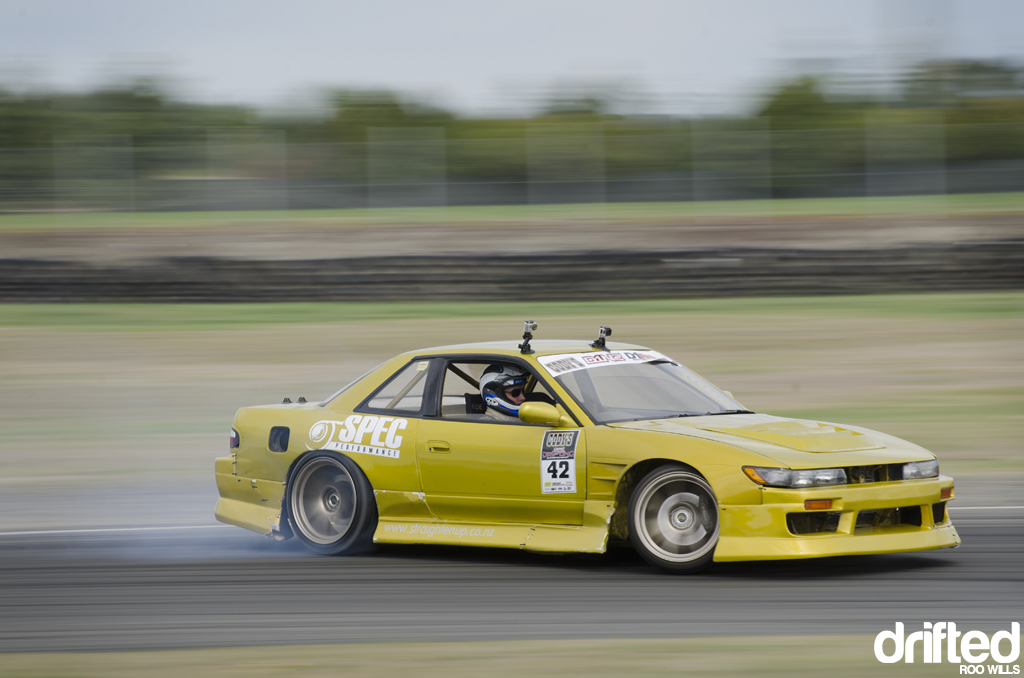 Christchurch local Paul Tomlin put his car back together especially for the event and drove well all weekend. Another example of a good looking S13.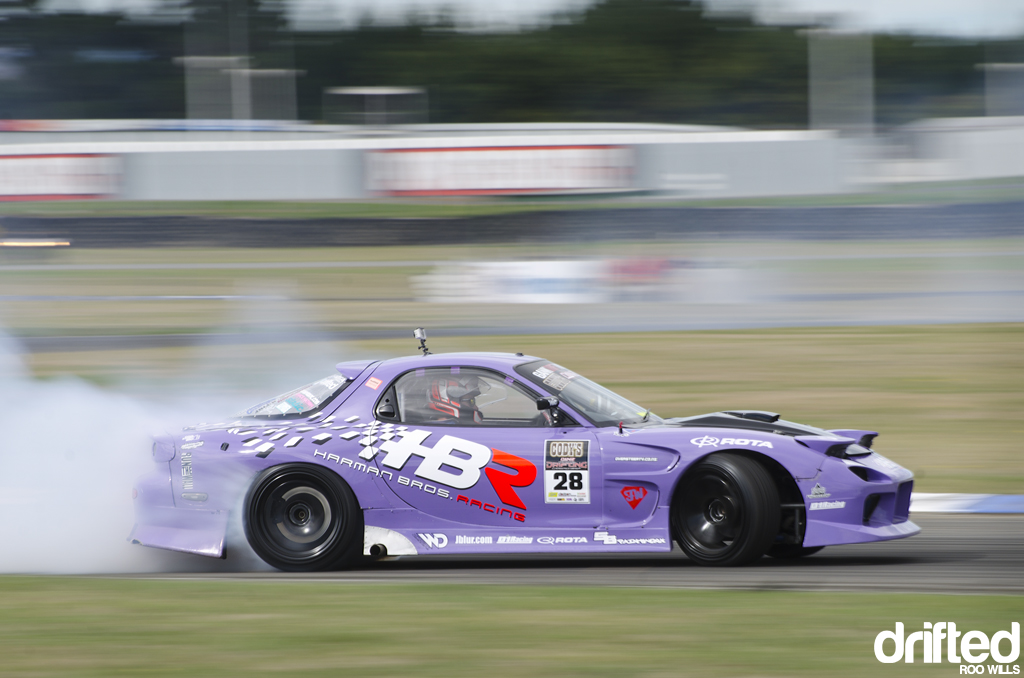 The range of cars and engine setups competing in this series is quite diverse. At this round we saw three different FD RX7's – one running an LS-series V8 owned by Johnny Latham…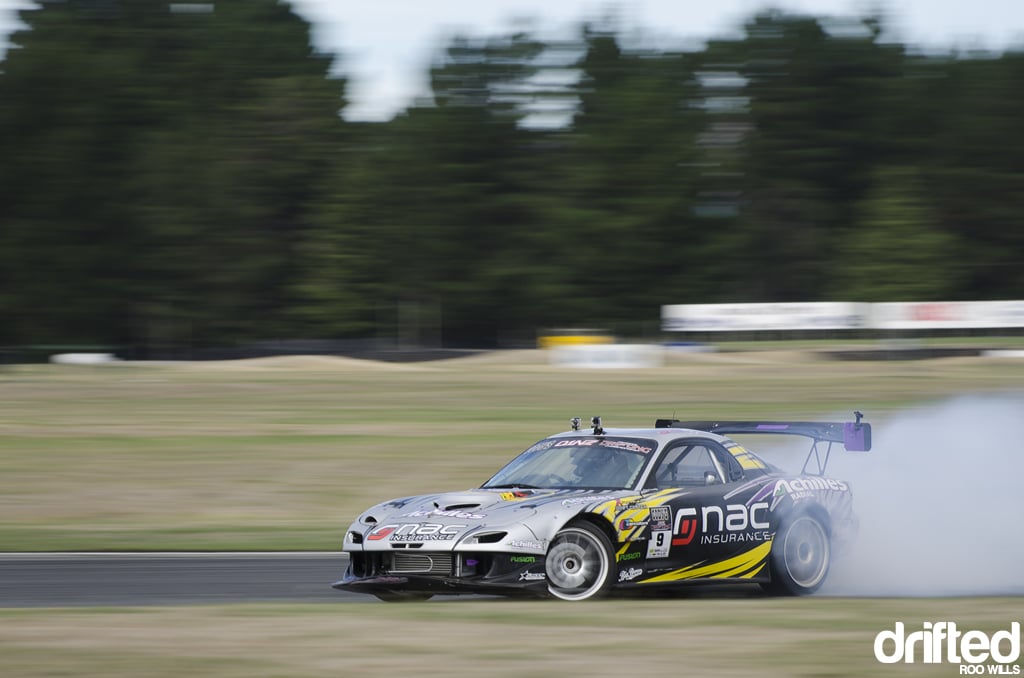 … another powered by a huge horsepower 2JZ…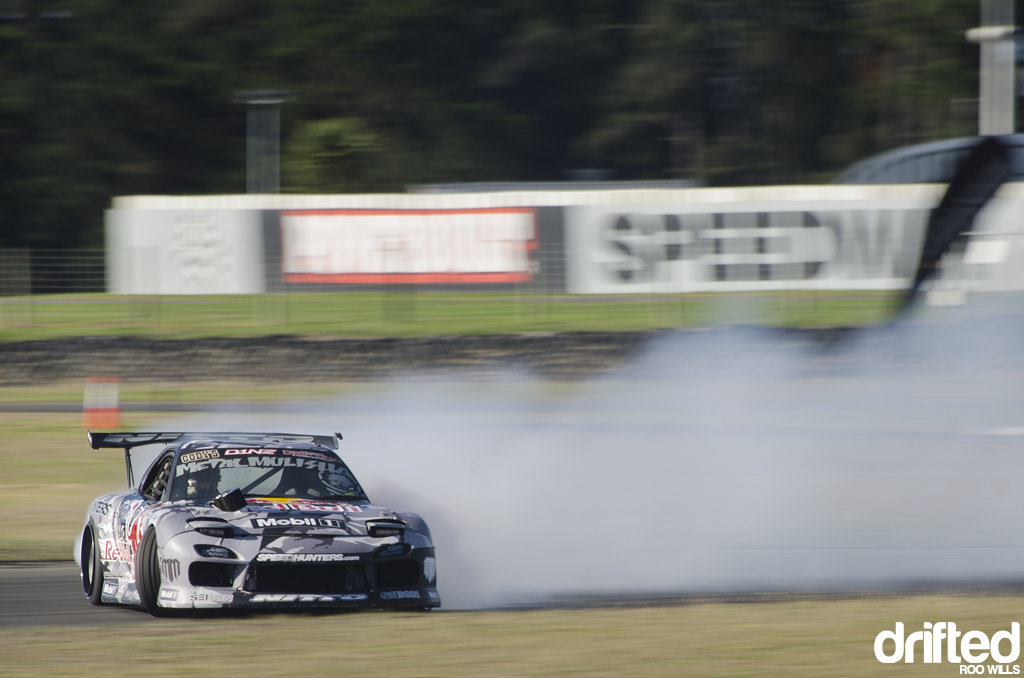 … and of course Mike Whiddett's screaming quad-rotor that sounds more like a symphony orchestra in full song than a rotary.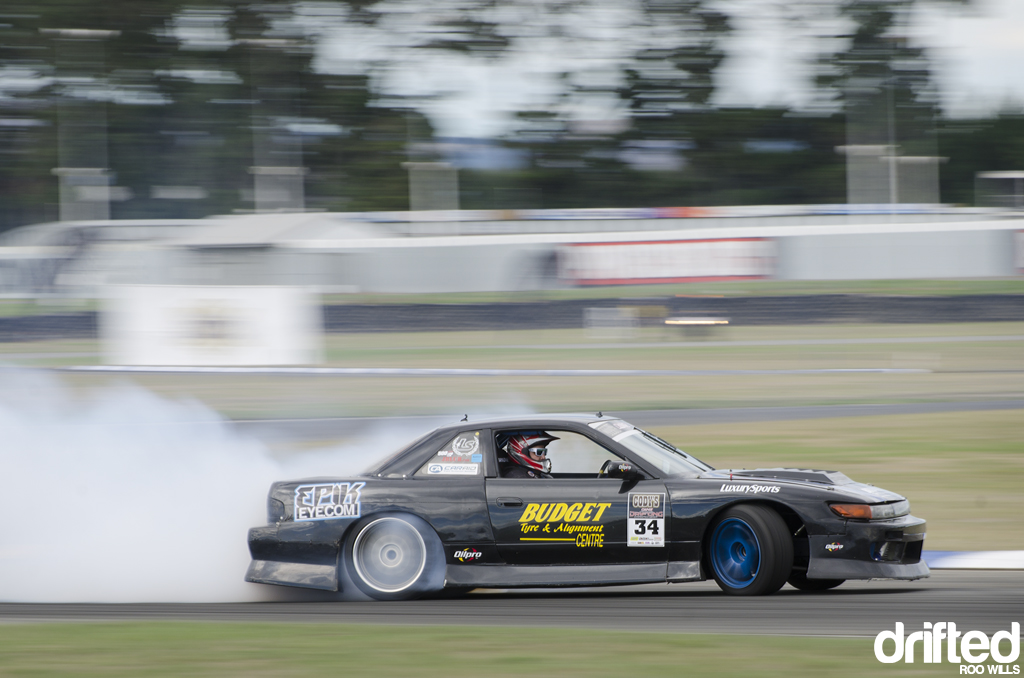 Cody Collis is also from Christchurch but has been competing in the entire D1NZ series so far, that's a lot of traveling considering 5 out 6 rounds are no where near his home city. And not even on the same island.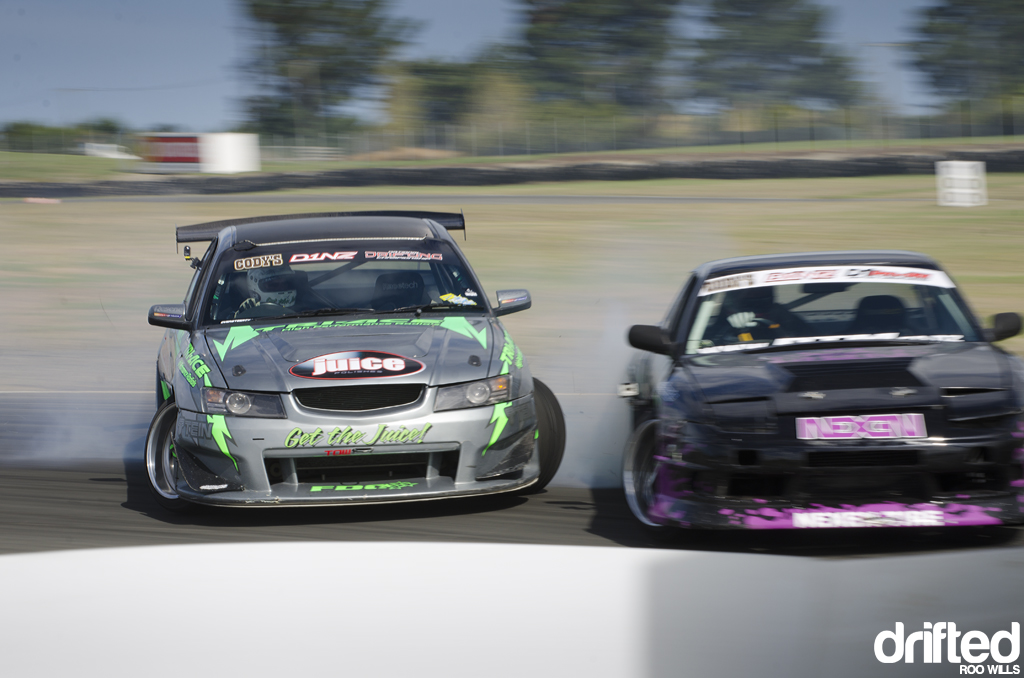 Fanga Dan Woolhouse was the man to beat. The former champ has shown real form so far this is season and is sitting in first place after 5 rounds.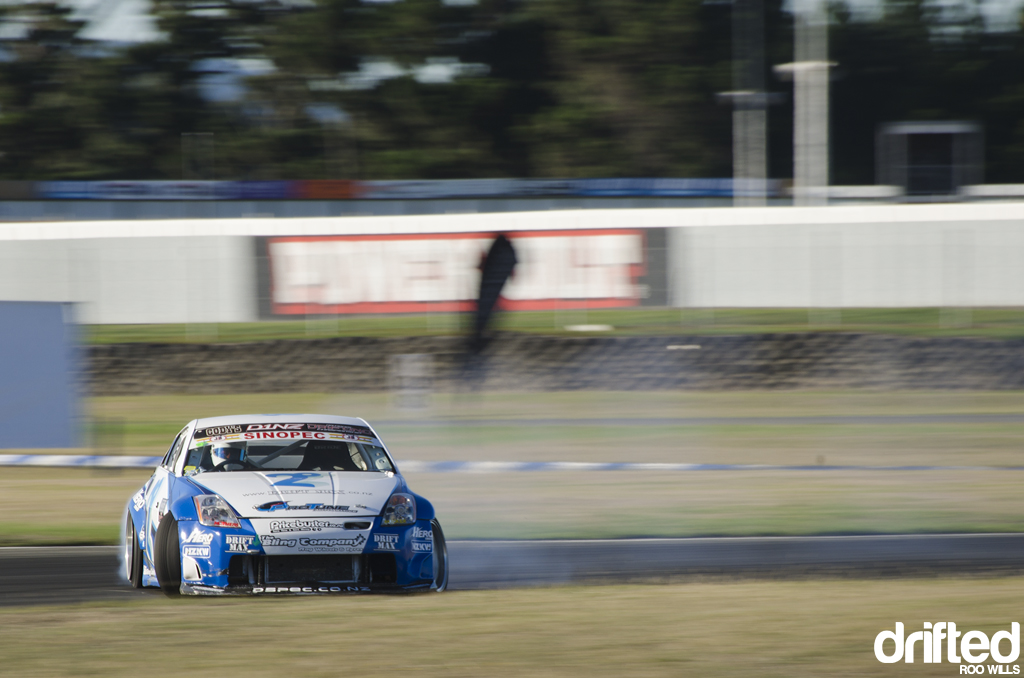 Turn 2 of the judged section at Ruapuna is one of my favorite corners to shoot in the entire country. It's dead flat and you can see them coming form ages away, pan and then fire when the time is right. I apologize for any repetition you may encounter in this article – I did take a lot of photos from this angle.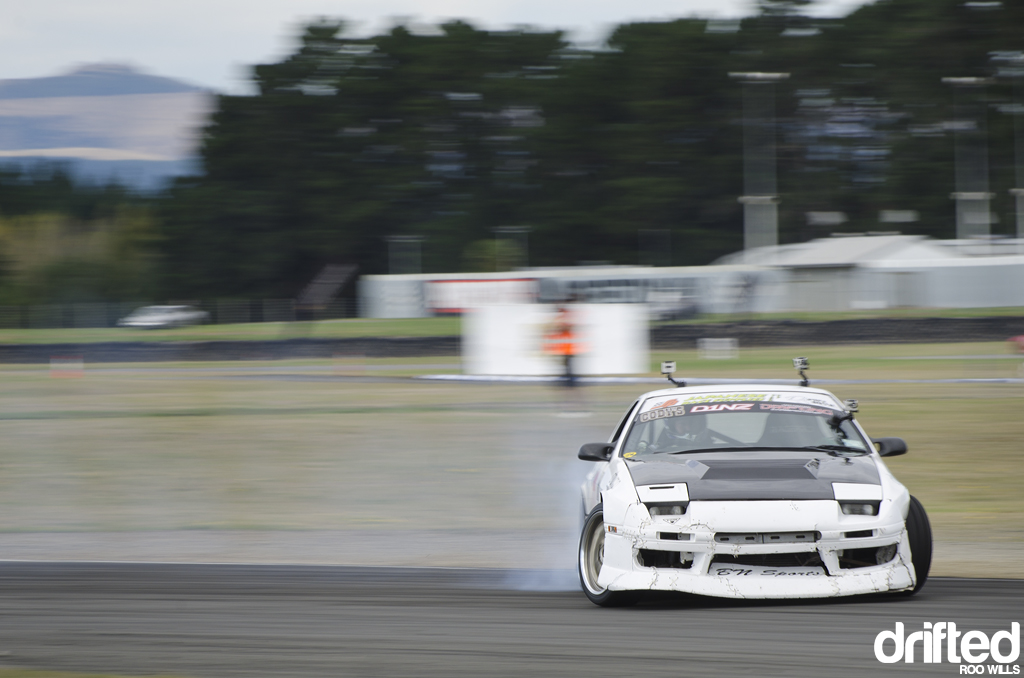 One of the things I love about NZ drifting is the vast mix of drivers and how they fund their passion. From the top guys with tyre, bodykit & oil sponsors to people like Guy Graham-Bagrie who pour all of their own money in week after week.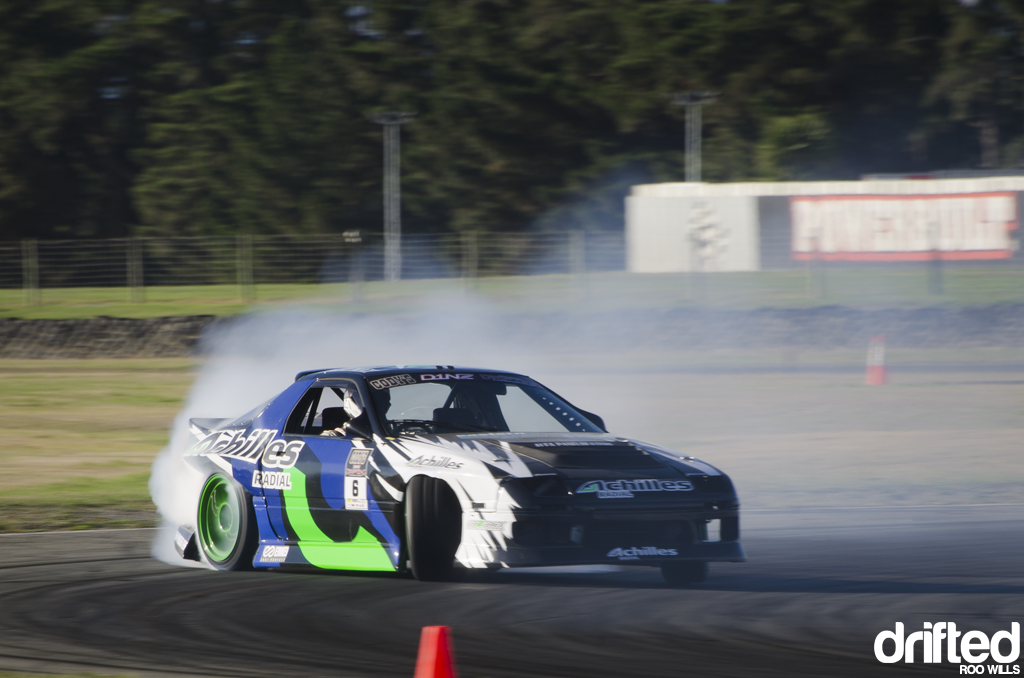 Angle king Andrew Redward had another solid weekend except for unfortunate gearbox failure which meant to he couldn't battle past the top 8. He is still sitting in third leading into the final round and will be looking to clinch his first championship.
I couldn't get over the number of fans and spectators that filled the stands over the weekend. During the lunchtime pit walk & driver signing is it was absolute chaos with queues of people waiting to meet their favorite driver.
During one of the only breaks in an action packed weekend it must be difficult for drivers to remain lively and upbeat for fans when all the really want to do is find some shade and relax before the battles ahead.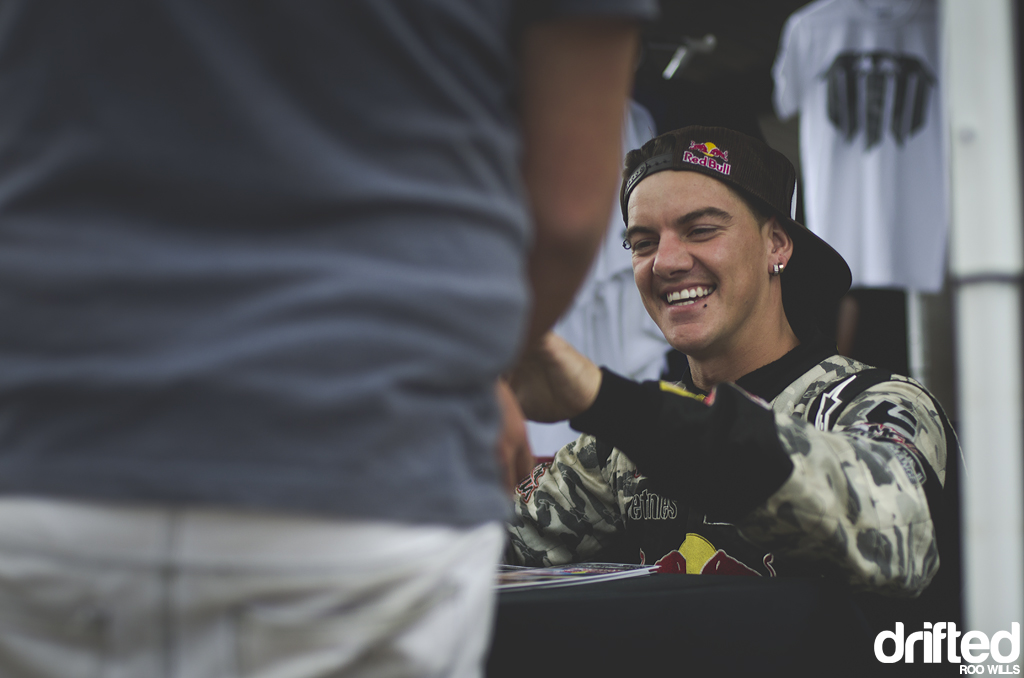 But no such slice of paradise is ever on the cards as fan after fan arrive in front of the drivers for their signature and a quick chat.
D1NZ also has a fast growing and popular Pro-Am feeder series. They run in conjuction with the big boys over the day thanks to an alternating and carefully worked schedule that keeps both drivers and spectators happy.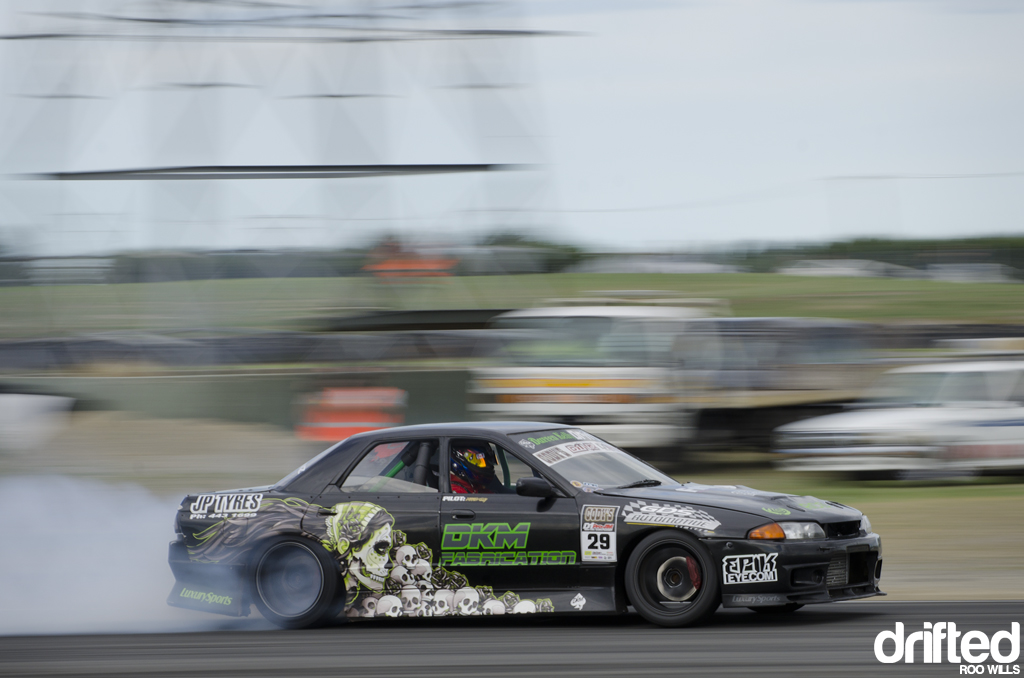 Australasian V8 Supercar star Shane van Gisbergen turned his hand to drifting this year and has been very successful in his debut season. Always qualifying higher and finishing above his previous round's placing. Unfortunately the Ford Falcon named 'Rattla' that he usually drives suffered form a cracked crankshaft. In true drifting spirit a flurry of offers from Pro-Am competitors came flying in. It astounds me that these guys offer their pride & joy – full of blood, sweat & tears – so freely to other competitors. Hat tip to Darren Kelly for lending Shane his R32 Skyline!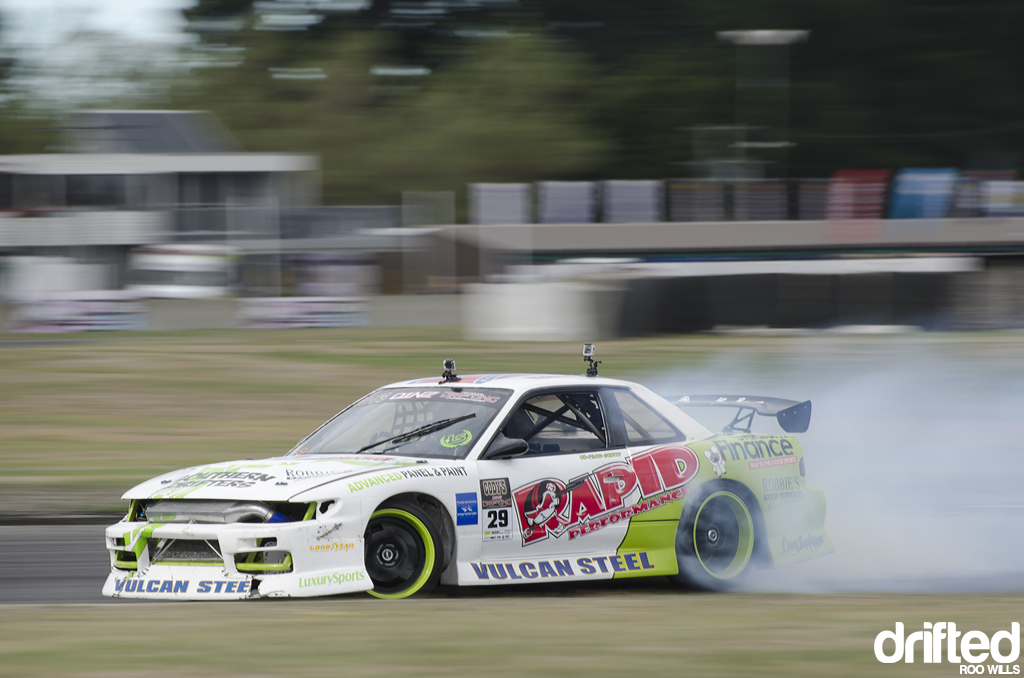 Another strong performer over the weekend was the father of South Island drifting – Troy 'Family Guy' Forsythe – he drives like a maniac and is definitely a crowd favorite.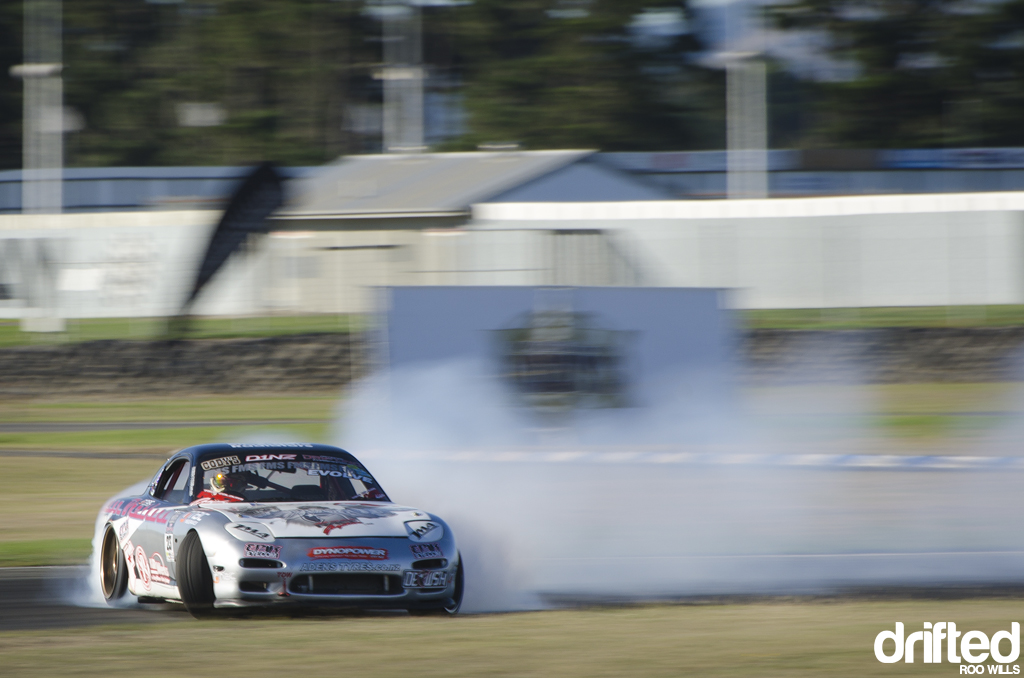 Aforementioned repetition. Sorry.
How good does Bruce's car look on track?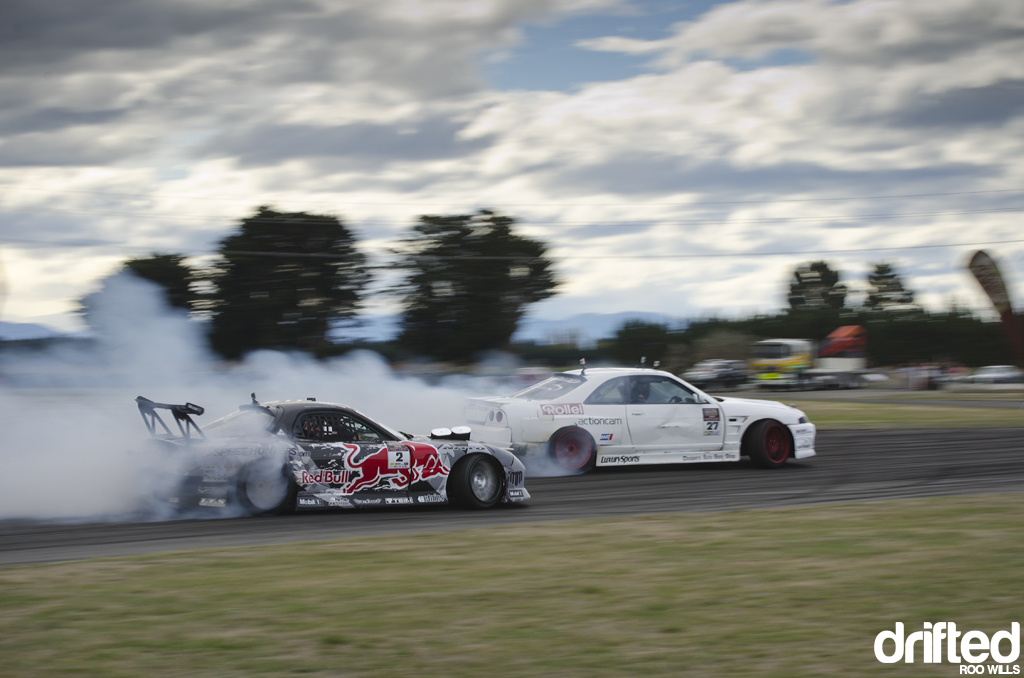 The battle combination of Mike Whiddett and Zak Pole is one we have seen a lot so far this season. And is always close. Mike is without a doubt the best chaser in the business, but Zak is learning fast. They have gone OMT on more than one occasion – I'd hate to be a judge when the level of driving is this good.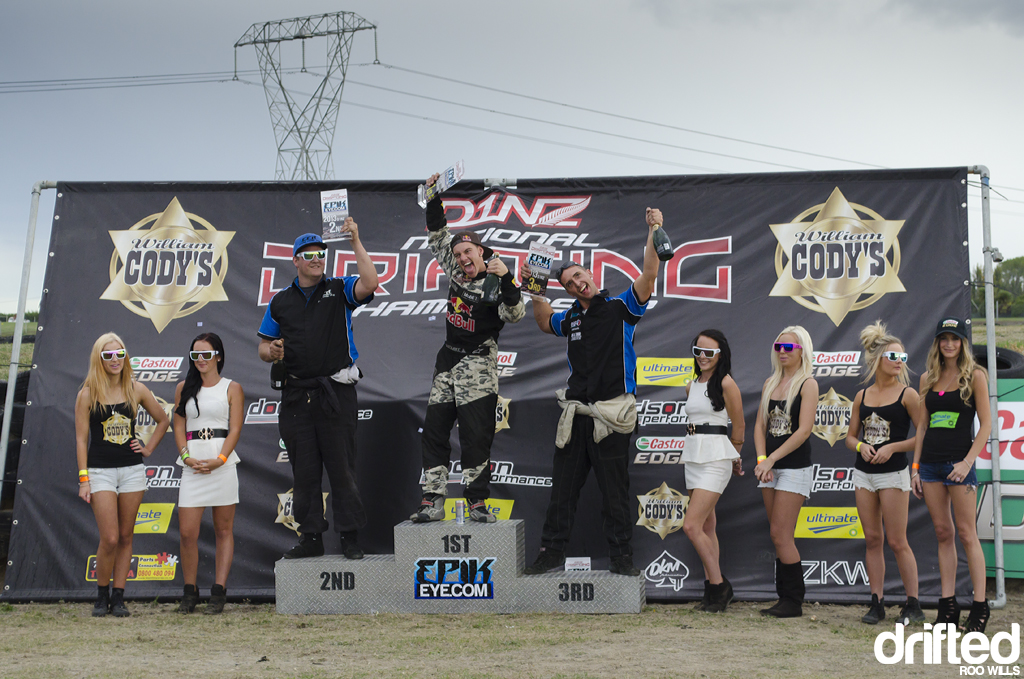 The top 3 for the weekend – Mad Mike in first, Cody Collis in second and Drew Donovan in third. There are now only 30 points separating the top 3 in the championship after round 5 – Dan Woolhouse, Mad Mike and Andrew Redward – and all three have the skill to take out the top spot at the Grand Final in a few weeks. Who will it be?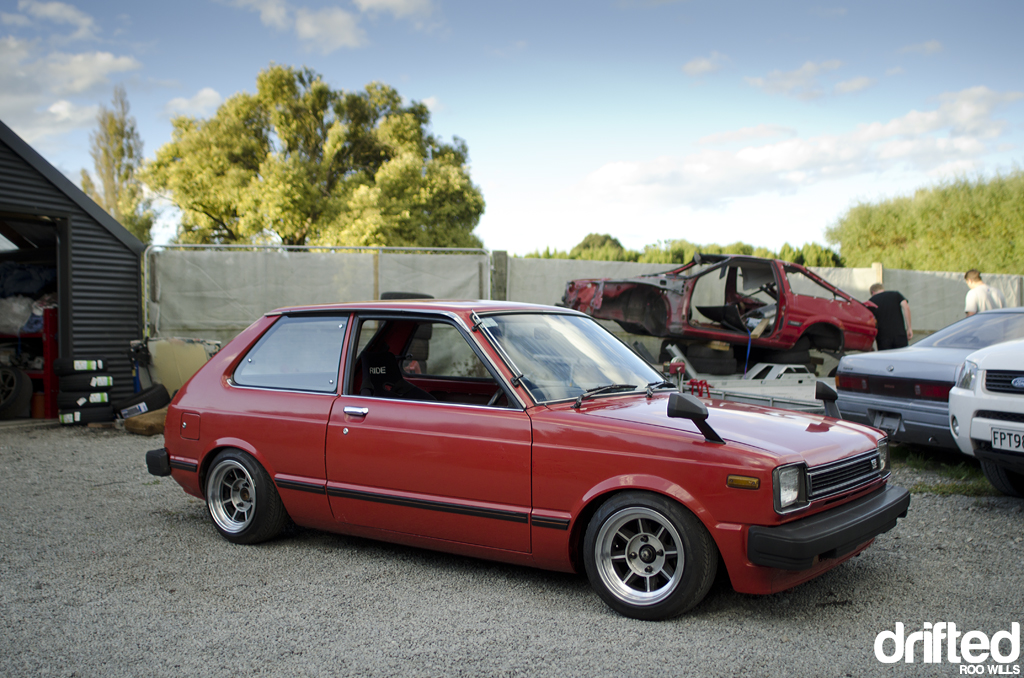 Although the drifting was over, my weekend wasn't quite finished until I had met some Christchurch folk that have a penchant for nostalgic Japanese cars and a more modern 180sx – all super low with appropriate wheels. This is Callum's rad little KP Starlet…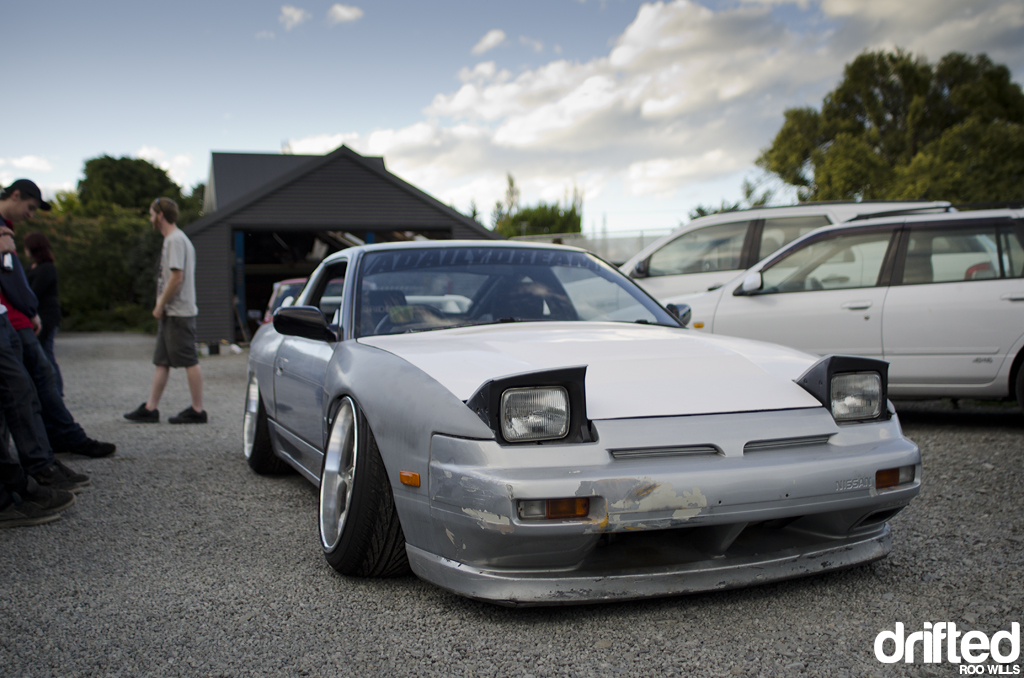 … and this is his brother's 180sx. Those massive front wheels and associated demon camber remind me of the REVIEW 180sx from Japan.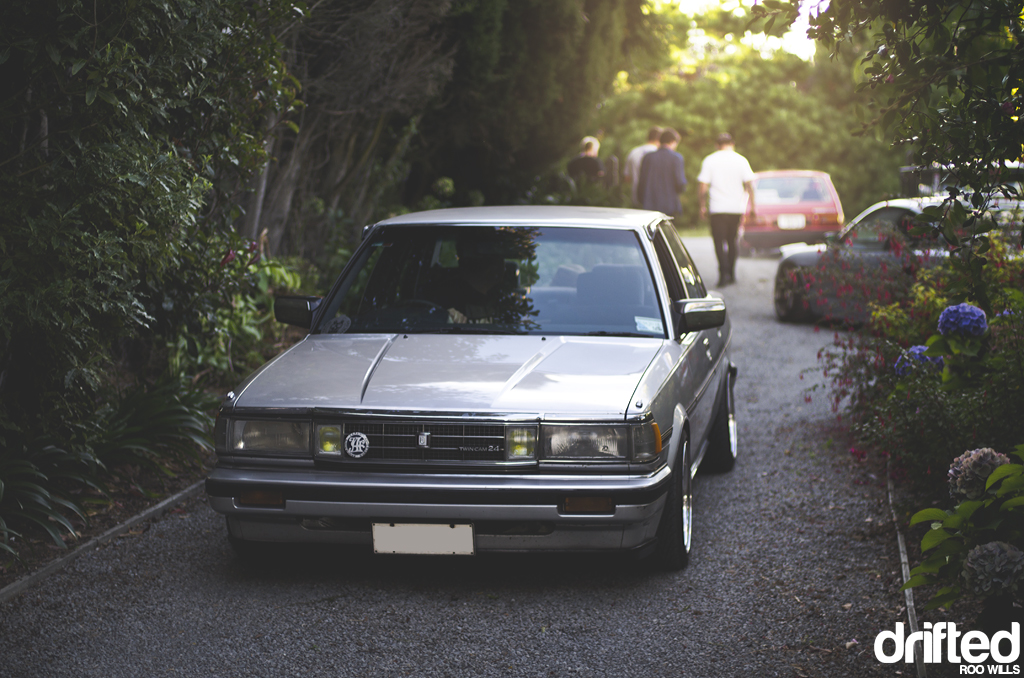 The trio was complete when James reversed his GX71 Mark II out onto the road.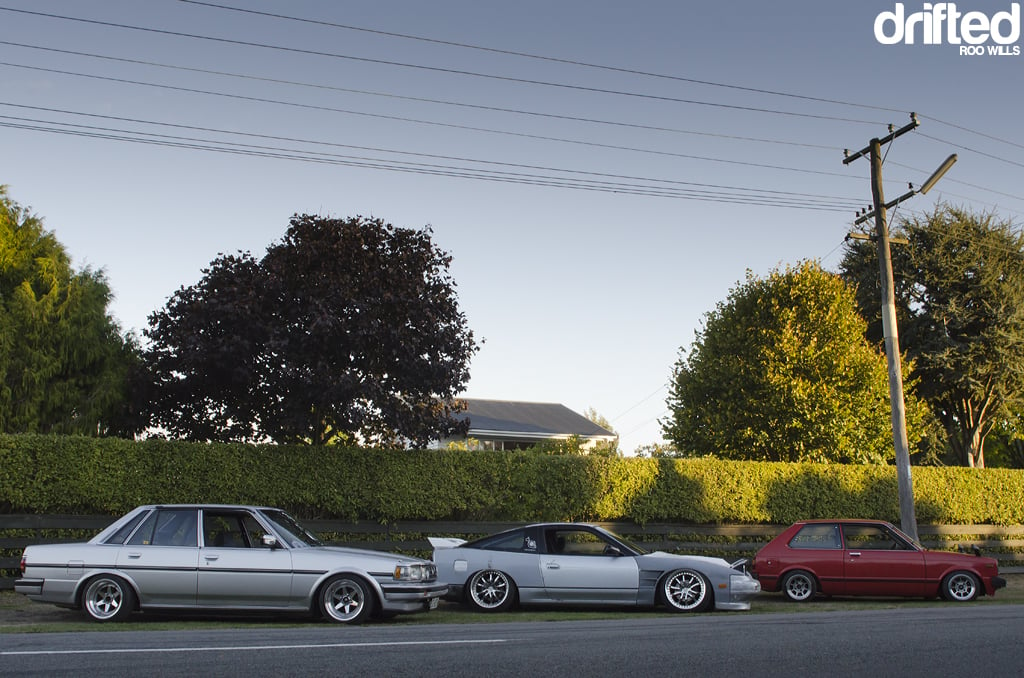 I know what you are probably thinking right now – what a groovy selection of cars. I thought the same.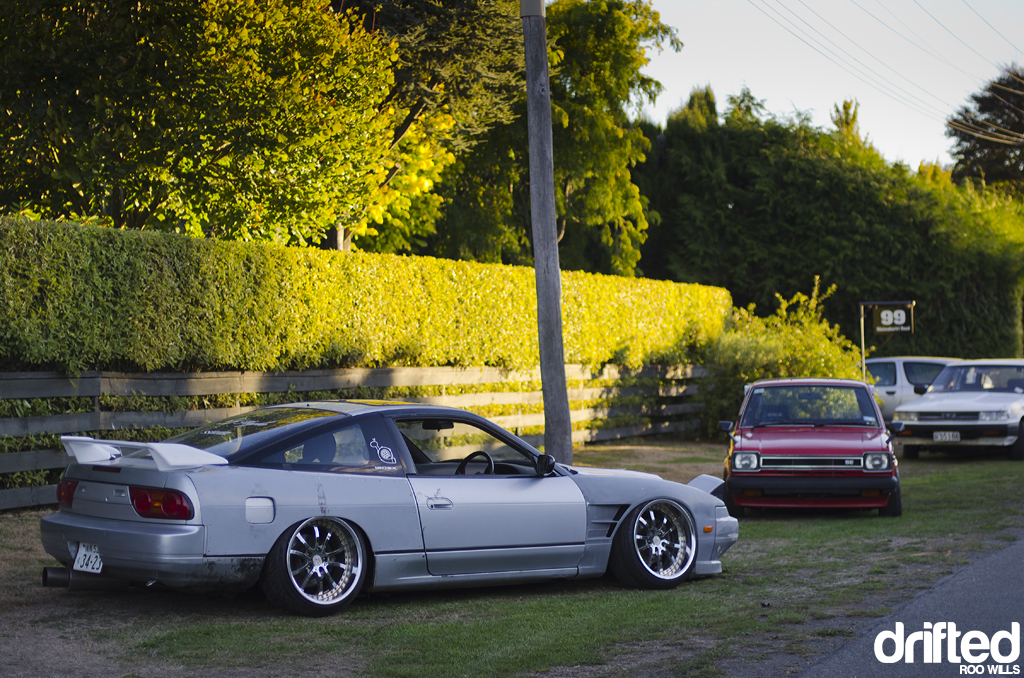 Thanks for your time guys, it was great to meet you!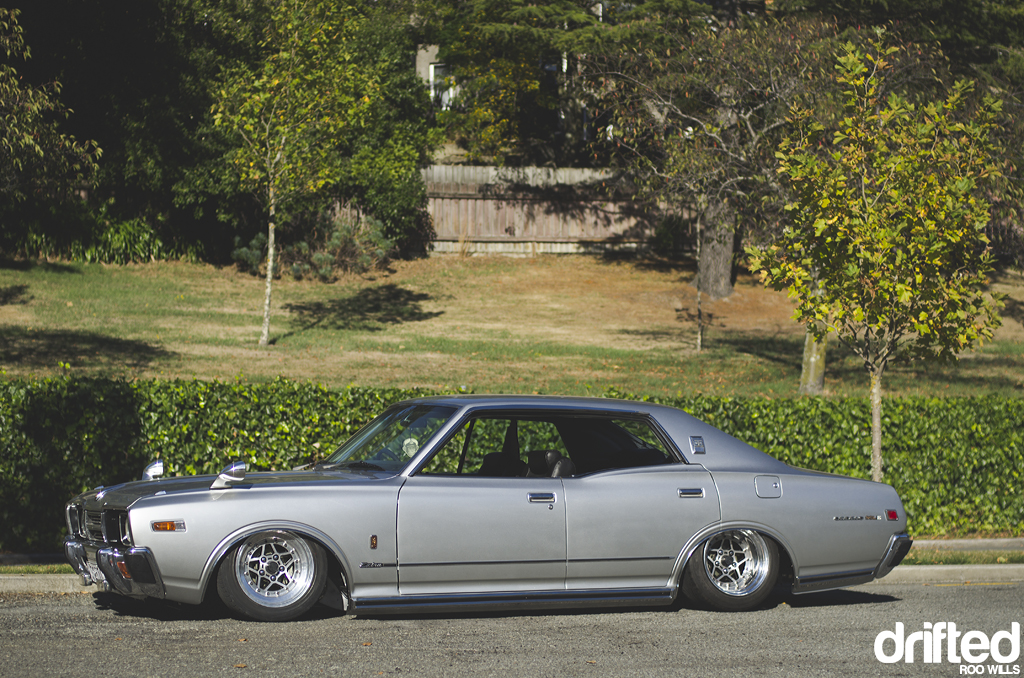 Our time in Christchurch had to end eventually, but on route to the airport we made one last stop. Meet John's Nissan Cedric 330. This is one of the most amazing cars I have ever seen. The VH41 powered, airbagged and completely restored Japanese classic exudes style & grace. It was a fitting way to end our 4 day weekend down south, big thanks to all the guys who pulled their cars out of the garage for me and especially the Boyce family for your lovely hospitality. Until next time!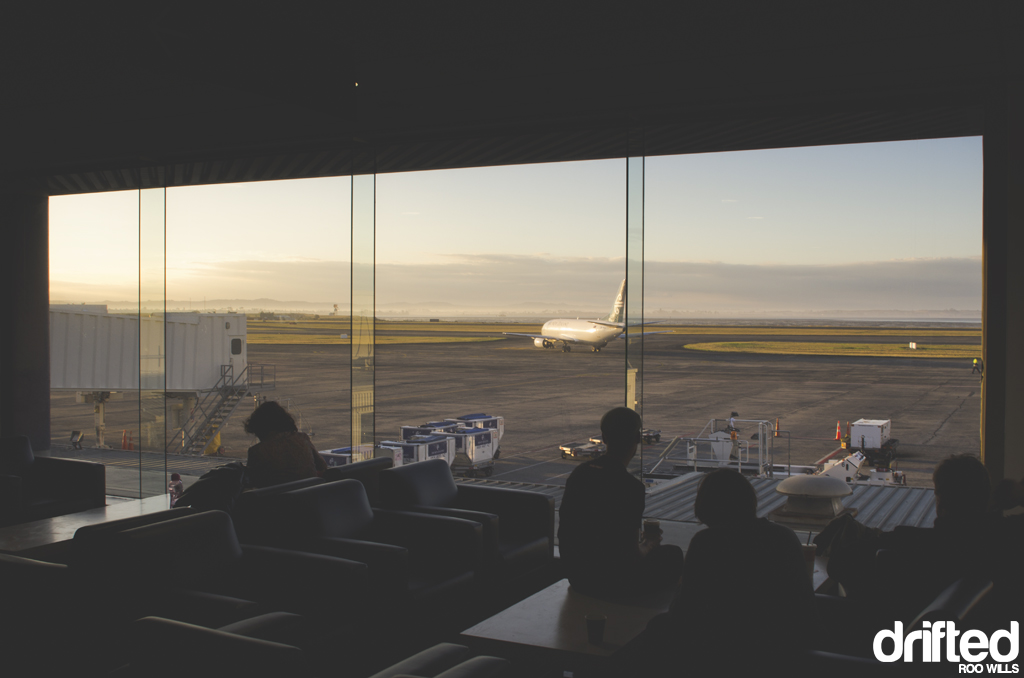 ::Roo Wills