EVENT: D1NZ 2014: Round Five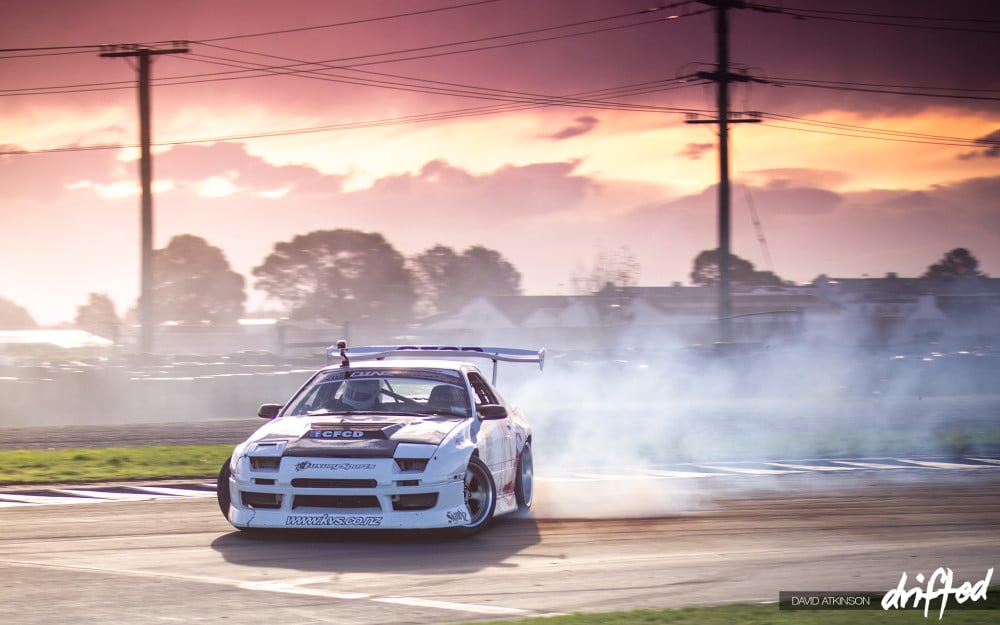 Round five of the Cody's D1NZ National Drifting Championship would see the series travel south to Christchurch city in New Zealand's South Island. Faced with either an 18 hour road trip or the expense of shipping the car down, it was a big commitment from the teams.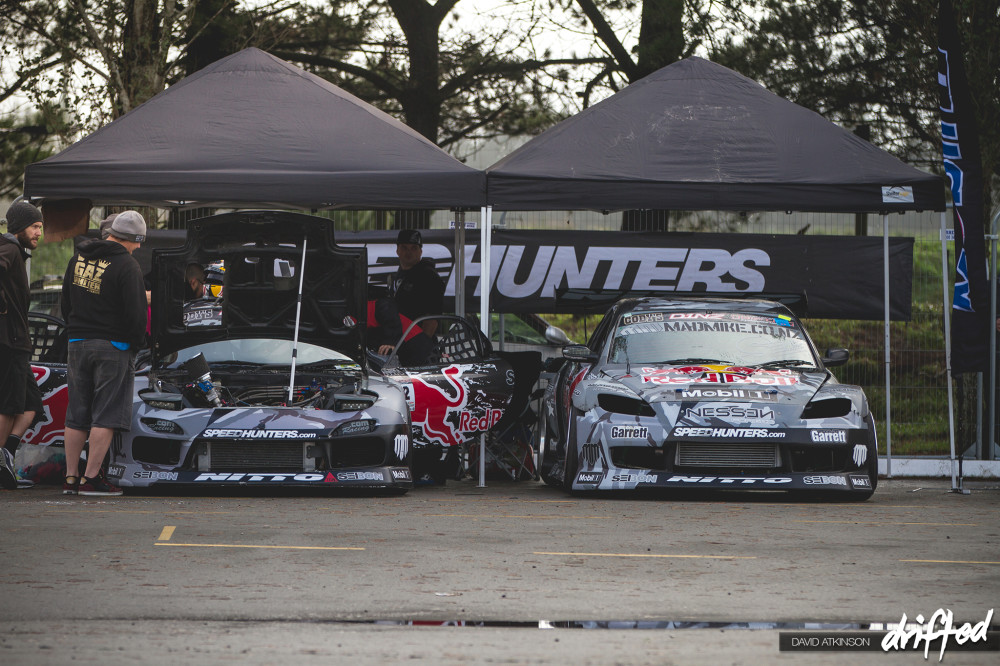 Mad Mike Whiddett chose the option of shipping everything down including both drift cars – the Madbul Rx7 and Badbul Rx8. We don't normally see both cars together so it was a cool sight especially for the southern based fans.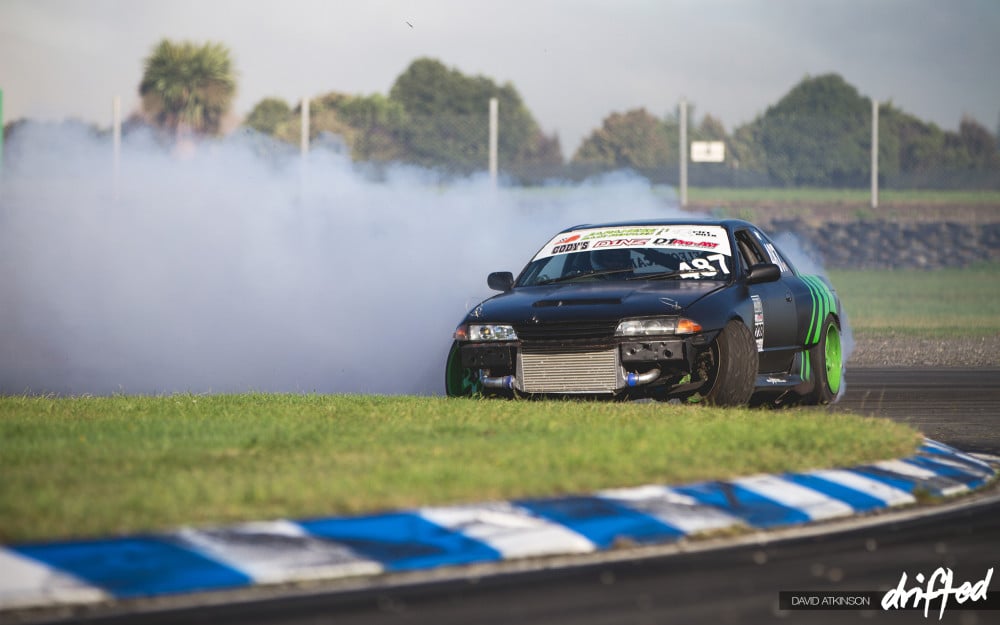 Of course there were quite a few local drivers entering this round too, which would amount to the biggest field in D1NZ yet. The locals knew Ruapuna Raceway like the back of their hand and would definitely be laying down a challenge come battle time.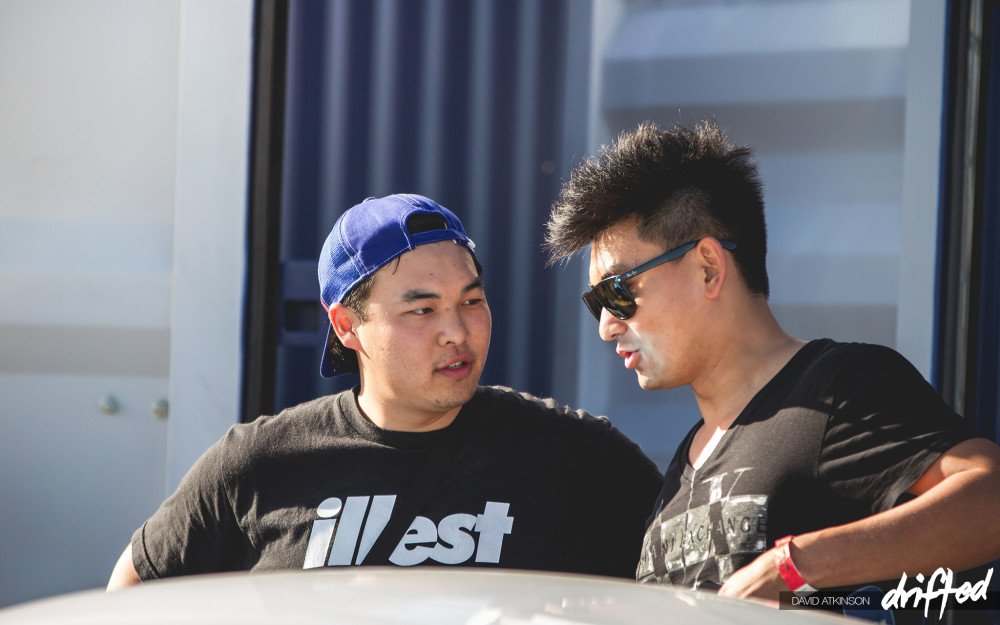 The Ruapuna circuit is the longest drift section all year, much longer than any of the other tracks we visit. Combining this with the high speeds and warm conditions meant tires would only last one or two laps. Drivers had packed their containers to the brim with spare tires and some were still worried they wouldn't have enough.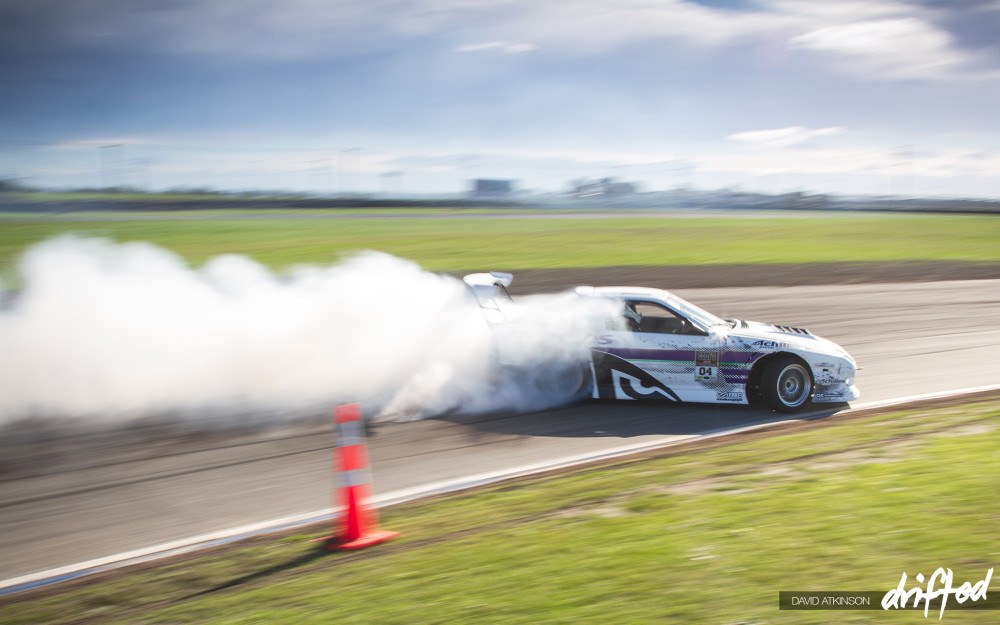 Having never visited this track before it was cool to shoot a new location. The fast flowing, cambered turns reminded me of Taupo motorsport park.
Near the end of the circuit was a small hill that dipped into a long left turn. I could see a few of the drivers were having trouble mastering this part of the track and it made for some cool shots when they went off.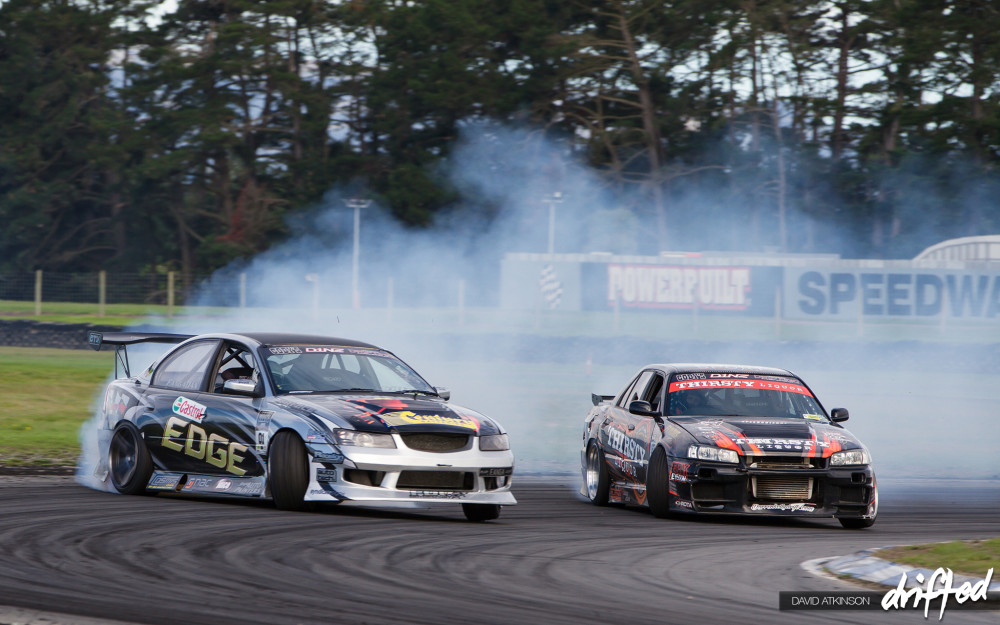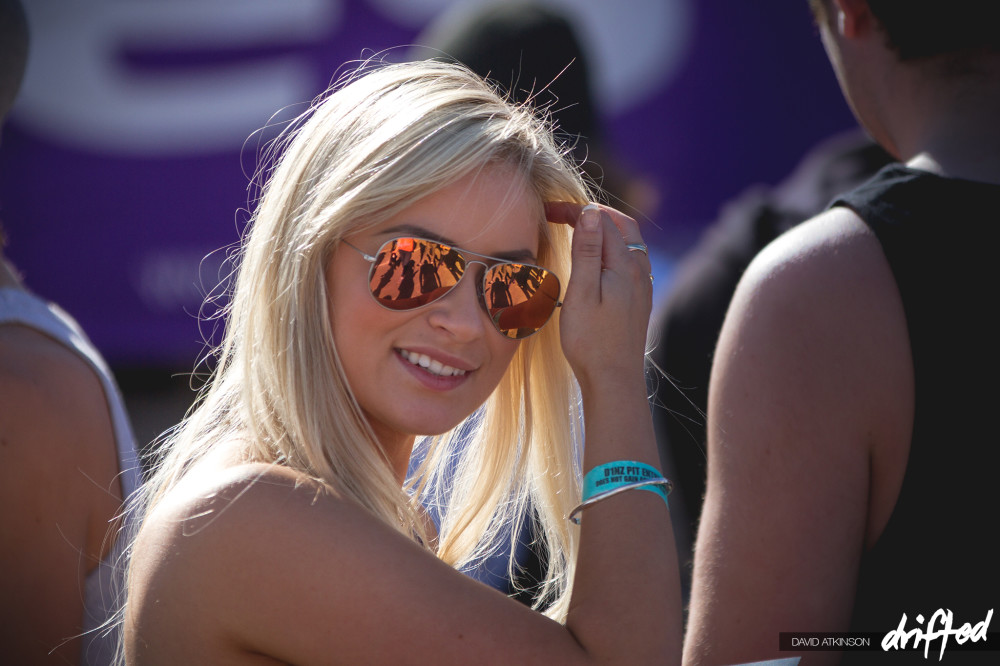 I flew into Christchurch a few days early and was there to shoot practice and setup. The weather was atrocious with a small cyclone passing overhead. Luckily it cleared up for the weekend.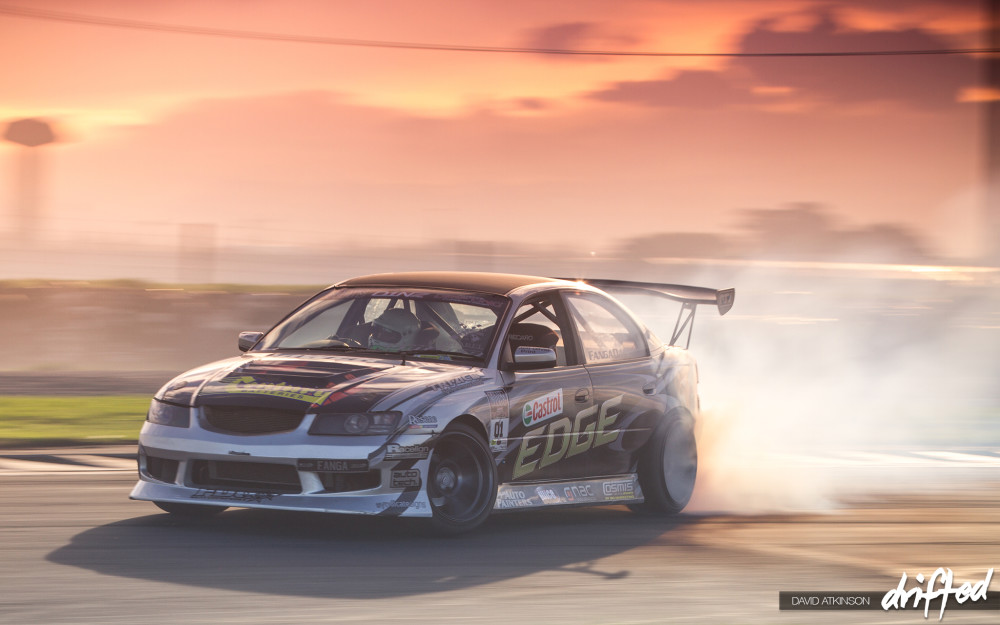 On to qualifying now with Fanga Dan Woolhouse claiming third spot with an 86 point run. We're still waiting patiently for Fanga to debut his new VE Commodore in competition. Currently in fifth place in the championship, my guess is he would prefer to compete in the more familiar 'old girl' and release the new car next season.
Taking second place was 'angle king' Andrew Redward in the Achilles Radial FC RX7. Redward will have been praying for mechanical dramas to hold off after a strong performance at Ruapuna last year was cut short due to a failed bearing.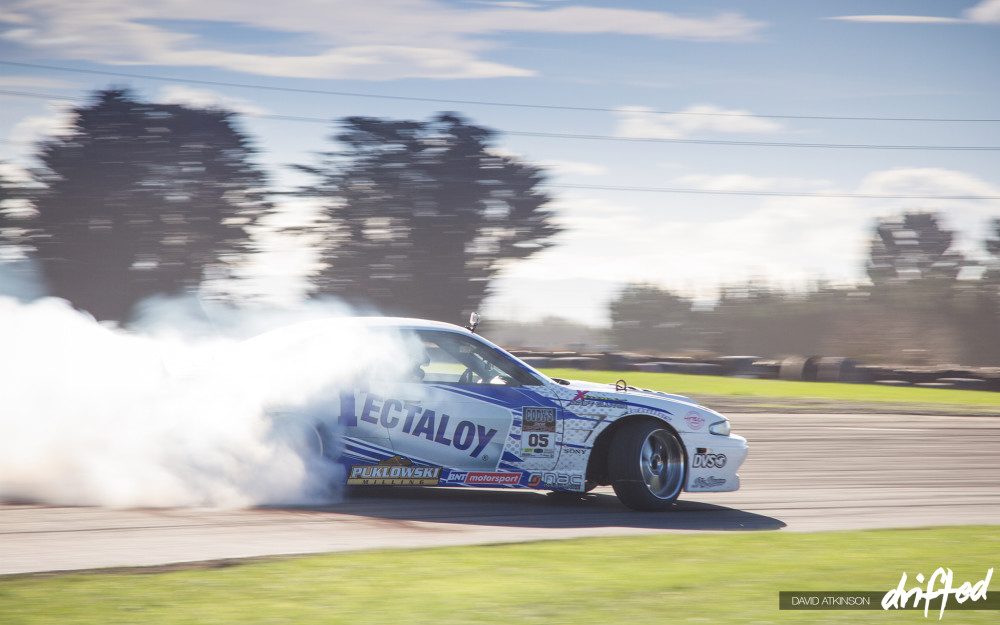 Gaz Whiter secured first place in qualifying with an 88 point run in the Tectaloy S14. The LSx powered cars were looking to be strong competitors early on with a 1, 2, 3 qualifying result.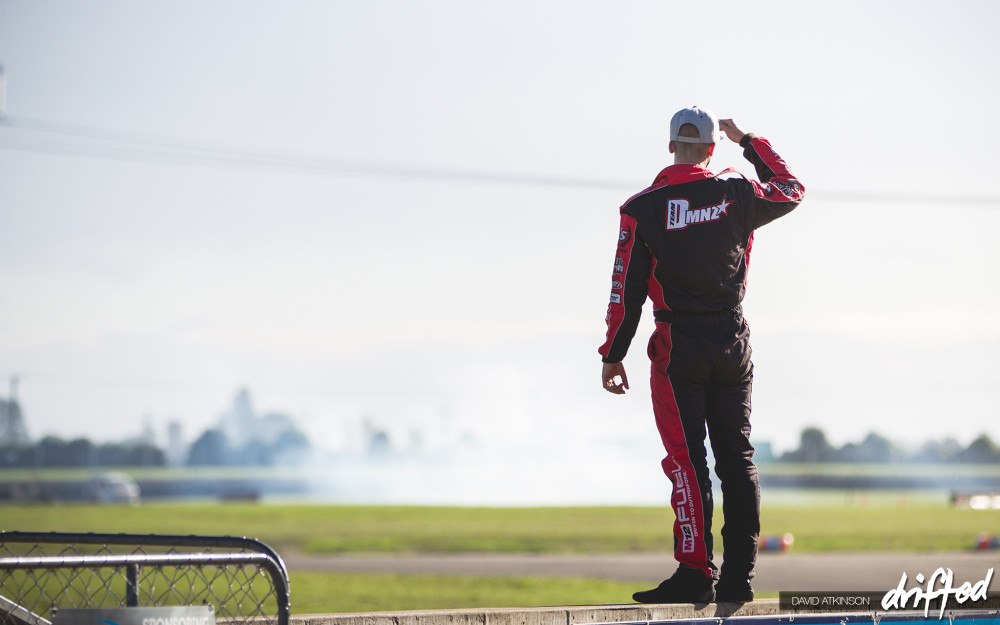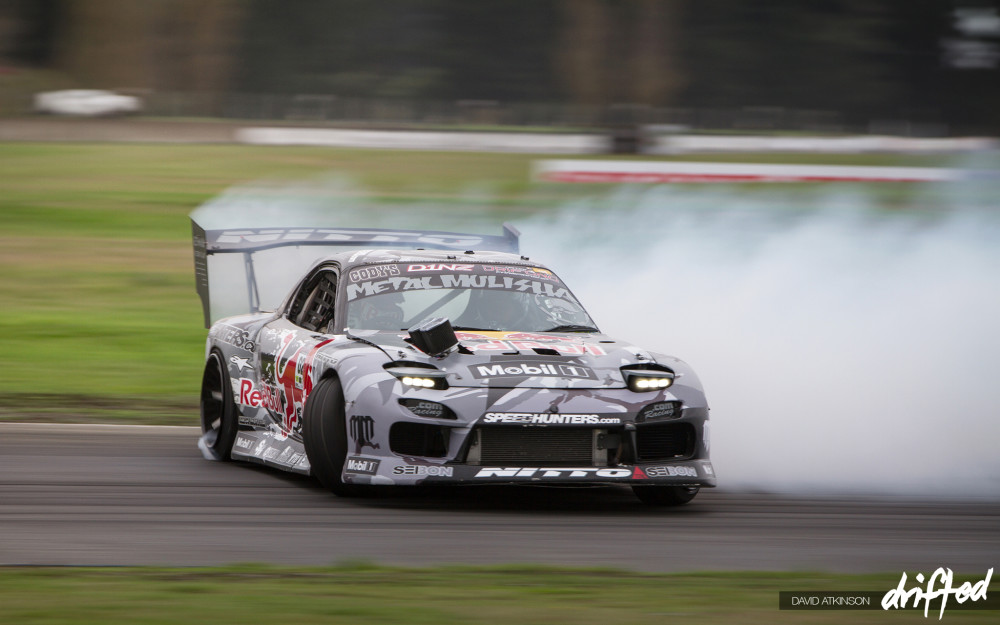 Mad Mike chose to take the RX7 out for a spin first, the new wing plates giving it more of a batmobile look. I'm looking forward to seeing the changes Mike is making to his cars in future, including the Miata / MX5 build currently in the works.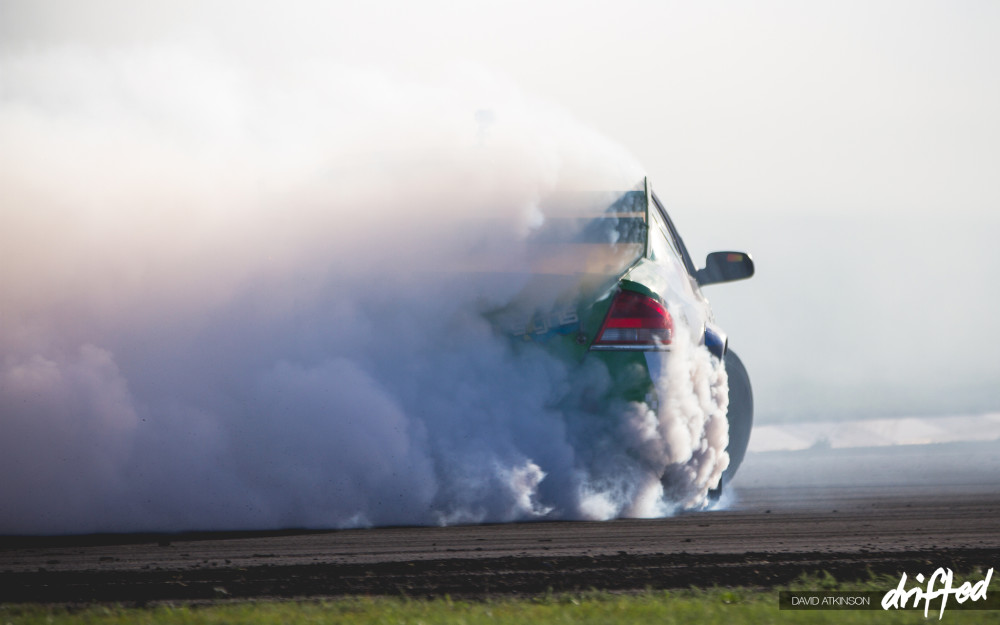 I'm told the Rattla Motorsport Falcon went through 64 tires over the weekend. Sixty four! – and it's not hard to see why. Under the bonnet is a 460ci Ford V8 pushing out over 800hp. One lap and the tires are gone.
A flag marshall box near the middle of the section was nice and close to the track allowing photographers to get a variety of different shots.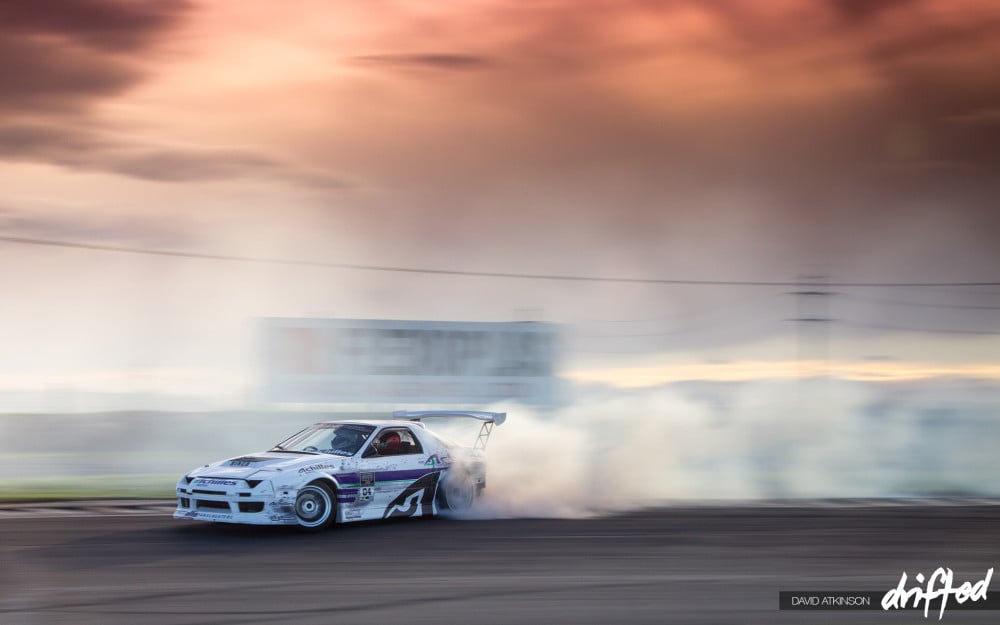 As Saturday practice drew to a close an amazing sunset revealed itself. Knowing it could disappear pretty quickly I ran down to the end of the track and switched lenses to capture it as best I could. I think every round should run into the sunset!
Another Achilles Radial car was South Island local Joel counter's S14. Joel hasn't made the Northern D1 rounds so it was cool to see all three cars out flying their team flag.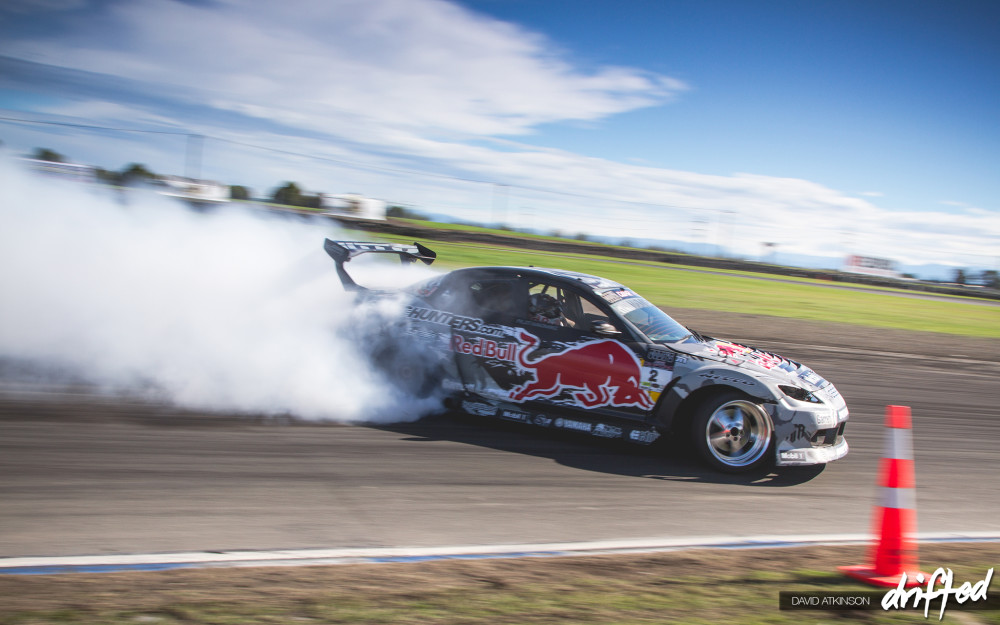 It was still unclear which car Mike would be using for competition but he was getting some seat time in both just to be sure. The RX8 was looking staunch with the headlights removed and sitting on Work Equips for a change.
During the Sunday pit walk it dawned on me how packed the event actually was. They sure love their drifting down in Christchurch!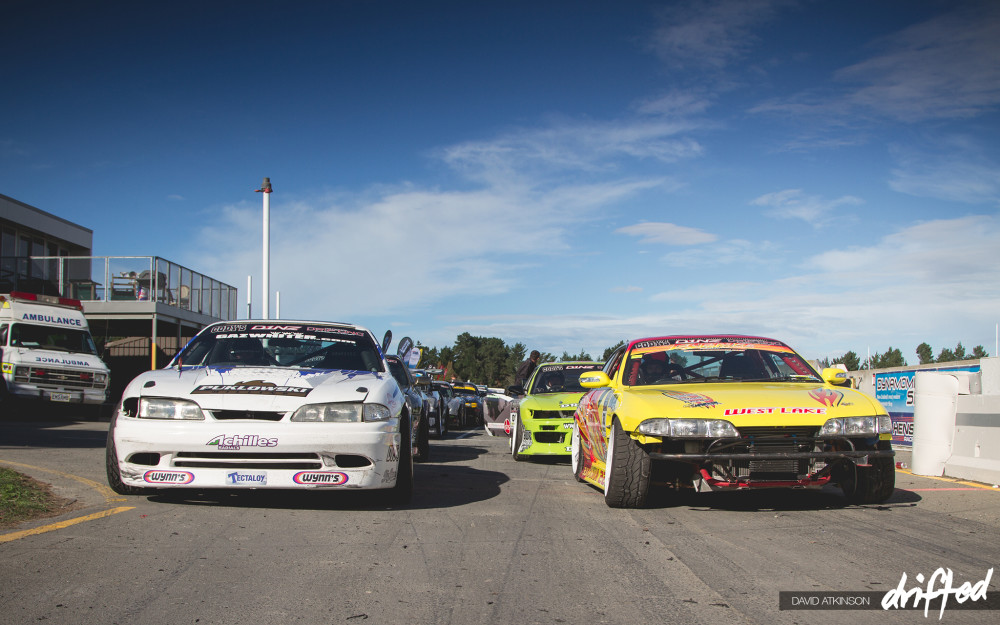 Kicking off the top 32 battles we had Gaz Whiter vs Adam Hedges. The C's Garage Silvia was running double duties with both Adam and Joel in the Pro-Am class over the weekend. Whiter went on to win the battle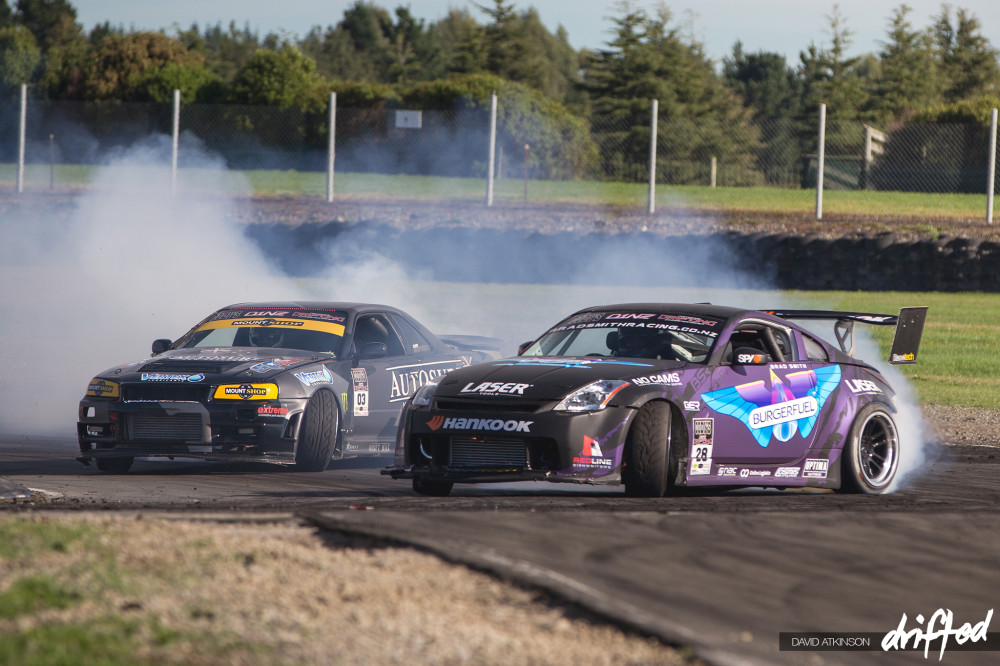 Brad Smith in the Burger Fuel 350Z went up against Curt Whittaker in their top 32 battle. Smith's supercharged VQ35 laid down a good lead run but Whittaker's chase proved to be closer overall and saw him into the top 16.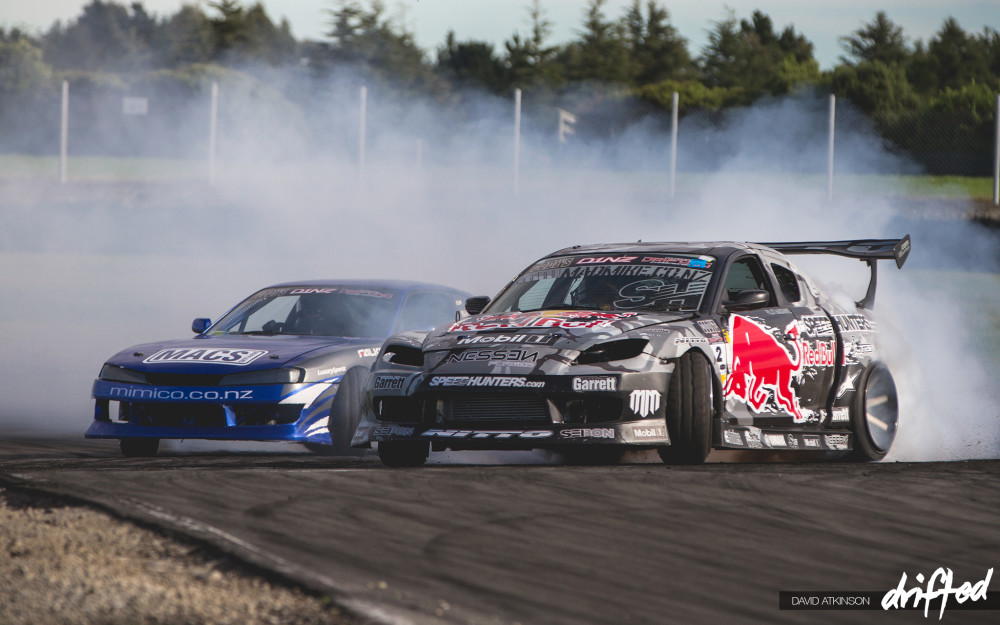 The most controversial battle of the day however was Mad Mike Whiddett against Dave Steedman. After Steedman spun out and was given a zero it was surprising to hear that after Mike straight lined in the next run he too was scored a zero, the battle going one more time. The judges had stated earlier that re-initiating drift would be a points deduction rather than an outright zero. In the following run the RX8 cut out completely and Mike couldn't complete the drift section, Steedman going on to top 16.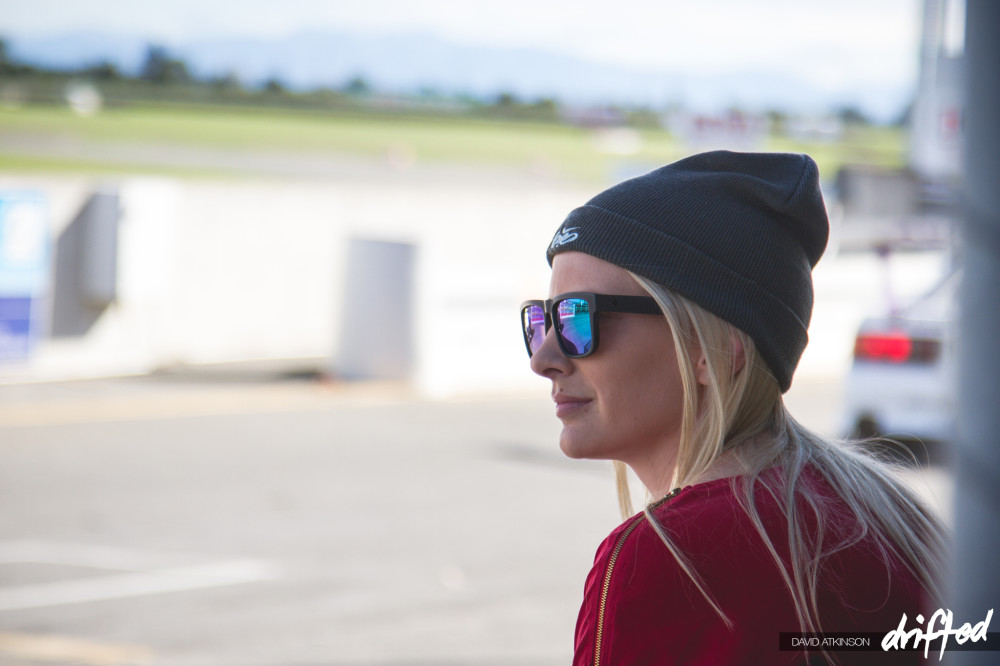 It was a classic V8 Supercar match up of Holden vs Ford with Fanga Dan against Shane Van Gisbergen in the top 16. It was a great battle to watch up close with SVG going on into the top eight.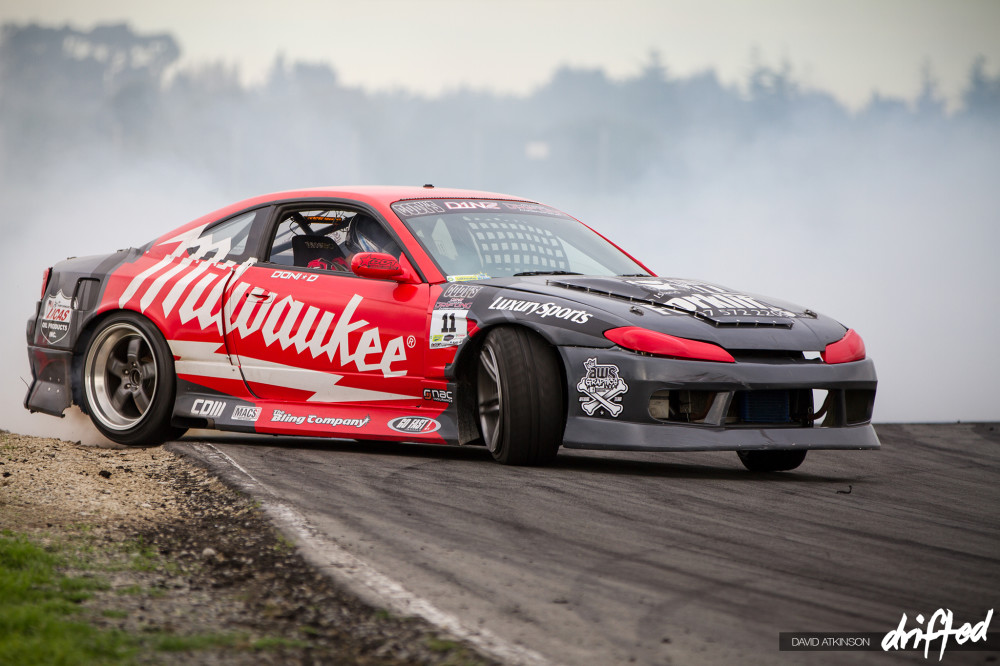 With a bye in the top 32 Drew Donovan came up against Aden Omnet in his top 16 battle.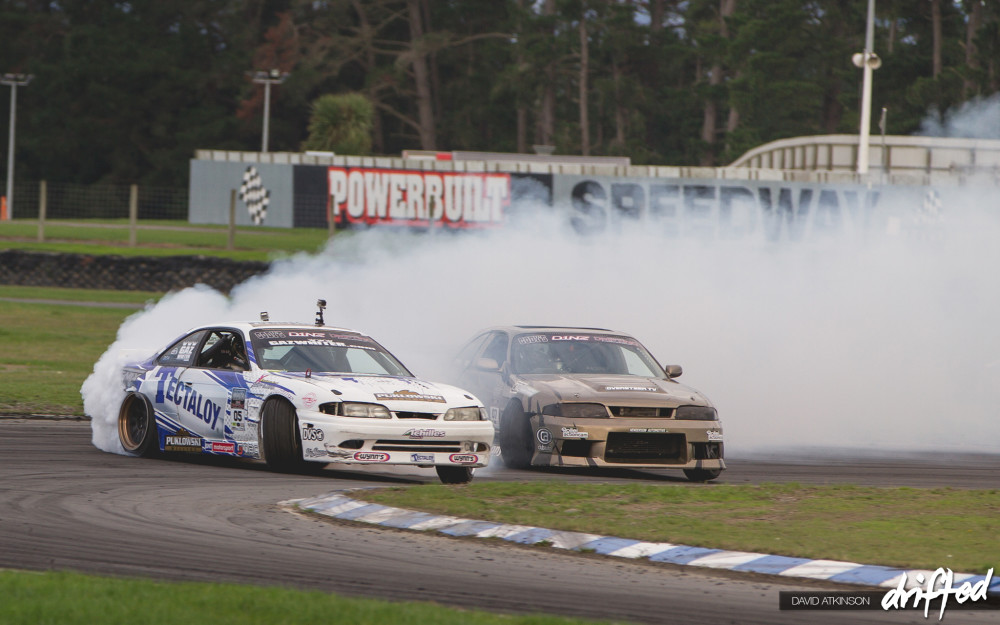 Zak Pole and Gaz Whiter went head to head in the top 16 with Zak offering up quite a close chase run in the R33. More consistent driving and creating a gap near the end of the track was enough to give Whiter the win.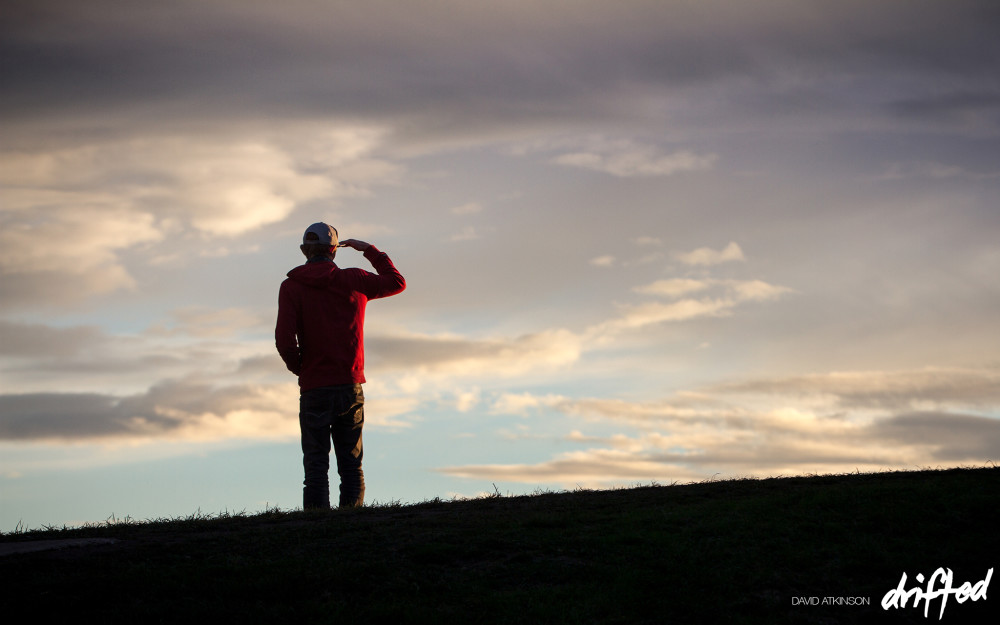 It was great to end the day with another setting sun as the top eight battles kicked off.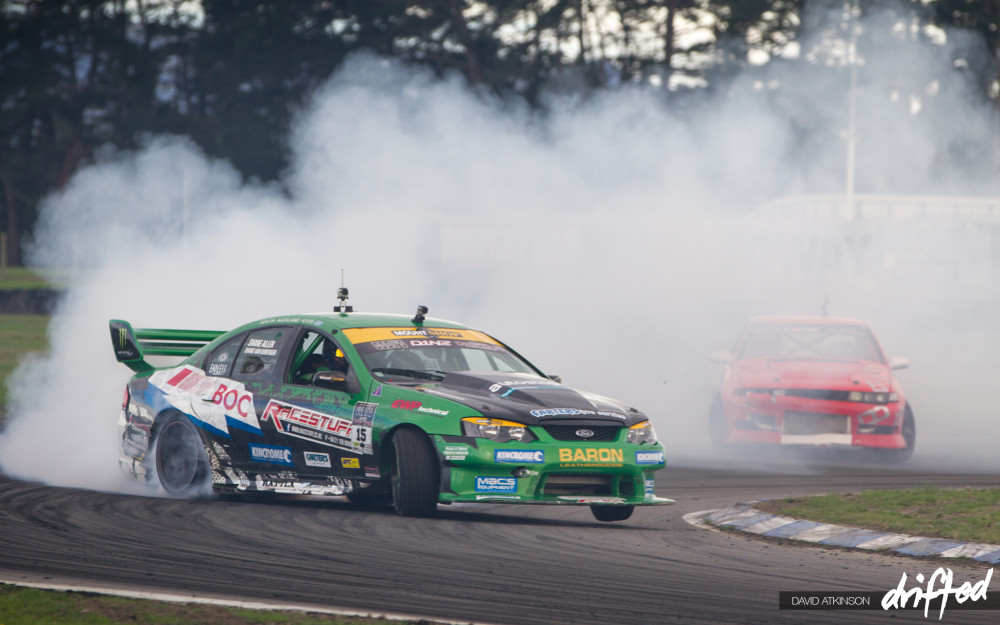 Phil Sutherland was on a roll in his A31 Cefiro first taking out Nico Reid and then Bruce Tannock. The South Islander then met Shane Van Gisbergen in the top eight and simply couldn't keep up but did the local crowd proud anyway.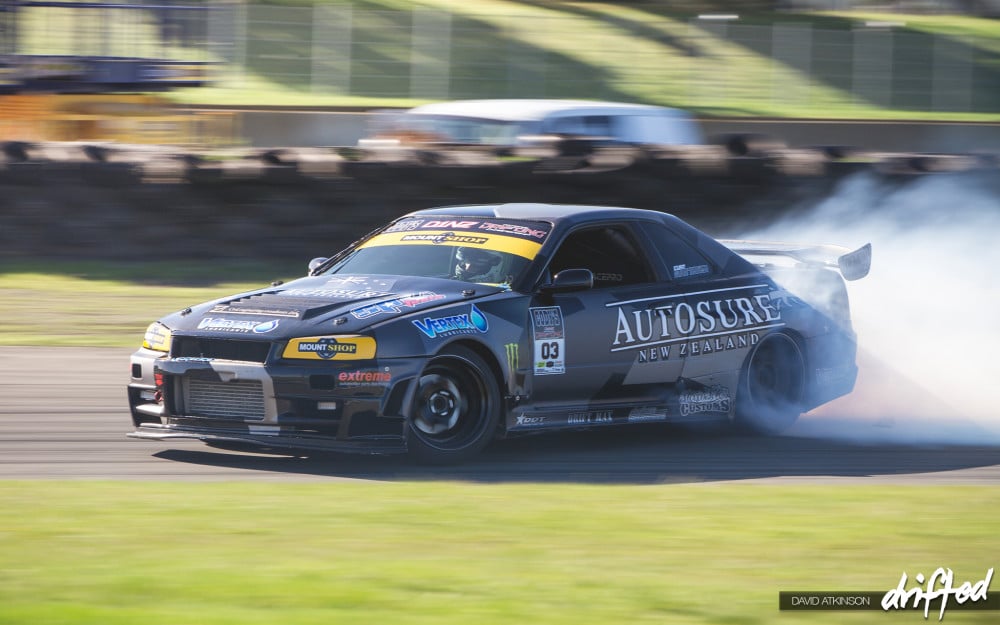 Curt Whittaker met Drew Donovan in his top eight battle but a blown diff put an early end to his weekend. Drew moving on to top four.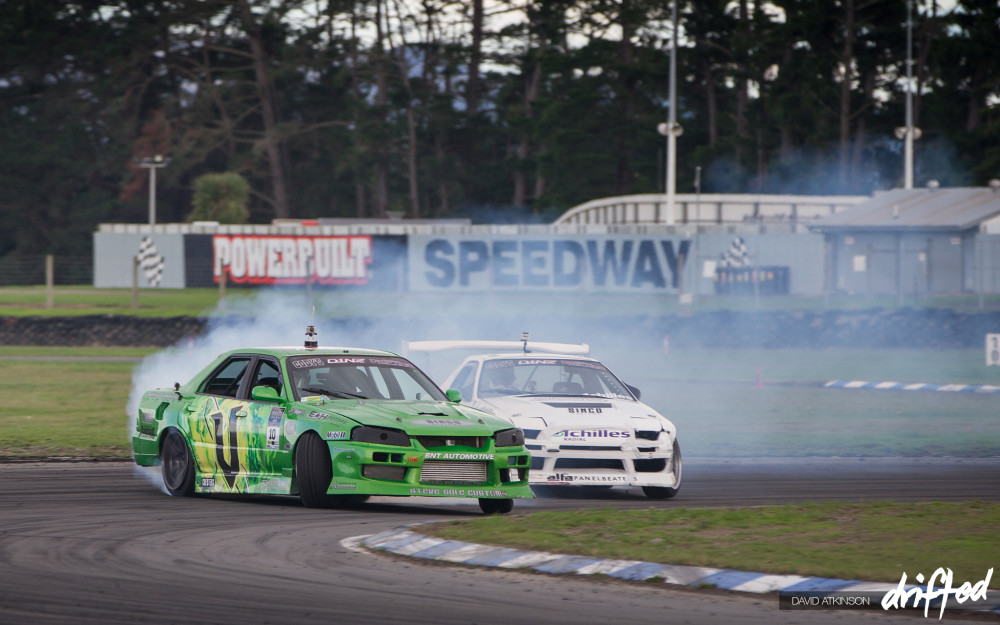 Having beaten Jacob Hakaraia in the top 16 Cole Armstrong faced off with Andrew Redward in the top eight. With the FC's chase looking on point throughout the section and the track seemingly in favour of V8's, Redward went on to the top four.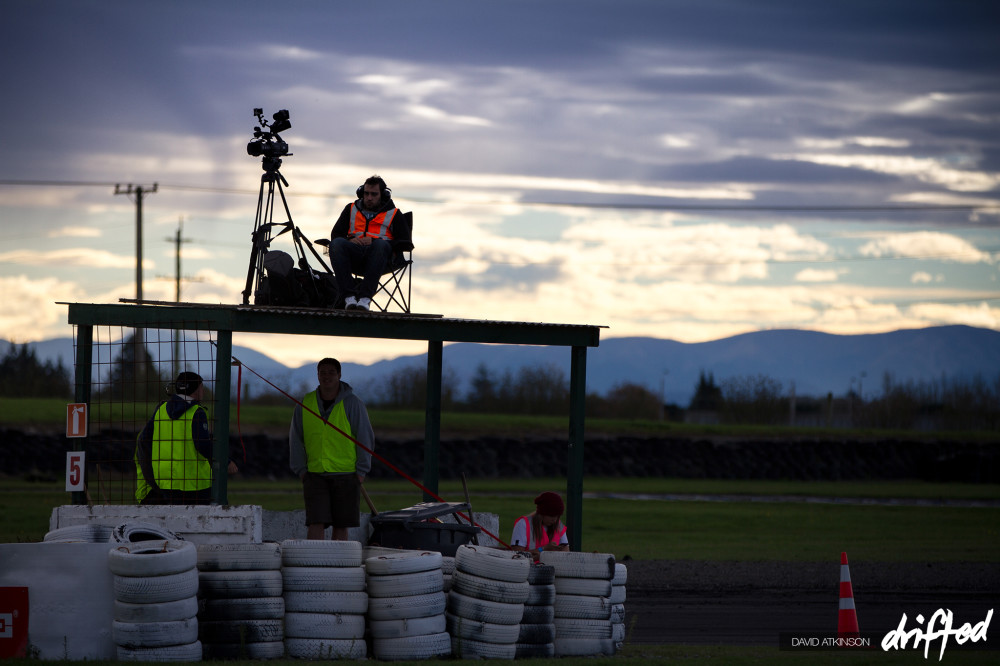 With the light quickly running out it was time for the last few battles of the day.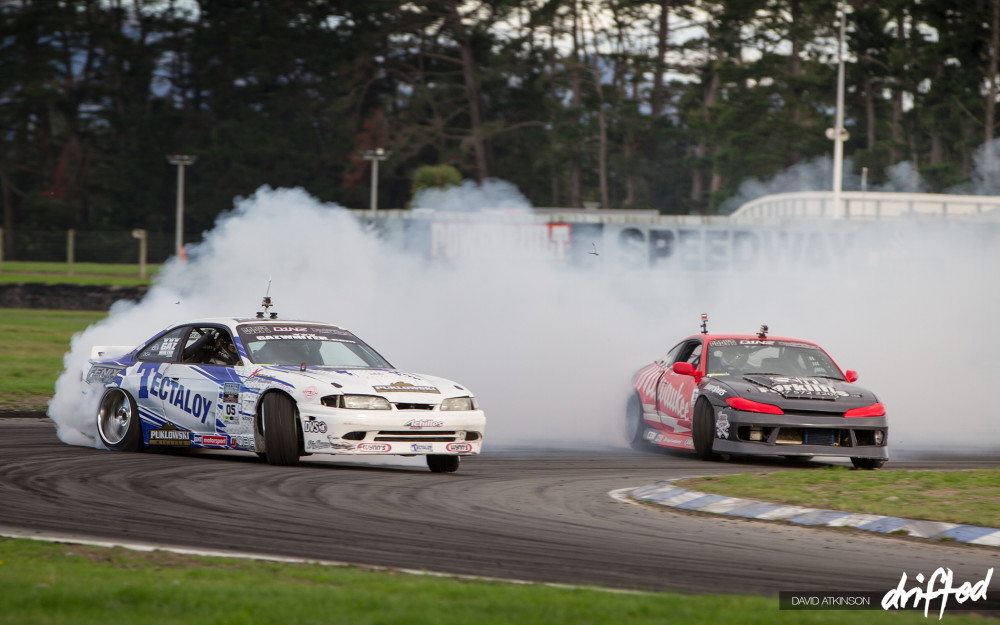 Gaz Whiter was simply on perfect form in all of his battles – consistently laying down the correct line and angle that earned him P1 in qualifying. Whiter winning against Donovan by creating a gap on the lead run and then closing it down on the chase.
To watch Shane Van Gisbergen going toe to toe with the veterans of D1NZ is amazing. He must enjoy going all out in a car as opposed to his main discipline where tires must be conserved. Beat Andrew Redward and went on to fight Whiter in the final.
Now there's a final battle that will stay in memory for a while. Two absolutely pro drivers putting on a show with the southern alps in the distance and a golden sunset to top it off.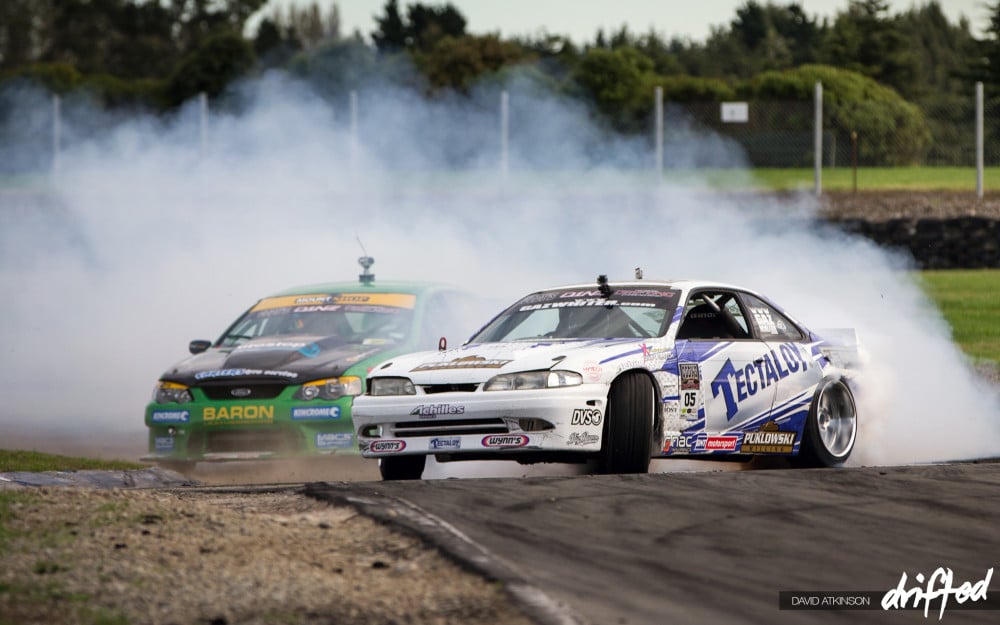 It was always going to be a close battle assuming no mechanical issues arose and luckily they held off. Textbook drifting from both drivers with Whiter's chase perhaps slightly better through the rear of the section earning him an advantage.
Gaz Whiter pulling off the perfect round – qualifying first and finishing first! Shane Van Gisbergen of course a close second and Drew Donovan edging out Redward for third place.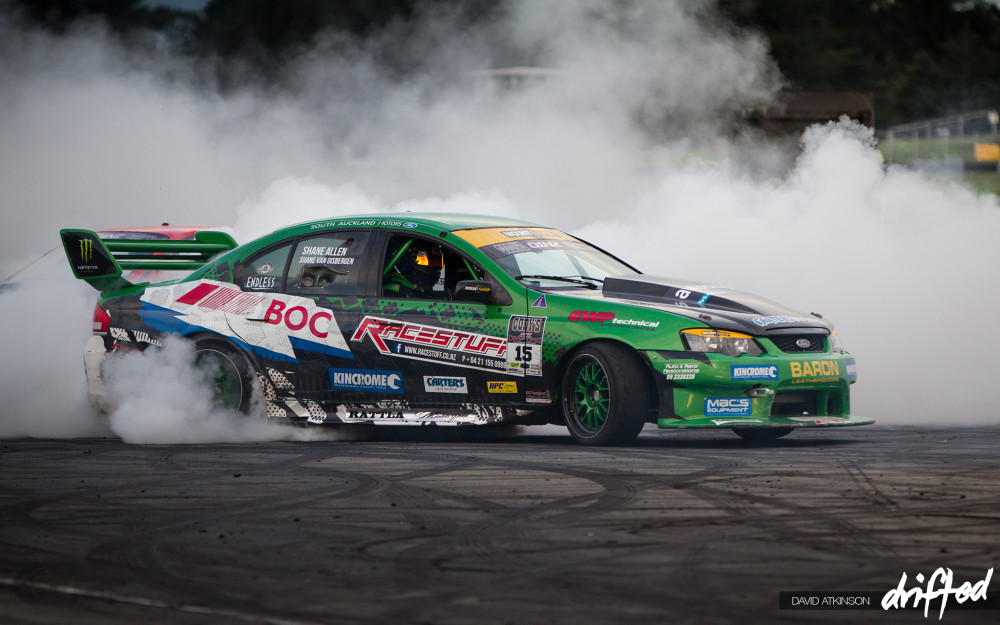 A great weekend of drifting down in the south finished off with the traditional victory skids. SVG was no stranger to this – blowing a tire to cheers from the crowd!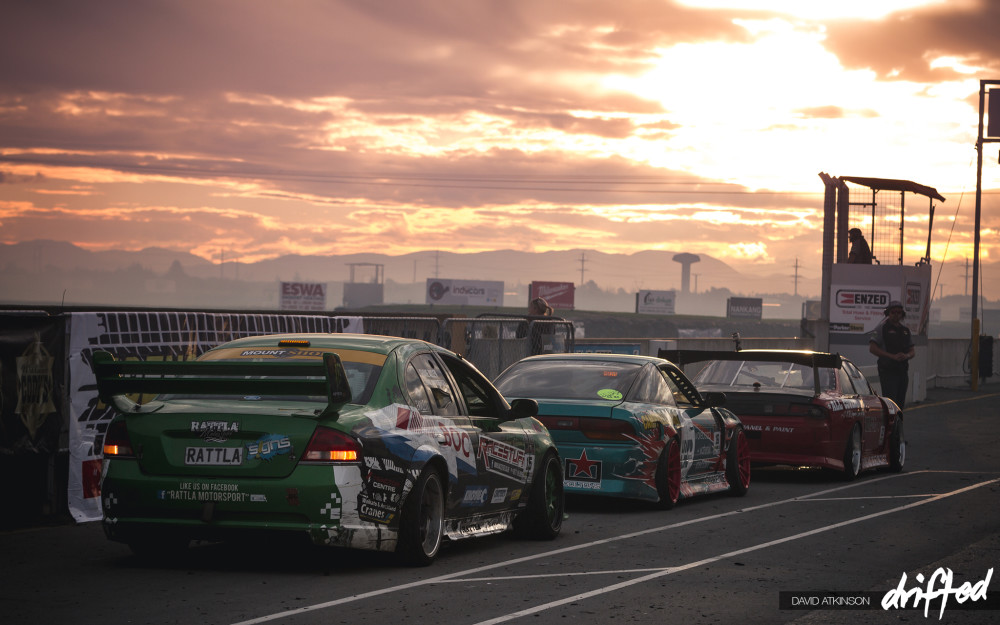 Next round is the grand final at Mt Smart stadium in Auckland, May 23 – 24. The only night round of the season and another tight-knit course to mix things up will be a great way to finish off. Here's the top ten championship points leaderboard:
Gaz Whiter – 442.5
Mad Mike Whiddett – 412
Curt Whittaker – 359
Andrew Redward – 345.5
Fanga Dan Woolhouse – 316
Nico Reid – 295.75
Cole Armstrong – 292
Shane Van Gisbergen – 284.25
Drew Donovan – 277.75
Darren Kelly – 251.25
Words & Photos: David Atkinson