EVENT: Maxxis British Drift Championship 2014: Round One
It's felt like a long time coming, but finally a fog of tyre smoke fills the air above Lydden Hill Circuit in Kent once more. The off season is over and the Maxxis British Drift Championship is back in town.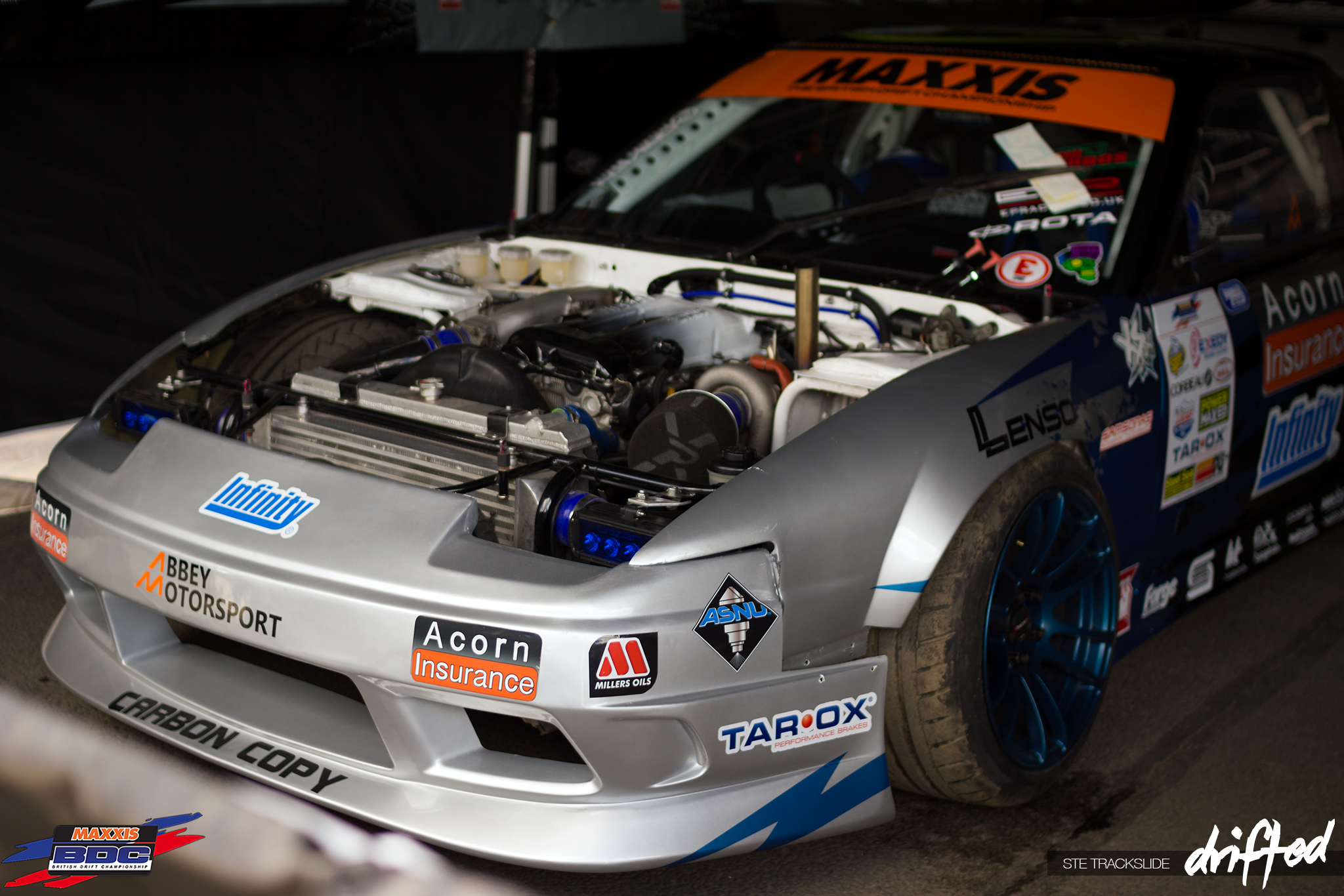 Drivers come and go, cars improve, liveries get better in some cases and worse in others (in apparent equal measures), and inevitably as is the trend in competitive drifting around the world, the need for more horsepower increases.
While these variables change the lay of the land as you look out across the paddock at the first round of the 2014 Maxxis British Drift Championship, one thing's for certain – the standard of driving never fails to impress.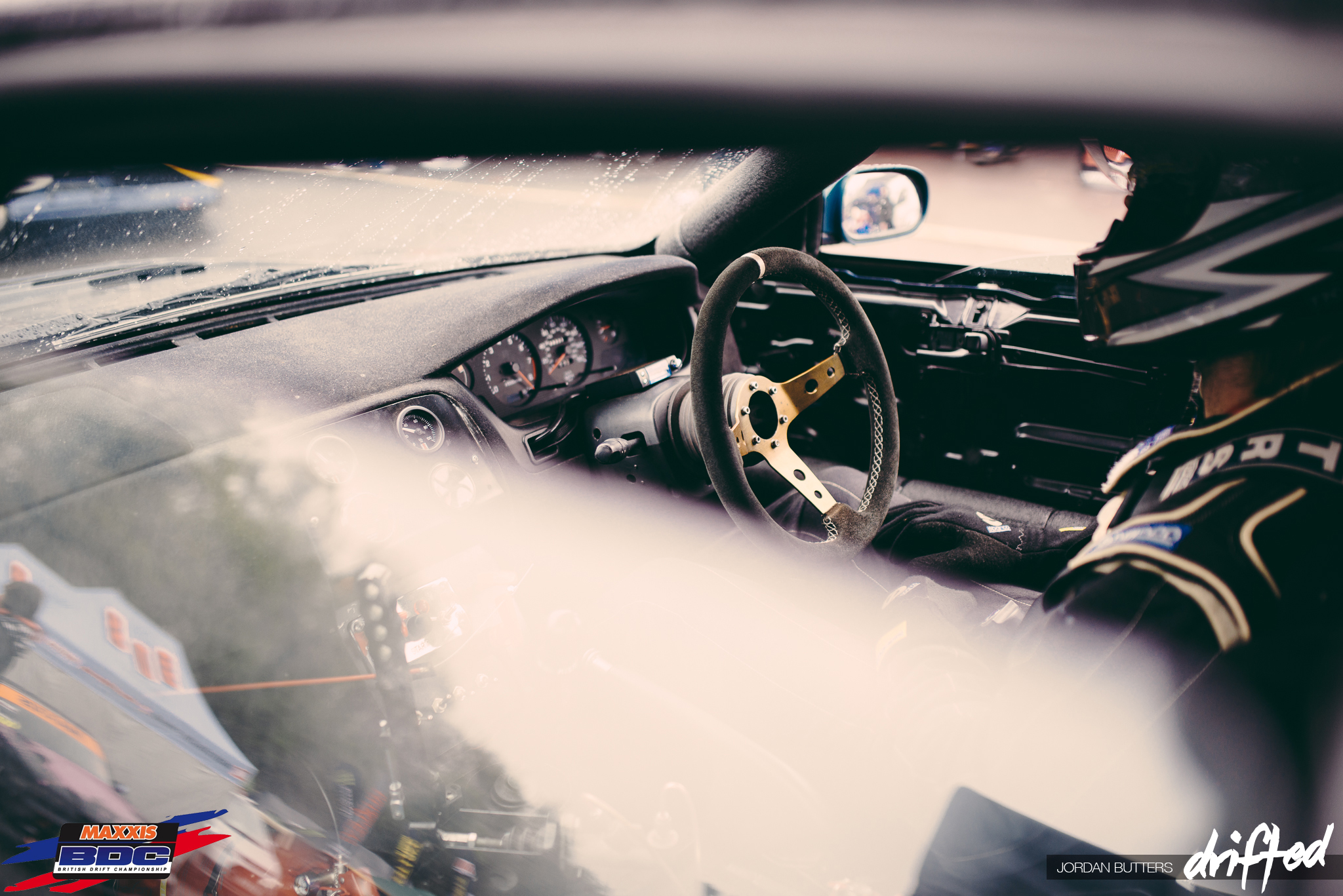 The long and arduous off-season is over, at last. And we can go drifting again.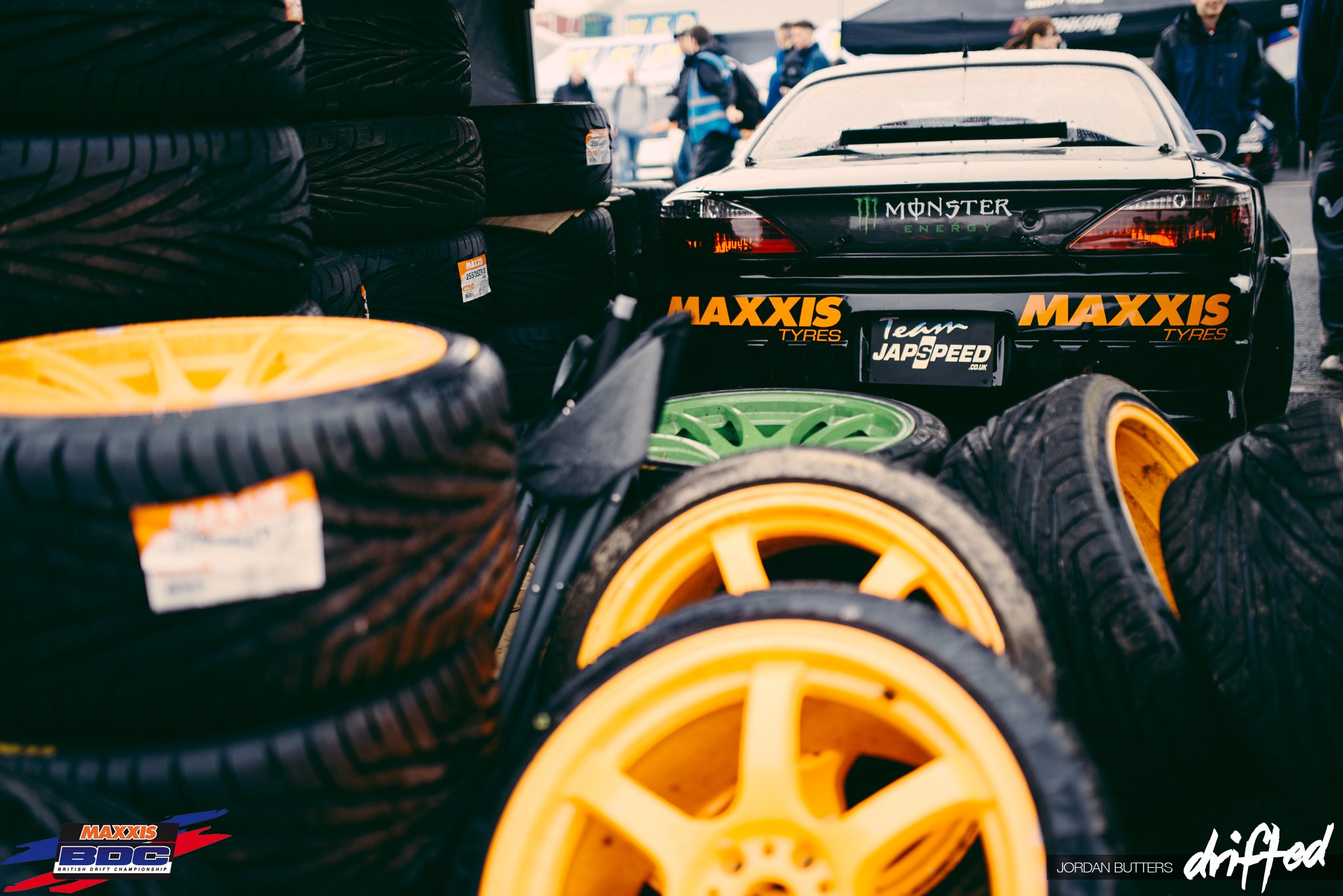 Despite having months to prepare, there are many, many long and late nights spent in workshops and garages around the country in the run up to the first round of the year at Lydden Hill circuit in Kent.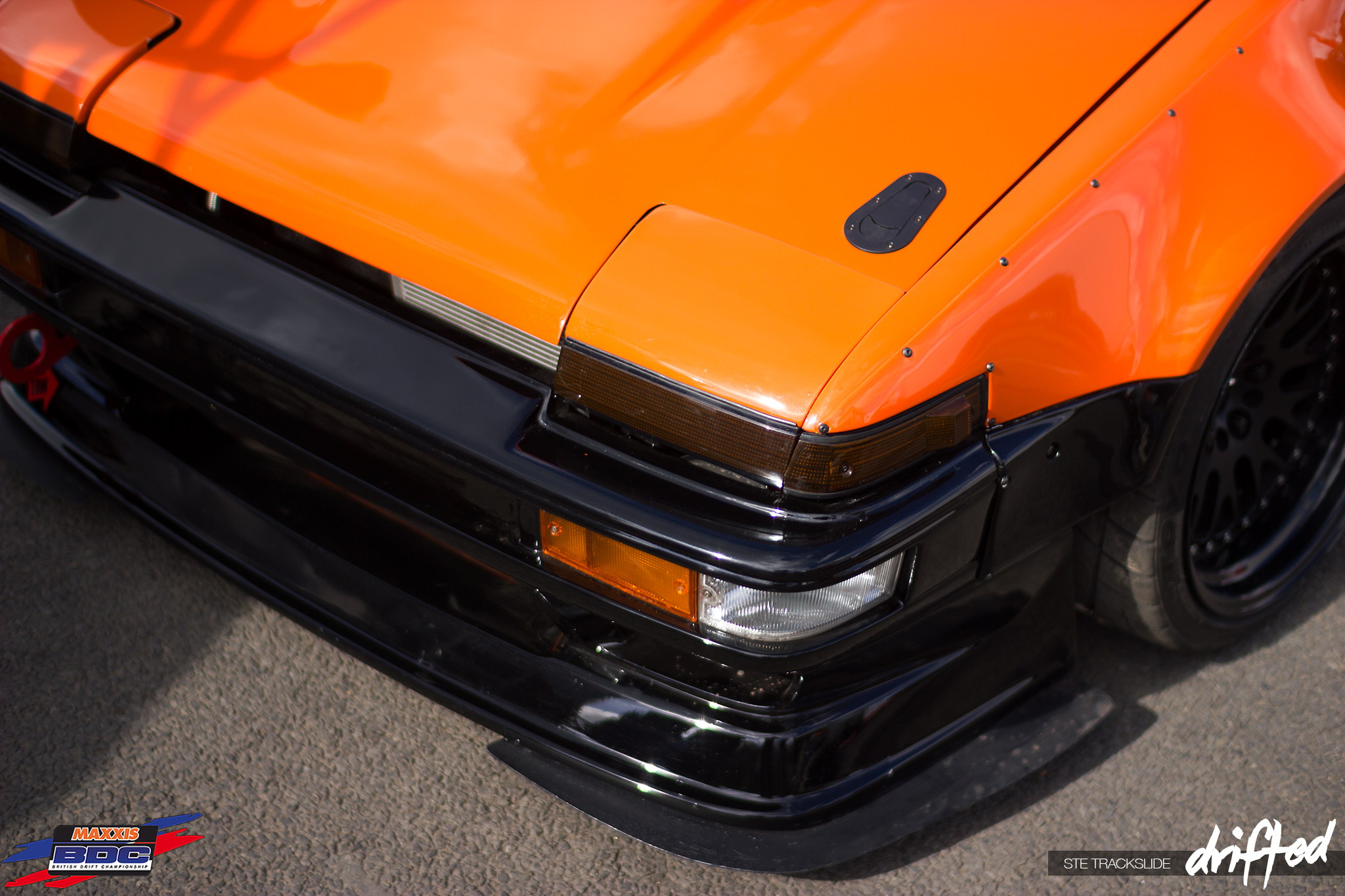 This trait is one that never changes as the years go by and the sport progresses – veterans of many years still seem to work at things right up to the last minute.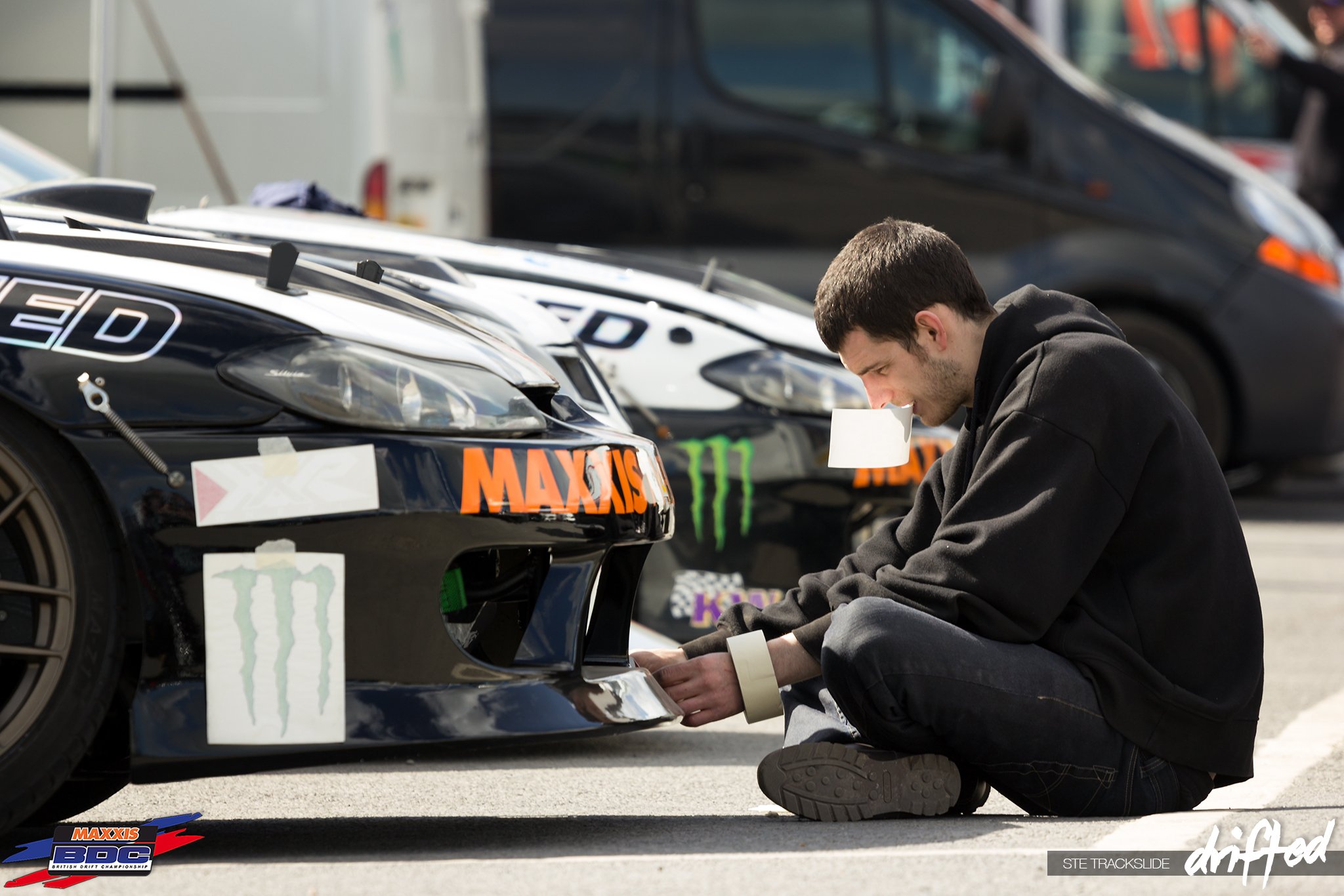 Don't lean on any of the cars at the first round of the championship – the paint is likely still wet.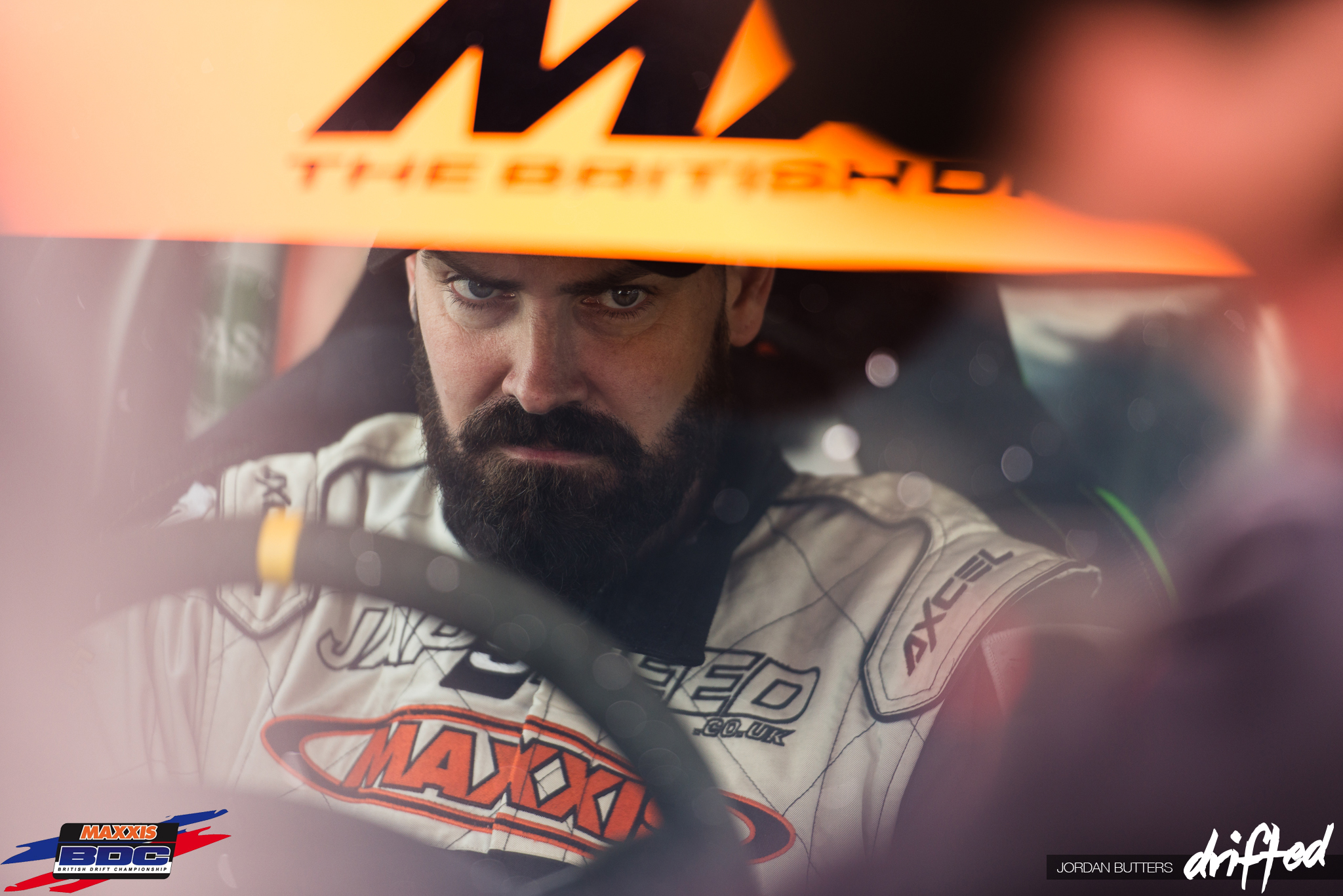 While the mantra of Keep Drifting Fun still rings true within the BDC, there's a far more serious ethos that you can't fail to notice as the sport progresses.
Drifting is becoming big business. There's a pressure to win.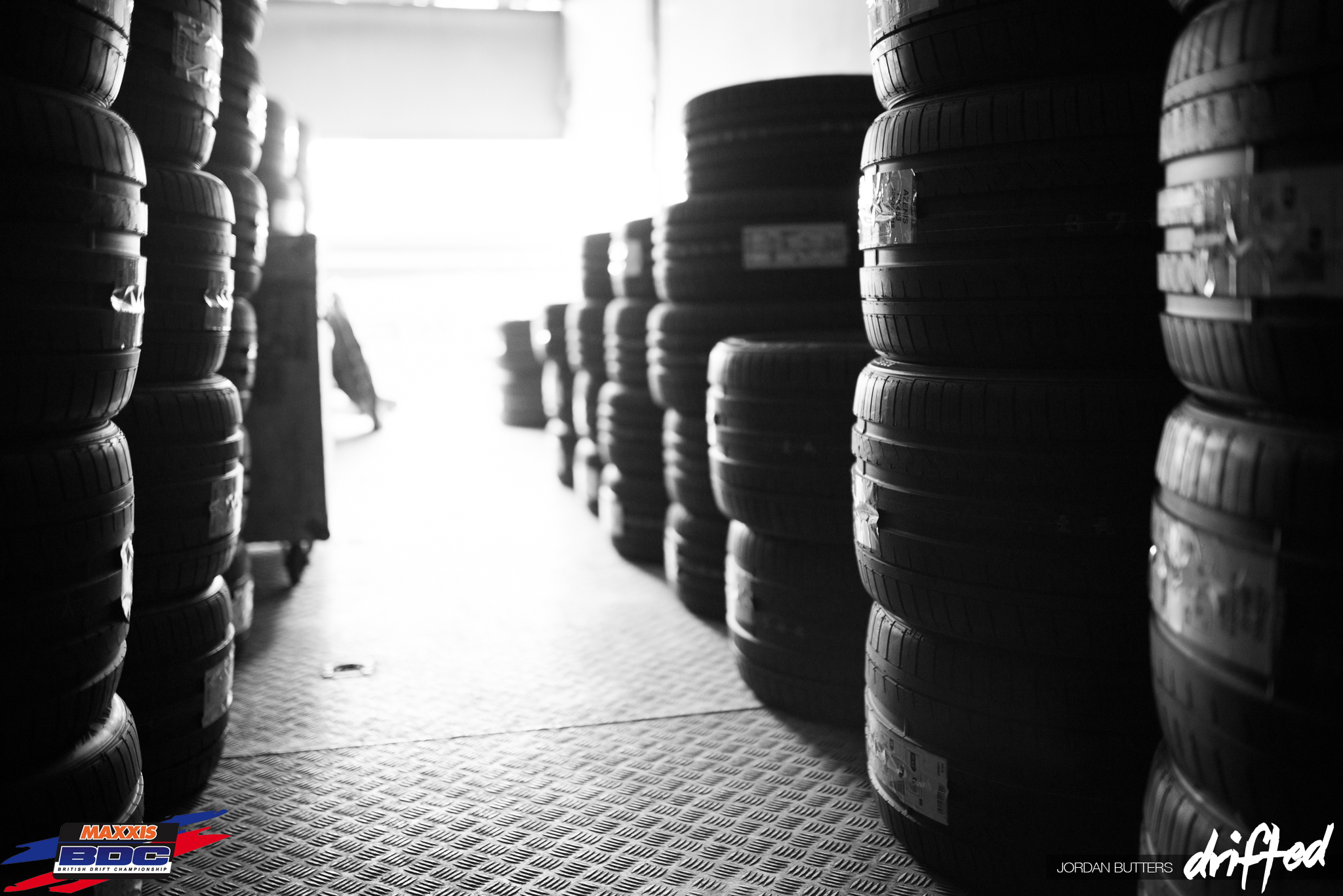 This year there are more tyre manufacturers investing in the sport than ever before – a trend which is only going to continue to grow.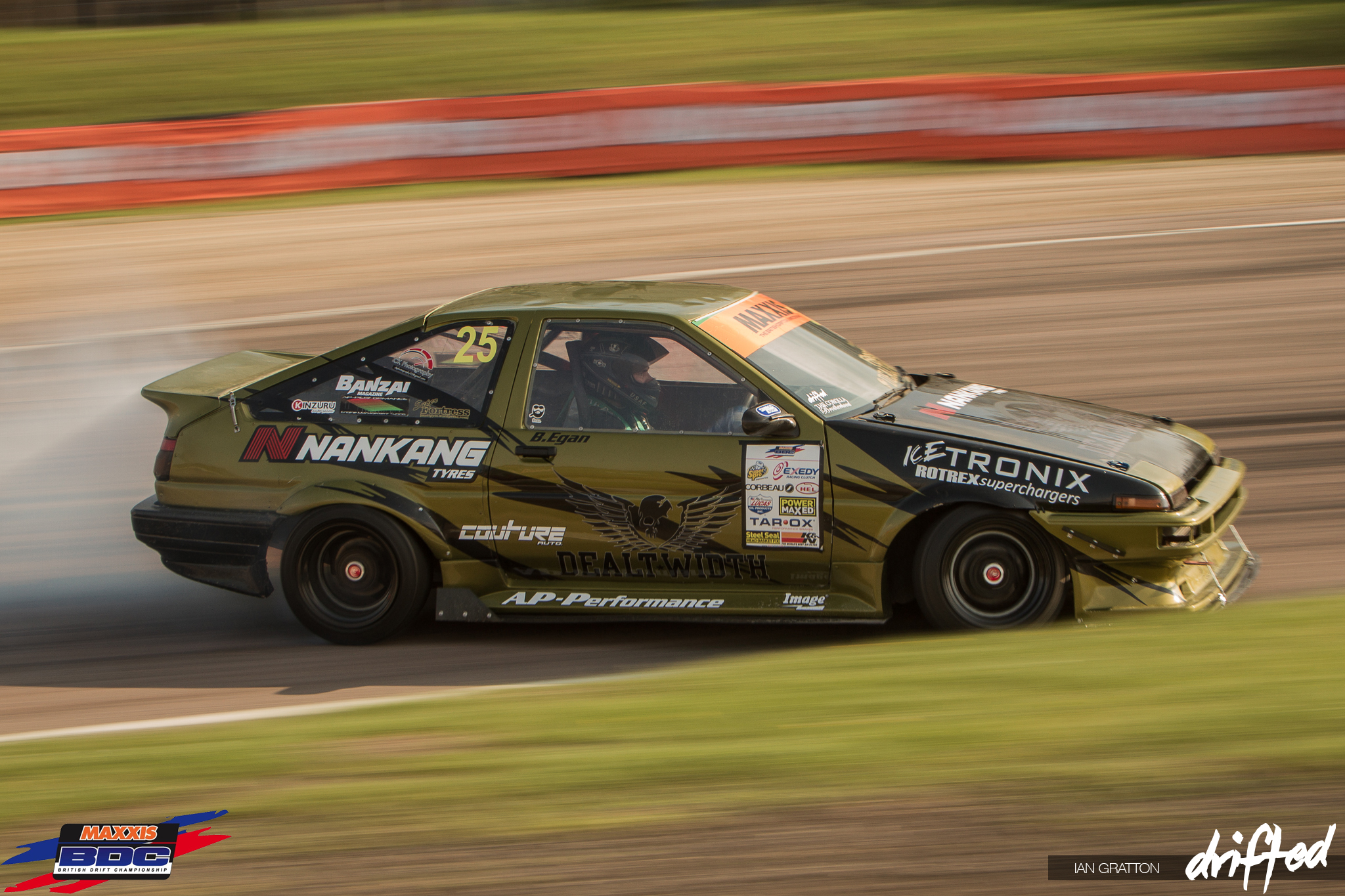 What's most interesting about the opening round of the championship the uncertainty of it all. Sure enough you know who can outdrive who and what you can expect from most of the drivers, but there are additional factors to take into account.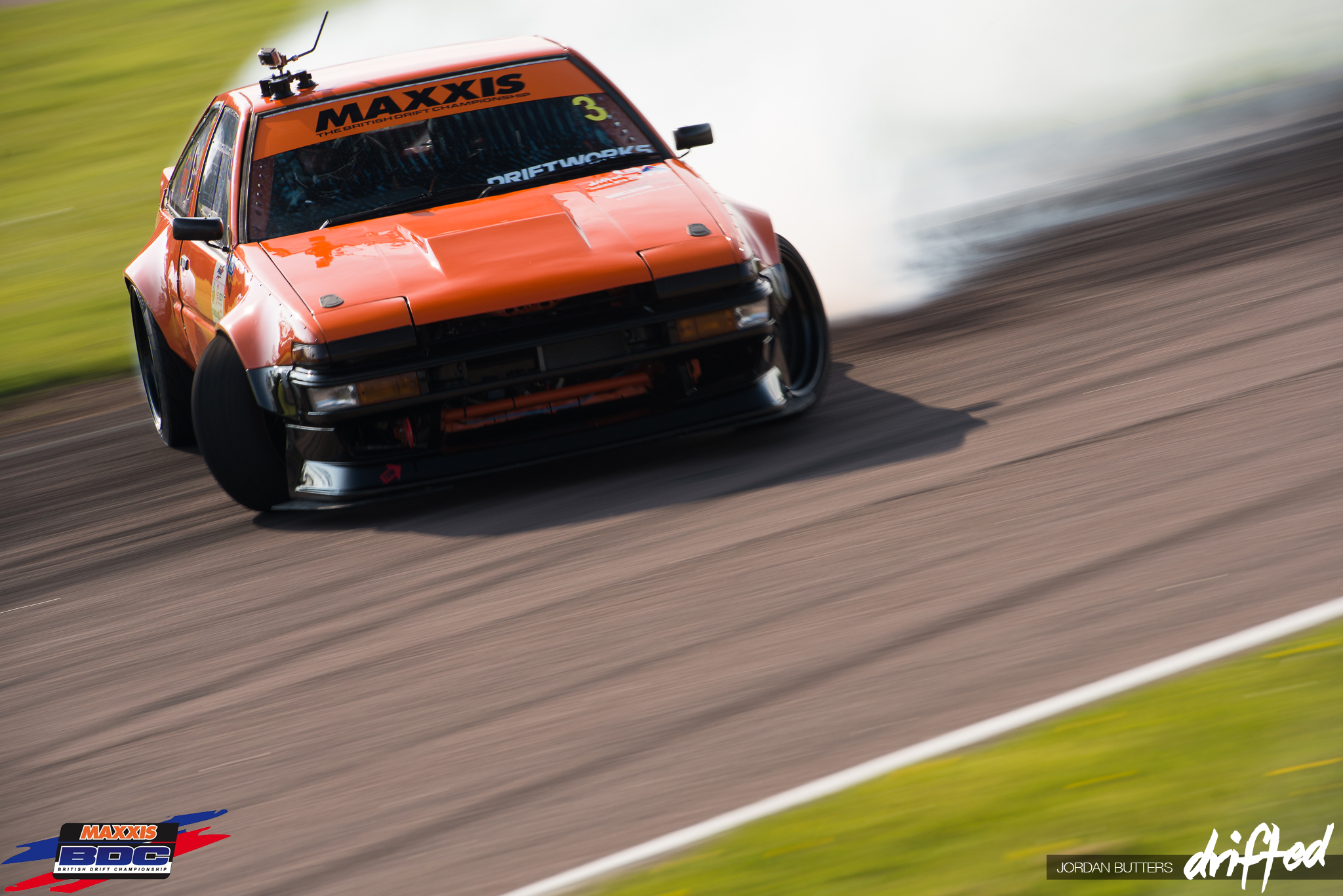 Almost everyone has spent the winter tweaking, adjusting, completely overhauling their car, or sometimes even building a new one from scratch.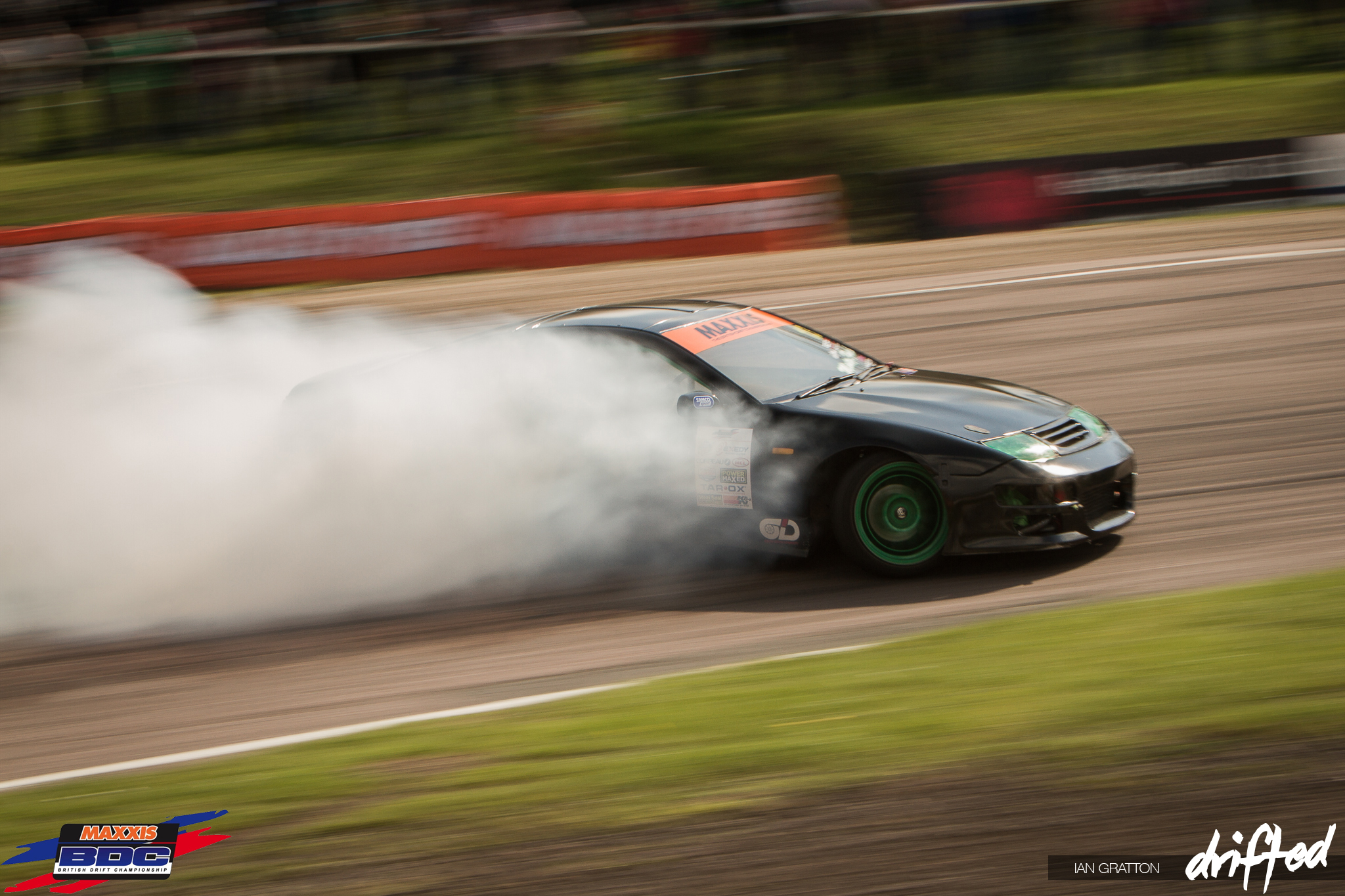 Just because a driver finished the previous season at the top of their game that doesn't mean that the following season will pick up where they left off.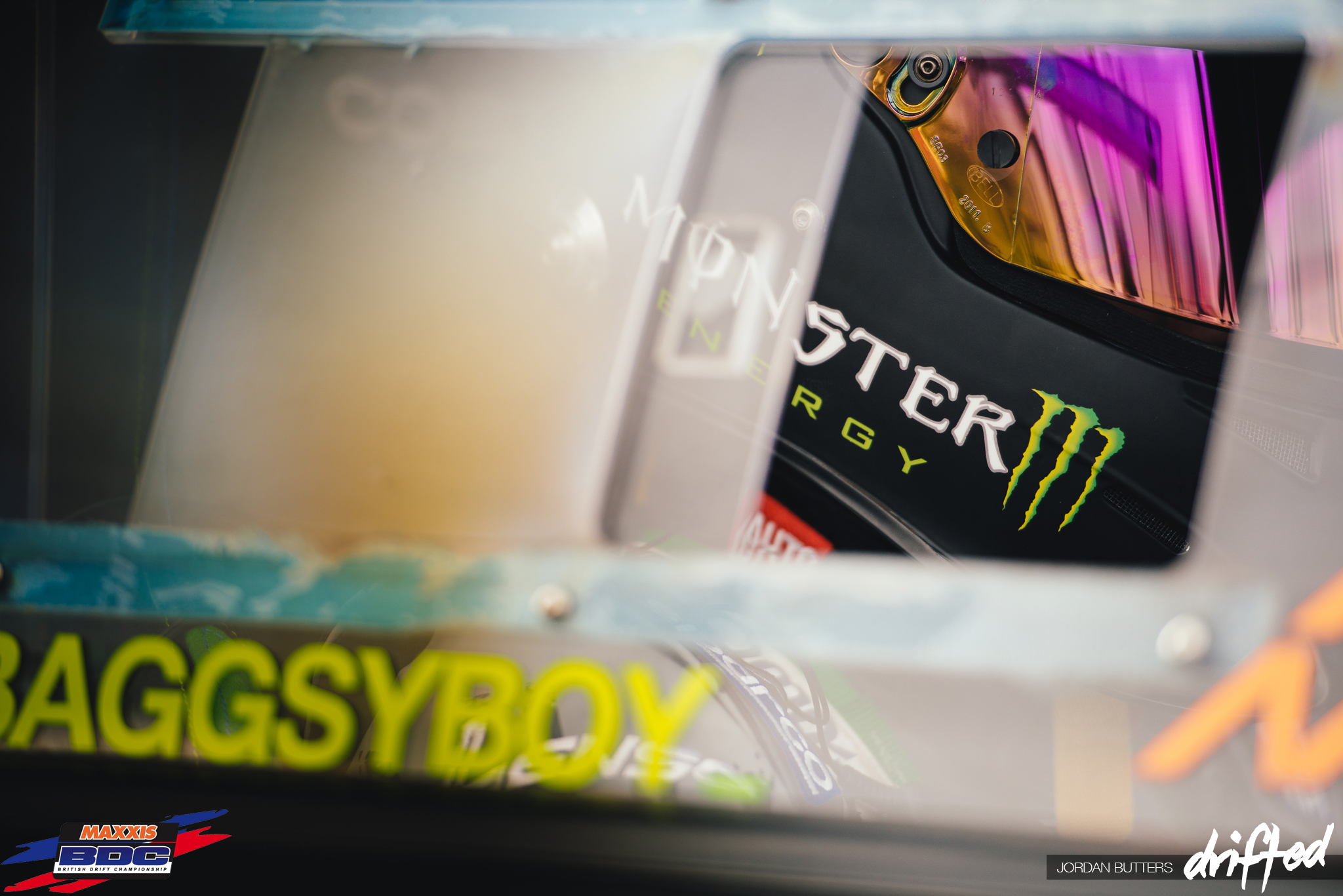 Factor in the slight rustiness that comes off being out of the saddle for six months and a handful of new drivers looking to upset the balance and you've got the makings of an interesting competition.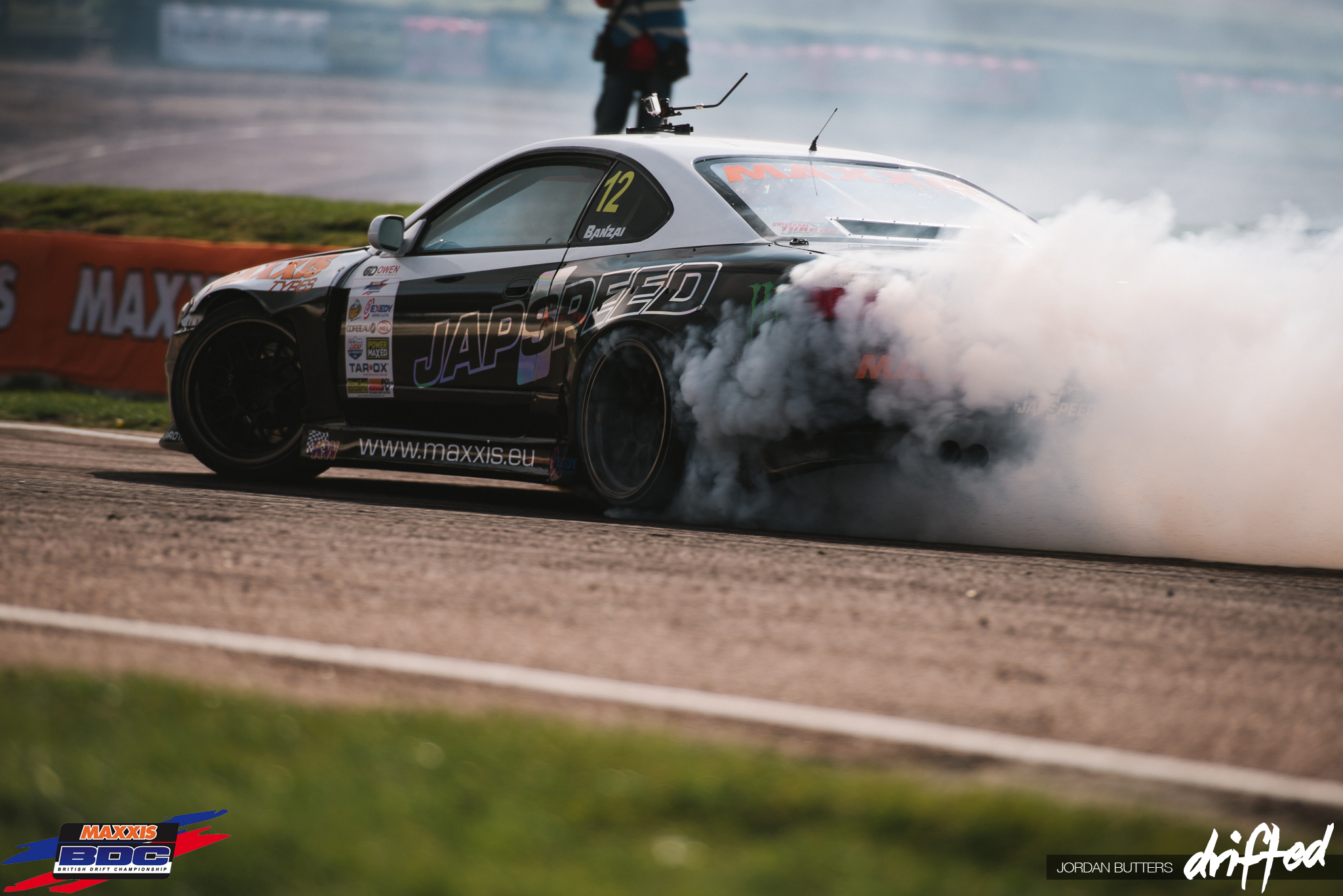 Qualifying quickly makes this apparent. Names and faces that you pretty much expect to see making it through to the top 16 are notably missing, such as 2012 champion Paul Smith from Team Japspeed, whose redesigned 1.5JZ S15 was sporting some one-off Rocket Bunny arches comprised of a mixture of GT86 and S13 parts. Paul ended up in 20th place, and went home to an early bath.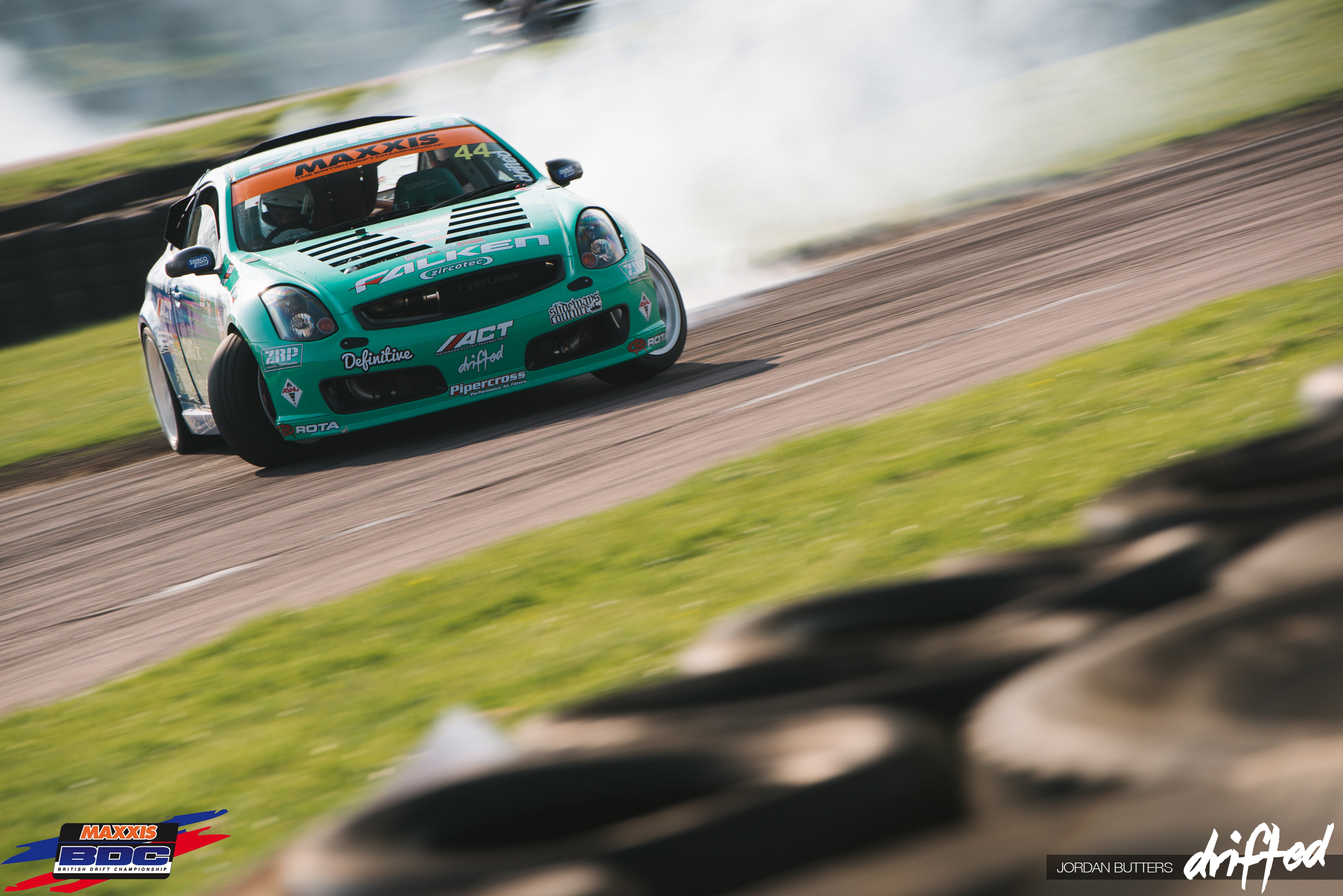 New to the Super Pro class was Team Falken's Paul Cheshire, in him 2JZ G35 Skyline. Having made the progression up from the Pro class in 2013, Paul narrowly missed out on qualifying, finishing in 19th position.
At the top of the tables there were some familiar names – Shane Lynch's twin-turbo V8 S15 underwent an off-season refresh, but Shane managed to carry on the consistent driving that he displayed last season, qualifying in 5th position.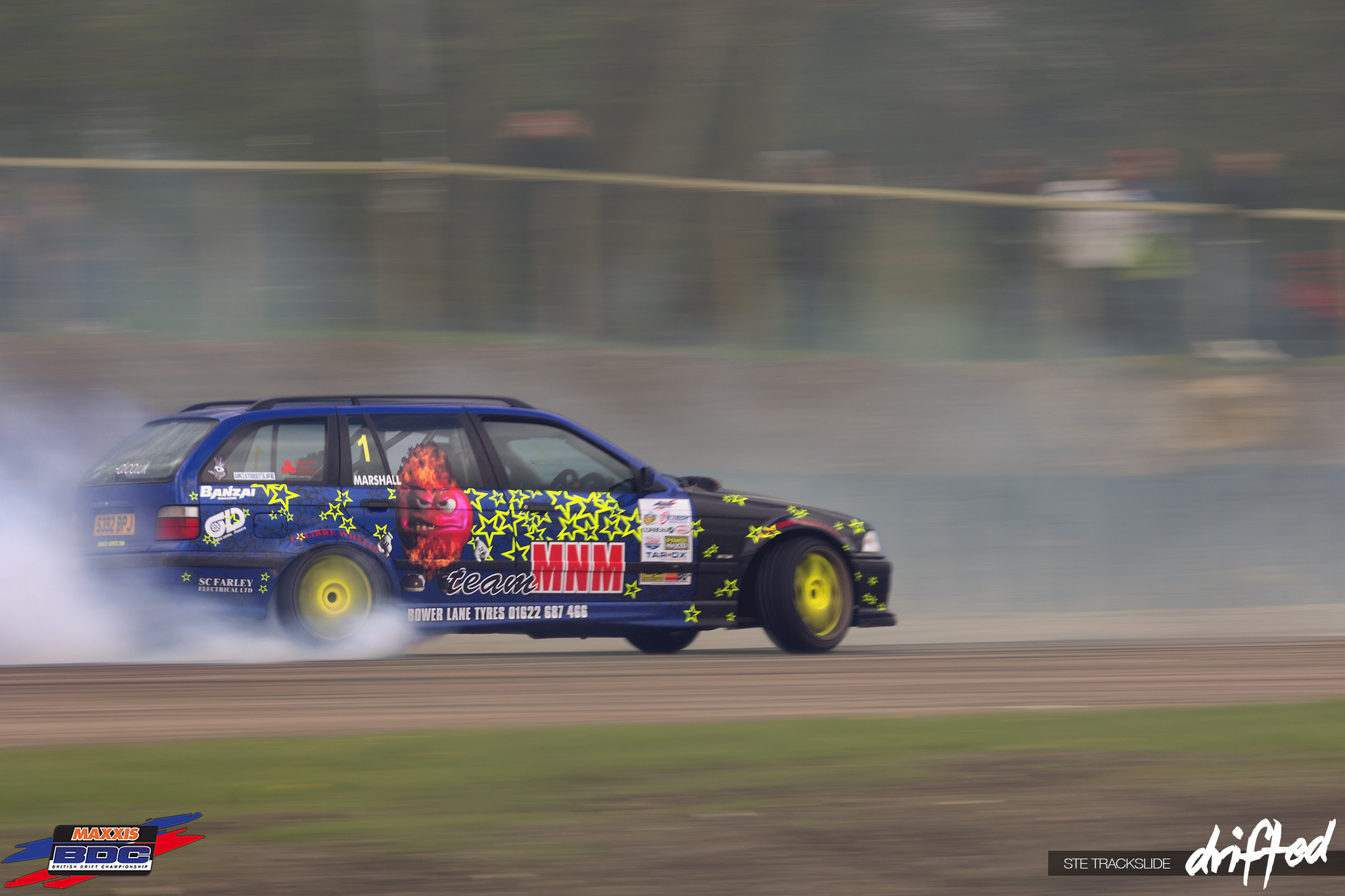 2014 champion Michael Marshall's 2JZ E36 Touring may look completely different to last season, but Michael's form at Lydden remained unchanged – a strong run saw him net 2nd spot.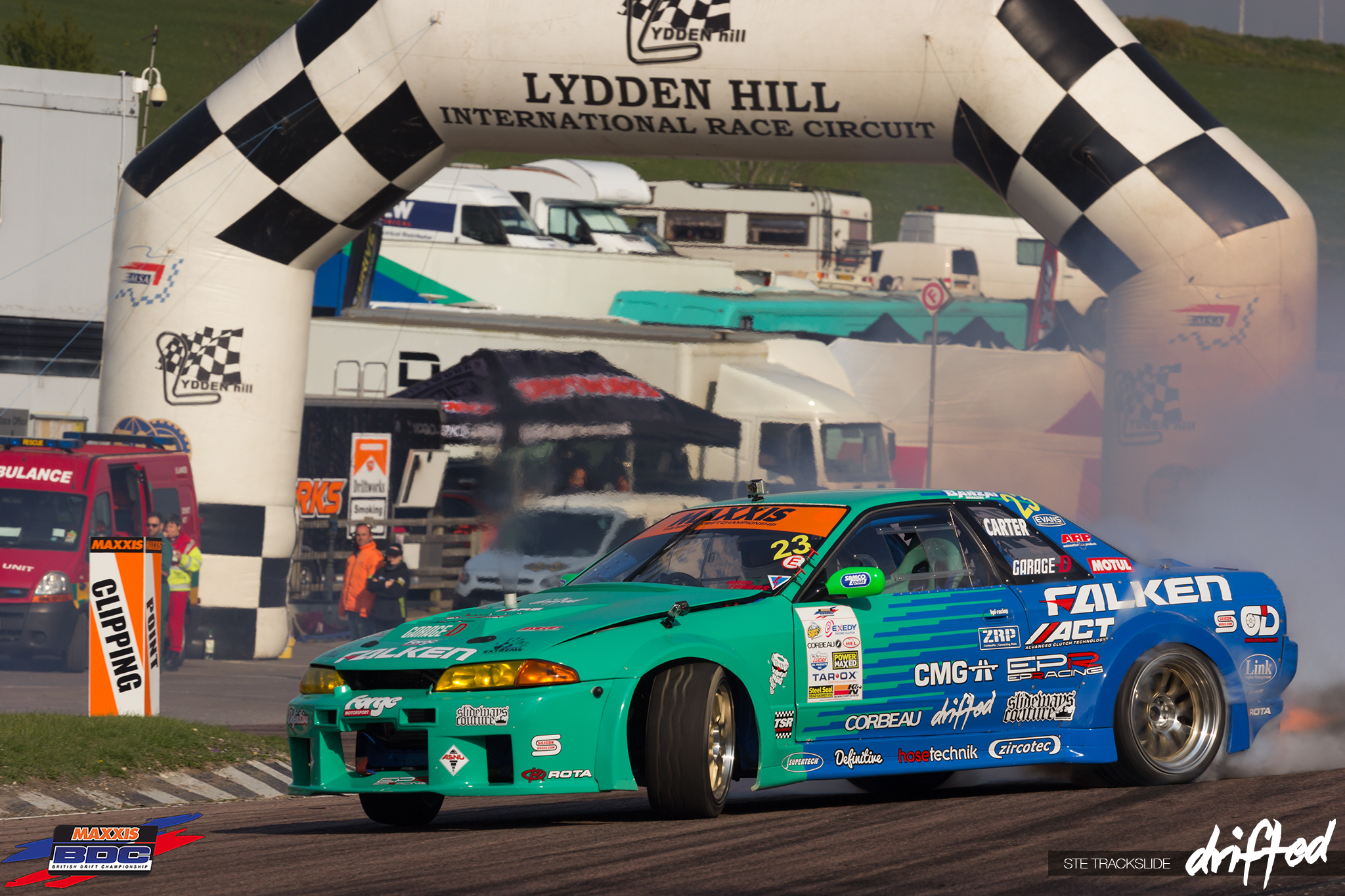 2011 champion Matt Carter, of Team Falken, made some serious changes to his R32 over the off-season. A change to BDC regulations made the S14 front end that Matt had installed on his R32 illegal for this season, meaning that he had to chop and re-fit the R32 front turrets back on. This resulted in a completely different feel to the car, which Matt complained was heavy and sluggish. Nonetheless, he managed to secure 3rd position going into the battles.
Mark Luney's Supra isn't in fact the same Supra that you're used to seeing him drive.
The formerly Maxxis-sponsored car has since been retired, to be replaced with this new Nankang-sponsored chassis. Power output this season is rumoured to be around the 1000bhp mark, although we heard that it was detuned to a measly 800bhp for this round. It was wet after all.
Mark claimed 4th place.
Just edging in at the back of the pack was Wayne Keeber in his radically redesigned Soarer, who qualified in 16th place.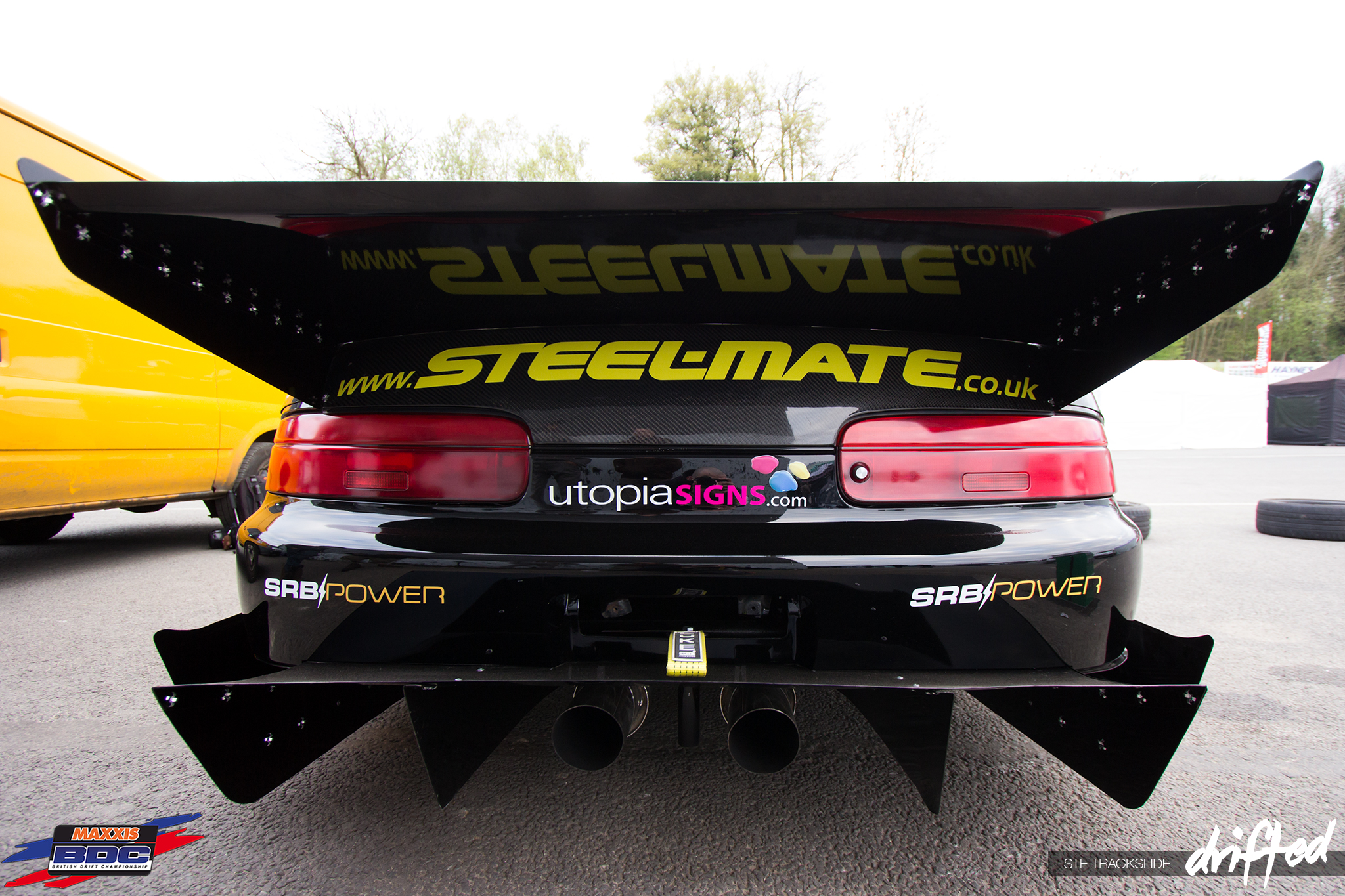 The huge wing and shin-shattering splitter being a sure deterrent for tailgaters or photographers who happen to get too close.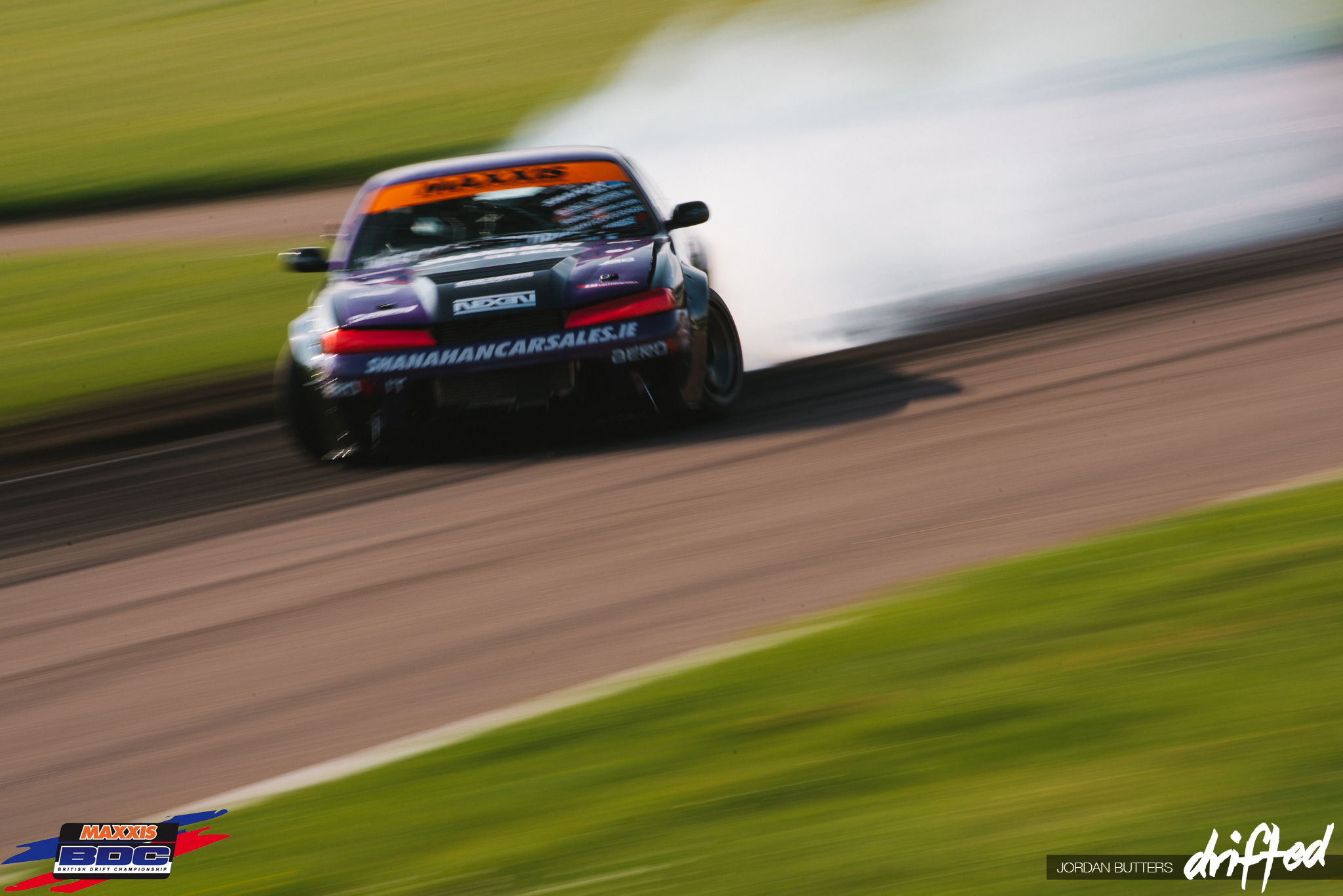 Newcomer Jack Shanahan was out to upset the balance at round one. When we say newcomer we don't just mean to the BDC, but also to… well, driving, and adolescence. Jack's been drifting in Ireland for a couple of years already and now, at the tender age of 14, he's the youngest driver ever to compete in the British Drift Championship.
That didn't stop him claiming 6th place however.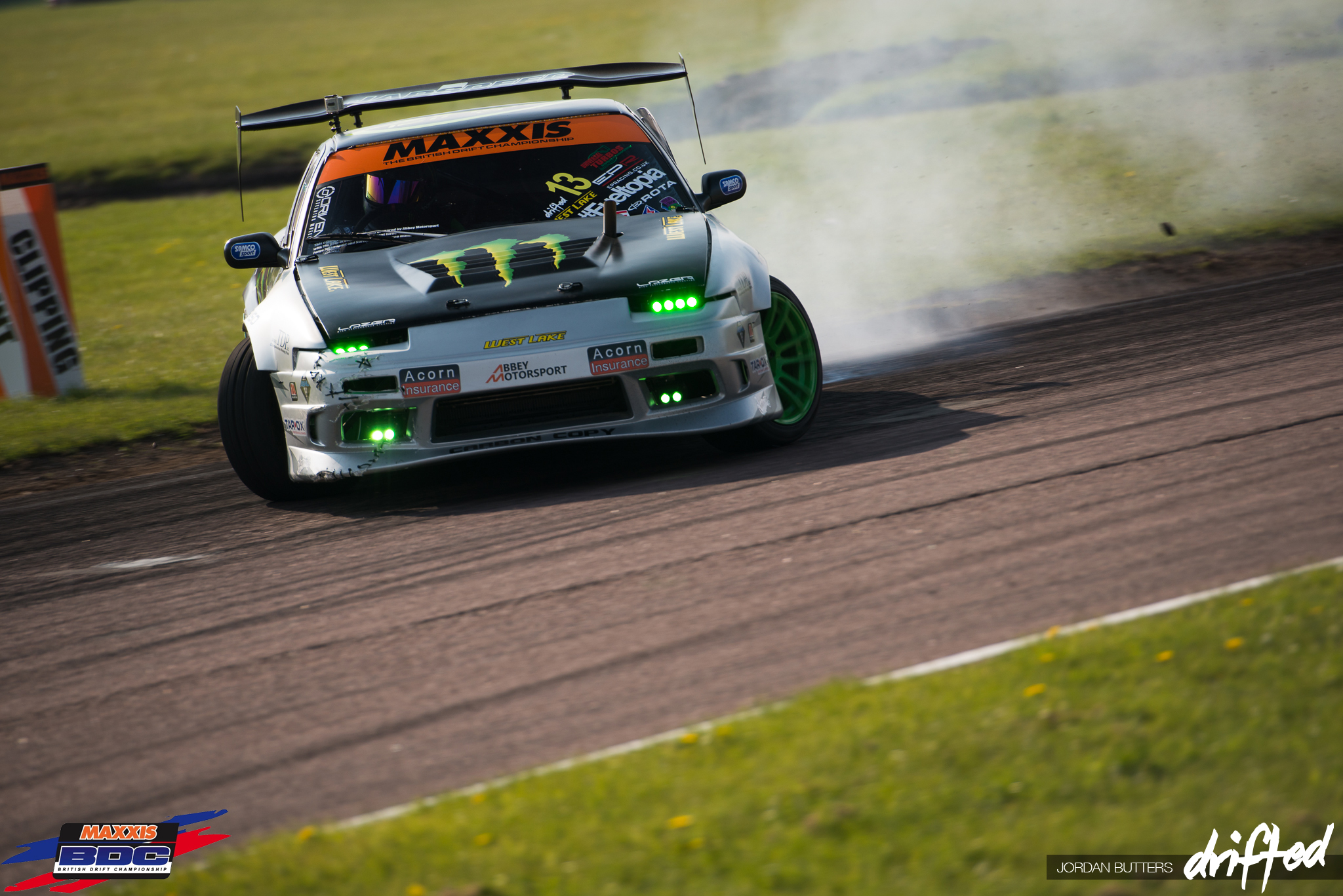 It fell to Monster Energy and Acorn Motorsport driver Stephen 'Baggsy' Biagioni to carry the crown coming out of qualification.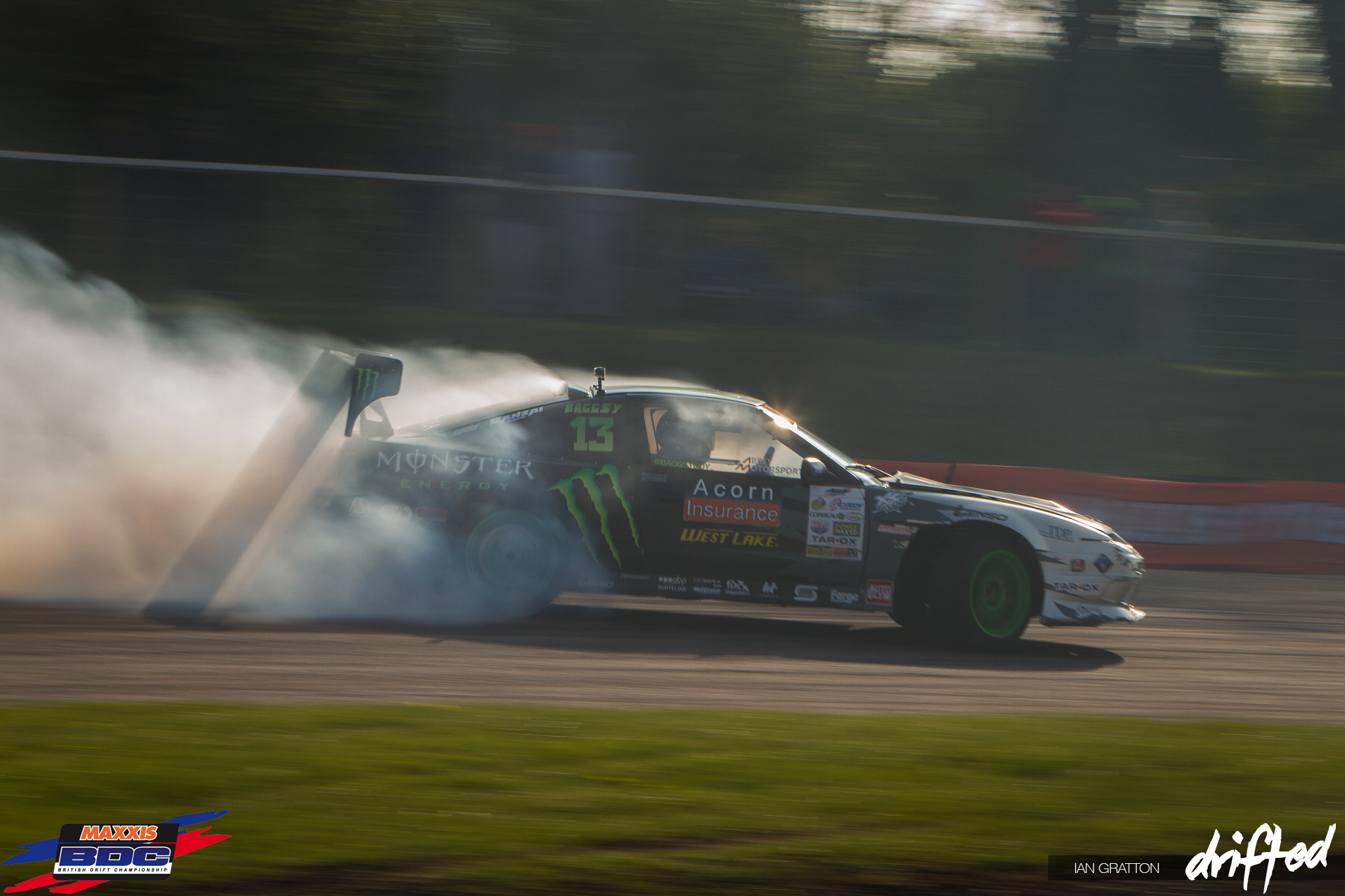 Judges were impressed with his speed and line throughout the course, and awarded him top spot going into the top 16.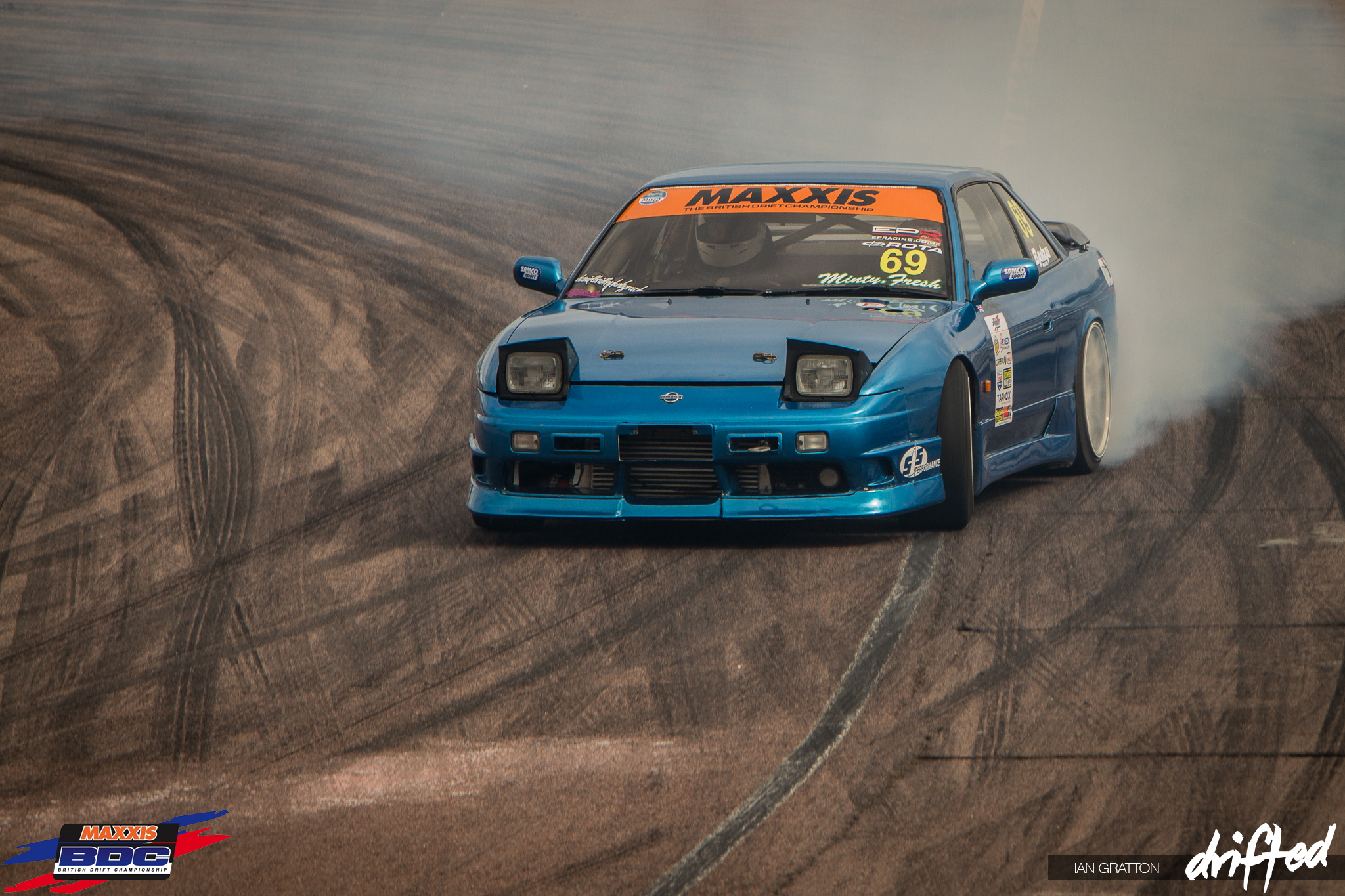 Another notable development this year is the standard of the cars in the lower classes too.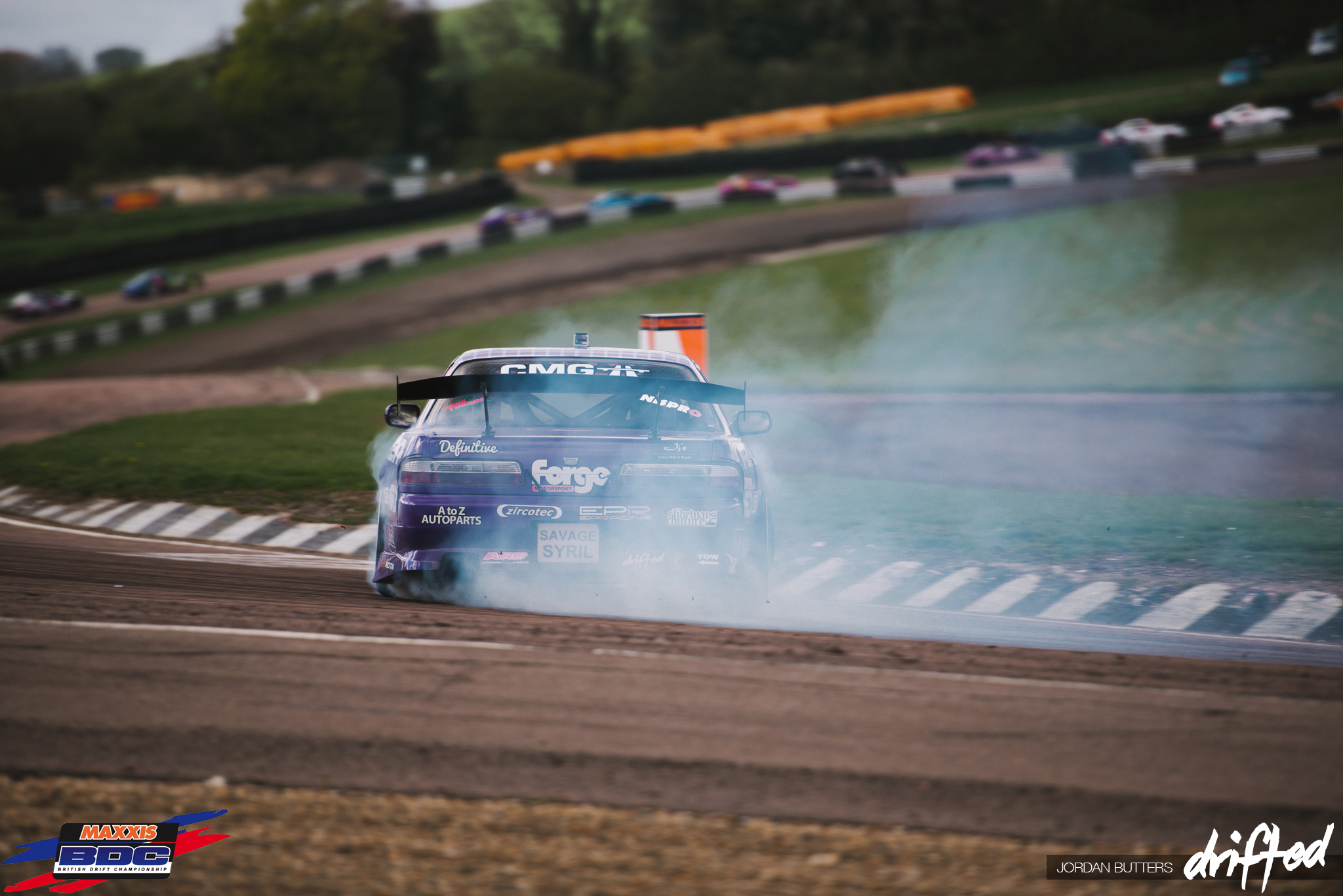 What once was a field of street-spec old CA18-powered Nissans in the Pro class was an altogether more professional-looking affair.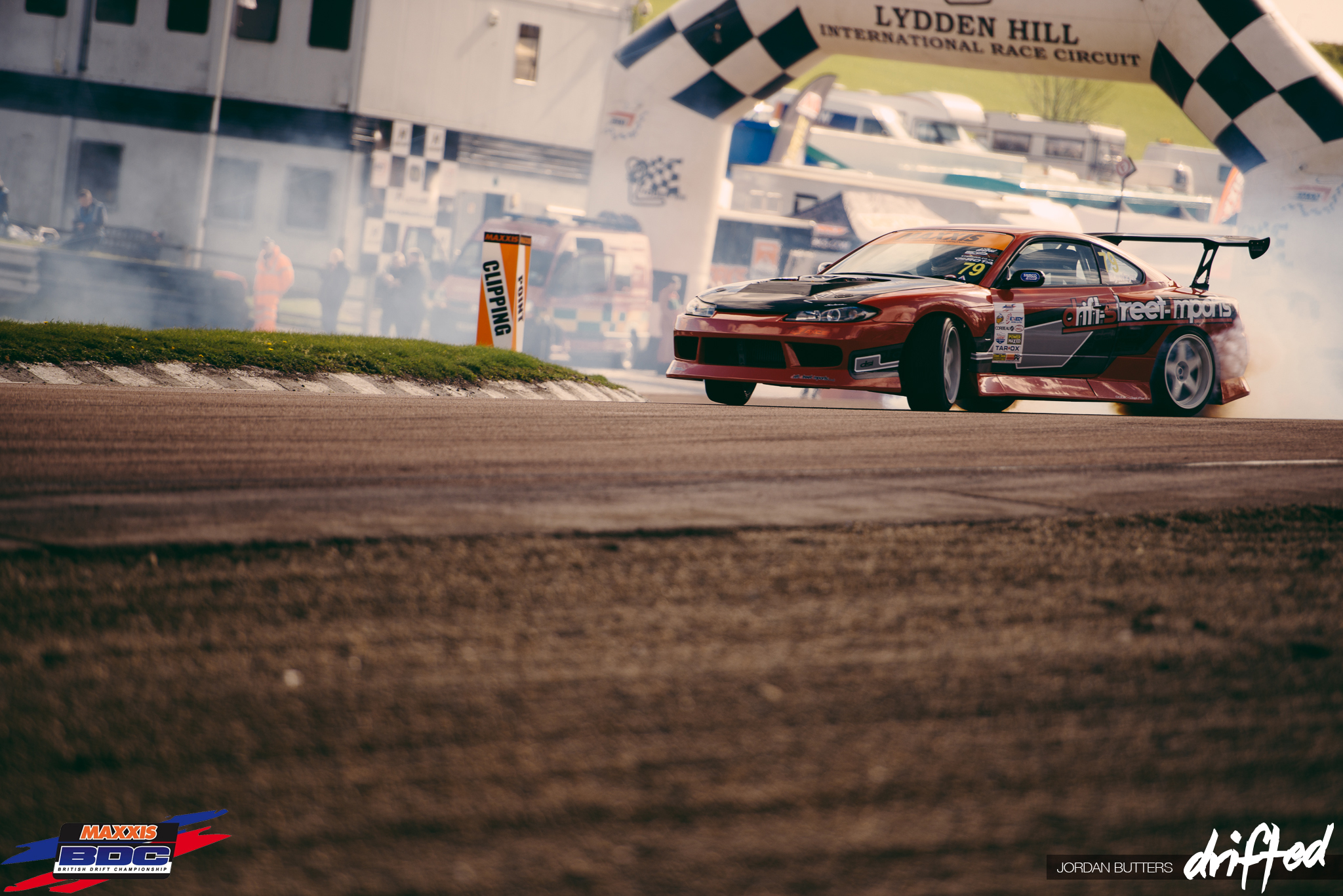 This VR38DETT (GT-R engine'd) wide arch S15 wouldn't look out of place in Formula Drift. It's driver Martin Battye's first year in competitive drifting, not that it shows – he took top honours in Pro class qualifying.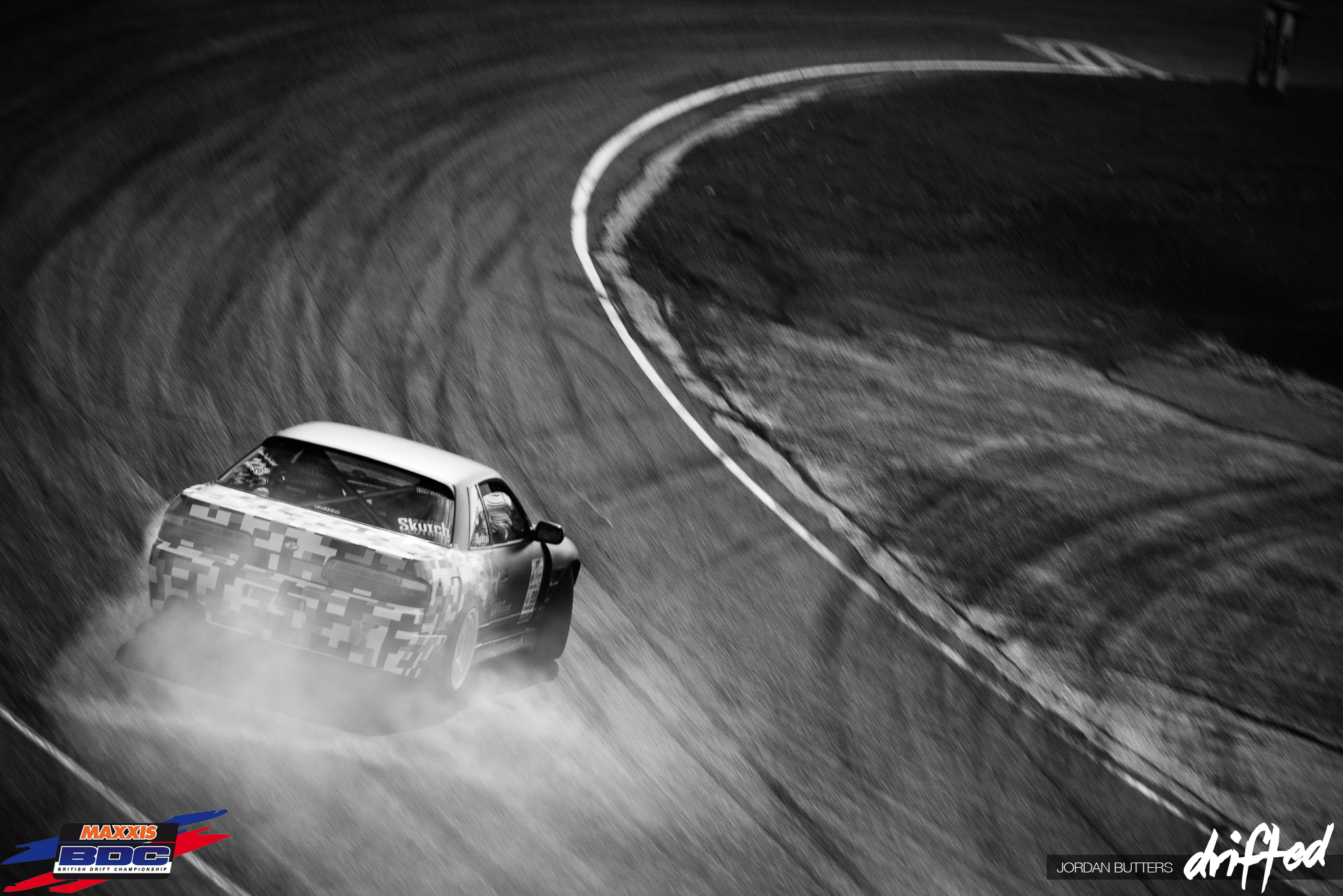 Second place was secured by Oliver Silcock in the aggressive GBH S13.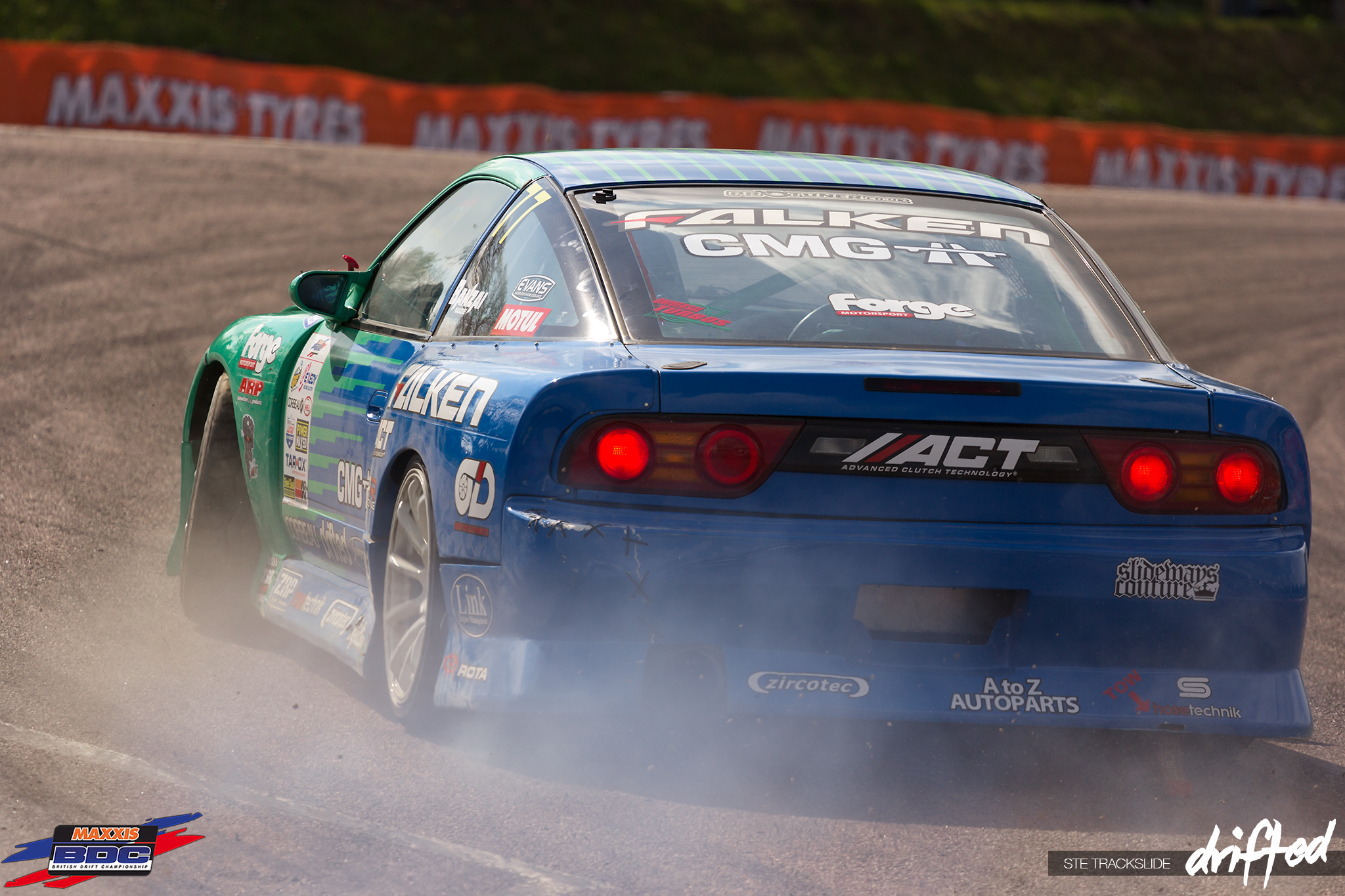 Team Falken's Alan Green made a return, claiming 3rd place in the Pro class after missing last season due to the birth of his daughter. His wide-arched 180SX boasts a 500bhp Mazworx-built race SR20. We're told that it's running a modest tune, and 700bhp is more than possible once the rev limit is upped.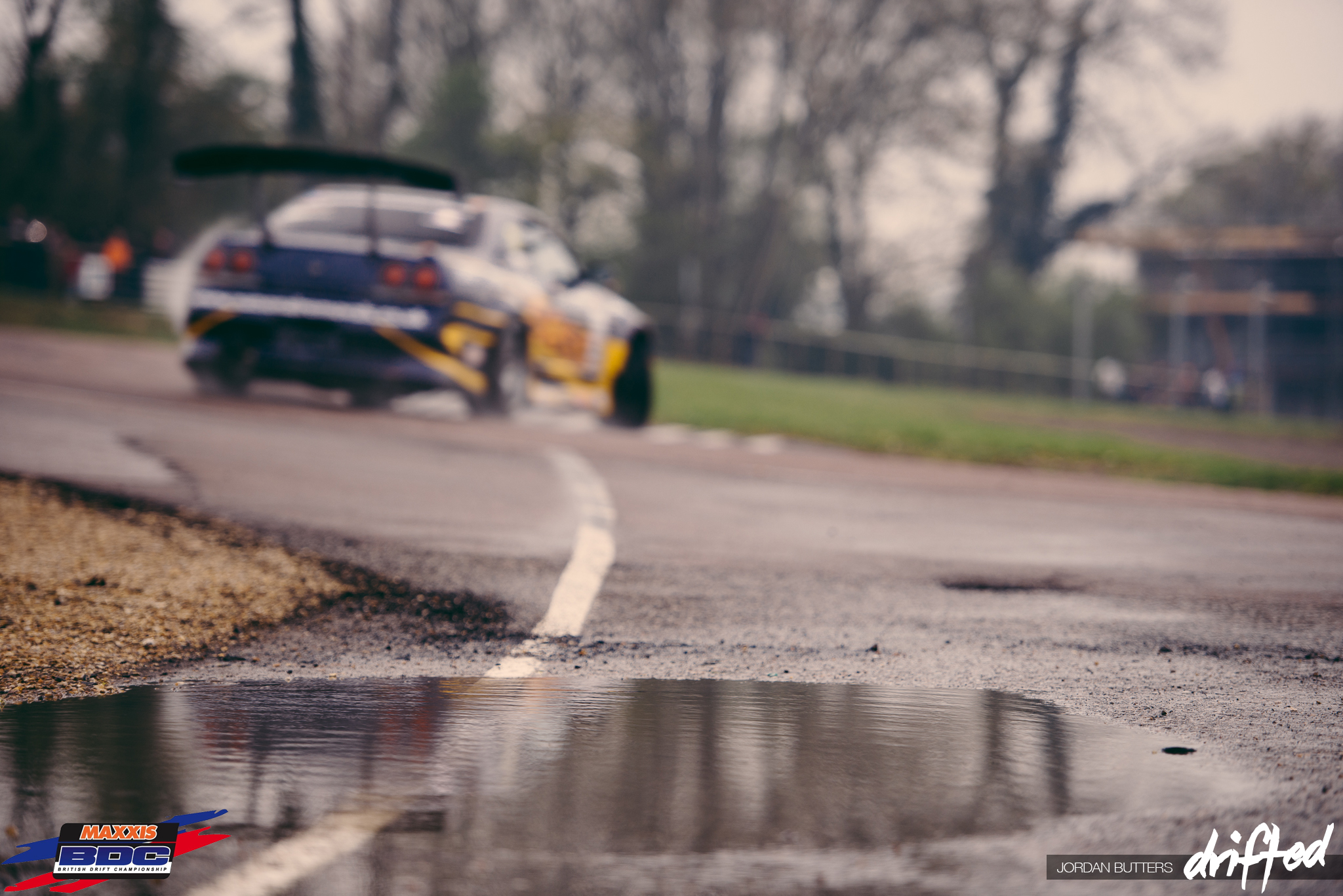 In the Semi Pro battles the contenders were whittled down until only two remained. The finals took place the morning following qualifying and an overnight downpour had drenched the track, making conditions tricky.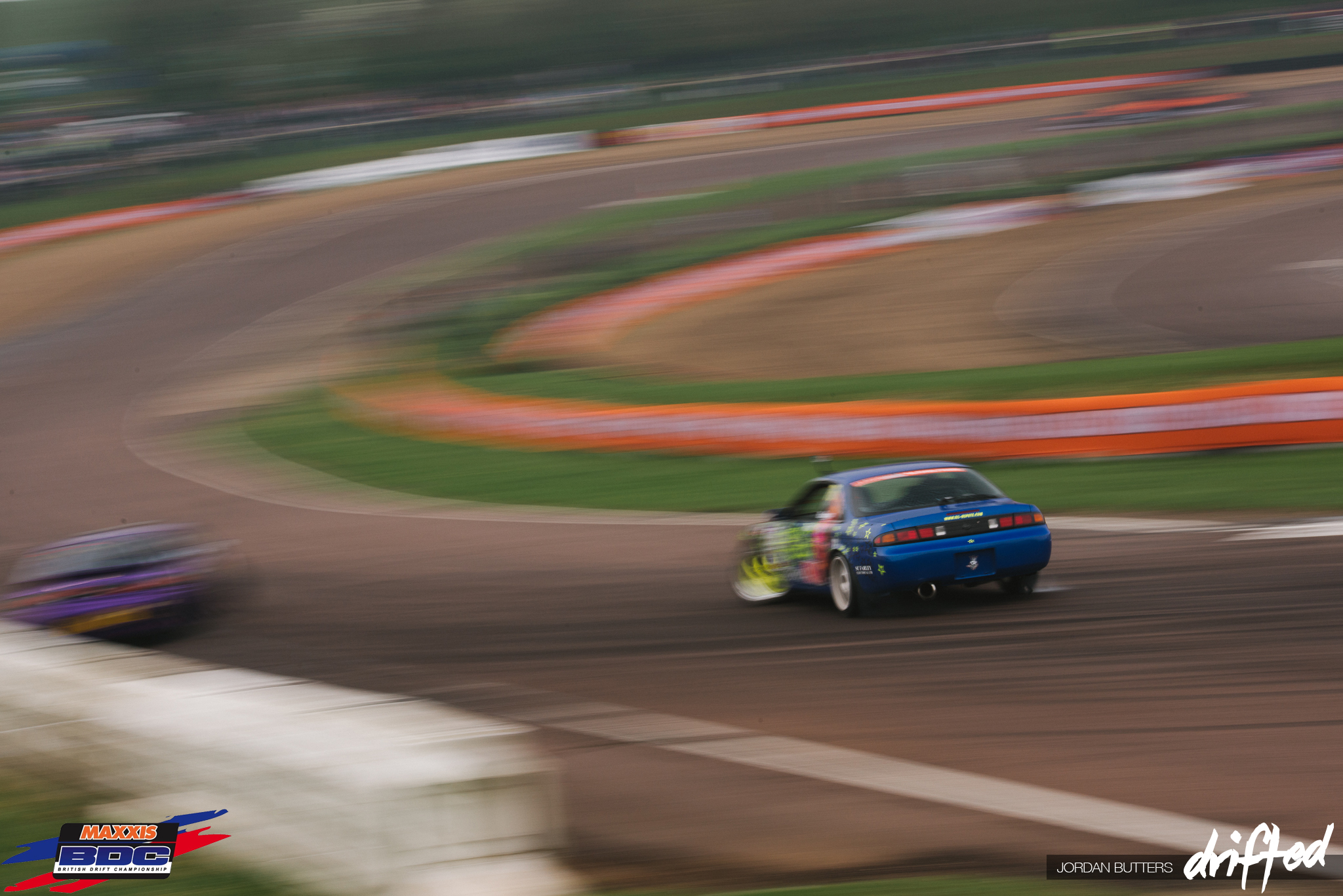 Still, the speed at which the drivers navigated the track was surprising.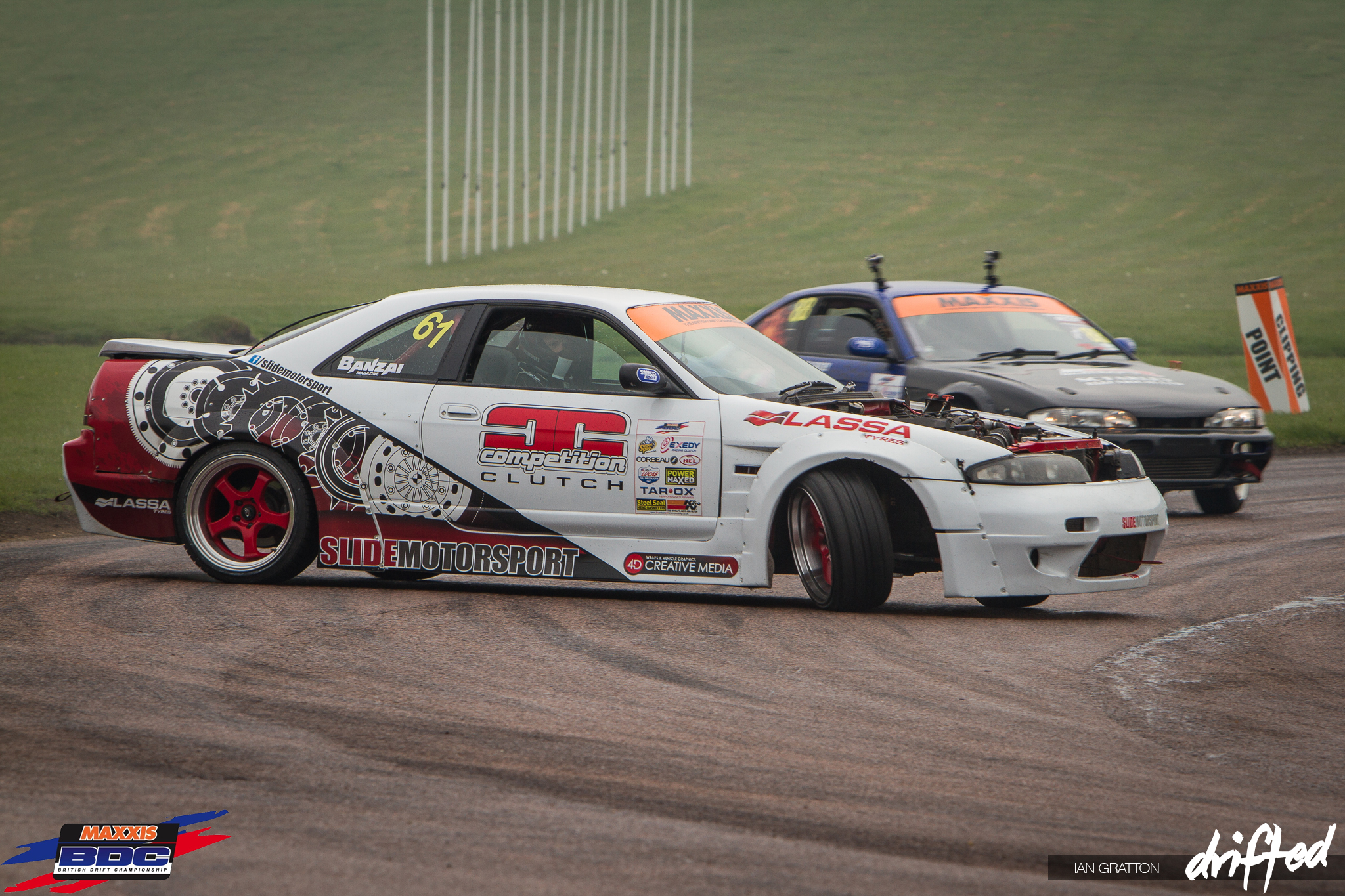 Only really the first corner looked greasy and was causing a few problems.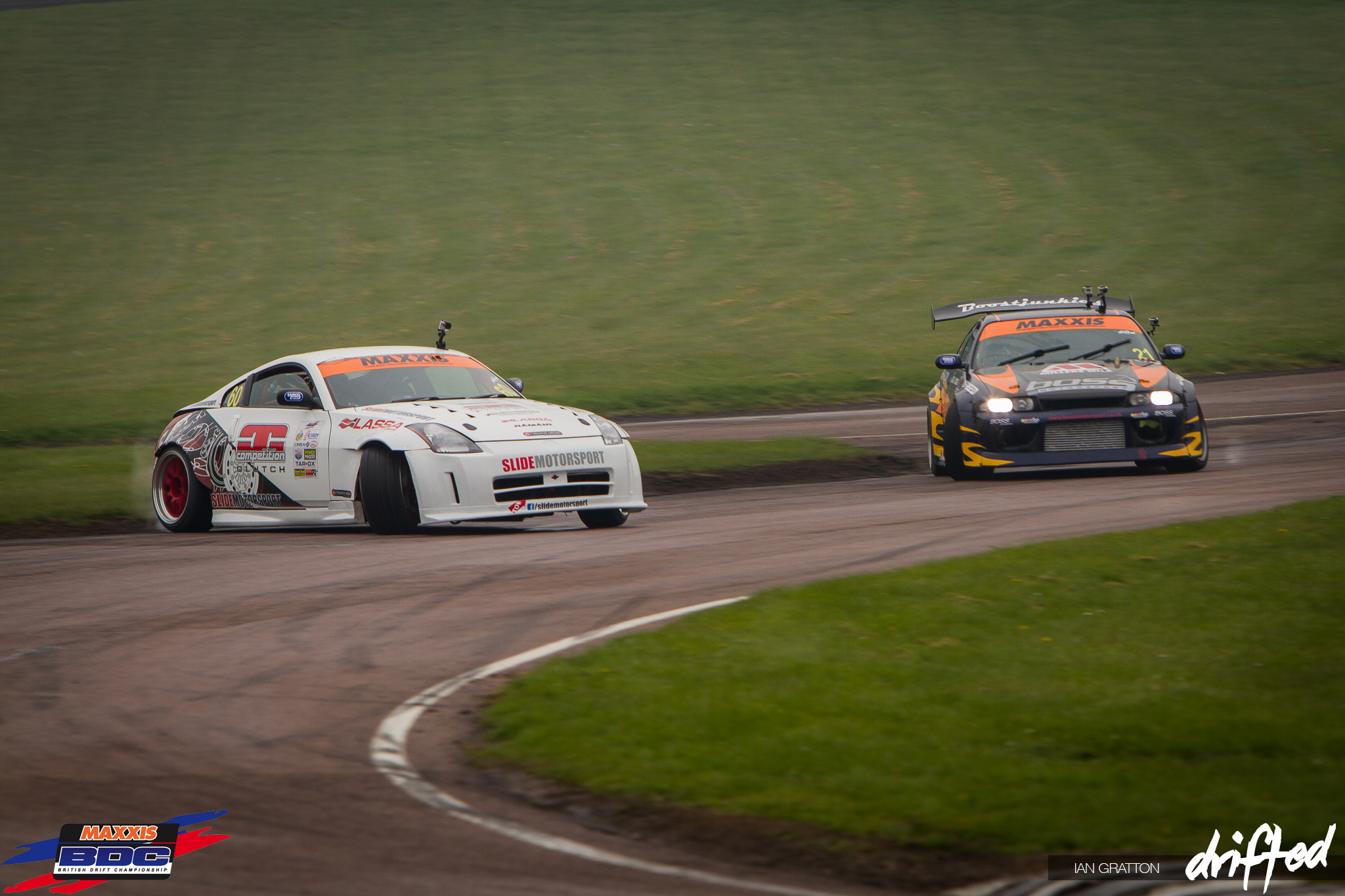 The finals were between Matt Stevenson in the Slide Motorsport 350Z and Ollie Elmore in the Boss Motorsport R33. Stevenson drove clean and faultless, netting him the win.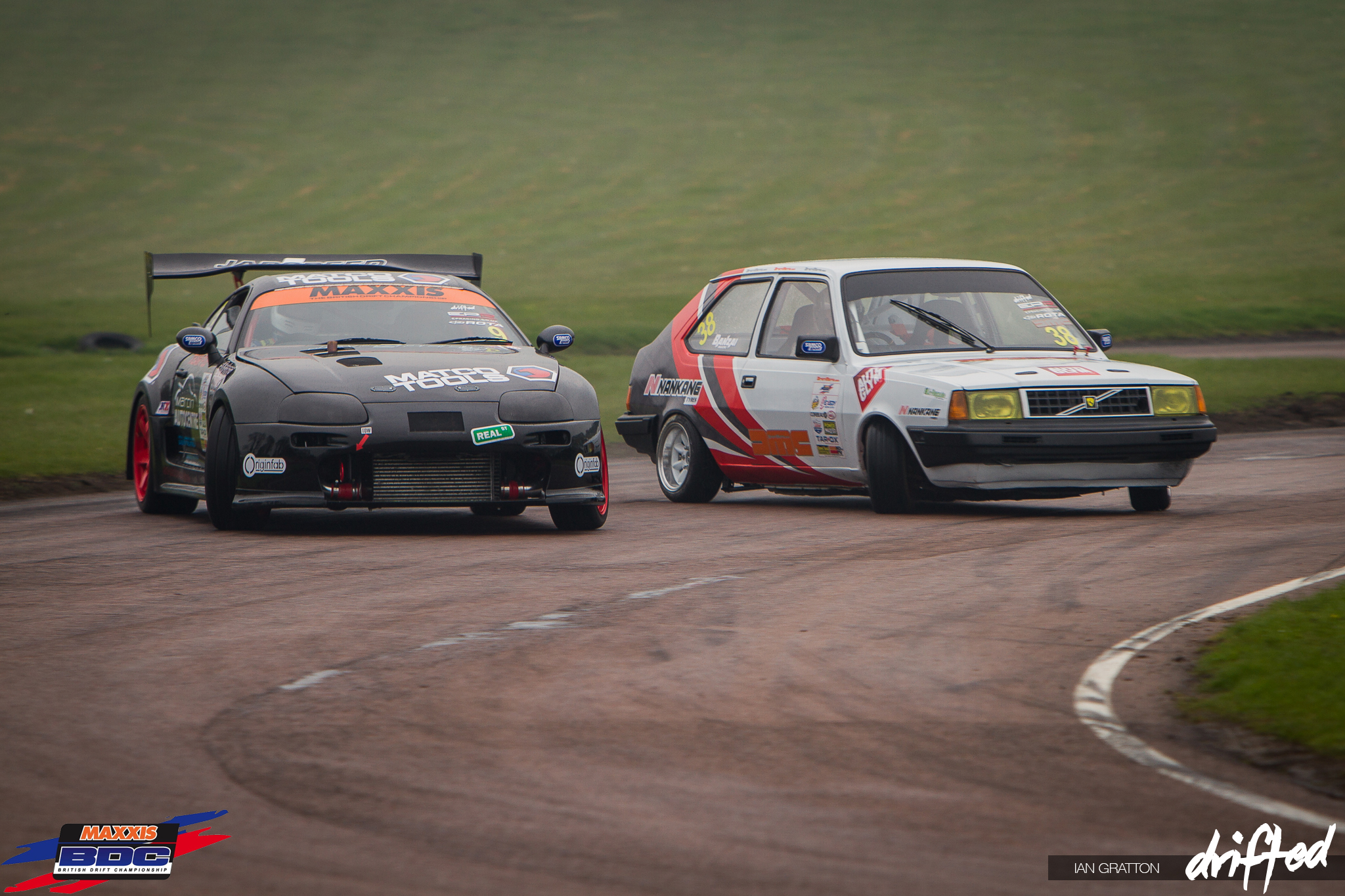 The pro class top 16 we witnessed fantastic battle after fantastic battle involving Dan Firmanger in the Nankang V8 Volvo. First Dan made light of Marcin Mucha's big power Supra.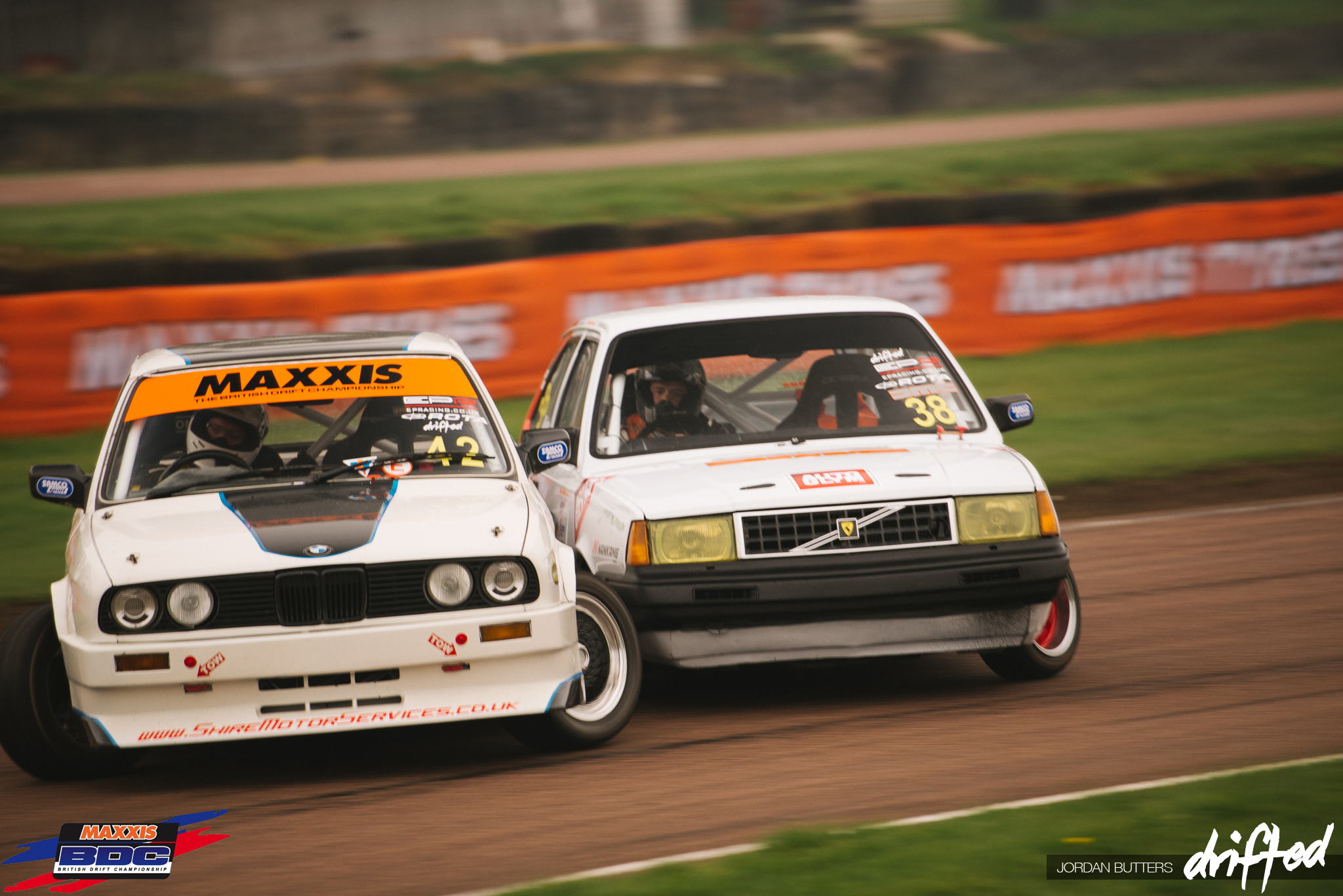 He then went door to door, literally, with Pete Green's V8 E30. How cool is this battle?
On the other side of the top 16 bracket, Martin Battye in the Drift Street Imports S15 made his way through to face Ben Manuel in the top 8.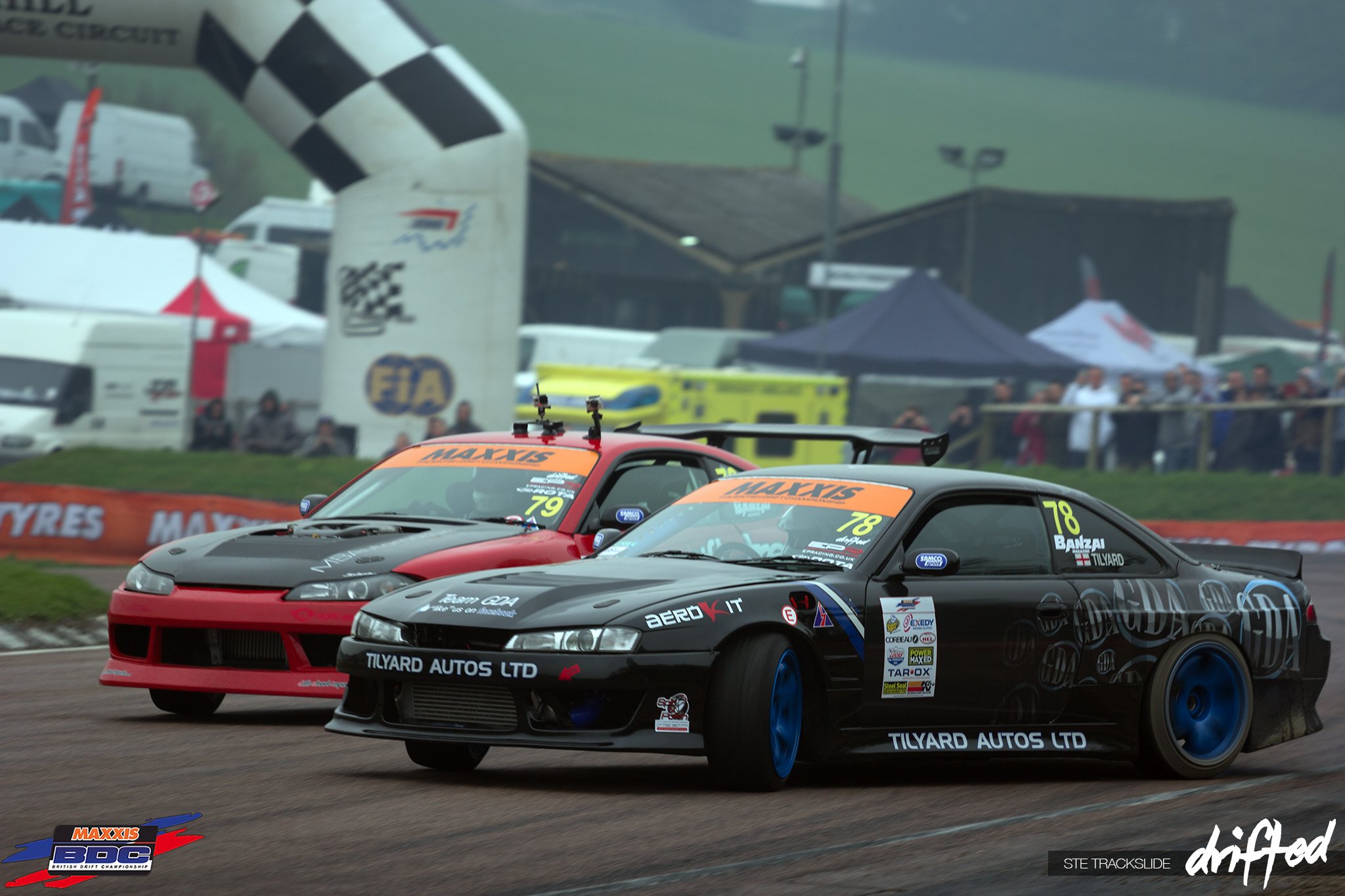 And, having made his way through, faced super-consistent Matt Tilyard in the semi finals. With the track drying out, Battye was able to really put the power down, making him tough to chase and get away from, and booking him a spot on the finals.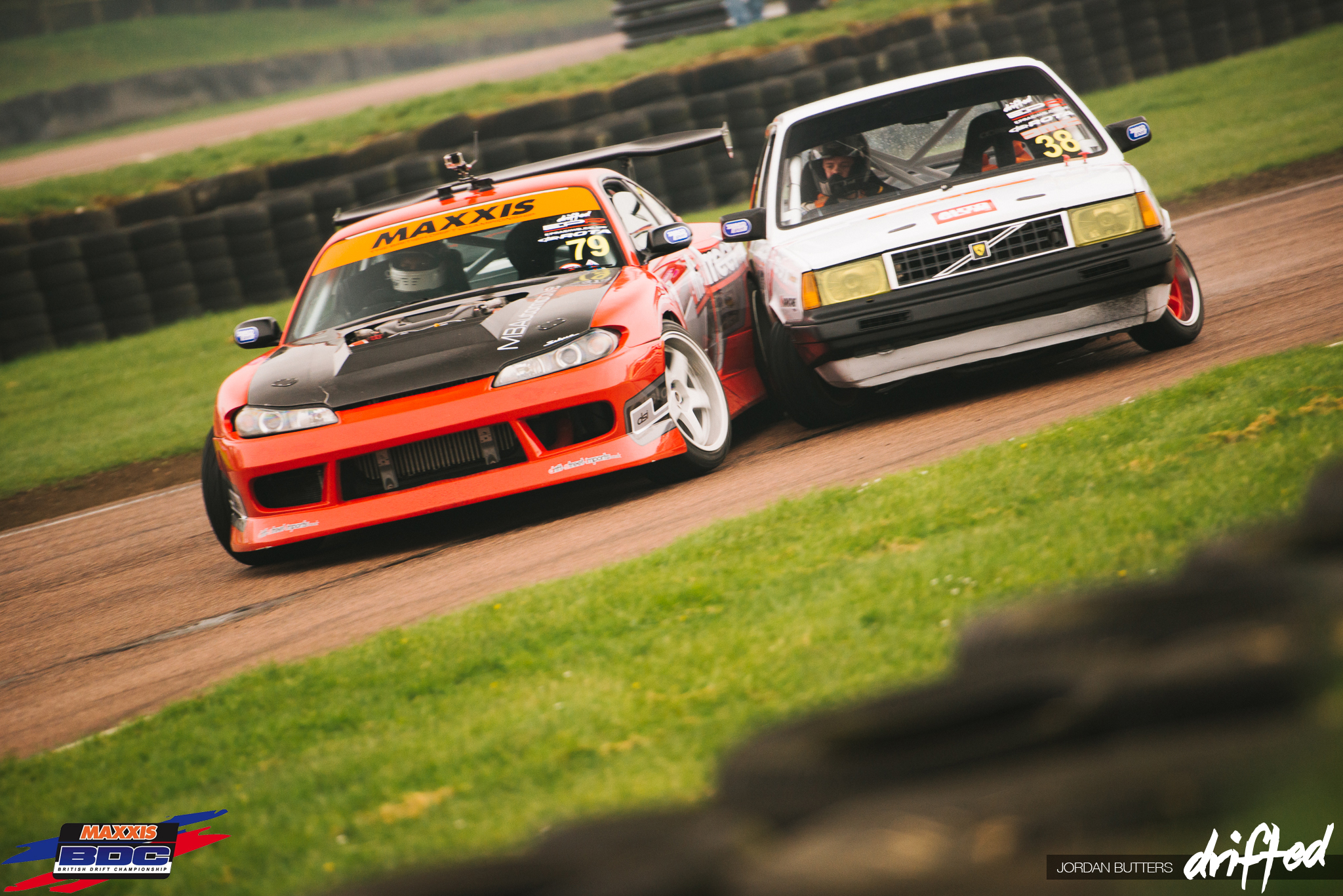 Dan Firmanger would go door-to-wheel with Martin Battye's VR38 S15 in the finals. The contact broke one of the S15's driveshafts, meaning a quick swap was required before the battle could continue.
After the repairs were carried out, Battye struggled to match Firmanger, but judges decided that, due to the heavy contact in the first run, the win would be Battye's – first event, first victory!
In the Super Pro class Japspeed's Shane Lynch and CMR's Dan Chapman squared up first off. An uncharacteristic spin by Shane saw Chapman progress to the top 8.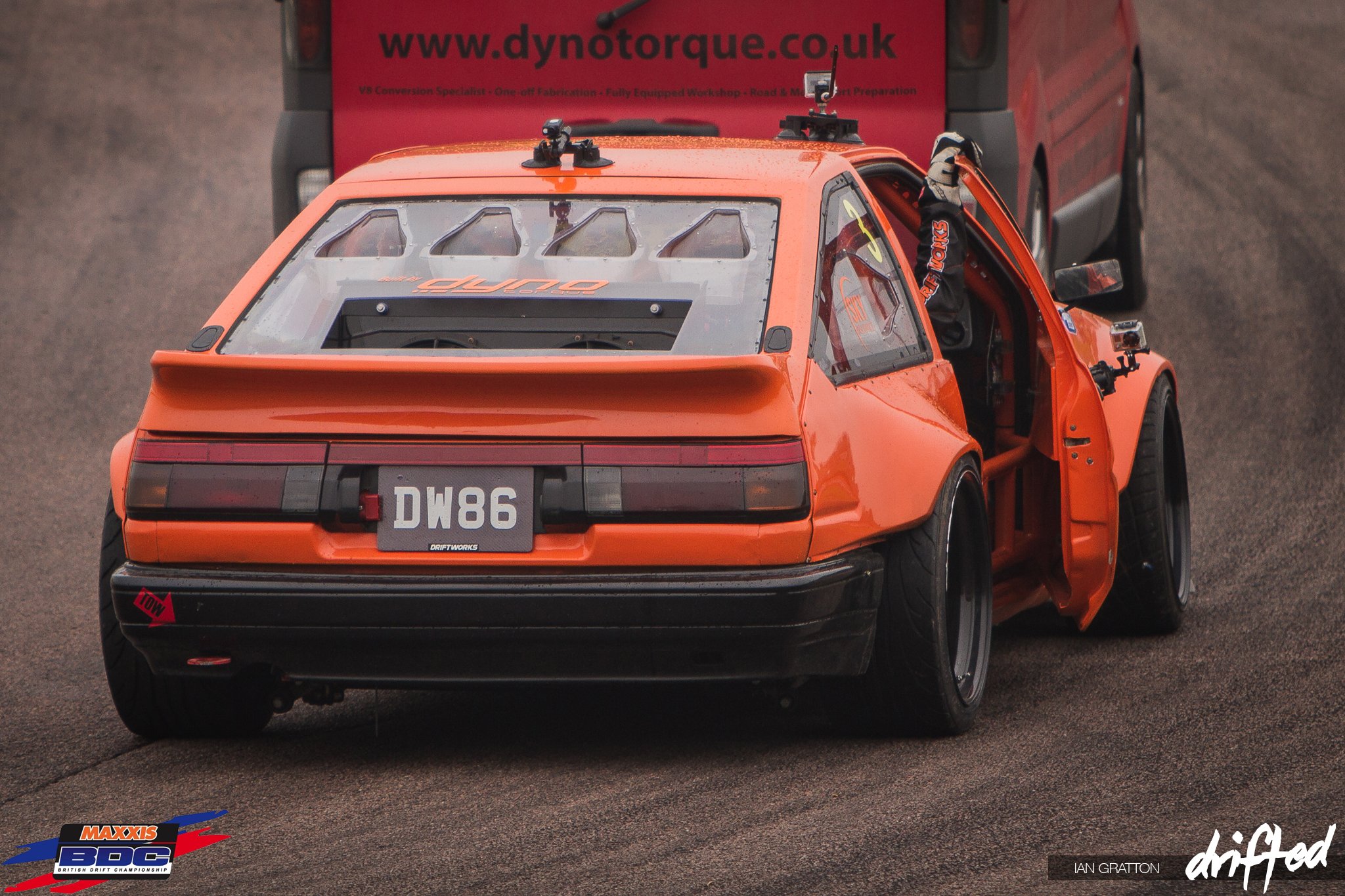 The young Jack Shanahan would face the mighty Driftworks V8 AE86 piloted by Phil Morrison. Much to the disappointment of the whole world, the DW86 was unable to run due to a drivetrain failure. Still, these teething issues do happen and it's better to get them out of the way now than further into the season.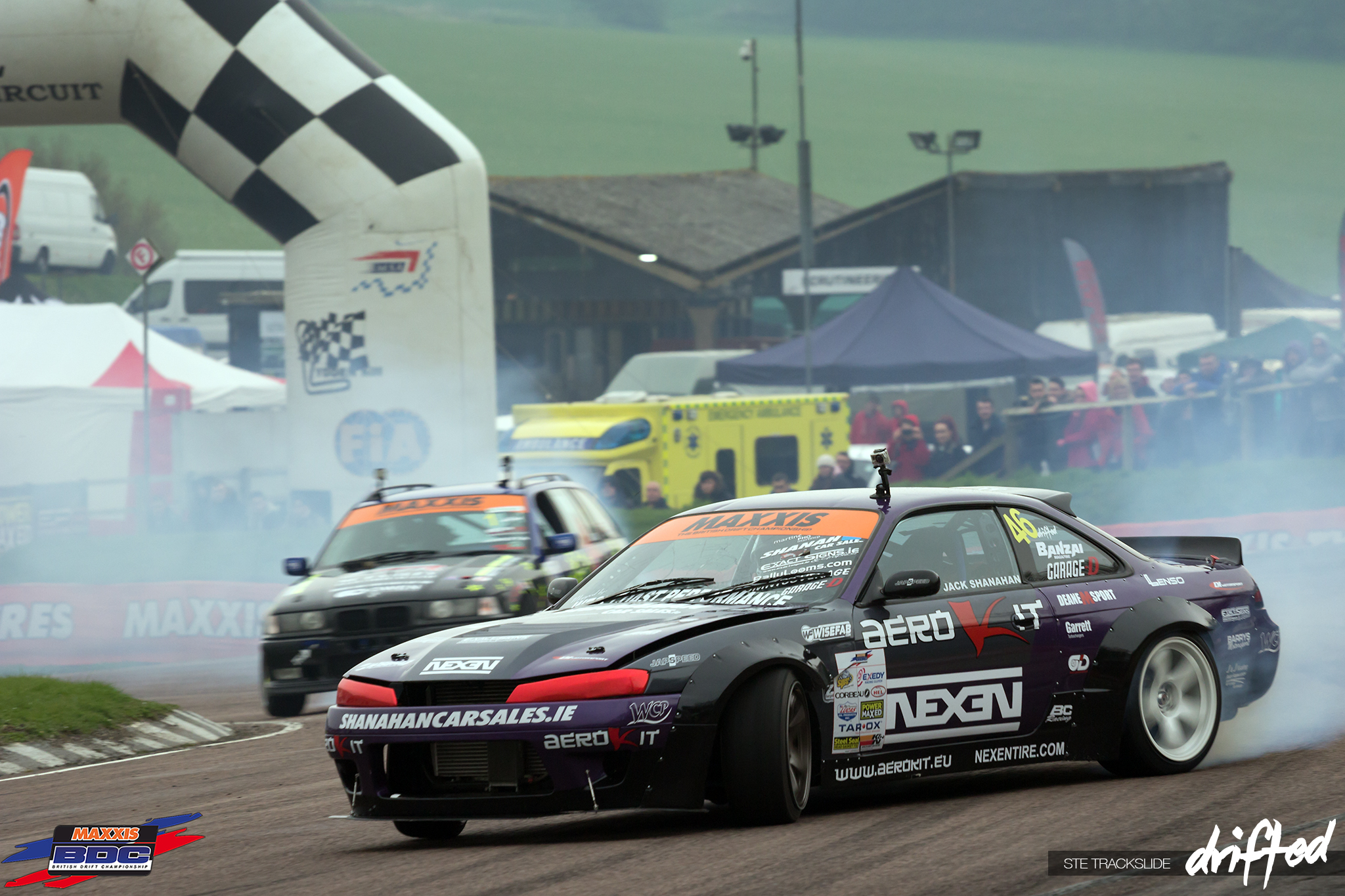 Jack would face 2013 champion Michael Marshall in the semi final. Marshall's form at Lydden Hill can't be ignored – he won last year's championship at this very circuit. Nevertheless, the young Irish prodigy Shanahan leaves the E36 for dust in his Nexen-backed S14, booking him a spot in the finals.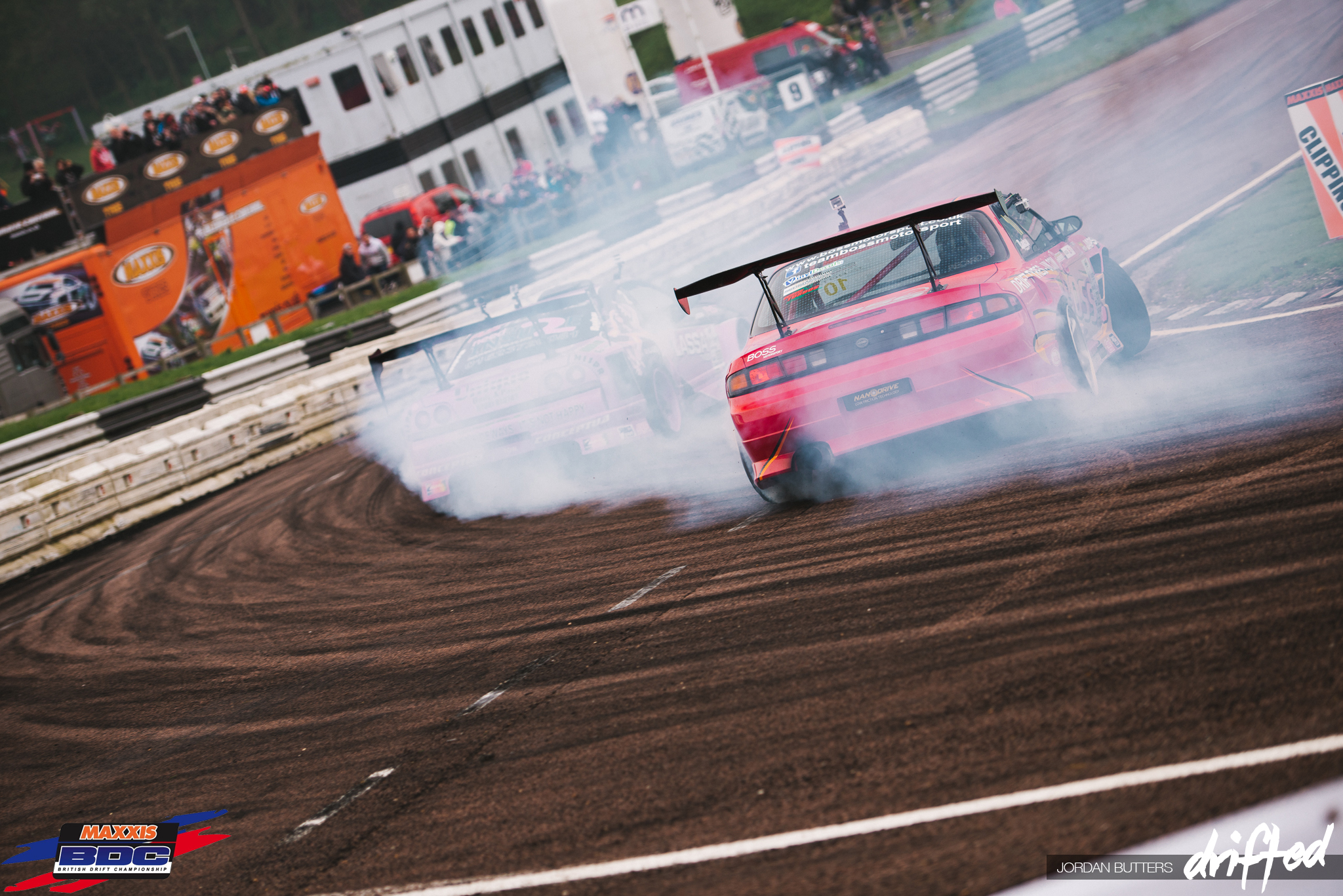 BDC Veterans Simon Perry and Steve Moore have faced off more than a few times over the past few years, and both are drivers celebrated for their consistency. Contrary to this Moore suffers a spin on the final bend and, despite a great lead run afterwards, cannot claw back enough points, putting Perry through to the top 8.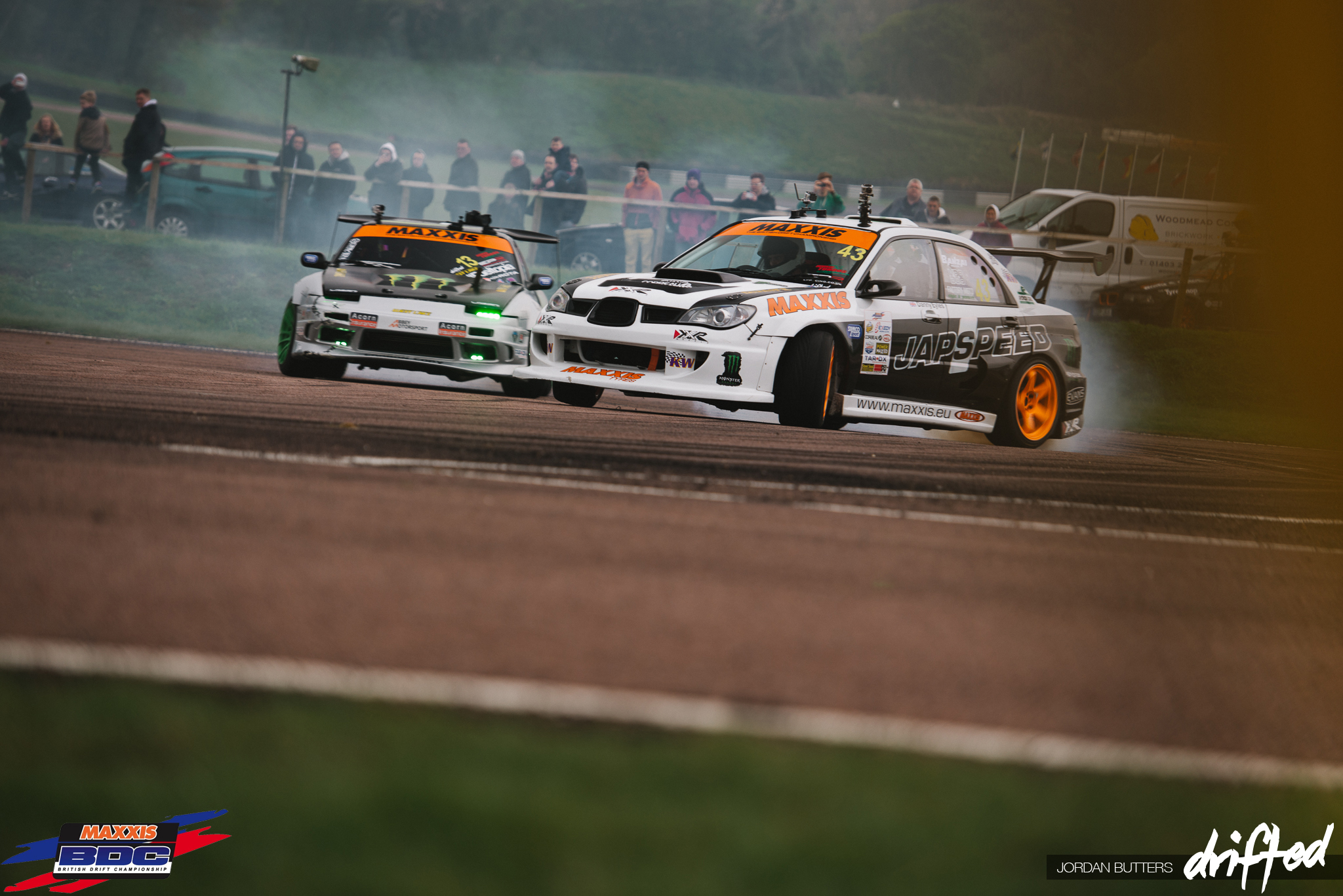 Danny Eyles, back in the saddle after three years away from driving would take the Japspeed Subaru to victory against former teammate Baggsy in the Monster/Acorn Motorsport S13 after he suffers an engine failure.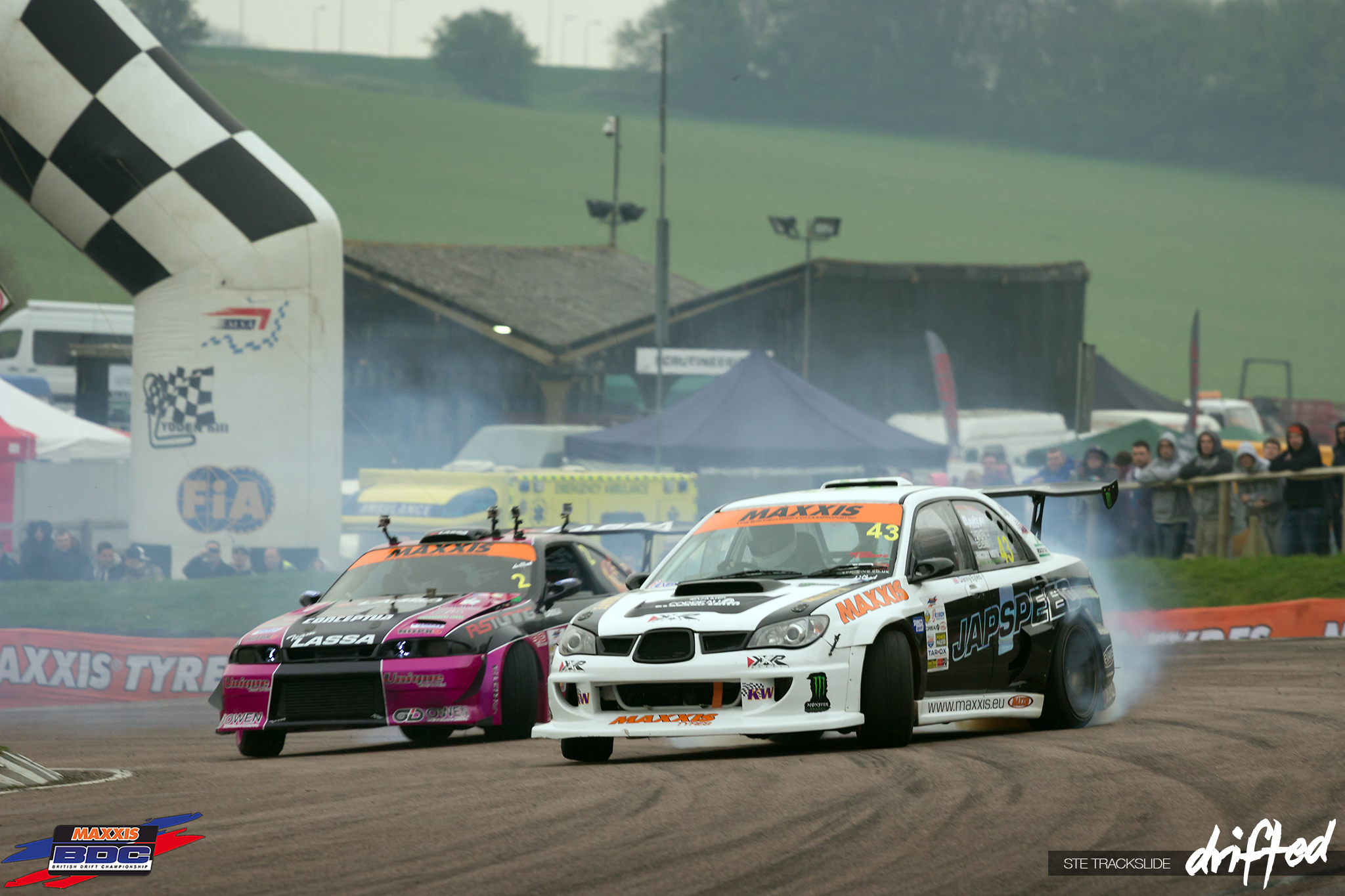 Before Eyles is knocked out by Perry in the top 8.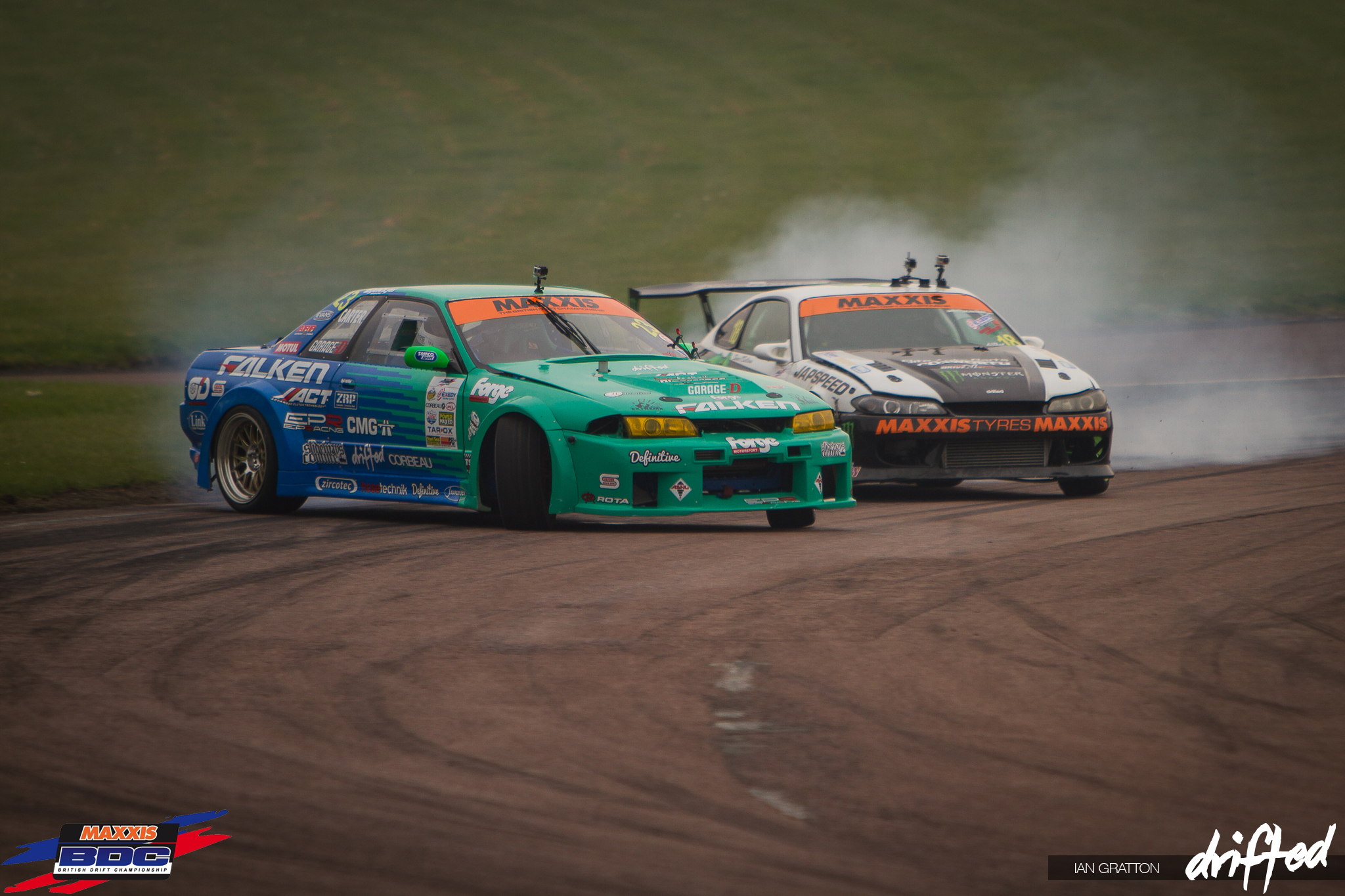 Team Falken's Matt Carter frustratingly threw away a sure-fire win against Japspeed's Shane O'Sullivan, Carter leading well and bagging a big victory in the first run, before spinning in the second, handing the Irishman a pass through.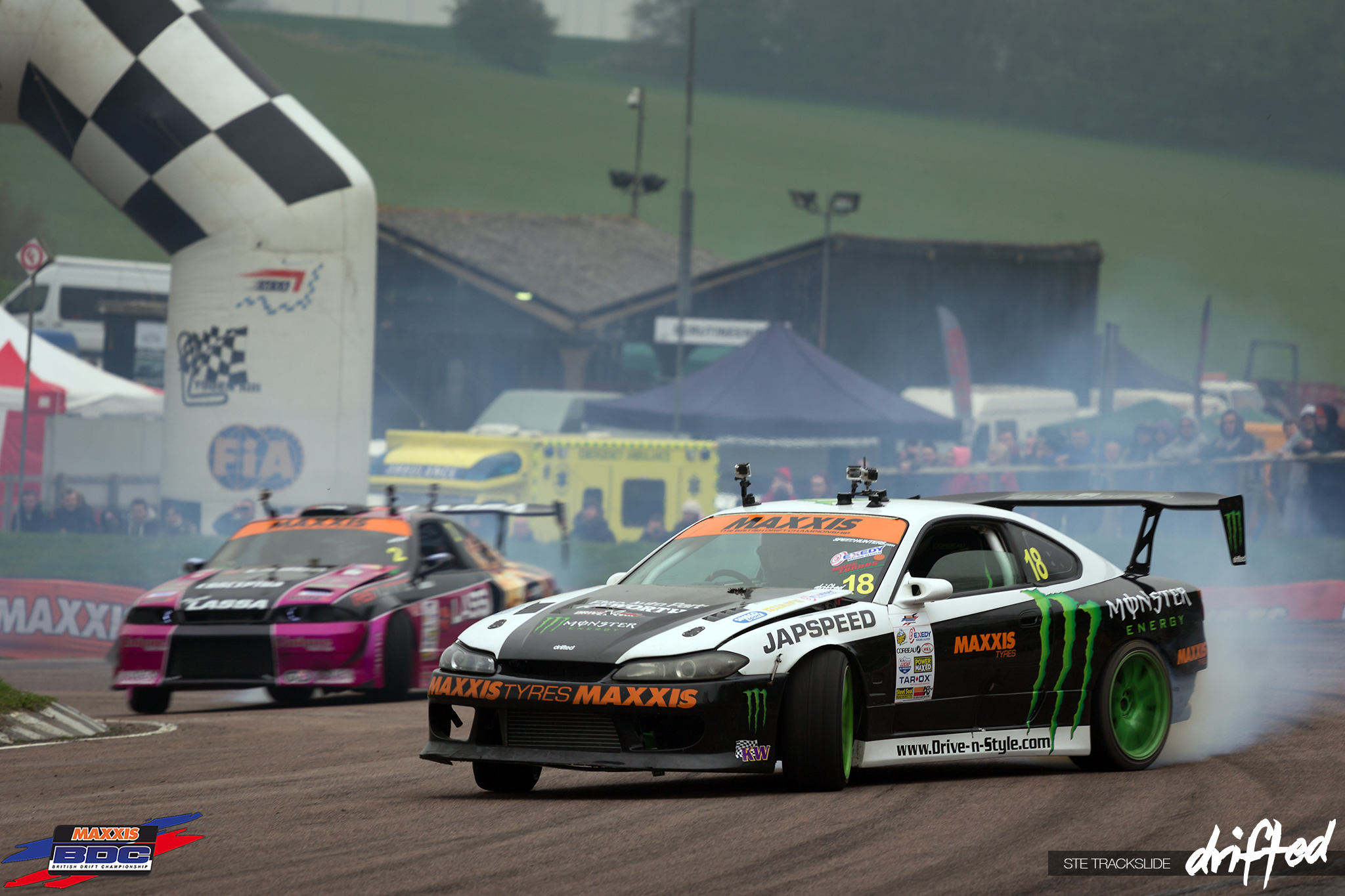 O'Sullivan would then see off Perry in the semi final…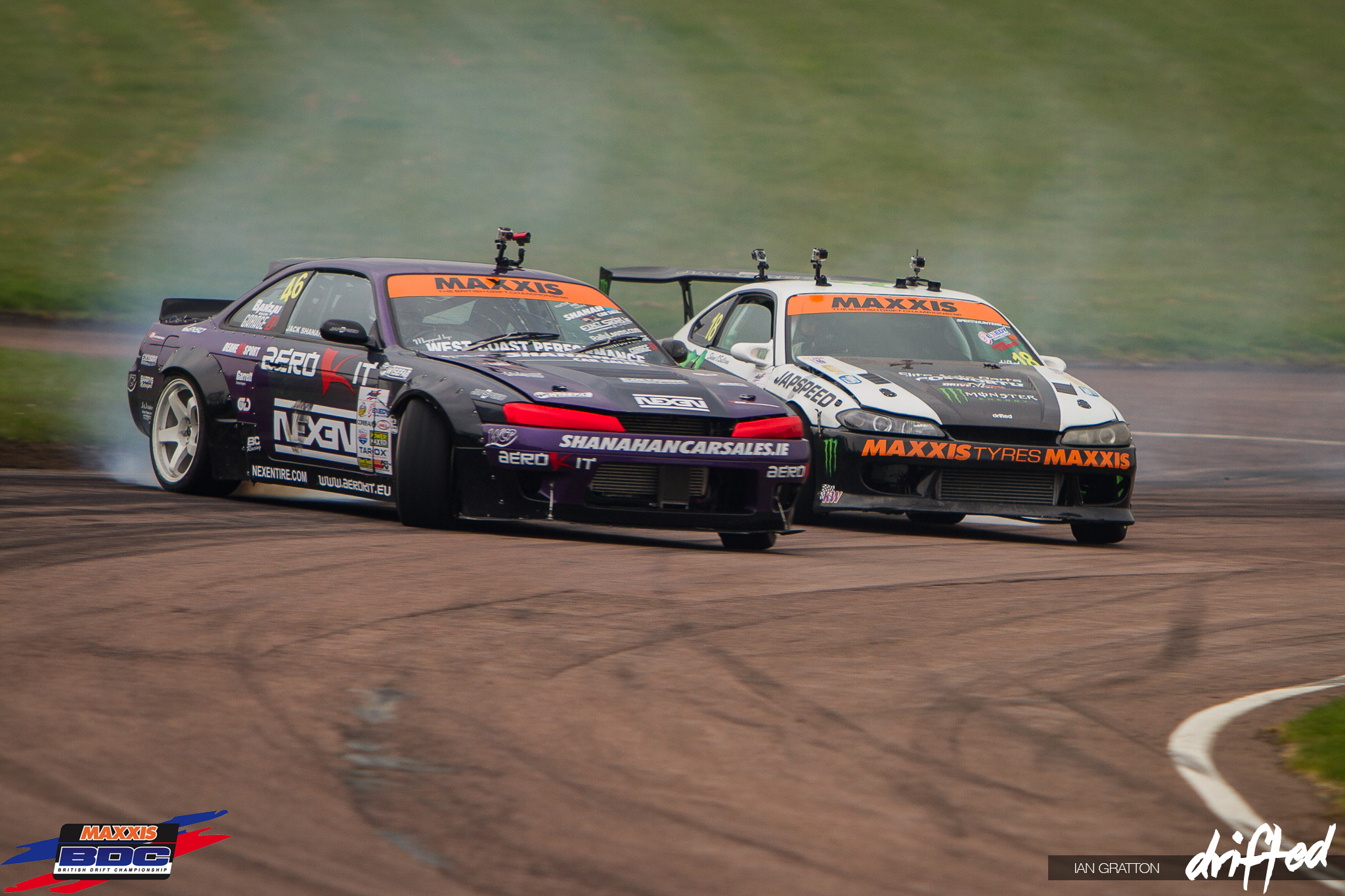 To meet with Shanahan in an all-Irish face-off for the first round title. It's easy to see why so many Irish drivers have found success in Formula Drift. There's an energy and aggression at play that makes tandem battles mesmerising to watch.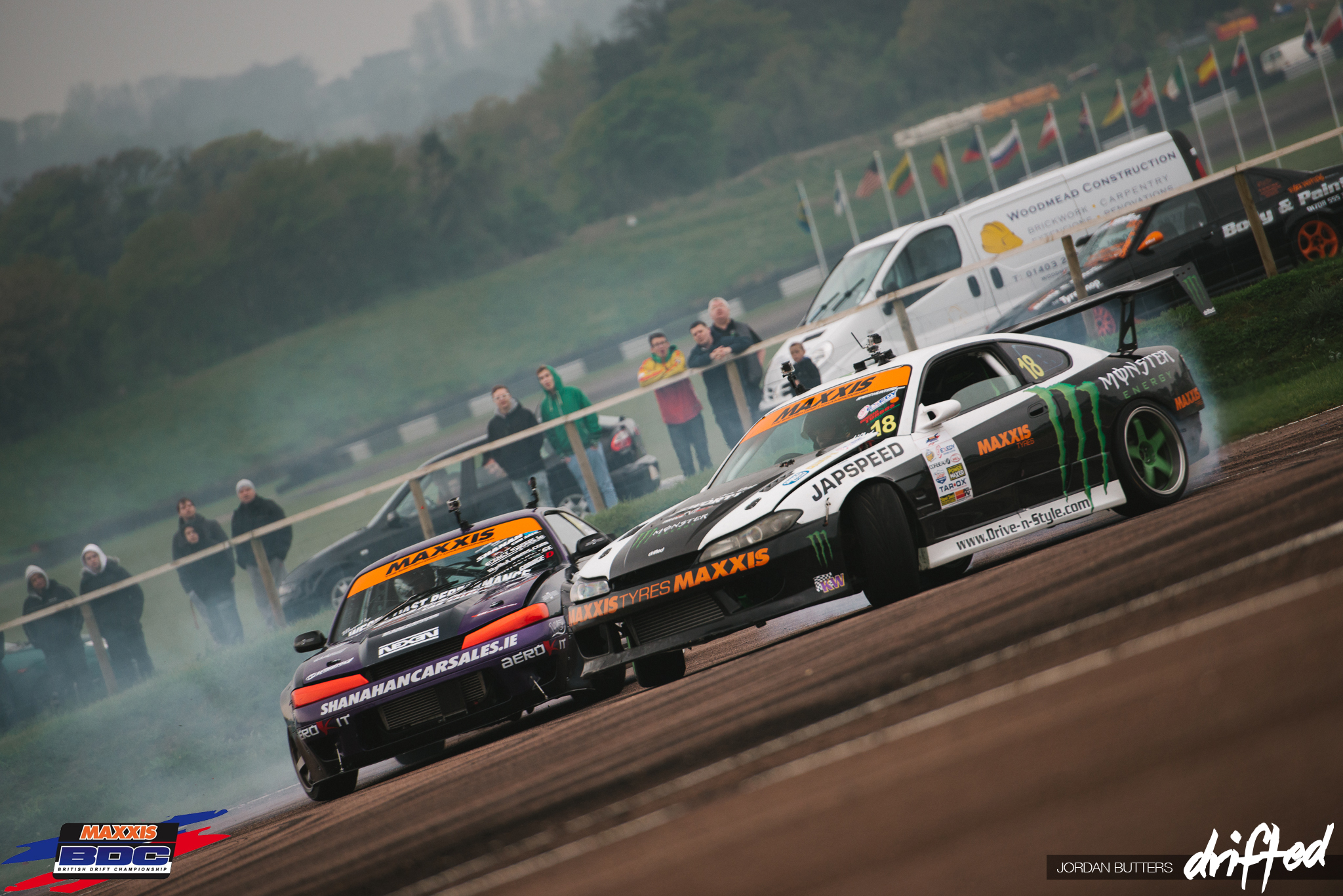 Even at the tender age of 14, Shanahan seems as if he's bee doing this all his life, and gives as good as he gets, forcing O'Sullivan to One More Time.
When the smoke settled on the final battles, the judges had a winner – Jack Shanahan takes his first ever BDC victory, with Shane O'Sullivan in second place and Michael Marshall taking third.
With the 2014 season underway we can barely wait for round two, which takes place on 7-8th June at Knockhill Circuit, Fife, Scotland. For ticket information visit www.thebritishdriftchampionship.co.uk
Liked our coverage? Let us know in the comments below please!
Words: Jordan Butters
Photos: Jordan Butters, Ian Gratton & Ste Trackslide
Subscribe to Drifted
If you like this article why not subscribe to Drifted and we will email you our freshest content for free!