EVENT: 2014 Maxxis British Drift Championship Round Three: Teesside Autodrome
Teesside Autodrome is a drift venue favorite among drivers and fans alike, with a combination of fast sweeping bends to tight and slow technical hairpins it pushes most drivers to their limits. The fans love this track too with its elevated banks you get a great 'overwatch' view of the entire track and action. The BDC adopted a new racing line for this event, running the outside of Southbank, the first huge corner, leaving little room for error, which is great in my opinion as it forces people to up their game. The British Drift Championship round 3 was hot, cold, wet and dry all in the same weekend, standard for the North East. Send 'em.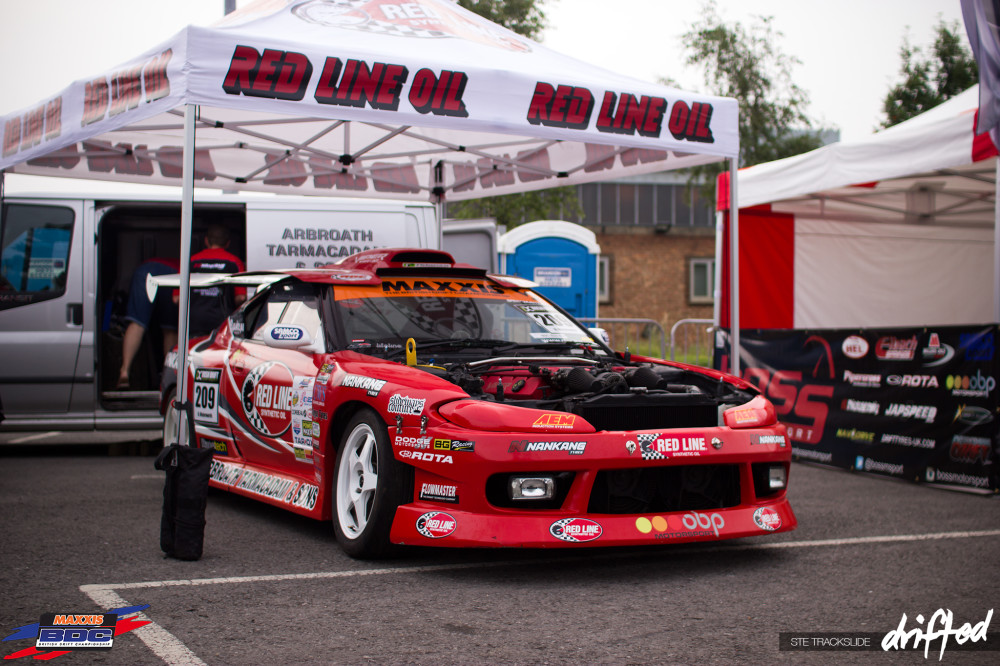 I had a quick chat with David Waterworth about his awesome Dodge Viper powered V10 Nissan S15. David said the car was pretty much straight off the boat from the previous round of the Irish Drift Championship. No tweaks or adjustment needed in preparation for this weekend as he was happy with the setup. It seems he has finally tamed that beast of an engine in such a light car.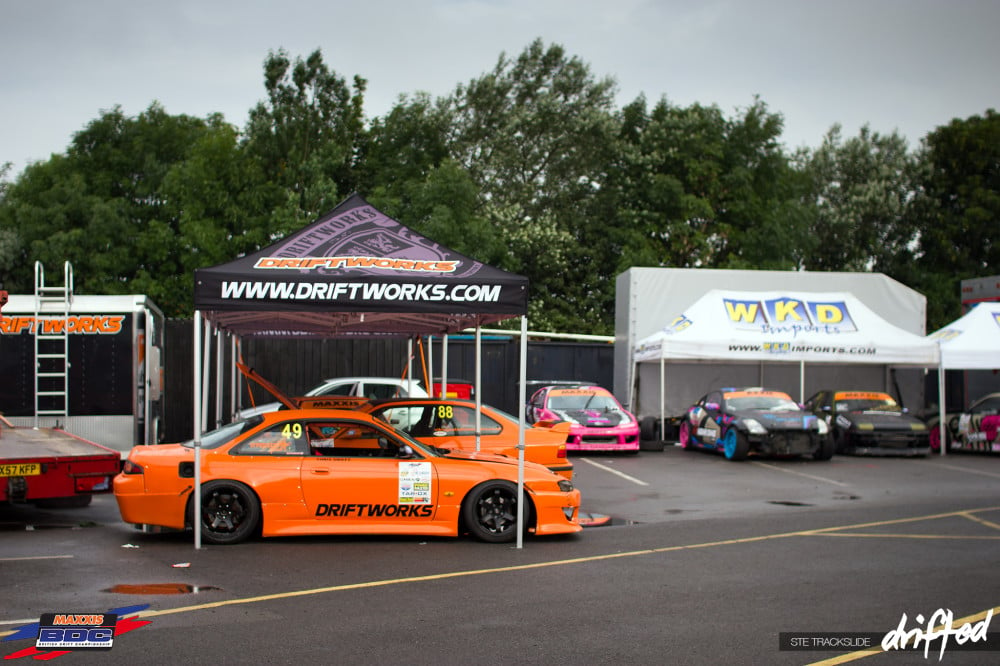 Saturday morning was damp, cold and a little foggy. I usually arrive early to these events but I was quite literally the only person there. Soon though these sleeping beauties would roar into life, this is our starting pistol.
One of my first tasks of the day was to find a certain car, Marc Huxleys SR20 powered Toyota Celica RA28 to be exact. I had followed the build of this car religiously and knowing Huxs level of attention to detail I just knew I had to see it. And what a car! I love old Japanese cars, the Celica 2000GT and Skyline C10 are just epic cars.
The order of events were a little different this round, with Super-Pro running first, followed by Pro, then Semi-Pro before lunch time. Qualifying after lunch would be Semi-Pro followed by Pro, finishing up with Super-Pro.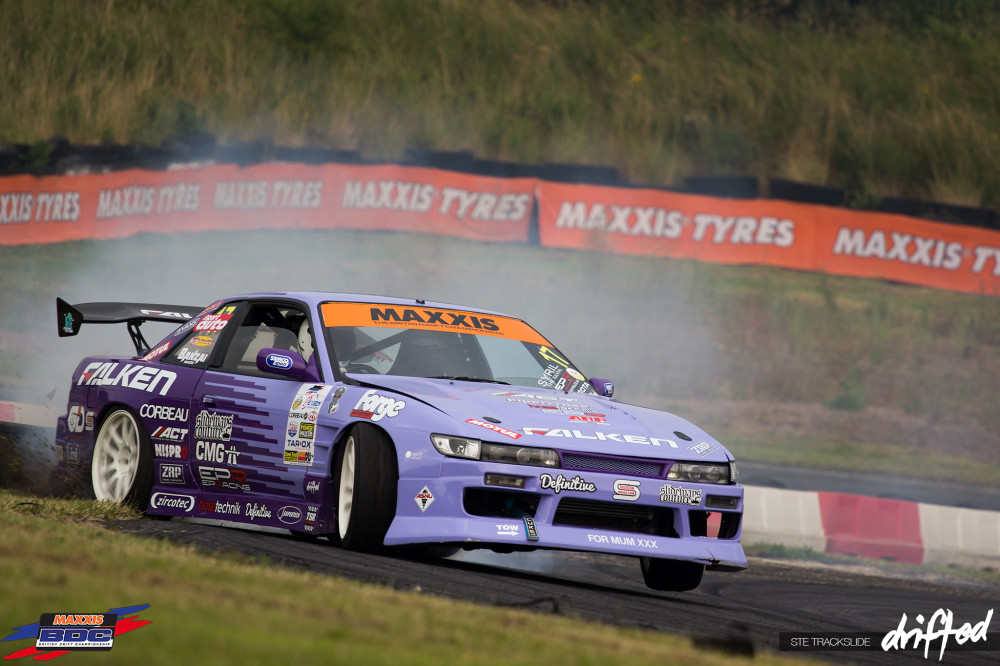 Everyone seemed to be negotiating the new line fairly well, there were a few incidents but very little down time.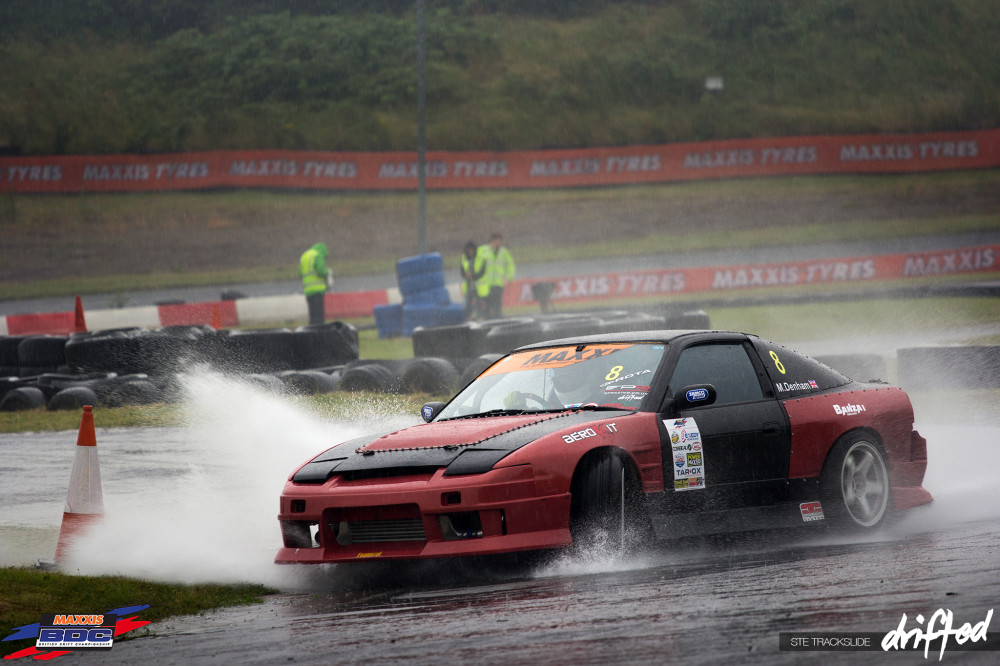 Then the rain came, standard. I usually find that every major event at Teesside is usually one extreme or the other, if it's not monsoon season, there's a heatwave.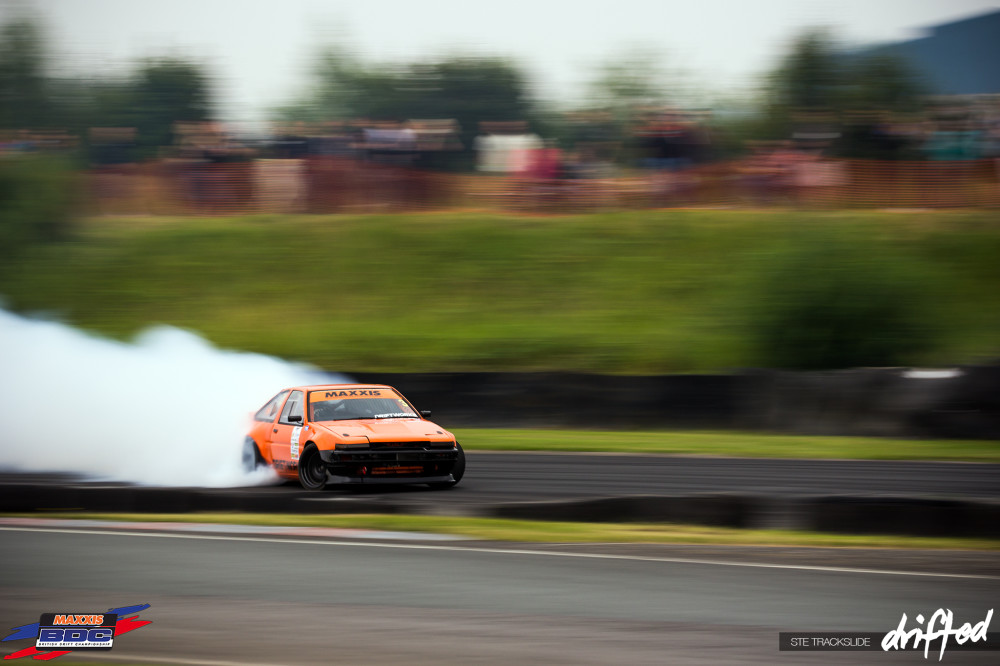 Drivers as usual weren't deterred by the weather, staying committed as ever. Some didn't even have windscreens, that's dedication.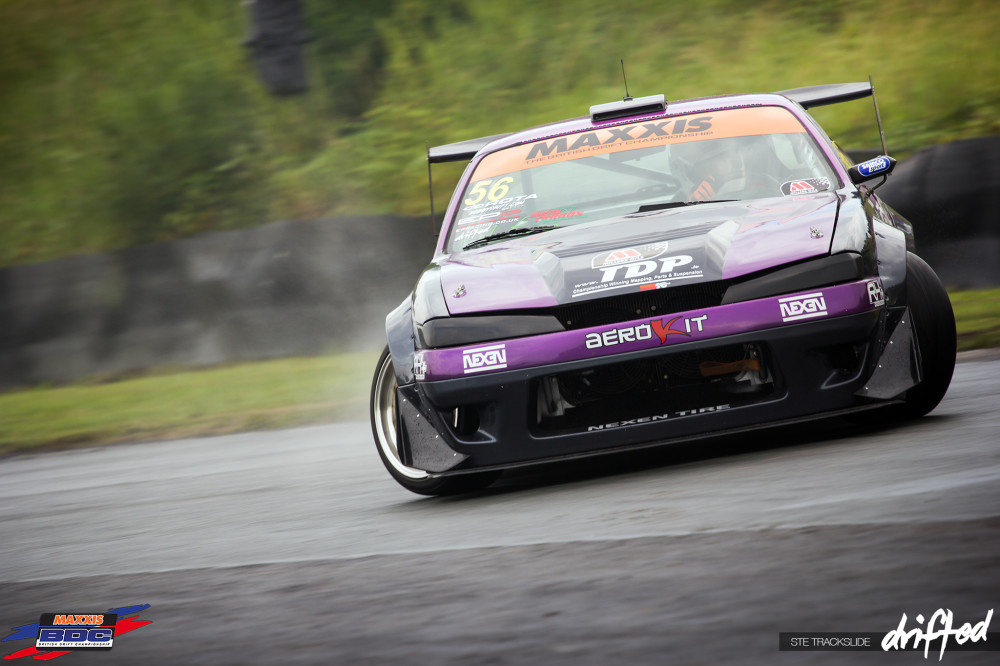 Even with the rain all the drivers were performing superbly, it never ceases to amaze me just how well these cars still handle in the rain.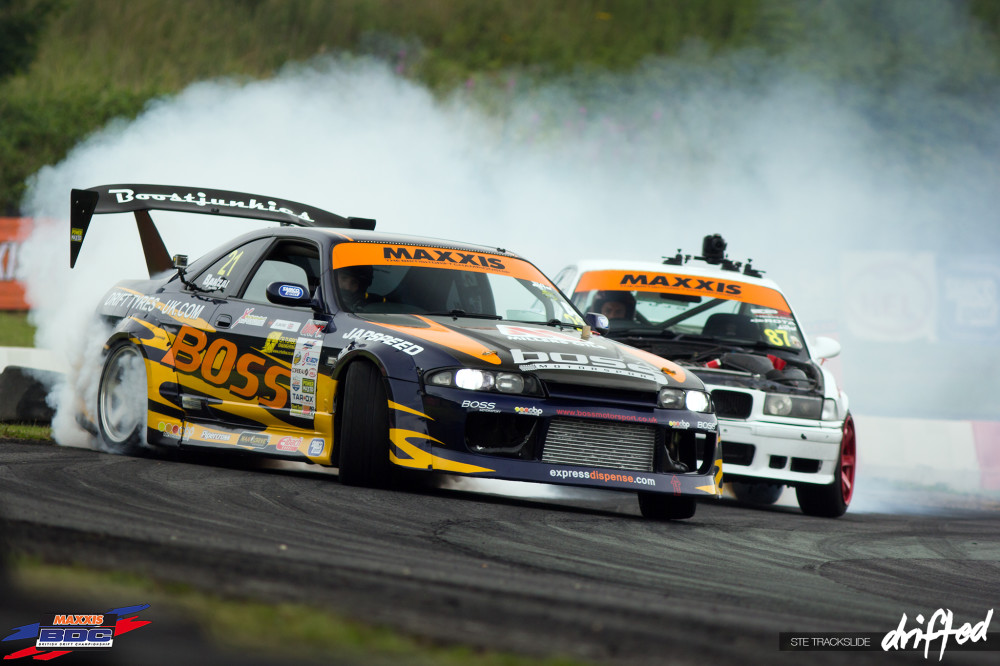 Sunday morning was straight in the action, no rain mean more speed, smoke and some great battles. most drivers were door to door for the majority of the day.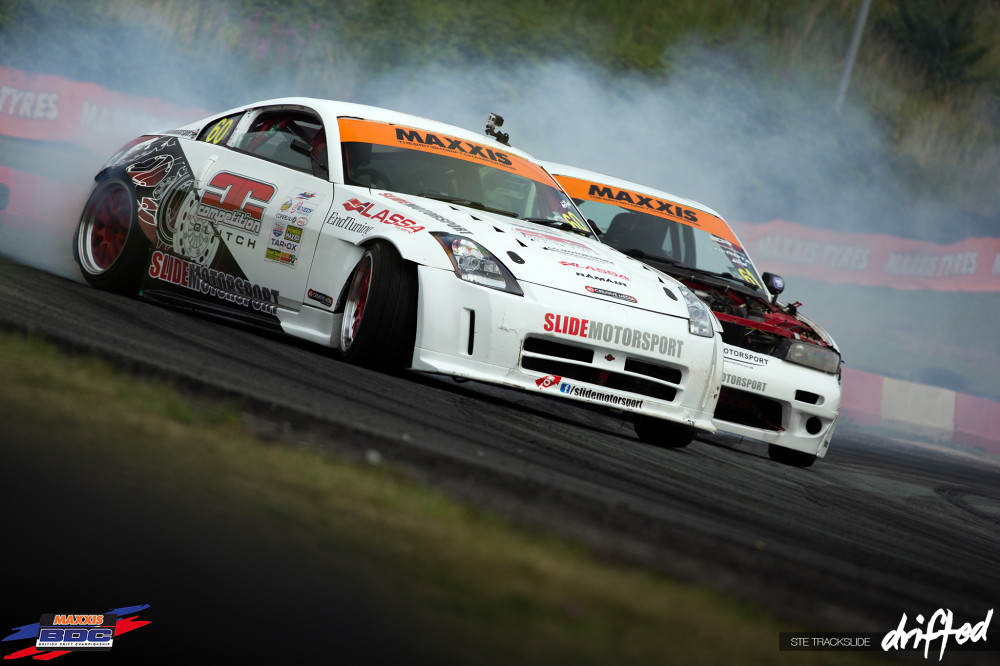 In a real 'boys will be boys' moment, Slide Motorsport lads; Adam Simmons and Matt Stevenson put on a great show, even making contact at one point. The crowd quite literally went wild…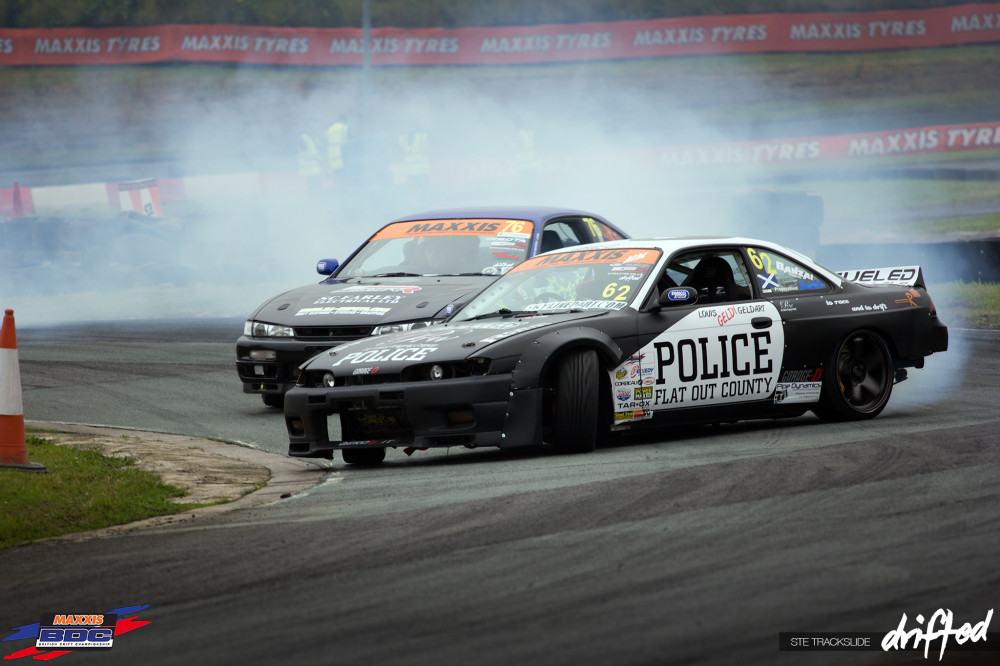 The order of battles were a little different this round too. Instead of running the top 32 of each class start to finish, the bottom 16 of each class would be eliminated via battles, then it progressed onto the next class. Before lunch, Semi-Pro were up first, then Pro followed by Superpro, then the afternoon would hold the top 16 of each class.
As the day progressed the crowd grew bigger. I don't think I've ever seen so many mobile phones out at an event, Huxleys Celica was certainly earning some respect.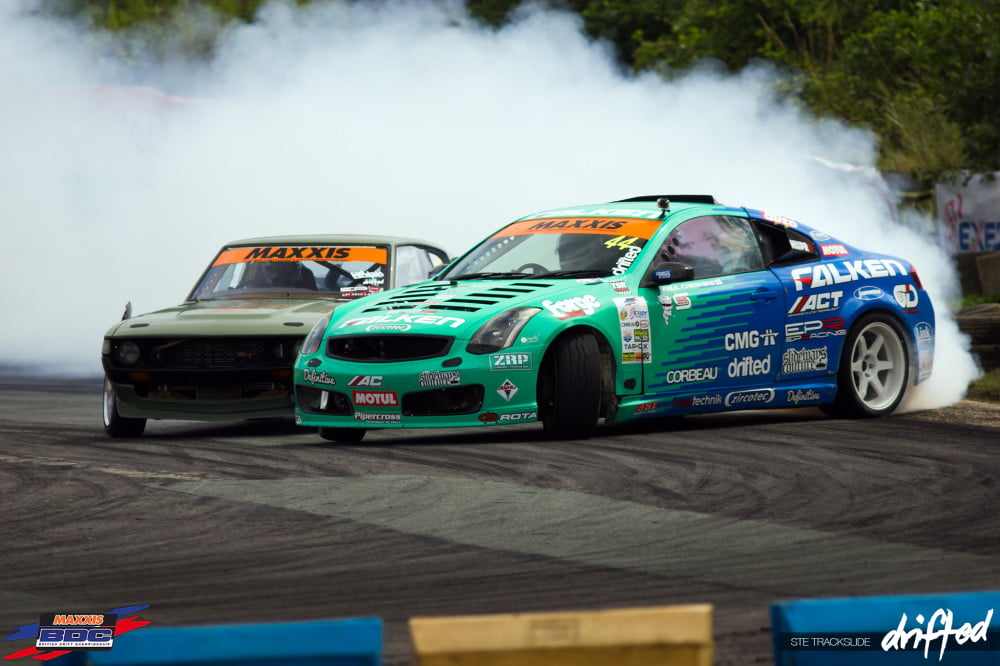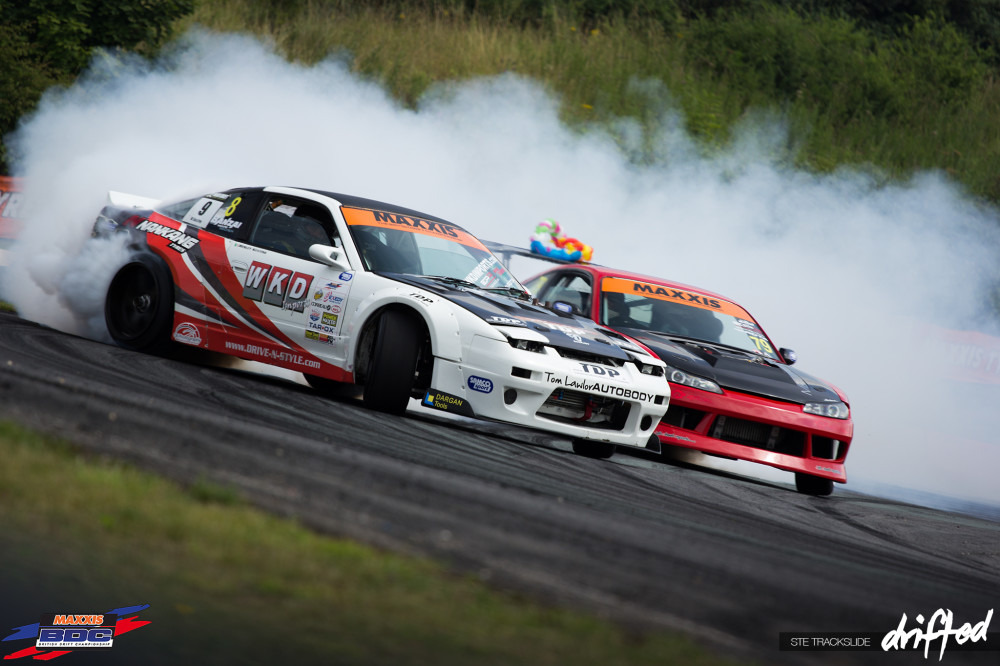 Wesley Keating was driving great all morning and had a great battle with BDC RD 2 Pro class and Super-pro class winner Martin Battye. Wesley took the win and progressed onto the top 16.
Louis Lopez went up against Matt Carter, this was epic to watch and listen to, these have to be some of the best sounding cars in the BDC, especially Matts AK47 sounding antilag'd R32. Matt Carter took the win.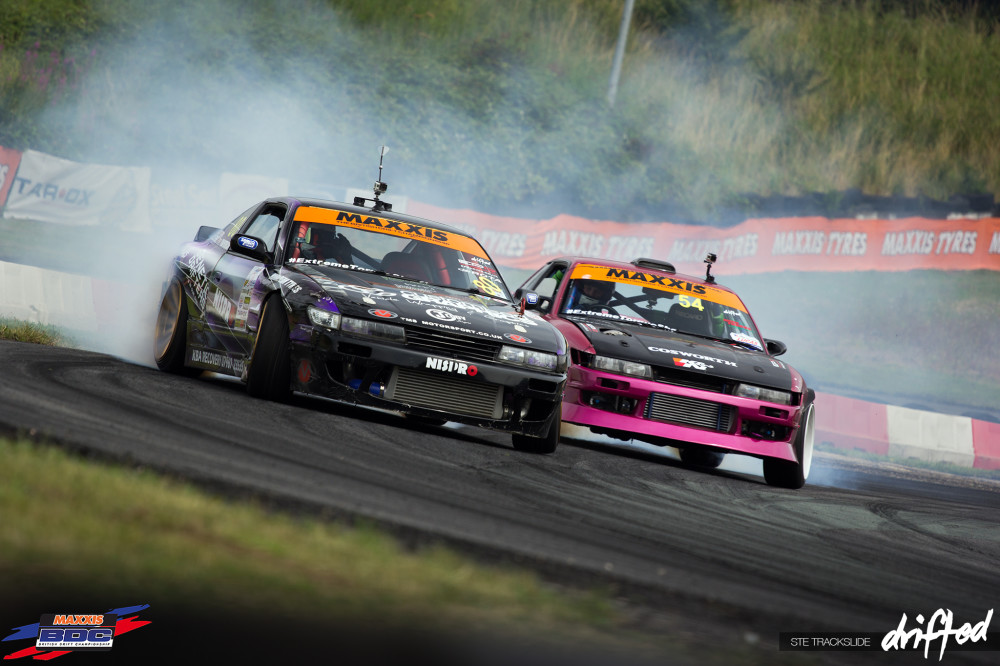 Semi-pro Top 16; I'll just touch on the memorable battles, there are a lot of cars in the BDC. Ryan Pothercary was knocked out by Tony Walker in what must have been a hard decision for the judges, it was very close from my perspective, Tony took the win and progressed into the semi-finals.
Tony also knocked out Ryan Cooper after Ryan made a mistake on his lead run, Tony drove flawlessly on his lead run earning him the win. But Ryan wasn't completely out yet as he would be in the battle for 3rd.
The battle for 3rd was between Adam Simmons and Ryan Cooper. They had a good first run, but on the second which was Adams lead run, Ryan seemed to be struggling for grip as he had a couple of spins, handing 3rd place to Adam.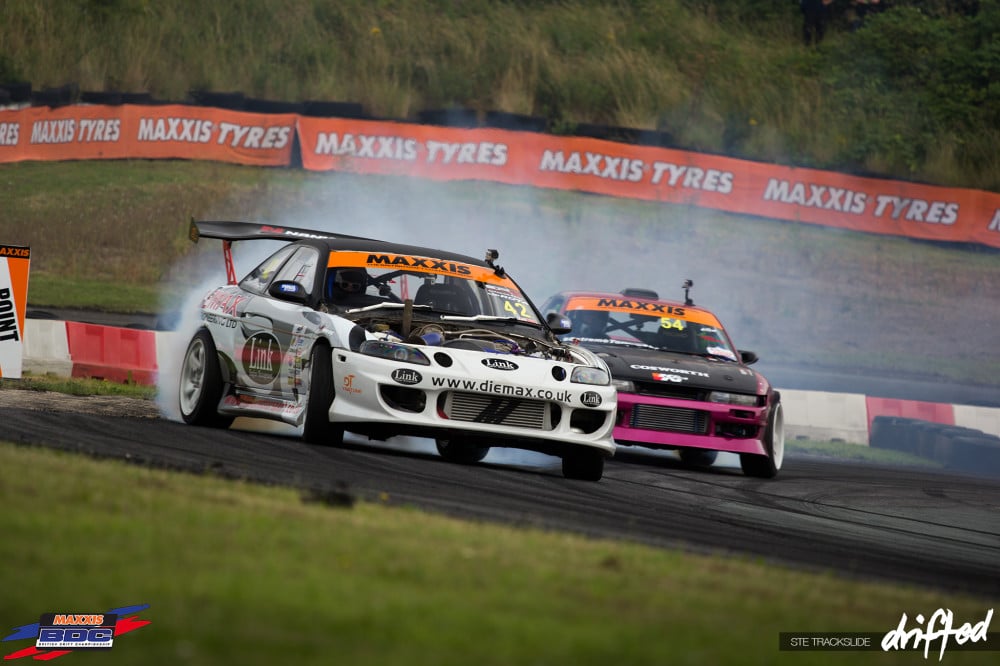 The final was between Steven Donnelly and Tony Walker, Steven was nailed to his line but Tony made a few minor mistakes with Steven taking 1st place and Tony 2nd place.
Pro class;  Dan Firmager was tearing his way through the pack all afternoon, that little Volvo is epic and he really knows how to drive it.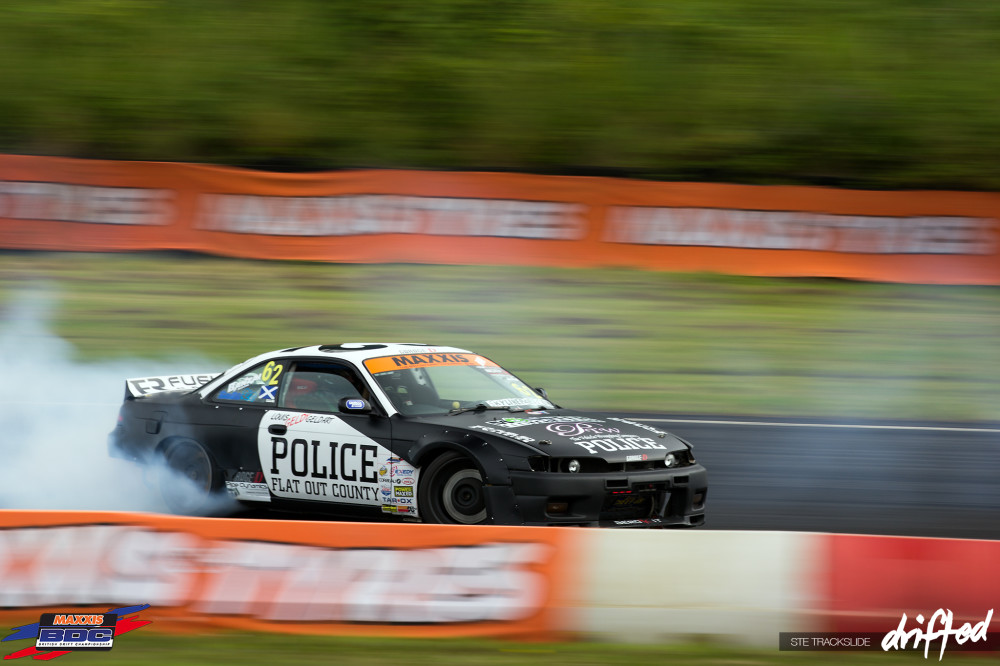 Louis Geldart and Ollie Silcock had a great couple of runs. Ollie had the better runs and knocked Louis out of the running.
Shane Lynch' taxi arrived, There's not really much I can say about this. I spend a lot of time at Teesside Autodrome, but I can honestly say I've never seen a helicopter land here before, it was a great first for me.
Antony Mortley went up against Ollie Elmore, this was a battle of great looking skylines. After some very close runs Antony took the win.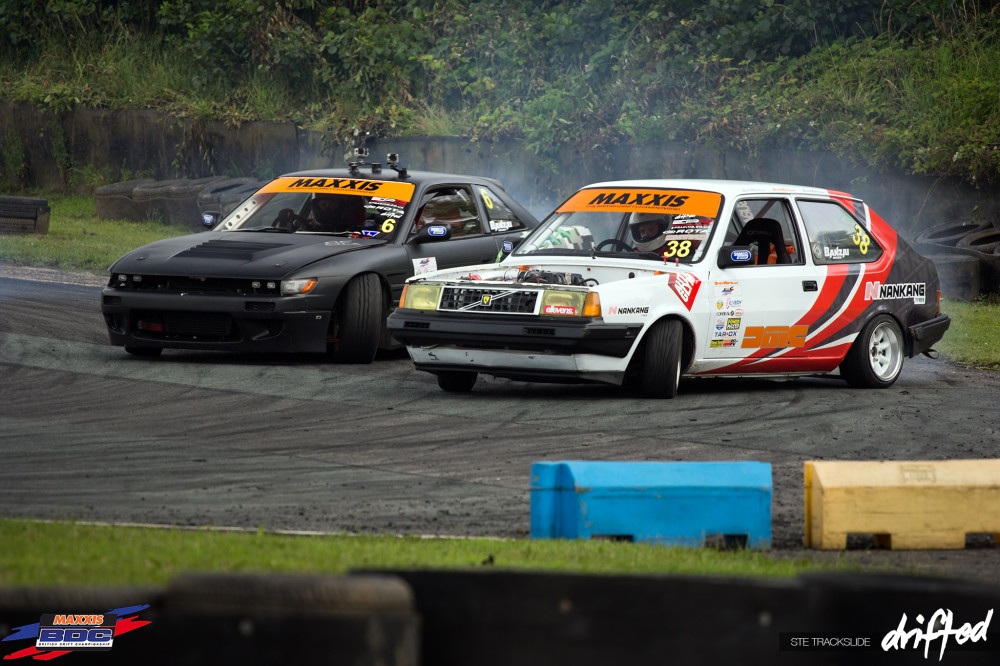 As I said before, Dan Firmager was taking no prisoners. That was until he was up against Ollie Silcock. That plucky little Volvo just didn't seem to have the power for this bout. Ollie was all over Dans door during Dans lead run, then gained a significant lead on Dans chase run. Ollie Silcock takes the win. Dan goes to the battle for 3rd place.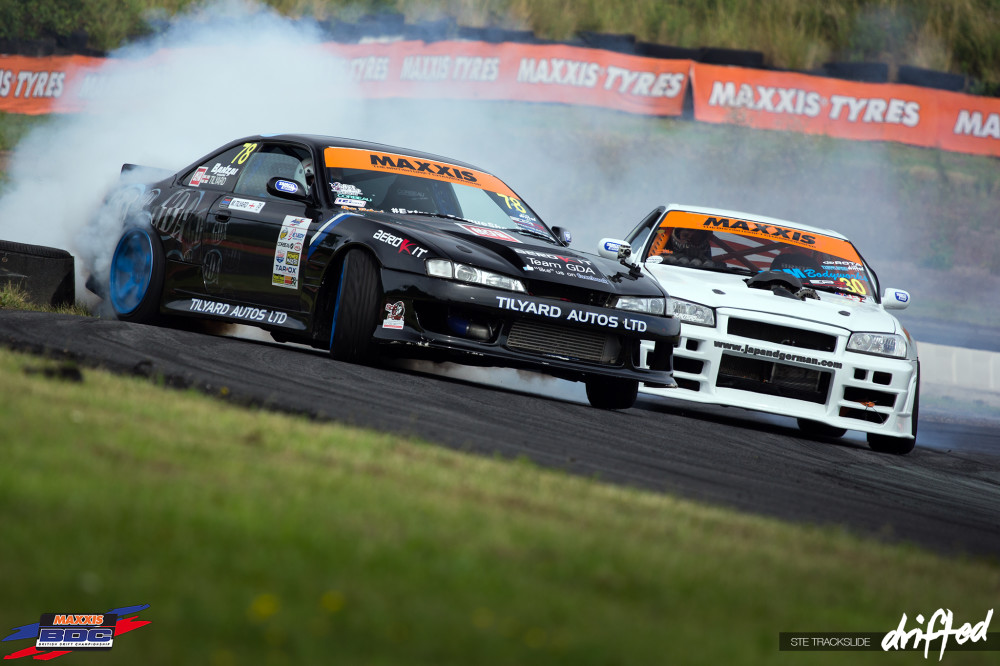 Next to face Antony Mortley was Matt Tilyard. Both drivers drove very well but Matts S14a just didn't have the power to keep up on his chase run. After a 'one more time', Antony Mortley takes the win. Matt would face Dan Firmager in the battle for 3rd place.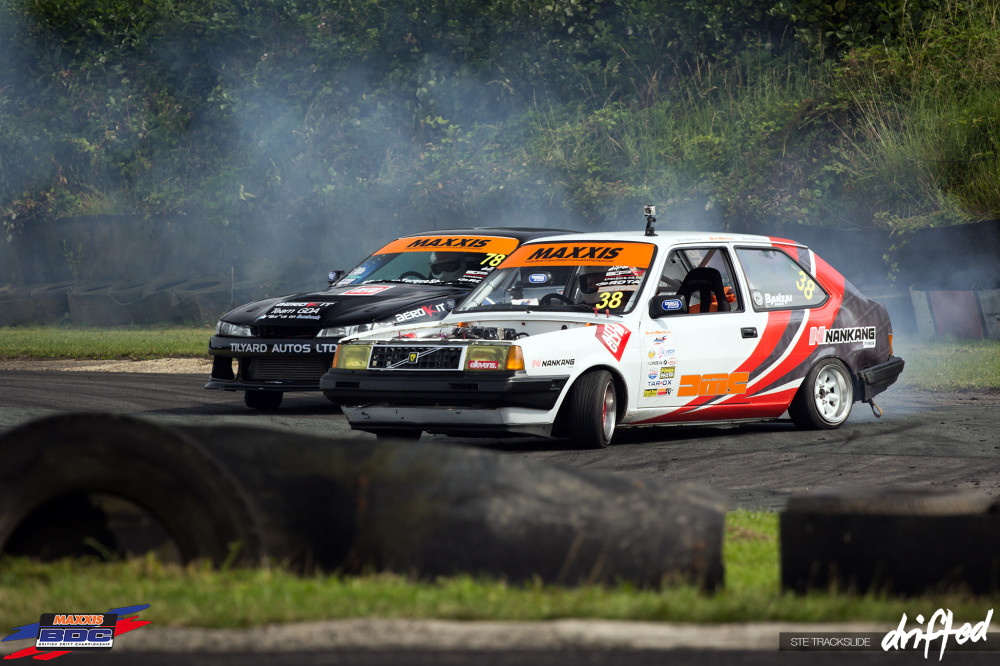 The battle for 3rd with Matt Tilyard and Dan Firmager. Matt had a bit of an off on his chase run giving Dan a huge advantage. Dan struggled to keep up on his chase run, but he didn't hit anything or let Matt gain what would be considered a big lead. Dan Firmager  had the better run and 3rd place on the podium.
The final was Ollie Silcock vs Antony Mortley, This was a good battle, Ollie was all over Antonys door on his chase run, earning him the advantage. Antony didn't quite match the proximity of Ollies run, Ollie Silcock takes the win with Antony taking 2nd place.
Super-pro; Its always good to see two team mates battle each other during the BDC as they have usually done a lot of driving together before and put on a good show. This was the case of Paul Smith and Shane O'Sullivan. Door to door during 2 runs prompted a 'one more time'. During the next runs Shane drove a little better than Paul, Shane O'Sullivan progresses into the Top 8.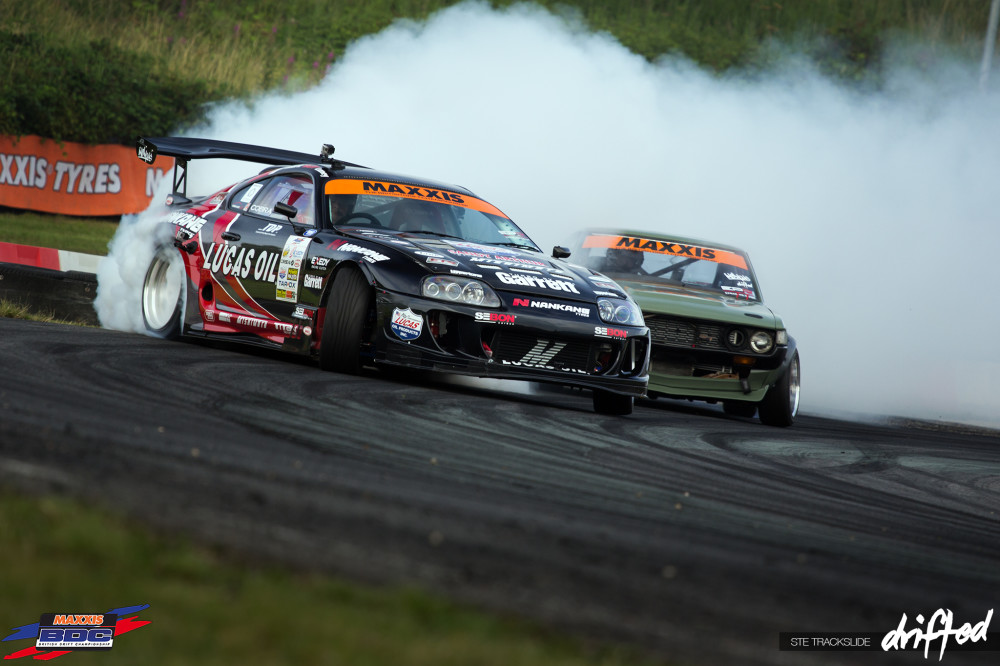 This had to be the highlight of the day. I always try to remain unbiased during events, but just look at them. Marc Huxleys awesome, new and unproven Toyota Celica RA28 up against a heavyweight of the British Drift Championship, Mark Luneys 800BHP Toyota Supra. I could have watched these guys all day, and we nearly got to as the judges just couldn't decide on a winner. After a two 'one more times' called, the cars were off to the pits for some new rubber and a few adjustments, to be continued…
During the wait for sudden death, Matt Carter was up against the might DW86 and Phil Morrison. This was a fantastic battle with a seriously high  level of skill and car preparation. Phil put down a great chase run, but Matt drove just a little bit better on his chase run. Matt Carter took the win.
And they're off… This would be the final battle between Huxley and Luney. After yet another close set of runs, Luney took the win with a slightly better run. I can't help feeling that the judges would have liked to see another 'one more time', but sudden death is sudden death.
Steve Biagioni chased down IDC driver Tomas Kiely getting very close in places, Steve Biagioni takes the win.
Wesley Keating and Matt Carter got a little too close as Wesley made contact with Matts car during his chase run, causing Wes to straighten. Matt Carter drove a perfect chase run and as a result, moved on to the Semi-final.
Steve Biagioni vs Matt Carter. Another battle with contact involving Matt, this time Matt slightly bumped Steve on his chase run yet the run still continued. Unfortunately Matt also spun on his second run. Baggsy goes though to the final. Matt prepares for the battle for 3rd.
Shane O'Sullivan and David Waterworth. Both drivers pushed hard but Shane was a little tidier as David missed a clipping point. Shane goes through to the final with Steve Biagioni, David would face Matt Carter in the battle for 3rd.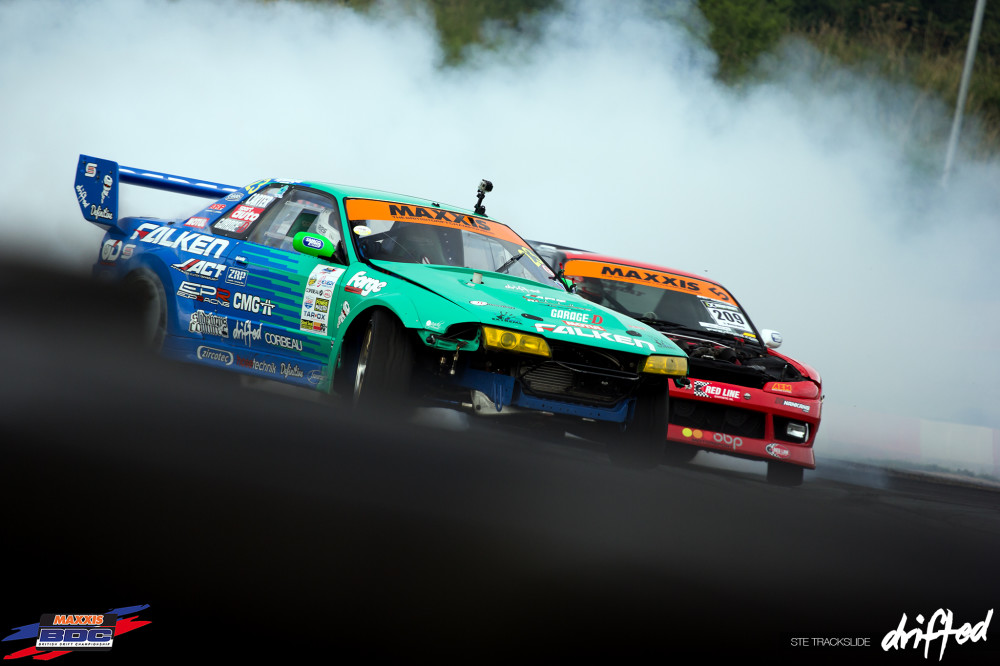 As Matt Carter and David Waterworth battle for 3rd, David made a mistake and straightened on his chase run. With that, Davids only chance of redemption would be for Matt to make a mistake on the second run, but Matt puts in a great chase run and takes 3rd place on the podium.
In the final Shane O'Sullivan and Steve Biagioni pushed their cars to the absolute limit, Baggy would lead first with a very quick run, he was a little far away from the clipping points but Shane still managed to match the line and keep up. During the second run, Baggsy came in a little too hot entering the first hairpin, making contact and trying to remove Shanes bumper. As Shane was knocked off his line, Baggsy went for the overtake, passing Shane. As overtaking is against the BDC regulations, the win was given to Shane O'Sullivan with Steve Biagioni taking 2nd place.
That concludes the British Drift Championship Round Three 2014
Thanks for reading
Roll on round 4.