EVENT: Irish Drift Championship 2014: Round 4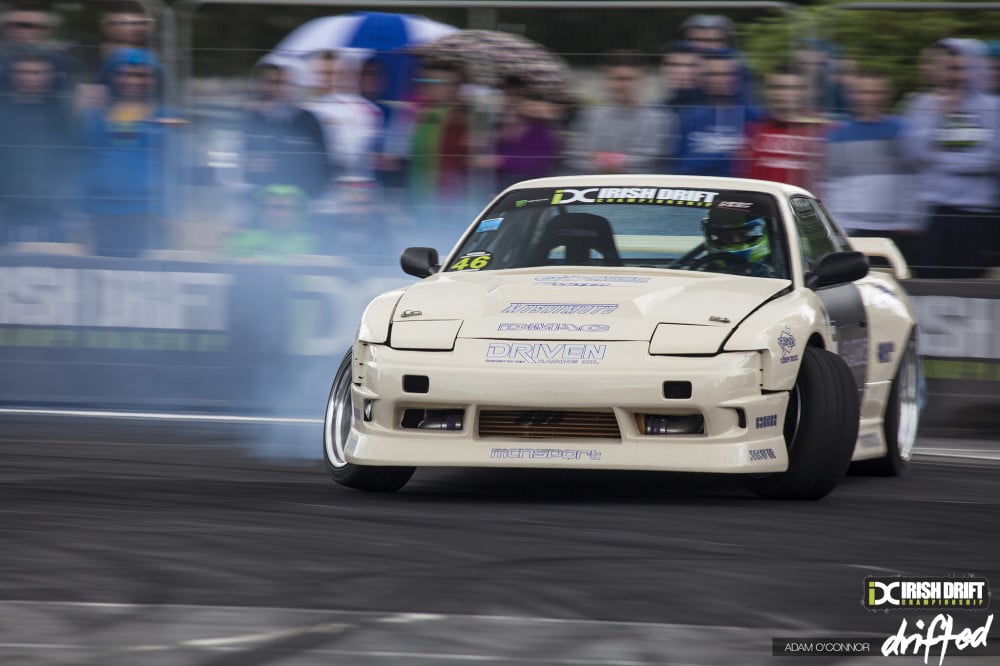 The fourth round of the Irish Drift Championship saw drivers head west to Ennis, Co. Clare. The purpose built course has been a regular for Irish drifting for numerous years with the tight technical turns, lined with unforgiving walls and a hand full of tricky clipping points. On any given day, the purpose built course is actually a cattle mart, home to bulls, heifers, runners, calves and sheep, but for one weekend a year, it plays host to a different type of animal behind the wheel.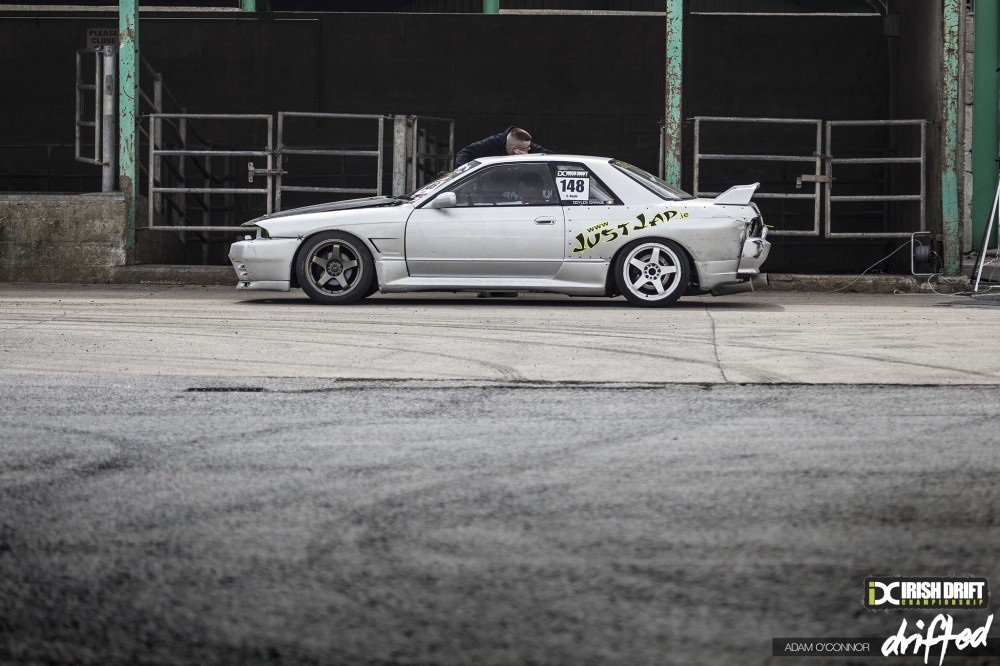 Bringing a change of pace to other rounds, the tight turns would mean infinite horsepower would play no big part in podium domination. Semi Pros could take down the biggest and best in the business.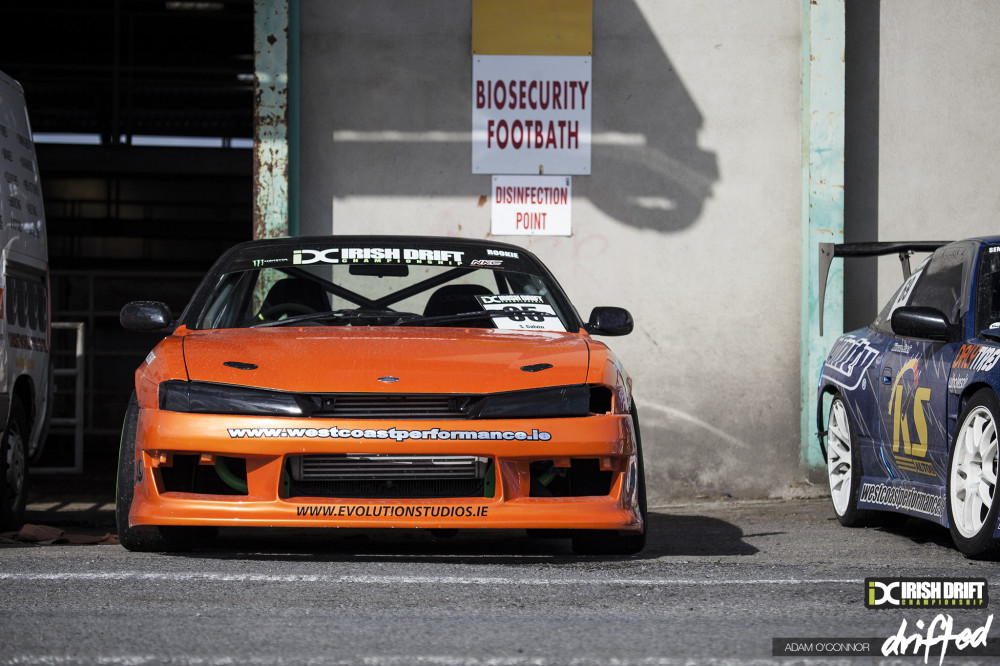 Saturday saw Ibiza-style sunshine combined with biblical proportions of rainfall creating difficult track conditions for the Rookie and Semi Pro drivers alike.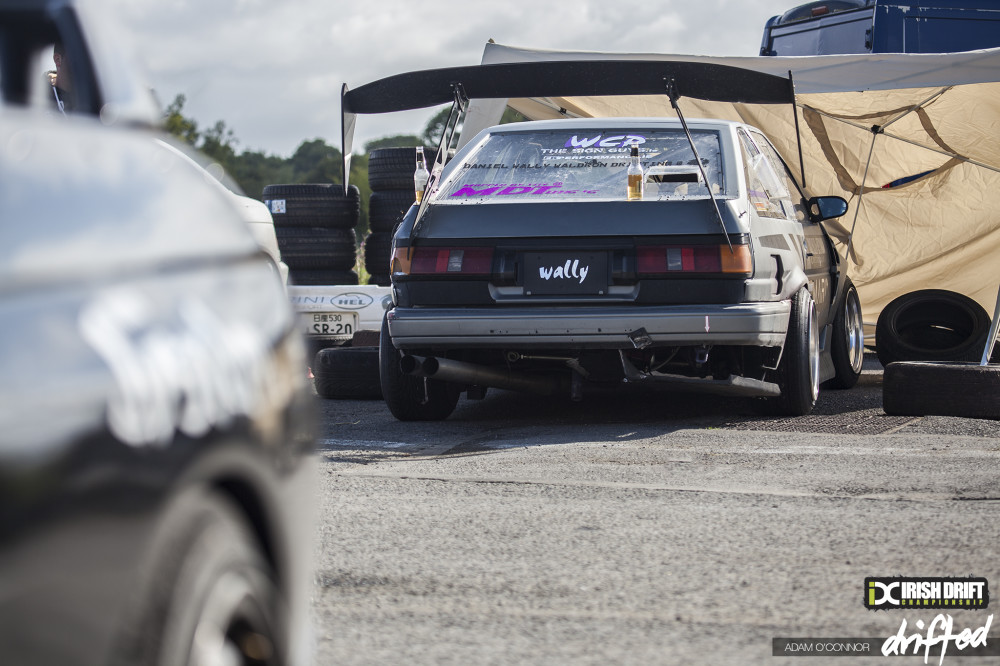 But luckily, Irish Drift Championship head-honcho Dave Egan put in an order with Mother Nature for extra sunshine for Sundays proceedings with the sun cream once again being an essential item in Ireland for this drift season.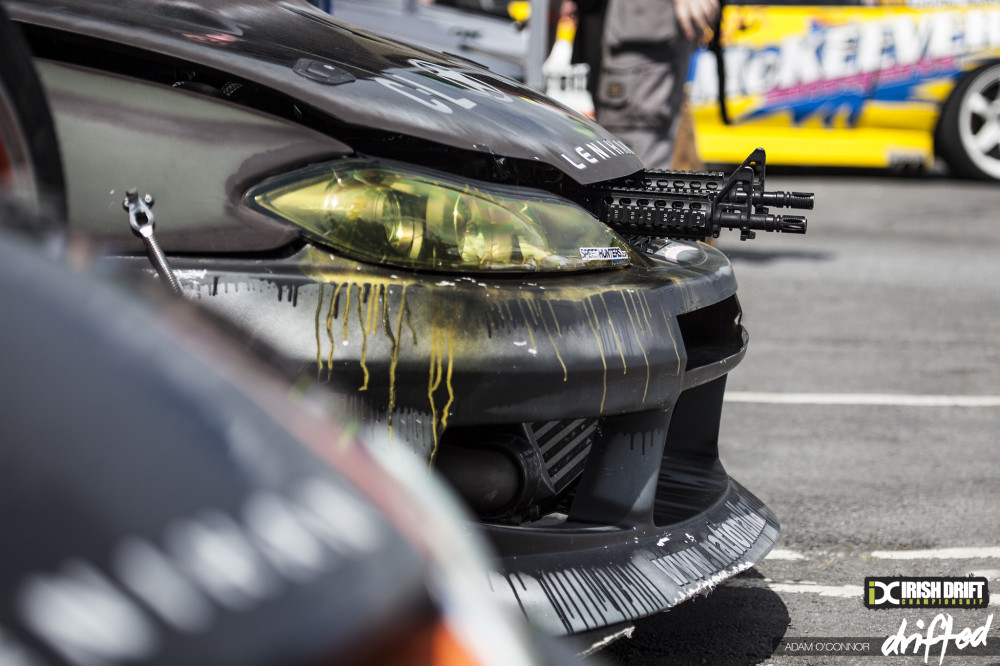 Semi Pro Conor Lenihan was ready for battle, in every sense of the word.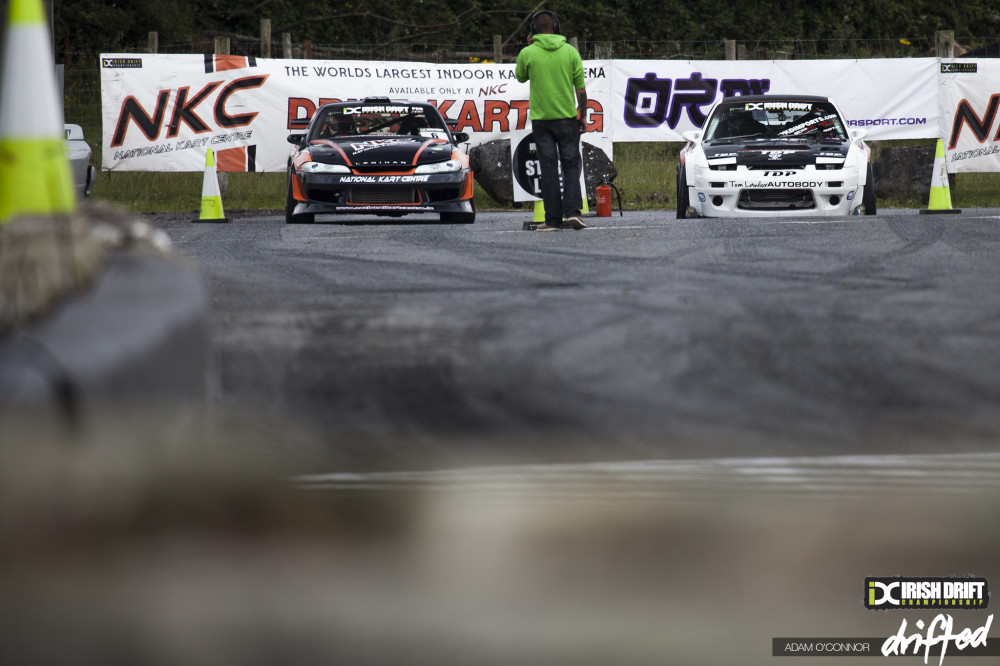 With drift car dynographs heading into the four-figure range, start lines can become somewhat of a drag strip.
IDC Marshal Sean Healy kept every driver in check for false starts and any other infringements.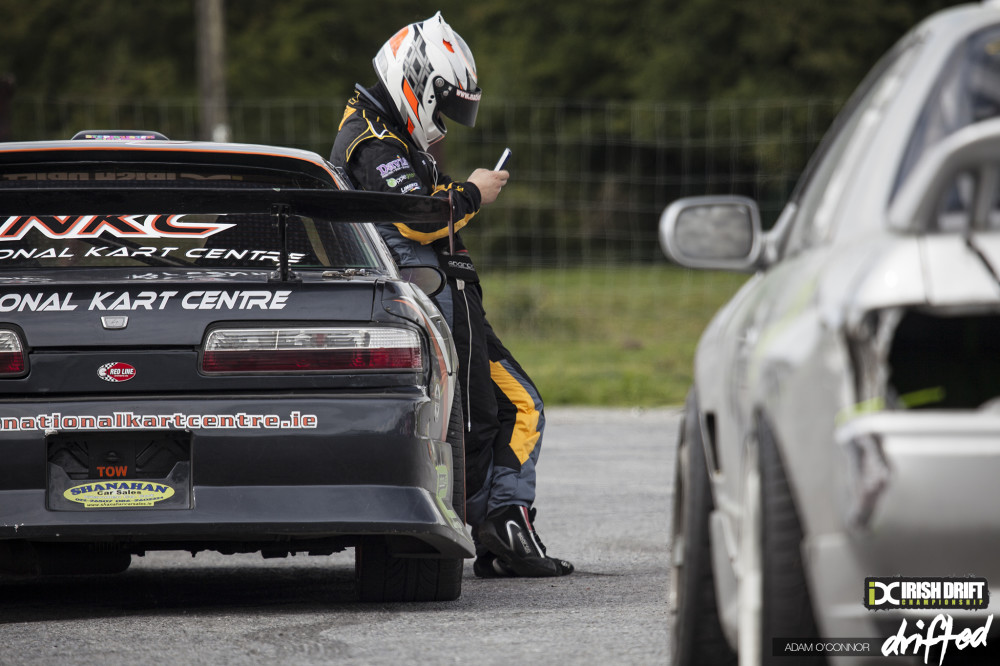 Social media has love/hate relationship nowadays. Can't live with it, can't live without it. For drivers, its great platform to keep the fans in the loop and promote their sponsors.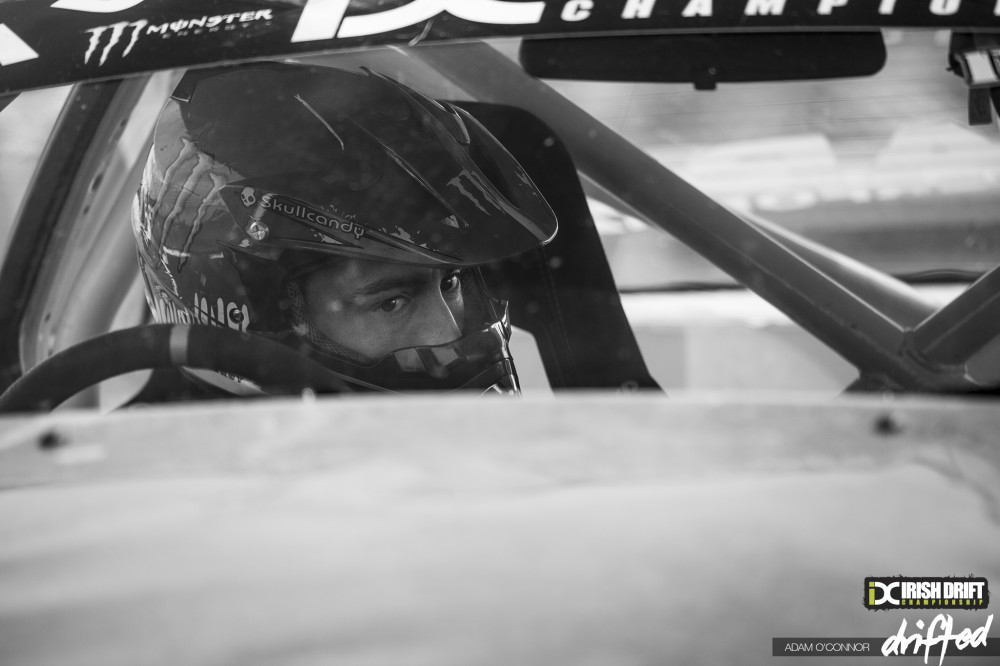 Semi Pro driver Chris Doyle rebuilt his beloved R32 Skyline after a huge collision with the Mondello's concrete wall at Round 3.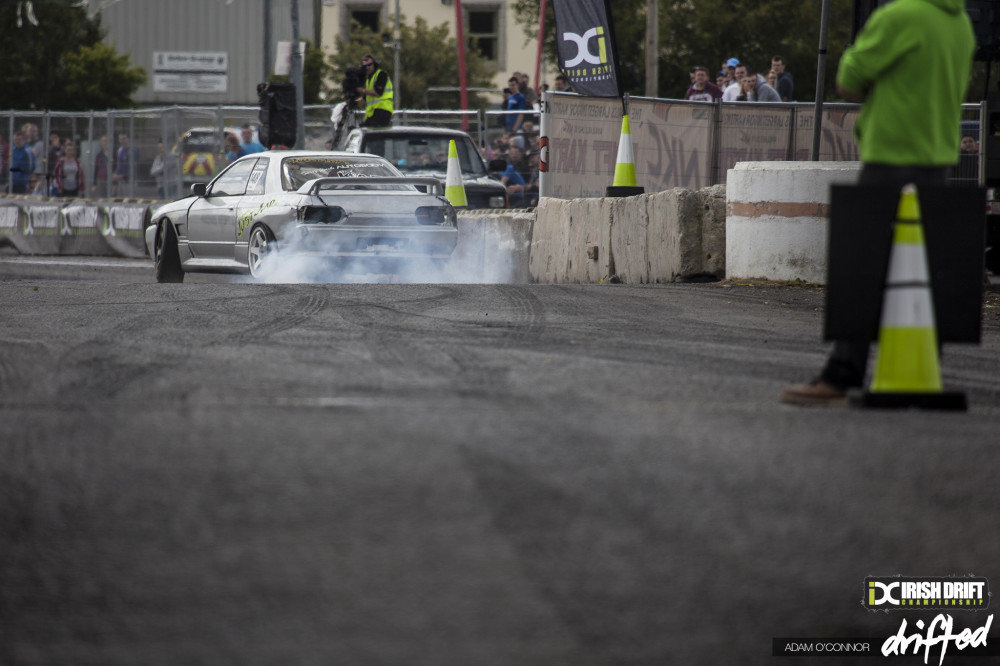 Chris took his place on the podium on Saturday and was ready to do battle for one more time against the best in the business.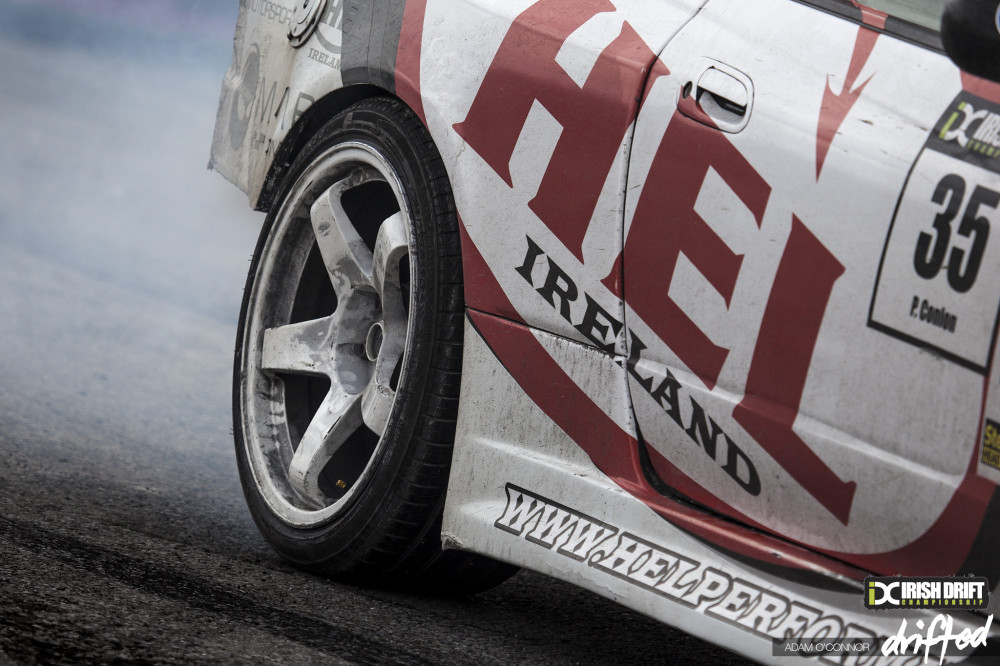 Paul Conlon's HEL Performance S15 getting to grips with the wet patches still prominent from Saturday's deluge.
Irelands own Darren "D-Mac" McNamara was still on a high from his Formula D Round 5 victory.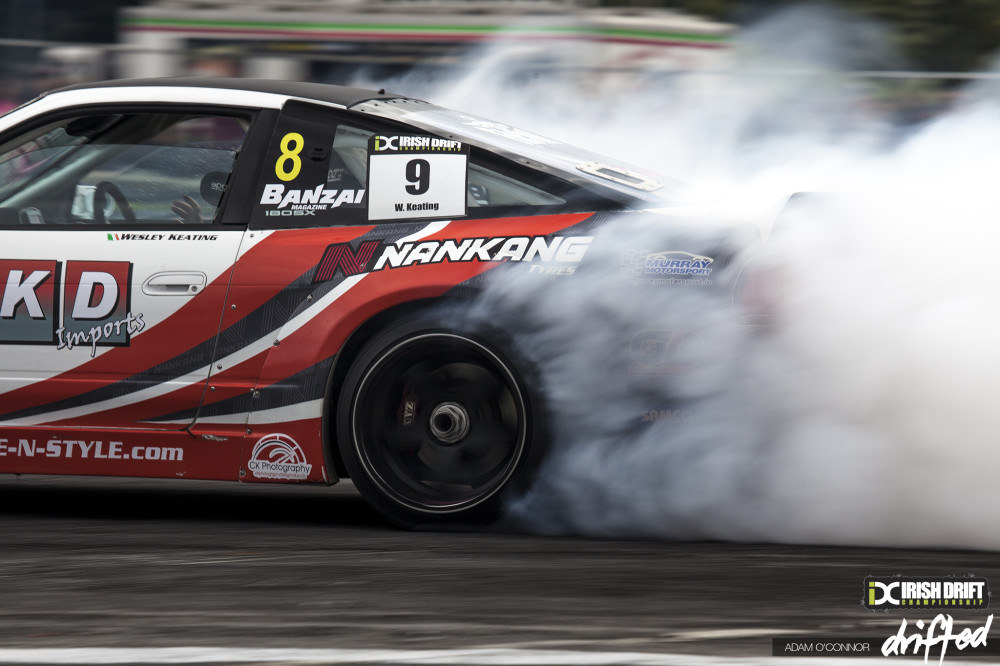 Wesley Keating put his Nankang tyres to good use, smoking at every opportunity.
Martin Ffrench brought the noise with the Low Brain Drifters PS13 V8.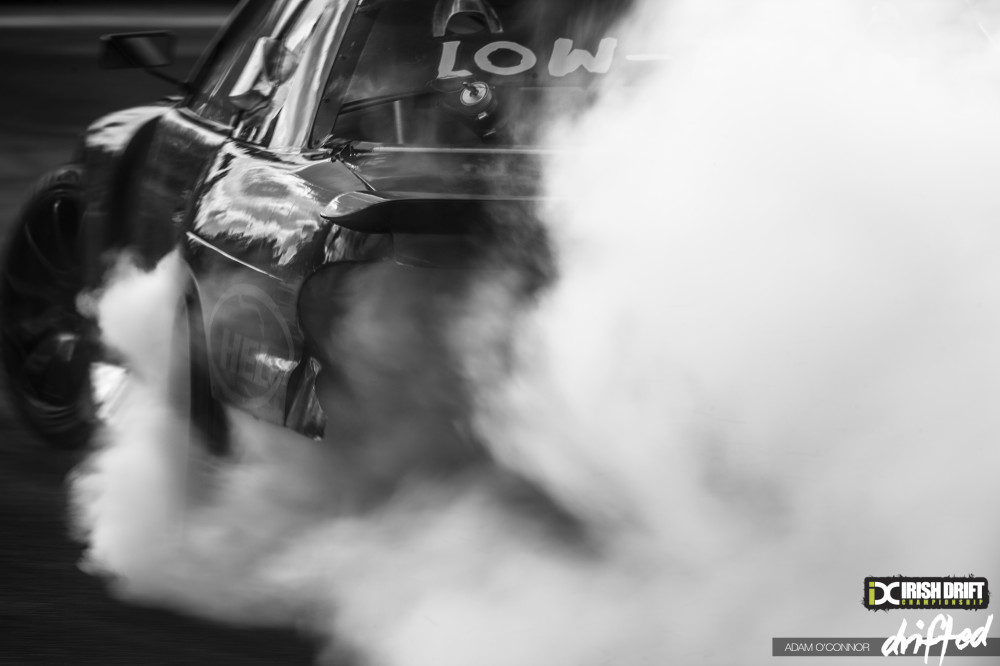 Ffrench + LowBrain + V8 = Smoke. It's a formula for success.
Alan Lenihan was on fire all weekend with the most aggressive and consistent flick along the wall of clip one.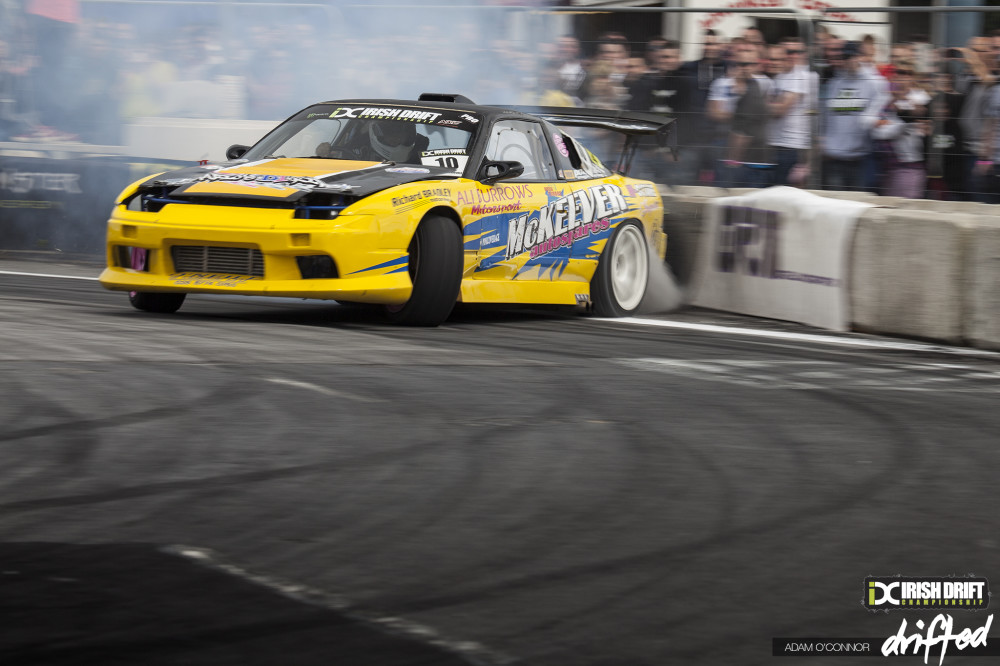 But it was Duane McKeever who stole the show. The 18-year-old McKeever came into the weekend with a sizeable lead on the Championship table and numerous scenarios would see him crowned 2014 Irish Drift Champion with one round to spare.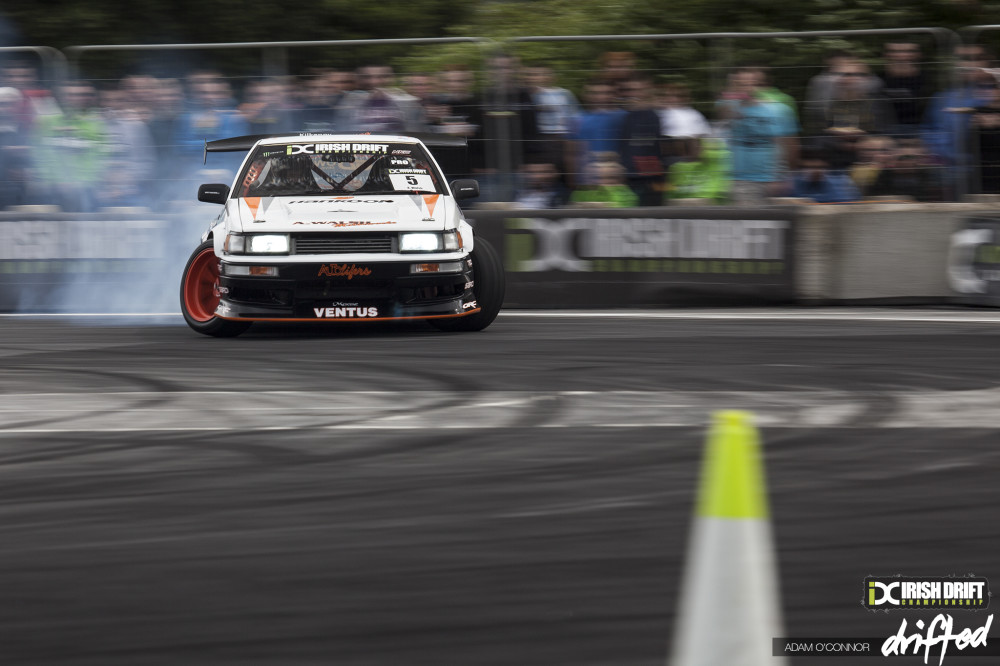 The only man standing in his way was Team Hankook's Adrian Walsh. The County Kilkenny man has found podium consistency this year and was mathematical favorite to contest the title.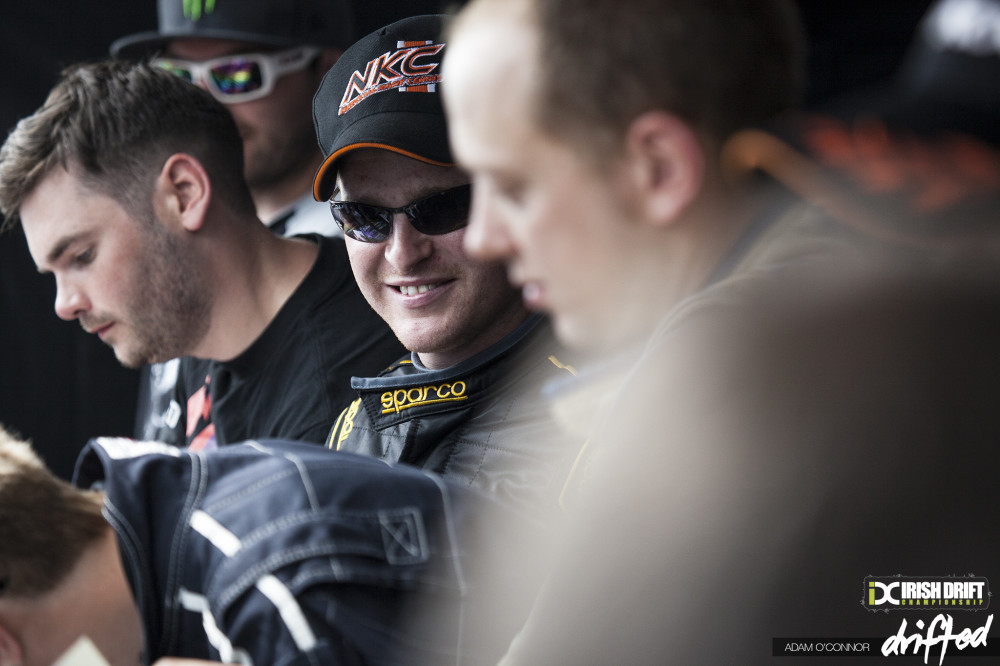 Alan Lenihan was all smiles during the autograph session.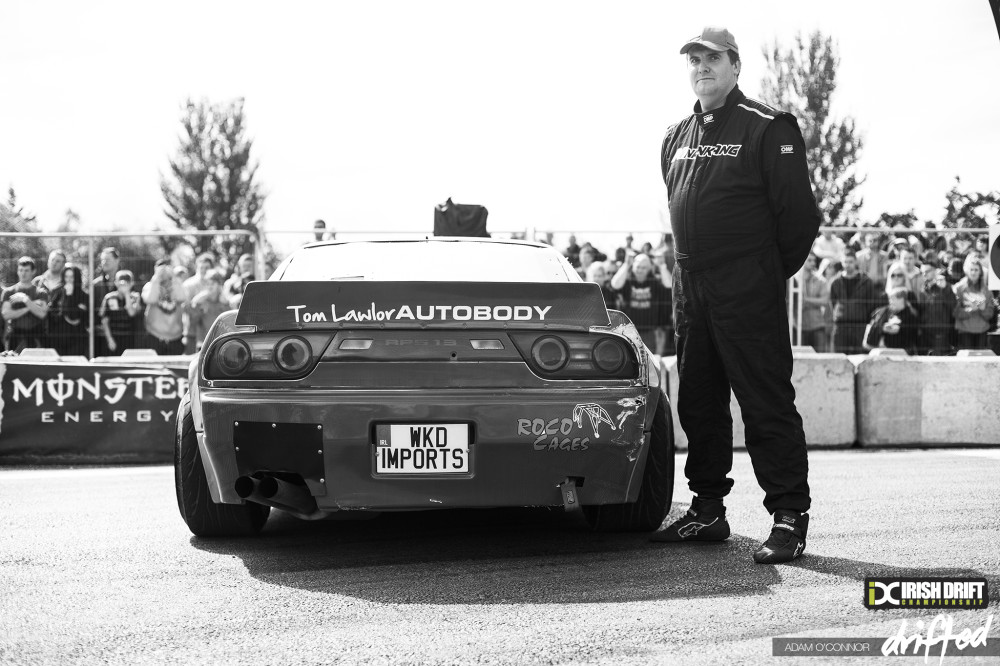 Cool, calm and collected. Wesley Keating stands to attention during the Top 16 parade.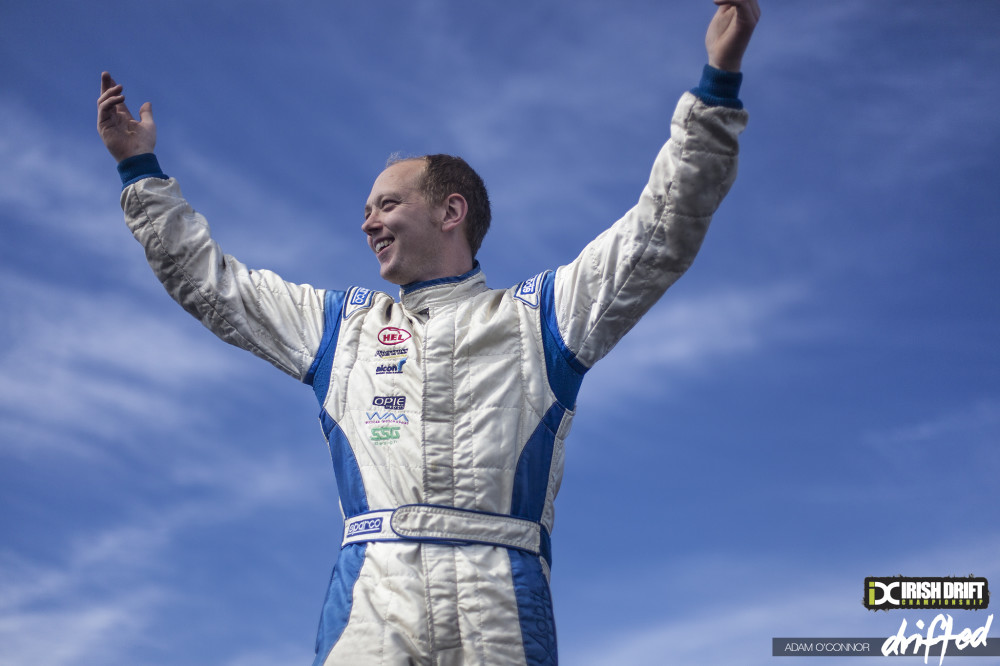 While Martin Ffrench took to the top of the Low Brain PS13 to hype the crowd.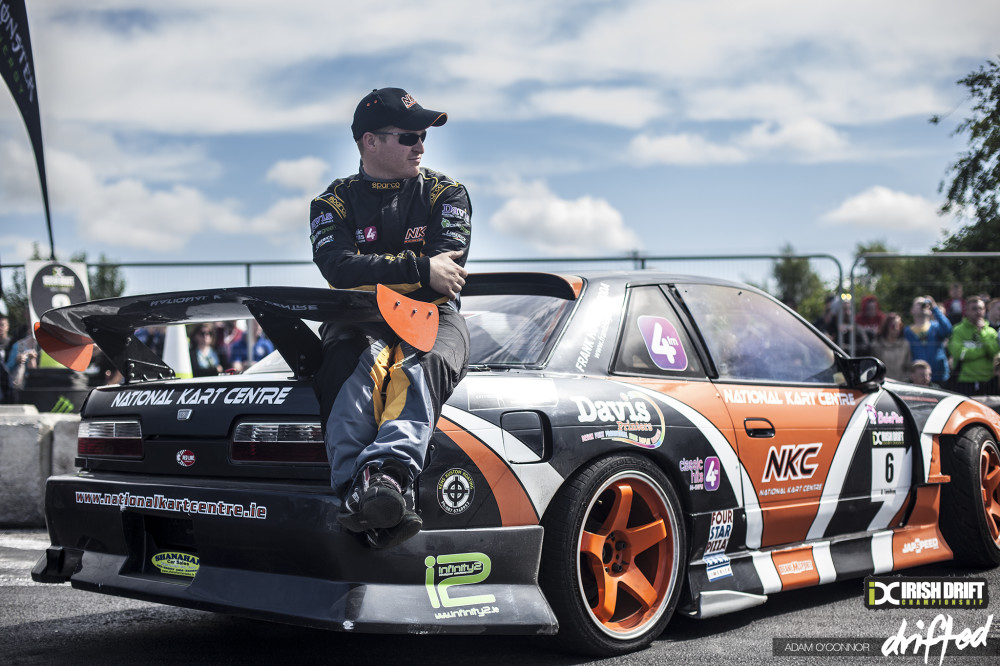 Alan Lenihan and his National Kart Centre PS13.5 were ready for proceedings.
D-Mac had made the podium in his last two outings and was on form to make it a treble.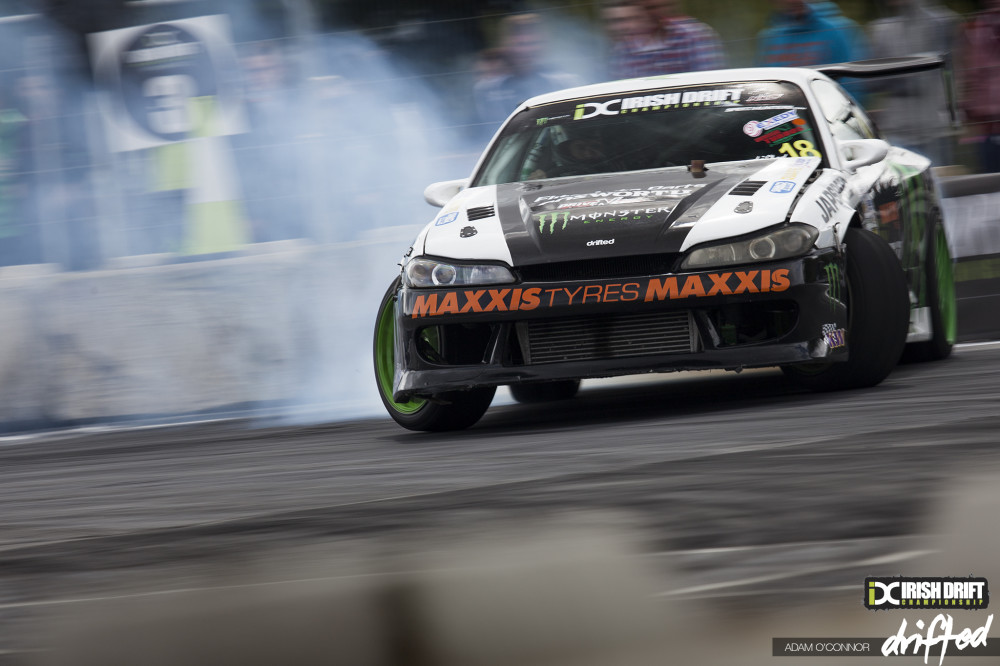 Team Japspeed driver Shane O'Sullivan has found his form in 2014 and would find himself on the podium with a well fought third place.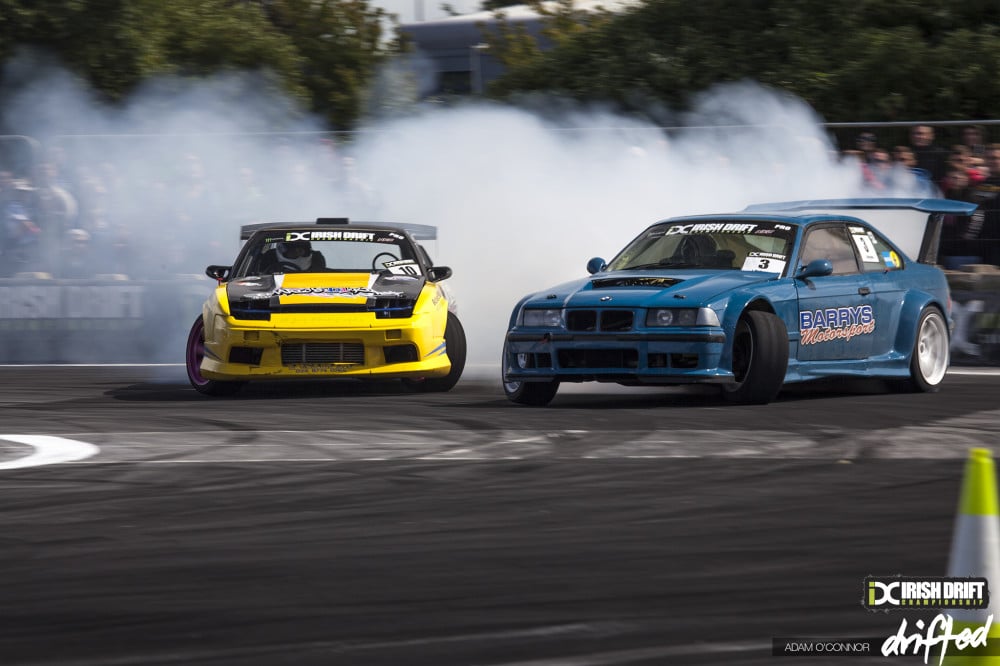 Duane McKeever kept his title hopes alive in the Top 16 with a tense battle with John McCarthy.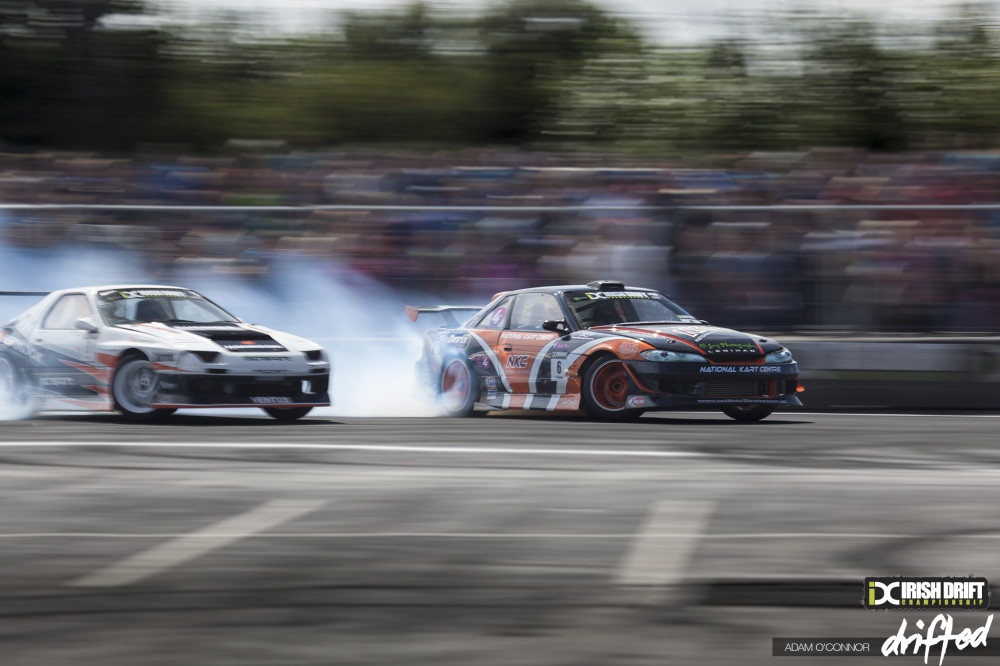 Alan Lenihan moved through the Top 16, battling some of Ireland's biggest names, Mike Fitz, Mike Deane and Darren McNamara.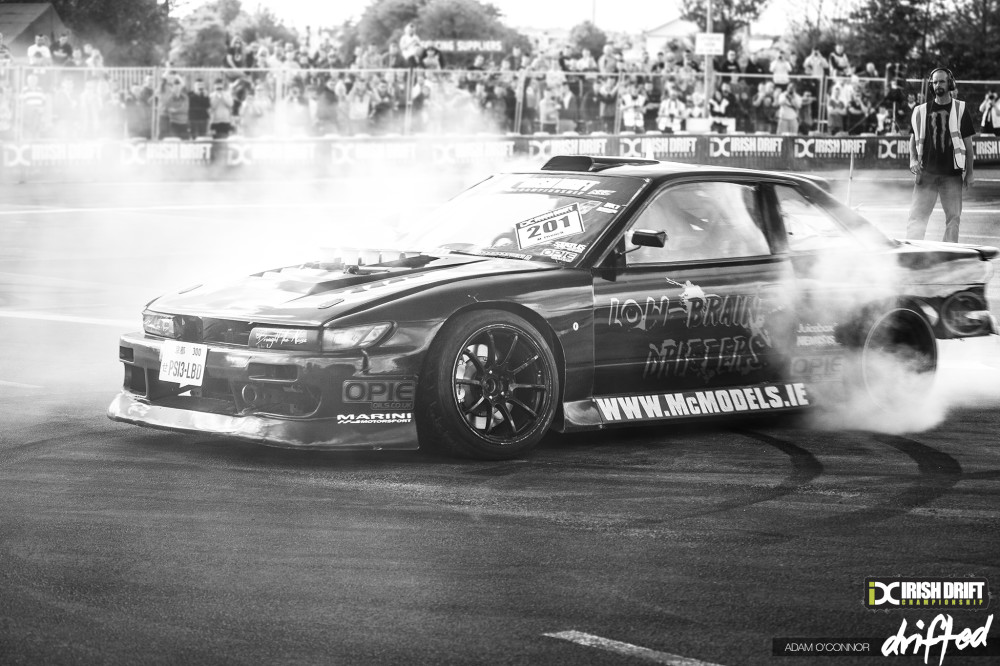 Martin Ffrench bowed out at the Top 16, but not before plunging much of County Clare in a foggy haze of tire smoke.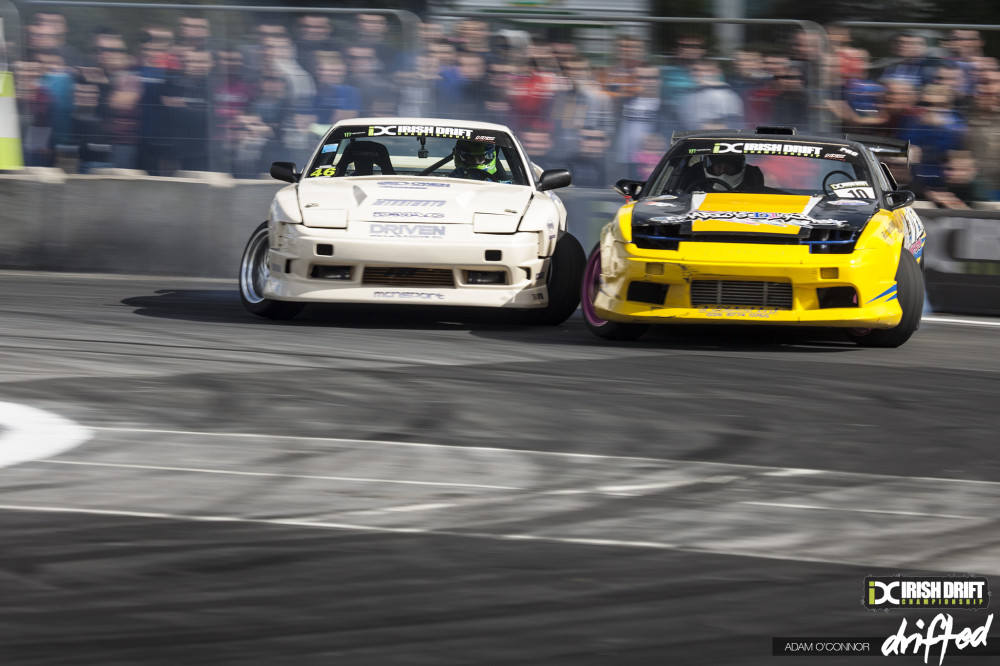 Battle of the day would see Duane McKeever go head to head with Darren McNamara. A OMT time would see Darren narrowly progress to Top 4 and leave Duane's championship hopes in Adrian Walsh's hands.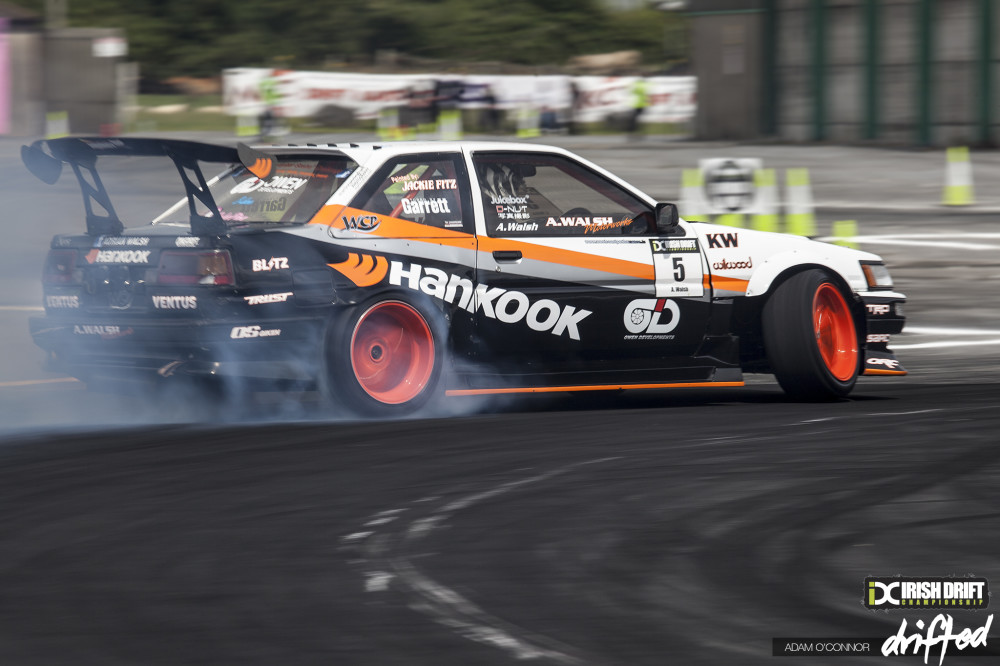 Adrian would go up against the other half of the McCarthy duo, Paul. The Cork man was too much for Adrian and would put the 2014 Championship Silverware into McKeever's hands, who was standing trackside awaiting the verdict.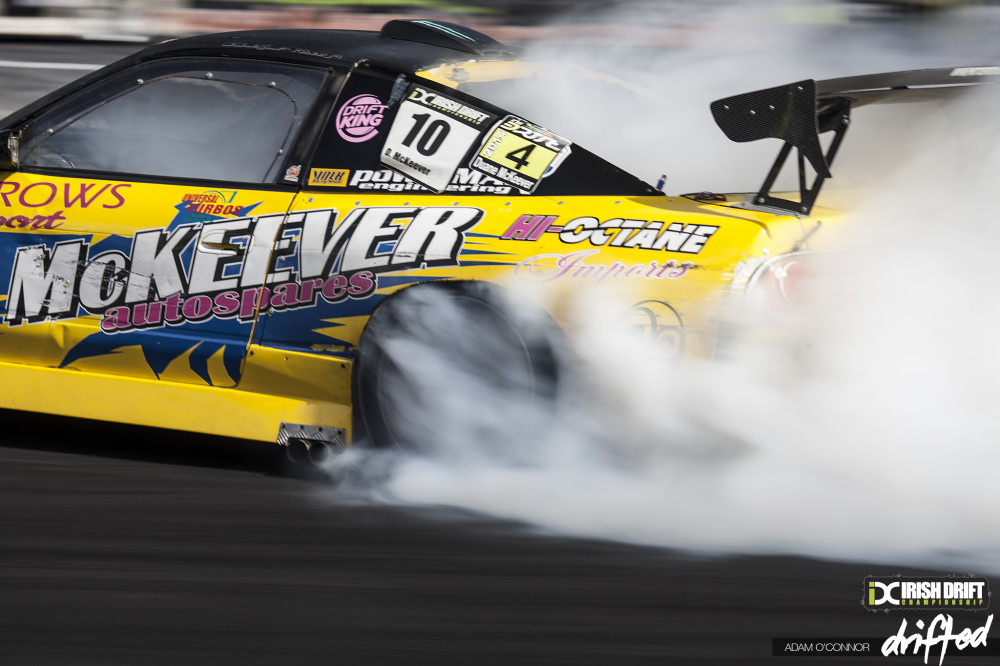 Duane Dominance. McKeever had done it. For the second year in a row, the Irish Drift Championship had found its victor with one round to go. Three cars, four rounds and a handful of world class battles took him to a well deserved championship title.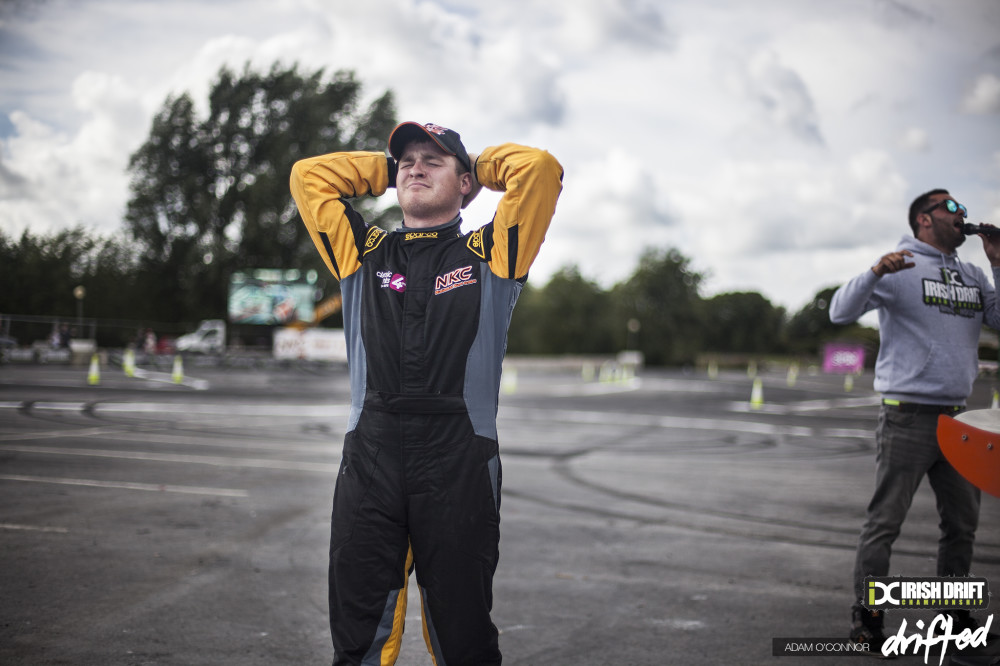 But the Northern Irish man had stolen all the limelight. Alan Lenihan found himself on top of the podium for the first time in his career. The emotion of the moment caught Alan by surprise and really captivates what he has fought for over the last 10 years behind the wheel.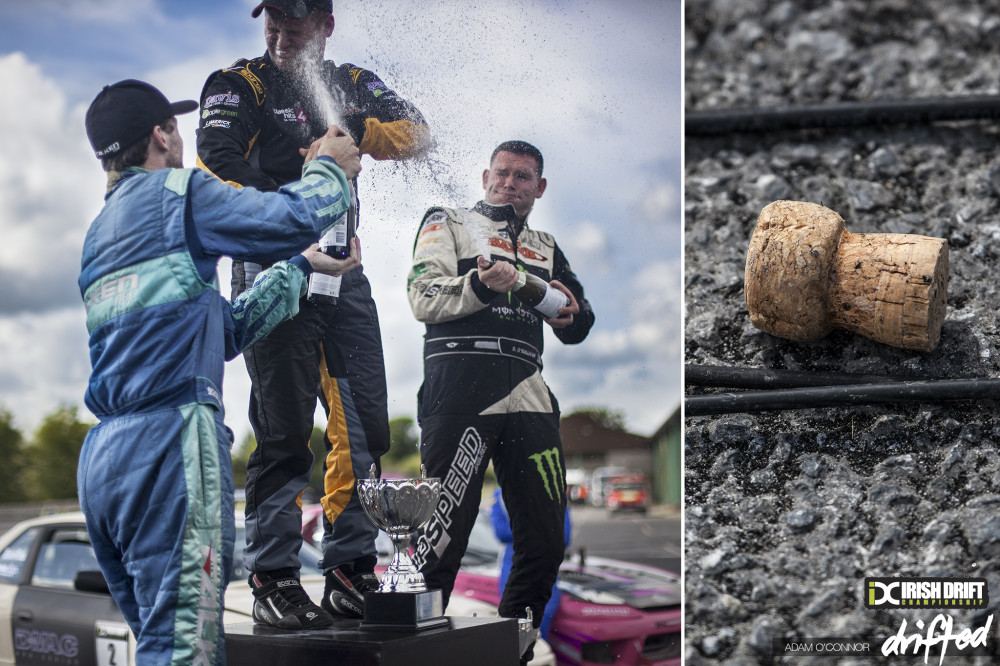 With the champagne shower of the Irish Drift Championship over for the next few weeks, drivers will head back to Mondello Park Raceway with the championship already wrapped up. It will create a pressure free event were drivers will lay it all on the line for one last time in 2014.
Rumors are rip that Round 5 will once again be an international affair with Team Budmat from Poland already confirmed for the line up. Ireland will have to put up one last fight to retain its 10-year undefeated International steak.
See you all in Mondello

Words & photos: Adam O'Connor