EVENT: Extreme Drift Allstars Europe – Latvian Drift GP
Following the madness that I witnessed on day one of the Extreme Drift Allstars Latvian Drift GP in Riga, and the crazy late night street parade the evening before, I couldn't wait to see what the main event day would bring.
A sudden heatwave in the Latvian capital saw temperatures soar to a toasty 26°C by the time we arrived at the track. The implications that this would have on the circuit were severe.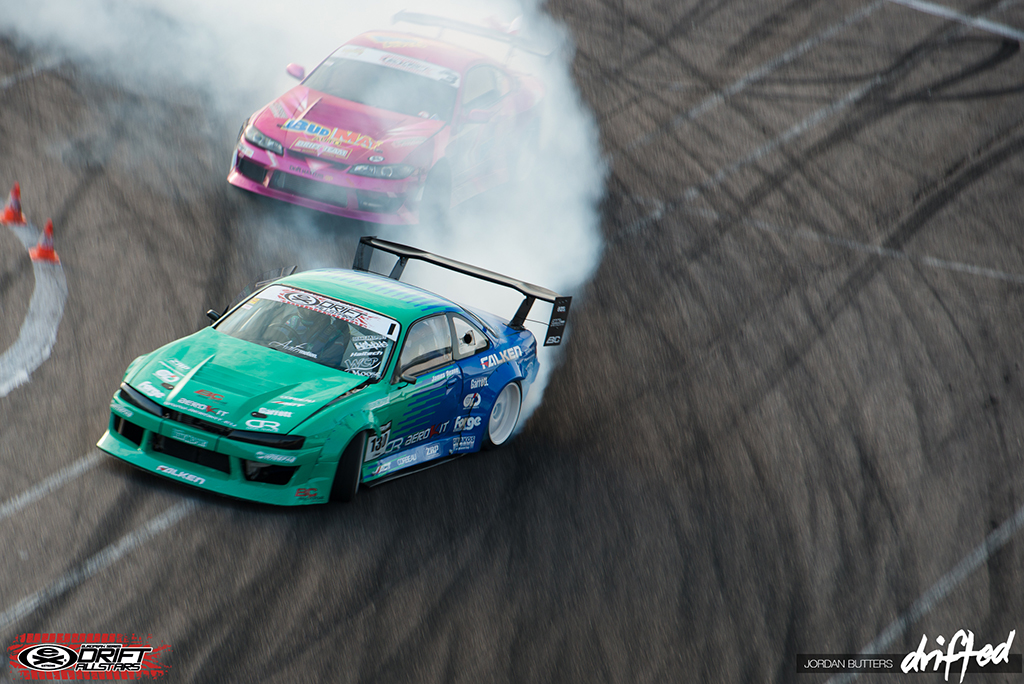 From speaking with drivers the evening before they noted how grippy the track was during Friday's practice. With the increased temperature and next to no wind on event day, not only would grip levels would be even higher, but the thick fog left from the preceding car would linger in the air, making navigation tricky.
That's without mentioning the problems associated with running 800bhp+ engines in such high temperatures, and sitting on the start line in fireproof Nomex race suits. Rather them than me!
As morning practice got underway the drivers were honing their technique and finding the right line on the track. Competitors would accelerate towards the initiation point, ready to flick sideways at full throttle before the crowd came into sight.
You would hear the cars long before you could see them, the surrounding concrete and steel tribunes bouncing the sound back into the tall pine forest surrounding the track. The acoustics would play tricks on you, reverberating induction and exhaust notes so you weren't quite sure when the cars would arrive within sight.
Following a fast right-hander, drivers would then make a snappy transition to the other side of the track to gain proximity to a rear clipping point. Off the throttle, exhaust popping and banging, they would wait for the apex of the second corner, a smooth, wide left-hander in front of the main grandstand, to appear, before jumping back on the throttle.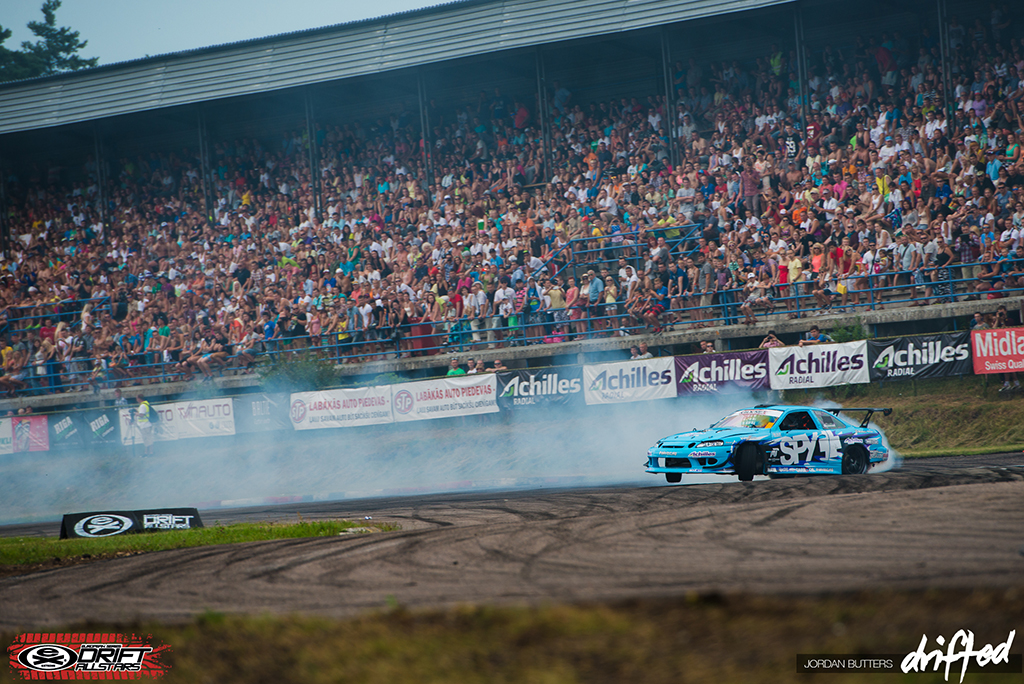 With smoke billowing from the rear tyres they fast approached one of the trickiest parts of the track - the Riga dip. A fast right-hander with a sudden drop in the track drops the rear end of the car down, resulting in anything from a nice front wheel lift, to a full on 2-3ft wheelie.
From there, a quick left-right switchback against a concrete wall and the course was complete.
One thing that stuck me as a was shooting during practice was how much faster the drivers were getting. Non-photographers out there might not realise this, but motor sport photographers tend to have a coherent understanding of the speed that a car is approaching at - we work in fractions of seconds, after all.
The three resident Drift Allstars judges, had the unenviable task of separating the pack during qualifying. Several of the usual suspects were on top form.
Nexen Tyres/Aeriokit driver Nigel Colfer is a Riga veteran, although at last year's event he suffered a big accident, putting his 1JZ-powered S13 into the concrete barrier.
This year's event thankfully didn't feature a repeat performance, and Nigel qualified in a comfortable 10th position.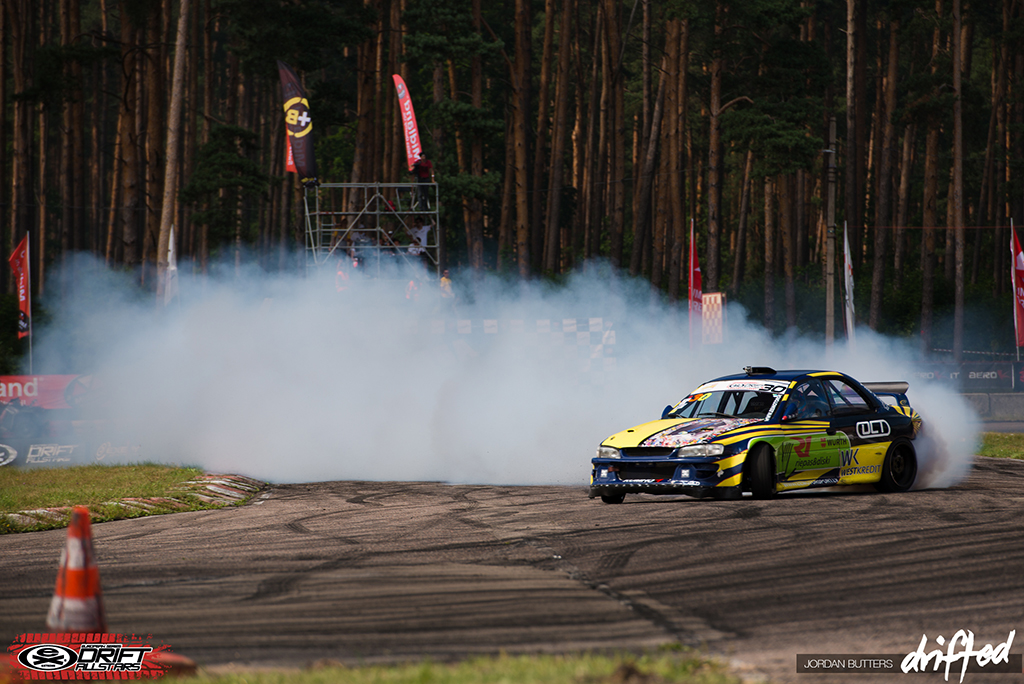 Latvian driver Edmunds Ērglis took to his local circuit in his RWD Subaru Impreza, impressing judges with his aggression, speed and clean line. He would claim 5th place in qualifying.
Another Latvian local, Kristaps Blušs, would catch the judges' eye.
HGK Racing in Riga churn out high-specification E46 drift cars at an unbelievable pace and quality, and Kristaps expertly guided this 620bhp LS7-powered BMW into 3rd position.
Series contender and Falken Motorsport driver James Deane was consistent as ever during qualifying.
Always one to watch, James went on to claim 2nd place going into the Top 32.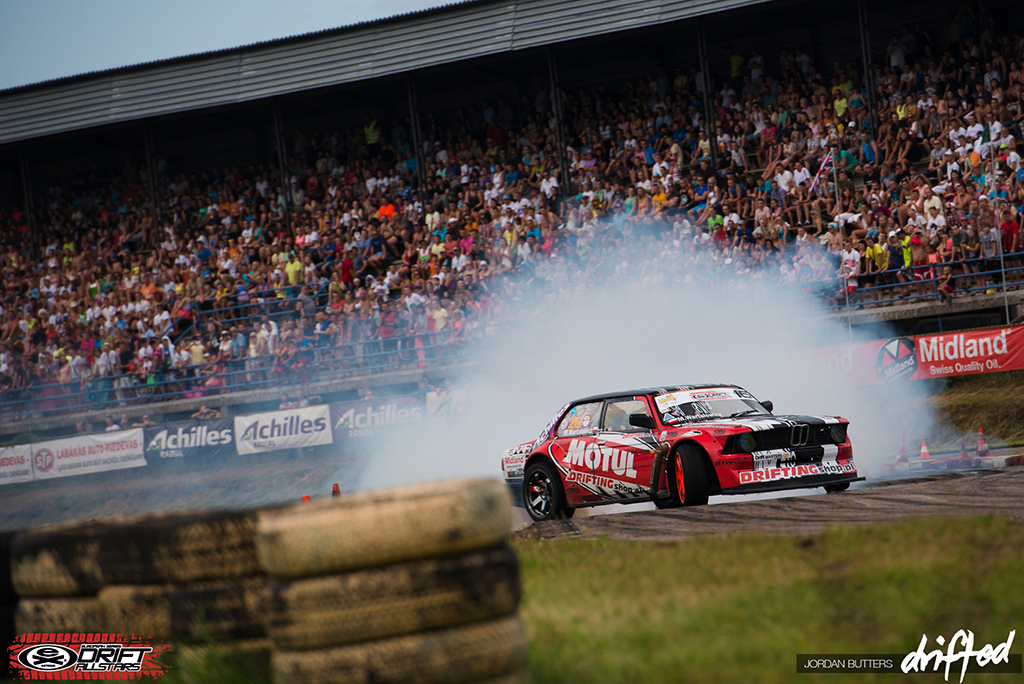 Sadly, one of my favourite cars in the series, the chop-top 2JZ-powered BMW E21 of Marek 'Maro' Wartałowicz of Poland, didn't make the cut this time around, just failing to qualify.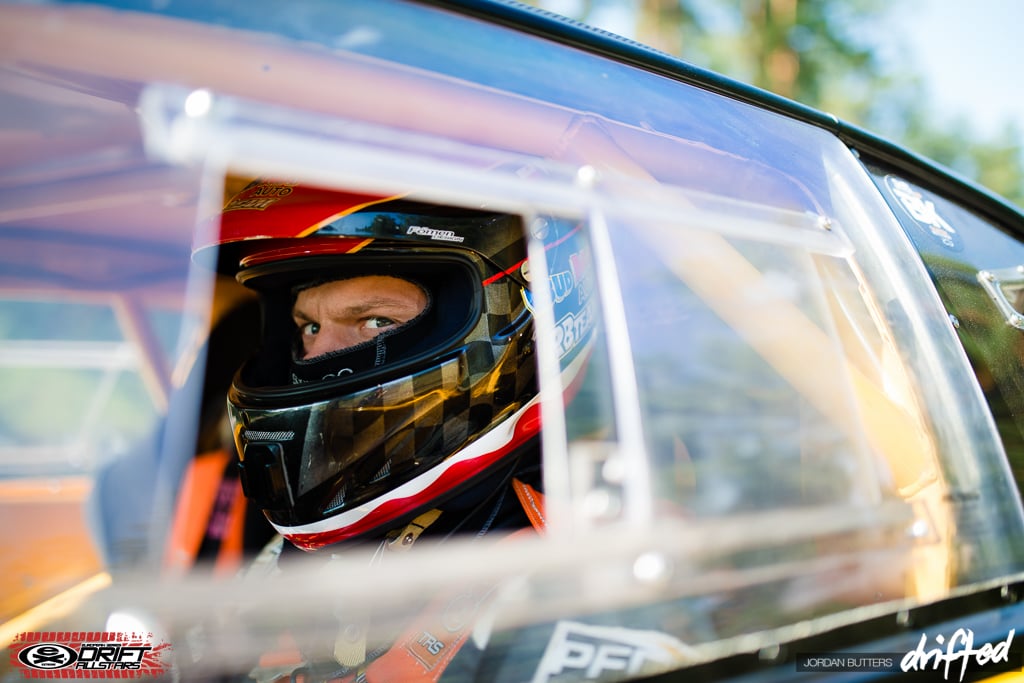 Top qualifier was awarded to Piotr Wiecek of Budmat Auto. I first saw Piotr in action at Round 1 of this year's championship in London and was blown away by the precision, speed and angle carried throughout the circuit by this young Polish driver.
As the crowd swelled approaching the Top 32 battles, the drivers were lead out onto the track one by one for an introduction. One of the things that I love about drifting is the level of interaction between crowd and drivers. Everyone is accessible and down to earth, making the fans feel connected to the sport.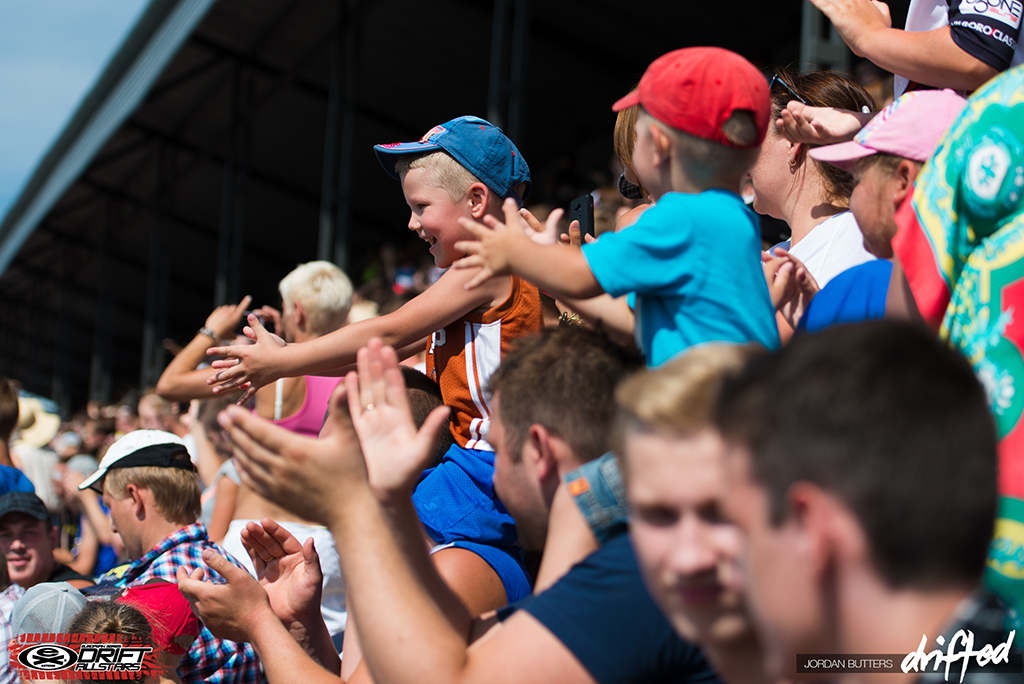 In the UK it's rare to see the grandstands as packed out as they were in Riga. There was a huge eclectic mix of people too… …drifting in this part of the world seems to appeal to all.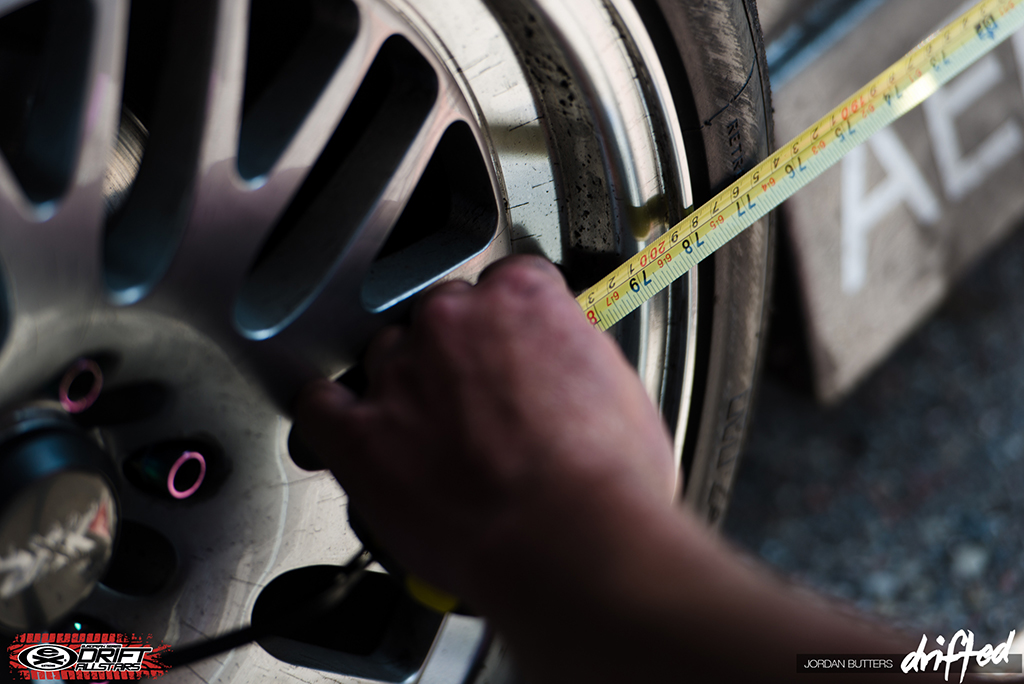 As last minute preparations take place…
…and final checks are made…
…the drivers are ready to do battle. The Drift Allstars Livestream is beamed around the world and the show begins.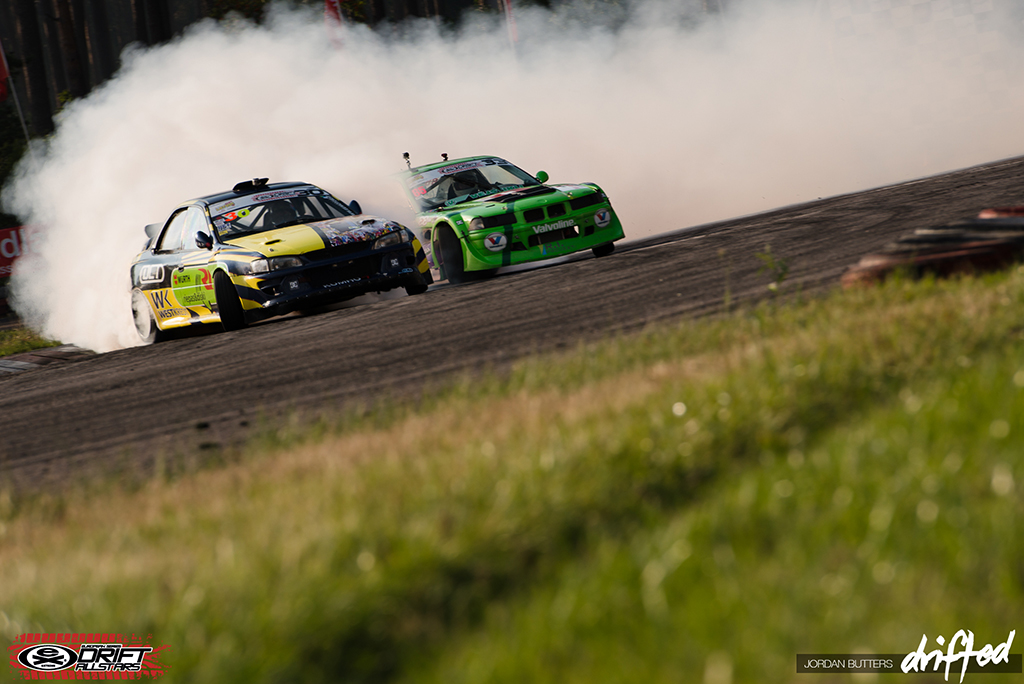 The Top 32 battles are fiercly fought, with almost every battle containing serious door-to-door action.
Falken Motorsports driver James Deane commented that it was great to drive close battles with the other drivers with 'no games' being played.
This is what competitive drifting should be about - striking that delicate balance between wanting to be competitive and win and at the same time put on a good show for the crowd.
No-one wants to see brake checking, drag racing or one driver sequestered from the other.
In everyone's eyes if you can drive in a battle with no dirty tricks and still come out the victory, that's the sweetest victory of all, right?
Through the preliminary battles the crowd were kept entertained as 32 became 16. The hot weather and ready supply of cool beer kept everyone in high spirits!
I first saw team Budmat driver Dawid Karkosik drive in London, and his style of driving instantly impressed me. He seems to be able to throw his S15 into corners at extreme angle without compromising speed excessively.
Still, he would be no match for Deane, who was on a rampage following his victory at round 3 in Sweden.
Harold Valdma's BMW E46, again built by the guy at HGK Racing in Riga, boasts a LSX 440 engine pushing out 650bhp. These guys have pretty much cornered the market in building these extremely capable V8-powered BMWs. Harold knows how to peddle it too, eliminating Evaldas Kovalenka in the Top 32…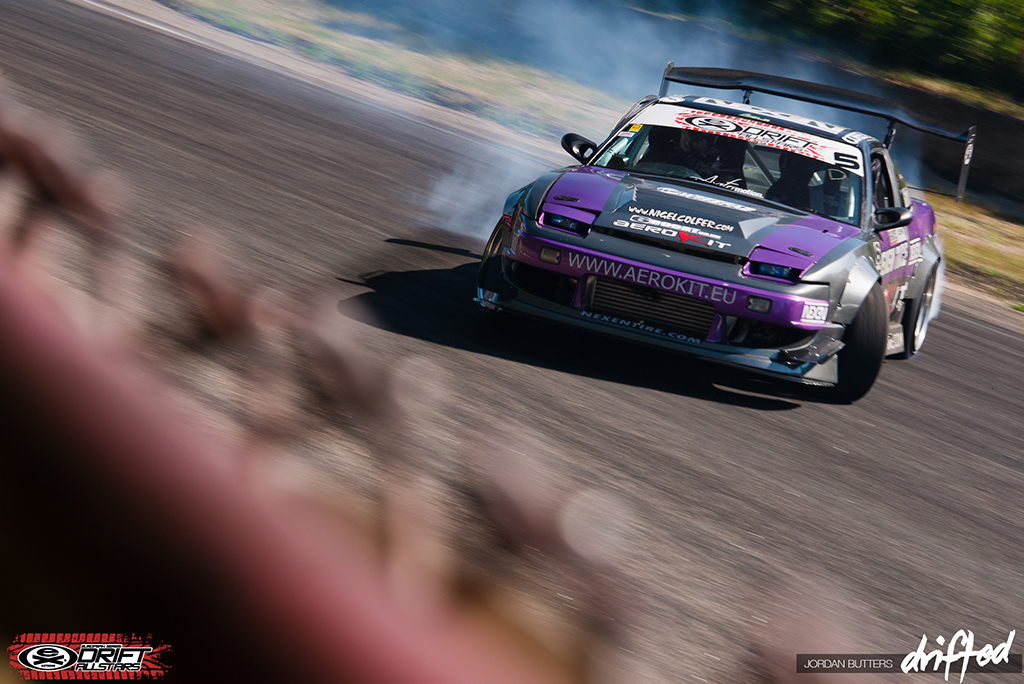 …and then Nigel Colfer in the Top 16…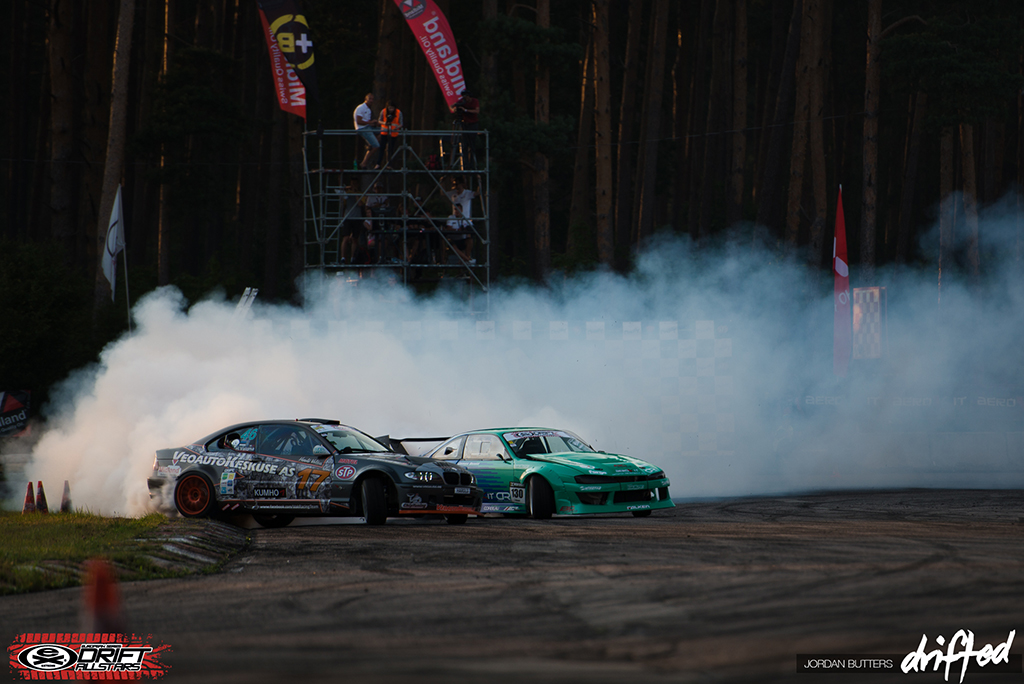 …before proving a surprise upset and taking care of James Deane to move into the Semi Finals.
The mad Ukrainian Dmitry Illyuk in his spaceframed S13 would progress past Danish driver Dennis Hansen…
…but would fall to Norwegian Fredrik 'FredOX' Øksnevad in the SPY+ Soarer.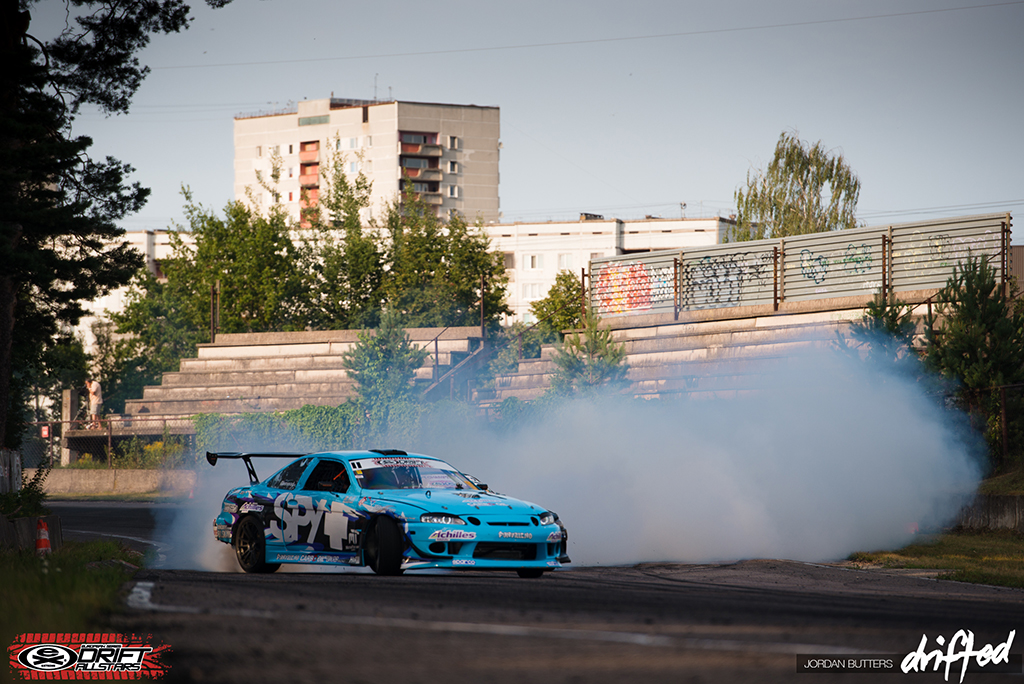 Fredrik's speed during transition was unparalleled, allong his to make up lots of ground when switching between corners on his chase runs.
Still, he met his match when it came to his battle against Blušs. His HGK E46 rocks a 620bhp forged V8 running through a Tex Racing 4 speed dogbox.
Top qualifier Piotr Wiecek, from Poland, would bow out uncharacteristically early in the Top 16 to Janis Eglite, in a battle that would have been fit for a final.
And another high qualifier, 4th place Gratis Babris would exit early too, losing out to Ivo Cīrulis in the Top 16 also.
Cīrulis' M-sport inspired E46 is a Frankestein of German and Japanese heritage - there's an RB26 from a Nissan GTR Skyline tucked away under that German bonnet.
However, Cīrulis would only make it as far as the Top 8 before losing out to Edmunds Ērglis in his Subaru Impreza.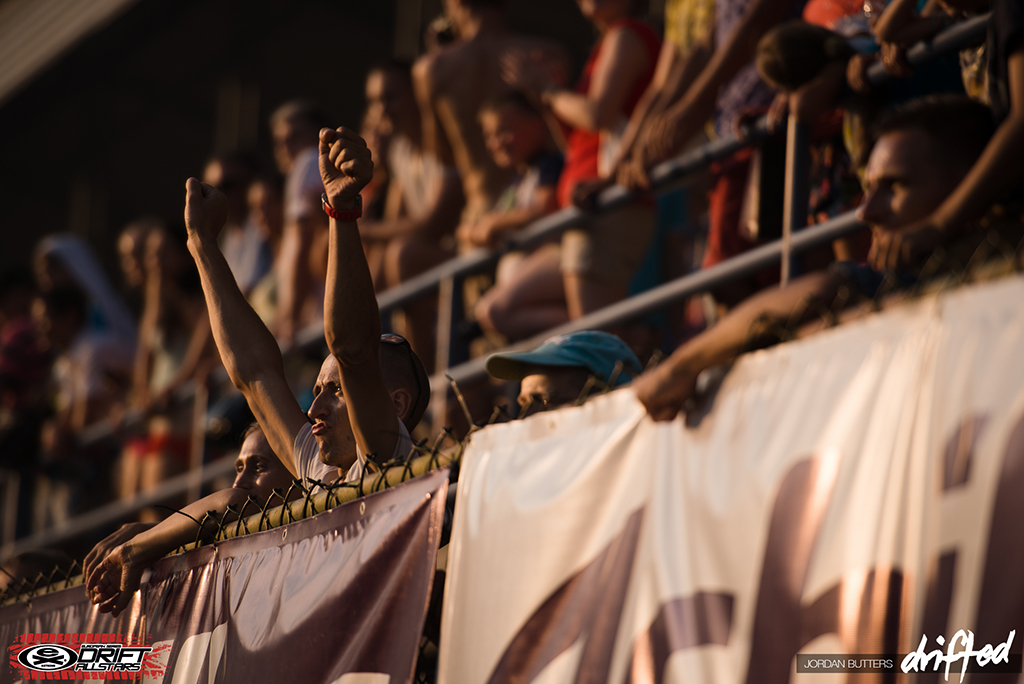 The final spot in the Semi Finals would be filled by 2013 Polish PFD Drift champion Bartosz Stolarski of STW Drift, a favourite with the crowd in Riga.
Stolarski fells Ēriks Ulass, shown above…
…before moving through Janis Eglite to meet Ērglis in the Semi Finals. Believe it or not, Stolarski's car is hidden in Eglite's smoke here!
A cleaner line by Stolarski sealed his place in the Final against Kristaps Blušs - Latvia vs Poland.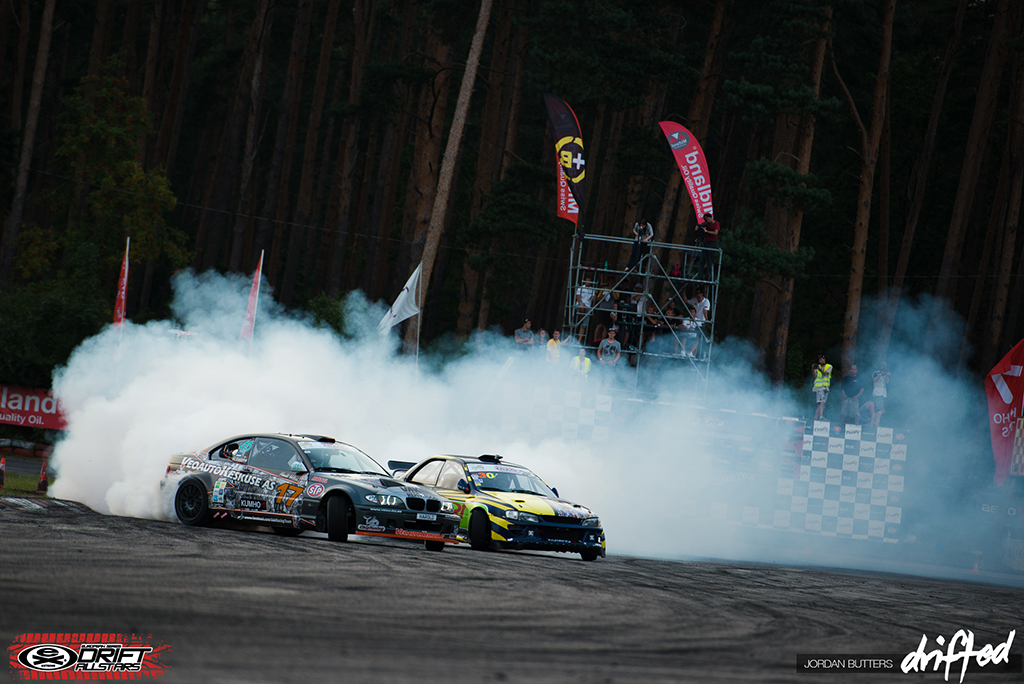 Before the final could be decided Riga Harold Valdma and Edmunds Ērglis went toe-to-toe, with Ērglis controlling the pace and taking third spot.
As the sunset over Riga, Stolarski and Blušs battled it out for the trophy. Stolarski left Blušs in a cloud of smoke…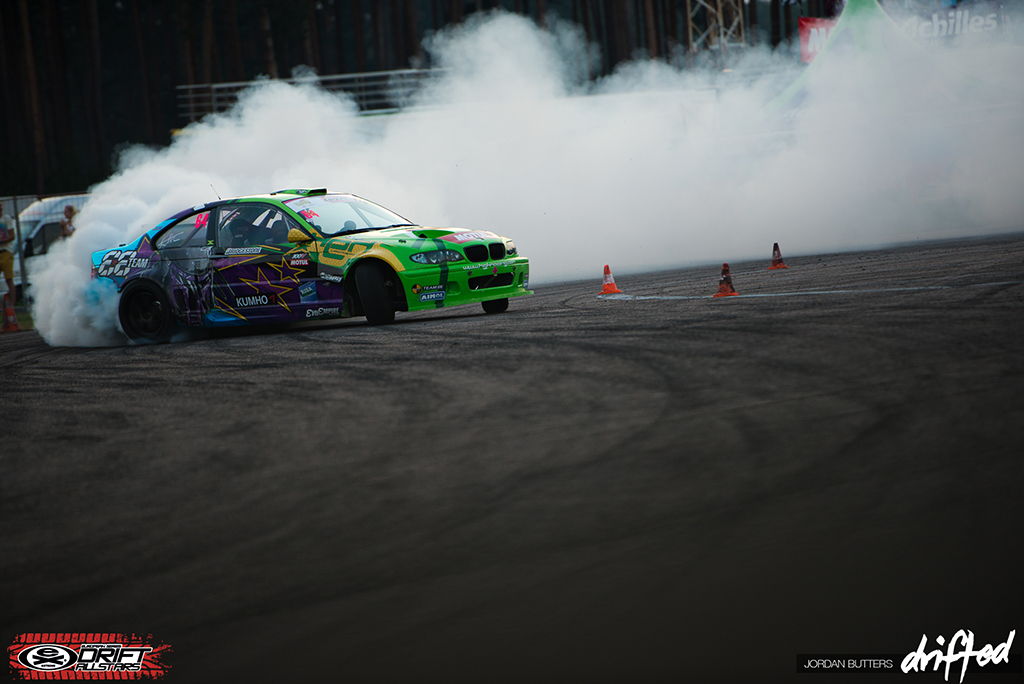 But Blušs returned the favour with extended vigour. His E46 on the absolute ragged edge of grip at all times.
As the smoke settled, the crowd had seen more than their fair share of completely ridiculous, over-the-top drifting action. Audience, drivers, media and support crew were all well and truly spent.
The drivers' names are read out over the PA system, and the judges revealed their decision - Latvian Kristaps Blušs's name rings loud and echoes around the tribunes - he is crowned Extreme Drift Allstars Latvian Drift GP champion!
The frantic energy of an event like this leaves you feeling torn apart. One one hand you're on a complete adrenaline rush, but on the other you're physically drained. This has been my first experience of drifting in Eastern Europe and little compares to it.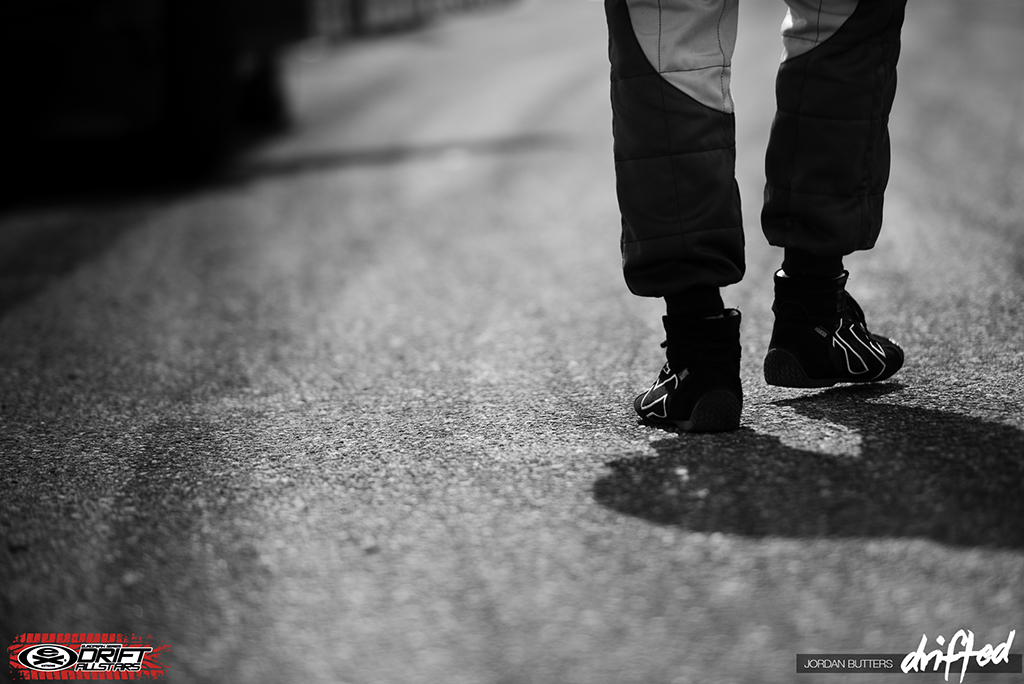 The cars, the circuit, the people, the crowd, the weather - everything culiminated to make Extreme Drift Allstars round 4 and adventure that I'll certainly not forget for a long, long time.
One phrase sums it all up - #RIGABABY!