EVENT: Formula DRIFT in the Streets of Long Beach
The 2013 Formula DRIFT season drifted into the streets of Long Beach for Round 1. Number 1 qualifier Daijiro Yoshihara took first place with a great start to the season. 2012 champion and "Rookie of the Year" Daigo Saito was knocked out of the Top 16. 2010 champion Vaughn Gittin Jr took second place while veteran Chris Forsberg took the last spot on the podium.
2012 Formula DRIFT champion Daigo Saito returned in his unmistakeable Lexus SC430 with Achilles Radial as the main sponsor once again. However, look closely and you'll notice M7 Japan is not a key sponsor. What do you think? Is it something M7 may regret?
Rather than keeping the car mainly black, it now sports more white and green all over the car with the same huge wing.
Saito took 3rd place in Long Beach last year. Unfortunately for Saito, Frederic Aasbo prevented him from moving on to the Great 8.
2010 Formula DRIFT Champion Vaughn Gittin Jr made the biggest off-season news by signing with Nitto Tires and leaving Falken Tire. Vaughn Gittin Jr gave Yoshihara a run for his money during the finals.
His Nitto Tire / Monster Energy Ford Mustang has its best livery yet with the black, signature green, and grey meddling together to create a perfect blend.
I just love it when drivers come out with different cars and livery. Instead of piloting the Nissan S13 from last year, Ryan Tuerck went with this better looking Scion FR-S and redesigned graphics.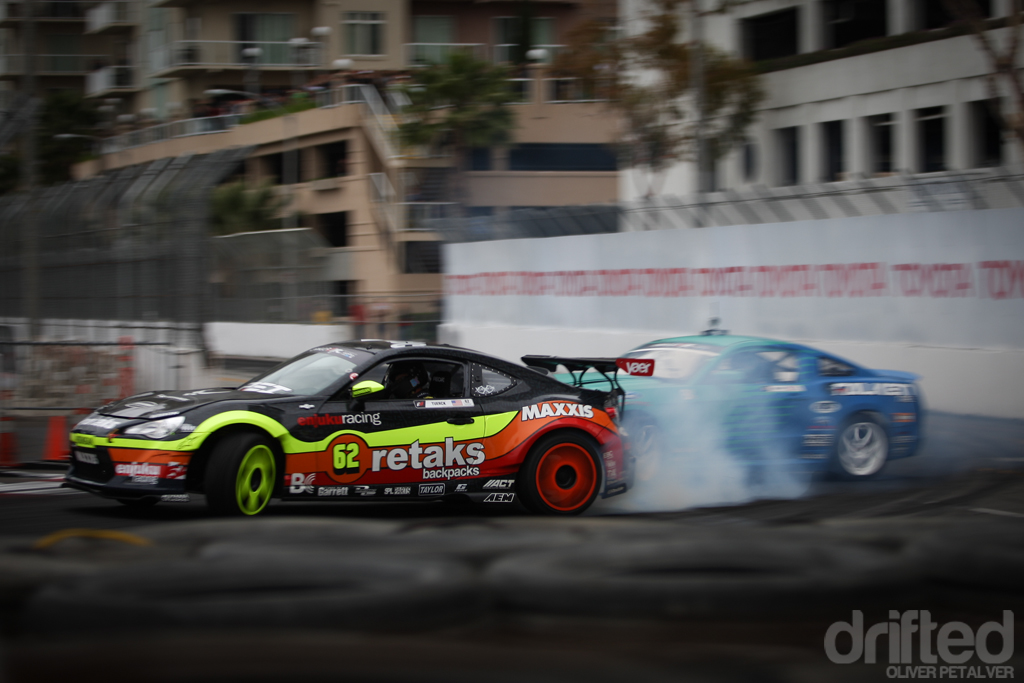 Here's a different angle to Tuerck's new ride as he drifts through Turn 9 of the Toyota Grand Prix of Long Beach with JTP trailing close behind.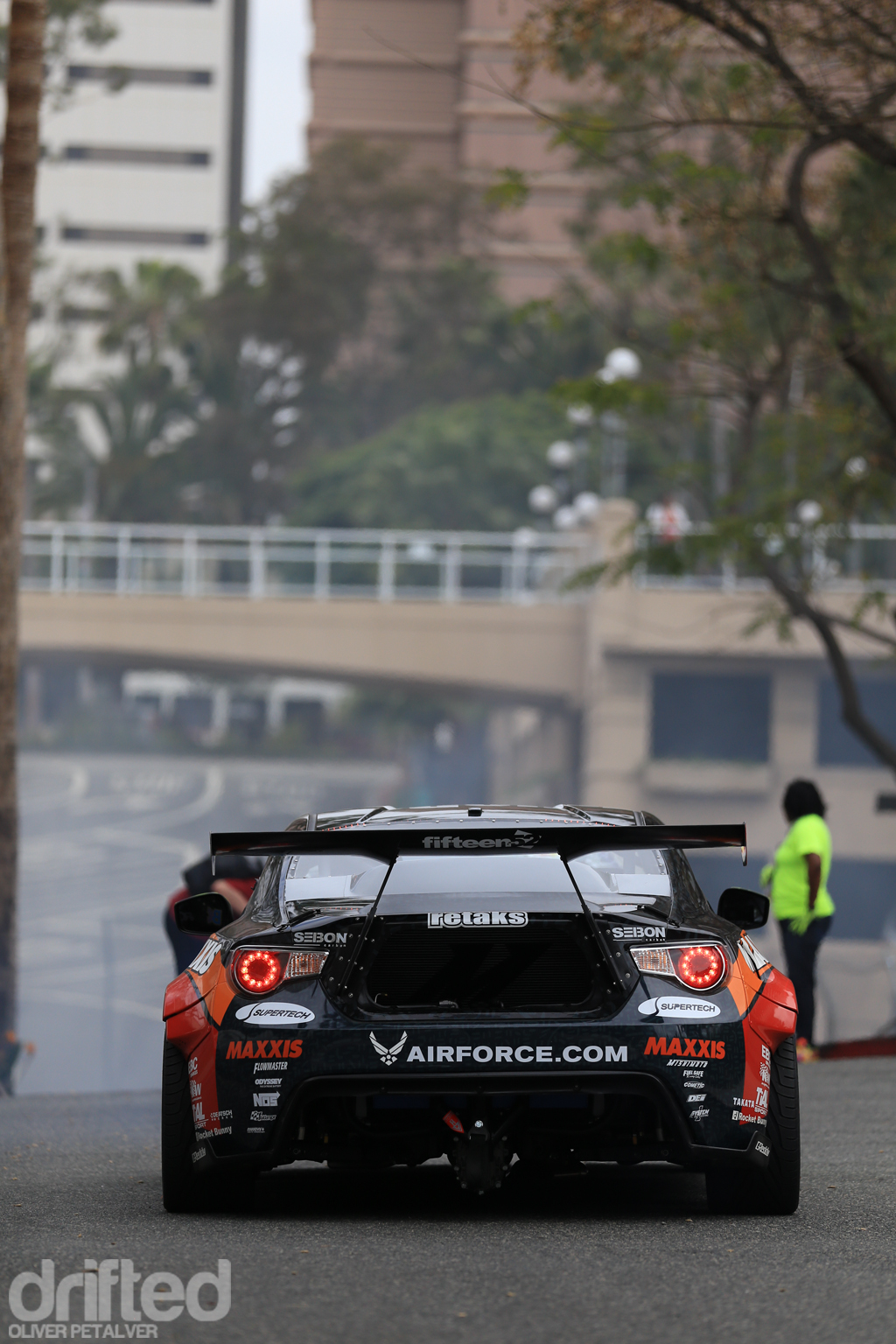 Tuerck prepares to enter the staging lanes with Ocean Blvd in the background.
Conrad Grunewald returns in the Hankook Tire / Megan Racing Chevrolet Camaro. Unfortunately for Grunewald, mechanical issues prevented him from showing his potential.
Matt Field pauses for a second while waiting for his turn during qualifying. Of course, it wouldn't be Matt Field without the signature highlighter-yellow car and sunglasses.
Here's Jeff Jones riding the wave after crashing his CX Racing Nissan S14. What a sport. I don't know if I'd be able to keep a smile like that after crashing a car, especially being a privateer.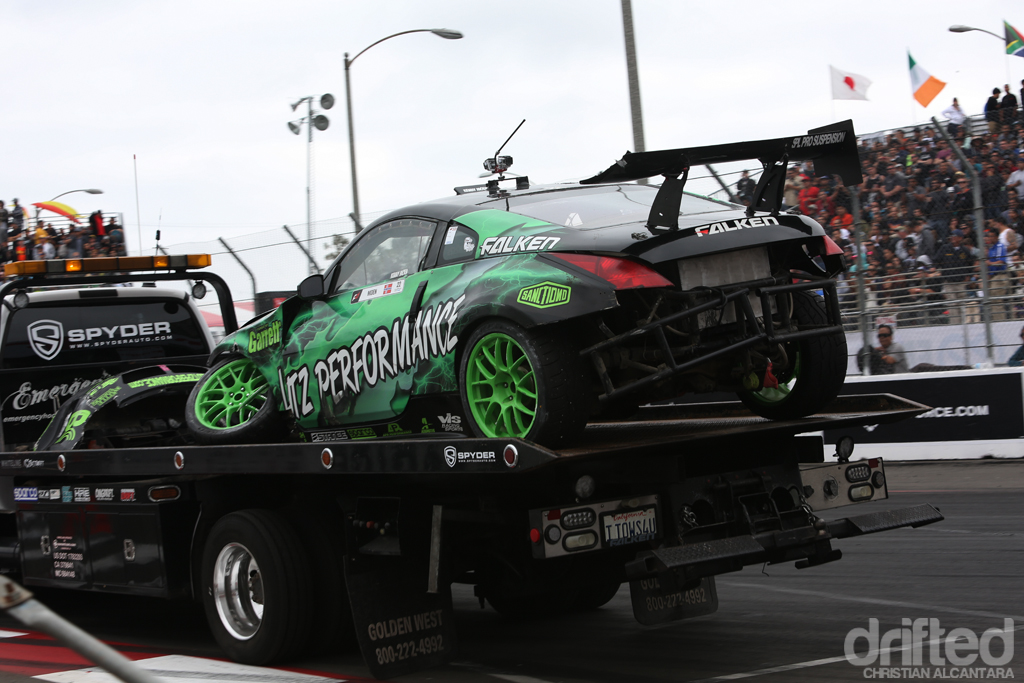 Kenneth Moen drifted and slammed against the wall during his battle against Chelsea DeNofa right after the first turn of the course.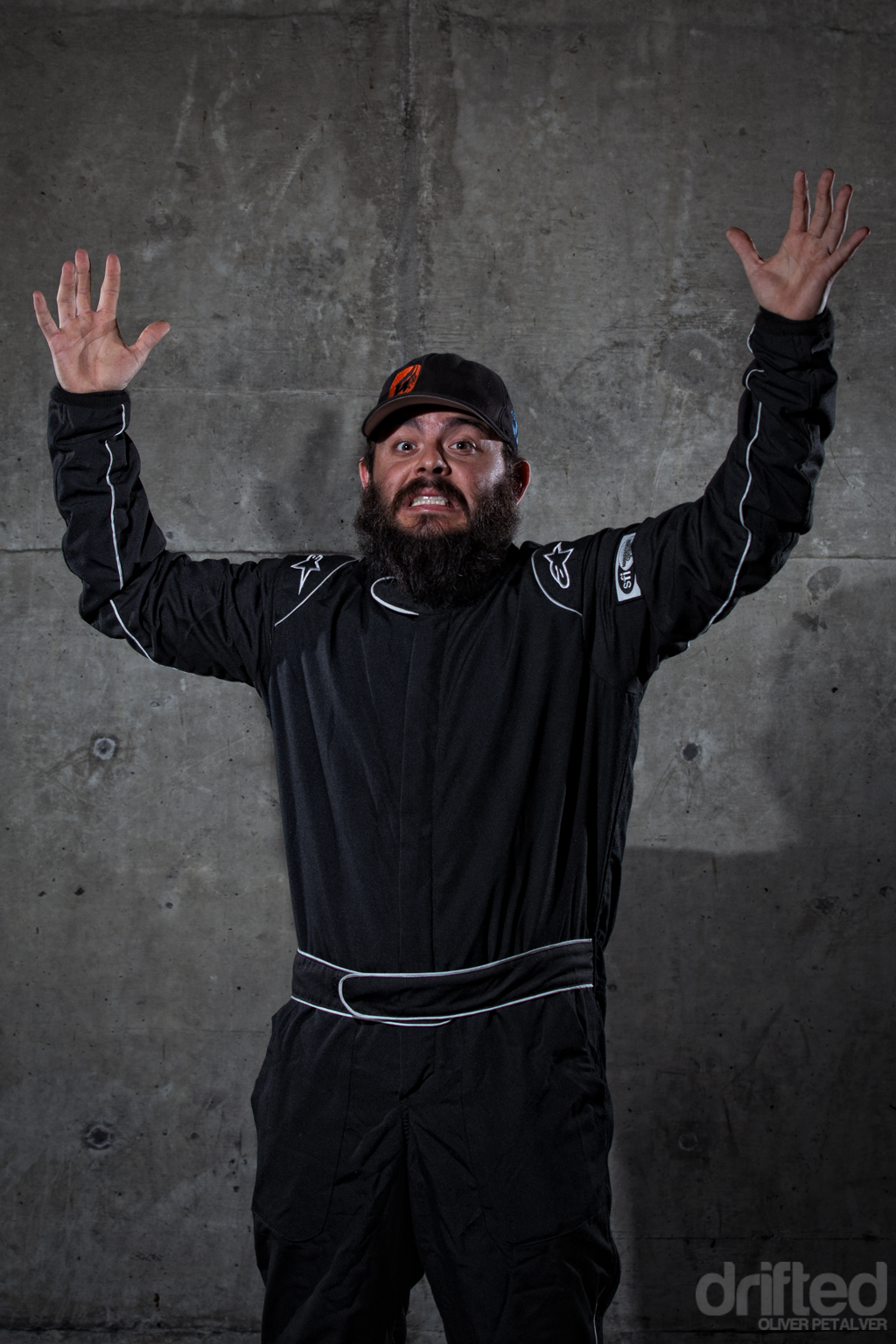 Who is Danny George?
We are Danny George.
During the off-season, George campaigned to raise money to help fund the 2013 drifting season. Those that helped had the opportunity to have their photos placed on his car by 702 Graphics. Although he didn't make the $25K goal, he was still able to compete this season. Definitely a unique and great way for him to know his fans on a different level.
The event not only had cars burning rubber but also showcased the Slammed Society car show where fans were able to get up close to cars such as this Nissan GT-R sporting the Ben Sopra kit.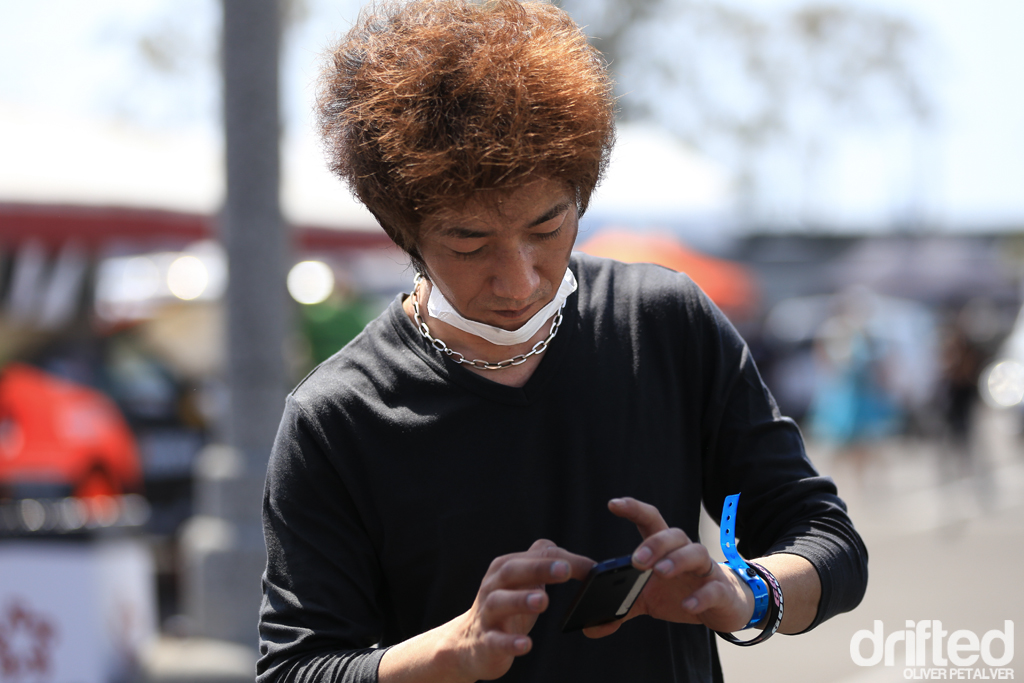 Speaking of body kits, ever wonder who designs those sick-looking 6666 Rocket Bunny Kits? This guy —Kei Miura. The man, the myth, the legend behind TRA-Kyoto.
Fans also had the opportunity to have their items autographed by their favorite drivers. Taka Aono went with something new this year giving away a paper, foldable, scaled-down version of his drift car.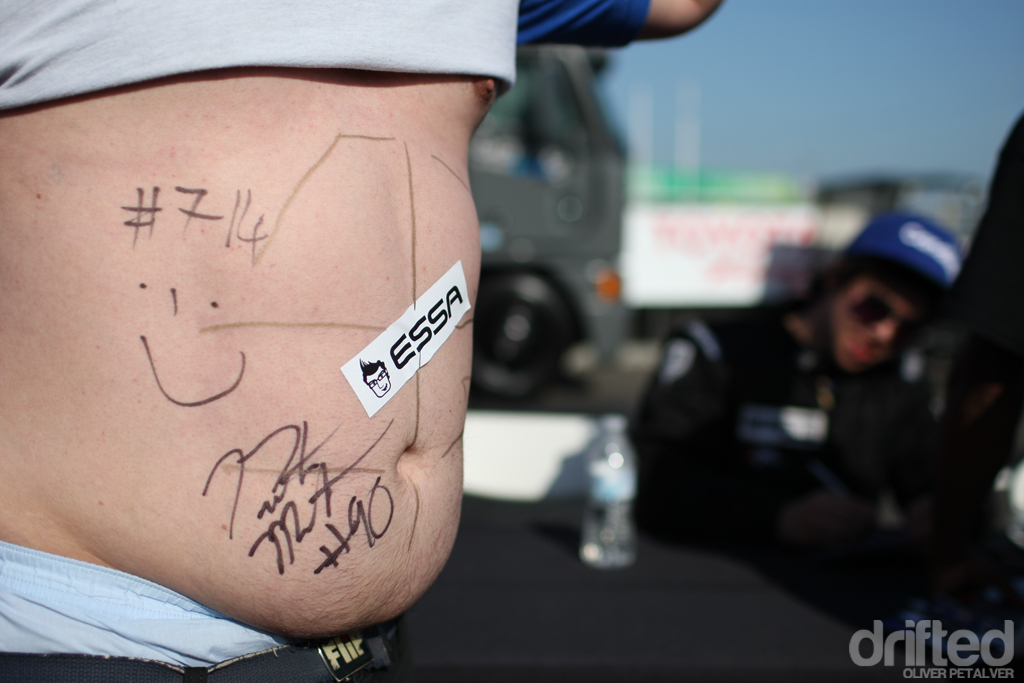 I can now say that I've seen it all–from posters to tires to mammary glands getting autographed. Now, an autographed six-pack of abs.
Justin "JTP" Pawlak, winner of two previous Long Beach events, made it to the Top 16 but got defeated by Tuerck.
JTP talks it over with a Falken teammate regarding an RC version of his drift car.
One of the judges, Ryan Lanteigne, explains the criteria for judging with regards to style, angle, line, and speed. This year utilized a new "knockout" format for qualification where the top 16 drivers would be placed automatically in a tandem bracket by rank. Definitely puts pressure but saves a lot of time forcing the drivers to bring their 'A' game.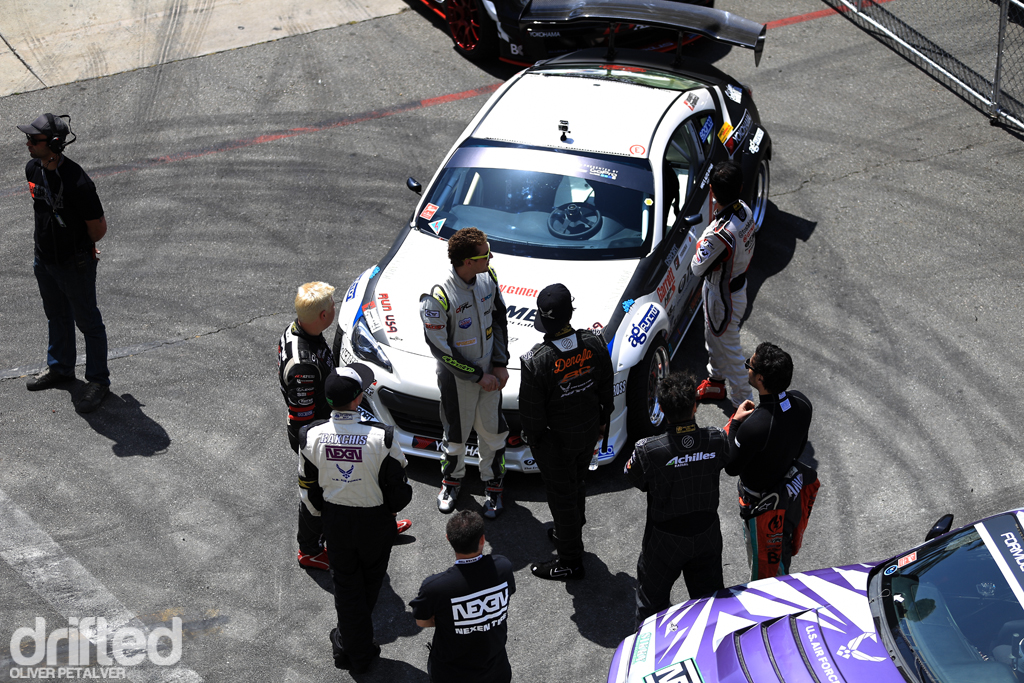 A bystander watching said this could look like a scene from the Fast and the Furious Tokyo Drift.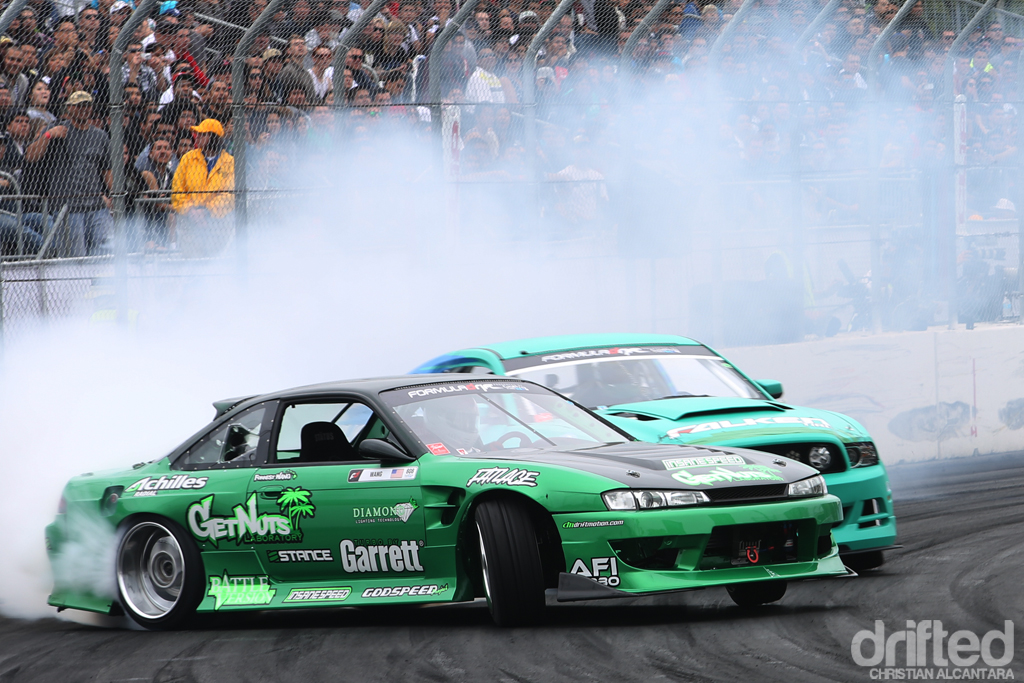 Hawaiian native Forrest Wang in the Get Nuts Laboratory Nissan S14 definitely has some potential. Drifting since the age of 15, he took first place in the 2012 Formula DRIFT Pro-Am Series.
Toshiki "Yoshiking" Yoshioka is back again with an all-new car. With an abundance of Scion FR-Ss, Yoshioka decided to use the Subaru BR-Z sponsored by GT-NET / Tomei. He didn't do too bad qualifying 24th but got defeated by Aasbo in the Top 32.
The 2013 Formula DRIFT season looks to be an exciting year as drivers debuted new cars and sponsors. The sport itself is growing at an exponential rate. The Vegas course is dropped in favor of bringing professional drifting to the Lone Star state. 2012 Formula DRIFT champion Daigo Saito and 2011 champion / 2013 Round 1 winner Daijiro Yoshihara both have targets on their backs. The next round will be held at Road Atlanta on May 10-11. For more information and tickets, visit www.formulad.com.
Photos: Oliver Petalver & Christian Alcantara
Words: Oliver Petalver