LIVESTREAM: Formula Drift 2013: Round 1: Long Beach
Formula DRIFT kicks-off the 10th championship season on the Toyota Grand Prix of Long Beach Street Course.
The Toyota Grand Prix of Long Beach Street Course has been around since 1977. Highlighted by Formula 1, IndyCar, American Le Mans Series, The Toyota Pro/Celebrity race, and now Formula DRIFT.
2013 will be Formula DRIFT's 8th consecutive year at the famous Street Course. The expanded 2-day event will again be one week prior to the Toyota Grand Prix of Long Beach.
Utilizing Turns 9, 10, and 11 of the Toyota Grand Prix of Long Beach Street Course, Formula DRIFT slides its way on one of two actual street course utilized for professional drifting; the other is the Formula DRIFT Asia event which is held on Singapore's F1 Street Course. With a high-speed entry and very tight spacing between the cars and walls, there is no room for mistakes, making the opening round of the Formula DRIFT season one of the most exciting drift events of the year.
This event also features: the Slammed Society Car Show presented by Fatlace, a huge vendor village, tons of giveaways from sponsors, driver autograph session, open pits to see the cars and stars up close and personal, and much much more!
Round 1: Streets of Long Beach will kick-off the 2013 Championship season in style with new cars, new drivers, and all the sideways excitement that Formula DRIFT is known for. Champion Daigo Saito will be back to defend his title against all competitors including Vaughn Gittin Jr., Justin Pawlak, Ryan Tuerck, Fredric Aasbo and the rest of the talented pool of drivers.
Don't miss out on the exciting 2013 Formula DRIFT Season Opener on April 12-13!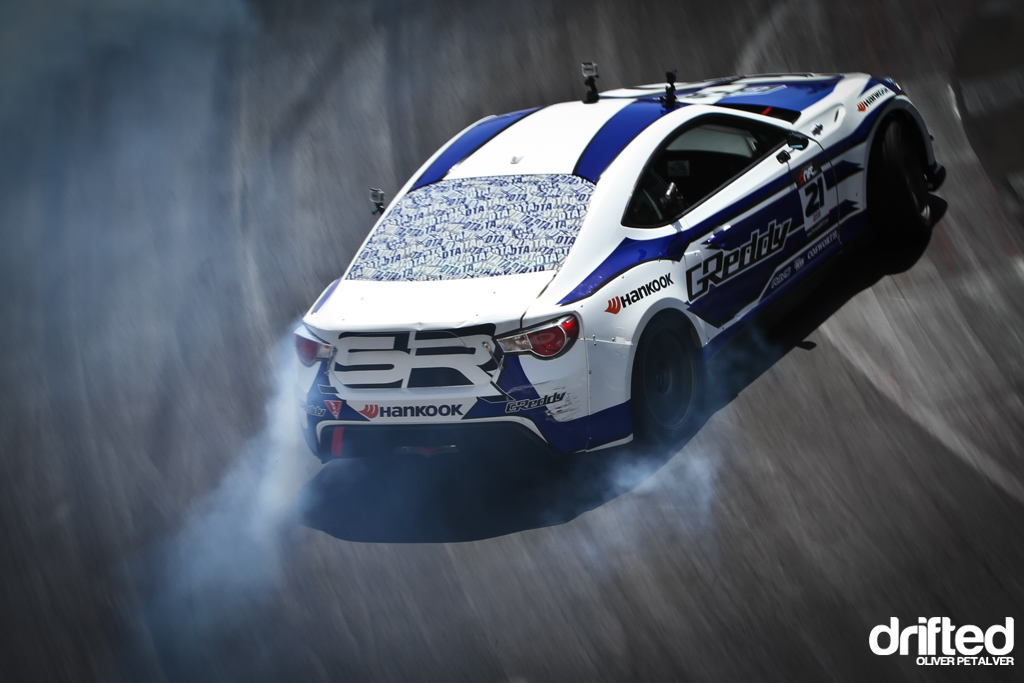 Schedule of Events
Friday, April 12, 2013 - Practice & Qualifying
7:00am – 4:00pm – WILL CALL: Open – Will Call Tent
8:00am – 8:30am – FD: Mandatory Drivers Meeting – FD HQ
9:00am – 9:30am – MEDIA: Mandatory Meeting for ALL 'Hot Area' Access Credential Holders – FD HQ
9:00am – 10:25am – FD: Practice – Group #1 – Track
10:35am – 12:00pm – FD: Practice – Group #2 – Track
12:00pm – 5:00pm – GATES OPEN TO PUBLIC – Venue
12:00pm – 2:30pm – FD: Qualifying – Track
3:00pm – 3:30pm – FD: Mandatory Drivers Meeting; Qualifying Results – FD HQ
4:00pm – 5:00pm – FD: Autograph Signing Session – TBA
5:00pm – 6:00pm – FD: Open Practice – Top 32 – Track
6:00pm - 8:00pm - CARSHOW: Roll-in and setup - Car Show Paddock
Saturday, April 13, 2013 – Main Event
7:00am - 5:00pm - WILL CALL: Open - Will Call Tent
8:30am - 9:00am - FD: Mandatory Drivers Meeting - FD HQ
9:00am - 9:30am - MEDIA: Mandatory Meeting for ALL 'Hot Area' Access Credential Holders - FD HQ
10:00am - 6:00pm - GATES OPEN TO PUBLIC - Venue
9:00am - 10:30am - FD: Open Practice - Top 32 - Track
11:00am - 1:00pm - FD: Main Competition - Round of 32 - Track
1:00pm - 2:30pm - "Halftime" Break - Main Paddock
3:00pm - 3:30pm - National Anthem / Opening Ceremonies - Track
3:30pm - 5:30pm - FD: Main Competition - Round of 16 to Finals - Track
5:30pm - 6:00pm - FD: Trophy Ceremony & Closing
*SCHEDULE IS SUBJECT TO CHANGE