EVENT: Cody's D1NZ 2013 Round One
The Cody's D1NZ National Drifting Championship is back! Round 1 kicked off the new season last weekend at Manfield Park Raceway, located in Fielding, New Zealand. It was an action packed beginning to the series and thankfully the weather was on our side, two days in a row of sun is unusual for New Zealand at the moment!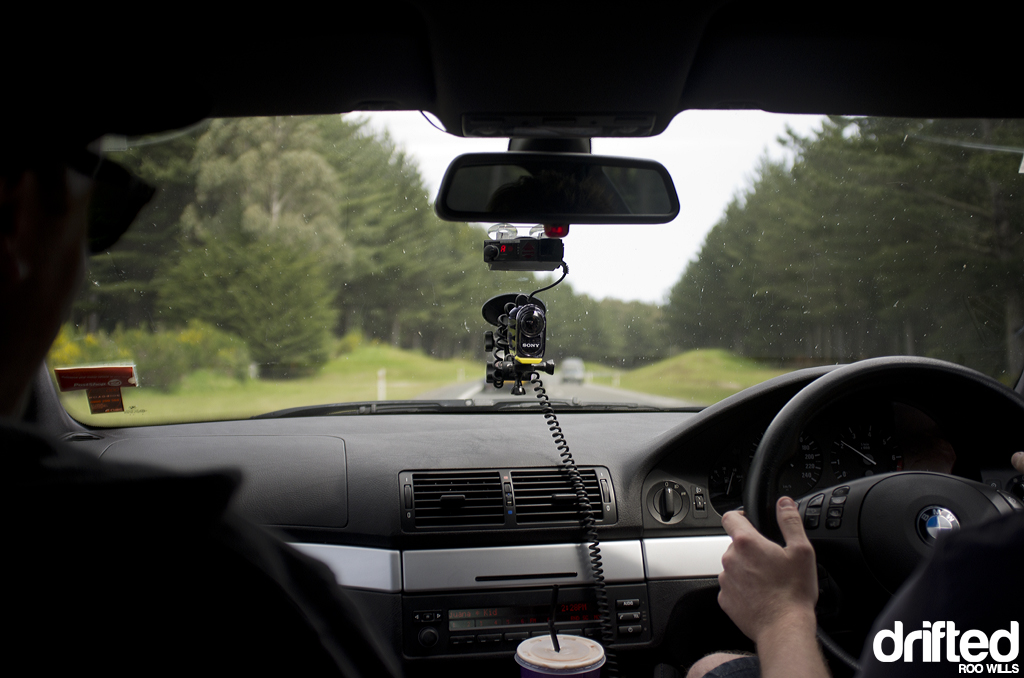 I always enjoy the trip down to Fielding, It's about six hours drive from where I live in Auckland.
Myself and fellow media buddies made the trip down along with a couple of friends who drive in the series. Here is Troy Jenkins' Nissan S15 Silvia in front of us.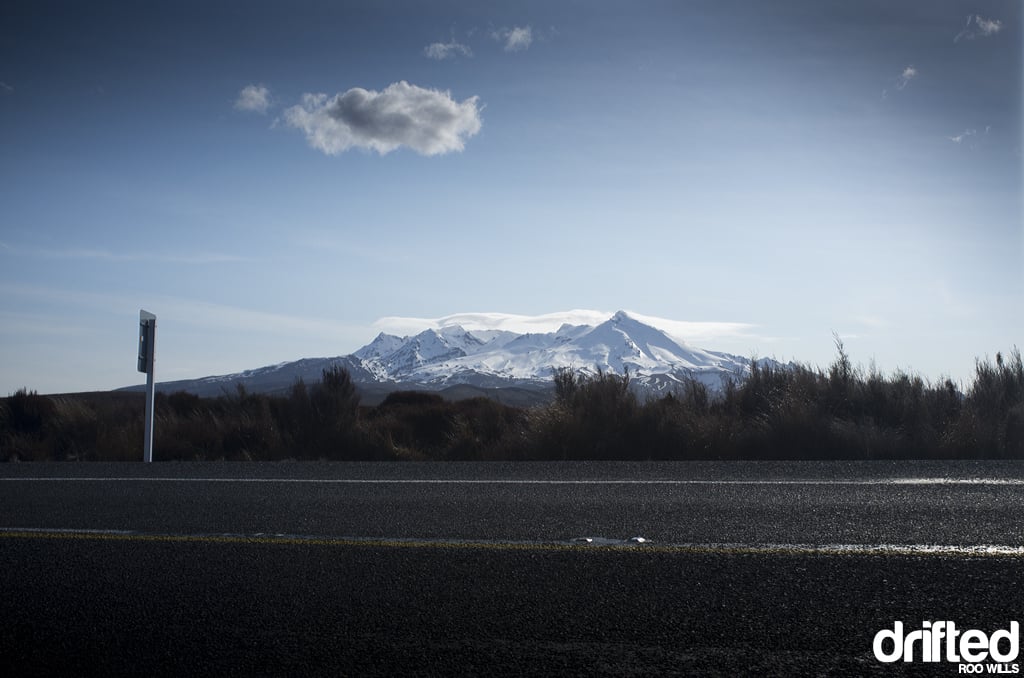 We came across some amazing sights on the way down and stopped along the way for photo ops and to stretch our legs. These are the sort of weekends I really look forward to; you and your mates convoying down for an event, all staying in the same motel, partying each night and photographing drifting each day; the good life.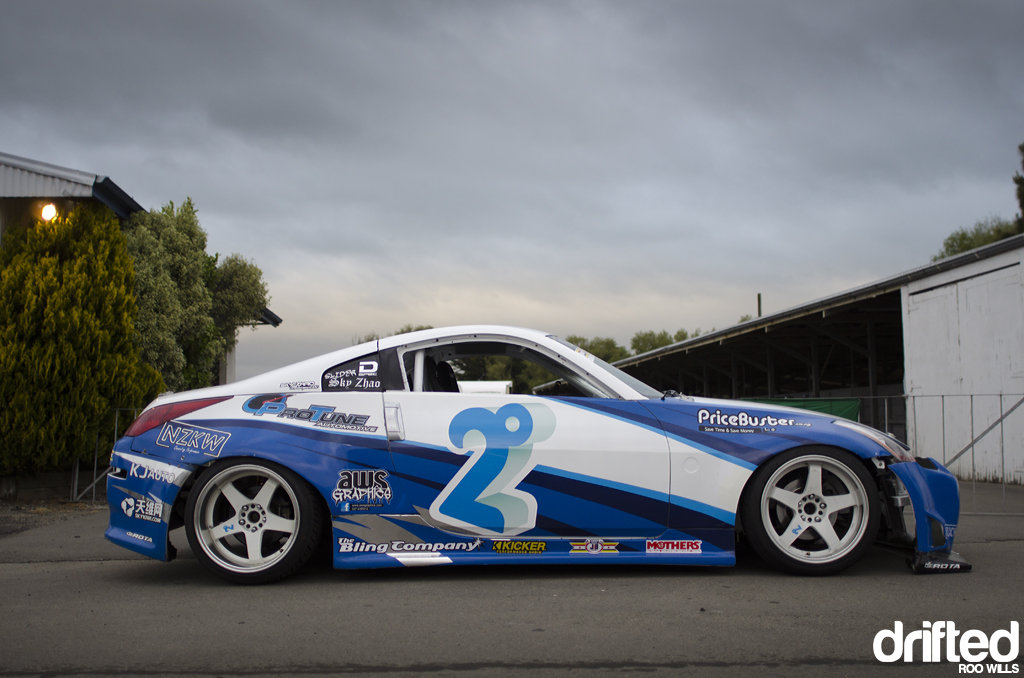 The start of this new season came with a lot of new cars. Sky Zhao's 2 Degrees sponsored Nissan 350Z is one of them, I really like the livery on this car and Sky runs it super low!
Here's another shot of Troy's S15 off the trailer, the black and orange combination works so well.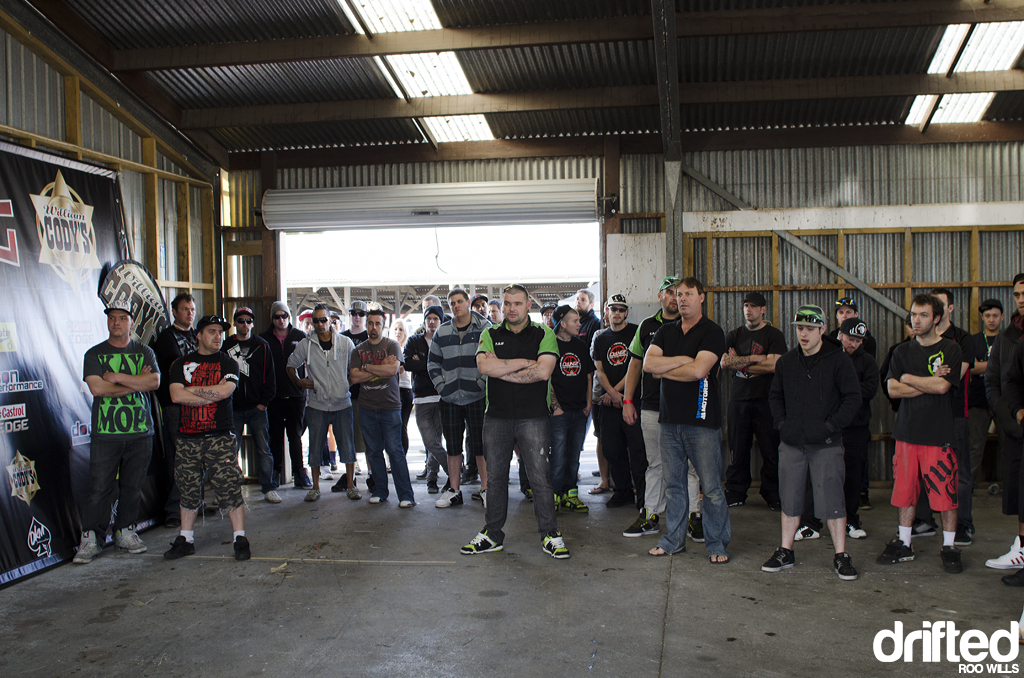 As usual the day kicked off with drivers' briefing…
…where the judges went over what they were looking from the drivers.
Hugo Maclean's Toyota Corolla is another car that has undergone some changes during the off season. Now sporting a wild livery and an extremely loud 20B PP setup.
The Castrol Edge sponsored Holden Commodore driven by 'Fanga' Dan Woolhouse also received a facelift and damn it looks good!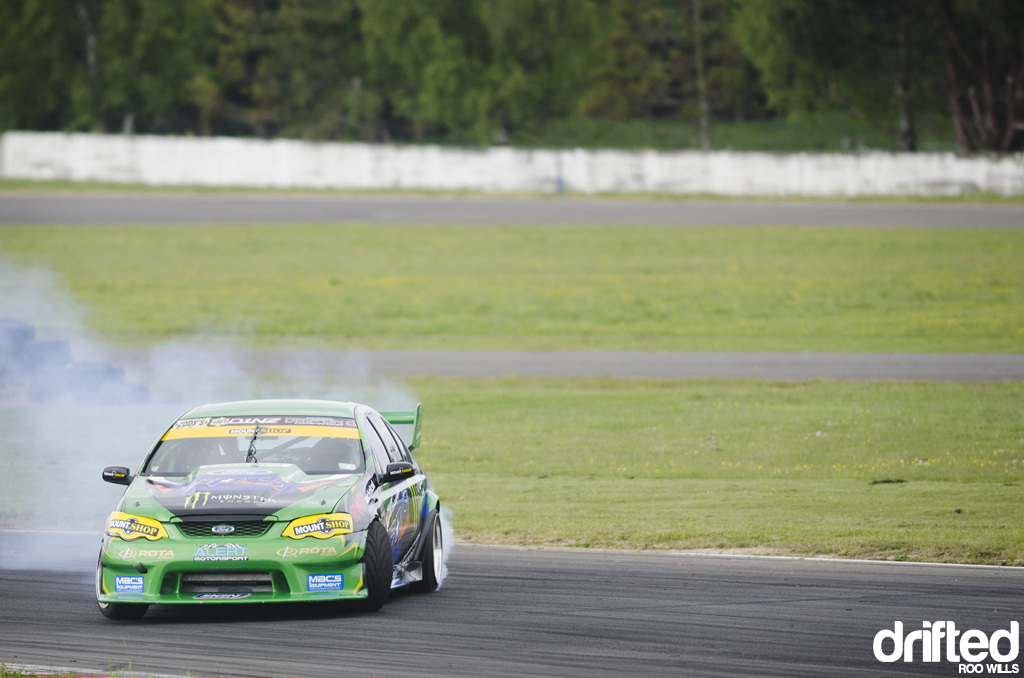 Kiwi V8 Supercar legend Shane van Gisbergen teamed up with Rattla Motorsport to use their Ford Falcon for a couple of D1NZ rounds this season. It's great to have such a well known and high profile driver come into the sport. Shane quickly came to terms with drifting but said "I have to do the exact opposite of everything I have ever learnt in a racing car and I still can't get used to pulling the handbrake heading into a corner". He will be a real threat with some more seat time.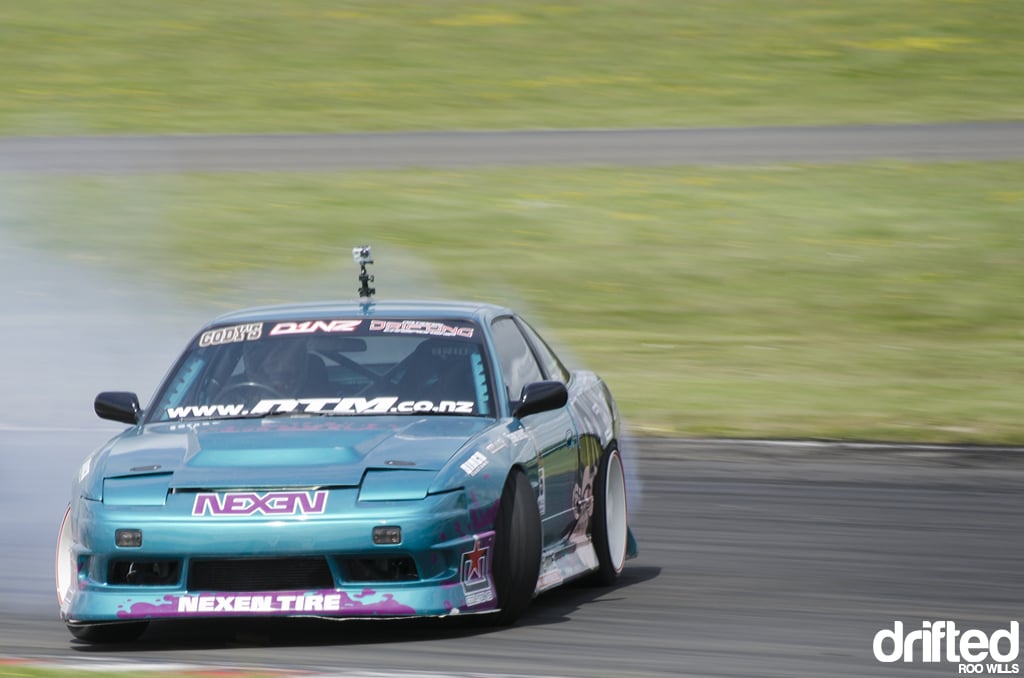 Kyle Jackways retuned to NZ drifting after a couple years working behind the scenes and judging the series. His new Nexen Tyres/DTM Wheels Nissan 180sx took him to qualify 22nd.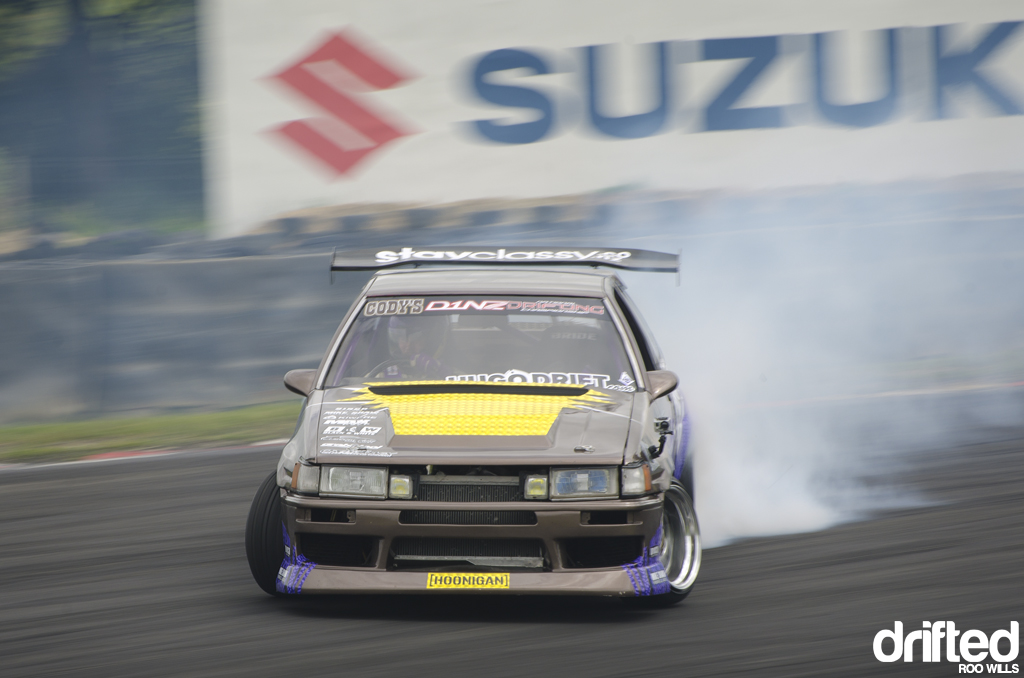 Hugo's little Hachi took 21st in the qualifying ranks.
Although so many drivers had new cars they settled in quickly and were laying down some great runs. Sky Zhao qualified 19th.
Another car that looks a bit different this year is Nico Reid's Nissan S15 Silvia, he was pumping out smoke all weekend and took 17th.
Gary Tenana was dialing in huge angle on every single run. I love the street car look this Nissan Laurel has. Gary qualified 16th.
Three drivers from the South Island made the journey across the gap and showed the North Island boys that they can really drive! Troy Forsythe was driving aggressively all weekend and looked to be a real podium contender.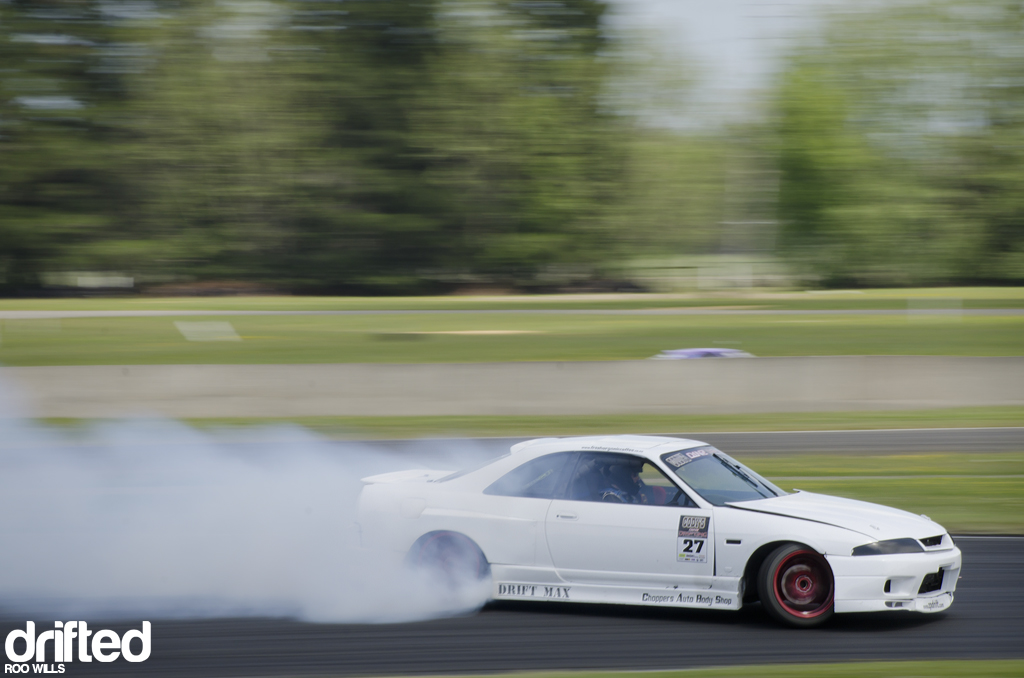 Privateer Zak Pole had only competed in a couple of rounds previously but that didn't stop him pedaling his car to claim 13th in qualifying order.
Willie Foster's Toyota Corolla must be one of the lowest powered cars in the series but that doesn't show in his driving. It's great that we still have two AE86's drifting in NZ. I wonder how long until we see a GT86?
Defending champion Curt Whittaker was battling car gremlins all weekend but still qualified in 10th.
This car had only been in the country a couple of days after arriving home from the World Drift Series in China, but Cole Armstrong and his team worked hard to have it ready. Cole claimed 8th spot.
Team Achilles Radial driver Andrew Redward and his Mazda RX-7 qualified 7th.
The real highlight of the event for me was 'Fanga' Dan Woolhouse's driving. Fanga is an ex-D1NZ Champion and showed he's still got it, laying down some of the best runs of the weekend. He took 5th.
Rounding out the top 3 in qualifying was the other half of Team Achilles Radial, Bruce Tannock in 3rd…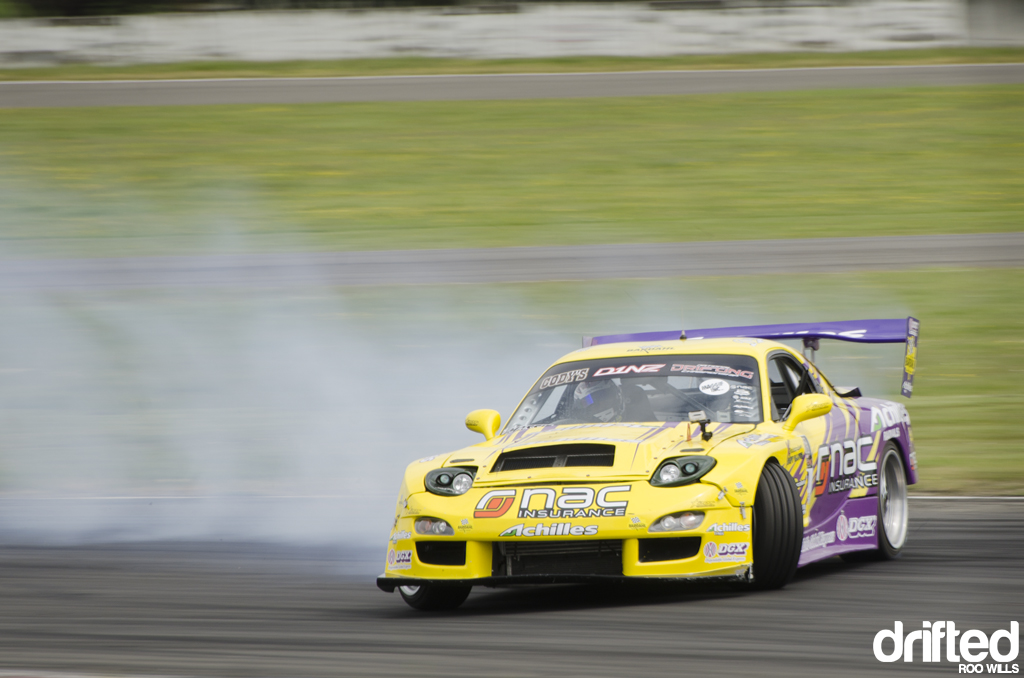 …Daynom Templeman in 2nd…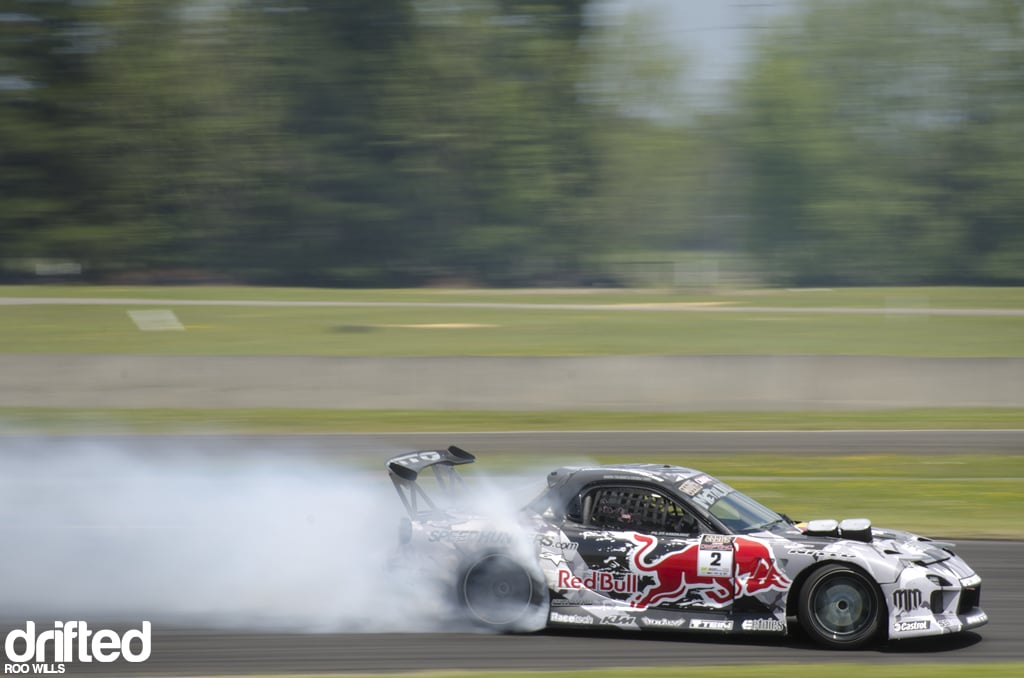 …and Red Bull sponsored Mad Mike Whiddett in 1st! Mike also qualified 1st at this track last season.
The team from Helishots were on track using their awesome setup, this thing takes two people to fly and they can view what the camera is seeing and control where it looks. So cool!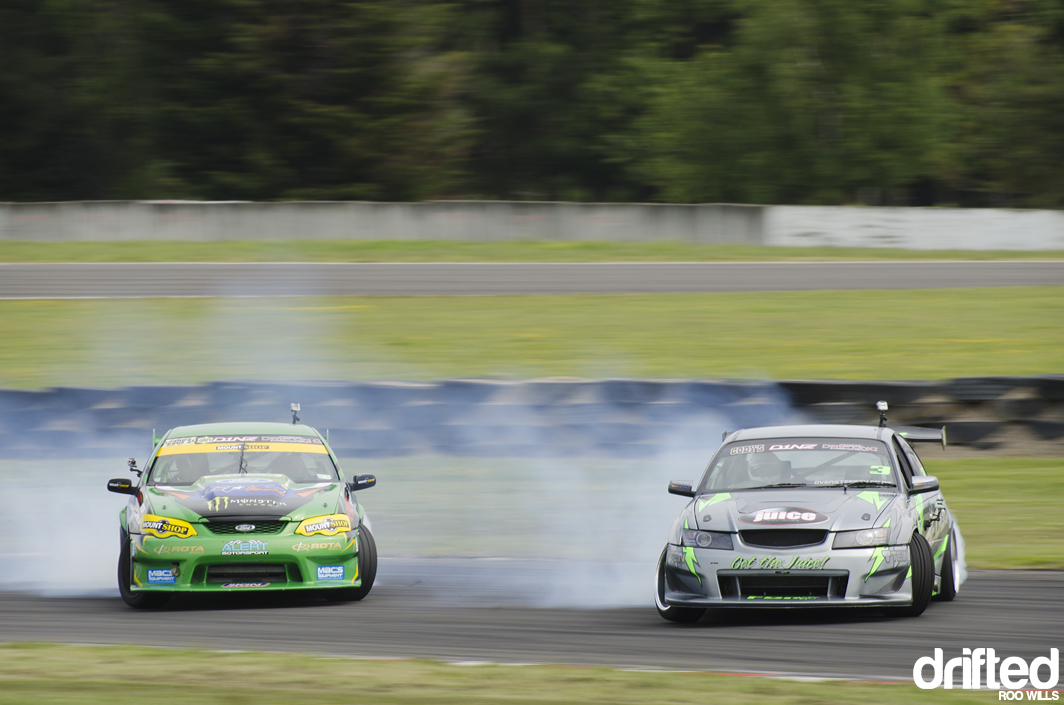 The first battle in the top 32 saw a battle which everyone will remember. Holden vs Ford. Shane van Gisbergen in the Falcon and Dan Woolhouse in the Holden. Shane laid down an amazing chase on the veteran and was set to proceed but a small mistake saw him loose by half a point. Once Shane pulled back into pits the entire pit lane full of drivers, support crew and spectators stood on their feet and applauded. This is one of the reasons I love drifting so much, there is huge camaraderie and respect between drivers.
Andrew Redward and his FC RX-7 quickly dismissed Drew Donovan in a battle of V8 engine transplants.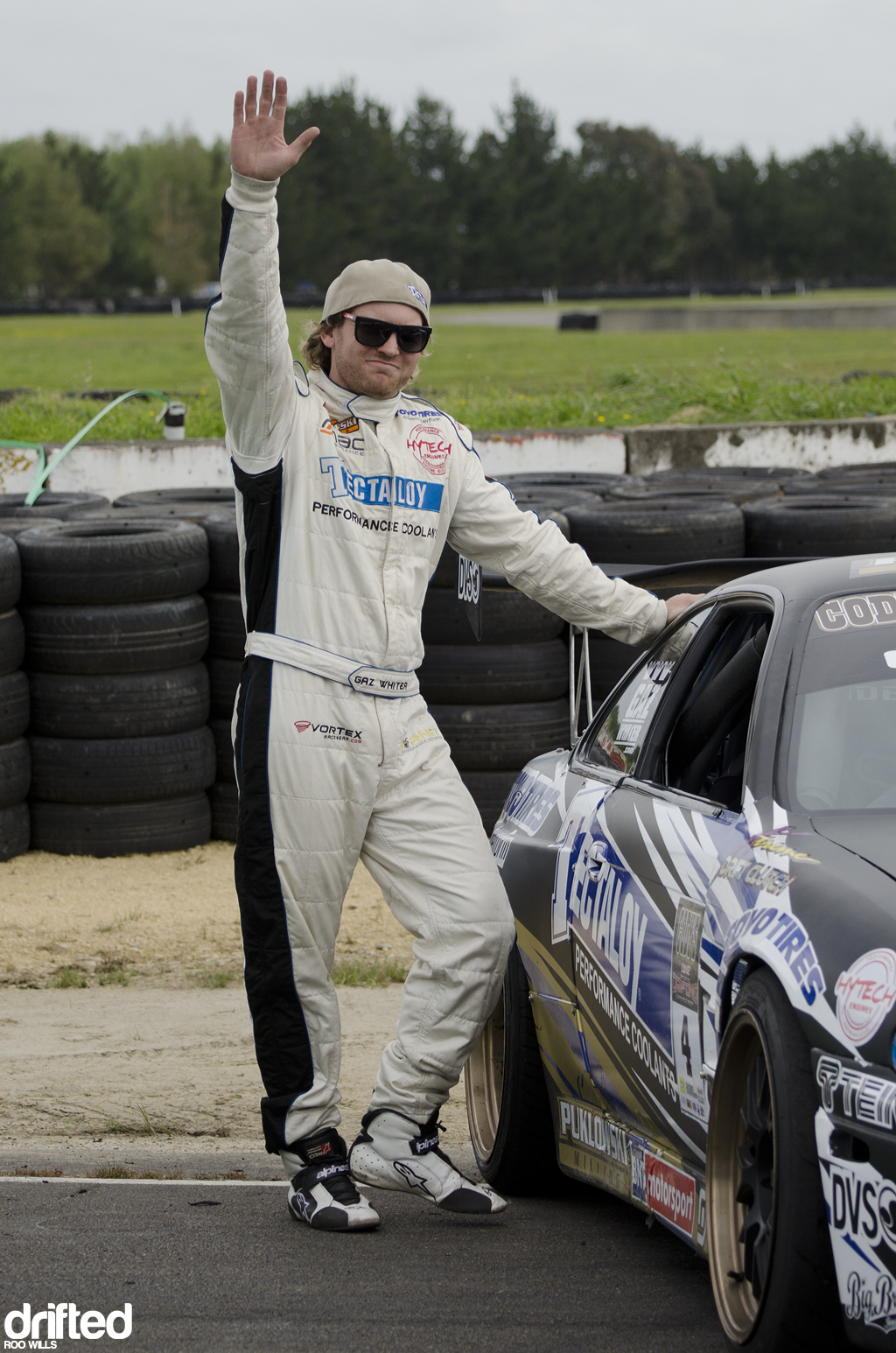 Once the top 16 had been decided they parked up in front of the crowd for driver introductions and some photo opportunities. 3 time D1NZ Champion Gaz Whiter has a new Nissan Silvia this season which he took some getting used to. It is powered by a V8 whereas the old car was still SR20DET. I am sure Gaz will soon come to grips with new car and be back at the top.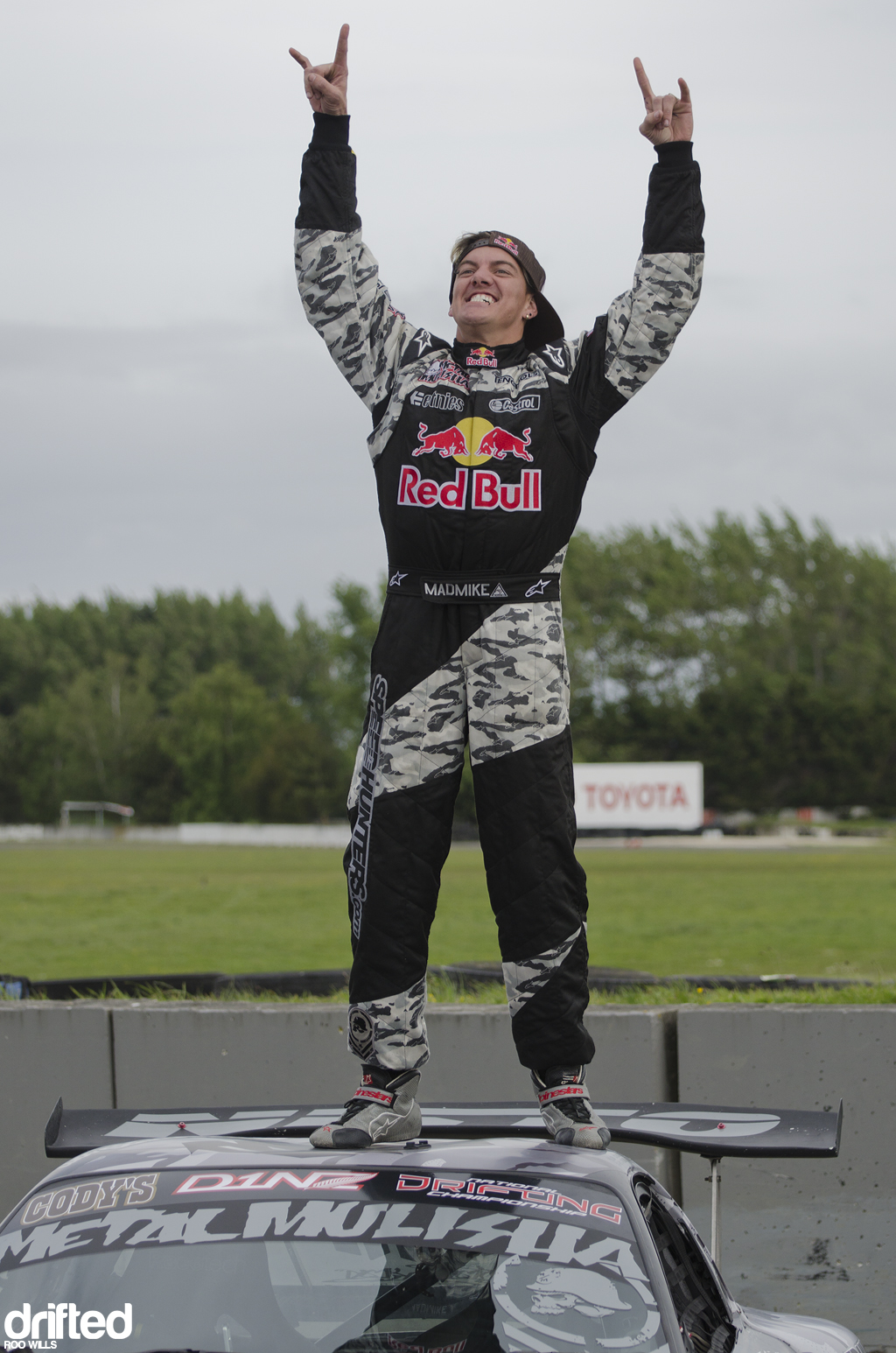 After taking the #1 qualifying spot Mad Mike had reason to be happy!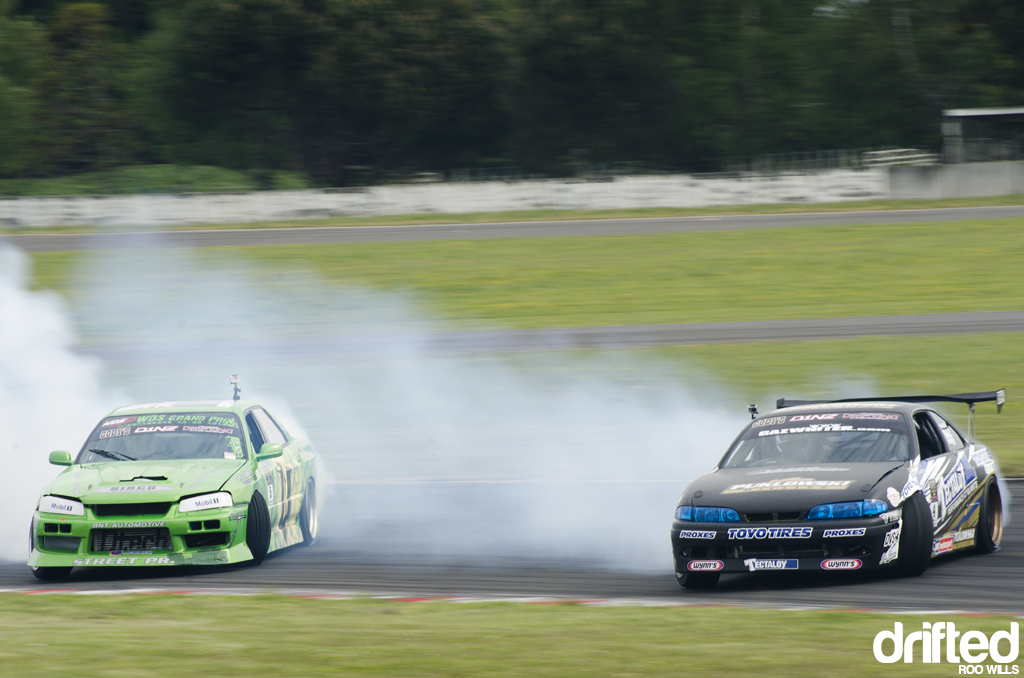 Cole Armstrong in the V Energy Nissan Skyline proved too strong for Gaz and proceeded through the top 8.
In one of the closest battles of the weekend, Cole came up against Mad Mike, it was a hard one to call but Mike was awarded the win.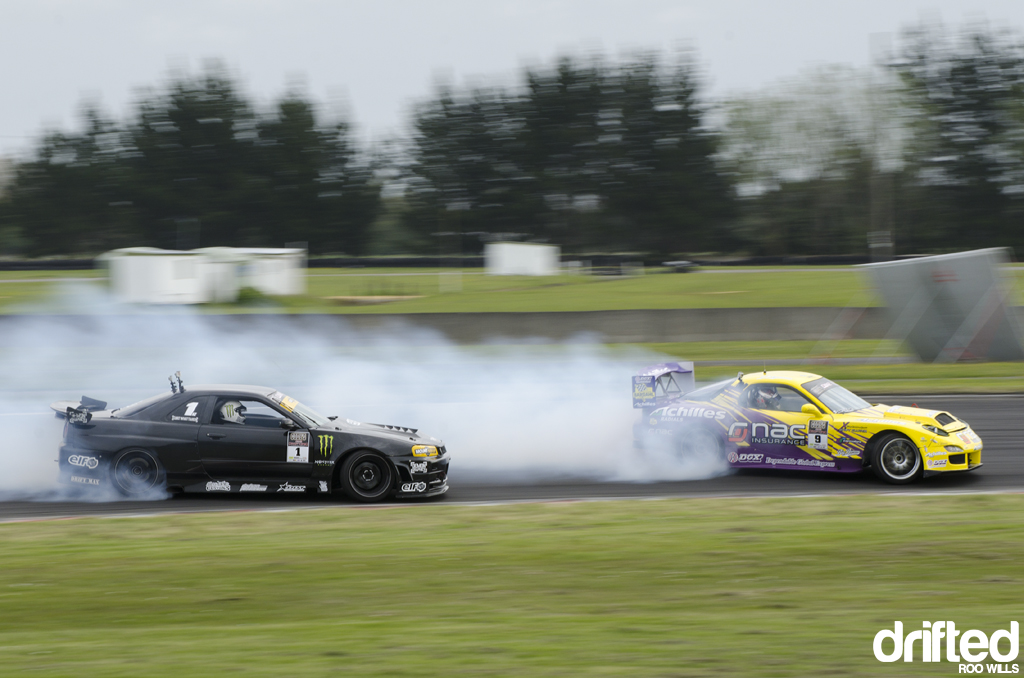 Curt Whittaker had his work cutout with Daynom Templeman driving on form all weekend. Curt did enough though and headed for the top 4.
This battle in the top 8 saw two previous D1NZ Champions go head to head. 'Fanga' Dan Woolhouse vs Carl Ruiterman. This is Carl's first year back in drifting after taking a break for a couple of years and this gave Fanga Dan the advantage.
Moving onto the top 4 I witnessed one of the closest and most exciting battles I have ever seen. Mad Mike and Fanga Dan are the two most aggressive chasers in NZ drifting and when these two come up against each other it's always a spectacle. The first battle was too close to call and the judges called OMT. The second was again close but they scored Fanga with a slight advantage. Fanga progressed to the final and…
…Mad Mike battled for 3rd and 4th against new comer Ben Belcher. Ben drove amazingly for his first D1NZ event ever and exceeded a lot of peoples expectations. Unfortunately the hugely talented Mad Mike proved too strong for Ben but expect big things from this man in the future!
The final battle came down to defining Champion Curt Whittaker and Fanga Dan. The first battle was rather odd with Curt dropping two wheels on the dirt during his chase and Fanga hitting Curt on his chase causing him to spin off track. Judges scored OMT as both drives made big mistakes. Unfortunately though Fanga suffered some damage from the contact with Curt and his team had to use the five minute rule to fix the car. This involved removing the wheel, suspension and brakes in order to replace the broken hub. A bunch of other drivers and mechanics jumped in to help but the team didn't fix it in time. A hub change in five and half minutes is still a pretty good effort though!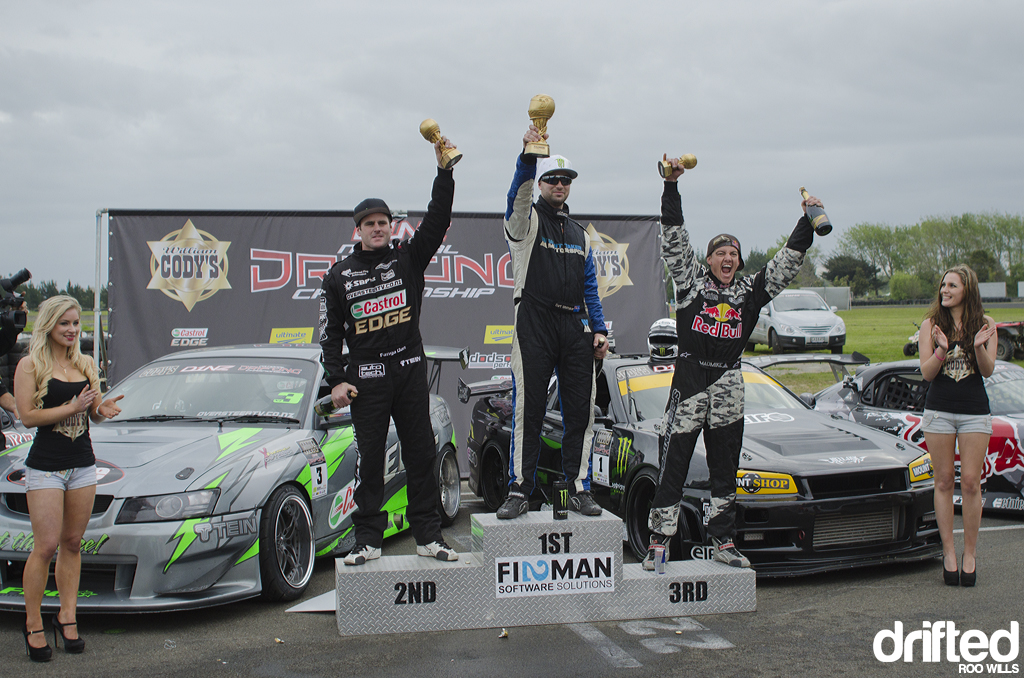 So that meant the winner of Round 1 was Curt Whittaker! A promising start for the defending Champion, with 'Fanga' Dan Woolhouse in second, and Mad Mike Whiddett in third. Round 2 heads north in 5 weeks time to Whangarei at all new central city location. Stay tuned!
::Roo