EVENT: Formula Drift Championship Finale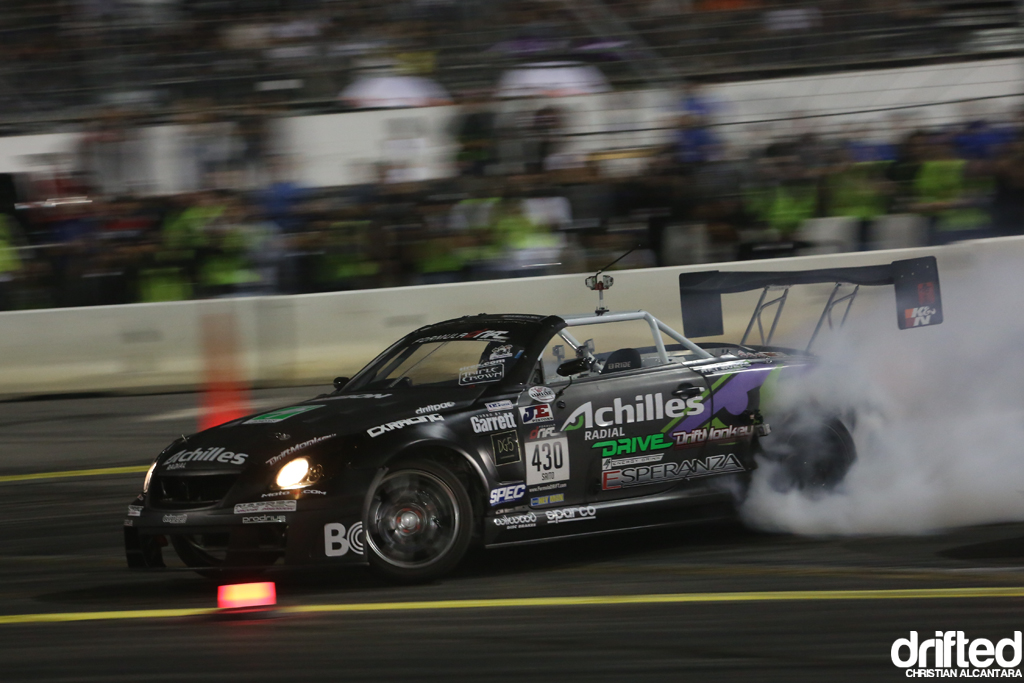 The 2012 Formula DRIFT Pro Championship smoked its way back to the asphalt of Irwindale Speedway where a sold-out crowd witnessed "Rookie of the Year" Daigo Saito take home the trophy in his Achilles Radial Lexus SC430. Very impressive for someone that has never competed at Irwindale. Before the event, there was an opportunity between seven drivers to take the championship. But as the event progressed, drivers were knocked out of the competition by the infamous wall at Irwindale. Vaughn Gittin, Jr piloting the Falken Tire Ford Mustang and the 2011 Formula DRIFT champion Daijiro Yoshihara were eliminated early leaving the door open for Daigo Saito and Rhys Millen.
However, in the Final Four, Millen's Hyundai was another casualty from the wall. That left Justin "JTP" Pawlak to battle Saito in the Finals. Unfortunately for JTP, he hit the wall as and Saito took the top honors for the night. Saito, a 2008 D1 Grand Prix champion, is technically a "rookie" in the American Formula DRIFT series but is a veteran to the sport of drifting. In addition to taking the 2012 Pro Championship, Saito also took the Top Gun award for the season after having the highest number of victories in tandem battles.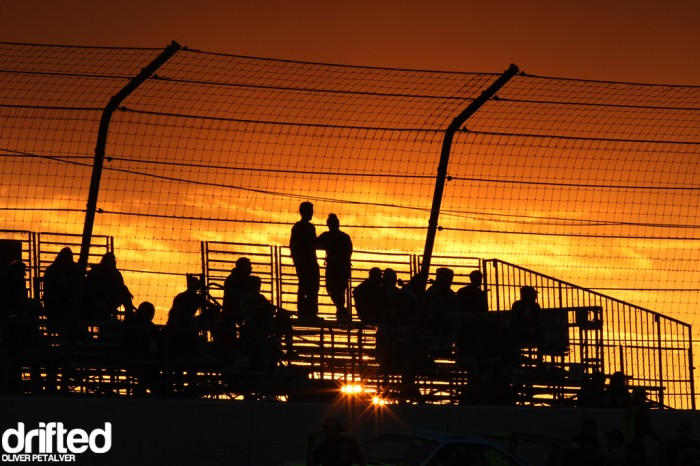 At the beginning of the season, motorsport fans were shocked to hear that the "House of Drift" was no longer going to host any events for the 2012 season. Thankfully, things worked out and fans were treated to the season finale of the Formula DRIFT pro championship.
A storm prior to the event brought in clouds and a beautiful sunset that any photographer would appreciate. Here, Walker Wilkerson's purple Falken Tire / Garage Autohero / Fatlace Nissan S13 perfectly compliments the purple in the sky don't you think?
Walker aka "Walka-Walka" drives a 500-hp, LS7-powered Nissan S13. Known for his backwards entry and insane entry speeds, this young gun is a force to be reckoned with.
Here is a tandem between 2011 Champion Daijiro Yoshihara and local drifter Kyle Mohan and his 500-hp turbocharged 13B Mazda RX-8.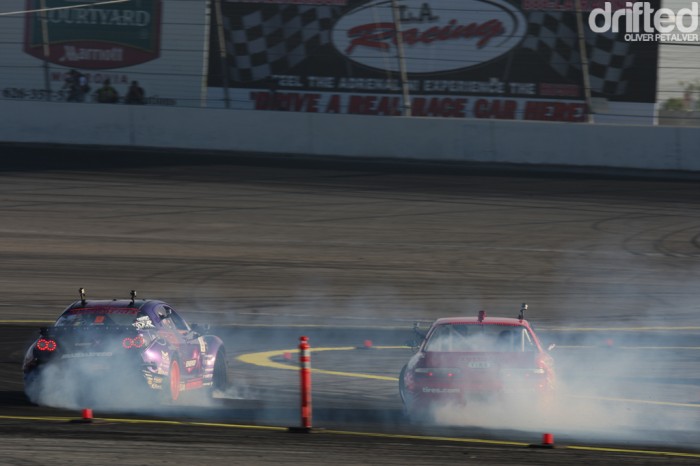 Mohan leads while Dai gives chase in his signature Discount Tire / Falken Tire Nissan S13. Check out his charity rfjp.org in which all proceeds go to the Japanese Red Cross.
Kyle Mohan, team leader of the Nexen Tires Formula DRIFT squad, says that the RX-8 is packing more power this year than ever. Can't wait to see how it'll come out for the 2013 season.
Kyle Mohan is one of those drivers that works on his car rather than sitting under an umbrella looking pretty. As the head engine builder at Mazdatrix, he builds rotaries daily and is even responsible for the 3-rotor beast found in the Bergenholtz Racing RX-8.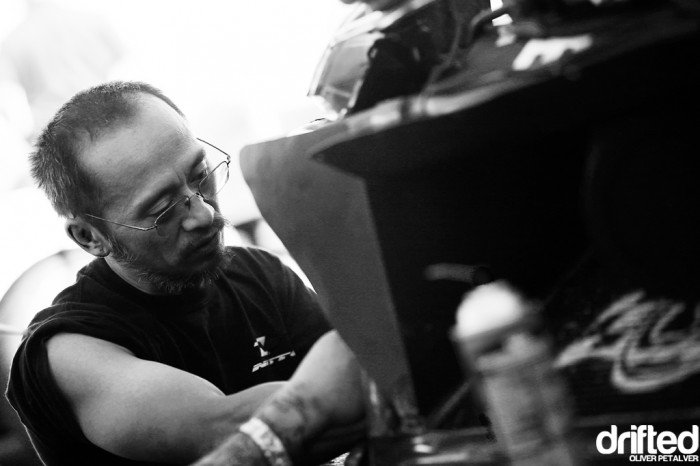 Here is Ron Bergenholtz working on the Bergenholtz Racing / Nitto Tire Mazda RX-8 car piloted by Chelsea DeNofa. Most fans are used to seeing Joon Maeng drift this 600-hp beast.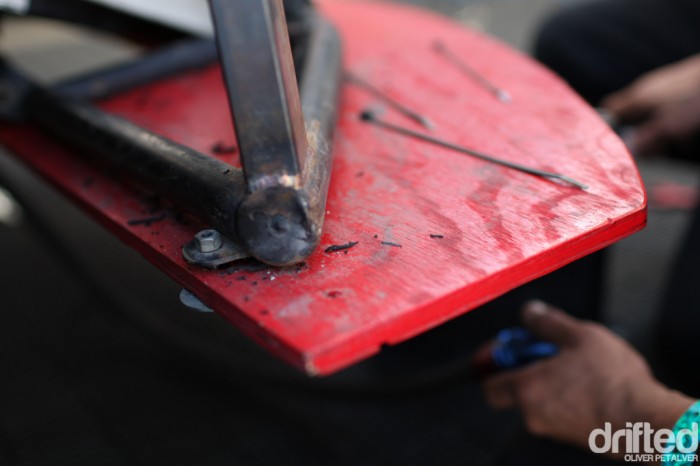 I've got to give credit to the Bergenholtz Racing team for originality. With carbon fiber in abundance, they decided to use this wooden splitter. Lightweight and cheap, you can't go wrong with this bad boy!
Chelsea DeNofa took over the responsibility of driving the Nitto Tire / Bergenholtz Racing Mazda RX-8. Having won back-to-back Xtreme Drift Championships (XDC) in 2010 and 2011, DeNofa definitely has potential. When he first started drifting before obtaining his license, DeNofa even had his mother drive the car to the competition!
It was nice seeing Rhys "Mad Skills" Millen tear it up in his RMR / Hankook Tire 700-hp Hyunday Genesis coupe. Coming fresh off a win in Las Vegas, Millen's momentum pushed him into the Final Four until he crashed into the wall ending his hopes of winning the 2012 Formula DRIFT Pro Championship.
Despite making contact with the wall, Rhys had an impressive season. He finished 3rd at Evergreen Speedway, 1st in Las Vegas, and 3rd overall for the 2012 season. Not bad for someone that was contemplating retirement before the 2012 season began.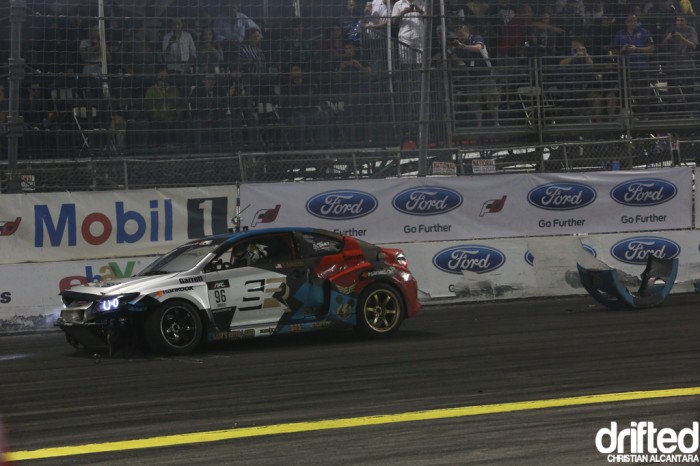 The wall claimed another victim. Tony Angelo's 600-hp Scion Racing / Hankook Tires Scion tC crashed during practice and during the competition. This former judge and technical manager decided to sit back in the driver's seat after the drifting bug bit him.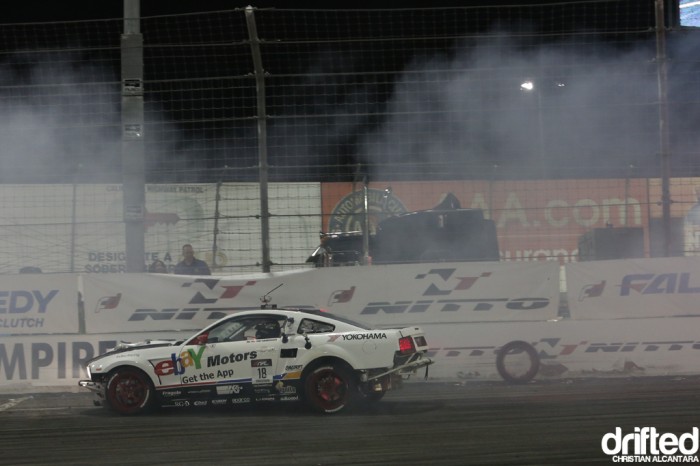 It was nice seeing Tony Brakohiapa and his 2009 Ford Mustang back in the game. Last year, he was sporting a red coat with Tuskeegee Airmen Red Tail livery. This year, the 800-hp Mustang is covered in white with huge sponsor eBay Motors adorning the car. I have to admit I like this look better.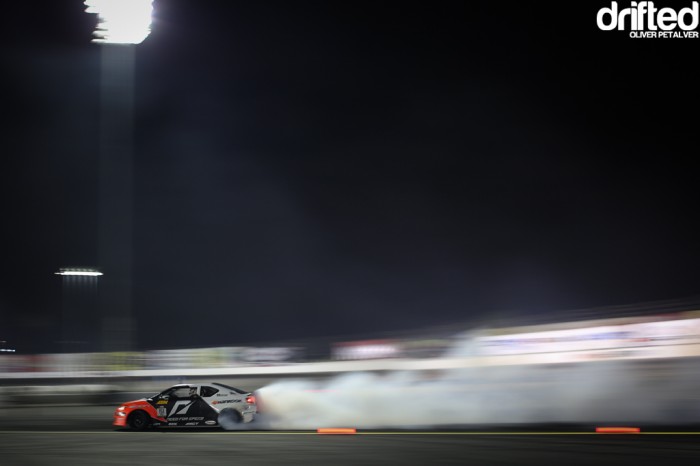 Nicknamed "Thor", Norwegian drifter Frederic Aasbo has a reputation for being super aggressive on the track. Known for defeating Formula DRIFT champions from the get-go, Aasbo has a bright future ahead of him.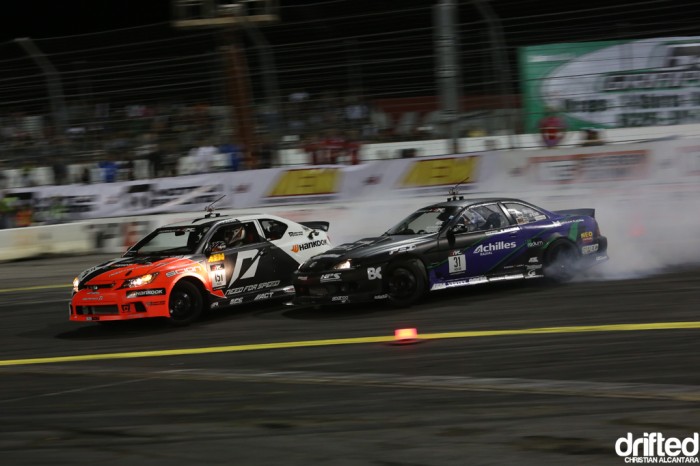 Here is a tandem battle between Norwegian drifter Frederic Aasbo (Need For Speed / Papadakis Racing Scion tC) and Japanese drifter Robbie Nishida (Bridges Racing / Achilles Radial Lexus SC300). Nishida defeated Aasbo in the Top 16 only to lose to Ryan Tuerck in the Great 8.
Matt Field is introduced in front of a sold-out crowd. Field showed the crowd his super aggressive driving by going all the way to the Great 8 where he matched up with Daigo Saito. As Formula DRIFT announcer Jarod Deanda said, "If Matt Field drove like this all season, he'd be a champion."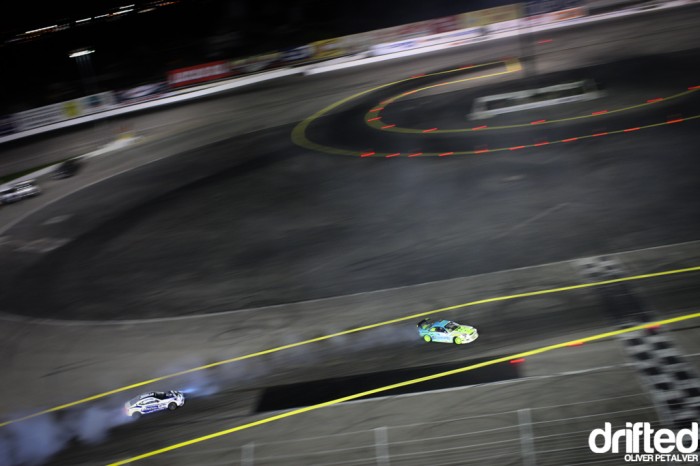 Matt Field leads Ken Gushi during the Top 16. You may remember Field driving the retina-burning, highlighter-colored Nissan S14 last year wearing his trademark neon yellow sunglasses.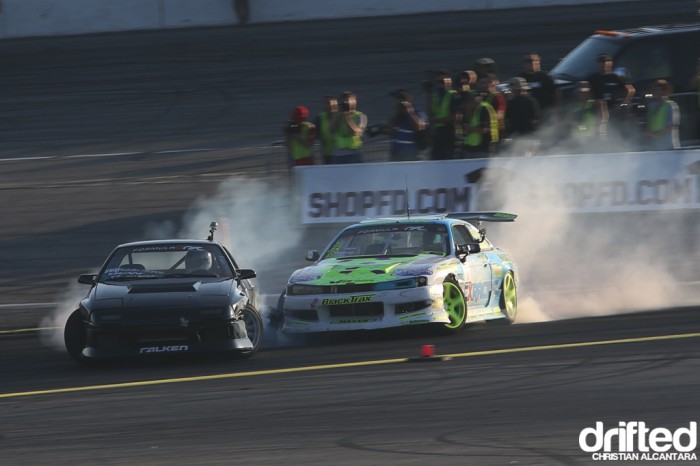 In the Top 32 competition, Matt Field gives Jeremy "J-Lowe" Lowe a Love Tap on his rear bumper.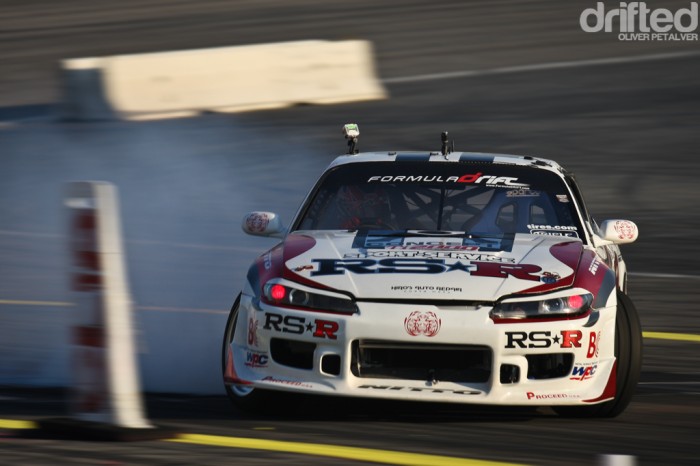 Japanese drifter Toshiki Yoshioka pilots the Team RS-R / Nitto Tire 1999 Nissan Silvia S15. Here, he slides past a clipping point.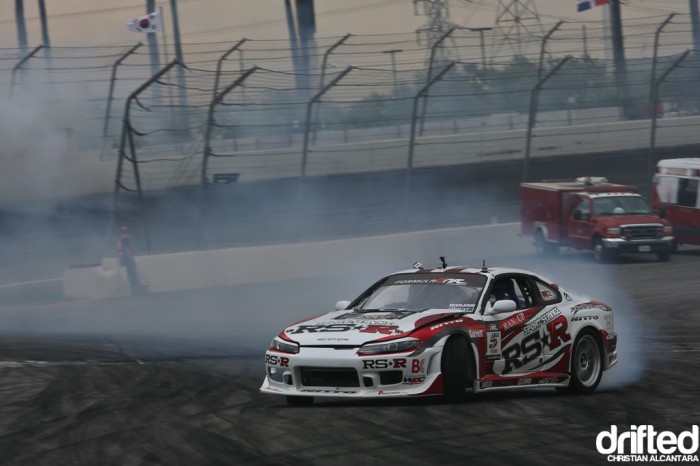 At the heart of Yoshioka's S15 is a 600-hp VQ38DETT engine. "ToshiKing" ranked 15th for the 2012 season.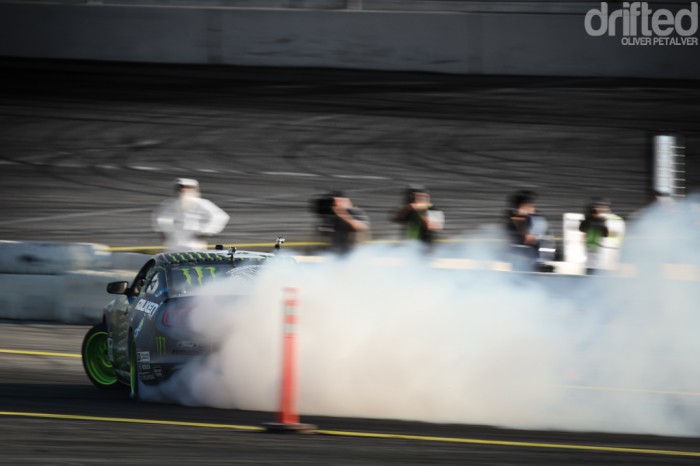 Vaughn Gittin Jr is known for his foot-to-the-floor, aggressive style as evidenced by the big smoke trail he leaves everytime he hits the track. In 2010, Gittin earned his first Formula DRIFT championship. This year, Gittin nearly became the champ again finishing 2nd overall.
One of the reasons the Falken Tire team is so successful is that they have a strong backbone of supporting staff. Here, a Falken spotter checks out this angle opposite the judging tent.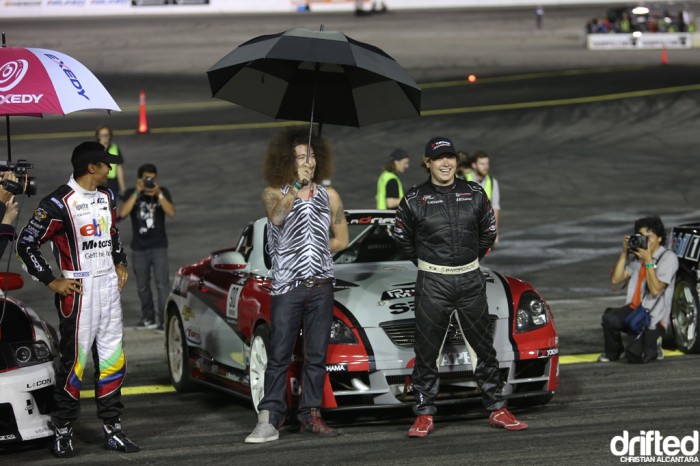 How does one stand out during the Opening Ceremonies dominated by a number of attractive umbrella girls? With an umbrella boy of course! Patrick "Pattycakes" Mordaunt and an LMFAO look-alike are introduced to the crowd while Tony Brakiohapa gets a good laugh.
"Pattycakes" Mordaunt doesn't look like a professional drifter at first glance because of his babyface. But don't be quick to judge him. Mordaunt powered this 650-hp Apexi / PM Racing Lexus SC430 to the Great 8 where faced off against Rhys Millen.
Daigo Saito practices with Ryan Tuerck in his Retaks Nissan S13.
Achilles Radial teammate Robbie Nishida checks out Saito's ride while waiting for qualifying.
Shooting at Irwindale gave many opportunities to shoot at different angles. Here's Saito's car as he navigates along the infamous wall.
Saito doesn't understand much English so I wonder what goes through his head during the driver's meetings. I'm sure he just studies the track layout and knows what to deliver. Having never driven on this track competitively probably makes it a little bit harder.
One thing for sure is that the models get as much, if not more, attention than the drifters. Here is Hankook Tire model Erica Nagashima. Check her out on Twitter @ericanagashima to see why so many photographers focused on her.
I spotted Bill "Santa Claus" Baldwin sitting in the driver's meeting. Maybe we'll see him drift one day? Fans know Bill from the Long Beach events as the crazy flag official that peeks out from behind the 1st clipping point wall at oncoming drifters without flinching.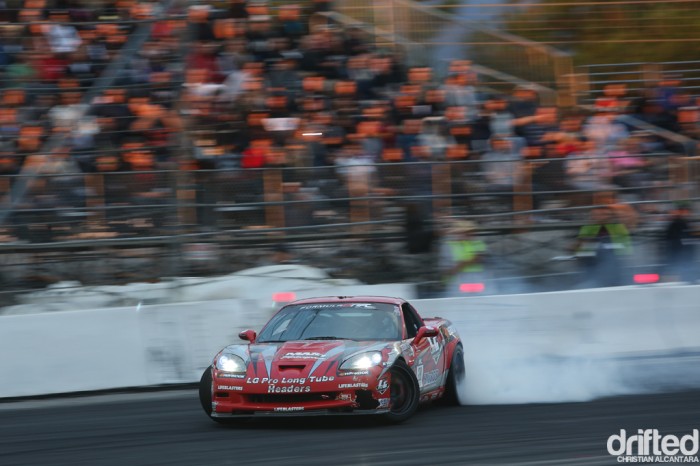 Driver of this 700-hp Blu808 C6 Corvette is Luke Lonberger. For almost 10 years now, Lonberger has been active in the drifting community by judging and organizing various events.
A sold-out event left spectators with standing-room only. As you can see, fans found creative ways of watching the action.
Ken Gushi drifts this sleek-looking 2013 Greddy / Scion Racing / Hankook FR-S. Gushi became a professional driver in the Formula DRIFT series at the age of 15. At 1/10 sec using a telephoto, it was a bit of a challenge taking this shot, especially after drinking an energy drink.
Now that the 2012 Formula DRIFT season is over, the teams have six months to make changes. What new vehicles and liveries will we see? Which drivers will make the switch? Rumor has it that Hankook Tire and Hyundai are pulling out. Maybe we'll see Subaru make an appearance with the BRZ?
Pre-season tickets are already available for the 2013 season. The first event will be held in the streets of Long Beach. For more information, visit: www.formuladrift.com
::Oliver Petalver
Photos by Oliver Petalver, Christian Alcantara