EVENT: Extreme Drift Allstars 2015: The Swedish Drift GP R2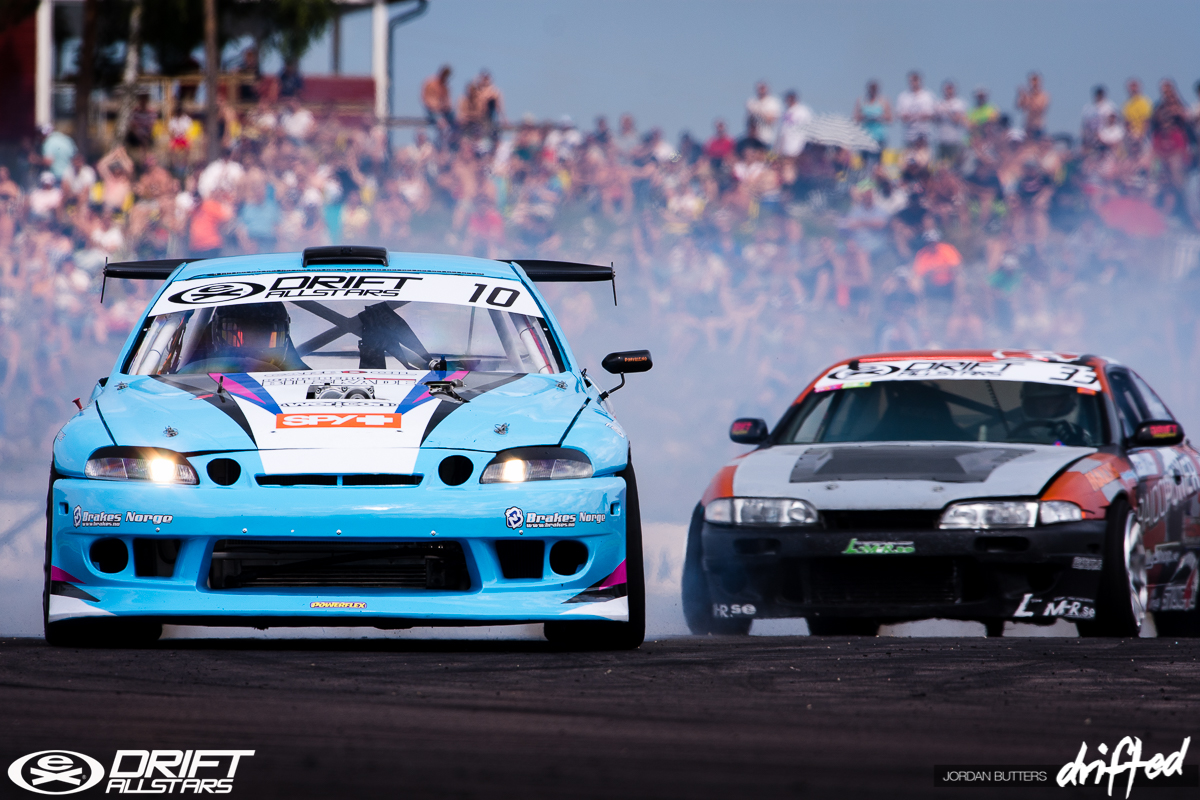 For many people, myself included, the Swedish Drift GP felt like the real start to the 2015 Extreme Drift Allstars season. Don't get me wrong, the first round in London showcased some of the most amazing driving that we've seen on our shores in a long time, but something was missing.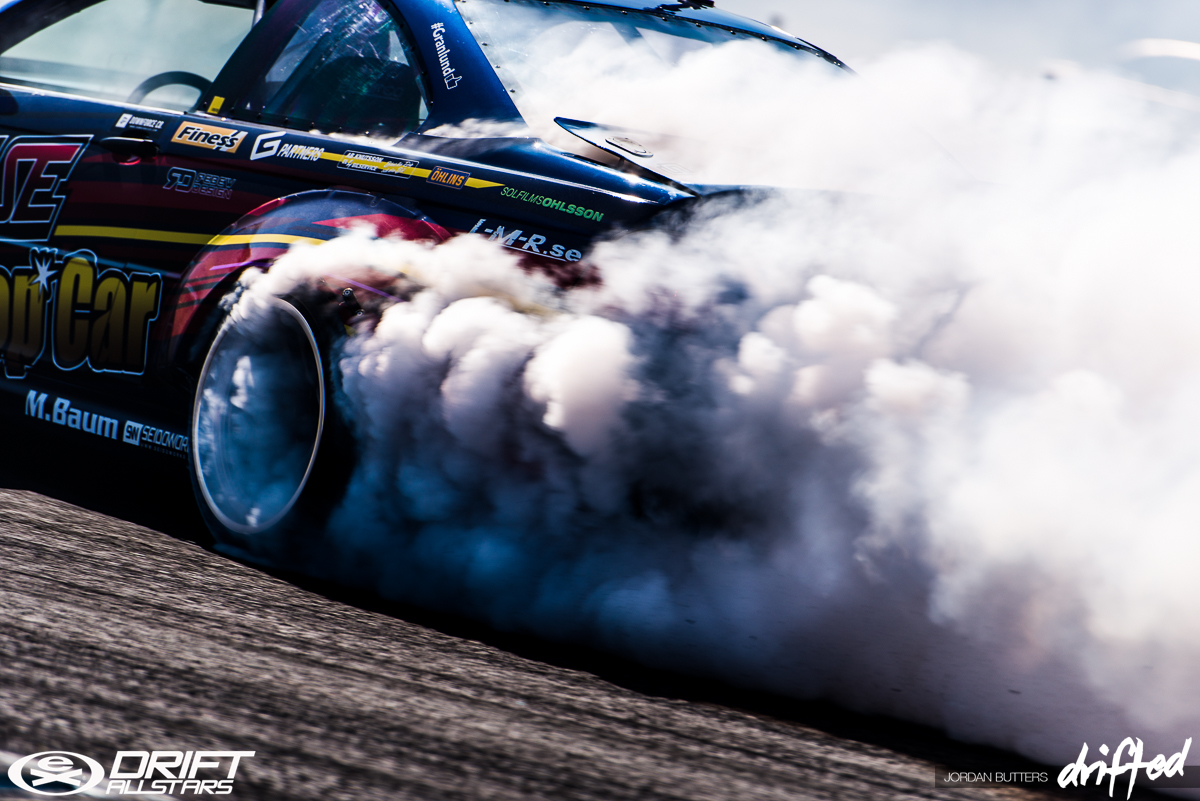 At the time I couldn't put my finger on exactly what it was. But after the smoke settled on the second round at Eskilstuna MotorSport Arena, near Stockholm in Sweden, I think I had figured it out.
I think that the main reason for feeling this way was the notable driver absences at round one. As the series schedule is spread far and wide, geographically, Drift Allstars employs a rule whereby drivers can drop the score from one round.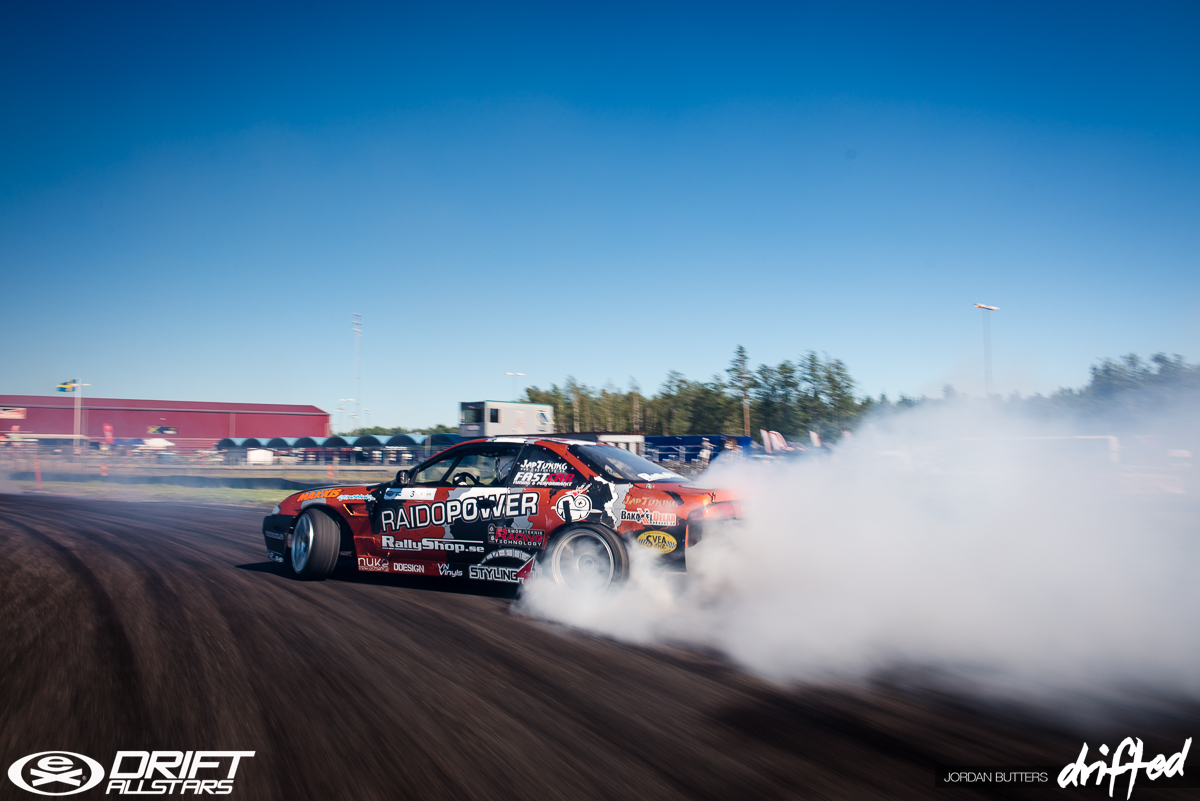 Therefore drivers can still miss an event and still be in with as good a shout as anyone else of taking home the championship. This results in an ever-changing roster, which keeps everyone on their toes.
London had no Scandinavian drivers with their huge horsepower machines, no Fail Crew with their raw style and crazy antics and only a smattering of eastern Europeans with their incredibly aggressive style of drifting.
Sweden had all of those in abundance and more.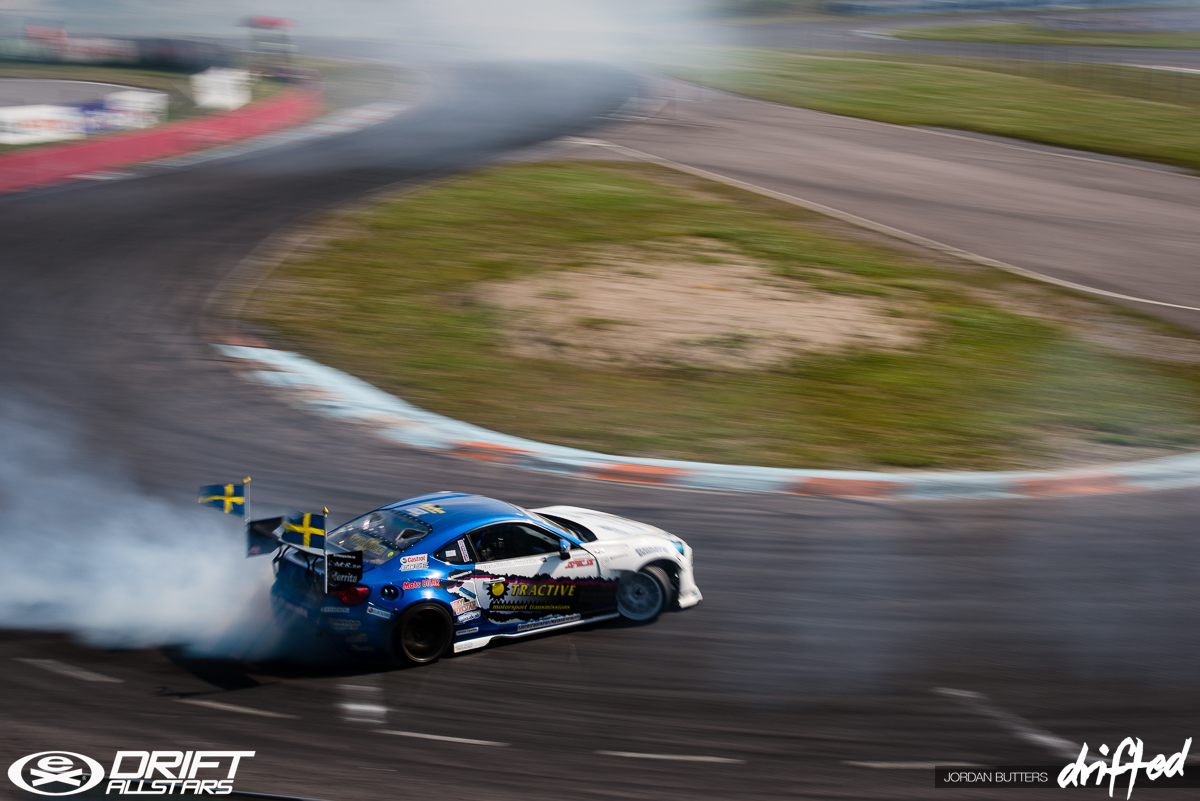 Combined with scorching weather, insane driving and an interesting and challenging circuit, Eskilstuna would serve up an incredible weekend's drifting.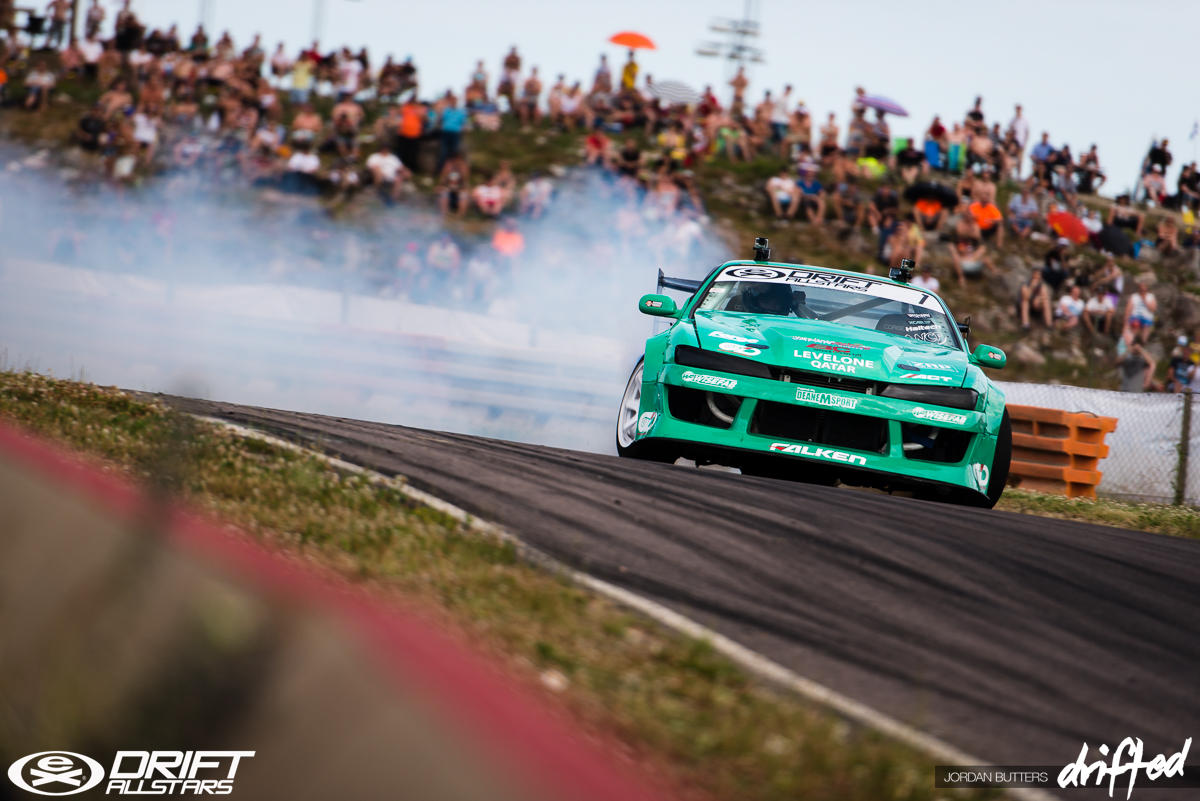 With no Luke Fink at round two, all eyes were on current champion James Deane, and he quickly established himself as the man to beat.
Whenever James would appear in the start line for practice he's quickly be joined by a raft of other drivers, wanting to tandem with him and figure out the best line to take.
Perhaps that's why I didn't see him out practicing as much as the local drivers? Maybe he was keeping his cards close to his chest.
Come qualifying he didn't hold back however - after a shaky first run he went all-out, ripping through the course and snatching top spot from Latvian Janis Eglite.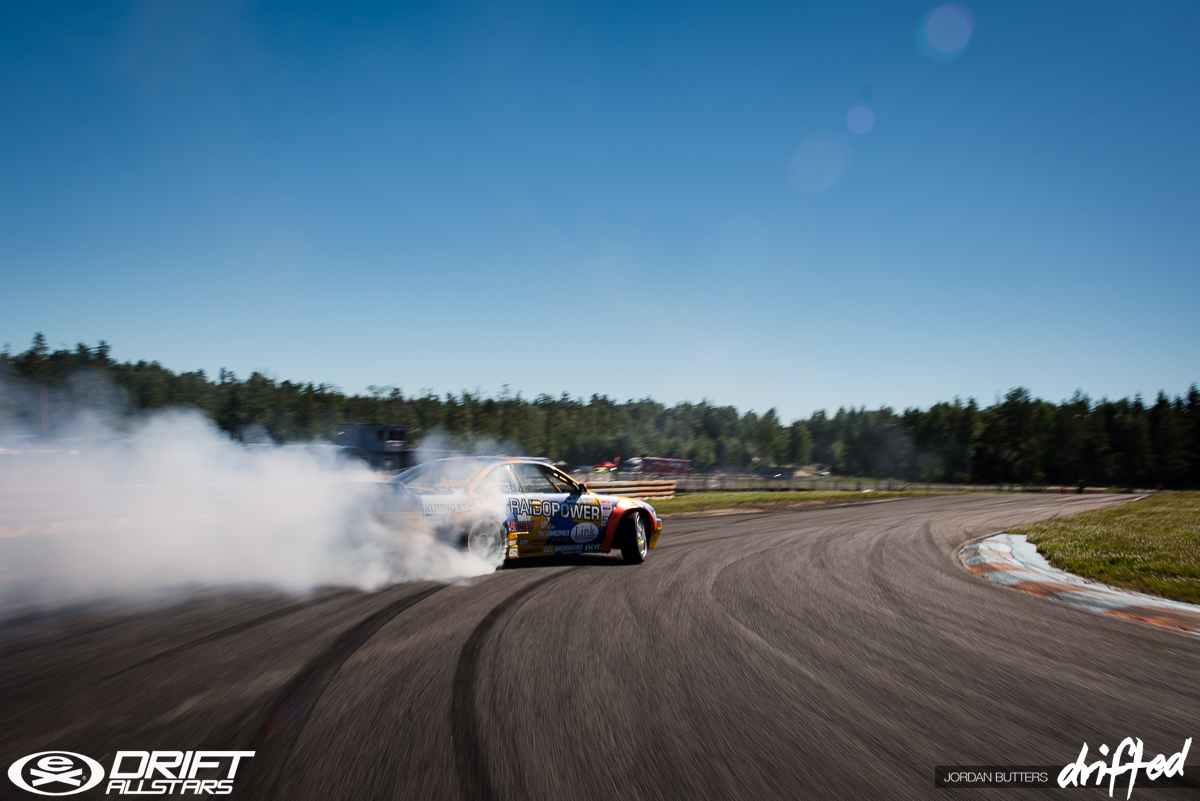 Local Swedish driver Fredrik Sjodin impressed judges with his accurate line, high angle and good speed throughout qualification, taking third place.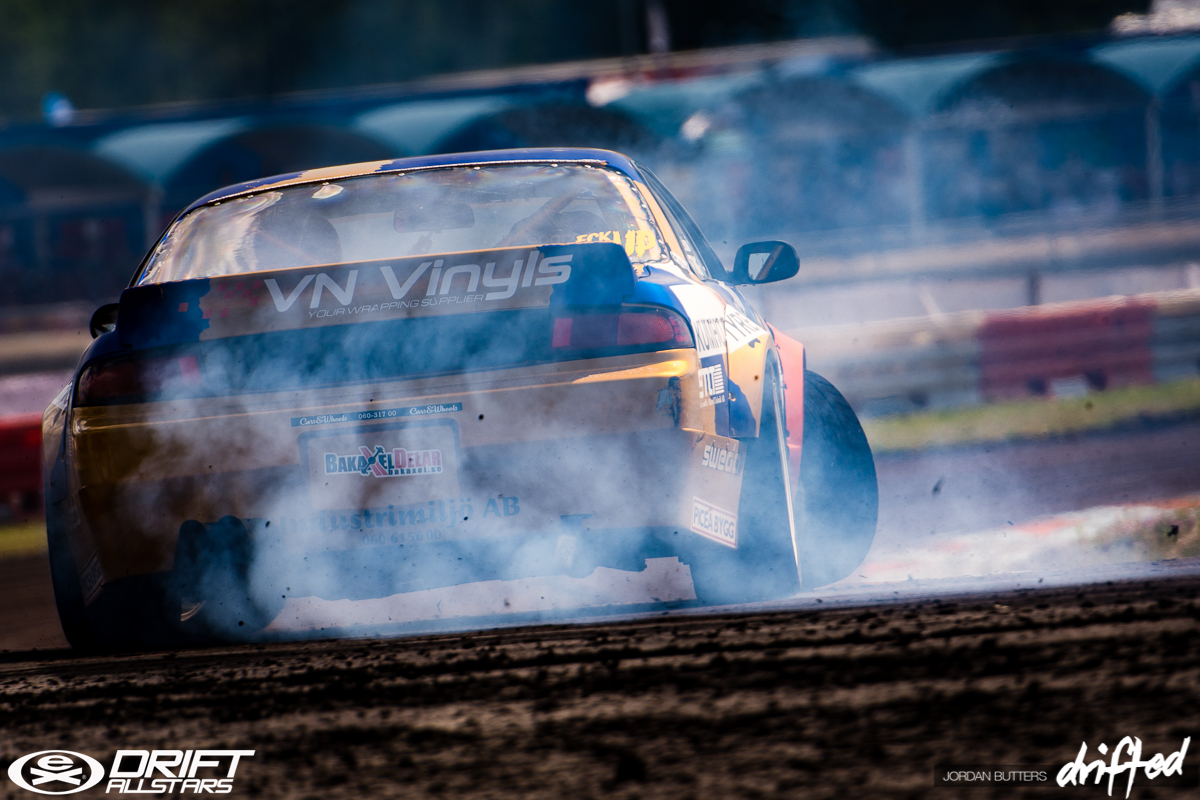 I first met Fredrik at the end of last season and he's quickly established himself as one of the most consistent drivers in the series, and a nice guy to boot. After teaming up with Swedish tuner Raidopower, he's definitely one to watch for this year.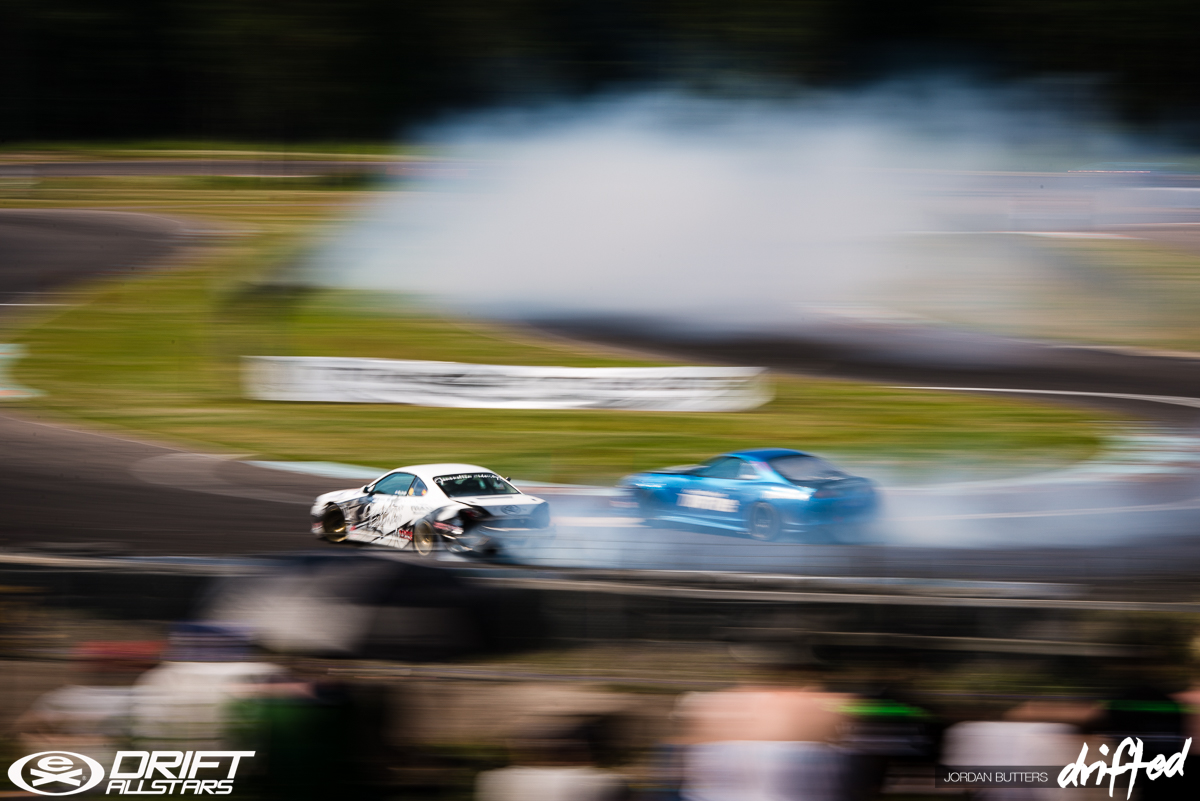 Upon first impressions, Eskilstuna appears to be a fairly slow and technical track, with three very similar 90 degree bends and plenty of undulations designed to unsettle the car.
There's a noticeable drop in elevation too, meaning that the drivers aren't able to scrub off as much speed as they might like coming into the corners.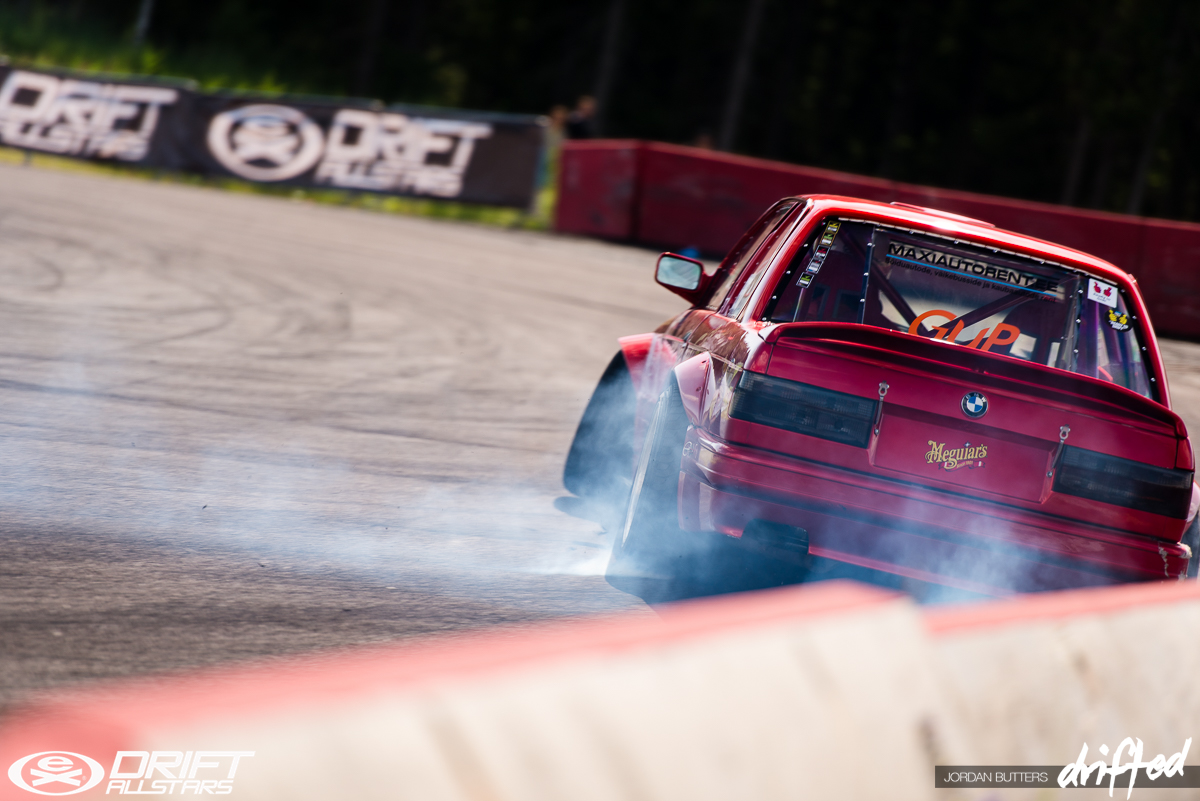 Couple this with very little run-off and a very unforgiving solid wall and there's more than enough there to challenge even the best.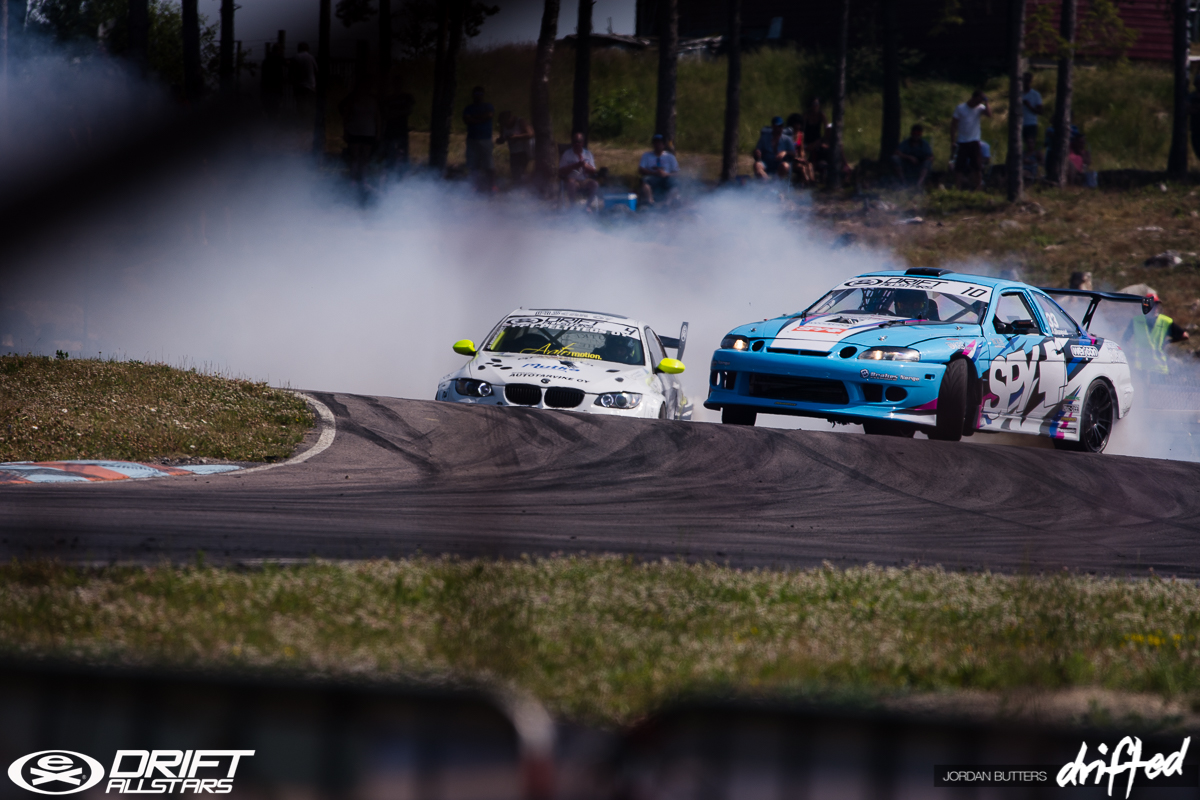 What quickly transpired as practice progressed was that the circuit is a lot faster than I first thought. Whilst the corners may be slow, during tandem the drivers were able to pick up a lot of pace in the race for the next corner.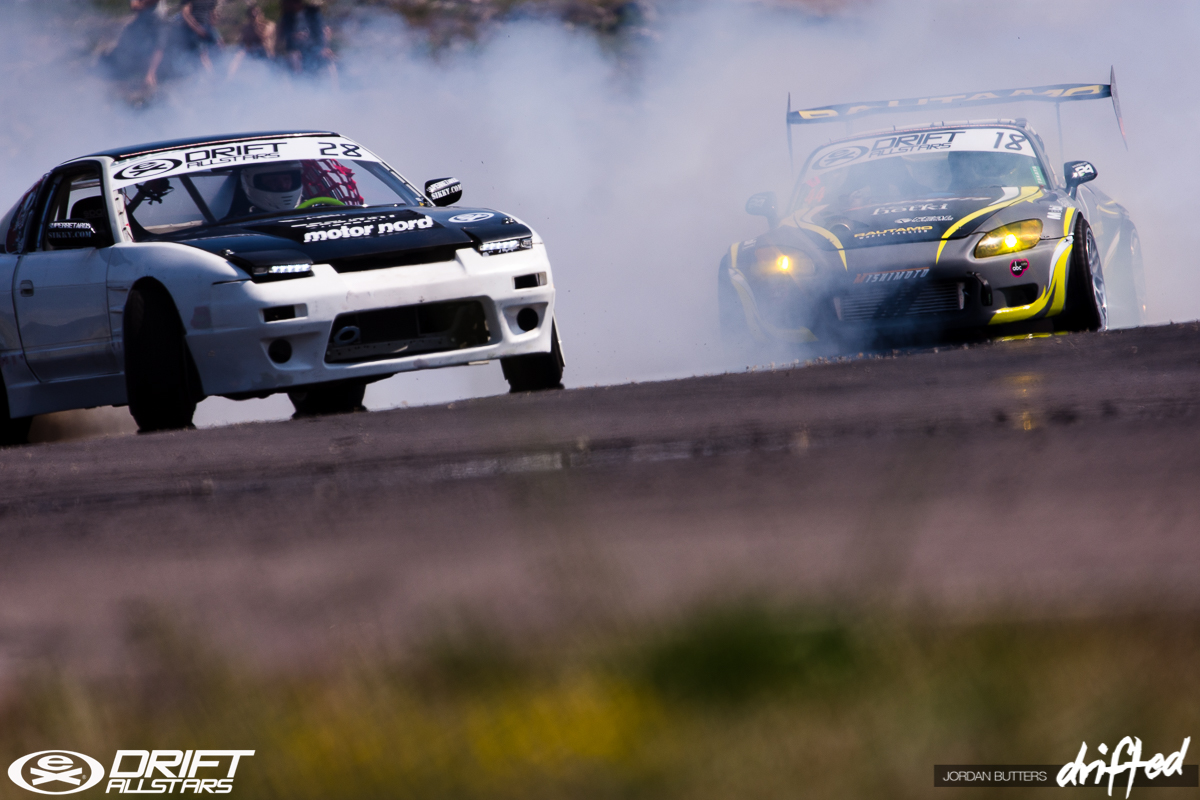 This made for some edge-of-the-seat driving, with the chase driver trying to keep up one second, and then scrub off a ton of speed the next…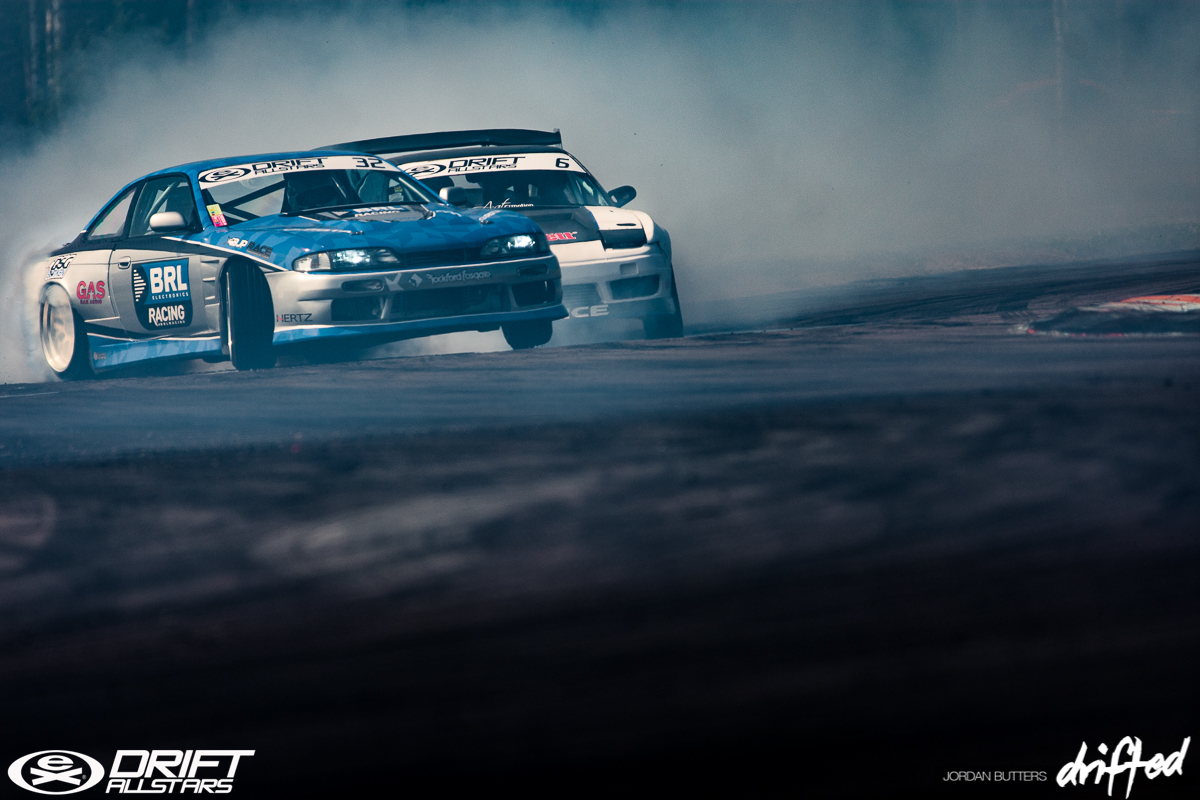 …before moving in close for the exit of the corner. Once the drivers found their groove it was an impressive sight.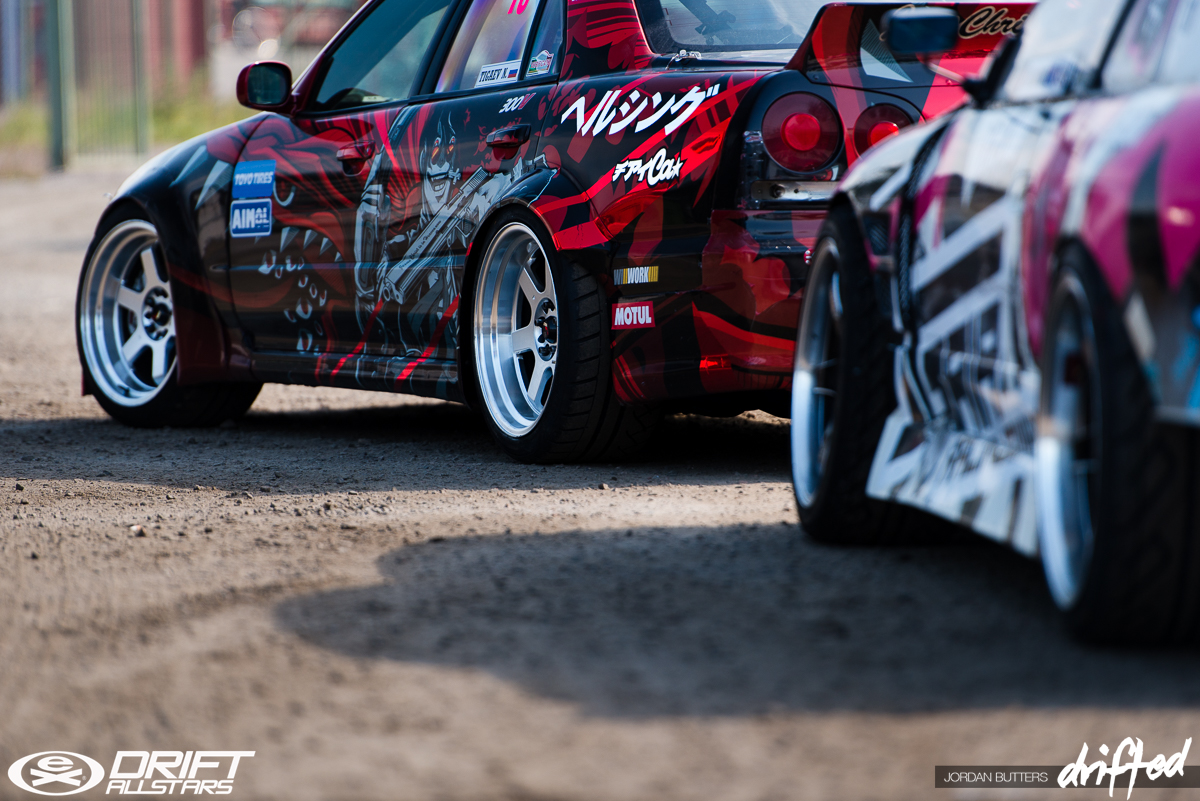 One of the big draws of Drift Allstars for me is the level on machinery on display. If you're approaching the start line with 500bhp then you're well below average at a Drift Allstars event.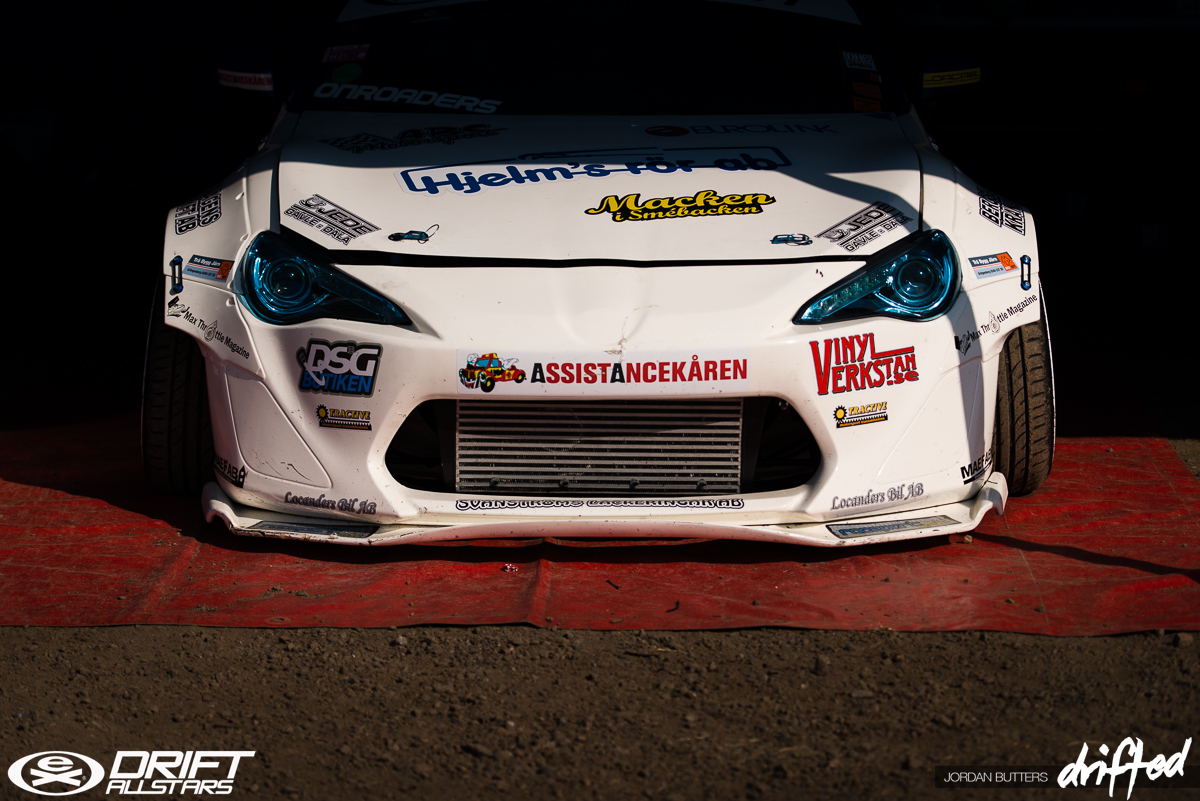 Most competitor's motors put out 700-900bhp here, and some top that magic 1000bhp mark.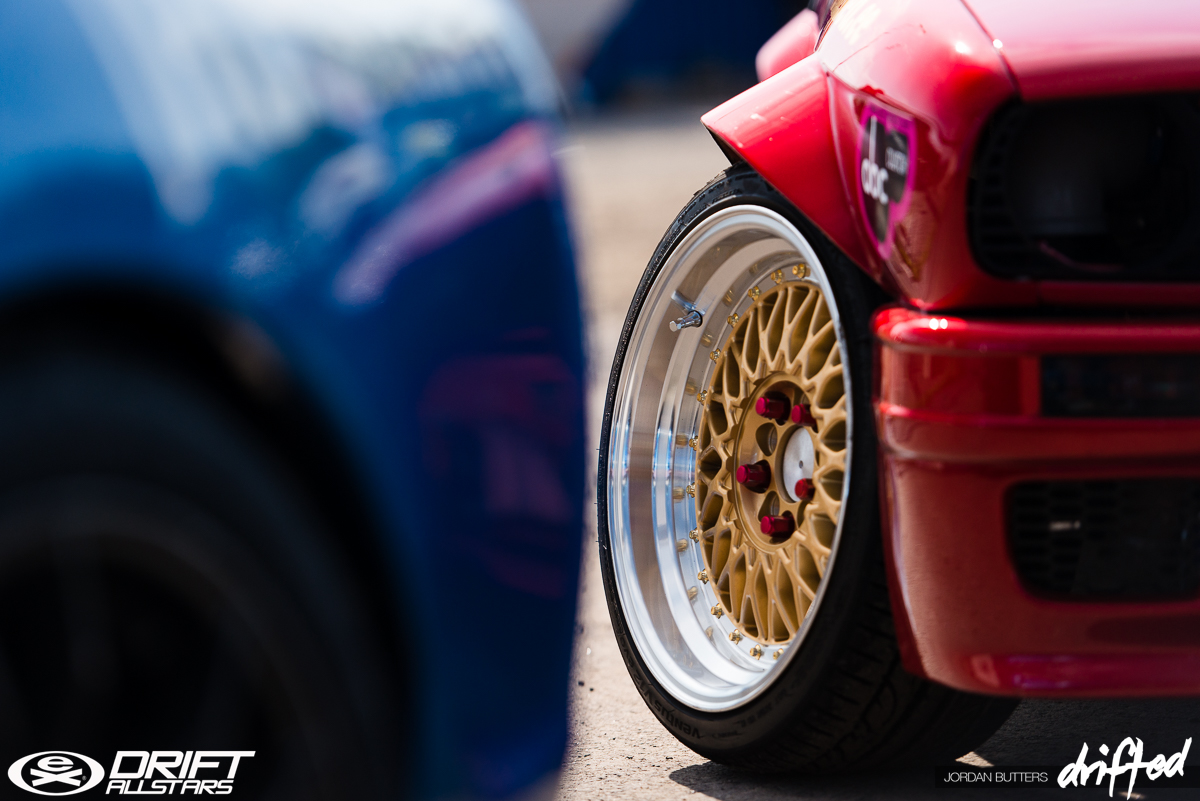 What's more, there's always a surprise around the next corner. As the series invites in wildcard entries and local drivers there's never any chance of you getting bored with seeing the same old drivers piloting the same old cars around the same old circuits.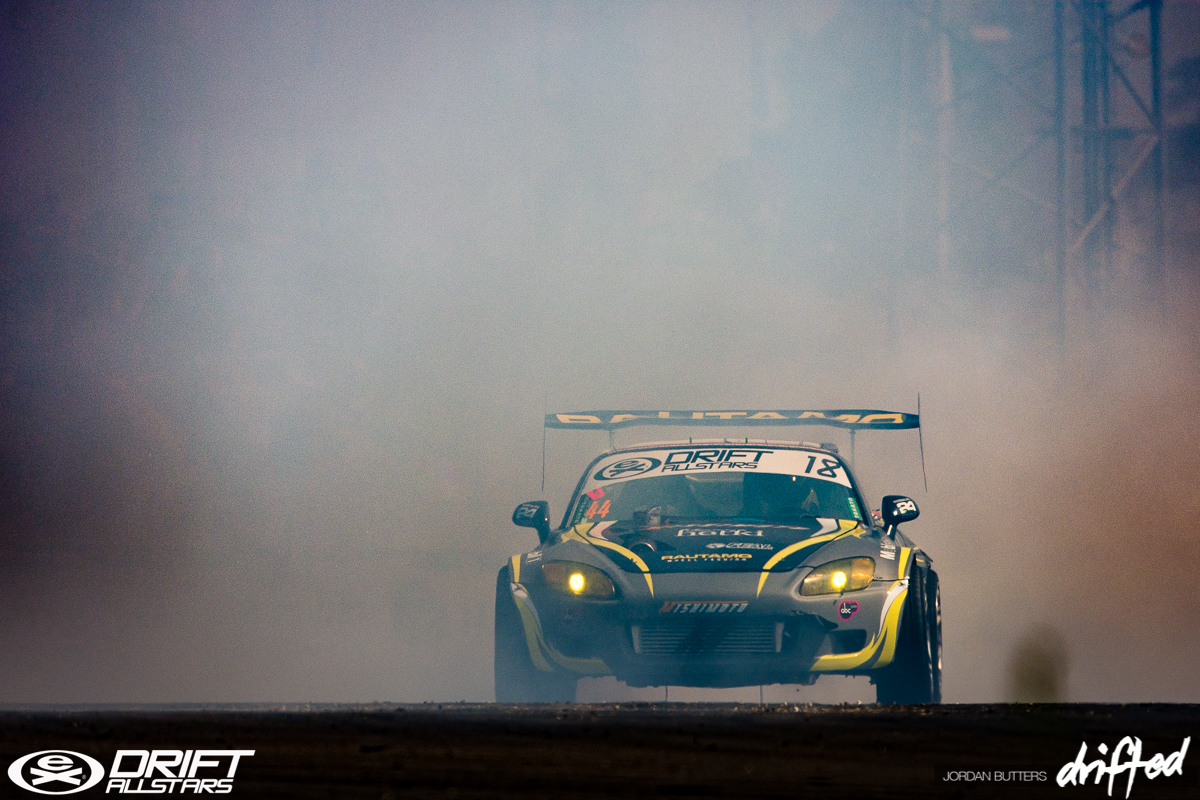 Being a fellow S2000 owner, Dennis Haggblom's 2JZ-powered beast drew my attention right away.
Despite poking around the car a fair amount in the pitlane, quite how he manages to get this thing to drift is still a mystery.
Honda's little pocket rocket is well known for having a lot of mechanical grip, and being very unforgiving when the back does step out. Dennis has done a lot more than just add a healthy dollop of horsepower to make this thing work like it does.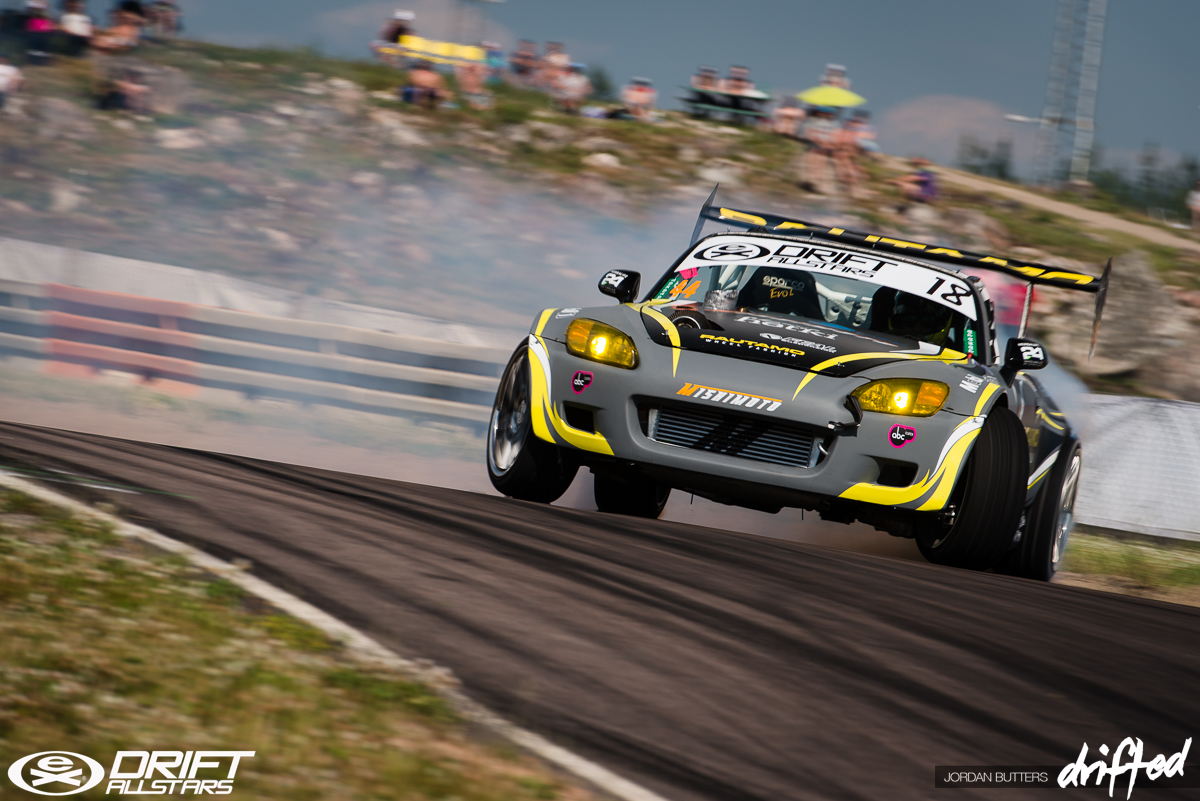 Sadly Dennis suffered a big impact before the main event and was unable to repair the car in time to proceed to the Top 32.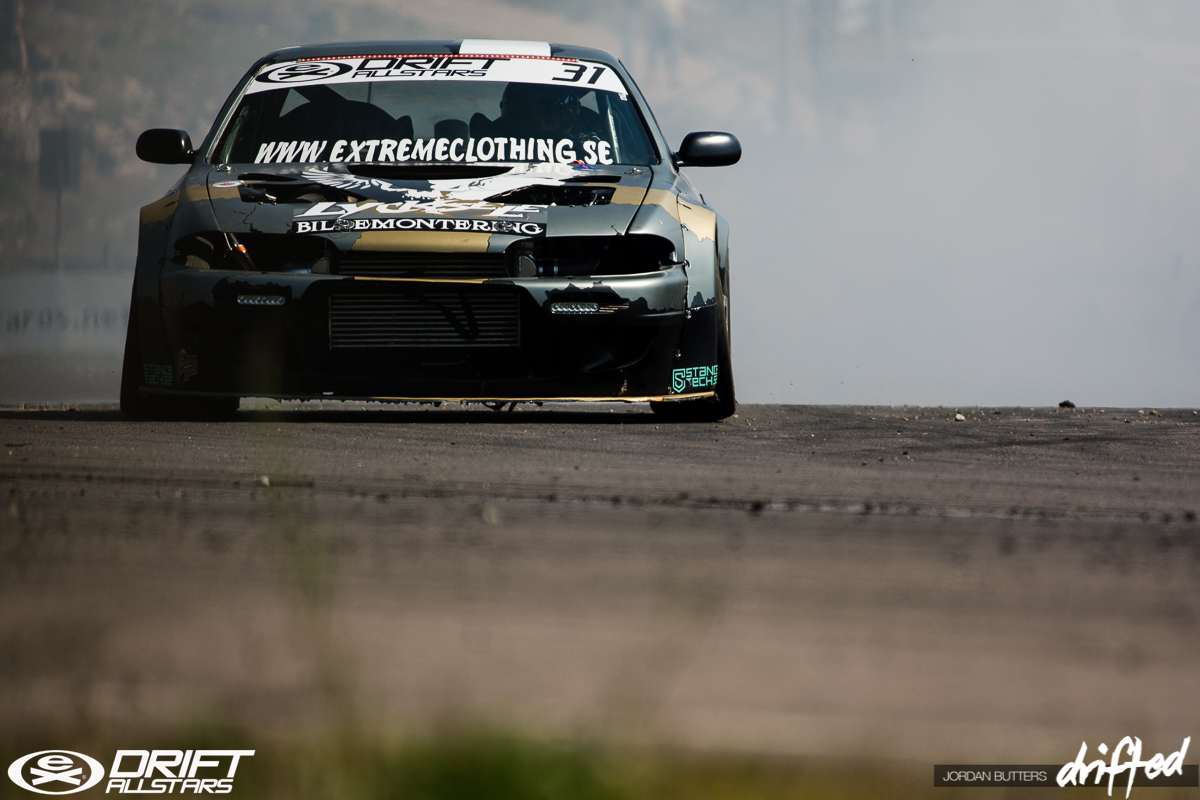 Another car that impressed me was Tokan Bielkelof's Mercedes-powered S14. While I didn't get to catch this thing on track as much as I'd have liked, you can't help but admire the different styling traits that are in play here.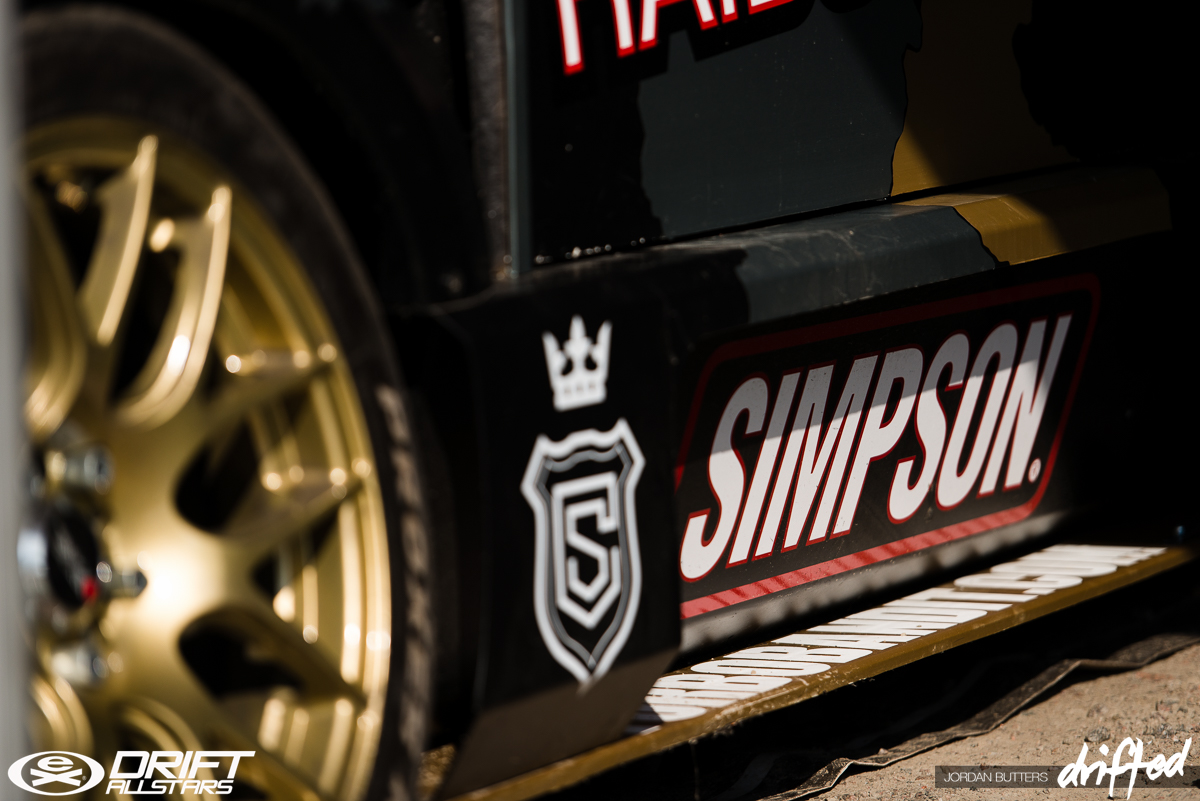 From the DTM-style side steps and half-height doors to the drift-inspired livery - this S14 just gets better the more you take in.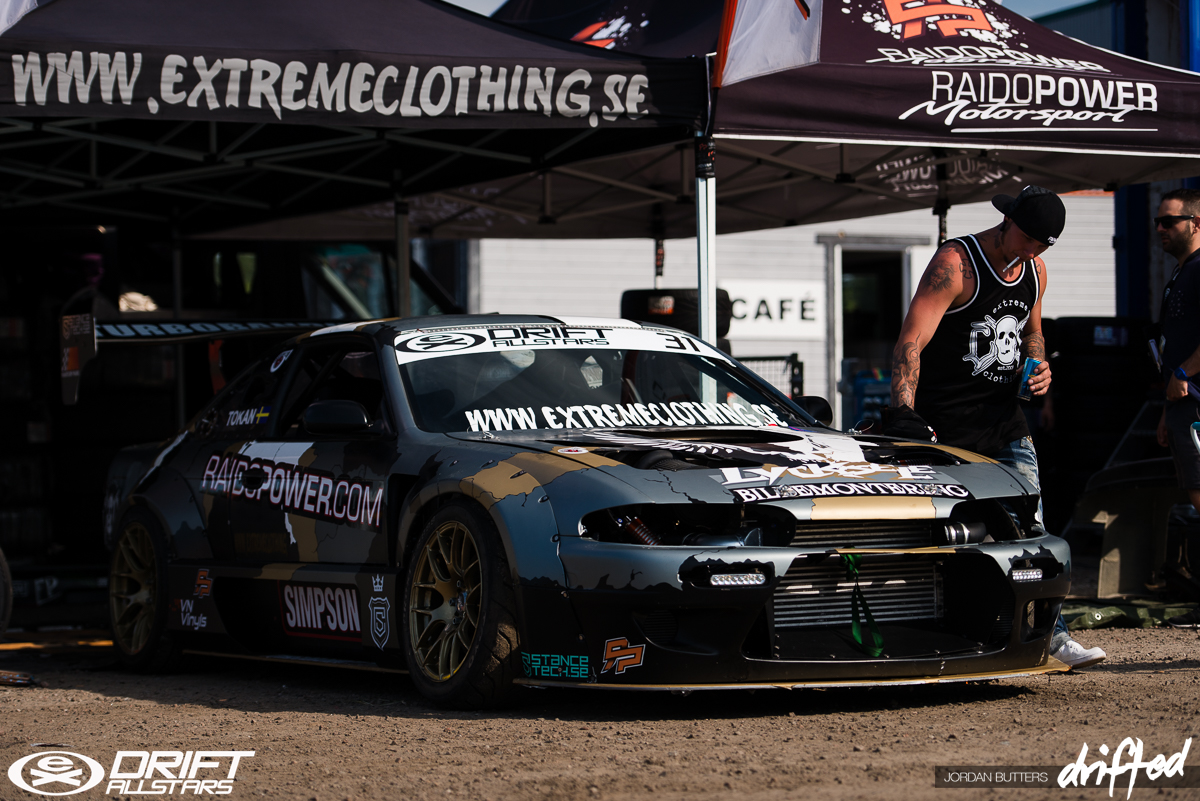 Best of all it's powered by a 3.2 litre Mercedes engine which seems to be something of a well-kept secret. While everyone and his dog are busy dropping JZ and LS motors in their drift cars, Raidopower claim that this engine is good for 800bhp in stock form, thanks to the addition of a huge turbo. There are rumours of another driver running 1000bhp+ for over three years with this same setup. Sadly Tokan had issues over the weekend, so we weren't able to see him in the Top 32. Here's hoping for better luck in the future.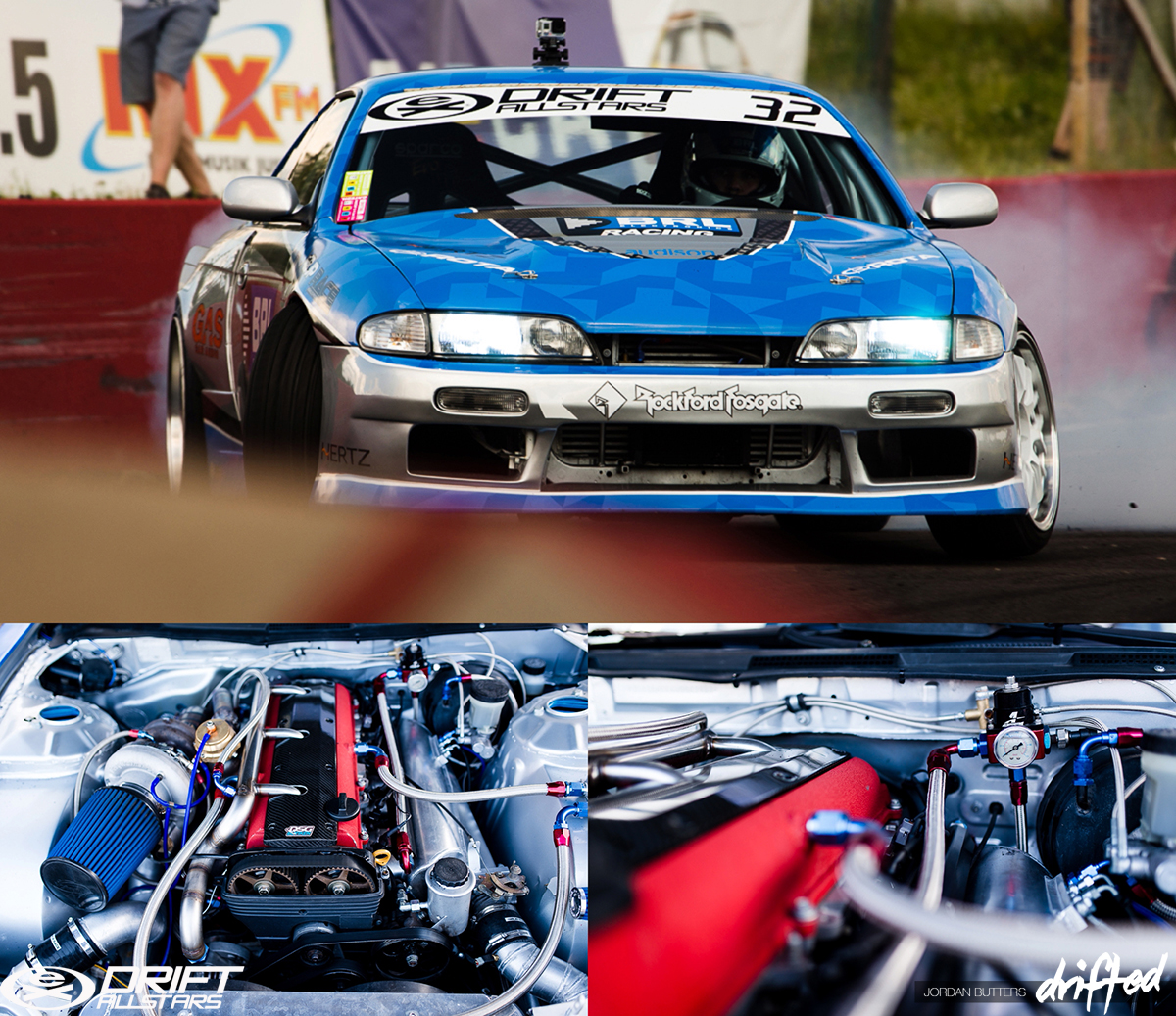 Another Swedish driver out to impress was David Skogsby. His immaculate 2JZ S14 is one serious bit of kit, and packs around 850bhp under the hood.
David knows how to pedal it too, taking 4th place in qualifying.
Juha Pöytälaakso's E92 made a return appearance after his season debut in England. A lot of the other drivers were commenting on how quick Juha is in this thing. Watching him in practice there was a notable difference in pace between this BMW and many of the other cars.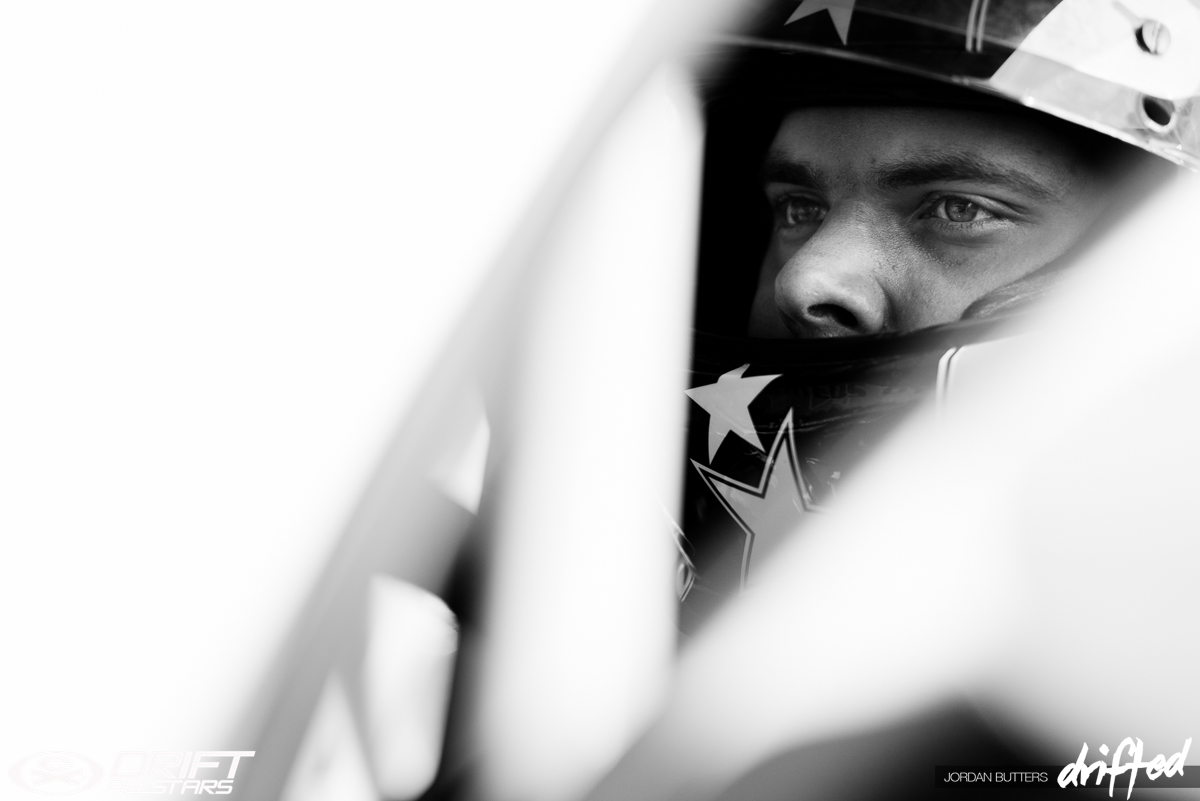 Fresh from a strong finish in London, Juha is campaigning for big things this year and landed 10th in qualifying.
Another BMW that you can't fail to notice is Joachim Waagaard's LS-powered M4.
After his RX7 met its untimely end in Estonia last season you'd have forgiven Joachim for building something a little more 'disposable' for this year. I mean, who brings a brand new BMW M4 to Drift Allstars and throws it up against concrete walls at 90mph?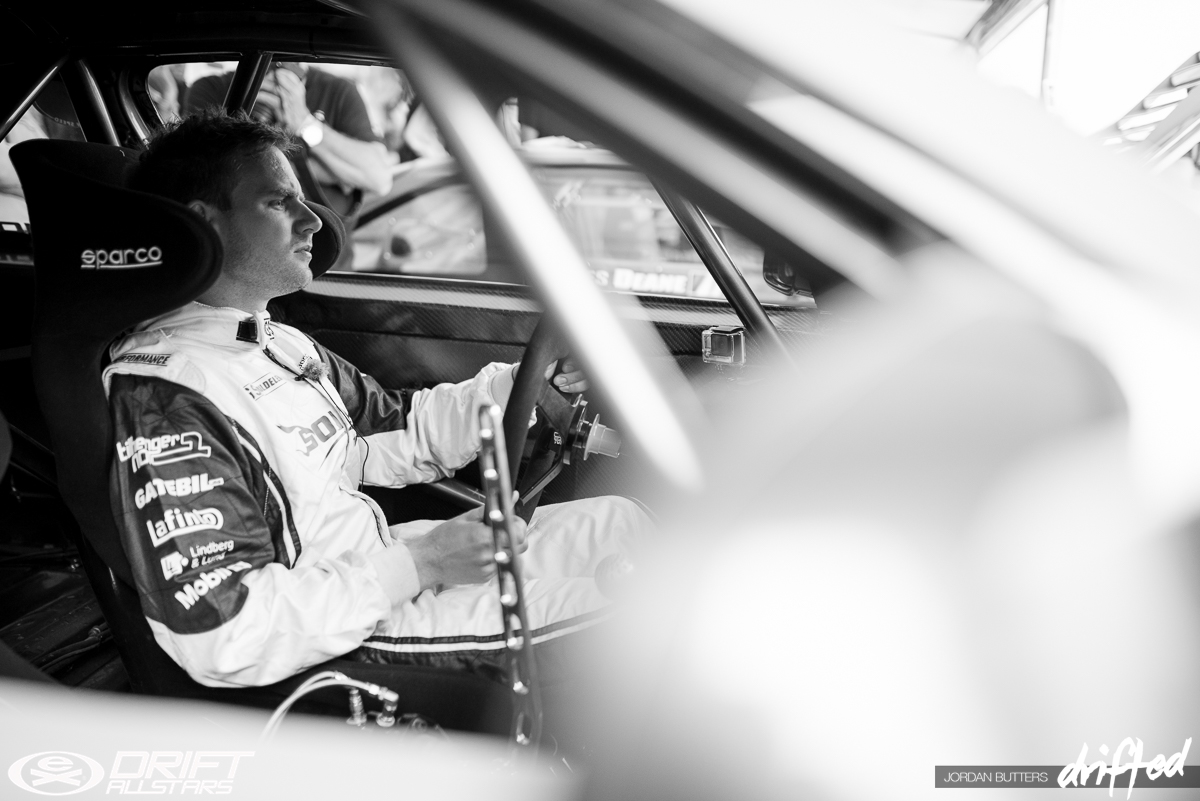 Kudos to him for building such an amazing car and driving it the way he does though!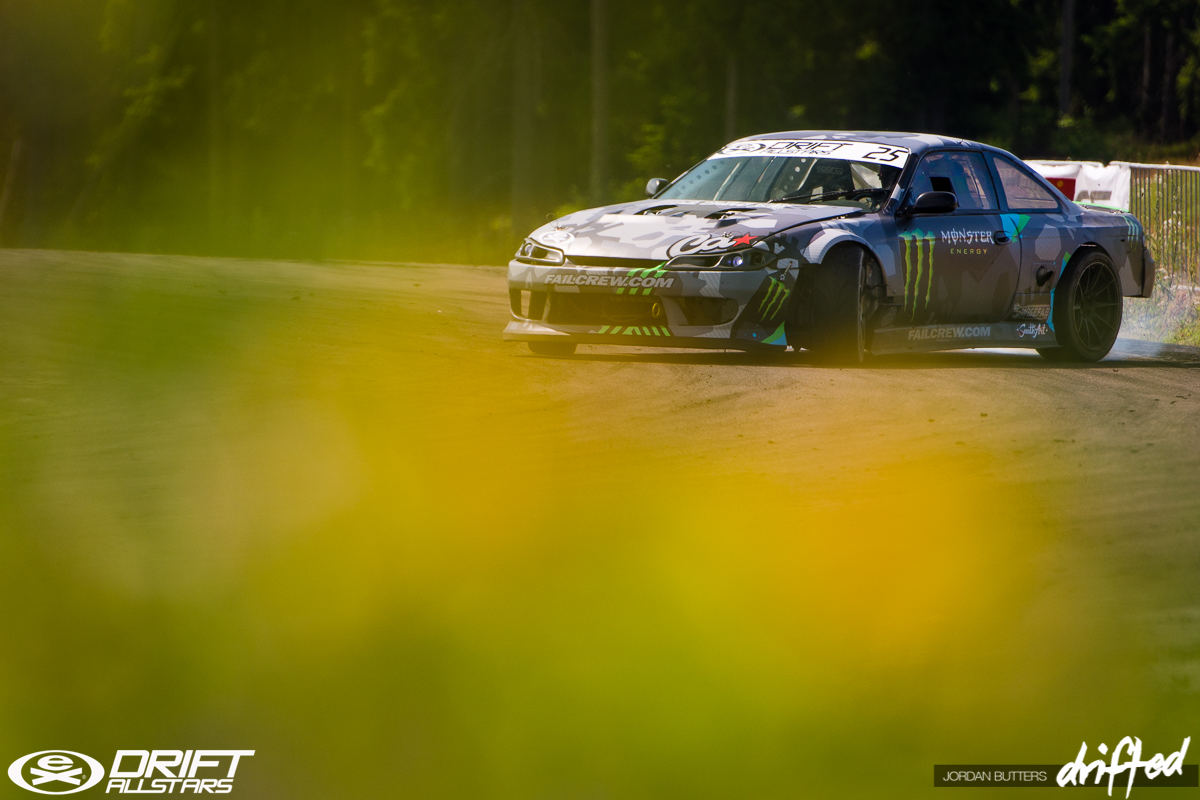 Max Tvardovsky of Fail Crew fame would also use Eskilstuna as a test bed for his new Monster-backed LS7 S14. This isn't the first time we've seen this chassis as it was formerly owned by Vladimir Marchenko who has sadly had to retire from drifting for medical reasons. Max looked to be getting to grips with the new chassis and we're sure to see more of him this season.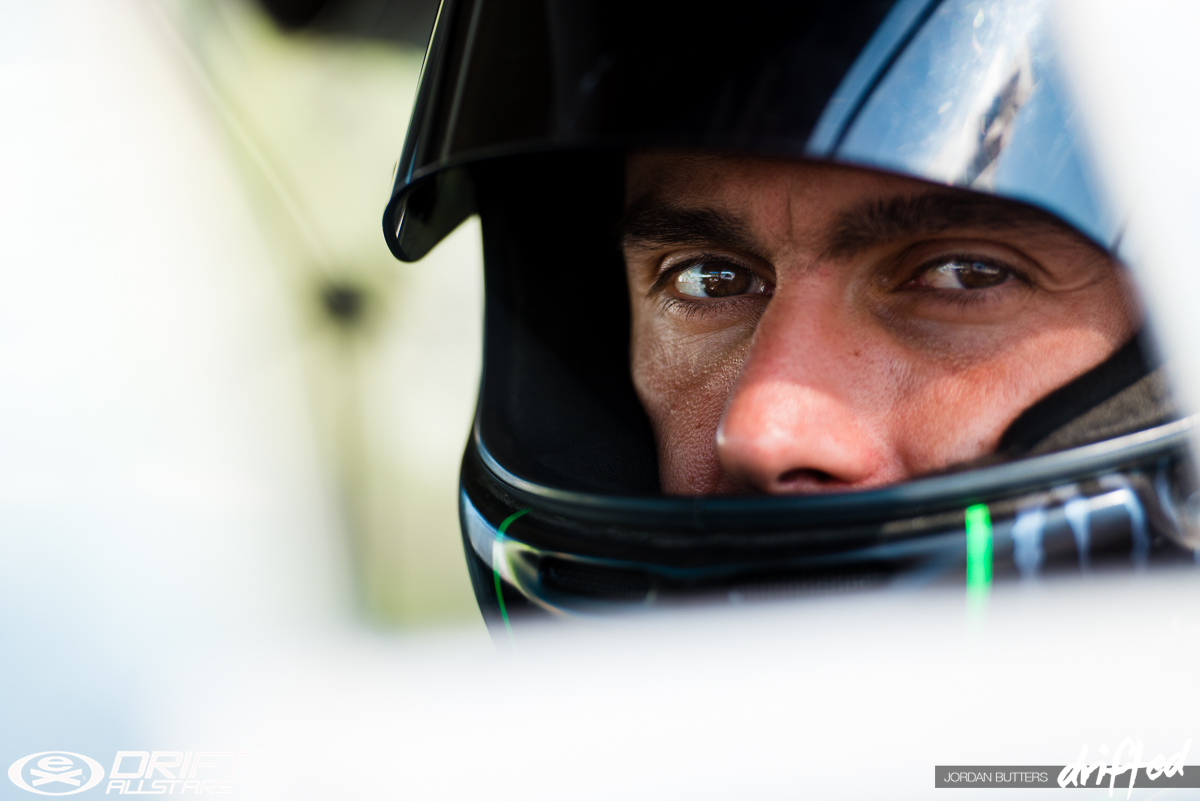 His fellow Monster team mate Dmitriy Illyuk was back in his own S13 chassis after running a borrowed S14 at round one.
I was glad to see this car back in action, despite it being one of the lower-powered machines in competition. With around 550bhp, Dmitriy is staying true to the SR20 and, running aggressive anti-lag, this has to be one of my favourite sounding cars off-throttle.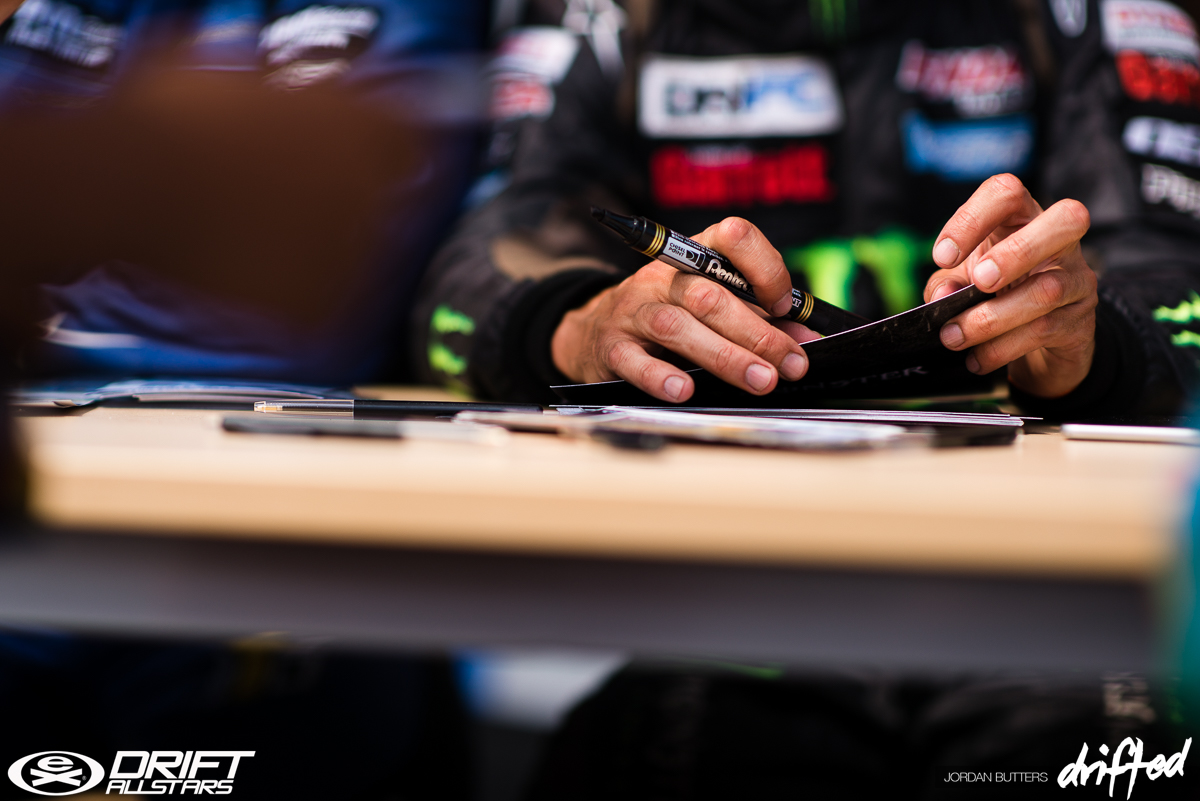 He's also a consummate professional too - always in character in front of the camera and the fans and yet completely focused on the task at hand.
Nigel Colfer was back with a vengeance too. After engine failure struck before round one, he was forced to withdraw from competition.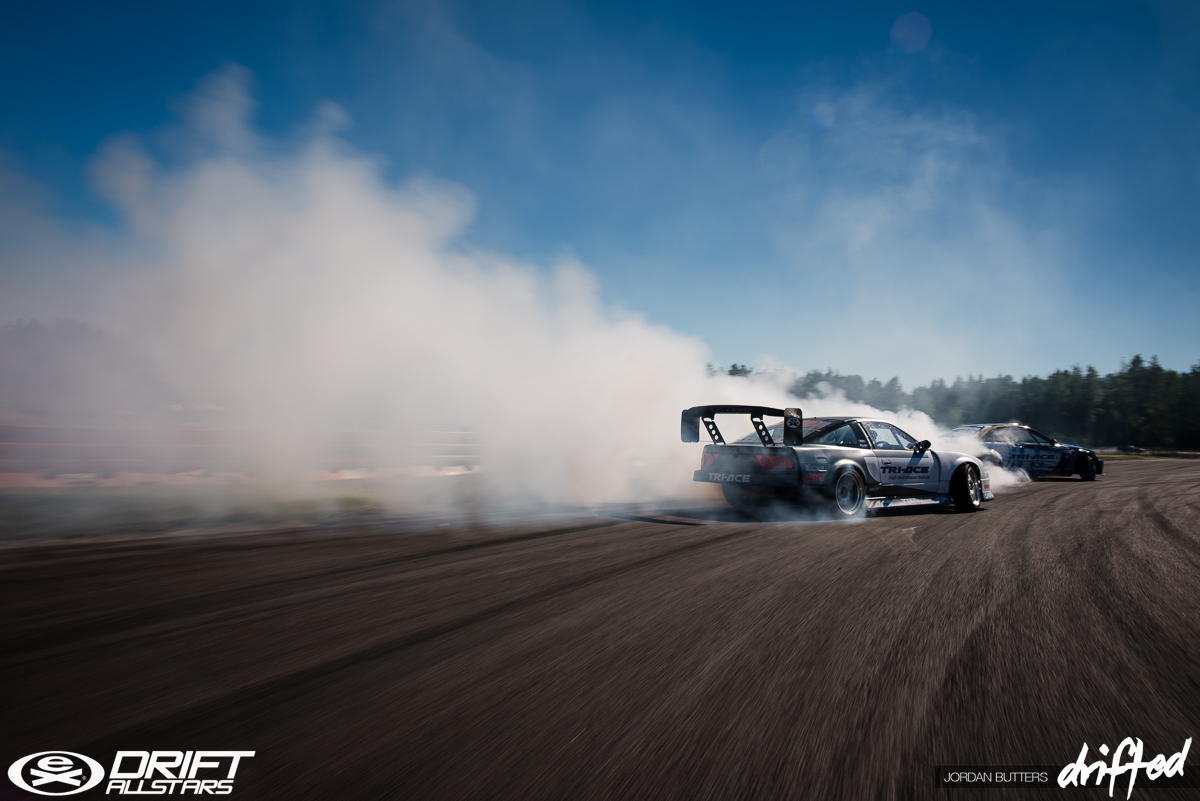 With new tyre sponsor Tri-Ace on board, Nigel looked to be running very well in practice, and his qualifying runs secured him 7th place.
With temperatures soaring into the mid-30s during the weekend, both man and machine were really put to the test.
Running repairs became a common theme over the course of the event, as either the heat, the gravel or the wall took their toll on the cars.
Sitting in fireproof race suits and helmets in a hot metal tin can't have been too nice either.
The Top 32 threw up some unexpected results. It all started off a bit scrappy, with cars leaving the track, big gaps and mechanical failures.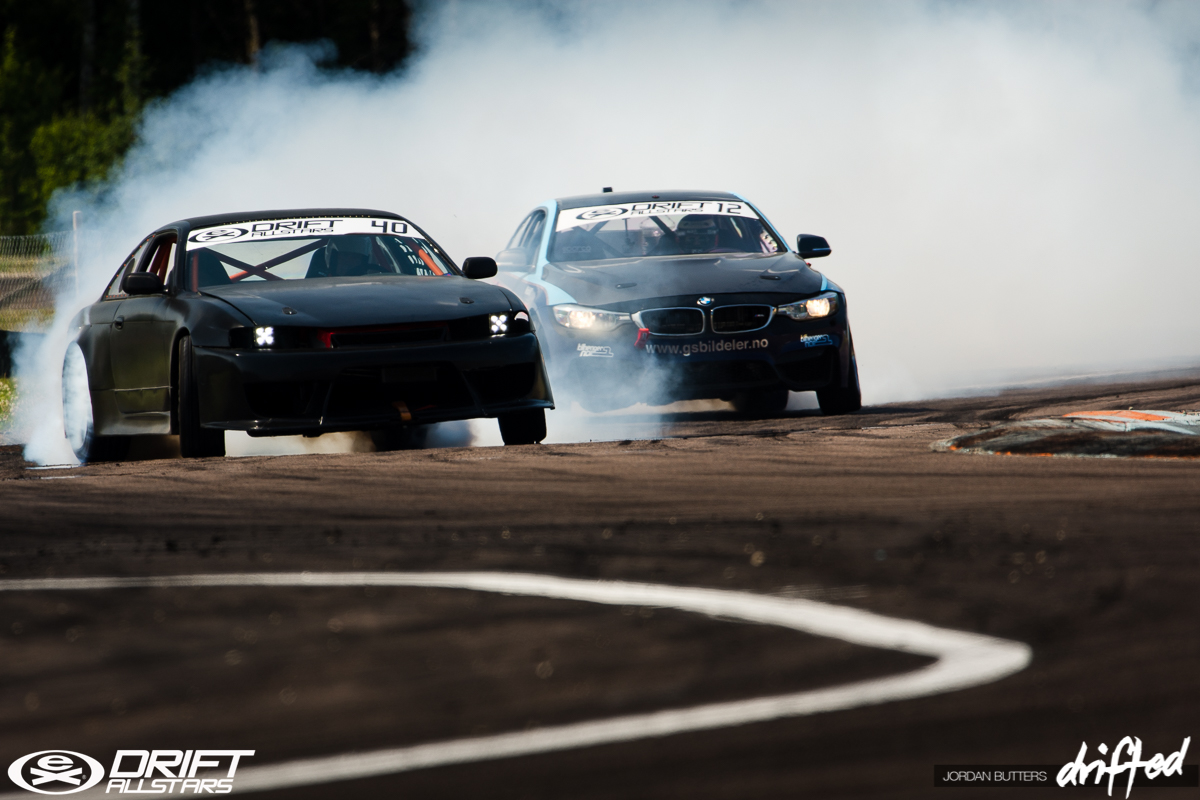 There were some upsets too - Swedish driver Pelle Eriksson took on Waagaard's BMW and won.
Formula Drift Pro2 driver Kelsey Rowlings was driving a borrowed S13 for the event, her first time out in a RHD car too.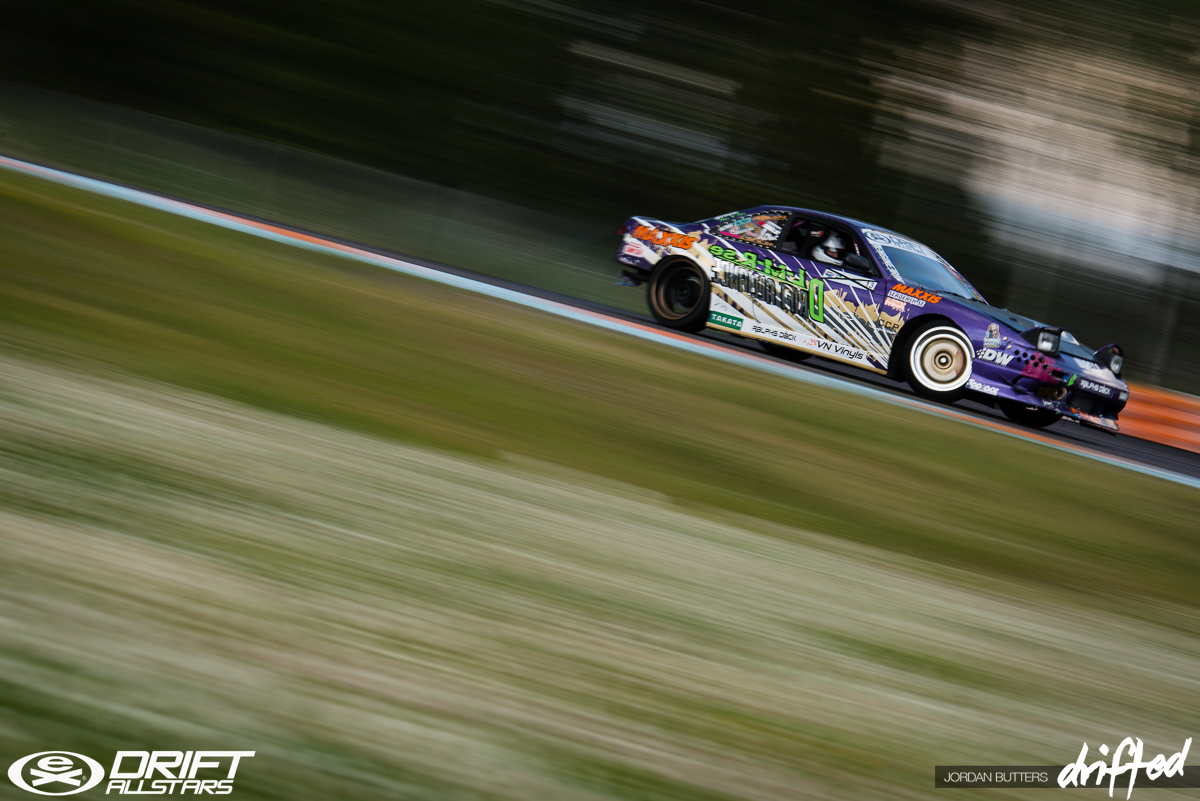 Sadly it showed, with Kelsey fighting to keep the car under control during practice, and bowing out to Rikard Ivars going into the Top 16.
Dmitriy Illyuk would fall fate to Johan Andersson too, proving that no-one is safe at this level of competition.
Third place qualifier Fredrik Sjodin met fellow Swede Alexander Granlund in the Top 8 in one of the most aggressive battles of the weekend. Granlund would lay down a smooth and relentless chase run to progress through into the Semi Finals.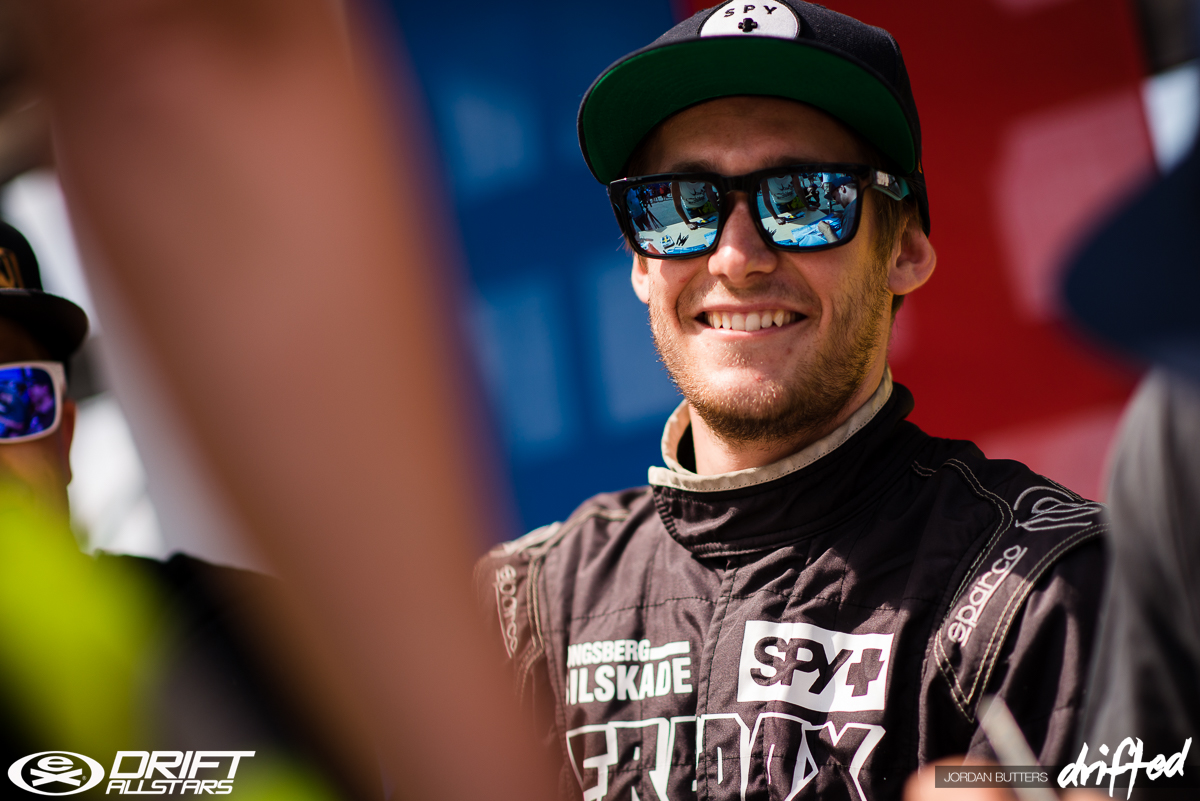 Norweigian Fredrik Øksnevad is a fan and driver favourite in Drift Allstars. He makes a welcome return for 2015.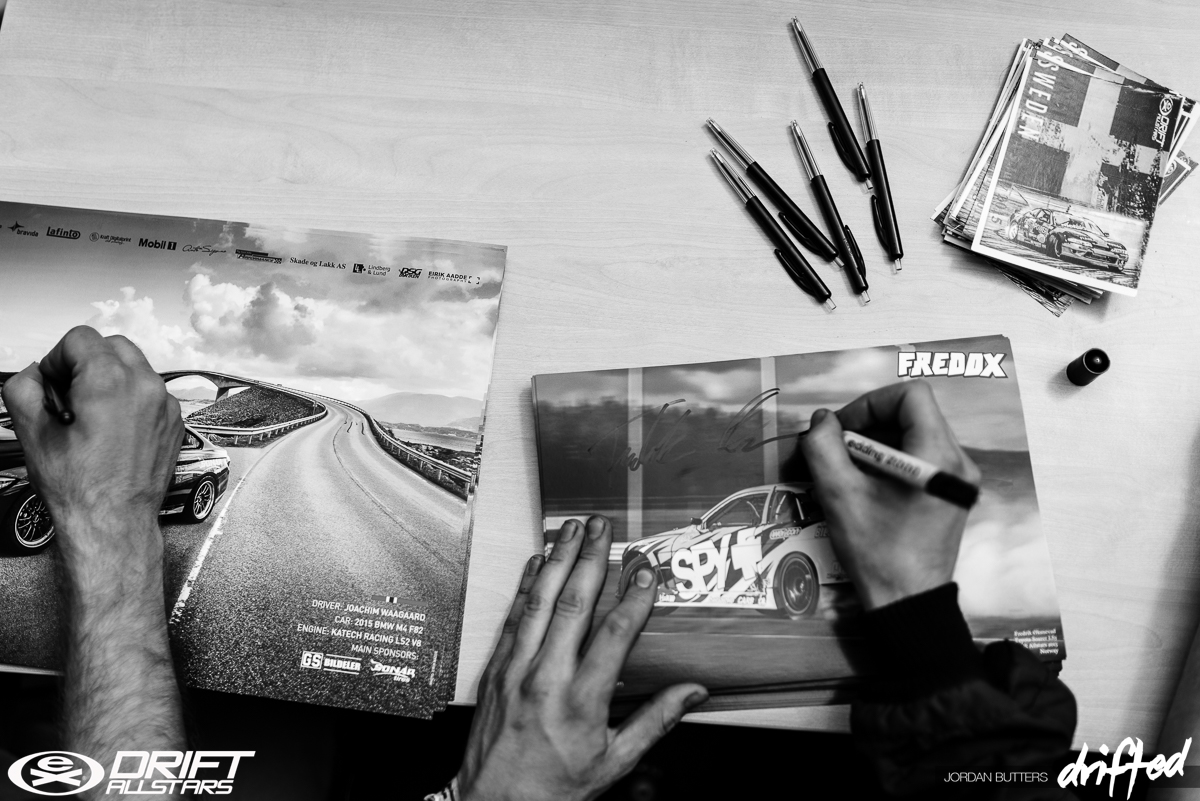 After dropping the London round, rumour has it that FredOX is looking to see out the season with Drift Allstars.
With his sights firmly set on James Deane (the two met in the Final at last year's Swedish Drift GP), FredOX would fly past Martin Vaga in the Top 32…
…and put on a strong performance against Rikard Ivars in the Top 16.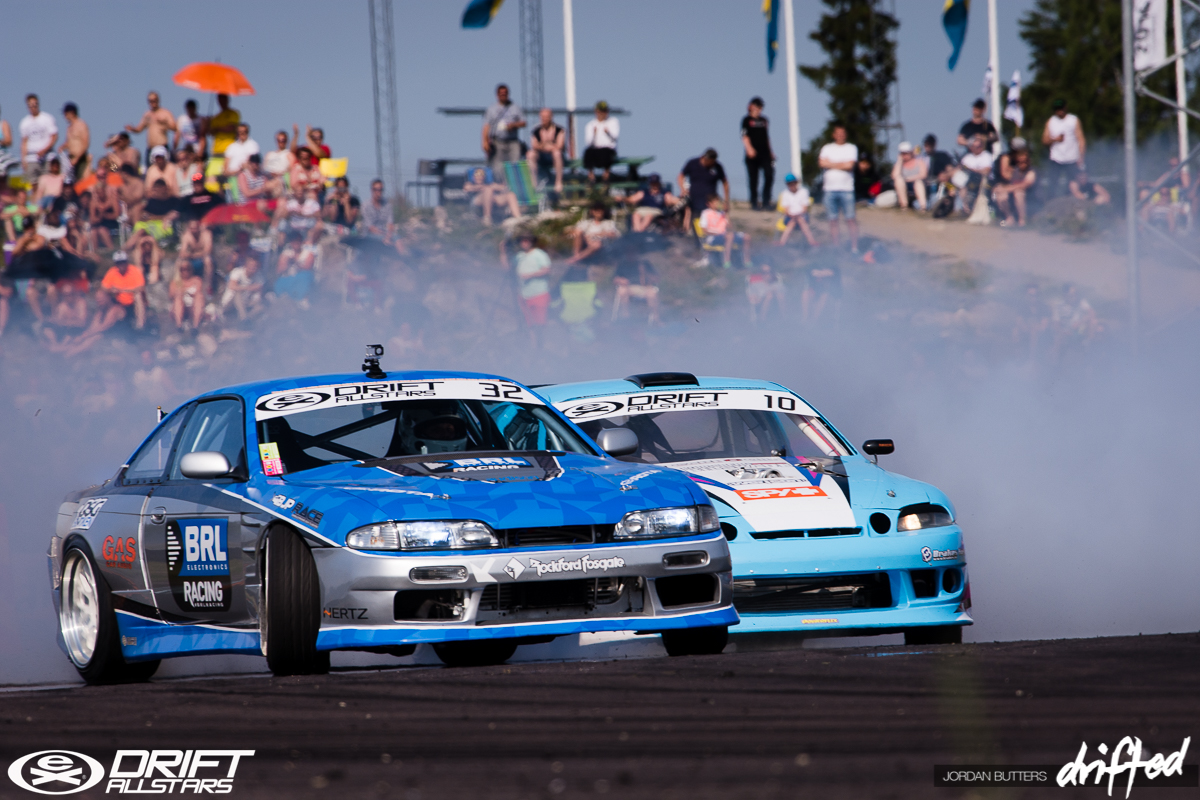 His efforts would come to a premature end in the Top 8 against an on-form David Skogsby however, who would then go on himself to meet the current champion Deane.
Mechanical issues on Skogsby's behalf gave Deane an easy pass through into the Finals. The Swede's driving impressed everyone that I spoke to, and there's certainly progression available to him within the sport.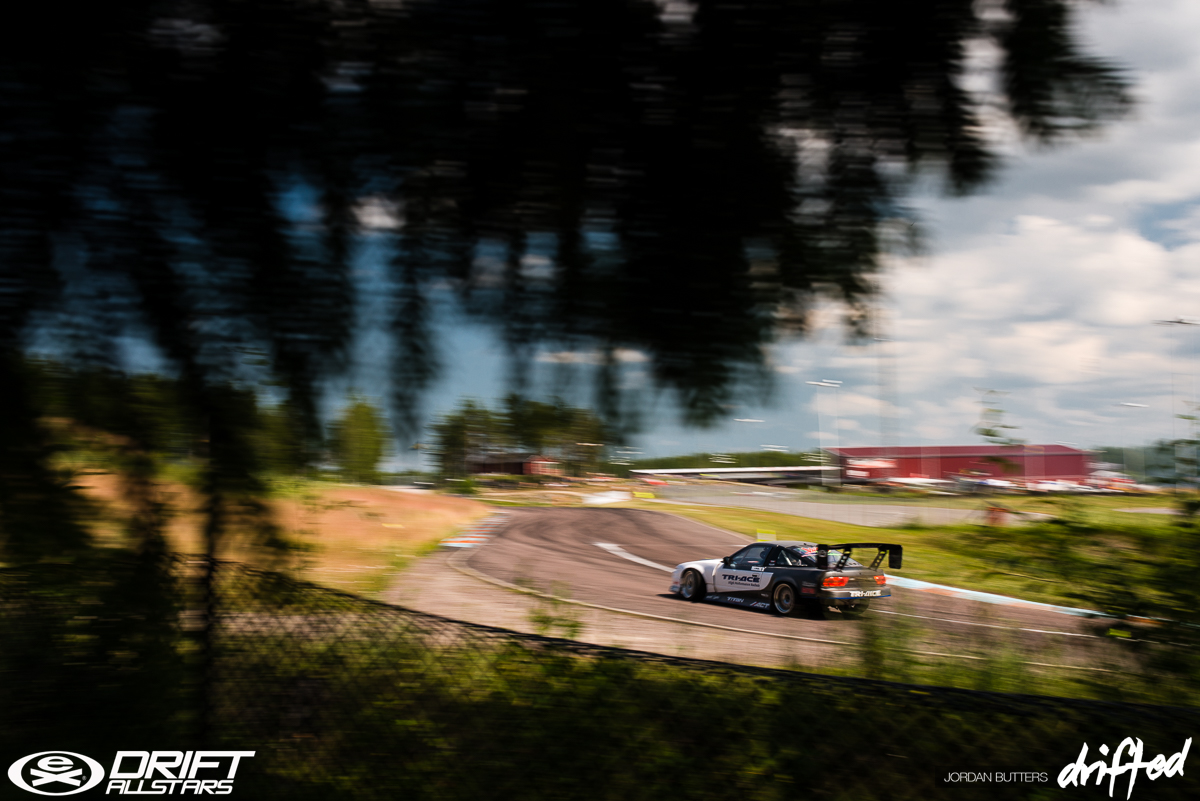 Mechanical problems plagued the other Semi Final too, another Sweden vs Ireland affair, as Alexander Granlund faced Nigel Colfer.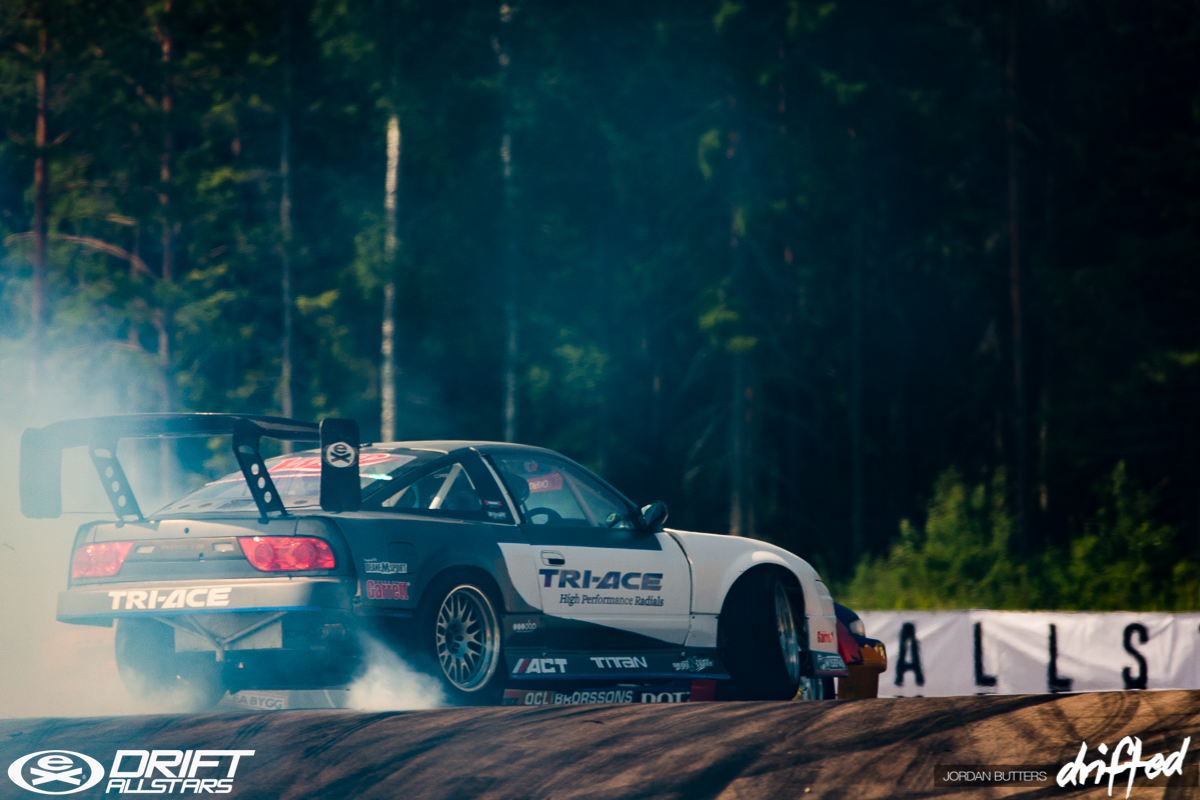 Granlund's BMW cracked the intake manifold, putting him down on power against the Irishman, who looked unstoppable regardless.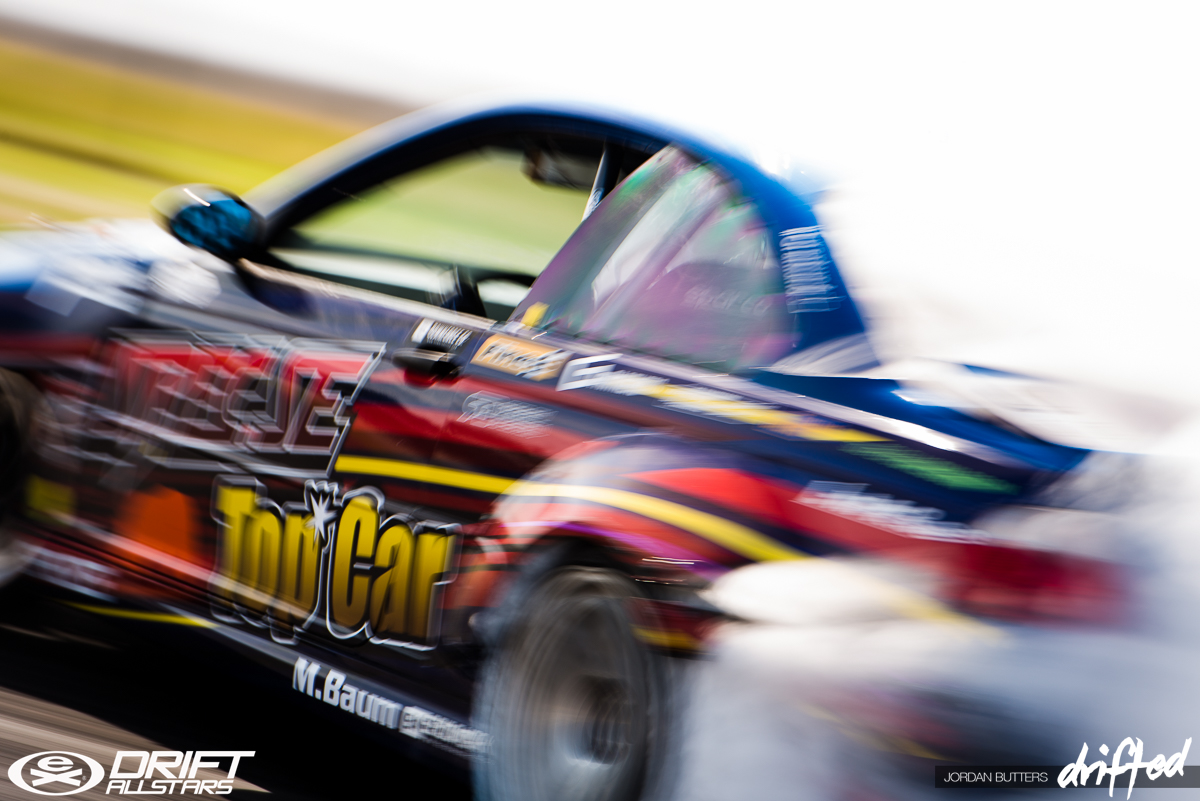 Hasty repairs allowed Granlund to defeat Skogsby in the third place battle, with both drivers and cars looking worse for wear afterwards!
In an all-Irish final, Deane and Colfer would go to war. This is far from the first time this duo have met, and when they do it's sure to be an incredible sight to see.

One thing is for certain when Deane and Colfer tandem - there are no games or dirty tactics. The two share pits, tools and food over the race weekend, so each wants to see the other succeed almost as well as they want to succeed themselves.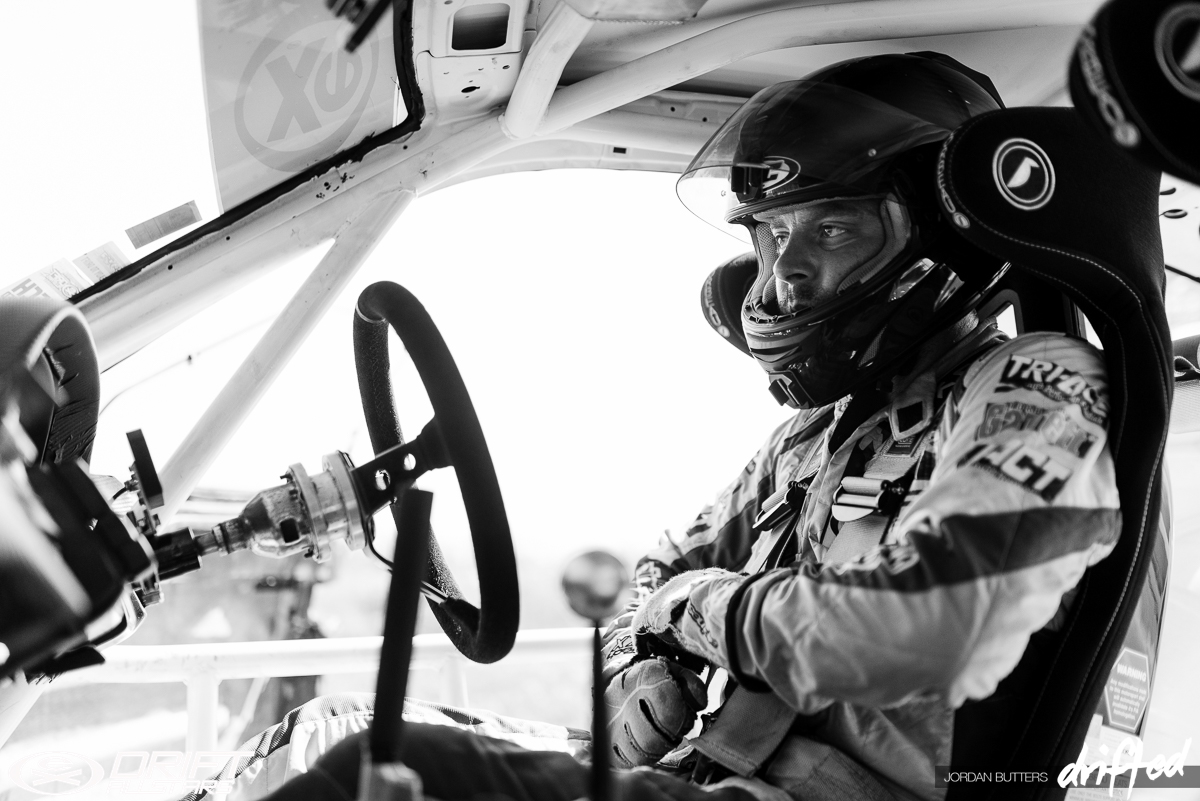 Colfer had everything to play for - despite his many podiums, Nigel hasn't taken the top spot since 2012. What's more, taking his close friend James down a peg or two at this crucial point in the season would be everything.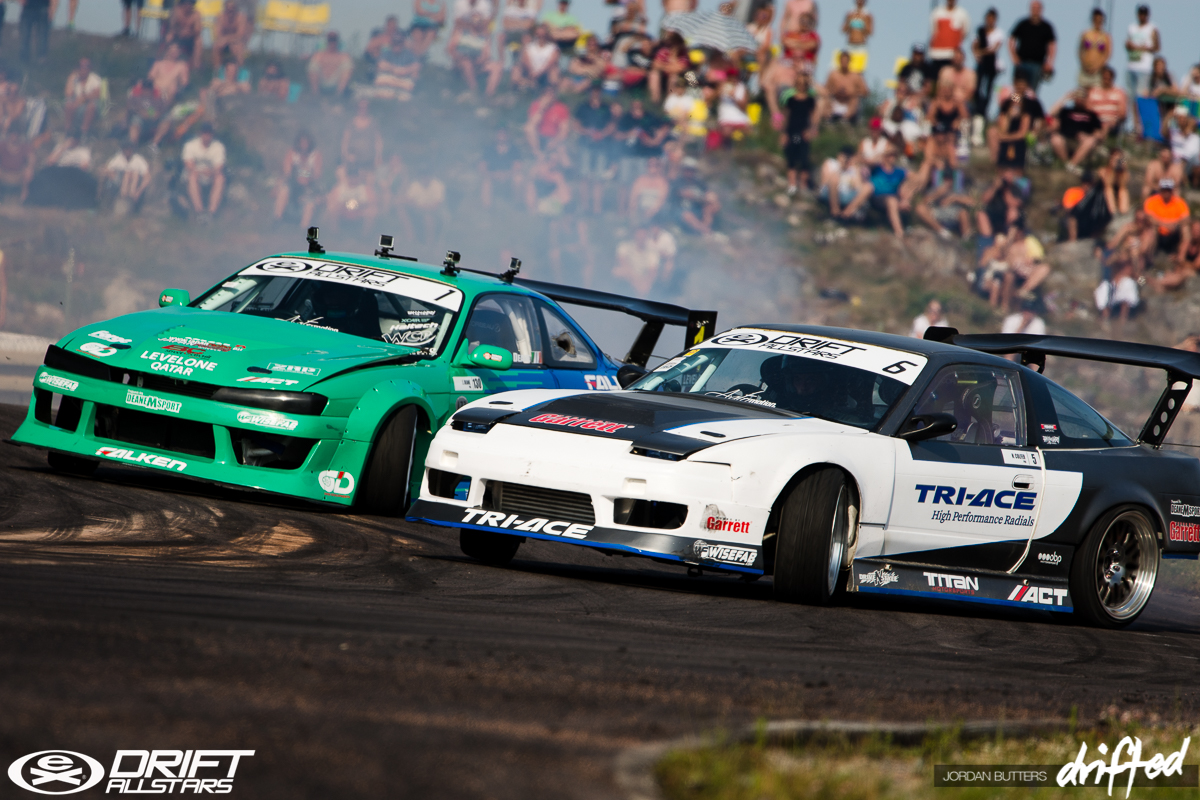 After two inch-perfect runs, I couldn't call the result, but the judges had seen enough.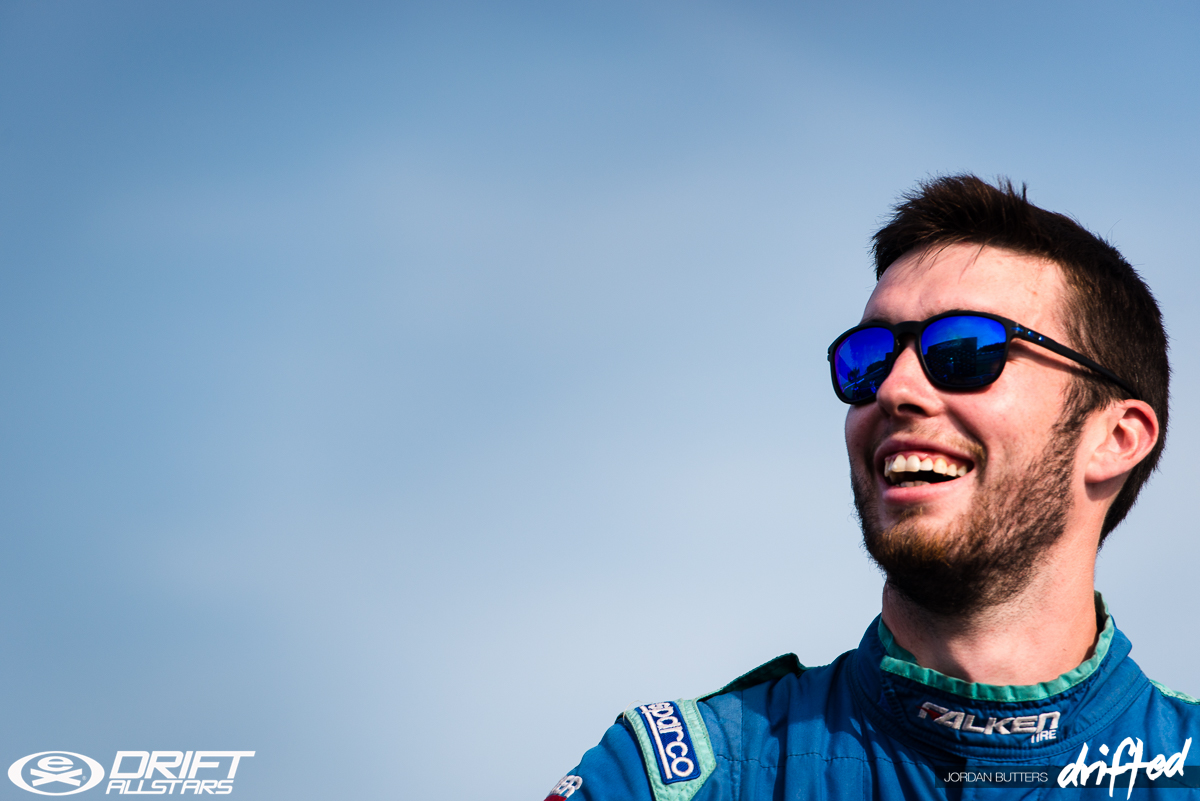 A smoother and closer chase run by Deane would secure him his first victory of the 2015 season, his second consecutive Swedish Drift GP and the points lead going into round three.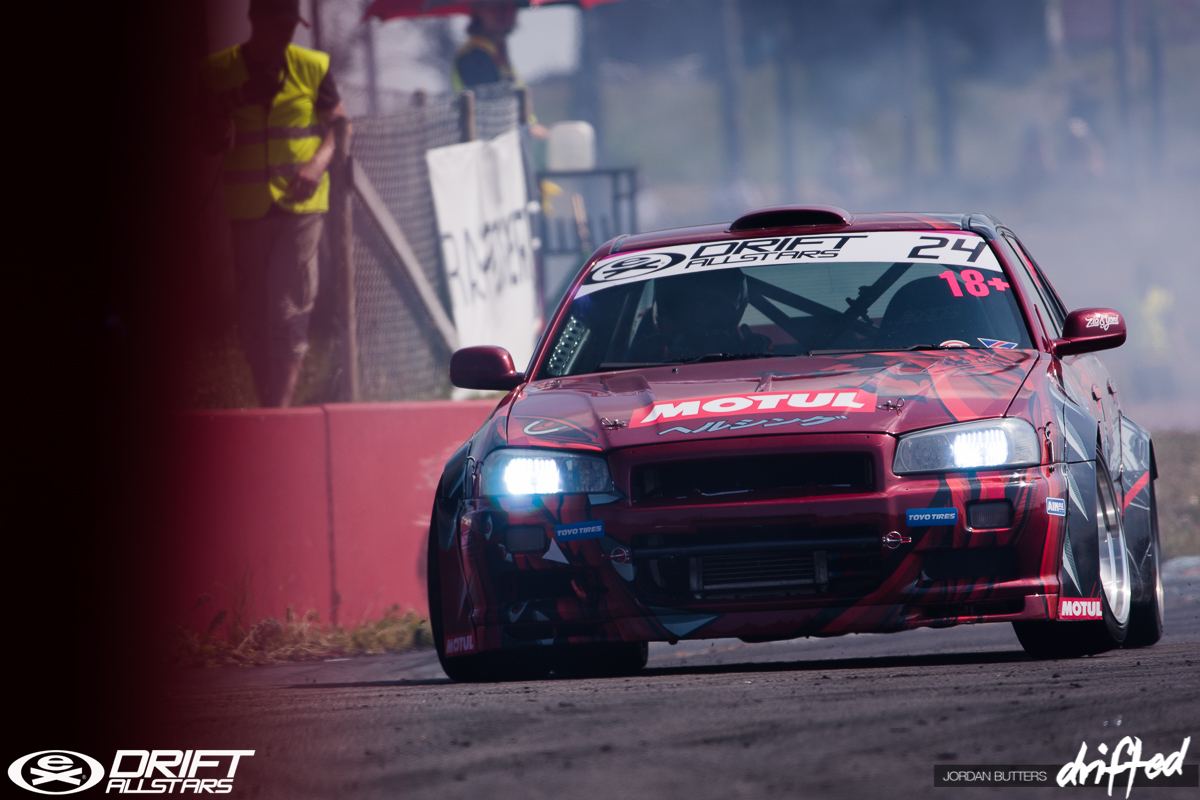 The Swedish Drift GP delivered on so many levels - an awesome circuit, fantastic cars, scorching weather and once again the drivers proved that they really are the best in Europe.
From here the series heads to Latvia, and the incredible Bikernieki Circuit in the heart of Riga for the Latvian Drift GP - one of the biggest and most subscribed-to events in the European calendar. We'll see you there!
Words and Images: Jordan Butters