EVENT: Extreme Drift Allstars 2015: The Latvian Drift GP R3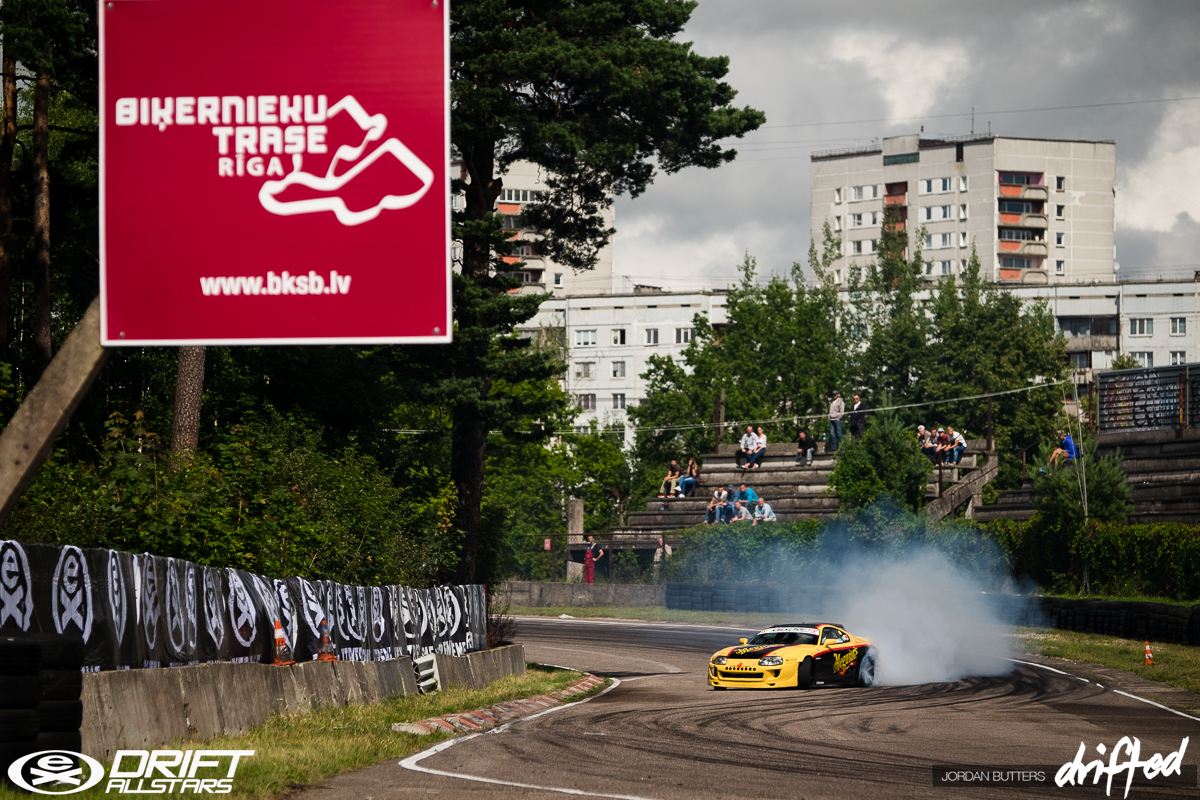 When I first visited Biķernieku Circuit in Riga last July I was absolutely blown away. From a photographer's point of view, the circuit offers some of the most unique and interesting features of any drift venue in Europe.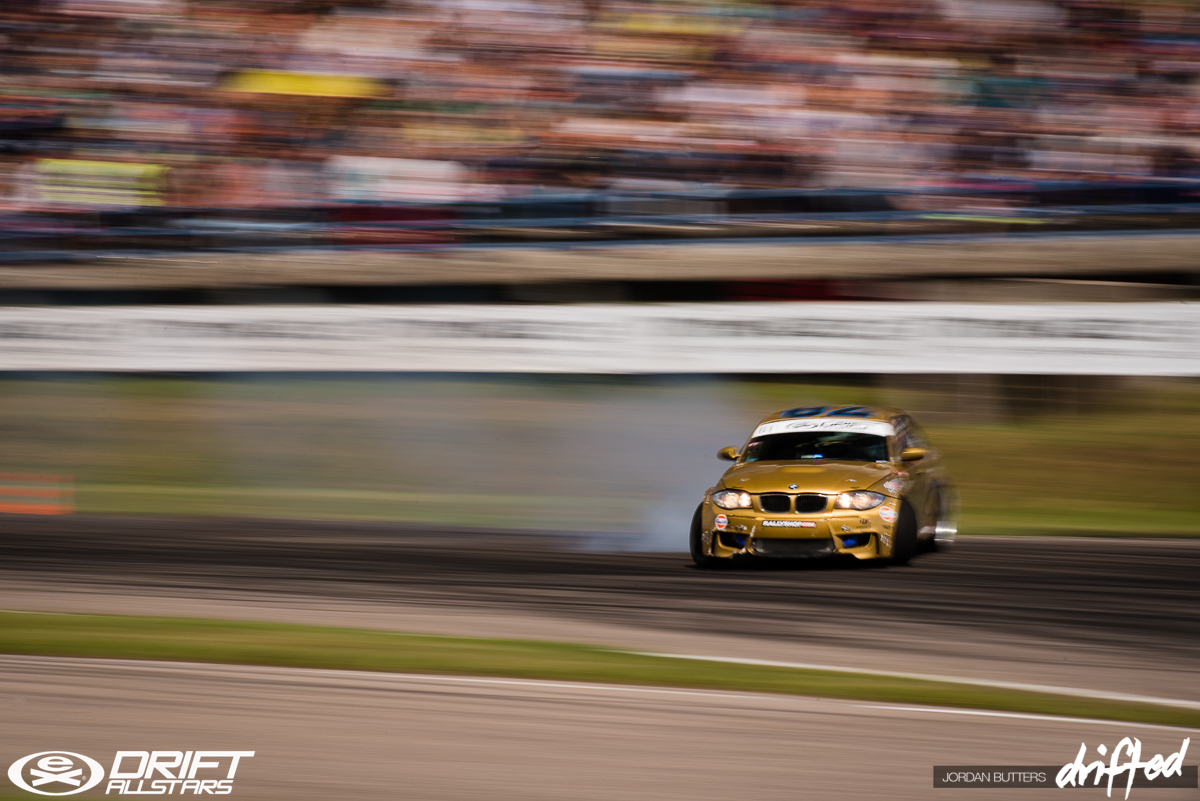 This experience quite obviously set the bar high for me when I found out that I was going to be visiting again this year.
From a drift fan's point of view Biķernieku can't fail to impress either. It offers a fast foot-to-the-floor initiation around a blind bend…
…a snappy transition against a solid wall before a long straight to build speed directly in front of the grandstand.
Another transition and the cars are launched skyward by the infamous Riga dip.
It's a fascinating spectacle to watch. After a few runs you get to grips with which cars pitch right up and which take a more restrained line. Nigel Colfer's car always puts on a show at the Riga dip.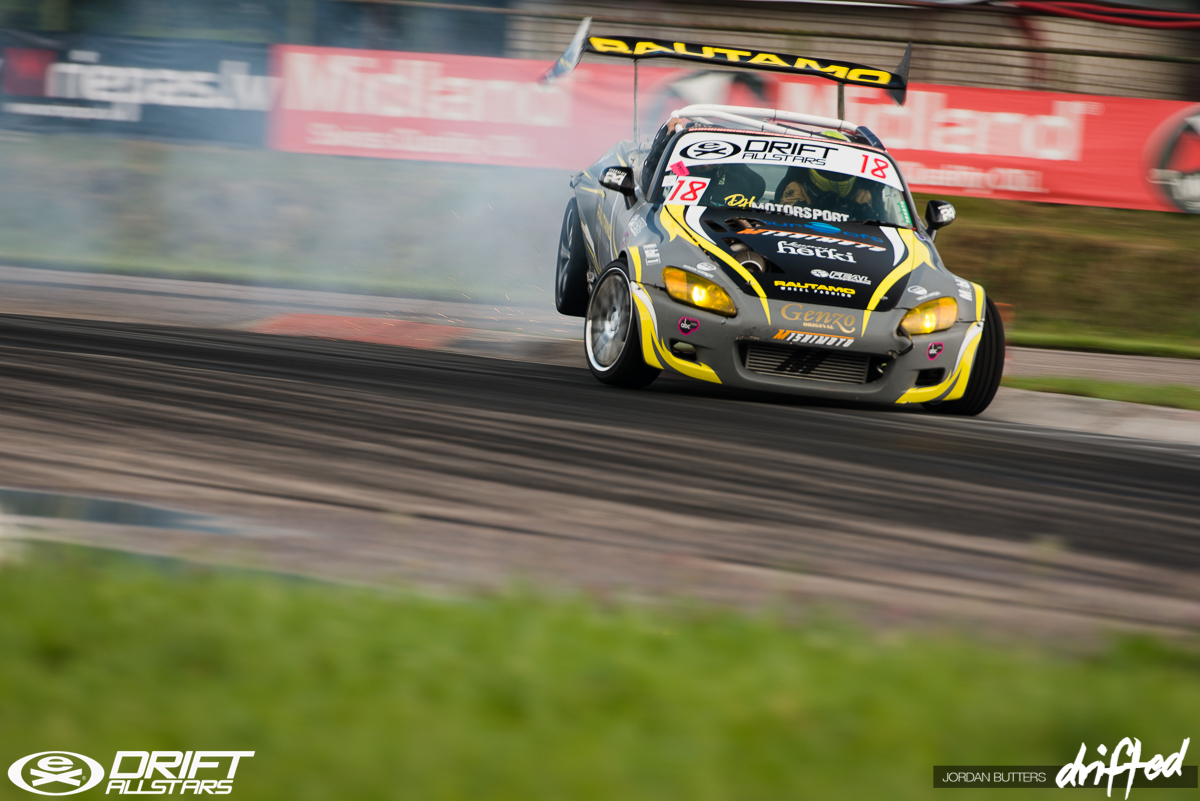 Three wheels, two wheels, no wheels - it all depends on the line the drivers take. Whatever the outcome, it's always impressive to watch and shoot.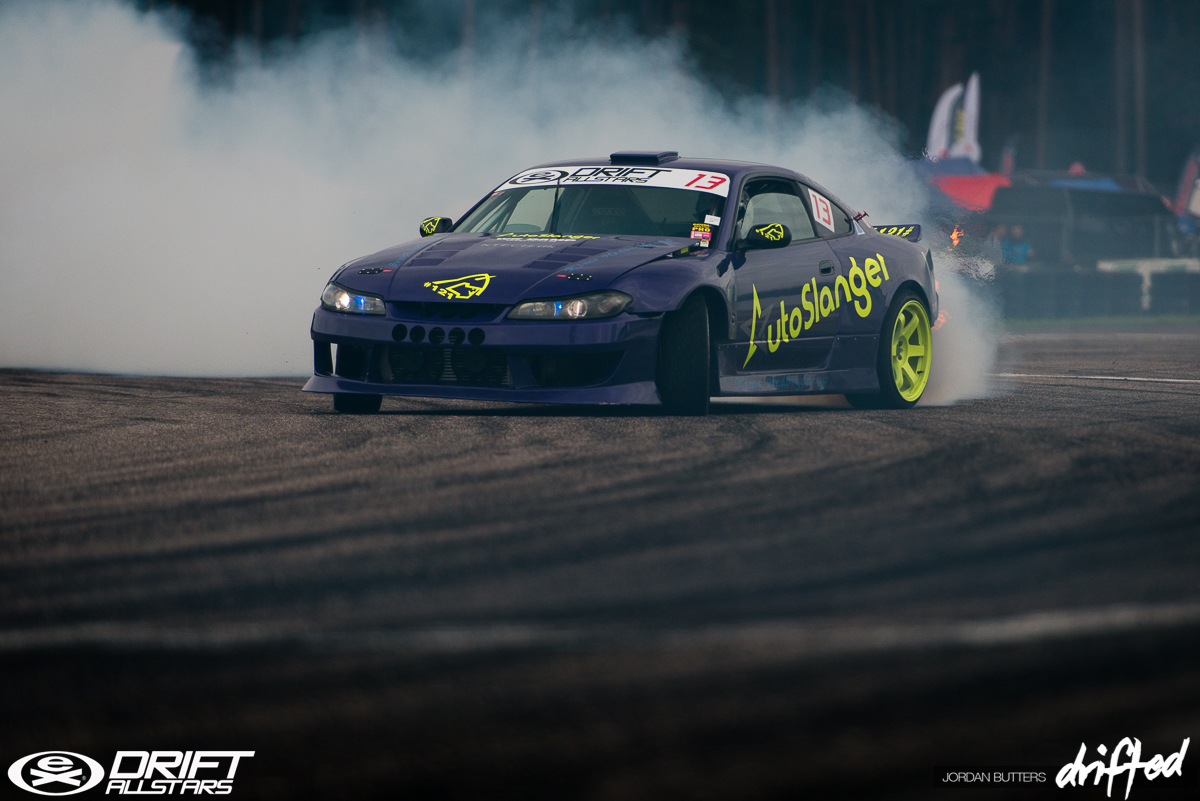 Each run rounds off with two more transitions around a technical end section, before the cars scrub off speed, and run their rear bumpers along the wall as they cross the finish line.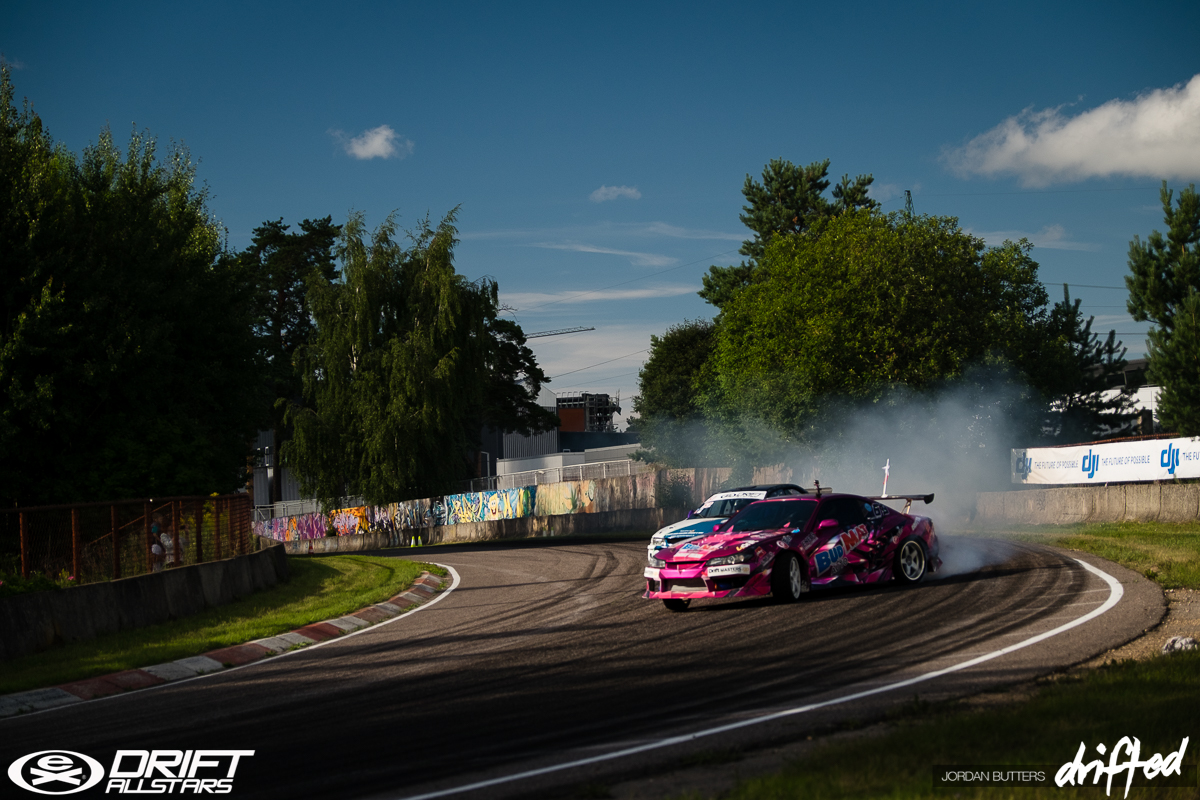 Last year's event set the bar for me when it came to European drifting.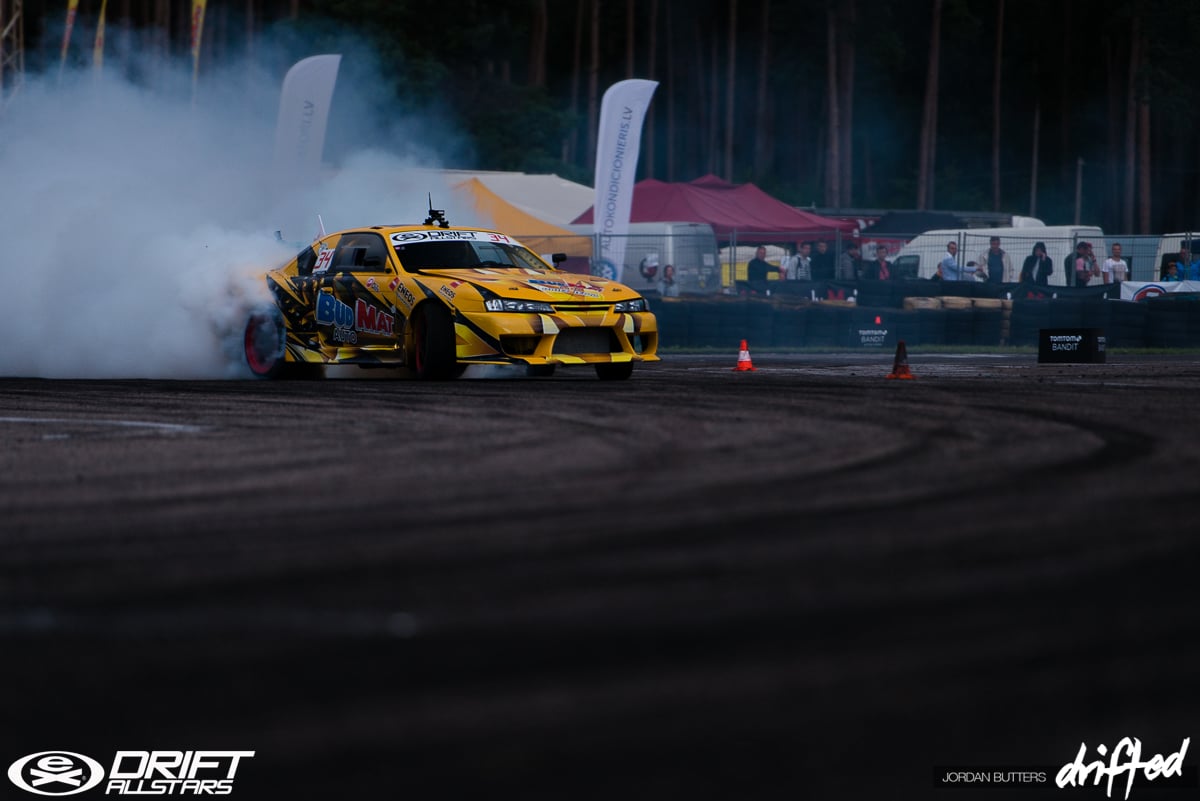 It was the first time that I'd witnessed the driving talent in eastern Europe first hand.
There's a level of commitment to each and every run that initially surprised, but now fascinates.
At Biķernieku you hear the approaching mayhem long before you see it unfurling. And with the level of driving so high now in Drift Allstars, almost every pass is guaranteed to leave a lasting impression.
Sometimes because the guy behind the wheel get it spot on.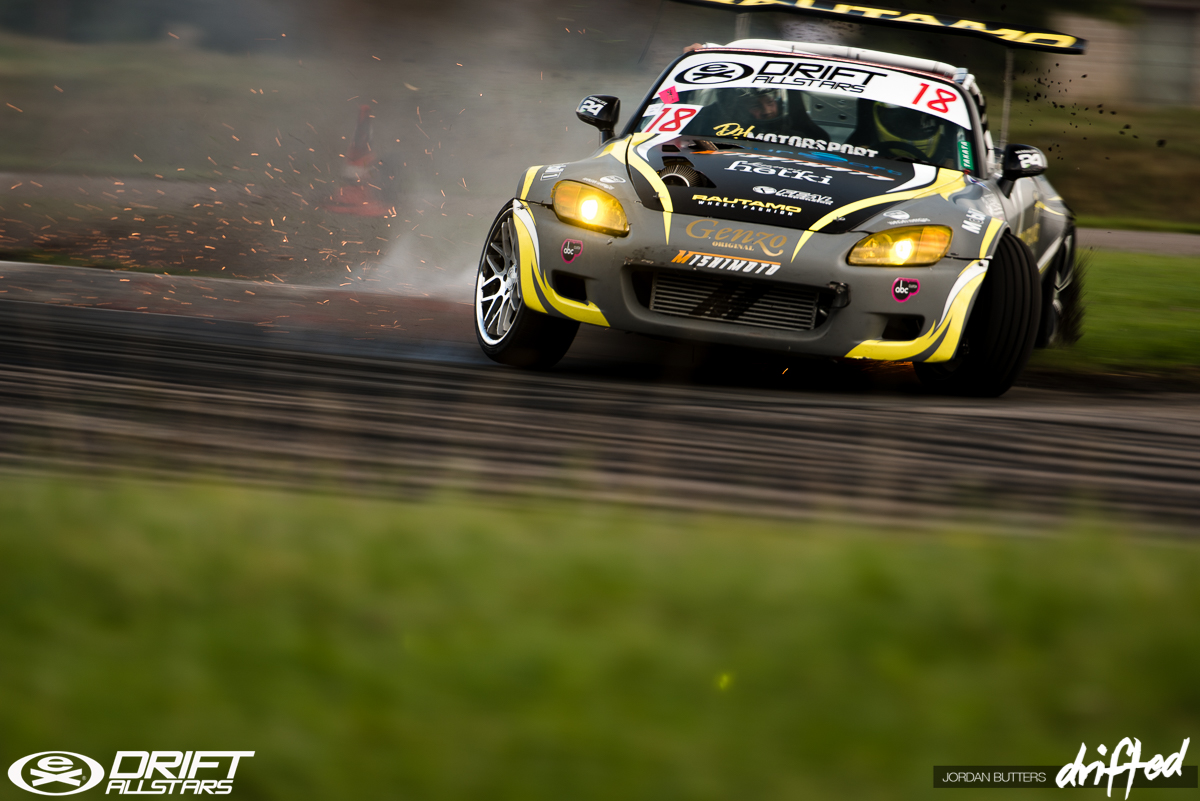 And sometimes because they get it very wrong. Regardless, the no-fear approach sits very well with me and makes for entertaining viewing.
This year's Latvian Drift GP attracted a huge amount of attention from prospective drivers. The series is in demand not only in Europe, but across the globe.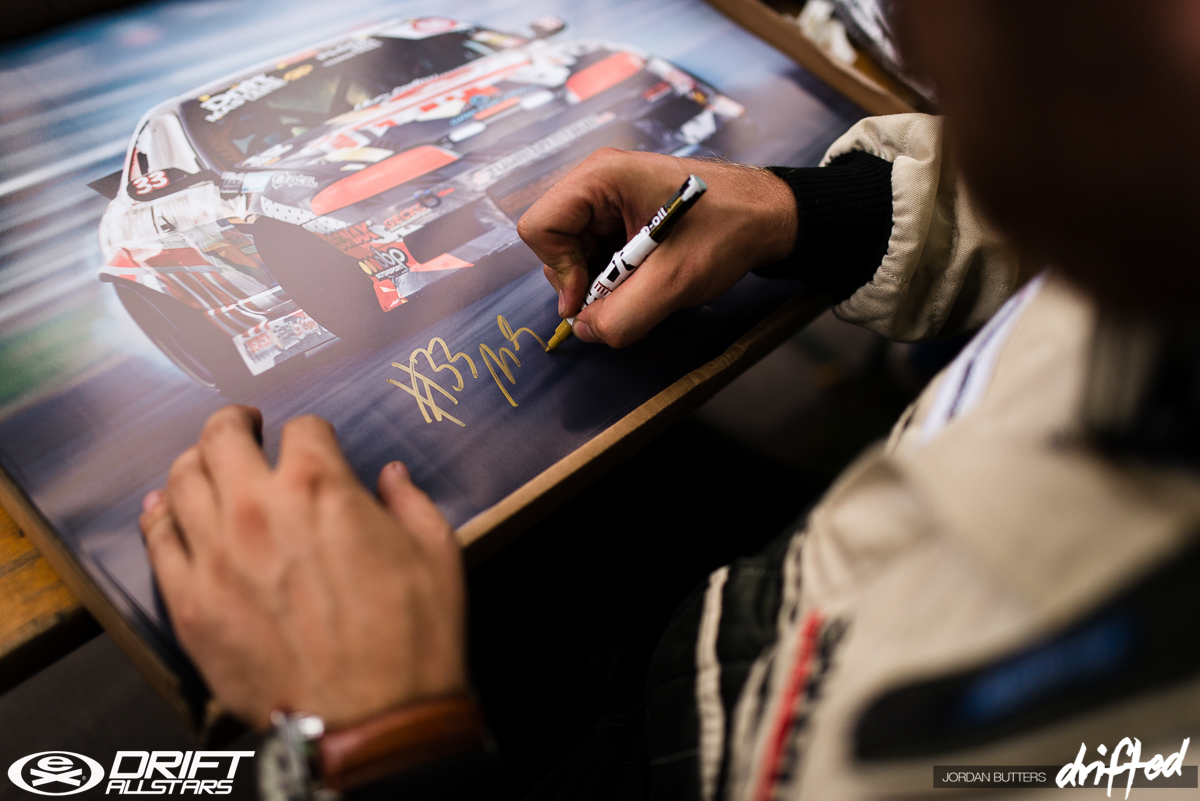 Extreme Drift Allstars is quickly becoming the series to beat, to the point whereby the organisers were forced to close the entry list early, having reached the cap of 60 competitors.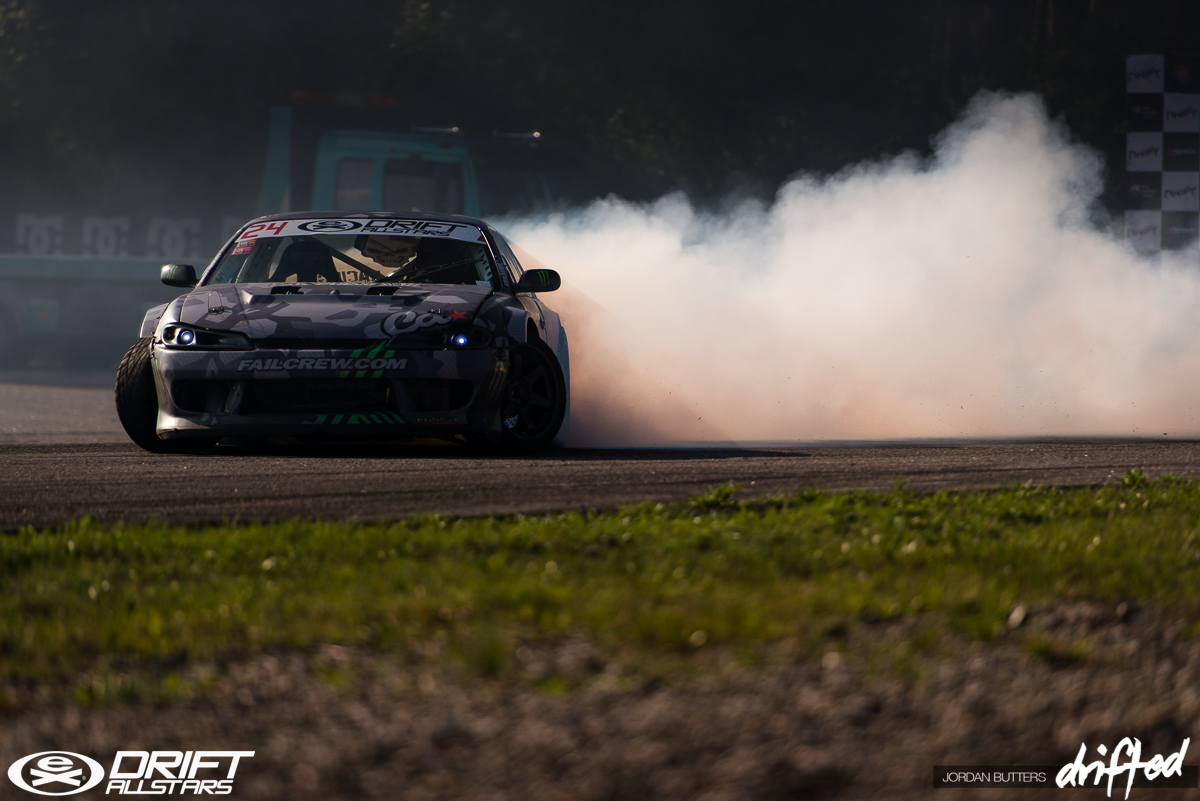 With only 32 spaces available for the main event, competition couldn't have been tougher.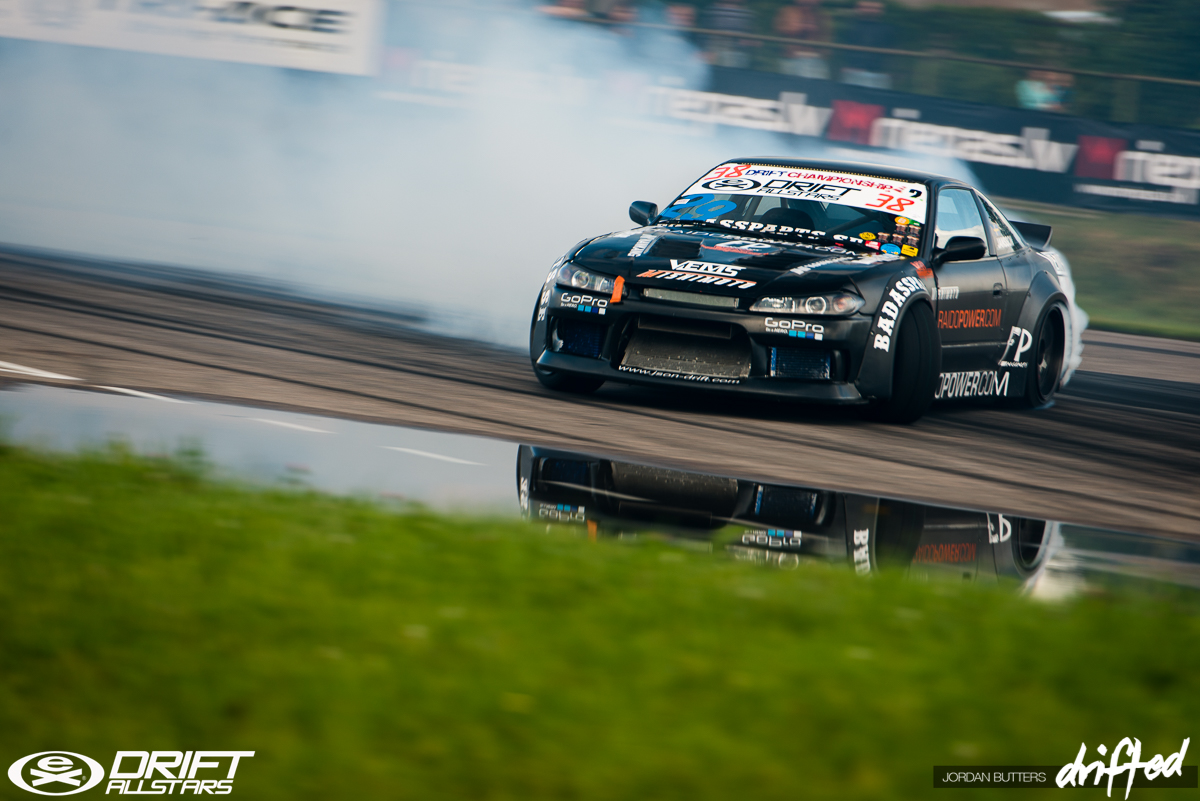 Skimming down the roster list, some of the best drivers in Europe leapt out at you. A defending European champion, more than a handful of national champions, drivers from as far a field as Australia and Formula Drift competitors were in attendance.
To add further uncertainty into the mix there were some pretty ominous-looking clouds passing overhead. With the threat of passing storms quite literally anything could happen.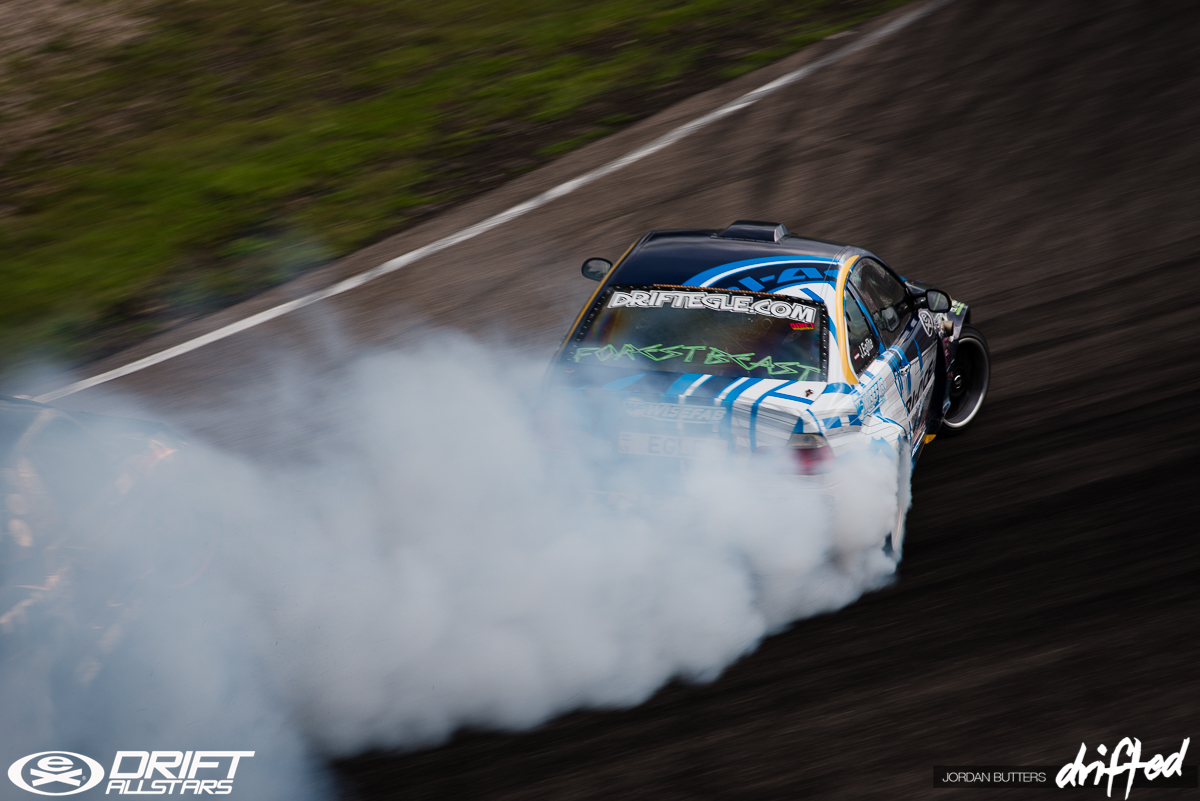 Going into qualifying Janis Eglite stepped up to the mark. The local Latvian champion is no stranger to Biķernieku and it showed, as he snatched P1 following an awesome run.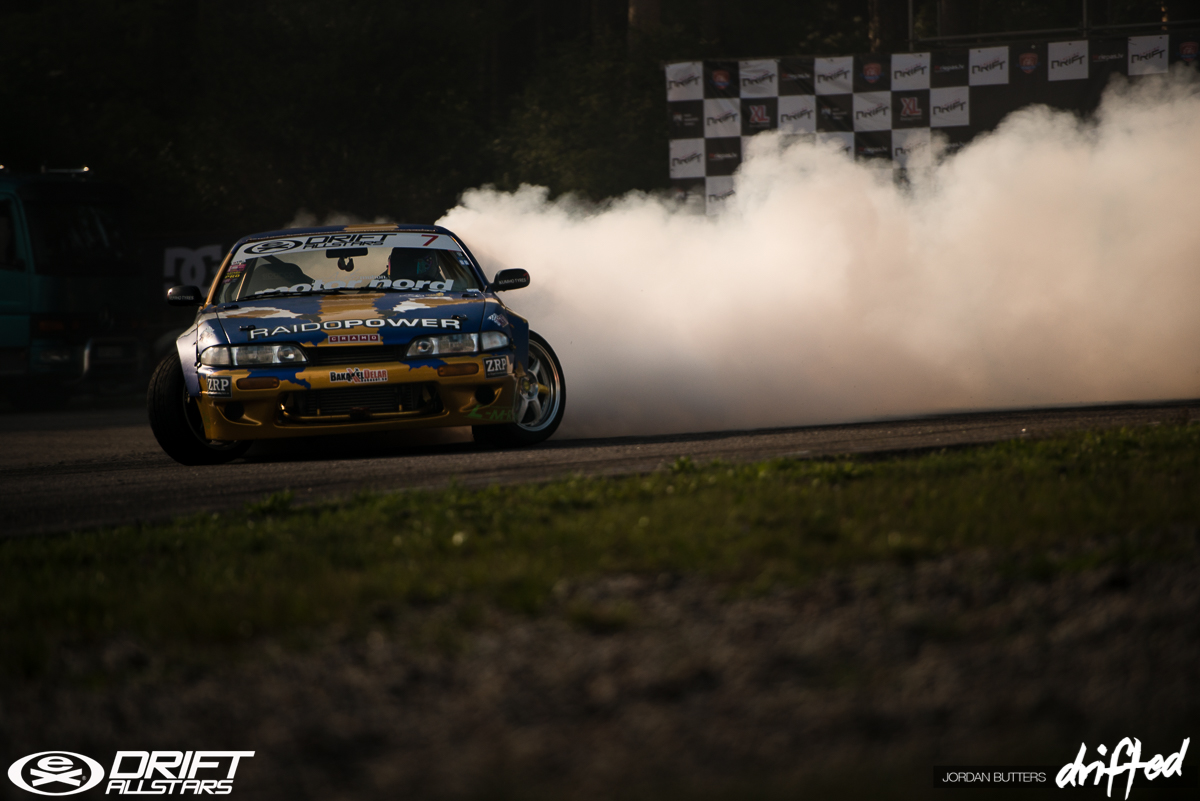 Just like in Sweden at round two, it would be Raidopower's Fredrik Sjodin snapping at Eglite's heels.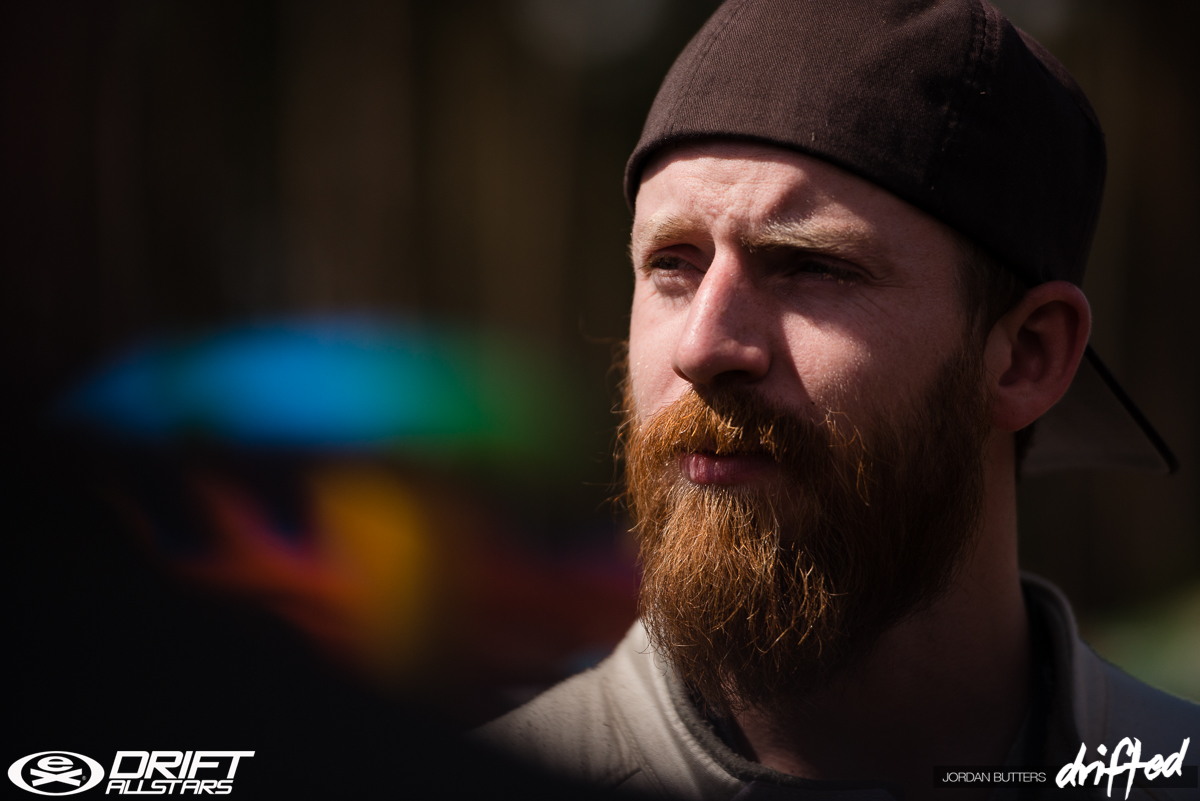 I first saw Fredrik drive last season and along with possessing incredible talent behind the wheel he's also one of the nicest and most down-to-earth guys in the paddock.
Defending Extreme Drift Allstars champion James Deane looked on a roll after his win in Sweden at round two. He completed the top three qualifying spots, taking third.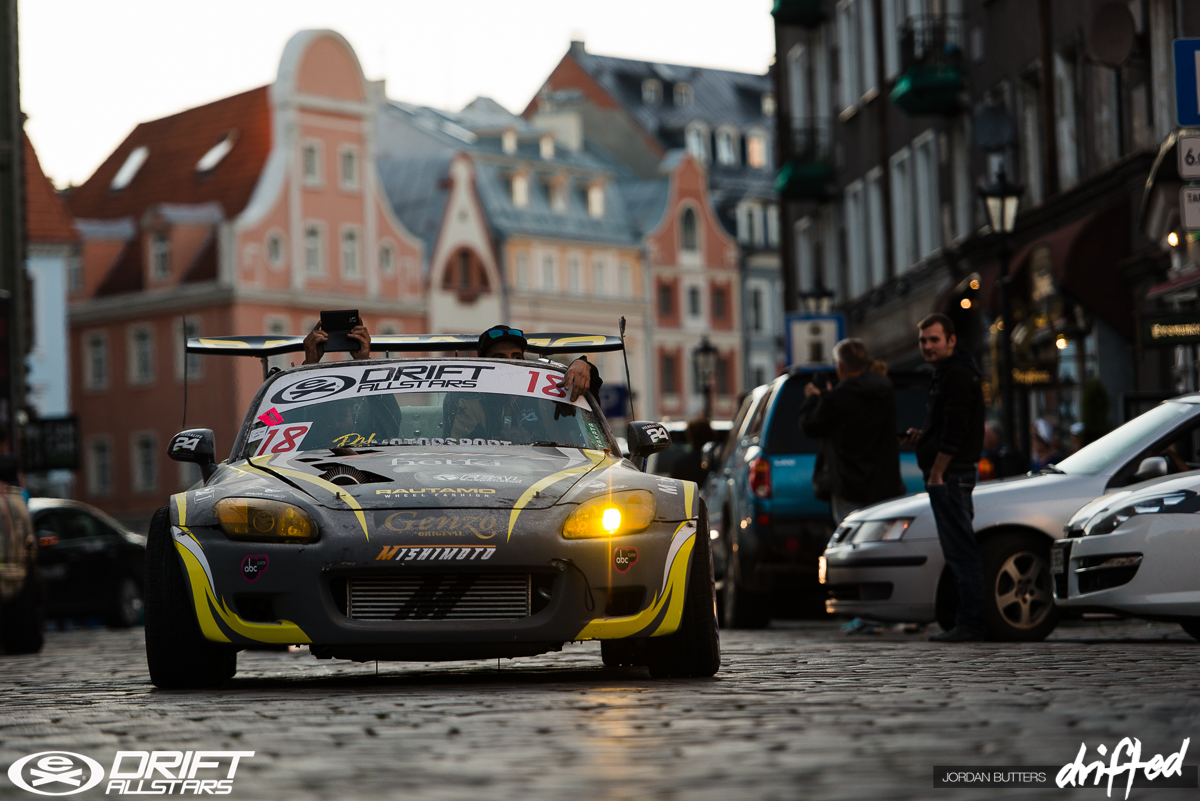 You might remember my post over on Stanceworks about last year's Riga street parade. No visit to the Latvian capital is complete without causing complete and utter mayhem on the cobbled streets of old town.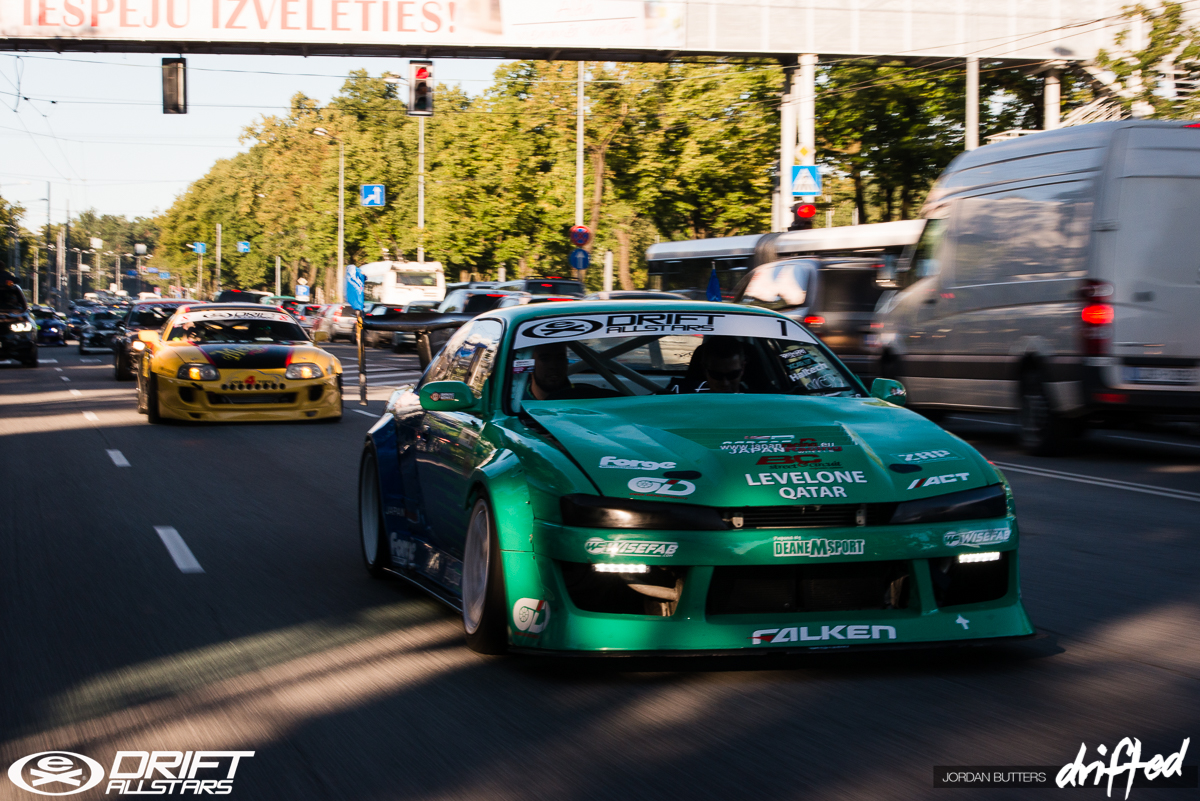 As well as offering the drivers the unique experience of getting to drive their drift cars in real roads, the exercise gives Riga locals and tourists an unexpected treat, and lets them know what's going down at Biķernieku the following day.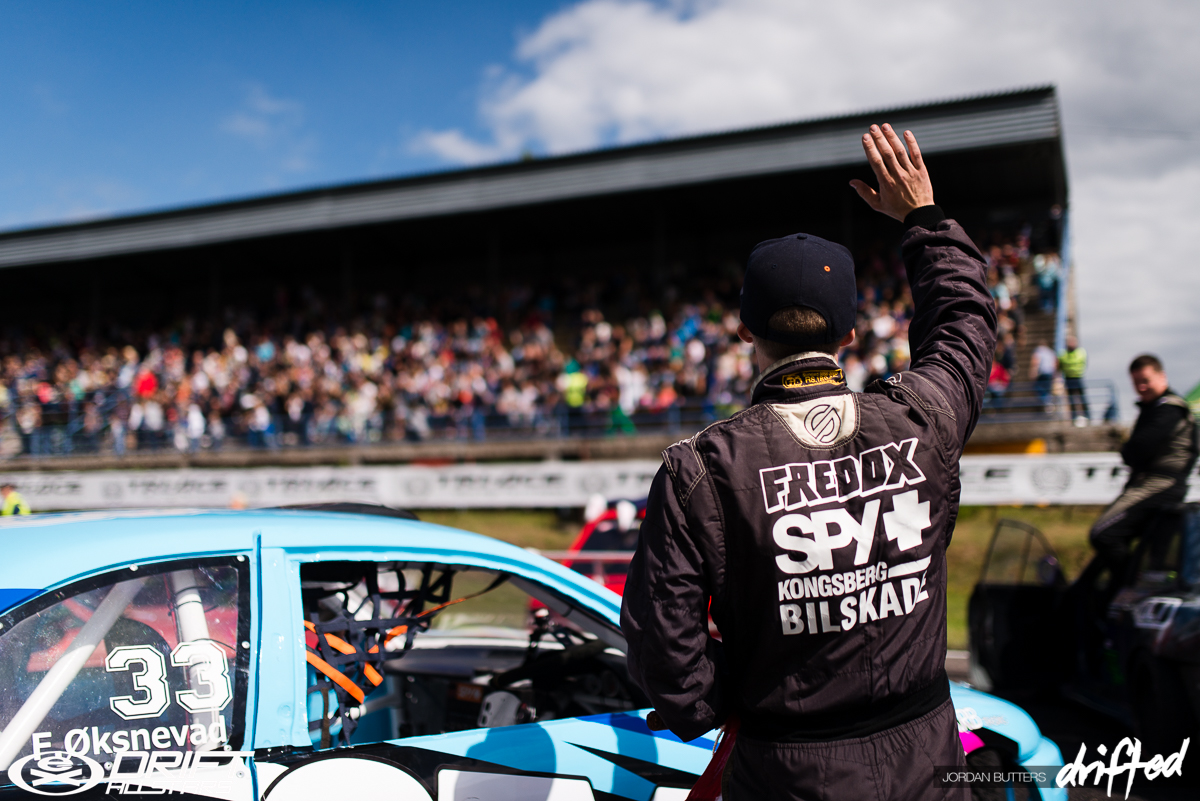 Come Saturday's main event Biķernieku's tribunes were full top-to-bottom. The crowd in Riga never disappoints, and is comprised of some of the most vocal fans in drifting.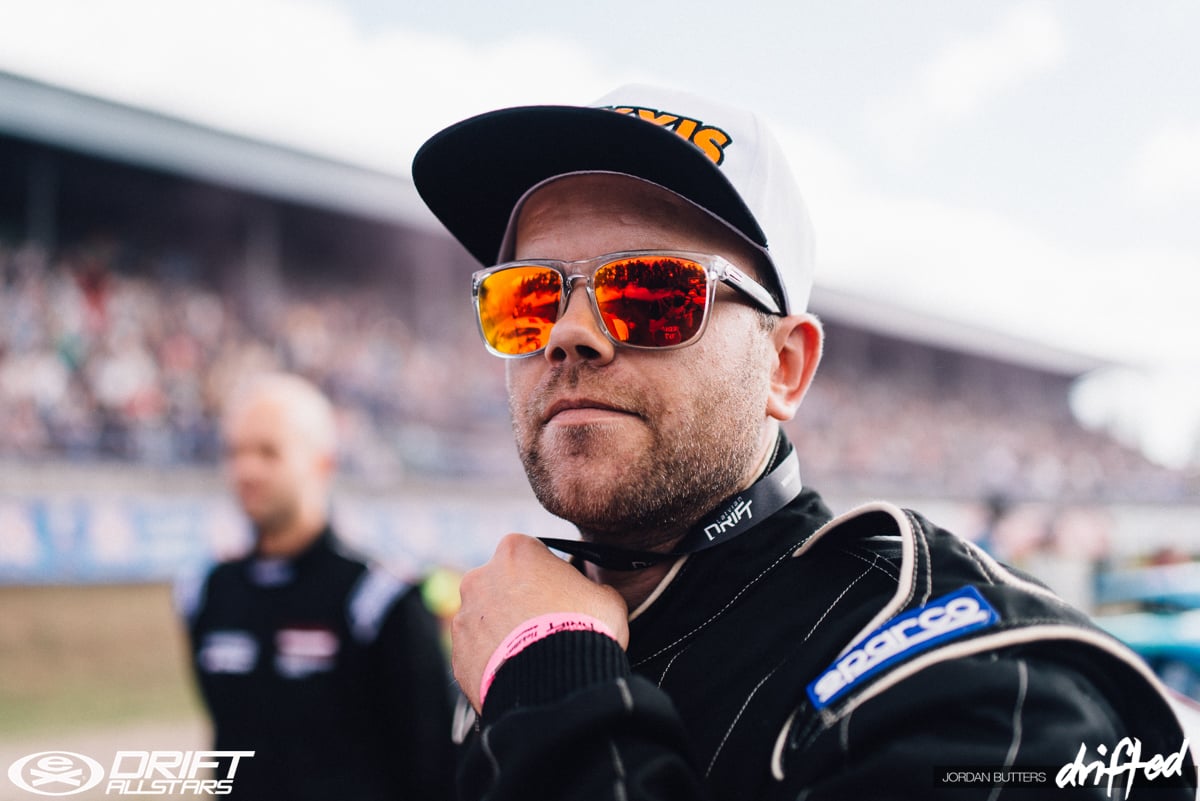 With a field made up of Drift Allstars regulars as well as local Latvian drifters, there was plenty for them to cheer for.
I've honestly not heard noise like this at a drift event before. Shooting from in front of the main grandstand it almost overpowered the noise of the cars.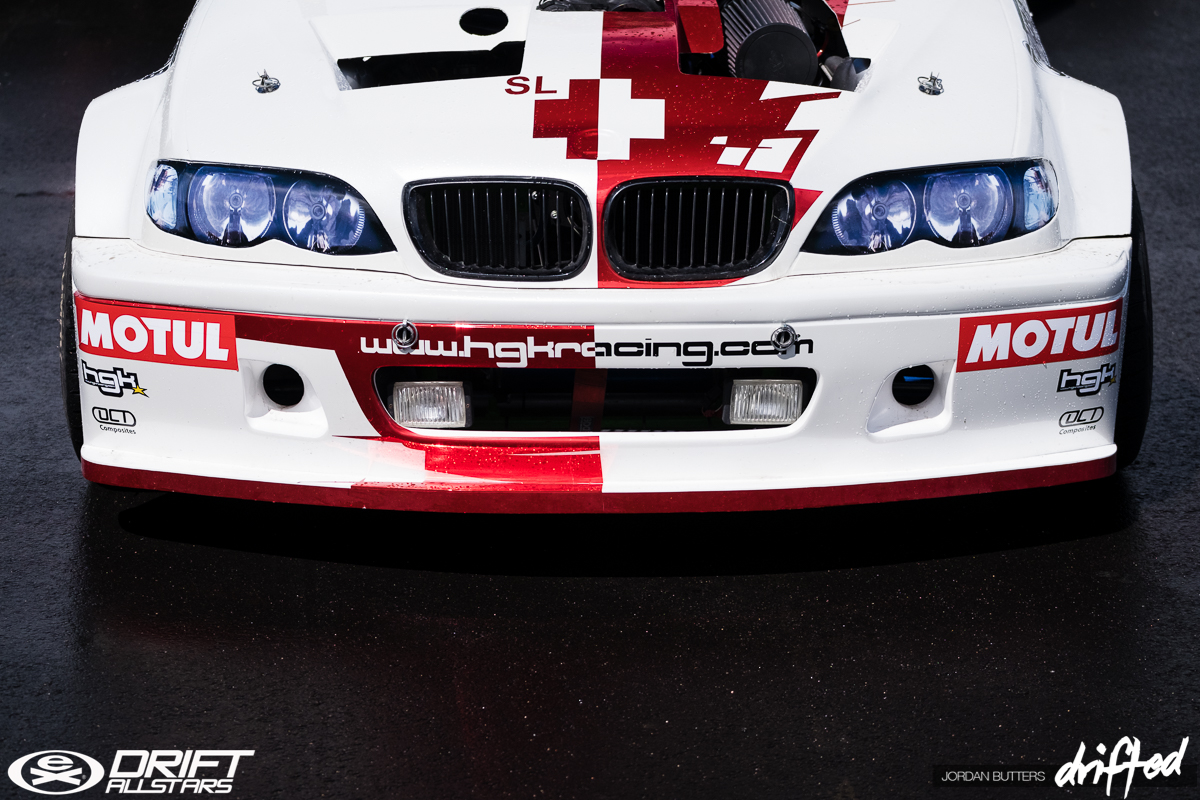 More than anything else I believe that drifting should be about the show.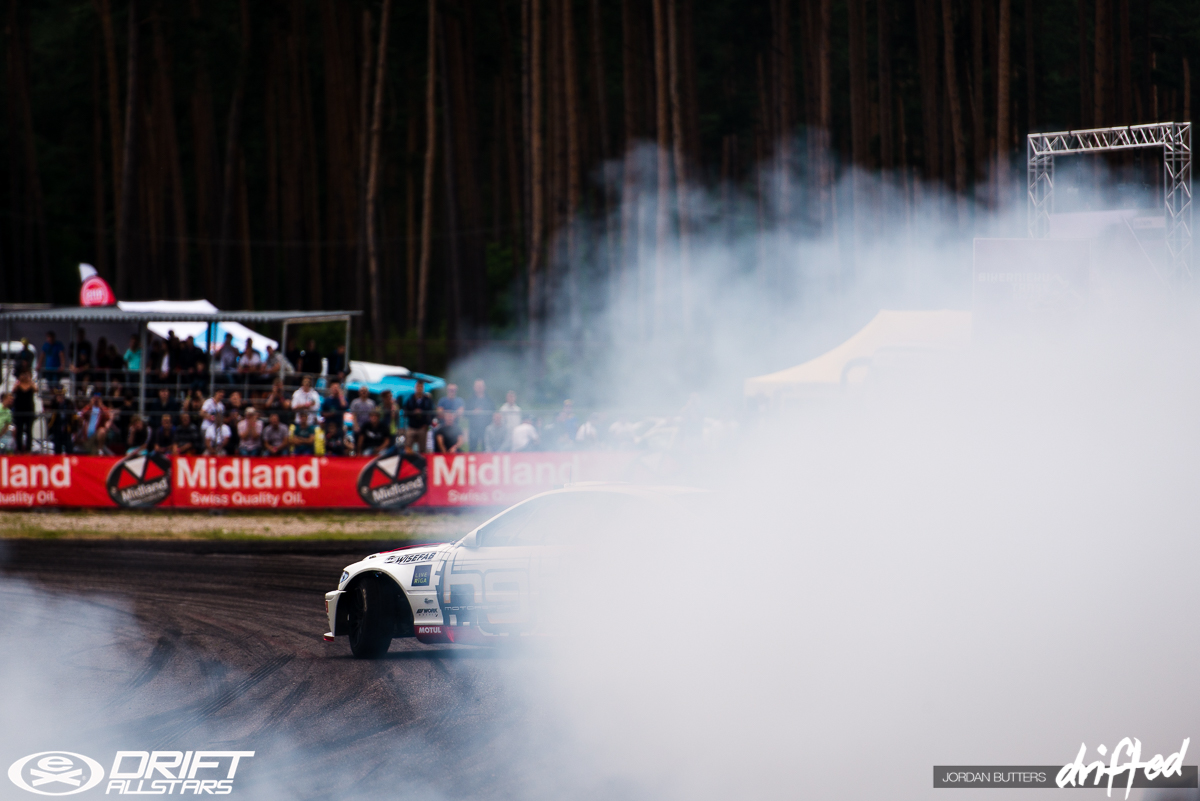 I despise the 'ice-skating with cars' analogy that gets banded around - I'd say its format aligns more with the likes of Red Bull X-Fighters.
An entertaining drift event should be a relentless attack on the senses - speed, smoke, noise, fire and emotion. That's what these people are here to see.
The Top 32 threw up some interesting surprises and, at this level of competition, fine margins count for a lot.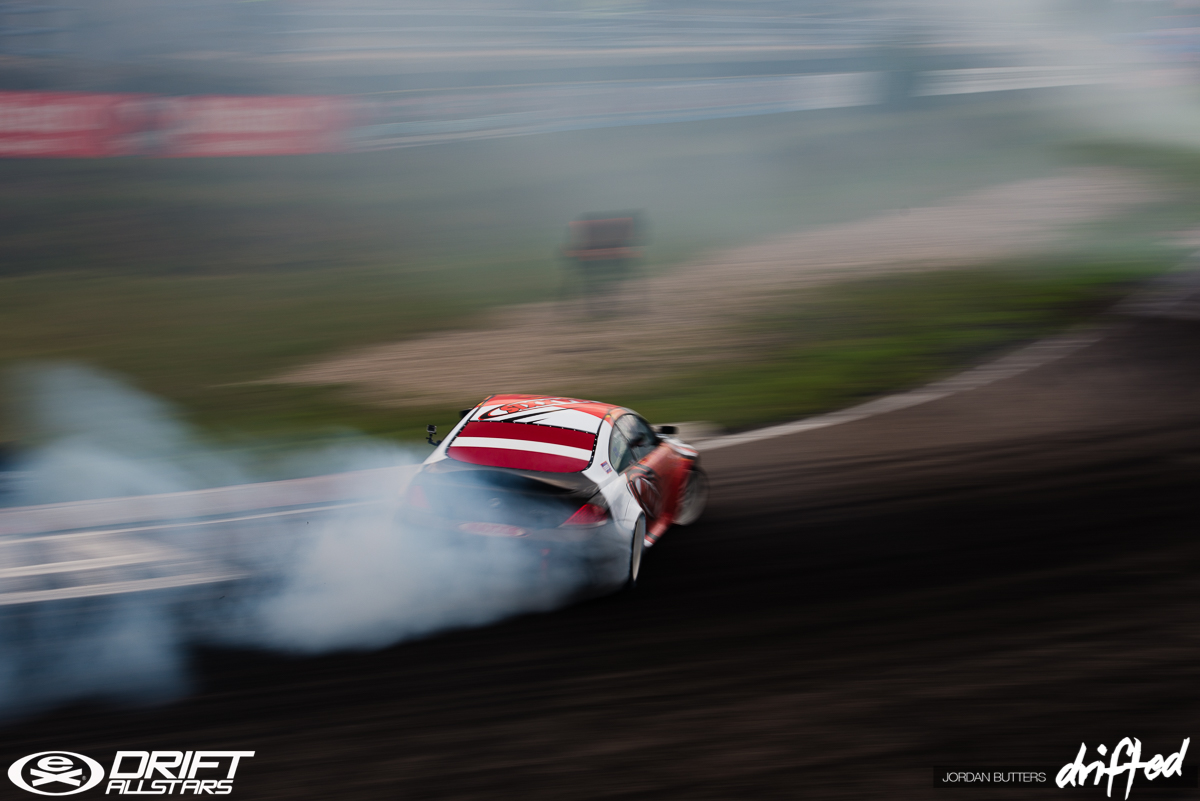 Latvian driver Ingemars Jekabsons entered too hard into turn one battling Dawid Karkosik, hitting the wall and damaging his twin turbo 6-series. Hasty repairs were made, but he couldn't do enough to progress through to the top 16.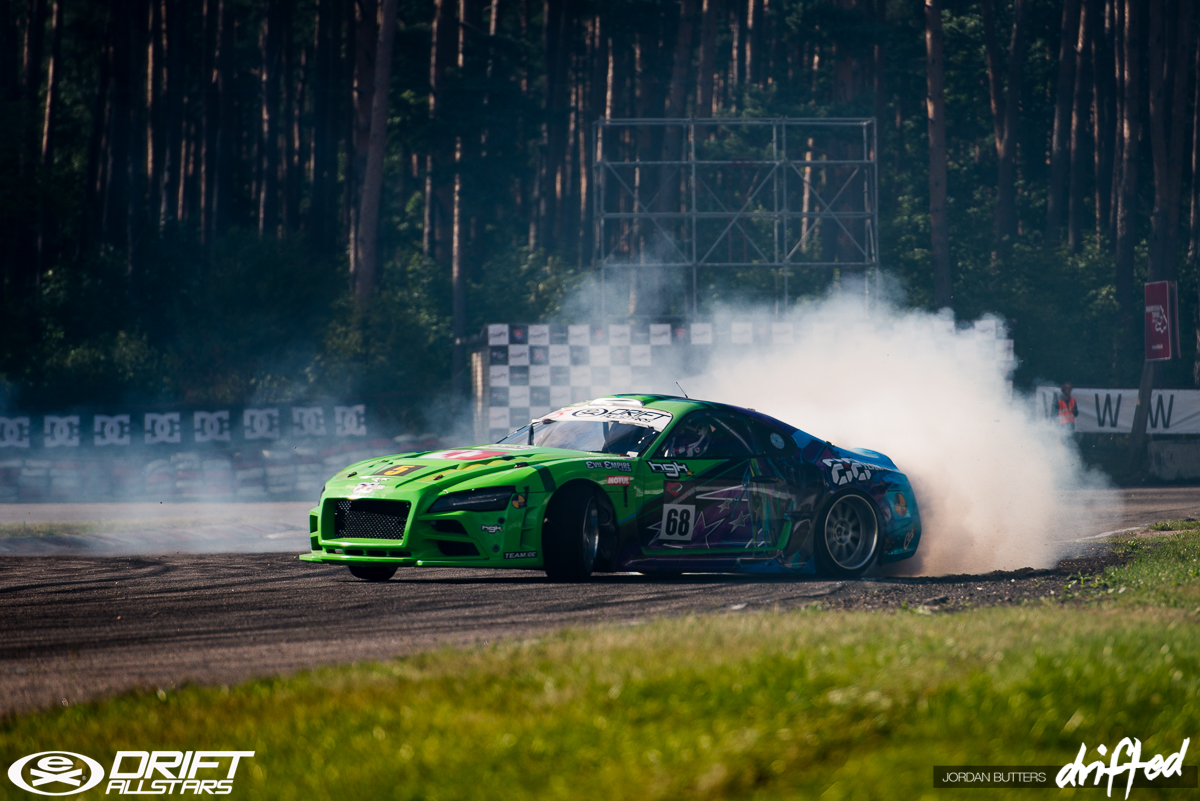 Sergei Kabargin's 800bhp Supra (I know, right?) always divides opinions, something which Sergei and HGK Racing aren't ashamed of.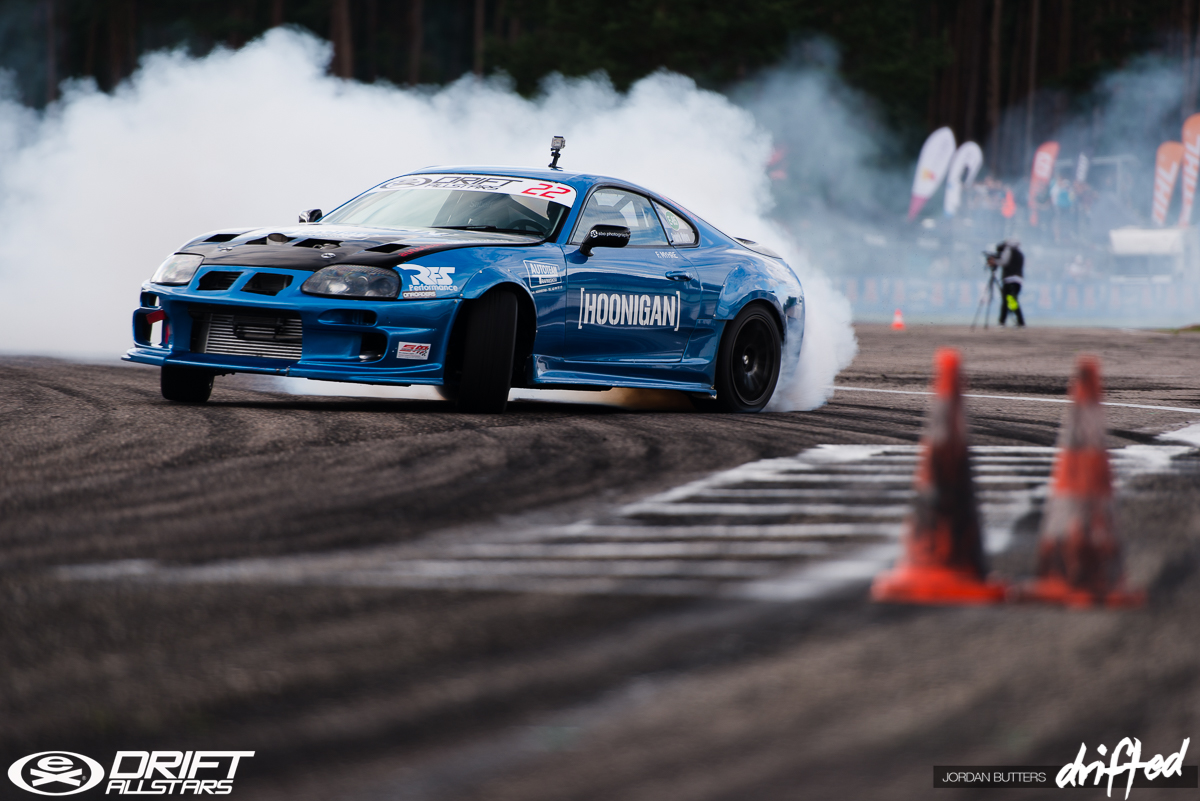 Sergei's Frankenstein creation does turn heads however, although controversy along wasn't enough to progress Sergei past the top 32 as he lost out to Fredrik Mhyre's more traditional-looking Supra.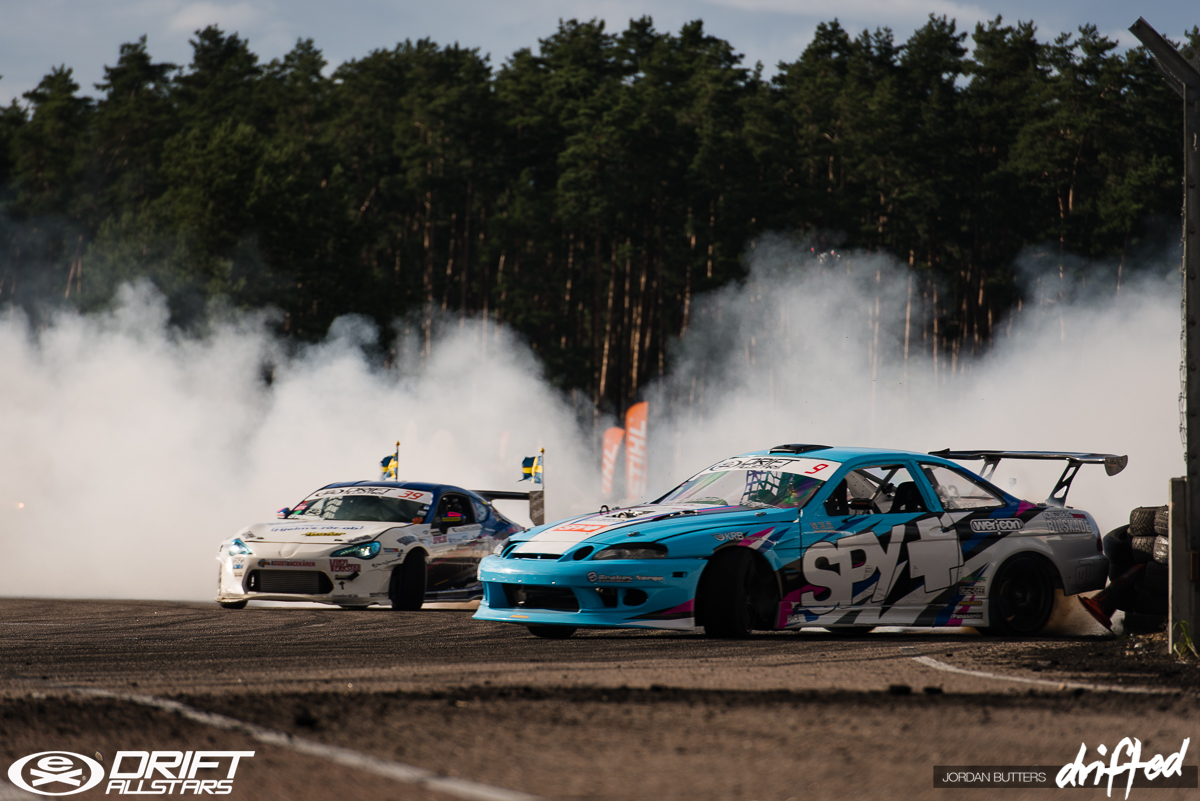 In an all-Scandinavian battle, Fredrik Øksnevad took on Sweden's Jens Stark Juntilla in his immaculate GT86.
Fredox brought with him a large contingent of Norwegian fans and supporters. In fact, I'm sure I saw more Norwegian flags than Latvian!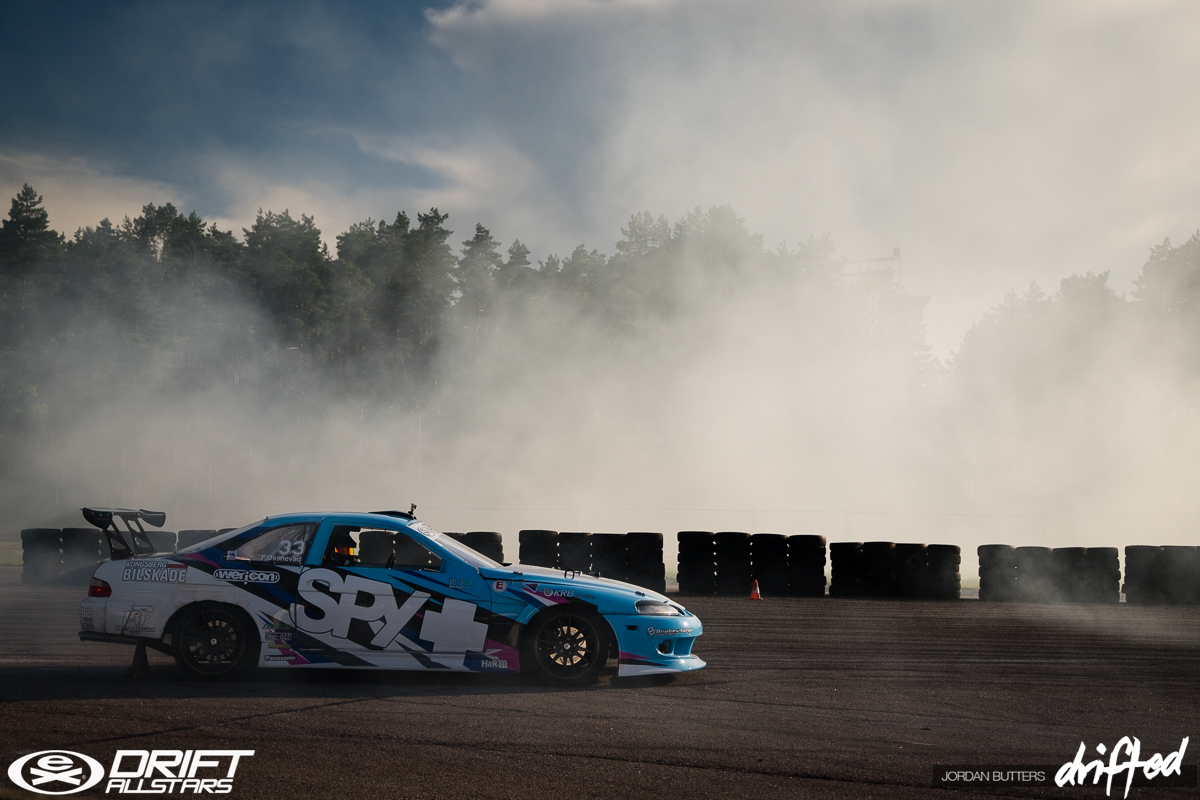 Øksnevad's Spy Optics Toyota Soarer is one of my favourite cars in the Drift Allstars line-up. Always immaculately prepared and looking the part.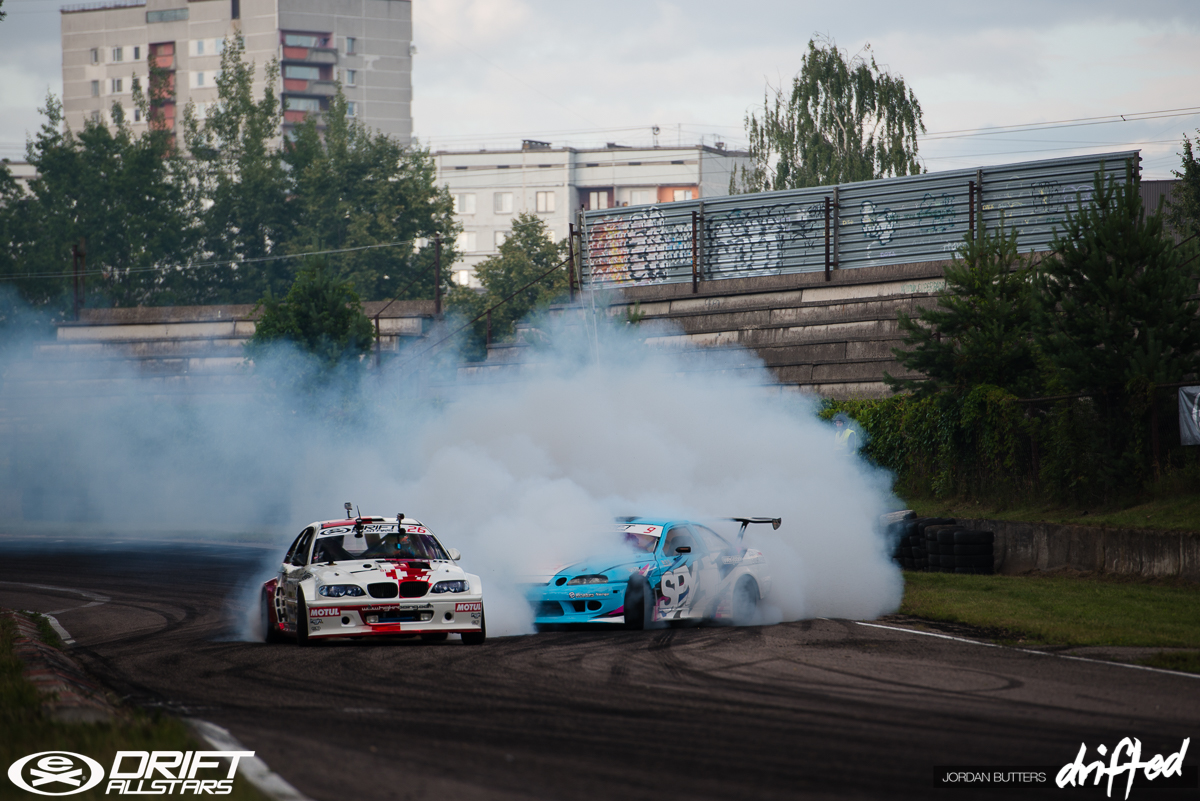 Fredox knows how to pilot it too, taking out Juntilla in the top 32. However, it would be HGK Racing's Kristaps Bluss who would end the Norwegian's Riga campaign.
This was Bluss's first event back in Europe since starting his 2015 Formula Drift campaign.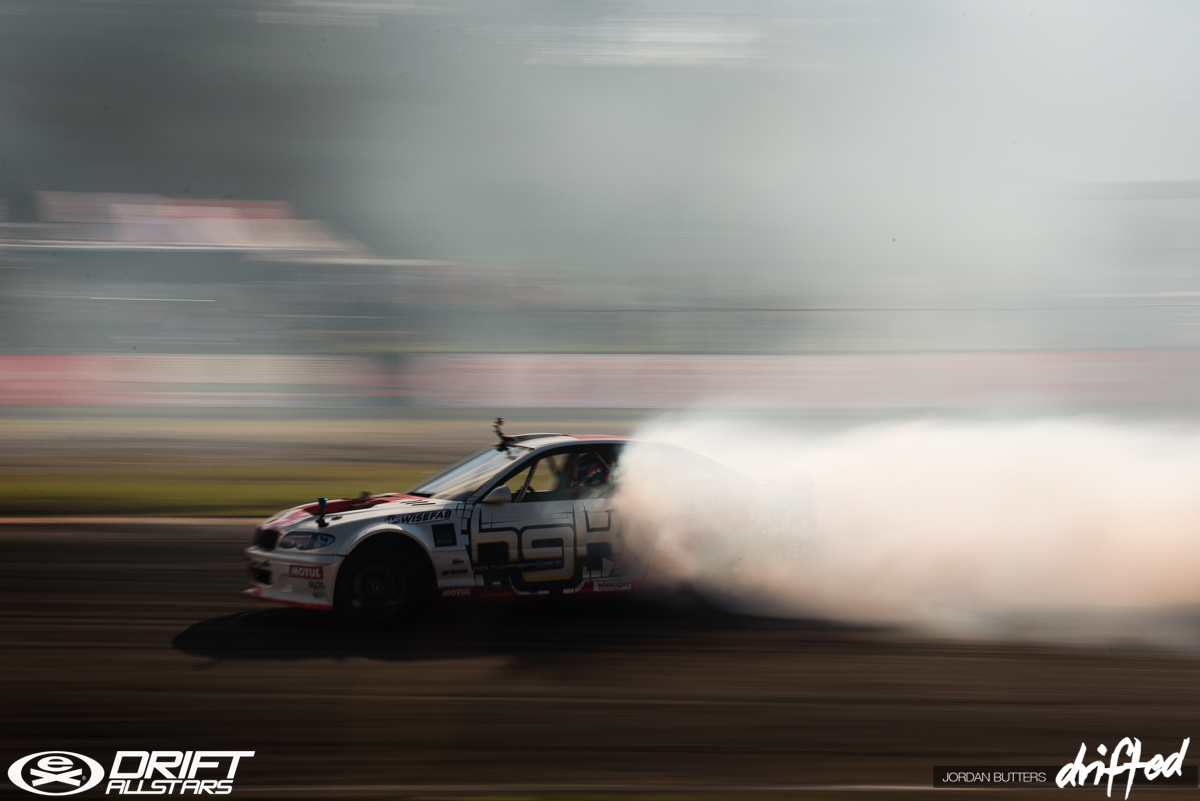 After winning the 2014 Latvian Drift GP, locals had high-hopes for Bluss, and their predictions looked to be correct.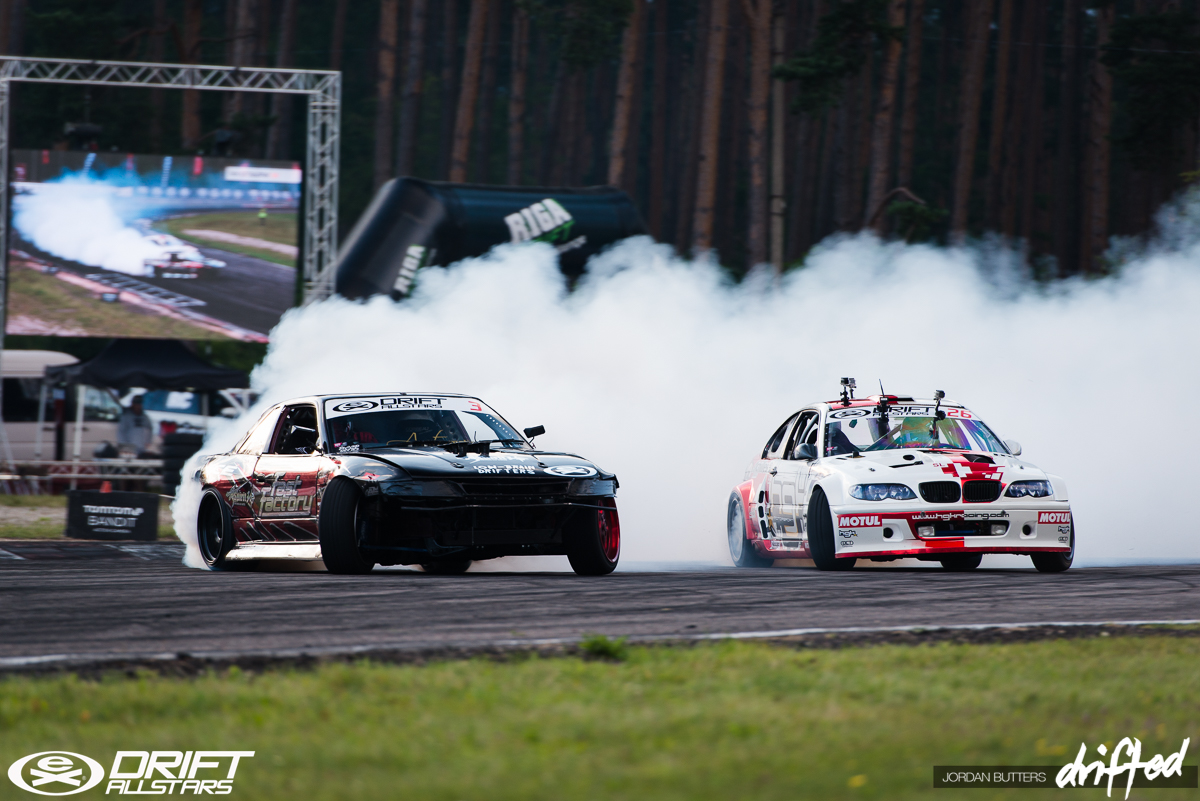 Up to a point anyway. After dispatching of Øksnevad, Bluss took on Australia's Luke Fink in the seen-better-days Low Brain/Fast Factory Odyvia.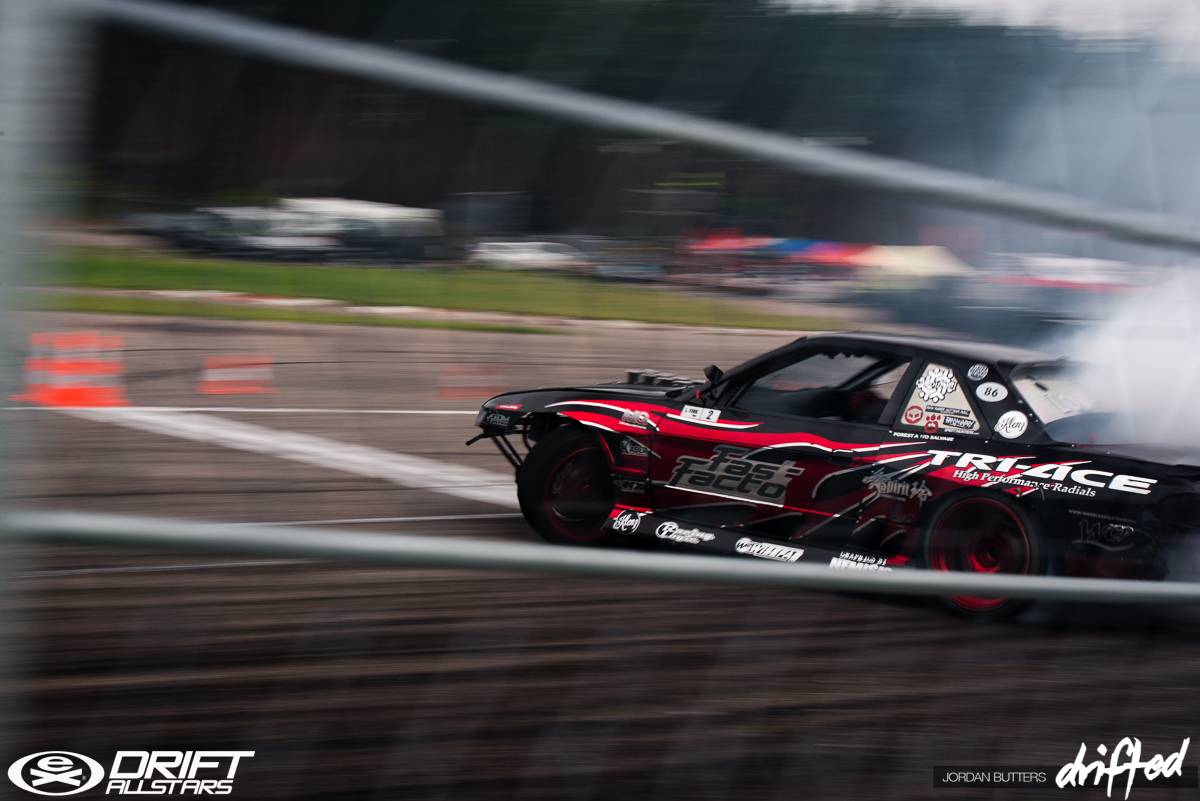 Despite Fink's best efforts, he couldn't stop the Latvian, progressing Bluss into the semi finals.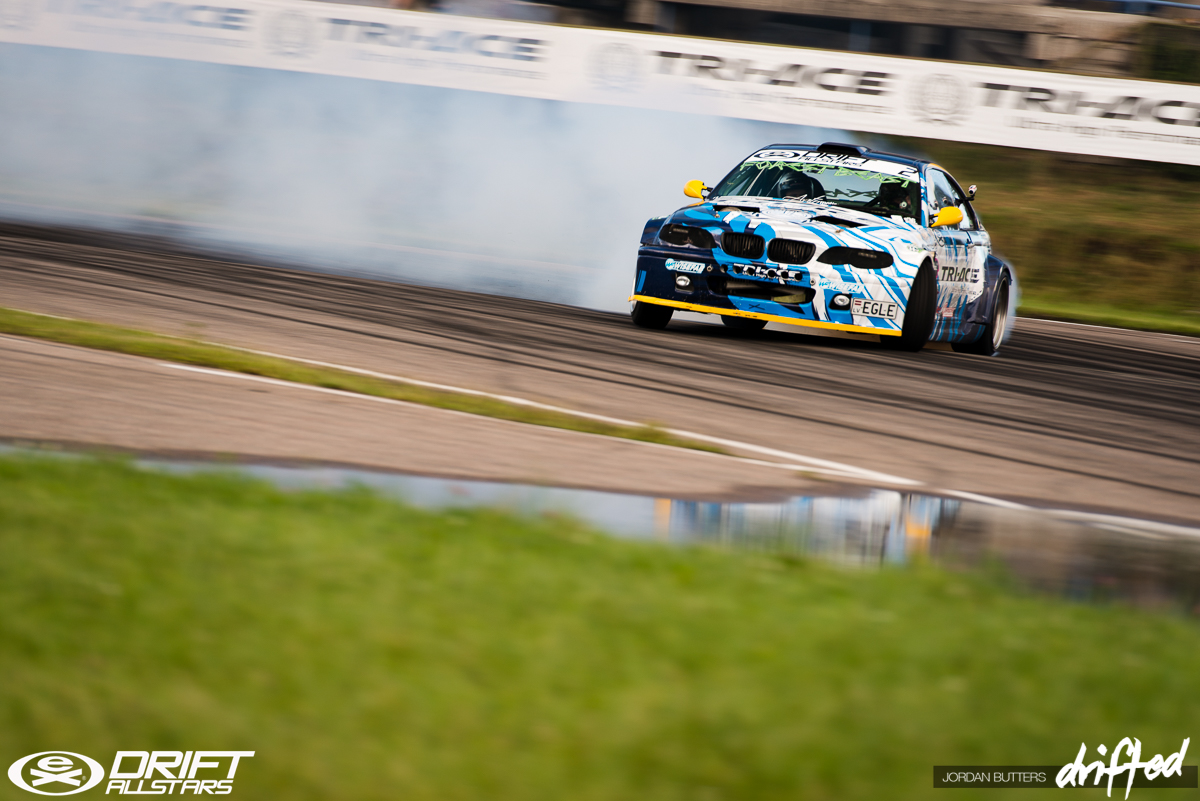 Another top Latvian driver, Biķernieku regular and fan favourite, Janis Eglite, was on incredible form. After his P1 in qualifying, he would make light work of Ismail Salih in the top 32, Ivo Cirulis in the top 16 and Dawid Karkosik in the great 8.
In one of the most electrifying battles of the day, Eglite would meet Bluss. The two top Latvian drivers had the crowd torn between them.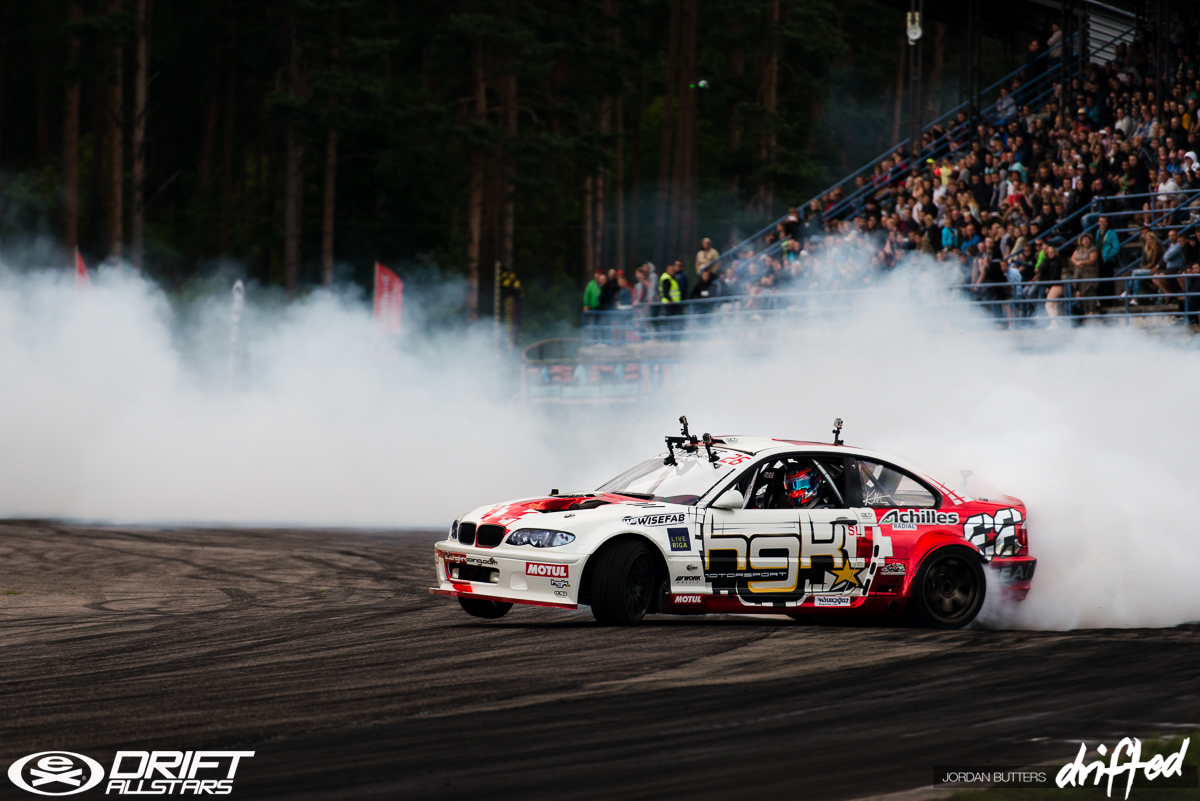 Whichever way it went, they would get to see a home town hero in the finals of the Latvian Drift GP. As dark storm clouds loomed above, Eglite forced Bluss into an error, the HGK Racing car clipping the apex and sending him into a spin. Eglite was in the finals.
James Deane's path to the podium was never going to be a simple one. Dennis Häggblom's S2000 found a new lease of pace in the top 32 after switching from road tyres to Tri-Ace track rubber. The nimble Honda stuck with the champion throughout, but Deane's chase run, as ever, was flawless.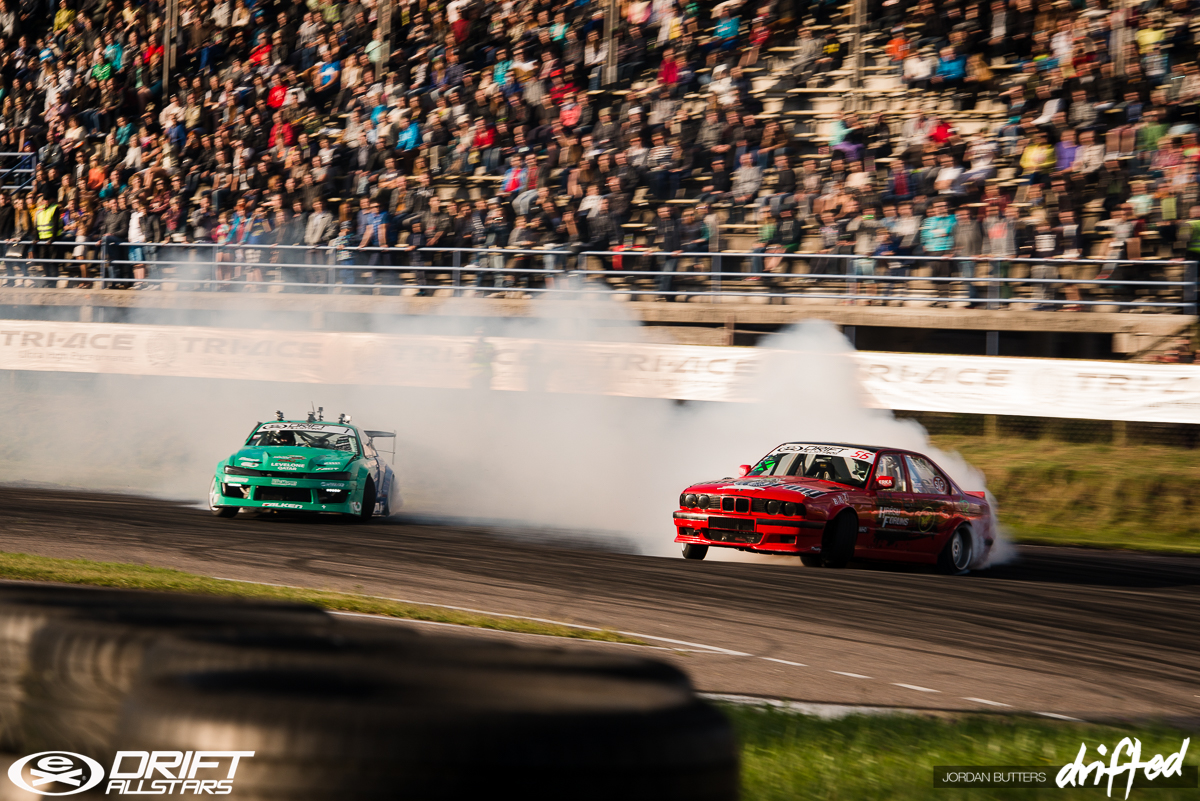 Deane's next opponent would be Eriks Ulass, who had previously and unexpectedly knocked out Drift Allstars regular Juha Pöytälaakso in the top 32. Ulass's pace was impressive, but Deane's consistency paid dividends again.
The Irishman would meet Budmat's Piotr Wiecek in the great 8.
In a headline battle, Wiecek and Deane went toe-to-toe, but whatever Wiecek did, Deane did just that bit better. He would meet Bartosz Stolarski in the semi finals.
Just as Deane and Stolarski lined up to start the heavens opened. It was only going to be a short, sharp shower, but it was enough to turn the track into an ice rink.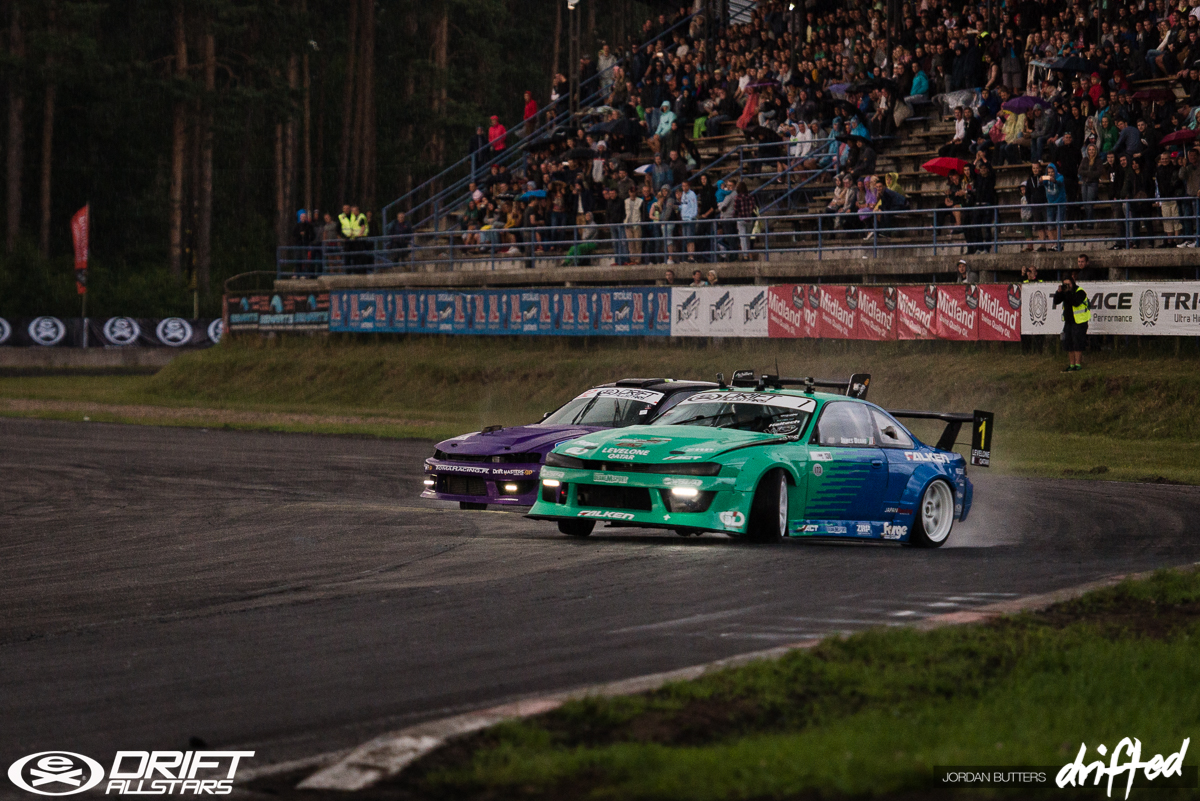 Irish drifters are raised on rainy days, and Deane's wet-weather driving experience showed from start to finish, executing an inch-perfect run, albeit at a more controlled pace than in the dry.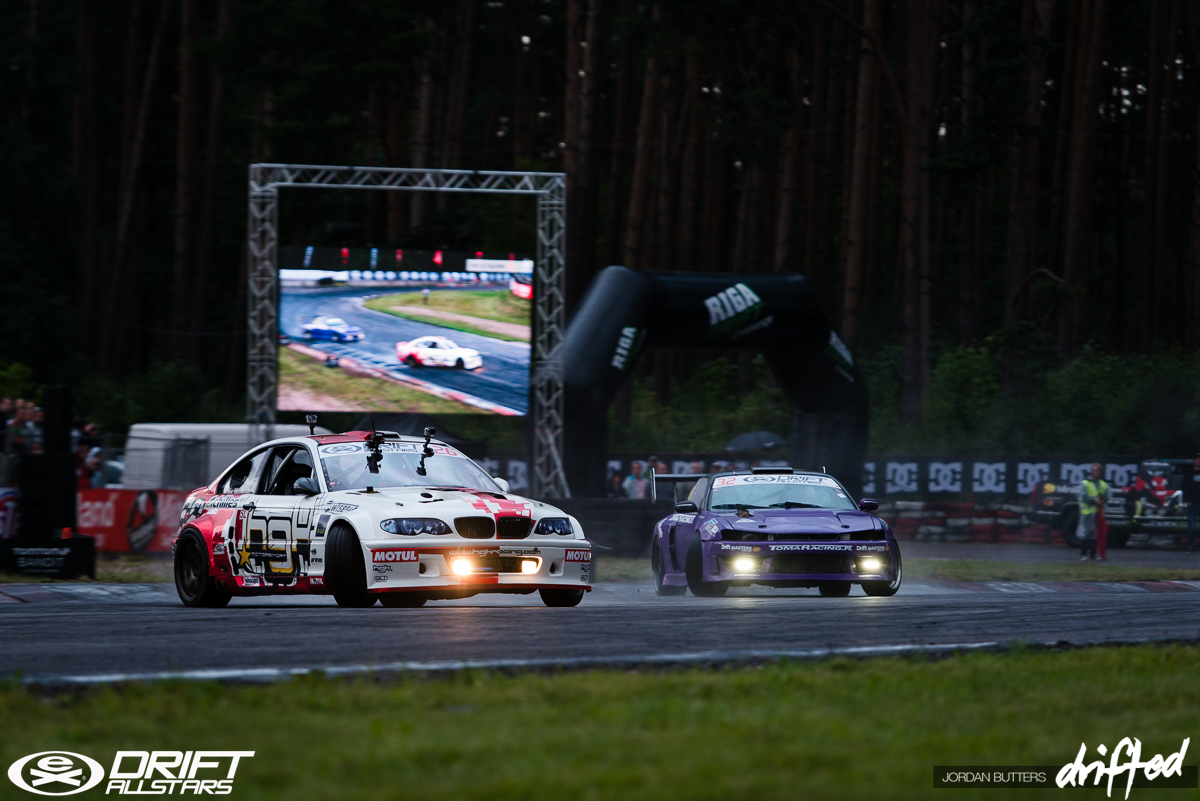 The battle for third place between Stolarski and Bluss looked like a difficult one to call, as both drivers made the expected errors and corrections under the new conditions. Ultimately, a straighten by Bluss under transition was enough for Stolarski to take the bottom step of the podium.
As Deane and Eglite took to the start line, it was hard to tell who the crowd were rooting for more. Eglite's name received an impressive ovation, but the Latvian fans seem to love seeing James drive, so the noise was equally as loud when he was announced. As I set myself up to shoot the finals Eglite suddenly ripped into view. He had pulled an impressive gap on Deane, but the Irishman was still within acceptable proximity of the Latvian.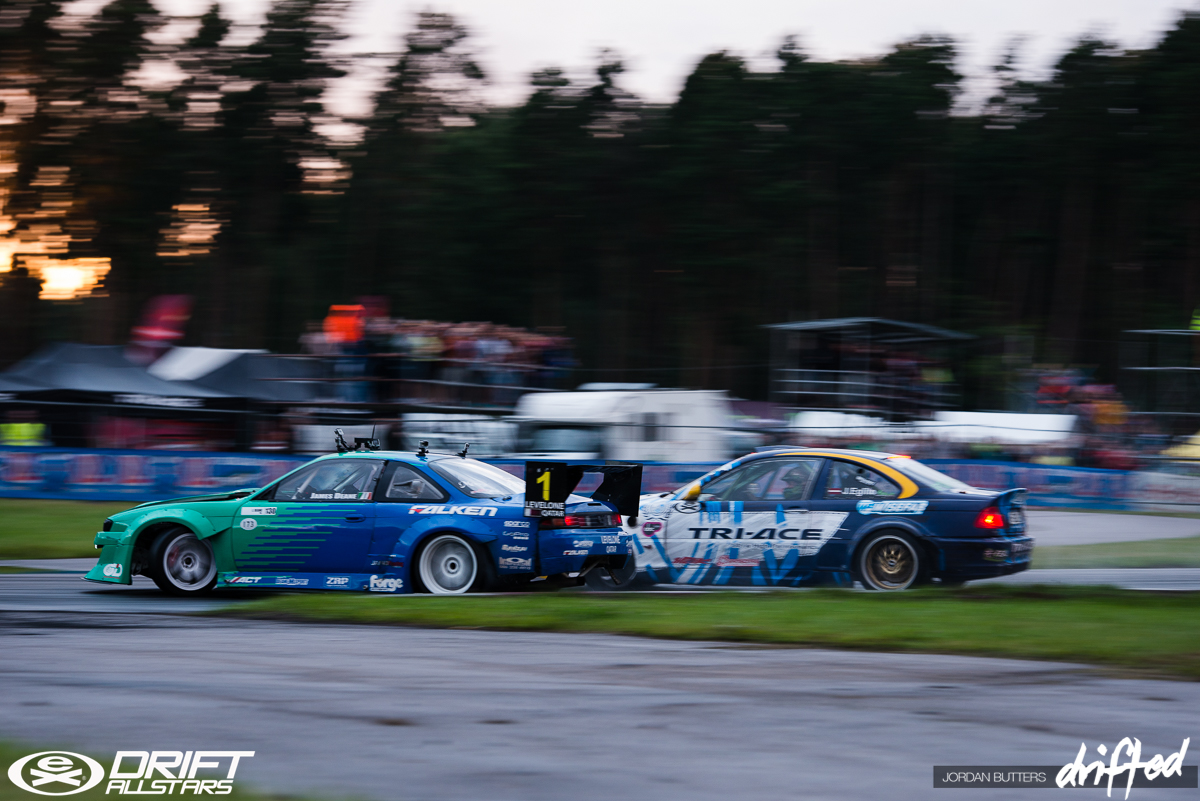 Run two and it looked close. Eglite was on Deane's bumper, but looked to make several corrections throughout the course. I couldn't call it.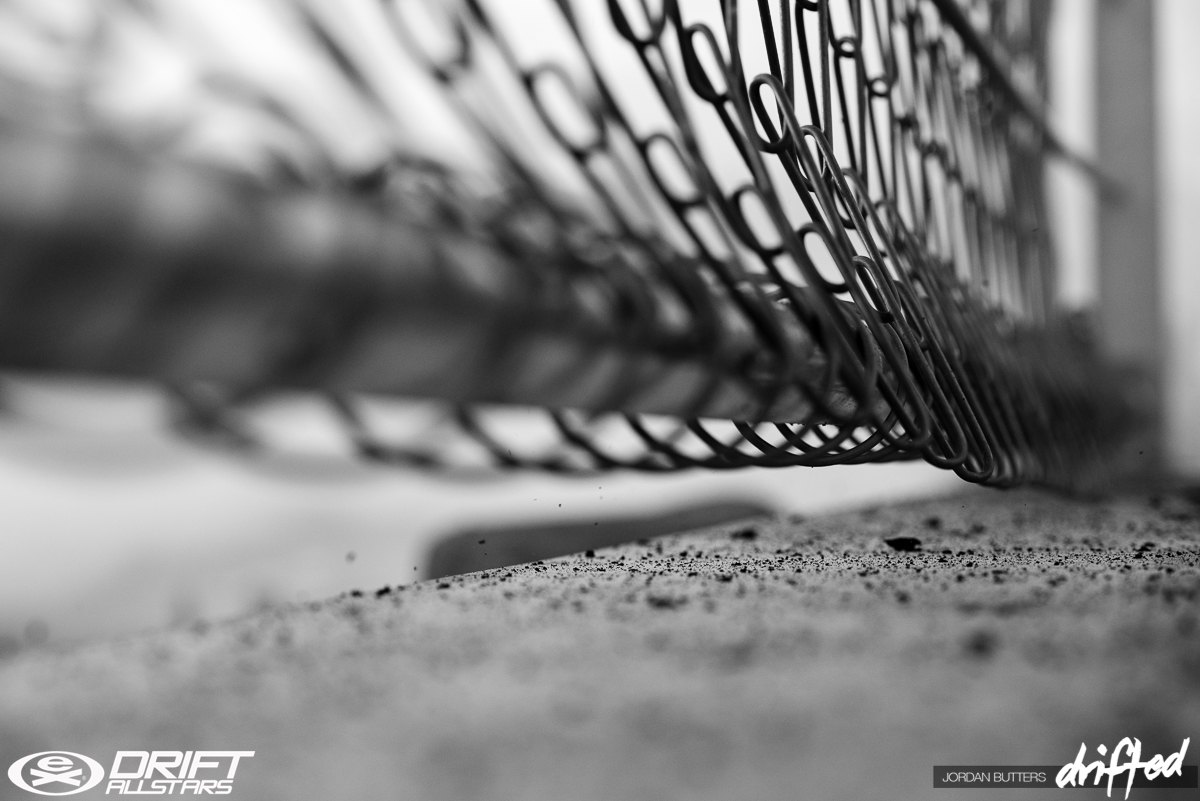 The judges however, with the benefit of slow-motion livestream replays, had reached a decision. Eglite's mistakes were deemed a more severe error than James' proximity. Drifting is full of these tough-to-make decisions, but the huge improvement in technology over the last few years has made the judges lives incomprehensibly easier.
For the second event running, James Deane propels himself further into the championship lead by claiming the top step of the podium!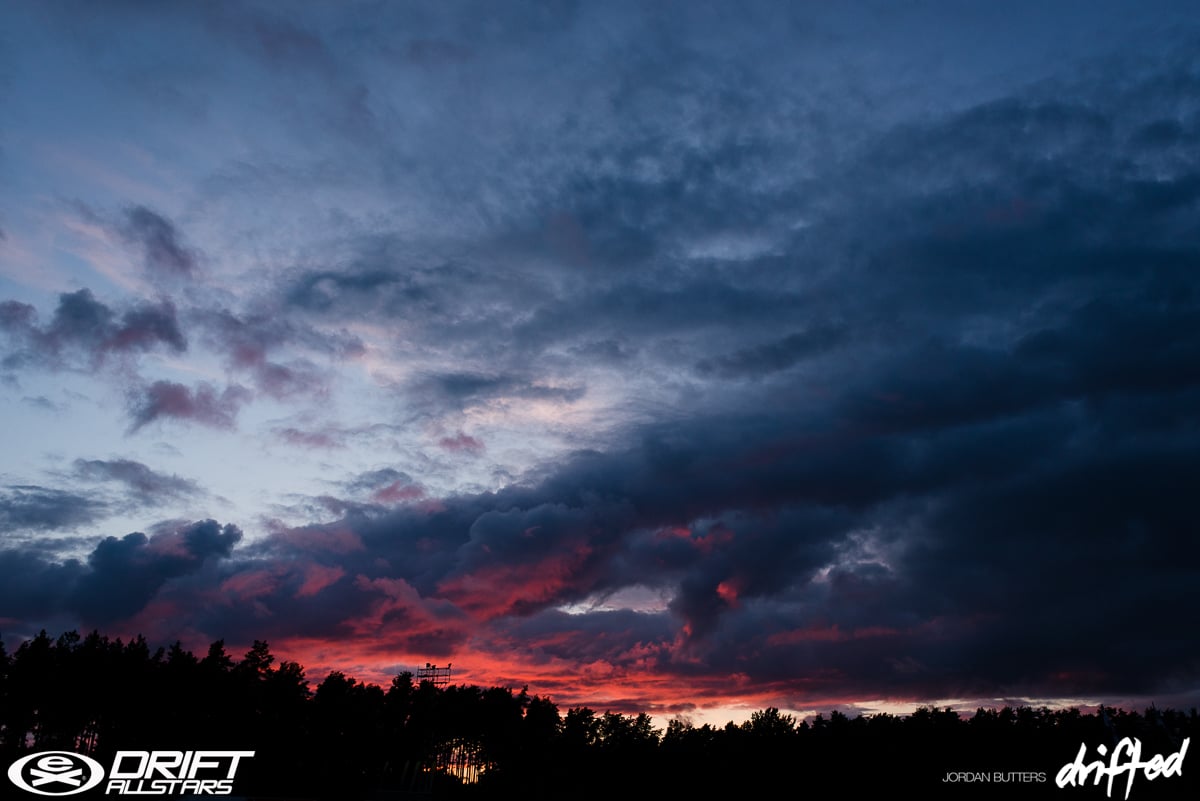 As I write this, I'm sat yards from the edge of the track at Laitse Rally Park near Tallinn, Estonia preparing for round 4 of the 2015 championship and the Estonian Drift GP. The event kicks off on Friday, with the top 32 taking place on Sunday. You can watch the Extreme Drift Allstars livestream here: http://live.drift-allstars.com/
Images & words: Jordan Butters