EVENT: Extreme Drift Allstars 2015: The Estonian Drift GP R4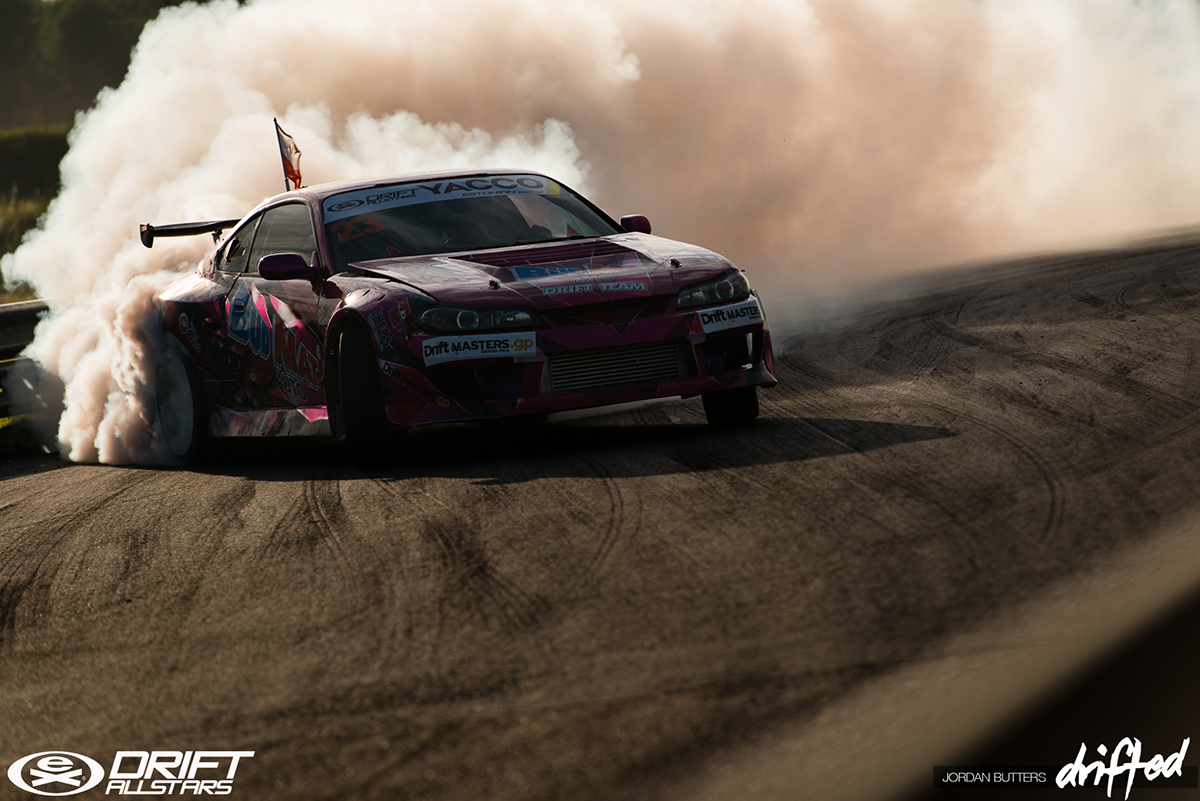 Laitse Rally Park, Estonia, has a lot to answer for. Last year's Drift Allstars Estonian Drift GP at the very same circuit bore witness to one of the most destructive drift events in recent times.
The vexing combination of a fast initiation followed by a brief four-wheel lift-off against an immovable concrete wall saw several top-level cars meet their demise.
The positioning of such a high-risk event is interesting too – being the fourth round of six, Estonia sets the points table up for the final run down to the championship.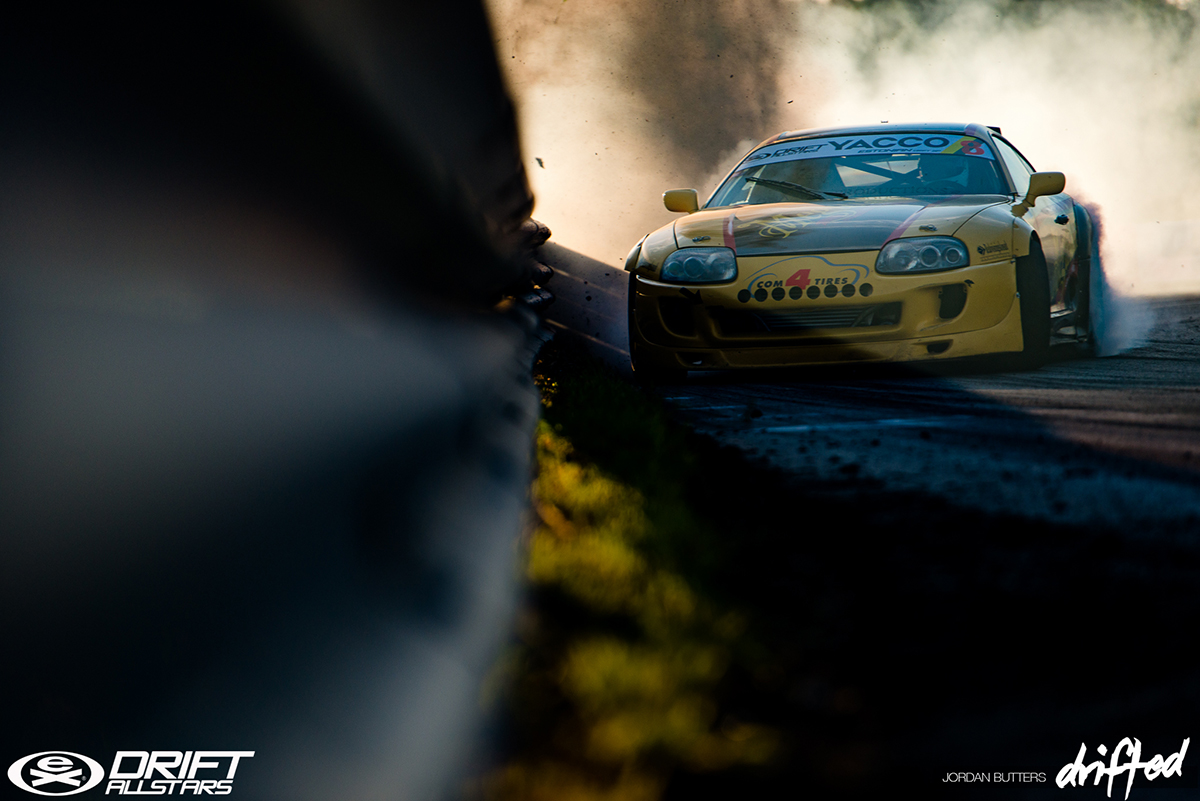 Of course, if your car doesn't make it out of Estonia alive then it's more damaging to your championship hopes than a poor performance.
This is why Laitse Rally Park differs from most other circuits in the calendar.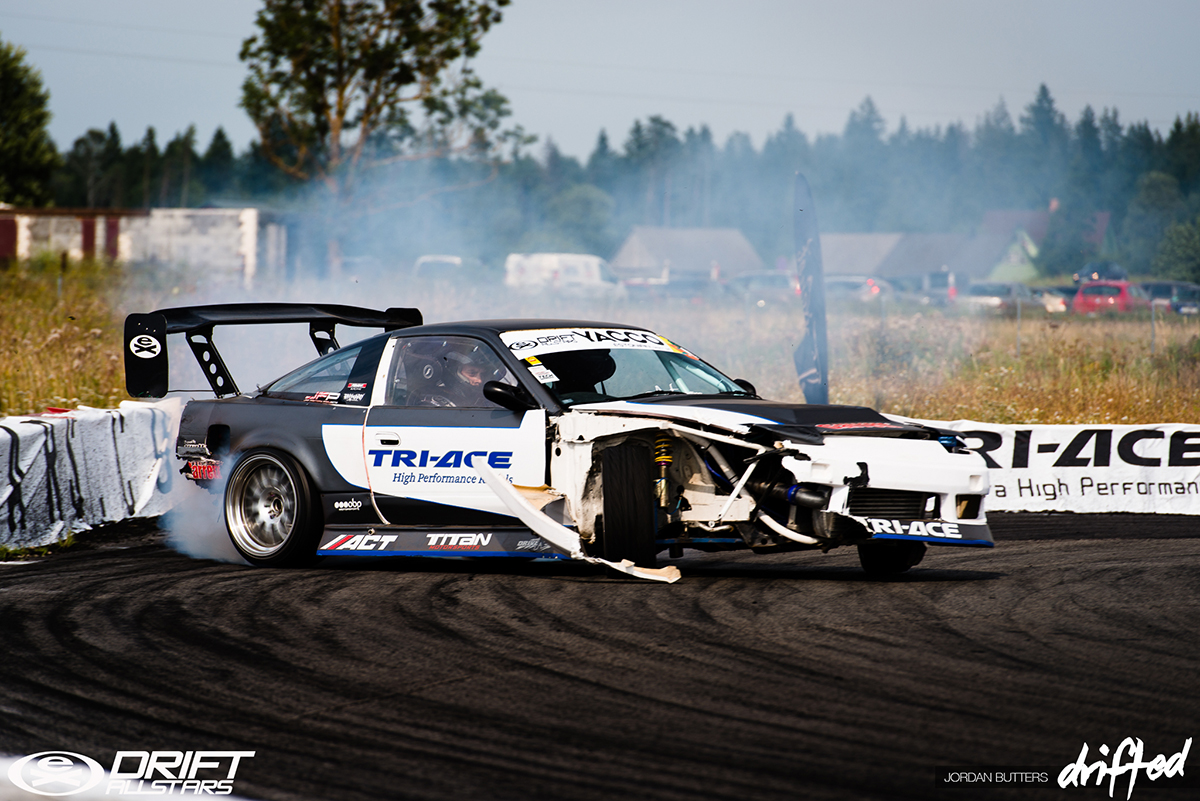 Drivers teeter the fine line between pushing hard and respecting the circuit.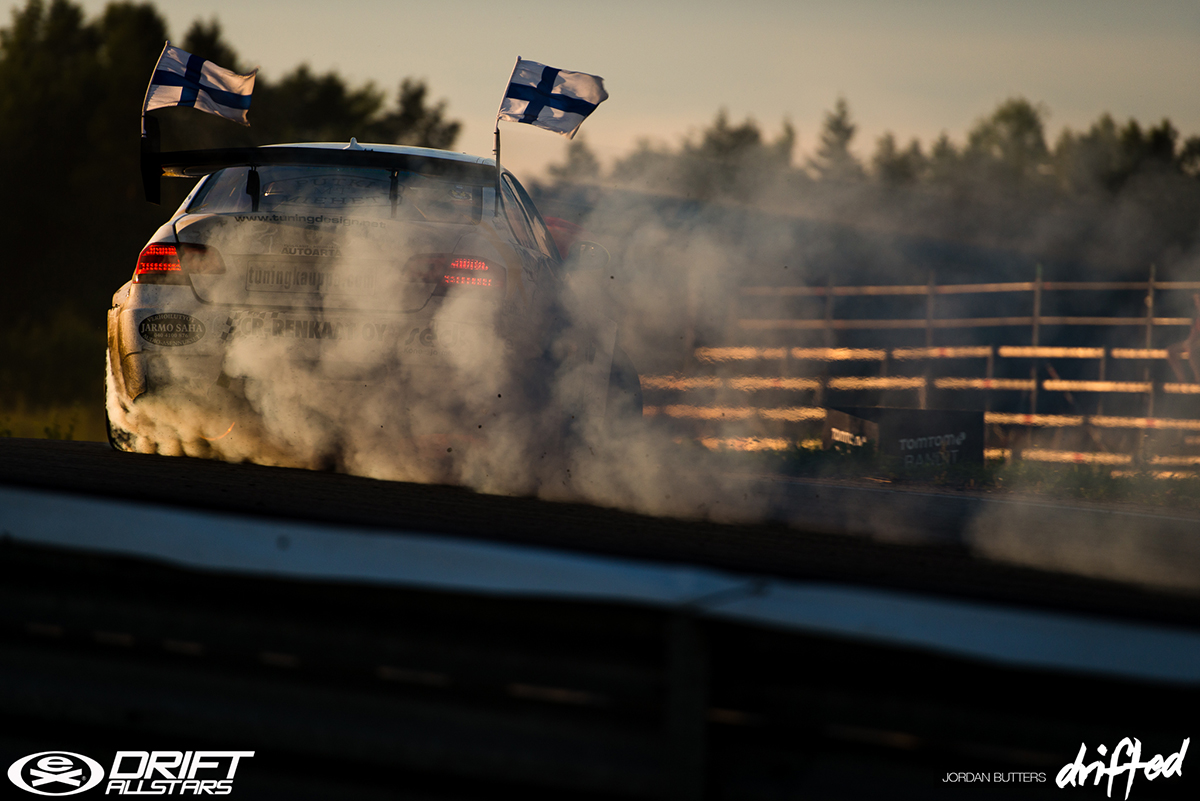 At any other event the drivers would be going all-out from start to finish – you know, the kind of no fear attitude that has become synonymous with Drift Allstars events.
At the Estonian Drift GP however there's an air of caution. The margin for error between pushing to the limit and totalling your car is slimmer than ever.
This does of course leave the door open for those willing to push that bit harder and take risks to further their chances.
Latise's layout is fast, challenging and unforgiving. Ready to take a lap with me?
As the flag drops you accelerate hard towards a completely blind crest and the first clipping point…
The first challenge is to initiate as you rise over the crest, gaining proximity to the first outer clipping point – this just so happens to be a solid pit wall.
For many, this is the sketchiest part of the whole experience, as the car is lofted into the air while rotating sideways. As you can imagine there's no room for error here – over rotate and your rear quarter meets the wall – hit too hard and the front end is pulled in too as you land, smashing you into wall and almost certainly ending your event.
Of course don't rotate enough and you might find your front end meeting the wall first. Get it just right, however and it feels incredible.
A sweeping left-hander follows as you place the rear end against another clipping point.
Before a sharp uphill transition over the crest of another hill. Once again the suspension is unloaded, making the car susceptible to spinning out.
Keep a hold of it and its time to lock on to the next clipping point, half way along that wall just there and around a steady, smooth sweeper.
Slightly more forgiving than concrete, but it'll still leave a mark – armco awaits as you push towards the outside of the circuit and another rear clip.
A quick transition across the track and scrubbing off a load of speed sets the car up for the final bend…
A push across the inside of the right-hand apex up a steep bridge towards a final rear clip and the finish line.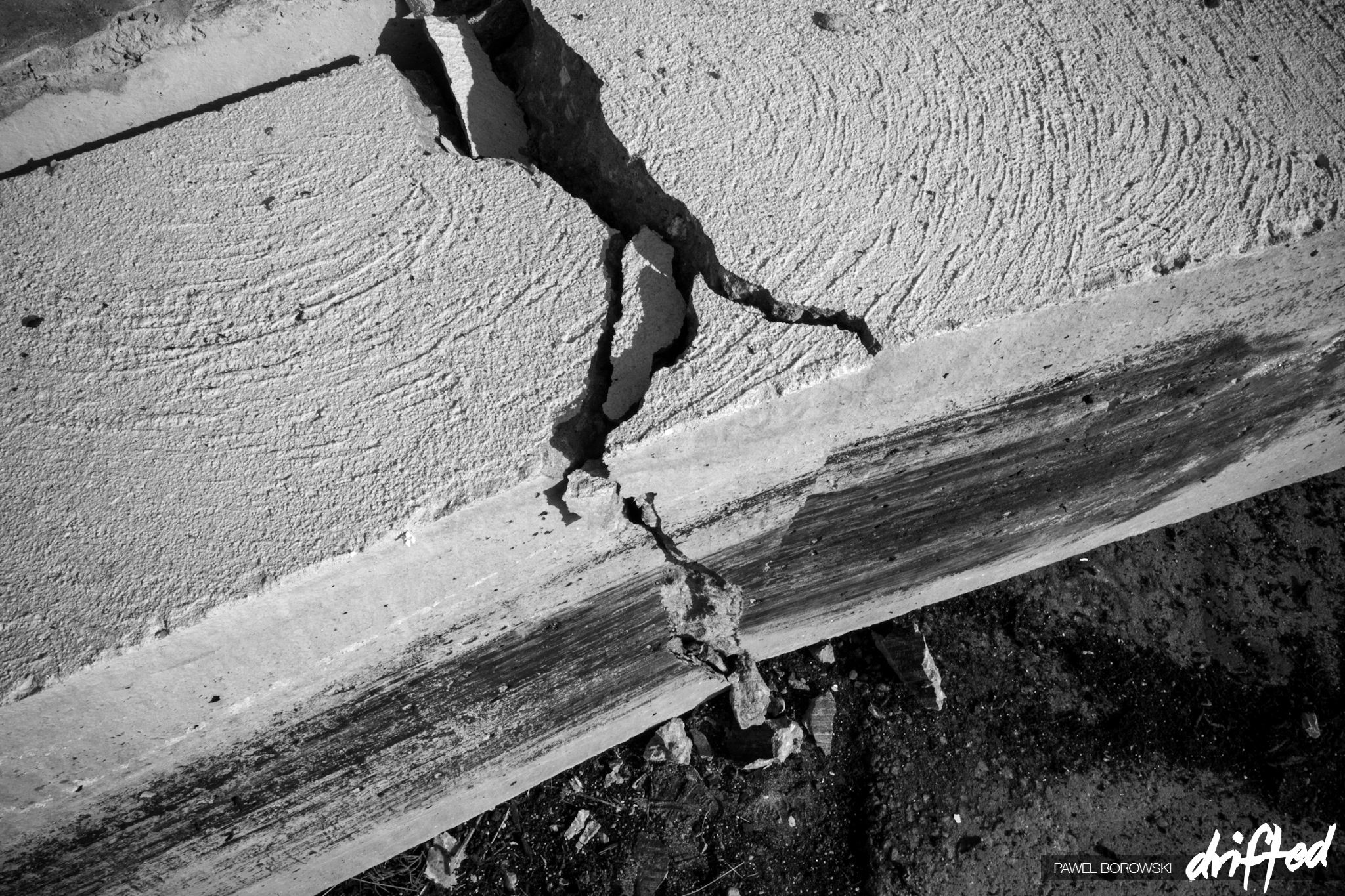 There's a lot to be said for facing your demons in Laitse. Last year Joachim Waagaard demolished his LS-powered Mazda Rx-7 on the very same first initiation.
Back for 2015 with a fresh build – a BMW M4 chassis no less – I half expected to see Joachim out for a Sunday drive, and who would blame him?
Your first year in a brand new build and you find yourself launching it over the same crest, against the same concrete barriers to wrote off your old car. Joachim had the ultimate sick note.
He chose not to cash it in however, pushing just as hard in practice and qualifying as everyone else.
Sadly Joachim's car developed clutch problems going into the top 32, and his team were unable to repair the car in time.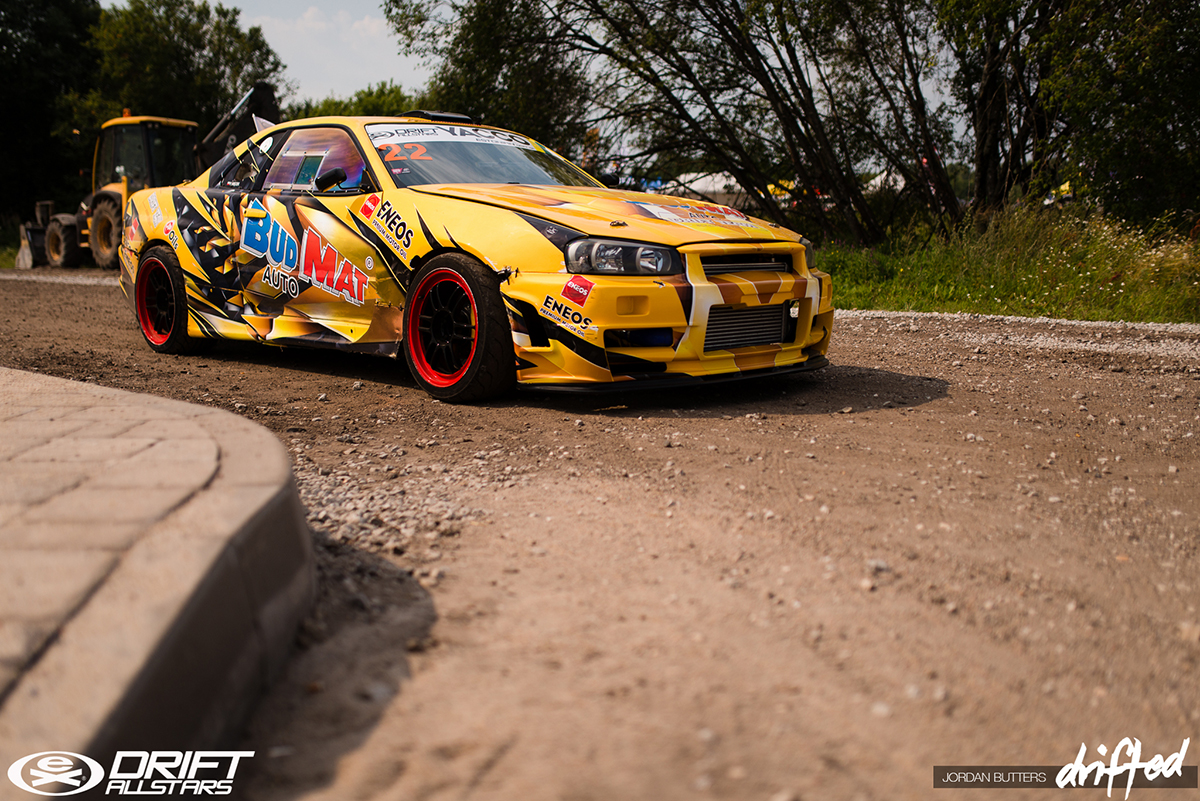 Budmat Auto's Piotr Wiecek did however meet the wall during qualifying this year, however the Budmat team worked relentlessly through the night, stripping Piotr's spare S14 chassis for parts. The image above was taken after the near corner of the car has been repaired – it's in better shape than many of the cars that hadn't been crashed!
Sadly championship contender Fredrik Sjodin from Sweden wasn't so fortunate.
A big initiation during practice just minutes before the top 32 saw Fredrik make contact with the wall hard.
By the time it came to a stop it had spun a full 180 degress and suffered some serious damage.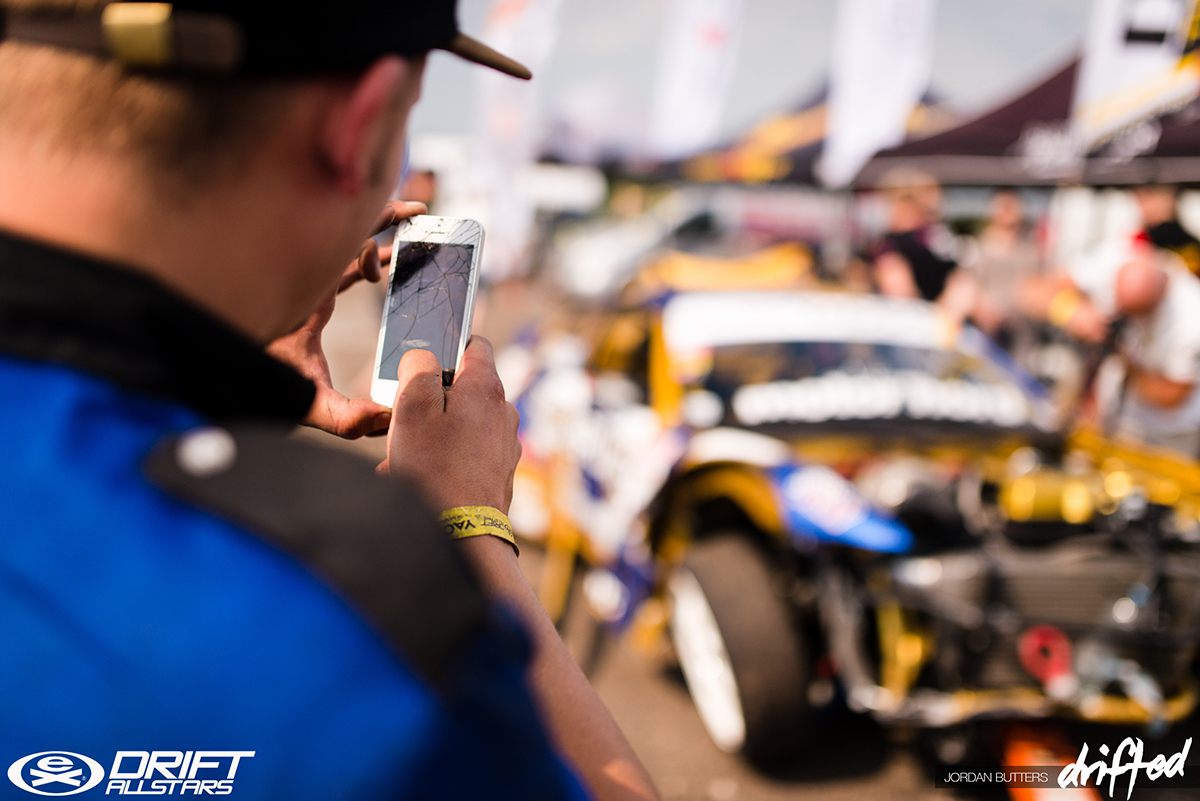 As Fredrik's team assessed the damage in the pits, there was talk of them trying to get the car fixed, however Fredrik made the decision to throw in the towel this time.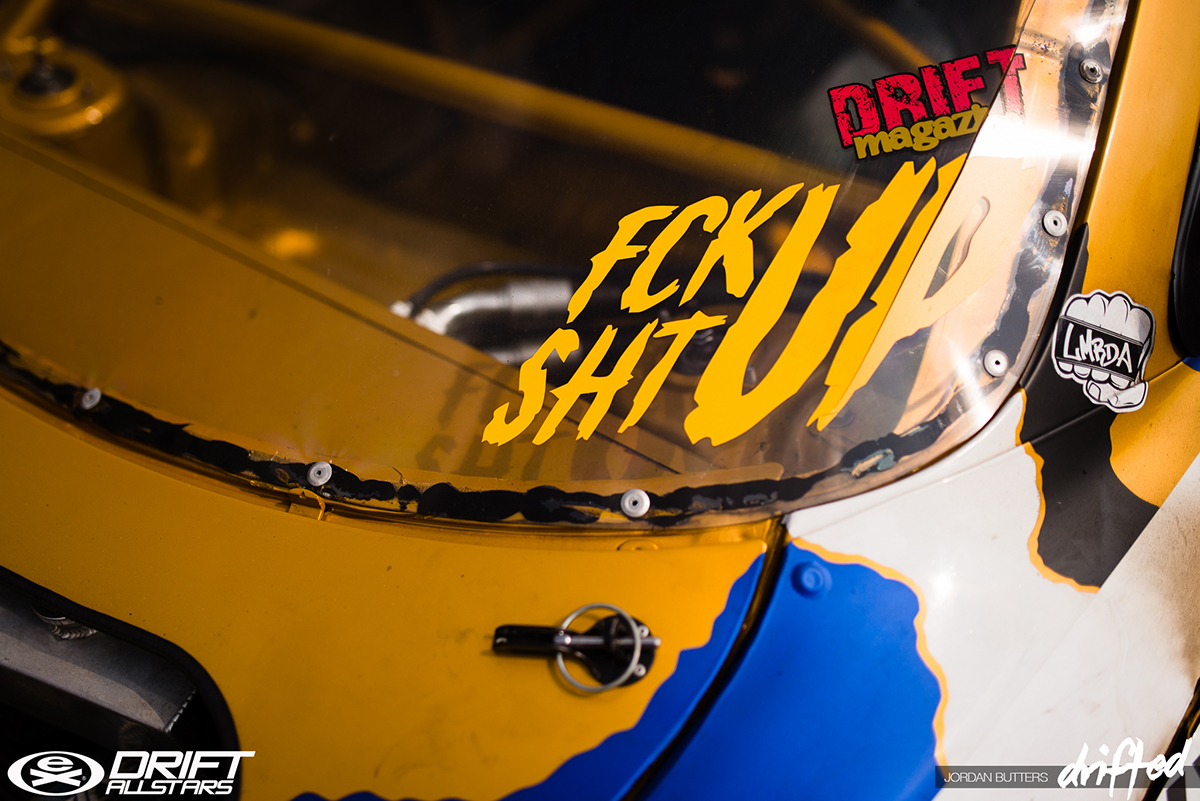 I've already heard talk of a new build from the Sjodin camp, so hopefully we'll see Fredrik back in action soon.
Guest driver Odi Bakchis took time out of his Formula Drift schedule to throw his hat into the ring for the Estonian Drift GP.
Piloting a beautifully-prepared HGK Racing built Wisefab-equipped and LS-powered PS13, Odi certainly had a task on his hands as the Drift Allstars regulars were out to prove a point.
Qualifying took place during the 'golden hour' on Friday evening.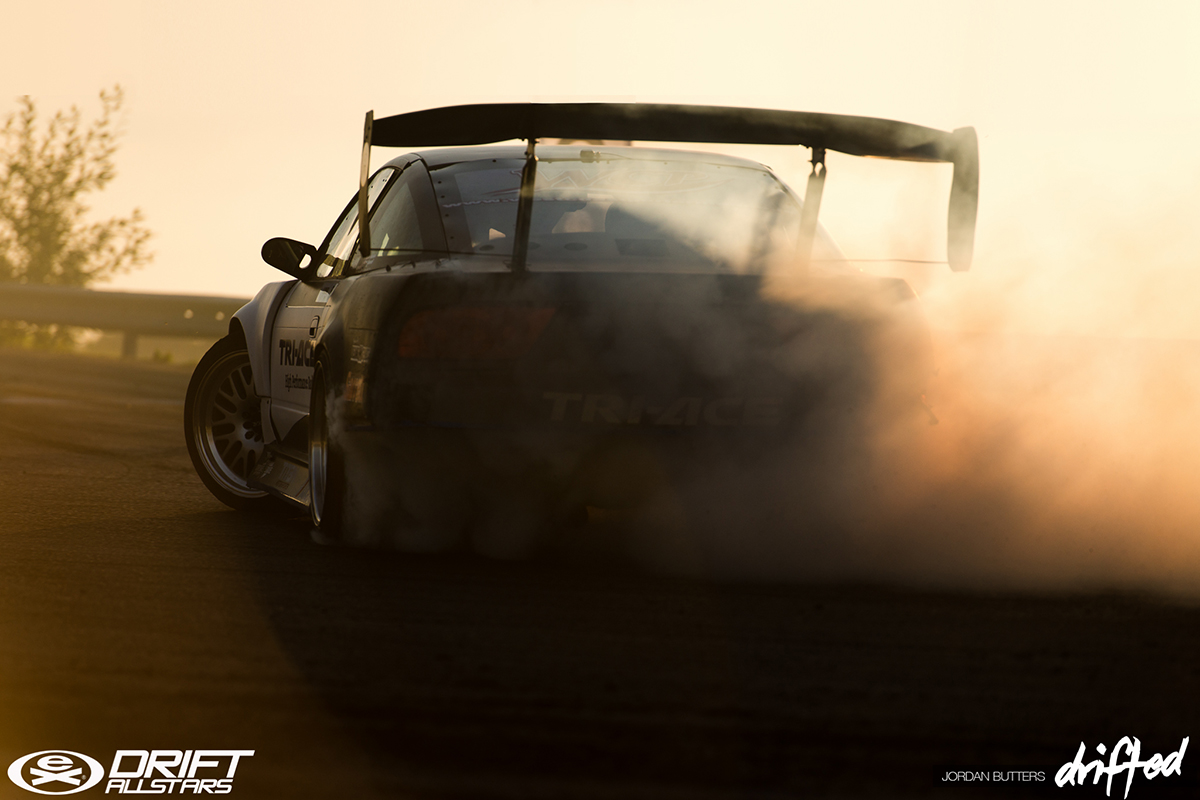 Ask any motorsport photographer and they'll tell you that this is the precise time of day when all race events should be held.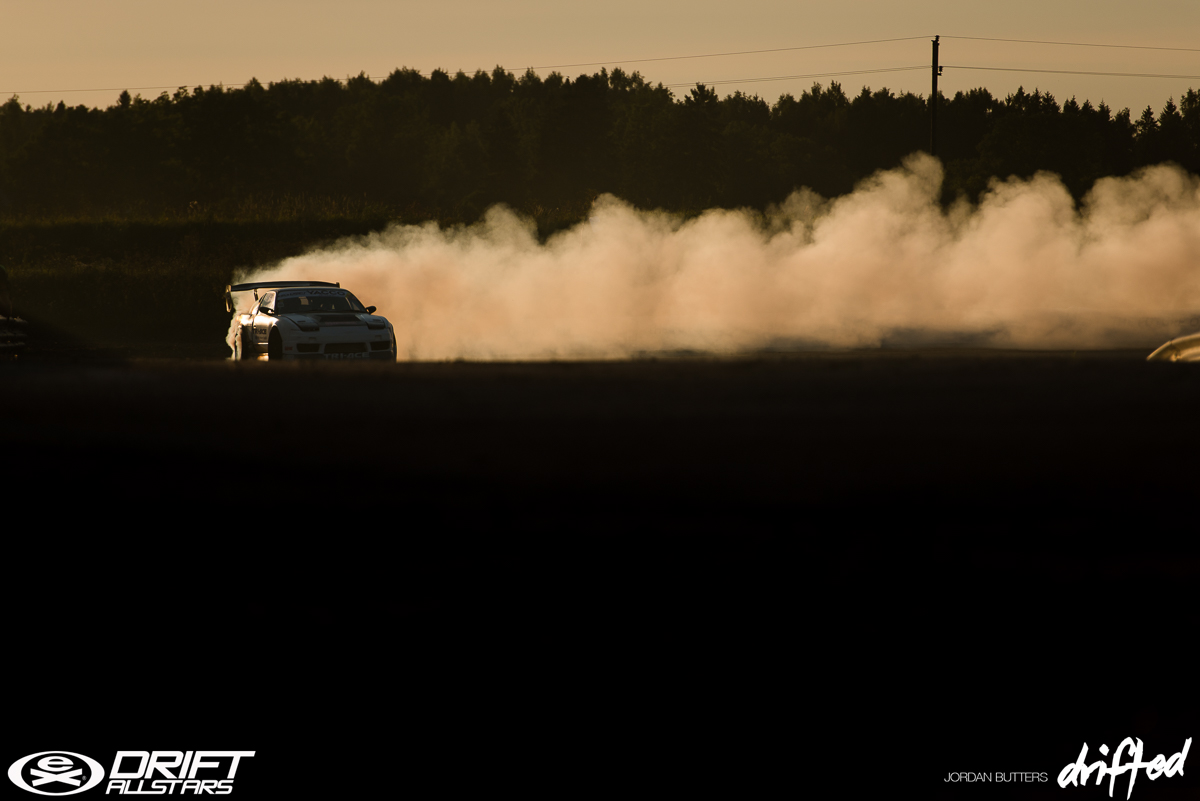 It's the most photogenic time of day and thankfully the Estonian sky put on a hell of a show for us.
As the low, warm light cast long shadows across Laitse Rally Park, the Drift Allstars pros battled it out to form Saturday's running order.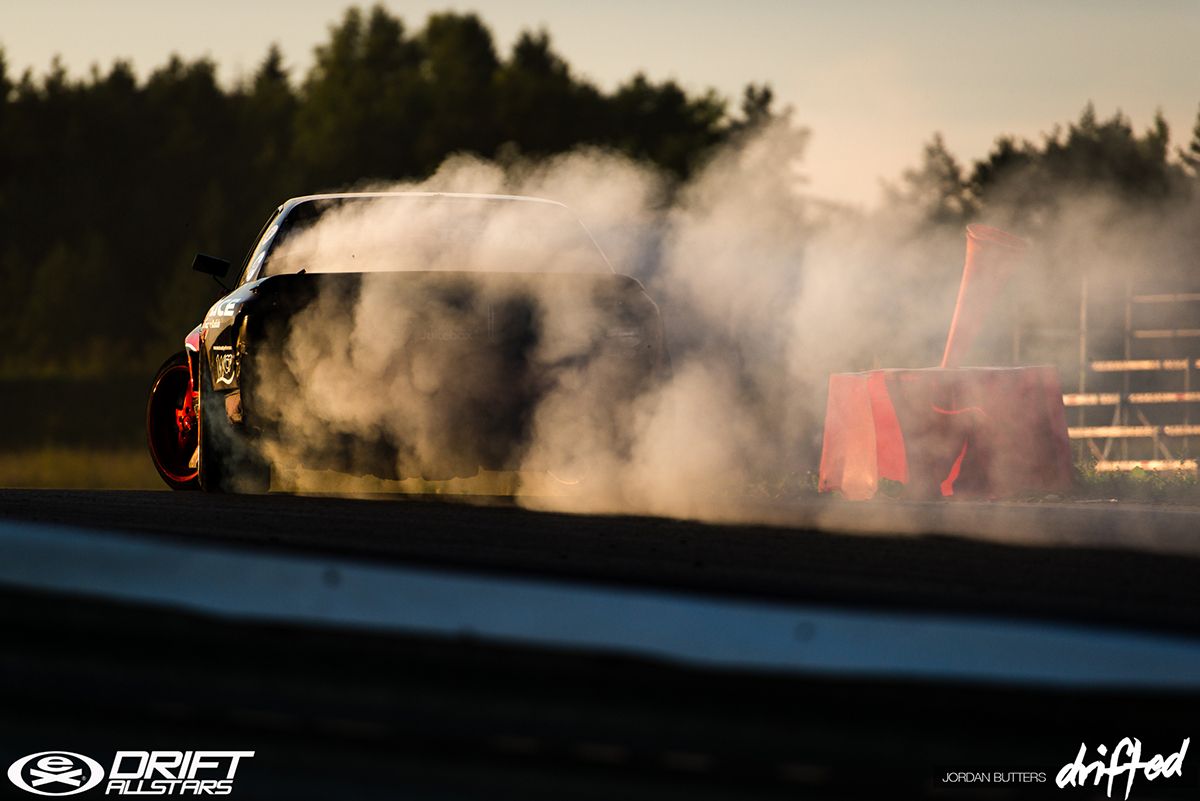 As qualifying is run in reverse championship order, the closer we get to the end of qualifying, the more exciting it becomes.
This was the closest qualification session I've seen in a long time, with just two points separating the top four drivers.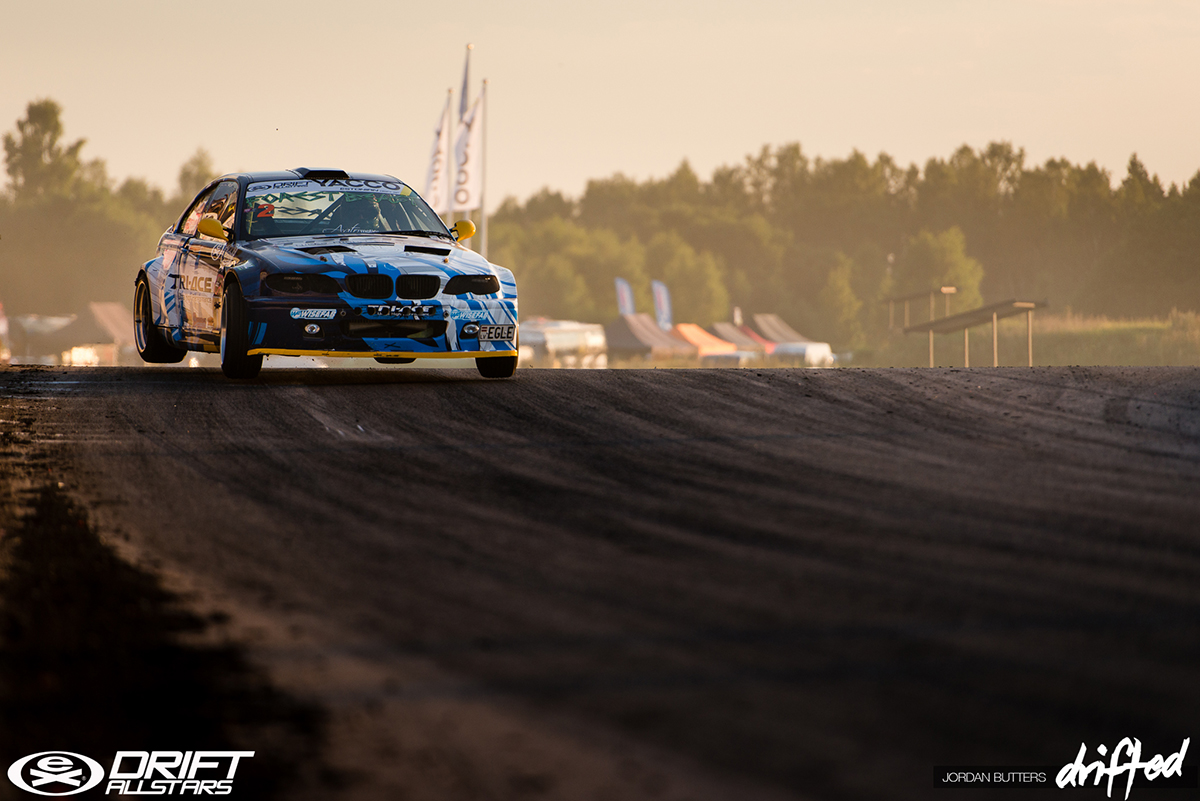 Janis Eglite flung his E46 at the course, quite literally, to secure fourth position.
Piotr Wiecek managed one strong run before hitting the wall, which was enough to nab him third.
Luke Fink was after blood following an early exit in Riga, and took second.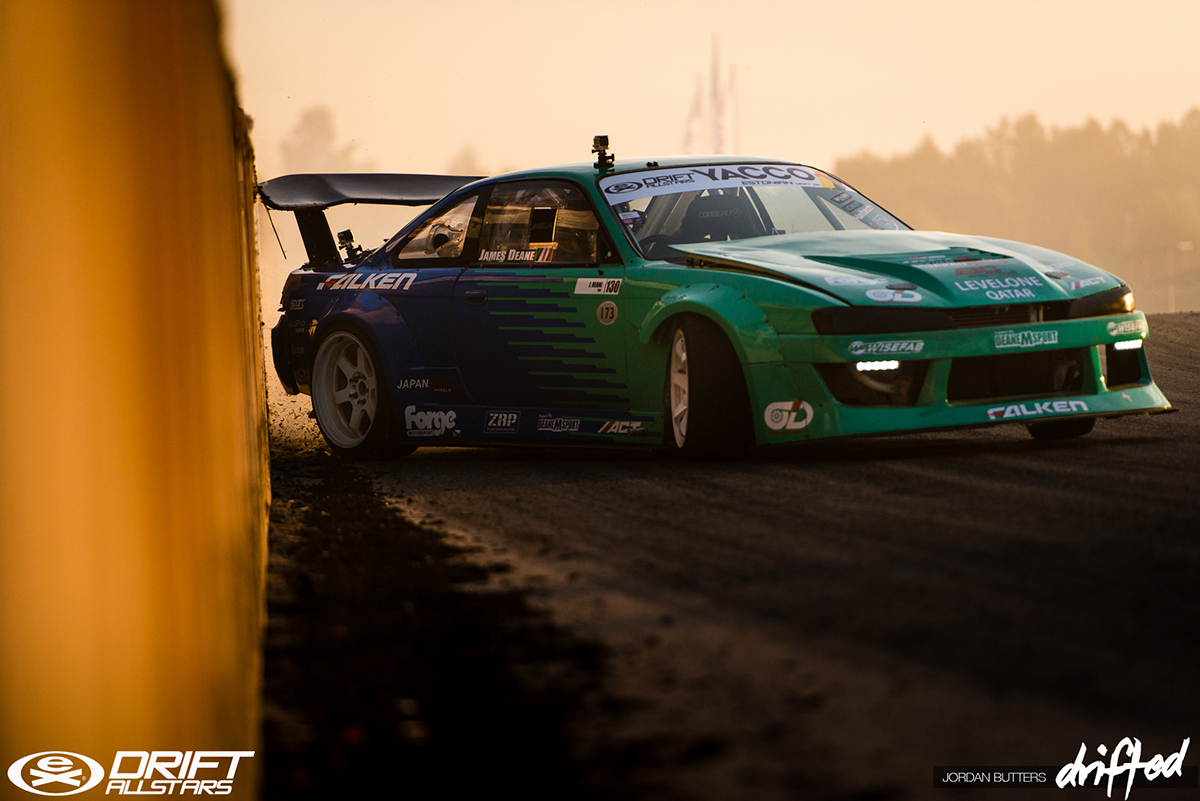 And of course James Deane pulled out his party trick, running the wall perfectly and laying down an immaculate final run, scoring 93 points out of 100, taking top spot.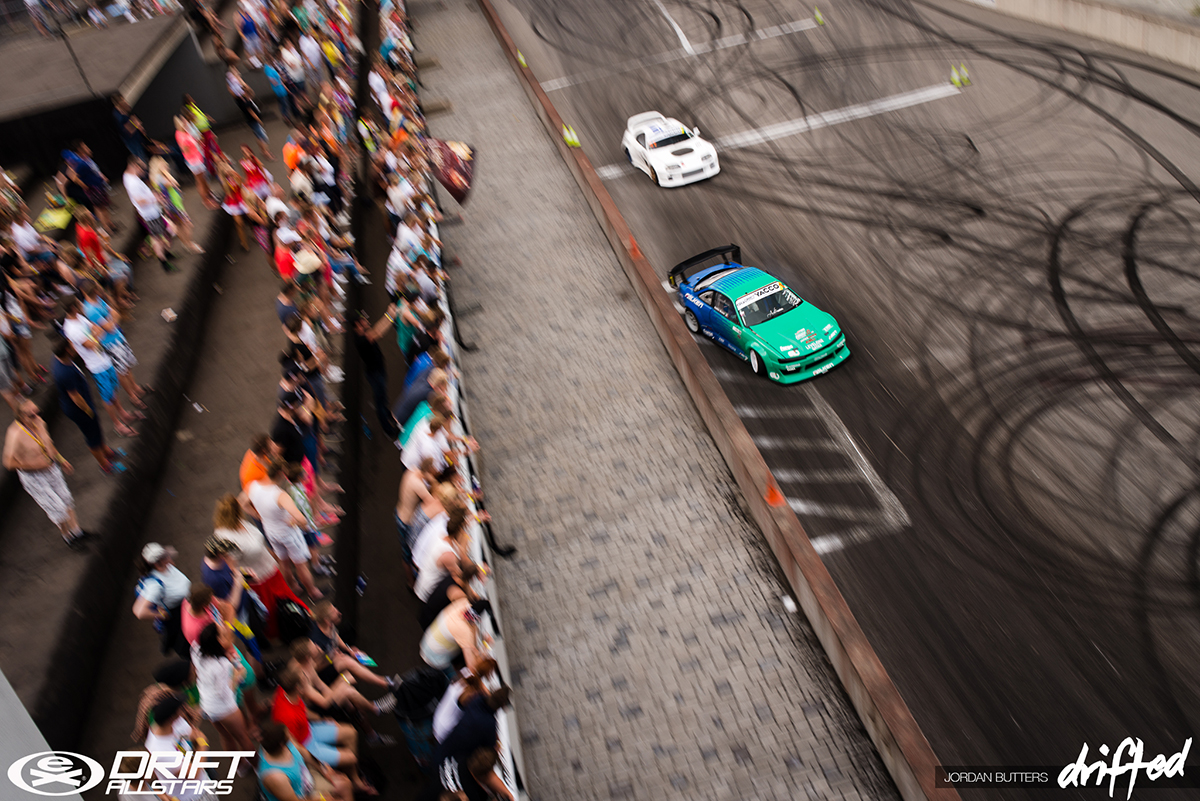 Come Sunday's main event there were some unexpected events unfolding in front of the gathering Estonian crowd.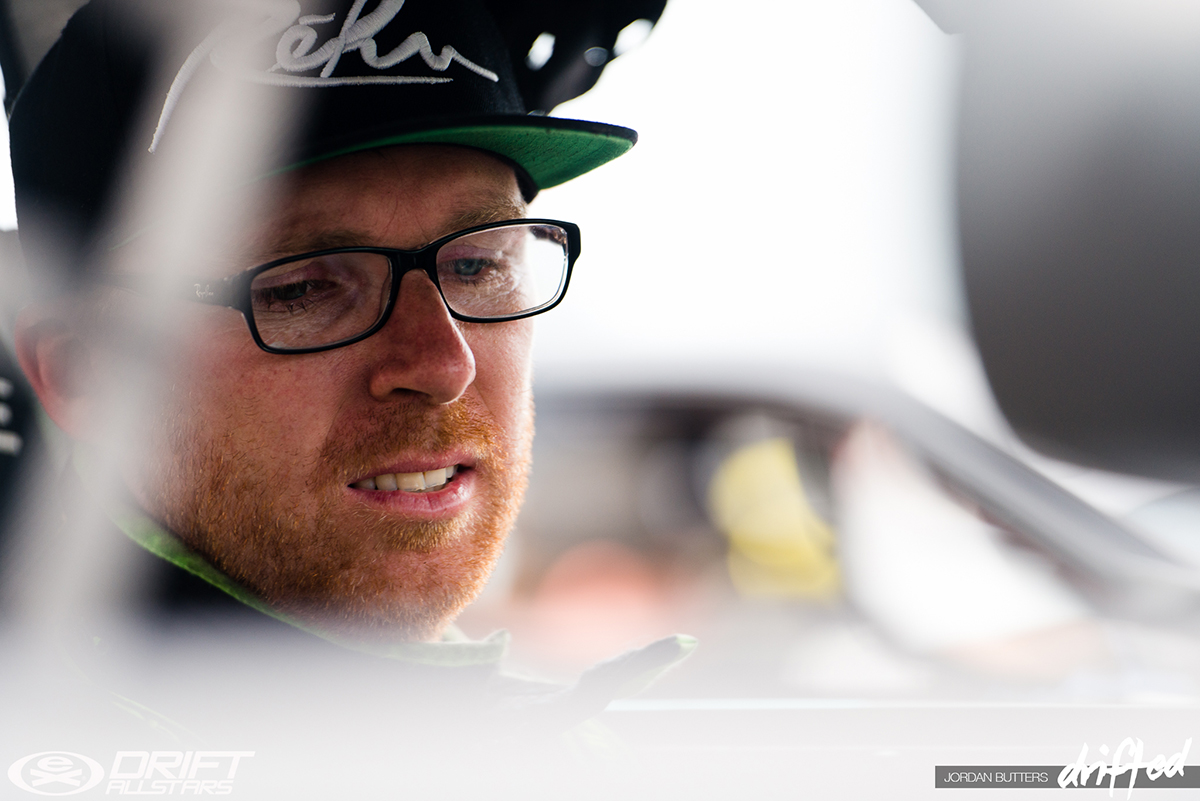 While Odi Bakchis was in a borrowed car, he had big boots to fill as his Formula Drift compadre Ryan Tuerck won the 2014 Estonian Drift GP in a similar machine.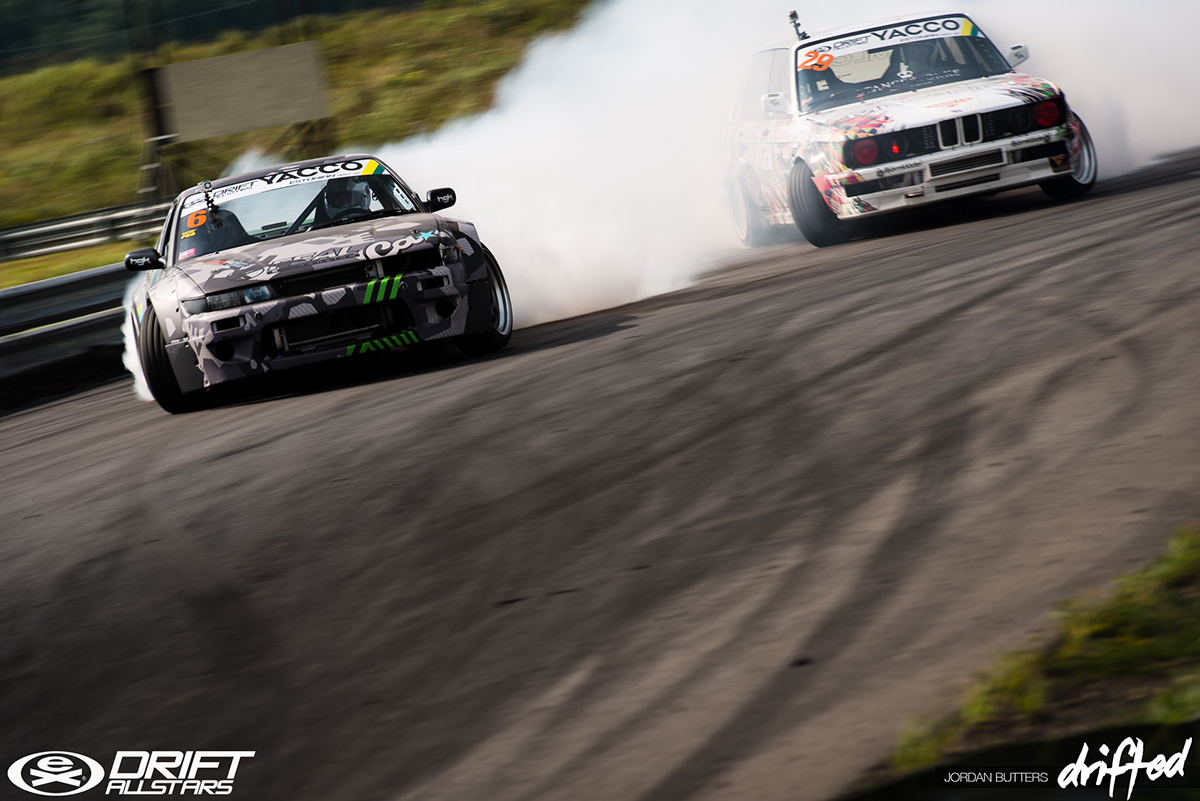 In a David vs Goliath type affair, Odi fell to local Estonian driver Mihkel Norman Tults during the Top 16.
Juha Poytalaakso's had another tough time in Estonia. The Finnish driver started strong in 2015, but an early exit in Riga seriously hurt his chances of a high standing going into the final rounds.
Sadly, it was a repeat performance in Estonia as he bowed out during the Top 32 to Jako Pino.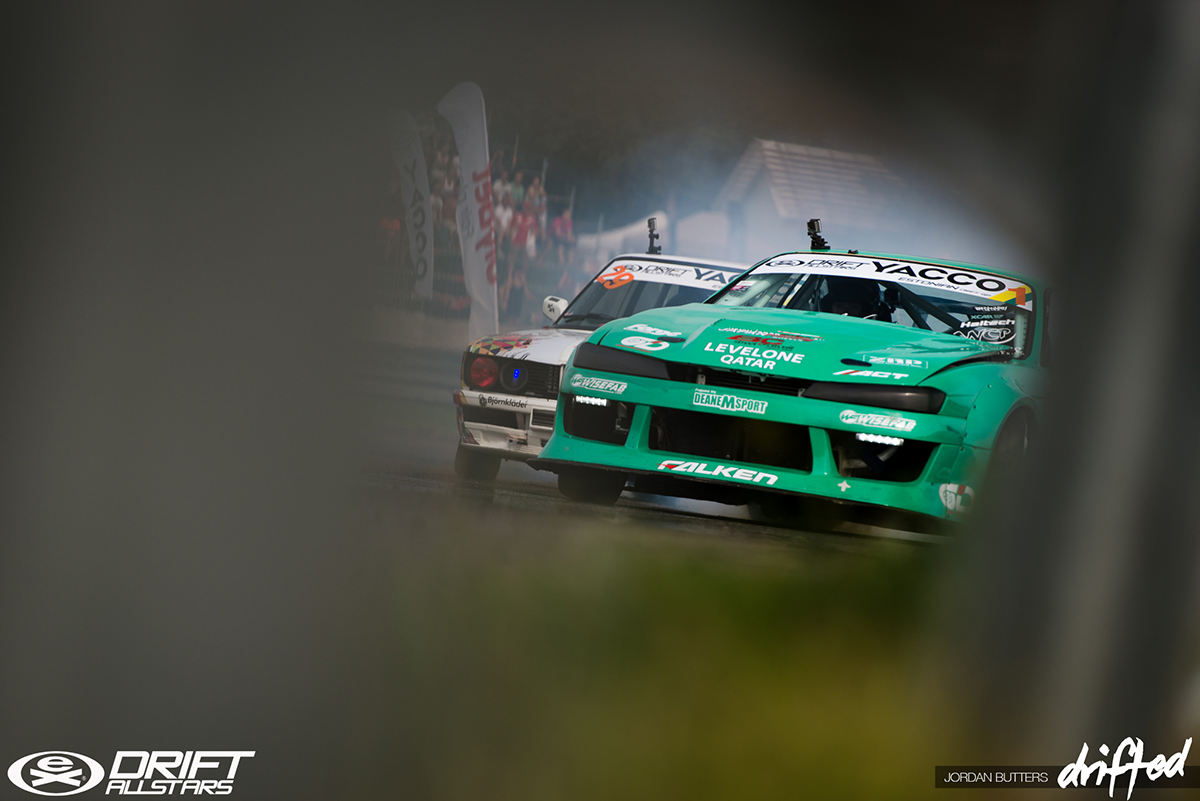 In the Great 8 things got really interesting. Estonian Tults put on a strong show against current champion and points leader James Deane, but Deane couldn't be matched.
Janis Eglite and Harold Valdma went into battle in their E46s next.
Valdma came second at this event last year, and looked strong throughout the competition.
But Eglite was on point as ever, despatching of the Estonian after two runs.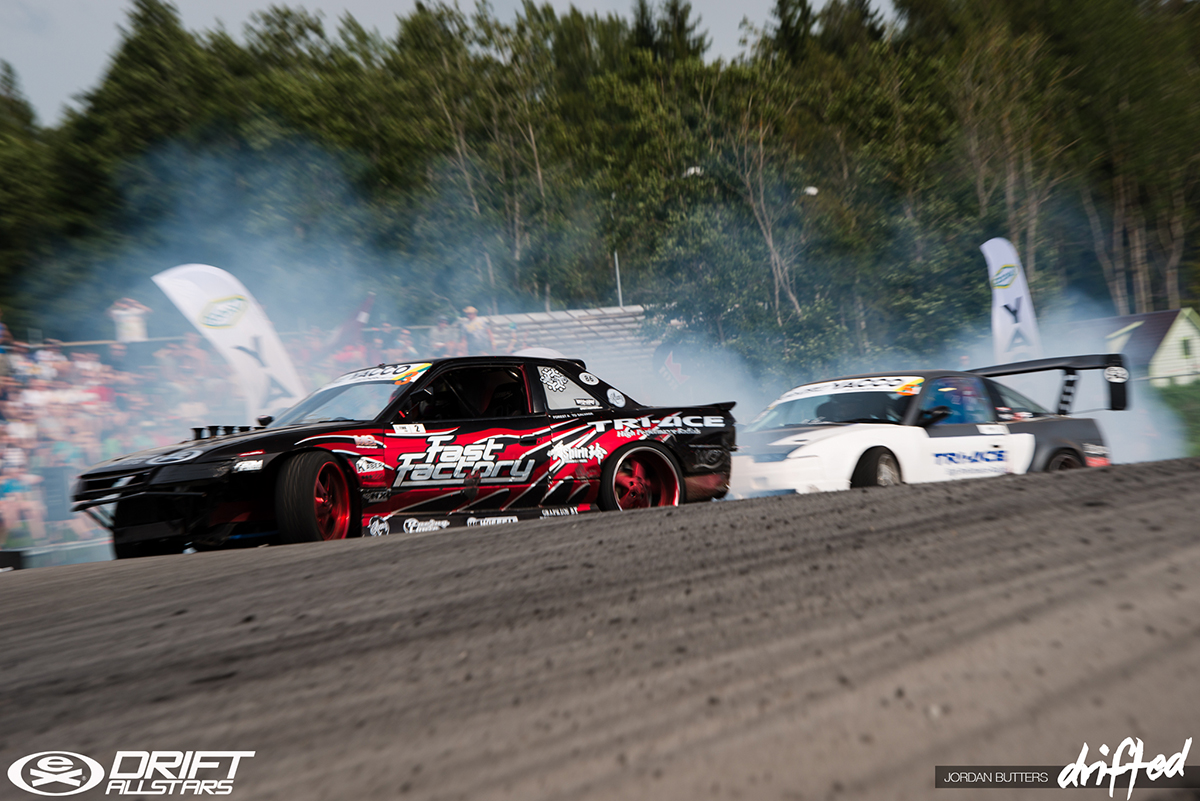 A Tri-Ace grudge match ensued next – for all the smack-talk so far this year, we knew Colfer vs Fink was going to be good.
Two runs couldn't separate them, but after a One More Time, Fink progressed through.
Fredrik Oksnevad stood up to the might of a Poland's relentless Piotr Wiecek in the final Great 8 battle.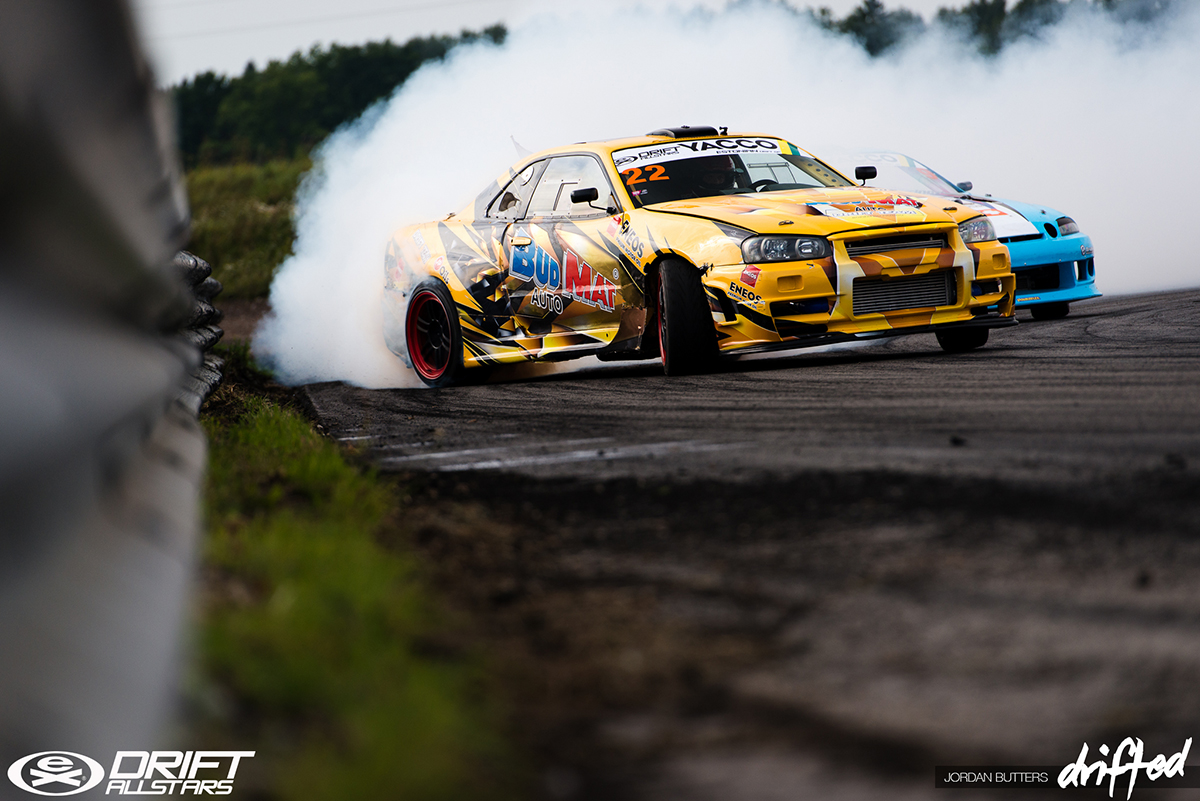 The Norwegian SPY Optics driver was eager to battle Wiecek, but couldn't do enough to match the Budmat R34. Wiecek was through.
Come the Semi Finals we were faced with a familiar line up, confirming the consistency of the top tier drivers sitting at the top of the championship.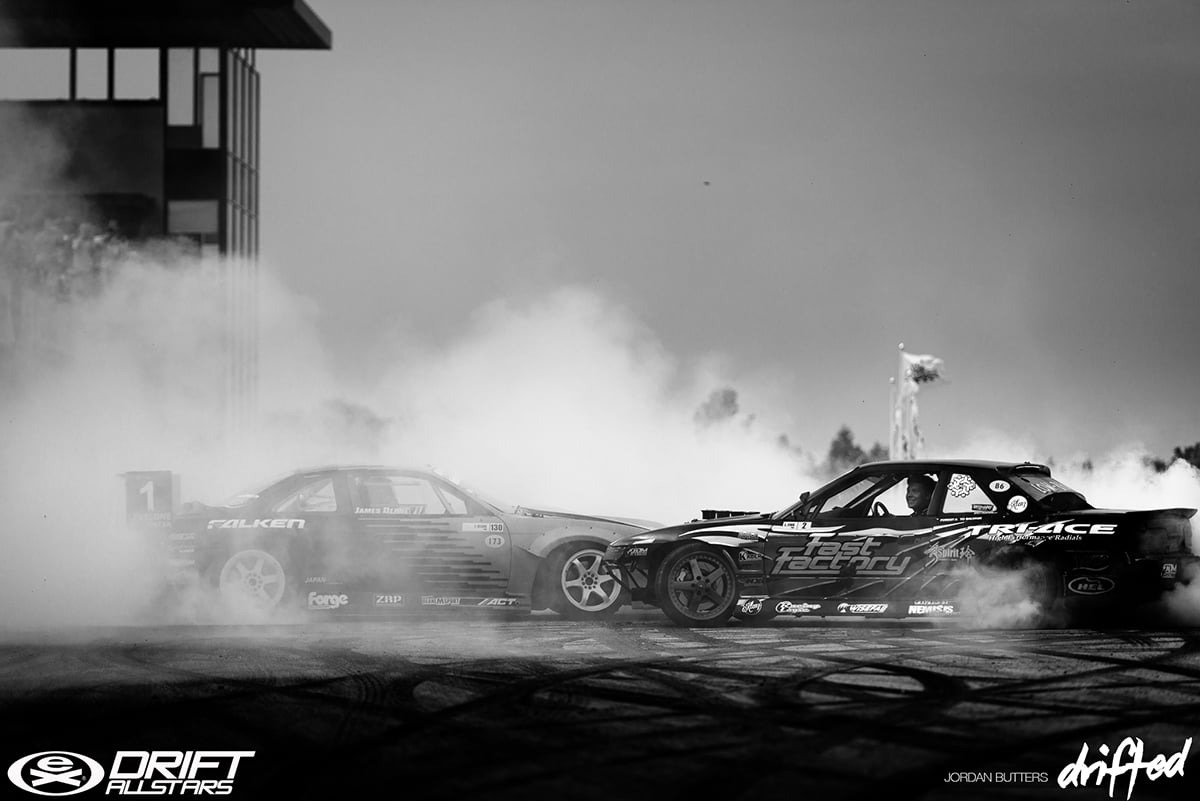 Deane, Eglite, Fink and Wiecek – four incredibly aggressive and precise tandem drivers.
Deane and Eglite, numbers one and two in the standings were up first. Two astonishingly close runs followed…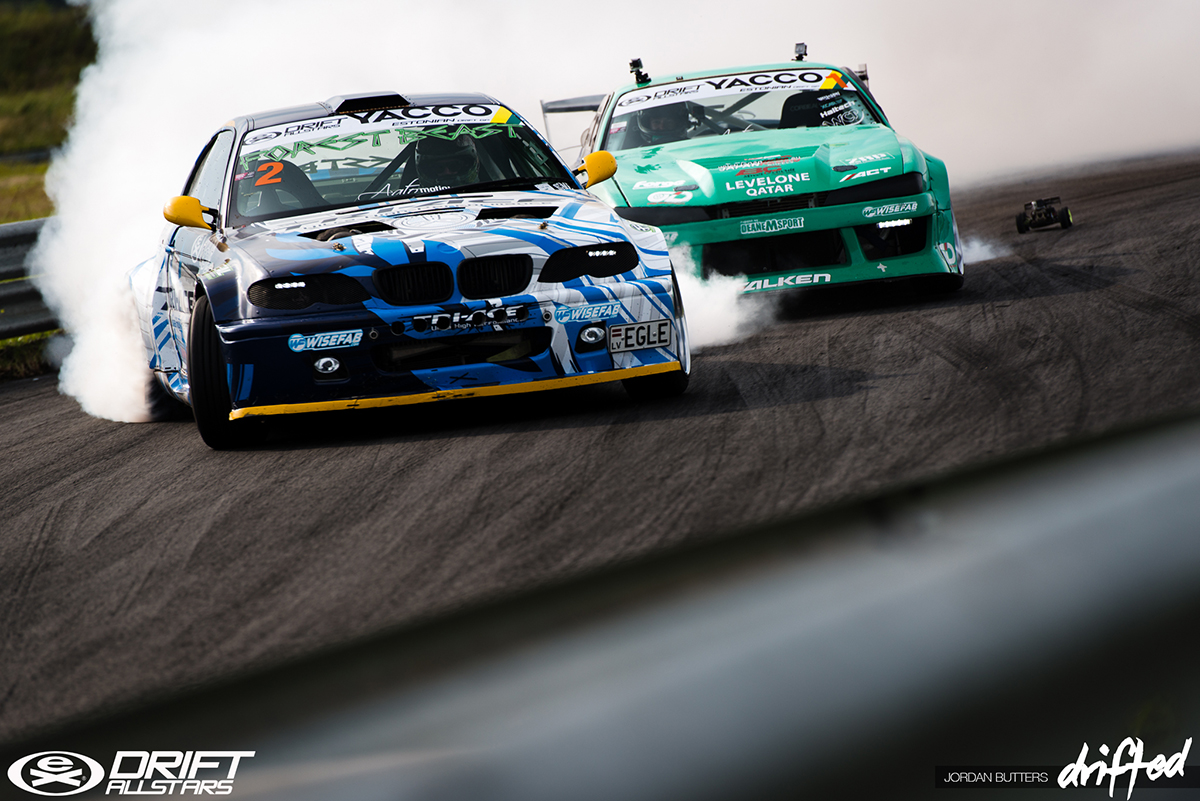 …I couldn't call it, and expecting a One More Time, I was surprised to hear that Deane had been eliminated. Yet one more reason why I wouldn't make for a good judge at this level of drifting!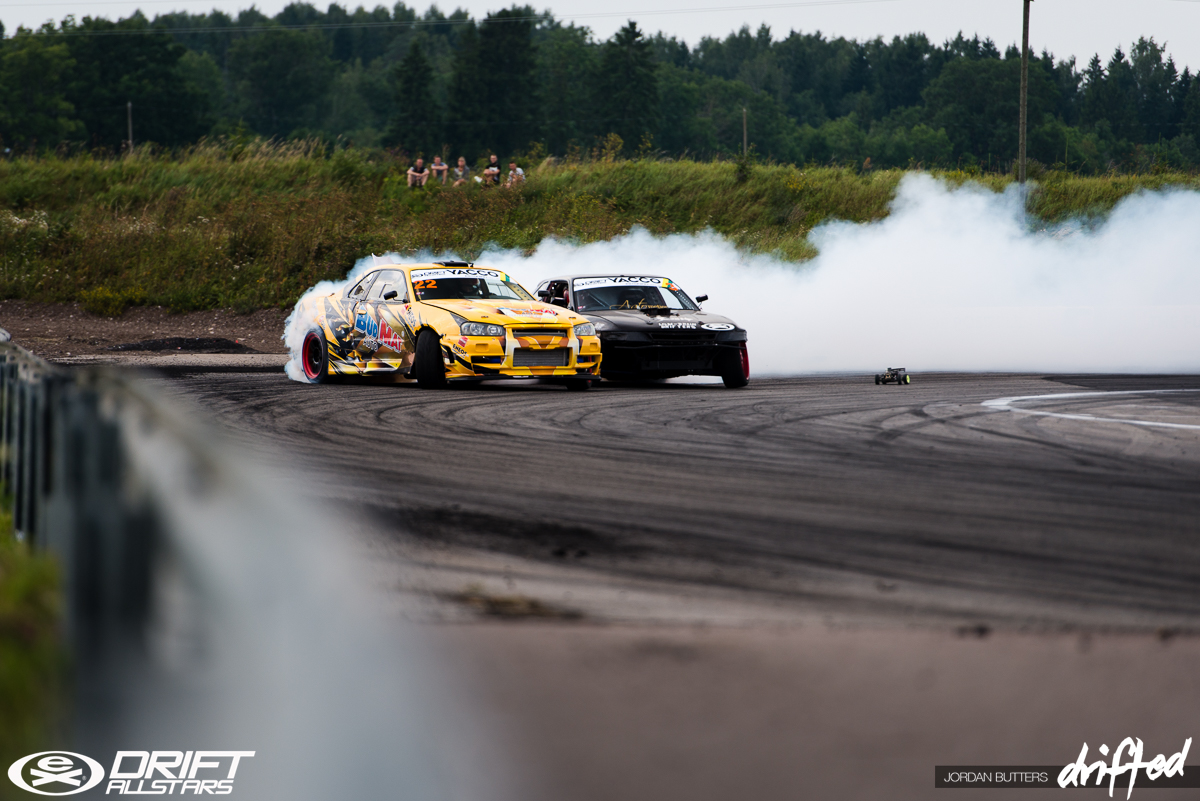 In the other Semi Final Fink took on Wiecek.
The two cars, just inches apart, raced around Laitse. Despite his crash the previous day, Wiecek's was unstoppable – his chase run was just that fraction more perfect than Fink's.
Deane drove the wheels off his S14 to secure third place against Fink, Eglite and Wiecek squared up on the start line.
Two top level drivers and former national champions – you could barely fit a sheet of paper between them at times as they switched back and forth over Laitse's curves and dips.
It was too close for me to call, but the judges had seen enough from their lofty position.
The wait before the podium was tense to say the least. As a photographer I try to train my lens on who I think has won in order to capture that split second initial reaction. I was flicking back and forth between Eglite and Wiecek trying to read their expressions.
It became apparently that neither knew who had it either!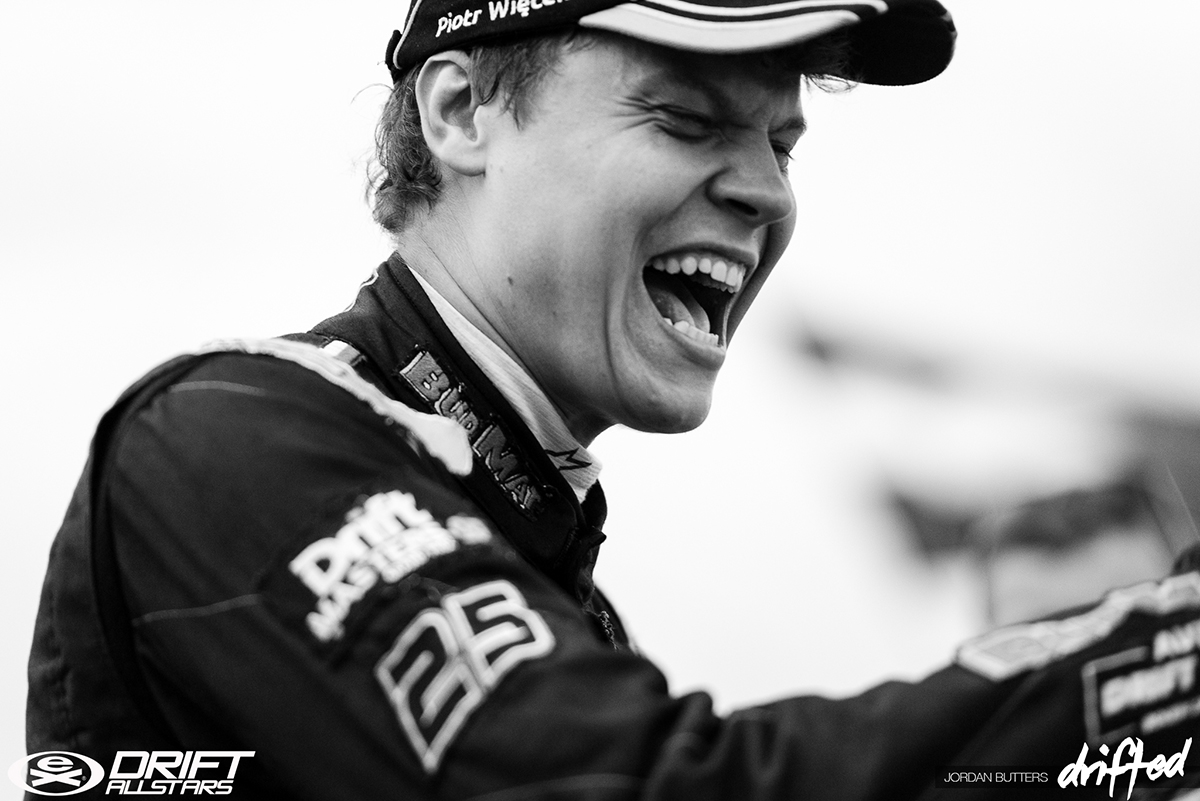 As the judges announced the Polish driver as the winner, he could barely hold back his surprise and elation.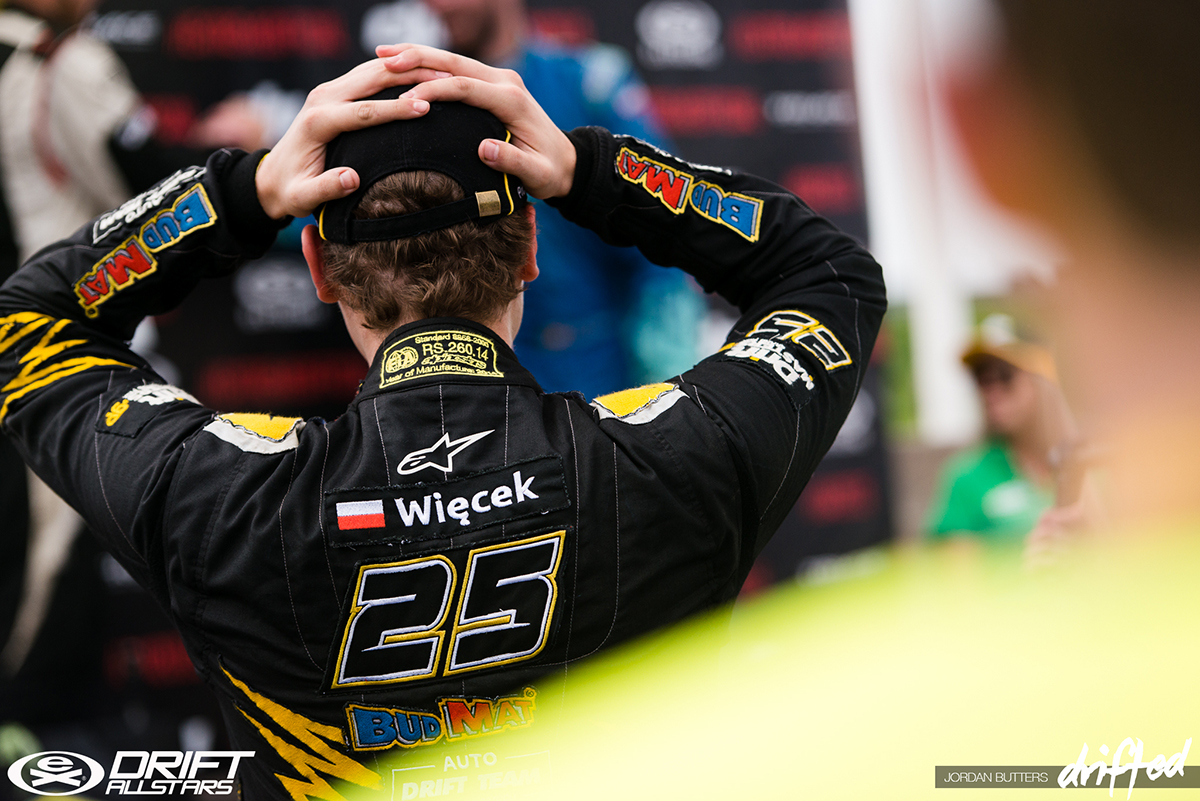 After a good finish in Riga too, Wiecek has propelled himself into 7th position going into round five. James Deane still tops the points table, but the season isn't safe yet.
Next up, Extreme Drift Allstars hits the road and heads to a custom street circuit in the city of Kaunas, Lithuania on 29-30th August.
The Lithuanian Drift GP is one of the most explosive rounds in the calendar and this year looks set to be extra special with a new track layout in the heart of the city – I can't wait!
Words & images: Jordan Butters