BEHIND THE SCENES: Stickers, Fans, Sparks and More From FD ATL 2013
While attending Formula Drift's second round of action in Road Atlanta, Drifted took a closer look at the culture behind the sport. From fan antics to car decorations and more we caught the latest trends. Follow with us as we breakdown what's new, what's hot, and what's downright crazy!
The first thing that we saw as we checked out the assortment of race cars on hand for the event were the new liveries and sticker sets. All of the cars participating were required to run the 10-year sticker shown above, paying homage to the first Formula Drift event which was held at Road Atlanta in 2004.
Another prominent sticker on all of the cars that run Garrett turbochargers is the V8 Hunter badge. The divide between fans of LS-series V8 engines and fans of small turbo-charged engines is not to be understated here in the US, and the sponsors try to get a piece of that action by playing things up. The example above is from Robbie Nishida's Achilles Radial/Bridges Racing Lexus SC300, and you can also see some cool cartooning of Robbie in another sticker.
One driver that had taken things to a slightly different level was Chelsea Denofa. He doesn't seem to mind the engine wars, as long as he can get a shot at Daigo Saito, his main rival in tire smoke production. Putting this on his BC Racing BMW's rear wing reminds us of WWII fighter jets that would put markings of their targets or victories on the side of the plane to psyche them up for battle.
Matt Field also had something to show on his rear wing, harkening back to the good ol' Mario Kart days. The passenger's side of the rear wing on his CX Racing / Blacktrax S14 featured this blue spiked shell (bonus points to the first commenter who can identify what that did in Mario Kart!), while the driver's side had a banana peel.
Up front, we would be remiss not to point out Field's awesome headlight replacement. Why don't more race cars have ducts in the headlight area?!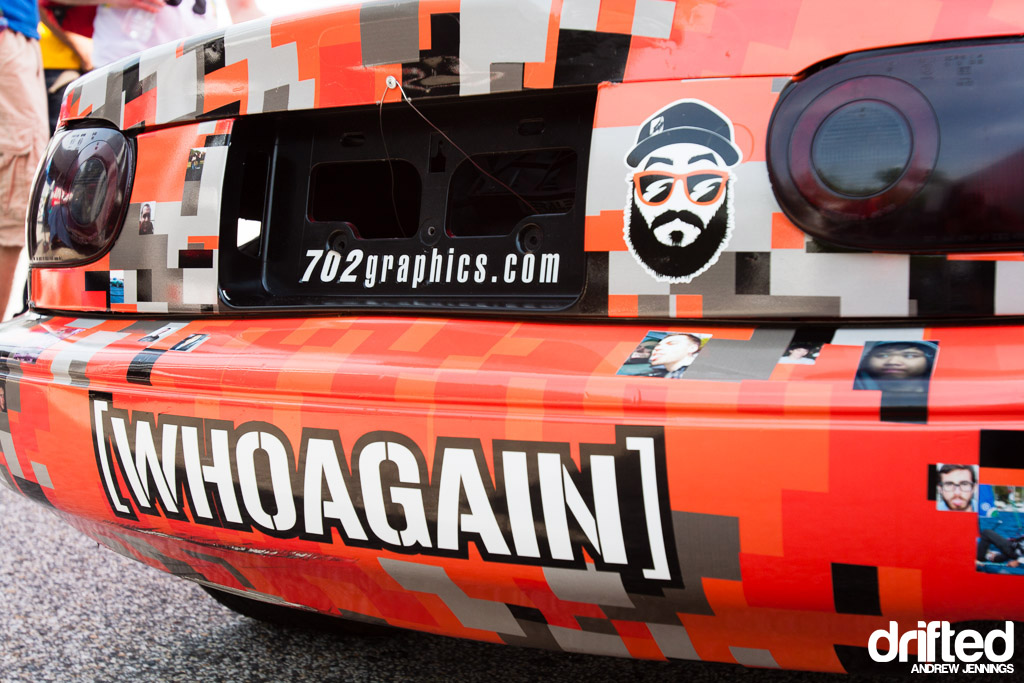 Moving down the paddock we came to Danny George's Wreckhouse Miata. As Oliver mentioned in his post on Long Beach, George was able to continue drifting professionally due to the support of fans online. He put many of their faces into the graphics on his car. On the rear, he also come up with a nice pun for the Hoonigan logo that we have all become so familiar with on Ken Block's and other cars.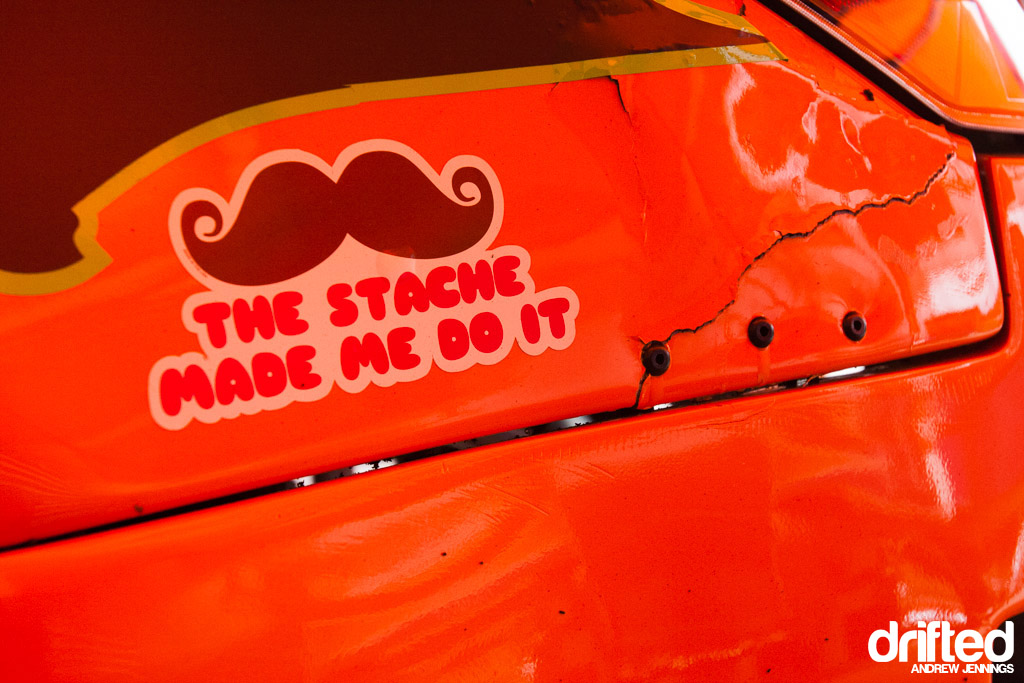 With the hipster movement in full swing, mustaches have become popular all over again. Corey Hosford has embraced it, and made it almost like his personal logo, as seen in this sticker on the rear quarter of his KsportUSA Nissan 350Z.
Out in the parking lot, the fans were getting in on some of the custom  graphics too. One guy who owned a first generation Miata had a hood that was basically devoid of paint, making it the perfect surface to chalk up with some cool messages. Unlike the Nurburgring, no male body parts were graffitied on there during the event.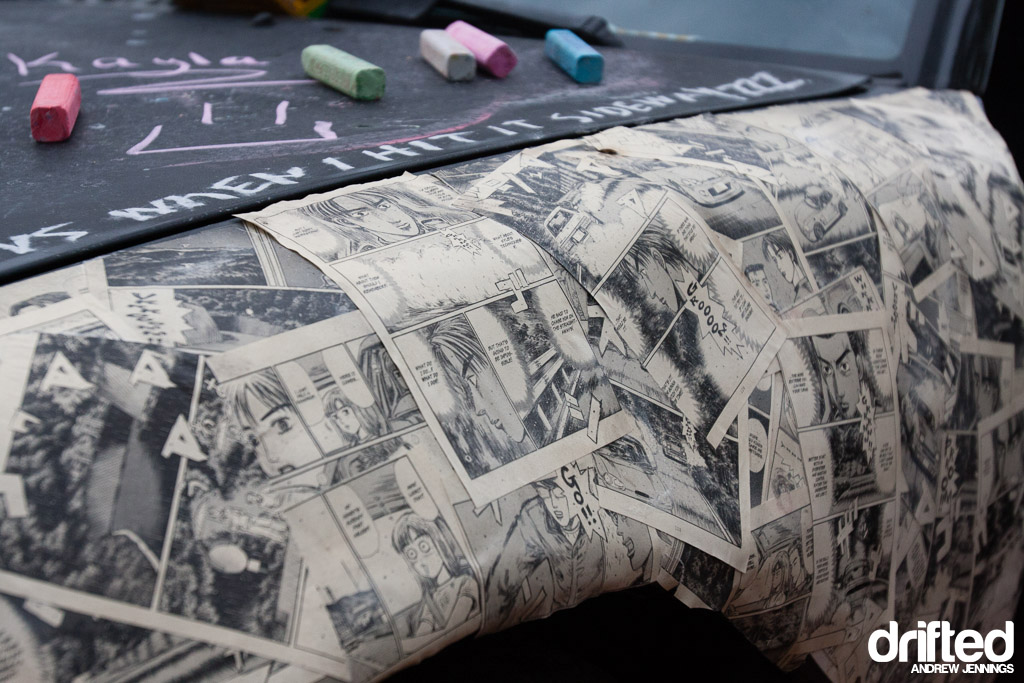 Looking past the hood, this guy also had gone the extra mile as an Initial D fan by taking pages from the manga and actually pasting them against his fender. He explained that he was still looking for a copy of the issues between the AE86 and the Miata to use, so this one fender is just the beginning of a larger vision.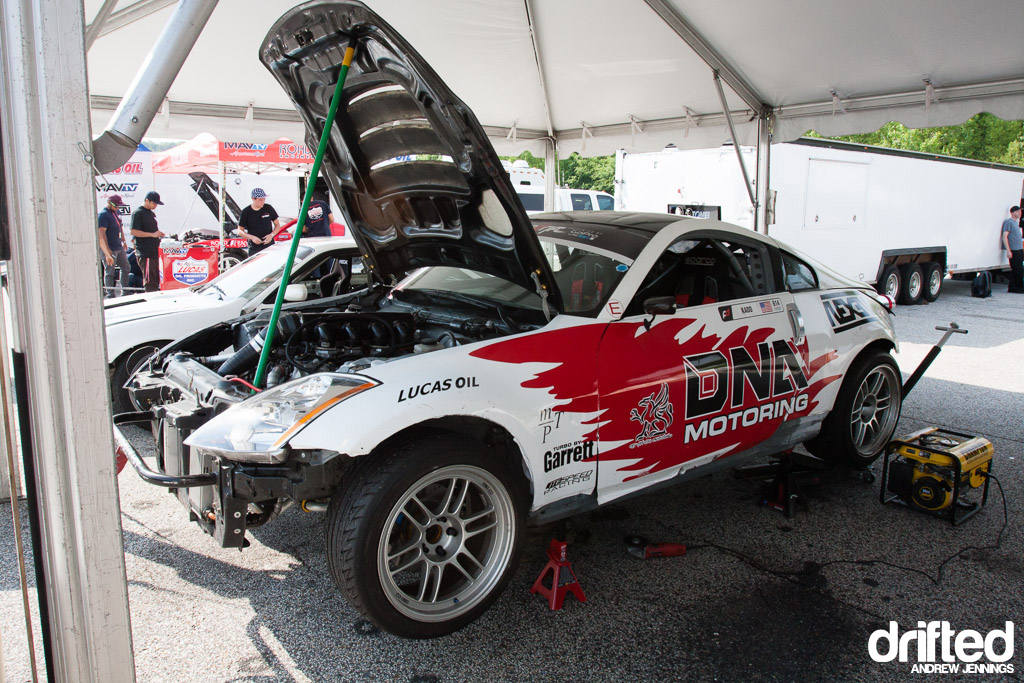 Back in the paddock, it is not uncommon to see the race cars jacked up with work being done on the underside. As we peeked down to see what was up, sparks started flying like the fourth of July.
Ryan Kado's crew was hard at work on a quick weld job, repairing damage that had been sustained to the custom exhaust system on the DNA Motoring Nexen Tire 350Z.
Okay, one car doing a little spot welding. No big deal right? Amazingly, the trend seemed to be all over the pits, next observing some of Taka Aono's mechanics working on the rear end of his car. When zip ties won't cut it, reach for the blow torch right?!
Next door to Aono's pit was Walker Wilkerson's area under the Achilles Radial rig. There too, a mechanic happened to be doing some quick surgery on the front of the S14.
Turned out to be a simple oil cooler setup, but nice welding to make sure that the screws were not about to come loose during the sideways runs.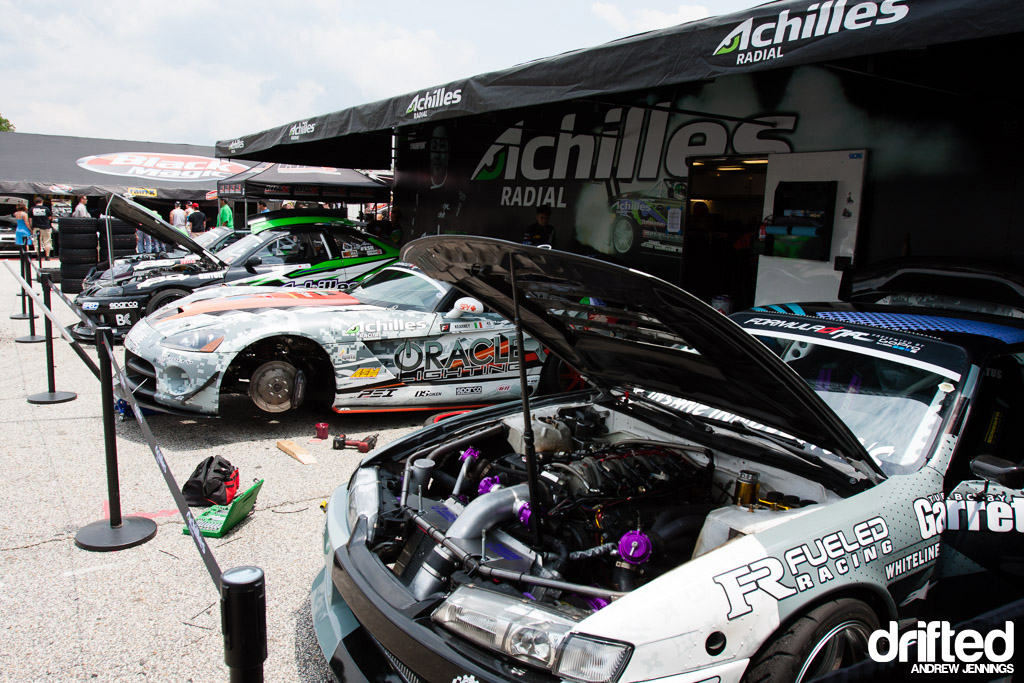 Speaking of the Achilles pit area, the team was looking much more put together after Saito's maiden series victory in 2012. While Falken Tire has dialed back the program, Achilles ramped things up, taking on Dean Kearney and Walker Wilkerson alongside Saito and Nishida. Formula Drift is now keeping score of the overall points by Tire manufacturer, so it will be interested to see how this plays out by the end of the season.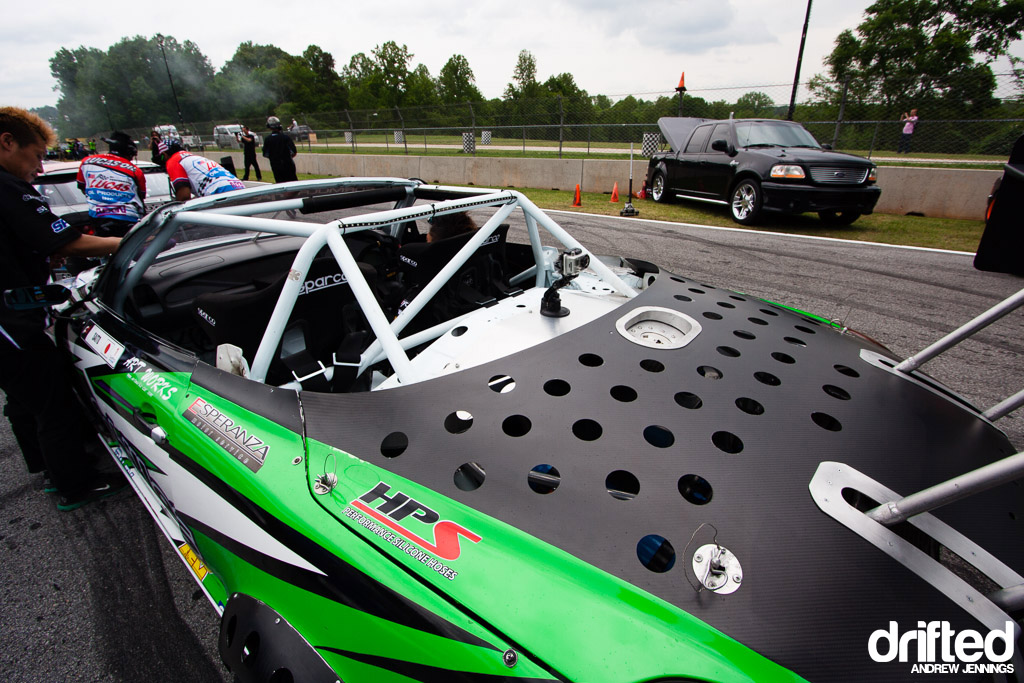 One upgrade that Saito's car went through over the winter was a change to the rear deck lid. A part that normally conceals the retractable hard top, it has now been given the swiss cheese work-over. The outcome?
More exits for the tire smoke during a run. It's always fascinating to see how the cars are designed to excite the crowds, all the way down to these details. The holes also save weight, a valuable commodity in any form of racing.
Althought not driven in anger at the event, Vaughn Gittin Jr.'s personal RTR Mustang was on hand as a display model. It's not a new development, but there's a simple beauty about the shape and its upgrades.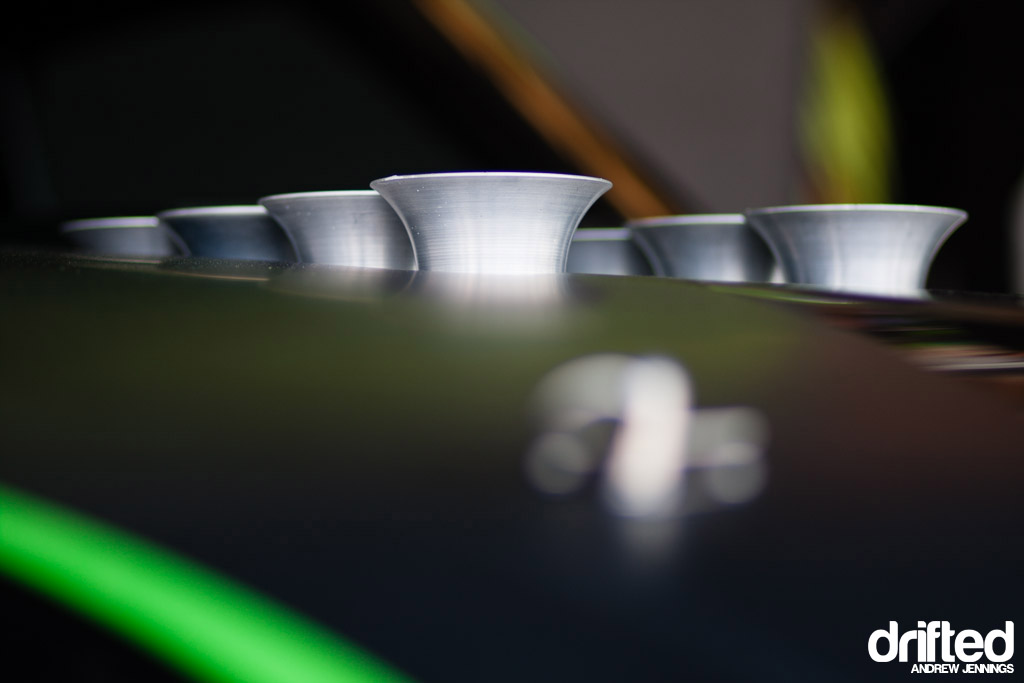 Individual throttle bodies (ITBs) are also a universal language of sexy when it comes to muscle cars too. This 'stang gets a nod for the best exposed pipes in the paddock hands down.
If you're into car part porn, look no farther than a Formula Drift event. A whole range of manufacturers and retailers are always on hand with their latest wares to display. Motegi drew us in with the crazy color schemes shown off on some of the wheels.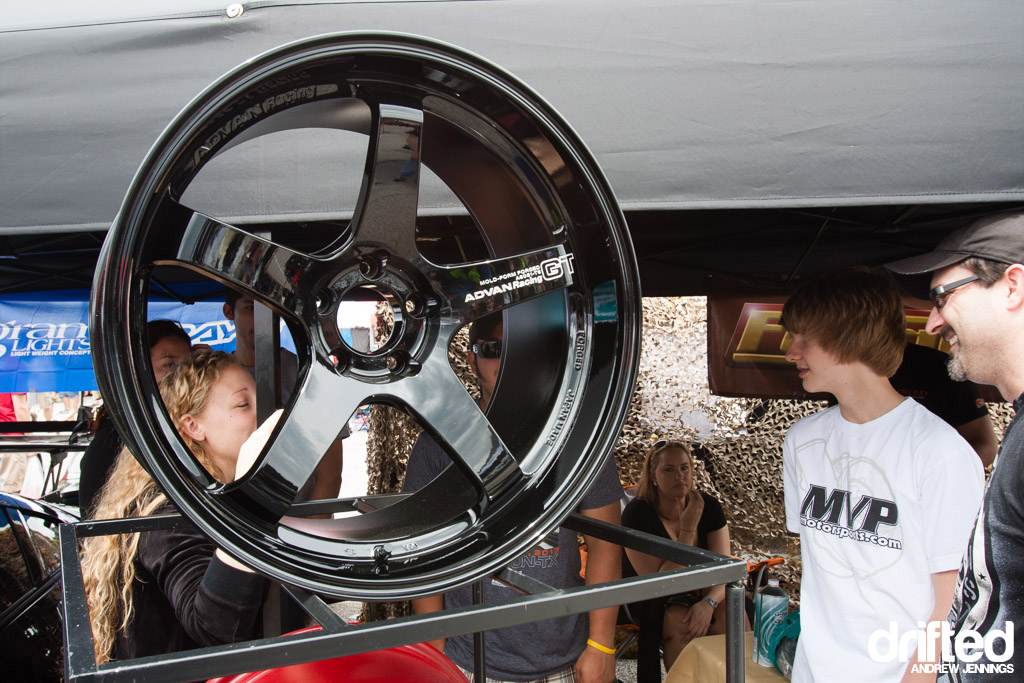 Mackin Industries, USA distributor for Yokohama's Advan Racing wheel line, had a booth that was getting a lot of attention too. The new Racing GT model is among the finest in the business, specifically designed with track day Nissan R35 GTRs in mind.
The only brake manufacturer that attended with a show and tell area was Wilwood, long-time parter with many of the drivers in Formula Drift. There were numerous caliper kits on display, ranging from drift to drag racing applications, just begging to be installed.
Moving away from the confines of the paddock, we have mentioned how the event saw quite a bit of rain this year. How did the fan's react to this?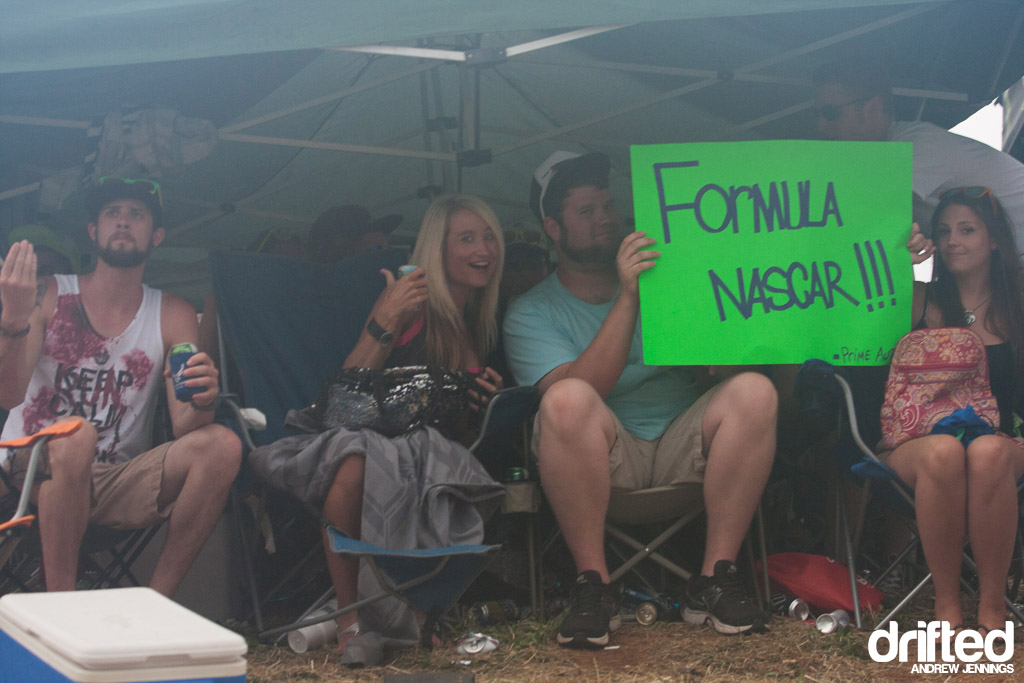 Some were prepared for the worst, bringing full-on pop up tents and plenty of booze to make the bad weather less noticeable. NASCAR fans often sit in the infield section of racetracks, making this nothing out of the ordinary.
Others in the hillside theater were a little bit less prepared, only relying on an umbrella to get them through the tough parts.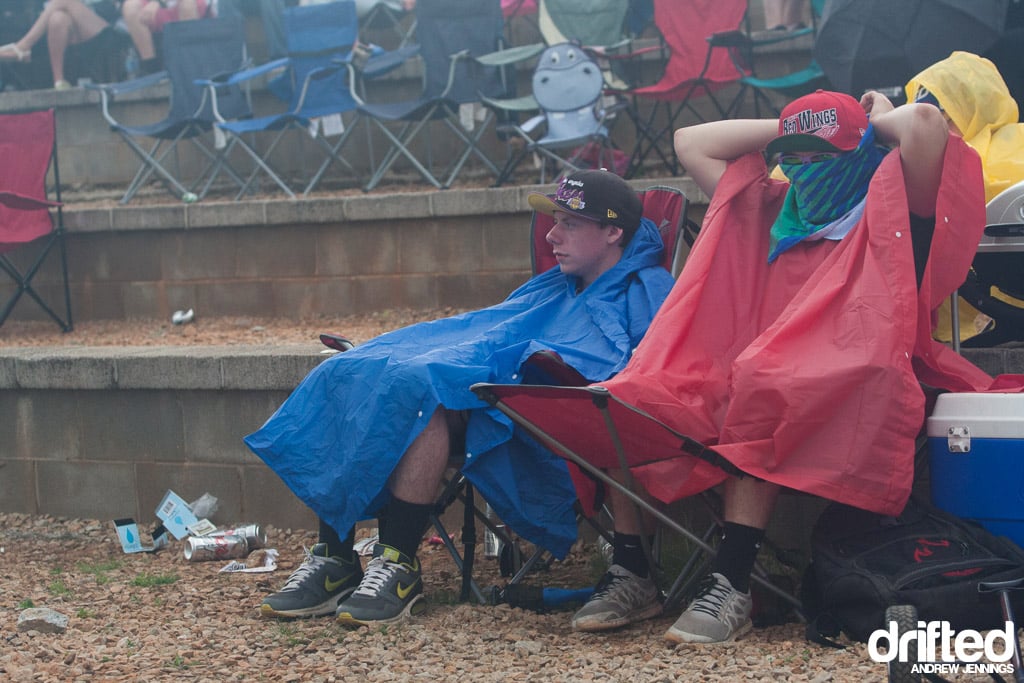 Rain or shine, these guys were in it for the long haul. Sometimes ponchos and baseball caps are enough.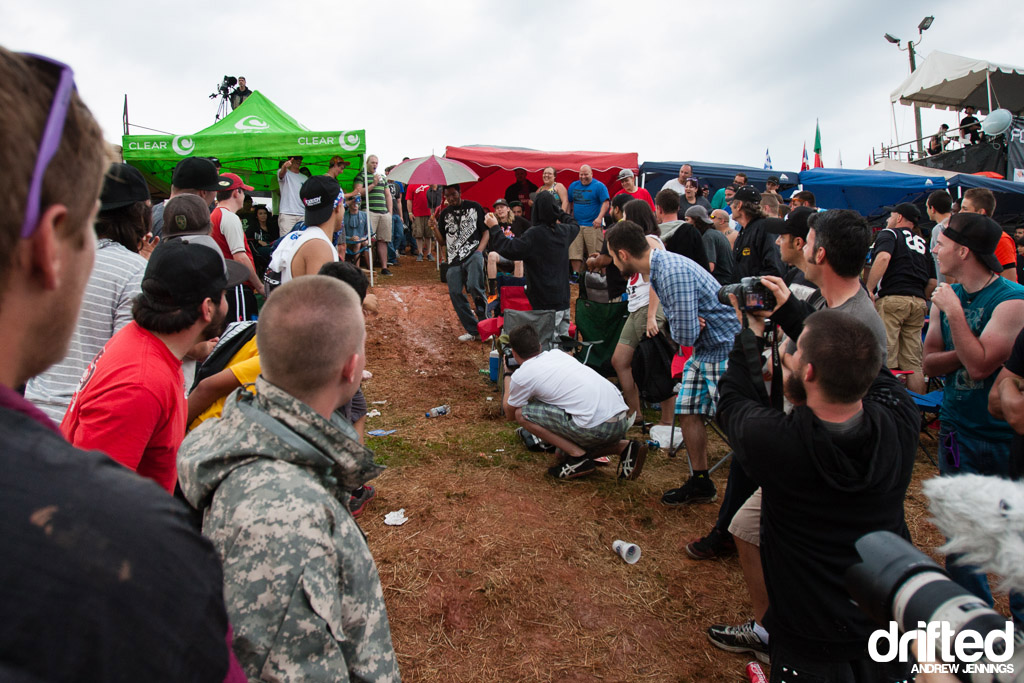 What happens when you mix rain with Atlanta's infamous red dirt? You get mud, and in one area under the judging tower things got slippery. Fans made a game of it, trying to see who could walk down the slope without face-planting into the muck.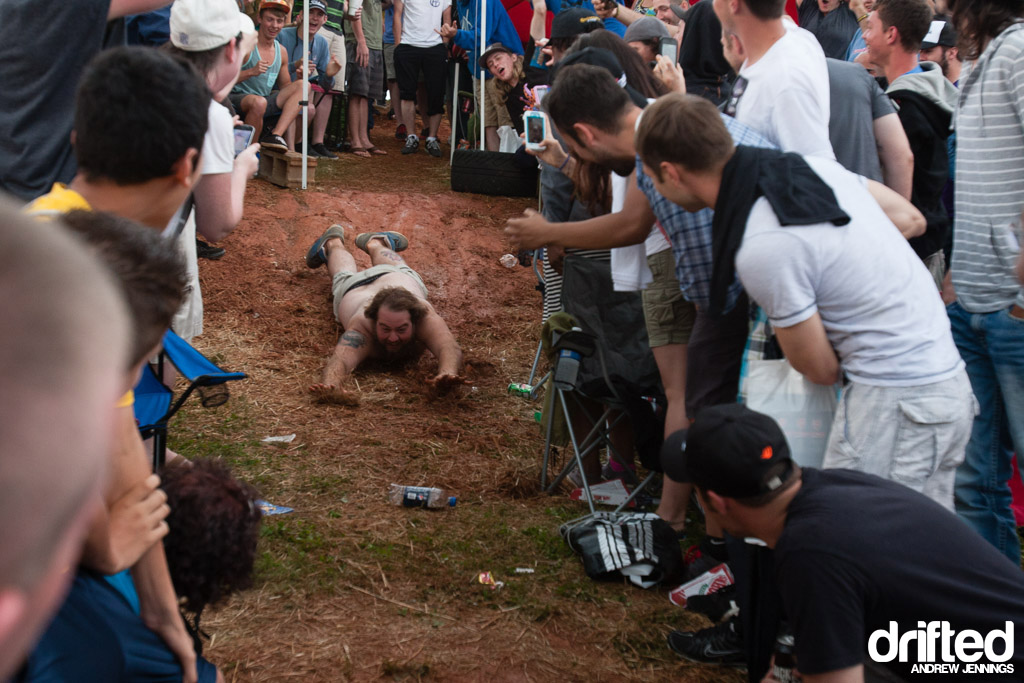 Eventually the muddy surface provided the perfect slip 'n slide, and clothing was of course optional. USA! USA! USA!
Rather than ending on a dude sliding on his bare chest, we thought it more appropriate to return to the ladies of Nexen tire. It's somehow refreshing when the umbrellas actually go to good use, and Formula Drift's Road Atlanta event was one such example.
Thank you for checking out our full coverage from this year's second round. Keep your browsers tuned here as we will continue covering the rest of the season with more insights ahead.
Andrew Jennings is a photographer and editorialist based in Nashville, TN. He has been covering the American drift scene since 2007, and his work has been published in nationally syndicated magazines such as Modified Magazine, Import Tuner, Performance Auto and Sound, and RIDES. Andrew may be contacted through his professional online portfolio, or the social networks listed below.
Professional Portfolio: http://www.andrew-jennings.com