EVENT: Catching Air
With JDM Allstars Wembley rapped up for another year I'll share with you one of my favourite aspects of the custom street circuit. Apart from the huge concrete wall that lines the track and the fact that it takes place in the heart of the captial under the legendary Wembley arch, my favourite part of the track to shoot has to be 'the jump'. More after the jump, see what I did there?……
There's something pretty awesome about seeing a drift car throwing plumes of smoke out in and around the streets of London, there's something even more awesome when that car picks it wheels up and bunny-hops mid transition. Coming from a BMX background Luke Fink (above) is no stranger to mid-air trickery, and was one of the few drivers going into 'the jump' which such speed and commitment to not only lift all four wheels but to also unseat several tyres upon landing during Saturday's practice.
But no-one did it better than Steve 'Stiggy' Evans as you can see from Phil Mann's shot above – the tyre completely parting company from the wheel! I have never seen this happen before in all my years involved with drifting!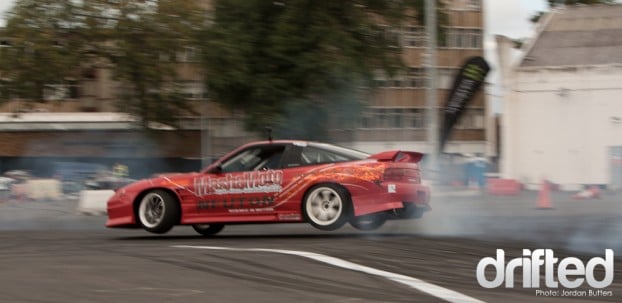 It was interesting to see how the different cars handled this tricky and unusual characteristic of the course. Jon Calvert's Neuton Tyres S13 above seemed to put a decent distance between the tarmac and the tyres on all except the driver's front wheel….
….whereas Polish drifter Pawel Trela's S13 seemed to remain planted at the back and REALLY picked up the front inside wheel. Keeping the rear wheels grounded meant Pawel was able to carry good speed over the jump and into the final bend. His S13 features some pretty interesting steering/suspension modifications and a rumored space-framed front end with a crazy amount of available steering lock. It certainly proved to be a very competitive car on the day! However Trela wasn't to be the winner of the 'big air' competition.
That accolade goes to Formula D driver James Deane in his newly built SR20DE-T powered PS13 (that being a naturally aspirated SR20 engine with a turbo conversion added, rather than the factory turbocharged SR20DET). James was consistently getting all four wheels clear of the ground and made for spectacular watching.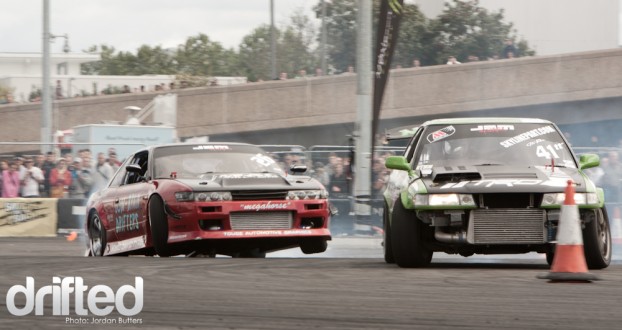 There was no backing off even during the twin battles, some drivers, such as Deane, above, were using 'the jump' to their advantage – taking the opportunity to gain ground on the competitors choosing to back off the power before they took off.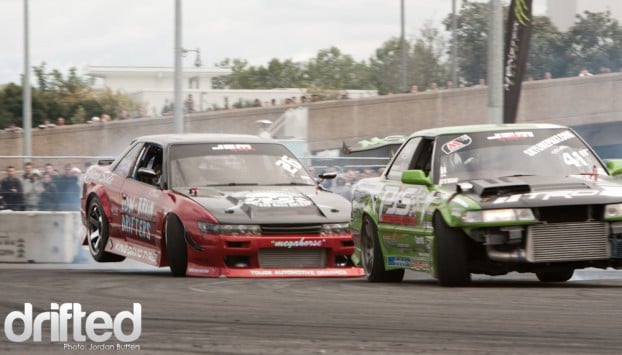 However what goes up……must come down – if all four wheels didn't leave the floor at a similar point in time the front suspension compressed so much it was pushing bumpers into the ground left right and centre.
Alan McCord's V8 S15 seemed reasonably well planted over the crest, I guess that big V8 engine upfront helped keep things down to earth. S15s aren't really big cars but for some reason Alan's car has a huge presence on track. I think the combination of the loud LS-engine V8 rumble and the huge BN wide arch kit makes the car seem larger than it actually is.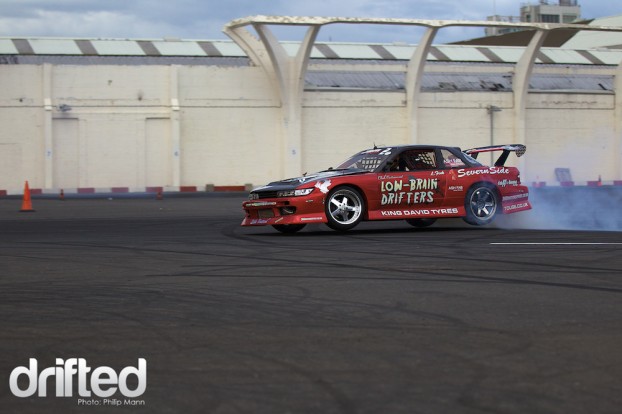 One thing is for sure, the drivers loved the track setup and it added a big extra visual element to the day. I'll leave you with another one of Philip Mann's shots from Saturday practice (above). Keep an eye out for the full Qualification and Main Event reports over the coming days.