EVENT: JDM Allstars Wembley Top 32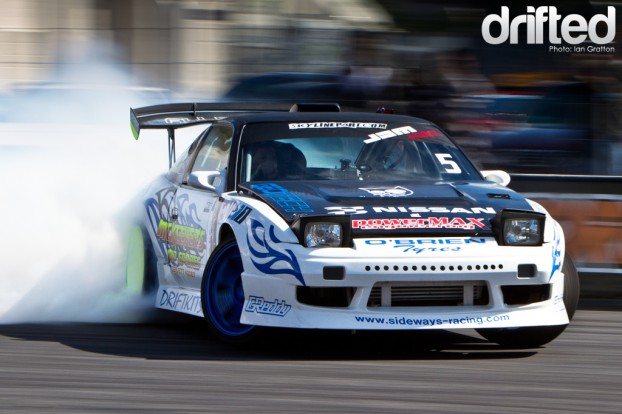 After a busy Saturday shooting the qualifying the Drifted team were straight back on it for the main event.  Sunday was sure to be an awesome day.
When I ticked the box that said I wanted an alarm call on Sunday morning I didn't think for one moment they would use the fire alarm!  Myself and Jim's Factory main man Jay Walker caught a fast breakfast and headed back to the stadium to find drivers and pit crews finalizing their cars before the morning practice kicked off.  With the drivers and media briefings out of the way we were off!
Lennard Wanders was one of the first drivers round the track and gave the crowd a proper good smoking out.  The standard of driving in the final 32 was going to be stunning and make things extremely difficult for the JDM Allstars judges Chris Parry,  James Hudson and Andy Jaenen.  We really are taking degrees of excellence here.
The Top 31/2.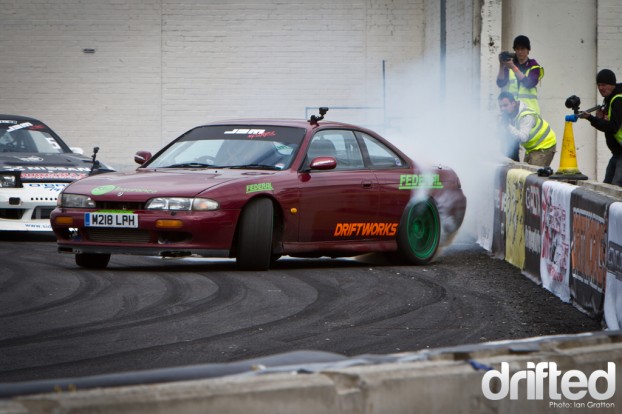 Bon Bon, whilst absent from yesterday's qualifying session had arrived early this morning in his S14 road car.  After a frantic few days and little sleep he had managed to install all the safety equipment into his car so that it would meet the JDM safety standards.  Unfortunately for him he would not be able to compete due to missing qualifying so the judges deemed his battle with first place Man (Boy?) Dwaine McKeever to be purely exhibition.
What an interesting match up this was – most 14 year old boys would be busy delivering newspapers on their BMX's on a Sunday morning but Dwaine was tearing around the Wembley circuit in a 700bhp RB26 powered S13.  Bon Bon on the other hand was without his fearsome Driftworks R32 Skyline using very mush standard S14 with some Driftworks suspension goodies, a proper differential and mandatory safety gear.  Bon still managed to smoke up the super grippy rear Federals and put the car right on the clipping points with less than 300bhp on tap.  It would have been interesting to see how far Bon could have made it with only rage as his weapon but it was a straight pass into the top 16 for Master McKeever.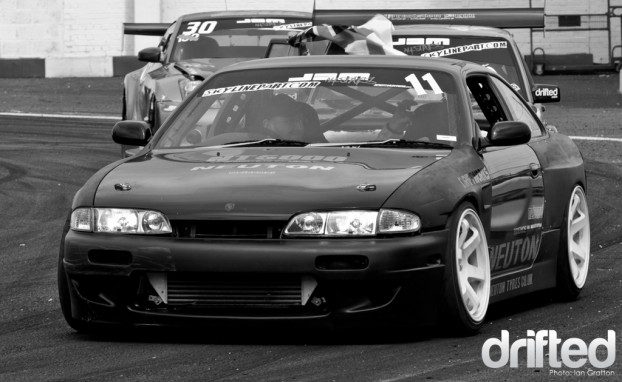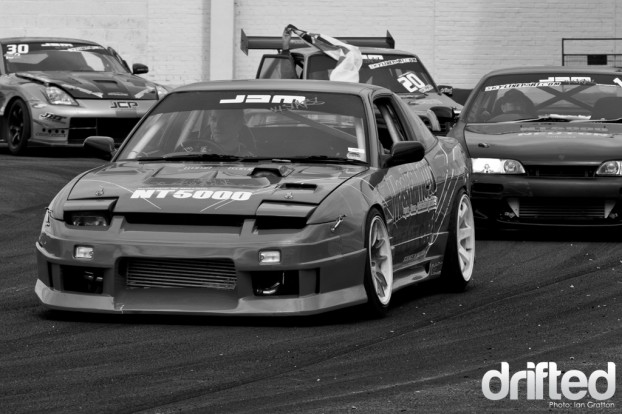 Next battle was between the Team Neuton Tyres drivers Matt Steele and Jon Calvert.  Both of these guys go at it 100% and are not afraid to push their driving to the level where things can get broken and damaged.  Both cars have been intimate with concrete this year (JDM Alpine) but its all part of the game.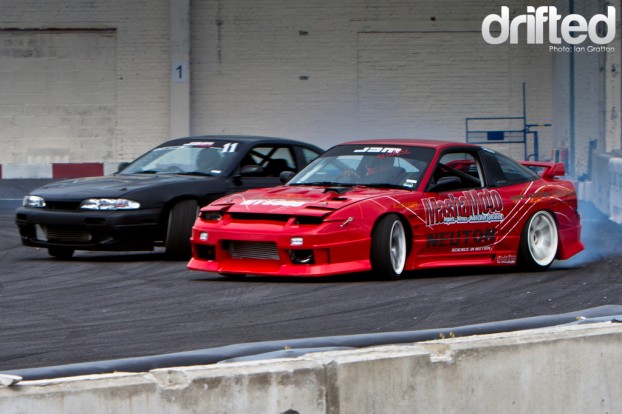 With close driving like the above there was nothing between the Neuton boys and a one more time was called.  Jon Calvert made it into the final 16.
Next up was Steve 'Stiggy' Evans in the mighty pinto-powered Toyota Starlet vs. Bass Plugge's seriously wide and purposeful Z33.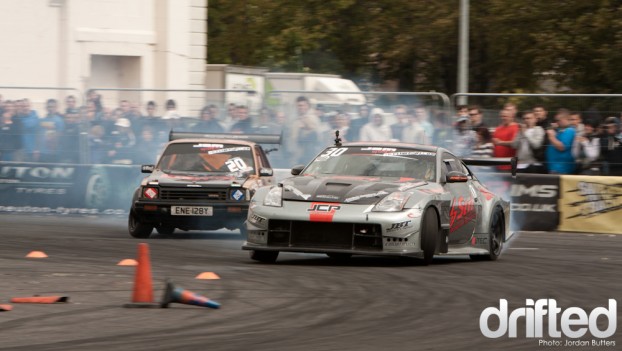 Angle was not one bit scarificed for speed and Steve and the mighty Starlet progressed onwards.  Its really great to see this little car still doing well when its surrounded by much much more powerful machinery.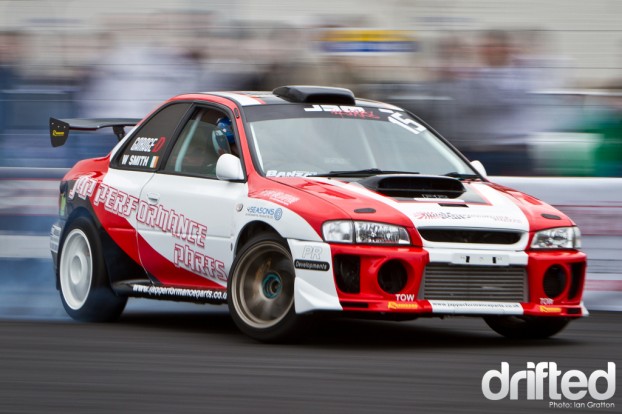 Next we had Walton Smith in the RB powered GC8 Subaru Impreza against Vince Noott.  RB passion runs deep within the Smith family and I'm sure brother Julian was really enjoying watching the Impreza do battle from the sidelines.  Vince had taken a heavy front end impact when he and Dan O'Brien had a coming together it Saturday's practice and unfortunately span out in both of his runs meaning Walton went through to the 16 with his Subaru.
The next pairing was Liam Marsterson in the black s14a vs. Christy Carpenter in the purple Nexen Tyres s15.  Christy pulled good ground in both runs and pushes through into the next round.
Poitr Jankowski potent 2.3L stroker kitted S13 had drawn Dan O'Brian in the yellow s14a.  Dan's car was still missing a lot of its front end after the coming together with Vince Noott in the practice session on Saturday and the intercooler was being suspended by a couple of tie straps as there was nothing left to attach it to.  Jankowski stomped through.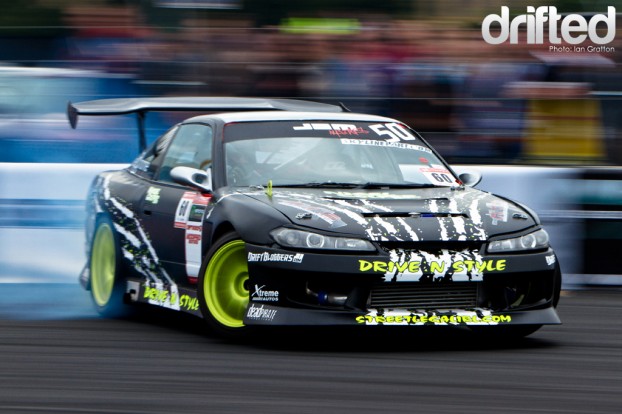 The Team Falken Tyres s14a of Lennard Wanders had to knock out Nigel Colfer's 1JZ powered s13 if it wanted be in the next round.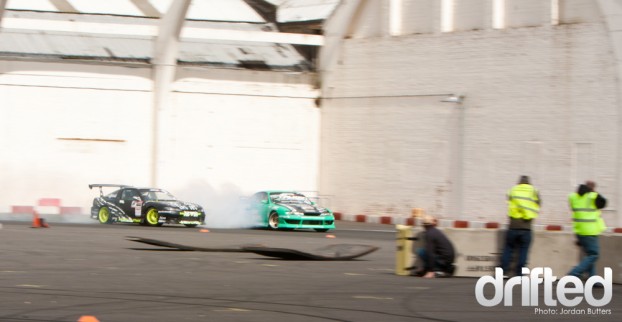 Wanders was making lots of smoke in practice but he just couldn't match the speed of the black s13 so his day came to an end and Colfer enters the final 16.
As Team Driftworks Dan Chapman contemplates the sale of his car right now he has to focus on pushing out Holland's Frank Van Heeren in the Driftking NL V8-powered s13.  Frank spins! Chapman goes through.
Jungle Power's sweet street style 4 door R32 vs Pawel Trela semi-spaceframed s13.  Trela has been super consistent all weekend long (and any other time I've watched him drive) and wins.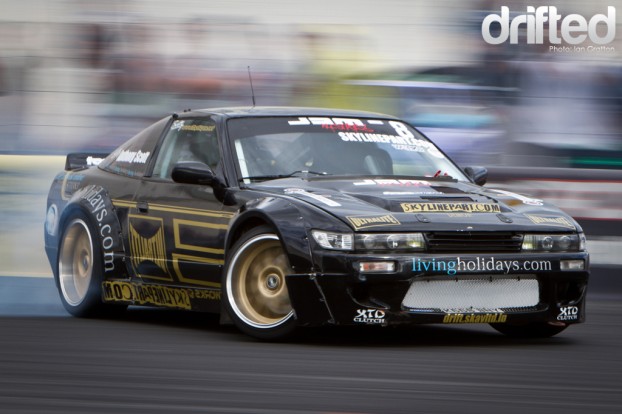 Anthony 'Scotty' Scott's Rocket Bunny has been in the wars and on a recent trip out of the country it toasted the amazing RB30 that normally lurks under the bonnet.  In the last few weeks Scotty has managed to get the car back up and running on an breathed upon SR20 setup.  I wonder how different the Bunny feels up front with a slightly lighter nose?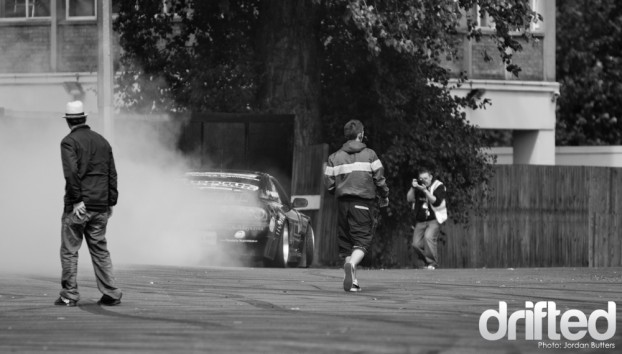 Scotty was paired with Team Twisted's Bruno Esperanza. Unfortunately the Rocket Bunny started to guff plumes of smoke out of the back indicating a turbo issue and that was Scotty out and Bruno through.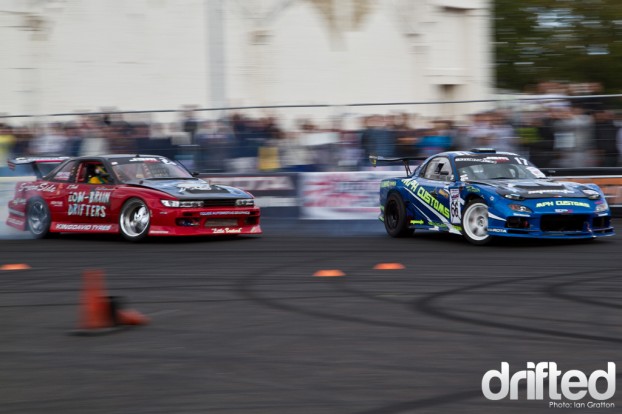 Matt House in the MPH Customs V8-powered Mazda FD had to fight it out with Luke Fink in the freshly repainted LowBrain/Severnside PS13 if he wanted to go any further.  Unfortunately for Matt he span out giving Luke a path into the next battles.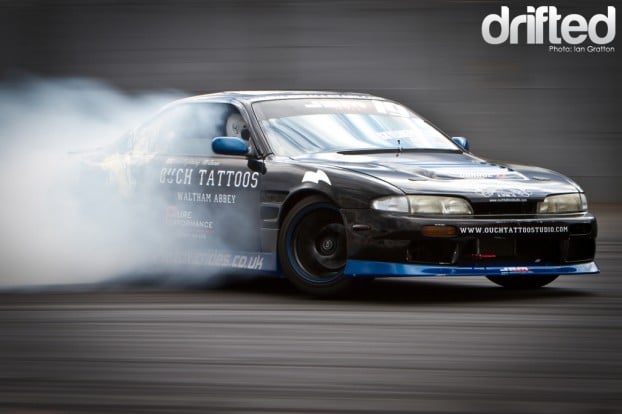 Next up was Francis O Shea in the Top Fuel Nissan s15 against Brad McQueen in the Ouch Tattoos s14.  Brad had some trouble with the turbo inlet pipe being sucked shut in qualifying but there was no such problem now.  Attacking hard and making some good smoke and earned himself a place in the top 16.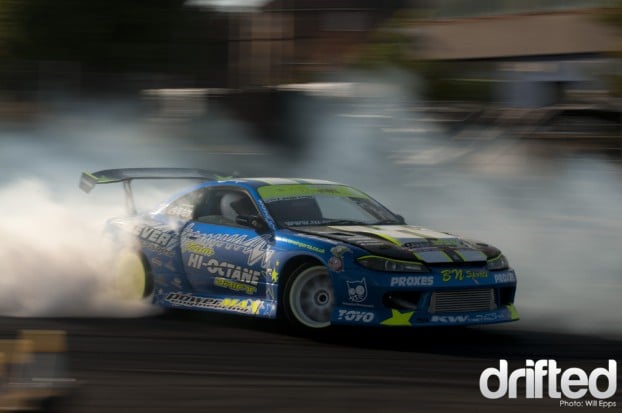 Alan McCord in the V8 S15 faced Tom Yates in the purple Team Twisted S14-fronted-S13.  Tom has to straighten twice and and McCord goes through to the 16.
Anoher Polish driver Krys Terej in an sr20 powered FD vs Brad Hacker in the Dragon Motorsports FD.  The Dragon Motorsports FD is one of the most savage rotary engines you will hear aside from the Crazy 4 rotor systems used by Mad Mike.  However, in this instance the SR20 powered car of Terej goes through.
Formula D driver James Deane's newly prepared Severnside Imports PS13 was looking hot and ready to do battle against vs Brian McCann's green Chaser, above. After a long hard battle James Deane progressed through.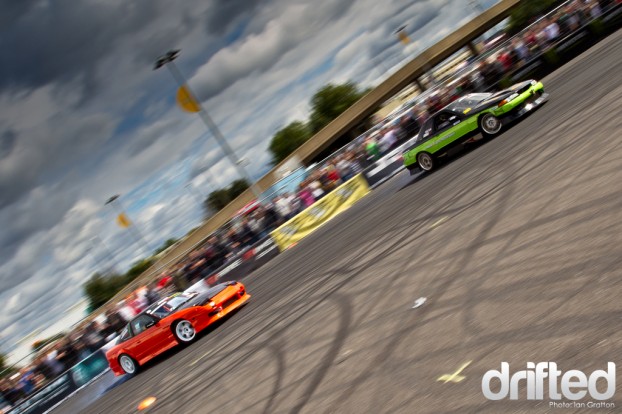 In the last of the Top 32 battles we had the Mint Tyres R32 Skyline driven by George Tilling going up against Matt Chiappa in the LBD/Severnside S13.  George has really improved again this year and he really knows how to get the best out of the standard(ish) RB20 motor.  George confidently takes the win and ventures into the top 16.  Well done indeed.
At this point the final 16 had been decided and the track shut down to make way for some more crazy FMX riding and a monster truck stomping over some cars.  By this time we'd been shooting for approx 4 hours so we figured it was a good time to grab a bite to eat.  With the burger van completely devoid of anything left to eat we decided we'd take a trip to a popular American burger joint.  As we rounded the corner and saw the mighty 'Golden Arches'  the heavens opened and what was moments ago a bright sunny sky became very dull and proceeded to entirely soak the crowd and track.  That would make the Top 16 very interesting!
Click through to the Top 16 to the Podium report!