EVENT: Mondello Practice Day
After a little break in the drifting calender in Ireland, drifting made a return in the form of one of Mondello Park's drift practice days. These drift practice days attract large numbers of participants from a wide range of levels, from the Pro class of Prodrift down to first time drifters with a mix of road and track cars.
Mondello Park will also hold the next round of the Prodrift Series, albeit the track layout more than likely will differ with the track usually run in reverse for the competition. A few Prodrift competitors were in attendance, including Team Hankook Drivers, Alan Lenihan and also Alan Sinnott.
Kenneth Murphy was testing his Blue 180sx. Since this car's last day out in Citywest a few modifications were carried out under the bonnet. A Greddy TD06 top mount was fitted in conjunction with larger injectors to feed the engine and the car was also mapped for the new parts. I will have a short feature of this car up soon.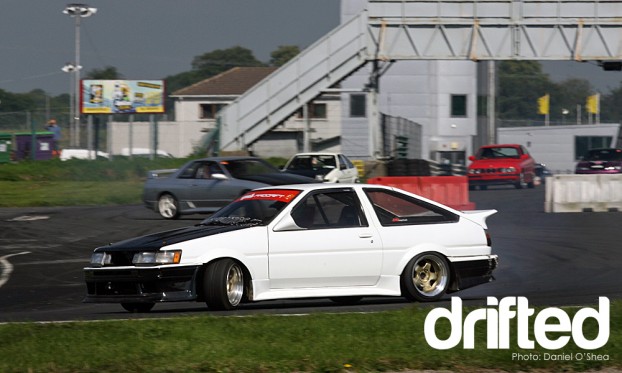 Diarmuid O'Connell's AE86 above, has a freshly rebuilt 16v 4-AGE using high compression pistons, 20v ITBs and also OMEX standalone management. More than powerful enough for drifting Mondello in the dry.
This GT inspired Altezza has something rather interesting lurking under the bonnet. A 6 cylinder turbo, but not what would have been expected in a Toyota. Instead of a 1JZ or 2JZ engine swap, an RB26 with a single turbo is fitted. A nice change in the Irish drift scene, introducing a bit of variety over the S body domination.
This Vauxhall Senator Taxi was one of the best entertainers of the day, throwing the car around the bends, and also fishtailing the straights, and rubbing the pit lane wall.
Dennis Healy is not one to back off, even after a little incident earlier in the day. Continuing to use every inch of the track in his road going SR20 powered AE86.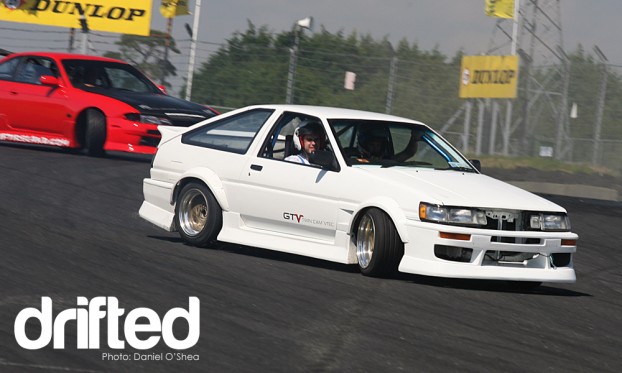 This AE86 is one the loudest cars I have ever heard, its running a F20C engine from a Honda S2000. An absolute screamer of an engine. We mounted up a GoPro to show what a fantastic track Mondello is to drive, check out the video below –
The first two bends in the video, are generally used as the track for the Prodrift Round at Mondello. This gives a high speed blind entry to the first bend, and makes for interesting battle even when cars have a large power difference.
Prodrift Round 4 takes place on the 4th and 5th of September.