Devel 16 – Worth All The Hype? Let's Find Out!
The Devel 16 has been one of the most talked-about cars online in recent years, but what has made it gain so much attention? Let explain as we take an in-depth look at the 5,007-horsepower Dubai-built hypercar.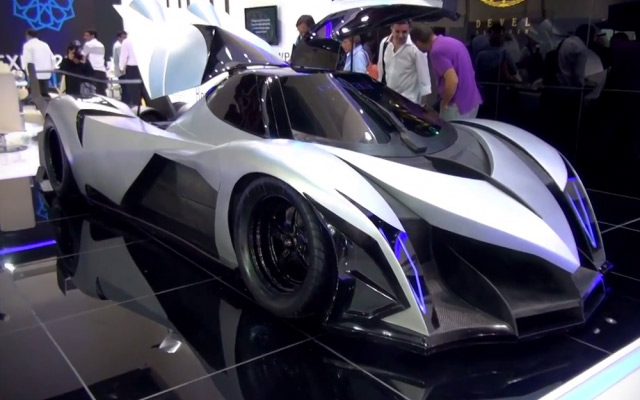 Here, you can click on a particular section within this article, otherwise, scroll down as we clarify everything there is to know about the Devel 16.
---
Introduction
We've checked out some pretty insane cars here on Drifted, but the Devel 16 undoubtedly tops the list.
Have you got an itch to get behind the wheel of a 12.3-liter quad-turbo V16 hypercar, capable of 1.8-seconds to achieve 60 mph with power figures reaching over 5,000-horsepower?
Thankfully, a little-known car manufacturer from Dubai claims they'll be able to make those 5,000-horsepower dreams a reality.
Their official website gives enormously high expectations with the following quotes, "Devel Sixteen is born with extreme performance & unimaginable outstanding power of ten supercars, to pioneer a new era that never has been achieved before."
"A distinctive design of this new generation brings you the ultimate breakthrough feeling of a jet fighter with power surpassing any car in the world."
However, instead of motor enthusiasts across the world rejoicing at the news, Devel has managed to cause a somewhat skeptical reaction on the internet, providing a wide range of opinions on this incredibly audacious attempt at breaking the current speed records.
Dubai has become infamous for achieving 'bigger and better' world records throughout its brief history, from their record-breaking Police fleet including a Veyron among its ranks, right the way through to their incredible engineering masterpieces, such as the Burj Khalifa.
When the Devel Sixteen was initially announced, which was now over seven years ago, the 300mph barrier still hadn't been broken, and the plan with the Devel 16 was to smash that barrier into smithereens.
Unfortunately, as Devel stalled time after time on the project, Bugatti took advantage of their delays and built the Chiron Super Sport 300+, which went on to clock a top-speed record-destroying 304mph.
Bugatti achieved this with a "measly" 1,600-horsepower from their 8.0-liter W16 engine, so surely once Devel has finally finished building their competitor to the throne, the additional 3,400-horsepower will enable them to smash this newly-set record?
Well, you'd certainly think so, but unfortunately, it's not quite that simple. We're going to take an in-depth look at what could quite possibly be the most insane car project ever undertaken in this guide.
Devel 16 History
When you hear of a previously-unknown car manufacturer who decides on to use a wordplay of 'Devil' in their brand name, you begin to wonder what the company is setting out to achieve.
Devel's creator, Majid Al-Attar, certainly wasn't looking to disappoint with his incredible plans.
With an initial plan to achieve 60mph in 1.8 seconds and a top speed of 347mph provided from the 5,007-horsepower engine in their first-ever build, it's quite easy to see why they gathered attention on an entirely different level than ever before.
Admittedly, most of this was from their 'haters' online, but they've also made some smart moves that have somewhat temporarily silenced the naysayers along the way.
After some early-edition prototypes, Devel went on to launch the Devel Sixteen for the first time at the 2017 Dubai International Motor Show, where Schmee150 got an excellent opportunity to take a look at what was undoubtedly closer to the 'real thing' than ever before.
Devel continued working on the Sixteen, although there appeared to be some hold-ups in the project. In this time, the company instead decided to turn their sights to the Devel Sixty.
As you've probably guessed, this was yet another insane project which pushed the boundaries once again.
However, as crazy as it was, their 5.8 0-60mph times from the 720-horsepower 6.7-liter V8 turbo diesel made the project somewhat more realistic.
What's the catch? Well, the Devel Sixty sits at 2.3-meters high, with six-wheel-drive, your choice of either six or seven seats, and a night vision display at the front and rear. It's still not exactly what we'd class as 'normal'.
Sound ridiculous, right? Well, wait until you see it on the drag strip!
Anyway, enough talk about the Devel Sixty. Let's get back to the ferocious hypercar, which looks like what would have been born if a Koenigsegg, a Pagani, and a Lambo got a little too friendly at a party.
Devel 16 Production
If you've been following the Devel 16 since its initial announcement in 2013, you'll agree that it's certainly changed quite a bit during that time.
With the initial spy-cam 'prototype' looking like it may well have been crafted from wood. Devel's development in the meantime has provided us with a car that certainly looks like the wild hypercar it claims to be, even if the long-wheelbase design isn't to everyone's taste.
In fact, in one of their first moves to silence their critics, Devel headed to Italy to work with Manifattura Automobili Torino (M.A.T.) to create the most recent designs for the car.
M.A.T., which was founded by Paolo Garella in 2014, has a distinguished history of working on some of the craziest one-off car projects the world has ever seen, including the Ferrari 4/5 by Pininfarina.
If you want to make a one-off project believable, there were very few more reputable names than Garella to have on-board, and this instilled belief that the Devel 16 might well see the light of day in the future.
When asked about the Devel 16 in an interview, Garella laughed and stated: "We are completely crazy!"
If you were to summarize this project in a single quote, I think you'd struggle to do a better job than Garella!
Devel 16 Price
Remember when we said that Devel claim they can make your 5,000-horsepower dreams a reality? Well, you may guess that you probably should have started saving a few lifetimes ago if you're hoping to join the waiting list.
Devel is planning to launch three different variations of the Devel 16.
If you're after the 1,500-horsepower "base"-model V8, then this will set you back a cool $1.6 million.
If 1,500 horsepower isn't enough, then you can double that with their undecided twin-LS V8 option, or de-tuned V16 quad-turbo, which is likely to be capable of 3,000-horsepower and a price tag of $1.8m.
However, if you want the version that's seemingly capable of breaking the internet with its 81mm quad-turbo 12.3-liter V16 with 5,007-horsepower capabilities, you'll need to save up a cool $2.2m.
Now, you're probably thinking, why would I spend $1.8m on the 3,000-horsepower variant when I can get 5,007-horsepower for $2.2m?
If you're looking to drive your Devel 16 on the road, then you'll, unfortunately, need to go with the 3,000-horsepower model for the time being, as the 5,007-horsepower version isn't looking like it'll be legal any time soon.
If you do want the 5,007-horsepower version that's intended for the drag strip, then you may well want to get your name down on the waiting list, as they only plan to build seven cars per year.
Devel 16 Top Speed
Although Bugatti has already set the speed to beat, with their record-breaking Chiron Super Sport 300+, their top speed of 490.484 km/h still hasn't broken the 500 km/h barrier that Devel is so desperately aiming to surpass.
With the top-spec 5,007-horsepower model being purpose-built for track/drag racing, with no intention of becoming road-legal at the current time, it'll seemingly need some additional work before it is capable of breaking the world record.
Various claims are surfacing online with regards to top speeds, and it seems that the speed that Devel is aiming for will sit somewhere in the region of 310-350 mph.
Although we've seen a registered car driving on the streets of Dubai now, it features U.K. registration plates, despite the claims that the 5,007-horsepower model is supposedly not going to be road legal.
Regardless, the car wasn't being driven hard in the video, and Devel later claimed that it was only running at 20% of its potential capabilities for early-stage testing.
Crossing the 300mph barrier in a car is certainly no easy feat. There's a reason that it remained as a target for the most impressive manufacturers for many years.
Although Bugatti finally managed to achieve this, they're still the only ones to do so to date, and they have some of the most skilled people on the planet working around the clock on their projects with near-unlimited budgets.
Simple aspects of the car that wouldn't typically be considered, such as the tires, need careful consideration even to be able to achieve these speeds.
When we saw the original prototype for the Devel 16, which initially spread like wildfire online, it featured twin-pot brakes, which certainly didn't look up to the task of stopping 5,070lbs traveling at over 500 km/h.
In their later previewed production version, the brakes were seemingly hiding behind their uniquely-designed wheels. Could this be to protect the internet questioning more disappointing brakes, or was it a unique future-generation of high-speed aero?
We do not doubt that Devel has taken into consideration what it's going to be required to reach their high-speed goals, and we can't wait to see the speeds that this car has the potential to achieve eventually.
We certainly hope that it lives up to expectations, and goes on to stun the record books and huge manufacturers.
Devel 16 Engine
As you've probably guessed, the engine has been one of the most talked-about aspects of the Devel 16, and when you throw around 5,007-horsepower claims, it shouldn't come as too much of a surprise.
There are two lower-tier alternatives before you reach the ultimate 5,007hp package. Firstly, there's the base model V8 'streetcar', which provides 1,500-horsepower. These figures certainly aren't too disappointing for a base model!
However, the next step of the ladder is planned to be either a twin-LS V8 variant or a de-tuned version of the V16 quad-turbo, which is expected to be able to achieve double the output of the single-engine, at 3,000-horsepower.
This monster will be built to destroy everything at the track, and the best part is that you'll (hopefully) be able to drive it home again after.
There's something weird about thinking of a 3,000hp car which isn't the most impressive in the line-up, yet the 5,007-horsepower, 3,757 lb/ft torque, 12.3-liter, V16 quad-turbo somehow manages to put those figures to shame on paper. However, Devel has no intention of making the top-spec variant road-legal for the time being.
Now, we understand if you're feeling skeptical about their horsepower claims, after all, there's simply nothing out there that matches it.
Even the fastest proven production car on the planet right now, the Bugatti Chiron Super Sport 300+, boasts just 1,600-horsepower under the hood.
However, Steve Morris Engines, a hot rod engine builder out of Michigan, stunned the naysayers when they put the freshly built engine onto the dyno before the dyno hit its limit at an incredible 4,515-horsepower!
Still, 4,515-horsepower isn't over 5,000-horsepower, and if there's one thing you can guarantee, it's that the internet will always call B.S. until they've seen the print-outs.
So, after a second attempt on a new dyno, the V16 quad-turbo was once again given a chance to prove itself, and it certainly didn't disappoint.
As each turbo quickly spooled to 36psi, the needle went off the scale of the dyno once again. However, this time, they had managed to clock their infamous 5,007-horsepower figure.
If you watch closely in the video, the engine generated so much suction on full boost that it even pulled the dyno exhaust vent blades in the background closed, causing the entire room to become a vacuum.
Based on that observation, the safest thing for their next power testing would be to place the engine into an actual car, and launch said car down an airstrip. Whaddya say, Devel? Sounds like a plan, right?
Devel 16 Interior
We've seen two different variations of the interior, one from the prototype model at the Dubai Motorshow and then an entirely revamped alternative in the latest video on the streets of Dubai.
Although the original interior looked rather basic, the newer white interior looked like something you'd expect to see in the year 3,000. Indeed, the revamped interior certainly looked more at home and aligned with the current expectations of this insane project.
When asked about the interior of the car, creator Majid Al-Attar stated to CNN that he wanted a car that was "really spacious."
Spacious interiors certainly aren't one of the more common goals when it comes to building ridiculous hypercars, but each to their own, I guess.
Al-Attar must have been happy with the latest interior, since it certainly resembled a spacious spaceship!
Devel 16 0-60 Time
The planned time for the top-spec 5,007-horsepower, 12.3-liter V16-powered Devel 16 to hit the standard 0-60mp/h benchmark will be 1.8 seconds, before eventually going on to reach speeds of up to 347mp/h or 558km/h.
Devel 16 Specs
With the Devel's intentions to take this car to over 300mph, this may well be the reason that we've not yet had the opportunity to see it tear up the track.
In the meantime, we're keeping our fingers crossed that they're doing some top-secret development so that they can one day make the dream of knocking Bugatti from the top shelf a reality.
There are few verified facts about the genuine final development specs of the Devel 16, which are mostly rumors for the time being.
However, they do confirm the following on their official website: "The all-new production model of Devel 16 has a super lightweight, high-strength Carbon fiber body."
"Extensive research and development into the aerodynamics of the car have lead Devel Motors to push the boundaries of the industry, achieving unprecedented and unparalleled power in a production hypercar."
These quotes sound somewhat optimistic, and it also looks like Devel knows the scale of the challenge which they're taking on.
Although the official weight is yet to be confirmed, the rumors are that it'll weigh in at around 2,300 kg, which is 5,070lbs, or just over 2.2 tonnes. Given that the Chiron Super Sport 300+ weighed in at 1,996kg, these figures don't sound too far off the scale. These gigantic engines certainly aren't light.
With all this weight, it does make you wonder exactly how well the Devel 16 will do in the handling department. From the beginning, it's been clear that top speed, acceleration, and horsepower figures have been the main aim of the game here.
Devel also mentioned that the top-spec 5,007-horsepower variant would be well suited for drag racing, and with all that power on tap, it certainly wouldn't be an ideal car for small, tight racetracks.
We remember seeing the Koenigsegg CCX go flying off the Top Gear track in the past, even when being driven by 'The Stig,' what this untamed wild animal will react like when it reaches a tight corner at speed is anyone's guess.
As you've probably guessed, the Devel plan to make the 16 AWD, and as much as we love RWD cars here at Drifted, we somehow think this car could struggle to put the power down at the rear wheels.
For the gearbox, the current rumors are a 10-speed automatic drag racing transmission for the top-tier legend. Meanwhile, the road-legal variants will most likely utilize dual-clutch gearboxes.
Is the Devel 16 Street Legal?
Although Devel has confirmed that they don't intend for the top-spec 5,007hp model to be road legal, this was supposedly the car driven in the most recent videos on the Dubai streets with U.K. license plates, and also on the streets of Italy in 2022.
Since the elite model has been designed with the drag strip in mind, it seems highly unlikely that it'll ever be road-legal.
However, the good news is that the rumored 1,500-horsepower and 3,000-horsepower models are currently being built specifically for road and track use, so if you're desperate to have one legally on the road, then these will be the best choice.
Since the 3,000 horsepower variant currently has plans to use the same engine as the 5,007hp model, perhaps there's potential for some 'discreet' engine tuning further down the line?
Devel 16 Release Date
Ah, the (two) million-dollar question.
As much as we hate to say it, who knows?
One of their Instagram posts in 2019 stated that Mr. Tetsumi Shinchi purchased the first 3,000-horsepower Devel 16 in Japan during the opening of Mega Supercar Motorshow.
However, the timescale for the true 5,000+ hp monster that everyone is waiting for is nothing more than speculation at the current time.
Since they only plan to build seven cars per year, now is likely to be the time to enquire if you're able ever to consider purchasing yourself one.
Devel 16 Latest Updates In 2022
After many had assumed that the Devel Sixteen was dead in the water after losing its partner, Manufattura Automobili Torino (MAT), it looked as though there was almost no hope for the ambitious quest to deliver the most impressive hypercar of all time.
However, Devel returned with some unexpected huge updates in June 2021, nine years after the Devel Sixteen's initial announcement.
Pininfarina Aerodynamic Testing
As keen as ever to keep the hype coming, they released a video showing the car's design undergoing aerodynamic testing at the Pininfarina wind tunnel in Italy.
The fascinating video gives insight into the Sixteen's aluminium high-resistance monocoque alongside some of the critical suspension components and the full carbon fiber body styling, which they're still fine-tuning.
With reports that the engineers have struggled to keep the car grounded at speeds beyond 300 mph, we hope their extensive testing has helped eliminate these issues.
We've all seen unintended flying cars at high-speed, and let's be honest - it never ends well!
Initial Track Testing
Just one month later, in July 2021, the team went armed with their newfound wind tunnel knowledge for their first official track test in Italy.
Despite the car being in the early stages of testing, using the 1,500 hp V8 non-turbo engine, the Devel team again made bold claims of "Limited Production" and "8 months delivery" in the low-budget video.
It'll probably not come as too much of a surprise to anyone following the project that, despite being more than eight months later, we're still yet to see a production version.
With the project again generating some buzz, Donut Media provided their take on the Devel Sixteen's history and their opinions on the recent updates.
2022 Track Testing - V8 Production Version
The team began 2022 on a high, heading back to the track in Italy to test the V8 production model.
As fans rejoiced that the car had finally gone beyond 60 mph, it's still a far cry from the 5,000 hp they've spent almost ten years waiting for.
But, seeing the car on the track, combined with the wind tunnel testing, does provide some hope that the project may eventually come to fruition.
Cruising The Streets of Italy
Later that month, the V8 version hit the road in Italy.
The First Customer Car - Ready For Delivery?
In the latest update on their Instagram page, Devel claim that the first customer car is ready for delivery.
However, there's very little additional information other than the usual #v16, #5000hp, and #5007hp hashtags, which sounds somewhat unlikely.
Regardless, it's good to see progress – even if it's as slow and vague as ever.
Will Devel ever silence their critics by creating the incredible 5,000 hp Bugatti-killer that everyone's hoping it'll be? Or will they likely produce the V8 version and call off their ambitious plans for the V16? Only time will tell!
In the meantime, we'll keep providing you with the latest updates on the Devel 16 project.
Conclusion
Although it's still yet to truly prove itself in front of the highly-skeptical public eye, there's no question that Dubai has already pulled some incredible feats out of the bag in the past, despite critics doubting they would ever be possible.
Like most of you, we always love an underdog. Although they've undoubtedly been dragging their heels, Devel has already unveiled one of the most significant engines ever produced, clocking 5,007hp on the dyno.
Admittedly, it seems like there's still a long way to go until the car is truly capable of putting that power down safely.
Even aspects like tires have to be a huge consideration when breaking the 300mph barrier. If they're not up to the task, then the Devel dream could be shattered in an instant.
Huge manufacturers have gigantic teams working around the clock to achieve the same goals that Devel is aiming for while also throwing billions into projects to prove that they're capable of building the fastest cars on the planet.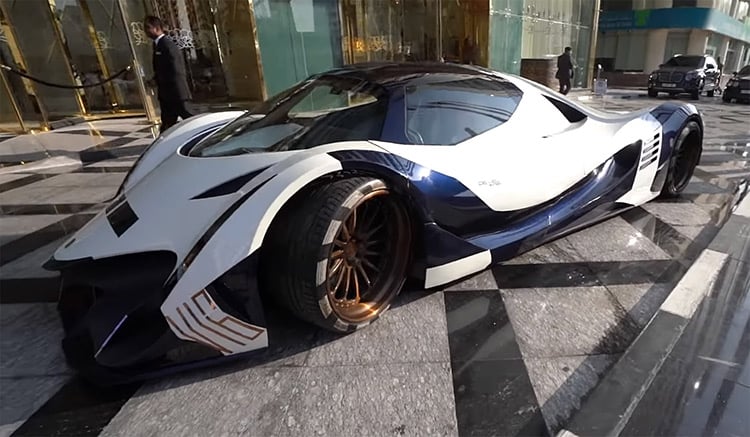 We sincerely hope that we'll one day get to see Devel build their ultimate hypercar and boost their way into automotive history books.
With them recently moving to a new location in 2020, with the Devel 16 being the main feature of the showroom, we can only hope that development is continuing.
With their social media hype moving on from the Devel Sixty, and with the Sixteen well and truly back in the limelight for 2022, it does fill us with some optimism that some good news may be around the corner.
Devel, the world is waiting for your next move. It's time to prove that you've got what it takes to make automotive history.
Photography credits
We thank the following entities for the use of their photography in this article:
Thank you for reading our Devel 16 guide.
If you enjoyed this article, then please share it with the sharing buttons at the side and the bottom of your screen.