EVENT: 2012 British Drift Championship: Round One: Qualifying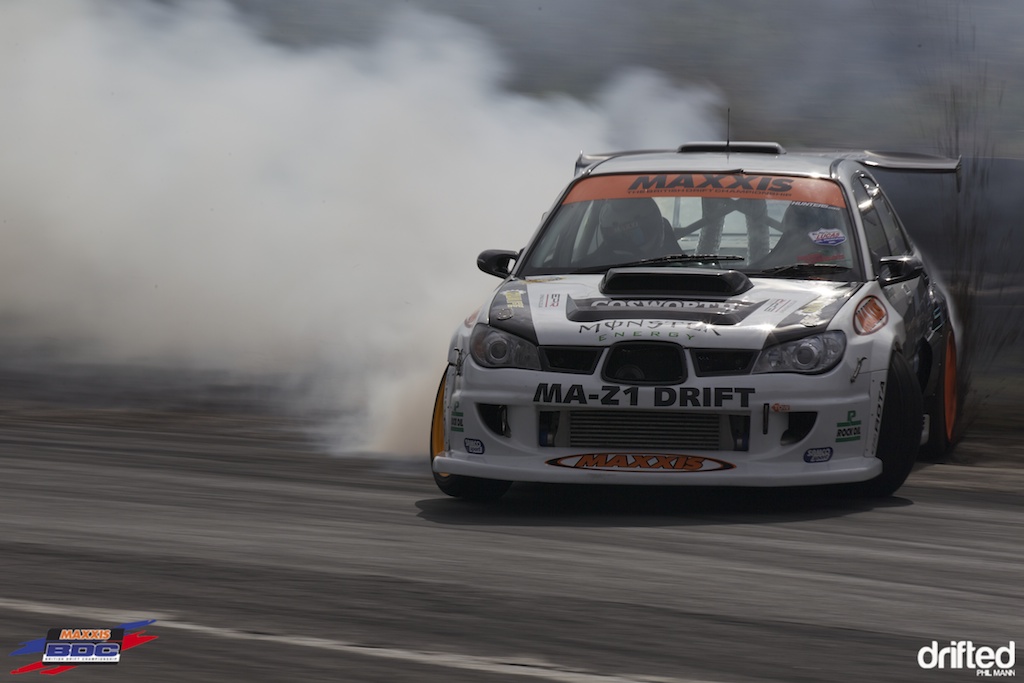 Off season. Those two words conjure up a bleak picture for any hardcore drift fan. Don't get us wrong, the respite is gratefully received, and sure, the excitement of 'build threads' is great, but here at Drifted we're drift fans through and through. We need our fix and we've just emerged from the other side of months of going cold turkey. The 2012 British Drift Championship is finally upon us, and it looks set to be a good one….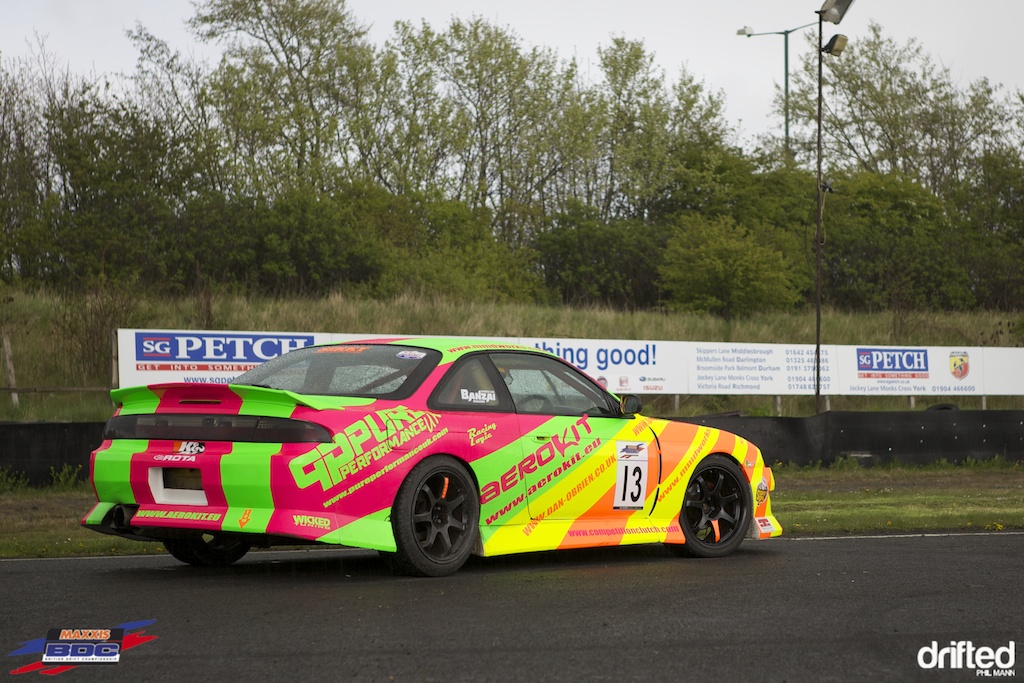 Walking around the pits I saw loads of unfamiliar faces, the BDC has grown to just over 100 cars this season. The old adage of 'quality over quantity' seems ill-fitting this season, as the BDC seems to have both! It could be the draw of the confirmed TV coverage that the BDC will receive this year that has brought about this sudden image awareness in UK drifting. Or maybe the sport is finally coming of age? Either way, it's a welcome change; good look cars make for good looking photos.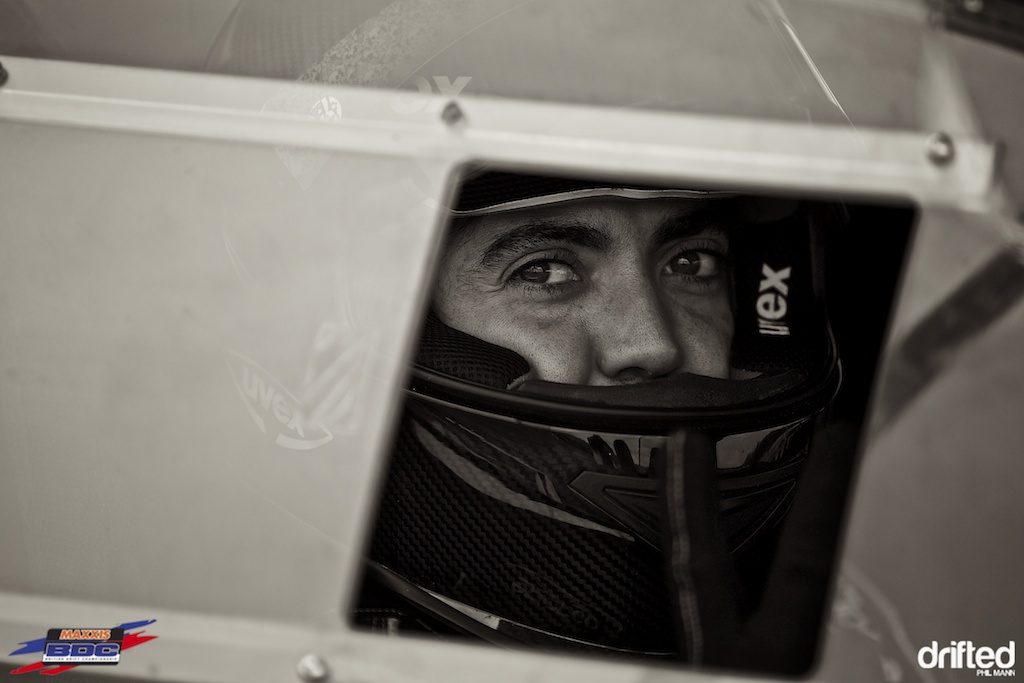 The BDC has increasingly drawn in talent from overseas, and this year is no exception. Alongside the usual invasion of Irish contenders, Drifted friend Hugo Fernandes (pictured) threw his hat into the proverbial ring all the way from Portugal before loading his JZZ30 Soarer on a boat headed for our fair shores.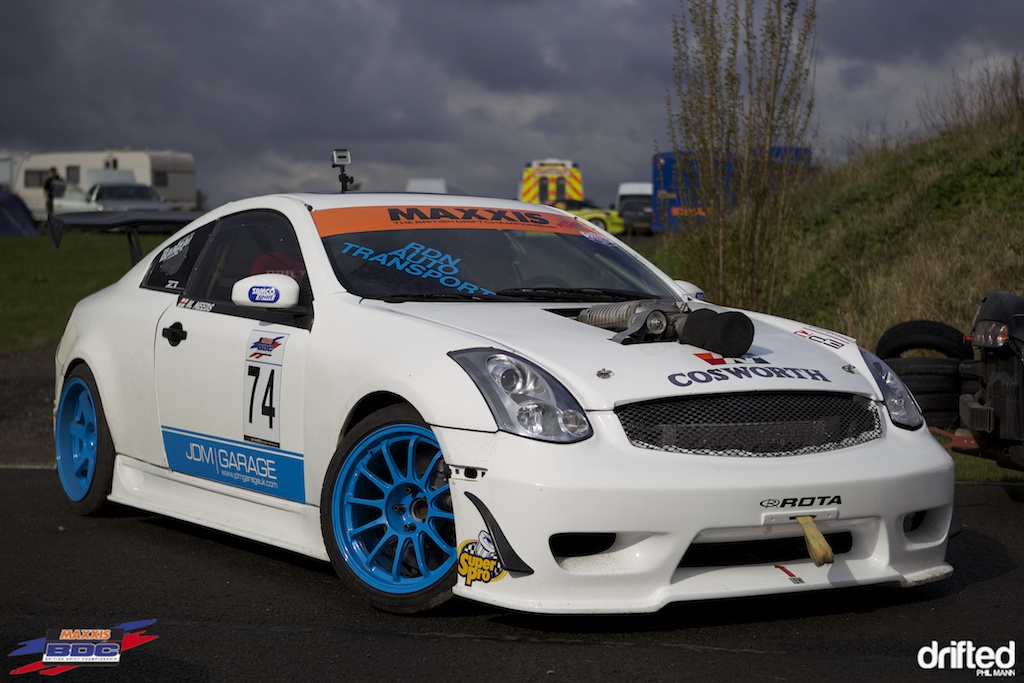 The maiden pit-walk of a new season is always an exciting prospect. Some contenders have kept up to date build threads going online over winter, some have 'leaked' finished article images, others keep their cards close to their chests. There are certainly a few daring to be different in 2012, you may remember Mark Needs' ex-Drift Emporium supercharged G35 from last year's Portugal season ender. Thankfully the serious damage done last year has all been fixed and the Stillen supercharger whines once again.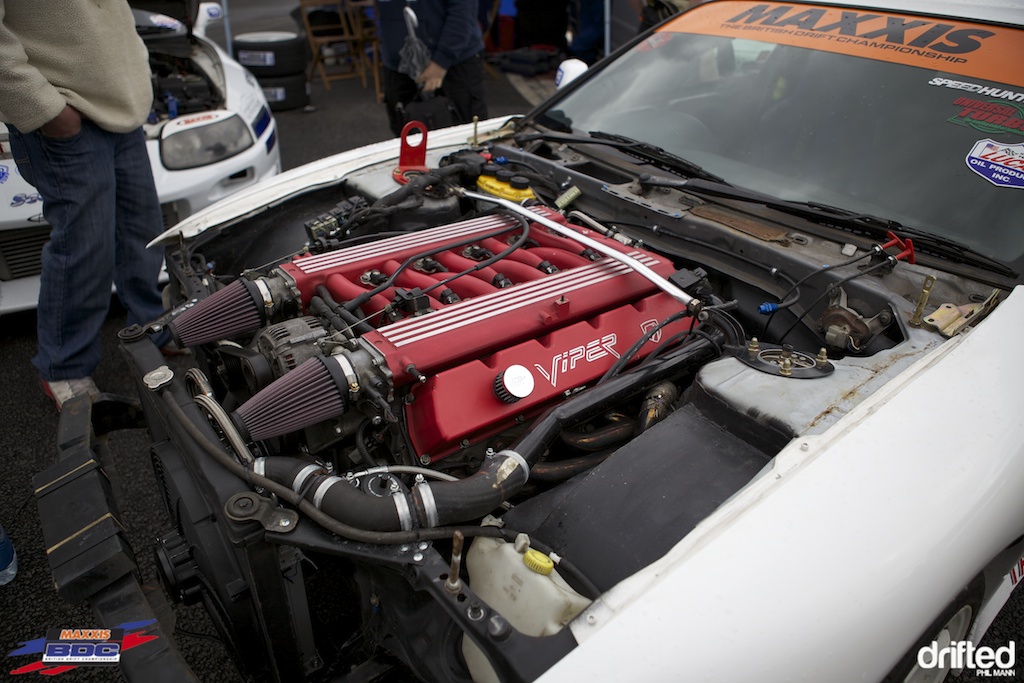 Scottish contender David Waterworth has opted for the ten-cylinder rumble of an 8.0 litre Dodge Viper lump in his 2012 S15 rather than the usual choice of power plant. Could this be a world-first?
The popular Team Falken UK return to the championship with some changes. Paul Cheshire finished 2011 on a high after getting to grips with his 2JZ powered G35 coupe. For 2012 he sports complete fibreglass one-piece front and rear 'clam shell' ends, shaving much needed pounds off the kerb weight. Paul has also opted for a rear-mounted cooling setup; with the radiator residing behind where the rear seats once lived, extra vents were added to the rear quarter and roof line to feed air to the system.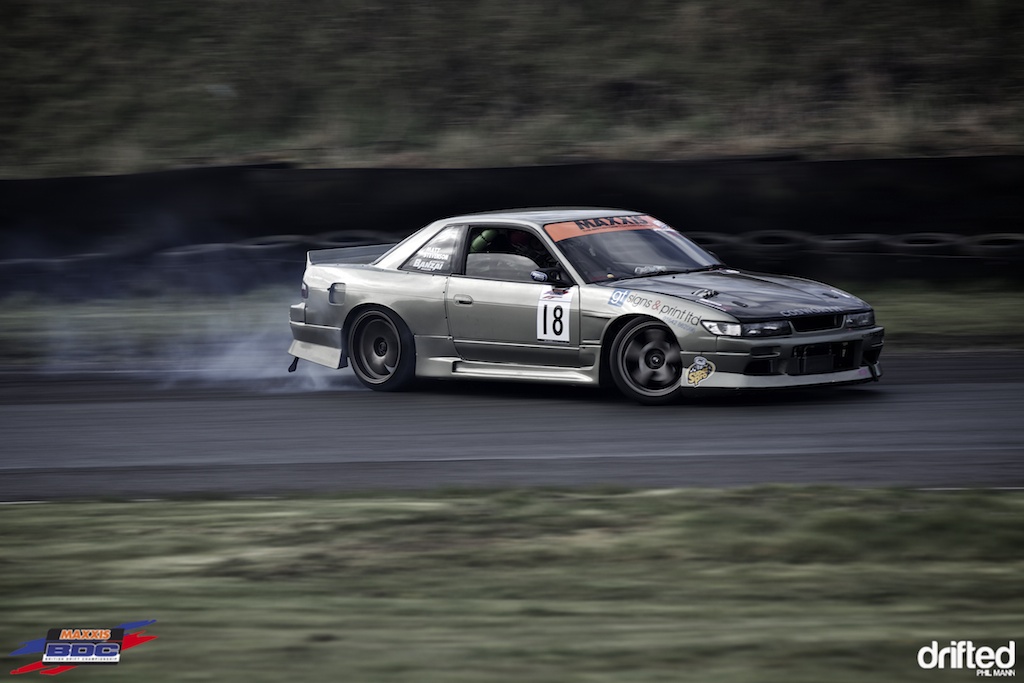 Over the last few years it has started to become the trend to move away from the 4 cylinder turbos that most of the cars hit the road with and move towards something bigger and better. The trend that we have seen in cars moving over to V8 power in the US has been growing in the BDC over the past couple of years. Boosted V8's are starting to crop up as well. Matty Stevenson's Nissan PS13 is running a Vortech supercharger which should be good for around 500hp.
For many of the attendees this was their first BDC driver's briefing. You could see the apprehension in the faces amongst the crowd, but the BDC is well know for welcoming all and any unnerving preconceptions were quickly put at ease. The track layout was the same as the 2011 round, but the new judging panel laid out some much-needed extra criteria. The main point was that they wanted to see no 'ass dragging'; that being hanging on the handbrake upon entry into the first corner. This ensures maximum speed and maximum commitment to the drift.
The first practice session got underway and it looked as if the Great British weather was along for the party.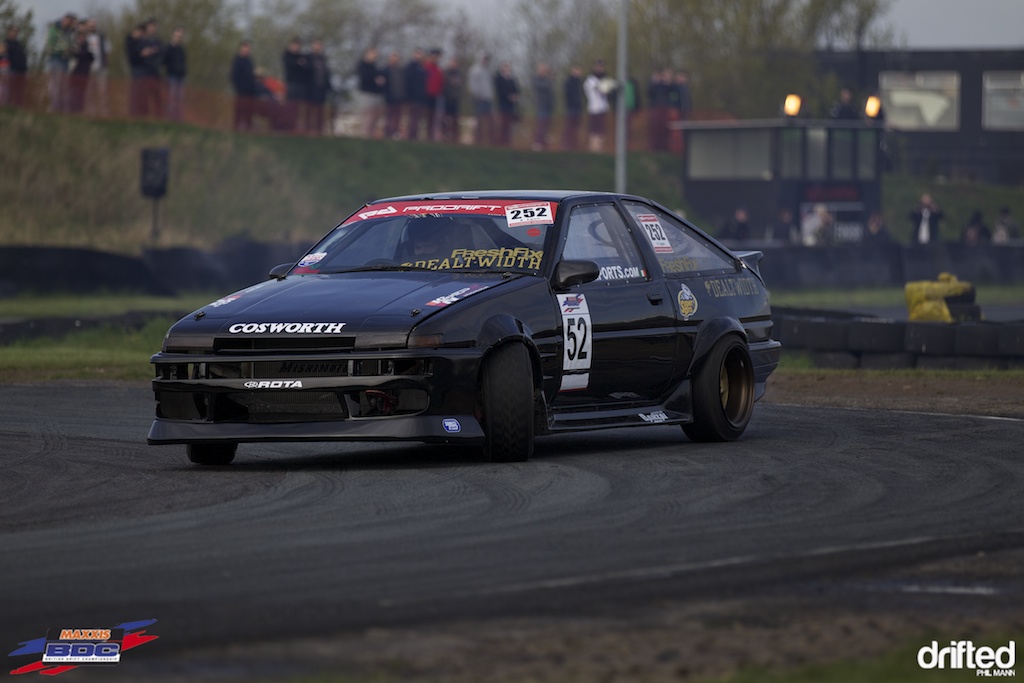 This F20C powered AE86 once belonged to Formula Drift star Eric O'Sullivan if memory serves us correctly. It once wore the famous yellow and black Rockstar colours during the 2008 Red Bull World Championship in Long Beach! Now piloted by Brian Egan in the Semi Pro class, it was looking great out in first practice. I know that our Ian has somewhat of a soft spot for this car as his F20C powered AE86 is almost ready to hit the road.
Tower, this is Ghost Rider requesting a flyby. It's a good thing to have confidence in yourself and it's something that this man doesn't lack. Ricky 'Top Gun' Emery managed to live up to his own hype and grabbed the top spot in qualifying.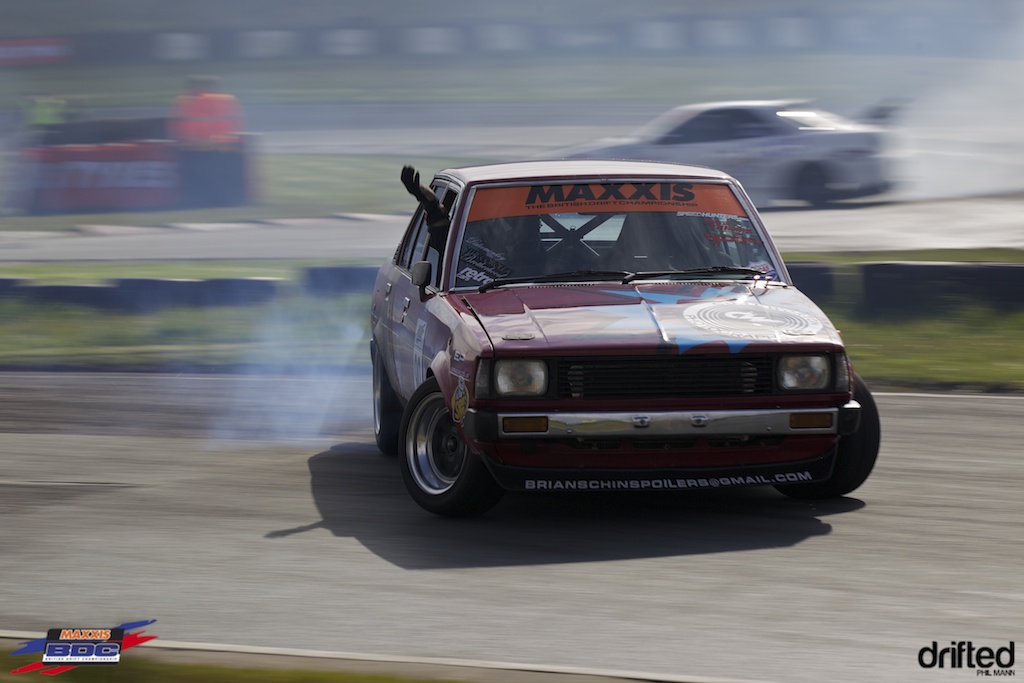 Marc Huxley is always a crowd-pleaser in his SR20 powered KE70 Corolla. The off season had had an effect on a few driver's. The lack of practice and getting to grips with new cars had meant the morning practices were full of mixed results. Sometimes progress for the sake of progress isn't the best idea. Using the tried and tested method was proving to be the best choice for Marc.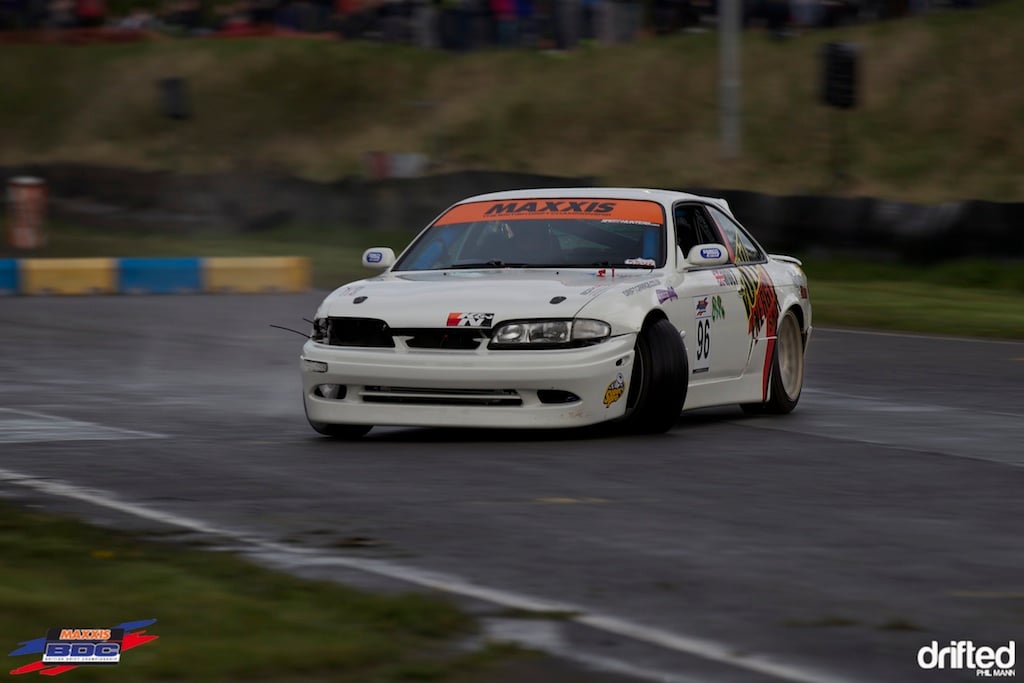 One man that was trying something new was Sam Holt. Progress for him last season had certainly worked. Steady improvements to car and driver had saw him take his first win in Semi Pro class last year, and finishing in the top 4 had given him automatic promotion to the Pro class this season. While most people tend to go down the bigger engine or bigger turbo route, Sam has gone down the nitrous route. An extra 60hp can be had by standing on the loud pedal. Lets just hope he doesn't blow the welds on the intake, although by simply placing a laptop PC on his passenger seat he can head advanced warning of this.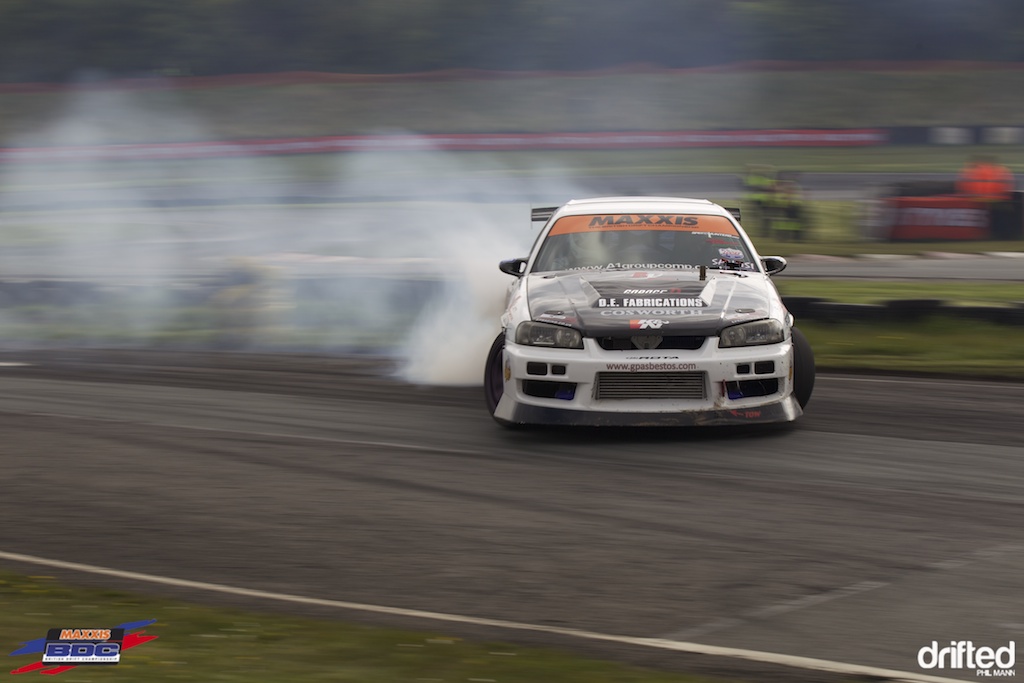 The Nissan Skyline R34 is a rare car in the drifting world. Most people of the Playstation generation are aware that the R34 Skyline came with 4WD and could be had in arguably the best colour Nissan has ever produced. Not many are aware that as with the previous models of Skyline a RWD version could be had. Jordan Patton of Team Sannsi was one of two drivers trying out the R34.
And then the weather struck. Ask any British drift fan worth his or her salt about the BDC Teesside round of 2008 and the above picture should conjure up familiar memories. Teesside and torrential rain seem to go hand in hand.
It may be easier to drift a lowered powered car in the wet but when you are trying to control hundreds of, or in some cases over a thousand, horsepower it makes things a little tougher. You could hear drivers having to feather the throttle to avoid spinning and a trip into the tyre barrier. Steve Moore has strong form at Teesside, whatever the weather, having taken the win at last season's round at the Autodrome.
But even the best can make mistakes sometimes. He was lucky that the only damage was a small crack to the bumper and a dirty car. Thankfully the rain eased off by the time Semi Pro qualifying came around, but the conditions still proved to be a challenge with large areas of the track heavily waterlogged.
The Top 16 ended up a mixture of of familiar faces, along with a few newly licensed drivers:
1st Ricky Emery
2nd Brian Egan
3rd Gareth Taylor
4th Matt Stevenson
5th Dean Jessup
6th Richard McCourt
7th Adam Simmons
8th Lee Barry
9th Jay White
10th Andy Arnott
11th Jake Spiggott
12th Matt Hitchcock
13th Ian Waddington
14th Gordon McIsaac
15th Max Marshall
16th Jay Green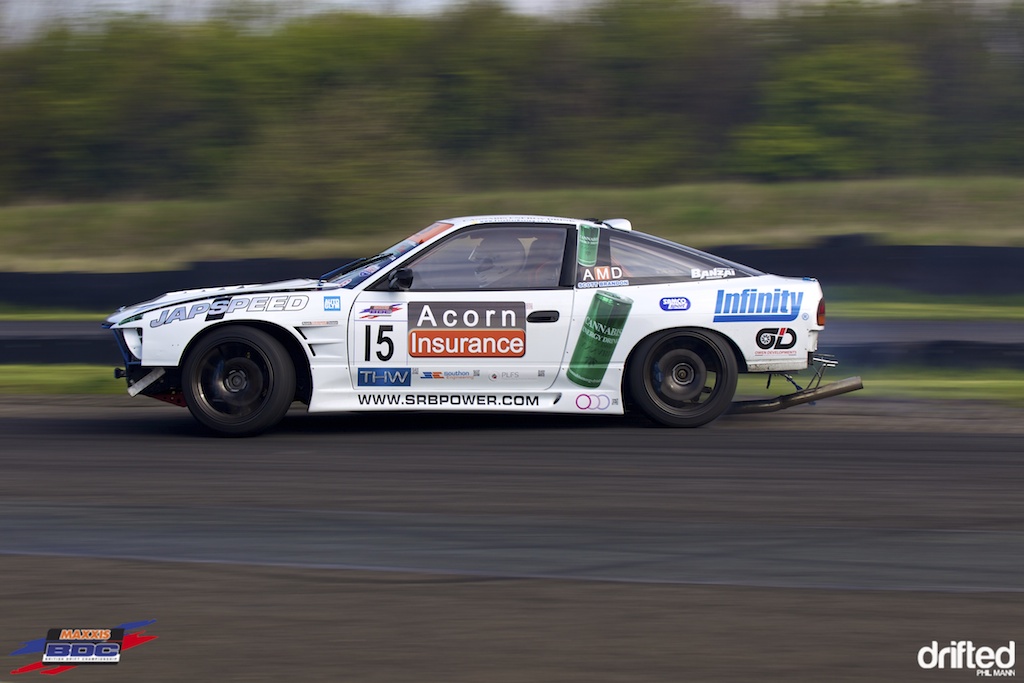 Ian Waddington returned to the BDC with the support of a new team and a new sponsor in the form of Acorn Insurance. His car, sans-bumpers, had gotten him into 13th place. It was good going for someone who almost didn't make it to the event who had blown up their engine and had to borrow one from a teammate.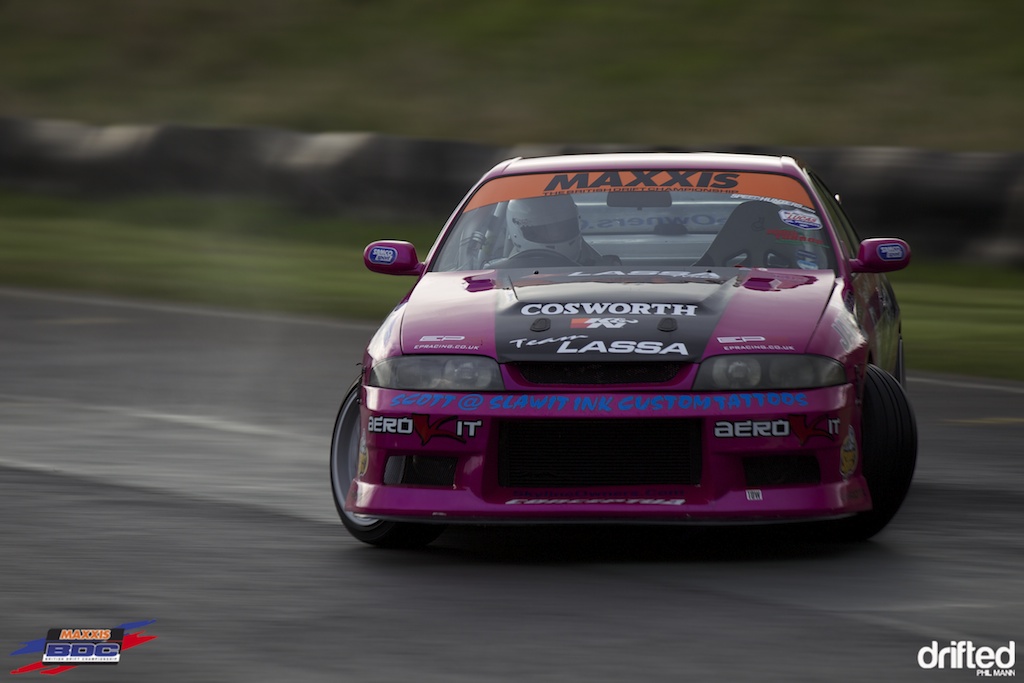 Richard "Juddster" McCourt has joined Super Pro drivers Simon Perry and Jody Fletcher to represent new sponsor Lassa tires. All 3 Nissans are sporting a similar pink paint scheme. The Pro class Top 16 was a mixed bag. Some old faces, some new and plenty of variety!
Pro class results
1st Marc Huxley
2nd Mark Lappage
3rd Michael Sheehan
4th James Fuller
5th Francis O'Shea
6th Matt Campling
7th Christian Lewis
8th John Glaister
9th Justin Clarke
10th Hugo Fernades
11th Brian Cotter
12th Anthony Mortley
13th Andy Stroud
14th Ross Gregory
15th Richard Tovey
16th Dan Hall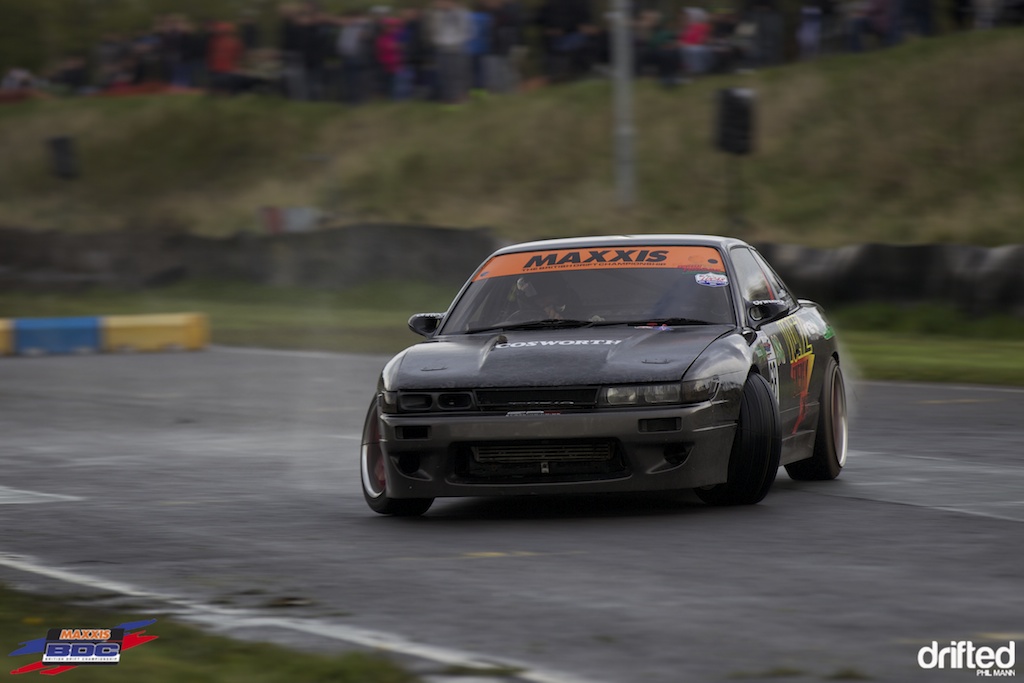 I was shocked to see John Glaister qualify in 8th position. I was staying with John and his family during Teesside but I didn't see him on Thursday or Friday night as he was still getting his car mapped and ready for the event. Even when we had breakfast on Saturday morning we didn't think he would be driving. But this man never gives up. I was shocked when he flew by me, 1JZ engine screaming and forgetting all the drama of the past week.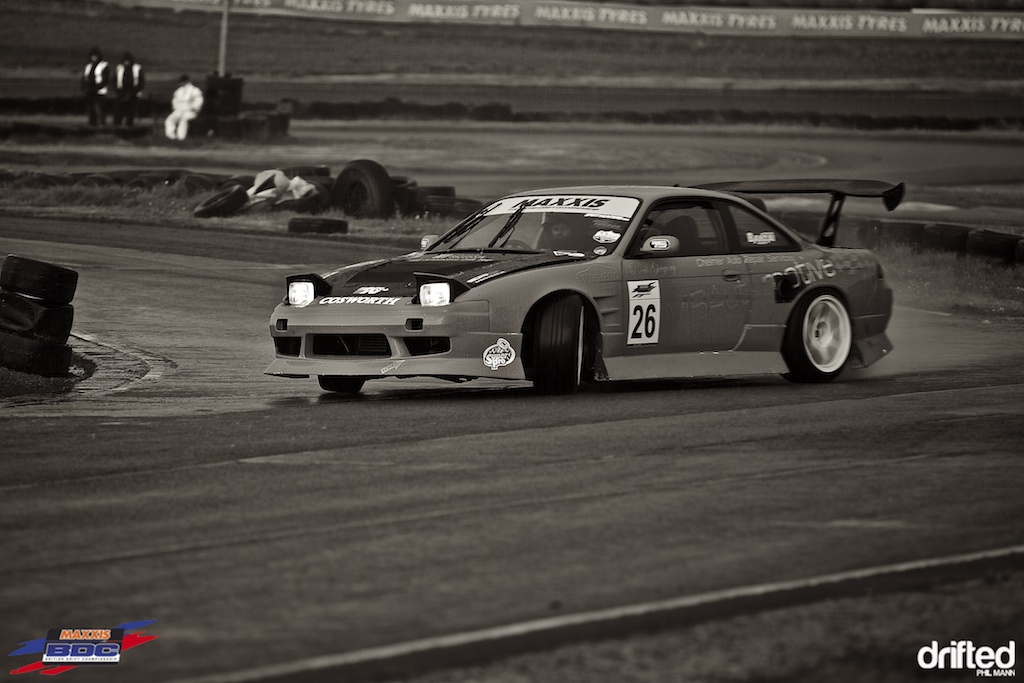 There are a few cars in the BDC that have had the automotive equivalent of a nose job. Most people have an older model car and put a newer model front on it. Team Falken's Matt Carter has a S15 front on his S14, and Anthony Mortley has a R34 front on his R32. Qualifying in 14th place, Ross Gregory has gone the opposite way of a newer car with an older front end. This is the first time I have seen the S13 fronted S14 in the flesh and I think it works really well.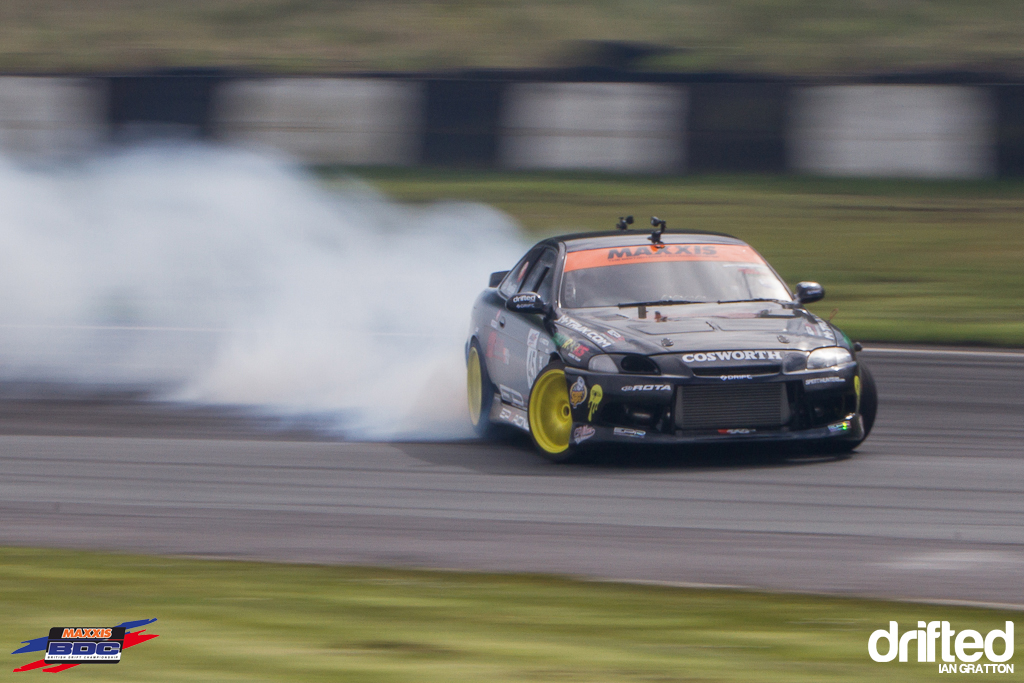 Hugo was adapting to his Soarer's freshly mapped engine well during it's first run on English soil, qualifying in 10th place.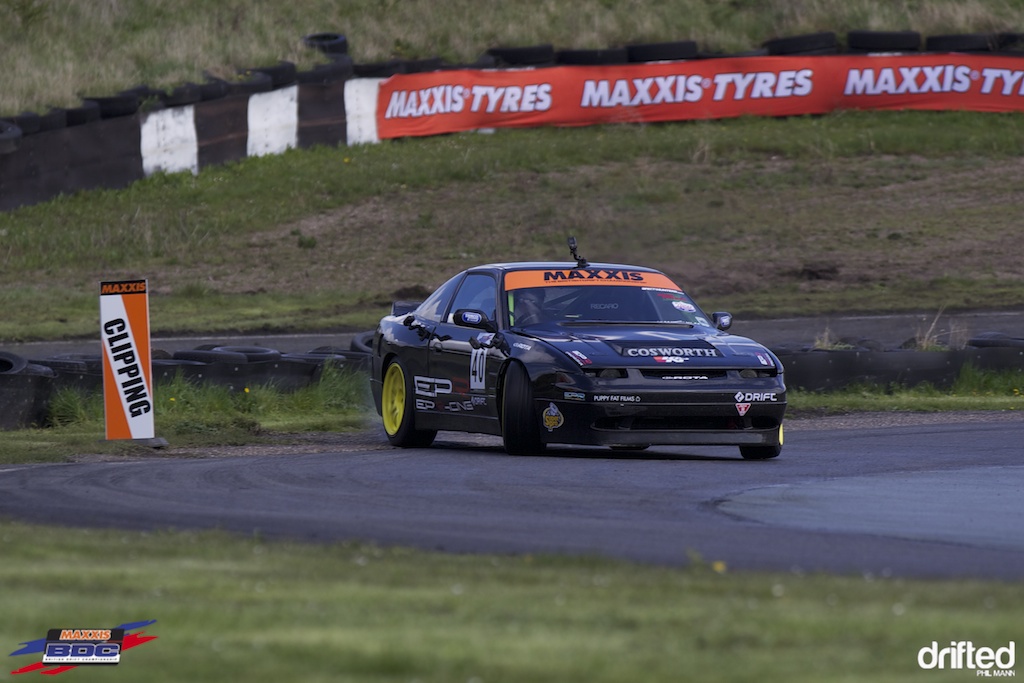 Hugo's team-mate Stuart Egdell was out in his newly built Supermade 180sx. Stu was driving well but sadly missed out on progression into Sunday's competition.
The list of qualifiers in the Super Pro class brings a couple of surprises.These are the drivers that have proven track records in the BDC, Prodrift and JDM Allstars. They are the pinnacle of UK drifting.
Super Pro top 16 results
1st Brendan Stone
2nd Simon Perry
3rd Damien Mulvey
4th Shane O'Sullivan
5th Paul Smith
6th Wesley Keating
7th Phil Morrison
8th Steve Moore
9th Wayne Keeber
10th Mark Luney
11th Alan Green
12th Mike Marshall
13th Jon Calvert
14th Barry Leonard
15th Jody Fletcher
16th Ian Phillips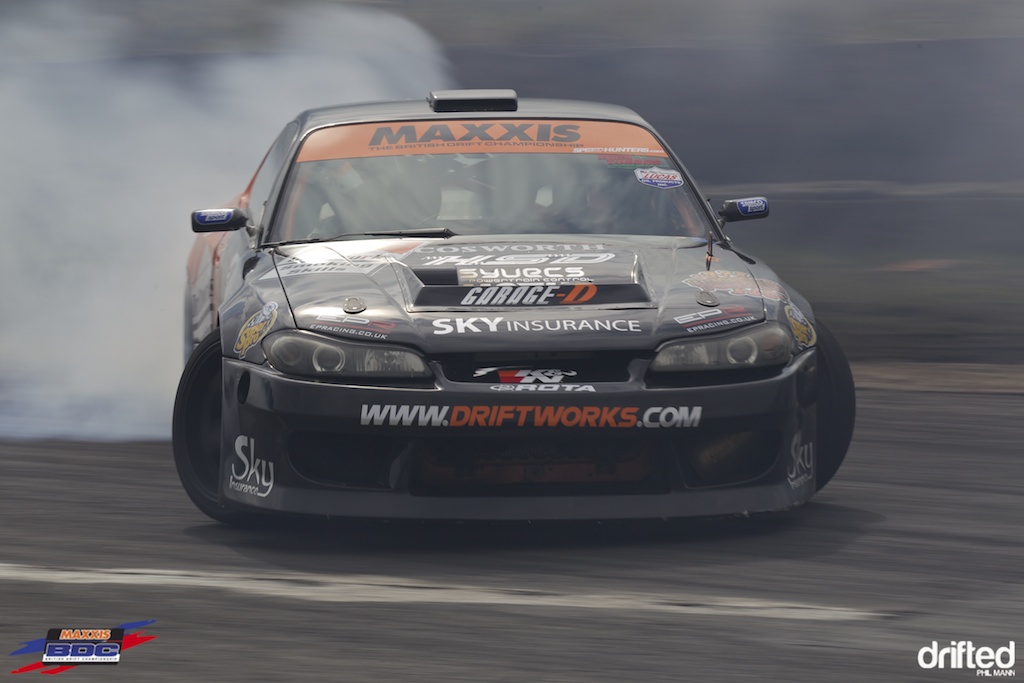 Probably the most recognisable UK car and driver combination were back for 2012. Driftworks front-man and 2010 BDC champion Phil Morrison was back after having a year off from competition. Saturday was not plain sailing for Mr Driftworks; alternator problems were plaguing the car and making it difficult to have a trouble free run. Battling weather and problems Phil still managed to get the car into 7th.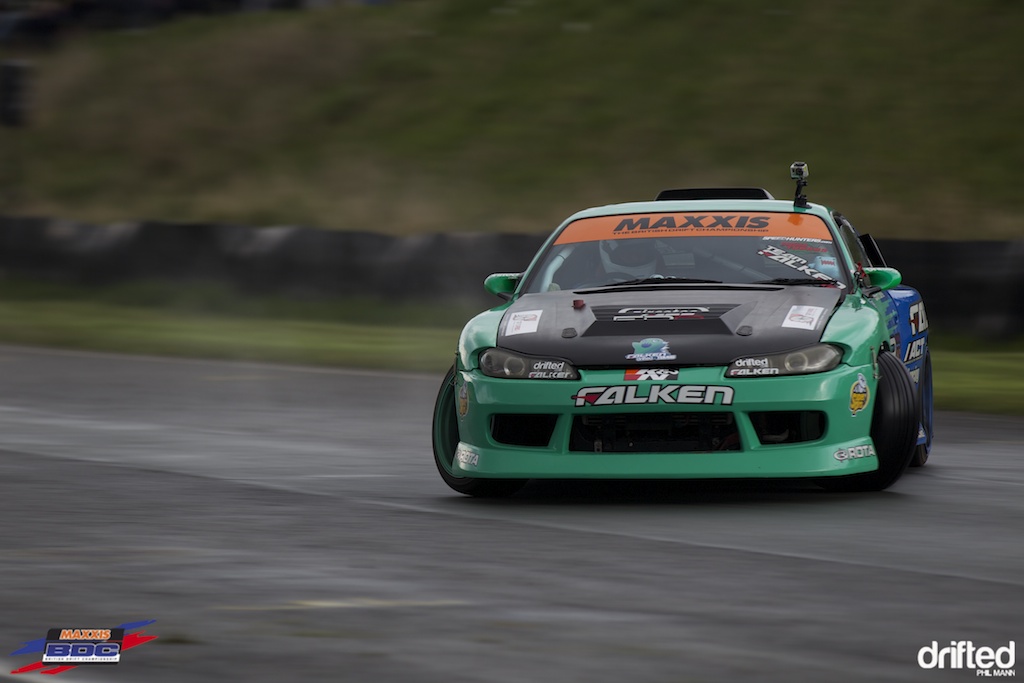 A surprise result, 2011 BDC Champion Matt Carter narrowly missed out on qualifying due to dropping a wheel off track during a judged run. Matt's car now boasts a new wide body kit and rear-mounted cooling system.
It was left to team-mate Alan Green in his newly built 180sx to carry the Falken name into the Top 16. Alan was on top form considering this was the first time he had driven the new car.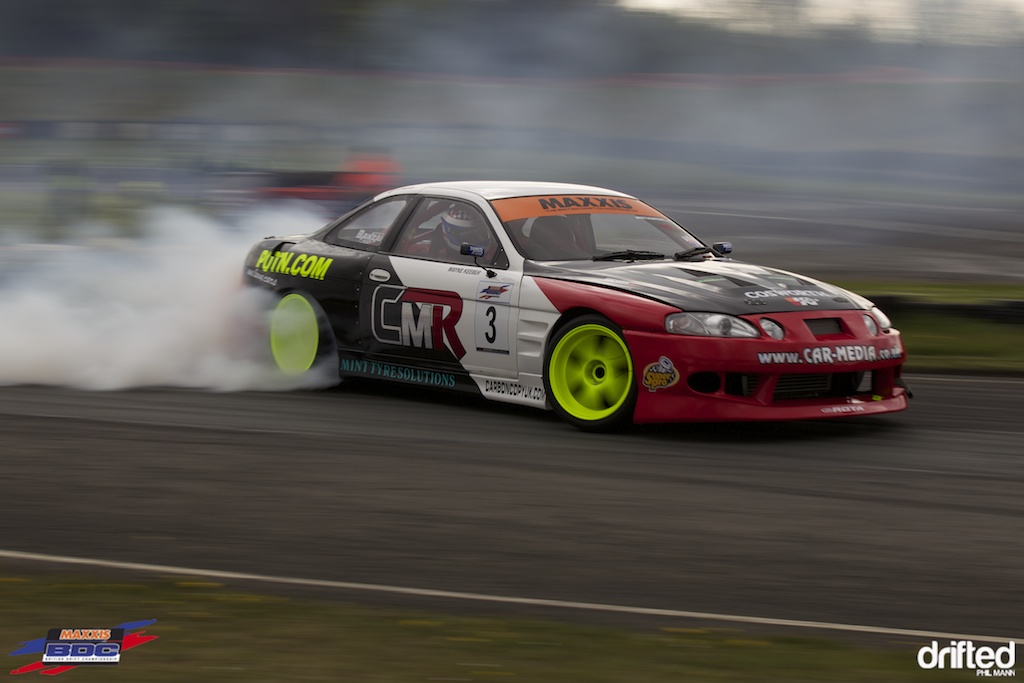 A new edition to the SATS drift team, Wayne Keeber's 2012 car was looking amazing. For me Toyota Soarers are cars that tend to look big and cumbersome and suit being show cars rather than full blown smoke machines. Wayne's car change's my opinion, it sounds amazing, looks fantastic and has a talented and friendly man behind the wheel. Team SATS were onto a good start as team mates Steve Moore and Mark Luney had picked up 8th and 10th, while Wayne qualified between them to get 9th.We all left the track on Saturday night having knowing that the 2012 BDC season was going to get off to a great start, and praying mother nature had had enough of raining on our party and make sure Sunday was definitely not a smoke free zone. Stay tuned for Part II and the Top 16 battles coming soon….