EVENT: Bigfoot Bash 2010; Day One
A few weekends back was the first annual Bigfoot Bash; a two-day, invite event on two tracks. Conjured up by the same man who brought PGP WARS to life, the friendly giant: Rob Primo. Day one was held at Monroe, Washington's Evergreen Speedway. If the day was to be summed up in one word, it would definitely have to be: Carnage… and lots of it. Pictured above is Jeremy Thorne, who had one of the worse crashes, flying off the bank and into the tire wall. Looking at his door though, I think he is no stranger to taking a hit.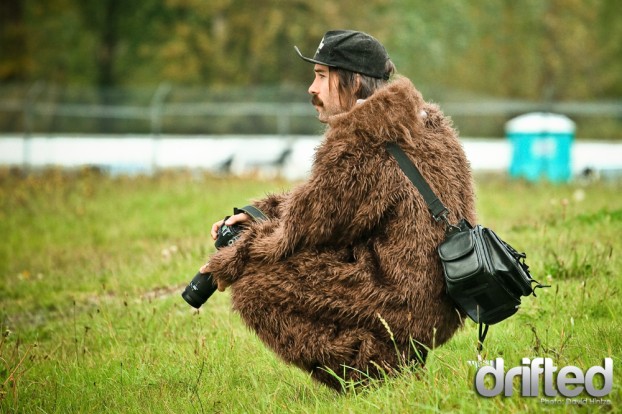 There was an actual appearance of Bigfoot himself, coming out and supporting drifting in the northwest in the form of Cole Chalmers. I don't know how many animals were killed in the process of making this Bigfoot suit, but PETA can shove it. A rather warm suit those EH?
It had rained the night before so the track was pretty slick for the majority of the day, the lack of sunshine didn't help that much either. Driver's weren't about to let that stop them though, if anything it meant at least tires would last a bit longer. Spins and close calls were commonplace for the beginning of the day, and Evergreens first victim was claimed very early.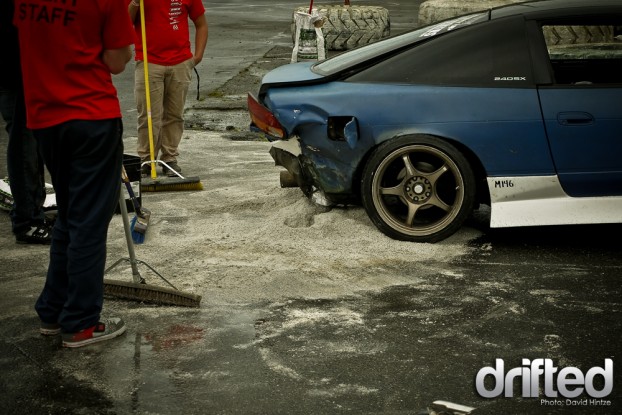 First lap out Dustin King span and was rear-ended by Mike L's miata, rupturing his gas tank, putting an end to his day, losing a tank of gas, and putting the track on hold for a period while the spill was cleaned up.  A bummer for Dustin, as he made the trip up from Oregon just for the event.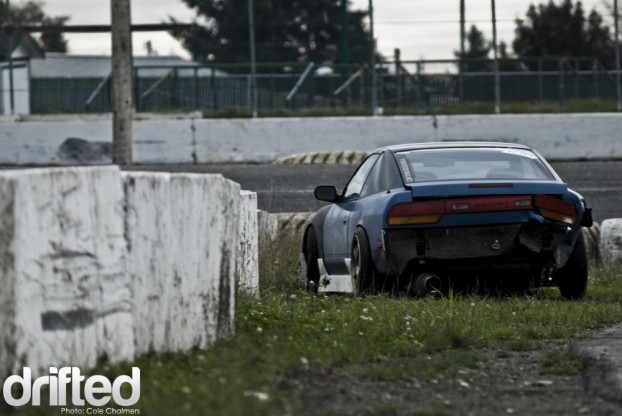 Crashes aside, and names, it was good to see Andrew Whatshisface back on the track after his Little Incident during Forum Fest at Pacific Grand Prix. A few "dents" hammered out and his Nissan red 350Z is now more rugged than ever and matches his driving style.
The car itself actually looks fine except for the damage on the roof, and its hard to ignore one of the few drifting 350z'z here in the northwest. I almost lost my kneecaps to a silver 350, but that's another story… for Bigfoot Bash DAY 2
Its good to see that Megatron is still kicking at the tail end of this tank.
This car just wont quit looking good on the track, keep it up! – Dave
A few Formula D drivers came out for the weekend to partake in the festivities, and even with FD's Irwindale Event only weeks away they weren't holding back. Ian Fournier of Drift Safari, in his R32 Skyline managed to keep it clean all day (And, might I add, rip it up at Irwindale. Placing top 16 is no easy feat, congrats Ian!!)
Unfortunately, both Victor Moore, in his LS powered S14A and Team Instant Party poster boy Roland Gallagher, driving his beauty, teal s13 coupe, wouldn't get so lucky. While Victor was making hella smoke with that V8, eventually all motors decide to quit…
Roland made it further through the day, and was shredding hard and stylish as usual.
But he did some solid damage during the final big tandem, when he followed Miata Mike off the bank.
Two other 'stars' were on track as well, while not of Formula D fame… you may recognize this certain sparkling vampire and sexy werewolf that were used as clipping points for the weekend. Brad Elder, photographer turned drifter, was one of many trying to do the world a favour and "clip" them.
The Toyota Cressida experts, Gerard De Peralta(MX83) and Kevin Peterson(MX73) of Serial Nine, were both out and charging hard. Both of their cars are SO clean and so sick! Serial Nine is the way to go for pretty much everything Cressy related, they just need to get stuff for the X7 wagon available so my cressida can catch up on their killer style! *hint hint*
Gerard smoking out the track.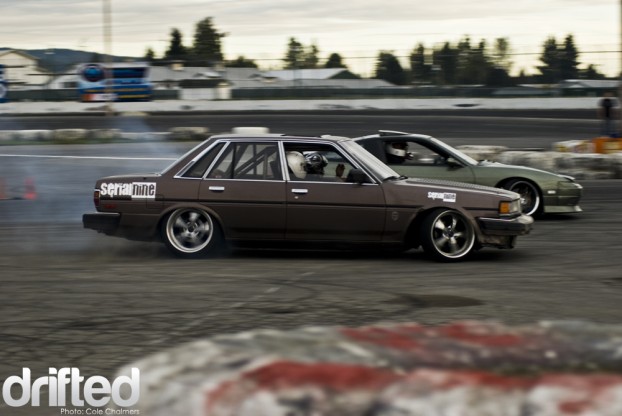 Kevin keeping close to an s13.
Few more pictures from the event
As the day progressed and the track dried up, everyone's runs cleaned up a lot more as well. As the sun began to set, I left the track to hit up the pits for a bit. In doing so, I apparently missed a pretty spectacular crash. Dustin Jantze went off the bank and somehow managed to squeeze between two giant tires, and while that feat was miraculous, luck can only go so far. Dustin's SR20 powered corolla slid full sideways into a light pole, caving in his driver side completely.
With a little coaxing with the winch/pole combo, and some love taps with a hammer, it was straightened out enough to… I dunno, pass for something drive-able on public roadways? Dustin still had to make the trip back up to Canada. I bet that was an interesting border crossing! With Day one of Bigfoot Bash Complete, those sticking around for day two made their way to Kent, Washington. More specifically, Pacific Grand Prix Motorsports Park for a night of debauchery. But what happens at PGP when the lights go out, stays at PGP… Stay tuned for coverage on day two to follow!
-Cole
PS! To peep David Hintze's photos from day one visit his website! and my photos from the event are at my Flickr!