EVENT: Biggerfoot Bash Team Tandem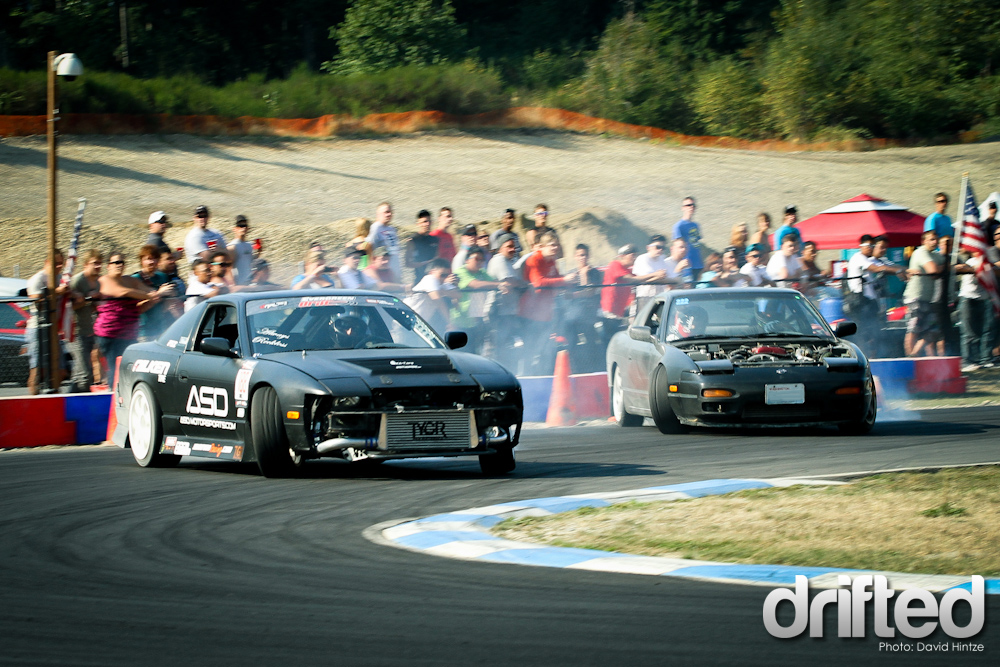 Well the infamous Bigfoot never made an appearance at Pacific Grand Prix (the heat must have been too much for all that fur), but the driving that went down in Kent, Washington this past weekend was equally as legendary. For the second year in a row, drivers from all around the Pacific Northwest came out to PGP's Go-Kart track to slay tires and play bumper cars at Biggerfoot Bash.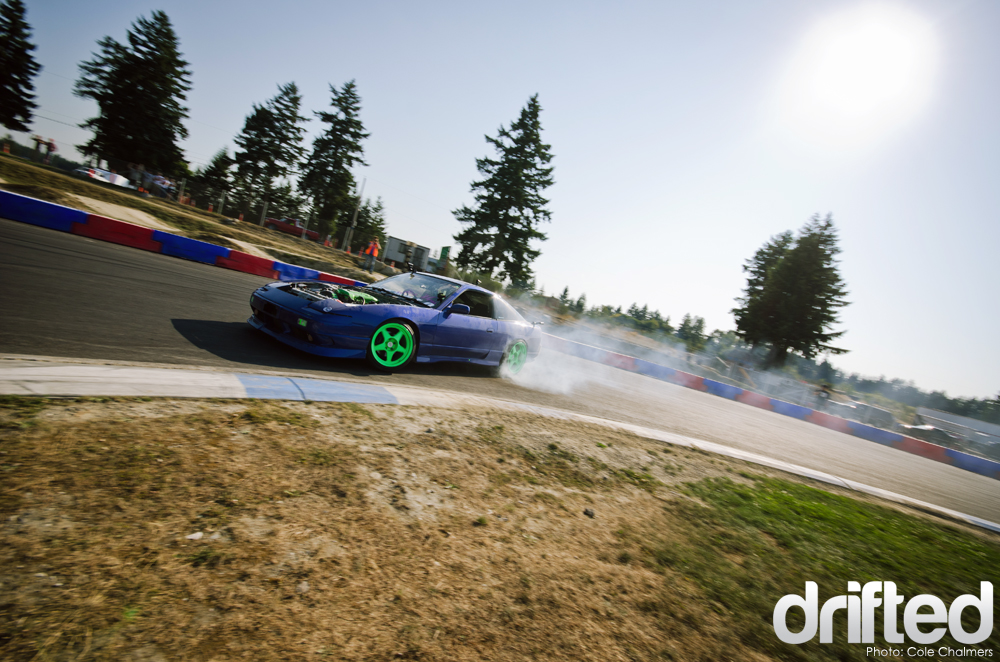 After last years successful Bigfoot Bash, Rob Primo (above) took it upon himself to make sure the bro-down happened again. While this years event didn't span two days and two tracks, it didn't feel like any driving was missed out on. With the drivers list being invite only, and having PGP's technical Go-Kart track as the battlefield, the action on the tarmac was electric right from the get-go.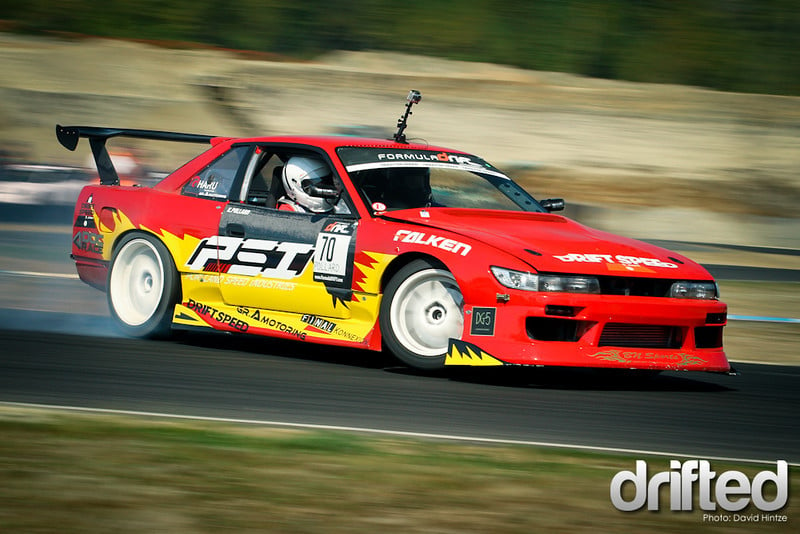 Formula D driver Kyle Pollard brought out the Portland Speed Industries JDM Silvia and was tearing the track apart. After being bumped out of the top 32 by Darren McNamara at Formula D Las Vegas, it's obvious that Kyle is hungry for a good finish at Irwindale next month. So I'm sure he was looking to make the best of any track time he could get.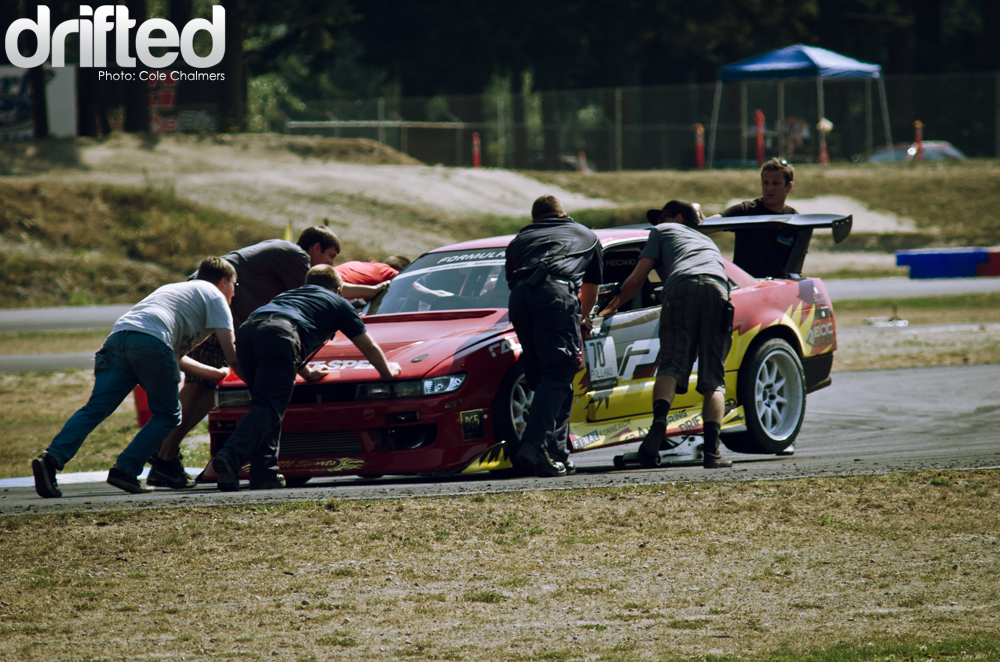 Unfortunately, (what appeared to be) his rear differential had other plans. It looked like it broke and locked up as it had to be pushed off track while the rear end was jacked into the air. Hopefully everything will be back together and competitive for Round 7 of Formula D in a few weeks time.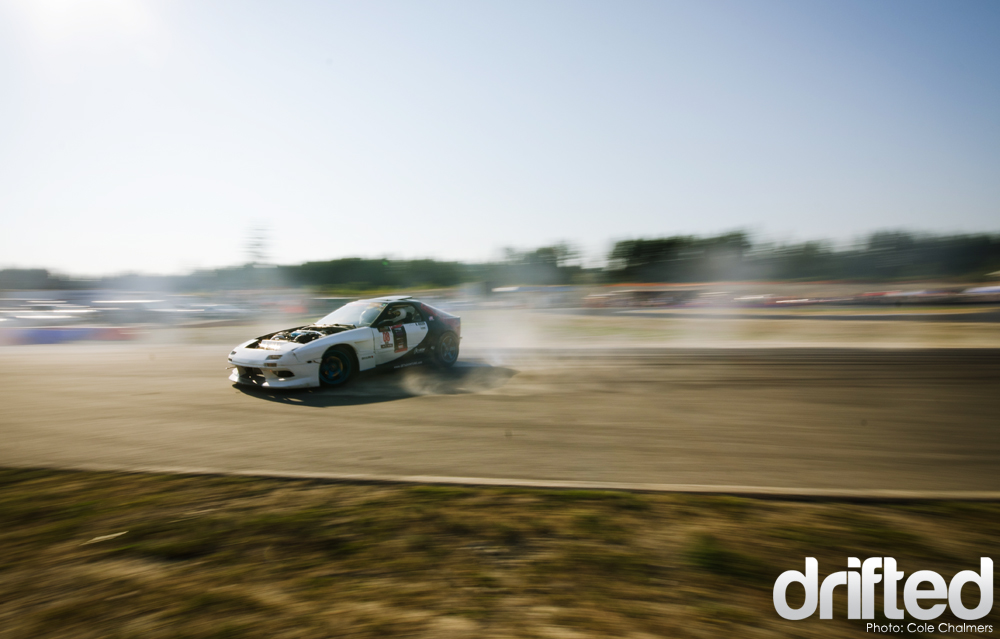 Speaking of Formula D, Kory Keezer (along with 3 other Washington boys) picked up his Formula D license for the 2012 season. The roster for next year is going to be awfully crowded with Pacific Northwest Drivers, they're taking over! Maybe they should pitch in together and rent a semi to haul all their cars to the events?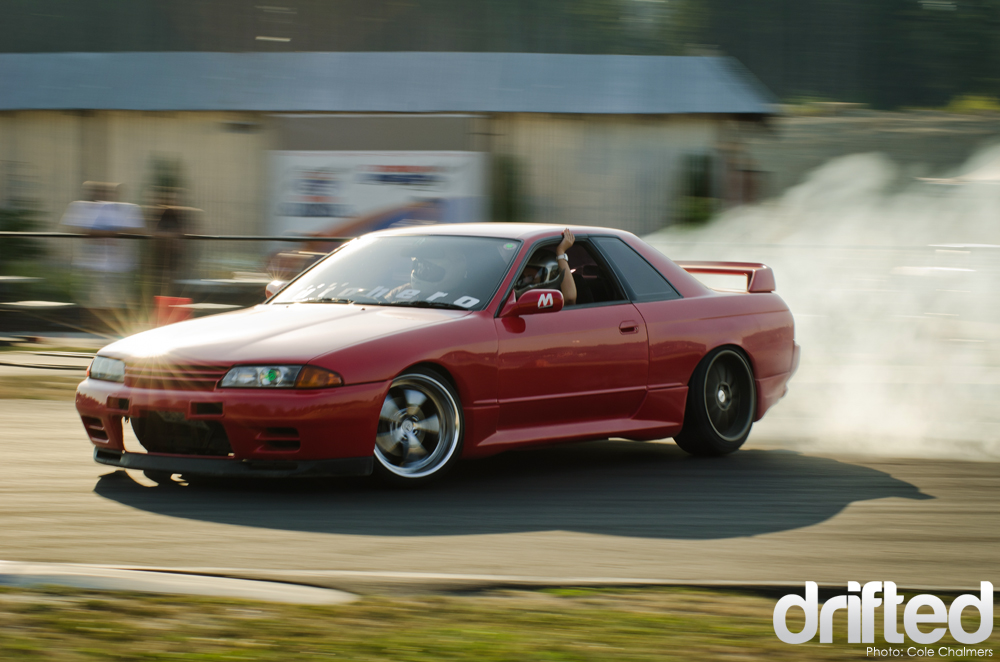 If there's one thing the PNW is good for (besides pumping out Formula D drivers, and hosting killer events) it's building unique and clean cars. There was no shortage of them this weekend either, and unlike a lot of trailer queens and garage beauties, these cars were being driven like they should be. Lucas Perez pulled his Nissan Skyline onto the track, slightly reminiscent of the Drift Tengoku R32.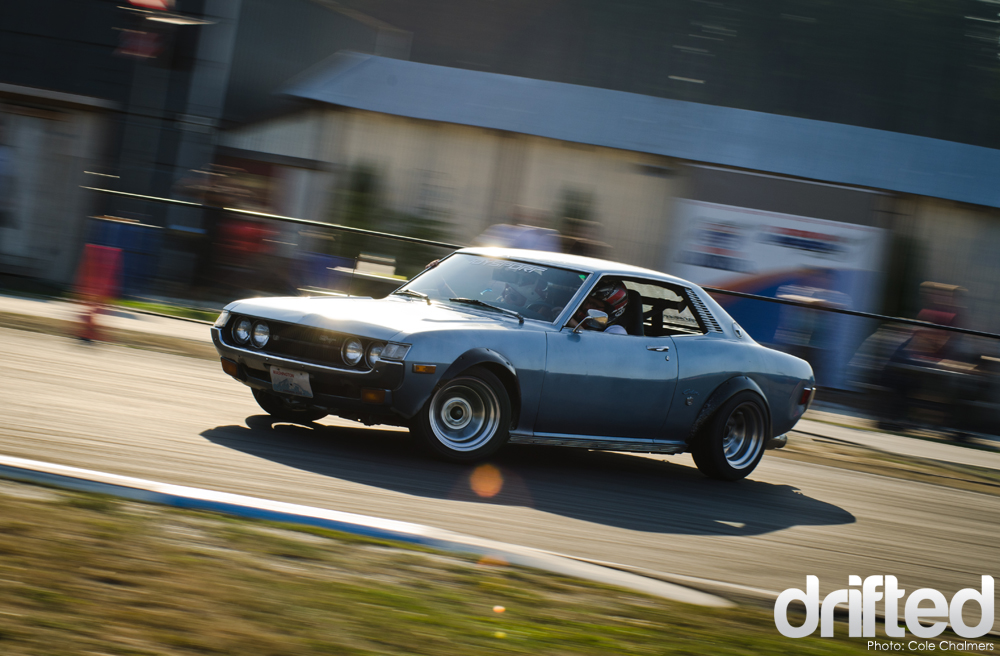 Matt Panic, an OG in the Washington Drift scene, brought out his 1973 Toyota Celica. Definitely one of the raddest cars I've ever seen going sideways.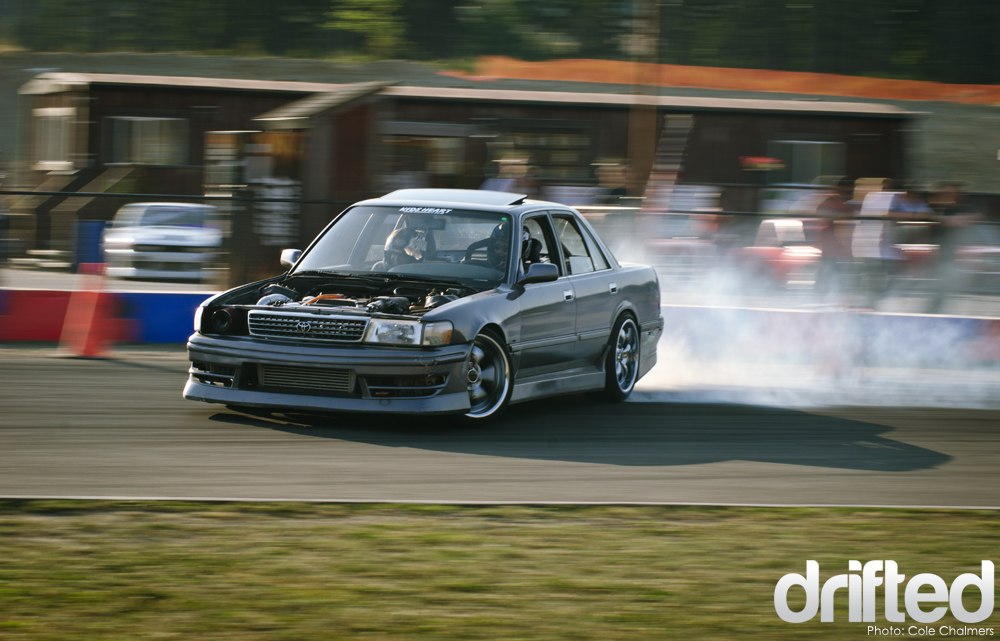 Matt's brother, Mark Panic, is no stranger to Pacific Grand Prix either. He was tossing around his Jz powerd X8 Toyota Cressida.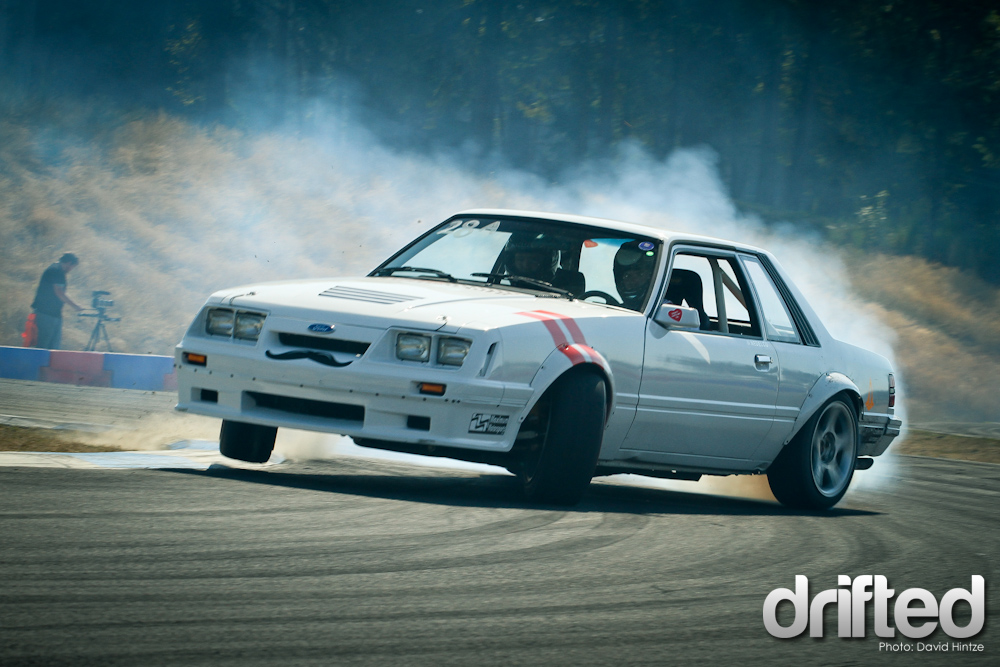 And who could forget David Nedelcu's foxbody coupe. With Mustangs being more famous for going fast in a straight line  it's a nice change to see one hanging loose around corners. I like David's pony, with the quad headlights, bolt-on over fenders, and the attack stripes on the fender it stands out from the millions of average foxbodies you see eveyday.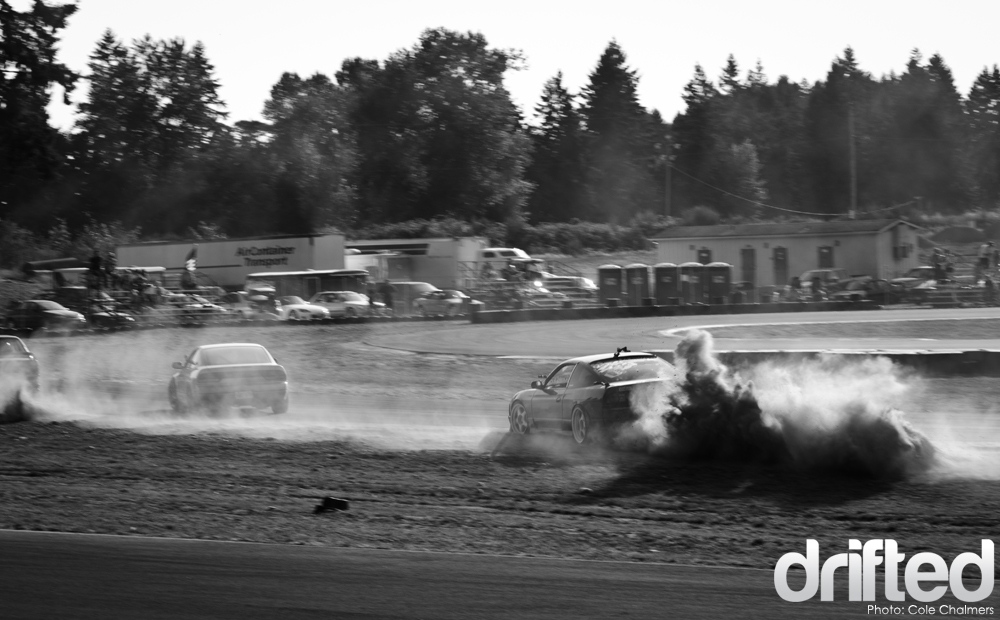 The caretakers at Pacific Raceways do an unreal job on upkeep at their tracks and work hard to keep them looking pretty,  so they always ask nicely for drivers to avoid doing dirt drops. While PGP's go-kart track is big enough for full sized cars, it wasn't built with them in mind and the track is tight and technical. So when drivers push harder and harder the odd tire dropping off track is inevitable, as Rob Primo  shows here.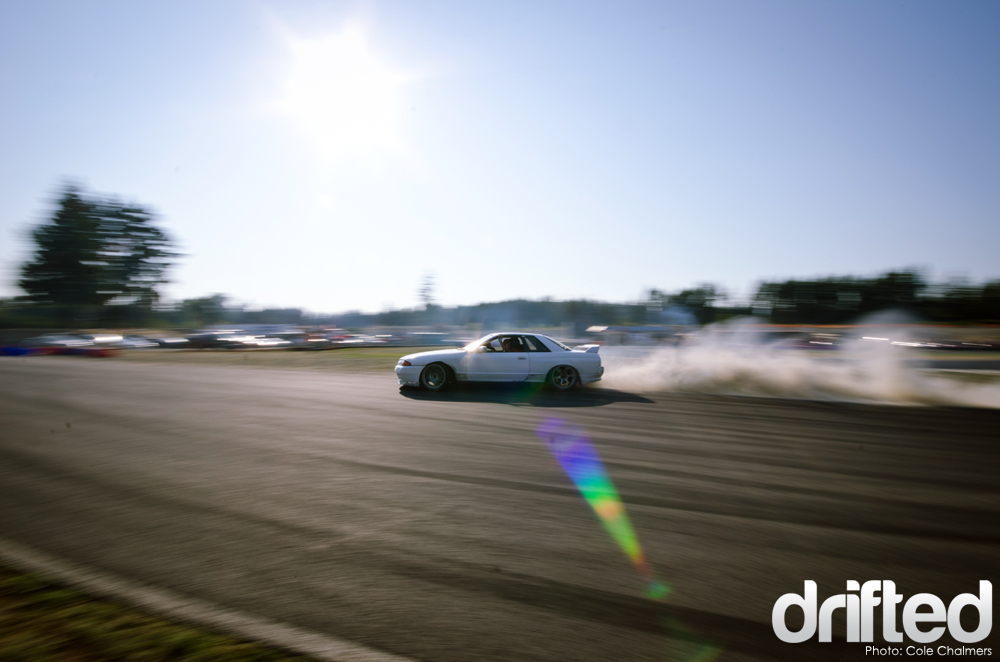 …and Jon Jaffe shows here….
…and Erich Hagen shows here…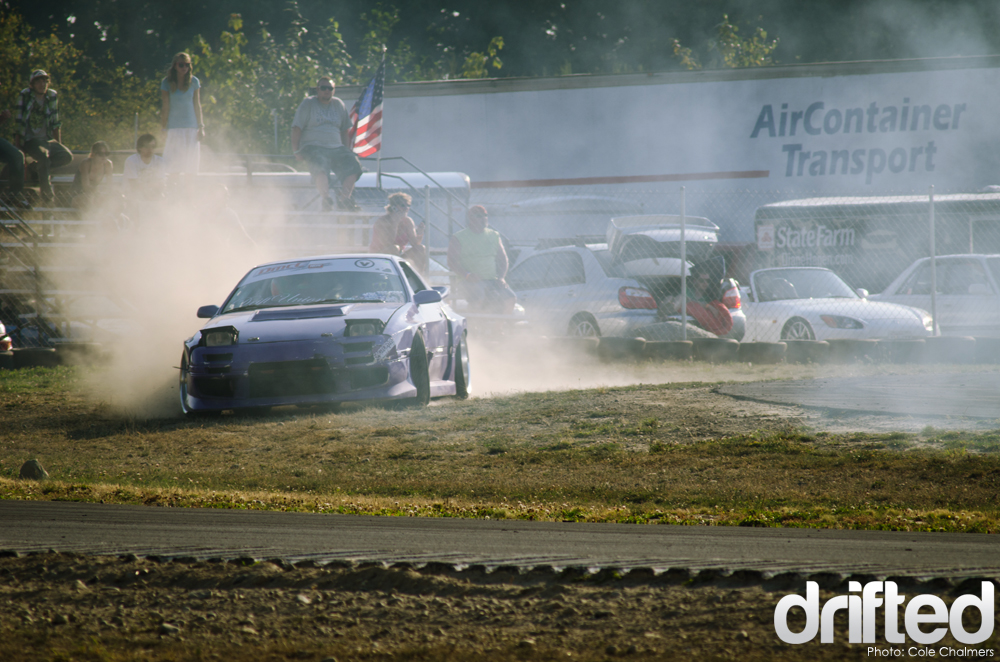 …and Shawn Browne gives an example on how to do it wrong. With all the dirt that gets thrown around at these events it's amazing that PGP keeps letting us come back. They deserve a huge thank-you from everybody in the scene for putting up with us hooligans, I hope I get the opportunity to drive there when my car is finally track ready!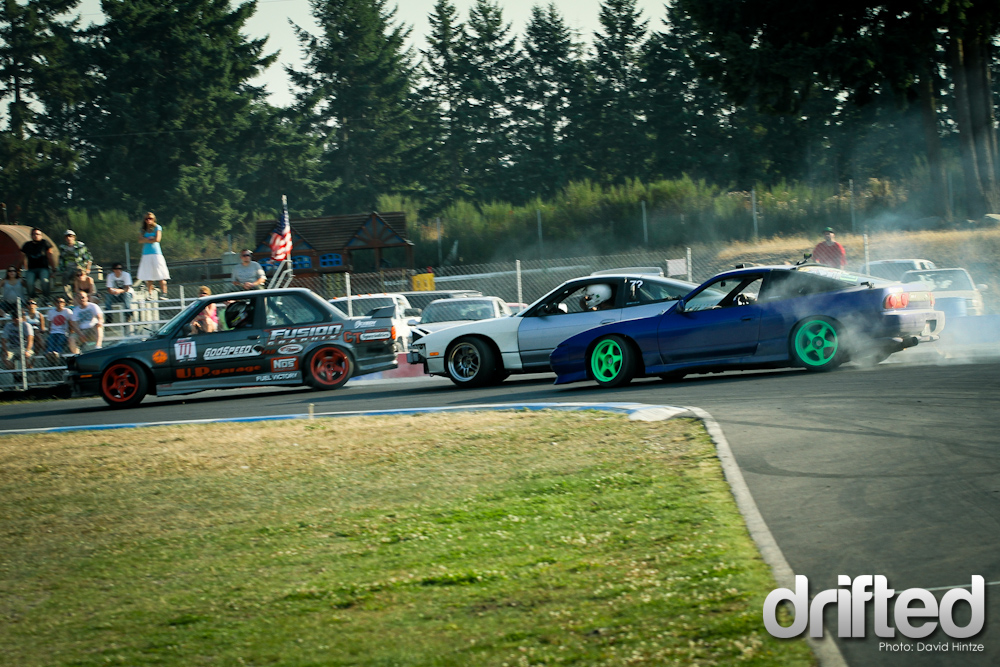 As time slid into the late afternoon (pun intended),  Teams were made for a Team Tandem Competition. Rob Primo enlisted Nathan Feigion, and Erich Hagen to his team: Hot Mess. Definitely the most consistant team of the day in my opinion.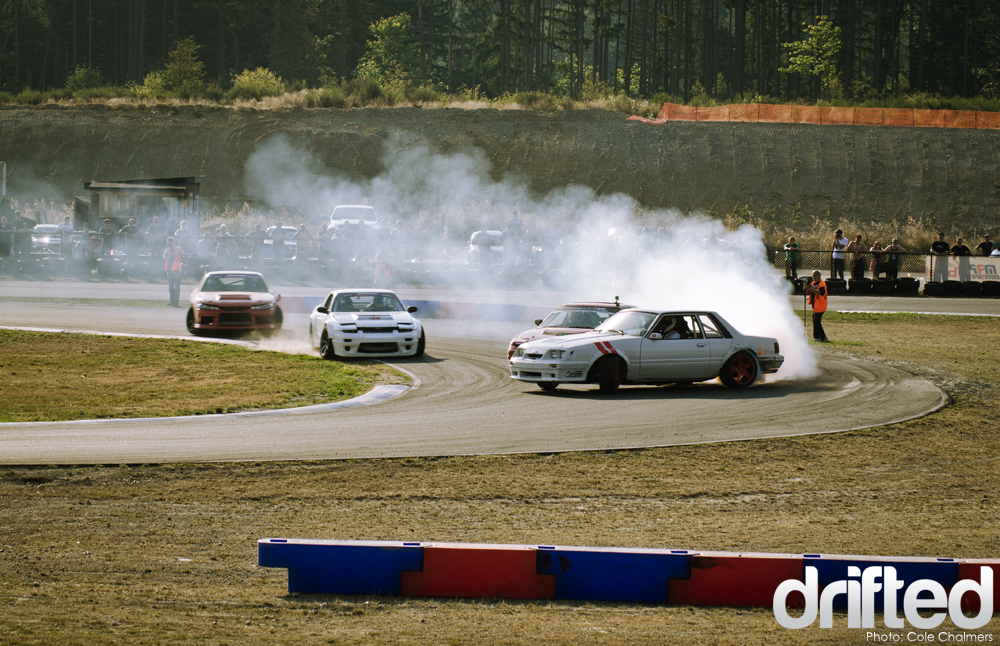 The V8's banded together to form 'The Flying V', which I'm hoping is a throwback to the Disney Classic "The Mighty Ducks"…though wouldn't you need 5 to make the Flying V? Regaurdless, David Nedelcu in the mustang, David Wheaton in the 425 Motorsports S13.5, Nikolay Konstantinov in his newly unveiled Formula D competition S13 , and another new Forumla D licensee; Andrew Coombs in his Rocket Bunny kitted S13 took the approach of strength in numbers and held their own on track all day.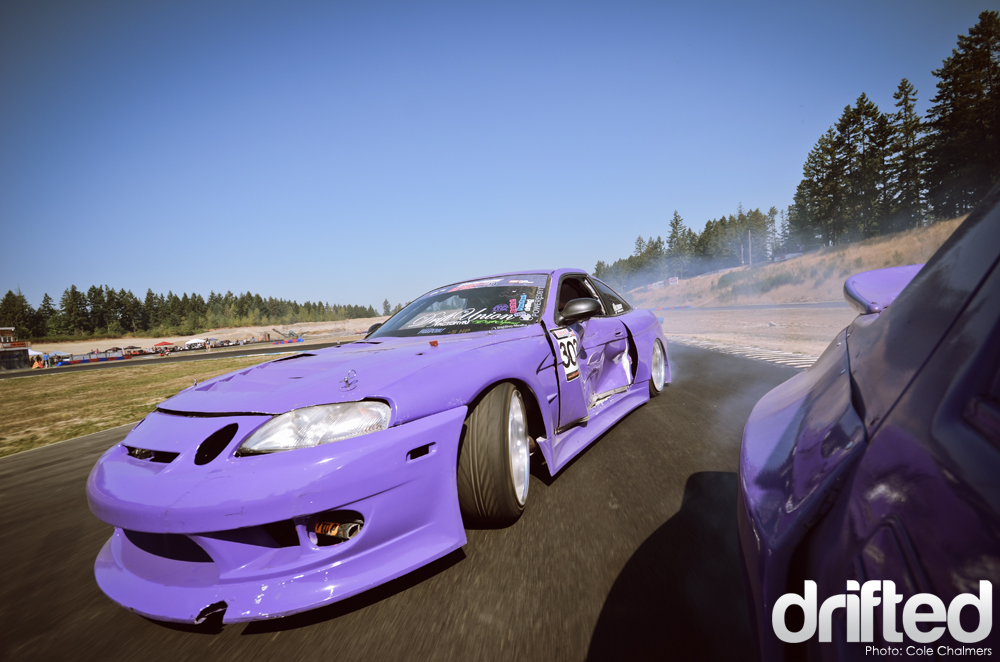 When PGP hosted their first Team Tandem Competition, PGP Wars: The Tandem Menace, Steven Thompson was Drift Union's 3rd driver when his Toyota Soarer was still white. Now clad in the authentic DU Purple and a full fledged member of the team, Steve wasn't afraid to trade some paint. As you can see from his door when he caught up to Shawn Browne's rear end to quickly.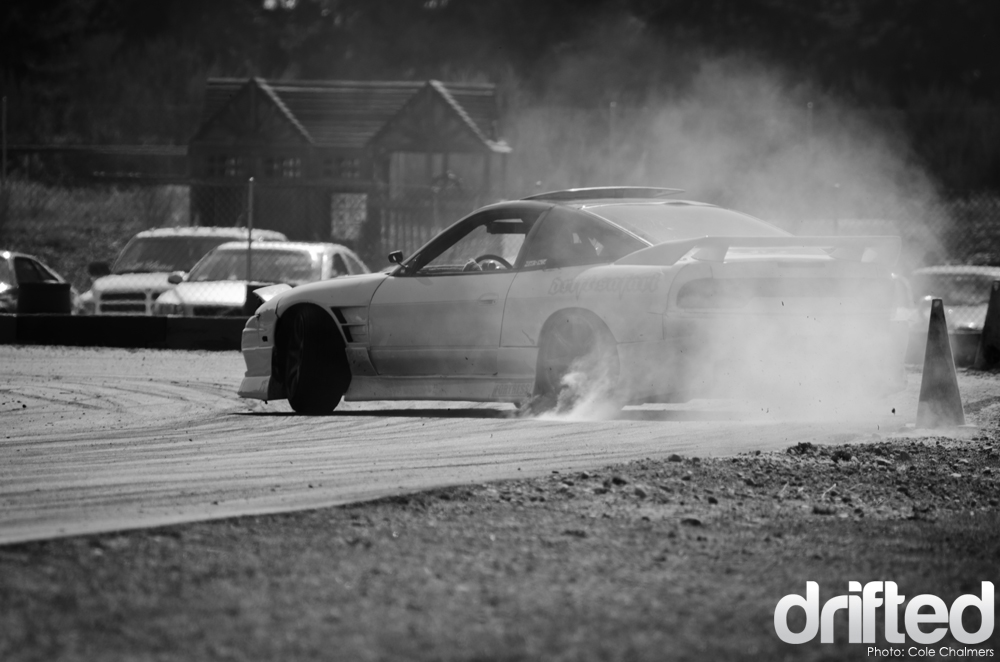 At PGP Wars, Steve's car suffered some major issues and he had to borrow Matt Do's S13 to finish the competition. A similar story occurred at Biggerfoot when Logan Noel's Subaru Legacy snapped an axle twice during the day, leaving him with no spares. Luckily, fellow Canadian Chris Scremin was kind enough to lend him his S13.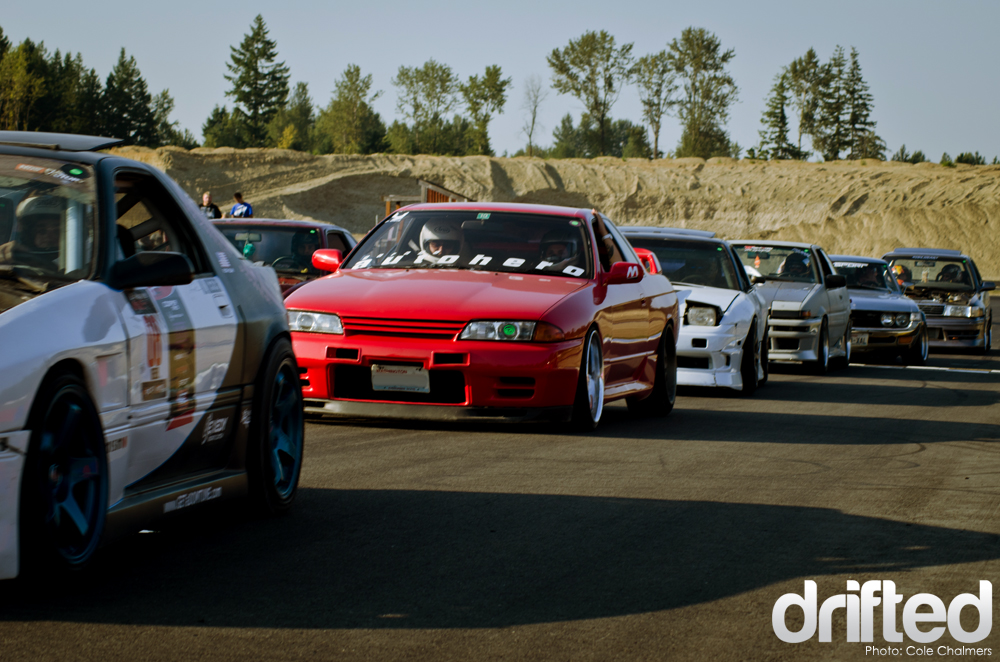 After all the teams laid down their runs, all the cars were brought on track for a non-stop, tandem ti'l your tires pop, skid frenzy.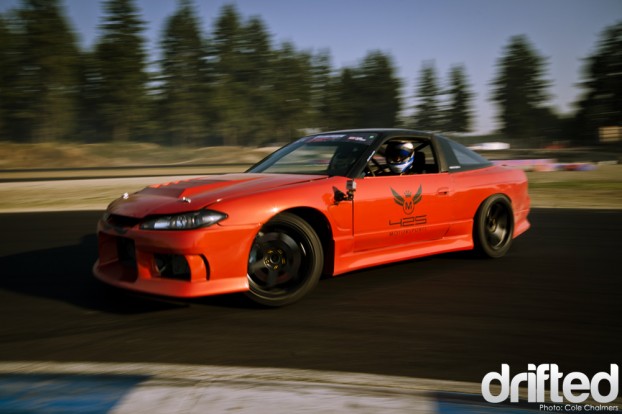 A better look at the 425 Motorsports s13.5. Very clean car and a rad colour.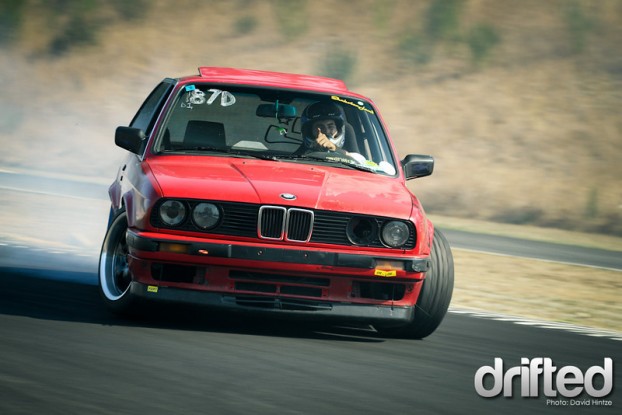 Brandon Franulovic takes a moment to point out to David that he is missing the fact that Bigfoot is creeping behind him.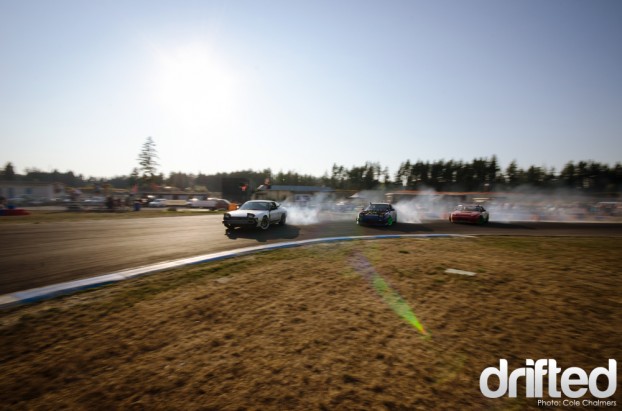 Nathan, Rob, and Nikolay put down a solid 240 tandem entry into corner one.
When the last car had pulled off track the drivers were gathered to announce the winners of the Team Tandem. Hot Mess took home second place with their on point driving, followed by Flying V and their 32 cylinders of fury. A fully surprised Drift Union was crowned as the top tandem-ers, not being ones to turn down free champagne though, Shawn and Steve hopped onto the podium (Logan had already started loading his trailer he was so certain they hadn't made podium). Though placement and prizes aren't what Biggerfoot Bash is about, it's about bringing together the bros, the fans, and the fun in search of season ending good times, and to that I say: We didn't find Bigfoot, but we did get what we came for.
David Hintze spent a most of the day filming and got a LOT of footage. Here's what he put together in the form of motion pictures!
Photos: Cole Chalmers & David Hintze
Video: David Hintze
Words: Cole Chalmers