EVENT: 2011 Drift Allstars Round 6: Wembley Stadium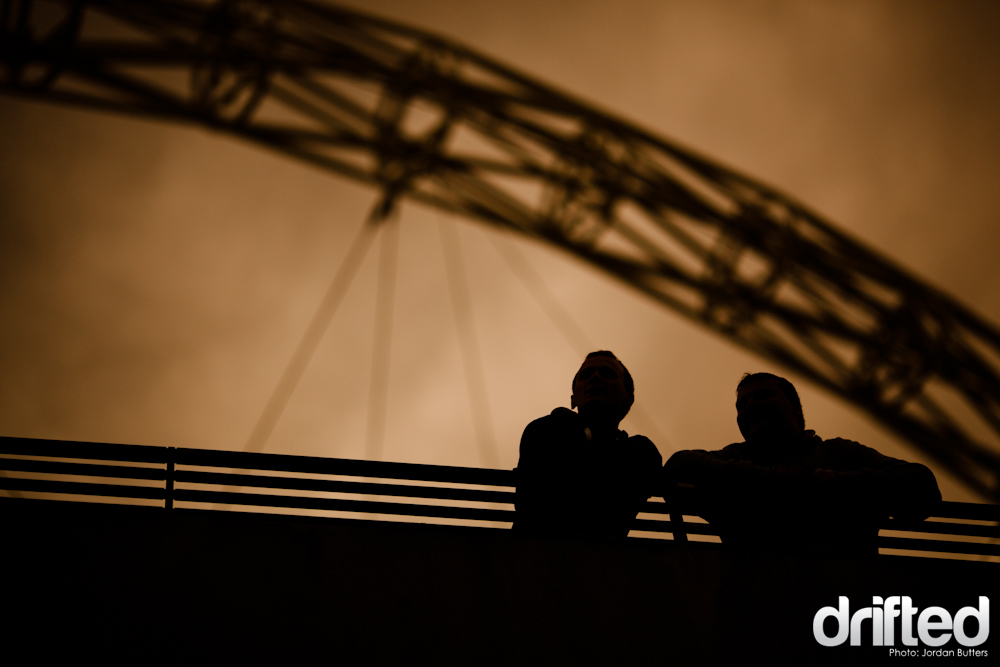 The annual Wembley event is the feather in the cap of the Drift Allstars season. Real professional drifting in the heart of the capital city, an 'if the people won't go to the racetrack, we'll bring the racetrack to the people' kind of affair.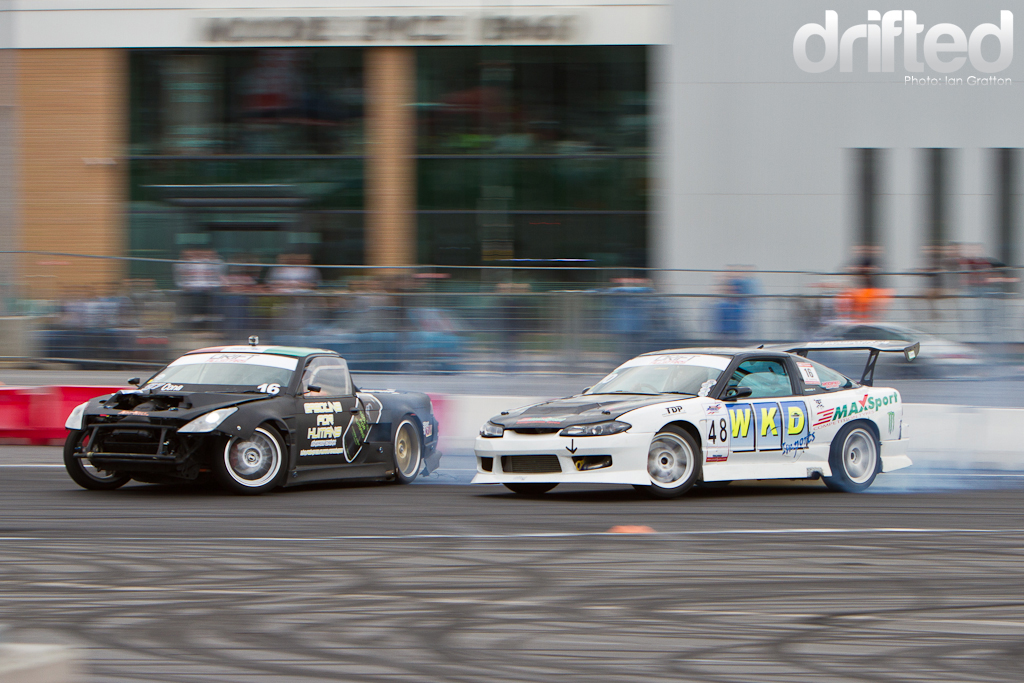 For 2011 the track was moved back to it's location from a few years back due to building work on the site from last year.
This means sadly no jump this year, but a more impressive backdrop close to the mighty arch of Wembley Stadium.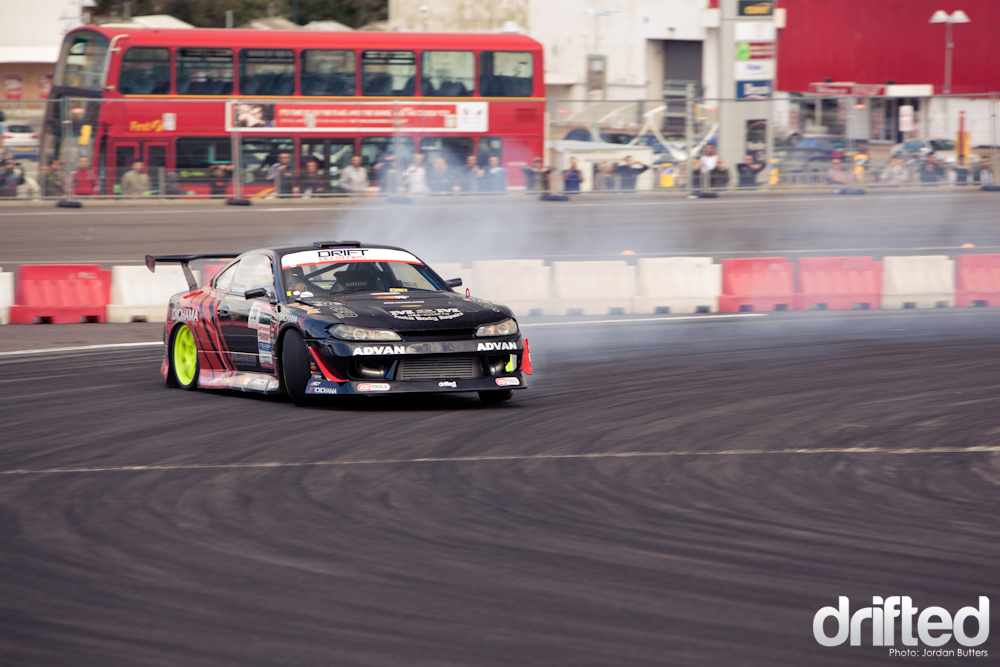 The location couldn't be more 'English' if it tried. Big red London buses pass in front of a curry house in the background.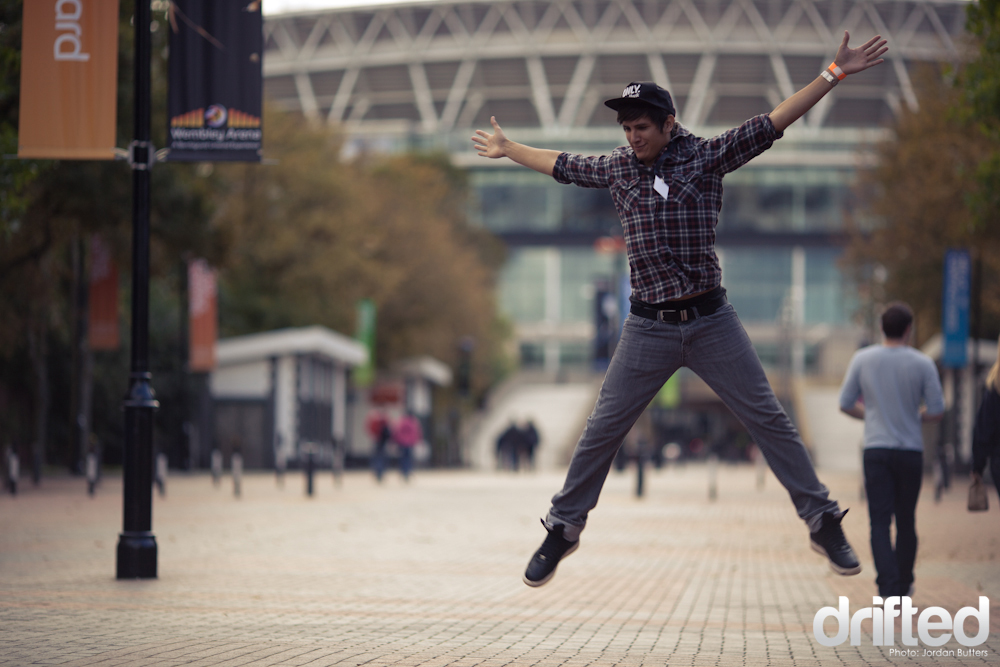 We all walk around in bowler hats and drink tea too you know. Except Motormavens' Daniel Bridle, he's not like the rest of us.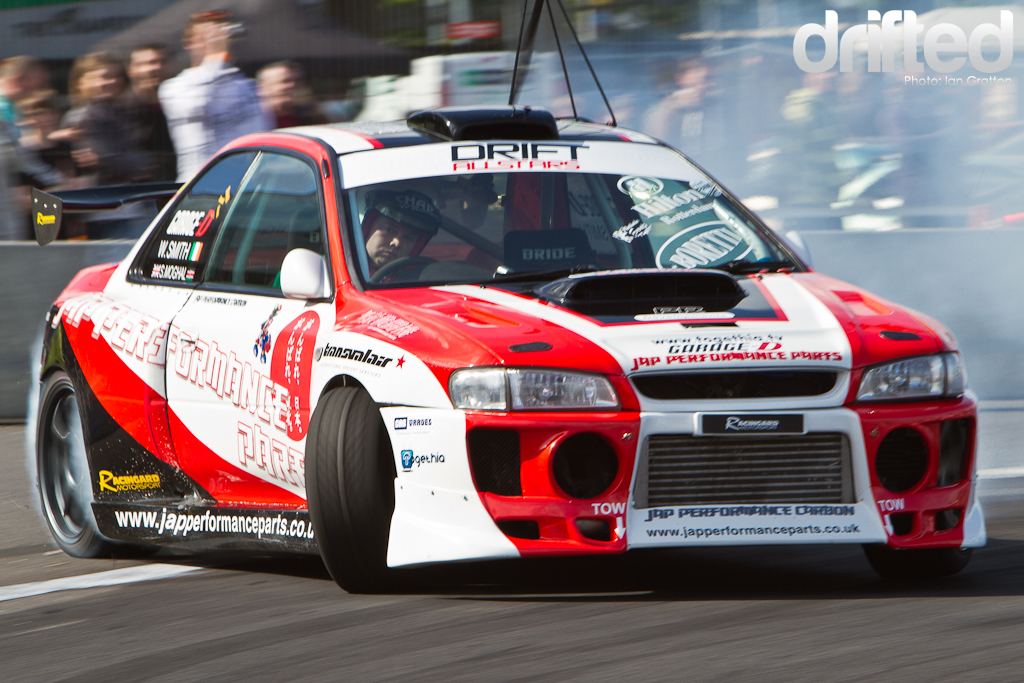 The other natural assumption that comes with Wembley is the famous wall.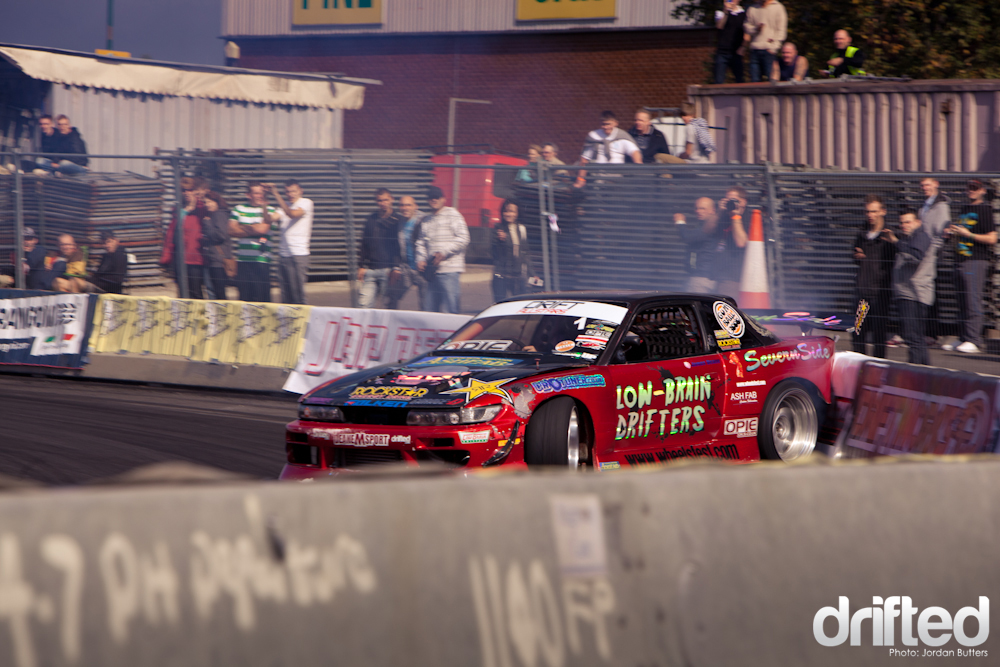 Despite claiming a few victims during Friday's practice the drivers were still keen as ever to get up close and familiar. James Deane does his best to go through it above.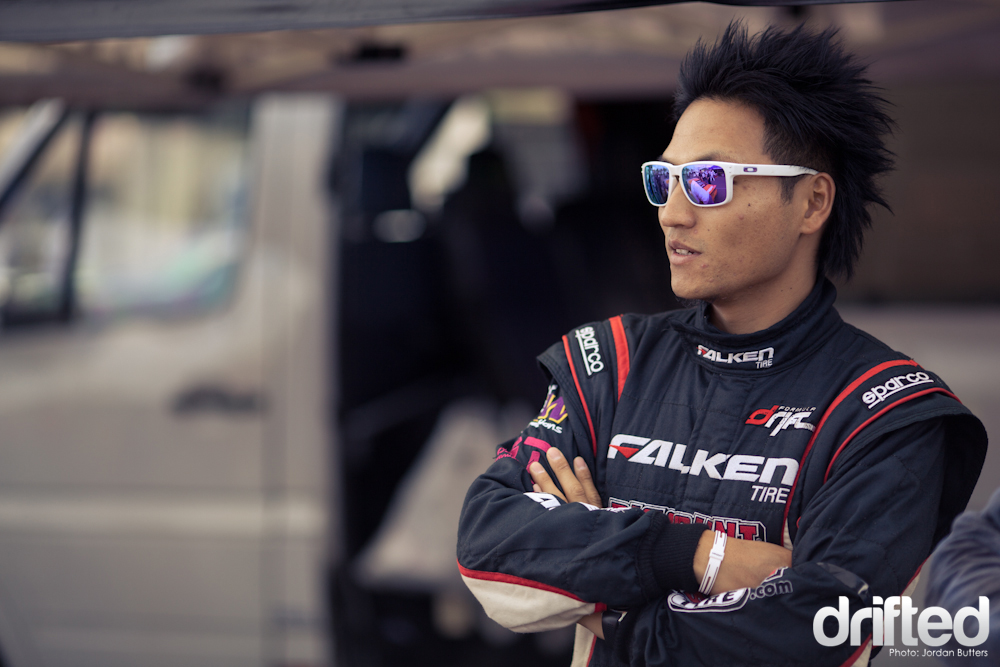 We're becoming a bit blasé about international superstar driver invasions recently. Oh look, there's Dai Yoshihara, hey Dai.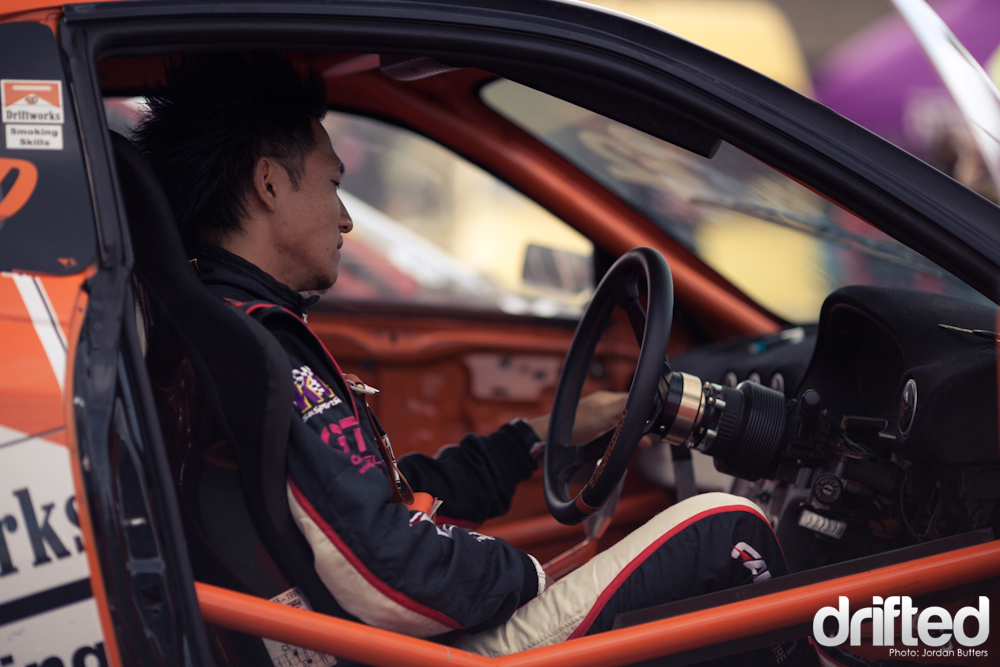 Dai was due to be driving the 1JZ Driftworks R32 but a last minute failure saw him step into the 2JZ 700bhp Driftworks S15 instead!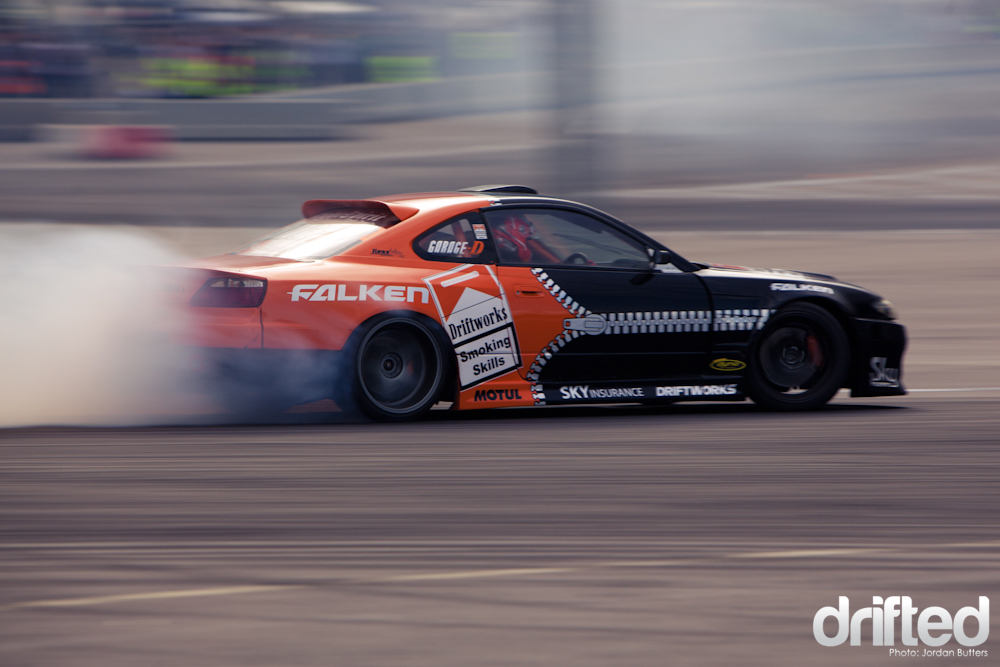 It'll do for a back up car I guess.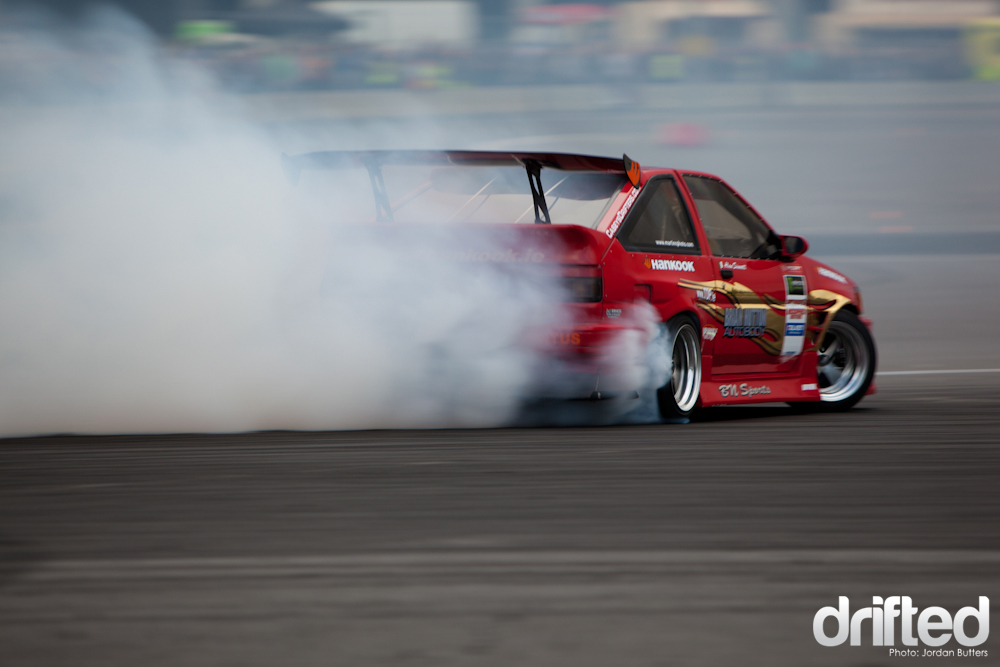 2011 Prodrift champion Alan Sinnott was present in his awesomely prepared AE86.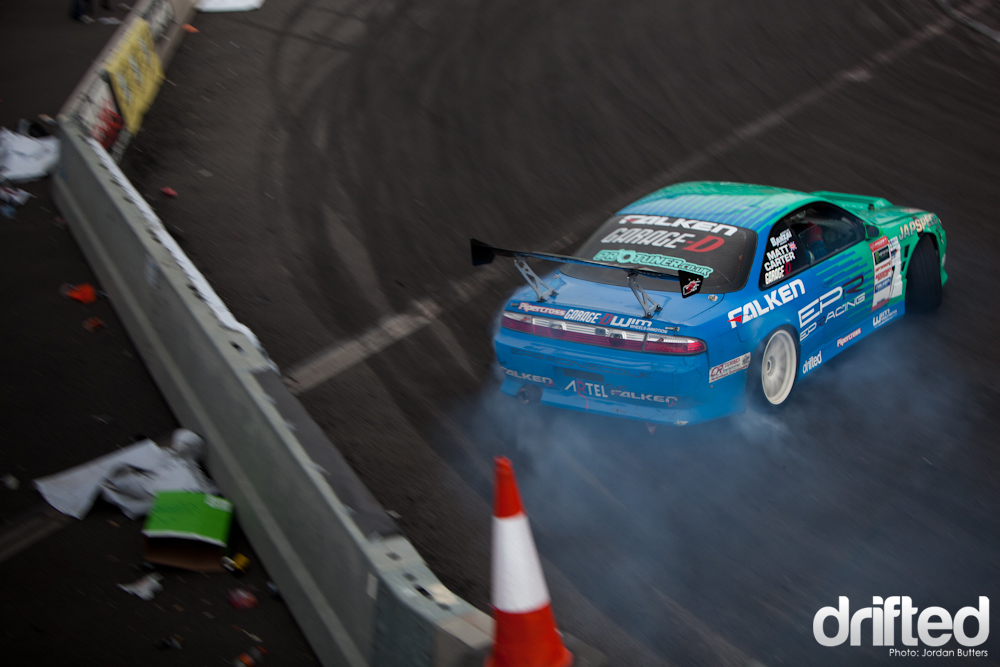 Matt Carter of Team Falken came along to play in London town too. Matt went on to qualify second.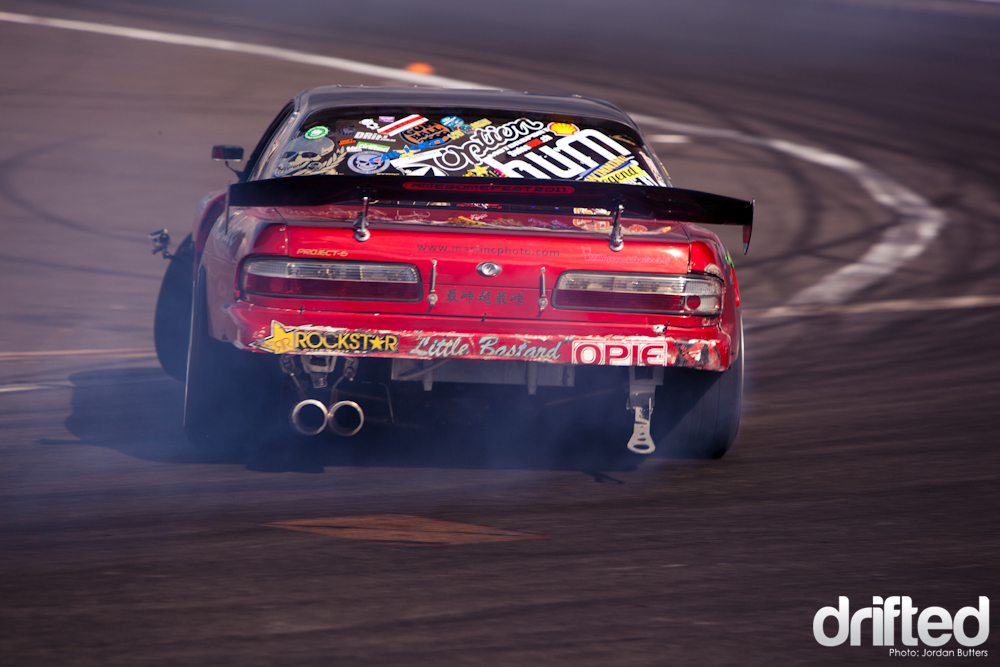 Current points leader in 2011 Drift Allstars James Deane qualified in the top spot, something which is becoming a common occurance this season!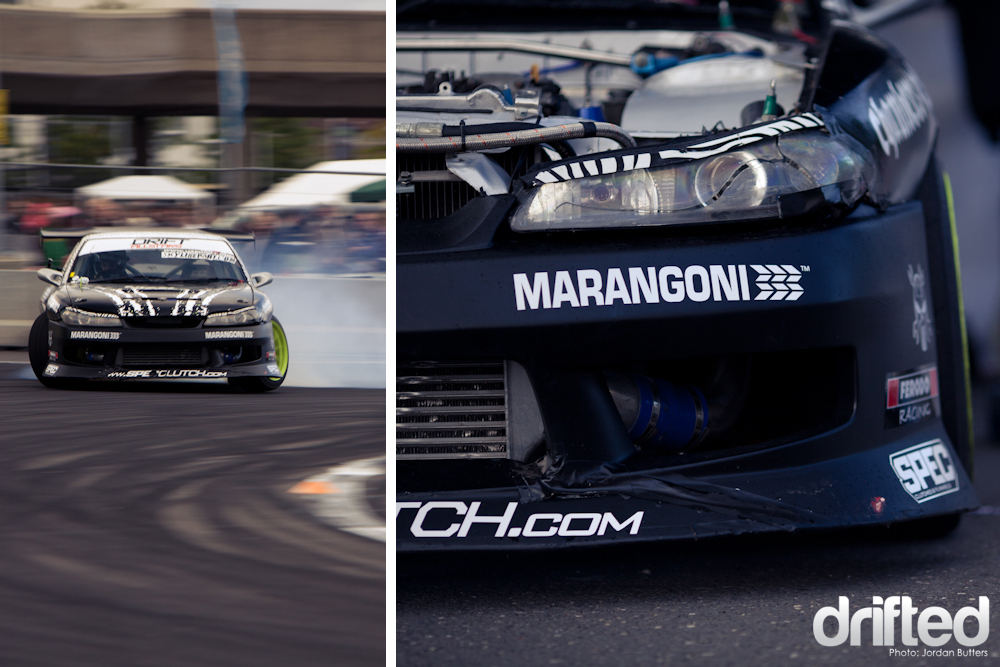 Nigel Colfer was backed by Maragoni tyres for the event and needed a victory over Deane in the early stages of the event to be in with a chance of taking the title.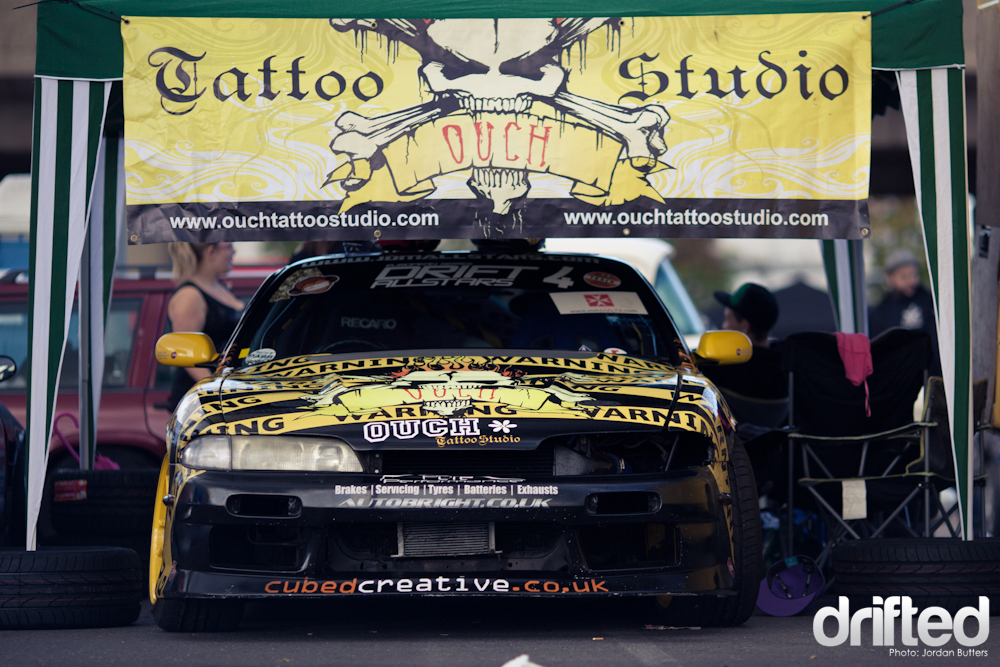 Brad McQueen in the OUCH Tattoos S14 was running well all day.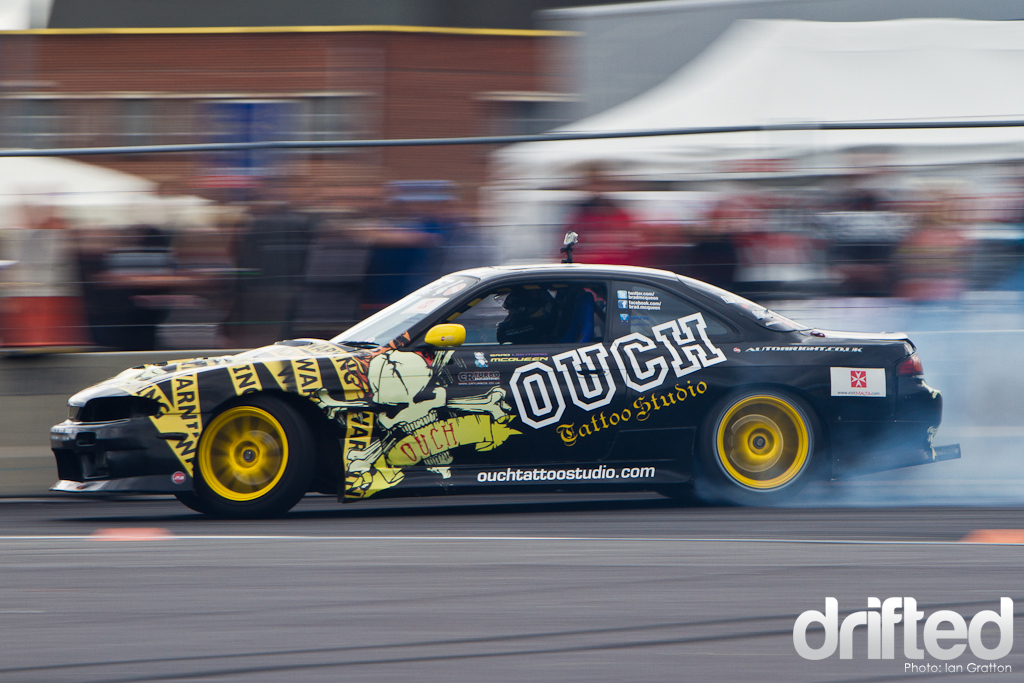 I've been watching Brad drive for years and every time I see him he gets more and more accurate and consistent.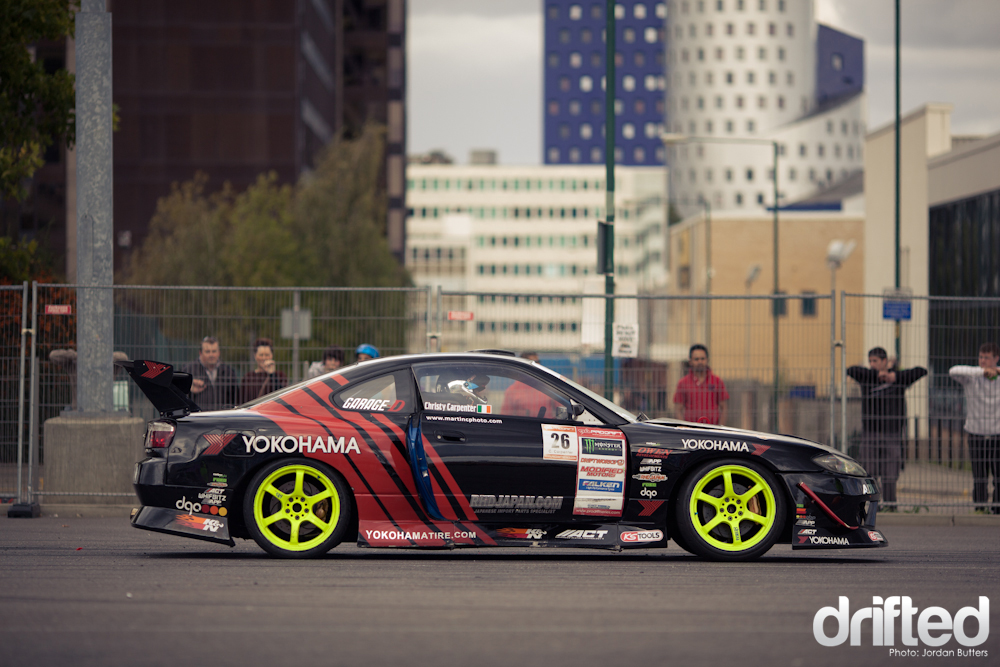 Christy Carpenter's Yokohama/RHD Japan/ACT Clutch S15 is one of my favourite cars in the field.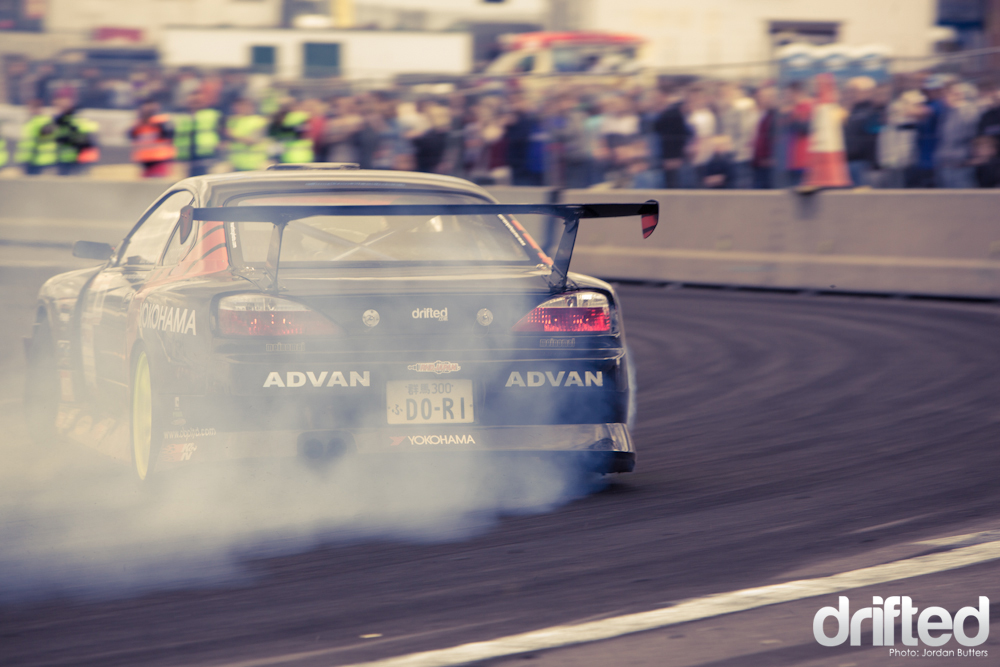 So wide, low and aggressive!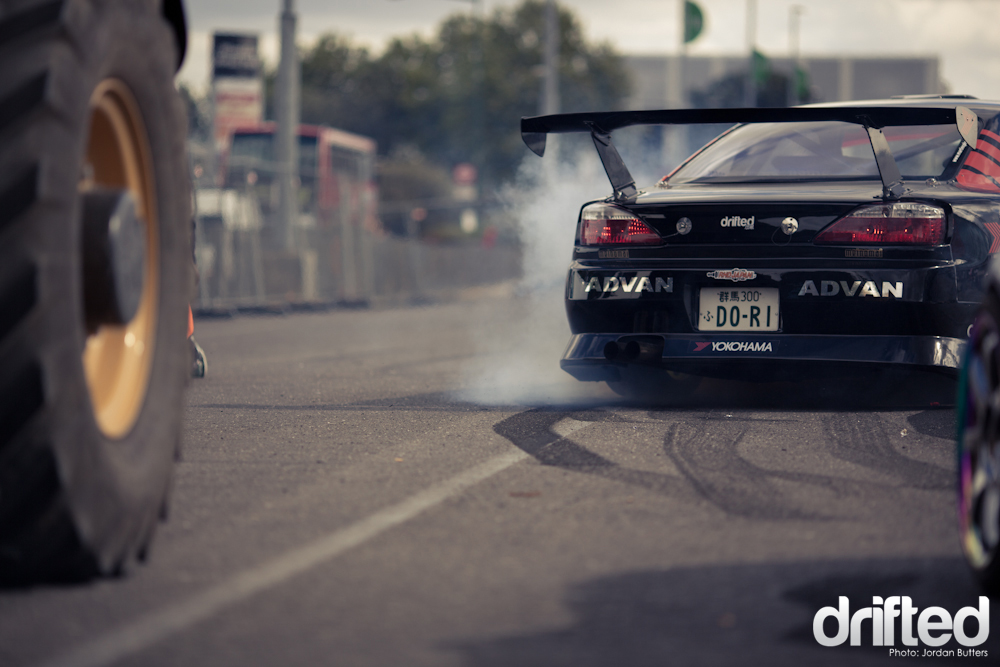 Christy is set to join us in 2012 to write a driver blog. Stoked to have such an amazing driver on board!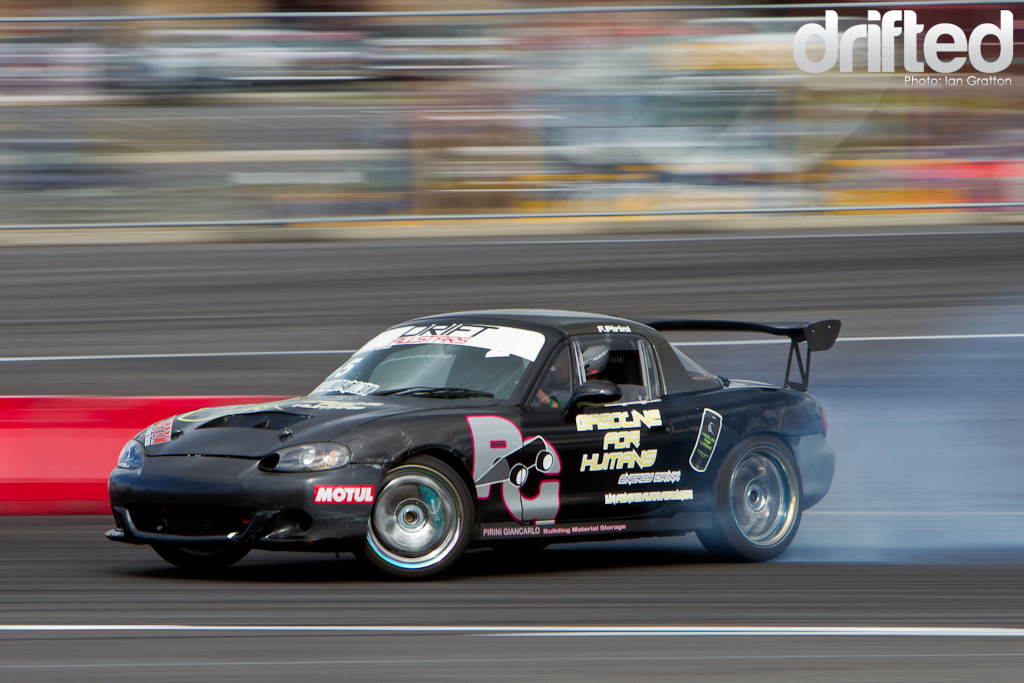 Several international competitors made the journey to the UK for the flagship event.  Italy's Fillippo Pirini in the extremely potent turbo-charged NB MX-5.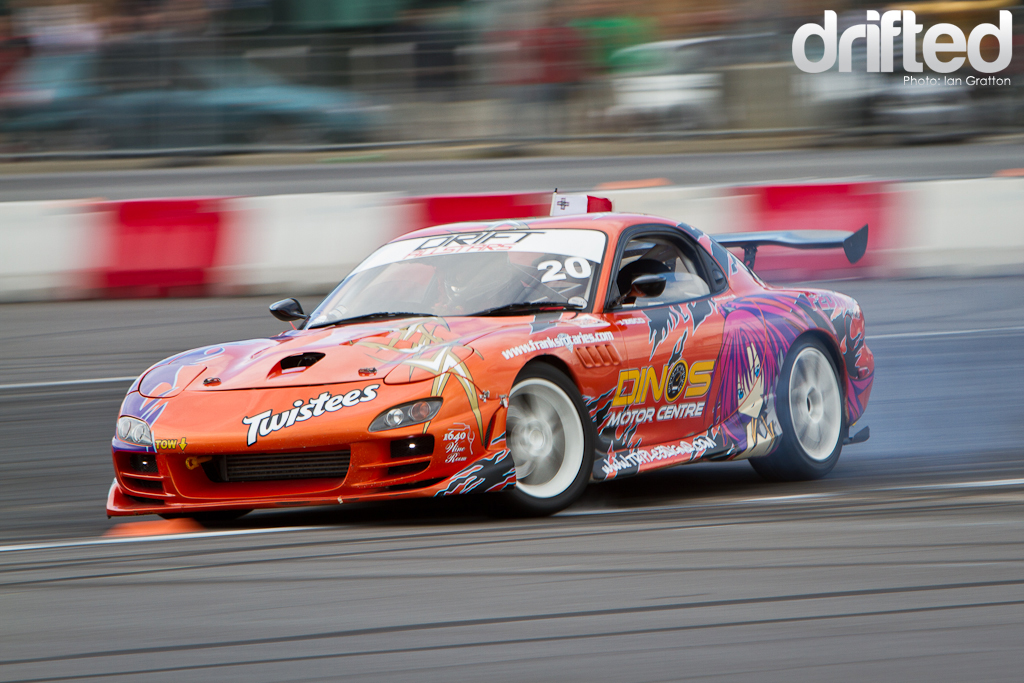 Malta's Shawn Spitteri in the bright orange Mazda RX7 FD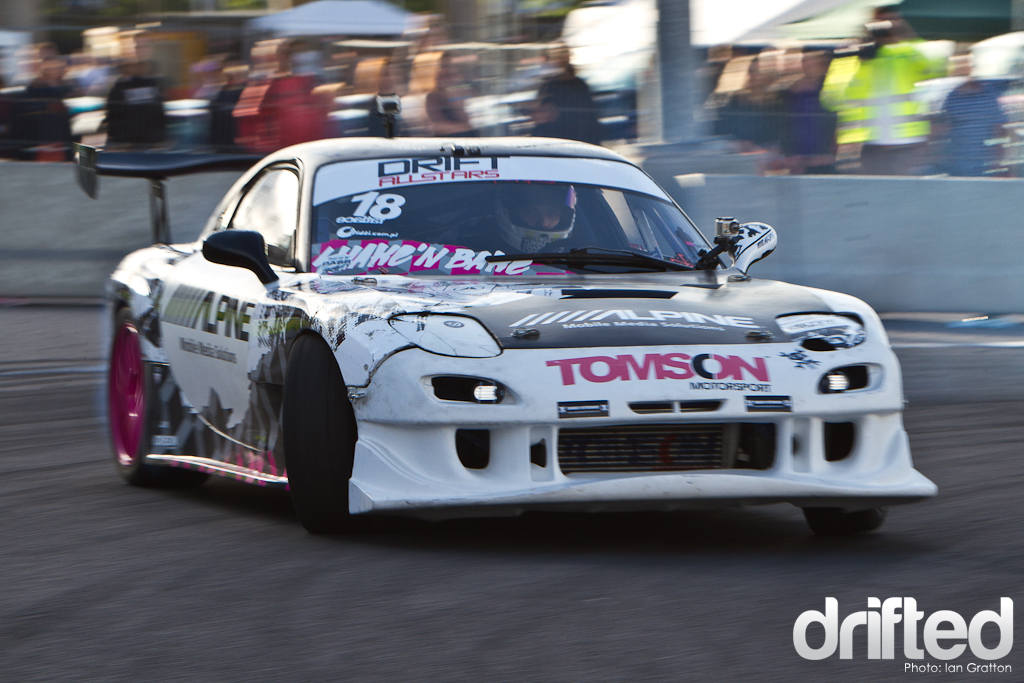 Polands Krystof Terej in yet another FD – a popular car in todays round.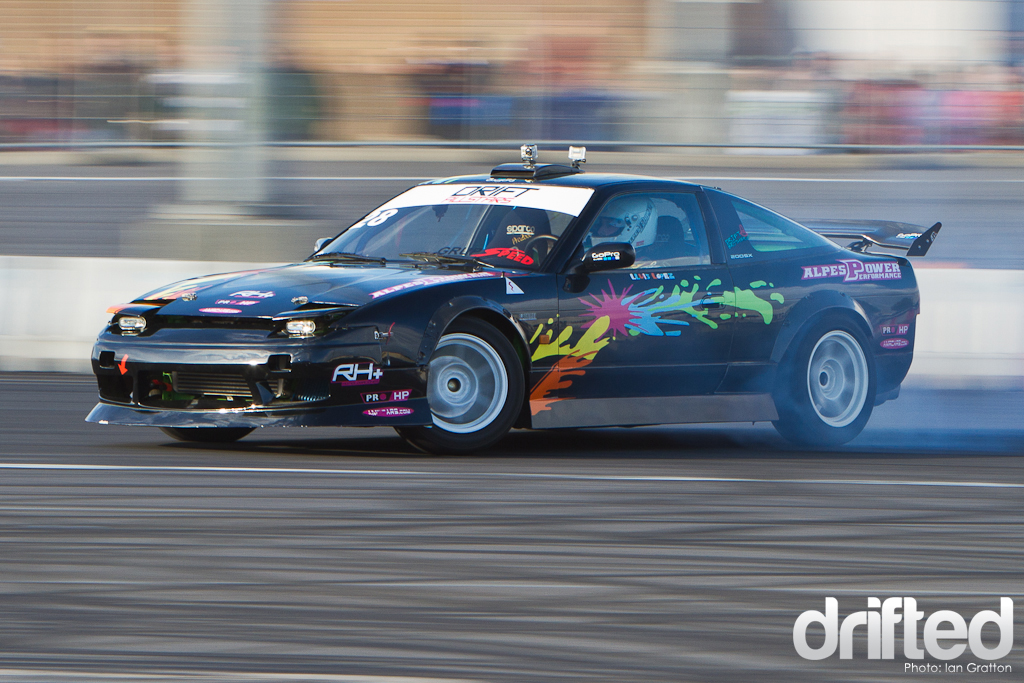 We last saw Spaniard Lluis Lopez back at Lousada, Portugal in 2010. A new year and a new paint scheme for his S13 and some awesome driving saw Louis qualify and progress into the Top 16.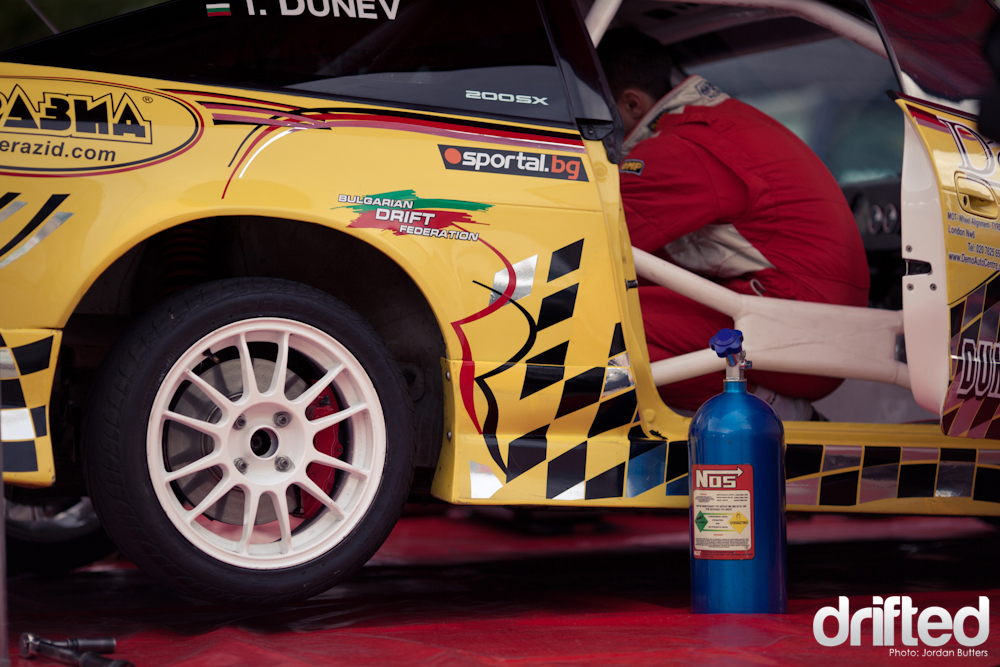 Todor Dunev was over from Bulgaria in his yellow S13 running a big old bottle of blue in the boot.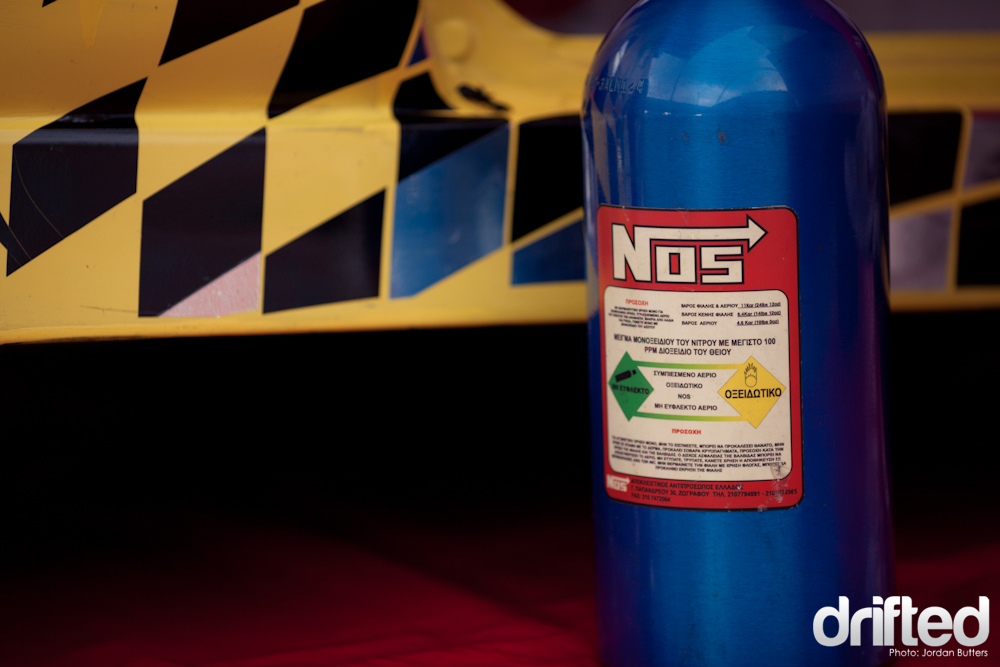 I wonder if he wanders into his local tuning shop and declares 'I need NOS! One of the big ones. Make that two, and Harry, I need it by tonight.' Or rather 'Имам нужда от NOS! Един от големите. Уверете се, че две, и Хари, имам нужда от тази вечер.' (God bless you Google Translate).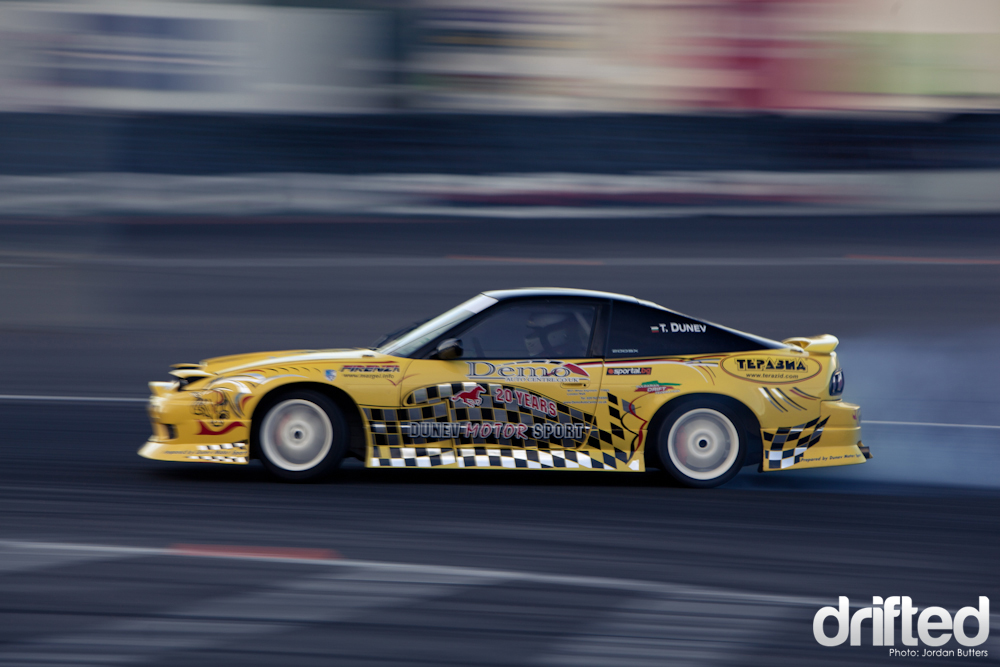 Either way, it works.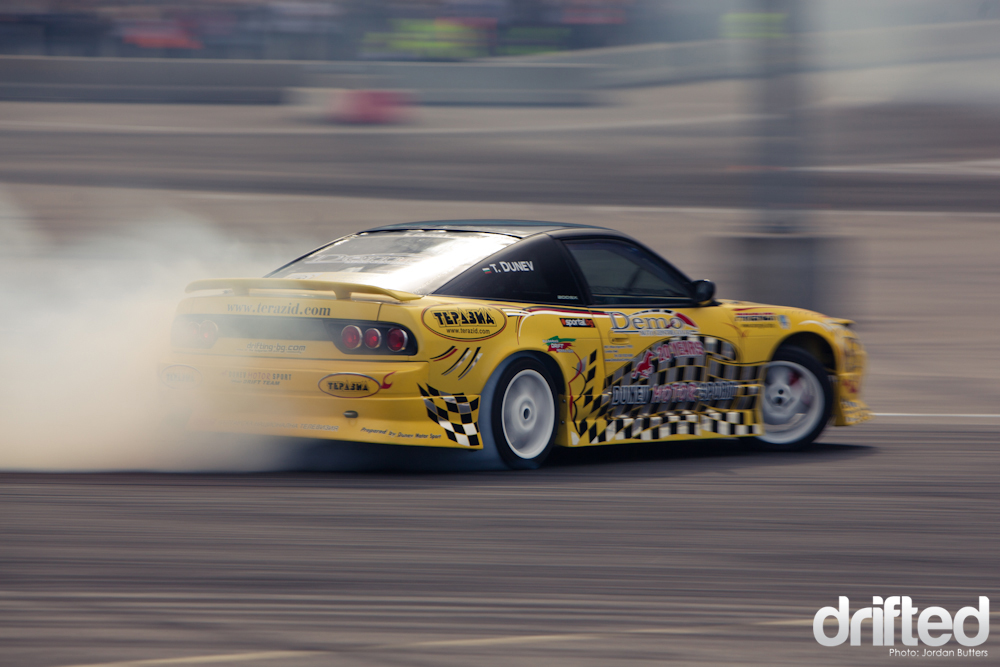 Super smooth and smokey runs from the Bulgarian all day and night.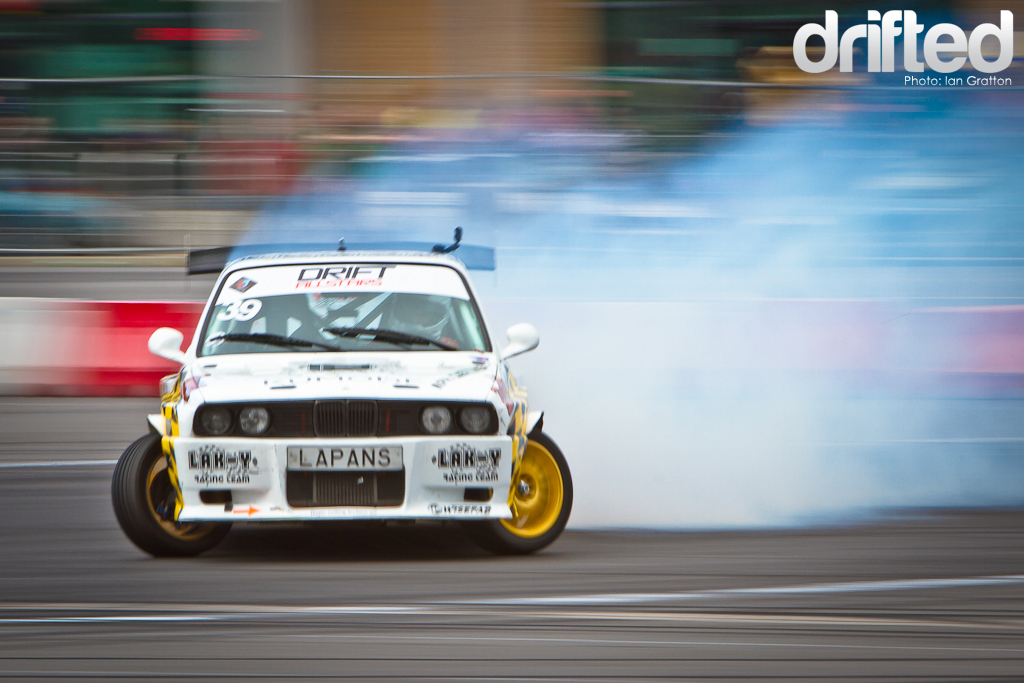 This Latvian BMW E30 was running the most lock I have ever seen on a drift car. Over 65 degrees apparently. The driver was pulling off some extreme backwards saves around the course.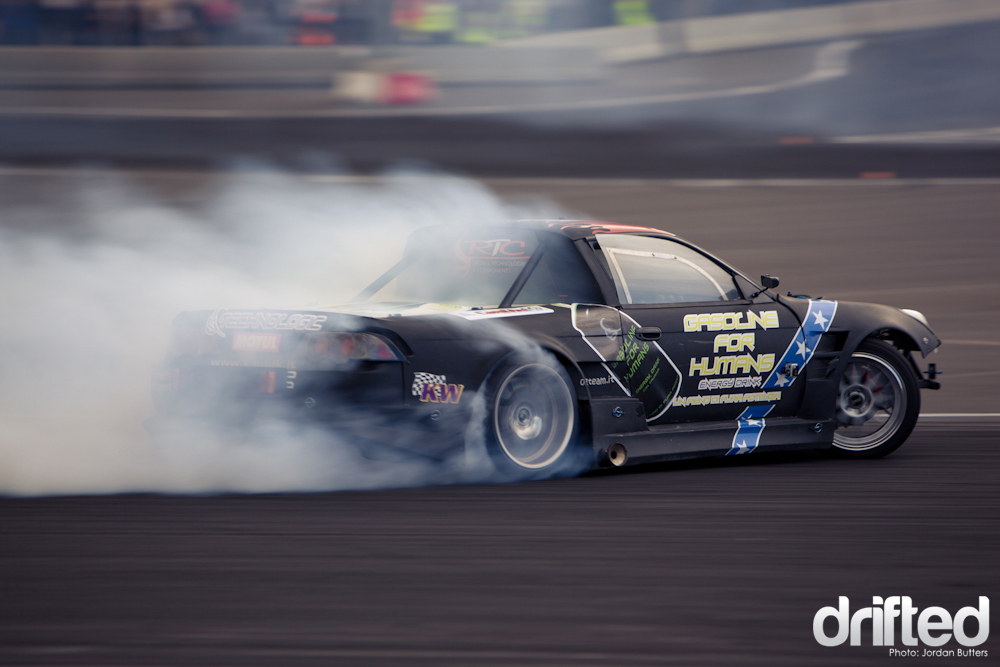 Got wacky much? S14-ute conversion with a Celica front, Integra rear and an LS engine. The drugs are goooood.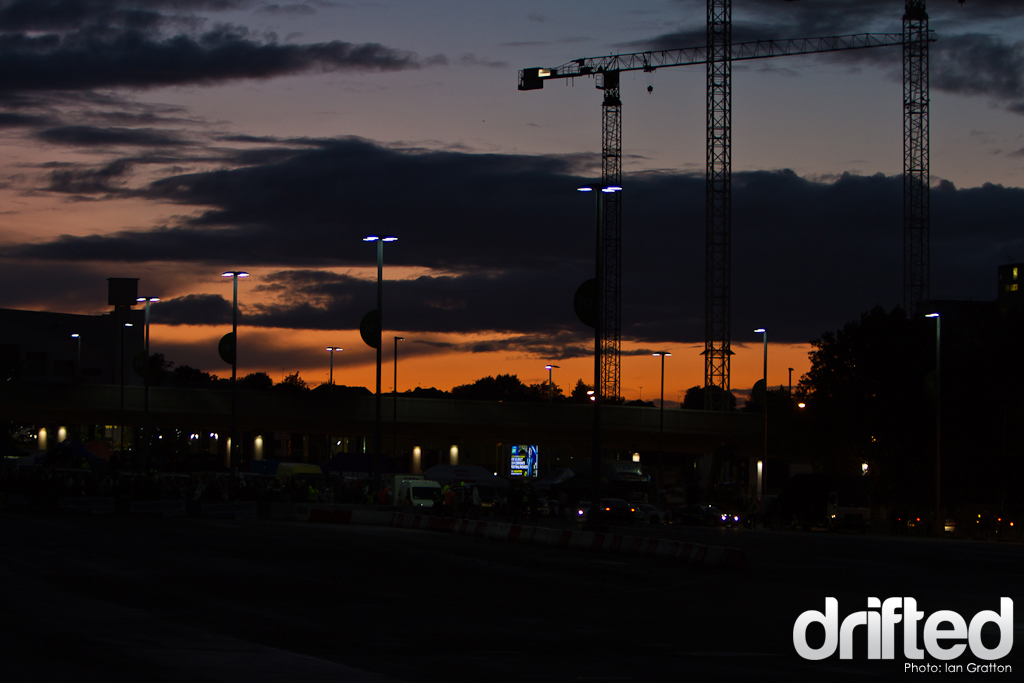 As the sun fell the heavens opened and the prospect of a smokey Top 16 under the stars faded.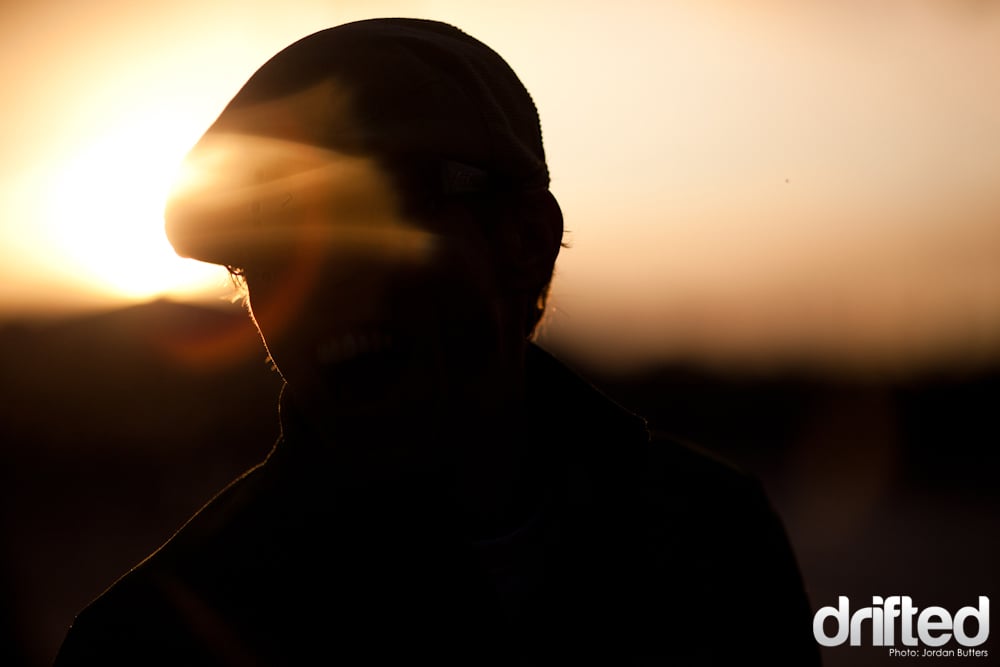 JDM Allstars commentator Bryn Musselwight had the tough job of keeping English people enthused in the rain and it worked. He made the sun return briefly before the battles began.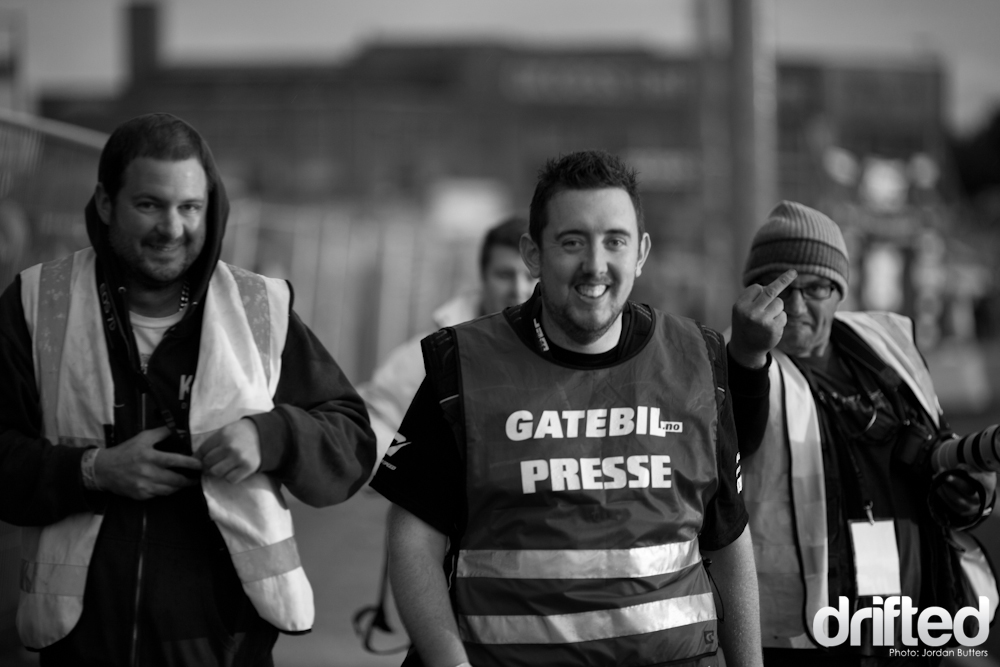 Nonetheless the media gabble do their best to keep upbeat. From left to right Dan Buck Joyce chats and Paddy McGrath and Ross Ianson of Speedhunters. Ross is a nice bloke usually, honestly.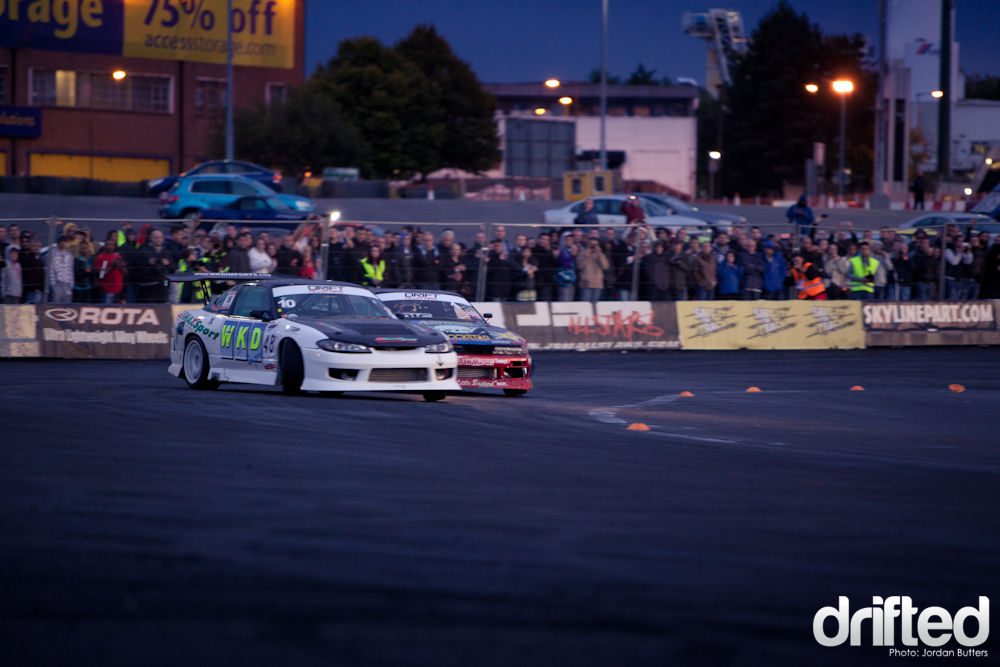 Into the Top 16 and WKD Imports Wes Keating was up against James Deane in an all Irish battle.
James sticks to Wes' door and progresses through to the Great 8.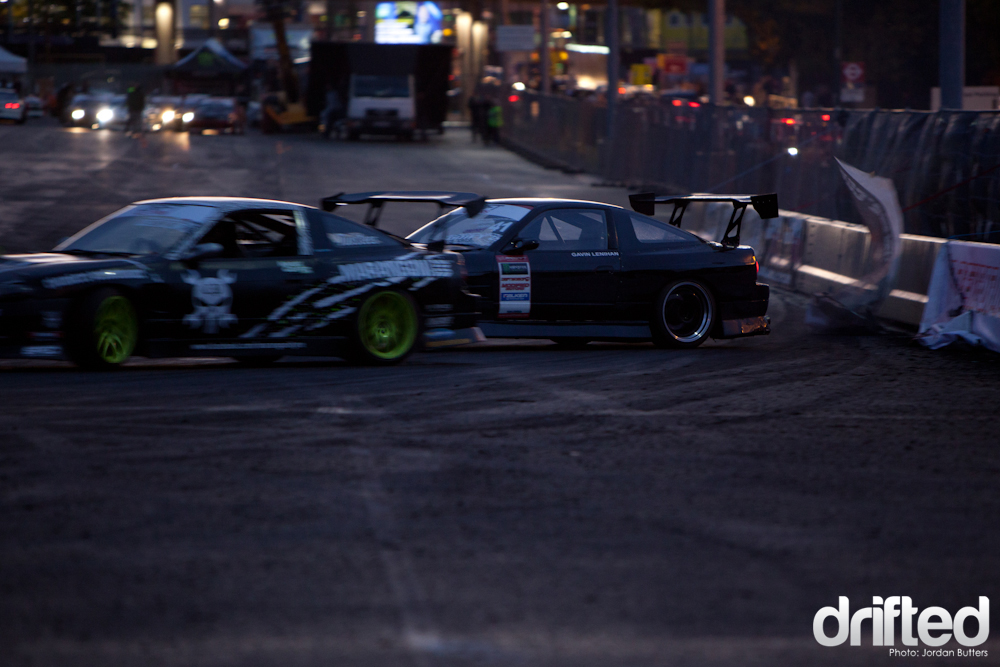 Another Irish pairing up next Nigel Colfer in the Maragoni S13.5 vis Gavin Lenihen in the other S13. Colfer, still fighting for the championship with James Deane at this stage puts up a strong fight and takes Lenihen to one more time!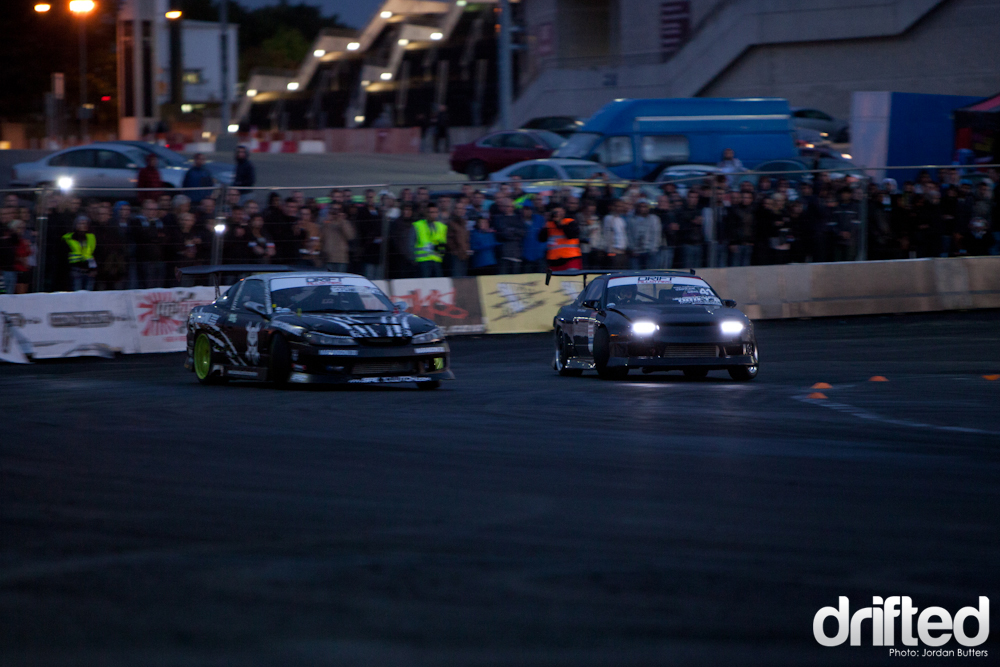 The first run is too close to call but Colfer pulls a lead on the second run and goes through to the Great 8 to join Deane!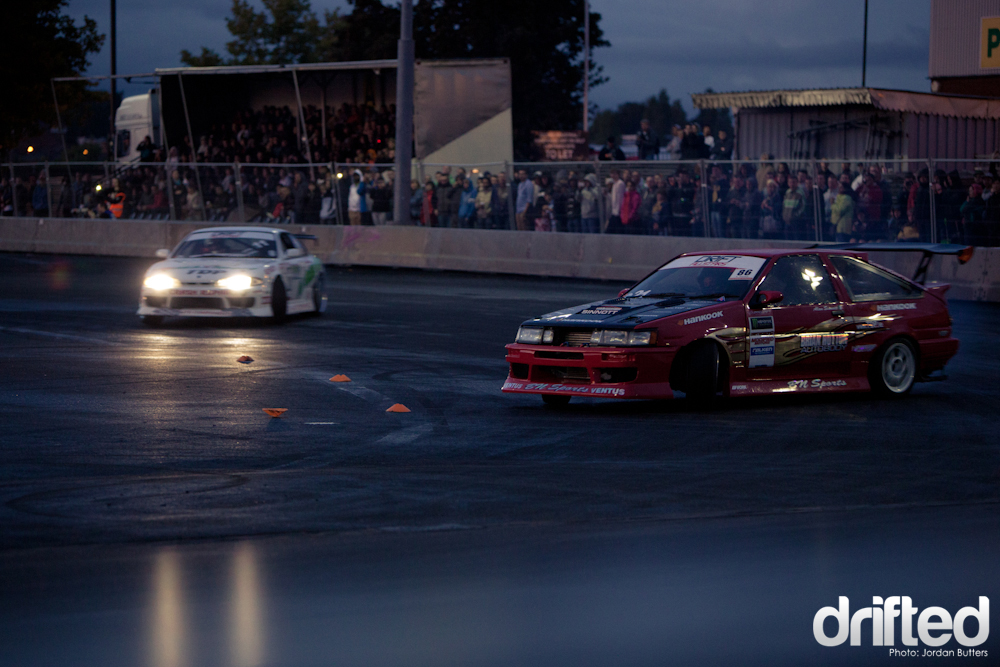 Yet another Irish pairing puts recently crowned Prodrift champion Alan Sinnott against Dan Moorhead.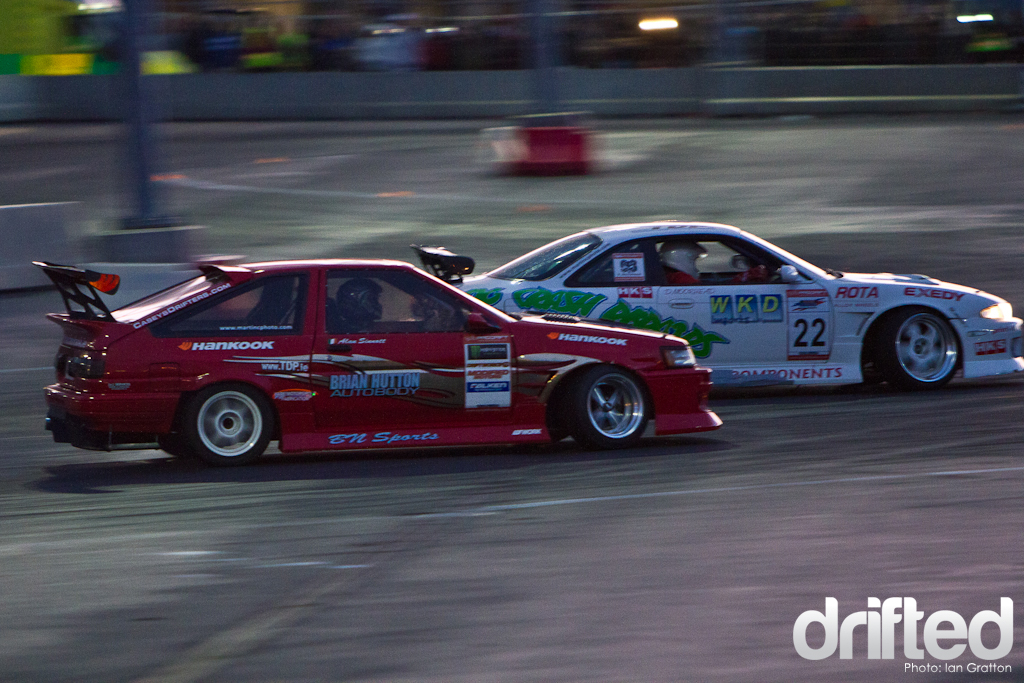 The little Corollas SR20 turbo engine makes it a potent lightweight beast – it can carry some serious speed through the course.
Sinnott's red AE86 has too much pace and leaved Moorhead in his smoke. Sinnott is in the Top 8.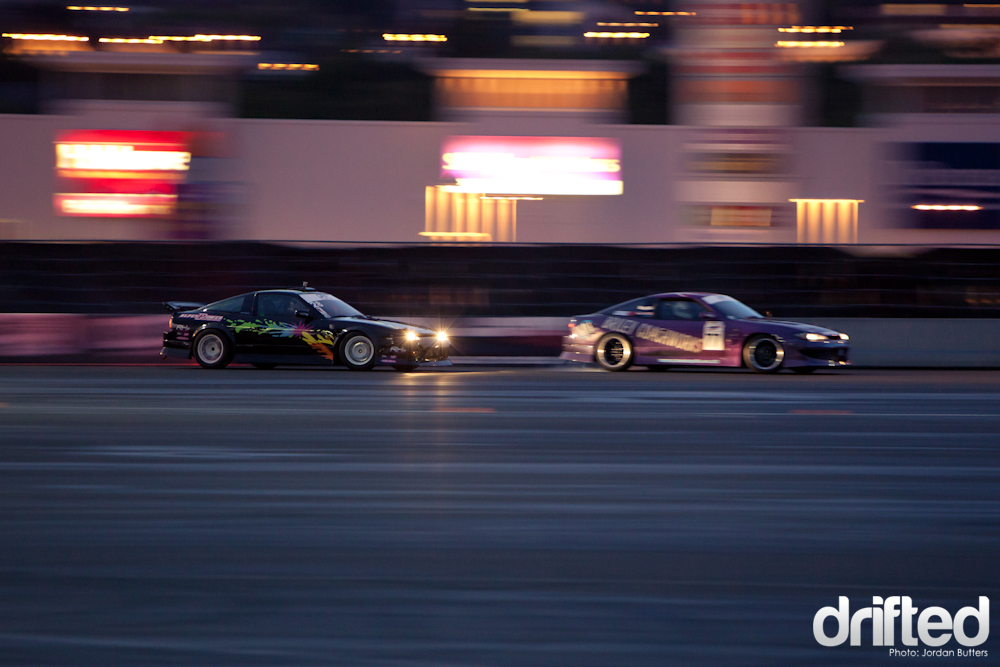 Finally a battle between nations as the UK's Grant Laker faces off against Spanish champion Lluis Lopez.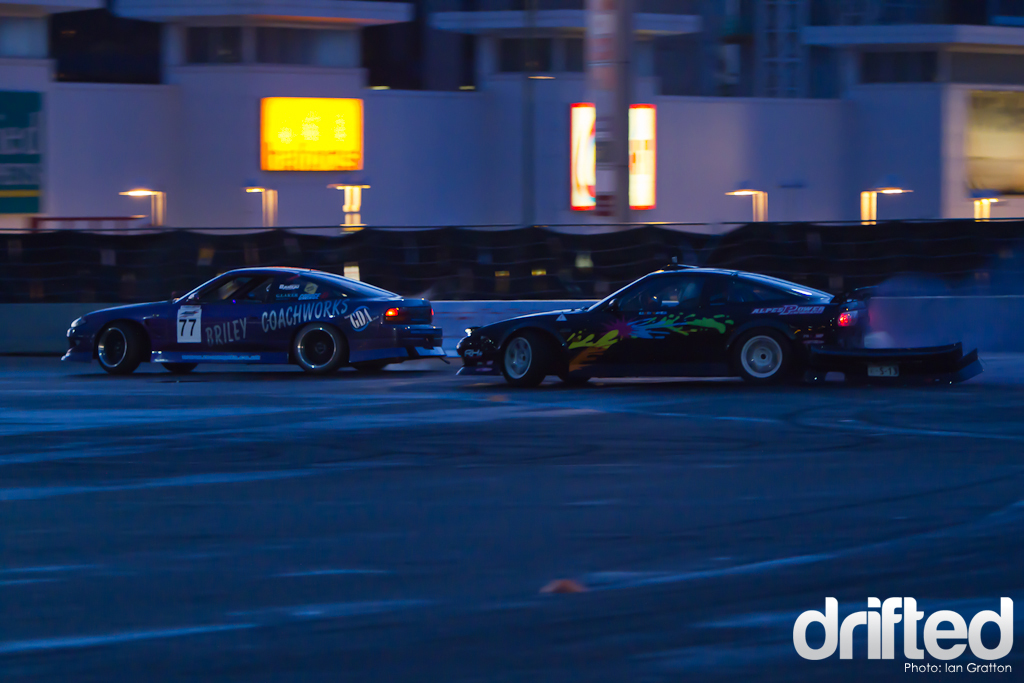 Lopez taps the wall chasing down Laker resulting in a flailing rear bumper and is in top form.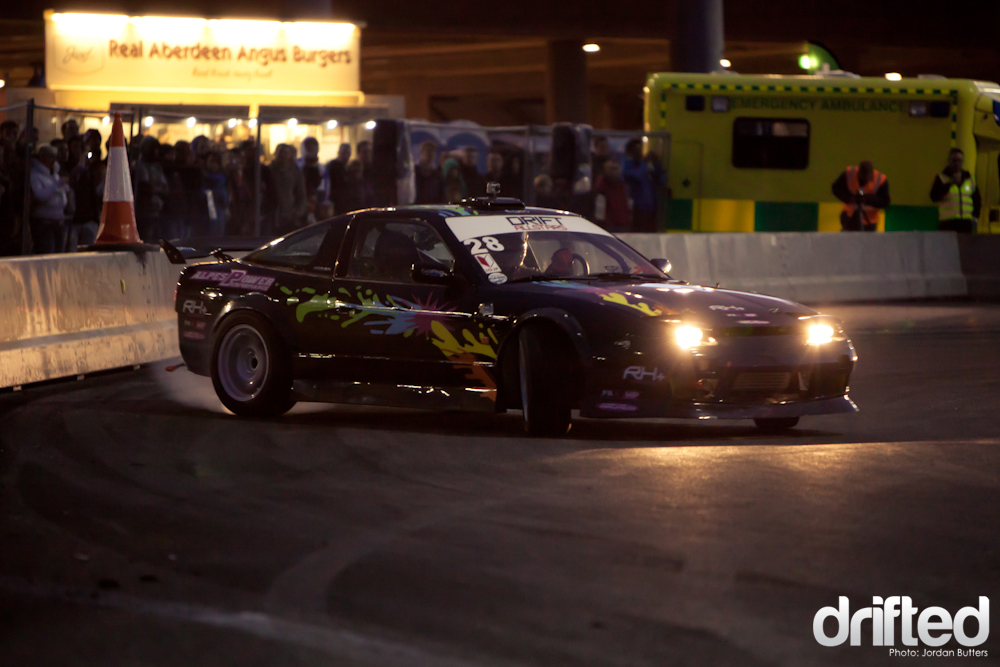 Lopez puts in two unstoppable runs and sends Grant out of the competition, Lluis is into the Great 8.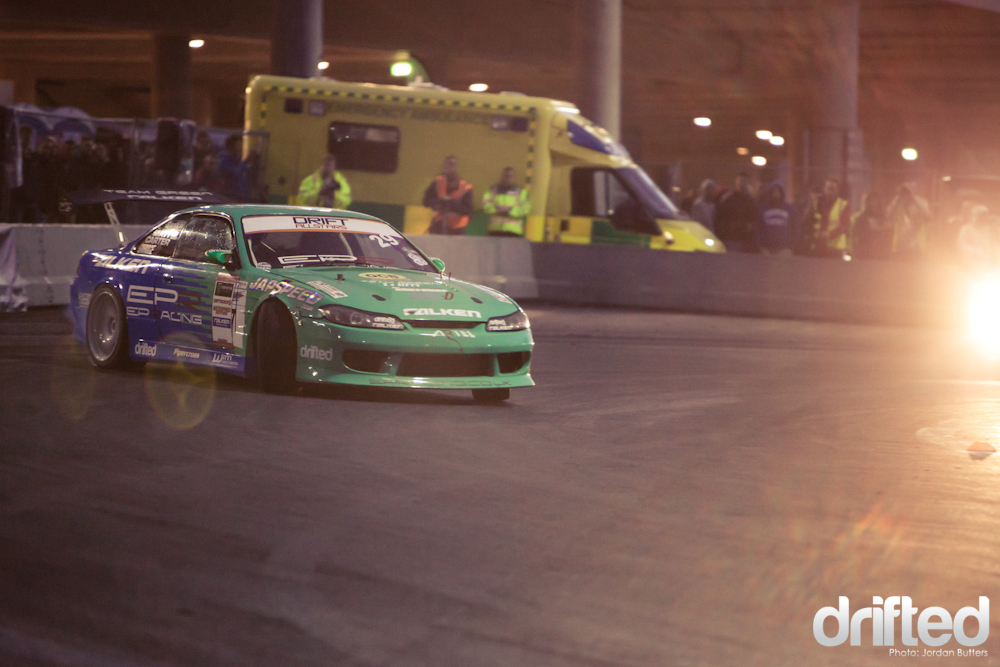 Team Falken's Matt Carter is up against fellow UK driver Michael Marshall. Marshall's driving is on fire and a mechanical problem with Carter's 1JZ powered S14.5 leads to a false start and a forced re-run.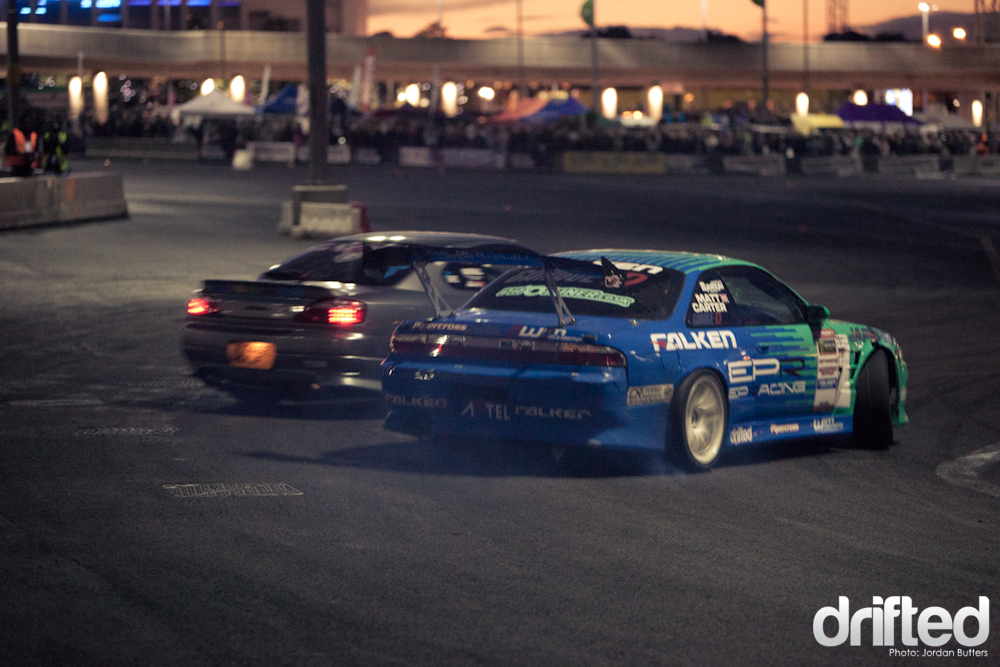 On Carter's chasing run he is absolutely glued to Marshall's door, but following too close into the final transition sends the Falken car into a spin and costs him the battle! Marshall in the MnM S15 moves on.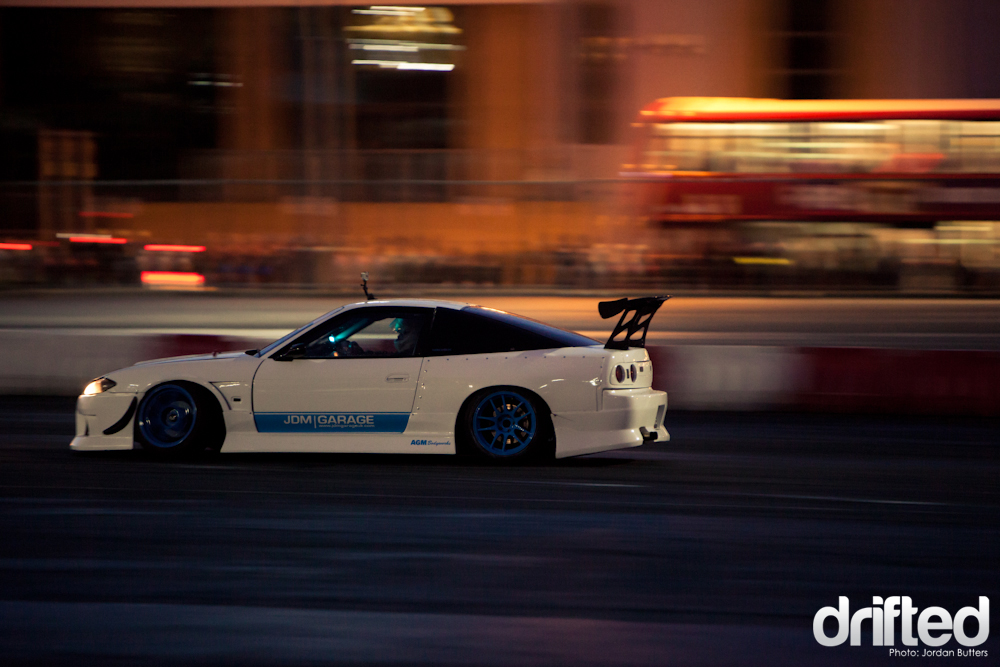 Mike Deane and Paul Howard are up next. It's cool to see such a minimal-styled drift car in these days over big lairy decals and sponsor graphics. I'm feeling the clean style of Paul Howard's JDM Garage cars. Some of you may recognise this as the famous 'Angry Pirate' an RB-powered S13 with R32 rear lights that is pretty infamous in the UK/Euro drift scene.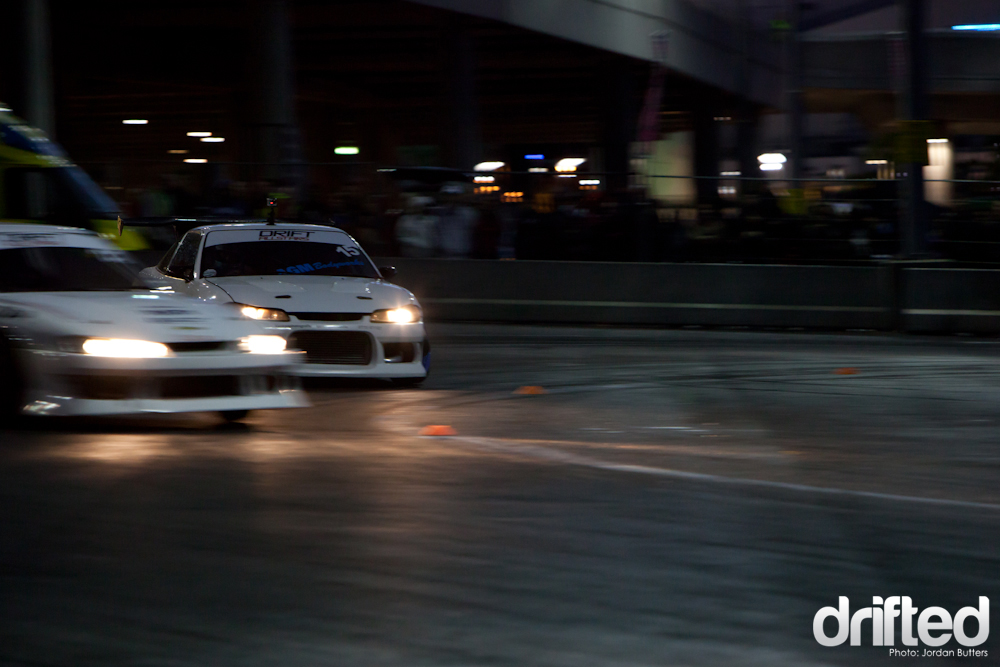 Two white S-bodies shine out against the darkening tarmac. The sun has long left us and shooting conditions are tricky to say the least! Paul Howard has the edge over Deane and pulls a surprise victory!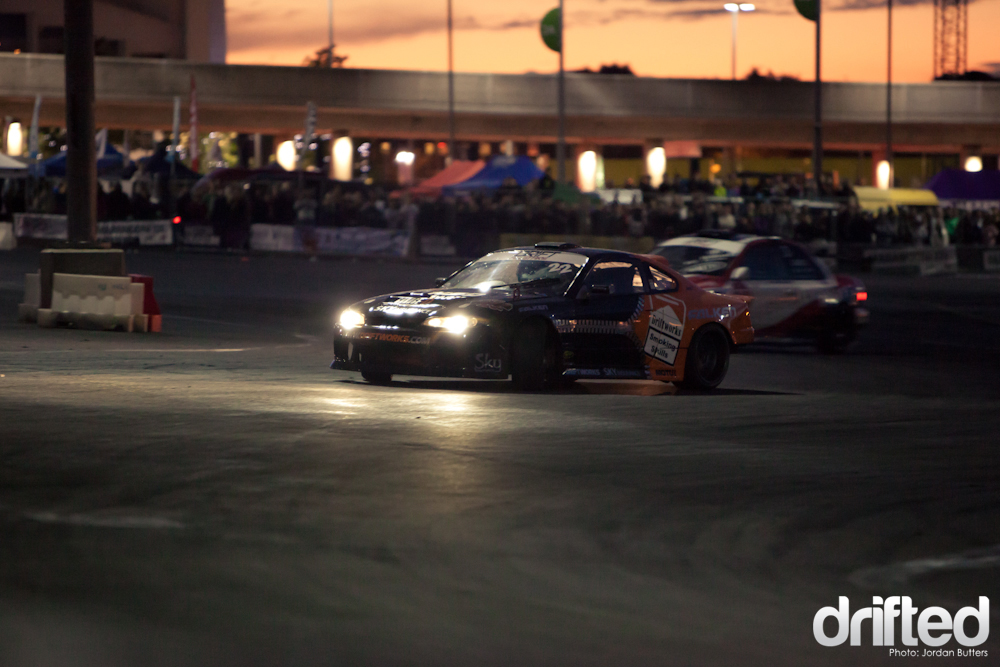 The next Top 16 battle is somewhat of a legendary pair off. Walton Smith in the JPP Subaru vs Daijiro Yoshihara in the Driftworks S15.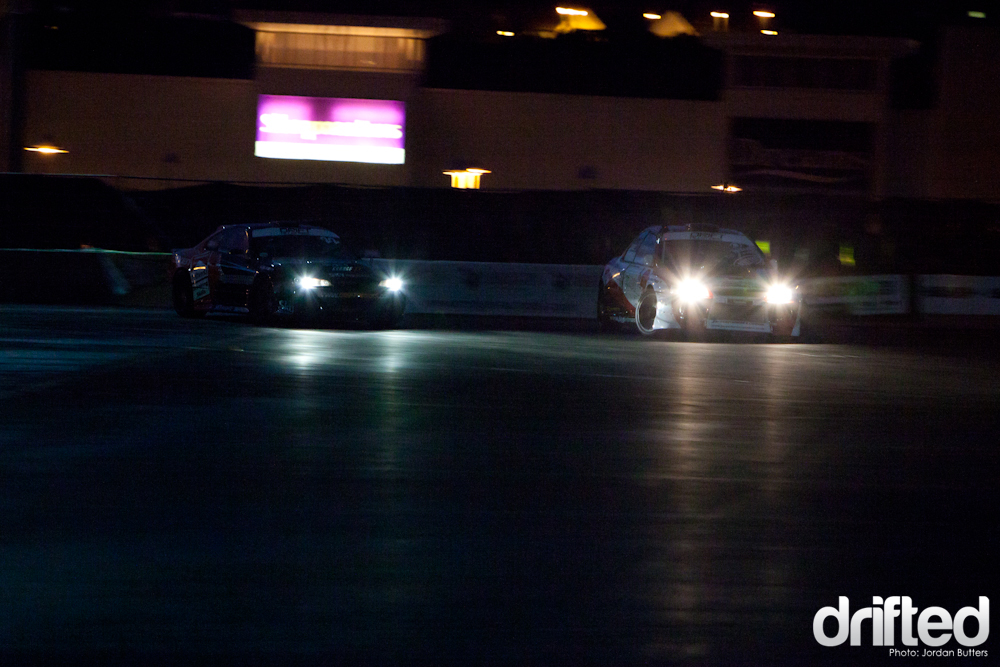 Dai is gelling with the car flawlessly. Sadly part-way into the first run Walton's Subaru snaps a driveshaft and he is forced to retire. Dai is in our Top 8.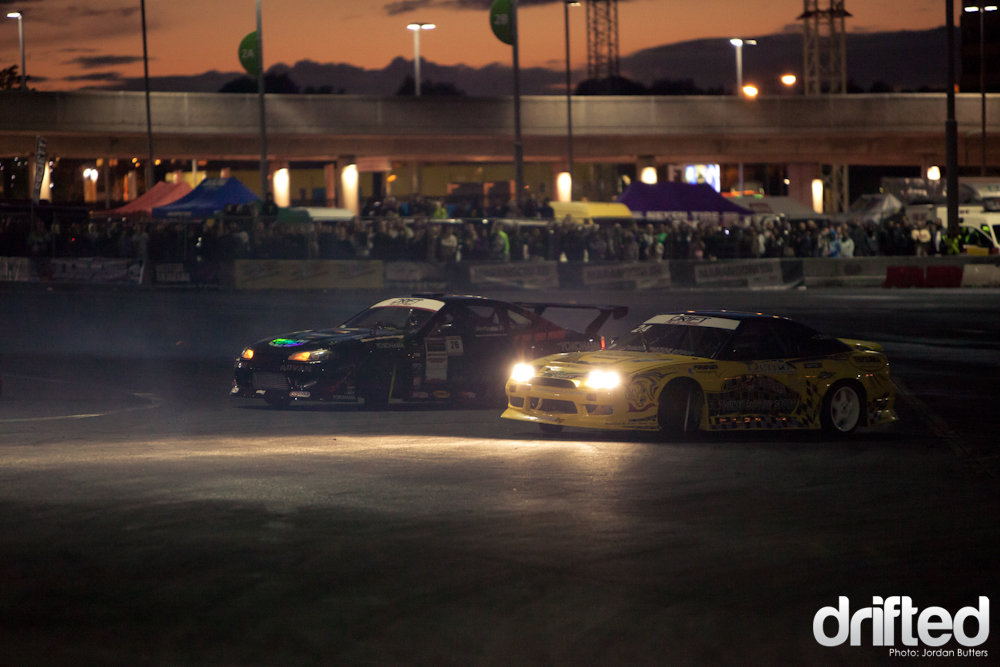 The final Top 16 battle is Yokohama/ACT/RHD Japan driver Christy Carpenter against Bulgarian Todor Dunev.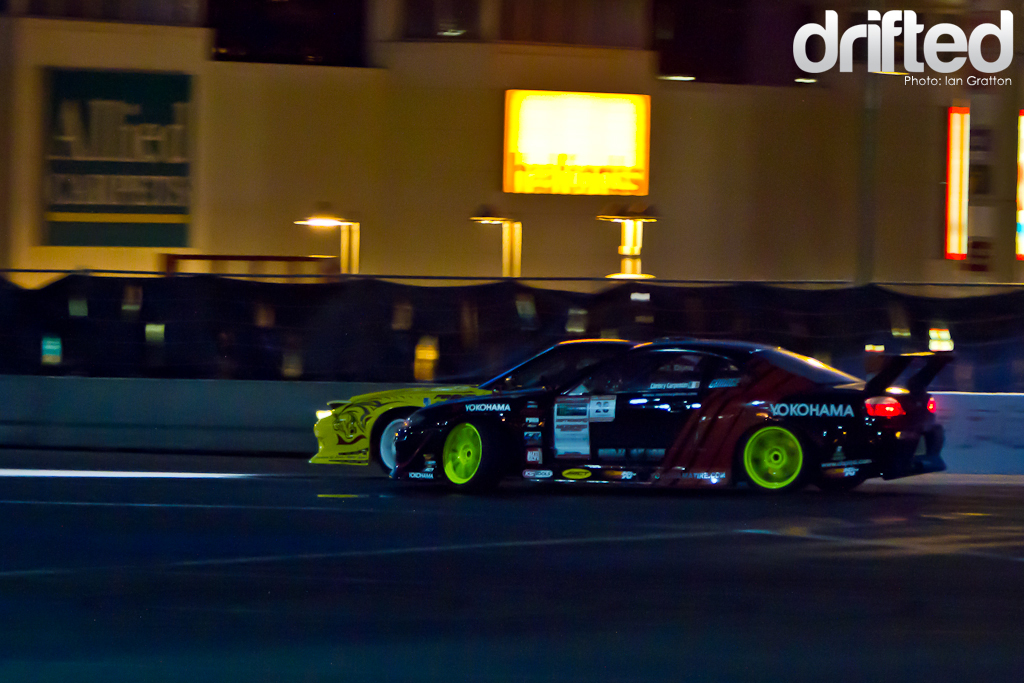 Christy pushes hard but has mechanical issues and is forced to retire. Dunev will face Dai in the Top 8!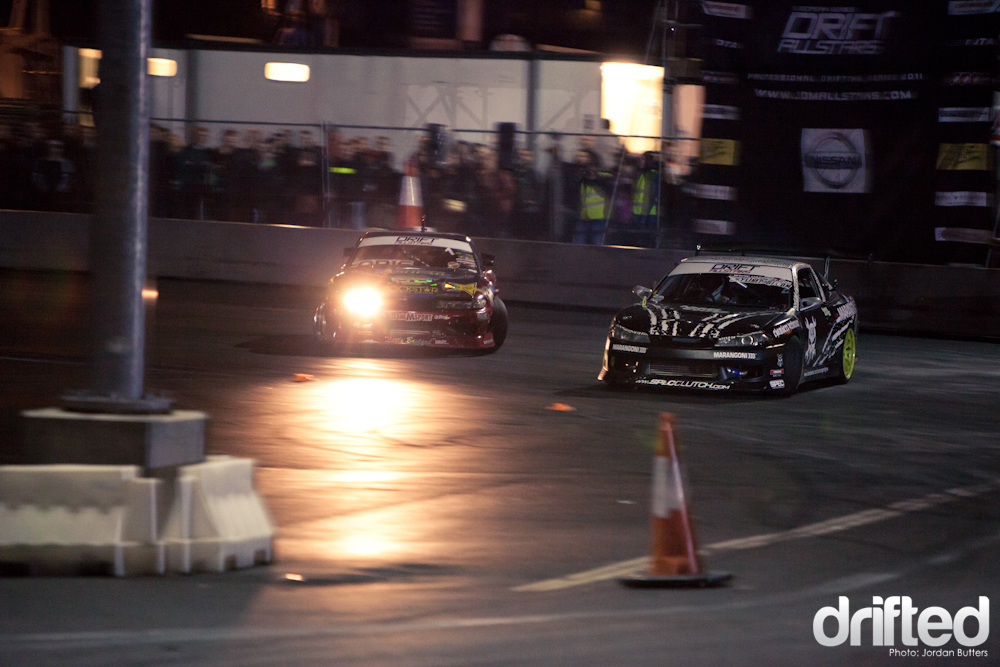 The first Great 8 battle will be the championship decided. James Deane vs Nigel Colfer! This should be a final or something?!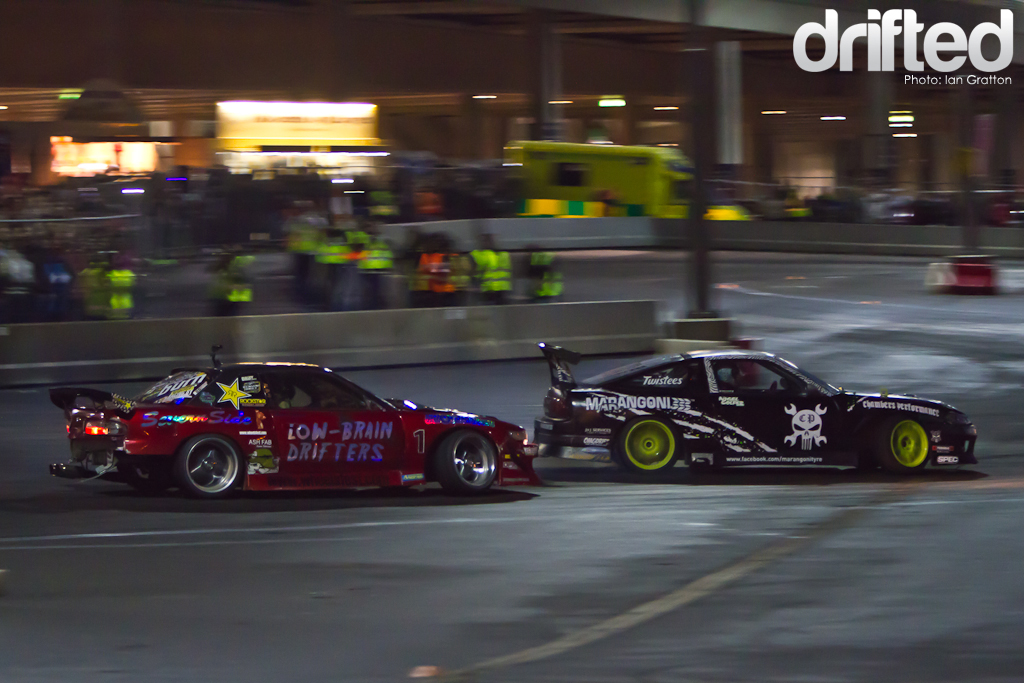 Amazing driving from both but Deane has the edge and takes the win. With this he seals the 2011 championship too!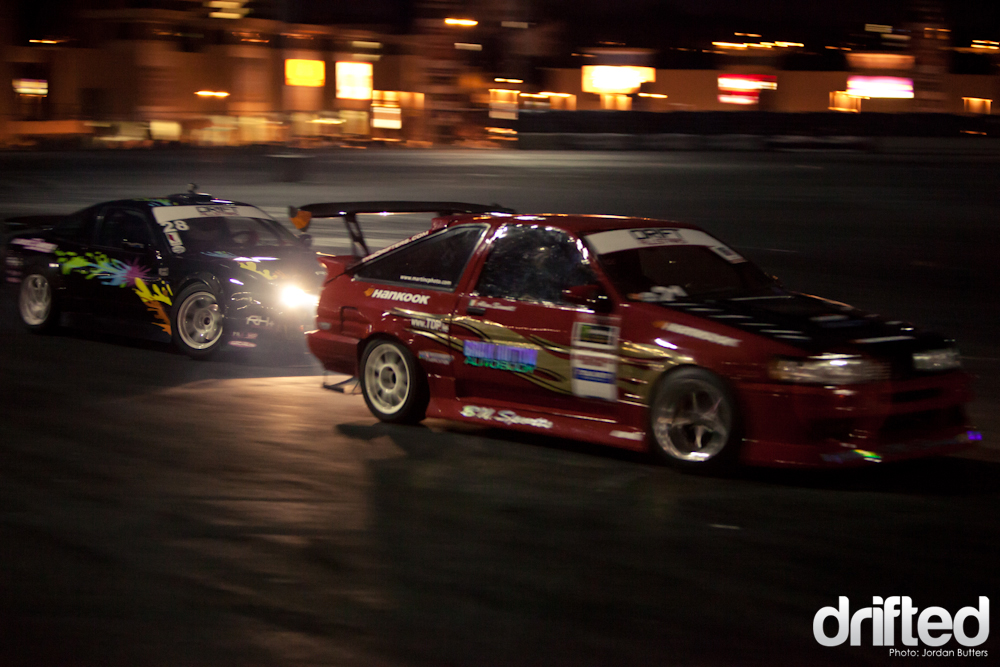 The Corolla of Sinnott vs the S13 of Lopez is next. A clean first run is followed by an amazingly close spin against the wall caused by Lopez! A collision is narroly avoided and Lopez bows out of the competition, Sinnott is in the Semi Finals.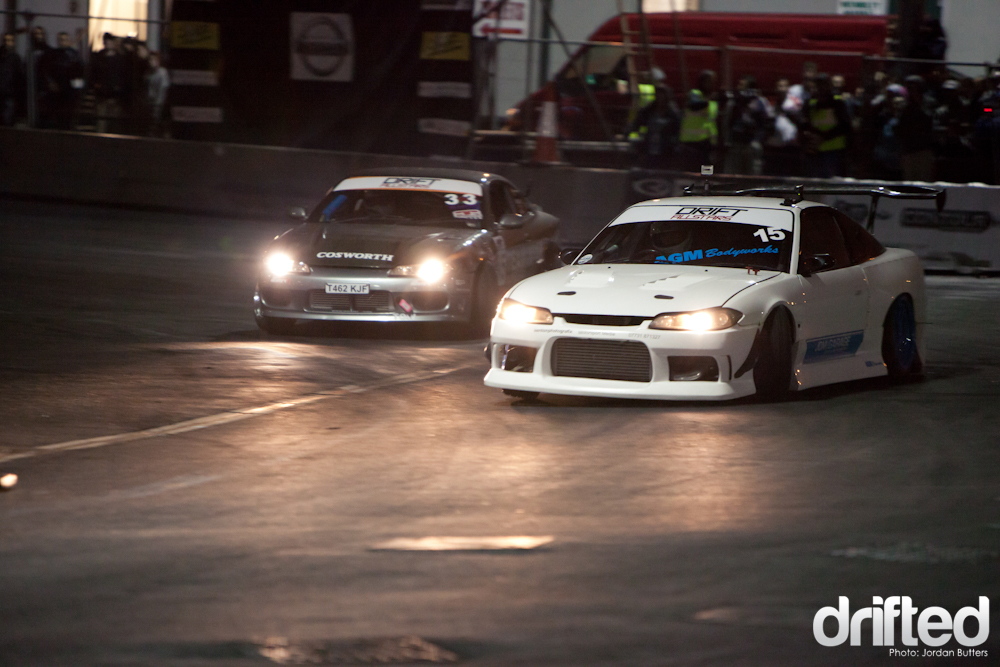 Paul Howard is up against Michael Marshall next. A couple of clean runs follow but Howard makes a mistake and Marshall finds himself in the Semis!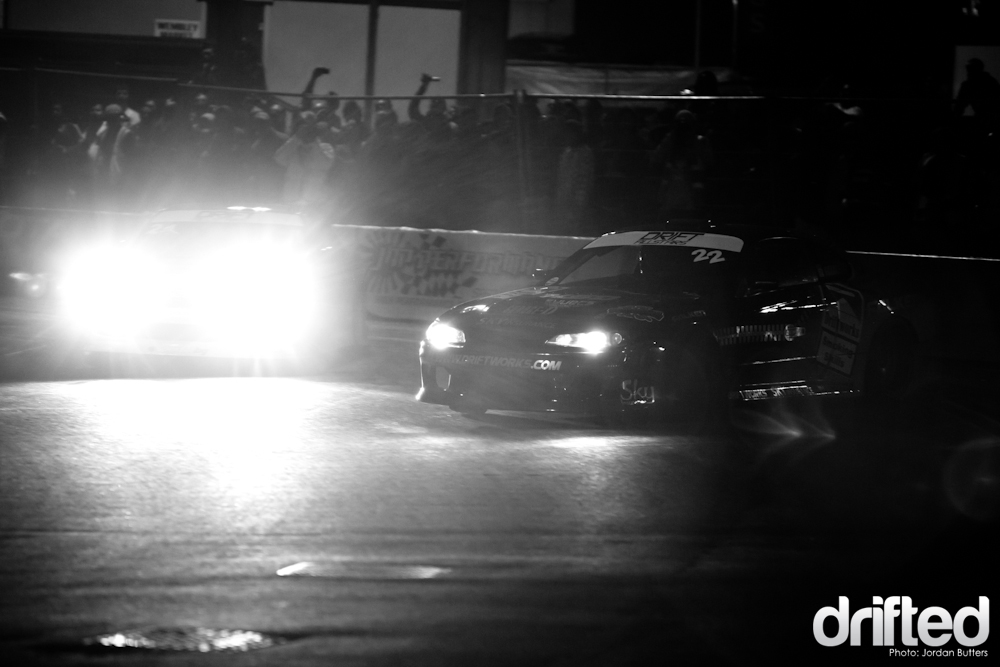 Dunev vs Yoshihara next. This has got to be the first Bulgaria vs Japan drift battle ever?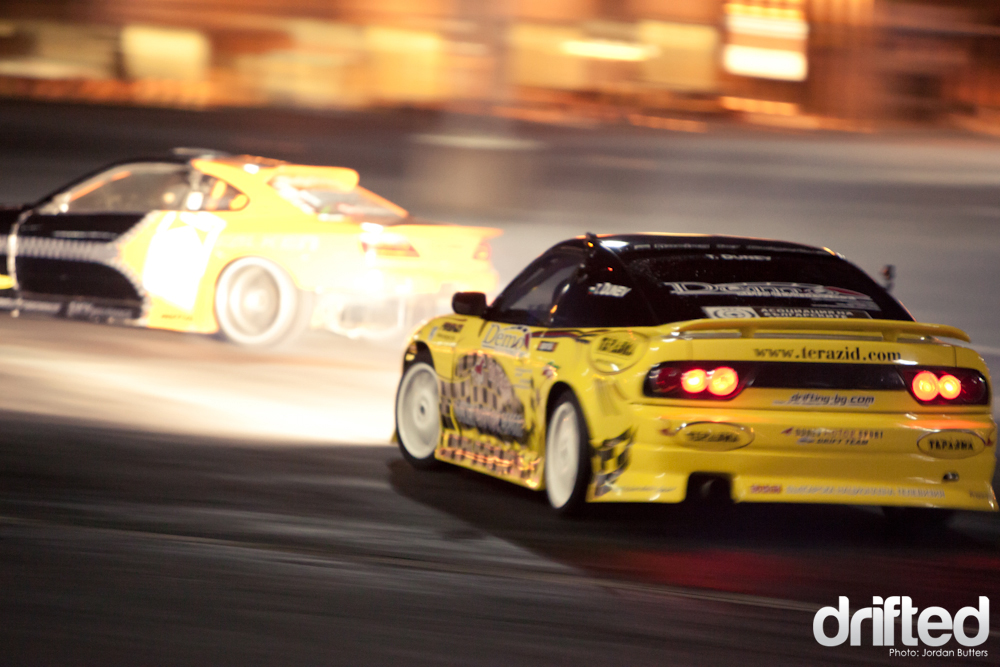 Dai pulls a large gap on the first run but when it comes to chasing Dai struggles and straightens twice. Todor Dunev beats Daijiro Yoshihara and is our last Semi Finalist!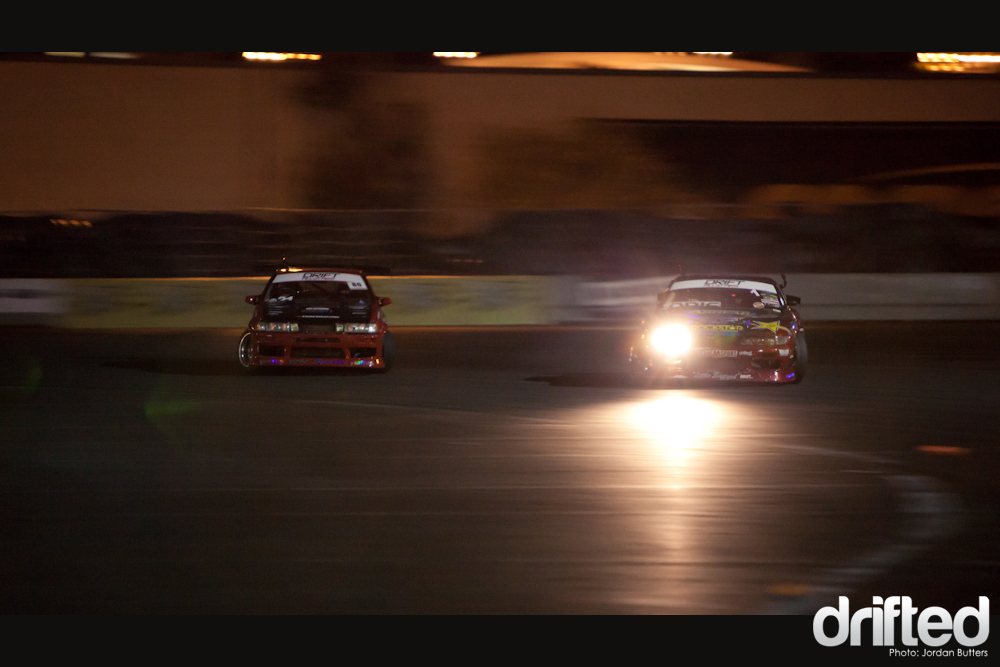 Drift Allstars Champion James Deane and Prodrift Champion Alan Sinnott are first to battle for a place in the Finals. A fairly safe first run from both drivers means it all comes down to the second run.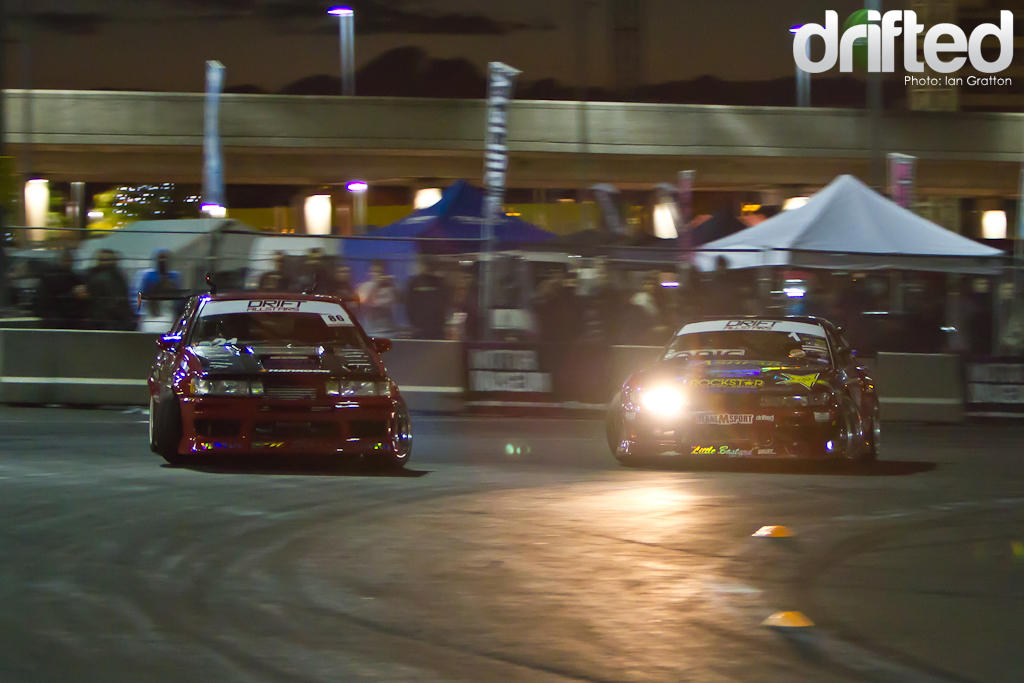 Sinnott leads and Deane is in his door. Deane books his place in the Finals!
Todor Dunev and Marshall meet for the first time in the other Semi Final.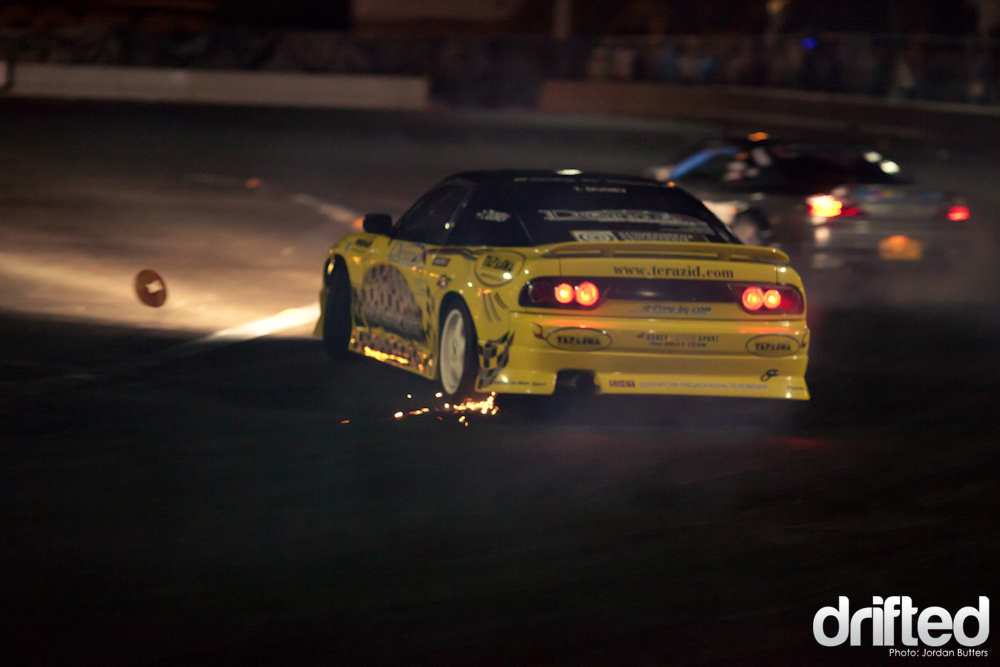 Two close runs follow but Marshall manages to pull ground on Dunev.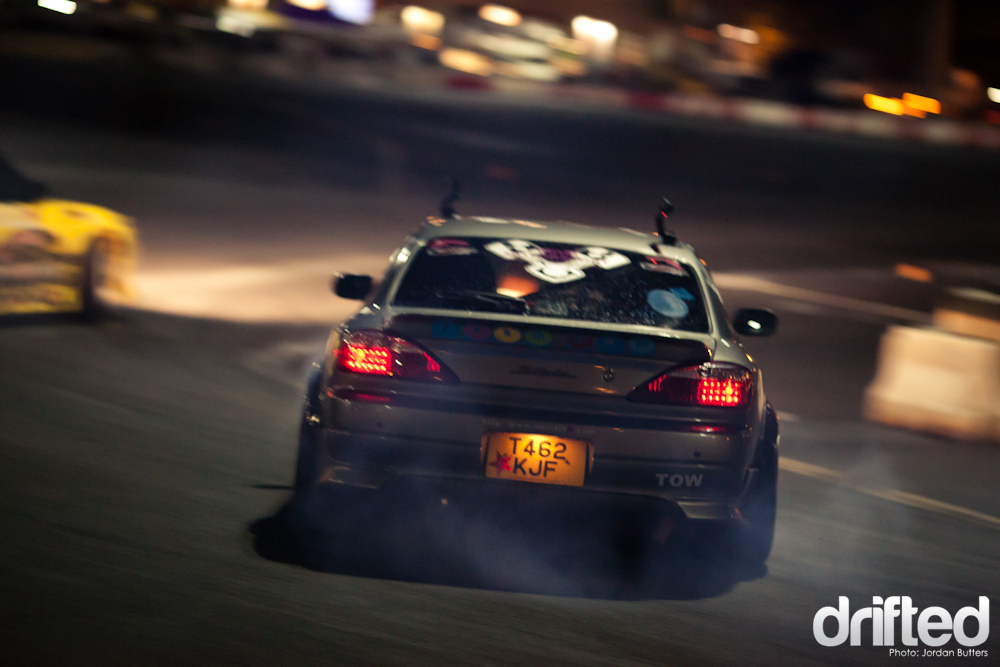 The BDC Pro driver is into the Final!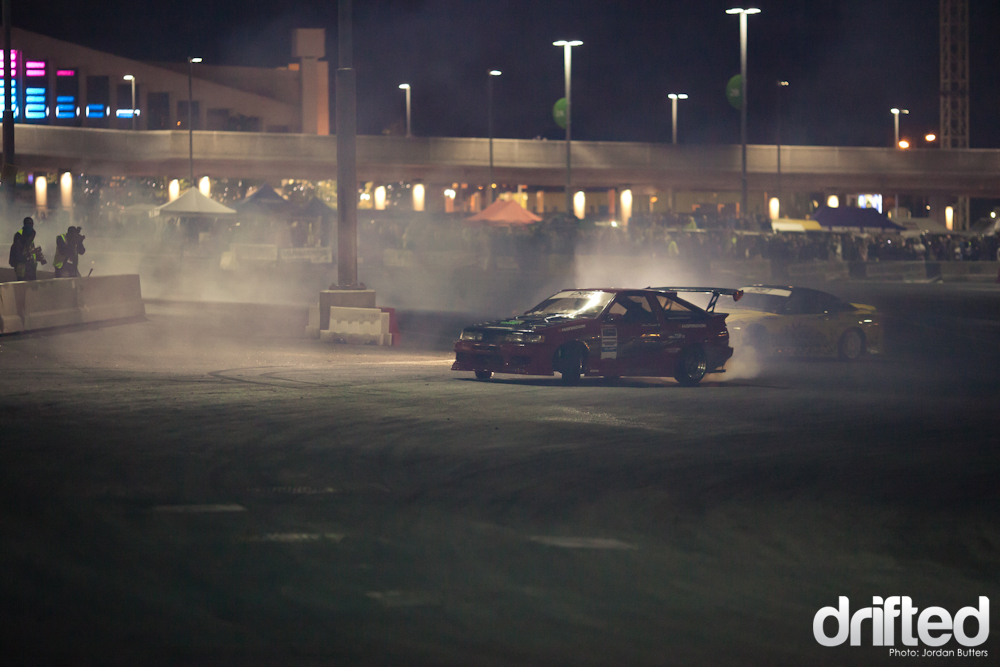 Before we decide the winner 3rd place has to be decided. Dunev vs Sinnott.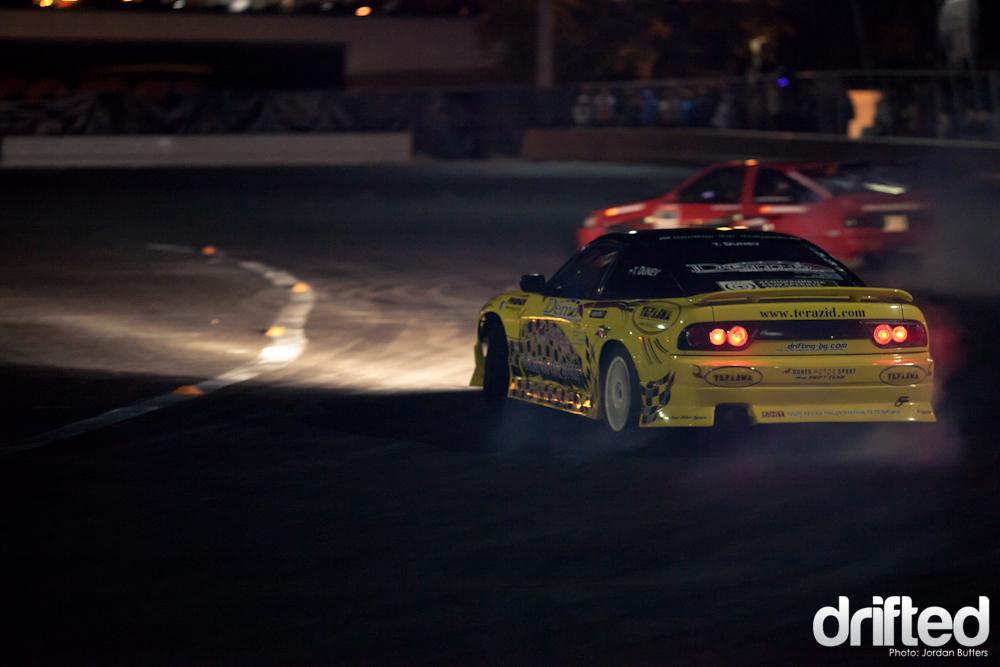 The Irish champion is on form and is judged to have pulled a sufficient gap. Sinnott takes third, a great result!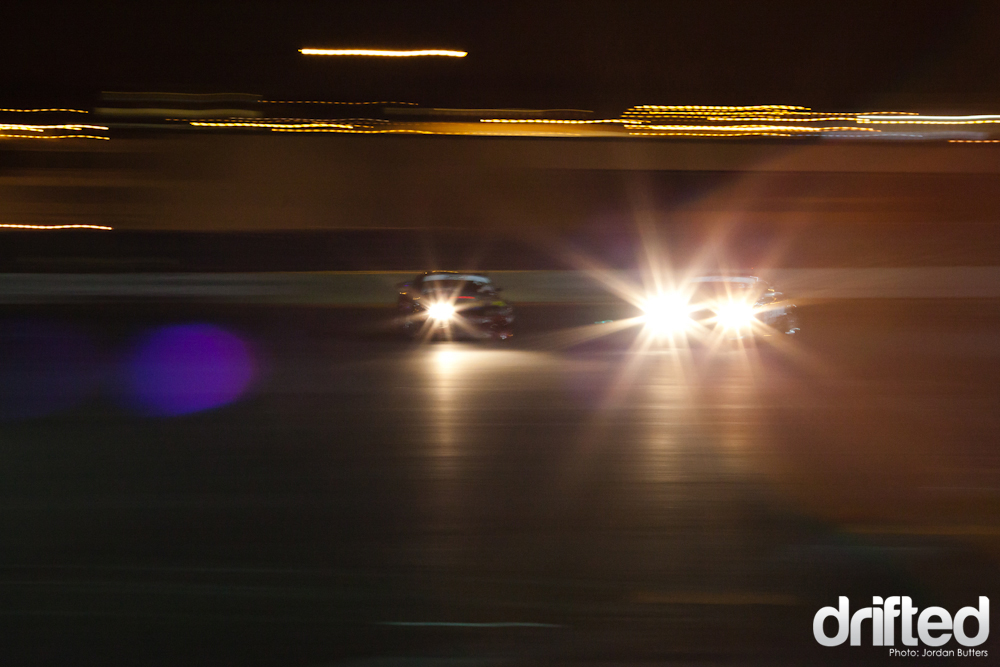 A Final that not many would have called awaits us! James Deane vs Michael Marshall.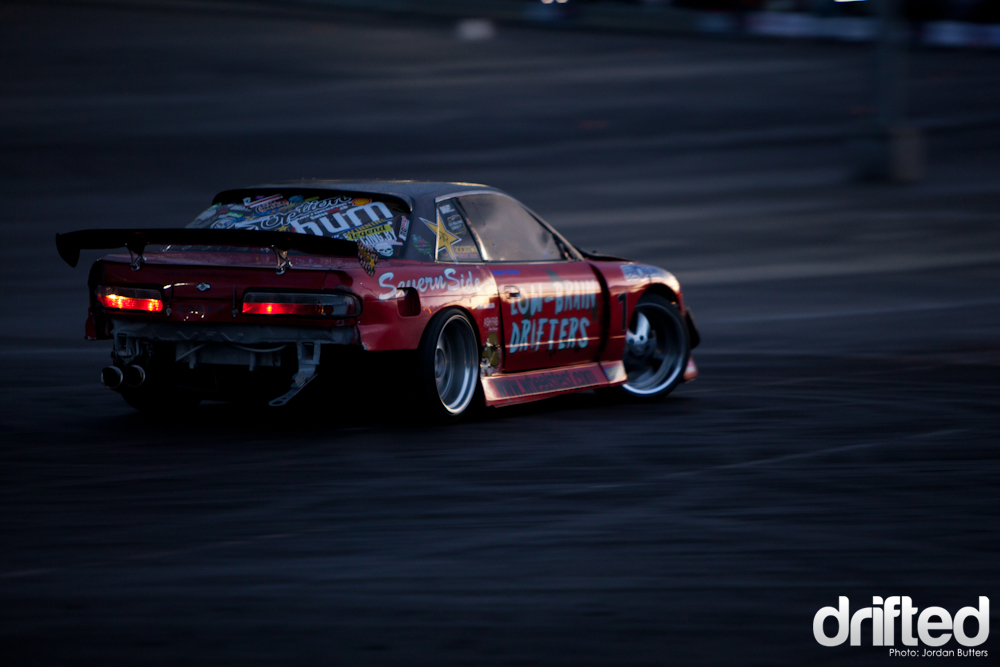 Deane is fast, aggressive and accurate as ever. Marshall follows close.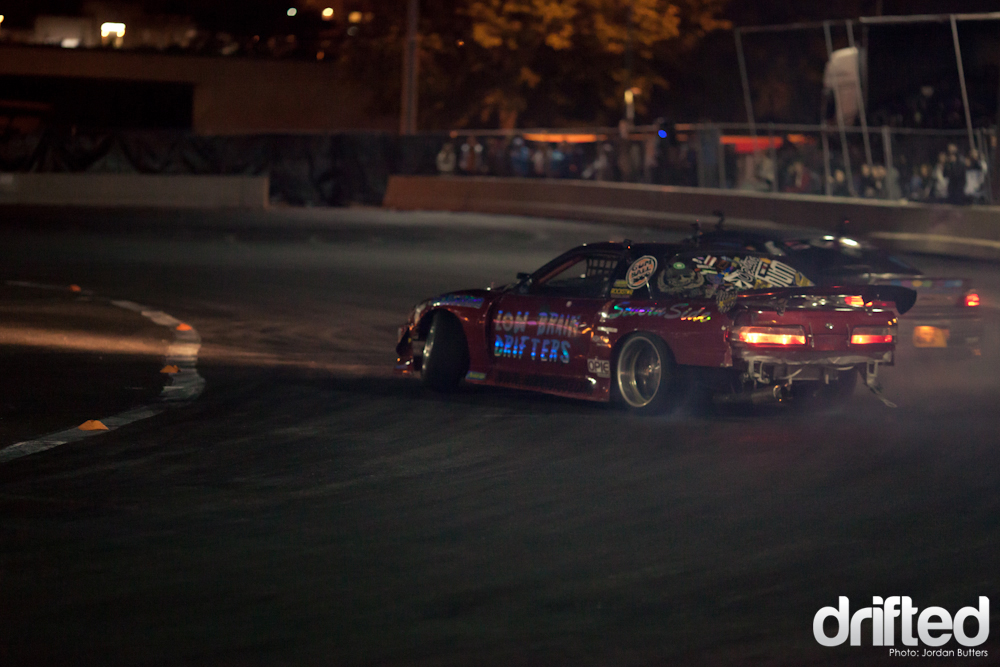 But Deane follows closer.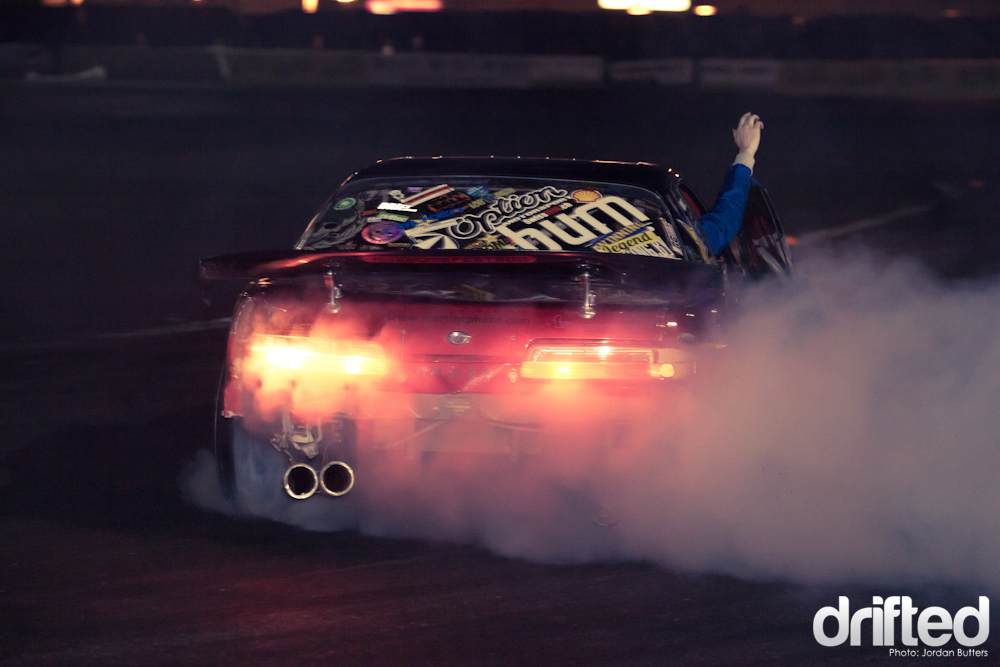 It's decided, Deane takes the win!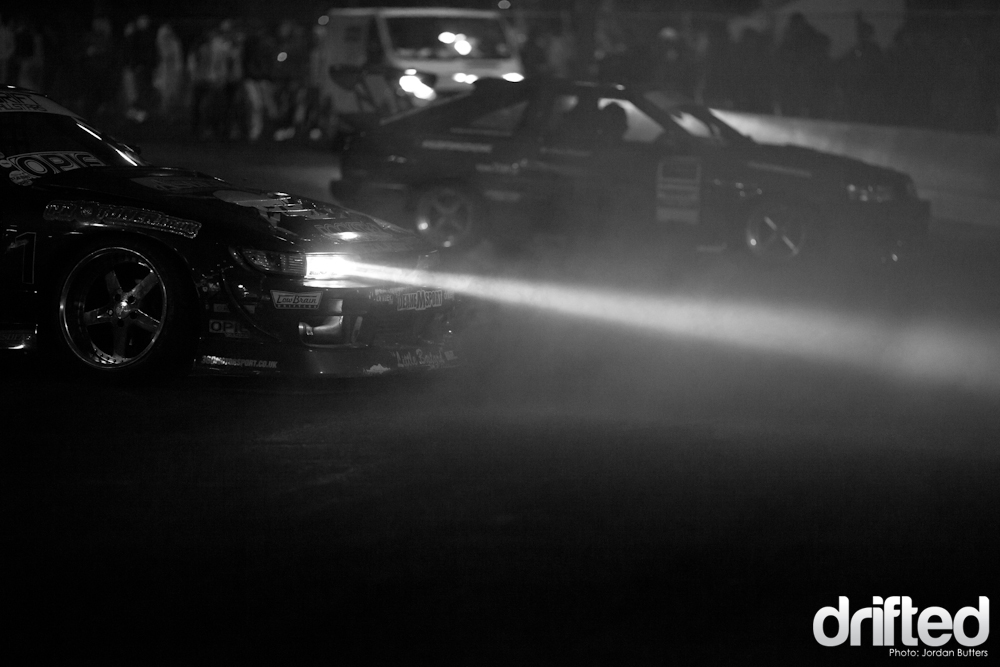 Drift Allstars Wembley Final Results
1st. James Deane
2nd. Michael Marshall
3rd. Alan Sinnott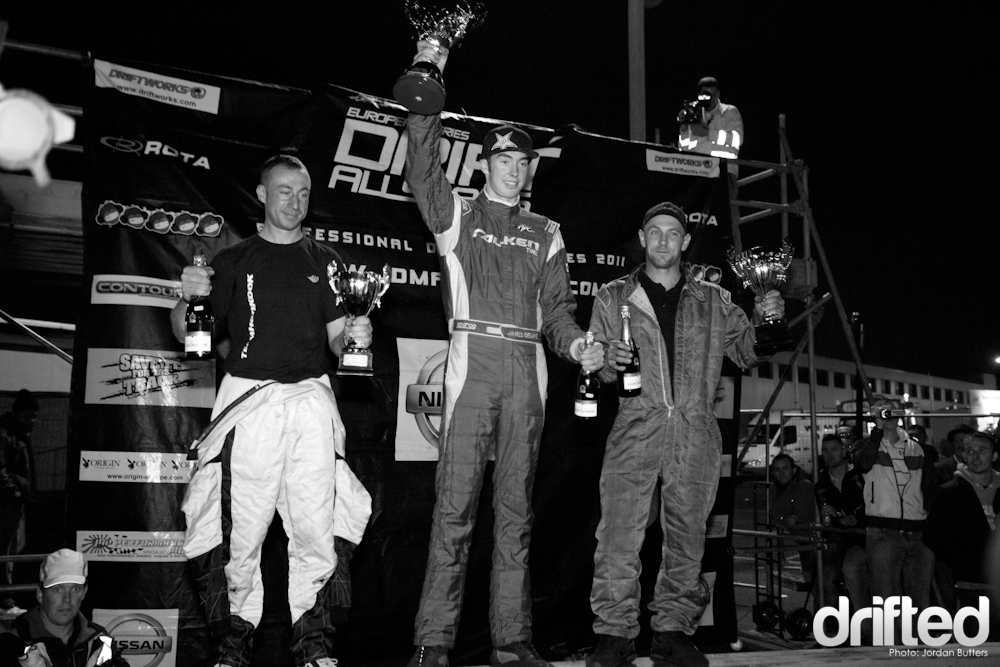 Drift Allstars is in the bag for another season! The Final Championship standings….
1st. James Deane
2nd. Nigel Colfer
3rd. Walton Smith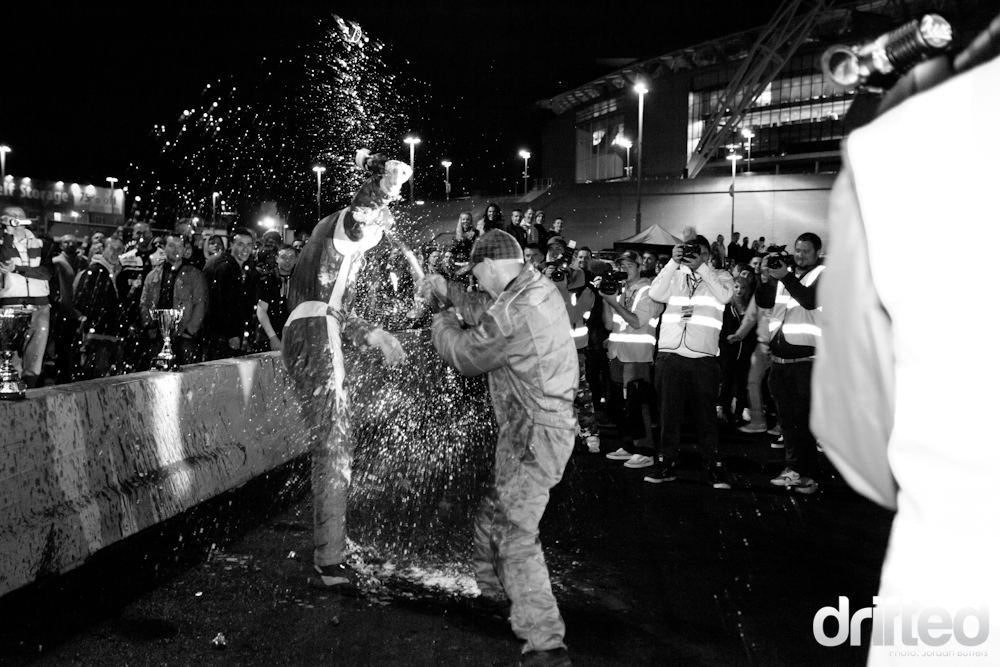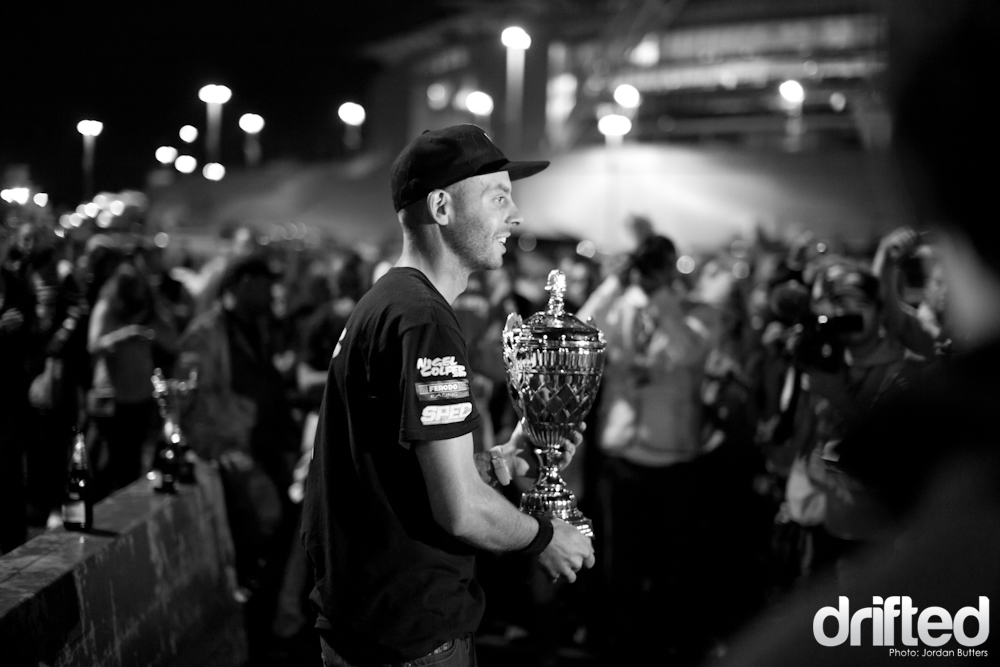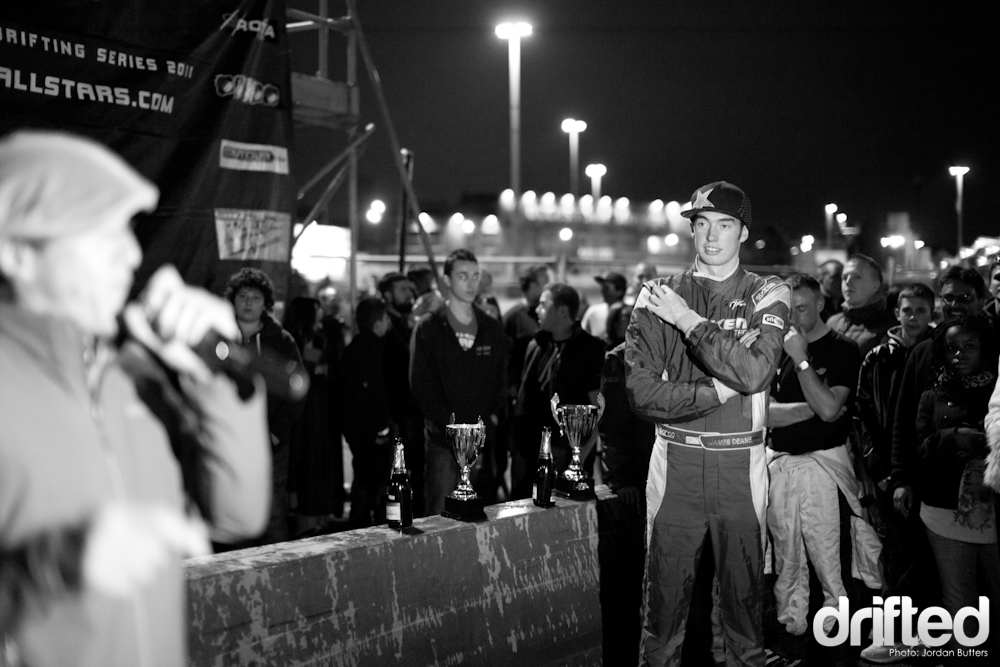 Full image gallery below!