EVENT: D1NZ 2014: Round Two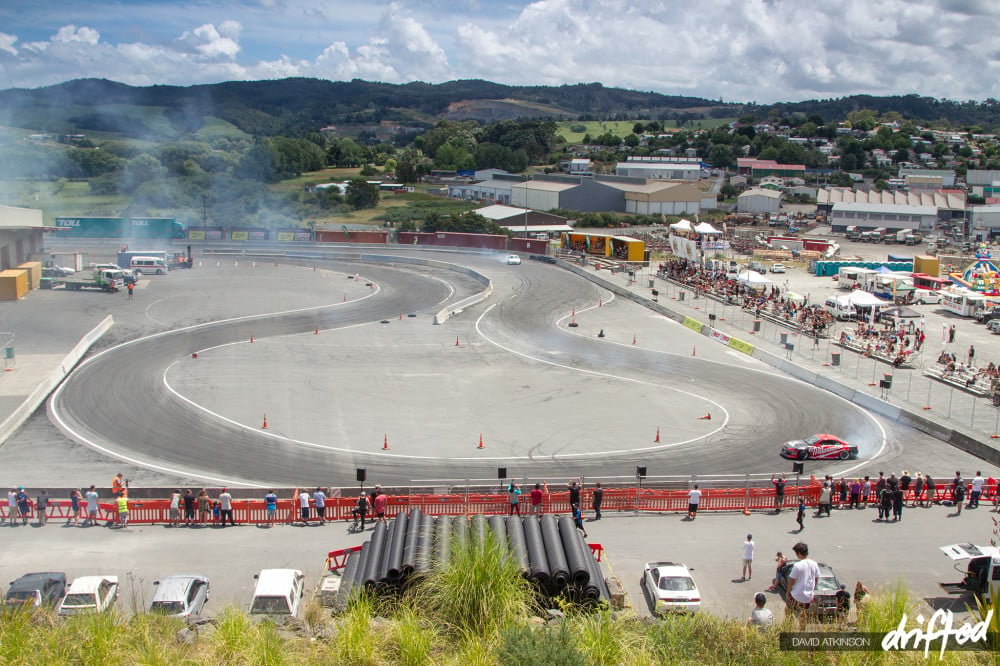 What do you get when you mix a couple dozen pro drift cars, a custom built track, perfect weather and a big crowd? The answer is a weekend you're likely to remember for a long time to come! Nicknamed the 'Concrete Jungle', round two of the Cody's D1NZ National Drifting Championship began with a long drive north to Whangarei, with the event being held at a local truck depot.
Clipping points were placed strategically around the track, mostly up against the concrete walls to encourage wall taps. You won't find any kitty litter or run-offs here, and for that reason this track is one of the most dangerous this season, but also one of the most rewarding.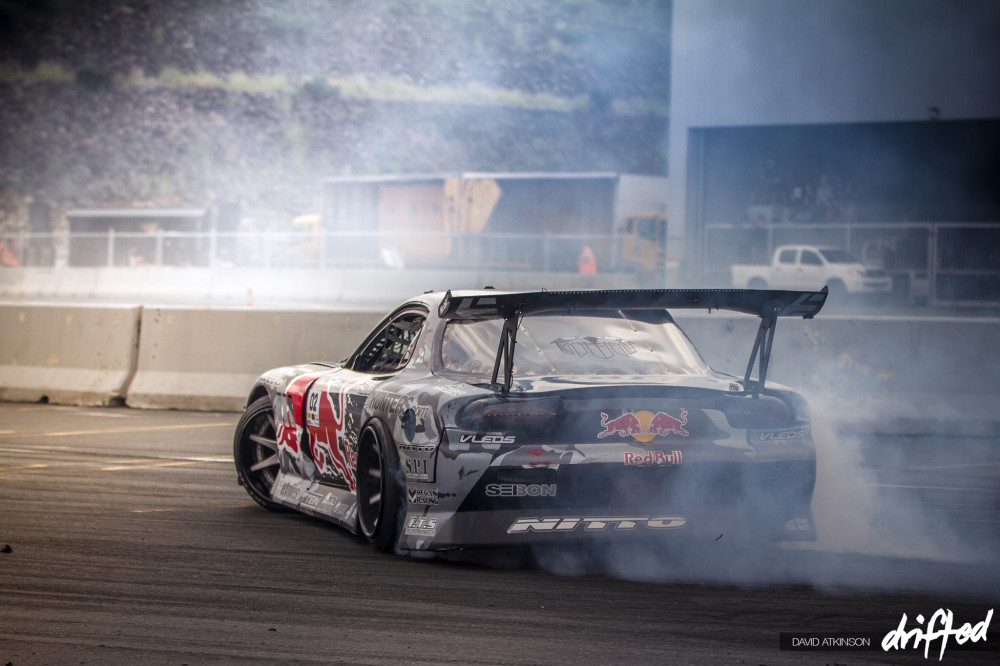 The unique track layout challenged the drivers with a steep learning curve. Putting aside the walls and cones for a moment, the big entry leading straight into a tight chicane took some getting used to.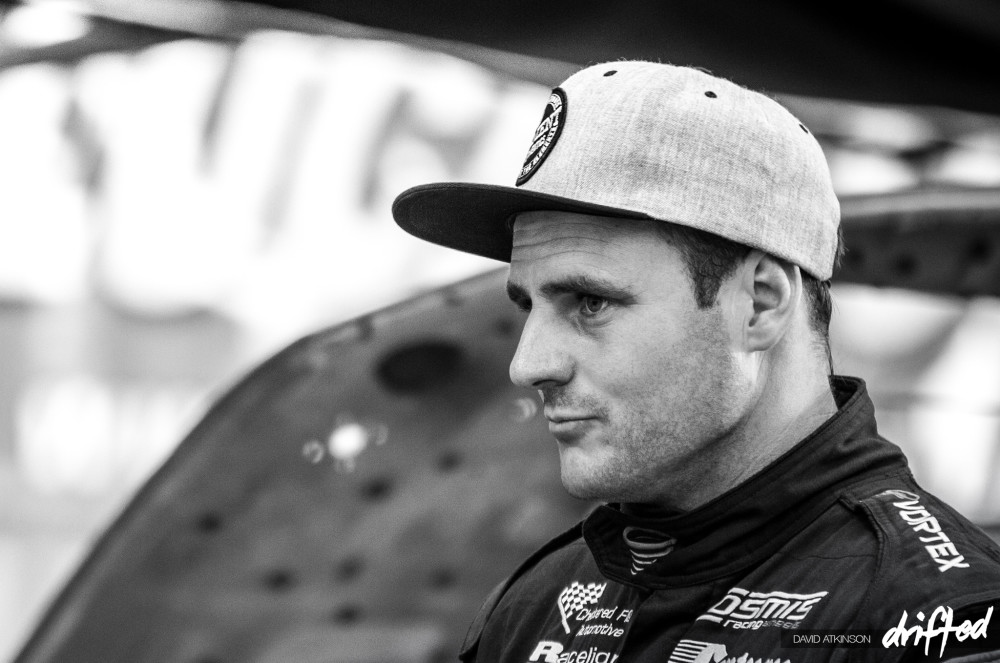 Whangarei local driver Fanga Dan would be looking to capitalise on points this round after being knocked out a little earlier than expected at Hampton Downs. The defending DK took home first place here last year so all eyes were on him.
Another one to watch would undoubtedly be Nico Reid who took second place in the concrete jungle last year.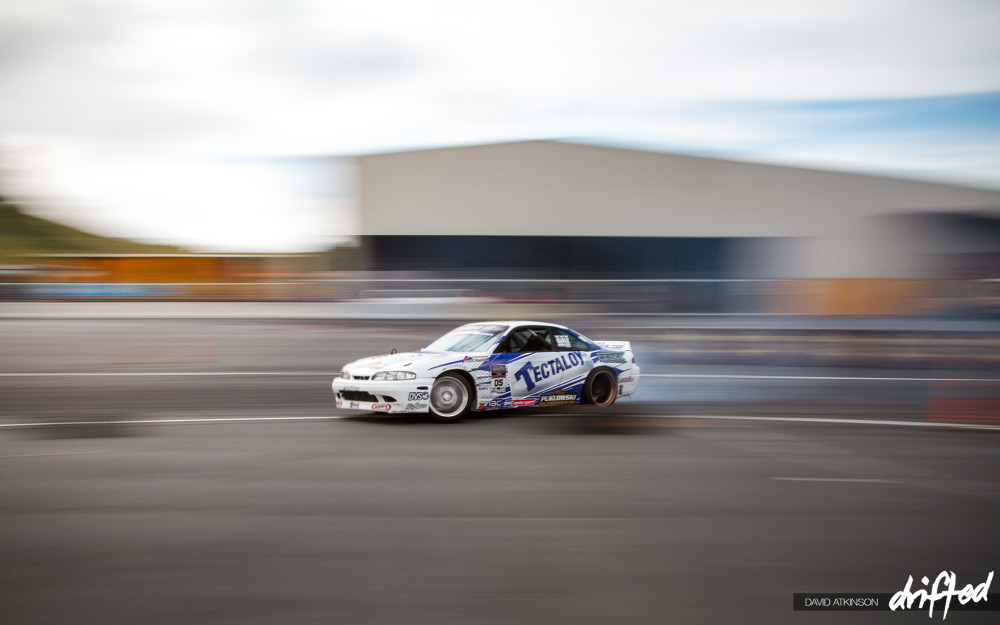 Always a contender is Gaz Whiter who seems to be on a mission for a fourth championship win this season.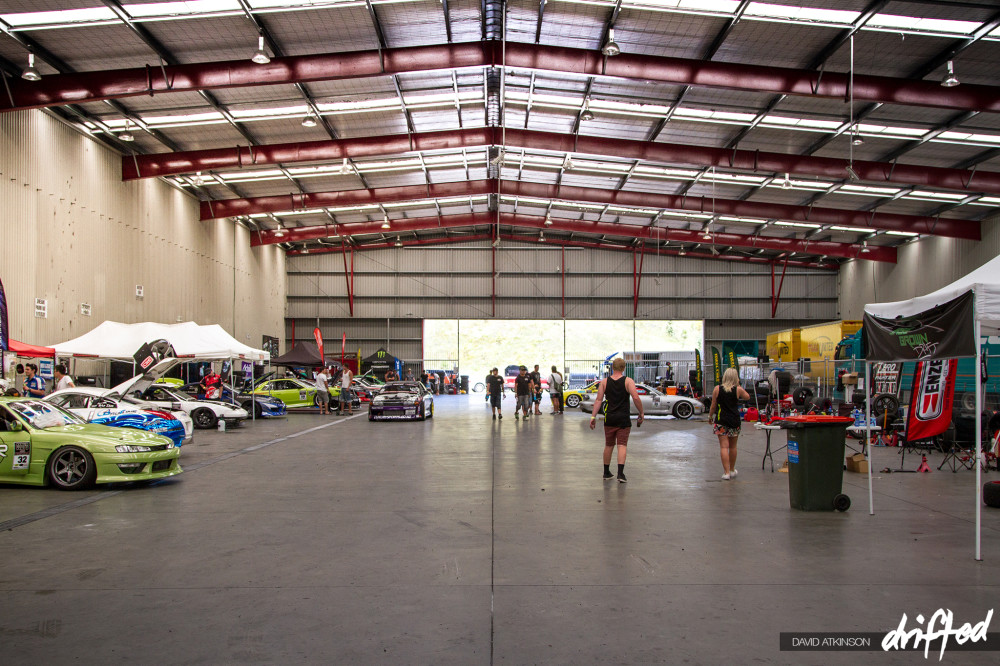 An adjacent warehouse was used for the pits, making for one hell of a noisy place at times!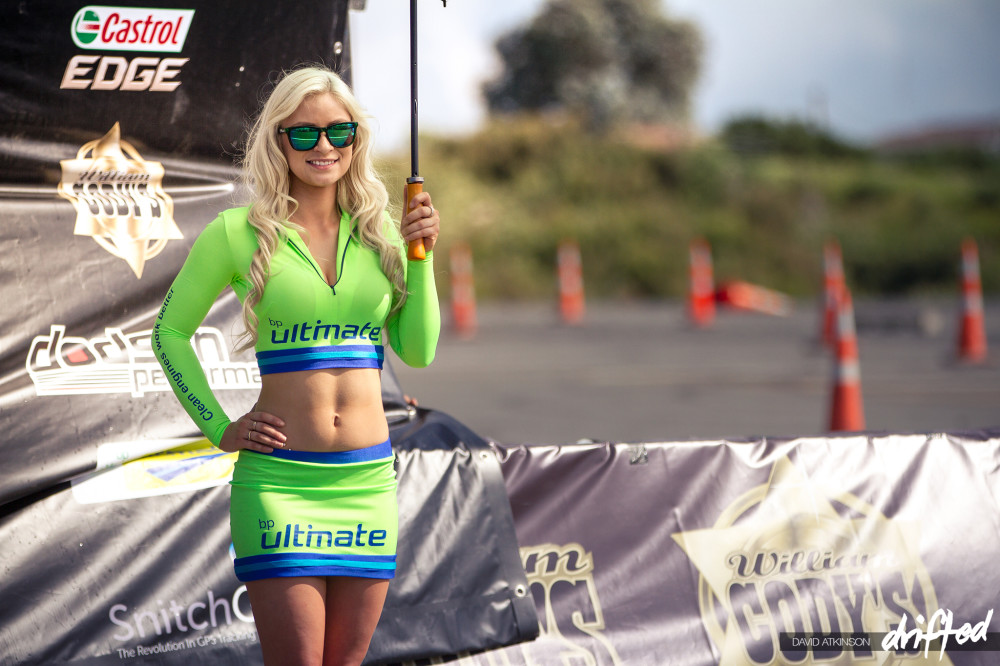 Not many people can make fluro green look good. I think Vika pulls it off, though!
Mad Mike brought out a new ride for getting around the track; a Yamaha Rhino receiving a matching Madbul wrap! #Madrhino?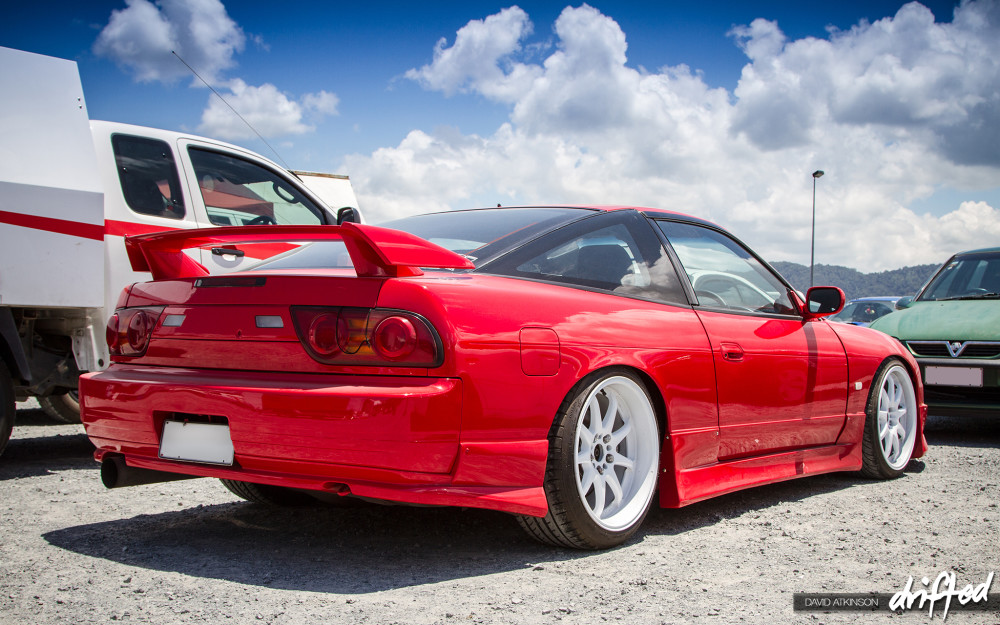 There were some nice rides to be found in the car park too. This red and white 180SX looked very clean.
Good angles to shoot from could be found all around the track. This wall on the entry would be receiving a lot of attention, from both camera shutters and rear panels!
Taking fourth qualifying spot was Troy Forsythe, who was driving well in the Rapid Performance S13. Troy didn't seem too phased by the concrete walls and went all out regardless!
Qualifying in third place was the familiar quad rotor Rx7 we all know and love driven by Mad Mike Whiddett. Mike missed out on first place last round due to mechanical problems so it was anyone's guess if the Madbul would play nicely this time.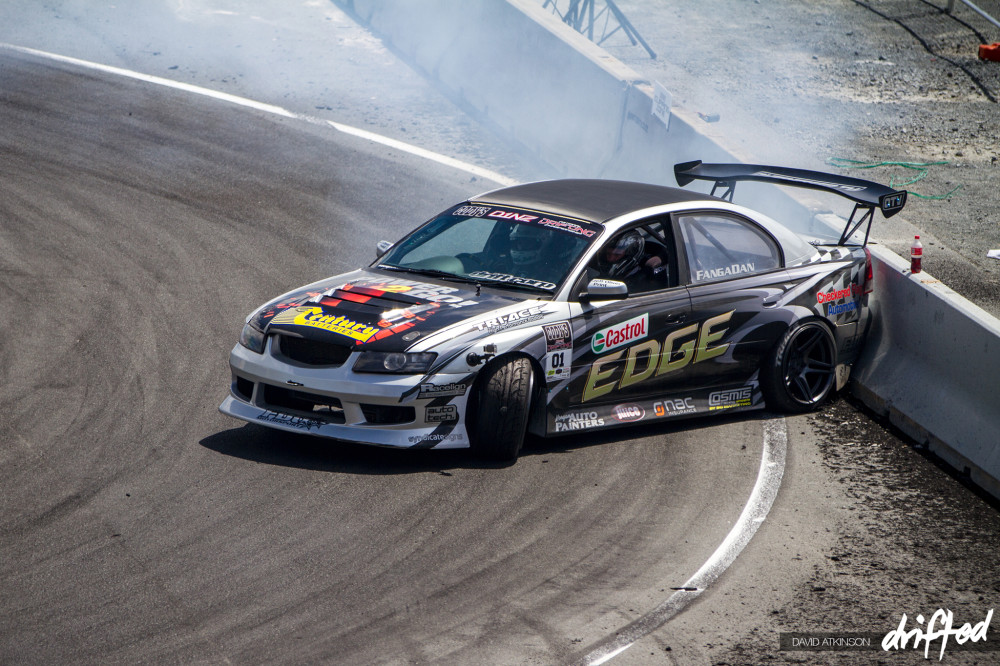 Fanga Dan Woolhouse brought home second place in qualifying, mastering the art of tapping the walls and earning maximum style points!
Taking first place with a 94.5 qualifying run was Curt Whittaker in the Autosure R34. The big 2JZ powered machine is definitely one of the best smoke machines out there this year.
Andrew Redward was not planning on driving this round due to injury, but changed his mind at the last minute and borrowed Troy Jenkins pro-am car. Completing a single qualifying pass was enough to earn some vital championship points!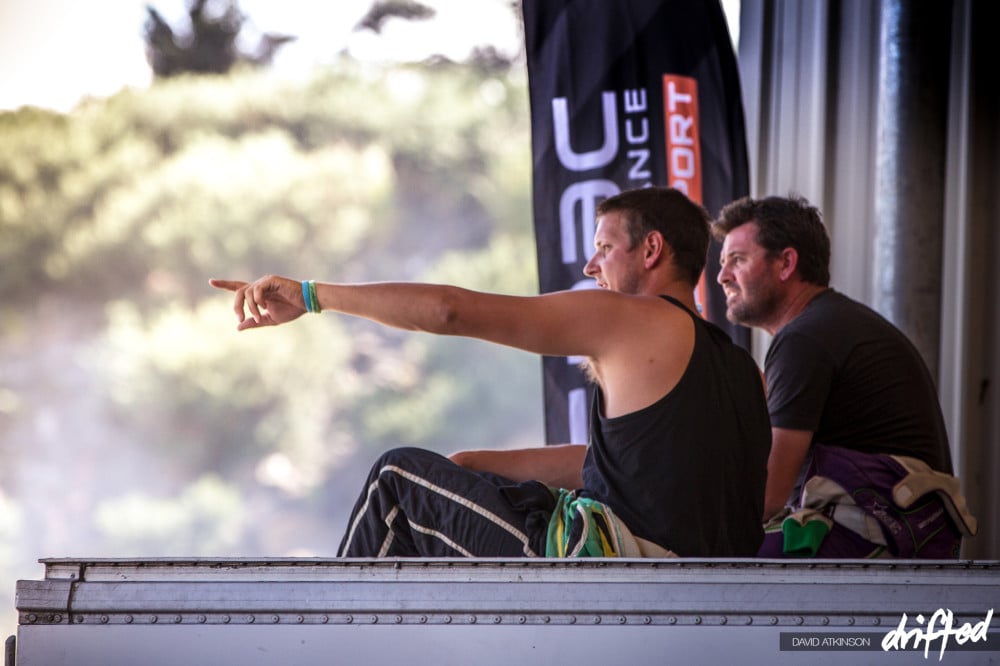 Most of the drivers seemed happy with the course layout despite almost everybody losing bumpers, smashing up tail lights and rubbing walls – that's drifting!
Sky Zhao was overseas this round so Takeshi 'Tuxx' Teruya would be driving the 2 Degrees 700Z.
The drivers and crew were able to watch directly from the pits; another cool advantage of having a small custom built track.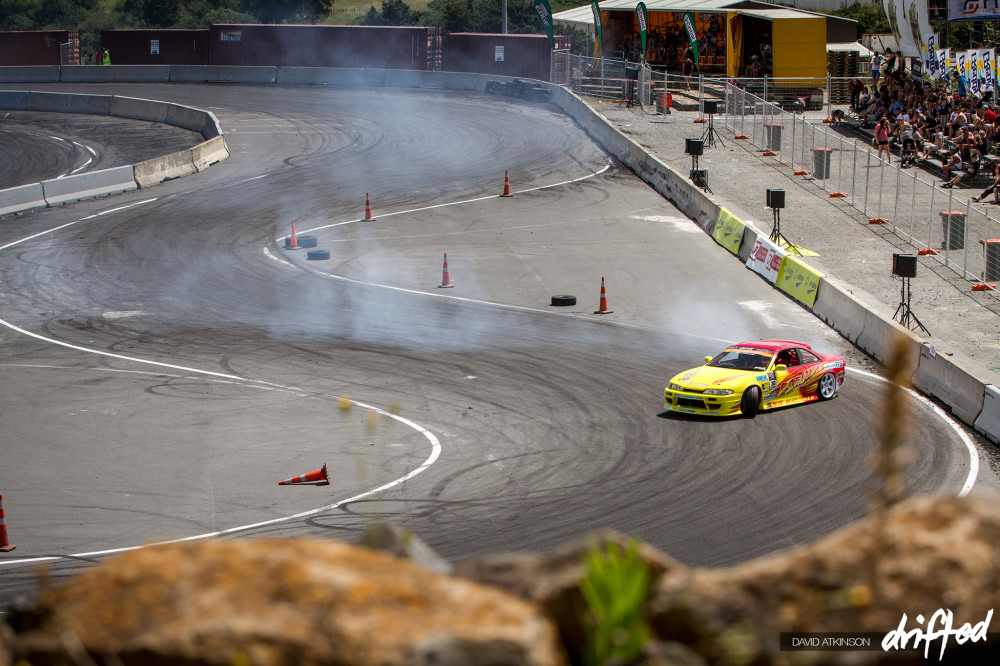 Adam from C's Garage looked to be loving the track layout. The SR20DET S14 doesn't have huge power figures but it is very agile, meaning aggressive driving was the order of the day. You can hear from Adam how he did in a driver blog on Drifted.com shortly.
After proving himself as a serious contender last season on smaller tracks like this, Hugo Maclean would be aiming for a spot on the podium this time. In his top 32 battle with Darren Kelly, his chase run was judged as being slightly off line giving Kelly the win.
The concrete walls would definitely be on Bruce Tannock's mind after smashing up his car at Baypark last season. Fair enough too, those Rocket Bunny kits don't come cheap. A straight-line in his battle with Cole Armstrong saw Bruce out in the top 32.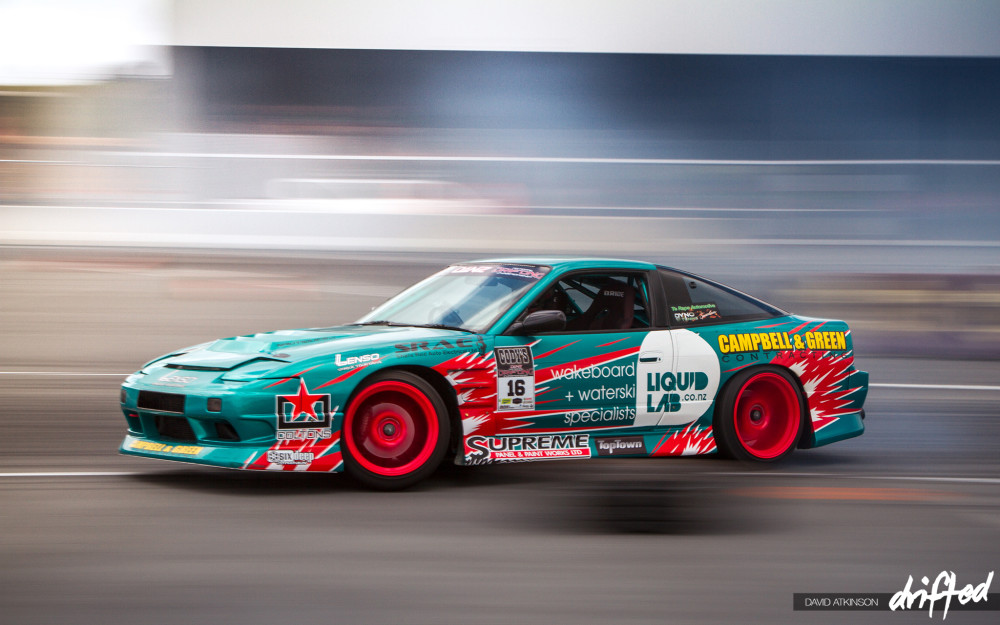 Kyle Jackways is becoming more of a threat with each round it seems. After sending Shane Allen home in his first battle, he went one more time with Troy Forsythe. Unfortunately he spun on the chase giving Troy the win.
Joe Kukutai watched from the pits after battling problems with his car all weekend. He chose to borrow a pro-am car for the battles but it wasn't enough to beat the hard-charging Mad Mike.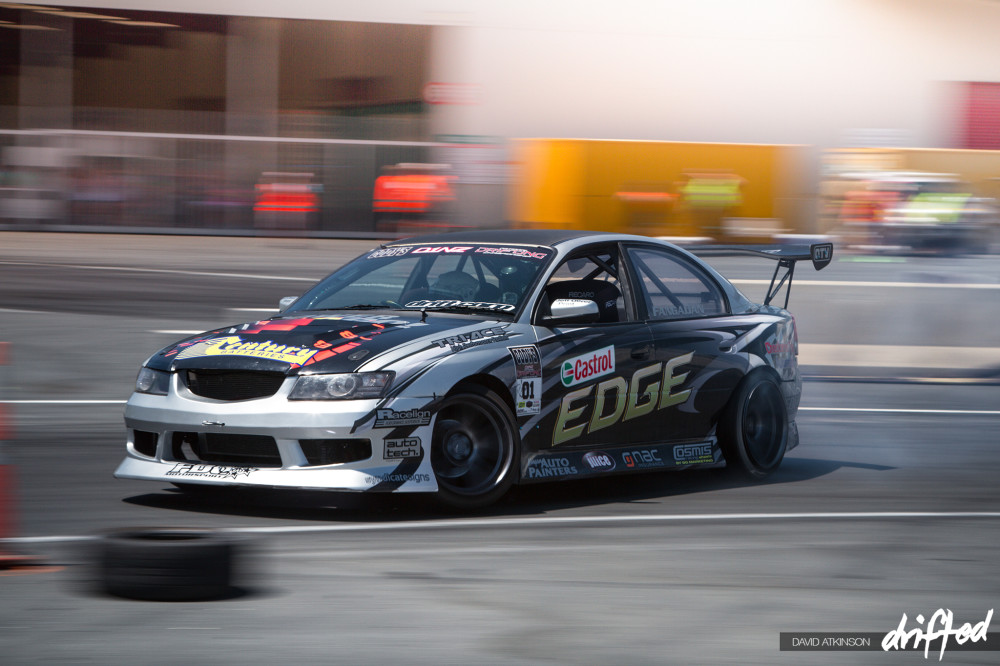 Controversy was a plenty after Fanga Dan's top 16 battle with Drew Donovan. The Castrol Edge Commodore tapped the wall on turn one of the lead run, causing a small straight line and loss of speed leading to what looked like an attempt to pass from Drew Donovan. The judges gave Donovan the win after he was able to create a gap on his lead run.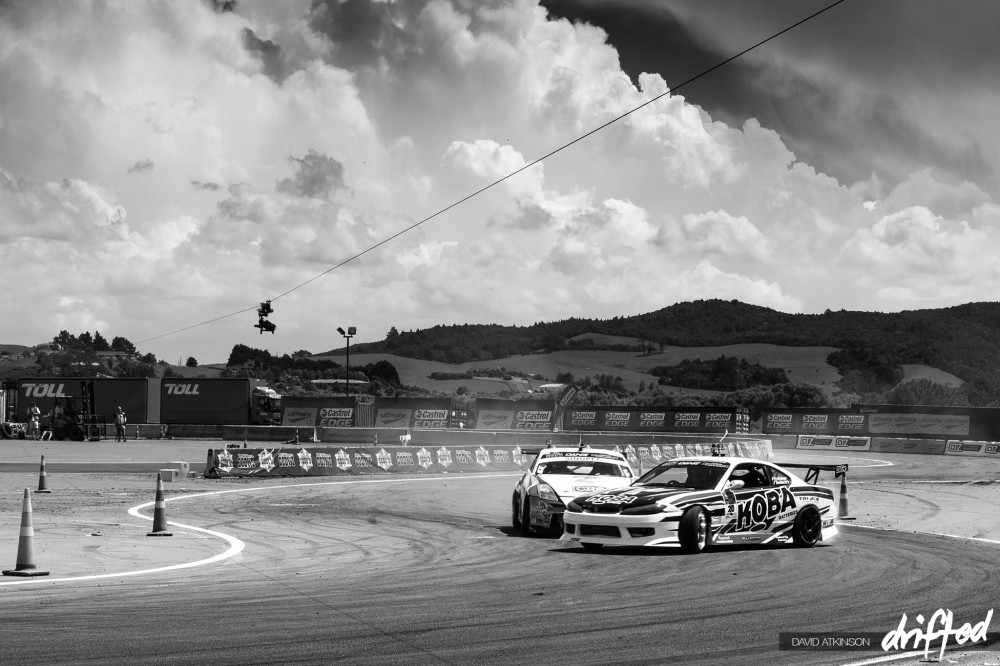 Robee Nelson was having a great weekend qualifying in seventh place and going on to beat Takeshi Teruya after he hit the wall smashing his left rear wheel on the chase run.
One of the best battles of the weekend was that of Nico Reid vs Shane Van Gisbergen. The pair seemed perfectly matched and went one more time. After both cars were suitably battle worn, SVG ended up forcing a mistake from Reid and advanced on to the top eight.
In between their battles the drivers would watch from the starting grid, crack a few jokes and trying to keep out of the harsh sun.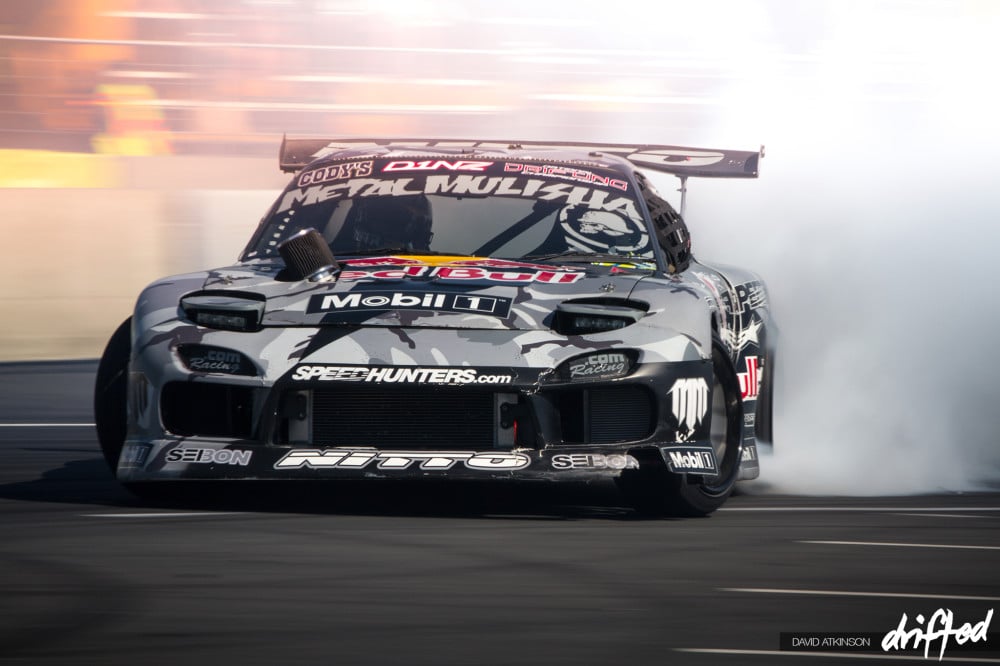 The Madbul looked right at home on the smaller track and I'm sure Mike was having fun putting on a show for the crowd. He went on to meet Zak Pole once again in the top 16 with an excellent chase run giving him the advantage.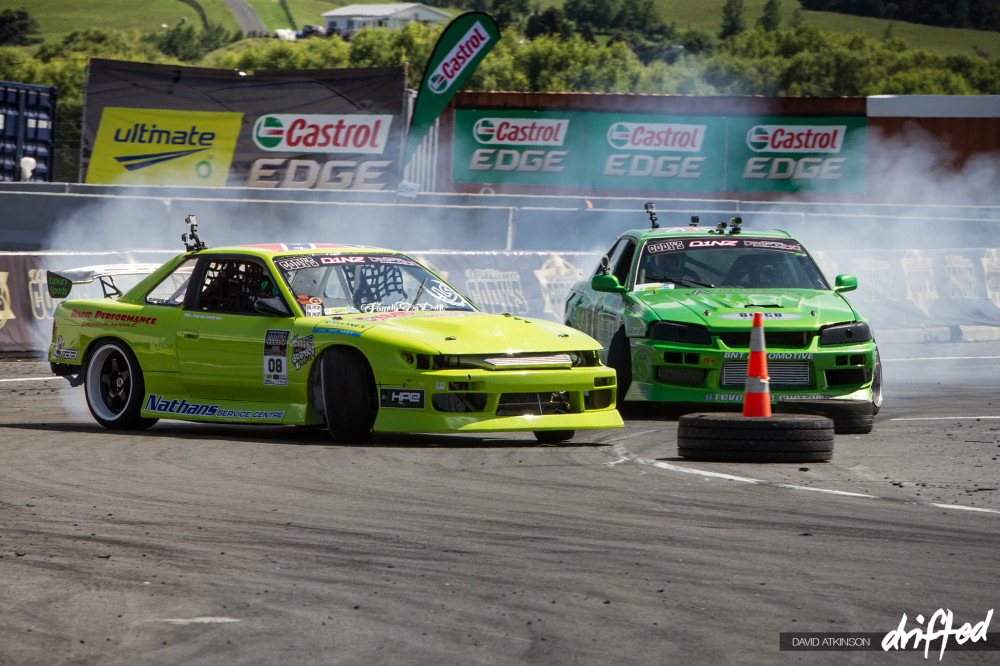 Troy Forsythe ran into some bad luck in his top 8 battle with Cole Armstrong, carrying too much speed and hitting the wall on turn three. With top scores for angle in qualifying he was well on his way to a podium. A great candidate for sponsorship if you ask me!
Milwaukee driver Drew Donovan came up against Robee Nelson in the top eight. A solid chase run from Nelson saw him move on to the finals.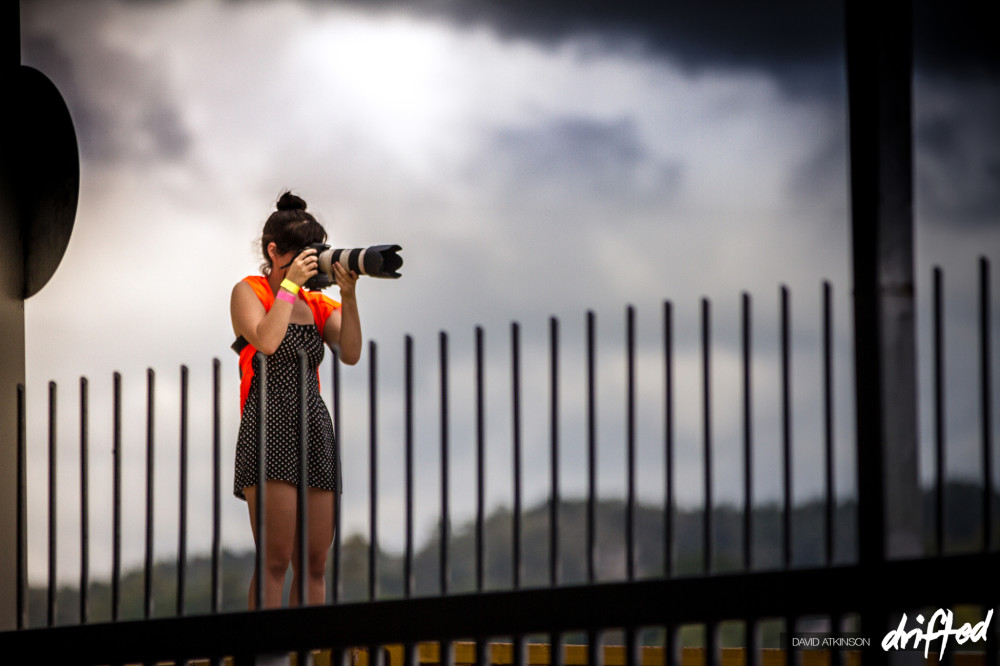 The photographers were getting creative with their angles, using shipping containers and other objects as vantage points.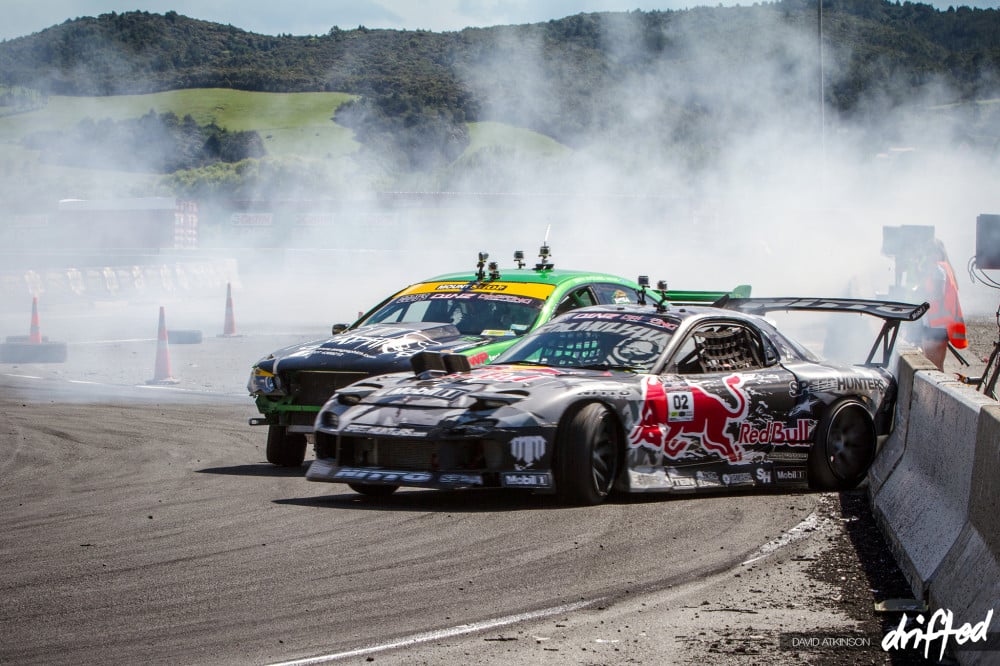 Shane Van Gisbergen put up a superb fight against Mad Mike Whiddett to round out the top eight battles. There was no huge drama to be found here, just impressive driving from both sides with the judges seeing Whiddett take the win.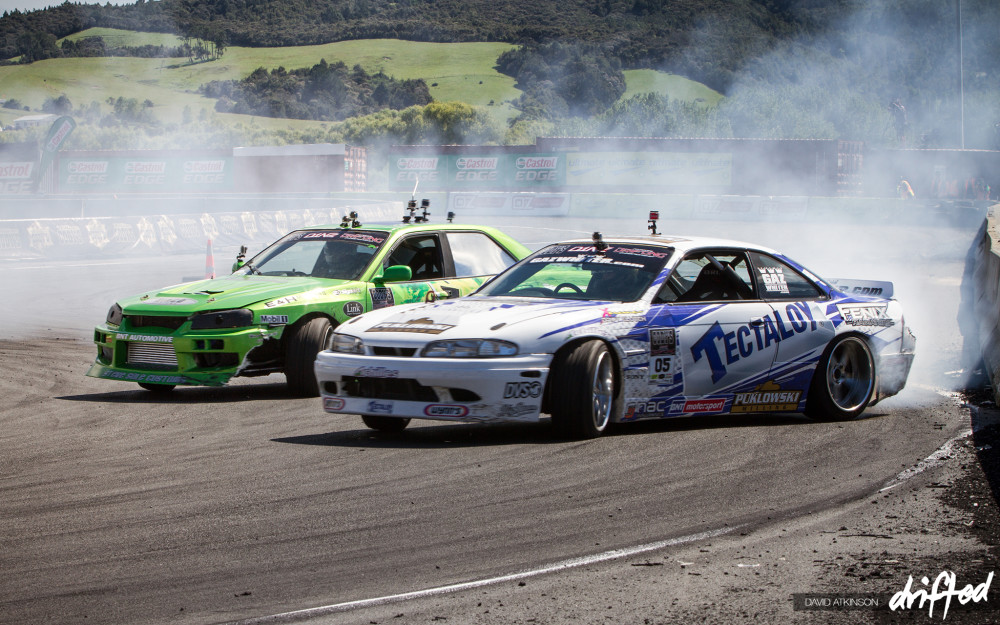 A classic match up was Gaz Whiter vs Cole Armstrong competing for a spot in the final battle. Close proximity on his chase saw Gaz take the win and Cole battling for 3rd place.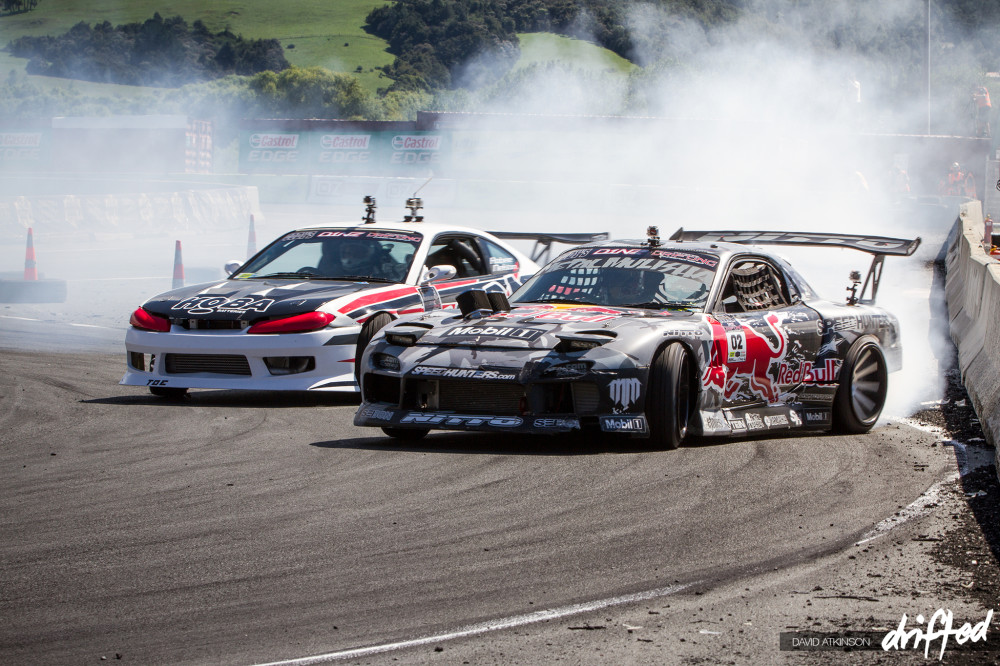 Robee Nelson's first ever top 4 battle would be a tough one to win, coming up against Mad Mike Whiddett. The young gun did well to keep up with Madbul through the chicane but unfortunately spun out on the third corner giving Mike the win.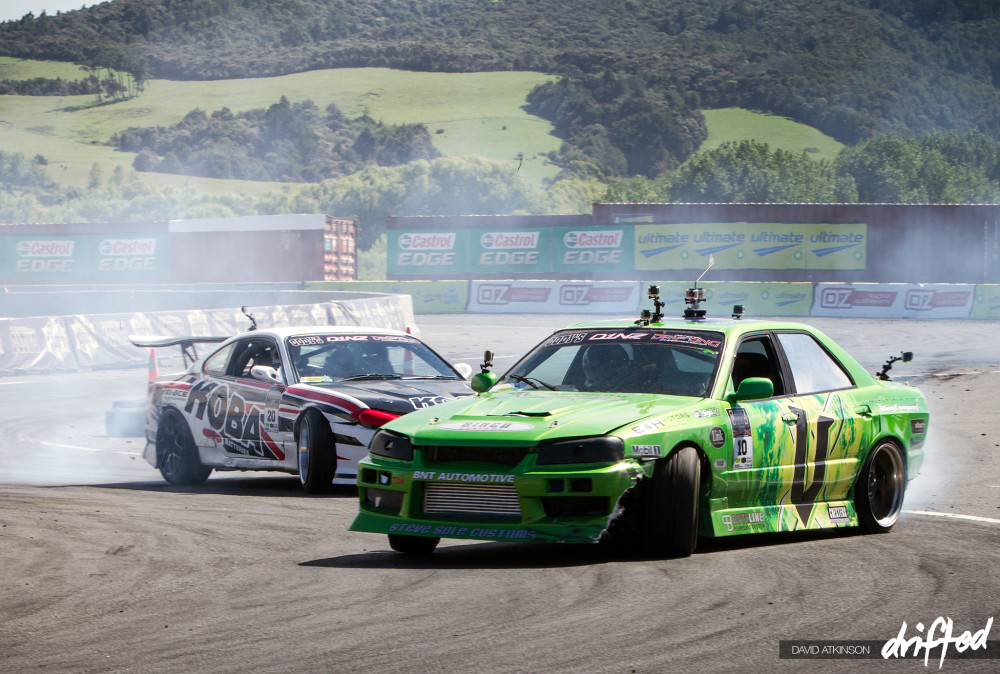 So the battle for third place would be between Cole Armstrong and Robee Nelson. The crowd was on their feet cheering for Robee to score his first podium however Cole has the better chase run and was able to create a gap on the lead run giving him the win.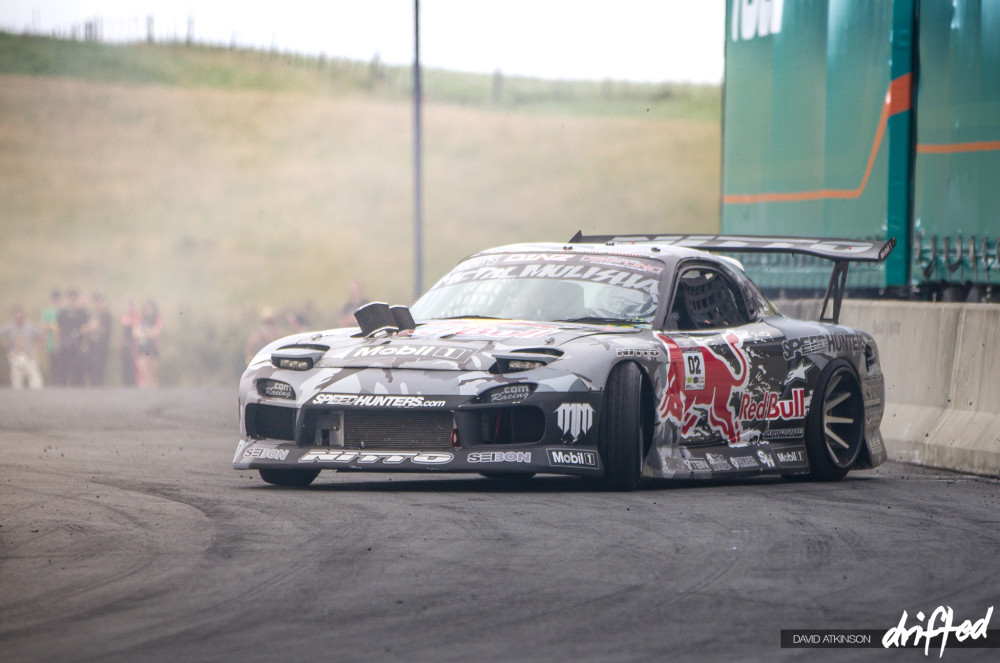 Onto the final battle now between Gaz Whiter and Mad Mike Whiddett. In previous rounds this is the point where Mike's car is beaten and broken, limiting his performance considerably. On the flip side reliability is not usually a problem for Whiter who was carrying great form from his success last round. Both are true veterans of the sport and based on their current form it was going to be very tricky to pick a winner.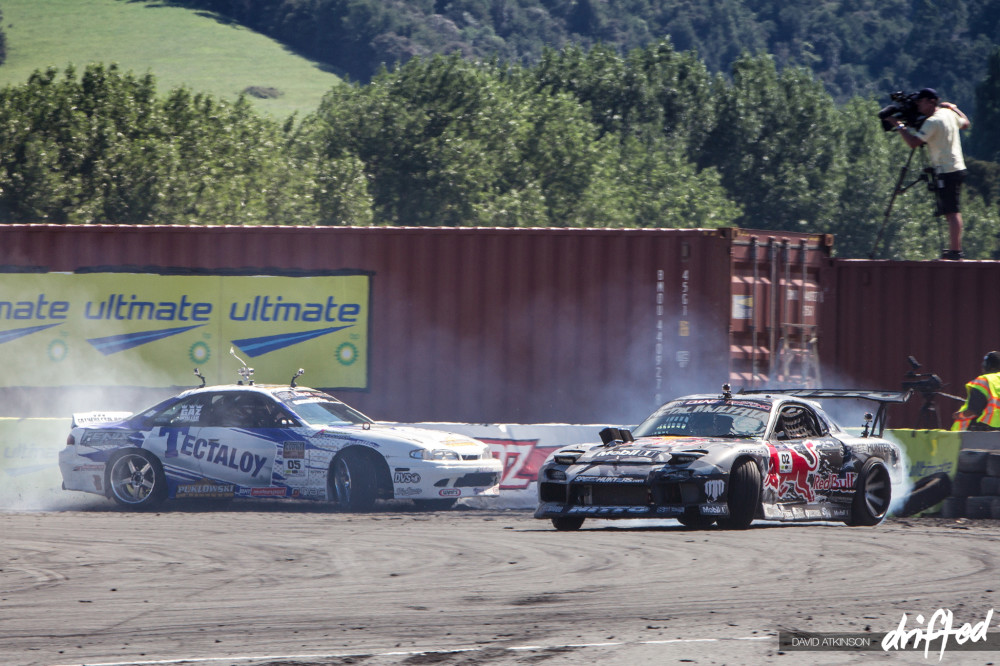 The battle was over before it began however with Gaz hitting the wall on entry and then spinning around and wrecking the front of the car too. With most of the steering and suspension components broken, there was no way repairs could be made in the 5 minute allowance.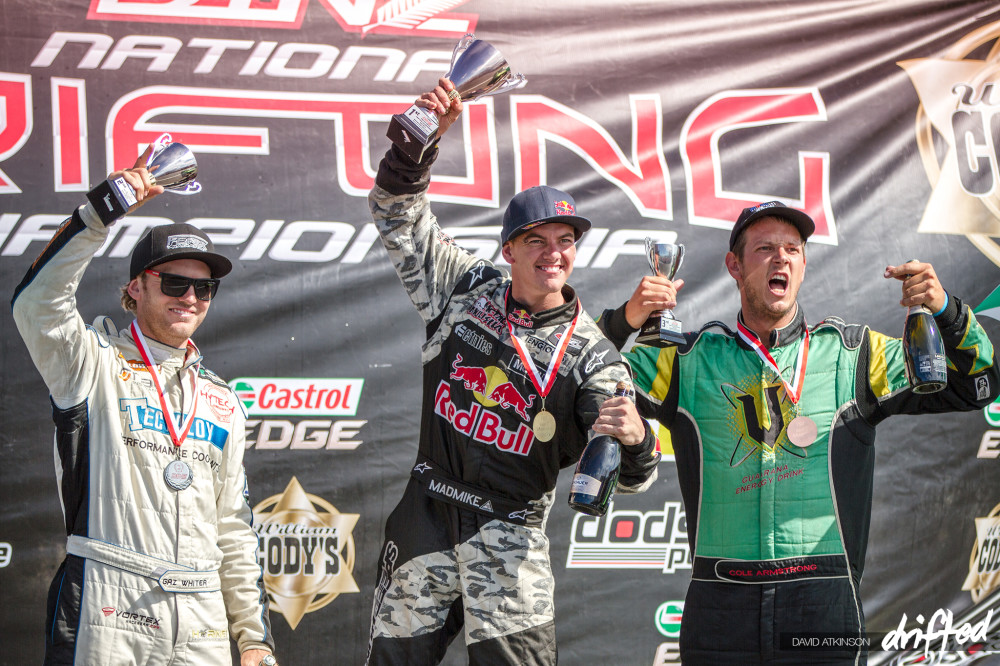 An unfortunate end to an otherwise great weekend for Whiter finishing in second place. "RB all day" Cole Armstrong bringing home third place and no doubt a hunger for another podium next round. With the round win Mad Mike now moves up to 1st place in the championship leaderboard.
Next round we return to Baypark, Tauranga – another small custom built circuit with lots of concrete walls to ride. With a similar track style will anyone be able to take down the current top runners? Will the walls claim any more victims? We will find out soon enough.
Words and Photos: David Atkinson
Additional Photos: Amanda Bolton