EVENT: FD Atlanta's Main Competition: Only the Strong Survive
Road Atlanta never fails to provide a night to remember, and Round 2 of the 2011 Formula Drift series had it all. With suspense, disappointment, fires, big V8s and turbo fours, the competition featured all of the tire burning excitement that drifting fans dream about. Would Daijiro Yoshihara repeat his dominating performance from 2010? Or would the new generation of all-stars like Essa, Powers, Aasbo, or Waldin step up to claim a piece of history? Strap into your 6-point harness and get your scrolling finger ready: it's time for a wild ride.
The first match of the top 32 battles pitted number 1 qualifier Conrad Grunewald against last place John Russakoff. From a spectator's standpoint, this should have been a no-brainer. Russakoff had some decent speed, but his lines were never smooth out of the horseshoe. His JSP Megan Racing AE86 couldn't possibly match the smoke factor of Grunewald's Hankook Tires Camaro SS… could it?
Grunewald led the first run, and despite being perfect the previous 50 or so times he had practiced, he got it all wrong this time. The Camaro overshot the initial left turn wide, going off in a cloud of dirt. He did not beach the car, but the second two of his wheels were off the track, it was an instant zero on his score sheet.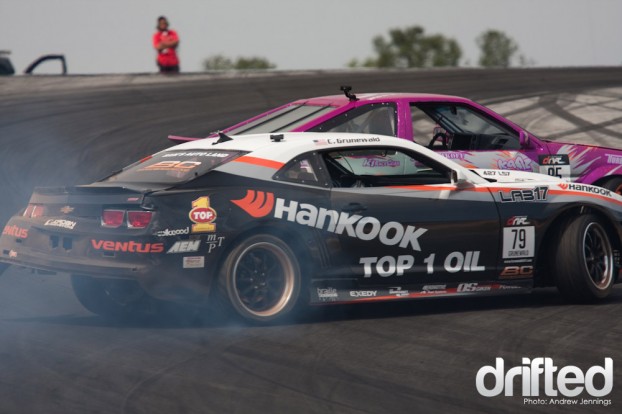 Russakoff lead the next lap flawlessly to claim the victory. With his confidence pumped up he then went on to defeat Matt Waldin in the following round.
Further down the bracket, Chris Forsberg ran into some trouble when he met up with Eric O'Sullivan in the Top 16 battle. The Irish invader proved to be insanely fast even without his rear clip, running away from Forsberg initially as shown above. The judges could not reach a decision, so it was sent to a one-more-time (or OMT for short). In the repeat, Forsberg had the upper hand, sticking to O'Sullivan's Mobil 1 Pontiac Solstice like glue to take the win.
In the top 8, Russakoff and Forsberg went head to head. Somehow, Russakoff managed to catch lighting twice as Chris Forsberg had a spin in the same spot as Grunewald's earlier mistake. The major error lost Forsberg a ton of ground, and gave Russakoff a clear advantage in the scoring. Above you can see Forsberg's headlights still inside the horseshoe while Russakoff is already on his way out. The AE86 completed the second follow run with ease to take the win and move on to the final four!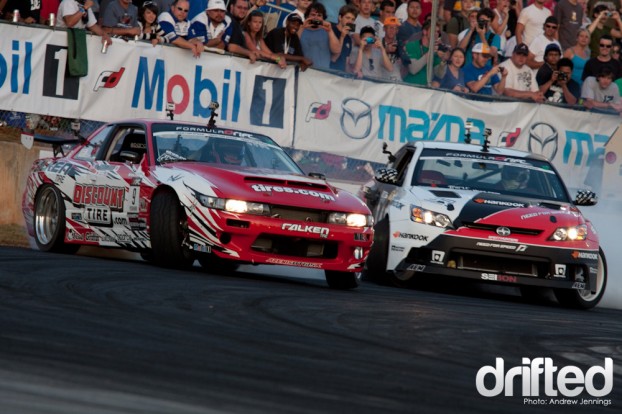 Dai Yoshihara met with 2010 Rookie of the Year Fredric Aasbo in the Top 16. Both cars were running well, but Aasbo lost drift momentarily on his lead run coming through the horseshoe. At this level of competition, even the slightest error can be the difference between a OMT and a ticket home. Yoshihara's constant pressure, combined with sick angle assured him the victory.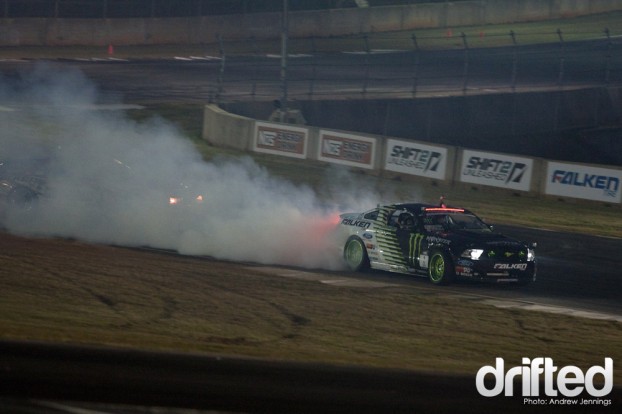 The next great 8 battle had Team Falken compatriots Yoshihara and Gittin Jr. mixing things up. Last year these two met in the final, where Yoshihara was the ultimate winner. This time only one could move on for a shot at the podium. Yoshihara led the first run, and both were even. As Gittin lead on the decisive second run, he straightened out trying to transition from turn 1 to turn 2!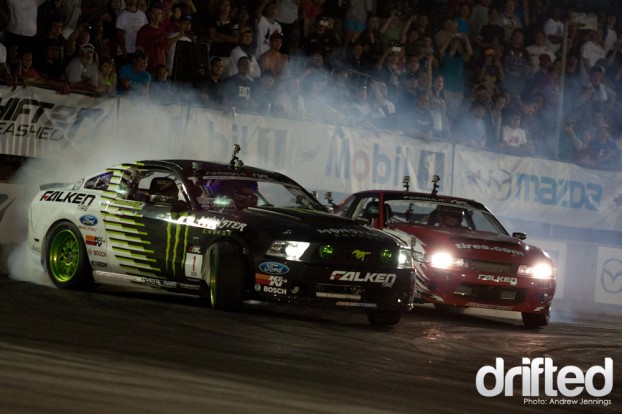 Gittin has firmly stated in the past that: "[the series] is Formula Drift. Not Formula Drive Straight." If you get caught breaking this simple philosophy, you're bound to lose out in the judges eyes. Yoshihara maintained his angle throughout the run, and moved on to the final four.
Second place qualifier Ryan Tuerck was looking good when he was given a bye in the first round. His opponent, Taka Aono, failed to repair the Megan Racing Nexan Tires Toyota AE86 in time for the top 32 after an issue in Saturday's practice session. Next up would be Justin Pawlak for an American muscle showdown. Like Grunewald and Forsberg before him, Tuerck would get caught out by turn 1, losing his momentum and arcing just a little bit too wide. It was enough to give Pawlak the advantage and the win.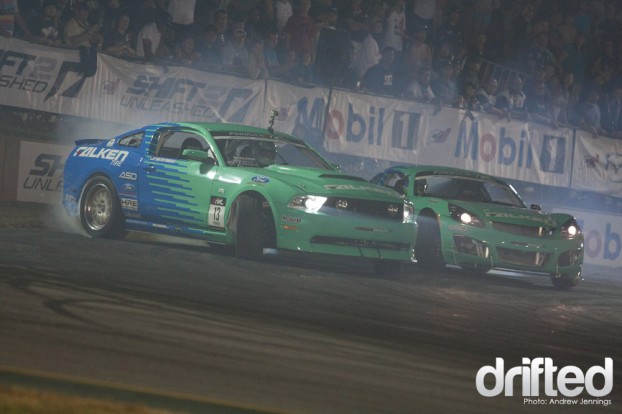 Pawlak's run culminated when he too battled a Falken brother in the great 8. Darren McNamara's Saturn Sky – now converted to a hard top coupe – proved to be quite a handful.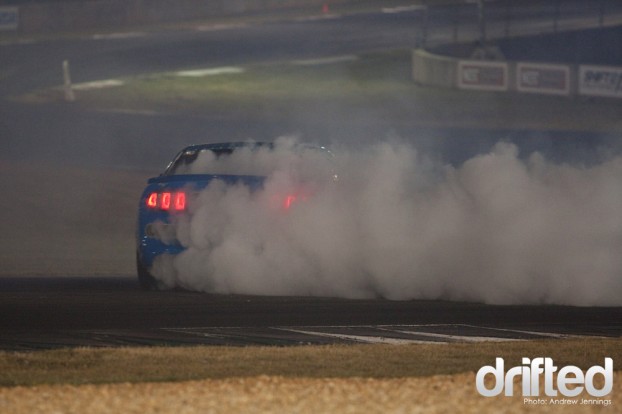 D-Mac lead the second run into the horseshoe while Pawlak gave chase, pushing his Mustang hard. Pawlak used a little too much of the go pedal, causing the car's back end to swing around like a top, engulfing the cockpit in white billows of vaporized rubber. The spin was enough to allow McNamara the third slot in the final four, but honestly, he probably didn't need Pawlak to make such an error. This was not a case where an underdog getting a lucky break. This time, it was a skilled driver that put pressure on the man trying to catch his shadow. Adding tension to the battle while leading is an art that not many drivers can pull off, and it was truly a privilege to witness in person.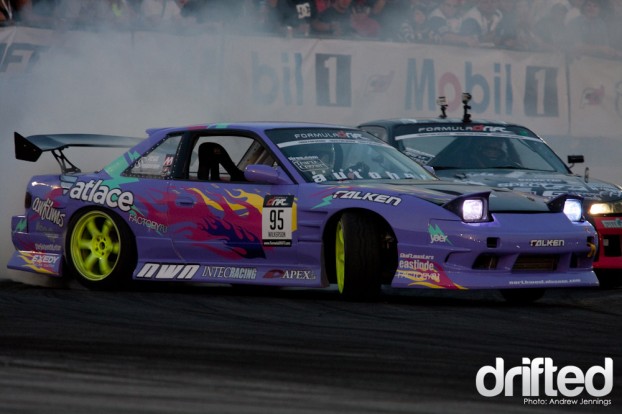 Walker Wilkerson made it past the unfortunate Joon Maeng, and met up with Toshiki Yoshioka in the top 16. Yoshioka may not have a factory ride here in the US, but he has competed in the Japanese D1GP series since 2002! He is a serious contender with a full season ride for 2011. Wilkerson found this out the hard way as Yoshioka put up a strong battle, dashing away in the first pass and staying close on the second.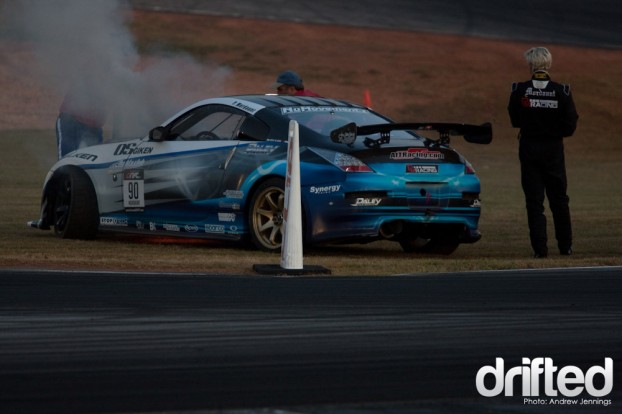 From there, Yoshioka was scheduled to face Pat Mordaunt in the great 8. However, when Mordaunt had taken off for his prior run, the engine caught fire! More specifically, it was believed to be the oil pan, visible from the orange glow underneath the front of the car.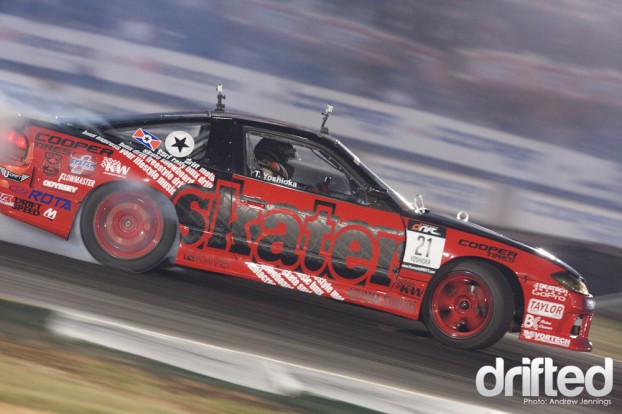 With Mordaunt unable to compete, Yoshioka was given a victory lap, sealing his entry into the final four.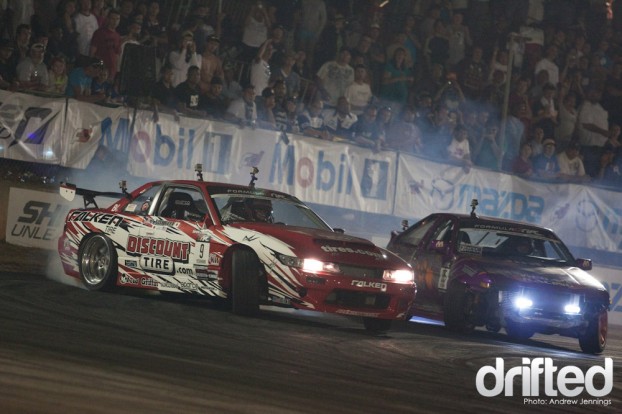 Russakoff and Yoshihara were up first in the final four. The Discount Tire Nissan S13 made quick work of the purple Hachi, laying down a clean lead run for the early advantage.
As Russakoff lead their second run, he could not retain his momentum through the horseshoe. He spun the car in front of Yoshihara, narrowly missing a collision and putting himself solidly out of contention.
On the other side of the bracket, McNamara was also busy giving Yoshioka the Falken treatment. The brute strength of the 790hp Saturn Sky was too much for the red and black Nissan, allowing McNamara to move on to the finals.
In the consolation round, neither driver wanted to make it an easy fight. Yoshioka seemed to have the upper hand, but Russakoff put down some of his best runs of the night, raising the drama enough that the judges were forced to call for a OMT. In the second battle, Yoshioka's skill shined through as the better driver to claim third place, keeping a very close follow run without over gunning the weaker rival.
That left only one pairing. Yoshihara against McNamara for the top step on the podium. Who would be victorious in this clash of worldly drift titans?
An edge-of-your-seat gauntlet was thrown down. Yoshihara's lines were spot on, showing tons of angle on all parts of the lap to give the judges just what they were looking for. McNamara put on a good lead run in the second heat, but his overall speed and aggression did not match the bar that Yoshihara set initially. The judges' vote was unanimous: Daijiro Yoshihara took home the overall win at Road Atlanta!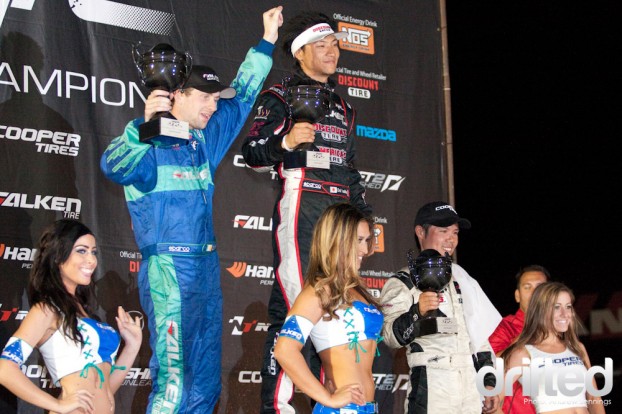 Daijiro Yoshihara, Darren McNamara, and Toshiki Yoshioka round out this year's podium at Road Atlanta. Congratulations to all three for the awesome drives they put on. I'm sure the feeling was especially sweet for Yoshioka who hadn't scored a full point in Formula D since his overall Las Vegas win in 2008.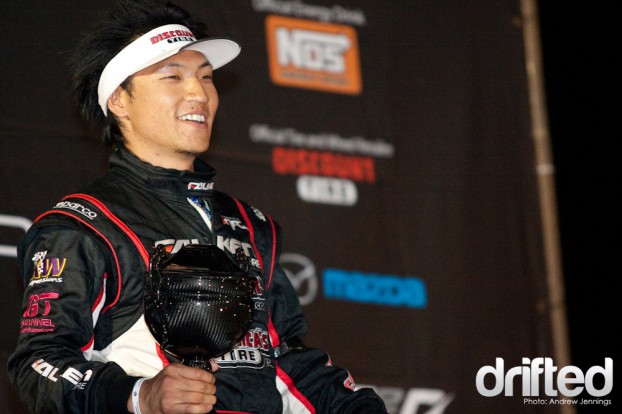 After two rounds of the 2011 Pro Championship, Yoshihara leads the overall points standings with 196. Round 3 from Palm Beach, Florida takes place on June 3rd and 4th so don't miss it!
Andrew Jennings is a photographer and editorialist based out of Nashville, TN. He has been covering the American drift scene since 2007, and his work has been published in nationally syndicated magazines such as Modified Magazine, Import Tuner, Performance Auto and Sound, and RIDES. Andrew may be contacted through his professional online portfolio, or the social networks listed below.
Professional Portfolio: http://www.andrew-jennings.com | Personal Blog
Tags: 240, 240SX, 350Z, 370Z, 40D, Aasbo, AE86, America, American, Andrew, Andrew Jennings, Andrew Jennings Photography, Aono, ATL, Atlanta, attack, Battle, blog, blogging, burn rubber, Camaro, Canon, chevy, Chevy Camaro, Chris, Chris Forsberg, Conrad Grunewald, D Mac, D1GP, Dai, Daijiro Yoshihara, Darren McNamara, Discount Tire, drift, drift race, drifted, Drifting, engine fire, Eric O'Sullivan, Essa, Falken Tires, Fatlace, FD, fight, Final 4, Fire, ford mustang, Formula D, Formula Drift, FormulaD.com, FormulaDrift.com, Forsberg, Fredric Aasbo, Gardella Racing, Georgia, Gittin Jr., Great 8, Grunewald, Hampsha, Hankook, Hankook Tires, http://www.andrew-jennings.com, http://www.drifted.com, Jennings, John Russakoff, JR, JSP, JTP, justin pawlak, Main Event, Matt Waldin, Megan Racing, Mobile 1, mustang, Nexan, Nexan Tires, Night, Night drifting, Night Race, Nismo, Nissan, Nissan 350Z, Nissan 370Z, Nissan S13, Nitto, Nitto Tires, NOS Energy Drink, O'Sullivan, Papadakis Racing, Pat Mordaunt, pawlak, photography, points leader, Powers, quali, Qualifying, race, Racing, Red Bull, Road Atlanta, Russakoff, Ryan Tuerck, Saturn Sky, Scion tC, Sky, Smoke, SS, Taka Aono, Tandem, Team Need for Speed, tire smoke, Tires.com, Top 16, top 32, Top 8, Toshiki Yoshioka, Tuerck, United States of America, US, USA, V8, Vaughn Gittin, vaughn gittin jr, Waldin, walker wilkerson, Wilkerson, Www.andrew-jennings.com, www.drifted.com, Yoshihara, Yoshioka
Subscribe to Drifted
If you like this article why not subscribe to Drifted and we will email you our freshest content for free!