EVENT: FD Road Atlanta 2013 – Practice and Qualifying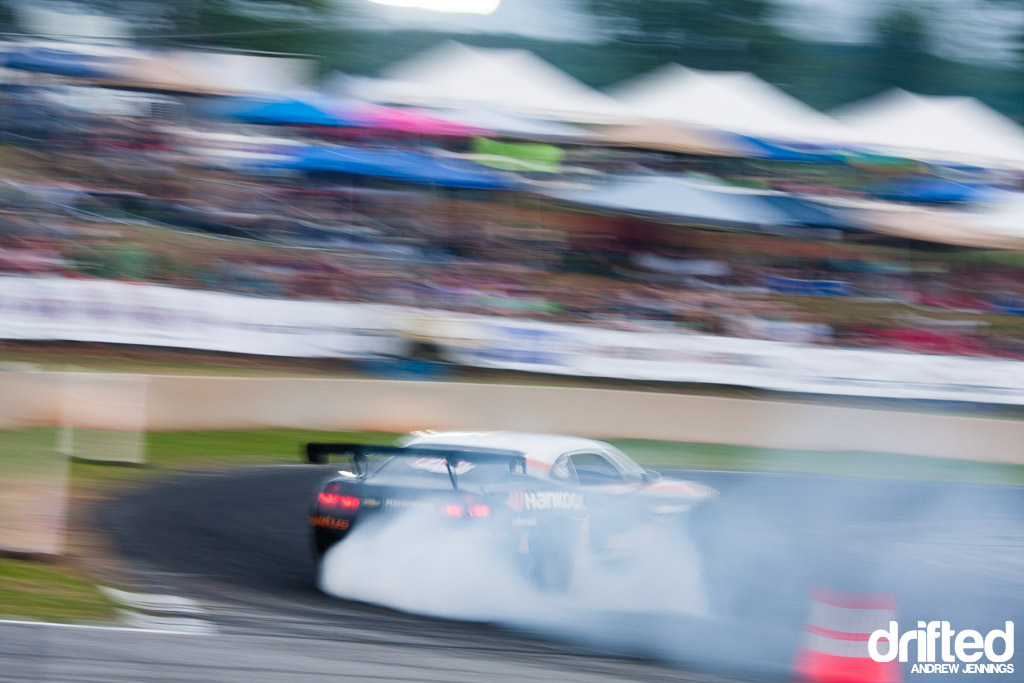 After a wild start to the 2013 Formula Drift Pro Championship in Long Beach, CA the series headed down for the second round of competition at Road Atlanta. This was the 10th year for Atlanta to play host to a Formula Drift event, and the entire grid wanted to write their names into the next chapter of history, aiming high for the podium from the first practice session. Follow along as we recap Friday's excitement and how qualifying went down in the dirty South.
Formula Drift was joined this year as in some years past by the Global Time Attack series, which meant that track time was split up for a more leisurely schedule. The GTA guys headed out onto the track first thing each morning, and it wasn't until the mid afternoon that the drift drivers could show the crowds some action.
In the driver's briefing, it was pretty much the same old speeches – the judges gave their take on the track layout, and for the most part the drivers just kind of nodded their heads before departing. To give safety a spotlight, a representative from Takata USA also shared the floor, going through a detailed presentation on proper use of a six point harness along with a HANS device. Above, Ken Gushi said a few words in favor of the HANS device, something that is not currently mandatory in the sport, but could gain more attention in the future.
Once the official stuff was out of the way the drivers were itching to get some track time. Duty called once again, and they formed up to do an autograph session for the fans who could attend the Friday festivities.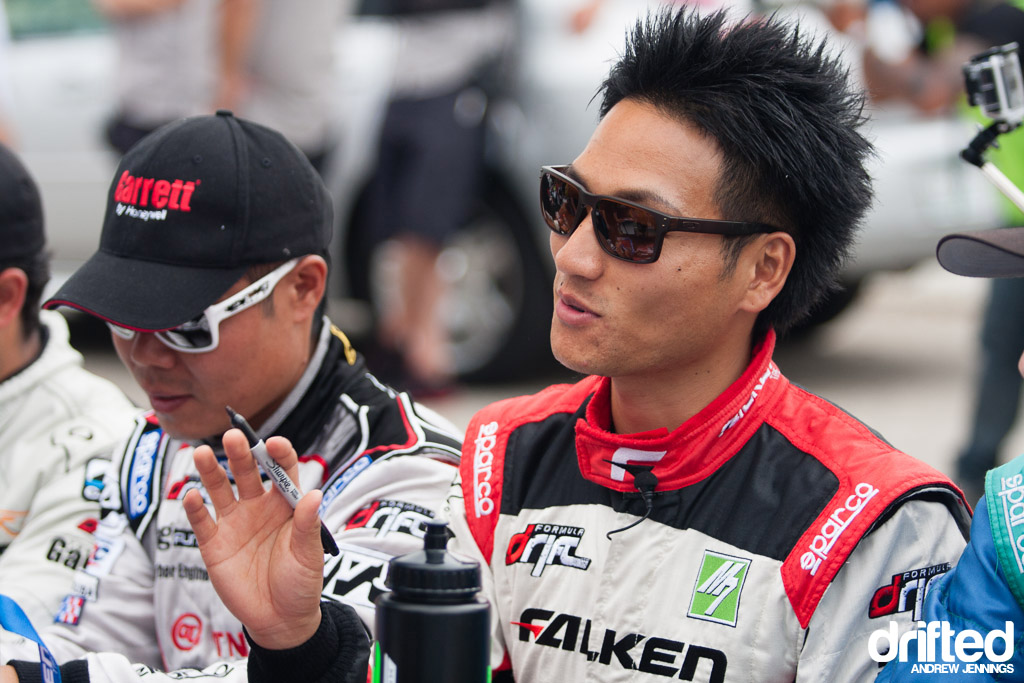 Long Beach winner and 2011 FD champion Daijiro Yoshihara was looking very cool and relaxed as he greeted fans. Yoshihara has won at Road Atlanta twice in the past, and in a very similar car to what he currently runs, a sure confidence booster going into the weekend.
Matt Field is now contesting his 4th season in Formula Drift but hasn't lost any of his enthusiasm. His style and goofy attitude has been winning him more fans with each event, not to mention his never-give-up determination on the track.
2012 champ Daigo Saito is beginning to enjoy the success that comes with kicking ass and taking names across the globe. It's somewhat hard to imagine given the level of attention he had at last year's running of the same event, but he now seemed to be doing even more interviews and be constantly watched. The interviews remain in Japanese, but that doesn't make them any less interesting.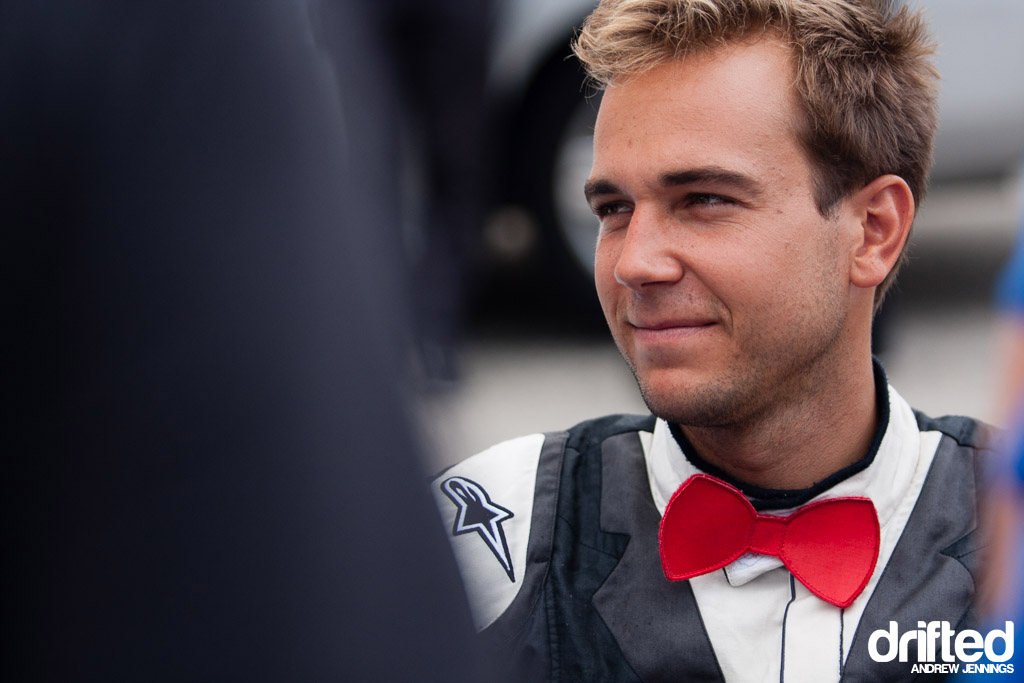 By contrast to Field, Matt Powers' demeanor seems to have gotten more serious over the years. Once a prankster and trouble maker in the paddock, his tone is now one that understands what is needed if he is to stay in the sport for the long haul – results. His biggest joke all weekend came in the form of a fake bow tie over his race suit, which has been styled to look like a tuxedo, as seen above.
With the souvenirs passed out and clouds rolling in it was time to go racing once again. The drivers quickly made their way out to the track for some clean runs before any rain could affect the tarmac's condition.
Right off the bat things were heating up with some tandem practice runs. Denofa, Moen, Powers, and a handful of other guys were determined to get their proximity dialed in for the main event, while another part of the field sought to perfect their line and angle for qualifying.
Robbie Nishida has had a lot of work done to his RHD Toyota Soarer over the off season, allowing him to go out and put down solid runs straight away. There is something strange about the overall stance of the car that I can't quite put my finger on though… something about the lack of a full-on rear clip that makes it look more like a police cruiser out of Smokey and the Bandit than a JDM racer.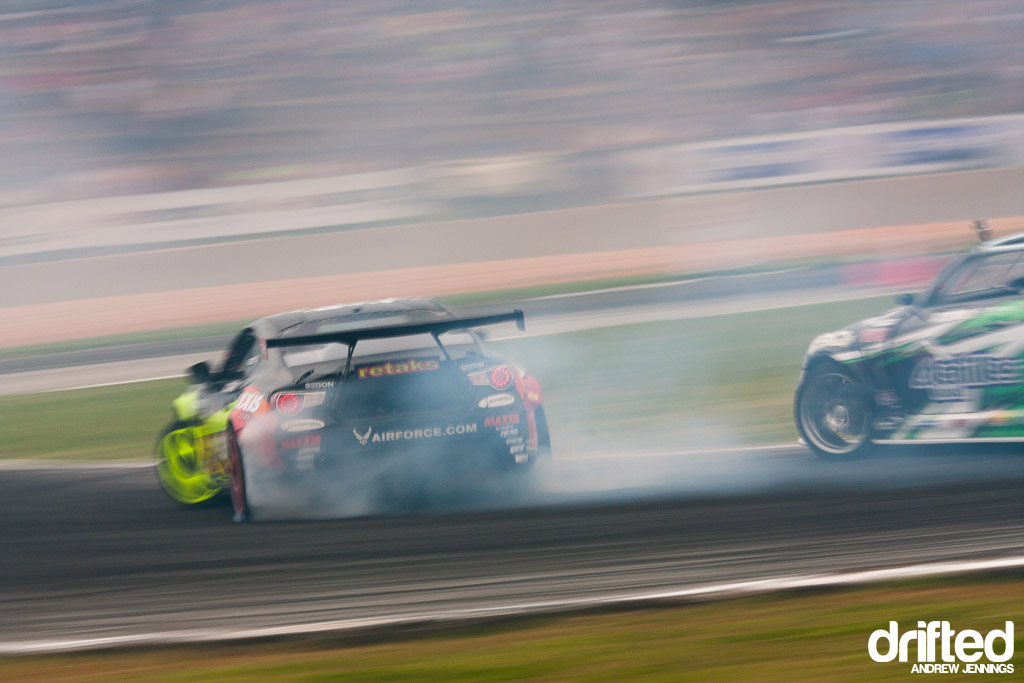 Ryan Tuerck has been adapting well to his new chassis. The lightweight Retaks Backpacks (that's "Skater" backwards for those of you not familiar with the brand) Scion FR-S absolutely flew around the tight Road Atlanta circuit thanks to having over 700hp on tap to play with.
Once the veteran drivers were finished getting some time with the track, it was time for those lower in the standings and the rookies to have a few laps. One that easily caught the crowds attention was Mats Baribeau in his Toyota Mark II sedan. Only the 5th Canadian to ever compete in Formula Drift, he got valuable experience at the event but would fail to qualify for Saturday's main bracket.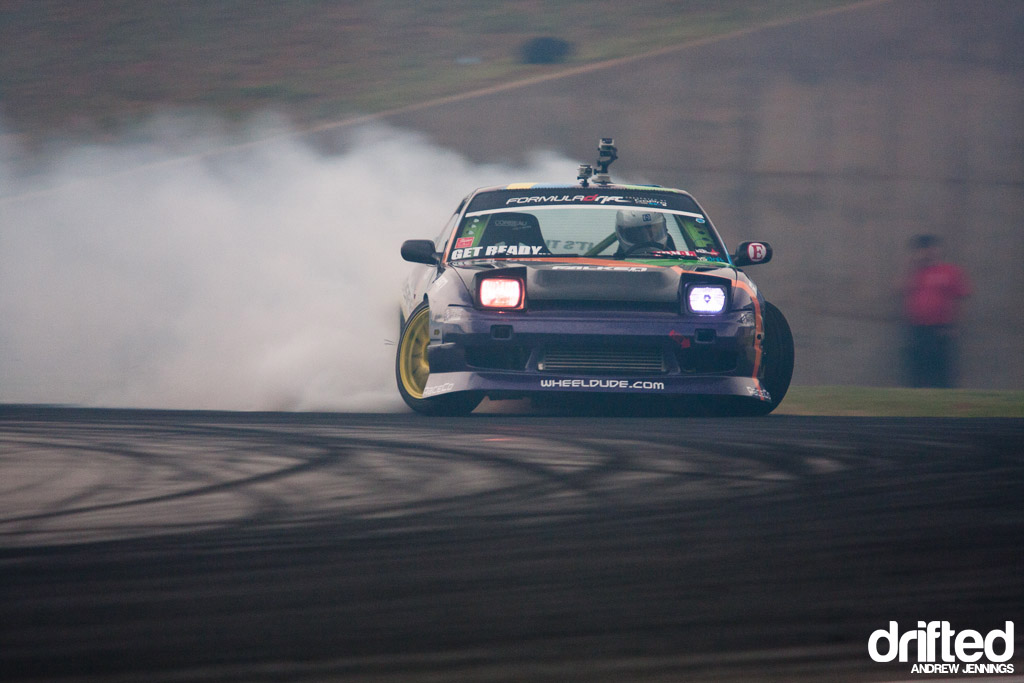 Another driver that showed good promise in practice but was unable to make it stick in qualifying was Brandon Wicknick. His 2JZ Godspeed Project S13 knew how to light up the rears through the horseshoe curve, and I expect him to be a more consistent contender as the season rolls on.
Driving skill isn't the only thing needed to qualify. Ken Gushi found this out the hard way as his GReddy Scion FR-S suffered some mechanical problems that did not allow him to take part in qualifying, a big blow to the 10-year veteran's season points.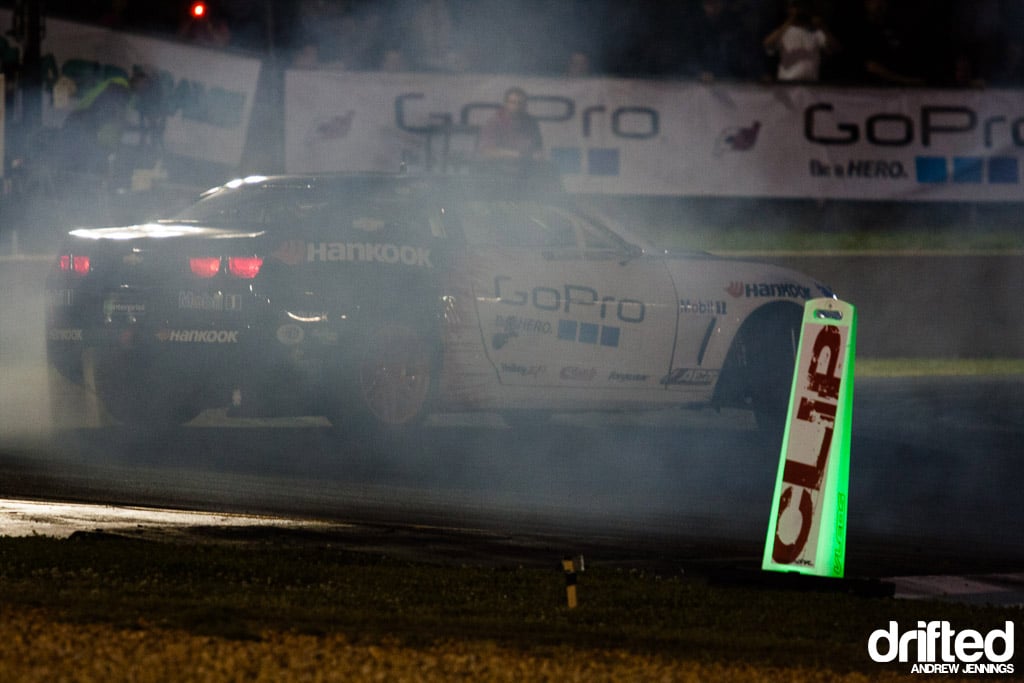 Another regular in the top 16 qualifying Tyler McQuarrie had similar issues. He failed to complete a single lap in qualifying, both times losing all power in the GoPro Chevrolet Camaro. The team believe it is a problem with the Holley fuel management system on the car. Here's to hoping that they get everything sorted out for Round 3 in Palm Beach.
Moving on to those who actually got a good run in for qualifying, the result was still far from predictable. Formula Drift introduced a new set of rules for the 2013 season that makes qualifying a Knock Out style instead of a best out of two runs open scoring system. To get in the top 16 for qualifying, drivers would have to lay down their best runs in the first heat, putting the pressure squarely on those who did well in Long Beach since the order is determined by points standings up to that race. Daijiro Yoshihara won in Long Beach, so he would go first.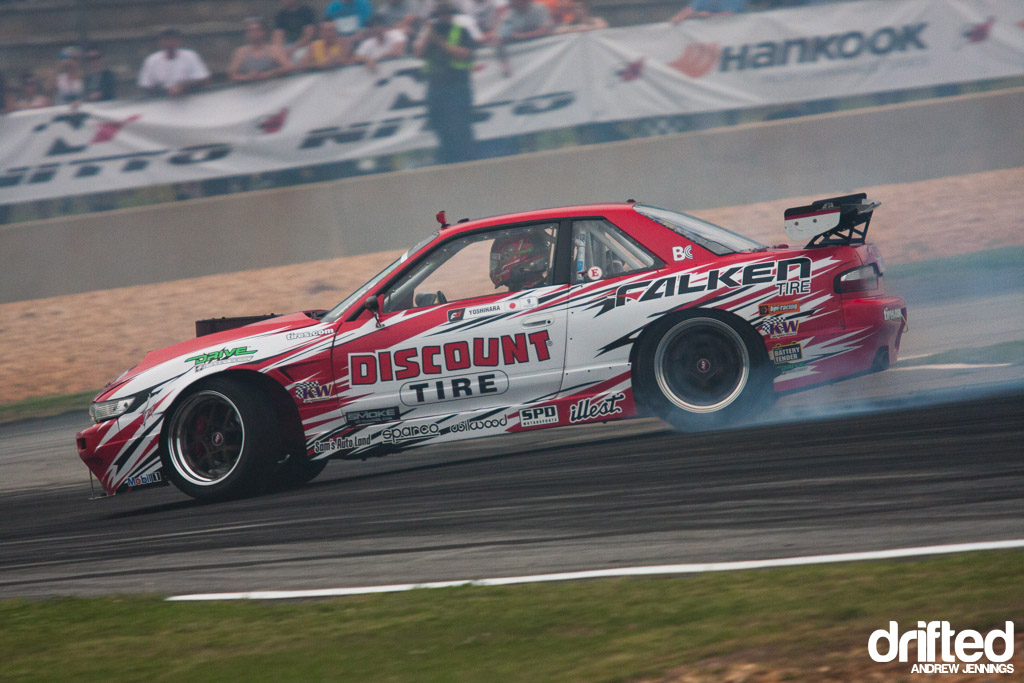 Yoshihara only needed one attempt to make it through to the top 16, but the pressure was certainly on once his score was set. As the other drivers went out to put down their best runs, Yoshihara held is breath until the last moment to land in 15th position, just one spot off of the bubble.
Walker Wilkerson on the other hand required a second chance at the course to get it right, and even then he only got in by the smallest of margins. Wilkerson qualified 32nd to bring up the rear, meaning he would be paired up with the number 1 qualifier for the main event.
While some of the rookies struggled, Nate Hamilton managed to prevail. He would land 27th on the day, earning more points towards the coveted rookie of the year award.
Our recent Snapshot feature driver Will Parsons also put forth a good effort as one of the newest FD competitors. Parsons qualified 26th, pitting him against 7th place qualifier Matt Powers in Saturday's tandem bracket.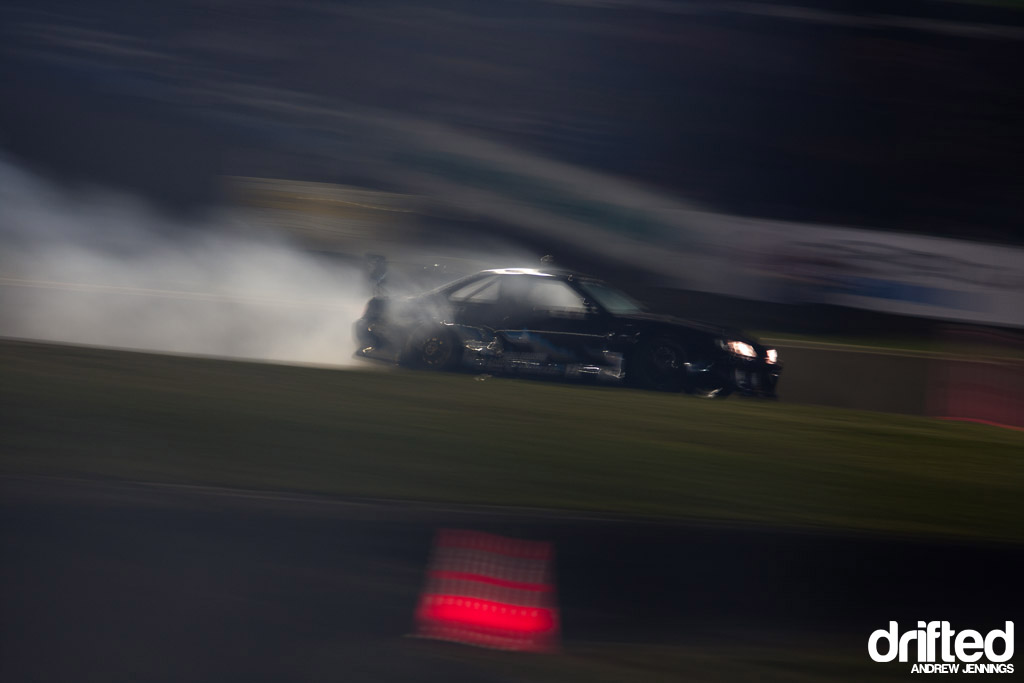 Qualifying for the main event in Road Atlanta must have been especially satisfying for local boy Chris Ward. He slotted in 25th via the run you see above, filling his cabin with tons of white smoke through the horseshoe.
Although Ken Gushi would fail to make it in, another of the new Toyobaru machines made a path through the darkness to the top 32. Toshiki Yoshioka now driving the GT-Net Tomei Subaru BRZ put down a run good enough for 22nd.
Ryan Tuerck in the remaining Scion FR-S would also keep it on the black stuff, good enough for 19th position in qualifying.
One of the biggest surprises on the day came from internet senstation Danny George. His Wreckhouse Mazda Miata transformed into a night club smoke machine and pulled out a solid 14th position in qualifying, just ahead of Daijiro Yoshihara.
Forrest Wang was the picture of consistency through both practice and qualifying. With a chassis that is looking very balanced for 2013 he was able to qualify up in 12th position, just outside of the key points.
Drift Alliance member Chris Forsberg in his NOS Energy Nissan 370Z nabbed that the 10th spot in qualifying, and with it a point towards his championship hopes. Every point counts in this sport, and Forsberg seems to be getting a handle on the new Knockout format.
Chelsea Denofa was Mr. Aint Care in qualifying though, putting on a fantastic display of car control despite tearing off his rear clip in the first corner. His efforts were rewarded with a 4th place qualifying seat, just ahead of rival Daigo Saito.
2012's Road Atlanta winner Justin Pawlak was on form once again, lighting up the entire course to earn 3rd place in quali.
Although he may not have won on this circuit in tandem, Mike Essa certainly has the angle down. He won the most insane entry award once before, and despite being in a new chassis for 2013 he was able to ride the rear tires right around the edge of the horseshoe to take 2nd place on the grid.
Fredric Aasbo, also called the Norwegian Hammer, showed that his new front end and shot of NOS (the engine stuff, not the energy drink) isn't there for nothing. His run proved to be better than anyone else's in the first heat, which meant that he took 1st place in qualifying. I'm sure there are some drivers who, given the chance at a second run, might have overthrown Aasbo, but this is how the new Knockout qualifying has added excitement to the sport.
Stay tuned for more from Road Atlanta as we look back at how the main event unfolded, and keep your browsers pointed here in the coming weekend for the Formula Drift Livestream from Florida's Palm Beach for Round 3! Also, to see the full qualifying results, head over to the official Formula Drift blog.
Kenny Freeman contributed photos to this post. Check out his website, facebook, and flickr for more!
Andrew Jennings is a photographer and editorialist based in Nashville, TN. He has been covering the American drift scene since 2007, and his work has been published in nationally syndicated magazines such as Modified Magazine, Import Tuner, Performance Auto and Sound, and RIDES. Andrew may be contacted through his professional online portfolio, or the social networks listed below.
Professional Portfolio: http://www.andrew-jennings.com